OKX Review: Features, Safety and Fees 2023
This comprehensive review will delve into OKX, a globally recognized cryptocurrency exchange renowned for its low fees and advanced Web3 features.
OKX is a world-famous crypto exchange, renowned for its low fee structure and Web3 features.
Despite its unavailability to users based in the US, it remains a reliable option for individuals seeking to purchase, stake, and transact a vast portfolio of currencies, but other digital assets, such as NFTs.
This review will comprehensively examine the features, fees, advantages and disadvantages of this exchange, providing a detailed analysis.
👉 Click here to open an account on OKX and claim your Mystery Box worth up to $10,000.
| DESCRIPTION | DETAILS |
| --- | --- |
| 🌐 Website | okx.com |
| 🏙️ Location | Seychelles |
| 📅 Year Founded | 2017 |
| 💰 Primary Token | OKB |
| 📈 Listed Crypto | 98 |
| 💱 Trading Pairs | +300 |
| 💵 Supported FIAT | 94 Fiat Currencies |
| 🌍 Supported Countries | Excluding the United States |
| 💰 Minimum Deposit | Varies based on the deposit method |
| 💸 Deposit Fees | Varies based on the deposit method |
| 💰 Daily Buying Limit | Varies based on verification level |
| 💱 Trading Fees | Low fees |
| 💸 Withdrawal Fees | Varies based on the withdrawal method |
| 📱 Mobile App | iOS, Android |
| 💬 Customer Support | Twitter and Telegram channels |
OKX overview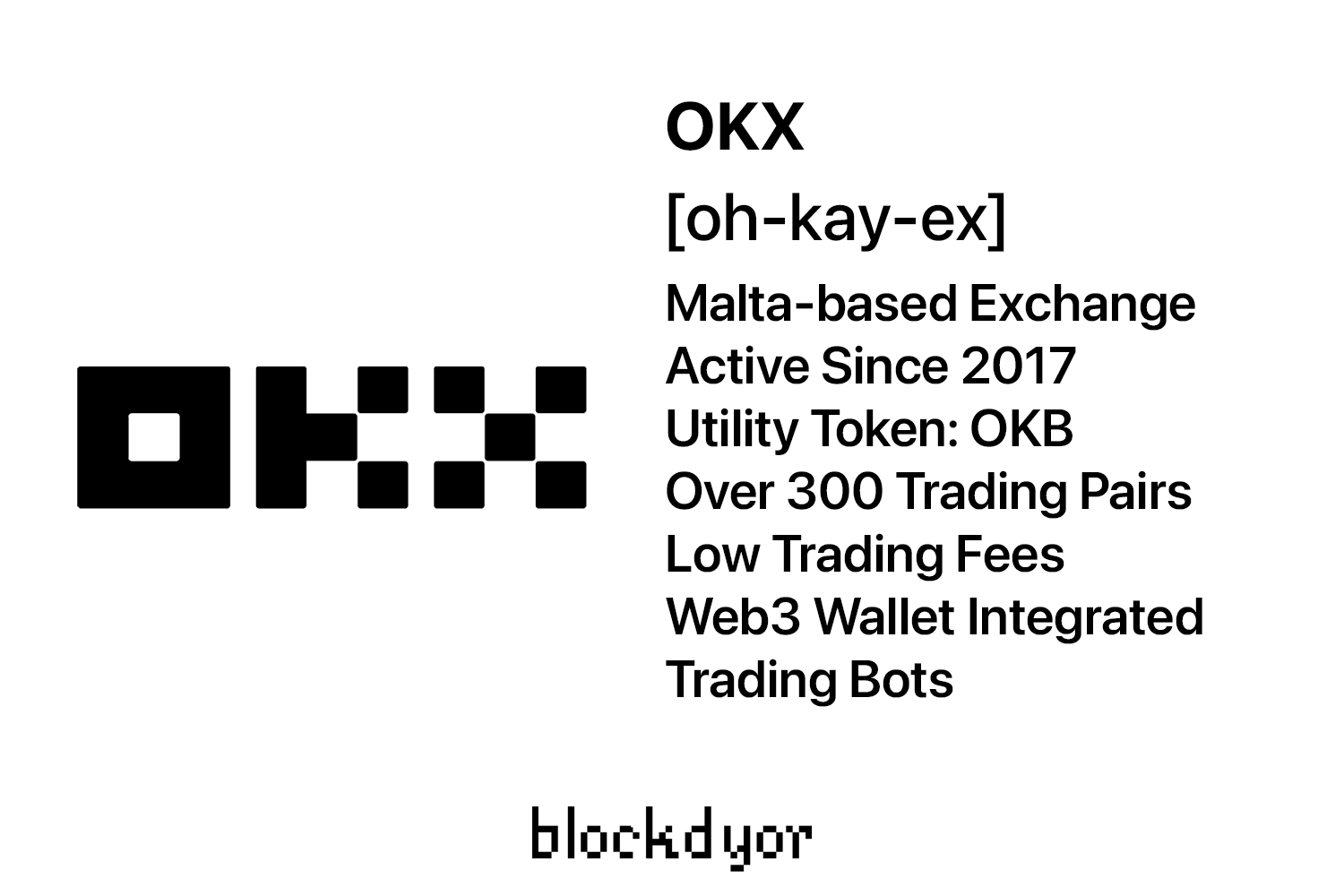 OKX is a crypto exchange that lets you buy, sell, and trade different cryptocurrencies and digital assets.
You can buy crypto on OKX with a credit card, bank account, or mobile wallet. You can also earn high rewards through staking and saving features.
OKX supports many cryptocurrencies and has a diverse array of services. However, as we already said, it's not available in the United States.
If you want to manage all your crypto activities in one place, OKX might be right for you.
OKX: brief history
OKX is headquartered in Valletta, Malta, and is one of largest platform of its kind in the world.
With a user base spanning more than 100 countries, the exchange claims to have over 20 million clients. However, it does not serve clients based in the United States due to regulatory restrictions.
OKX offers a comprehensive suite of services to its eligible clients, including the ability to trade over 340 spot currencies and access to margin borrowing, staking, savings, cryptocurrency-backed loans, and advanced offerings such as mining pools and its proprietary blockchain, OKXChain.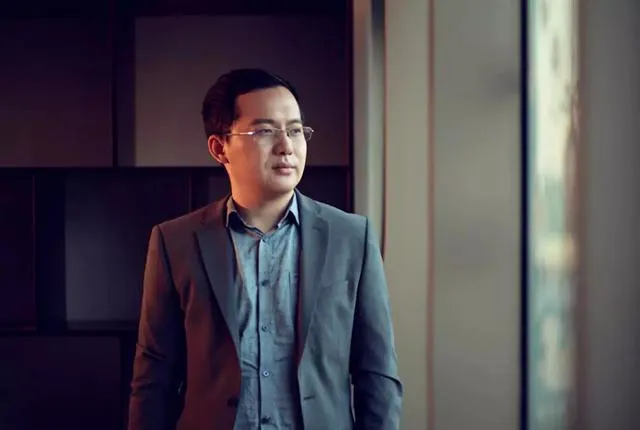 Established by Star Xu (real name: Mingxing Xu) in 2017, OKX emerged from the successful foundation of its predecessor, OKCoin, founded by Xu in 2013 in China.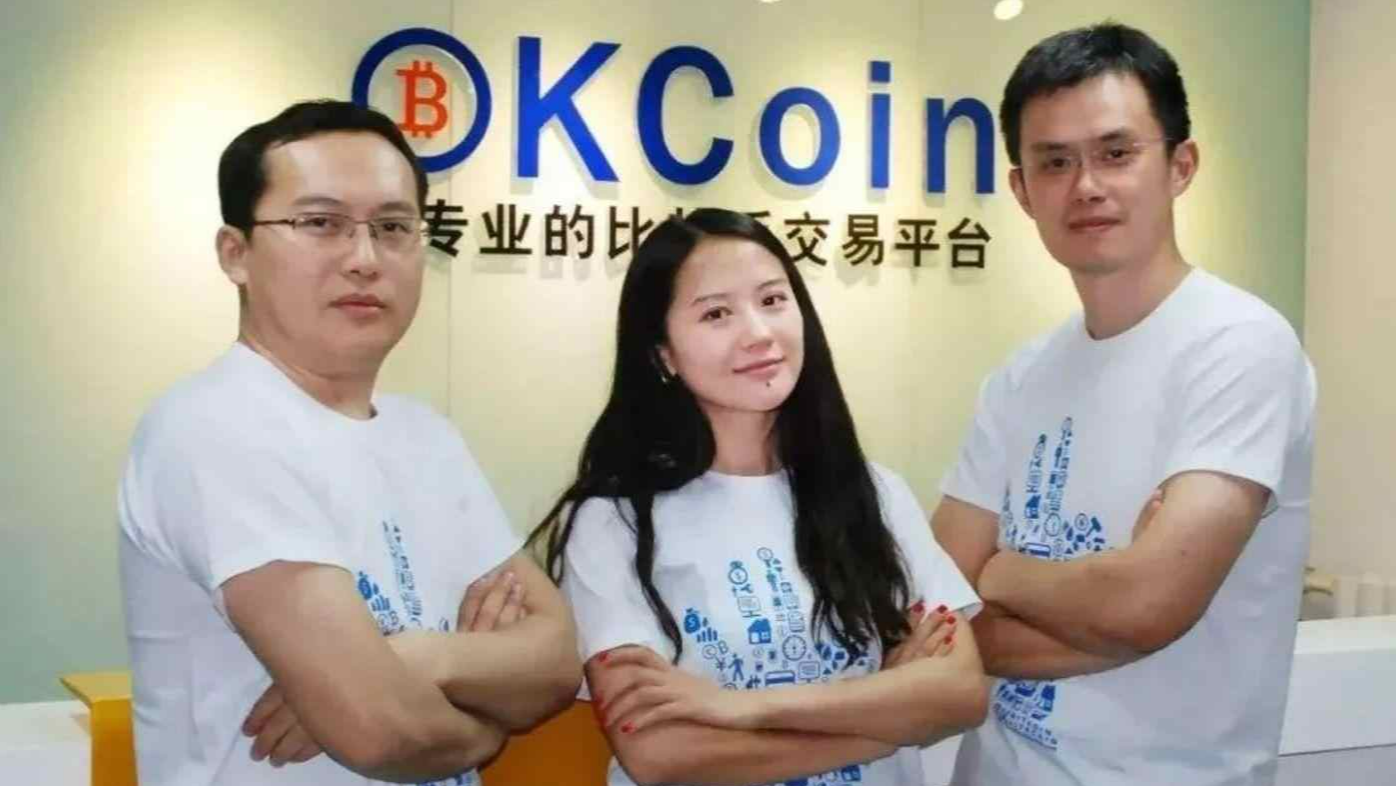 Prior to establishing Binance, CZ and He Yi grew up in the crypto world by also spending some time at OKCoin, which is now widely known as OKX.
Under Xu's leadership, the OKCoin exchange evolved into the OK Group, a company dedicated to providing blockchain infrastructure.
However, OKX, the Malta-based exchange, operates as a separate entity from the OK Group. Despite his pivotal role in founding the OK Group, Xu holds no affiliation with OKX, serving solely as the CEO of the OK Group.
For those seeking a multi-faceted platform for their cryptocurrency needs, OKX may be a suitable choice as a complementary exchange or a primary hub for all things crypto.
Setting up an OKX account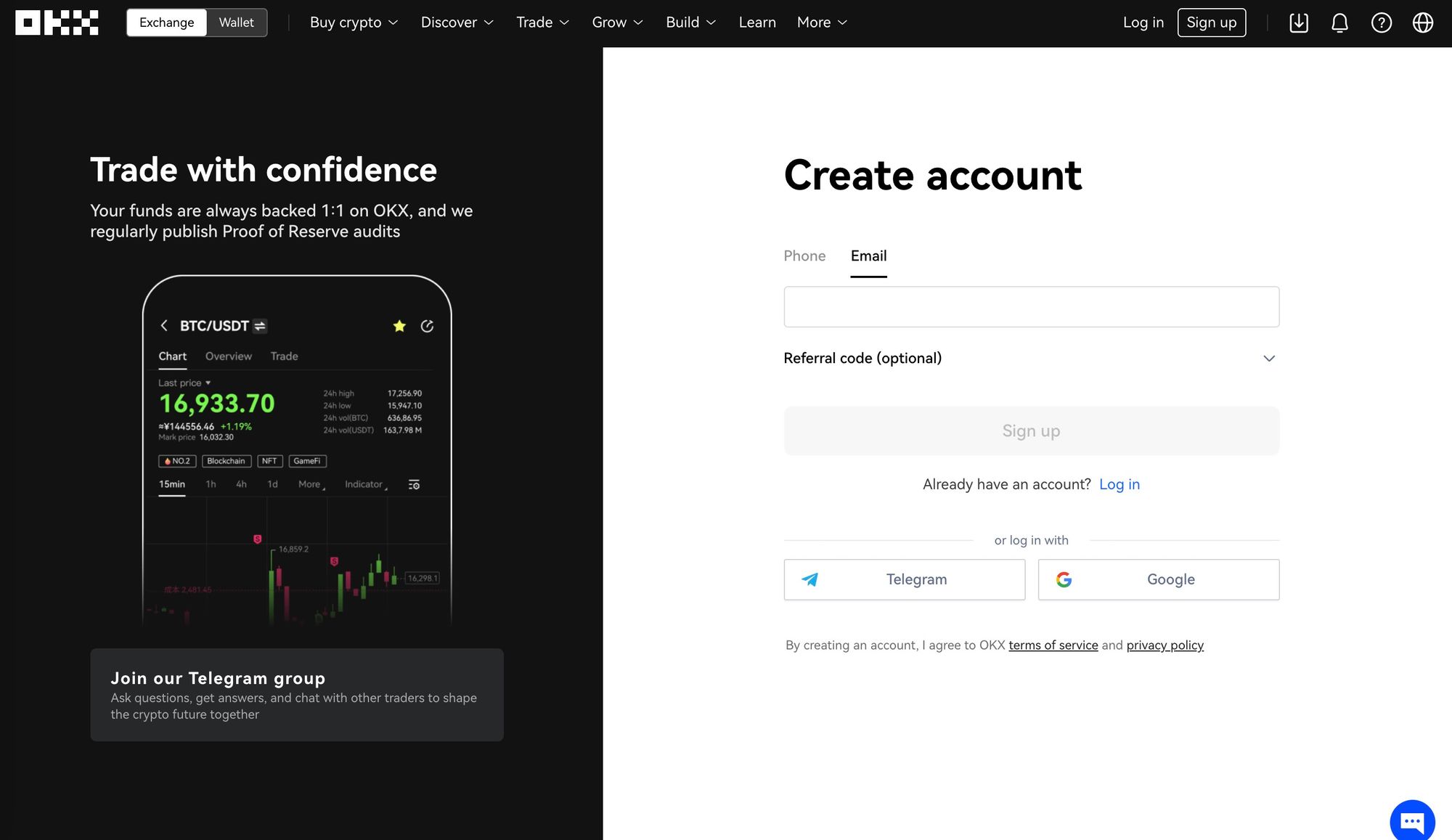 Setting up an OKX account is a simple process that can be completed in a few quick steps.
Visit the OKX website and click the "Sign Up" button located in the top right corner.
👉 Click here to open an account on OKX and claim your Mystery Box worth up to $10,000.
Fill in the registration form by entering your personal information, including name, email, and a secure password with a mix of letters, numbers, and capitalization.
Upon submission, you will receive an email from OKX. Click the activation link in the email to activate your account.
For added security, enable two-factor authentication using Google Authenticator or Authy.
To deposit funds, remember that you must complete the KYC verification process, which involves providing personal information and documentation.
After successful verification, you can deposit funds and access more features on the platform.
By following these steps, you will have a fully operational OKX account and can start trading crypto. Remember to keep your account information and login credentials safe.
OKX funding methods
To start operating on OKX, you must first deposit funds into your account. There are two ways to do this:
Purchase cryptocurrencies using fiat currencies through the Buy Crypto channel.
Transfer your existing cryptocurrency assets from another source to your OKX Funding Account.
Buy/Sell Crypto
At OKX, buying/selling crypto is facilitated through an extended list of convenient methods.
Firstly, one can purchase cryptocurrency using their debit/credit, with a broad spectrum of over 94 currencies supported and an array of cards accepted, including VISA, Mastercard, and Apple Pay. Also Curve is supported.
Secondly, OKX offers P2P trading, which enables you to create your own marketplace and transact with others, using your preferred local currency and payment methods, such as Revolut or Wise to mention two.
Lastly, OKX has partnered with third-party payment providers, such as Mercuryo, Simplex, Banxa, and Moonpay, to streamline the buying and selling of cryptocurrency.
Trade Crypto
The OKX active trading platform caters to the needs of experienced traders, offering market, limit, and stop orders; advanced conditional trades; real-time updates on supported currencies; and customizable charting options.
The platform also allows for personalization, giving users the option to create custom layouts and integrate a built-in trading bot to implement trade strategies with precision.
In the trading section of OKX, a range of options are available for users, including:
Conversion: fast conversion with zero fees and no slippage;
Basic Trading, which includes the options of Spot or Simple Options;
Derivatives and Margins Trading, offering a comprehensive range of contracts and margin products, including Futures, Margins, Options, and Perpetual Swaps;
Trading Bots, offering multiple automated strategies through a Marketplace, and the ability to create a custom bot;
The Liquid Marketplace, allowing for instant trading of spot OTC, futures spreads, and options strategies at the preferred price.
Is OKX Safe?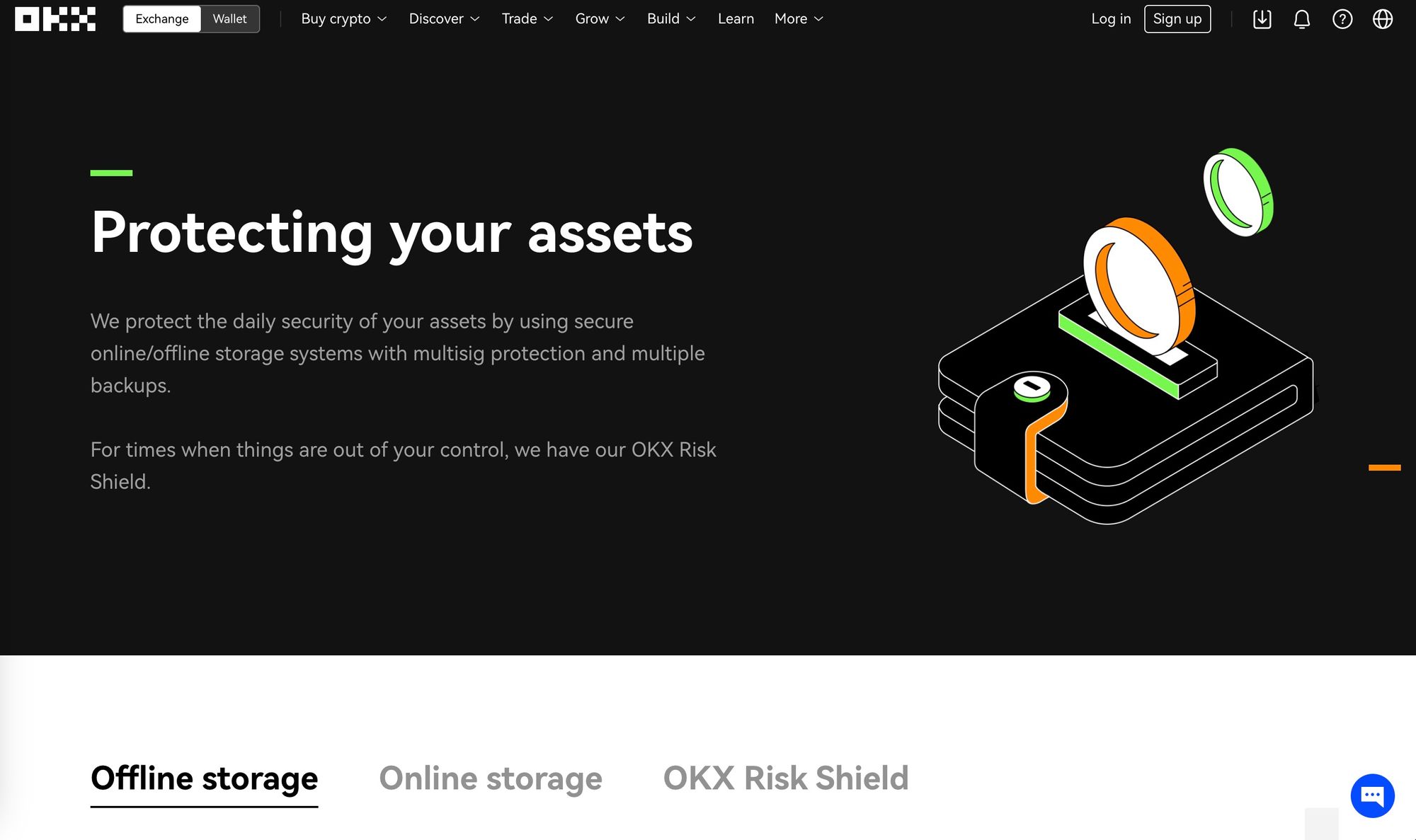 Having established its roots in Hong Kong, OKX has since expanded its reach to Malta, where it operates under the stringent regulations of the local government to ensure the utmost security for its users. We will deep dive in the regulations topic in the next paragraphs.
The platform's security measures are similar to the ones of the other popular exchanges such as Coinbase and KuCoin, including bank-level SSL encryption, KYC (know-your-customer) verification, email verification codes, 2-factor authentication, withdrawal passwords, and mobile verification codes, which altogether ensure a smooth and secure overall experience.
OKX implements several security features to ensure the safe storage and handling of cryptocurrencies. One of these features is offline storage, where cryptocurrencies are stored in a secure location that is not connected to the internet. This ensures that the crypto assets are protected from potential online hacking or security breaches.
Additionally, OKX also has online storage, where cryptocurrencies are stored on servers that are protected by multiple layers of security.
The OKX Risk Shield is another security feature that provides real-time monitoring and protection against potential security threats. Together, these security features provide a comprehensive and secure environment for storing and handling cryptocurrencies.
Despite past controversies and negative reviews, OKX has persevered and has taken steps to increase the security of its infrastructure, protecting its reputation and ensuring the safety of its users.
OKX Proof of reserves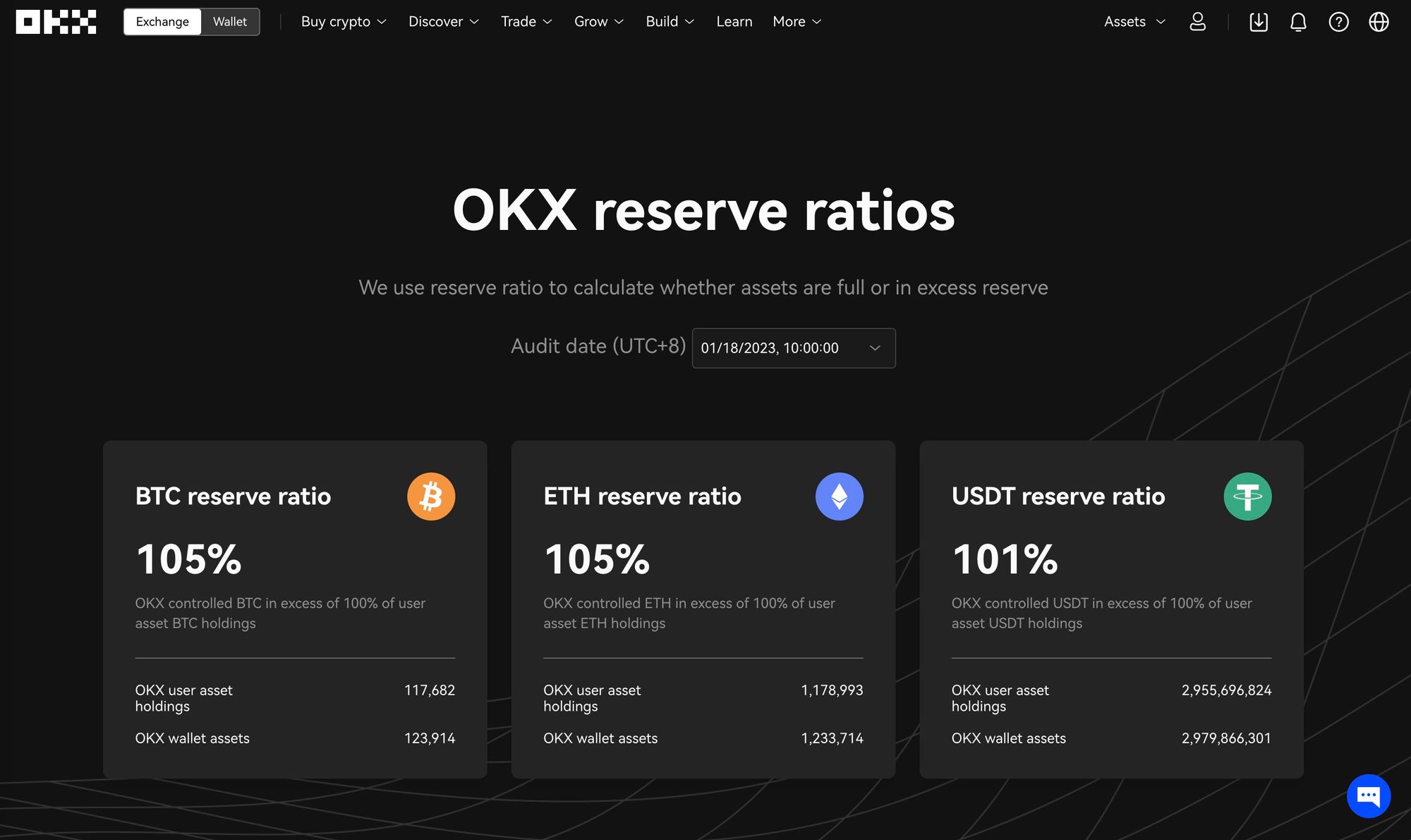 OKX takes pride in its commitment to ensuring the safety and security of its customers' assets.
The company maintains a 1:1 reserve of all customer assets on its platform and provides full transparency regarding to its reserves and the funds of its customers.
The safety and security of funds is considered the company's greatest responsibility and top priority. OKX's reputation for best-in-class security is further reinforced through the implementation of Proof of Reserves (PoR).
The company's on-chain wallet holdings are made publicly available, allowing customers to verify that their funds are backed 1:1 by real assets.
OKX also regularly publishes Proof of Reserve audits, making it easy for customers to confirm that their assets are securely held in the company's reserves.
OKX Regulations
As said, OKEx is registered in both Hong Kong and Malta, and offers VFAA compliant trading services.
As a regulated authority under Malta Financial Services, the Virtual Financial Asset Act, or VFAA, ensures the trustworthiness of OKX. With a proven track record of security and favorable user experiences, OKX is widely regarded as one of the safest crypto trading platforms globally.
OKX Fees
OKX offers a comprehensive fee structure for its users, covering various aspects of trading, deposit/withdrawal, staking and more.
Trading fees
The fees for trading on the platform vary for regular and VIP users.
Regular users are grouped based on their total holdings of OKB, while VIP users are classified by their 30-day trading volumes and daily asset balances.
These tiers are reviewed daily. If a user meets the requirements for different fee tiers, including spot trading volume, total trading volume of futures and perpetual contracts (USDT-margined, USDC-margined, and crypto-margined), options trading volume, and total assets, they will receive the highest fee tier discount.
For example, if a user's 30-day spot trading volume is 20,000,000 USD (VIP 2), 30-day total trading volume of futures and perpetual contracts is 200,000,000 USD (VIP 3), 30-day options trading volume is 5,000,000 USD (VIP 1), and their total assets as of today are 5,000,000 USD (VIP 4), they will receive discounts in all markets as a VIP 4 user.
OKX has an interesting fee structure, with market makers paying from a 0.08% fee and market takers from a 0.10% fee, placing the exchange among the most cost-effective options.
Spot trading fees structure example for USDT/USDⓈ/Crypto pairs.
| Tier | Total OKB holding | Assets (USD) | 30-day trading volume (USD) | Maker fee | Taker fee | 24h withdrawal limit (BTC) |
| --- | --- | --- | --- | --- | --- | --- |
| Lv1 | < 500 | < 100,000 | < 10,000,000 | 0.080% | 0.100% | 500 |
| Lv2 | ≥ 500 | < 100,000 | < 10,000,000 | 0.075% | 0.095% | 500 |
| Lv3 | ≥ 1,000 | < 100,000 | < 10,000,000 | 0.070% | 0.090% | 500 |
| Lv4 | ≥ 1,500 | < 100,000 | < 10,000,000 | 0.065% | 0.085% | 500 |
| Lv5 | ≥ 2,000 | < 100,000 | < 10,000,000 | 0.060% | 0.080% | 500 |
Deposit/Withdrawal fees
Additionally, OKX's withdrawal fees are also low, with a 0.0005 BTC fee for Bitcoin withdrawals, making it a cost-efficient option.
As a no-fiat exchange, OKX does not charge any deposit fees for funding accounts with cryptocurrencies.
Overall, OKX is a worthy consideration, especially for low market cap altcoin investments.
Cryptocurrencies available
OKX supports a comprehensive range of cryptocurrencies, offering access to over 350 digital assets and over 500 trading pairs.
The platform has a diverse portfolio of tokens, including well-established cryptos such as:
Bitcoin (BTC);
Ethereum (ETH);
OKB (OKX Utility Token);
Aave (AAVE);
Solana (SOL);
Cardano (ADA)
Polygon (MATIC)
Ripple (XRP)
Dogecoin (DOGE)
Shiba Inu (SHIB)
Polkadot (DOT)
OKX Features
OKX boasts several features that offer unique insights into the cryptocurrency realm.
This section will highlight the key features of OKX beyond trading and purchasing cryptocurrency, including copytrading, earning, loaning, the Web3 wallet, and a particularly uncommon feature - demo trading.
OKX Copy Trading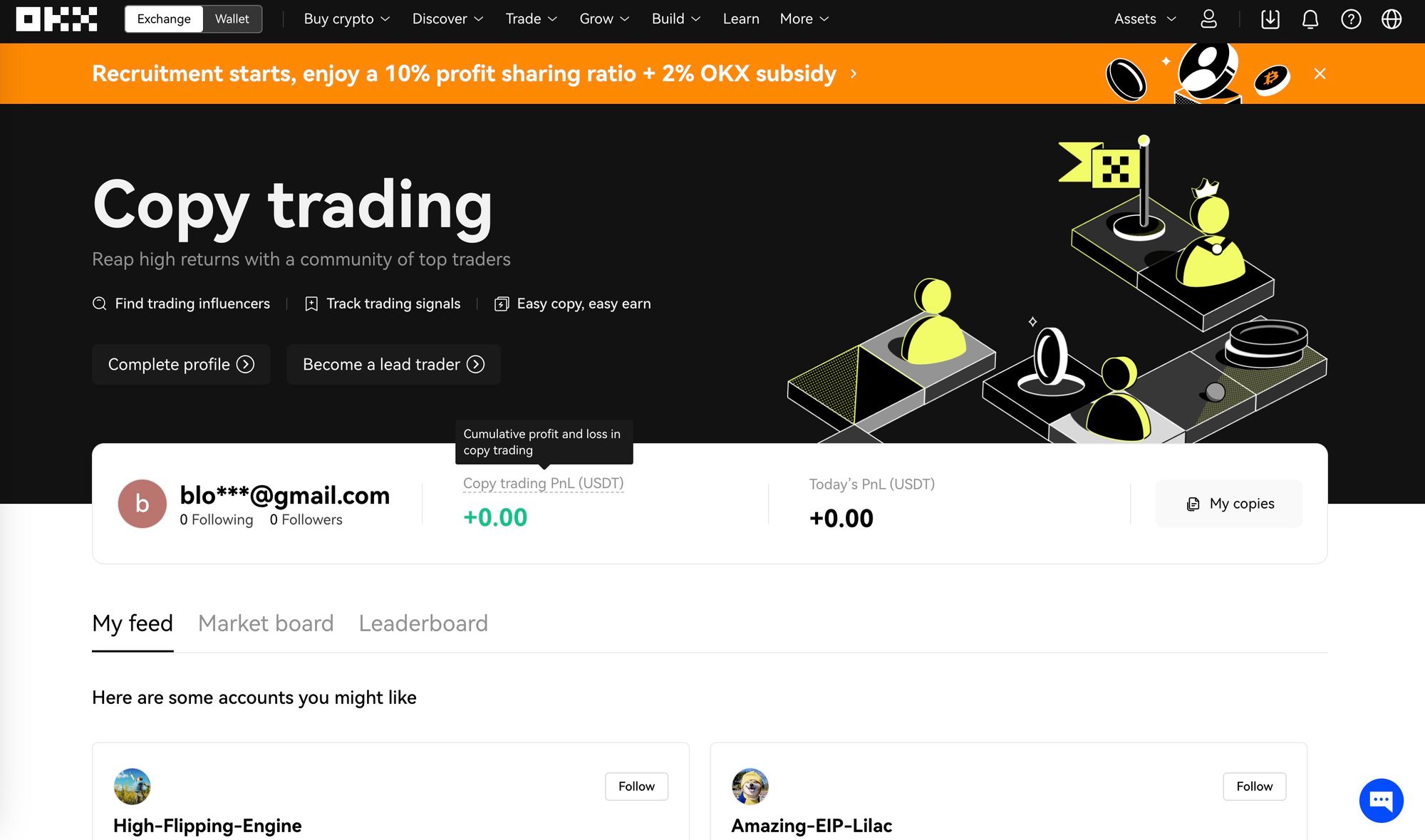 With this tool, users are able to share their successful trading strategies and earn profits or learn from professional traders from around the world through copying their trades.
By becoming a lead trader, users can earn an additional 12% profit share from those who follow their trades. Copy Trading offers a unique opportunity for users to learn from top traders and enhance their own trading experience.
OKX Earn
OKX offers numerous possibilities for users to obtain crypto, including their complimentary Bitcoin offer, services such as OKX Pool, and decentralized finance offerings within MetaX.
Additionally, there are also off-chain options for generating passive income. OKX Earn serves as a centralized hub for all earning opportunities on the OKX platform.
Currently, OKX Earn offers eight products that allow users to earn passive income with their crypto assets:
Staking;
Savings;
Dual Investment;
DeFi;
DOT and KSM slot auctions;
ETH 2.0 staking;
Jumpstart;
P2P lending.
Web3 Wallet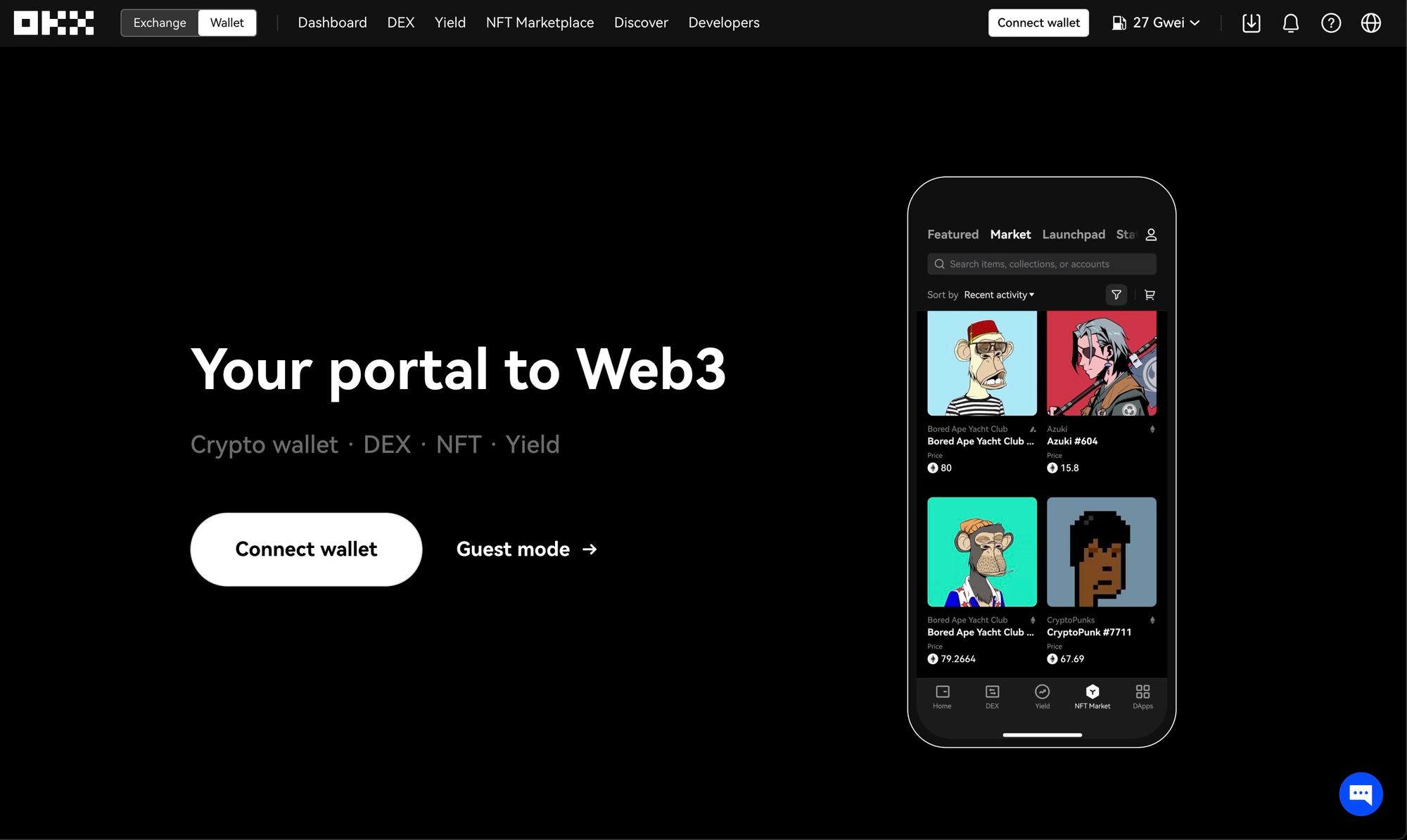 The OKX Wallet is an advanced and secure digital asset management solution, offering a noncustodial platform for the storage of multichain assets.
It's an all-around platform that gives the functions of a crypto wallet, decentralized exchange, Non-Fungible Token marketplace, and yield generation.
It is available as either a browser extension or a mobile/web application, this wallet provides you with complete control over your Web3 Wallet and the crypto assets stored within.
As the custodian of your funds, you are the sole owner of the transfer of assets on any supported network, with no other participant, including OKX, having any authority over your wallet.
OKX Demo Trading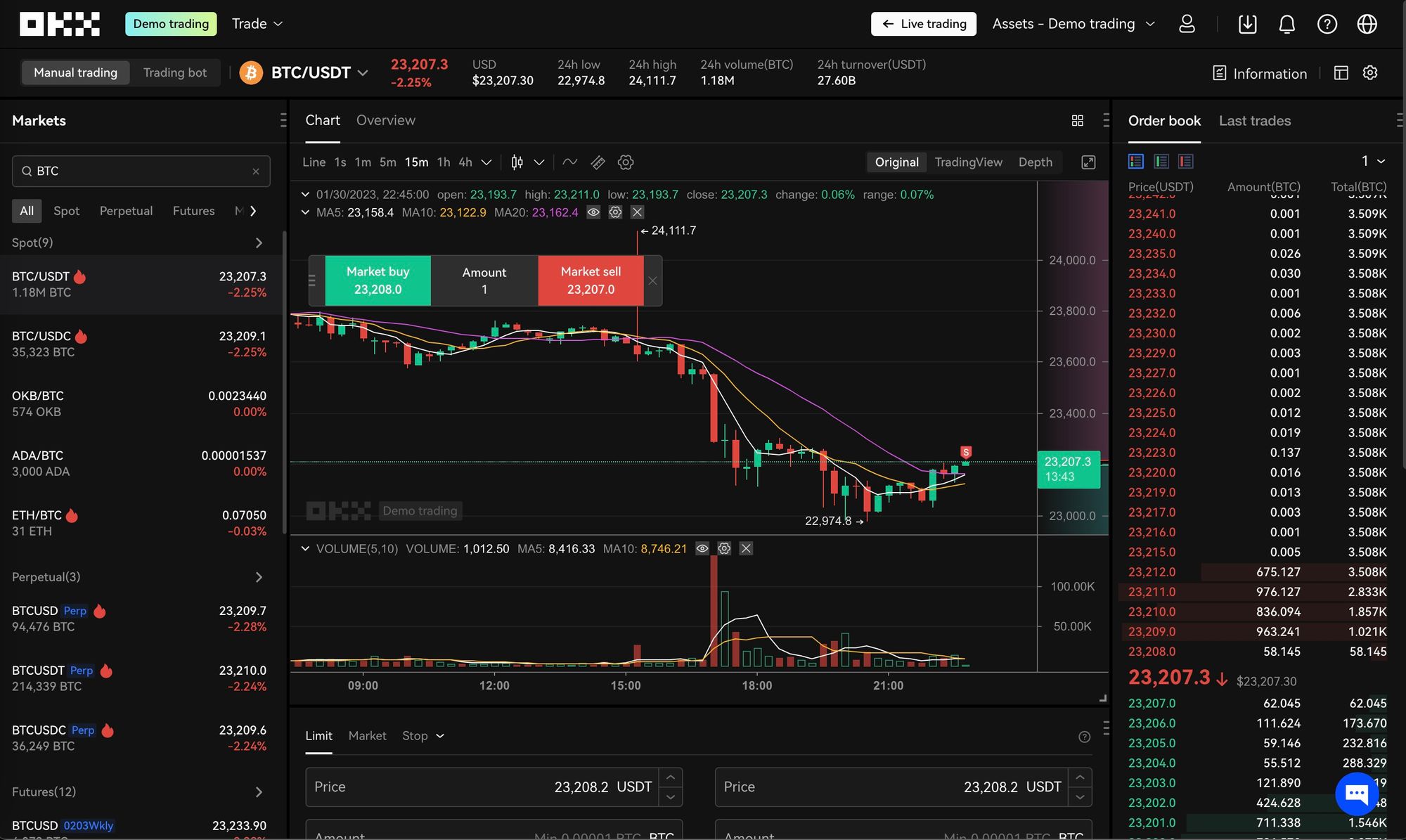 OKX offers an unparalleled opportunity to sharpen your trading skills through the utilization of a fully-functional demo trading platform.
With access to the entire portfolio of tokens offered on the real exchange, you are provided with an unlimited range of possibilities to practice and familiarize yourself with the various functions of the cryptocurrency market, both manual or bot trading. On spot or futures contracts.
This valuable opportunity serves as an excellent training tool for when you are ready to invest real money in the world of crypto. In order to use the demo trading account, you just need to open an account. No KYC needed.
👉 Click here to open an account on OKX and claim your Mystery Box worth up to $10,000.
OKX Trading Platforms
OKX presents three distinct modes of access to its trading platform: a convert super-simple platform or a straightforward web application or mobile applications for both Android and iOS devices.
Let us examine each of these options in greater detail to gain a deeper understanding of the functionality and features offered by OKX.
OKX Convert Trading Platform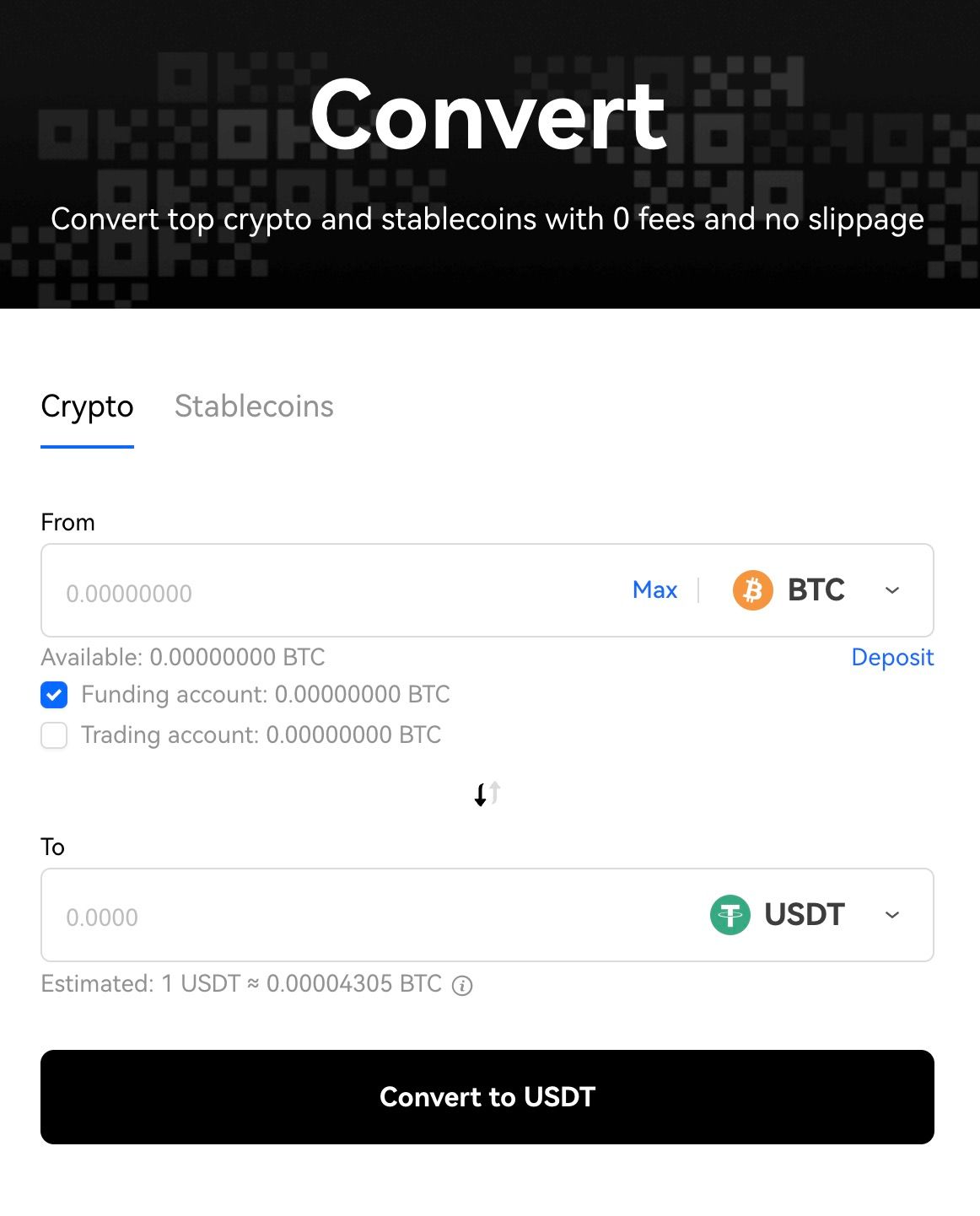 The Convert platform by OKX is the epitome of simplicity in trading.
With the ability to seamlessly exchange top cryptocurrencies and stablecoins with zero fees and minimal price deviation, the Convert platform streamlines the trading experience for users of all levels.
By simply selecting the desired conversion pair, OKX takes care of the rest, ensuring that trades are executed promptly and efficiently.
Although this option may be more costly than others, as trades are executed at market price rather than a set limit, it remains an excellent choice for novice traders seeking a straightforward and user-friendly solution.
OKX Advanced Trading Platform
The OKX active trading platform caters to the needs of seasoned traders with its sophisticated features, including support for market, limit, and stop orders, advanced conditional trades, and flexible market charts.
The platform also offers a comprehensive open order book for supported coins on the OKX exchange.
The added convenience of being able to choose from multiple available layouts or build custom ones, enhances the overall trading experience for advanced users.
Additionally, the platform comes equipped with a built-in trading bot, allowing users to execute trades with a set of predefined rules, making it ideal for margin trading or executing other advanced strategies.
OKX Mobile Apps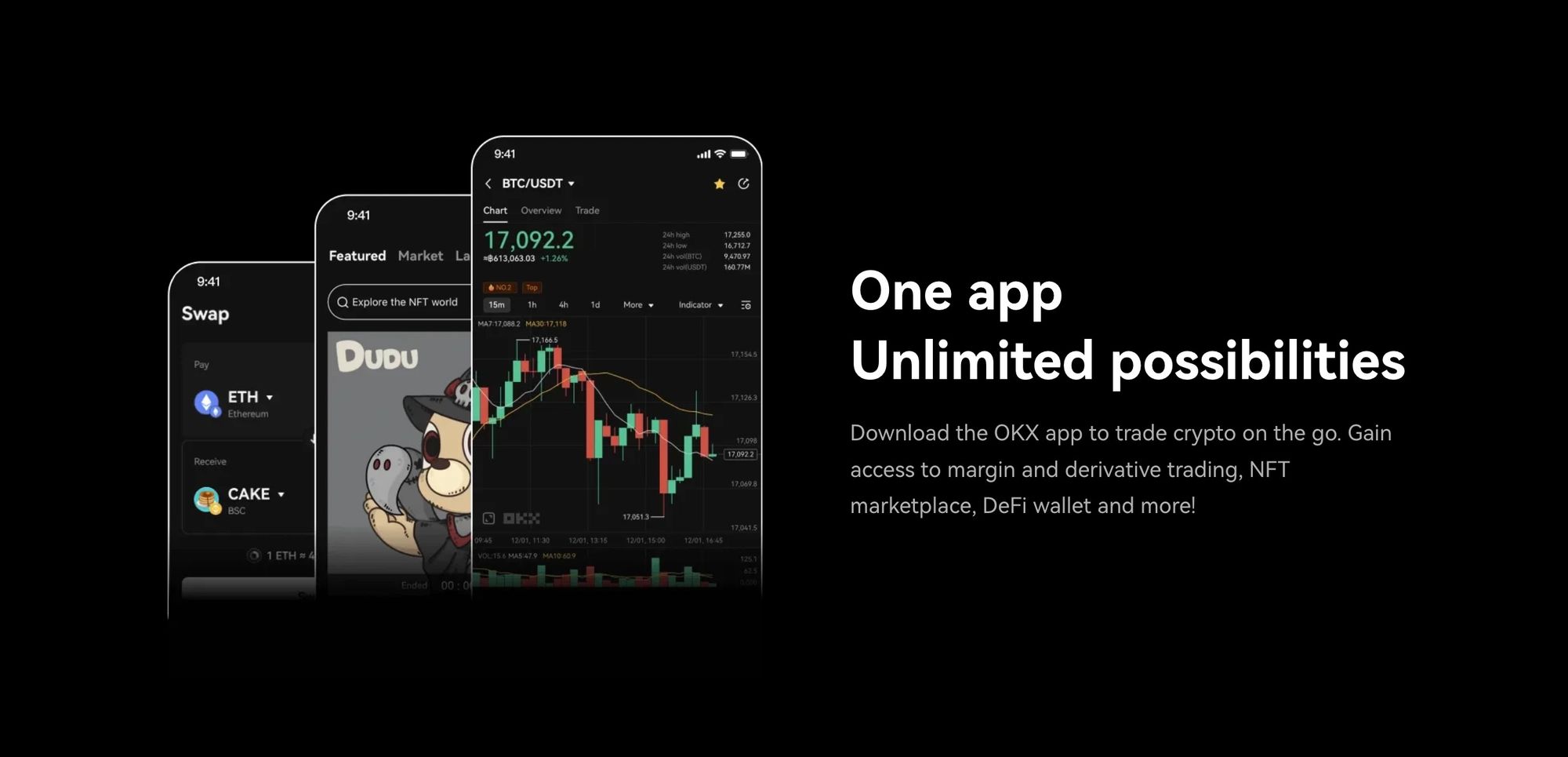 The OKX mobile applications for iOS and Android offer a simplified trading experience while providing the flexibility to trade cryptocurrencies on-the-go.
The apps grant access to a diverse range of features, including margin and derivative trading, a Non-Fungible Token marketplace, a decentralized finance wallet, and much more, all from the comfort of your mobile device.
The seamless integration of these essential tools into one centralized platform enhances the overall trading experience for users seeking a more convenient and accessible solution.
OKX Opinions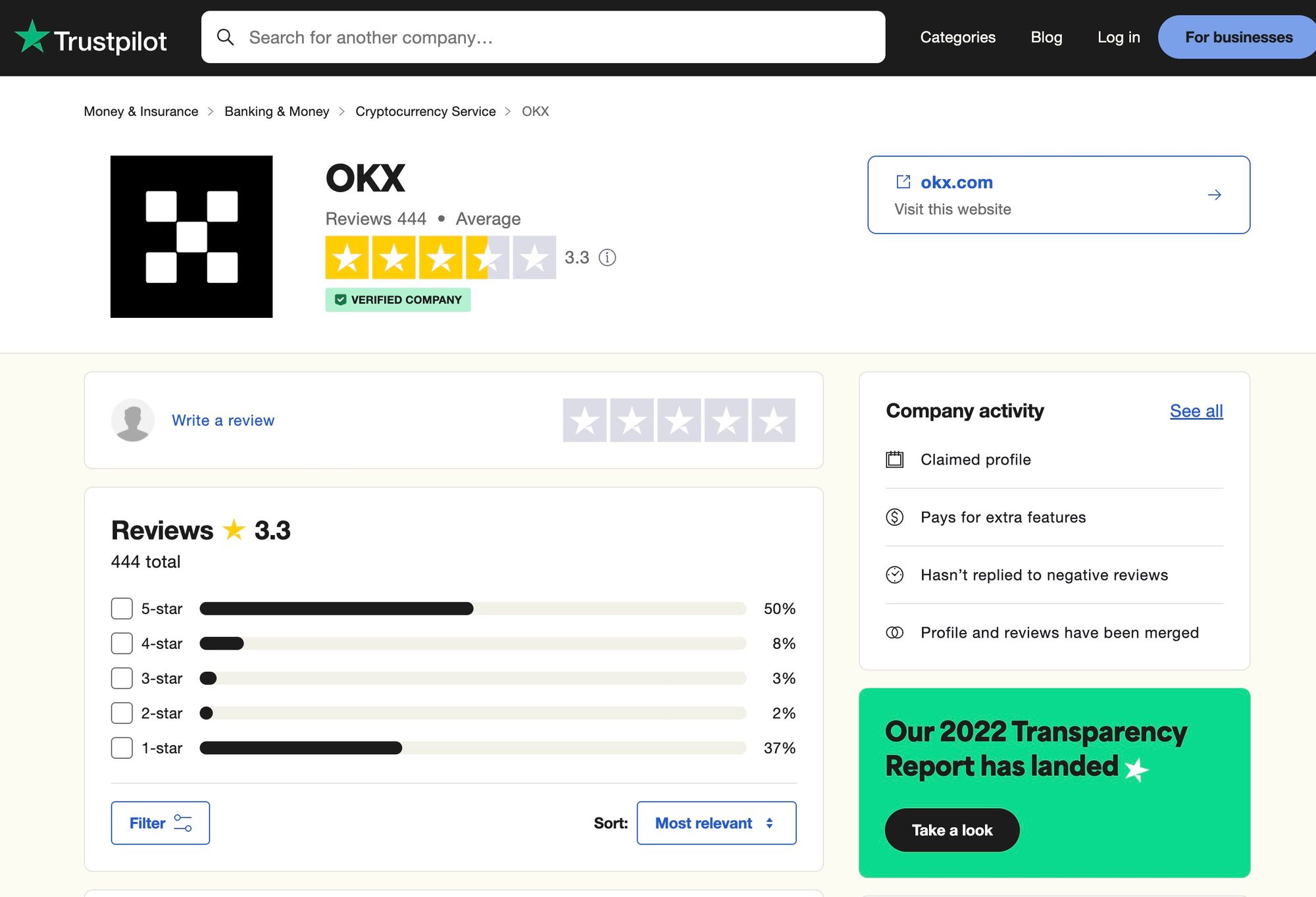 OKX has received a blend of opinions on consumer review platforms. While patrons commend its seamless online interface, prompt transactions, and minimal fees, detractors lament the lackluster customer support, missing funds, and sluggish withdrawal speeds.
On Trustpilot, OKX holds a moderately impressive average rating of 3.3 stars out of five, based on nearly 450 evaluations, a score well above average for cryptocurrency exchanges.
OKX Pros and Cons
| Pros | Cons |
| --- | --- |
| Low trading fees, with most trades incurring 0.08% or less | Currently inaccessible to users in the United States |
| Generous high-interest staking options | Limited liquidity for some cryptocurrencies |
| Effortless acquisition of cryptocurrency via credit/debit card, bank account, or digital wallet | Mixed feedback from previous users |
Bottom Line
OKX is one of the biggest cryptocurrency exchange out there, Malta-regulated and widely trusted by a substantial number of users.
It offers a straightforward and convenient platform for individuals of all levels of cryptocurrency proficiency, allowing for the purchase, retention, and exchange of a diverse array of popular cryptocurrencies, all at competitive transaction fees.
However, some previous inconsistencies, ambiguous information, and customer complaints should prompt a cautious approach. To ensure maximum security for your account and assets, it is advisable to utilize OKX's advanced security features.
With a familiarization of online financial products and adherence to security best practices, one can expect a positive experience with OKX.
Frequently asked questions (FAQ)
Is OKX safe?
OKX employs security measures such as cold storage for a majority of customer assets, and offers additional protection through options like a withdrawal password, two-factor authentication and anti-phishing codes.
What is the OKX giveaway?
It's a promotion to mark the launch of the OKX brand campaign, they are giving away $100,000 in BTC. By entering your email, individuals will find out if they are a winner.
What is OKX?
OKX, previously named OKEx, is a cryptocurrency and derivatives exchange based in Malta. Established in 2017 by Star Xu, it is a subsidiary of OK Group, which also operates the cryptocurrency exchange Okcoin. The CEO is Jay Hao, and the CMO is Haider Rafique.