Revolut review: a digital bank in a mobile app [2023]
Revolut is a banking app available in the US, Europe, UK, and many other countries, offering a globally accepted prepaid debit card.
Revolut offers competitive exchange rates during the week, but there is a markup of up to 1% on weekends.
The Standard plan is free, but it has limits on fee-free overseas spending. All Revolut plans, including paid plans, have limits on the number of fee-free ATM withdrawals per month.
👉 Click here to open a free Revolut account.
What is Revolut?
Revolut is a London-based fintech company that provides a range of banking services, including EUR, GBP and USD bank accounts, debit cards, fee-free currency exchange, stock trading, cryptocurrency exchange, and peer-to-peer payments.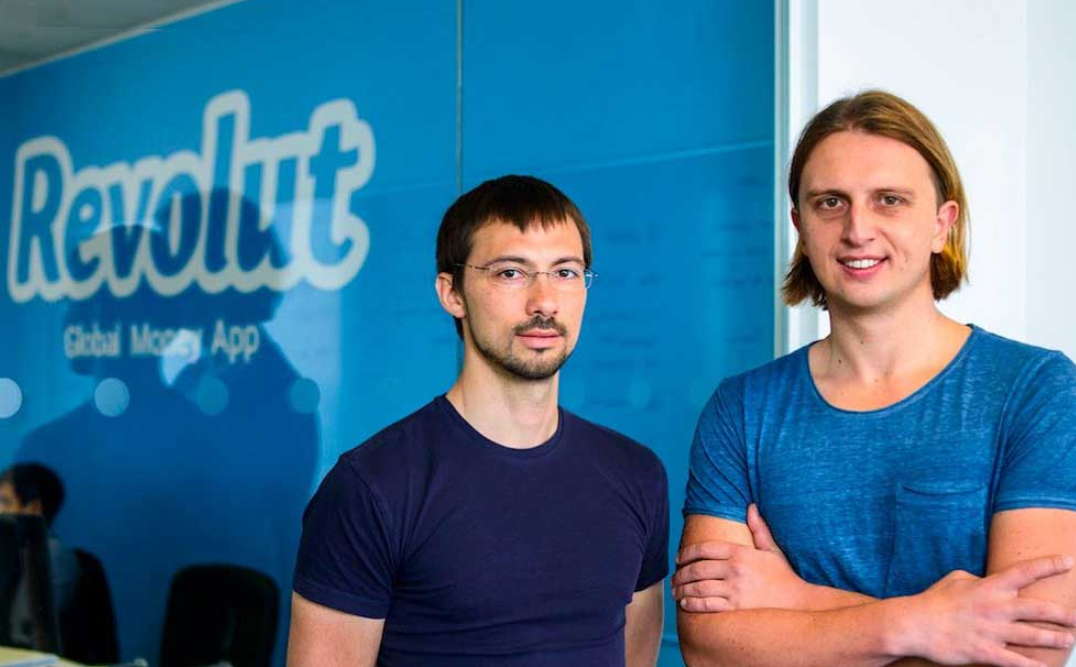 Its mobile app allows users to make spending and ATM withdrawals in 120 currencies and to make transfers in 29 currencies directly from the app. Revolut was founded in 2015 by Nikolay Storonsky and Vlad Yatsenko.
How does Revolut work?
Revolut is a digital bank app that during the last decade has revolutionized the way consumers manage their finances. In the beginning, the company started as a prepaid card and app designed to make it easier and cheaper for travelers to switch between currencies. Since then, Revolut has expanded its product offerings and now has over 18 million customers worldwide.
Unlike traditional banks, Revolut allows customers to open an account with no paperwork, and claims that it is possible to open account in only one minute, without conducting credit checks or requiring proof of address.
After opening the account, customers can choose to receive either a physical or just a virtual card, both of which are prepaid contactless Visa cards that can be used at retailers in the US/EU/UK and abroad.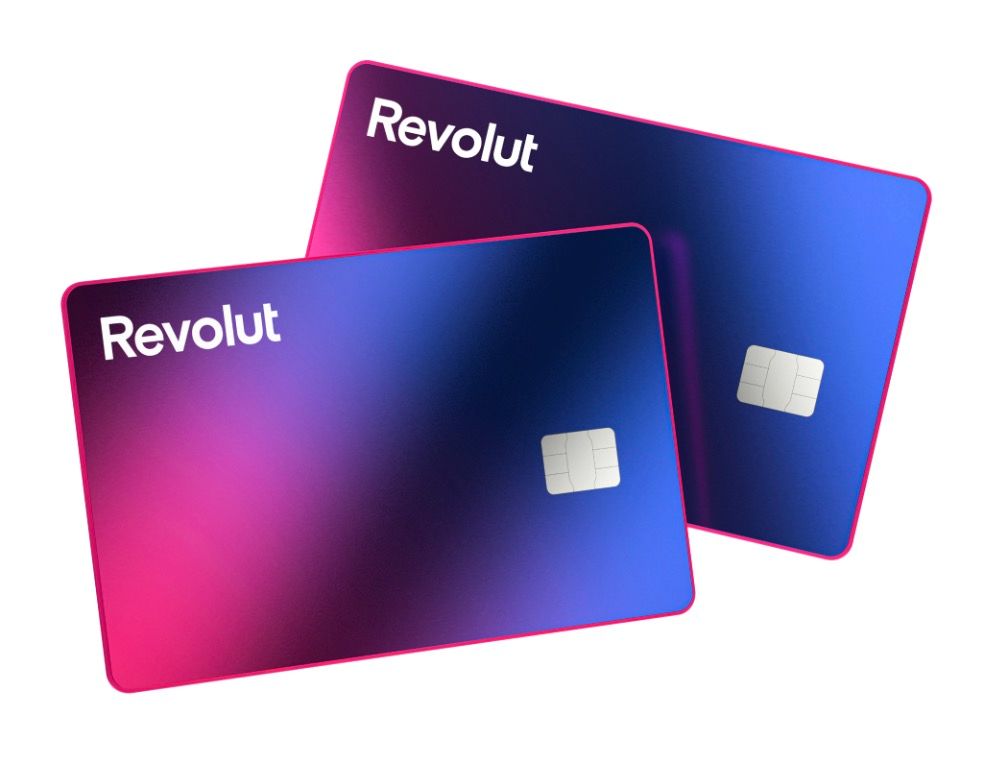 The physical card can be used to make transactions in the base currency or any other currency, and the exchange rate is automatically applied at the time of the transaction.
The Revolut account is managed through a smartphone app, which is available for free download on both iOS and Android devices (some functions also available from the web app).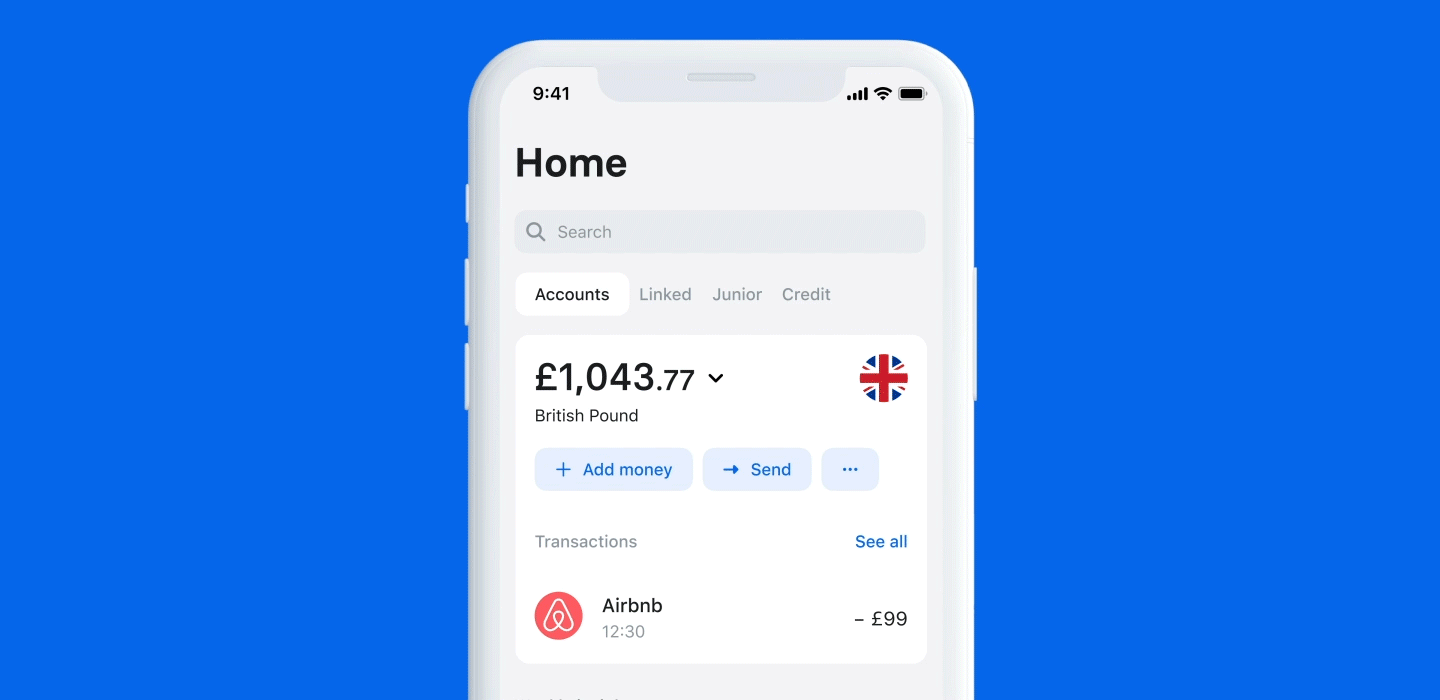 To use the app, customers must be comfortable managing their account through their device and will need to set up a four-digit password or use fingerprint/face recognition for security.
Revolut also offers an Apple Watch app that allows customers to receive notifications on their watch face or phone. Revolut customers can make payments using Apple Pay and contactless payment methods, as well as traditional PIN pad transactions.
Revolut Crypto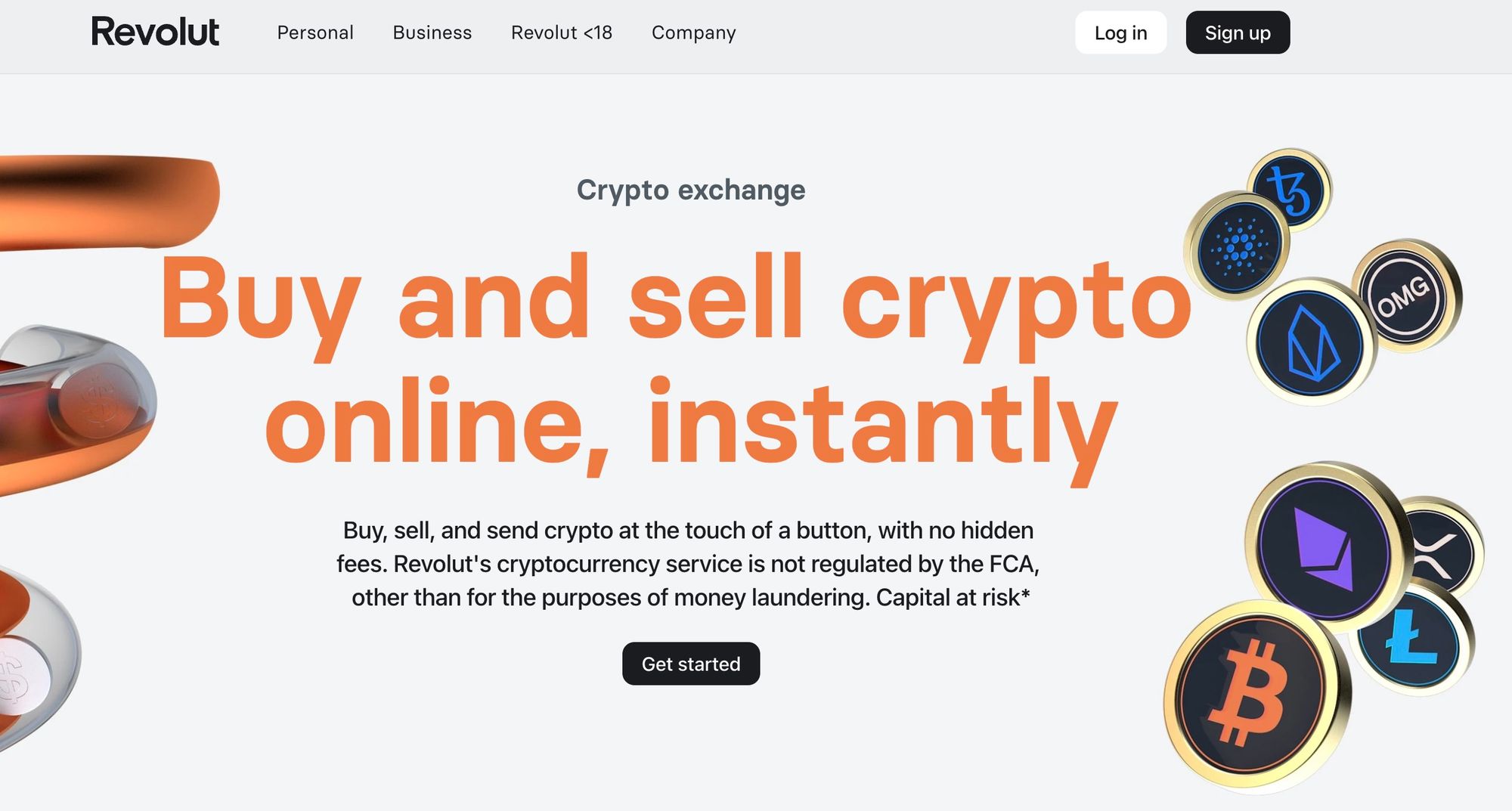 The Revolut app allows you to instantly buy Bitcoin, Ether, Litecoin and more than 30 tokens. You can start investing with as little as $/£/€ 1  (within the limits of your plan).
Therefore, you can buy, sell, and make transfers in crypto with your friends just like with any other currency; just go to the Cryptocurrencies tab in the Revolut Dashboard, select the "Crypto" button in the app's Hub > Wealth and accept the terms and conditions.
Once this feature is activated, the user can use any supported fiat currency to buy cryptocurrency or exchange it back into a fiat currency. Revolut offers the opportunity to buy and sell cryptocurrencies at the best possible exchange rates by collaborating with various partners for the exchange service.
The prices shown are derived from the currency exchange services with which Revolut collaborates, from which it calculates the volume-weighted average price (VWAP); the derived rates take into account various factors such as market depth and price volatility, after which a margin - which varies depending on the plan - is applied to the derived rate, which is shown separately before making a transaction and later in the details. The price is locked at the time of the transaction.
It is also possible to set price alerts and automatic currency exchanges: to not miss any fluctuations, you can choose to receive notifications to track crypto movements in real-time when the price varies by more than 2%. Limit order, stop order, and buy order options are also available, which automate the buying and selling processes based on fluctuating prices.
There are also operational limits, and you cannot spend cryptocurrencies directly from the Revolut card. As for the custody of cryptocurrencies, Revolut does not currently issue individual wallets: when users buy them, the fintech stores them securely within a combined account, that is, a group of accounts consisting of hot wallets and cold wallets that serve as the private key repository.
The Revolut platform works on an internal system that records the user's exposure, visible from the cryptocurrency account in the Revolut app from which you can manage the balance in fiat currency and cryptocurrency.
Precisely because of this system - a sort of register of all the operations and transfers that take place within the platform - users who operate through Revolut cannot see their transactions on the Blockchain. Therefore, you are exposed to crypto but do not embrace the decentralization inherent in the philosophy that gave birth to Bitcoin and the like.
For Premium and Metal users, there is a fee of 1.49% of the value of the cryptocurrency transaction. For Standard and Plus users, the fee is either 1.99% of the value of the cryptocurrency transaction or the currency equivalent of €/£0.99, whichever is higher. This "minimum fee" amount is based on the user's country of residence. It is worth noting that there is no minimum fee for the "spend from crypto balance" feature.
Revolut Crypto Wallet
Revolut has various times announced the release of a non-custodial wallet, but currently, there is no indication of this feature within the app.
At present, Revolut stores customers' cryptocurrency assets with a custodian, in which the customer is the beneficial owner. However, Revolut is not responsible for any losses incurred if the custodian is fraudulent or suffers a data breach.
Revolut main features
Bank account with your own IBAN: a real bank account that has its own International Bank Account Number (IBAN). An IBAN is a standardized format for identifying bank accounts across international borders, which can make it easier to send and receive cross-border payments. In Europe, Revolut usually gives to its users Lithuanians bank account numbers.
Apple/Google Pay: a mobile payment platforms that allow you to make purchases with your phone by using near field communication (NFC) technology. With Apple Pay or Google Pay, you can pay for goods and services by simply holding your phone near a compatible terminal, without the need to physically swipe or insert a card.
Pockets: a feature that allows you to set up virtual accounts, or "pockets," within your main bank account. You can use pockets to set aside money for specific purposes, such as bills or subscriptions, and automate payments from the appropriate pocket.
Round up spare change: rounds up the amount of each purchase you make to the nearest whole number, and automatically transfers the difference to a savings account.
Earn interest on your savings: the ability to earn money on the funds that you have deposited in a savings account. When you earn interest on your savings, you receive a percentage of the total amount you have saved, based on the interest rate offered by the financial institution.
Spending analytics: tools and reports that help you track and analyze your spending habits. Spending analytics may provide insights into your spending patterns, categorize your purchases, and help you identify areas where you may be able to save money.
Invest in crypto, stocks, commodities: invest in different types of assets, such as cryptocurrencies, stocks, and commodities, through an investment platform.
Fee-free spending abroad: make purchases in foreign countries without incurring additional fees.
Get paid early: access your salary or wages before they are paid according to your regular pay schedule.
Get instant spending notifications: the ability to receive real-time alerts when transactions are made using your bank account or payment card. These notifications can help you stay on top of your spending and protect against fraudulent activity.
Manage subscriptions: the ability to organize and manage recurring payments, such as subscriptions to online services or magazines. This feature may also allow you to cancel unwanted subscriptions, and may provide end-of-trial notifications giving you the opportunity to cancel before the subscription renews.
Manage your finances in one place: track and manage all of your financial accounts and transactions in a single location, such as a financial management app or website. By connecting your various bank accounts, credit cards, and other financial accounts, you can get a comprehensive view of your financial situation in one place.
On-demand pay: This refers to the ability for employees to access their salary or wages at any time before they are paid according to their regular pay schedule. Some employers may offer this service as an employee benefit, which can be helpful in the event of an emergency or unexpected expense.
Pet insurance: an  coverage for pets, which can help cover the costs of medical care for your animal in the event of an illness or injury. Pet insurance policies may cover a range of services, including veterinary visits and assistance 24/7, medication, and surgery.
Save money with Revolut's rewards feature: a program offered by Revolut that allows you to earn cashback and rewards when you make purchases with your Revolut card at participating retailers.
Set monthly spending budgets: set limits on your spending in order to better manage your finances and achieve your financial goals. By setting monthly spending budgets, you can track your spending and make sure that you are staying within your means.
Split bills: divide the cost of a purchase or service among multiple people. This feature can be helpful when dining out with friends or family, or when paying for a shared service or activity.
Transfer money abroad: send money to a recipient in a foreign country. This feature may allow you to send money in a variety of currencies, and may use the Interbank Exchange Rate to determine the exchange rate for the transaction.
Upcoming payment reminders: reminders that alert you when a payment is coming due, such as a bill or a loan payment. These reminders can help you ensure that you have sufficient funds available to cover the payment and avoid late fees or other penalties.
Virtual card: a digital payment card that can be used for online transactions. A virtual card typically has a unique card number, expiration date, and security code, and can be used for purchases just like a physical card. However, because the card is digital, it can be more secure than a physical card and may be less vulnerable to fraud.
Revolut <18 accounts: This refers to bank accounts offered by Revolut that are specifically designed for children aged 6-17 years old. Revolut <18 accounts may offer features such as parental controls and spending limits to help parents manage their child's finances.
Revolut Plans
Revolut offers a range of plans to suit the needs of different users. There are options for individual users, such as the Standard, Plus, Premium, and Metal plans, as well as a Revolut Business account for businesses. Each plan includes a different set of features and benefits, and users can choose the one that best fits their needs.
Revolut Personal Plans
| | Standard | Plus | Premium | Metal |
| --- | --- | --- | --- | --- |
| Monthly subscription price | FREE | £2.99 / €2.99 | £6.99 / €7.99 | £12.99 / €13.99 |
| Unlimited disposable virtual cards | ✅ | ✅ | ✅ | ✅ |
| Fee-free spending abroad | £/€1,000/month | £/€1,000/month | ✅ | ✅ |
| Fee-free ATM withdrawals | Up to £200/month (or max 5 withdrawal limit) | Up to £/€200/month | Up to £/€400/month | Up to £/€800/month |
| Daily £ savings interest (AER) | Up to 0.87% | Up to 0.95% | Up to 1.65% | Up to 1.95% |
| Overseas medical insurance | ❌ | ❌ | ✅ | ✅ |
| Delayed baggage & flight insurance | ❌ | ❌ | ✅ | ✅ |
| Priority customer support | ❌ | ✅ | ✅ | ✅ |
| Purchase protection | ❌ | £/€1,000 per year | £/€2,500 per year | £/€10,000 per year |
| Event ticket protection (up to £/€1,000 per year) | ❌ | ✅ | ✅ | ✅ |
| Refund protection (purchase protection for up to 90 days) | ❌ | ✅ | ✅ | ✅ |
| Revolut <18 account access | 1 child | 2 children | 2 children | 5 children |
| Full Revolut <18 account features | ❌ | ✅ | ✅ | ✅ |
| Loungekey | ❌ | ❌ | You +1 friend | You + 3 friends |
| Cashback on card payments | ❌ | ❌ | ❌ | 0.1% in Europe, 1% outside of Europe |
| Revolut Rewards | ✅ | ✅ | ✅ | ✅ |
| Cryptocurrency withdrawals | ✅ | ✅ | ✅ | ✅ |
Revolut Business Account
Revolut offers a global business account with the following features:
The ability to hold, receive, and exchange over 30 currencies at the real interbank exchange rate;
Instantly send money to other Revolut business accounts without any fees;
Prepaid multi-currency business cards that allow businesses to set spending limits for employees and reduce foreign exchange costs;
Integration with accounting software within the app;
The Revolut Open API, which can be used to automate cross-border payments, send payments to clients or employees, and monitor transactions.
Revolut Pro Account
If you're a self-employed individual, a freelancer, or earn money from a side hustle, you might find the Revolut Pro account more beneficial than a Revolut business account. Revolut Pro offers:
A complimentary self-employed business account within the primary Revolut app;
The ability to clearly distinguish between your business and personal finances;
A debit card that provides 1% cashback;
The capability to make multi-currency payments;
A one-of-a-kind IBAN number;
The ability to generate, track, and send invoices;
The option to make fee-free transactions abroad.
Revolut <18 Account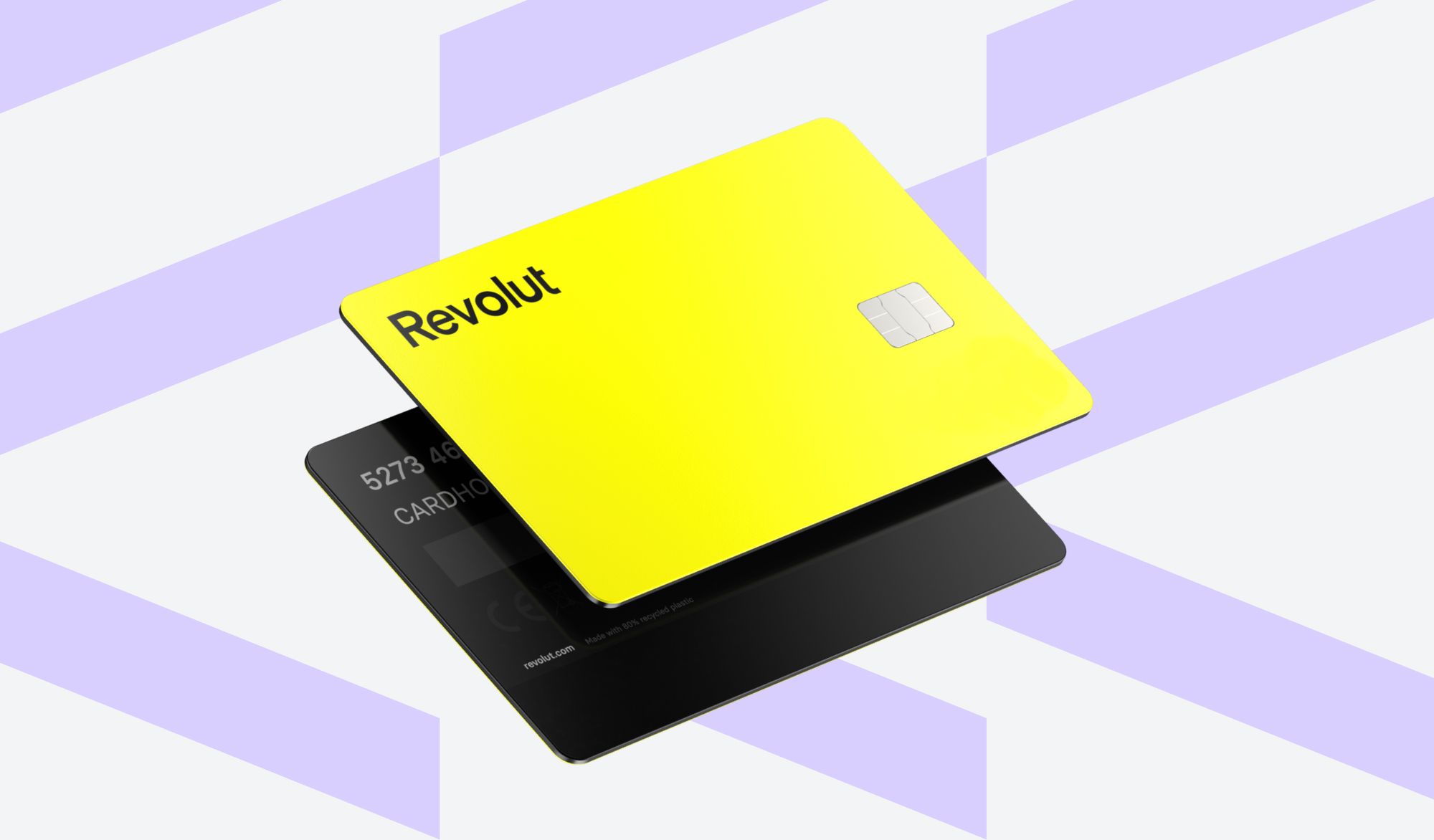 Revolut has an account for children aged 6-17 years old, known as the Revolut <18 account. This account allows you to educate your children about money while still retaining access and control over their account.
Features of the Revolut <18 account include:
A Revolut <18 card and app;
The ability to track pocket money;
Instant spending alerts;
Custom card controls.
While the Revolut <18 account only includes basic features, you have the option to upgrade to a Revolut Plus, Premium, or Metal plan for additional benefits such as Tasks and Goals.
Revolut Fees
| Action | Fee |
| --- | --- |
| Delivery charge | Free of charge. More info inside the Revolut App |
| Additional physical Revolut card | €/£5 |
| International transfers (not to another Revolut user and outside SEPA region) | Varies based on the currency. There is a €/£3 fee to transfer €/£1,000 to USD. |
| ATM withdrawals | 5 free ATM withdrawals each month (or up to €/£200 whichever is first), 2% fee thereafter (minimum of €/£1) |
| Spending abroad | Up to €/£1,000 fee-free per month Monday – Friday (interbank exchange rate markups apply at the weekend) and 0.5% above the €/£1,000 limit |
| Exchanging money | The fee for the exchange may vary depending on the items being exchanged and when the transaction is taking place. However, you can determine the exact fee within the app. |
| Exchanging cryptocurrencies | 1.99% fee of the value of the transaction (minimum of €/£0.99) for Standard and Plus users |
| Exchanging precious metals | 1.5% fee for Standard and Plus users |
Is Revolut safe?
Revolut is not a traditional bank and therefore your money may not be protected by deposit guarantee schemes.
However, in certain countries, customers may be able to upgrade to Revolut Bank, which provides protection. In the UK, Revolut partners with banks that are part of the Financial Services Compensation Scheme (FSCS) and offer protection up to £85,000 per user. In Europe, the Deposit Guarantee Scheme (DGS) provides protection up to €100,000 per person, per bank. In the USA, Savings Vaults held by Sutton Bank are insured by the Federal Deposit Insurance Corporation (FDIC) up to $250,000 USD.
There have been recent reports of compliance issues at Revolut, but it is important to note that the issue relates to financial crime prevention and not security. Revolut is fully secure and offers users complete control over their cards and transactions through the app, including freezing and unfreezing the card, turning features on and off, and GPS-based security.
Revolut reviews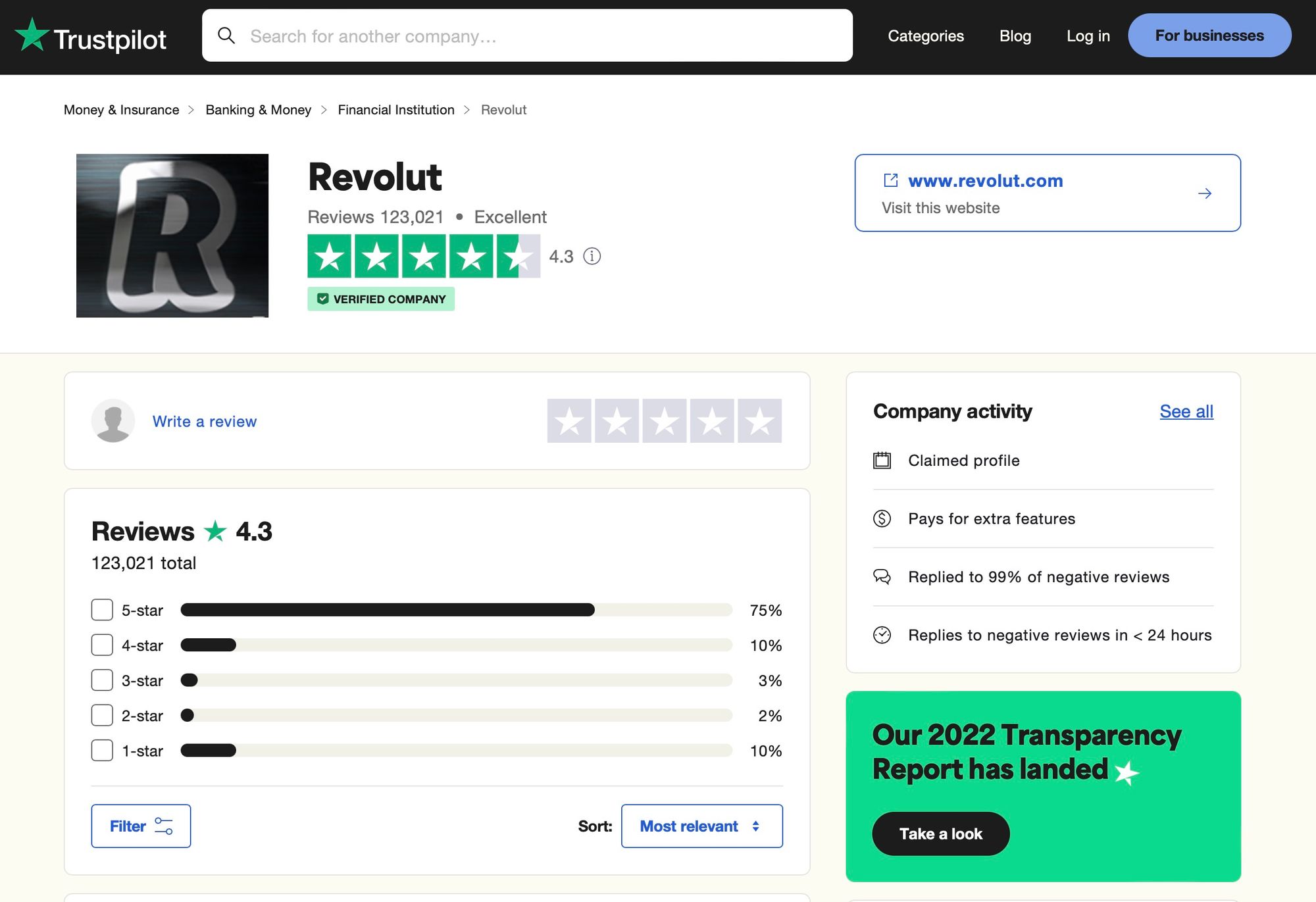 Revolut has received an "Excellent" rating on Trustpilot, with a score of 4.3 out of 5.0 stars from over 120,000 reviews. 75% of reviewers rated Revolut as "Excellent", praising the company's customer service and user-friendly app.
However, 10% of customers rated Revolut as "Bad," citing issues with cashback, logging in to the app, termination of the account and uploading documents.
Bottom line
Revolut is a digital platform that allows you to manage your money, make payments, and exchange currencies, all from the convenience of an app.
It offers a variety of plans for both individual and business users, and comes with a prepaid debit card/s that can be used for a wide range of purposes.
In addition, Revolut allows you to invest in a diverse crypto portfolio. With its various plan options, you can choose the one that best fits your needs.
However, it is important to note that Revolut does not currently provide the possibility to send the cryptocurrency funds to a non-custodial wallet. This means that when you buy cryptocurrency through Revolut, you don't own the keys of your crypto funds, but are held instead in a custodial wallet provided by Revolut.