Curve: a smart 1% cashback card. Review [2023]
Curve is a financial technology company that offers a Mastercard debit card that allows users to link all of their debit and credit cards to it, so that they can access and use all of their cards from one place.
The main product of Curve is its Curve card, which is designed to be a convenient way for users to manage their finances and spend money using the card that offers the best rewards or benefits at any given time.
The company refers to its product as the "banking version of Netflix and Spotify," as it aims to provide a single, streamlined platform for managing multiple financial accounts and products.
In addition to being able to switch between cards and track spending in one place, the Curve card also offers additional features such as fee-free foreign exchange and the ability to earn rewards on certain purchases.
👉 Click here to download the free Curve app and get a £/€5 bonus.
Curve: what is it
Curve's main function is that it allows users to link multiple debit and credit cards to a single card, so that they only need to bring one card.
However, it has recently changed its plans so that users can only link two cards to the Curve card with the free tier. This means that the company is now relying on its other features and benefits to attract and retain customers.
These features include the ability to use the Curve card overseas without incurring in foreign exchange fees, the ability to use credit cards at places that do not accept them, the smart rules features that can select a specific card according to the merchant, the ability to move transactions from one card to another after the fact, and the "anti-embarrassment mode" which automatically switches to a backup card if the selected card is declined.
Whether these features are worth it for a particular individual will depend on their specific financial needs and preferences.
Many would argue that most of the Curve functions can be obtained with a digital wallet on your phone such as Google Pay or Apple Pay. But actually, the functions of Curve card are much more. Let's have a look at the most important one:
One of the main features of the Curve card is that it allows users to use their existing debit and credit cards overseas without incurring foreign exchange fees. When using the Curve card abroad, it utilizes the Mastercard exchange rate, which is known to be competitive. Additionally, each month, Curve offers at least £1,000 of fee-free spending and £200 of cash withdrawals on weekdays (Monday to Friday). It's important to note that there are limits to this benefit and users should be careful not to exceed these limits, as the Curve card charges a 2% fee for each transaction above the limit and a 1.5% mark-up on weekends and bank holidays. This fee would be in addition to any fees charged by the underlying card that is being used.
The Curve card is a debit card, which means that it is linked to a checking or savings account rather than a line of credit. Some merchants or establishments do not accept credit cards and only allow debit card transactions. In these cases, the Curve card could potentially be used to make a purchase or payment, even if the user's underlying credit card is not accepted. This can be especially useful if the user has a rewards credit card that they want to use to earn points or benefits, but the merchant does not accept credit cards. It's worth noting, however, that the Curve card does not work with American Express.
The Curve card has a feature called "go back in time" that allows users to move transactions from one card to another after the fact. This means that if a user has made a purchase using the wrong card, or if they want to change the card they used for a particular transaction for any reason, they can do so up to four months after the fact. This feature can be useful if a user accidentally used the wrong card or if they need to manage their credit limit. To use the "go back in time" feature, the user simply has to log into the Curve app and select the transaction they want to move. They can then choose the new card they want to use for the transaction and the change will be made. It's worth noting that this feature is only available for a limited time after the transaction was made and is subject to certain restrictions.
The Curve card has a feature called "anti-embarrassment mode" that is designed to help users avoid getting declined when making a purchase. If the user's selected card is declined for any reason, the "anti-embarrassment mode" will automatically switch to a backup card that the user has designated in the app. This can be useful if the user's card was declined due to insufficient funds or because they have reached their credit limit, for example. It's worth noting, however, that if the user's initial card was declined due to exceeding a credit limit or going overdrawn, this may not be noticed and could make it easier for the user to fall into debt. It's important for users to carefully manage their finances and ensure that they have sufficient funds available or credit available on their card before making a purchase.
Smart Rules are a feature of the Curve card that allows you to automate your spending habits by specifying certain conditions that must be met for the card to be used as the funding source for a transaction. For example, you could set up a Smart Rule that specifies that your Curve card should only be used as the funding source when you make a purchase at a certain merchant or when you make a purchase over a certain amount. You can set up Smart Rules in the Curve app by going to the wallet section and following the prompts.
How Curve works
Since is not available for the web browser, Curve is basically an app available only on Android and Apple.
Curve offers several different plans, each with its own set of features and benefits. The main features of the Curve card are available on all of the plans, but certain limits and perks vary depending on the plan you choose.
The higher tier plans offer additional benefits such as cashback on certain purchases and travel insurance. However, it's worth noting that these benefits may be available elsewhere at a lower cost. The different plans available from Curve can be compared based on the features and benefits they offer.
Curve
Curve X
Curve Black
Curve Metal
Your cards in one
2
5
Unlimited
Unlimited
Card delivery fee
€4.99
Free
Free
Customer Protection up to 100k
Included
Included
Included
Included
Anti-Embarrassment Mode
Included
Included
Included
Included
Go Back in Time
Up to 30 days
Up to 60 days
Up to 90 days
Up to 120 days
Fair FX Rates
€1,000
€2,000
Unlimited
Unlimited
Fee-free foreign ATM withdrawals
€200/month
€200/month
€400/month
€600/month
Smart Rules
1
5
Unlimited
Unlimited
Add Business Cards
Supported
Supported
Supported
Curve Cash
3 selected retailers (unlimited time)
6 selected retailers (unlimited time)
Crypto Rewards
Only Bitcoin
Yes
Yes
Worldwide Travel Insurance
Yes
Yes
LoungeKey™ Access
Yes, £/€20 per person
Curve Cash: 1% Cashback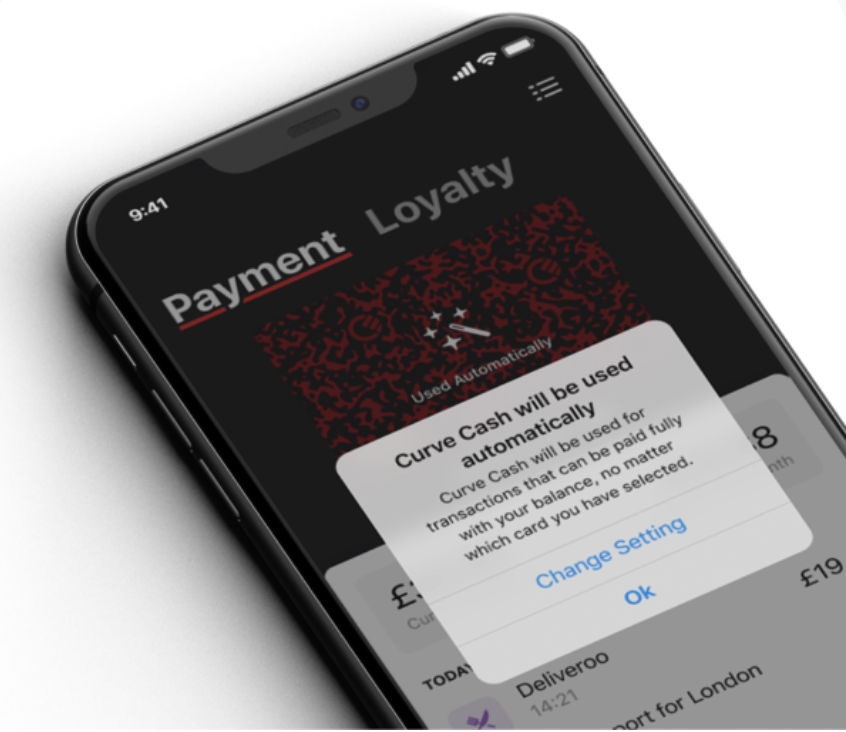 Curve offers a promotion for new users in which they can earn an additional 1% cashback on their purchases for the first 6 months of using the card. This cashback is applied automatically whenever you make a purchase using your Curve card.
The cashback you earn is deposited onto a virtual card within the app called the "Curve Cash" card. You can access and spend the money on this virtual card at any time. This promotion is only available for a limited time to new users of the Curve card. However, is unlimited on selected retailers for card subscriptions such as Curve Black and Metal.
Curve Rewards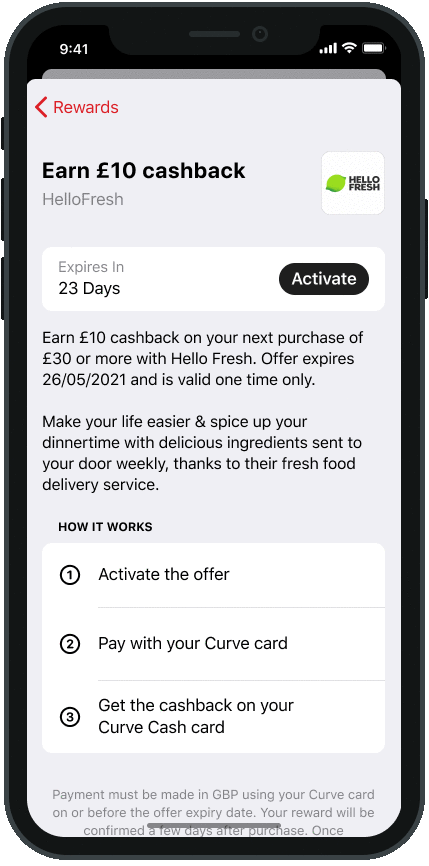 Curve Rewards is a program that allows you to earn cashback on certain purchases made with your Curve card or Samsung Pay+. In order to participate in Curve Rewards, you must first select the offers you want to participate in through the Curve app. These offers may be time-limited and can be changed or withdrawn at any time without notice.
It is important to check the offers available in the app before making a purchase to ensure that you will receive cashback on your purchase. Each offer will have specific terms and conditions, including any period of validity, the cashback amount, and any conditions that must be met in order to receive the cashback. Typically, offers can only be redeemed once, but some offers may allow for multiple redemptions.
In order to redeem an offer that requires activation, you must make a transaction with your Curve card or Samsung Pay+ that meets the terms of the offer. It is important to note that Curve does not guarantee that Curve Rewards offers will be available at all times and that you must use your Curve card or Samsung Pay+ to make a purchase in order to be eligible for Curve Rewards.
Curve GBIT (Go Back in Time)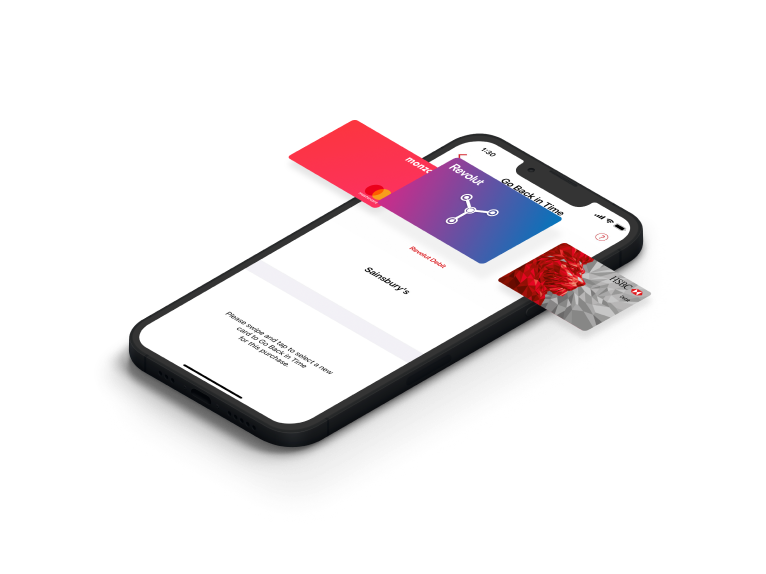 Using the 'Go Back in Time' feature in the Curve app, you can easily transfer transactions made with your Curve card to a different payment card in your app. This service is provided at no cost and can be completed entirely within the app.
With the free tier of Curve, you can use the 'Go Back in Time' feature for three transactions within a 30-day period. With Curve X, you can access unlimited 'Go Back in Time' for 60 days. Curve Black offers 90 days of unlimited 'Go Back in Time', and Curve Metal provides 120 days of unlimited access to this feature."
Curve Anti-embarassment mode
Activate anti-embarrassment mode to prevent declines on your card. If a payment is not successful, your designated backup card will automatically be used. This process is completely automatic, so the cashier and anyone you are with will not be aware of the issue.
To enable anti-embarrassment mode:
Open the Curve app and go to your account.
Tap 'Settings' in the top right corner.
Scroll down to 'Features' and tap 'Anti-Embarrassment Mode.'
Select up to two backup cards (only one will be charged if needed).
Curve Smart Rules
With Smart Rules, you can automate your spending with Curve. Simply choose a card to use for a specific category or amount, and your payments will be automatically routed to that card.
You can set up to three Smart Rules in the Curve app. For example, you can have your Revolut Card to cover purchases over £/€ 100, and your Binance card to handle groceries. Setting up these rules is easy, and you can easily change, delete, or edit them at any time. Smart Rules allow you to spend with confidence, without having to constantly think about which card to use.
Curve Fronted
Curve Fronted is a feature that allows users to pay for certain types of expenses using their credit card, even if the merchant does not accept credit card payments directly. This can be especially useful for paying bills or debts that cannot be charged to a credit card through traditional means.
By using Curve Fronted, individuals can take advantage of their credit card rewards programs and potentially earn points or cash back on these types of purchases. Additionally, the ability to spread the cost of a purchase over time may be beneficial for those who need to manage their budget more carefully. Overall, Curve Fronted offers users greater flexibility and control over their financial affairs.
Curve customer reviews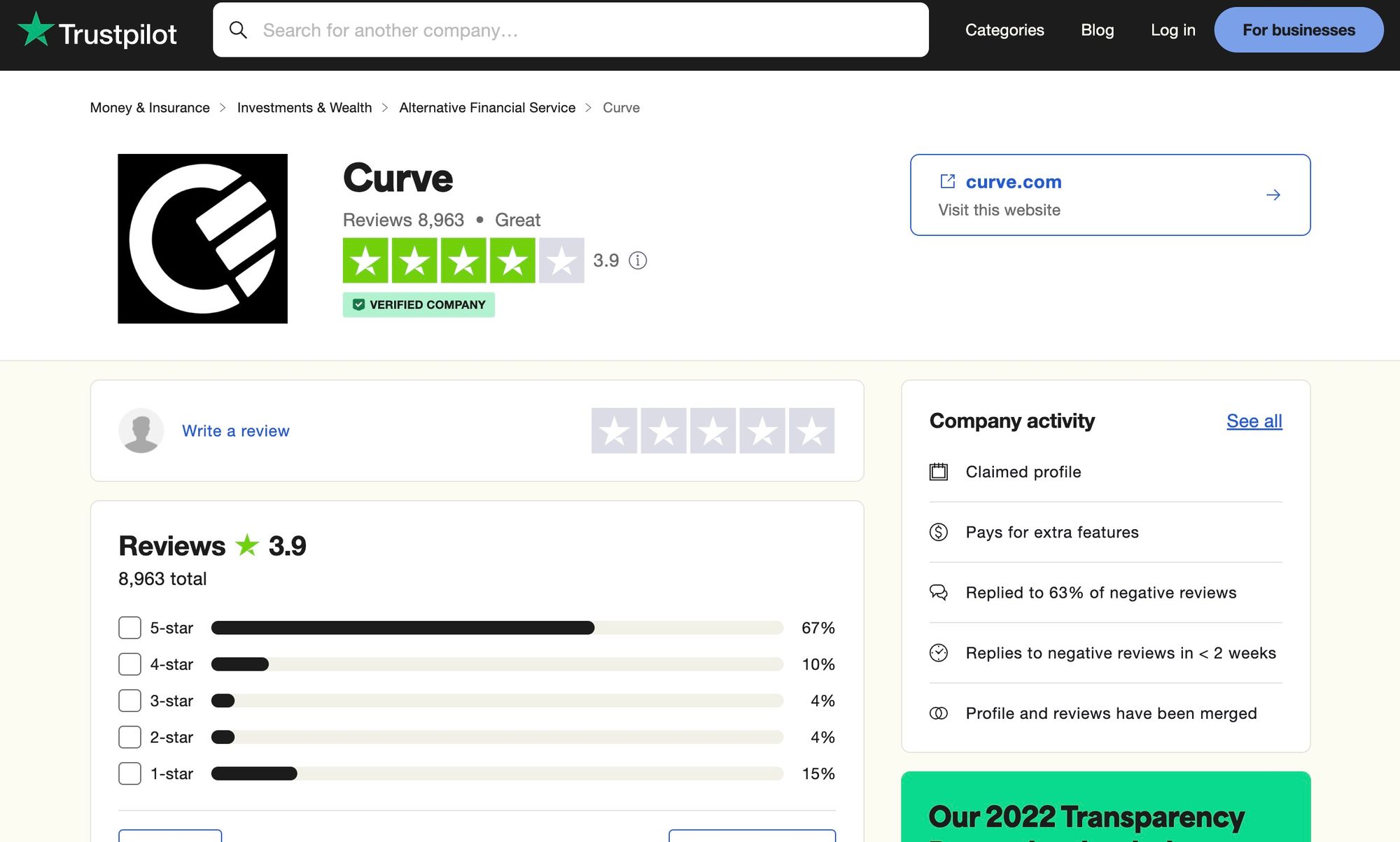 According to Trustpilot, Curve has an average rating of 3.9 stars out of 5 from its customer reviews. Many of the reviewers mention issues with the quality and speed of customer service as their main concern.
It appears that some users have experienced delays or a lack of assistance when reaching out to the customer support team for help. It is worth noting that the experiences of individual users may vary, and it is always a good idea to do your own research before signing up for a new service.
Curve: supported countries
Curve is available in the United States, Europe and UK. The main difference between EU/UK and US is that Curve US provides a Credit Card, which is issued by Hatch Bank.
The USA is one of the latest countries to be supported by curve.
🇬🇧 UK
🇺🇸 US
🇦🇹 Austria
🇧🇪 Belgium
🇧🇬 Bulgaria
🇨🇾 Cyprus
🇨🇿 Czechia
🇩🇰 Denmark
🇪🇪 Estonia
🇫🇮 Finland
🇫🇷 France
🇬🇷 Greece
🇭🇺 Hungary
🇮🇸 Iceland
🇮🇪 Ireland
🇮🇹 Italy
🇱🇻 Latvia
🇱🇹 Lithuania
🇱🇺 Luxembourg
🇲🇹 Malta
🇳🇱 Netherlands
🇳🇴 Norway
🇵🇱 Poland
🇵🇹 Portugal
🇷🇴 Romania
🇸🇰 Slovakia
🇸🇮 Slovenia
🇪🇸 Spain
🇸🇪 Sweden
Curve: Pros
Here is a list of features we appreciated most using Curve:
The Go back in time function is patented and unique: This function allows users to switch the card used for a transaction up to 14 days after it occurred, which can be useful if you want to use a different card for rewards or to take advantage of a promotion.
The app is easy to use: If the app is user-friendly and easy to navigate, it can make the experience of using the service more enjoyable.
All-in-one card: With the Curve card, users only need to carry one card to access all of their other cards, which can be convenient for people who carry multiple cards.
You can use cards that are not accepted: The Curve Mastercard Debit allows users to use their Curve card at merchants that do not accept their other cards, which can be useful in certain situations.
The fair fx rates are extremely useful for travelers: The fair fx rates offered by Curve can be beneficial for travelers as they can help to reduce foreign transaction fees and ensure that users are getting a fair exchange rate.
Business cards supported: The support for business cards can be a useful feature for users who have both personal and business cards and want to keep them organized and easily accessible through the Curve app.
Curve Cons
Here is a list of the cons you provided:
Customer service does not always answer fast: It can be frustrating if you have an issue and are unable to get a timely response from customer service.
Recently the free tier has been extremely limited: Some users may feel that the free tier of the service has become less useful or valuable due to recent changes.
No desktop app: The absence of a desktop app can be inconvenient for users who prefer to use a native app on their computer rather than accessing the service through a web browser.
Smart rules do not always work: If the smart rules feature is not functioning as intended, it can be frustrating for users who rely on it to manage their accounts.
Amex still unsupported. This is one of the most requested features by the users. There could be a few reasons why Curve does not currently support American Express cards. One possibility is that American Express has different policies and fees for card processing, which may not be compatible with the way that Curve operates.
Overall, these cons may impact the user experience and satisfaction with the service.
Curve and Amex (American Express)
American Express (Amex) has blocked Curve support within days after the UK startup announced the feature. This happened in 2016 when Curve was in beta, and in 2019.
Curve believes that American Express violated their contract, failed to provide appropriate notice, and engaged in anti-competitive and anti-innovative behavior.
It's not clear when Curve will be able to support American Express cards again in the future.
Curve and Plutus
Plutus is a company that offers a card and a mobile app that allows users to earn and spend cryptocurrency. By using the Plutus card, users can earn a minimum of 3% back in Plutus' crypto reward token (PLU) on eligible purchases made with the card.
Users can also convert PLU into fiat currency and stake their PLU to unlock higher reward rates of 8%. Plutus has partnered with Curve to offer users a number of crypto-related benefits, including the opportunity to earn PLU when subscribing to Curve Black or Curve Metal.
When users pay for their Curve Black subscription with a Plutus card, they will receive the monthly value of the subscription in PLU. With Curve Black, users can also earn 1% cashback at selected retailers, access fair FX rates, make fee-free cash withdrawals abroad, and receive travel insurance.
Users who select the Curve Metal plan can also receive the same benefits as Curve Black, as well as additional perks, for a discounted price when they pay with a Plutus card.
Bottom line
Curve is a financial service that offers a card and an app that allows users to manage their spending and consolidate all of their debit and credit cards into one physical card.
Some of the features make Curve appealing to users, including the ability to track and understand their spending habits, the convenience of only needing to carry one card, and the lack of hidden fees on overseas spending.
The ability to lock the card remotely can also be helpful for security purposes, as it can prevent unauthorized use of the card if it is lost or stolen.
Additionally, not having to call the bank to report a lost or stolen card can be particularly useful for travelers, who may be in a different time zone or have difficulty contacting their bank.
However, it is always concerning to see a large number of customer service complaints about a company. Good customer service is an important part of any business, and it is essential for companies to address and resolve customer complaints and concerns in a timely and satisfactory manner. Without proper attention to customer service, a company's reputation and customer loyalty can suffer.
Curve is a valuable tool for individuals who frequently use credit or debit cards and those who prioritize convenience and security when traveling. The various tiers of the service, including the premium Metal tier, offer a range of benefits such as insurance coverage and access to airport lounges.
While the free tier of Curve may serve as an attractive introduction to the service, it has unfortunately been subject to limitations in recent years. Despite this, we believe that the features and benefits provided by the higher tiers make them a worthwhile investment for anyone seeking a comprehensive and seamless card management experience.
👉 Click here to download the free Curve app and get a £/€5 bonus.