Plutus Review 2023: The Best Crypto Rewards Card?
Plutus is a crypto rewards card that let's users earn up to 8% back in Pluton tokens every time they make a purchase. In this Plutus Review we will analyze the main features of this crypto rewards card and platform.
Plutus is a finance app currently available in EU/UK (soon also the US) that lets its users earn crypto cashback (up to 8%) while spending money with their VISA card.
Let's see together how Plutus and its card works, including the staking levels and subs, two important aspects to obtain more cashback and perks respectively.
👉 To sign up with Plutus and get a $10 in PLU bonus, click here.
| DESCRIPTION | DETAILS |
| --- | --- |
| 💳 Card Name | Plutus Card |
| 💼 Company | Plutus |
| 💳 Type | Visa Debit |
| 💰 Cashback Token | PLU (Pluton) |
| 📈 Staking | Yes (non-custodial) |
| 🌍 Issuing Country | EU, UK |
| 💱 Currency | EUR, GBP |
| 💸 Fees | 3 €/£ to withdraw PLU, from 0 €/£ to €/£14.99/mo for the Plans |
| 🔗 Linking | Linked to Plutus account |
| 💰 Reward Programs | Yes (Earn up to 8% Cryptoback rewards on eligible purchases) |
| 💳 ATM Withdrawal Limit | Depends on the plan, at least £10,000 / €10,000 yearly |
| 📲 Signup | Through Plutus app or website |
| 🔒 Security | Chip and PIN protected, secure encrypted transactions. |
What Is Plutus?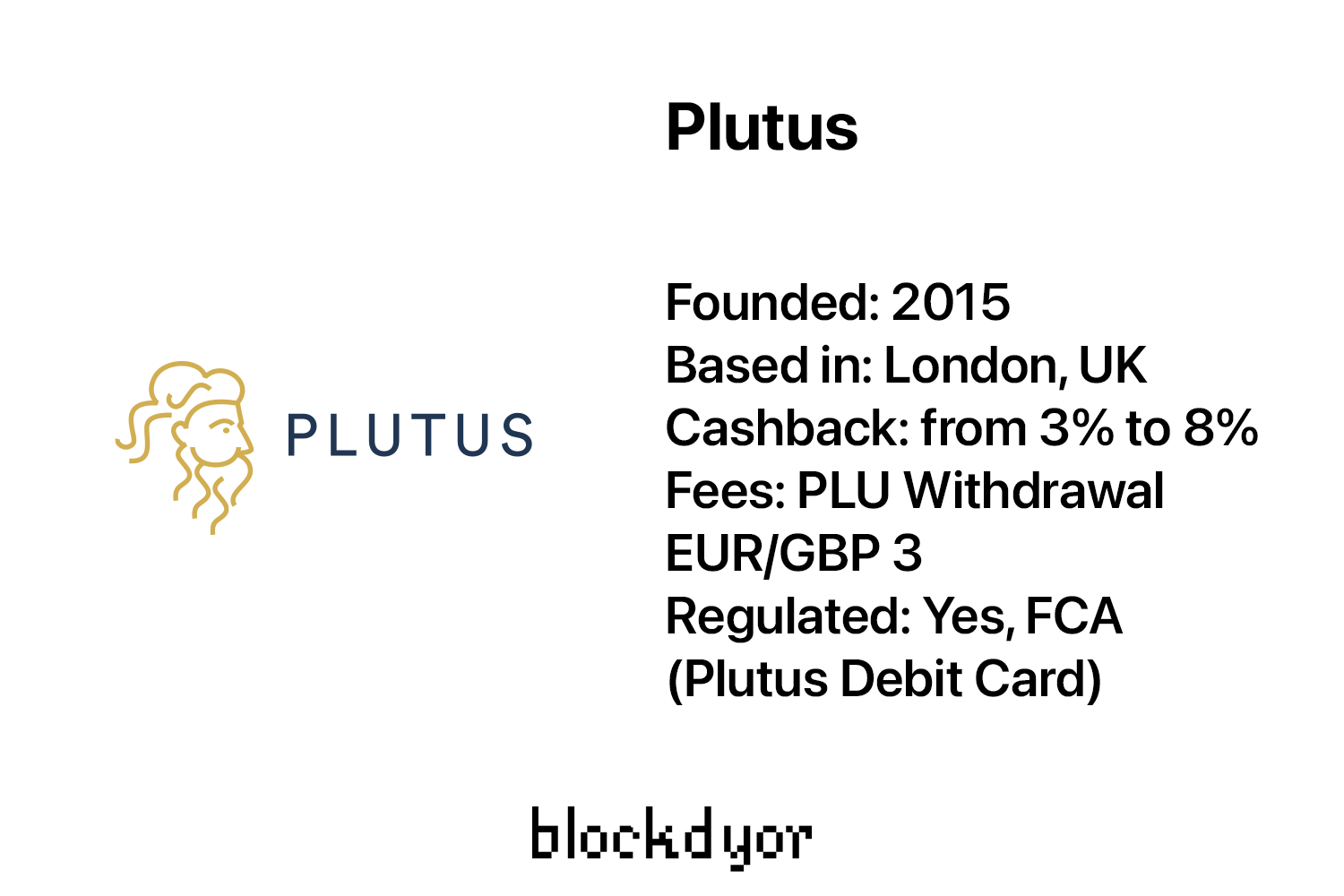 Plutus is a fintech app that allows users to make purchases and earn rewards using both traditional money and cryptocurrency. It offers a Visa debit card that can be used to make purchases and automatically earn Pluton, a cryptocurrency developed by Plutus.
Users can also trade cryptocurrency with other Plutus users through the platform's decentralized exchange (DEX).
Plutus aims to make it easy for people to integrate cryptocurrency into their everyday lives, and its services can be used by those who are interested in using cryptocurrency as well as those who just want to use the card as a regular debit payment card with the added benefit of earning rewards in the form of cryptocurrency.
Who Created Plutus?
Plutus is a London-based company, founded in 2015. It is not a traditional bank, but it does offer financial services such as the Plutus debit card and the ability to trade cryptocurrency.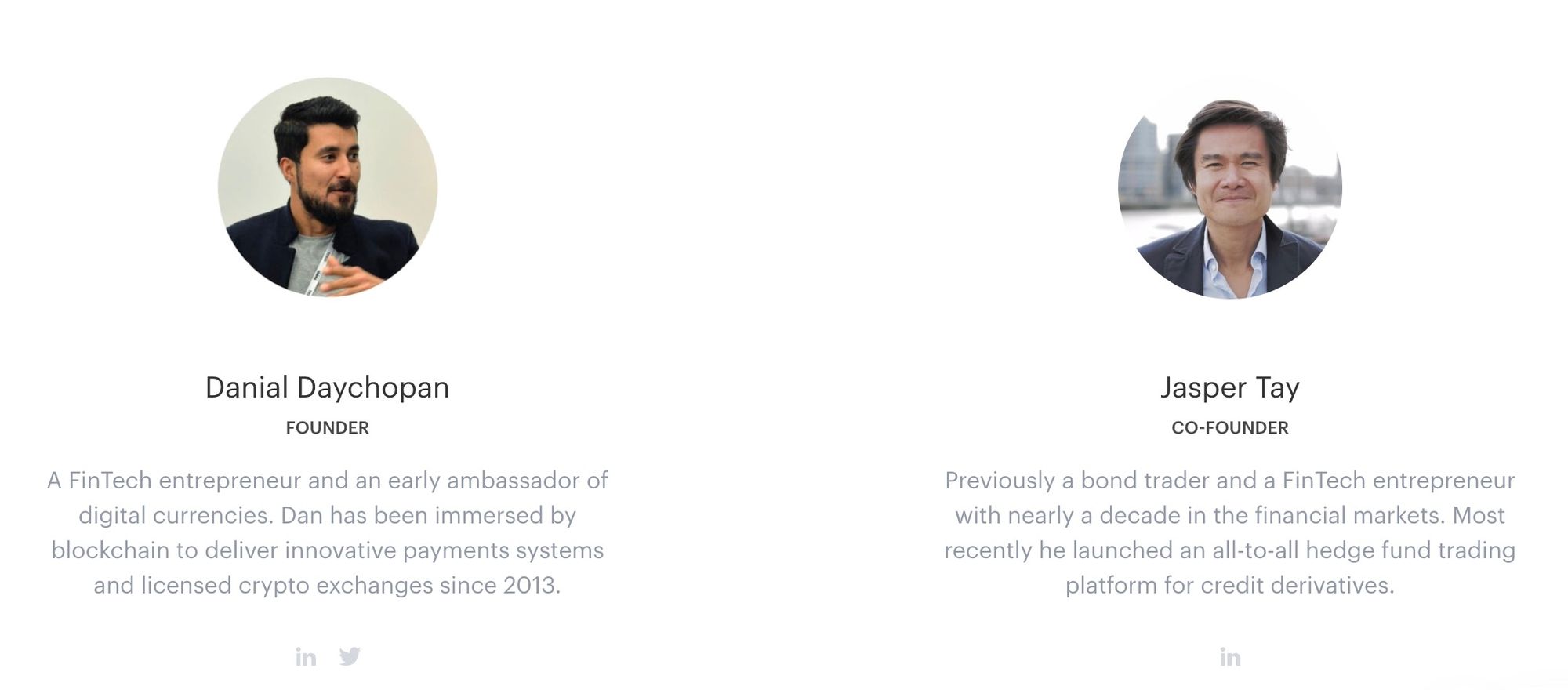 The company was founded by serial entrepreneur Danial Daychopan. The co-founder is Jasper Tay, an entrepreneur with a background in the financial markets. He has worked as a bond trader and has experience as a FinTech entrepreneur. In the past, he has launched a hedge fund trading platform for credit derivatives.
Plutus has also experienced consistent growth since it began collaborating with Curve, another financial technology company.
According to the website footer, Plutus is the trading name of BLOCK CODE LTD, Company number: 09674279 19 Heathman's Rd, Fulham, London SW6 4TJ, England, VAT number (UK): 254982764. Block Code Ltd is a company registered in England and Wales (09674279).
The Plutus Account and the Plutus Card are issued by Modulr Finance Limited, which is is a company registered in England with company number 09897957, registered with the Financial Conduct Authority (Firm Reference Number: 900699) as an EMD Agent of Modulr FS Limited.
Previously, Plutus had collaborated with a different banking partner, providing two separate accounts: one for the Plutus Card balance and another for the Plutus account balance. However, with the introduction of the new banking partner, these two accounts have been consolidated into a single unified account. This integration has successfully resolved a longstanding issue from the past, which used to cause delays in card top-ups and was quite bothersome.
How Plutus Works
Plutus allows users to spend and earn rewards in the native cryptocurrency: Pluton (PLU).
The Plutus Card is a debit card that is integrated into Plutus app and can be used to make purchases at merchants that accept Visa payments.
The main advantage of the Plutus card is the cashback rewards program, in which users can earn a percentage of their purchases back in the form of Pluton, the platform's native cryptocurrency. Pluton can be redeemed for rewards or converted back into the user's preferred cryptocurrency.
Pluton Rewards

The main advantage of Plutus, is earning up to 8% in Crypto Rewards on every purchase you make with the Plutus VISA Card.
This is the world's first decentralised loyalty rewards token, which means that it is a digital asset that can be earned as a reward for making purchases using the Plutus Visa debit card.
Unlike traditional loyalty programs, which are often restricted to a single merchant or store, Pluton can be earned on purchases made at any retailer that accepts the Plutus card (almost every website that accepts VISA or shop that has a POS).
Pluton can then be used for a variety of purposes, including making purchases, trading with other Plutus users, or holding as an investment.
Pluton Rewards Exclusions
The list of stores and sites that do not provide any cashback with Plutus is surprisingly short, and was created to prevent abuse of the platform.
Transferring funds from one bank account to another
Loading funds onto a prepaid debit card
Investing in financial securities such as stocks, bonds, or savings loans
Making a payment to a brokerage or dealer for the purchase of securities
Paying off a credit card balance with another credit card
Sending money to a foreign currency exchange service
Placing bets or wagers, including lottery tickets, casino chips, off-track betting, and race track bets
Loading value onto a prepaid store-branded gift card or other form of electronic cash
Sending money to friends or family members as a personal transfer or gift.
The Utility of Pluton (PLU)
One of the main efforts of the Plutus team, is to give Pluton more utility. Let's see the use cases for now:
More perks with staking. The ability to choose up to 8 perks of your choice.
The ability to convert your rewards into fiat currency at any time.
Higher reward rates (%), with the ability to increase your crypto reward rate up to 8%.
The opportunity to receive regular non-fungible tokens (NFTs), which will be available in the future.
Plutus Plans
It's not mandatory to invest (staking) on Plutus to use the card, since the free tier (Starter) already includes 3% of crypto rewards in Pluton (PLU) on up to 250£/€/mo spend. Also, 1 perk is included in the starter plan. That's very generous!
Plutus offers three subscription levels for its debit card: Starter, Everyday, and Premium. Each level offers a different set of perks, including a certain percentage of crypto rewards on purchases and the ability to choose a certain number of additional perks.
Starter: the Starter subscription is free and offers 3% crypto rewards on up to €250 in monthly spending, as well as one perk and a 1% fee on DEX trades.
Everyday: the Everyday subscription costs €4.99 per month and offers 3% crypto rewards on up to €2,000 in monthly spending, two perks, and a 0% fee on DEX trades.
Premium: the Premium subscription costs €14.99 per month and offers 3% crypto rewards on up to €22,500 in monthly spending, three perks, and a 0% fee on DEX trades.
Staking Levels
For the users that want the highest crypto cashback level possible, (and are aware of the risk that comes with staking) four staking levels are available:
The program includes four levels: Hero, Veteran, Legend, and G.O.A.T. Each level requires a certain amount of PLU to be staked and offers a certain percentage of rewards on purchases, as well as a certain number of additional perks.
The Hero level requires 325 PLU to be staked and offers 4% rewards on purchases and 4 perks.
The Veteran level requires 650 PLU to be staked and offers 5% rewards on purchases and 5 perks.
The Legend level requires 1,300 PLU to be staked and offers 6% rewards on purchases and 6 perks.
The G.O.A.T level requires 2,600 PLU to be staked and offers 8% rewards on purchases and 8 perks.
💡
These requirements undergo regular updates, with the first adjustments being made. For the most recent information, check the table provided in the Plutus Staking Difficult Adjustments Roadmap below.
Plutus Perks
In the context of Plutus, a perk is a special offer or benefit that allows users to earn additional PLU, a cryptocurrency developed by Plutus. All Plutus users are entitled to at least one perk, and the number of perks can be increased based on the user's account subscription plan and staking level. Perks are triggered when a user makes a purchase from a participating retailer, and the equivalent PLU reward will be granted to the user within the next hour. Once a perk has been consumed, further transactions with the same retailer will earn the user the regular cashback rate for their account.
Thanks to this system, is basically possible to subscribe to services like Apple One, Netflix, Curve and many more "for free". However, this is not entirely true, since one must have to actually pay with fiat in advance for the services. After a day or two, Plutus will reward us in a PLU equivalent sum (limits apply). Let's have a look at the main perks available on Plutus and their limits:
Netflix: FUp to £/€ 10 in PLU per month;
Spotify: Up to £/€ 10 in PLU per month;
Apple One: Up to £/€ 10 in PLU per month;
Disney Plus: Up to £/€ 10 in PLU per month;
Prime Video: Up to £/€ 10 in PLU per month;
Apple Credit: Up to £/€ 10 in PLU per month;
Curve: Up to £/€10 in PLU per month;
And many other more...
Withdrawing Plutons (PLU) Rewards
Pluton (PLU) rewards can be earned through cashback and special offers, or perks, when using the Plutus debit card. These rewards can then be used in a variety of ways: they can be kept in the user's account for staking purposes, they can be withdrawn to an external crypto wallet, or they can be swapped for fiat currency to be added to the user's Plutus card balance for use at retailers that accept the card.
In order to be available for withdrawal or exchange, PLU rewards must be kept in the user's account for 45 days from the date they were earned. This is to prevent fraud and abuse of the rewards program.
The status of a user's PLU rewards, including the total earned, available, and withdrawn, can be viewed in the Pluton tab of the Plutus web app. Pending PLU rewards are those that have yet to be used for withdrawals. The available balance is the balance of PLU earned from valid card transactions that have been flagged for review by the compliance team or that have not yet reached the 45 day mark. The withdrawal fee is of 3 EUR/GBP.
Pluton: Price Analysis
Pluton (PLU) is the ERC-20 cryptocurrency developed by Plutus. Pluton (PLU) is the world's first crypto rewards token, and was first introduced in 2015, soon after the Ethereum blockchain was launched, and a white paper and yellow paper detailing the token's mechanics and use cases were released in the following years.
In 2020, Plutus launched Rewards 2.0, which improved the rewards model and added new features and benefits for Plutus users.
The PLU token appears to have strong utility as a rewards currency for spending with the Plutus Card. This utility, combined with the low circulating supply and finite total supply of PLU, creates scarcity and adds value to the token.
A reward pool of 20 million PLU was established in 2016 and is currently used to provide customer rewards. The distribution of these rewards is reconciled and verified on a quarterly basis by a third party, Haggards Crowther, which is an ICAEW-accredited UK accountant. This adds transparency and accountability to the process of distributing rewards from the Pluton Rewards Pool to customers.
In fact, the price of Plutus held very well both during bull and bear markets: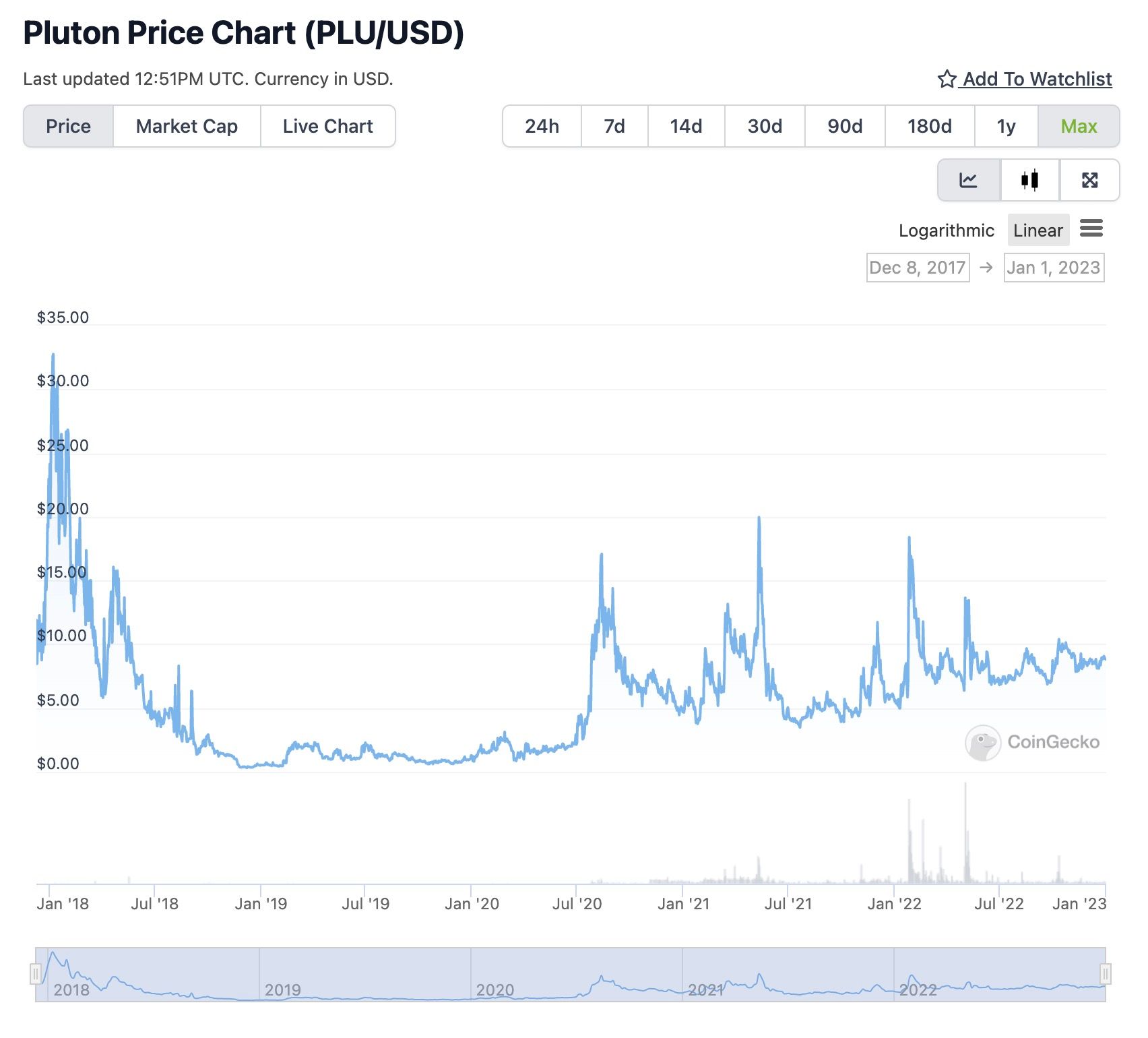 Pluton, seems to be completely unaffected by trends (negative or positive) in Bitcoin and other altcoins. Indeed, when Bitcoin lost more than 70 percent in 2022, PLU instead continued a slow but steady climb in its price.

In fact, supply and demand is totally internal to the Plutus ecosystem. There are many users who are content with the free tier, and as soon as the 45-day "lock" of their rewards in Plutus expires, they exchange them into fiat. But it is also true, at the same time, that there are a niche of users who are staking PLUs to increase their cashback.
There is also a minority of people who trade short term PLU at centralized exchanges, as PLU is present on platforms like KuCoin, AscendeX and Coinbase, thus increasing the liquidity available in the market.

This is undoubtedly one of the main advantages of Plutus, allowing many to invest more boldly in this token.
Plutus Staking Difficult Adjustments Roadmap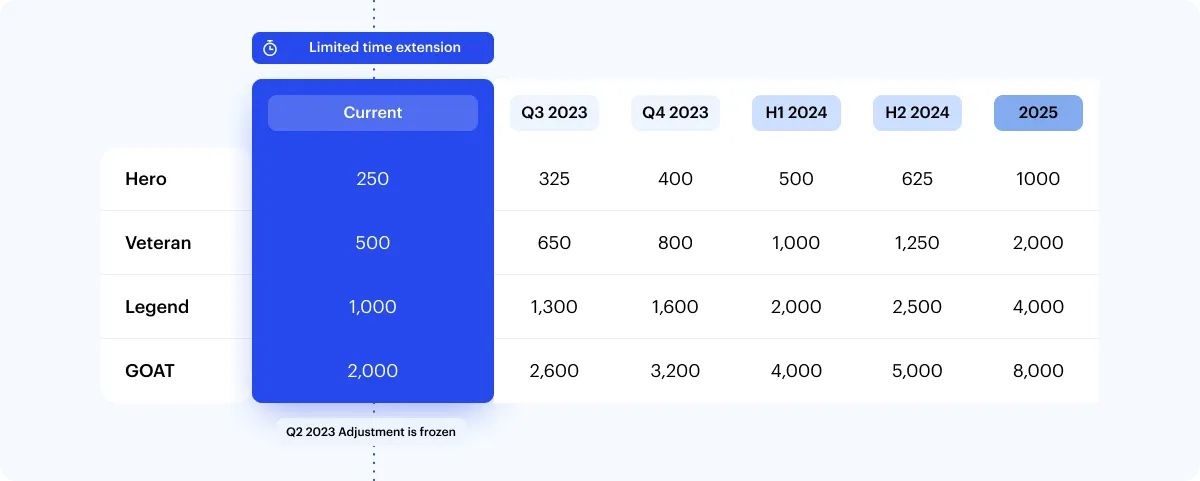 In 2023, Plutus underwent significant changes, one of which involved the restructuring of the staking program where users could "invest" in the token PLU (Pluton) to receive higher rewards. Initially scheduled for June 1st, the implementation was later postponed to July 1st.
This new system introduced a difficulty adjustment, which made it more challenging for new users to attain higher rewards while maintaining the same reward level for early adopters (grandfathering).
The difficulty adjustment entailed increasing the PLU requirements for each Reward Level incrementally every quarter.
However, once a user unlocked a Reward Level, they would be exempt from future difficulty adjustments for that level.
As time passed, the cost to achieve a specific reward level increased, as more PLU was needed to obtain the same rewards (Hero, Veteran, Legend, Goat), assuming the price of PLU stays stable.

Despite the overall increase in users staking in 2023, the token's price didn't reflect this growth, and it declined towards the 2023 lows.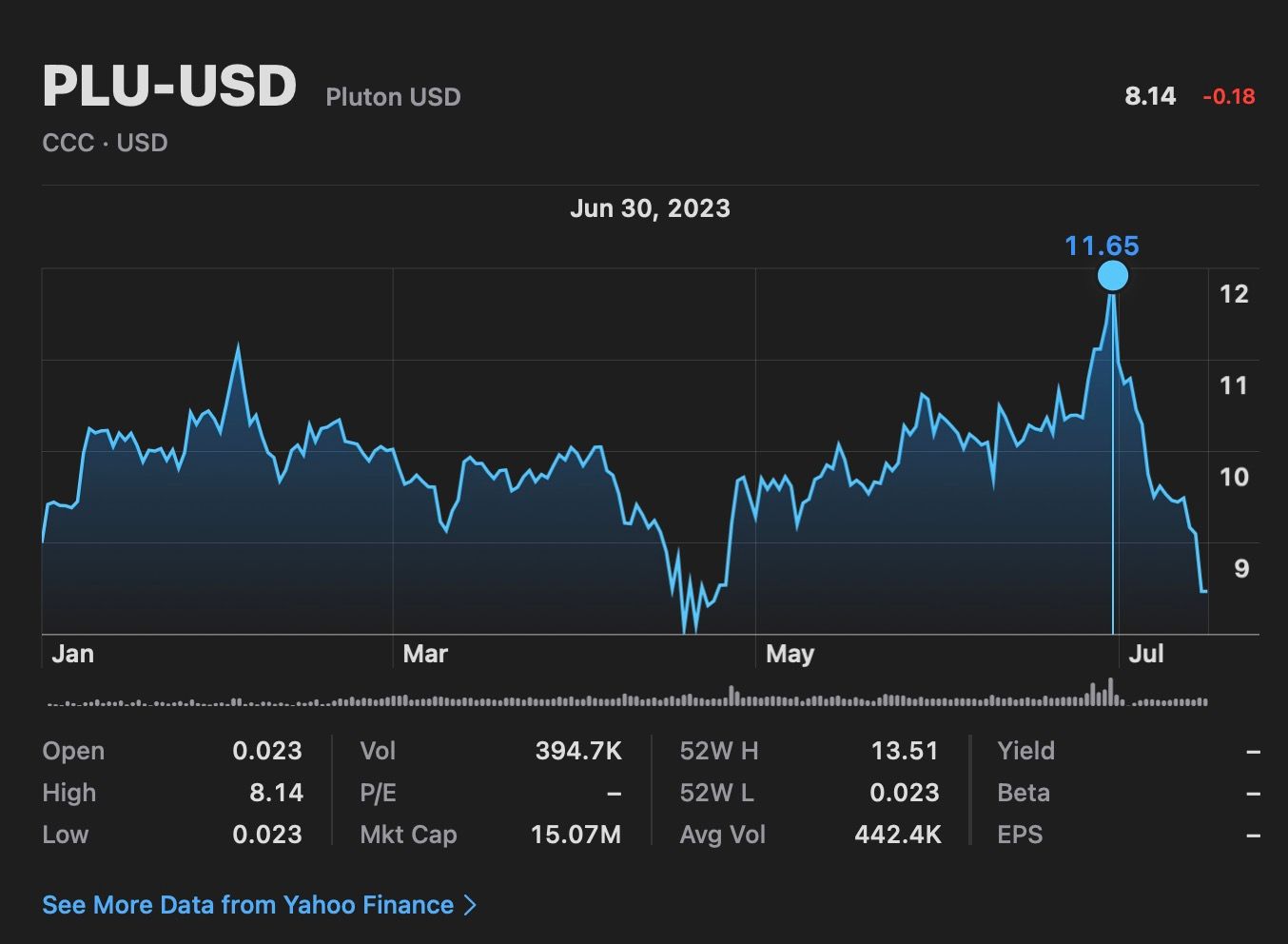 This price fluctuation isn't a major concern for users as Plutus rewards are paid in percentages based on the total amount of fiat spent with the Plutus Card, irrespective of the token's value. In fact, users would receive more PLU if the token's value decreases.
However, the difficulty adjustments could pose a concern in the long run. As the requirements to stake PLU become more demanding over time, the desire to stake may decrease, leading to a potential further decrease in the token's price. This outcome could potentially backfire, as the initial reasoning behind reducing the amount of PLU given out as rewards might lead to the opposite effect, further affecting the token's value.
PlutusSwap

While Plutus offers a great product, one of its significant downsides is its inability to meet self-imposed deadlines. PlutusDEX, the integrated exchange allowing users to trade PLU rewards for fiat, top-up their cards, or convert them to Ethereum, provided valuable utility to token holders.
However, on March 1st, 2023, Plutus announced that PlutusDEX would be temporarily paused for restructuring until June 30th, 2023. Unfortunately, a few days before the expected reopening, Plutus communicated another delay, rescheduling the DEX's relaunch to an unknown date.
Many users expressed frustration and dissatisfaction, deeming it unacceptable for such a crucial function to be paused for a significant portion of the year. Some even accused Plutus of attempting to control the token's sell pressure through this move.
Although uncertain about the veracity of these claims, users are eagerly awaiting the new DEX, now rebranded as PlutusSwap, but its availability remains unknown.
Despite the pause of PlutusDEX, users can still sell their PLU rewards by transferring the coins from Plutus to a non-custodial wallet and then to an exchange like KuCoin. However, this method incurs higher costs compared to the direct transactions that were possible on the DEX.
For the time being, KuCoin is recommended as the best exchange for trading PLU for stablecoins and fiat.
👉 Click here to sign up for KuCoin and get a 20% discount on PLU trading fees.
Best Plutus Plan
Staking PLU on Plutus, especially with the higher requirements now in place, demands a considerable level of confidence in the project and a substantial monthly expenditure. Given this, I wouldn't recommend staking to the average person who spends less than 1,000 pounds/euros a month. The reason being that earning 1% more on 1,000 is merely 10, which might not be worth the effort.
Moreover, if you stake over 2,500 pounds or euros in PLU to earn a small additional reward every month, it becomes a matter of consideration. The non-staking levels already offer a 3% return, which might be more appealing without the risks associated with staking. As previously mentioned, staking also carries the significant risk of downside to the token's value, potentially delaying the break-even point by a considerable margin.
Before deciding to invest in staking PLU, thorough research is essential. Understanding the project's fundamentals, market trends, and risk factors is crucial to make an informed investment decision. Each individual should carefully assess their financial situation and risk tolerance before proceeding with staking on Plutus.
It is also important to note that staking PLU is not a true staking as with other tokens. But it is a type of staking that, first of all, is non-custodial, and furthermore, it is possible to stop at any time, by moving funds elsewhere (but losing the attained level).
Plutus Alternatives
When it comes to alternatives, numerous solutions offer cashback based on your spending, particularly in the realm of crypto cashback cards. Here are some of the most interesting ones available right now:
Binance Card: As the largest exchange globally, Binance provides the Binance Card, which operates similarly to the Plutus Card. To earn higher rewards, users must possess more BNB on the exchange. The system is well-balanced, without any free plans like on Plutus. The required amount to get, for example, 1% cashback is relatively high (currently 1 BNB), and it can increase up to 8%. However, the advantage is that the rewards are instantly unlocked in your wallet. The Binance Card also stands out for its comprehensiveness, connecting to your exchange account and enabling seamless conversion while spending both fiat and crypto online or in physical stores.
Wirex Card: The Wirex card presents another intriguing solution, allowing users to obtain WXT (the native token of Wirex) simply by utilizing the card. Higher rewards can be achieved not only through staking but also by purchasing premium plans, such as the Elite tier offering a 4% crypto cashback at a cost of €29.99 per month.
Uphold Card: Exclusive to the UK, the Uphold Card offers a fixed 4% crypto cashback paid in XRP. It doesn't have any staking requirements, but there is a maximum cashback limit of £100 per month paid in XRP based on your spending.
These crypto cashback cards provide attractive alternatives to Plutus, each with its own unique features and rewards structure. Depending on individual preferences and usage patterns, users can choose the one that best suits their needs and offers the most appealing cashback incentives.
Plutus Pro & Cons
The main pros of Plutus are as follows:
Plan everyday at 4.99 and the Starter are perhaps the best in the industry;
Non-custodial wallet (Trust, Metamask, Walletconnect supported);
Plutus token with a stable price. Does not follow Bitcoin;
A close-knit community;
Regular company-organized meetups.
The cons of Plutus are these:
Plutus Dex, now renamed in PlutusSwap, it's still not available;
Increased difficulty in 2023 makes the rewards less attainable;
Inconsistency in following the deadlines of the project;
Still few utilities for PLU;
Plutus fraud team might ask for proof of receipt, in order to combat frauds.
Bottom Line
Plutus is one of the most interesting crypto rewards card out there. It offers cashback rewards for spending on basically everything, which are paid in a proprietary cryptocurrency called PLU.
The Plutus card is linked to a user's Plutus account and must be topped up from the main account. Thanks to PlutusSwap (available only in EU) it allows users to buy and sell PLU, whose value can fluctuate on a daily basis. The PLU can be stored in your own non-custodial wallet (also valid for staking) and the internal earned PLU is stored in Plutus wallet, which can be withdrawn after a lock period of 45 days.
The service offers a variety of subscription levels, with different fees and benefits, and even the free level offers cashback rewards and one free perk. Plutus may be a good option for users who want to earn cryptocurrency rewards for their spending. In light of the recent changes in the PLU amount needed for getting higher rewards, staking can secure higher rewards up to 8%, but is more tailored for high spenders and risk-conscious users.
👉 To sign up with Plutus and get a $10 in PLU bonus, click here.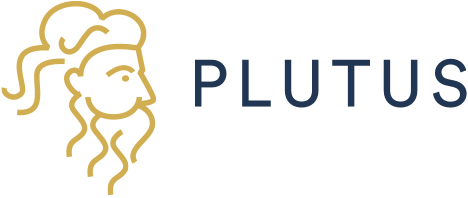 Plutus Evaluation
Ease of Use: Plutus has faced challenges in terms of ease of use, primarily due to the imperfect Contis "double account" system for topping up the card, resulting in slow experiences for users. However, the situation is expected to improve with the introduction of a new banking partner. The upcoming unified account with support for Apple Pay and other user-friendly solutions promises a more seamless experience. Nonetheless, the team's history of missing deadlines has contributed to a cumbersome user experience, earning it a rating of 1/5.
Security: Plutus takes security seriously and employs two-factor authentication (2FA) for every login into their app and web app, ensuring accounts are well-protected. Additionally, users have the option to block their cards directly from the app, adding an extra layer of security. This robust security approach garners a rating of 4/5.
Fees & Limits: Plutus offers reasonable fees and limits, making it a fair choice for users. However, there is an increasing level of difficulty for staking PLU and obtaining rewards at a fast pace, which may deter some users from achieving higher rewards. As a result, the rating for this category is 3/5.
Cashback: Plutus shines in the cashback department, offering an impressive 3% free cashback to users. Although there are some limitations on spending, this cashback offer is among the best in its class, warranting a rating of 5/5.
Supported Countries: Presently, the availability of the Plutus Card is restricted to a limited number of countries, and it is not yet accessible in the US. This limited reach contributes to a rating of 3/5 in this category.
Frequently Asked Questions (FAQ)
Is the Plutus card worth it?
Plutus is valuable as it offers a generous cashback of 3% even at its free plan, along with a complimentary perk. However, it should be noted that this cashback is capped at a maximum of 250 €/£ for overall monthly payments. The advantages of Plutus are further amplified when utilizing paid plans or by staking cryptocurrency.
Is Plutus a scam?
To suggest that Plutus is a fraudulent operation would be unjust. The organization has been in existence for nearly a decade and has established a significant presence within the industry. While it may be true that Plutus does not have a physical office, this is not an uncommon practice among companies within the cryptocurrency sector. Additionally, the company regularly holds meetups in which the leadership team actively participates, further solidifying their commitment to transparency and accountability.
How long does it take for the Plutus card to arrive?
The Plutus card typically arrives within a few weeks, excluding any postal delays.