Bitfinex Review 2023: Is it a Safe and Reliable Crypto Exchange?
Bitfinex is a cryptocurrency exchange and this is a review of the platform. It offers a wide range of trading options and features, including margin trading and a customizable interface.
Bitfinex is one of the biggest cryptocurrency exchanges, gaining a worldwide following for its low fees and innovative approach.
Thanks to it's high liquidity, it can be considered one of the leader in the industry, and it is no surprise that Bitfinex is one of the most sought after platforms for trading crypto.
Despite its association with the Tether stablecoin, which has led to some controversies and regulatory challenges, Bitfinex continues to push the boundaries and evolve its portfolio to meet the demands of the ever-changing crypto landscape.
Its low fees and commitment to excellence make it a top choice for those looking to join the exciting world of cryptocurrency trading.
👉 Click here to open an account on Bitfinex and get a 6% rebate fee.
| DESCRIPTION | DETAILS |
| --- | --- |
| 🌐 Website | bitfinex.com |
| 🏙️ Location | Taiwan / Hong Kong |
| 📅 Year Founded | 2012 |
| 💰 Primary Token | Bitcoin |
| 📈 Listed Crypto | Over 200 |
| 💱 Trading Pairs | Over 400 |
| 💵 Supported FIAT | USD, EUR, GBP, JPY, and more |
| 🌍 Supported Countries | Worldwide, excluding the US |
| 💰 Minimum Deposit | Varies depending on the deposit method |
| 💸 Deposit Fees | Varies depending on the deposit method |
| 💰 Daily Buying Limit | Varies depending on verification level |
| 💱 Trading Fees | From 0.10% to 0.20% |
| 💸 Withdrawal Fees | Varies depending on the withdrawal method |
| 📱 Mobile App | iOS, Android |
| 💬 Customer Support | Ticket, Email, and Live Chat |
Bitfinex Overview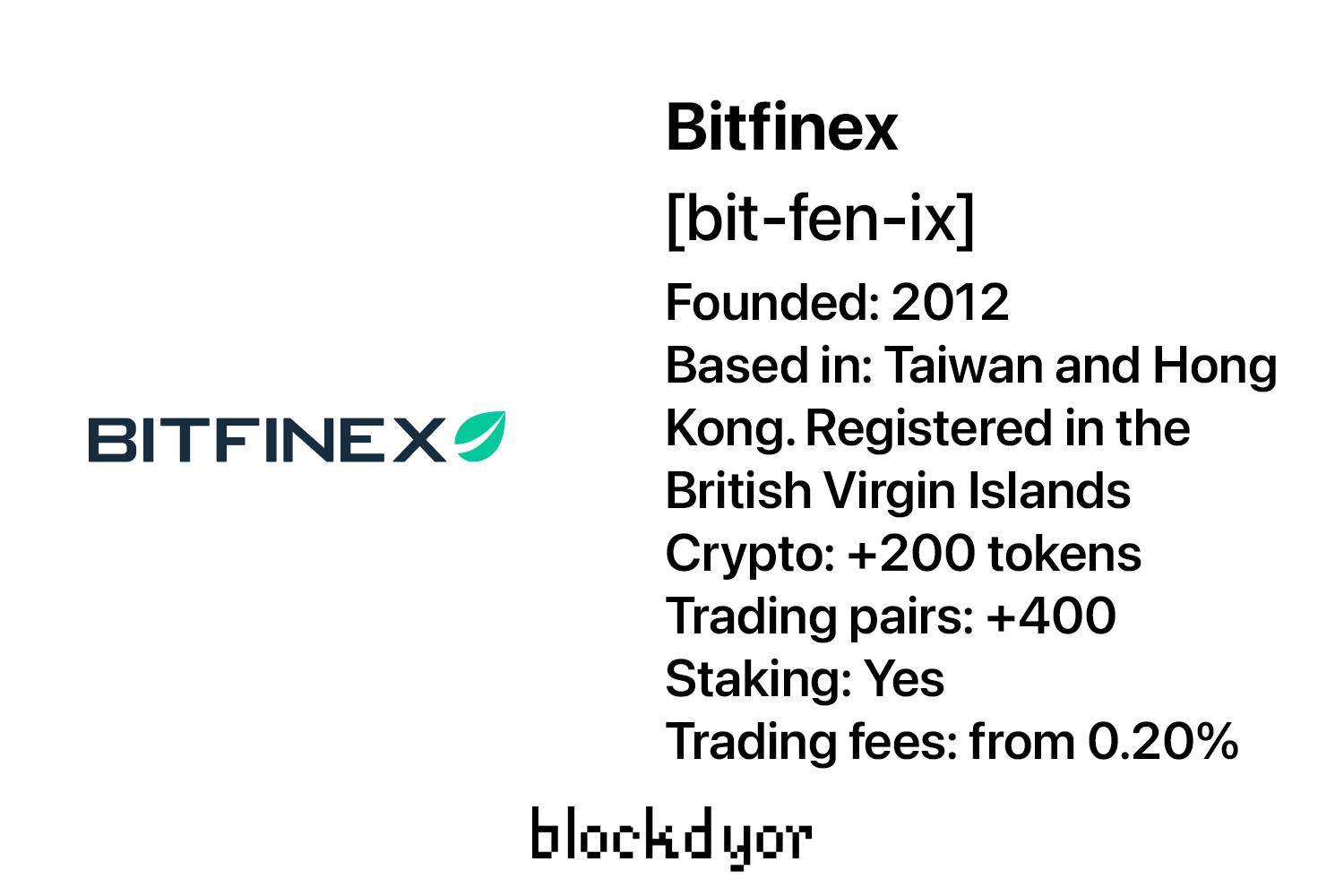 Bitfinex is a cryptocurrency exchange that offers several trading options and products, ideal for both novice and expert cryptocurrency traders. With features such as spot trading, margin accounts, derivatives, demo trading, and more, Bitfinex provides a one-stop-shop for most of crypto traders need.
However, it's important to acknowledge Bitfinex's past challenges with regulatory authorities. In fact, this exchange has faced multiple fines from the CFTC (Commodity Futures Trading Commission) and has also been accused of misleading investors by the New York Attorney General's Office for claiming that the Tether stablecoin was fully backed by reserves when that was not the case.
Given its checkered past, potential clients should exercise caution and carefully know the exchange's history and allegations of ongoing wrongdoing before taking a decision.
Bitfinex brief history
Bitfinex was founded in 2012 by Raphael Nicolle and Giancarlo Devasini.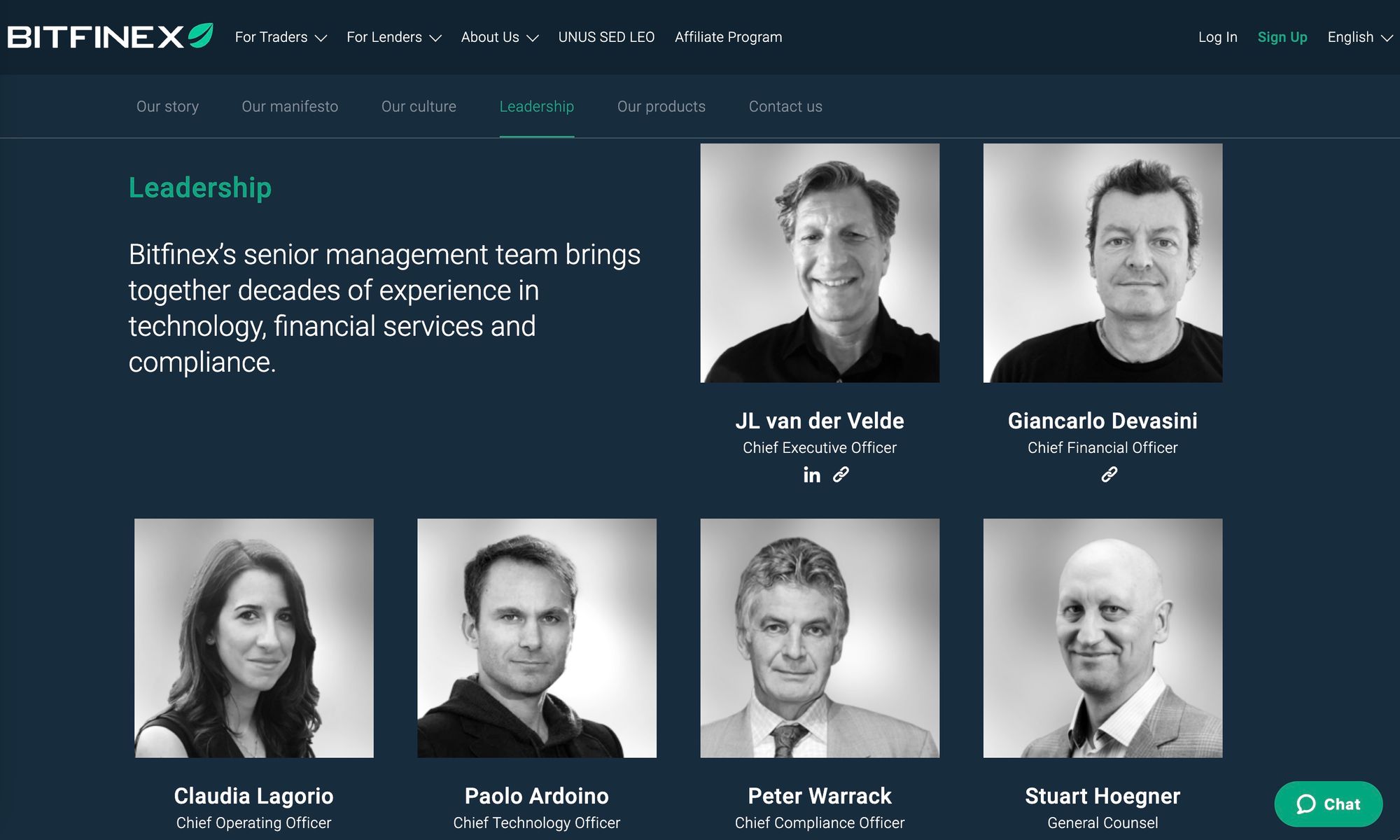 Based, with virtual offices, both in Taiwan and Hong Kong and registered in the British Virgin Islands, Bitfinex is operated by iFinex Inc. and offers a comprehensive range of crypto trading services.
Additionally, iFinex Inc. operates both Bitfinex and Tether Ltd., the company behind the popular Tether stablecoin.
Setting up a Bitfinex Account

Opening an account to Bitfinex is simple and can be done in just a few steps.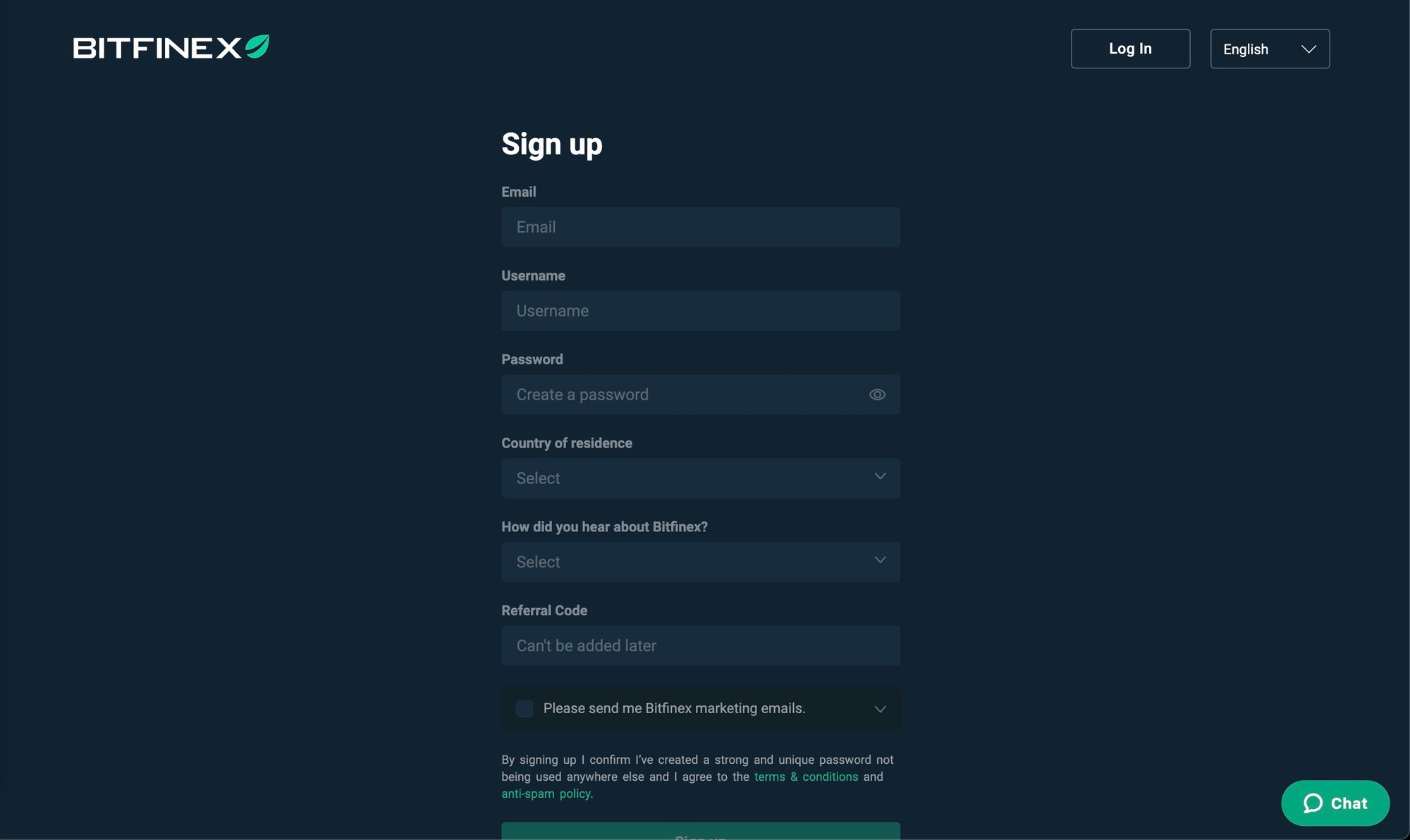 To begin, visit the Bitfinex website, bitfinex.com, and click on the Sign Up button on the top right corner of the page.
👉 Click here to open an account on Bitfinex and get a 6% rebate fee.
Type in the registration form by providing your personal information, including your name, email address, username, country of residence, questions and a secure password that includes a combination of uppercase and lowercase letters, and numbers.
Once you have submitted the registration form, you will receive a confirmation email from Bitfinex. Check your inbox, click on the activation link, and activate your Bitfinex account.
For added security, it's recommended to enable two-factor authentication (2FA) using Google Authenticator or other 2FA apps like Authy. This adds an extra layer of protection to your account.
In order to deposit funds, you will need to complete a verification process, also known as KYC, to comply with local regulations and prevent financial crimes like money laundering and terrorism financing. This process usually requires you to provide personal information and documentation to verify your identity.
Once you have filled all the field, you'll have full access to the Bitfinex trading platform and be able to transfer funds.
By following these steps, you'll have a fully-functional Bitfinex account, ready for trading cryptocurrencies.
Also, please don't forget to keep your account information and login credentials safe at all times.
Bitfinex Funding Methods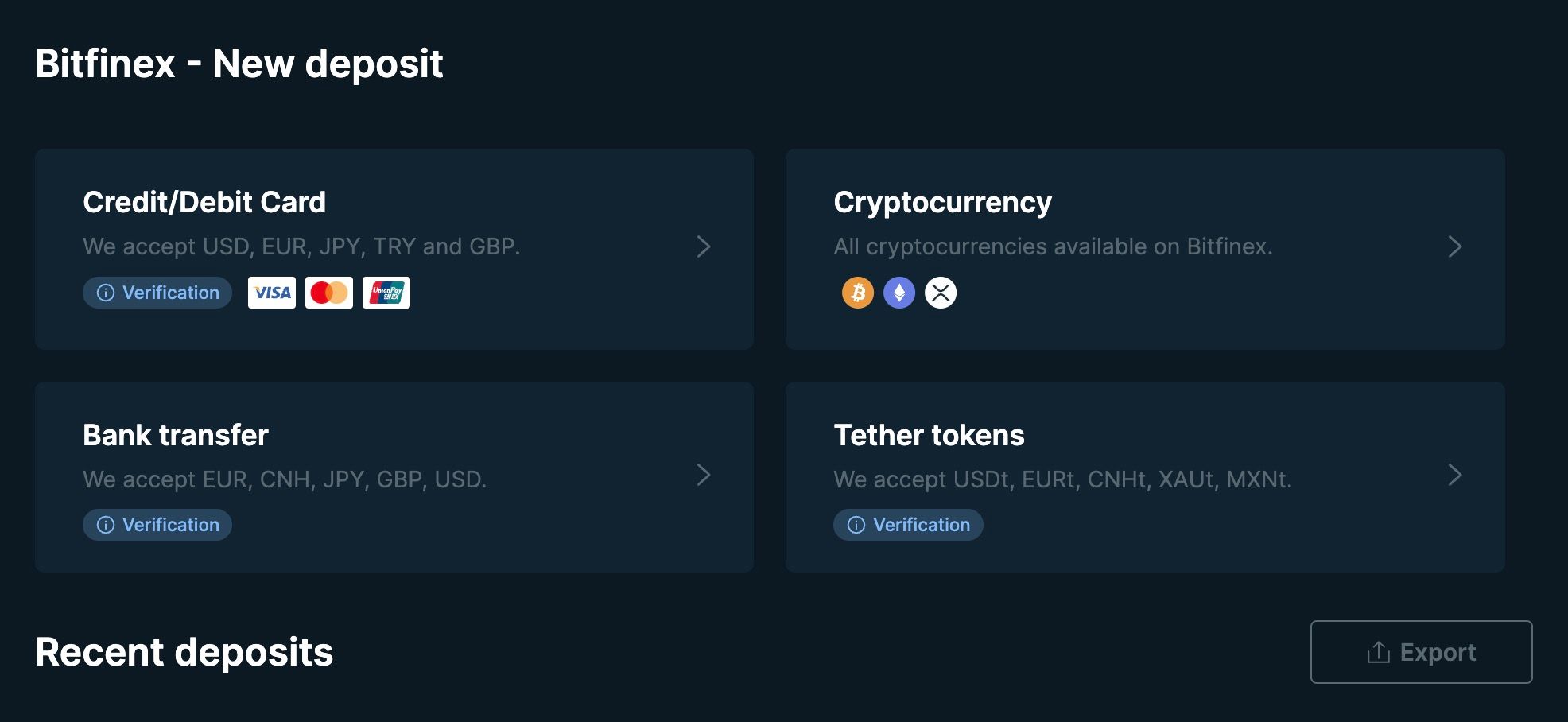 Bitfinex supports a diverse range of fiat currencies, including:
Euro (EUR);
United States Dollar (USD);
Pound Sterling (GBP);
Japanese Yen (JPY);
Turkish Lira (TRY).
Customers who have completed full KYC (Know Your Customer) verification on the platform, can deposit and withdraw these fiat currencies through the convenient option of a Bank Wire.
For those who opt to use the third-party service provider OpenPayd for their Euro transfers, intermediate-level verification or higher is required.
The minimum deposit and withdrawal amounts vary depending on the currency, with a minimum of 10,000 USD, EUR, and GBP, 1,000,000 JPY, and 75,000 CNH for deposits and withdrawals.
However, when utilizing the OpenPayd service for Euro transfers, there is no minimum deposit amount and a minimum withdrawal amount of €25.
Is Bitfinex Safe?
Bitfinex integrates numerous industry-standard security features to ensure the safety of its users' accounts and crypto. Some of these measures are:
Two-factor authentication;
Advanced APIs for connecting with third-party services;
Withdrawal protection features;
Cold storage for customer assets.
Despite these security measures, Bitfinex has faced challenges in the past with regards to security and has experienced multiple hacks, leading to the loss of customer funds and eroding trust in the platform.
Bitfinex's services are available all over the world (except for the USA) with the basic level of services requiring only a valid email address for access.
However, more advanced services require a deeper KYC process, including also the proof of address. The company's list of eligible countries is not specified on their website and can only be determined through their verification process.
Bitfinex may be a suitable option for non-US advanced traders or those looking to trade large sums, but it is not recommended for those new to the cryptocurrency world.
Despite not being regulated, Bitfinex is one of the top exchanges in the world and has virtual offices in Taiwan and Hong Kong, with its registration based in the British Virgin Islands.
Bitfinex Fees
Bitfinex is known for its competitive trading fees, with a standard rate of 0.10% for maker trades and 0.20% for taker trades on crypto, stablecoin, and fiat transactions.

For those looking to lower their fees, Bitfinex provides an additional benefit to those who hold the LEO cryptocurrency.
By keeping the equivalent of $1 in LEO in your account, you can obtain a 15% reduction in taker fees on crypto-to-crypto and crypto-to-stablecoin trades.
This discount grows to 25% for those holding at least $5,000 in LEO, and even greater savings are available for those with $10,000 or more in LEO.
High volume traders, with monthly activity exceeding $500,000, may also be eligible for reduced fees. By offering various options to reduce trading fees, Bitfinex provides a flexible and cost-effective solution for all types of traders.
Deposit fees
| Type of Transfer | Fees |
| --- | --- |
| Crypto | FREE |
| Stablecoin | FREE |
| Securities | FREE |
| Bank wire | 0.100% (min 60, USD/Euro) |
| Bank wire - OpenPayd | 0.5 (Euro |
Withdrawal Fees
| Type of Transfer | Fees |
| --- | --- |
| Bank wire | 0.100% (min 60, USD/Euro) |
| Bank wire - OpenPayd (for transfers of 100,000 EUR | GBP or less) |
| Bank wire - OpenPayd (for transfers of more than 100,000 EUR | GBP) |
| Express bank wire (within 24 hours on business days) | 1.000% (min 60, USD/Euro) |
| Internal transfer (digital assets only) | FREE |
| Bitcoin | 0.0004 BTC |
| DOGE | FREE |
| Polkadot | FREE |
| Dash | 0.002 DASH |
| Ethereum | 0.0016695 ETH |
| USDt (ETH) | 2.7247 USDt |
| USL | FREE |
| USDt (Omni) | 5 USO |
| USDt (EOS) | FREE |
| USDt (Tron) | FREE |
Trading Fees
| 30 Days Volume (USD Equivalent) | Maker Fees | Taker Fees | Taker Discount Leo Holder |
| --- | --- | --- | --- |
| $0.00 or more traded | 0.100% | 0.200% | up to -(25.000% + 6bps) |
| $500,000.00 or more traded | 0.080% | 0.200% | up to -(25.000% + 6bps) |
| $1,000,000.00 or more traded | 0.060% | 0.200% | up to -(25.000% + 6bps) |
| $2,500,000.00 or more traded | 0.040% | 0.200% | up to -(25.000% + 6bps) |
| $5,000,000.00 or more traded | 0.020% | 0.200% | up to -(25.000% + 6bps) |
| $7,500,000.00 or more traded | 0.000% | 0.200% | up to -(25.000% + 6bps) |
| $10,000,000.00 or more traded | 0.000% | 0.180% | up to -(25.000% + 6bps) |
| $15,000,000.00 or more traded | 0.000% | 0.160% | up to -(25.000% + 6bps) |
| $20,000,000.00 or more traded | 0.000% | 0.140% | up to -(25.000% + 6bps) |
| $25,000,000.00 or more traded | 0.000% | 0.120% | up to -(25.000% + 6bps) |
| $30,000,000.00 or more traded | 0.000% | 0.100% | up to -(25.000% + 6bps) |
| $300,000,000.00 or more traded | 0.000% | 0.090% | up to -(25.000% + 6bps) |
| $1,000,000,000.00 or more traded | 0.000% | 0.085% | up to -(25.000% + 6bps) |
| $3,000,000,000.00 or more traded | 0.000% | 0.075% | up to -(25.000% + 6bps) |
| $10,000,000,000.00 or more traded | 0.000% | 0.060% | up to -(25.000% + 6bps) |
| $30,000,000,000.00 or more traded | 0.000% | 0.055% | up to -(25.000% + 6bps) |
Bitfinex: cryptocurrencies available
Bitfinex boasts a dynamic trading platform that features over 200 cryptocurrencies and more than 400 trading pairs, including prominent names like Bitcoin, Ethereum, Dogecoin, Tether, Solana, Litecoin, Ripple, Cardano, and many others.
The platform demonstrates an unwavering commitment to offering a wide range of in-demand currencies to meet the needs of its users.
While Bitfinex has a strong association with the Tether stablecoin, which is pegged to the value of $1, past allegations of dishonesty with regard to its reserves have raised some concerns. Tether maintains that the currency is fully backed, but ultimately, the decision to trust or hold Tether remains with the individual user.
Bitfinex Features
Let us delve into the key features of Bitfinex, including its trading platforms, staking options, OTC market, utility token, and more.
Trading Platform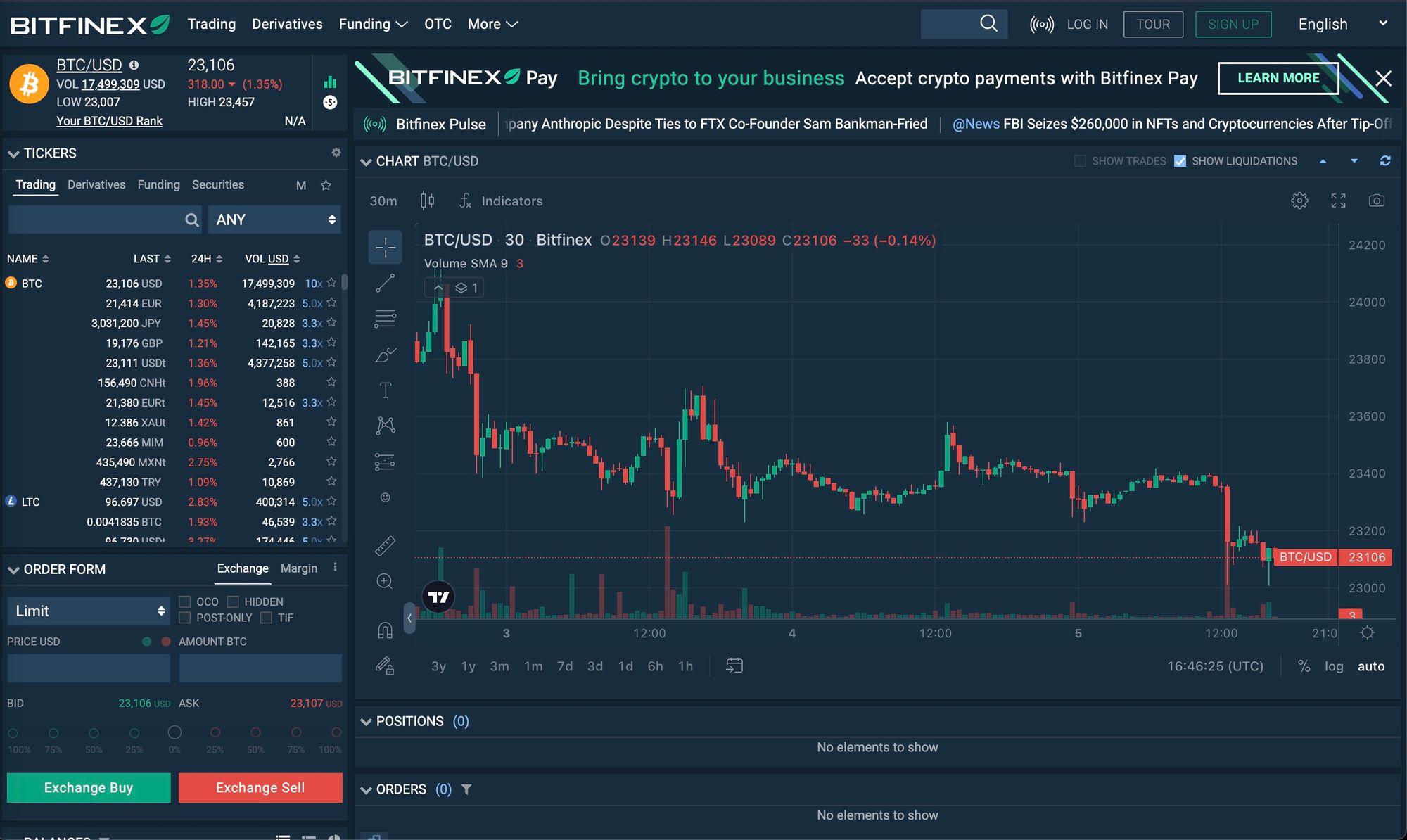 Bitfinex offers a user-friendly trading experience, appealing to both novice and experienced traders alike.
To test strategies before investing real money, you can start with a free demo trading account. The active trading platform boasts standard features like advanced charting tools and order book view, and is accessible through the mobile app or on desktop with added expert-level tools.
Bitfinex also offers advanced options like algorithmic trading, historical pricing data, margin trading, derivatives trading, and a robust API for developers.
Borrow
Bitfinex Borrow is a P2P platform that enables users to borrow funds using cryptocurrency as collateral.
Bitfinex acts as a facilitator, providing the technology for borrowers and lenders to transact. Borrowers can set loan duration and terms, but must meet requirements and manage risks.
The amount borrowed is based on the type and amount of collateral, with a maximum limit of $250,000. Use the loan calculator to determine how much you can borrow and minimum margin requirements.
OTC Market
Bitfinex's OTC Market allows users to make larger trades directly with a counterparty, bypassing public order books.
Users can access instant liquidity through the OTC desk or trade directly with another Bitfinex user.
OTC trades incur a 0.1% fee on both sides, with a minimum trade size of 50 USD equivalent for user-to-user trades and 100,000 USD equivalent for liquidity through the OTC desk.
Honey: Bitfinex Algorithmic Trading
Bitfinex Honey is an open-source toolkit for traders that enhances the functionalities of the Bitfinex platform.
It includes a set of standalone versions for macOS, Windows, and Linux and a web application.
The standalone version offers more advanced features, while the web-based version is not currently maintained. Bitfinex Honey provides customisable options for algorithmic trading strategies, custom orders, notifications, and more.
Staking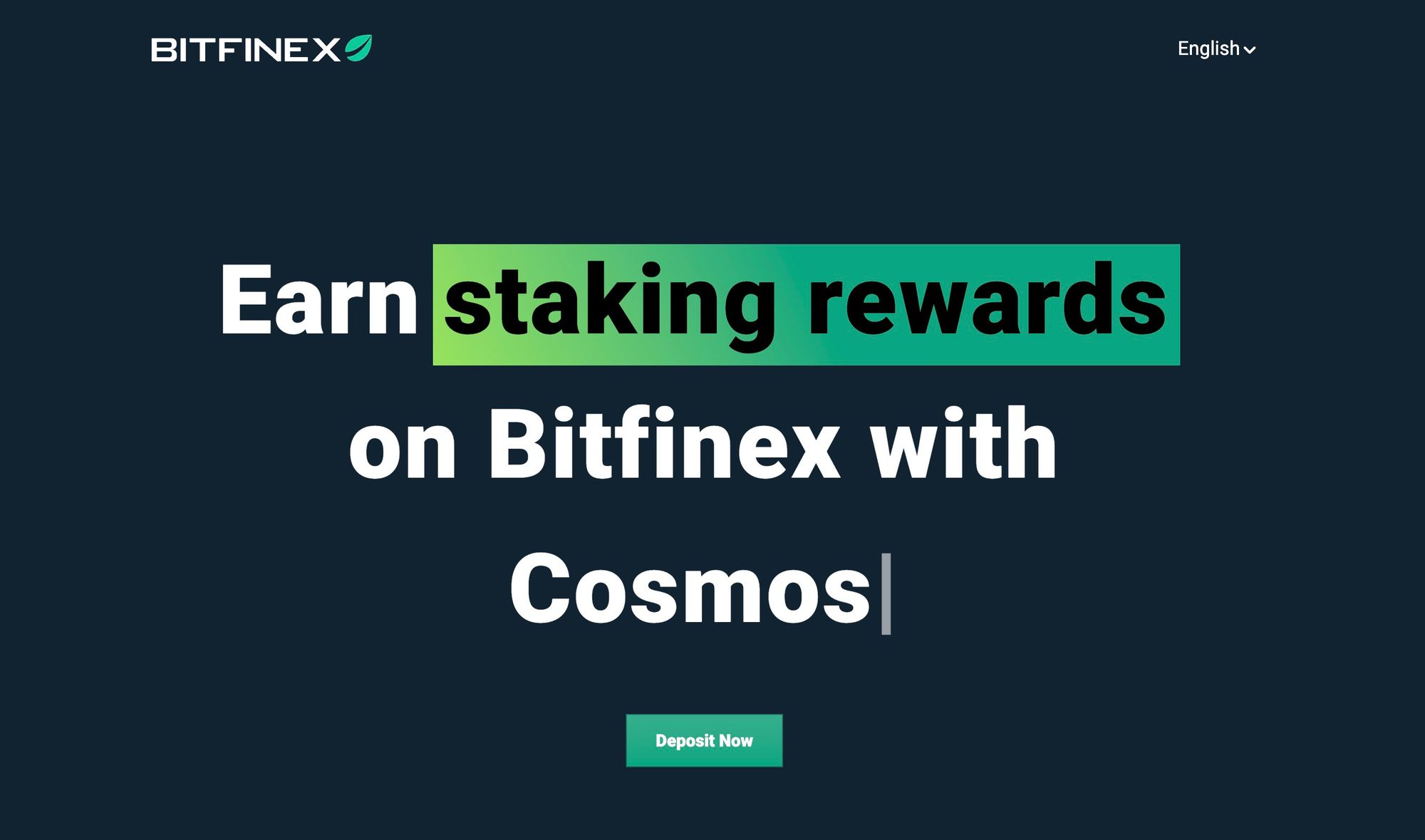 Bitfinex offers a Soft-staking program that enables clients to effortlessly earn rewards simply by holding their digital tokens on the platform. With staking rewards reaching as high as 8% p.a. for eligible tokens, here's how to stake on Bitfinex:
Choose the staking-supported tokens that best suit you from the Bitfinex staking page.
Deposit your chosen tokens into your Bitfinex account, or purchase them on the platform.
Enjoy passive income as Bitfinex automatically deposits your weekly staking rewards into your account.
Here's a list of supported digital tokens on Bitfinex, along with estimated annual staking rewards:
Tron (TRX) — 6% to 8%*
Solana (SOL) — up to 6.5%*
Polygon (MATIC) — 4.5% to 6%*
Cardano (ADA) — 4% to 5%*
EOS (EOS) — 0% to 3%*
Tezos (XTZ) — 3% to 5%*
COSMOS (ATOM) — 1.5% to 3%*
Polkadot (DOT) — up to 7%*
Ethereum 2 (ETH2) — up to 3.5%*
Kusama (KSM) — up to 8%*
*Estimates are subject to change and please refer to the official Bitfinex website for more details.
Unus SED LEO: Bitfinex Utility Token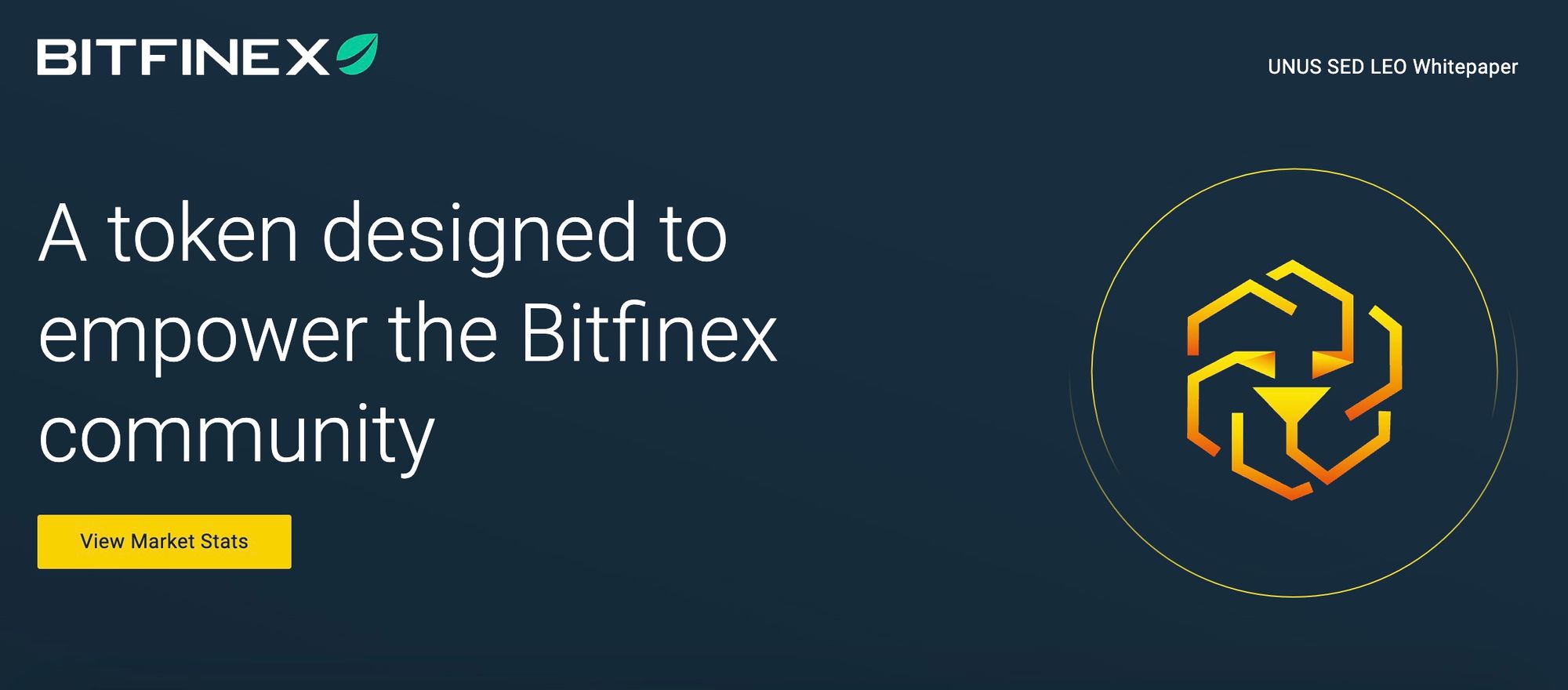 UNUS SED LEO is a utility token for Bitfinex users that enhances the platform's capabilities and provides benefits to holders.
It was sold in a private sale for $1 billion in Bitcoin, USD, and USDt and provides discounts on taker fees, lending fees, crypto and fiat withdrawals, and deposits.
It is issued on EOS and ERC20 blockchains and can be converted on Bitfinex. Deposits, trading, and withdrawals are available to Basic Plus users and not to specific jurisdictions. Benefits include fee reductions and withdrawal discounts.
Bitfinex Opinions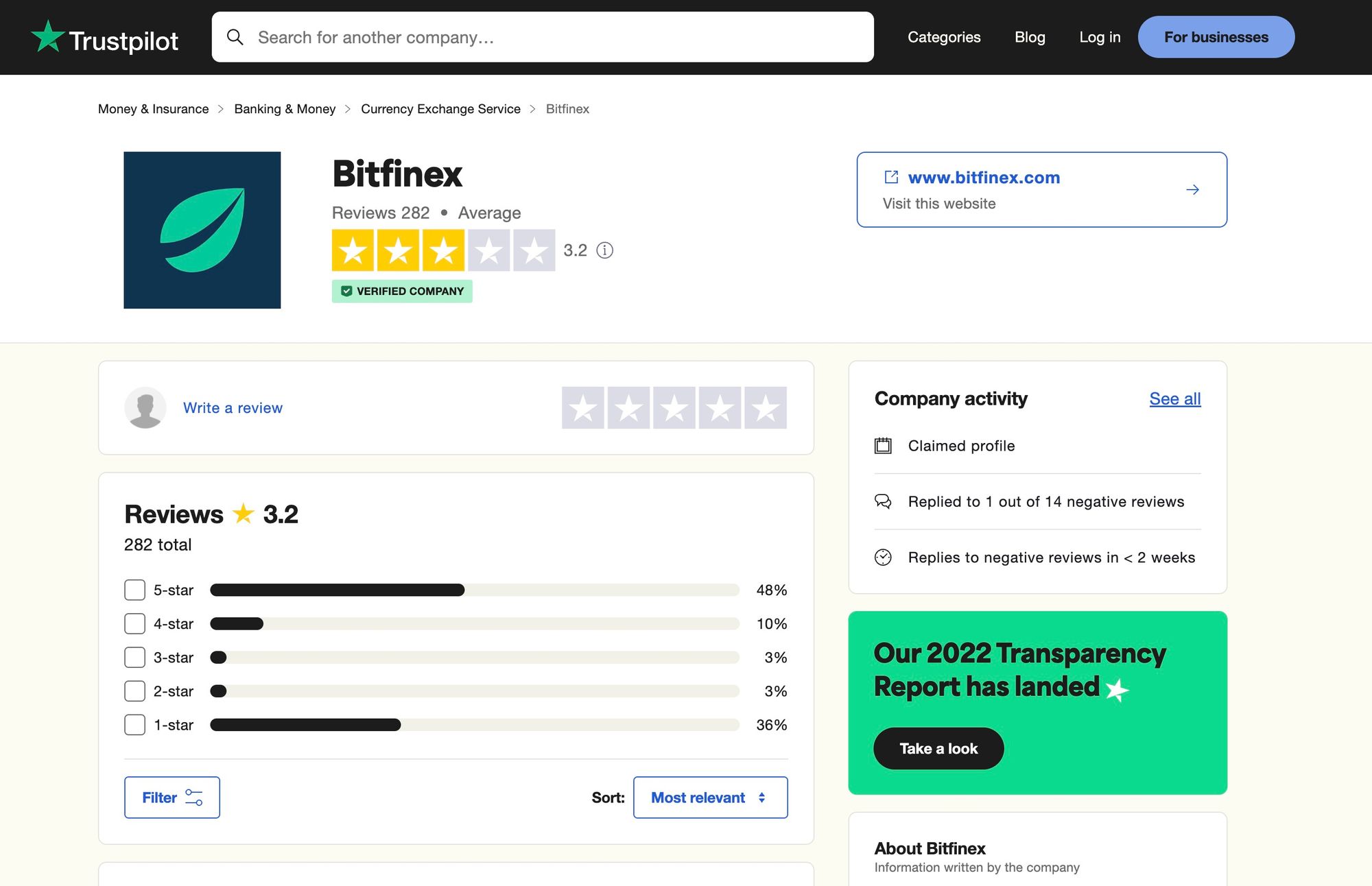 In our review process, we often consult the Trustpilot page of the exchange under consideration. In the case of Bitfinex, we discovered a diverse range of feedback with over 280 reviews, totaling a score of 3.2/5 stars. The reviews include both positive and negative experiences.
This highlights the fact that users' opinions and experiences with an exchange can vary significantly. When selecting an exchange, it's important to consider multiple sources of information and to take into account security measures, fees, and available features.
Bitfinex Customer Service
Upon examination of Bitfinex's customer service offerings, it is evident that two modalities of assistance are at your disposal: Live Chat and Ticket Support.
The Live Chat option, which is constantly available, and the Bitfinex community channels can prove to be a helpful resource for general queries.
For more specific and account-related inquiries, the Bitfinex support team can be reached by submitting a ticket via the Support contact page. This page presents a straightforward navigation, directing you to the appropriate section based on the nature of your request.
Bitfinex Pros & Cons
| Pros | Cons |
| --- | --- |
| Attractive trading fees | Past instances of regulatory missteps and fines |
| Comprehensive trading features including margin trading, derivatives, and advanced order types | Not available in the USA |
| User-friendly demo trading and mobile app for novice traders | |
Bottom Line
After evaluating Bitfinex across multiple categories, we can conclude that it is a well-regarded cryptocurrency exchange, known for its strong liquidity, low price slippage, low fees, and advanced trading features.
However, it is not available to residents of the USA due to licensing restrictions. This can be a limitation for some of our readers.
Despite the security lapse in 2016, Bitfinex has made improvements in user protection and remains one of the largest and most reputable exchanges globally.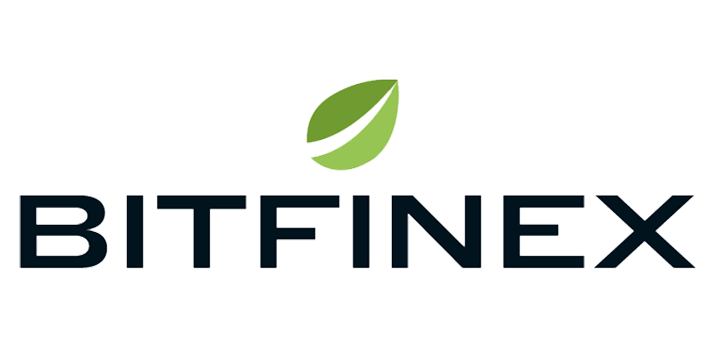 Bitfinex Evaluation: 4/5
Reputation: Bitfinex has a strong reputation in the cryptocurrency industry, known for its advanced trading features, large selection of cryptocurrencies, and high liquidity. However, it has also faced some controversy and legal issues in the past, which has led to criticism from some quarters. 3/5
Technology: Bitfinex has a robust and feature-rich trading platform, offering a wide range of tools for advanced traders, including margin trading and a customizable interface. The platform is also known for its fast and reliable execution of trades. 4/5
Customer Service: Bitfinex has a dedicated customer support team, available 24/7 to assist users with any questions or issues. Response times and quality of support may vary depending on the specific inquiry, but generally Bitfinex is considered to have strong customer service. However, is lacking a phone support. 4/5
Fees: Bitfinex charges competitive trading fees, and also offers a tiered fee structure that rewards higher-volume traders with lower fees. There may also be other fees associated with funding and withdrawing funds, so it's important to review all fees carefully before trading on the platform. 5/5
Ease of Use: Bitfinex's platform may have a steeper learning curve compared to some other exchanges, as it offers a wide range of advanced trading features. However, the platform is well-designed and customizable, making it easier to navigate once you become familiar with its features. 3/5
👉 Click here to open an account on Bitfinex and get a 6% rebate fee.
Frequently asked questions (FAQ)
How to transfer money to Bitfinex?
To transfer funds to Bitfinex, create an account, log in, go to the "Deposit" section, choose a deposit method (e.g. wire transfer, cryptocurrency), follow the instructions, and check deposit fees, minimum deposit amount, and processing times before making the deposit. Note: options may vary based on location and verification status.
Is Bitfinex available in the US?
Bitfinex has faced some restrictions and limitations in the USA due to regulatory requirements, so it's not available at the moment..
Does bitfinex require KYC?
Bitfinex has a standard verification process to comply with Anti-Money Laundering (AML), Know Your Customer (KYC), and Counter-Terrorism Financing (CTF) laws and regulations. There are four levels of verification available on Bitfinex: Basic Access, Basic Plus, Intermediate, and Full.Please note that starting from November 9th, 2022, new users will only have access to a view-only Bitfinex account at the Basic Access level.