Kraken Review: Opinions, Pros & Cons [2023]
Discover the pros and cons of Kraken, one of the most popular crypto exchanges. Learn about its user interface, coin support, fees, security, and more in this in-depth review.
Kraken is a popular crypto exchange that offers a plethora of functionalities, including low transaction fees and a diverse array of tokens.
Kraken aspires to be the ultimate destination for secure and unparalleled trading experiences. To evaluate the validity of this claim, and determine if it aligns with your trading needs, we recommend reading our comprehensive review of the Kraken exchange.
👉 Click here to open an account on Kraken and get a $10 bonus in Bitcoin.
| DESCRIPTION | DETAILS |
| --- | --- |
| 🌐 Website | kraken.com |
| 🏙️ Location | San Francisco, California |
| 📅 Year Founded | 2011 |
| 💰 Primary Token | N/A |
| 📈 Listed Crypto | Over 50 |
| 💱 Trading Pairs | Over 270 |
| 💵 Supported FIAT | USD, EUR, GBP, CAD, JPY |
| 🌍 Supported Countries | Worldwide (with some exceptions) |
| 💰 Minimum Deposit | Varies depending on the deposit method |
| 💸 Deposit Fees | Varies depending on the deposit method |
| 💰 Daily Buying Limit | Varies depending on verification level |
| 💱 Transaction Fees | Maker/Taker Fees starting at 0.16% and reducing with trading volume |
| 💸 Withdrawal Fees | Varies depending on the withdrawal method |
| 📱 Mobile App | iOS & Android |
| 💬 Customer Support | Email, Live Chat, and Phone support. |
Ready to open a Kraken account and start trading? Take advantage of our exclusive offer and open an account on Kraken now to receive a $10 bonus in Bitcoin - just click the link below!
Kraken Overview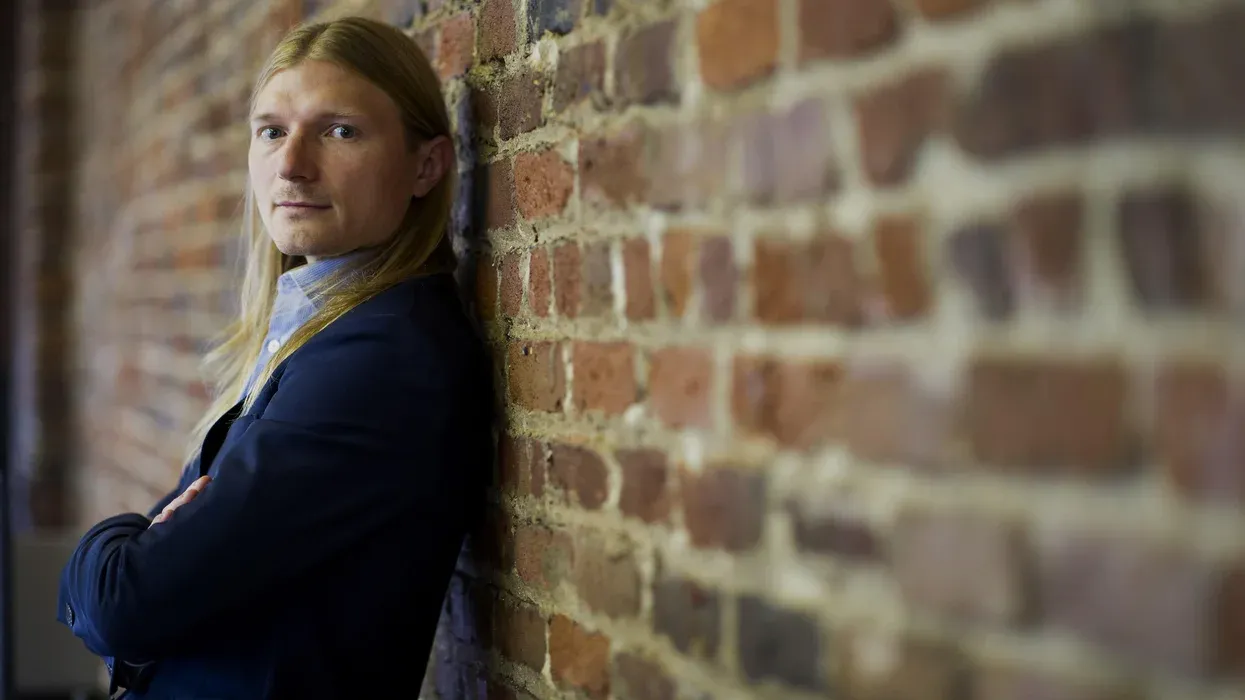 Kraken, a San Francisco-based crypto exchange established in 2011, offers a global presence with operational offices spanning multiple regions.
Kraken, was founded in 2011 by Jesse Powell and Thanh Luu. Powell,  was previously a consultant for Mt. Gox, and developed Kraken as a replacement for the struggling platform. In September 2013, the platform was launched, offering initial trading in Bitcoin, Litecoin, and the Euro, and later expanding to include additional currencies and margin trading.
The platform caters to both individual and institutional investors by providing competitively priced crypto trading services to customers in a vast majority of countries, including Europe, UK and the United States.
For novice traders, the "classic" Kraken platform offers an optimal starting point, while experienced and expert crypto enthusiasts may prefer the advanced features of Kraken Pro, such as margin and futures trading.
Additionally, both beginners and advanced traders can avail themselves of the interest rewards offered through coin staking.
The comprehensive portfolio of platforms and services offered by Kraken is likely to accommodate the diverse needs of any cryptocurrency trader.
Setting up a Kraken Account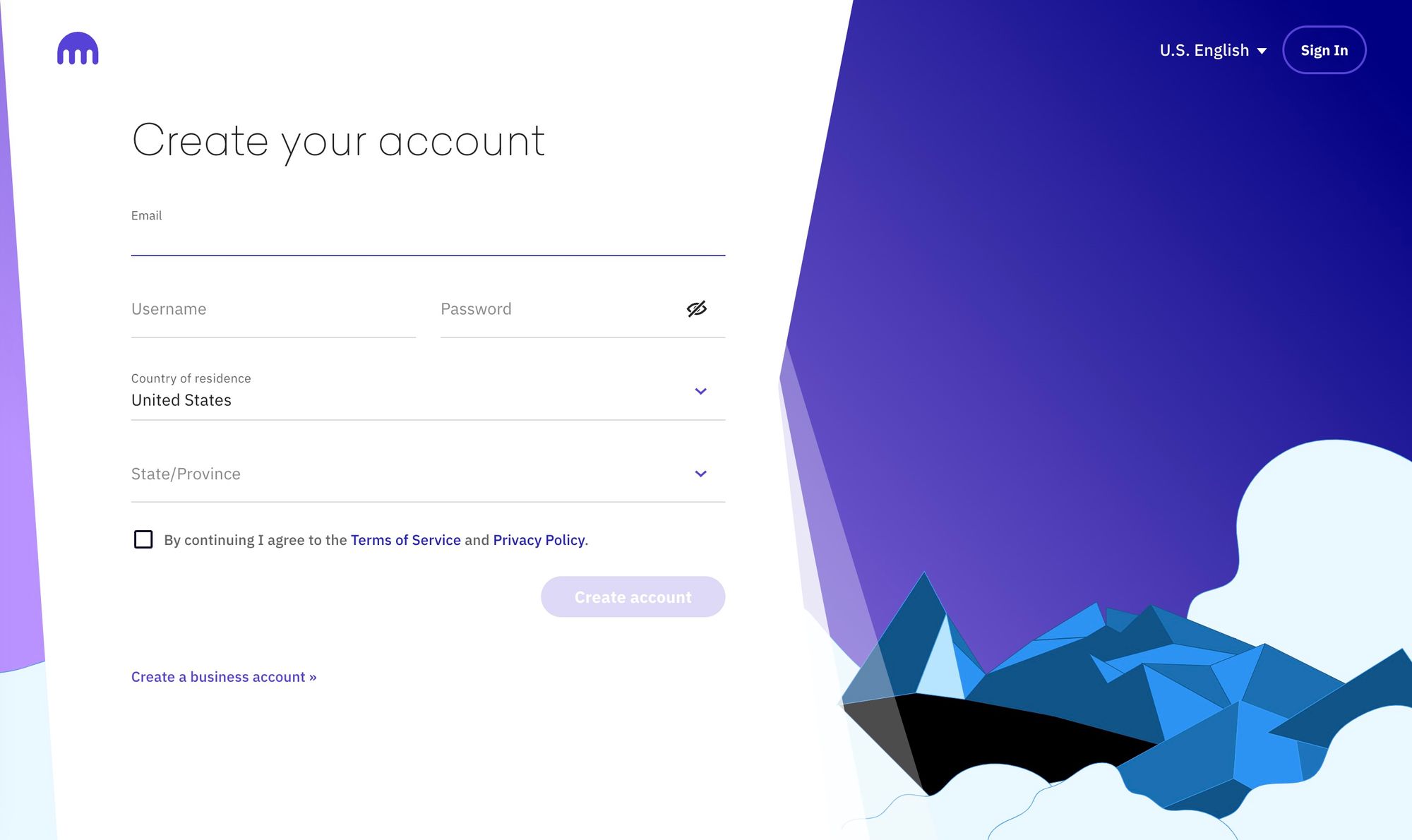 Creating an account on Kraken is a simple and straightforward process that will grant you access to the myriad of services offered by the platform.
To begin, ensure that you are visiting the official Kraken website at Kraken.
Here are the steps to open a Kraken account:
👉 Click here to open an account on Kraken and get a $10 bonus in Bitcoin.
Click on the "Create Account" button located in the upper-right corner of the homepage;
Fill out the signup form by providing your email address, a unique username (in adherence to the specified guidelines), and a secure password (in accordance with the specified standards);
Review and agree to the platform's Terms of Service and Privacy Policy;
Click the "Create account" button to submit your registration;
Check your email for an activation key and use it to activate your account on the activation form or by clicking the link in the email;
Confirm your password, complete the captcha (if prompted), and click the "Activate Account" button;
Verify the account by completing the KYC (Know Your Customer);
Congratulations! You have successfully created an account on Kraken.
Kraken Funding Methods
Kraken has various ways for you to deposit money to your account, like using regular money from your bank, but also crypto directly from your non-custodial wallet.
For fiat deposits you can use US dollars, Euros, or Canadian dollars to add money to your account.
They charge very little fees for this. If you are a US client, you can add money to your account for free by connecting your bank account to Kraken, except in NY, WA and TX. Additionally, if you are adding money in Canadian dollars or Euros by using SEPA, it will be free.
It's also possible to deposit into your account with:
Buy crypto instantly with a payment card;
Corporate funding options;
Kraken Software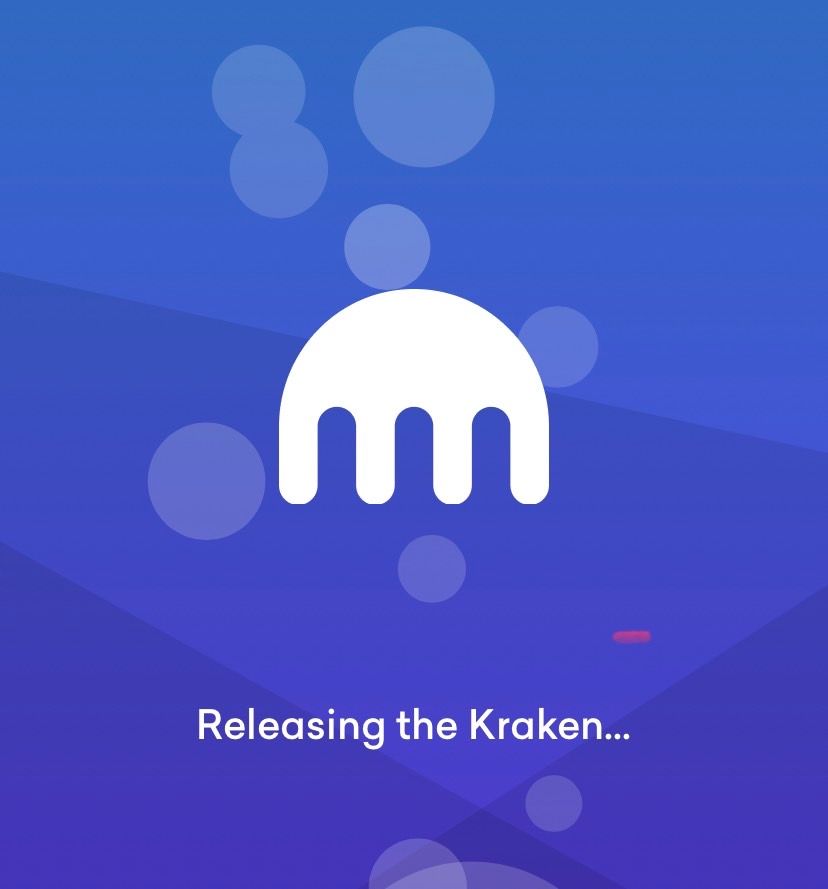 Kraken presents its clients with a choice between two distinct trading platforms - Kraken and Kraken Pro. The latter, designed for the more seasoned trader, offers very competitive fees and is accessible to all individuals who possess an account with Kraken.
Regardless of one's proficiency in the realm of cryptocurrency and active market trading, Kraken caters to a diverse range of traders, from novices to experts, by providing a tailored platform for each.
Kraken (Standard)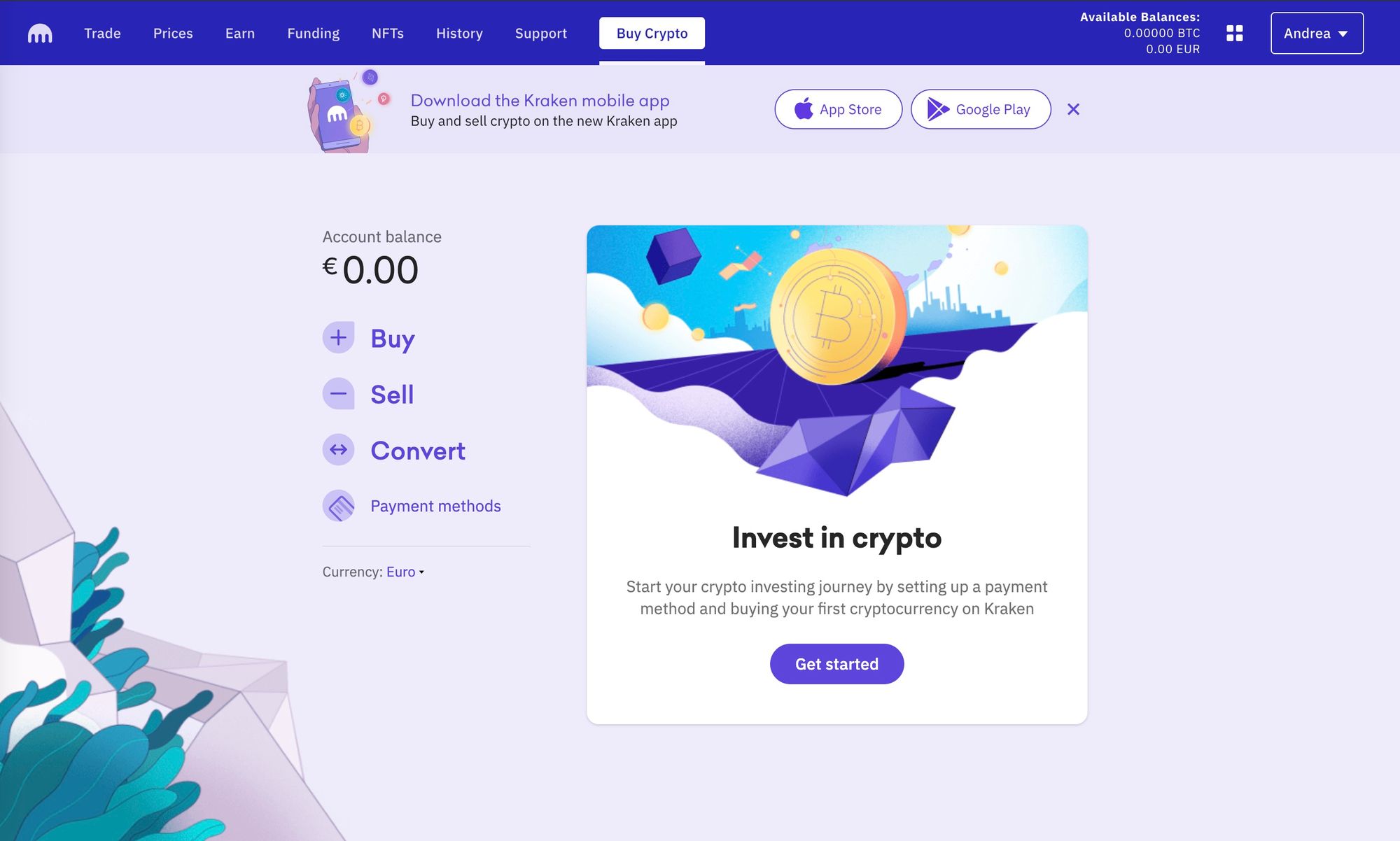 For those new in the world of crypto trading, the standard platform offered by Kraken serves as the ideal starting point.
Upon verification of one's account, buying cryptocurrency with a linked bank account is swiftly facilitated, as is the sale and conversion of various currencies in the account.
The process of executing an order is extremely easy and can be completed in a matter of seconds via the user-friendly user interface.
Also, the system allows for the direct purchase of cryptocurrency using one's bank account balance, without the need for prior funding of the account.
In addition to buying and selling, users have the opportunity to deposit their crypto for staking, earning interest of up to 21%, based on the currency.
To protect the account, it is recommended to enable 2FA (two-factor authentication), thereby ensuring that only authorized parties may access the account.
Kraken Pro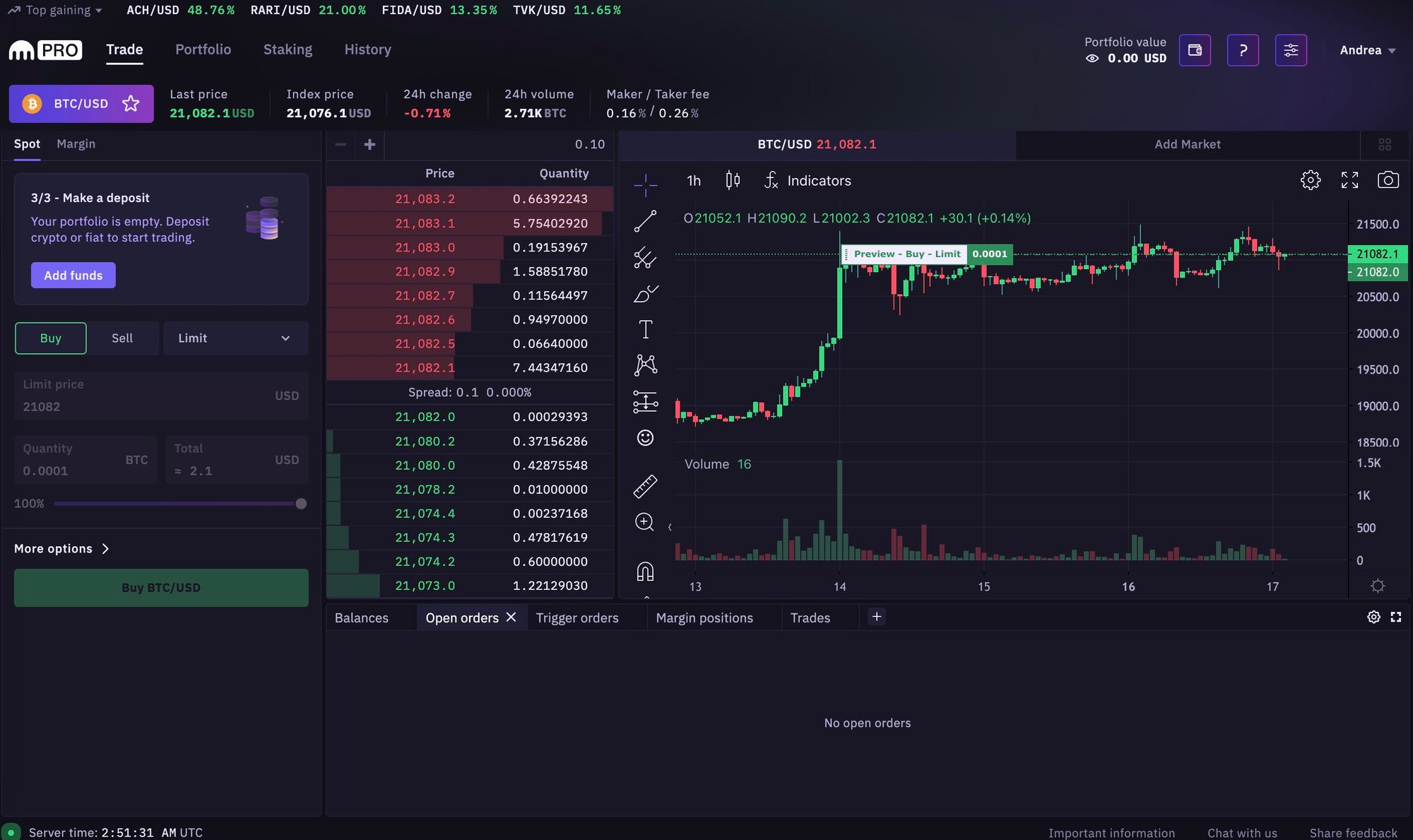 Kraken Pro is a sophisticated trading platform that can be accessed through a web browser or mobile device.
Though it may appear intimidating to those not familiar with cryptocurrencies trading, the platform's advanced features and detailed asset information, including real-time charts and open order visibility, make it a vital tool for active traders.
Access to Kraken Pro is available to all individuals with a valid Kraken account and offers a notable benefit in the form of reduced transaction fees.
Kraken Fees
The cost and tariffs associated with trading vary depending on the platform and type of trade being executed.
Additionally, it is important to note that prices may be subject to spread charges.
To help you understand this complex section, down here you can find a quick overview of the most important fees to consider.
Kraken (Standard) trading Fees
For immediate transactions, the commission typically stands at 1.5% for the majority of cryptocurrencies, and 0.9% for stablecoins denominated in U.S. dollars or other stablecoins.
Additional charges may apply depending on the method of funding employed for the purchase.
These can range from a modest 0.5% for transactions financed through a bank account, to a substantial 3.75% plus a fixed fee of 25 Euro cents for those funded through a debit card, credit card, or digital wallet.
Kraken Pro Fees
Kraken Pro offers a significantly more affordable pricing structure in comparison to the standard Kraken platform. The cost of transactions is determined based on one's cumulative trading volume over the preceding 30 days. The majority of trades are subject to either a 0.26% taker fee or a more favorable 0.16% maker fee.
| 30-Day Volume (USD) | Maker Fee | Taker Fee |
| --- | --- | --- |
| $0 - $50,000 | 0.16% | 0.26% |
| $50,001 - $100,000 | 0.14% | 0.24% |
| $100,001 - $250,000 | 0.12% | 0.22% |
| $250,001 - $500,000 | 0.10% | 0.20% |
| $500,001 - $1,000,000 | 0.08% | 0.18% |
| $1,000,001 - $2,500,000 | 0.06% | 0.16% |
| $2,500,001 - $5,000,000 | 0.04% | 0.14% |
| $5,000,001 - $10,000,000 | 0.02% | 0.12% |
| $10,000,000+ | 0.00% | 0.10% |
Maker orders, which represent liquidity to the exchange, are transactions that are not immediately matched against existent orders. In contrast, Taker fees, which are slightly higher, are imposed upon orders that are executed against pre-existing orders placed by other users on the marketplace.
Is Kraken Safe?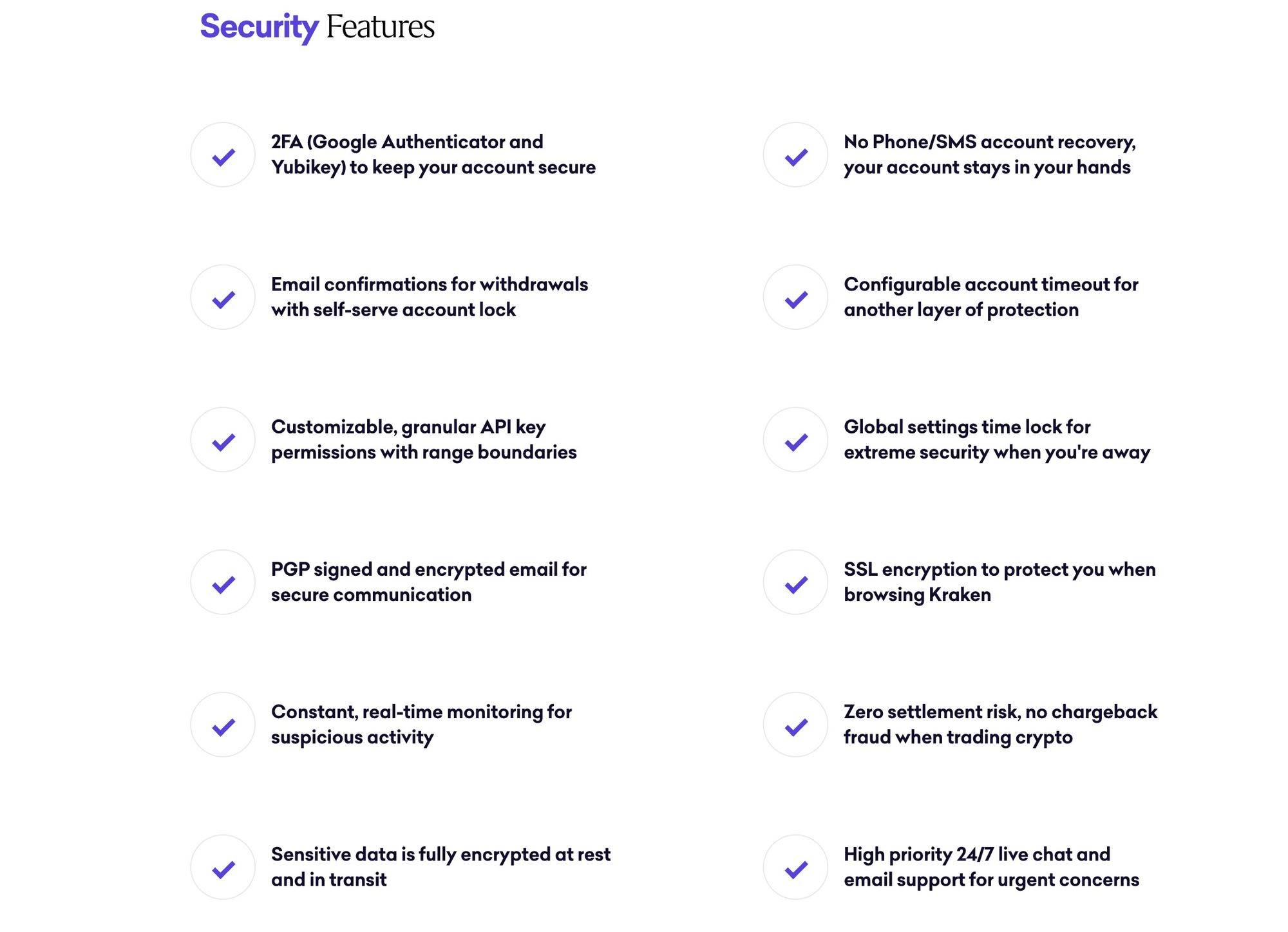 By adhering to sound online security protocols, your Kraken account should be safeguarded against nefarious actors seeking to deplete your funds.
Once an account is financed, it is highly advisable to implement two-factor authentication, which can be customized for sign-in, account withdrawals, and trades. Additionally, there is an option to lock your account to prevent any unauthorized modifications, should you suspect that your account has been compromised.
With respect to security, the utilization of Kraken enables one to quickly comprehend the paramount importance of security measures. The login process involves the utilization of a confidential username, as opposed to utilizing an email address. Additionally, there is no implementation of SMS recovery, as SMS represents a system that is susceptible to hacking.
It is worth noting that while the majority of users have a positive experience, there have been instances where some users have reported hacked accounts resulting in the loss of all assets with no means of recovery.
Given that cryptocurrency transactions on the blockchain are irreversible, crypto accounts are a prime target for fraud. Therefore, it is imperative to exercise caution when using Kraken or any other exchange, and be aware of these potential risks.
What can you buy on Kraken?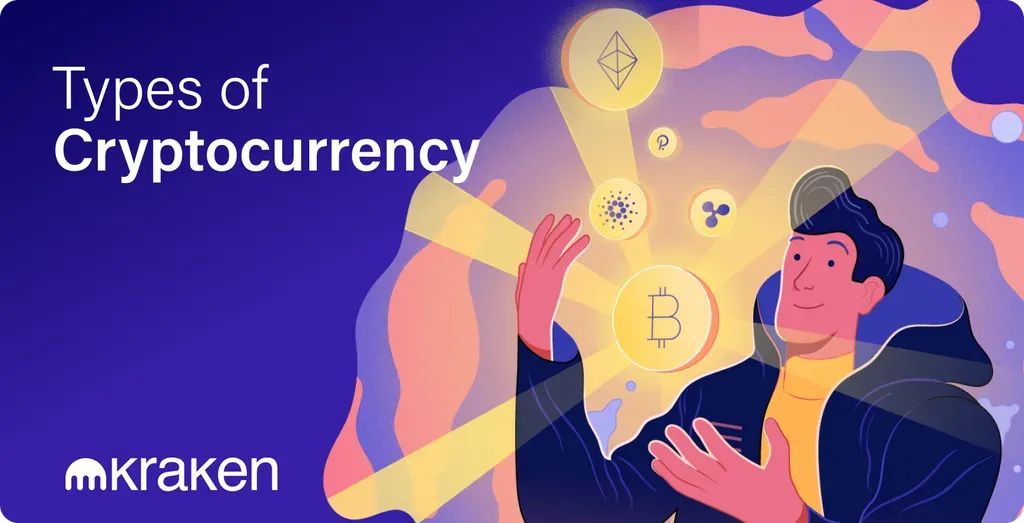 Kraken, the digital asset exchange, offers support for a wide portfolio of coins, numbering over 110 in total. These include popular options such as:
Bitcoin (BTC);
Ethereum (ETH);
Ripple (XRP);
Litecoin (LTC);
Stellar Lumens (XLM);
Solana (SOL);
Sushi (SUSHI);
Uniswap (UNI);
Polkadot (DOT);
Polygon (MATIC);
Cardano (ADA);
Dogecoin (DOGE);
Tether (USDT);
USD Coin (USDC);
Dai (DAI)
Additionally, Kraken also supports a selection of stablecoins, including Tether, USD Coin, and Dai. In addition, the platform also allows for the conversion of US dollars into other fiat currencies, such as Canadian dollar, Swiss franc and Japanese yen. However, it is worth noting that availability of currencies may vary depending on the country.
Kraken Features
Kraken is a crypto exchange that offers advanced trading functions. Let's have a look at the most important ones.
Advanced trading functions
Kraken, stands out as one of the few platforms that offers advanced trading features such as margin, stop orders, and short selling of cryptocurrencies.
Additionally, it also boasts a unique feature known as a "dark pool" where high-volume investors can partake in anonymous trading. Kraken enables traders to leverage currency pairs by up to 5x, and eligible professional clients have the opportunity to access up to $500,000 in margin.
However, it is important to exercise caution as margin trading can be a high-risk task. By borrowing funds to invest, the potential gains are amplified, but so too are the potential losses. Given that cryptocurrencies are already considered a volatile investment, utilizing margin trading can amplify that risk significantly.
Staking
Kraken is an exchange that offers staking services to its users.
Staking usually involves tying up one's coins to contribute to the overall security of that particular blockchain.
Through staking, users can earn a return on their crypto investments, with annual percentage yields ranging from 0.25% to 20%.
Kraken currently supports staking for over 15 different cryptocurrencies. It can be a great way for users to earn passive income on their crypto holdings.
Futures
Crypto futures are a type of financial contract that entails a binding agreement between two parties, in which one commits to purchasing a set quantity of a specified underlying cryptocurrency at a predetermined price, at a designated future date and time.
These instruments provide an opportunity to acquire exposure to an extensive array of digital currencies, without the need for actual ownership. Additionally, individuals and entities who possess cryptocurrencies may utilize futures as a means of hedging their exposure to fluctuations in the market.
Kraken Opinions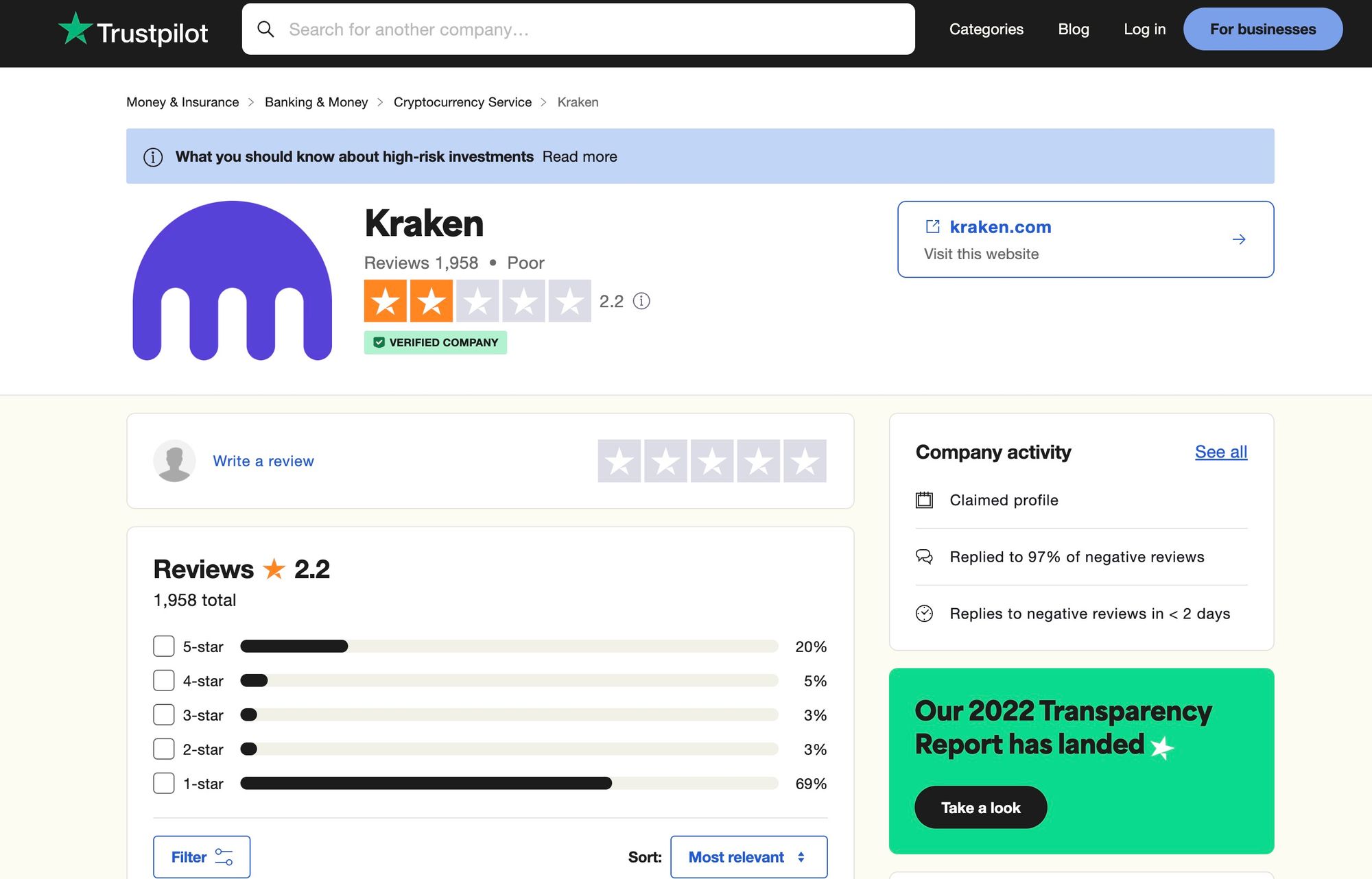 Kraken has received a low rating of 2.2 stars on Trustpilot, which suggests that many users have faced significant issues.
The most frequent grievances center around prolonged wait times for customer service responses and the retention of funds beyond the initial security period. These criticisms are cause for concern, but it is crucial to consider both positive and negative reviews when selecting a cryptocurrency exchange.
Kraken Pro & Cons
Here is a summary of the key features and potential drawbacks of a cryptocurrency exchange:
| Pros | Cons |
| --- | --- |
| 🪙 More than 120 coins supported | 💸 Higher fees when not using Kraken Pro |
| 😌 Simple user interface | 🥷 Some users report losses due to hacks |
| 🍾 High liquidity exchange | |
Bottom line
Kraken is as an attractive option for both novice and seasoned cryptocurrency traders and investors in search of a new exchange platform.
Its competitive pricing and comprehensive features, such as the low fees on its Kraken Pro platform, the attractive returns on staking, and the availability of futures markets, are all notable selling points.
However, some users have reported significant issues with account security, and the platform's navigation may prove to be less intuitive in comparison to other available options.
In summary, Kraken may prove to be a viable choice for cryptocurrency trading and investment, provided that one takes the time to fully comprehend the associated costs and risks, and takes the necessary precautions to ensure the security of their account through measures such as two-factor authentication.
With due diligence, one may anticipate a favorable experience when buying and selling cryptocurrency on Kraken.
👉 Click here to open an account on Kraken and get a $10 bonus in Bitcoin.
Frequently asked questions (FAQ)
What is Kraken?
Kraken is a reputable cryptocurrency exchange and bank based in the United States, established in 2011. It holds the distinction of being one of the earliest bitcoin exchanges to be featured on the prestigious Bloomberg Terminal, and has been valued at a staggering $10.8 billion USD as of the summer of 2022. The exchange recorded a revenue of US$1.1 billion in 2020, attesting to its significance in the industry..
Is Kraken safe?
Kraken, together with Coinbase are some of the most reputable and trustworthy cryptocurrency exchanges currently available. Kraken, established in 2011 and based in San Francisco, California, holds a distinguished place as one of the pioneers in the industry.
How do I withdraw from Kraken?
To access your funds on Kraken, log in to your account and navigate to the "Funding" tab. Under this tab, select "Withdraw" and use the search function to locate your desired currency. From the drop-down menu, choose a funding provider. If necessary, add a new bank account by providing the relevant information. Once all the details have been confirmed, initiate a withdrawal request. To ensure a seamless withdrawal process, it is recommended to follow the guidelines provided by the platform.