Bitstamp Review 2023: Pros & Cons and Features
Bitstamp is a user-friendly cryptocurrency exchange with low fees, suitable for both beginners and experts. Though it may not have all the cryptocurrencies available for trading, our detailed review can help you decide if it's the right choice for you.
Bitstamp is a one of the most popular choices for those who want to pay less in fees for trading cryptocurrencies.
This exchange is also easy to use, suitable for both beginners and experts. But keep in mind that it does not have all the cryptocurrencies available for trading.
Our detailed review of Bitstamp can help you decide if it's the right exchange for you.
| DESCRIPTION | DETAILS |
| --- | --- |
| 🌐 Website | bitstamp.net |
| 🏙️ Location | Luxembourg |
| 📅 Year Founded | 2011 |
| 💰 Primary Token | N/A |
| 📈 Listed Crypto | Over 80 |
| 💱 Trading Pairs | Over 160 |
| 💵 Supported FIAT | USD, EUR, GBP, JPY |
| 🌍 Supported Countries | Worldwide |
| 💰 Minimum Deposit | Varies depending on the deposit method |
| 💸 Deposit Fees | Varies depending on the deposit method |
| 💰 Daily Buying Limit | Varies depending on verification level |
| 💱 Trading Fees | From 0.00% |
| 💸 Withdrawal Fees | Varies depending on the withdrawal method |
| 📱 Mobile App | iOS, Android and AppGallery |
| 💬 Customer Support | Email and Live Chat |
Bitstamp overview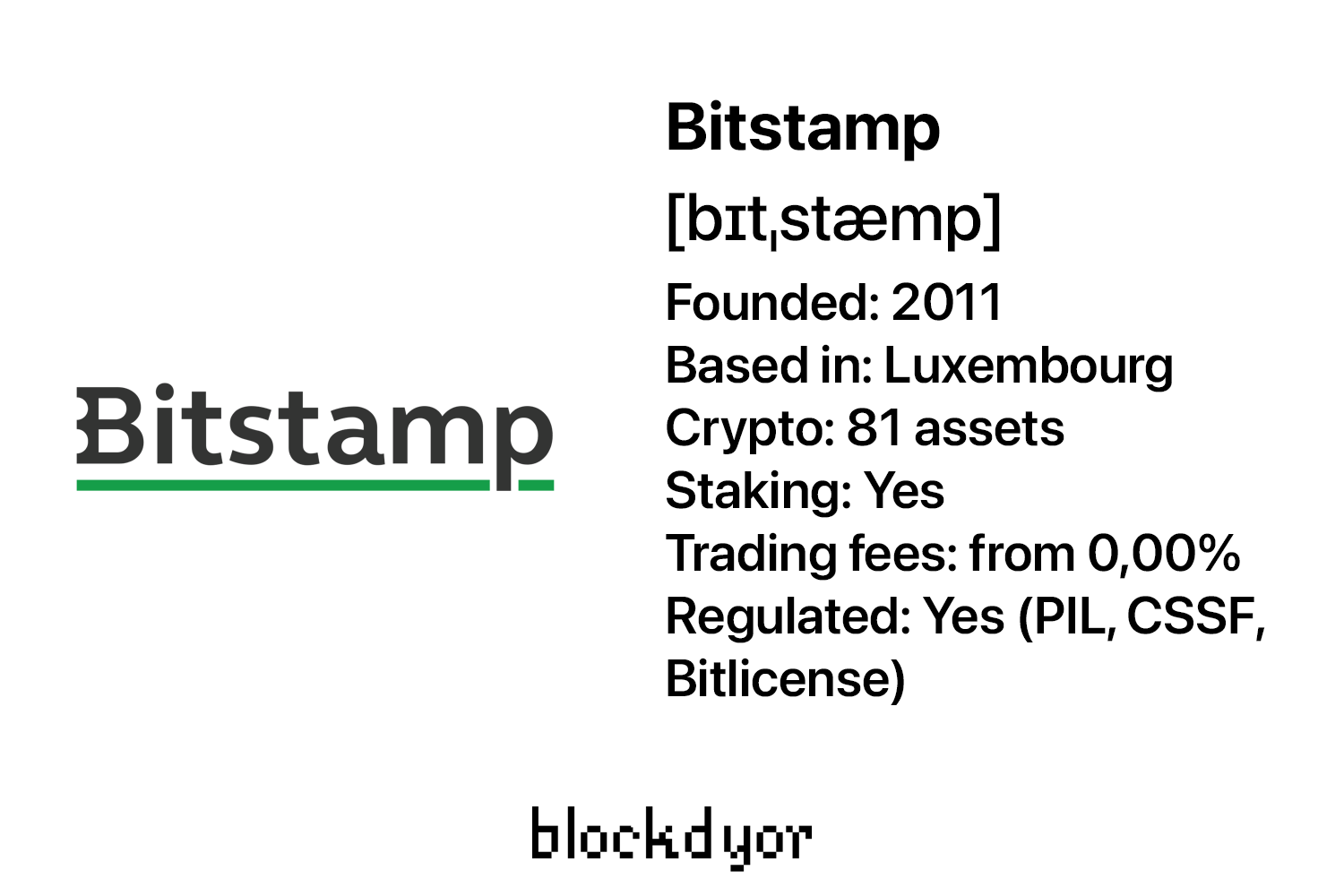 Established in 2011, Bitstamp has emerged as a pioneering cryptocurrency exchange, providing a reliable platform for traders seeking to purchase and dispose of a diverse array of digital assets.
This exchange has established itself as a leading cryptocurrency exchange, with global offices in key financial centers such as the UK, USA, Singapore, and Luxembourg. The exchange's US branch is headquartered in New York. With over 4 million customers worldwide, Bitstamp continues to provide a reliable and user-friendly platform for buying and selling a diverse selection of digital assets.
The exchange currently supports trading in over 80 cryptocurrencies, offering competitive fee structures to its users. The platform offers a variety of trading and staking options, including a user-friendly online trading interface, an advanced trading platform, as well as mobile application for on-the-go trading.
Despite the inherent volatility and risk associated with crypto trading, Bitstamp has demonstrated a commitment to ensuring the security of its customer accounts, while providing an intuitive and seamless trading experience for its users.
Setting up a Bitstamp account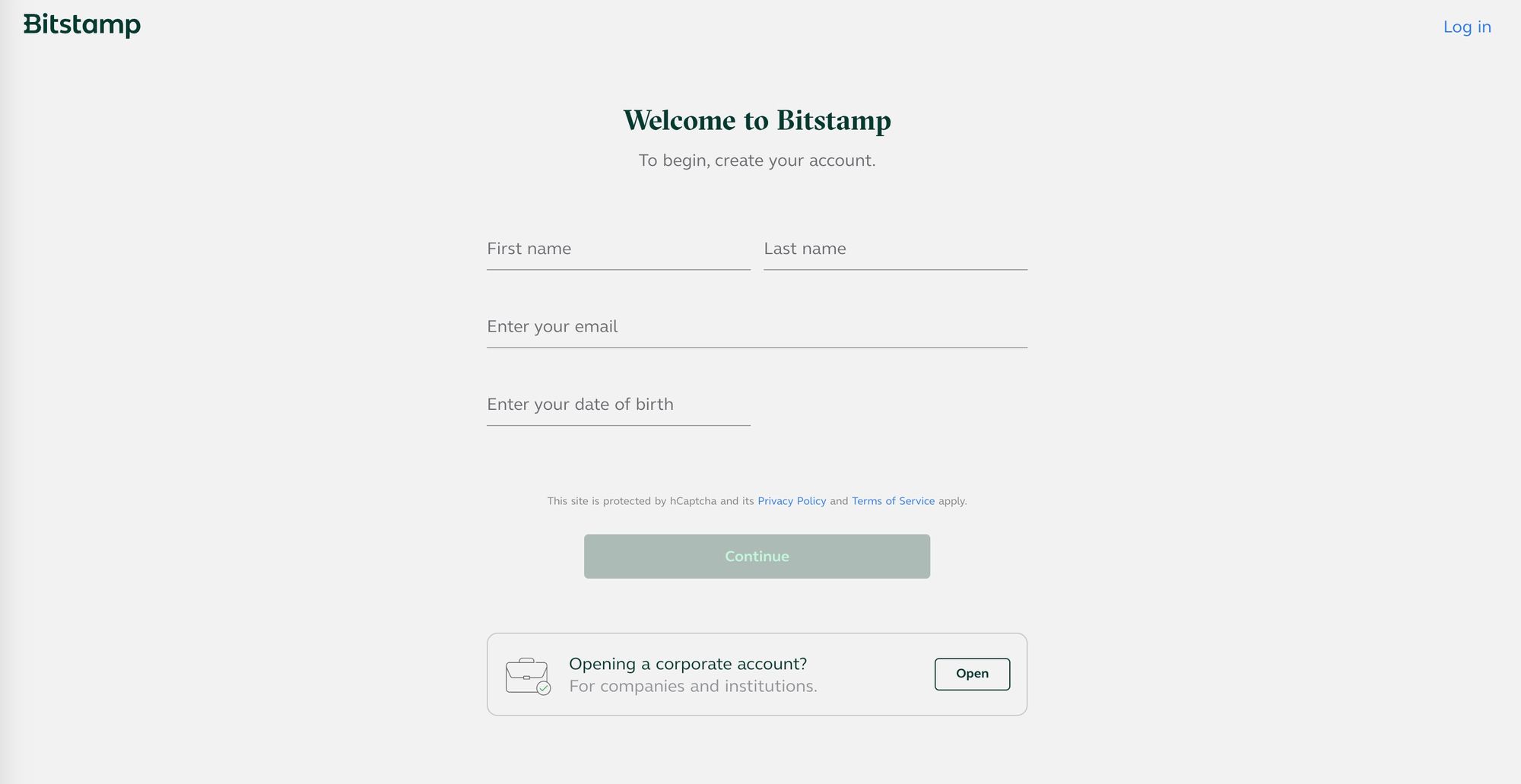 Opening a Bitstamp account is a straightforward process that can be completed in a few easy steps.
Go to the Bitstamp website, bitstamp.net, and click on the "Get Started" button located on the top right corner of the page.
Fill out the registration form by entering your personal information, including your name, email address, and a strong password that includes a mix of capital and lowercase letters, as well as numbers.
After submitting the registration form, you will receive a confirmation email from Bitstamp.
Check your email inbox and click on the activation link to activate your Bitstamp account.
For added security, it is important to enable two-factor authentication (2FA) using Google Authenticator. This will provide an extra layer of protection for your account.
After opening an account with Bitstamp, you must complete a verification process called Personal Account Verification, also known as KYC, in order to deposit funds. This is a requirement by Bitstamp to comply with local regulations and prevent financial crimes such as money laundering and terrorist financing. This process typically involves providing personal information and documentation to verify your identity. Once completed, you will be able to deposit funds and access more features on the platform.
By following these steps, you will have successfully opened a Bitstamp account and can begin buying and selling cryptocurrencies on the exchange. Remember to keep your account information and login credentials secure at all times.
Bitstamp funding methods
You can choose to top-up your Bitstamp account with additional funds through the utilization of a Bank Transfer, or by buying cryptocurrency directly through the use of a credit or debit card.
It's also possible to deposit by sending crypto directly from your own cold/hot wallet.
Furthermore, customers residing in the United States can also deposit funds via ACH, while customers living from certain countries within the Eurozone may also employ Instant SEPA for depositary purposes.
Is Bitstamp safe?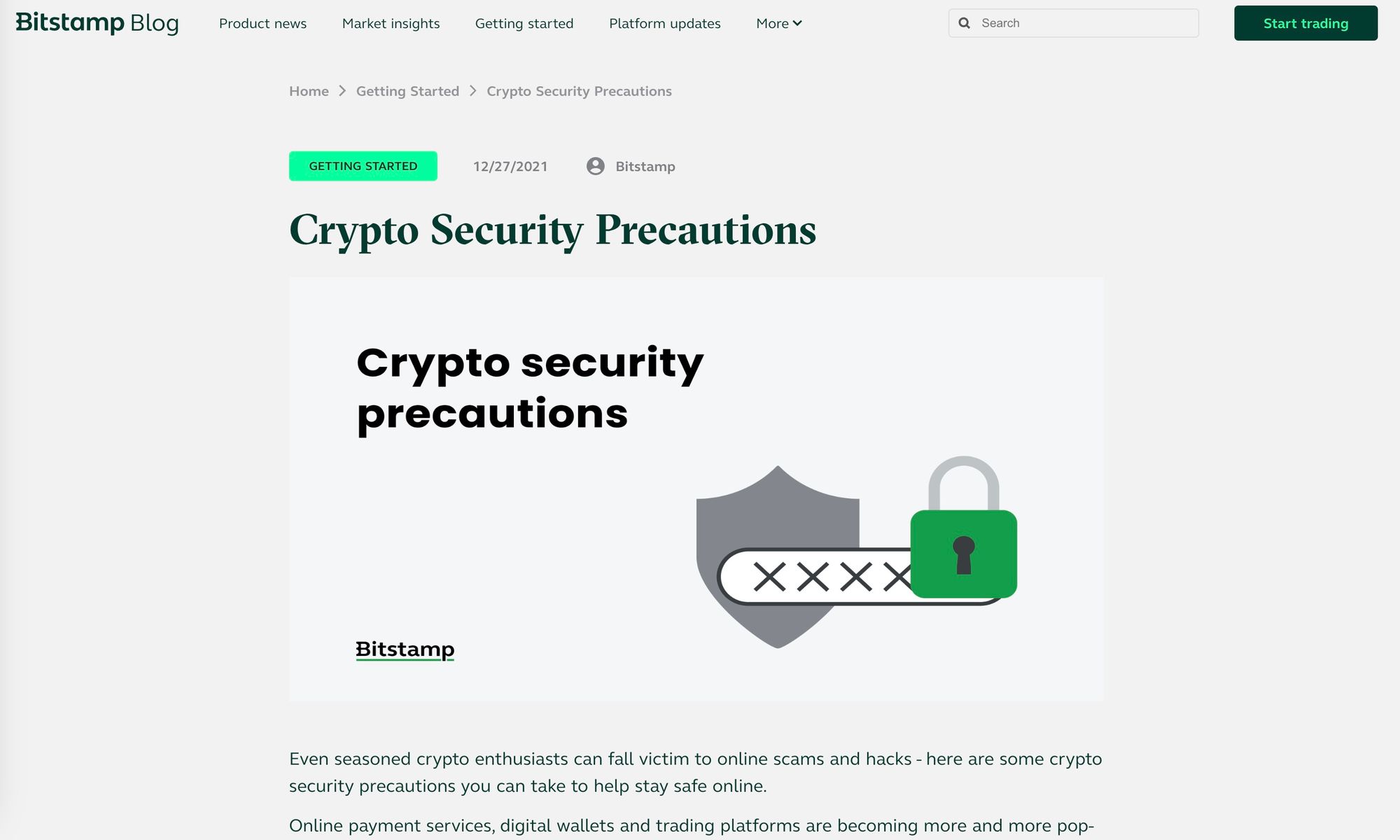 Bitstamp prides itself on its robust security protocols, earning a reputation as one of the most secure cryptocurrency platforms in operation.
The exchange maintains an impressive 98% of assets in offline cold storage, the industry standard for safeguarding funds against potential breaches by malicious actors.  The remaining assets held in hot storage, accessible via internet connection, are allocated for the purpose of facilitating day-to-day trading operations.
Furthermore, Bitstamp has implemented an additional layer of protection through the acquisition of a crime insurance policy, which provides coverage for instances of theft resulting from a breach of the exchange's security protocols.
It should be noted, however, that this policy does not extend to individual accounts in the event of compromised login credentials. To further ensure the safety and security of customer assets, Bitstamp offers two-factor authentication (2FA) and address whitelisting as optional security measures. 2FA necessitates the use of an additional form of authentication, such as a code sent to a registered mobile device, in conjunction with a password for login.
In addition, Bitstamp supports Address whitelisting allows for the specification of approved withdrawal addresses, providing an added measure of control over account activity.
Bitstamp fees
Bitstamp's fee structure is designed in a tiered manner and uses the maker-taker model. The trading fees are calculated based on the user's 30-day trading volume and are expertly adjusted accordingly.
Trading fees
For those investors who trade up to a volume of $1 billion per month, the exchange's fee schedule is as follows:
| USD Volume | Standard Fee Maker | Standard Fee Taker | FX Fee Maker | FX Fee Taker |
| --- | --- | --- | --- | --- |
| < $1,000 | 0.00% | 0.00% | 0.000% | 0.000% |
| > $1,000 | 0.30% | 0.40% | 0.060% | 0.080% |
| > $10,000 | 0.20% | 0.30% | 0.040% | 0.060% |
| > $100,000 | 0.10% | 0.20% | 0.020% | 0.040% |
| > $500,000 | 0.08% | 0.18% | 0.016% | 0.036% |
| > $1,500,000 | 0.06% | 0.16% | 0.012% | 0.032% |
| > $5,000,000 | 0.03% | 0.12% | 0.006% | 0.024% |
| > $20,000,000 | 0.02% | 0.10% | 0.004% | 0.020% |
| > $50,000,000 | 0.01% | 0.08% | 0.002% | 0.016% |
| > $100,000,000 | 0.00% | 0.06% | 0.000% | 0.012% |
| > $250,000,000 | 0.00% | 0.05% | 0.000% | 0.010% |
| > $1,000,000,000 | 0.00% | 0.03% | 0.000% | 0.006% |
As previously mentioned, maker-taker fee structure is utilized to calculate trading fees, which vary based on whether an order provides liquidity (maker) or takes liquidity (taker).
Fees are determined based on the user's current pricing tier and are calculated using 30-day trading volume in USD, including a reduction of 80% for FX/Stablecoin pairs.
Taker orders incur fees between 0.00-0.40%, while maker orders have lower fees between 0.00-0.30%. Orders that are partially filled will pay a taker fee for the filled portion and a maker fee for the remaining portion on the order book. It is recommended to check the fee tier prior to trading.
SEPA Deposit/Withdrawal fees
| Transaction type | Fee |
| --- | --- |
| Deposit | Free of charge |
| Withdrawal | 3.00 EUR |
ACH Deposit/Withdrawal fees
| Transaction type | Fee |
| --- | --- |
| Deposit | Free of charge |
| Withdrawal | Free of charge |
Faster Payments (UK) Deposit/Withdrawal fees
| Transaction type | Fee |
| --- | --- |
| Deposit | Free of charge |
| Withdrawal | 2.00 GBP |
International wire Deposit/Withdrawal fees
| Transaction type | Fee |
| --- | --- |
| Deposit | 0.05% (min fee = 7.5 USD/EUR, 5 GBP, max fee = 300 USD/EUR, 250 GBP) |
| Withdrawal | 0.1% (min fee = 25 USD/EUR/GBP. Your bank may charge additional fees.) |
Crypto Deposit/Withdrawal
| Cryptocurrency | Deposit Fee | Withdrawal Fee |
| --- | --- | --- |
| Bitcoin (BTC) | Free of charge | 0.0005 BTC* |
| Ether (ETH) | Free of charge | 0.006 ETH |
| More cryptos accepted (check official website) | | |
Please note that fees and limits are subject to change and may vary based on the specific account and regulatory requirements.
Cryptocurrencies available
Bitstamp supports a wide range of cryptocurrencies for spot trading, as well as deposit and holding of USD, GBP and EUR. Some of the available options include:
Bitcoin;
Ethereum;
Litecoin;
Bitcoin Cash;
Ripple (Not available in the U.S);
Uniswap;
Stellar Lumens;
Tether;
USD Coin;
Chainlink;
Gemini Dollar.
Please note that this list is not exhaustive and more options may be available on the official website.
Bitstamp trading platforms
Bitstamp offers traders the ability to access its platform through three different interfaces: Bitstamp.net (the web app), Bitstamp Tradeview, and Bitstamp Mobile.
The fees for trading on these interfaces are consistent, allowing for flexibility in usage.
Users have the capability to execute trades on Bitstamp's basic platform using various types of orders such as instant, market, limit, and stop orders.
Additionally, there is an option to make a purchase from a Bitstamp balance or a connected card, with an additional fee. The platform features a basic chart, an overview of current buy and sell orders and a straightforward form for placing orders.
Tradeview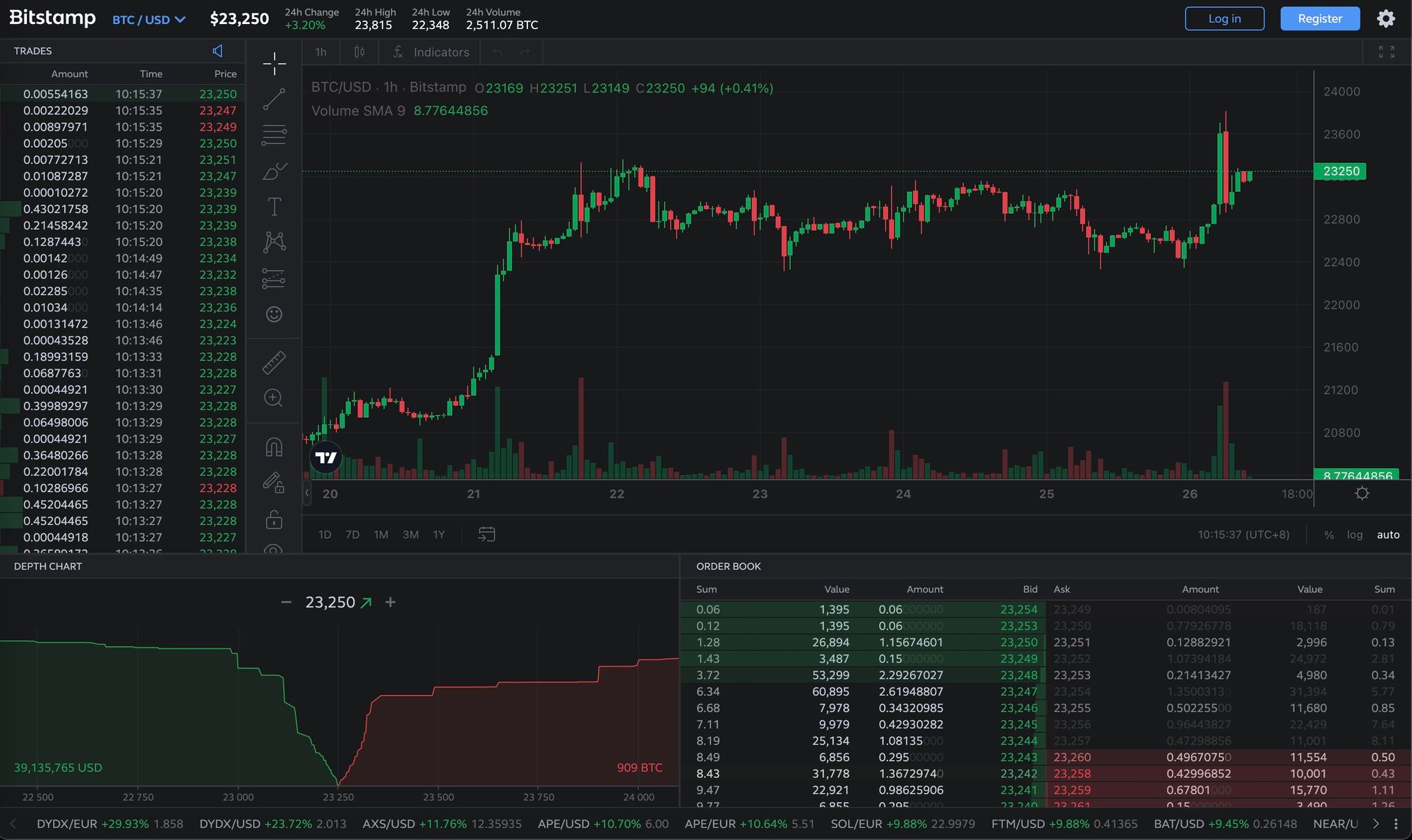 Bitstamp's Tradeview platform is designed for advanced traders, providing access to more advanced charting features, live updated order book, depth chart and streamlined trading forms.
The platform offers the same types of orders that are available on the basic platform, providing consistent functionality for advanced traders.
Mobile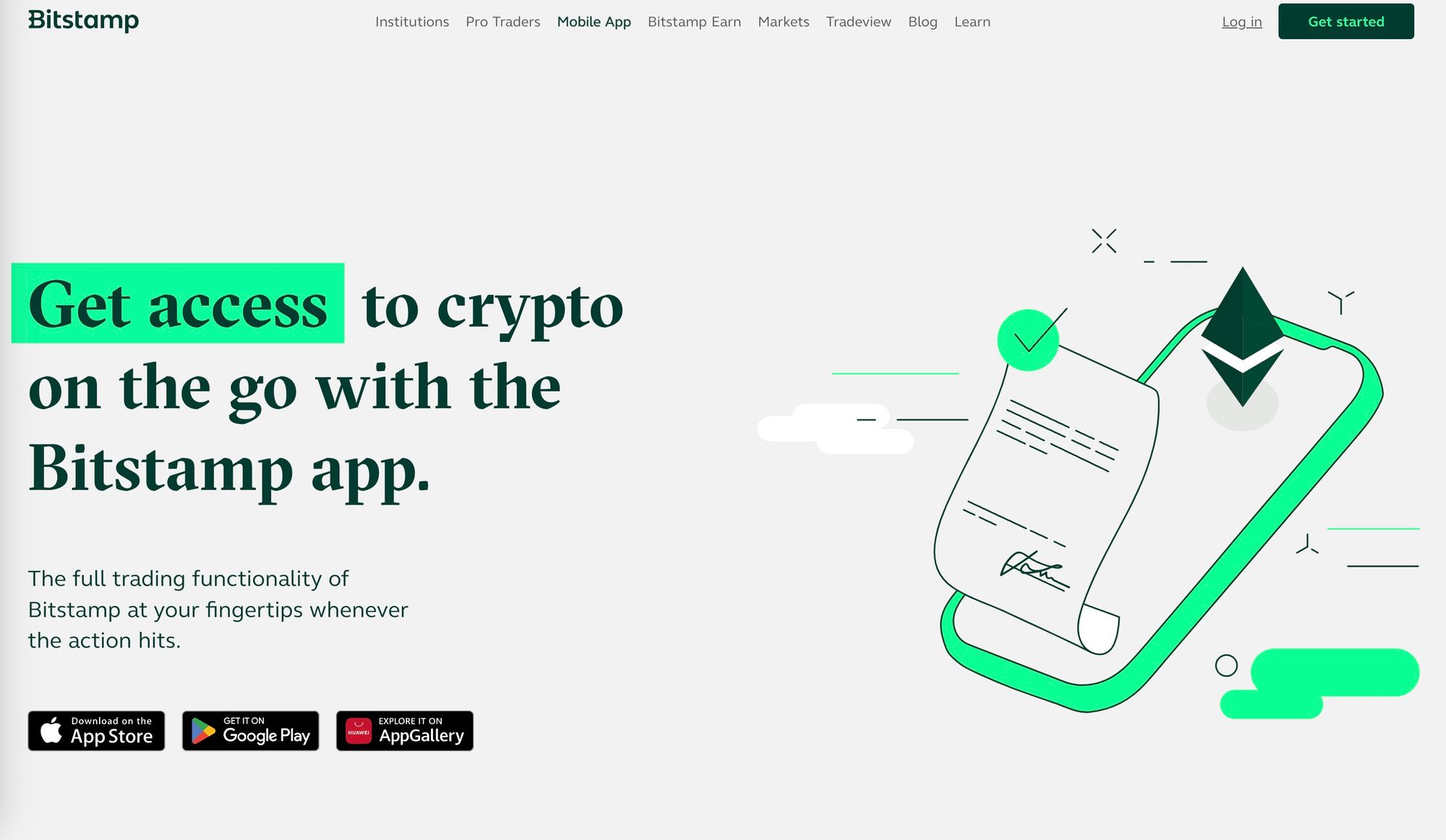 Bitstamp provides mobile applications for Android, iOS and AppGallery devices that can be downloaded from the Google Play Store and App Store respectively. These apps offer the same features as the primary Bitstamp web-based trading platform, providing a convenient option for mobile trading.
Users can also use the Bitstamp app to send and receive cryptocurrencies, which can then be stored in a Bitstamp account. This allows for the ability to buy and sell cryptocurrencies from any location with internet access, providing added flexibility.
Bitstamp Earn: crypto rewards with staking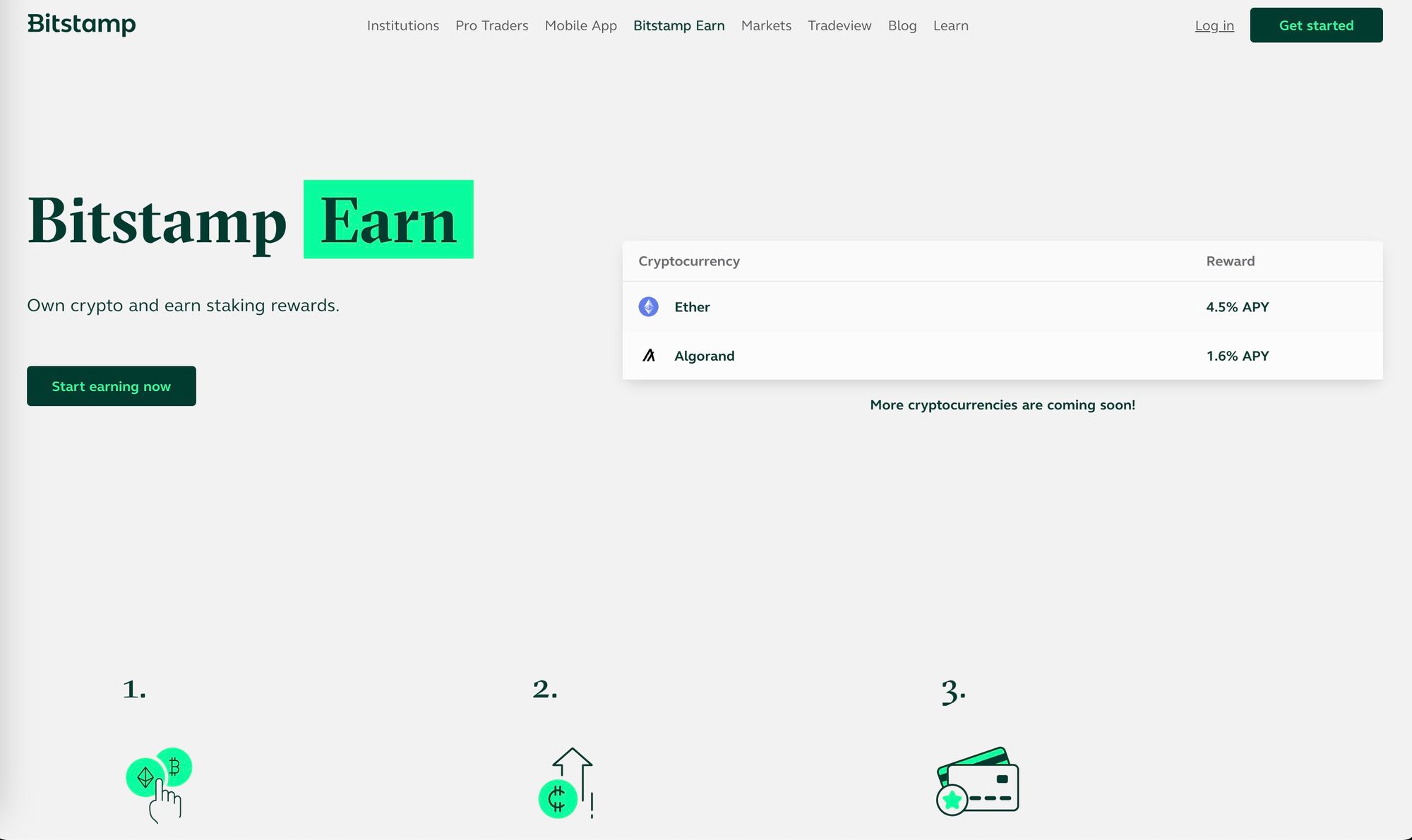 Bitstamp Earn is a program that allows you to earn more cryptocurrency by using the assets you already own.
It works by staking and inflation, where your assets are used to validate blocks on the blockchain and you receive rewards in return.
Some crypto require your assets to be locked for a set period of time, while others have no locking period. You can earn with any asset listed on Bitstamp and more are being added regularly.
Bitstamp Pros & Cons
This table compares the pros and cons of the Bitstamp platform.
| Pros | Cons |
| --- | --- |
| Intuitive interface | Limited selection of supported cryptocurrencies (54 options) |
| Competitive fee structure (starting at 0.00%) | Limited staking options (maximum rate of 4.5% APR, only two currencies available, not available to US-based clients) |
| Over a decade of experience in cryptocurrency exchange | No leverage trading or lending options |
Bitstamp reviews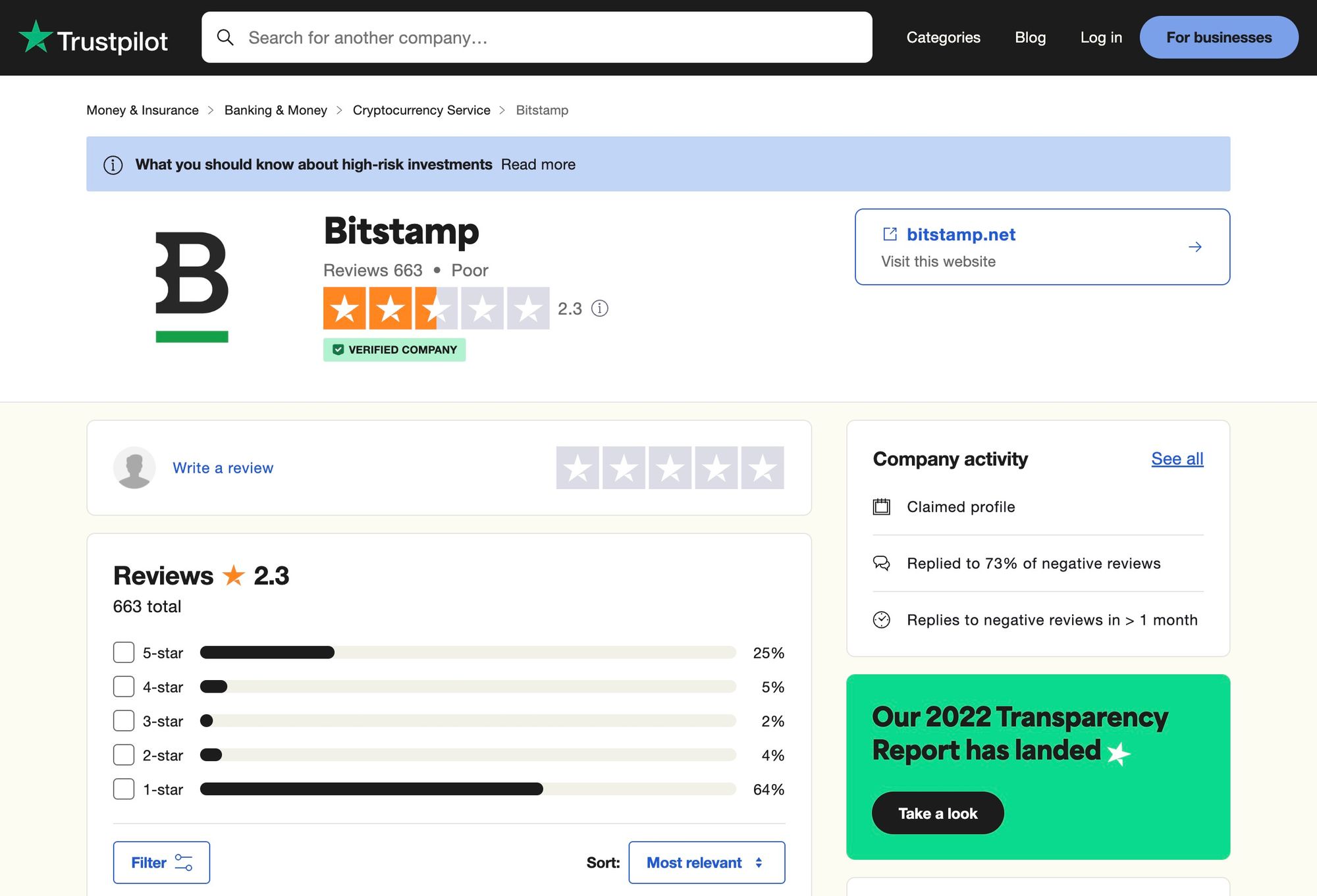 Upon analyzing the users sentiment of Bitstamp on Trustpilot, it becomes apparent that the majority of reviewers have had less than satisfactory experiences. Of the numerous reviews present, 64% have deemed the platform worthy of only a single star.
A common theme among these critiques is the frustration with account cancellations, prolonged withdrawal wait times and inadequate support. These issues appear to have left a sour taste in the mouths of many users.
It is not uncommon for cryptocurrency exchanges to receive a high number of negative reviews on websites like Trustpilot. This is likely due to a number of factors.
One reason may be the volatility and uncertainty of the cryptocurrency market, which can lead to frustration and disappointment among traders. Additionally, cryptocurrency exchanges often handle large sums of money, and any issues with account security or funds can result in significant financial losses for users.
Furthermore, many cryptocurrency exchanges are relatively new and may not have fully developed customer service and support systems, which can lead to confusion and frustration among users. As a result, these factors can contribute to a high number of negative reviews for crypto exchanges.
Bottom line
Bitstamp is an world-class platform that facilitates the seamless acquisition and exchange of digital currencies while maintaining a reasonable fee structure.
It would be advantageous to see an enlarged array of currencies and a more robust active trading platform. The scarcity of options and functionalities may prompt active traders to seek alternative platforms.
However, for novice to intermediate traders and those who take a more relaxed approach to crypto trading, Bitstamp may be a suitable option.
If you seek a secure means of promptly purchasing digital currency and managing a simple crypto portfolio, Bitstamp is a viable option.
Frequently asked questions (FAQ)
Is Bitstamp safe?
Bitstamp is a trustworthy exchange for trading cryptocurrencies, known for its offline storage of funds for added security. Our review can help you decide if it's the right choice for you..
Is Bitstamp available in the US?
Bitstamp is a reputable and secure options for trading cryptocurrencies, available to both U.S., Europe and many other areas. The exchange offer digital wallets and have a long-standing history in the industry.
How can I get in contact with Bitstamp support?
You can contact the Bitstamp Customer Service by opening a ticket in the support area on the website, or send them an email message on
[email protected]
.