Tether (USDT): what is it and how to buy [2023]
Learn about Tether, a stablecoin that is pegged to the US dollar, and how it is used in the cryptocurrency market. Discover the benefits and risks of using Tether and find out how it compares to other cryptocurrencies in terms of investment potential.
Tether (USDT) is a stablecoin that has become a popular alternative to traditional fiat currencies in the cryptocurrency market, giving a way for investors to avoid volatility while still participating in the digital economy.
In this review, we will take a deep dive into Tether, exploring its value as an investment, the process for buying it, its advantages and disadvantages, and the controversies surrounding it.
Overall, this review aims to provide a comprehensive overview of Tether and help readers make an informed decision about whether it is a good investment for them.
| Property | Value |
| --- | --- |
| ฿ Symbol | USDT |
| 🪙 Initial Coin Offering (ICO) Price | N/A |
| 🚉 Platform | Bitcoin (Omni and Liquid Protocol), Ethereum, EOS, Tron, Algorand, SLP and -OMG Network blockchains |
| ⚖️ Consensus | N/A |
| 📈 Total Supply | Unlimited USDT |
| 📉 Circulating Supply | 66,484,835,812 USDT (as of January 2023) |
| ⛽️ Use Case | A stablecoin serves as a facilitator for transactions within the realm of cryptocurrency exchanges. |
| 🔥 Token Burn | When users request to exchange USDT for fiat, an equal amount of USDT will be destroyed by Tether. |
What is Tether?
Tether (USDT) is a cryptocurrency stablecoin that is anchored to the value of the United States dollar (USD) and is backed by Tether's reserves.
The stablecoin is owned by iFinex, a Hong Kong-based corporation that also holds ownership of the crypto exchange BitFinex. Tether was initially launched as RealCoin in July 2014, and underwent rebranding as Tether in November of the same year.
The stablecoin began trading in February of 2015. Tether has evolved to support multiple blockchain protocols, including the Ethereum, Bitcoin Omni and Liquid protocols, TRON, EOS, Solana, Algorand, OMG Network, and Bitcoin Cash blockchains.
As of January 2023, Tether ranked as the third-largest cryptocurrency by market capitalization, following Bitcoin (BTC) and Ethereum (ETH), and was the premier stablecoin with a market capitalization of approximately $83 billion. Additionally, in January, Tether's USDT represented two-thirds of Bitcoin's value on cryptocurrency exchanges.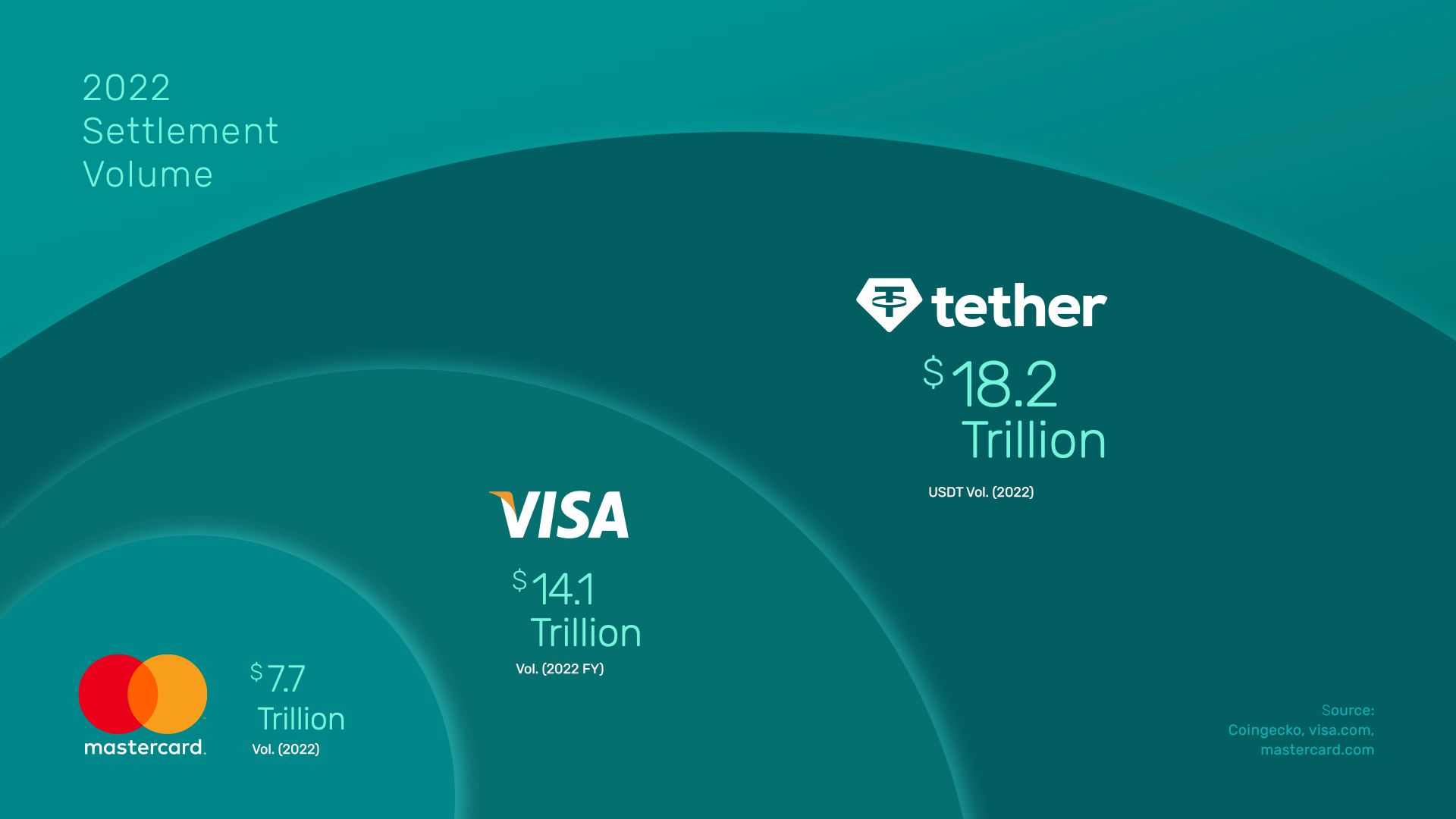 Tether has also demonstrated exceptional performance in comparison to leading credit card providers such as Visa and Mastercard. The settlement volume of Tether currently stands at $18.2 trillion, surpassing that of Visa and Mastercard, which are $14.1 trillion and $7.7 trillion respectively.
How Tether works
Tether is part of a type of cryptocurrencies known as stablecoins, which endeavor to maintain the value of their tokens stable overtime, typically by linking it to the worth of a traditional currency such as the United States dollar.
Tether also issues tokens pegged to the euro, the offshore Chinese yuan, and gold, none of which possess a market capitalization that comes close to that of its U.S. dollar-pegged USDT tokens.
The association with a traditional currency, frequently supported by collateral reserves composed entirely or mostly of the pegged currency, aims to ensure that stablecoins are not susceptible to the same degree of price volatility as more speculative cryptocurrencies like Bitcoin. Tether publishes a detailed breakdown of its reserve holdings on a daily basis on its website.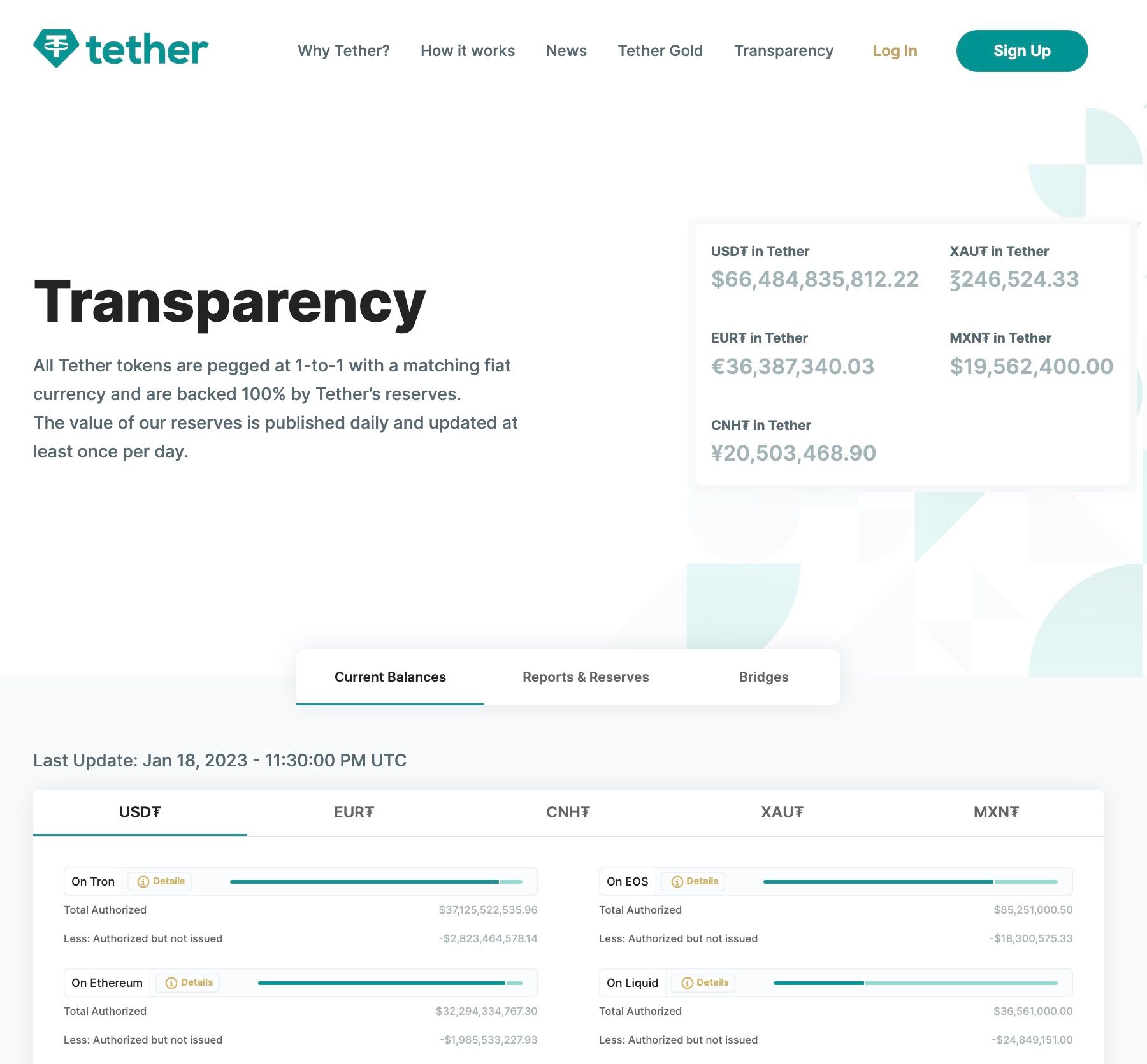 The stability of value inherent in stablecoins promotes their use as a medium of exchange, akin to traditional forms of currency. As previously stated, stablecoins have made it practical to participate in speculative activities within the cryptocurrency market.
Furthermore, their swift rise in popularity can also be attributed to the utilization of stablecoins as collateral within decentralized finance (DeFi) lending and staking protocols.
In May 2022, Tether's value briefly fluctuated to as low as $0.96, following the drastic decline in value of another stablecoin, TerraUSD (UST), which was issued by a party not affiliated with Tether or BitFinex.
Despite this temporary setback, the value of Tether tokens swiftly rebounded to over $0.99 and Tether announced that it would continue to honor redemption requests at a 1-to-1 ratio with the U.S. dollar, up to 2 billion tokens on May 12.
Tether controversies
The biggest concern regarding Tether pertains to the dubious operational methods employed by the organization.
In fact, Tether Limited has been found to have provided apparently incorrect infos regarding its reserves.
For a period, the company didn't publish any detailed information in regard to those reserves. Also, Tether has encountered legal difficulties because of its association with Bitfinex.
In 2019, the New York Attorney General filed a lawsuit against the two companies, accusing them of utilizing $700 million from Tether's reserves to conceal a $850 million loss in Bitfinex's funds. Even if the company didn't admit any misconduct, in 2021 the owner paid a penalty of $18.5 million.
It's important to clarify however, that Tether has made efforts towards greater transparency by regularly publishing reports on its reserves and making information about them readily available on its website. However, there are still individuals who remain skeptical due to the previous missteps.
How to buy Tether (USDT)
To buy Tether, you must first of all register on an exchange that offers it.
Being one of the most widely-utilized cryptocurrencies, there are various reliable exchanges that provide Tether as a trading option. Once you have created an account, funds must be deposited in order to facilitate the purchase.
Binance is a highly recommended exchange for purchasing Tether. It offers the advantage of depositing fiat currency with minimal to no fees, allowing for cost-effective acquisition of Tether.
👉 Click here to register on Binance and get a 100 USDT cashback voucher.
A bank account transfer is often the most economical method of depositing funds and purchasing cryptocurrency. After the deposit is confirmed, one may proceed to execute the Tether purchase.
Tether, as a stablecoin, is highly regarded and frequently used for cryptocurrency lending and trading activities. Despite its past controversies, it remains a widely accepted and commonly used option in the crypto market.
Is Tether a good investment?
Tether it's a stablecoin, so cannot be really considered a traditional investment, as it is engineered to maintain a consistent value of $1.
Unlike other crypto assets or equities, it will not experience appreciation in value. However, Tether can be utilized to generate a passive income stream through various lending platforms that offer competitive interest rates for Tether holdings. This can serve as a means to earn higher returns than those of a conventional savings account.
It is essential to acknowledge that this approach does carry a level of risk, as Tether is not insured or guaranteed like traditional bank deposits. While Tether has historically upheld its $1 value, it is not immune to fluctuations in the future.
Bottom line
Tether is, without any doubt, the most popular stablecoin. Of all the stablecoins, it has also the highest market capitalization.
While it may not provide the potential for appreciation like other cryptocurrencies or stocks, it can be used to generate passive income through lending platforms or to trade it against other coins.
However, it is important to note that Tether is not insured or guaranteed, and there is a level of risk involved in holding it.
Additionally, Tether has faced controversies in the past regarding its reserves and transparency, which potential investors should take into consideration before buying.
Frequently asked questions (FAQ)
What is Tether?
Tether is a digital asset that facilitate transfer across the blockchain network, similar to other cryptocurrencies. However, is uniquely linked to real-world currencies like the US Dollar (USD) on a 1:1 basis, making it a stablecoin.
Is Tether worth it?
Stablecoins, such as Tether, are not intended to appreciate in value, rendering them ill-suited as a traditional investment opportunity. Instead, Tether (USDT) is extremely useful for generating passive income through lending platform and using it to trade it against other tokens.
Does Tether support other currencies?
Tether is not just pegged at a 1:1 ratio with the US dollar (e.g. 1 USD₮ = 1 USD), but supports also euros, Mexican peso, British Pound Sterling, offshore Chinese yuan, and Gold, with the following Tether tokens, respectively: USD₮, EUR₮, MXN₮, Tether GBP, CNH₮ and XAU₮.