Binance Review 2023: Fees, Regulations and Safety
This guide will discuss important factors to consider before signing up for Binance, the leading global cryptocurrency exchange that offers a wide range of digital assets, including over 500 different cryptocurrencies, serving customers in 180 countries.
Binance, the largest cryptocurrency exchange in the world, offers a broad spectrum of digital crypto assets with over 500 various cryptocurrencies, catering to a global clientele spanning across 180 nations.
This guide will highlight the essential features to ponder prior registering to this Cex.
👉 Click here to register on Binance and get a 100 USDT cashback voucher.
| Description | Details |
| --- | --- |
| 🌐 Website | binance.com |
| 🏙️ Location | Decentralized |
| 📅 Year Founded | 2017 |
| 💰 Primary Token | Binance Coin (BNB) |
| 📈 Listed Crypto | Over 100 |
| 💱 Trading Pairs | Over 400 |
| 💵 Supported FIAT | USD, EUR, RUB, TRY, NGN, UAH, KZT, INR, and more |
| 🌍 Supported Countries | Worldwide (with some exceptions) |
| 💰 Minimum Deposit | varies depending on the crypto coin |
| 💸 Deposit Fees | varies depending on the crypto coin |
| 💰 Daily Buying Limit | varies depending on verification level |
| 💱 Transaction Fees | Spot trading fees starting at 0.1% and reducing with VIP level system |
| 💸 Withdrawal Fees | varies depending on the crypto coin |
| 📱 Mobile App | iOS & Android |
| 💬 Customer Support | Email & Live Chat |
Binance Overview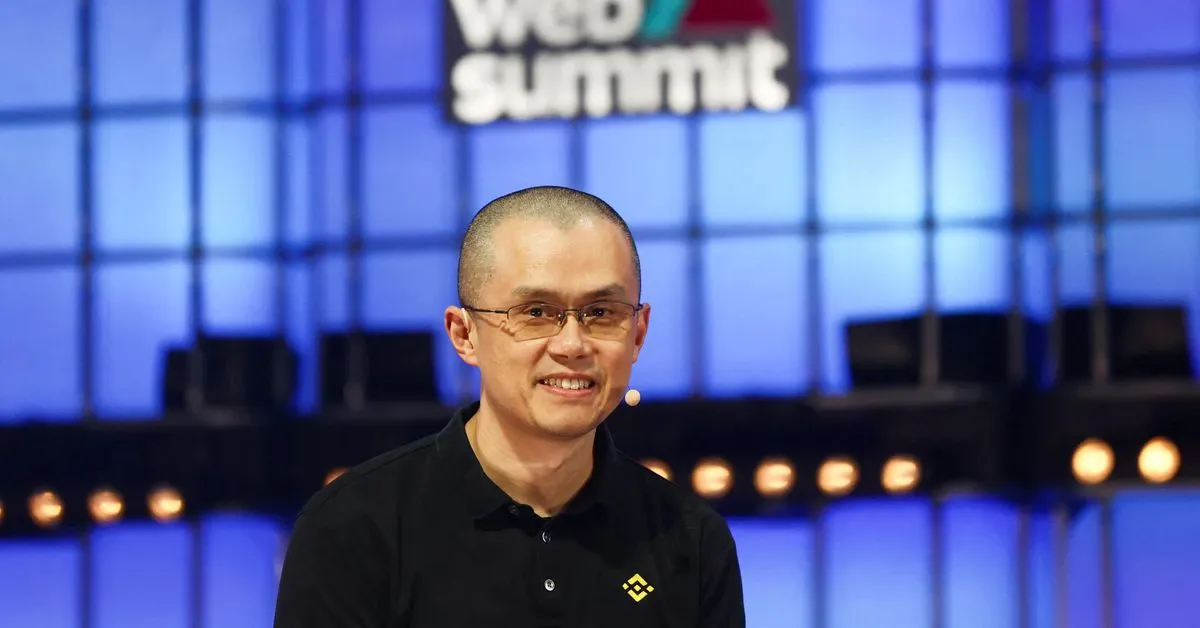 Binance, a crypto exchange founded in 2017 by Changpeng Zhao, is a testament to the ingenuity and foresight of its creator. The firm launched an initial coin offering (ICO) that raised a staggering $15 million, which enabled the development of the Binance platform. Initially headquartered in China, the company subsequently relocated to the Cayman Islands in response to the Chinese government's increasingly stringent regulations surrounding the cryptocurrency sector.
As a result of the ICO, investors were rewarded with Binance Coin (BNB) which can be used to trade various cryptocurrencies and for paying fees on the Binance platform. Furthermore, BNB is also utilized as a fuel for BNB Chain, formerly known as Binance Smart Chain. The value of BNB has been on an upward trajectory, having been initially valued at around $0.1 and appreciating alongside the growth of Binance and Binance Smart Chain.
Binance and its founder boast a remarkable industry track record, with Changpeng Zhao having held prominent positions such as Technical Director at Blockchain.com. The company now provides trading systems for more than 30 other platforms.
The Chinese government's stance on cryptocurrencies has caused Binance to run servers from more accommodating jurisdiction providing them freedom to run a state-of-the-art exchange service. Zhao said
In response to China's laws, we are relocating our IP's from Hong Kong to an offshore location. So we are registered in several locations and we have people in multiple locations. In this way we will never be affected by one regulatory body.
Since its inception, Binance has experienced tremendous success and is currently ranked as the top spot for 24-hour trading volume on Coingecko. Typically, its 24-hour trading volume is more than 5 times that of its closest competitor, Coinbase.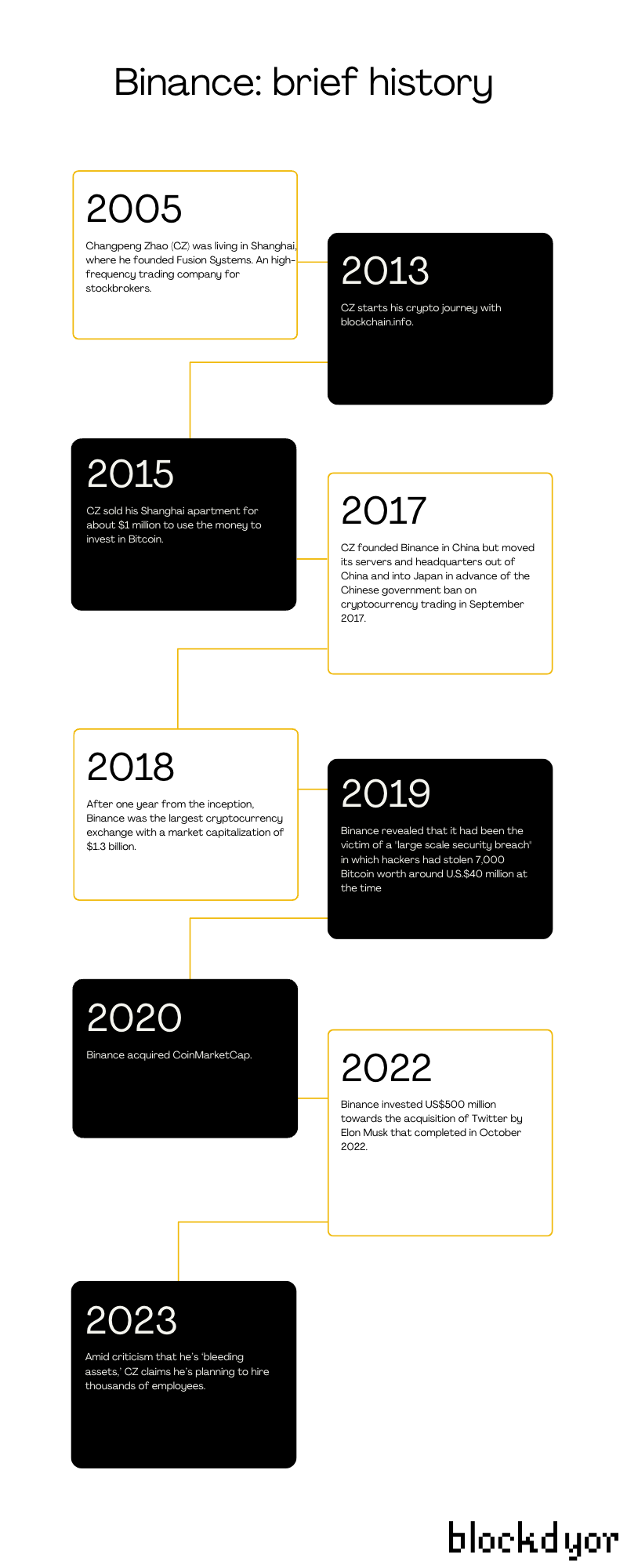 Setting up a Binance Account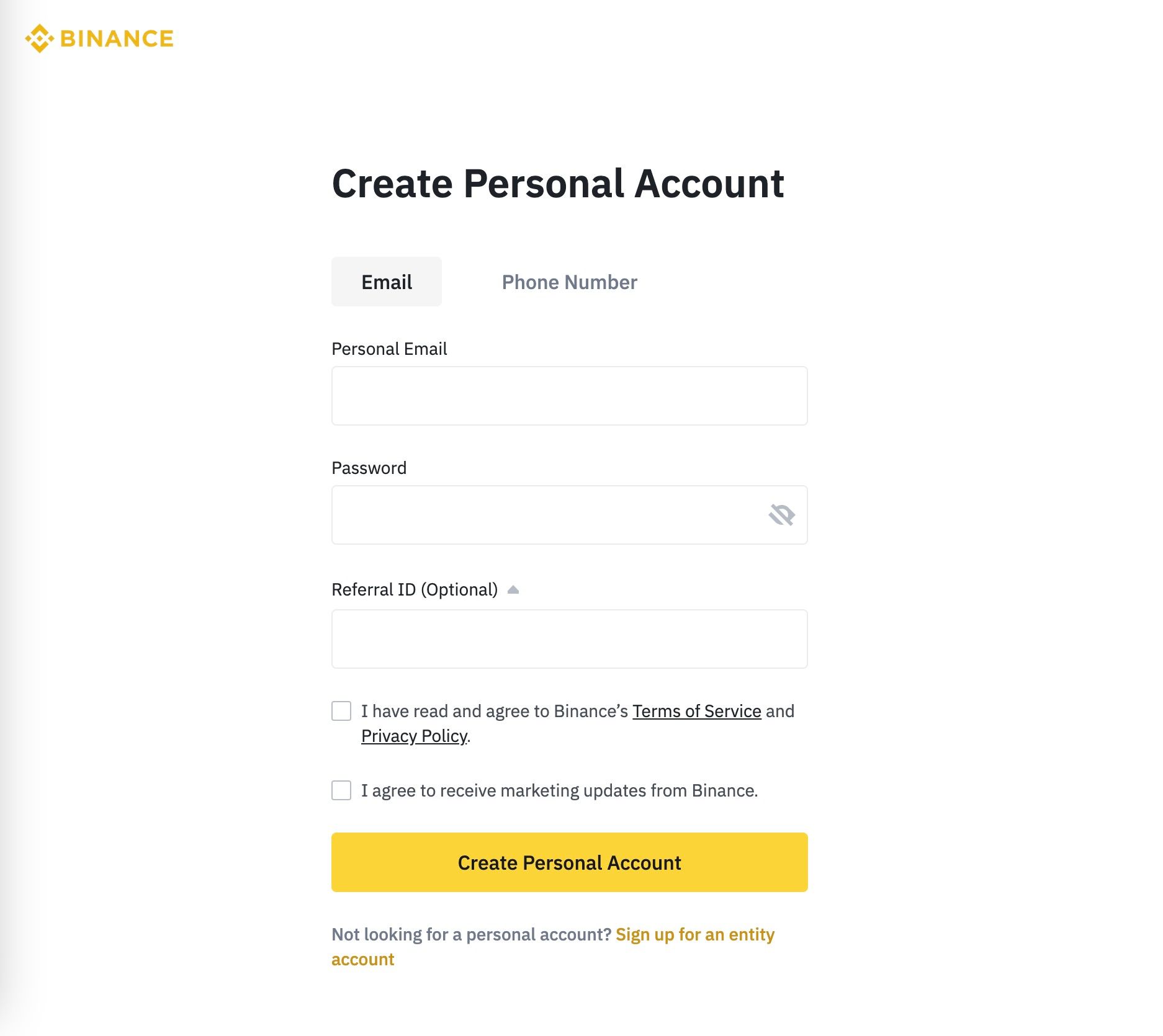 To open a Binance account:
👉 Click here to register on Binance and get a 100 USDT cashback voucher.
Press the "Get Started" button in the upper right corner and submit the required information.
Verify your account through the Binance verification process (KYC).
Set up two-factor authentication (2FA) for added security.
Connect your desired payment method.
Make a deposit and begin trading.
Binance Services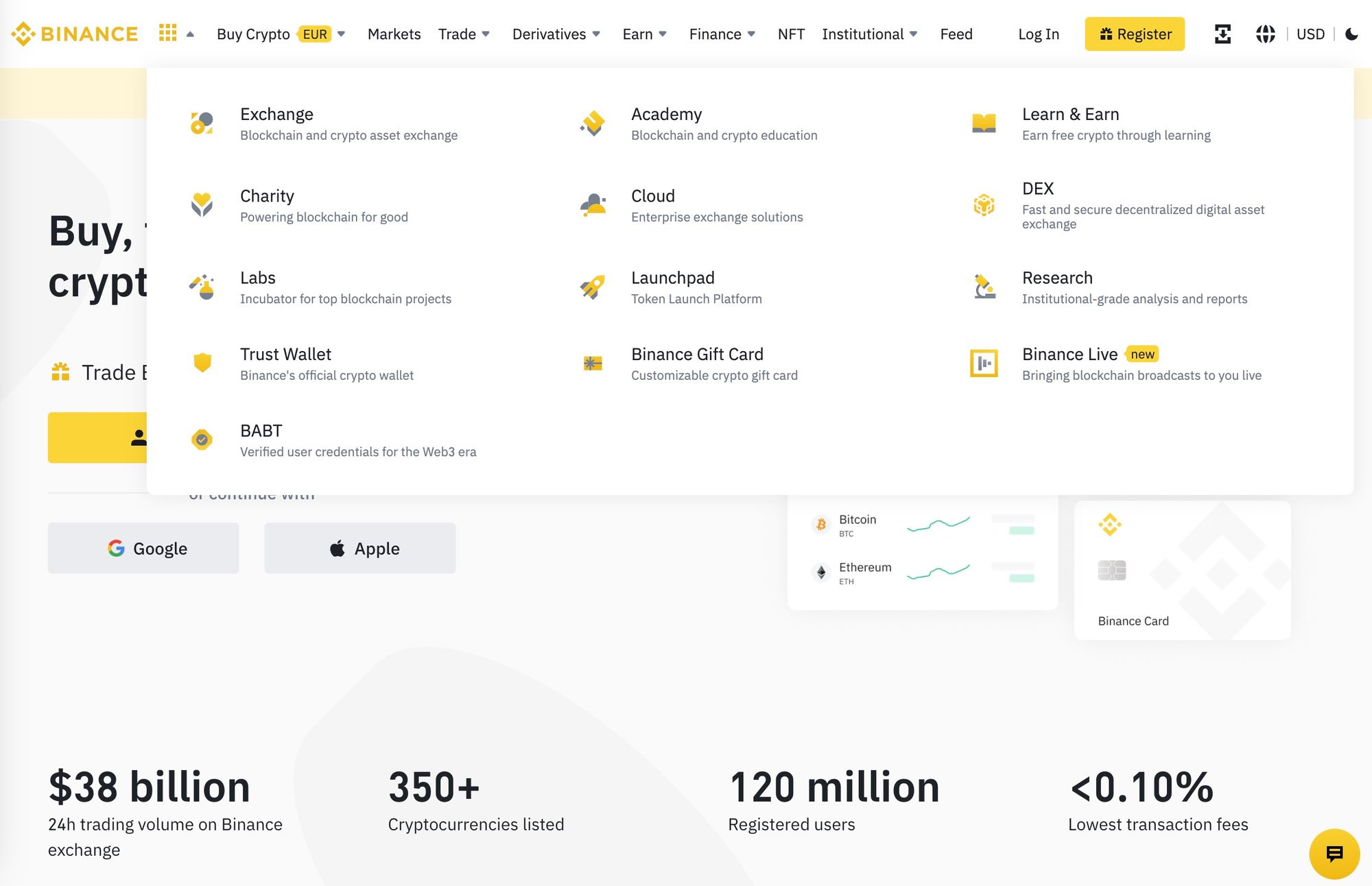 Binance offers an extensive range of services like spot and margin trading, staking, and lending, with an easy user interface and high security, making it an attractive option for both novice and experienced traders.
Binance Exchange
Binance Exchange is an online platform that allows users to exchange traditional currency for various digital currencies like Bitcoin. There are multiple options available for acquiring these cryptocurrencies through Binance, they include:
P2P Trading: A useful feature, Binance has implemented a service that connects buyers and sellers of digital assets, directly. This system facilitates transactions using traditional currency and offers various payment methods based on the user's preference.
Credit/Debit Card: To provide more convenient options, Binance has partnered with Simplex to offer credit and debit card purchases for a range of digital assets. This service also allows users to deposit traditional currency into their account using these cards. However, this option does come with an additional fee of up to 4.5% for USD deposits using a debit card.
SEPA/Wire Transfers: With the help of third-party providers, Binance has now enabled users to buy cryptocurrencies directly using traditional currency via SEPA and bank transfers. While this option is attractive because it does not come with any transaction fee, it is currently only available for a limited number of currencies, including EUR and GBP for SEPA and USD for wire transfers.
Lastly, The privacy-focused browser Brave has included Binance Widget for in-browser trading. This allows users to conduct trades and manage their digital assets portfolio through Binance while using the browser.
Binance Trading Platform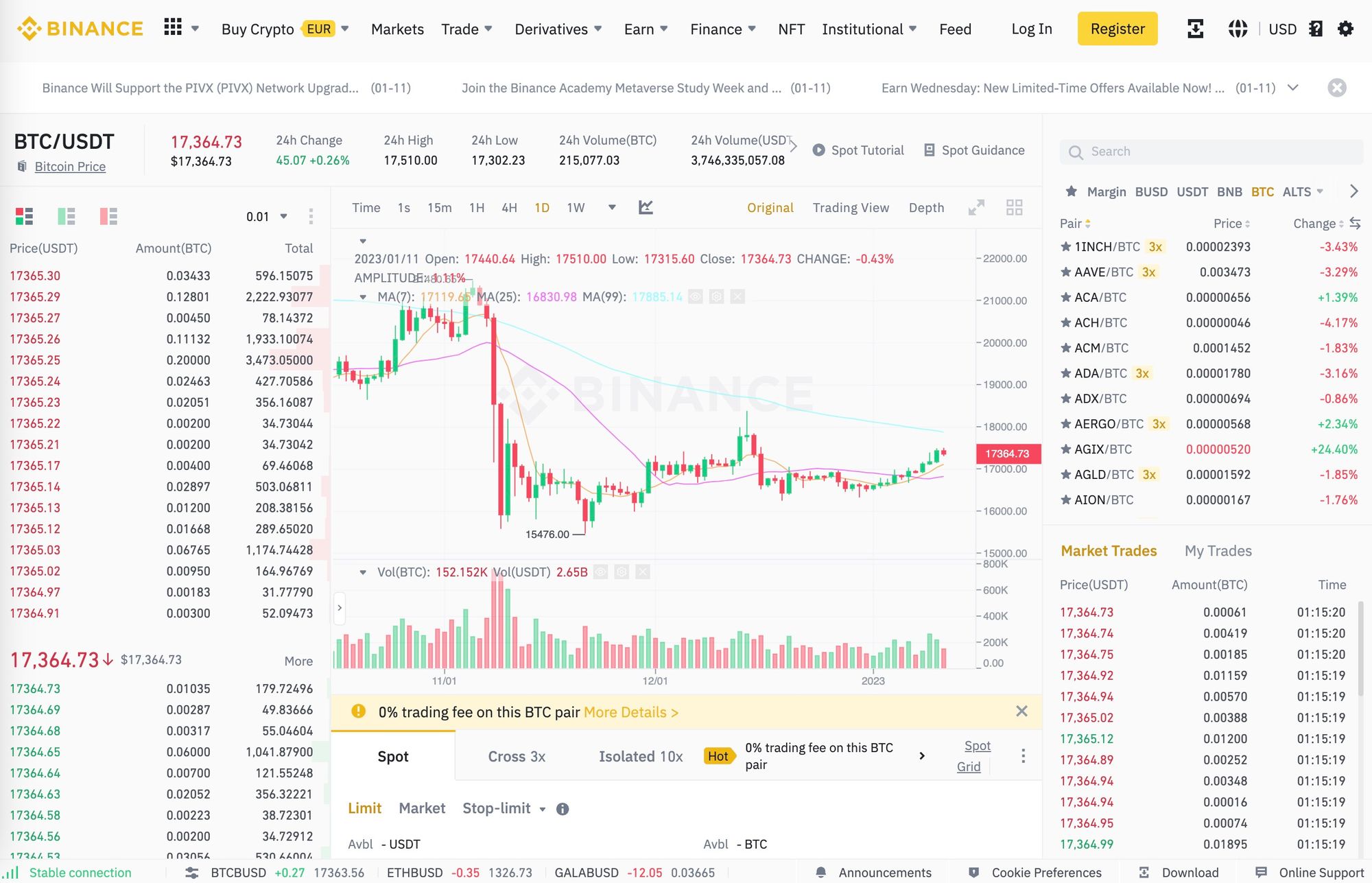 The Binance Trading Platform boasts a highly accessible and user-friendly interface for the trading of a comprehensive array of cryptocurrencies, including but not limited to Bitcoin, Ethereum, Binance Coin, Ripple, TRON, Dogecoin, Polkadot, Binance USD, and Tether.
Furthermore, Binance's fiat markets offer a plethora of crypto-to-fiat trading pairs. To cater to traders of all levels of experience, the platform offers a choice between a user-friendly interface for beginners or an advanced interface for experienced traders in spot trading.
The platform also provides additional trading options such as leverage trading, derivatives, peer-to-peer trading, and over-the-counter trading to its patrons.
Binance Derivatives and Futures
Binance Futures, an innovative platform that debuted in 2019, affords traders the opportunity to speculate on the prices of Bitcoin and other prominent cryptocurrencies, such as Litecoin, Ethereum Ripple, and many others. The system allows for leveraged trading with a maximum multiplier of 20x, thus amplifying both profits and losses.
Futures account balances are kept separate from regular trading accounts and require Tether (USDT) as collateral. Realized gains and losses are denominated in USDT. The interface for Binance Futures closely mirrors that of Binance spot trading, with the addition of a few extra features for managing leverage and monitoring open positions.
Fee structures for Binance Futures differ slightly from those of their spot markets, with maximum trading fees of 0.04% per transaction. Fees decrease for "maker" trades that enhance liquidity before execution, or for traders with high monthly trading volumes.
Unfortunately, due to pressure from global regulators, particularly those in Europe, Binance has been compelled to suspend derivative trading in numerous countries across the continent, initially in Germany, Netherlands and Italy, later extended to Spain and UK, as they are deemed unauthorized to provide investment services in these regions. This has led to the exchange ceasing to offer these services to new clients and gradually phasing out usage among existing clients.
Spot Trading
In terms of spot trading, patrons of the platform have the option of selecting from two primary interfaces. The Convert interface, more suitable for novice traders, simplifies the trading process by eliminating advanced features such as charts and various order types, thereby allowing for effortless swapping between cryptocurrencies at market rates without any confusion.
In contrast, the regular trading interface, intended for seasoned traders, offers a wide range of features, including charts, order books, diverse order types, and more.
Margin Trading
In addition to spot trading, Binance offers margin trading for a selected group of trading pairs. This feature allows users to trade with leverage of up to 10x on certain cryptocurrencies. Two types of margin trading are available: cross margin, which exposes the entire margin account balance to risk, and isolated margin, which limits potential losses to a single trading pair. It's worth noting that Binance margin trading is not available to users of Binance US.
Furthermore, Binance also offers leveraged futures trading which can be leveraged up to 125x, similar to margin trading.
Binance Financing
Binance has recently augmented its suite of services by introducing the following options:
Cryptocurrency Debit Card: The Binance Visa Card allows users to spend their cryptocurrency holdings at merchants that accept fiat currency via credit or debit card. Behind the scenes, your crypto holdings will be converted to fiat at the point of purchase (with zero fees), eliminating the need to hold fiat on-hand. The card is completely free, with no administrative or processing fees, and grants users up to 8% cashback on eligible purchases.
Interest-Bearing Deposits: Binance Savings facilitates users in earning returns on idle funds, via the choice of "flexible" or "fixed-term" deposit accounts. The former yields variable interest rates, whereas the latter offers higher interest rates on fixed-term deposits.
Crypto-Backed Loans: Binance Loans offers loans to users in various tokens, collateralized with popular tokens like BTC, ETH, and ADA. This provides an effortless way to acquire stablecoins like USDT, BUSD, or USDC, while preserving exposure to your cryptocurrency holdings and avoiding the tax implications of selling crypto.
Staking: Binance's staking service enables users to earn returns on proof-of-stake and decentralized finance (DeFi) coins, without requiring technical know-how for staking the coins individually. Similar to the savings accounts, this service is available in both flexible and locked options.
Crypto Mining Pool: Binance Smart Pool enables miners to collaborate in a larger mining group, which splits rewards. Hash power is automatically redirected to the most profitable cryptocurrency to mine at any given moment, providing users with a hands-free optimization experience.
Decentralized Exchange: Binance Liquid Swap is an automated market-maker (AMM) platform, akin to Uniswap, and is based on a pool of liquidity. Each pool comprises of two tokens, and the relative amount of tokens determines the price between them. Liquid Swap offers more stable prices and lower fees for large transactions. Users can trade coins on Liquid swap with minimal slippage, or provide their liquidity in return for a share of the fees. The key distinction between Binance Liquid Swap and Uniswap is that the former is centralized.
Binance US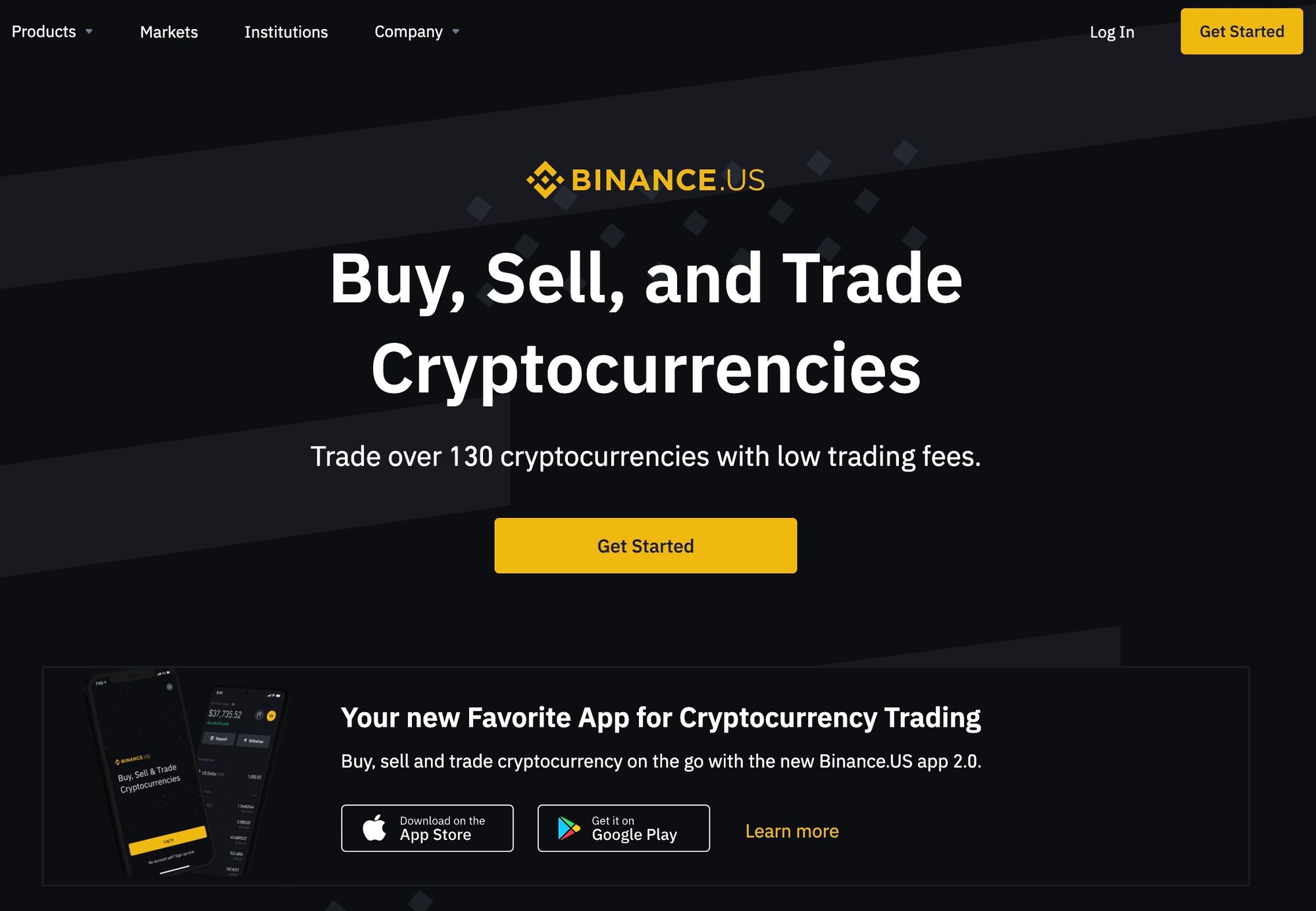 Binance.US is an autonomous, American iteration of the Binance global exchange, tailored to conform to the regulations and laws of the United States. The platform was launched in 2019 to provide a compliant and smooth trading experience for American users. One of its important features is the ability for US users to deposit US dollars directly into their trading account, as well as execute trades directly against the US dollar.
The platform boasts a slightly pared-down version of its global counterpart, yet maintains most of its core trading functionalities, including low fees capped at a mere 0.1%. At the time of this writing, Binance.US offers zero-fee trading on Bitcoin trading pairs against USD and most US dollar stablecoins, as it endeavors to expand its market share against domestic competitors.
Regrettably, the range of assets available for trading on Binance US is more limited compared to the global platform and the trading volumes tend to be significantly lower.
In addition to trading services, Binance.US also offers staking for proof-of-stake (PoS) coins. This is a convenient way for token holders to participate in these networks and earn staking rewards, without requiring technical acumen or specialized hardware/software.
Currencies and Payment Options Available on Binance
The exchange offers an extensive selection of over 500 coins that can be traded, deposited and withdrawn, including popular cryptocurrencies such as:
Bitcoin (BTC)
Ethereum (ETH)
Ripple (XRP)
Binance Coin (BNB)
Binance USD (BUSD)
Tether (USDT)
Litecoin (LTC)
Bitcoin Cash (BCH)
Chainlink (LINK)
Basic Attention Token (BAT)
Cosmos (ATOM)
Dash (DASH)
EOS (EOS)
Paxos Standard (PAX)
TRON (TRX)
TrueUSD (TUSD)
Stellar Lumens (XLM)
Cryptocurrency can be exchanged for fiat currency or other cryptocurrencies on the trading platforms, or acquired directly using the following payment methods:
Credit/Debit card
SEPA (Single Euro Payments Area) Bank Transfers
Binance Fees
Binance fee structure is considered highly competitive in the market. The spot trading fees start at 0.1% and are reduced as the 30-day trading volume increases through their VIP level system.
The lowest spot rates for VIP level 9 are 0.02% / 0.04% for maker and taker orders respectively. The futures trading platform also offers low fees, starting at 0.02% / 0.04% for VIP level 0 maker and taker orders, and can go as low as 0.00% / 0.01% for the highest volume VIP level 9 traders.
Additionally, holders of the native Binance token (BNB) receive an additional 25% discount on transaction fees when using BNB to pay for them.
Deposits in USD are generally free, aside from blockchain fees that are paid by the sender.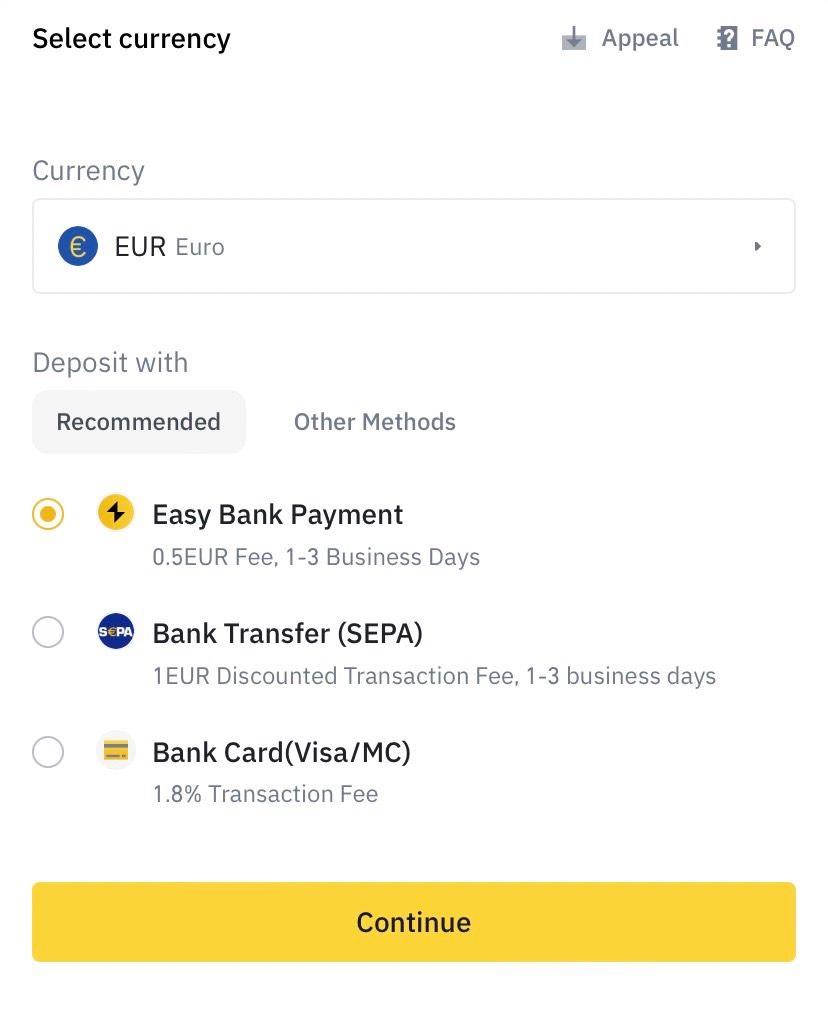 Deposits in EUR with SEPA have a 1EUR fee. With Bank Card a 1.8% transaction fee and with Easy Bank Payment a 0.5EUR fee.
Withdrawal fees apply and are generally correlated with blockchain transaction fees.
Fees list for Binance:
Spot trading fees starting at 0.1% and reducing with VIP level system
Futures trading fees starting at 0.02% / 0.04% for VIP level. Additional 25% discount on transaction fees when using BNB Deposit fees free (excluding blockchain fees)
Withdrawal fees based on blockchain transaction fees.
Binance employs their esteemed VIP ranking system to determine withdrawal restrictions. The minimum level VIP 0 members are afforded the ability to withdraw a maximum of 8,000,000 BUSD within a 24 hour window, whereas the most elevated VIP level 9 members have a withdrawal limit of 96,000,000 BUSD within a 24 hour period.
Zero-Fee Bitcoin Trading
Binance is offering a promotion for zero-fee trading on 13 Bitcoin spot trading pairs, including BTC/AUD, BTC/BIDR, BTC/BRL, BTC/BUSD, BTC/EUR, BTC/GBP, BTC/RUB, BTC/TRY, BTC/TUSD, BTC/UAH, BTC/USDC, BTC/USDP, and BTC/USDT. This promotion began on July 8, 2022 at 14:00 UTC and will remain in effect until further notice. Both maker and taker fees will be waived for these pairs. However, these pairs will not be eligible for any additional fee discounts, rebates or promotions.
Binance Countries
Binance, while not providing an explicit list of countries supported by its exchange, operates on a global scale with only a few exceptions. In response to regulatory concerns by the US Department of Financial Services, Binance withdrew its main platform from the United States in 2019 and subsequently launched Binance US, catering to customers in the United States. While Binance does not explicitly state restrictions for certain countries, there have been instances where users from certain jurisdictions, such as Iran and Serbia, have reported account closures by the exchange.
Binance Regulations
Binance is officially regulated in several countries:
Spain: In 2022, the Spanish regulatory body, the Bank of Spain, formally recognized the local division of Binance, the world's premier cryptocurrency exchange, as a virtual currency platform and imposed anti-money laundering and counter-terrorism financing measures to ensure compliance.
France: In 2022, Binance, has been officially recognized by the Autorité des Marchés Financiers (AMF), the French financial market regulator, as a registered digital asset service provider.
In Lithuania, Bifinity UAB (formerly known as Binance UAB) has obtained the Virtual Asset Service Provider (VASP) registration from the Registry of Legal Entities and the Financial Intelligence Unit (FIU) of the Republic of Lithuania, with registration number 305595206. This registration enables Bifinity UAB to offer crypto asset exchange and custody services in the country.
In Cyprus, Binance Cyprus Limited has obtained Class 3 registration as a Crypto Asset Service Provider (CASP) from the Cyprus Securities and Exchange Commission (CySEC) with registration number 002/22. This registration allows Binance to provide various services including spot, custodian, staking and card services, in compliance with the anti-money laundering and counter-terrorist financing (AML/CTF) regulations of CySEC.
In Poland, Binance Poland Spółka z Ograniczoną Odpowiedzialnością has been granted Virtual Asset Service Provider (VASP) registration by the Polish Tax Administration Chamber in Katowice with registration number RDWW – 465. The registration enables the company to offer crypto asset exchange and custody services, as well as derivatives products with crypto assets as underlying.
In Canada, Binance Canada Capital Markets Inc. has been officially granted registration as a money services business by the Financial Transactions and Reports Analysis Centre of Canada (FINTRAC).
Binance is also regulated in other counties such as: Africa, Kazakhstan, Abu Dhabi, Bahrain, Dubai, Australia, New Zealand.
Binance Customer Service
Binance is widely admired among traders for its low transaction fees, swift exchange execution and the track record of its development team. The platform has gained a reputation for being a reliable and user-friendly service.
Binance offers a comprehensive customer support page, including a detailed FAQ section that can assist with most common issues. For more specific queries, there is also an automated bot that can help find solutions or direct users to the appropriate resources. Should these channels fail to provide a resolution, users can submit a request for live assistance from a customer service representative.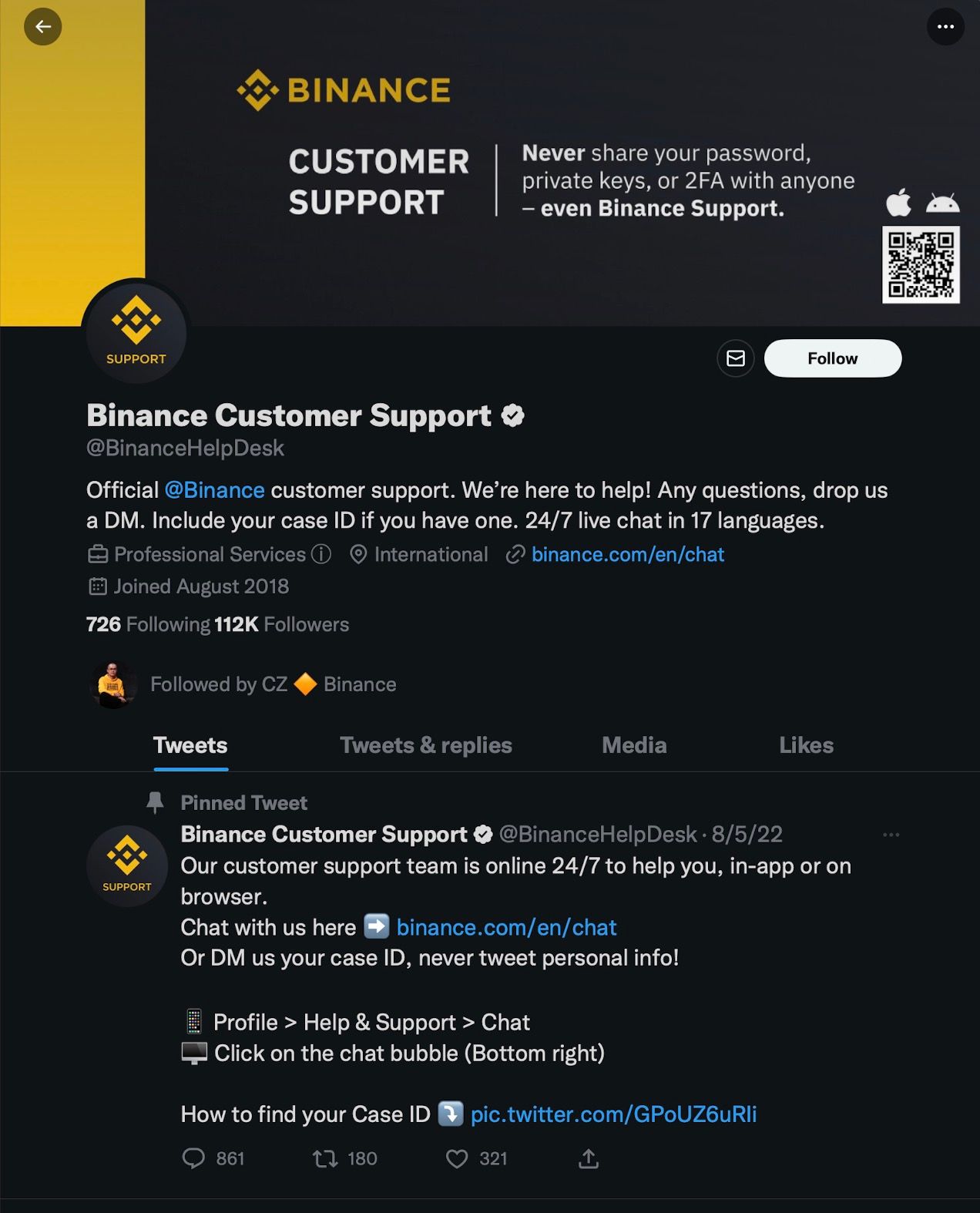 For those who have already submitted a request, the Binance Help Desk (@BinanceHelpDesk) Twitter account or the Binance Support Thread on Reddit are additional channels to inquire about the status of their case, by referencing the assigned case ID. However, due to the high volume of cases received, response times may vary.
In recent times, complaints have emerged regarding the length of time required for identity verification, with some users reporting excessive wait times of up to 24 hours. Additionally, some users have reported difficulties with the live chat support system, which has led to dissatisfaction among some users.
The company has also faced allegations that it lists coins in exchange for payment, although the company denies these claims. Furthermore, Binance in the past faced a problem of faulty 2-factor authentication, however it's unclear if this issue is still existing.
Bottom line
Upon evaluating Binance objectively, it is clear that the platform's advantages far surpass any potential shortcomings. This distinction sets it apart from some of its competitors. The exchange's competitive fee structure, combined with the development team's expertise in creating a trading platform, solidifies its position as a formidable player in the industry.
It is not surprising that Binance maintains a significant share of daily trading volume within the market, a testament to its reliability. Furthermore, its global reach, untethered from the regulatory constraints of the Chinese government, further enhances its appeal as a viable option for traders worldwide.
Frequently asked questions (FAQ)
Is Binance safe?
Binance is a popular option for investing and trading in cryptocurrencies, known for its versatility and security. However, it may present a steep learning curve for both beginner and experienced traders. In terms of fees, Binance generally offers lower charges than many of its competitors. A potential concern for some users is the absence of a physical office or headquarters.
Which one is better, Binance or Coinbase?
Binance is more suitable for those who have a strong understanding of cryptocurrency terminology and investment strategies, while Coinbase is designed for easy and convenient trading. Both platforms offer mobile applications, with different features and capabilities.
How can I withdraw from Binance?
To withdraw funds from Binance using a bank transfer (BBK), follow these steps: Log in to your Binance account and navigate to the [Wallet] - [Overview] page. Click the [Withdraw] button. Select the currency you wish to withdraw and choose the option for [Bank Transfer (BBK)]. If you haven't previously, you will be prompted to enter your bank account details.