What is KYC in Crypto? Guide 2023
In this guide, we'll delve into the meaning and function of KYC. Additionally, we'll explore the top platforms that incorporate KYC and consider potential alternatives for purchasing cryptocurrency without undergoing the KYC process.
KYC, or Know Your Customer, is a crucial component of registering for cryptocurrency exchanges and other 3rd party services in the world of cryptocurrencies.
This guide aims to delve into the importance of KYC, how it operates, its potential privacy implications, the top exchanges that offer it, as well as any alternative solutions for trading crypto without undergoing the process.
| Term | Definition |
| --- | --- |
| 👤 KYC | Know Your Customer |
| 🔍 Purpose | To verify the identity of customers and assess their risk profile for potential involvement in financial crimes |
| 💼 Why | Required by most cryptocurrency exchanges and other third-party services to comply with anti-money laundering regulations and prevent illicit activities |
| 📄 What | Typically involves submitting personal information, government-issued identification, and proof of address |
| 🤔 How | Customers submit their documents and information online or in-person, and undergo verification checks by the exchange or service |
| 🕵️‍♀️Risks | Potential privacy concerns as personal information is collected and stored |
| 🔄 Alternatives | Some decentralized exchanges and peer-to-peer marketplaces may not require KYC, but may have lower liquidity and security risks |
| 💹 Top Exchanges | Some top cryptocurrency exchanges that require KYC include Coinbase, Binance, and Kraken |
What Is The KYC?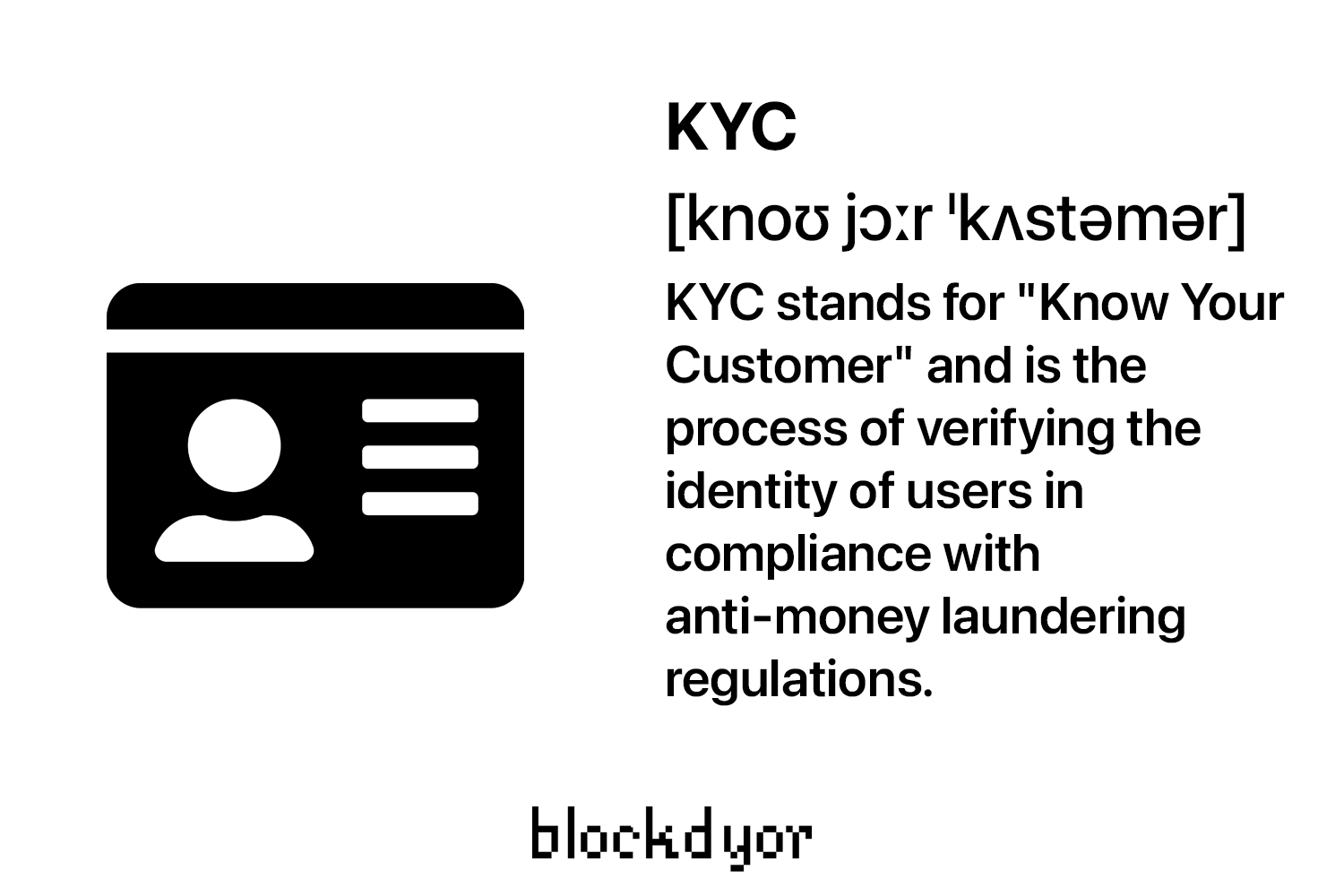 KYC stands for Know Your Customer and is a mandatory procedure at virtually all cryptocurrency exchanges.
Upon registering with a compliant exchange or platform, users will undergo immediate KYC procedures to confirm their identity.
This process is the initial stage of anti-money laundering (AML) due diligence and allows the company to understand the customer's risk profile based on their potential involvement in financial crime.
KYC: How Does It work?
The steps typically involved in the KYC process for cryptocurrency exchanges are the following:
Collect personal information from the customer, such as their name, address, and date of birth;
Verify the customer's identity using a government-issued ID and/or other forms of identification;
Assess the customer's risk level by analyzing their financial and transaction history, including any suspicious activity;
Determine whether the customer's activities comply with relevant laws and regulations, such as anti-money laundering (AML) and counter-terrorism financing (CTF) laws;
Take appropriate measures to mitigate any identified risks, such as additional verification steps or denying the customer access to certain services.
KYC: An Example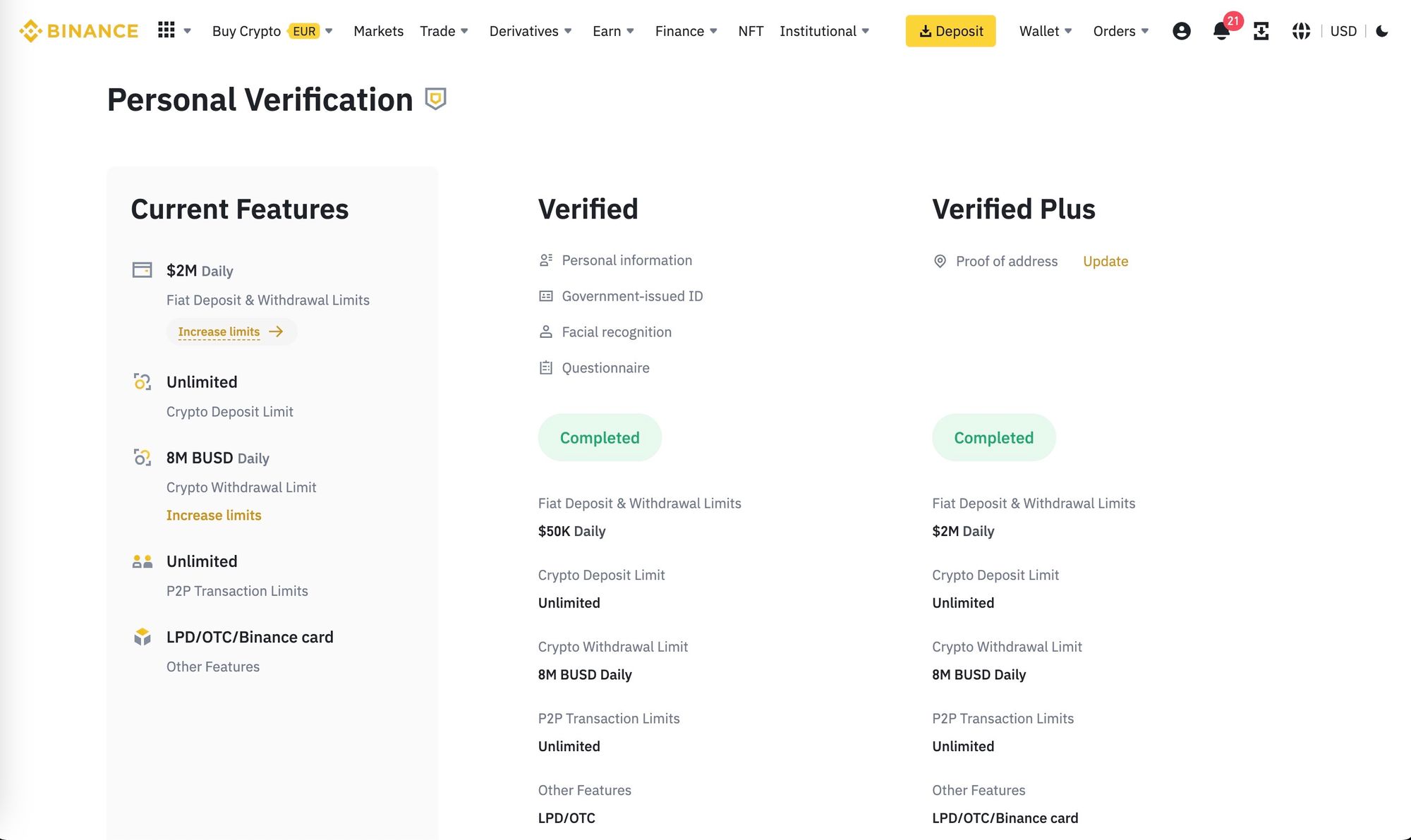 We have chosen Binance as a prime example of a cryptocurrency exchange with a robust KYC procedure. With an impressive trading volume, Binance has established itself as one of the largest exchanges globally.
Furthermore, Binance offers one of the most extensive KYC processes in existence, making it an excellent subject for examination. Let us now deep-dive into what a KYC entails at Binance.
The broker's KYC procedure adheres to regulations in more than 200 jurisdictions and is reinforced by reputable KYC service providers such as Trulioo, Onfido, and Jumio.
Binance has divided its KYC process into three levels: Verified, Verified Plus, and an optional tier.
Level 1 + Level 2 (Verified + Verified Plus)
To trade crypto, make deposits and withdrawals, or access the various Binance functions (like ordering the Binance Card for example), users are required to complete the following checks.
Basic site access is granted to those who do not undergo the verification process.
Non-verified users are still able to explore Binance's offerings, as well as claim NFTs, Fan Tokens, and Binance Gift Cards, but it is important to note that they will not, under any circumstances, be able to interact with any Binance trading products.

In order to verify a customer's identity, Binance follows a four-step process:
Step 1: involves collecting and confirming personal information by requiring a government-issued identification document, such as a passport or driver's license.
To prevent impersonation attempts, Step 2 includes a real-time Liveness Check which compares a user's face with the previously submitted government-issued identification documents.
For Step 3, they utilize the extensive World-Check database to verify the identities of users against high-risk, sanctioned, and politically exposed individuals.
For EU users, Step 4 mandates the provision of valid proof-of-address documents before they can access the exchange ecosystem. For non-EU users, valid proof-of-address documents are only required if they wish to increase their daily fiat withdrawal limit from $50,000 to $2M.
Apart from the two existing levels of identification, this exchange offers an additional level for individuals seeking higher deposit and withdrawal limits known as "Verified" and "Verified Plus". To attain this special verification, the exchange requires information on sources of wealth, the source of funds being used on Binance, and any family member's classification as a Politically Exposed Person (PEP).
How To Do A KYC Step-By-Step
Most exchanges follow a quick and straight to the point process for KYC that involves inputting personal information. This information includes your home address (your residency), date of birth, nationality, and the origin of the funds you plan to use.
To complete the KYC verification process, you will be asked to communicate and confirm the following information:
Your full name: Enter your first and last name as it appears on your ID. If you have a double first name or a double surname, enter both.
Your document details: You can use your ID card, passport, or driving license as a document. Make sure that the document is valid and not damaged or discolored.
Purpose for using the exchange: Select the purpose for which you intend to use the exchange.
Photograph your document: Upload a photo of the front and back of your document. The photograph should capture the entire document, without cutting off the edges. The photos should be in color, sharp, and in focus.
Take a selfie: Take a selfie of your face while keeping your hand still. Avoid wearing accessories such as glasses, hats, or anything that can hide your face.
Identity verification is fast and carried out using third-party software. Once you have completed these steps, the exchange or the third-party service will review your information and confirm your identity.
The Most Common Errors During A KYC Verification
Once you've completed the KYC questionnaire process, your account will be most likely processed in about a few hours, or minutes. After that, you should be able to use the exchange in its entirety.
However, if the third-party KYC system encounters problems matching your selfie with your ID photo, or if some of the information is unreadable, manual checks may be required.
These checks usually take between two and five working days, but there's no need to worry as they are carried out to ensure your account's security.
In the rare event that the manual checks are unsuccessful, you will receive an email with the reason for the failed KYC verification. The most common reasons for failure include:
Using an expired or invalid document;
Submitting a poor-quality photo of your document or face;
Attempting to register an account that has already been created.
Most of the exchanges allow one account per person, in order maintain security and compliance with regulations.
If your name is already registered in the exchange' system, you will be prompted to use a different name during the verification process.
What Are The Benefits Of KYC In Crypto?
Despite the challenges and adjustments involved in implementing KYC standards, cryptocurrency exchanges stand to benefit significantly from regulatory compliance for the following reasons:
More transparency: by verifying the identities of their clients, exchanges increase the confidence in their customers. When users are reassured that their exchange is proactively safeguarding their accounts, they are more likely to continue using the service.
Lower legal risks: as legal requirements evolve, robust KYC procedures can keep businesses ahead of the curve. KYC practices can identify and prevent fake identities, money laundering, and assess customer risk by requiring government-issued identification and scrutinizing financial history and assets. These measures can reduce legal and regulatory risks, freeing up time to focus on improving conversion rates, accelerating transactions, and ensuring compliance.
Lower risk of fraud: in the past years many customers lost money to scammers. Consistent identity verification can substantially reduce fraudulent activity and enhance the market's reputation.
More market stability: the anonymity of cryptocurrency transactions has contributed to market volatility. KYC programs that feature enhanced identity verification can contribute to the overall stability and growth of the cryptocurrency market.
KYC Companies
Third-party identity verification services are very important to many cryptocurrency exchanges' ability to comply with know-your-customer (KYC) regulations. Here are three of the most reputable identity verification services used by exchanges:
Trulioo: Trulioo is a global identity verification company that provides real-time identity verification and fraud prevention solutions. Their platform offers access to hundreds of data sources to verify identities in over 195 countries. Trulioo's mission is to provide trust and safety online, and they are used by companies in a variety of industries, including financial services and cryptocurrency exchanges.
Onfido: Onfido is a software company that uses machine learning and artificial intelligence to verify identities. Their platform can verify identity documents from over 190 countries and check against global watchlists for sanctions, politically exposed persons (PEPs), and adverse media. Onfido has won numerous awards for their identity verification technology and is used by companies such as Revolut, Zipcar, and Bitstamp.
Jumio: Jumio is a digital identity verification company that uses artificial intelligence, biometrics, and machine learning to verify identities. Their platform can verify documents from over 200 countries and supports a range of verification methods, including facial recognition and document scanning. Jumio's customers include cryptocurrency exchanges such as Coinbase and Bitstamp, as well as financial institutions and online marketplaces.
Each of these services provides a critical function for cryptocurrency exchanges to ensure regulatory compliance and protect against fraud. By using these services, exchanges can have confidence in the identities of their users and reduce the risks associated with money laundering, scams, and other illicit activities.
Non-KYC Crypto Exchanges
It is evident that for individuals valuing their privacy, KYC exchanges may not be the preferred choice.
Unfortunately, the list of dependable non-KYC crypto exchanges has dwindled over the years, as a growing number of governments levy fines and tighten regulations on cryptocurrencies.
Nevertheless, an increasing number of investors prioritize privacy above all else and seek to make their crypto investments without divulging personal information. Thus, we have compiled a list of the top non-KYC crypto exchanges and the reasons behind their selection.
KuCoin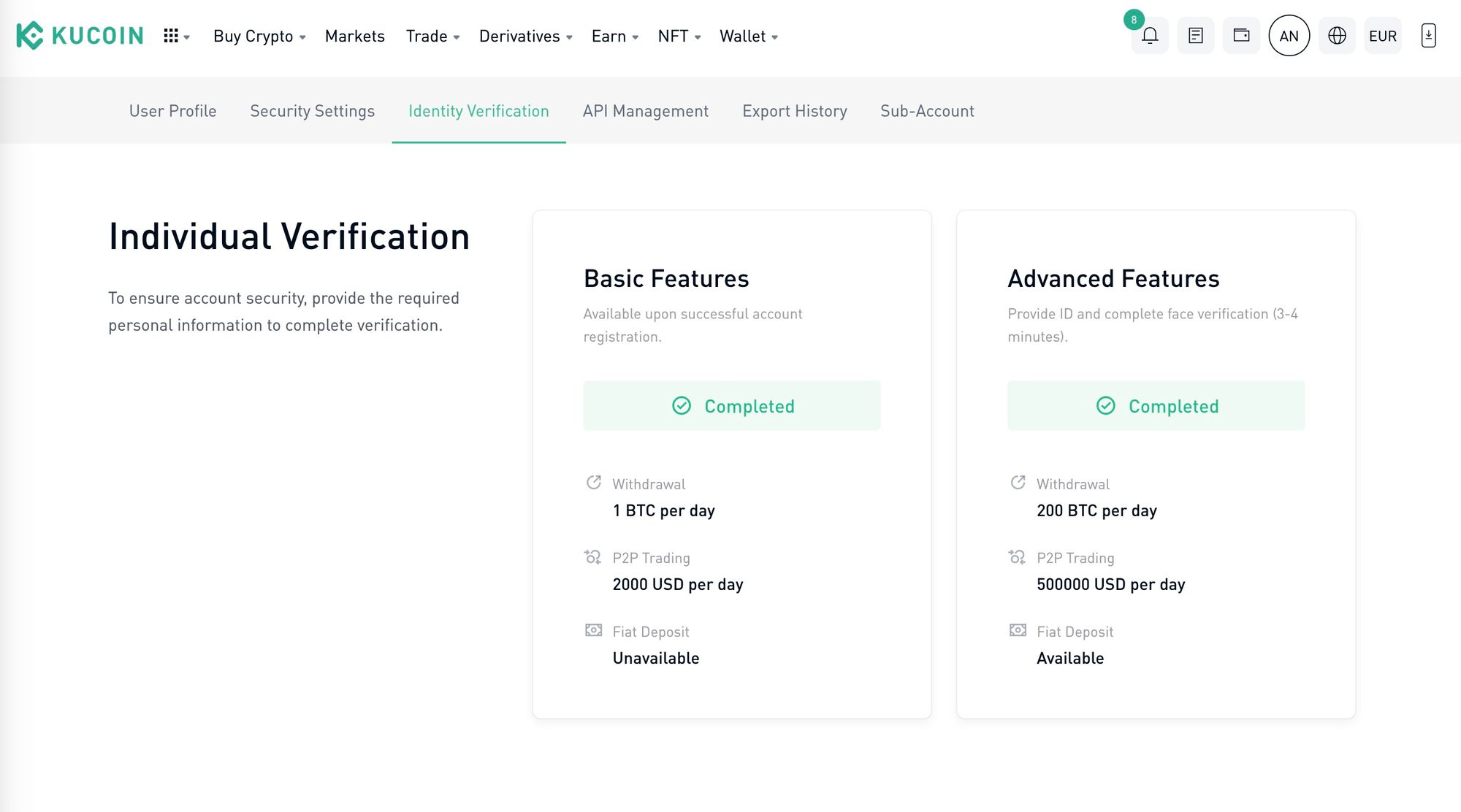 KuCoin stands as one of the world's largest exchanges, distinguished by its rare permission of accessing the majority of exchange functions without requiring KYC verification.
The sole limitation is that FIAT deposits (and withdrawals) are disallowed. Thus, it's the perfect solution for investors possessing cryptocurrencies and seeking to withdraw in the same manner, by safeguarding their privacy. Here are the primary account features available without KYC verification:
| 🌟 Features | Details |
| --- | --- |
| ✅ Basic Features | Accessible upon successful account registration (email and password). |
| 💸 Withdrawal | Limited to 1 BTC per day. |
| 🤝 P2P Trading | Capped at 2000 USD per day. |
| 🚫 Fiat Deposit | Not available without KYC. |
👉 Click here to open an account on KuCoin and get a 20% discount on trading fees.
Bybit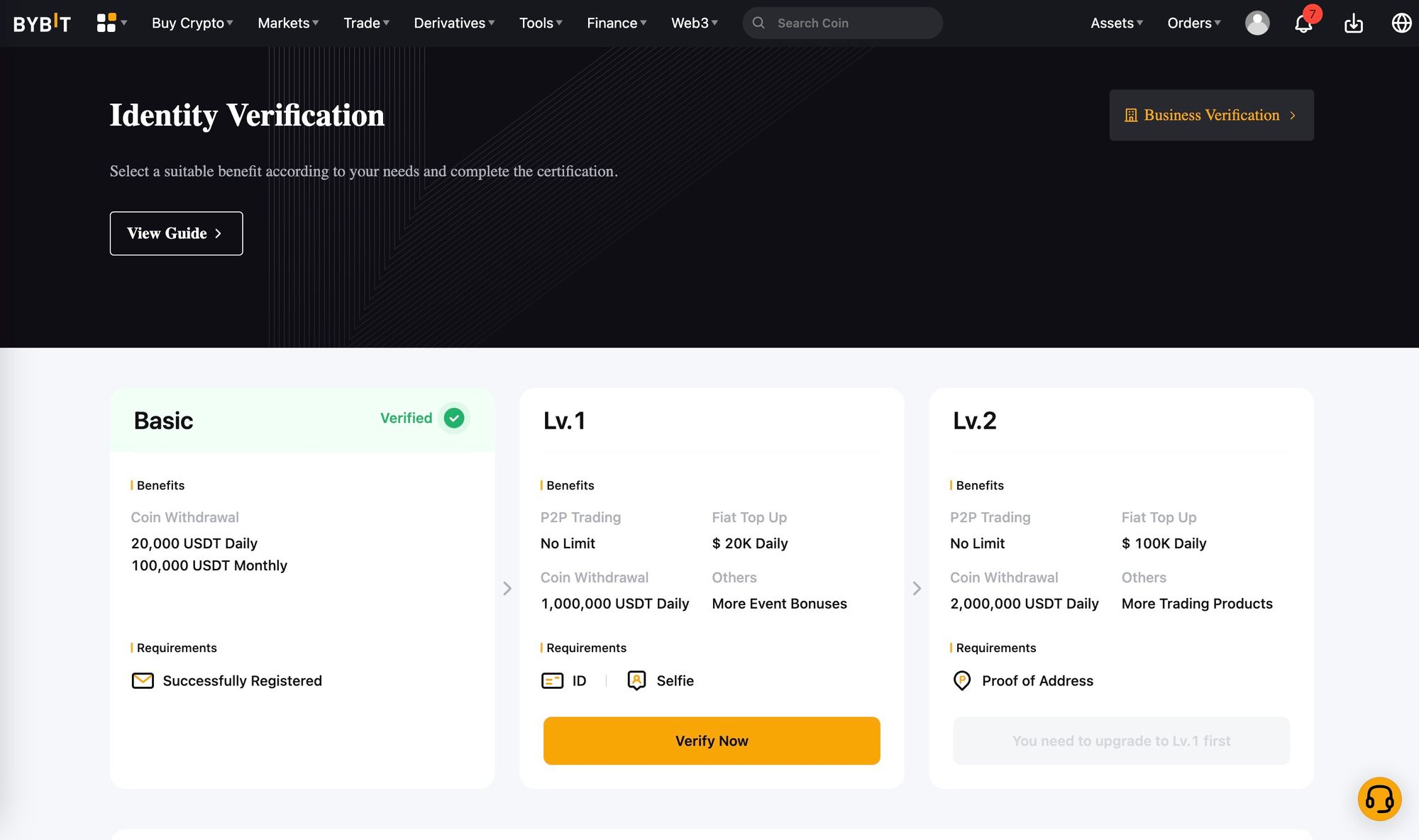 Bybit is a leading exchange with one of the highest trading volumes worldwide. While it was once considered one of the top non-KYC exchanges prior to the end of 2022, it has gradually become more stringent over time.
Nevertheless, its offerings without KYC remain attractive and competitive.
| 🌟 Features | Details |
| --- | --- |
| ✅ Basic Features | Accessible upon successful account registration (email and password). |
| 💸 Withdrawal | Limited to 20,000 USDT Daily, 100,000 USDT Monthly. |
| 🤝 P2P Trading | Not available without KYC. |
| 🚫 Fiat Deposit | Not available without KYC. |
👉 To register on Bybit and get up to 5,030 USDT in bonuses, click here.
Bisq
Bisq sets itself apart from other "traditional" exchanges through its unique approach to trading bitcoin.
While its fees may be higher and its options more limited, Bisq offers unparalleled anonymity and security. With its peer-to-peer network and open-source desktop software, users can buy and sell Bitcoin for fiat or other cryptocurrencies privately and securely without the need for registration.
Unlike centralized services, Bisq is a community-driven, decentralized platform that operates solely through software run on individual hardware, connecting users with other traders to facilitate transactions. In fact, Bisq even penalizes sellers who request additional information, ensuring a truly private trading experience.
It is crucial to emphasize the potential risks associated with peer-to-peer exchanges like Bisq, particularly for sellers. Sellers face the risk of selling Bitcoin and potentially experiencing a chargeback from the fiat bank or service. On the other hand, buyers are typically in a more secure position, given the "trade amount" that is locked in addition to their deposit. Thus, in the event that a seller disappears, buyers are likely to receive their trade amount, security deposit, and a portion of the seller's security deposit.
This is precisely why scammers are relatively rare on Bisq, as engaging in fraudulent activities is simply not a profitable venture.
| 🌟 Features | Details |
| --- | --- |
| ✅ Basic Features | No need for registration. 100% of the functions are accessible just upon download of the software. |
| 💸 Withdrawal | Unlimited. |
| 🤝 P2P Trading | Unlimited. |
| 🚫 Fiat Deposit | Unlimited. |
To know more about this exchange, read our Bisq review.
Blockchain Technology In KYC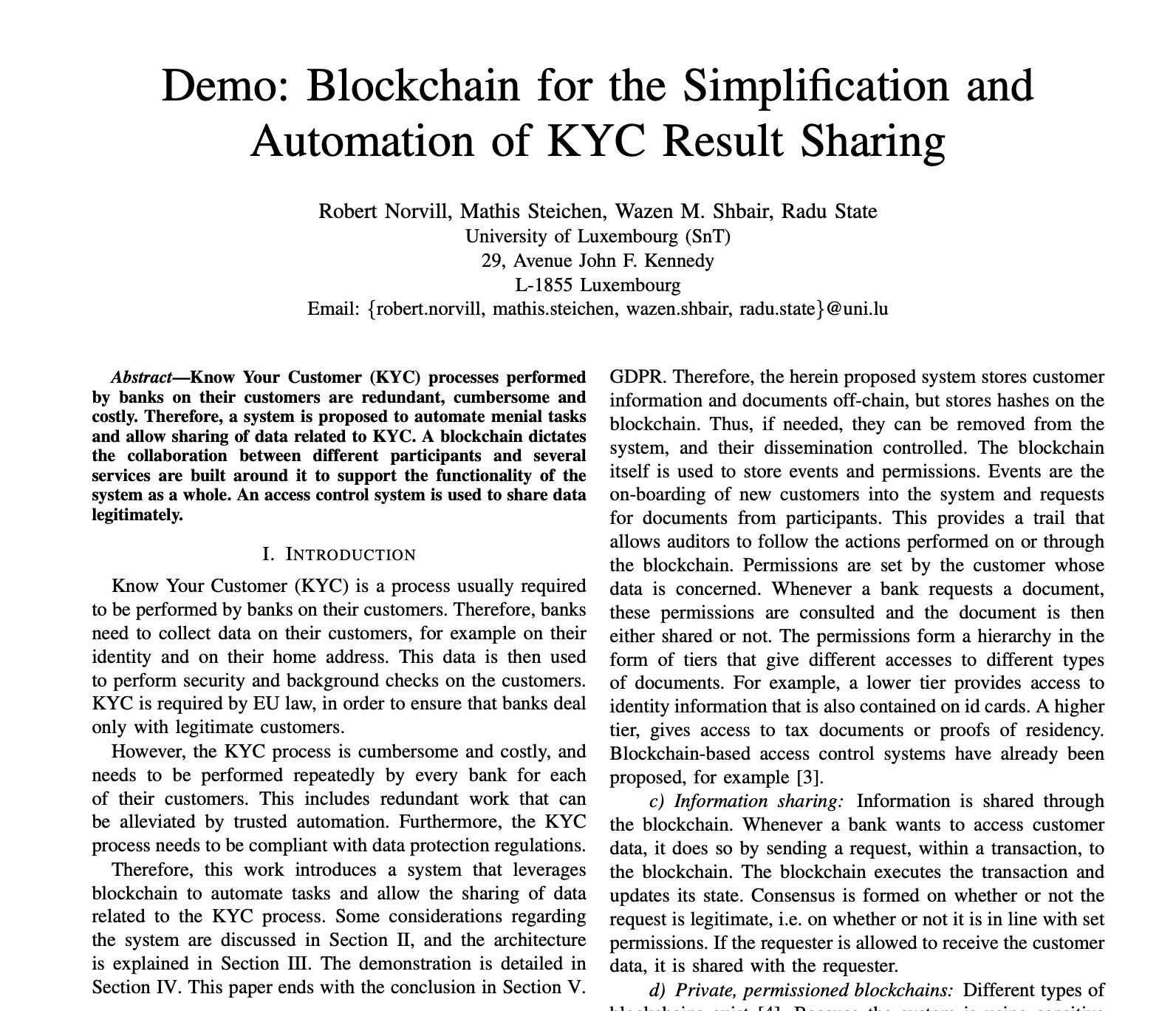 Having to undergo the KYC process each time one registers with a new exchange can prove to be a tedious and laborious task for clients, and an expensive and time-consuming process for companies.
As explained in the study Demo: Blockchain for the Simplification and Automation of KYC Result Sharing by Robert Norvill, Mathis Steichen, Wazen M. Shbair, Radu State from the University of Luxembourg, Blockchain technology has the potential to simplify and automate the KYC process, providing benefits for both customers and financial institutions.
By using a decentralized, immutable ledger, blockchain technology can enable customers to maintain ownership and control of their personal information, while allowing financial institutions to securely access this information for KYC purposes. This can reduce the need for customers to repeatedly provide the same information to different institutions, as their information can be stored and accessed through a blockchain-based platform.
Additionally, the use of smart contracts and digital identities on a blockchain can facilitate the automated verification of customer information and streamline the KYC process. This can help financial institutions to comply with regulatory requirements while reducing costs and improving the overall customer experience.
Overall, the use of blockchain technology for KYC has the potential to enhance efficiency, security, and customer privacy in the financial services industry.
Pros & Cons Of KYC In Crypto
As discussed in this article, the decision to implement KYC in crypto comes with both benefits and drawbacks, and ultimately depends on the individual preferences of the clients.
Below is a summary of the most significant pros and cons associated with KYC in the crypto industry.
| Pros | Cons |
| --- | --- |
| ✅ Increases transparency and trust among customers | ❌ Can be time-consuming and cumbersome for users |
| ✅ Reduces money laundering and scams | ❌ Requires users to share sensitive personal information |
| ✅ Reduces legal risk for businesses | ❌ May deter some users from using cryptocurrency |
| ✅ Contributes to market stability | ❌ Can be costly for businesses to implement and maintain |
Bottom Line
Throughout this guide, we have explored the concept and operation of KYC, examining its advantages and drawbacks. Additionally, we have highlighted some of the most notable exchanges, including Binance, which boasts one of the most extensive KYC protocols available today.
We have also introduced a few platforms that allow for various activities without the need for KYC, such as KuCoin. However, these types of platforms are becoming increasingly rare due to government pressure, causing many exchanges to adopt full-KYC measures. It's worth noting that if a Non-KYC broker detects a potential AML red flag, they may decide to implement KYC measures.
If you wish to avoid the possibility of KYC altogether, it's best to select a peer-to-peer exchange like Bisq. However, it is important to be aware that utilizing such a platform means foregoing regulatory oversight and assuming certain risks, including lower liquidity, higher fees, and limited access to advanced trading features like high-frequency trading, bots, and derivatives.
Frequently Asked Questions (FAQ)
Should you be more than 18 years old to do KYC?
The answer to this question depends on the specific requirements of the platform or organization requesting KYC. In some cases, individuals must be at least 18 years old to participate in KYC procedures, while in others, there may be different age restrictions in place. Generally, most financial institutions and exchanges require customers to be of legal age to enter into contracts, which is typically 18 years or older. However, it is always best to check the specific guidelines and requirements of the platform or organization in question to determine whether or not there is an age requirement for KYC.
What are the Politically Exposed Persons (PEP)?
Politically Exposed Persons (PEPs) are individuals who hold or have held prominent public positions, such as government officials, high-ranking military personnel, and senior executives of state-owned enterprises. The term also applies to their immediate family members and close associates, as they may also have access to valuable information and resources. The reason why PEPs are of particular interest to financial institutions and regulatory authorities is that they are considered to be at a higher risk of involvement in corruption, money laundering, and other illicit activities. As a result, financial institutions and other organizations are required to implement enhanced due diligence measures when dealing with PEPs to identify and mitigate the risks associated with these types of clients. Overall, the purpose of identifying PEPs is to ensure that financial institutions and organizations can effectively manage the potential risks associated with these individuals and prevent the misuse of financial systems for illicit purposes.
Why is KYC important in the crypto industry?
KYC in Crypto refers to the process of verifying the identity of individuals who want to use cryptocurrency exchanges or other crypto-related services, in order to comply with anti-money laundering (AML) and counter-terrorism financing (CTF) regulations.