Bisq Review 2023: The Best Decentralised Bitcoin Exchange?
Discover one of the top non-KYC Bitcoin exchange: Bisq. This decentralized, peer-to-peer platform has stood the test of time without corporate support. In this review, we'll examine Bisq's features, pros and cons, and determine if it's truly the best non-KYC exchange.
What is Bisq?
Bisq is a decentralized peer-to-peer (P2P) exchange that stands out for its longevity and high privacy. On Bisq, you can buy Bitcoin for national currencies and even crypto.
Unlike traditional exchanges accessed through websites, Bisq is a desktop-based application that you install on your Windows, Linux or Mac computers.
One of the key features of Bisq is its emphasis on security and anonymity. It is a non-KYC (Know Your Customer) exchange, meaning it does not require any personally identifiable information to trade.
Bisq also uses a non-custodial wallet, allowing users to have complete control over their funds.
Bisq is FOSS (free and open-source software), meaning its code is publicly available for inspection.  The app supports the use of Tor, which provides anonymity, and employs end-to-end encryption for all communications.
Bisq is one of the few truly decentralized exchanges because not only operates on a decentralized network but also has a decentralized governance structure.
The users are allowed to participate in decision-making regarding the exchange's future.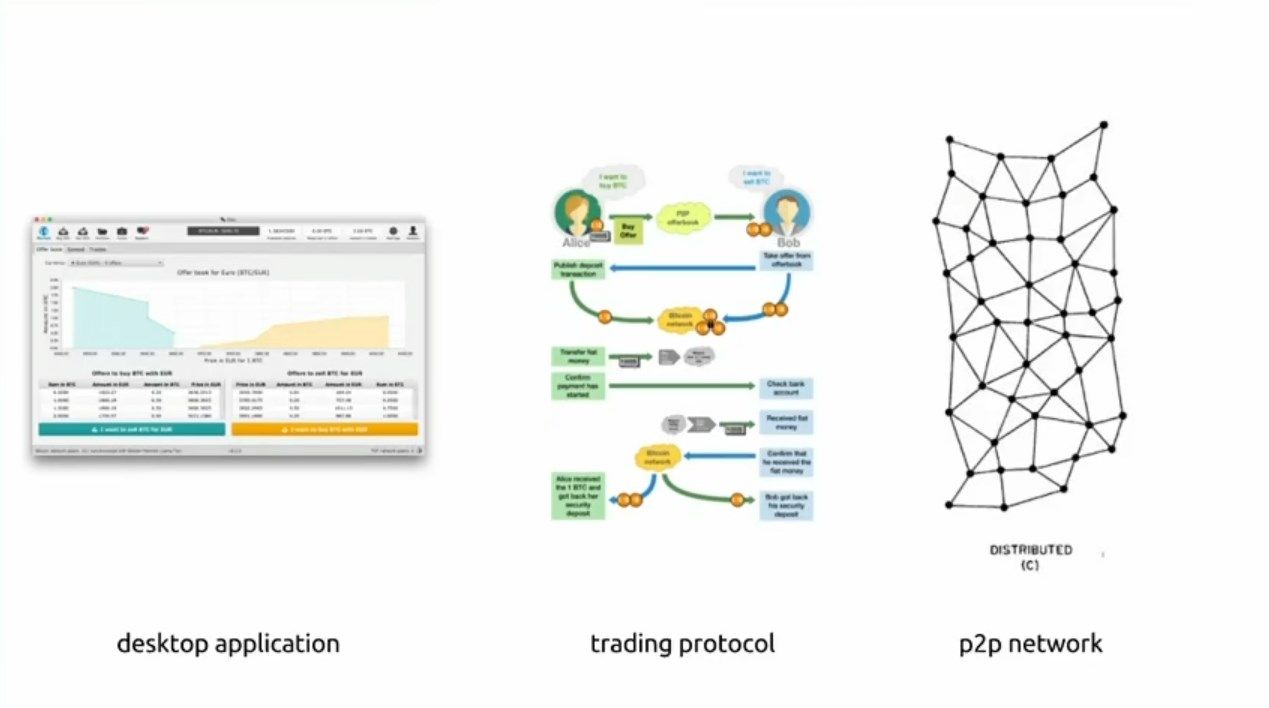 | FEATURE | DESCRIPTION |
| --- | --- |
| 🌐 Website | bisq.network |
| 🏙️ Location | Decentralized |
| 📅 Year Founded | 2014 |
| 💰 Primary Token | Bitcoin (BTC) |
| 📈 Listed Crypto | ETH, LTC, BSQ & others |
| 💱 Trading Pairs | BTC/USD or BTC/EUR, BTC/AUD, BTC/GBP, or any other local currency |
| 💵 Supported FIAT | USD or EUR, AUD, GBP, or any other local currency |
| 🌍 Supported Countries | Worldwide |
| 💰 Minimum Deposit | N/A |
| 💸 Deposit Fees | Free |
| 💰 Daily Buying Limit | No daily limits. Buying limited to 0.01 BTC per trade until signed. After signing, limits increase to 50% in 30 days. Maximum trade size allowed after 60 days |
| 💱 Trading Fees | 1.3% (0.15% for the maker and 1.15% for the taker) |
| 💸 Withdrawal Fees | Transactions to Bisq users' wallets: Subject to relevant Bitcoin fees. Transactions to external cryptocurrency wallets: Subject to relevant Bitcoin fees. |
| 📱 Mobile App | Desktop only. Apps for iOS, Android is just for notification purposes |
| 💬 Customer Support | bisq.chat (Matrix) |
How Bisq works?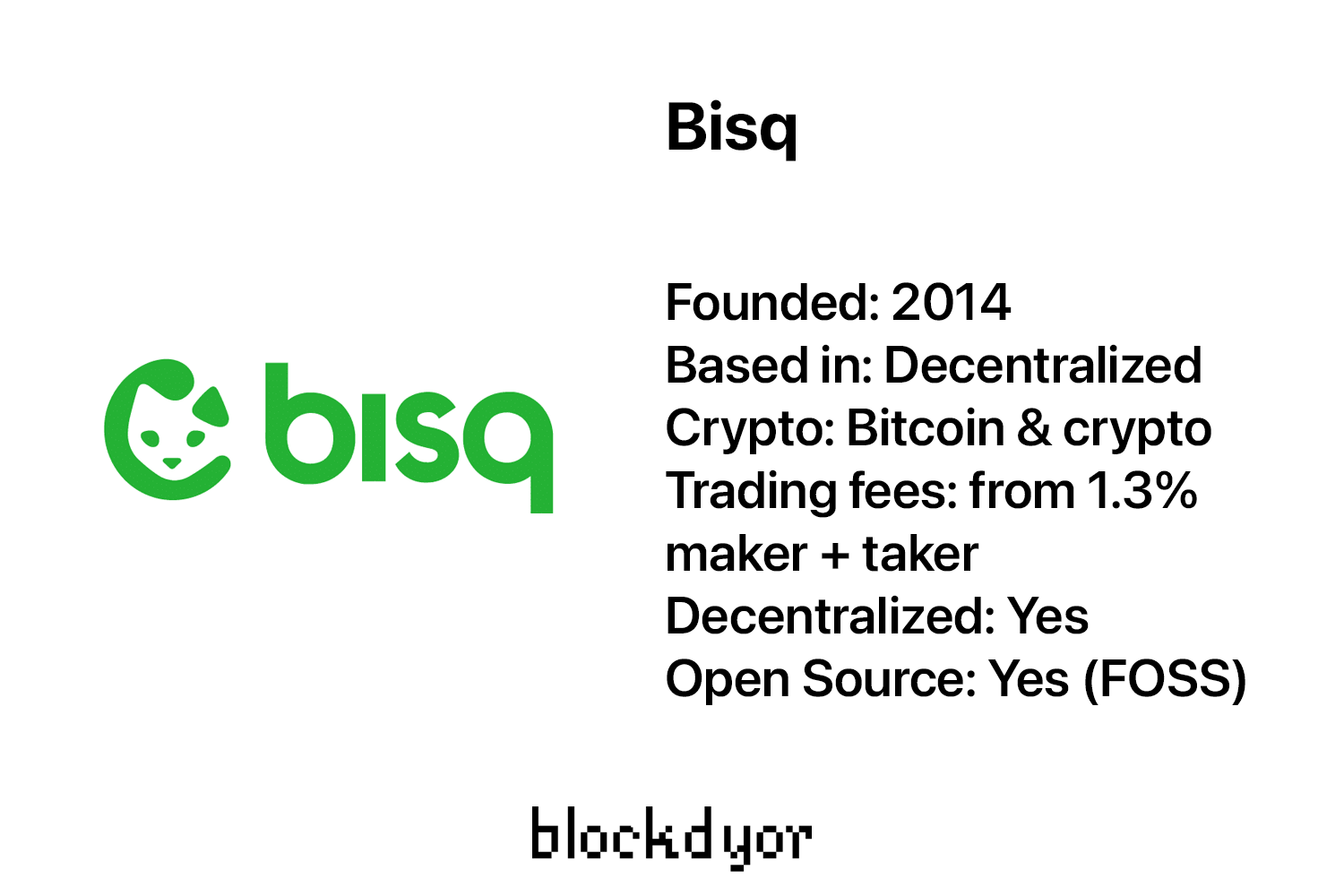 Bisq is a decentralized bitcoin exchange network that operates as a peer-to-peer trading platform.
Unlike traditional centralized exchanges, Bisq enables users to buy and sell bitcoin directly with each other without the involvement of intermediaries or trusted third parties.
When using Bisq, individuals download and run the Bisq application on their desktop or laptop computers. This application serves as the interface for trading on the Bisq network. Bisq is a cross-platform application, meaning it can be used on different operating systems.
To initiate a trade on Bisq, a user follows a series of steps. For example, if someone wants to buy bitcoin in exchange for fiat (let's say: US Dollar), they would configure Bisq with their USD payment method details, such as bank transfer or online payment.
They can then browse the available offers on Bisq's order book, which displays offers from other users who are willing to sell bitcoin for USD.
Once a suitable offer is found, the buyer agrees to purchase the seller's bitcoin for USD.
💡
For security purposes, to initiate a trade both the buyer and seller must deposit BTC into a 2 of 2 multisig wallet. When the trade is completed, the security deposit will be refunded to the buyer and seller. The minimum is 15% of trade amount and maximum is 50% of trade amount (absolute minimum is 0.001 BTC).
The agreed-upon payment method is used to send USD to the seller. The buyer notifies Bisq that the payment has been made.
The seller then waits for the payment to arrive and confirms the receipt of the payment in Bisq.
Once the payment is confirmed, the seller releases the bitcoin to the buyer, completing the trade.
Who created Bisq?
Bisq, formerly known as Bitsquare, was created by Manfred Karrer. He's an austrian now living in Barcelona, Spain.
In the context of Bisq, it is more appropriate to refer to Manfred Karrer as the founder rather than the CEO, as Bisq operates under a decentralized autonomous organization (DAO) structure.
In this decentralized model, there are no CEOs or central leadership teams in the traditional sense.
💡
Bisq isn't a company, but a software.
Bisq's DAO structure empowers the stakeholders, including traders and contributors, as the true owners and decision-makers of the platform.
Instead of relying on a single individual or a centralized authority for governance, the stakeholders collectively shape the direction and development of Bisq.
This decentralized approach ensures that decision-making power is distributed among the community and helps to avoid the concentration of authority.
By embracing the DAO model, Bisq establishes a more inclusive and democratic system, where the interests and contributions of all stakeholders are considered.
It aligns with the broader ethos of decentralization and promotes a sense of ownership and responsibility among the Bisq community.
How To Get Started On Bisq
Getting started on Bisq is a straightforward process. Unlike traditional exchanges, there is no need to sign up for an account.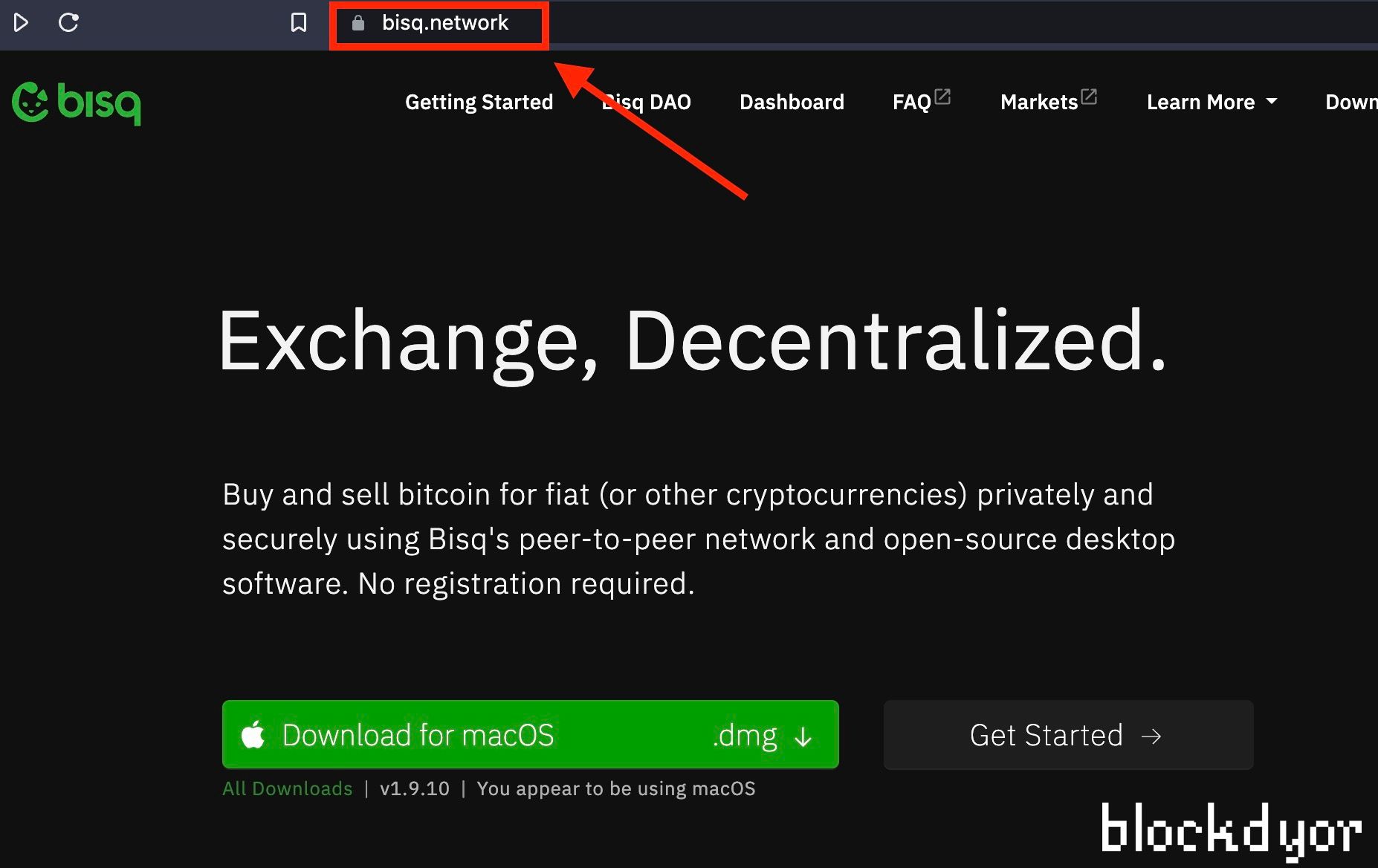 To begin, visit the official website of Bisq at bisq.network. Take extra caution and double-check the URL in the address bar to ensure you are on the correct website. This step is crucial for preventing phishing attempts and safeguarding your information.
You can then proceed to click on the green button "Download for". The website will automatically select the installer compatible with your operating system. In alternative, you can click on "All Downloads" to view all the builds available.
💡
Pro tip: for an additional layer of assurance, you can verify the integrity of your Bisq installer file to ensure it has not been tampered with.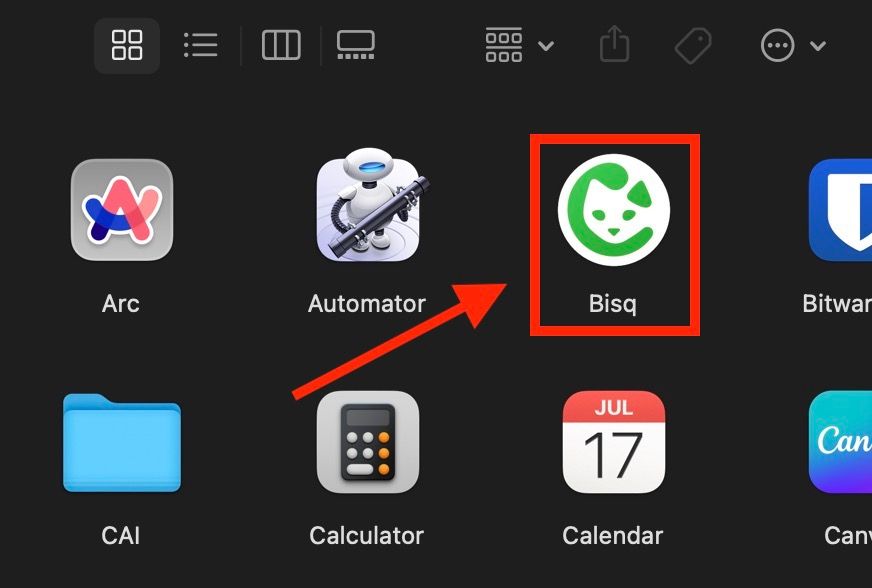 Once you have successfully downloaded and installed Bisq, simply click on the application to launch the software.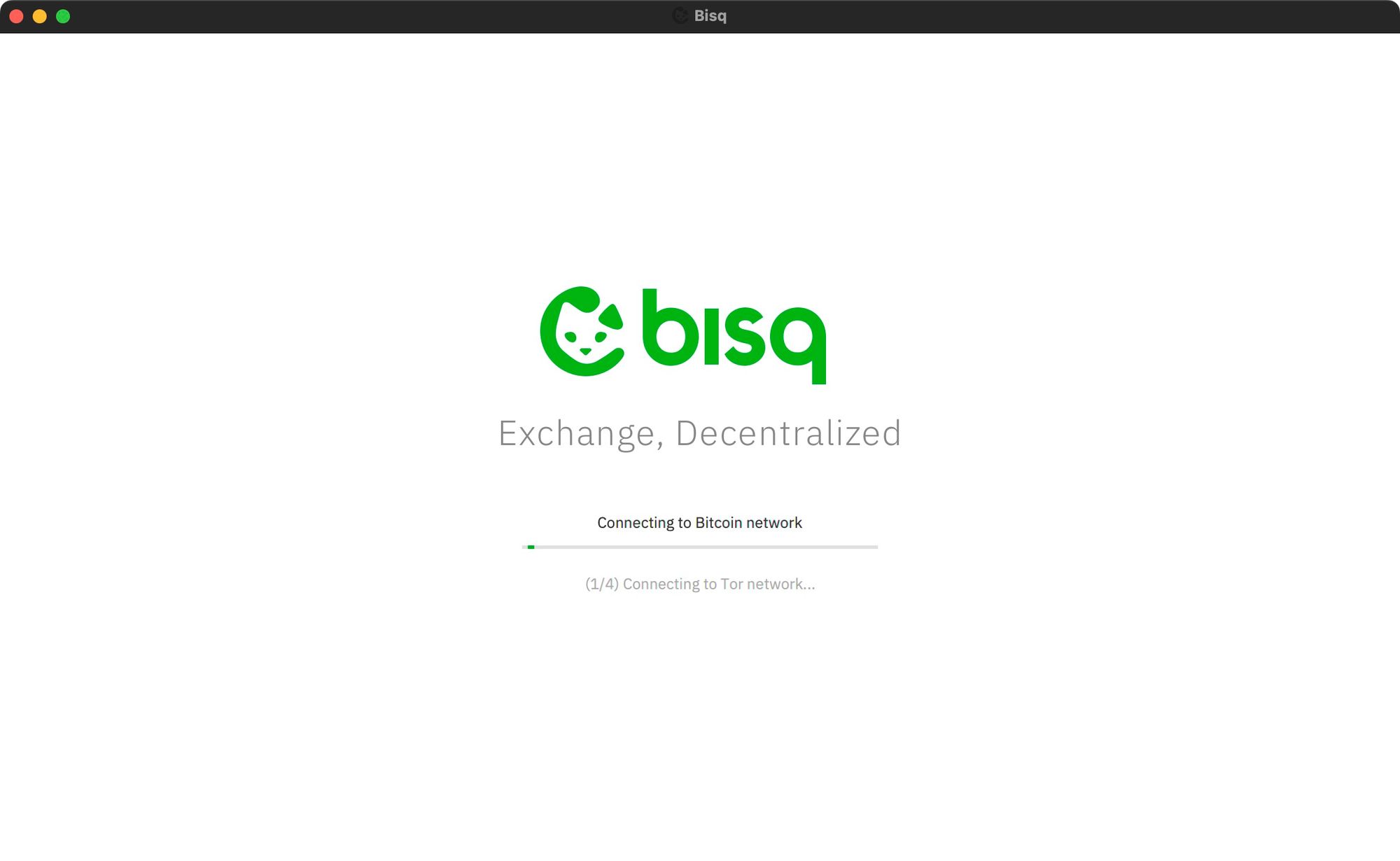 How To Buy Bitcoin on Bisq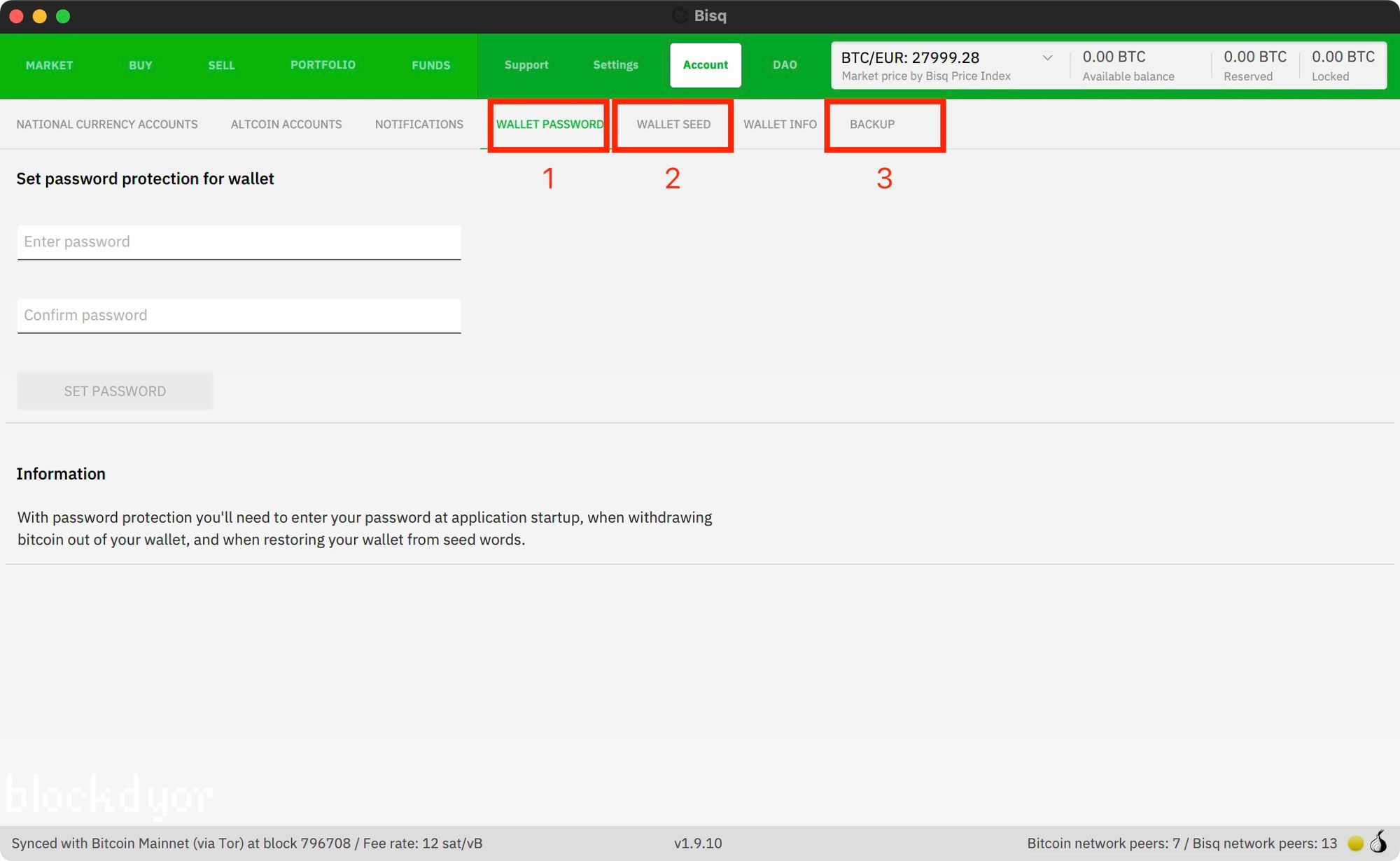 Before proceeding to buy Bitcoin on Bisq, it is important to follow these steps to ensure the security of your account:
On the top menu, click on Account.
Click on Wallet Password submenu (1). Create a password for your Bisq wallet. Make sure it is strong and unique. Write it down on a piece of paper or, preferably, store it securely in a password manager.
Write down your wallet seed (2. This seed is a series of words that can be used to restore your wallet in case of any issues. Keep this seed in a safe and offline location.
Create a backup of your Bisq account and state. This backup will help you restore your account settings and transaction history if needed. Store this backup file in a secure location, such as an encrypted external drive or cloud storage with strong encryption.
By completing these steps, you will significantly enhance the security of your Bisq account and be well-prepared to proceed with your Bitcoin transactions.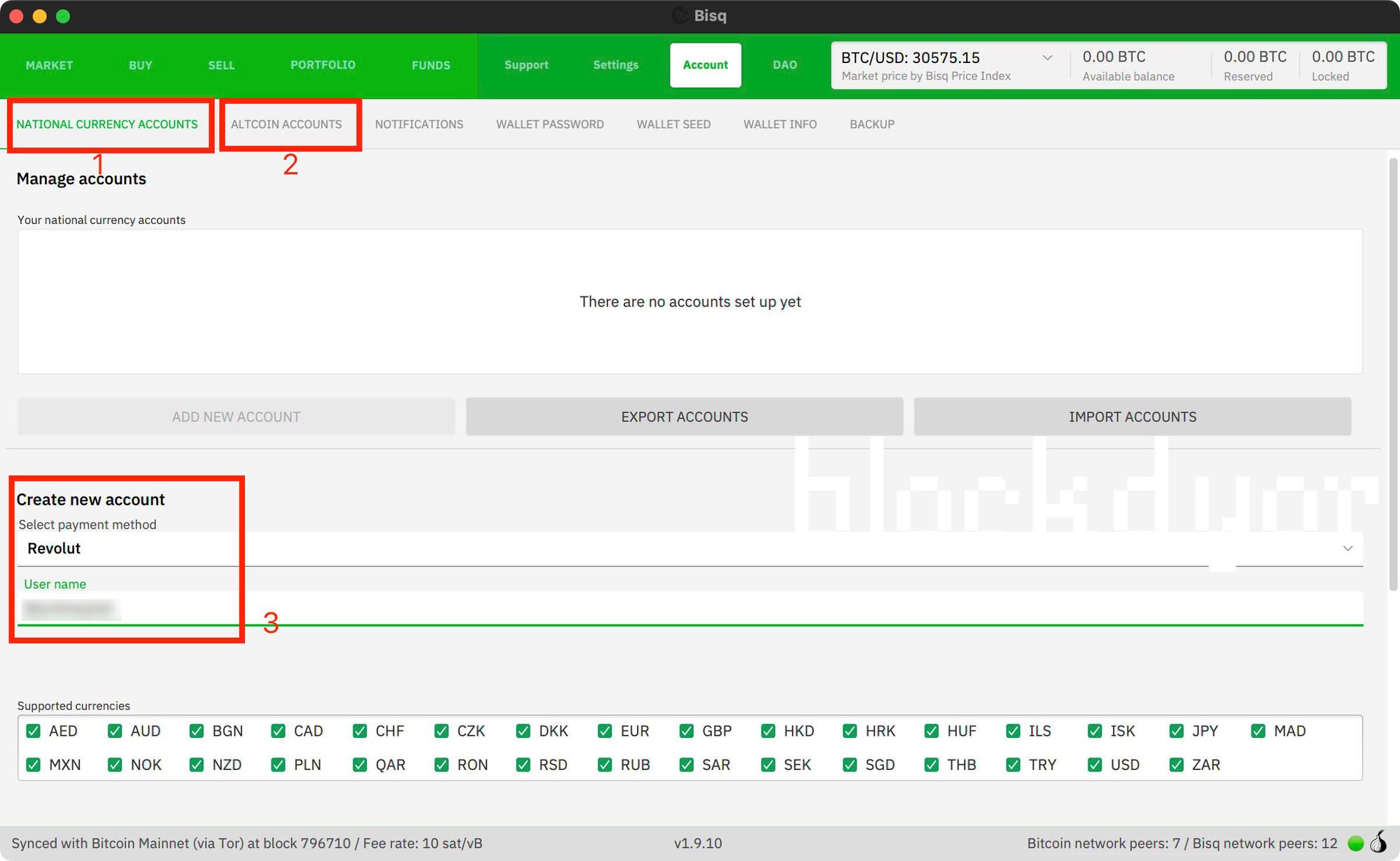 To begin, you have the option to add a fiat account (1) or an altcoin account (2). For the purpose of this guide, we will focus on adding a fiat account, specifically a Revolut one.
Navigate to "Create a new account" and select the desired payment method (3), in this case, Revolut.
Enter the username or other relevant details as prompted.
Scroll to the bottom of the page and click on "Save" to save your account information.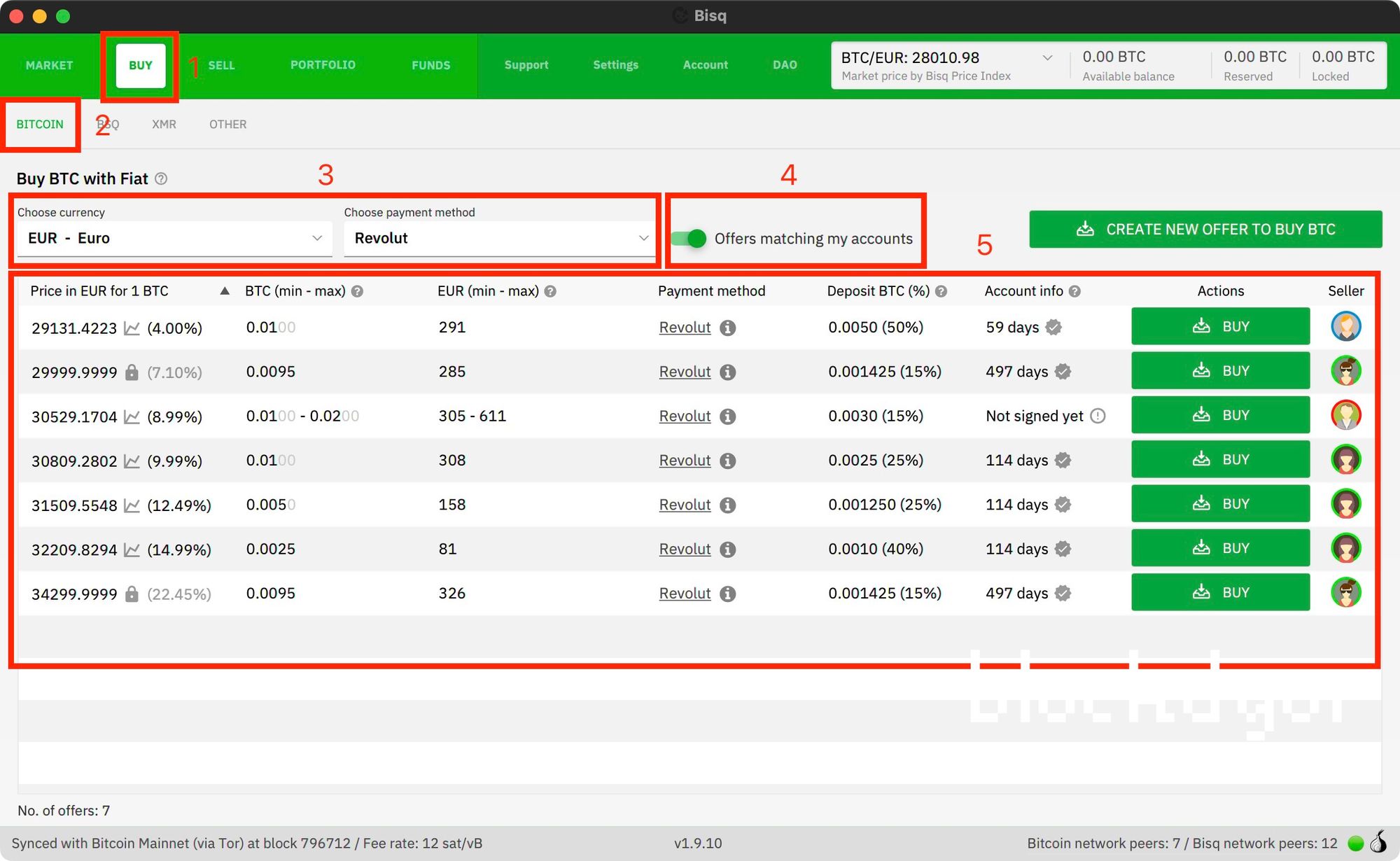 In the menu, click on "Buy" (1), then select "Bitcoin" (2).
Choose your preferred fiat currency from the options provided (3).
Select the payment method you previously added, in this case, Revolut (3).
Toggle on the option "Offers matching my accounts" (4) to filter the offers based on your verification status.
A list of available offers will be displayed (5). Review the offers and choose the one that suits your requirements.
If you find a suitable offer, click on the green "Buy" button to proceed to the next step.
The software will now update and verify if the selected offer is still available. Please be patient as it refreshes.
💡
Since Bisq is a fully decentralized peer-to-peer exchange, it is important to note that the maker of the offer must be online in order to initiate and complete the trade.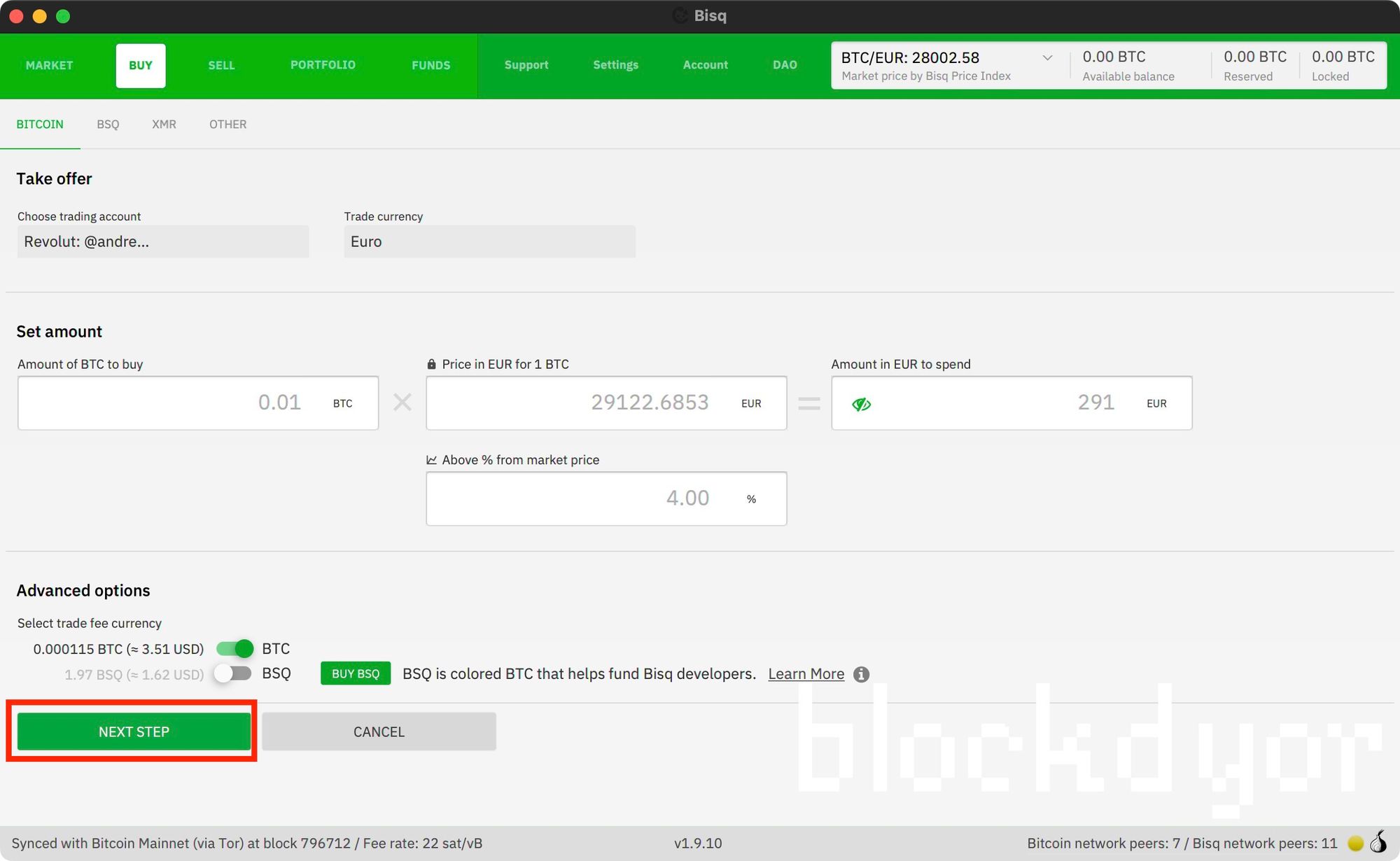 The seller is online, so you can go forward by clicking on "Next step".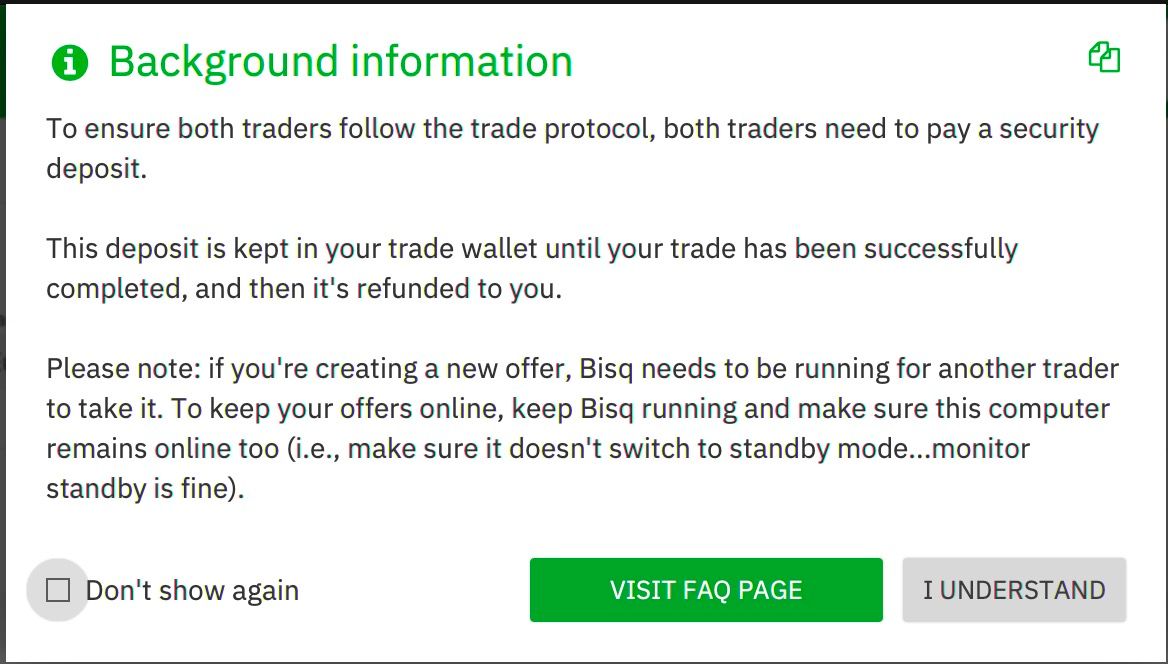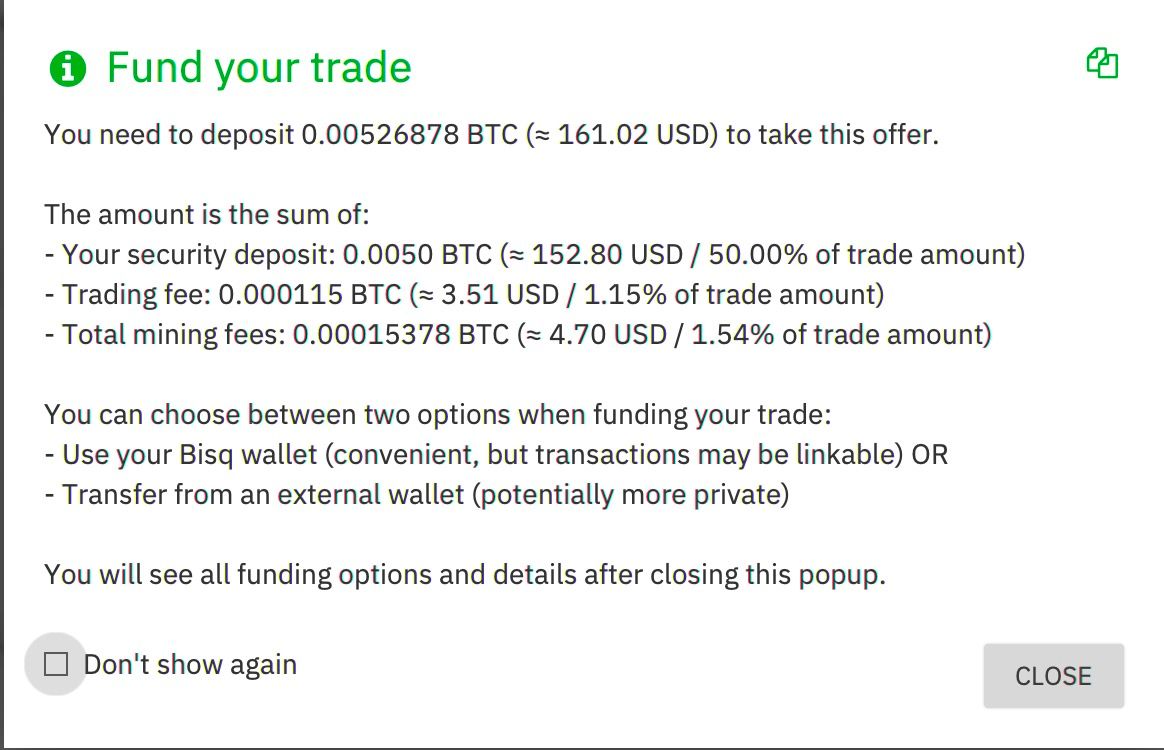 The previous messages inform the user that to start a trade on Bisq, you need to send a deposit and fees to the trade wallet. Bisq will provide you with the address of the trade wallet and the specific amount to send.
If you already have enough bitcoin in your Bisq wallet, you can click on Transfer funds from Bisq wallet and the funds will be automatically transferred to the trade wallet.
If you don't have enough bitcoin in your Bisq wallet, you need to send the required amount (Funds needed) to the specified address (Trade wallet address).
The trade wallet is used to hold your security deposit and fees. It will be used to pay your taker fee and transfer your security deposit into a multisig escrow transaction along with the seller's security deposit and the bitcoin being traded.
The multisig escrow transaction is a smart contract involving you and the seller. It ensures that Bisq never takes custody of users' bitcoin or national currency funds. The transaction follows a 2-of-2 multisignature Bitcoin setup.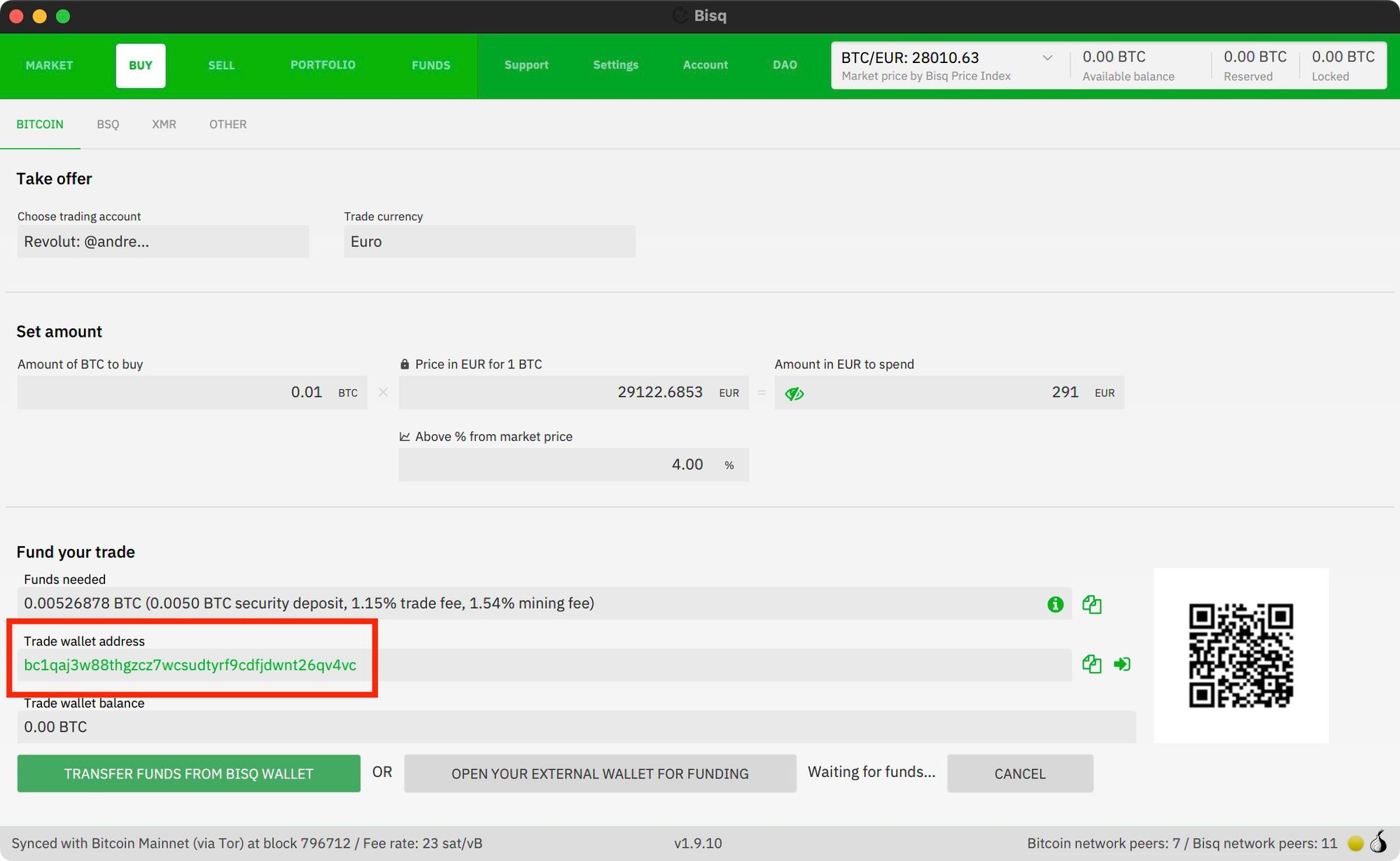 Pay the deposit and fees by sending funds to the Trade wallet address.
When you will have sent the funds to the trade wallet, you will see a button "Review: Take offer to buy bitcoin", click on it to confirm the details of your offer.
If everything is correct, click "Confirm: Take offer to buy bitcoin" to start the trade.
Wait for the Bitcoin network to confirm the transaction (about 10 minutes).
Once confirmed, pay the seller using the agreed payment method displayed on screen.
Mark the payment as sent in Bisq by clicking "Payment started".
The seller will be notified of the payment and confirm its receipt.
Bisq will release the purchased bitcoin and your security deposit.
Keep the bitcoin in your Bisq wallet or withdraw it to an external wallet.
Congratulations on completing your trade on Bisq!
Bisq Fees
In recent times, fees at Bisq have seen an increase, but they remain highly favorable, particularly for the maker (seller) compared to the taker (buyer). Opting to pay with the native BSQ token can provide even more convenience and cost-effectiveness.
BSQ usage is incentivized by Bisq through an approximate 50% discount. The discount may vary depending on the BSQ/BTC rate. To maintain this targeted discount, trading fees are periodically adjusted.
| | BTC | BSQ |
| --- | --- | --- |
| Maker | 0.0015 | 25.66 |
| Taker | 0.0115 | 196.69 |
The combined BTC trading fee rate is 1.3% (0.15% for the maker and 1.15% for the taker). To avoid minimal amounts, the absolute minimum fee is set at 0.00005 BTC.
The combined BSQ trading fee rate aims at 0.65% (0.075% for the maker and 0.575% for the taker). To prevent minimal amounts, the absolute minimum fee is 0.03 BSQ.
The trading fee rates and minimums are determined by DAO parameters, which require proposals and approvals through DAO voting. While BTC fee rates generally remain steady, BSQ rates are periodically adjusted to accommodate fluctuations in the BSQ rate.
Payment Selection
When creating or accepting an offer, traders have the flexibility to choose their preferred method of paying trading fees. The screen conveniently displays BSQ and BTC amounts, along with their fiat equivalents, for easy reference.
Remember to select your preferred payment method for trading fees when creating or accepting an offer.
Bisq Opinions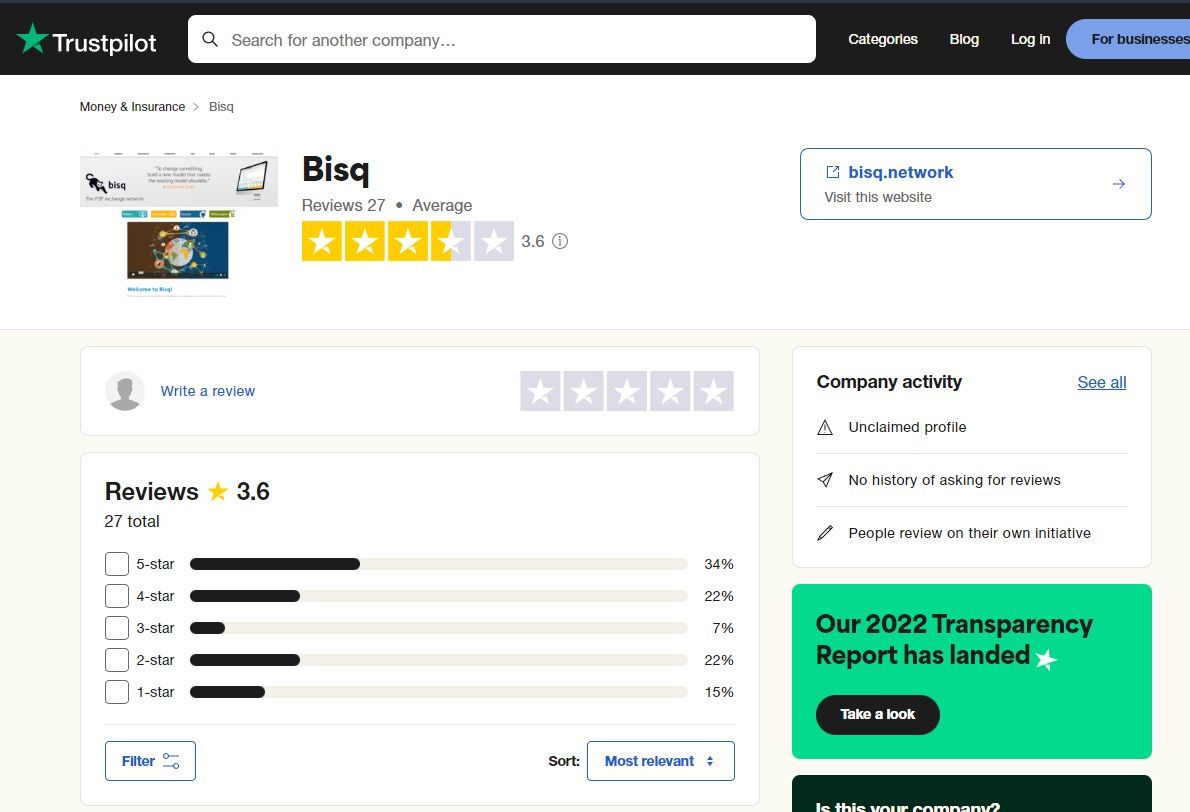 The Trustpilot reviews for Bisq are generally average, and there are only a few of them. However, it's crucial to recognize that Bisq is not a conventional company but rather a decentralized network of users who engage in trading using specialized software.
Many reviews on Trustpilot seem unaware of this fact, while others may have faced financial losses due to not adhering to the trading rules. It's important to note that Bisq provides a high level of security, as you are not required to release your Bitcoin until the payment has been made by the buyer.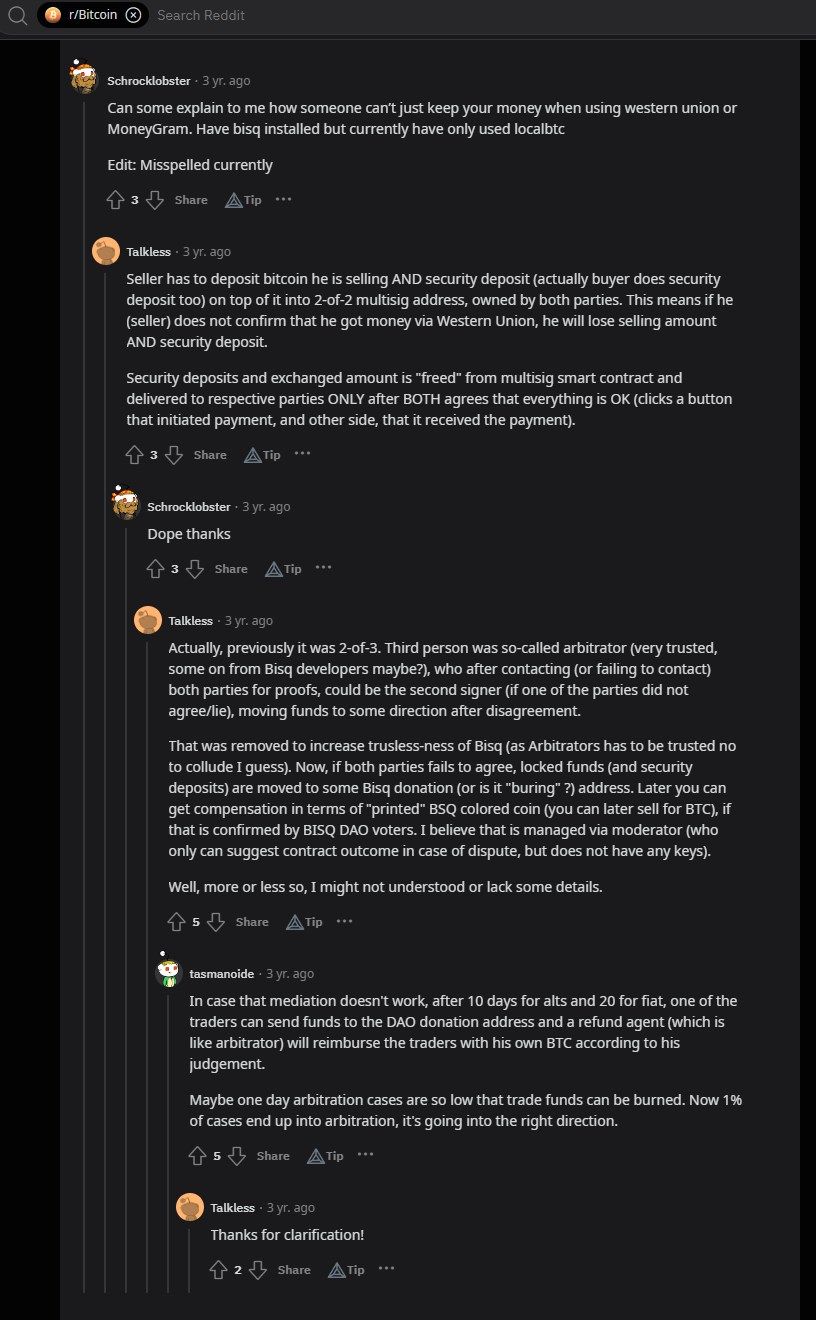 On subreddits like /r/bitcoin there are discussions about the concerns surrounding the potential risk of money theft when using payment methods like Moneygram on platforms like Bisq. However, other users have clarified that Bisq's security deposit system effectively manages such risks.
The reason some people find it strange and uncomfortable that solutions like Bisq eliminate the involvement of third parties is because the traditional banking system has conditioned us to rely on third parties for complete control over our money.
Bisq operates differently. It adheres to strict ethical principles regarding money ownership, ensuring that your funds are exclusively yours and cannot be accessed or taken by anyone else.
Bisq Alternatives
When it comes to finding alternatives to Bisq, due to its unique characteristics, the options are not plentiful. However, there are a couple of noteworthy alternatives worth considering:
BasicSwaps: It is an excellent choice for private and secure crypto swaps. Similar to Bisq, it operates in a decentralized manner and does not require peer-to-peer (P2P) or know-your-customer (KYC) processes. What sets BasicSwaps apart is that it offers a 0% fee structure, making it an attractive option for users.
Robosats: This platform is lightning-based, which ensures fast and efficient transactions. Although Robosats is not decentralized, it still offers compelling features such as a competitive fee structure. The fees are split between the order maker and taker, with a respective share of 0.025% and 0.175%. Additionally, Robosats operates on a P2P basis and does not require KYC verification.
These alternatives provide different features and benefits, allowing users to choose based on their preferences for decentralization, fees, and privacy.
Bisq Pros And Cons
| Pros | Cons |
| --- | --- |
| ✅ Decentralized | ❌ Limited Liquidity |
| ✅ Privacy | ❌ Learning Curve |
| ✅ Security | ❌ Dispute Resolution might take some time |
| ✅ Variety of Payment Options | ❌ You must already have Bitcoin in order to buy Bitcoin |
| ✅ No KYC/AML | ❌ Security Deposit in BTC |
| ✅ Fees lower than other P2P exchanges | ❌ Average BTC price higher than CEX prices |
Bottom Line
Bisq offers a decentralized and secure platform for trading Bitcoin and other cryptocurrencies. With its emphasis on privacy and user control, Bisq provides a unique and trustworthy trading experience.
While it may have certain limitations and a learning curve for new users, the platform's benefits, such as the ability to trade directly with peers and the use of multi-signature escrow, make it a compelling choice for those seeking a peer-to-peer cryptocurrency exchange.
If you value privacy, security, and the principles of decentralization, Bisq is definitely worth considering, as it's quite unique among all the other p2p offers out there.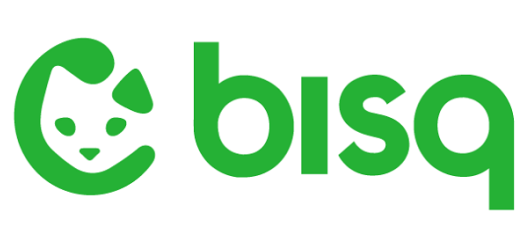 Bisq Evaluation
Reputation: Bisq has been in the market for a significant period of time since 2014, successfully enduring both bear and bull markets. However, it's essential to note an incident that occurred a few years ago in 2020 when a hacker exploited a critical flaw in Bisq's update, resulting in the theft of $250,000 worth of cryptocurrency from seven traders. Bisq promptly issued a fix and committed to refunding the affected individuals from future revenues. Due to this incident, a perfect score cannot be given, and a rating of 4/5 is more appropriate.
Technology: Bisq's decentralization is undoubtedly unique and represents a commendable achievement in Bitcoin exchange software. However, this decentralized approach does have its drawbacks. Both parties involved in a trade must be online with Bisq to initiate and complete transactions. Additionally, during the review, we observed high CPU consumption, even on the latest Apple Silicon models. Furthermore, there was an issue with Bisq's Mac installation, requiring a specific command to be entered in the terminal. Overall, the software would benefit from further optimization. 3/5.
Customer Service: While there is no phone customer service or live chat, the Bisq Matrix and Reddit communities are quite active. The dispute process is multi-layered and secure. However, improving customer service channels would be advantageous. 4/5.
Fees: Bisq recently increased its fees but still maintains very low rates, lower than most other peer-to-peer exchanges. A rating of 5/5 is appropriate in this regard.
Ease of Use: Bisq is not particularly user-friendly. Firstly, it lacks a dedicated mobile app, and secondly, the Mac software is prone to glitches, lacks optimization, and can be challenging to install. We did not test the Windows version, but we hope it provides a better experience. There is also a conundrum: Bitcoin is needed to buy Bitcoin, due to the security deposit. Definitely not beneficial for adoption. Overall, there is room for improvement in terms of user experience, leading to a rating of 3/5.
Frequently Asked Questions (FAQ)
What is Bisq?
Bisq is a decentralized peer-to-peer cryptocurrency exchange platform that allows users to buy and sell cryptocurrencies with national currencies directly with each other, without the need for intermediaries or a central authority.
Is Bisq safe to use?
Bisq prioritizes security and privacy. It employs various measures such as encrypted communication, multi-signature escrow, and a decentralized arbitration system to ensure secure and trustless trading. However, it's also important to add that some years ago the exchange was hacked, resulting in a quite significant loss for several users.
How does Bisq handle disputes between traders?
Bisq has a decentralized arbitration system in place to handle disputes between traders. If a dispute arises, an arbitrator, who is a trusted third party, will review the evidence provided by both parties and make a fair decision. This ensures that disputes can be resolved fairly and impartially without relying on a centralized authority.