RoboSats Review 2023: P2P, TOR-Based Bitcoin Exchange
RoboSats is a secure P2P exchange that lets you buy/sell Bitcoin with fiat currency while maintaining high privacy. No KYC, TOR, and Lightning wallets only. It generates unique robot accounts for each transaction, and you can host your own copy on Node OS's.
RoboSats is a peer-to-peer exchange that enables to buy/sell Bitcoin with fiat currency, all while maintaining a high level of privacy and security. The platform employs TOR and only accepts Lightning wallets, ensuring a smooth and secure transaction process.
In addition to not requiring any personal information (there is no KYC), RoboSats generates a unique robot account for each transaction, further bolstering its commitment to privacy. Thanks to its extensive range of supported currencies and payment methods, the platform is a top choice in many countries and guarantees immediate arrival of your sats via the Lightning Network. With its open source nature, it's even possible to host your own copy on Node OS's such as Umbrel.
| FEATURE | DESCRIPTION |
| --- | --- |
| 🌐 Website | robosats.com (TOR) |
| 🏙️ Location | N/A |
| 📅 Year Founded | 2022 |
| 💰 Primary Token | Bitcoin (BTC) |
| 📈 Listed Crypto | 1 |
| 💱 Trading Pairs | More than 60 |
| 💵 Supported FIAT | USD, EUR, JPY and other 57 |
| 🌍 Supported Countries | Worldwide |
| 💰 Minimum Deposit | €/$10 |
| 💸 Deposit Fees | N/A |
| 💰 Daily Buying Limit | N/A |
| 💱 Trading Fees | 0.2% fee split between order maker and taker: 0.025% and 0.175% respectively |
| 💸 Withdrawal Fees | N/A |
| 📱 Mobile App | Only Web Based |
| 💬 Customer Support | N/A |
What is RoboSats?
Robosats is a p2p Bitcoin exchange platform that exclusively uses the Lightning Network for transactions. It allows users to buy and sell Bitcoin directly with each other without the need for a central authority.
RoboSats is open-source and can be accessed through the Tor network. It requires a few prerequisites, including the Tor browser, a supported Lightning wallet, and potentially Telegram for notifications.
The platform generates a temporary profile for each trade, which should be saved in case of any issues. The interface allows users to create orders to buy or sell Bitcoin, view order book information, and manage their trades.
How to set up an account with RoboSats
To use RoboSats, you need a few things. Let's go through a quick list of prerequisites:
Finding Robosats: A quick Google search will show you the Robosats Github repository. Scroll down a little bit, and you'll find the URL that allows you to access Robosats on Tor.
Tor Browser: You need Tor, which is a private browser. Download it from torproject.org/download for your system. We suggest to use Brave, which is very user-friendly and has a Tor module integrated. Download it on brave.com/download for your system.
Lightning Wallet: Robosats transactions are done via the Lightning network, so you need a Lightning wallet. The wallet must support Lightning, and not all wallet are supported. According to RoboSats, the most compatible are: Blixt, LND, Zeus, SBW, Intxbox, Wallet of Satoshi, Bitcoin Beach.
Telegram: Download Telegram to receive notifications if your offer has been accepted or if something has changed on Robosats.
Quick summary: You need Tor Browser, the Robosats website URL, and a Lightning wallet, probably Wallet Of Satoshi or Blixt. Telegram is optional, but it can send you notifications.
How to buy Bitcoin on RoboSats
Once you have all the prerequisites, let's dive into how to use Robosats. In the following steps, we will guide you on how to purchase Bitcoin on Robosats.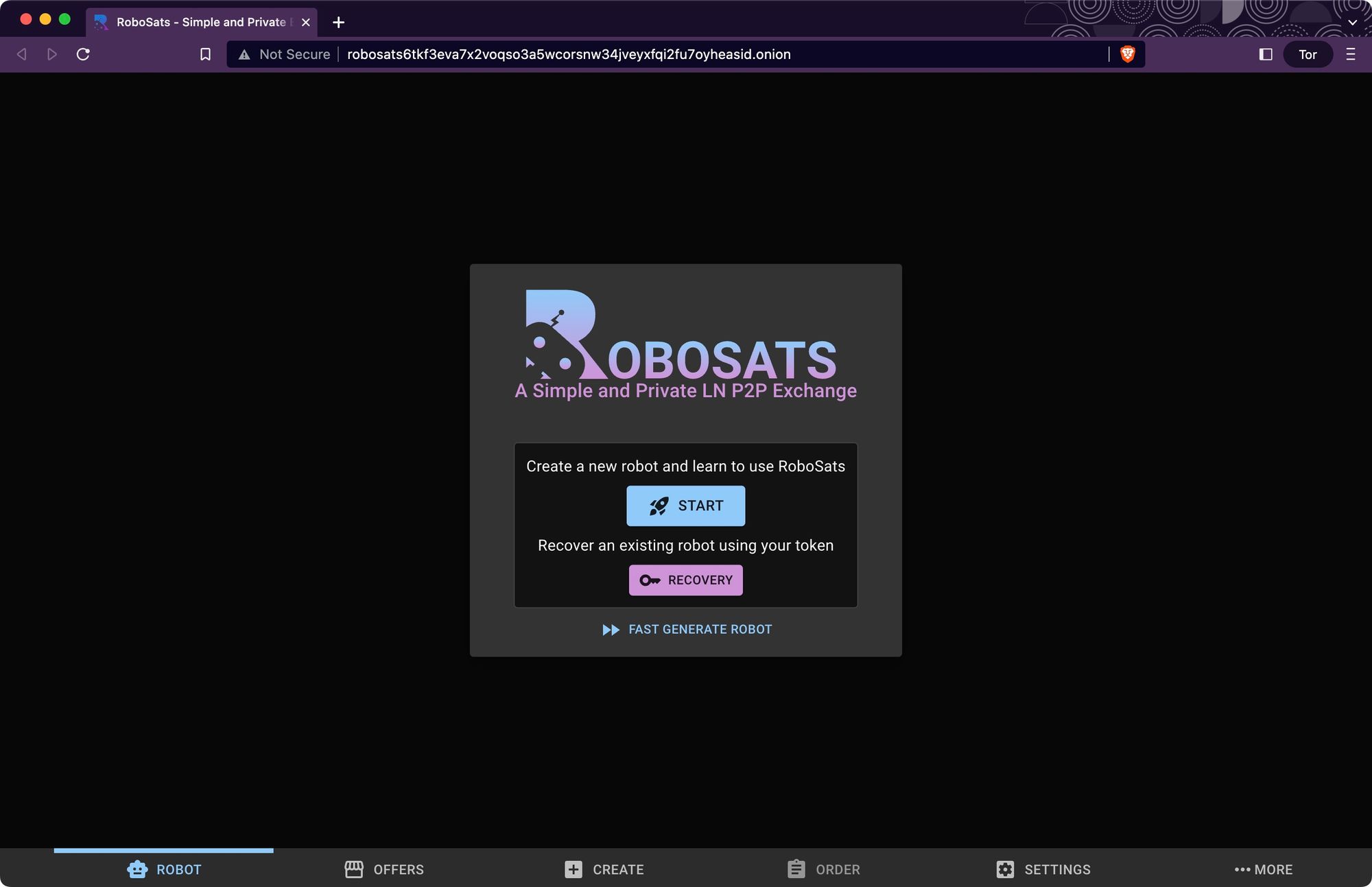 Open Tor Browser and go to the Robosats website.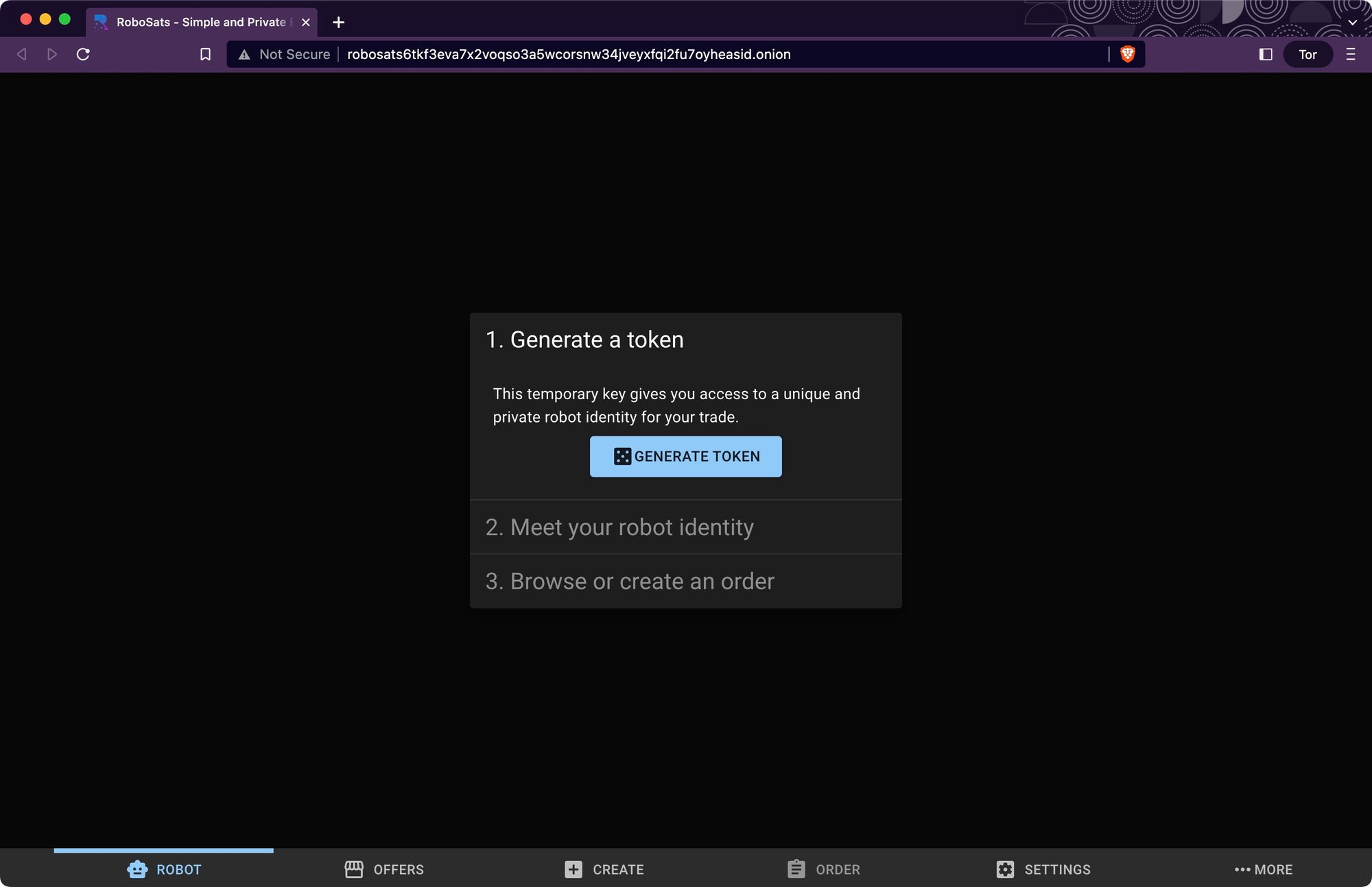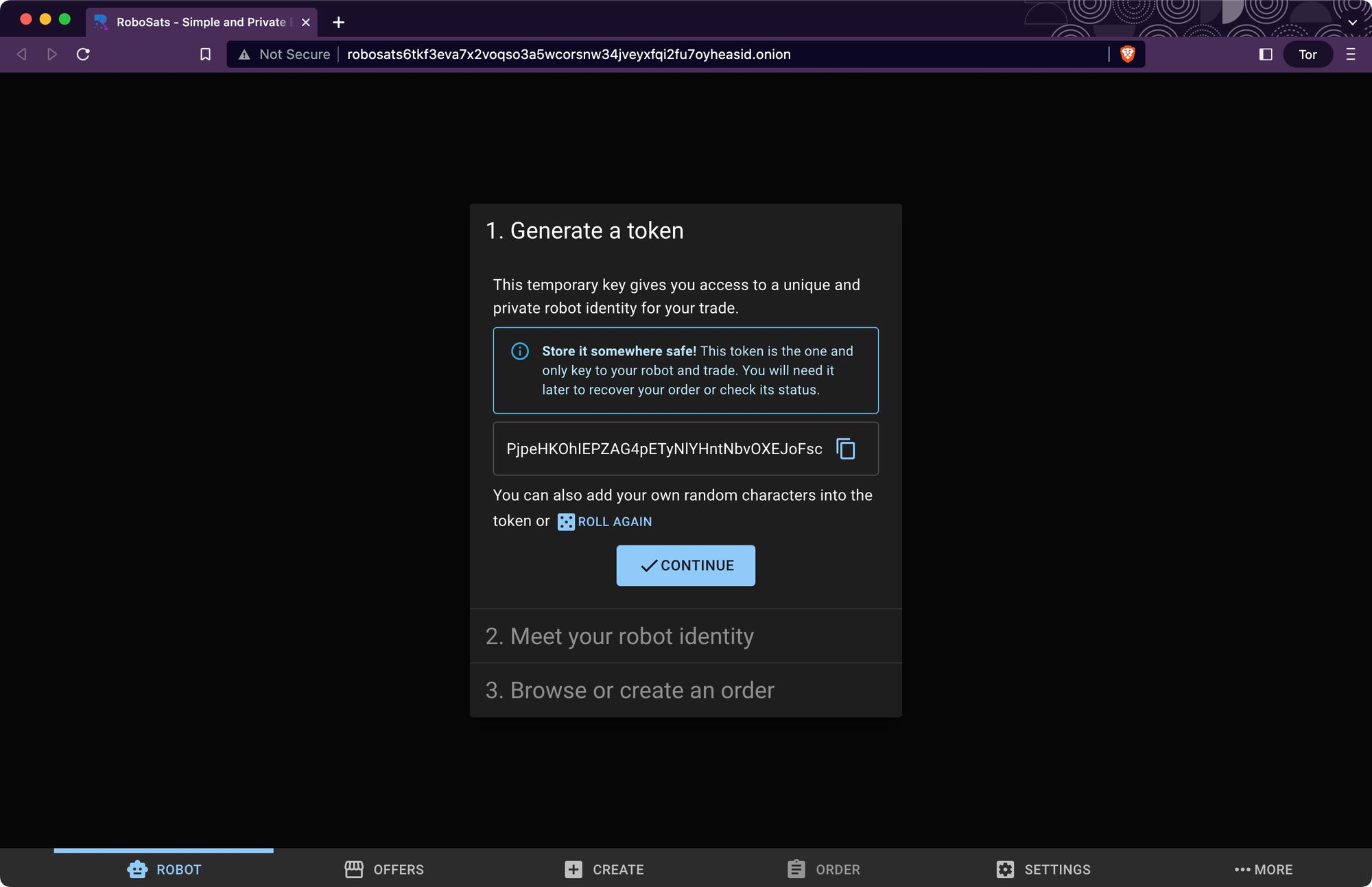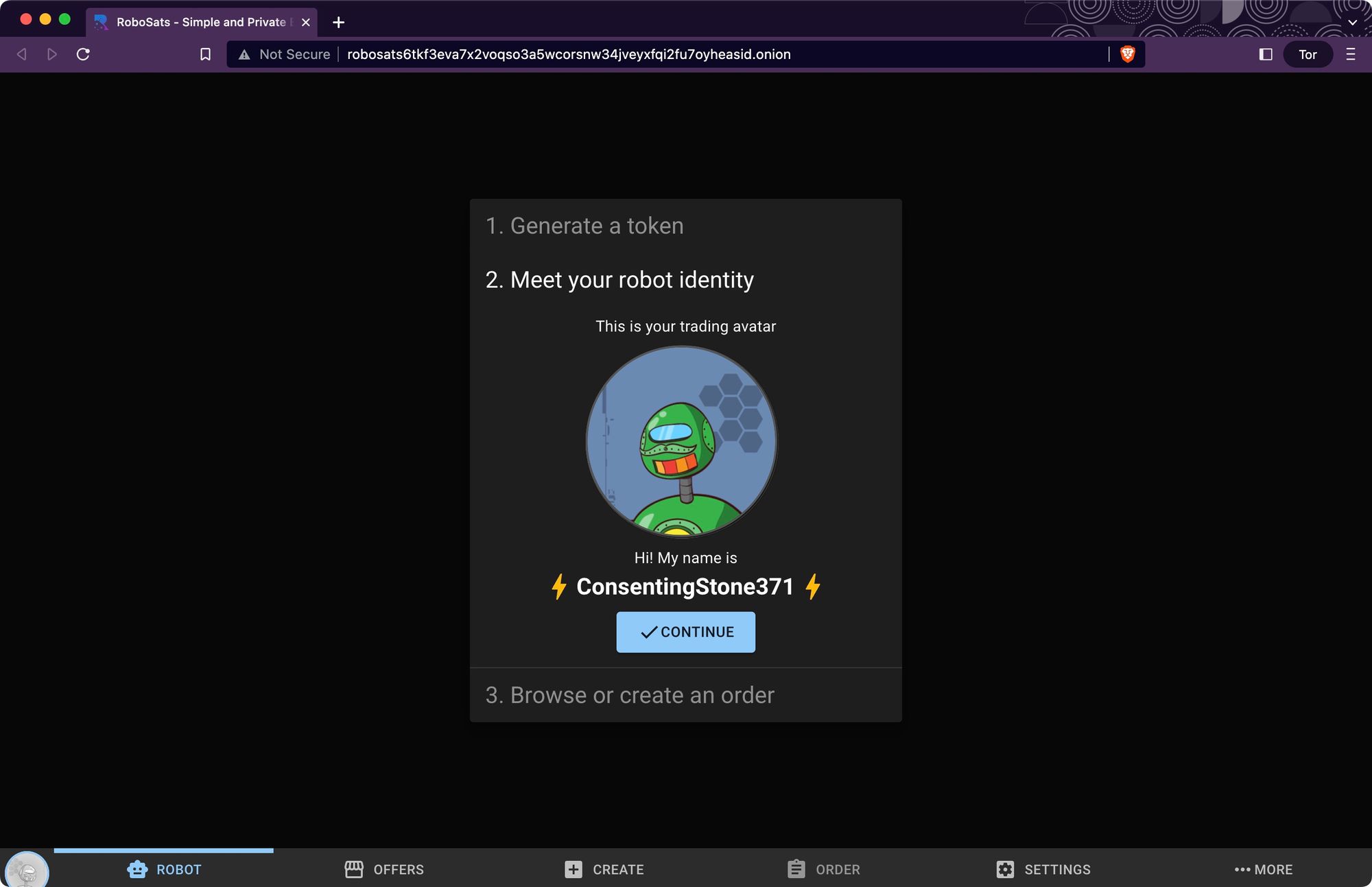 RoboSats will generate a new token (temporary key), a profile used only for this trade. It's basically a random pseudonym (nym). One profile equals one trade, but you can save the information about your nym by hitting the copy button and opening a text file.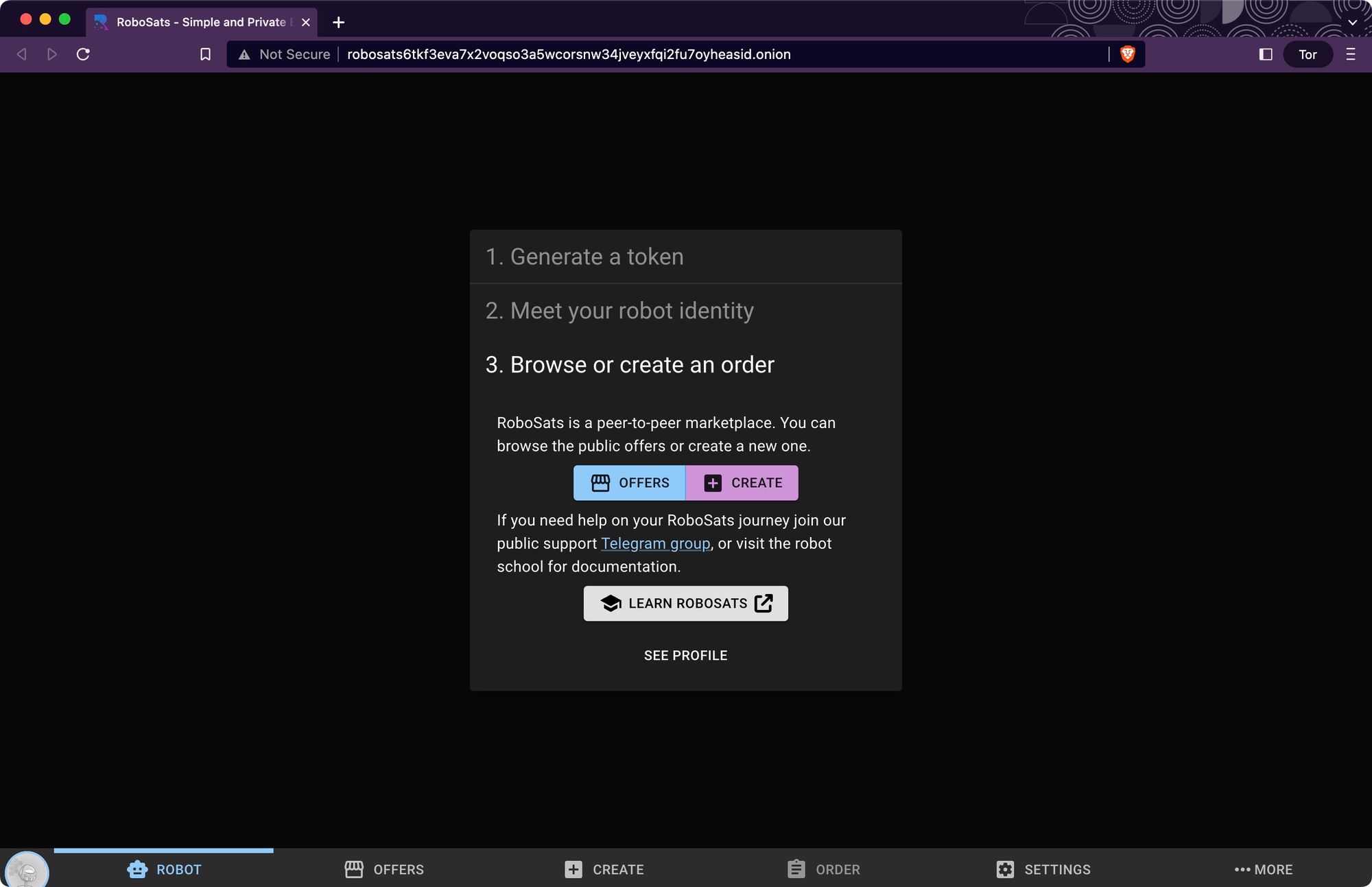 Click the "Make Order" button to buy or sell Bitcoin. You set the amount and price, and Robosats finds the matching order. You can also click on the "Offers" tab to find pre-existing Buy/Sell offers.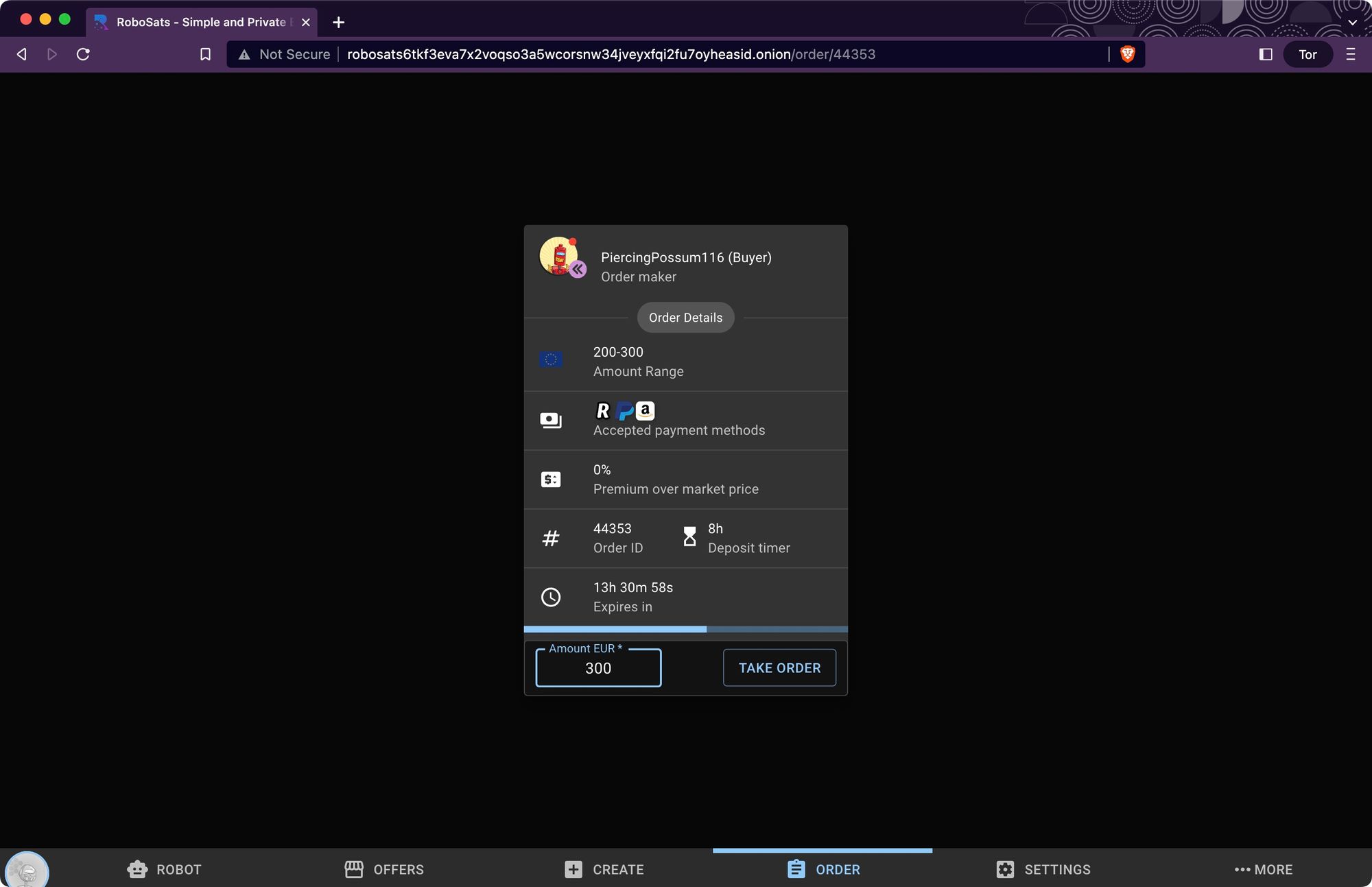 Click the "Order" tab to check your order(s) details and all the open orders on RoboSats. Enter the Amount and click on "Take Order".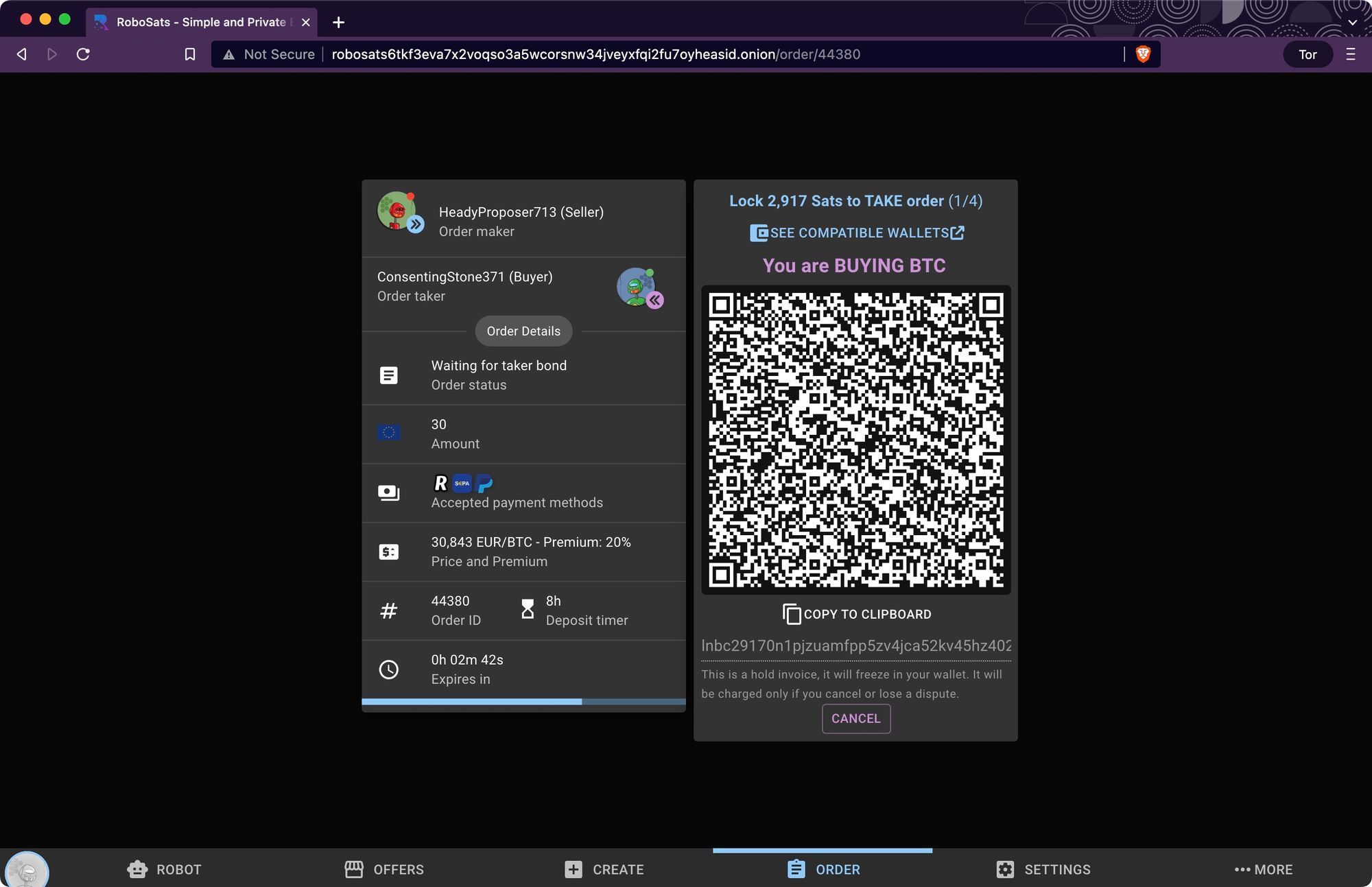 In order to protect both parties RoboSats implements an Hold Invoice, where 3% of the total amount of the trade is used as collateral (a small fidelity bond) and it will be charged only if you cancel or lose a dispute. For sellers, a trade escrow is also used to give an additional protection for the buyer from fraud or nonpayment. The escrow acts as an assurance of security, leveraging Lightning hold invoices for a trustless transaction between robots.
Once the bond is locked, the seller will be asked to lock the trade escrow hold invoice. If the seller is not as fast as the buyer, the buyer will have to wait until the seller locks the invoice. After the seller locks the satoshis, the buyer can send the fiat currency, but should only share the necessary information to avoid compromising their privacy.
The fiat exchange must be completed within 24 hours, and after the buyer sends the fiat, they should tap the "Confirm fiat sent" button. The seller will then confirm the receipt of the fiat, and the trade will be finished, and the buyer will receive the satoshis in their lightning wallet.
It is important to note that there is a time limit of 3 hours to submit the invoice and lock the trade escrow and that orders that expire due to missed time limits result in the loss of the fidelity bond. The platform has a memoryless chat system, and conversation history will be lost if the browser is refreshed.
That's it! With these easy steps, you can start trading Bitcoin on Robosats.
How RoboSats works?
The way RoboSats works is similar to Bisq or Peach, other famous Bitcoin p2p marketplaces, but with Lightning support and a web-based interface.
Market makers generate offers to buy or sell Bitcoin, specifying a payment method and a spread. Takers can then browse through the list of offers and choose the ones that appeal to them. Both parties need to put up 1% of the trade as collateral, which is refunded upon successful completion of the trade. Robosats utilizes hold invoices and cancels the collateral payment at the end of the trade. The trades are time-limited to three hours.
Once the collateral is deposited, the bitcoin seller sends the agreed-upon amount of Bitcoin to Robosats using another hold invoice. Robosats holds onto the payment until the seller confirms receiving the payment or opens a dispute. If there is no dispute within the six-hour time limit or the seller confirms the receipt of the payment, Robosats settles the seller's payment and pays the Bitcoin buyer, concluding the trade.
Buyers and sellers are rated using a rating system, and the service features a convenient no-login-required setup where users are given a new identity every time they visit the site. The identity is tied to a password-like string that the site generates, and users can restore their old identity by entering it into a box on the homepage. The site is called Robosats because all users are given a random robot avatar (nym).
Is RoboSats Safe ?
It's difficult to definitively say whether Robosats can be considered safe or not. However, there are a few factors to consider.
On the positive side, Robosats uses Lightning Network technology, that even if it's off-chain, allows for fast and cheap transactions. It also appears to prioritize privacy, with anonymous transactions through Tor and no KYC or account requirements. Additionally, the use of hold invoices helps minimize custody and trust requirements, which can help reduce the risk of fraud or theft.
However, on the negative side, Robosats is a web-based service, which means that it could potentially be censored, shut down, or experience issues with the escrow. It's also not very clear how Robosats will solve the disputes. While the use of hold invoices does help mitigate some of the risk, it's still important to be aware of the potential risks involved with using P2P services. The tradeoff for anonymity may be higher prices and a slight increase in risk, but it could still be worth it.
RoboSats Pros & Cons
| Pros | Cons |
| --- | --- |
| ✅ Simple and quick on-/off-ramp for Bitcoin-to-fiat exchanges | ❌ Not a clear disputes resolution system |
| ✅ Uses Lightning hold invoices to minimize custody and trust requirements | ❌ 3% Hold Invoice might be too high |
| ✅ Suited for onboarding users with smaller amounts of funds | ❌ Not all Lightning wallets are custodial and/or are fully supported |
| ✅ Anonymous with no KYC or account required | ❌ Limited to Bitcoin-to-fiat exchanges, not crypto-to-crypto |
| ✅ No installation required, accessible via Tor-enabled browser | ❌ May not be suitable for larger sums or novice users |
| ✅ Deterministically generated avatars help users stick to best privacy practices | ❌ BTC prices are higher compared to centralized exchanges |
Bottom line
RoboSats is a very private Bitcoin-to-fiat on-/off-ramp that is suited for onboarding users with smaller amounts of funds. It is anonymous, with no KYC or account required, and can be accessed via a Tor-enabled browser without the need for installation.
The use of Lightning hold invoices minimizes custody and trust requirements, and deterministically generated avatars help users stick to best privacy practices. However, it is not a decentralized platform and is a centralized service that could be censored or shut down.
It is limited to Bitcoin-to-fiat exchanges and may not be suitable for larger sums. The system appears to give priority to users with more experience. The 3% Hold Invoice might also be too high for some people and the off-chain system with Lightning and centralized hosting may deter Bitcoin enthusiasts.
Robosats Evaluation
Reputation: RoboSats is a relatively new player in the Bitcoin peer-to-peer marketplace industry. However, it has garnered a positive reputation among users for its approach to Bitcoin p2p exchange, earning it a 4/5 rating.
Technology: RoboSats' advanced hold invoices using the Lightning Network has set it apart from other Bitcoin marketplaces, offering a unique and efficient user experience, earning it a 5/5 rating.
Customer Service: RoboSats doesn't provide any Customer Service, and the dispute section in the documentation is incomplete, we have to rate it with the lowest score because of this 1/5.
Fees: RoboSats offers competitive fees at around 0.2% per transaction, which is lower than the industry standard. In addition the 3% Hold Invoice, even if it's refunded if everything goes right, might be too high. Resulting in a 3/5 rating for fees.
Ease of Use: The user interface of RoboSats may not be intuitive for all users, and the concept of hold invoices could potentially be challenging for those unfamiliar with the platform. 3/5.
Frequently asked questions (FAQ)
What is RoboSats
RoboSats is a cryptocurrency exchange platform that allows users to buy, sell, and trade a variety of digital assets.
What are the fees associated with using RoboSats?
RoboSats charges a 0.2% fee of the total trade amount, which is split between the order maker and the order taker who pay 0.025% and 0.175%, respectively.
Does RoboSats offer customer support??
At the moment of writing, there is no clear indication of a Customer Service. There is also no clear indication about a dispute system. The support