Peach Bitcoin Review 2023: Buy & Sell Bitcoin Without KYC
In this review, we will examine Peach Bitcoin, a new and easy to use mobile application that enables users to purchase and sell Bitcoin without the need for Know Your Customer (KYC) compliance.
What is Peach Bitcoin?
With Localbitcoins shutting down, the need for innovative methods of purchasing and selling Bitcoin and Crypto without relying on exchanges becomes even more critical.
Often disregarded, self-custody is a viable alternative to centralized exchanges. Peach Bitcoin's p2p marketplace app for purchasing BTC from others, is a noteworthy solution that we'll review in this guide.
👉 Click here to download Peach and get 100 free Peach Points.
| Feature | Description |
| --- | --- |
| 🌐 Website | Peachbitcoin.com |
| 🏙️ Location | Neuchâtel, Switzerland |
| 📅 Year Founded | 2022 |
| 💰 Primary Token | BTC |
| 📈 Listed Crypto | 1 |
| 💱 Trading Pairs | 1 |
| 💵 Supported FIAT | EUR, CHF, GBP, SEK |
| 🌍 Supported Countries | Worldwide |
| 💰 Minimum Deposit | No minimum deposit |
| 💸 Deposit Fees | No deposit fees |
| 💰 Daily Buying Limit | Varies based on verification level |
| 💱 Trading Fees | Buy: Maker/Taker $4.00 for $200 Bitcoin purchase or 2%, Sell: 0% |
| 💸 Withdrawal Fees | Low withdrawal fees |
| 📱 Mobile App | Available for iOS and Android |
| 💬 Customer Support | 24/7 customer support available through email and discord. |
Peach Bitcoin Review
Peach exclusively supports the buy and sell of Bitcoin (BTC) and is currently available to European users with EUR, CHF, GBP, and SEK currencies.
Payment methods accepted include Sepa, PayPal, Revolut, Wise, Amazon vouchers, and more.
The company's advertisement touts a centralized Bitcoin headquarters in Switzerland, where it maintains its funds in Bitcoin without the need for a traditional bank account.
Peach Bitcoin Features
Peach Bitcoin offers a plethora of features that continuously expand with each app update:
Buy and Sell Bitcoin: Users can purchase Bitcoin up to a maximum of 1000 CHF (or the equivalent in euro) per day and 100,000 CHF per year.
Fiat Onramp/offramp: Peach Bitcoin accepts all major European currencies for fiat onramp/offramp transactions. Bank transfers, including SEPA, Faster Payments, Straksbetaling (NOK), and National Bank Transfer, and more are supported. Additionally, online wallets such as Advcash, PayPal, Revolut, Wise, N26, Friends 24, Skrill, Neteller, and Paysera are accepted. Surprisingly, even Amazon Gift Cards are a valid payment method. Moreover, during Bitcoin meetups and events, cash transactions are facilitated through a specific meetup mode.
Non-Custodial Wallet Integration: Users can integrate their non-custodial wallets by adding a specific address. Verification requires signing a message from the wallet to demonstrate ownership.
Liquid Network Integration for USDT Peer-to-Peer Trading: Peach Bitcoin offers seamless integration with the Liquid Network, enabling users to engage in peer-to-peer trading with USDT (Tether). Users can easily swap BTC/L-USDT with just a few clicks, and the process is entirely KYC-free.
How to set up an account with Peach
To download the app, click on the following link:
👉 Click here to download Peach and get 100 free Peach Points.
For Android users, simply download the app. iOS users must first download TestFlight and then drop an email to

[email protected]

in order to receive the access token;
If asked, during the sign up phase, type BLOCKDYOR in the referral field and you'll get 100 free Peach Points;
Choose a payment method during your first use, or set up multiple options in advance.
How to buy Bitcoin on Peach
After you have downloaded and set up, Peach will look like something like this: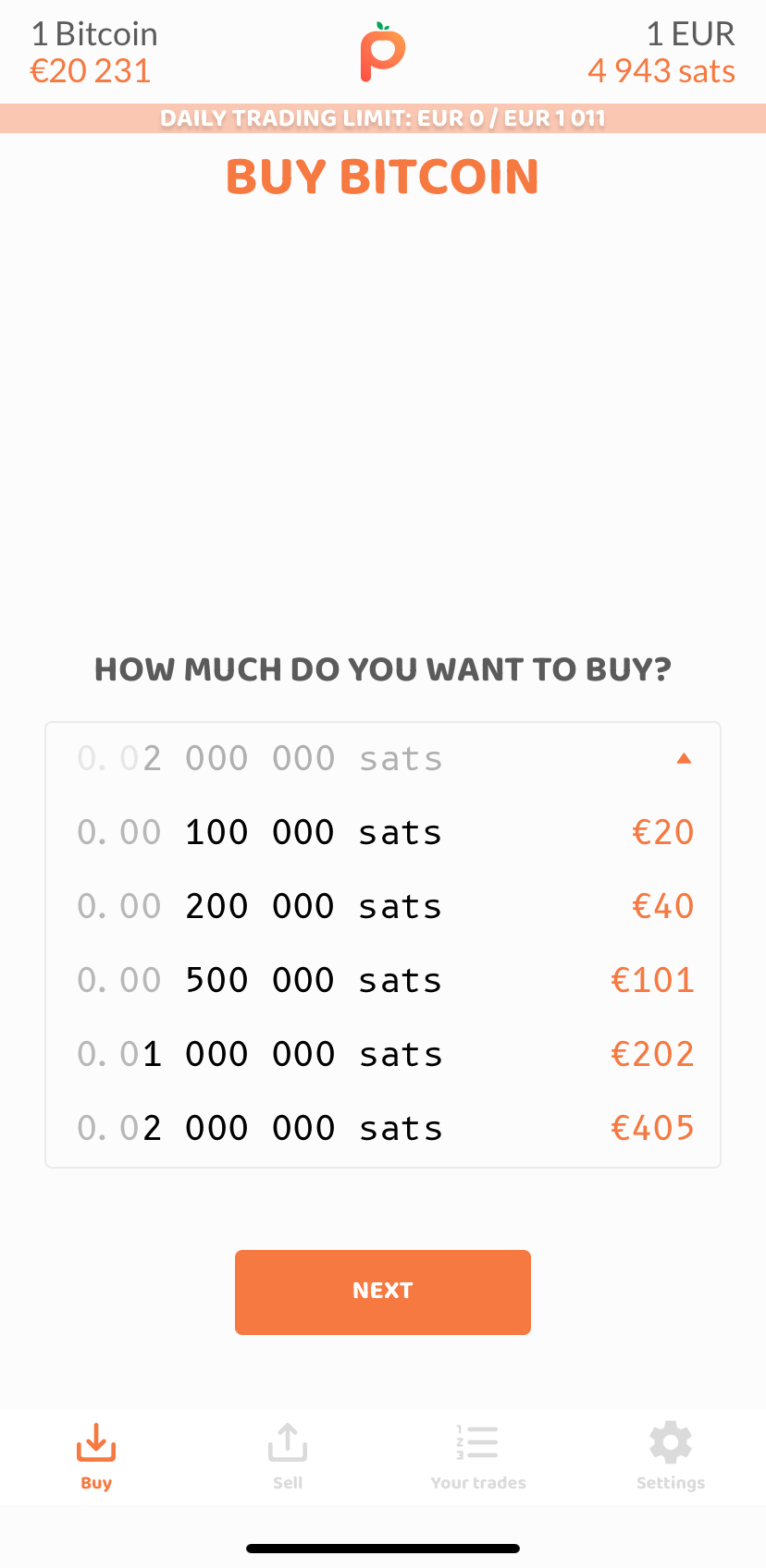 Peach employs Satoshi (the smallest unit of Bitcoin) as a benchmark for measuring the quantity of Bitcoin purchased, which may be challenging for novices.
However, it is the appropriate method to adopt, due to the volatility of Bitcoin (a satoshi is fixed in relation to Bitcoin) allowing for very precise transactions.
💡
Example: 0.01 Bitcoin is equal to 1 million satoshis, while 0.02 Bitcoin is equal to 2 million satoshis, and so on. Adopting this numerical system makes it easier to comprehend.
In the home, you can enter the desired amount of sats you would like to buy. Follow these steps to do the first transaction:
Input your address to receive purchased bitcoins;
Available offers will appear once setup is complete;
Swipe through options and choose preferred offer.
During our test, the price of the typical BTC offer was from 5% to 10% over the KYC prices, but bear in mind that they can be higher (or lower) at the seller's discretion. Check seller rating, reference currency, and payment method before accepting an offer.
Offers cannot be modified, but before a match is found they can be deleted at any time. You can also leave a review for the seller after completing the purchase. You can view the transaction history in the Trades menu.
Upon a successful match, the buyer is given a 12-hour window to make payment for the displayed amount. The buyer's score is determined by how quickly payment is made, with faster payments resulting in higher rankings. Peach utilizes a ranking algorithm to evaluate user actions and ensure user protection.
How Peach works?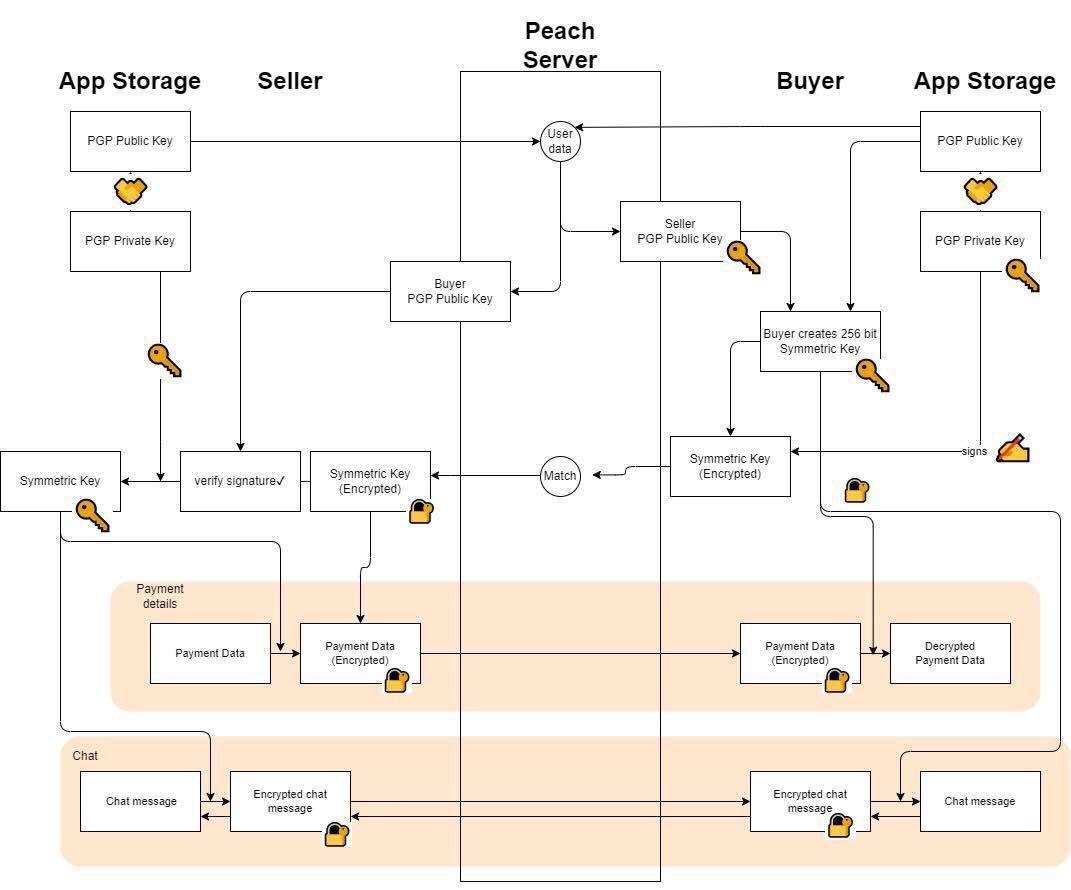 Peach is a mobile-only application that matches individuals interested in buying or selling Bitcoin through peer-to-peer (P2P) means.
The Bitcoin is secured in a 2 of 2 multi-signature escrow transaction between Peach and the seller.
💡
What's an escrow? In preparation for a transaction, tokens are transferred to an escrow, a third-party wallet. The escrow retains the deposited tokens until the payment requirements are met. The transaction parties must guarantee that both the agreed-upon product or service is delivered and that payment is rendered.
The buyer sends fiat payment to the seller and receives Bitcoin to their own address. Users have access to private encrypted chat to communicate during a trade, and Peach functions as a mediator in case of any dispute.
The platform currently supports four currencies: Euro, British Pound, Swiss Franc, and Swedish Krona. Numerous payment options, including bank transfers, online payment services (like Revolut), and gift cards, are also available.
User registration does not need the sharing of any KYC or other personal information as user data is encrypted and stored on the user's device. Peach retains only a hash of the device ID.
Is Peach Safe ?
Peach prioritizes user security by only requesting minimal user information and implementing safety measures for P2P exchanges.
Users must follow guidelines for self-custody, such as keeping their wallet safe and avoiding sharing their seed phrase at all costs.
In case of disputes, Peach has an arbitrator system in place. Peach is registered in Switzerland, and adheres to Swiss law, which limits trades without KYC to CHF 1000/day and CHF 100,000/year.  The first two trades are limited to CHF 50 for added security, and "account signing" is used to protect against malicious actors.
Every account, to be considered trusted, the payment details must remain unchanged and trades must be completed successfully.
Peach Pros & Cons
| Pros | Cons |
| --- | --- |
| ✅ No KYC | ❌ USD Not Supported |
| ✅ Intuitive and easy to use | ❌ Fees can be high |
| ✅ Escrow system | ❌ iOS version needs an invitation |
| ✅ On-chain | ❌ Only available in EEU and Switzerland |
Bottom line
Peach is a peer-to-peer Bitcoin marketplace built on blockchain technology, conveniently accessible through a user-friendly iOS/Android application.
With the disappearing of trailblazers like Localbitcoins, such services have become critical in democratizing Bitcoin usage, as they eliminate the need for intermediaries and allow more individuals to access the cryptocurrency market.
Peach's decentralized platform enables secure, direct transactions between buyers and sellers, promoting a decentralized and inclusive financial ecosystem.

Peach Evaluation
Reputation: Peach, an up-and-coming Bitcoin peer-to-peer marketplace, is still in beta and emerging in the world of Bitcoin-only P2P marketplaces. Nonetheless, it has a positive reputation among users who are eager to use this new app, earning it a 5/5 rating.
Technology: Peach's decision to make it exclusively smartphone-based has simplified its development and created a seamless user experience, earning it a 4/5 rating.
Customer Service: the marketplace provides a live chat with the seller and a direct email to Peach for customer service, though during our test, we did not always receive a fast response to our inquiries, resulting in a 4/5 rating for customer service.
Fees: For buying Bitcoin, the Maker/Taker fee is $4.00 for $200 Bitcoin purchase or 2%. For selling selling is 0%. On top of this there is also the premium of higher Bitcoin prices compared to KYC exchanges. Resulting in a 2/5 rating for fees.
Ease of Use: Peach is straightforward and easy to use, though the process of requesting the beta from iOS can be cumbersome, earning it a 4/5 rating for ease of use..
Frequently asked questions (FAQ)
What is Peach Business Model?
Currently, during beta testing, Peach does not earn any commissions. However, once the app is ready for full release, it will charge an additional commission for transactions, which is standard for P2P marketplaces.
Who created Peach?
Peach is developed by @proofofsteph and @soulexporter, who can be found on Twitter.
What if the seller doesn't send me the Bitcoins I paid for?
While disputes should typically be resolved between the two parties involved, Peach staff is available to step in and assist if necessary. In the event that a dispute cannot be resolved, Peach staff will intervene and likely release the Bitcoins stored in escrow to settle the matter.