Hodl Hodl Review 2023 Buy Bitcoin Peer To Peer Securely
Hodl Hodl it's an interesting platform which offers direct P2P trading without intermediaries. In this review we will analyze its main functions, explaining how to sign up and buy Bitcoin from one of the many sellers.
What is Hodl Hodl?
Hodl Hodl is a peer-to-peer Bitcoin exchange. It offers a unique approach to trading. It operates on both the on-chain and Lightning Network, allowing users to buy and sell Bitcoin. Notably, Hodl Hodl stands out by not holding user funds; instead, it utilizes a multisig escrow system.
The platform supports various payment methods and currencies, ensuring speedy and secure transactions through multisig smart contracts. Users retain control over their escrow keys.
As Hodl Hodl doesn't hold any funds, it avoids complex compliance procedures, making trades occur directly between users' Bitcoin wallets.
Over time, Hodl Hodl has gained popularity among privacy-conscious traders due to its appealing advantages: anonymity, global P2P trades without KYC/AML requirements; affordability, with a low fee of 0.6% shared equally between trade parties (maximum 0.3% per trade); and security provided by multisig (P2SH) contracts, granting users control over escrowed funds.
👉 Click here to sign up on Hodl Hodl and get a discounted trading fee of 0.55% for life.
| FEATURE | DESCRIPTION |
| --- | --- |
| 🌐 Website | hodlhodl.com |
| 🏙️ Location | Taunton, UK |
| 📅 Year Founded | 2016 |
| 💰 Primary Token | Bitcoin (BTC) |
| 📈 Listed Crypto | 1 |
| 💱 Trading Pairs | BTC/USD or BTC/EUR, BTC/AUD, BTC/GBP, or any other local currency |
| 💵 Supported FIAT | USD or EUR, AUD, GBP, or any other local currency |
| 🌍 Supported Countries | Worldwide |
| 💰 Minimum Deposit | N/A |
| 💸 Deposit Fees | Free |
| 💰 Daily Buying Limit | N/A |
| 💱 Trading Fees | From 0.55% to 0.6% shared equally between trade parties (maximum 0.3% per trade) |
| 💸 Withdrawal Fees | Transactions to Hodl Hodl users' wallets: Free. Transactions to external cryptocurrency wallets: Subject to Bitcoin network fees. |
| 📱 Mobile App | Web |
| 💬 Customer Support | Email, Telegram |
How Hodl Hodl Works?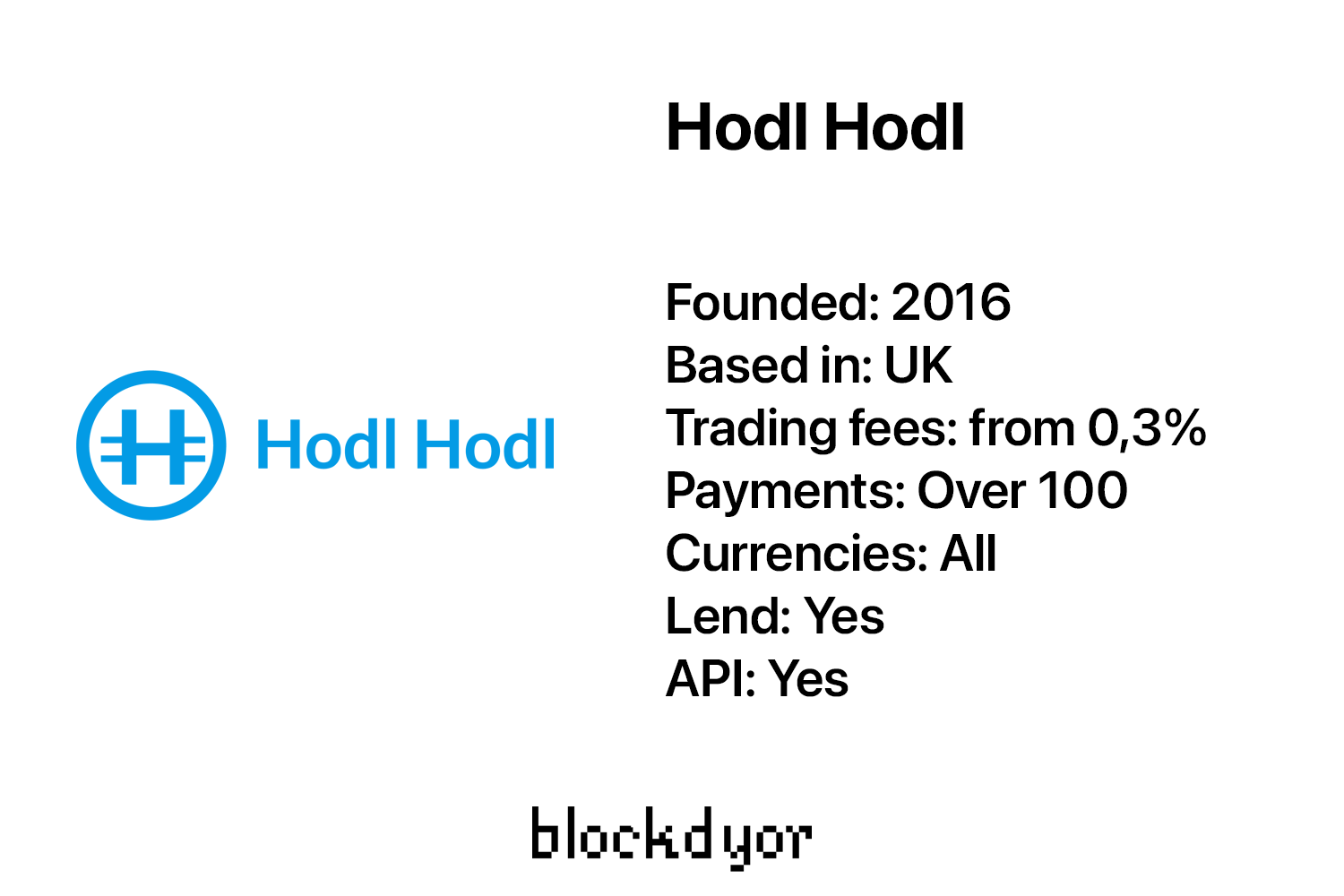 Hodl Hodl creates a direct peer-to-peer trading environment, eliminating the need for intermediaries.
When two parties engage in a trade, Hodl Hodl generates a distinctive multisig escrow Bitcoin address.
The seller transfers Bitcoin directly  from their wallet to this address, securing the funds in escrow. Simultaneously, the buyer sends fiat to the seller.
Upon confirmation of the escrowed Bitcoin, the seller releases it using their payment password, and the buyer promptly receives the Bitcoin directly into their wallet.
This straightforward process can guarantee a direct and secure transaction flow on Hodl Hodl.
Hodl Hodl Features
Hodl Hodl is primarily a Bitcoin peer-to-peer (P2P) trading platform, offering a range of services that have evolved over the years.
Although its features are focused on trading Bitcoin, Hodl Hodl has expanded its offerings to include P2P lending and integration with the Lightning Network. Let's have a look at the main features provided by Hodl Hodl.
P2P Marketplace (Buy/Sell)
Hodl Hodl serves as a connection point for buyers and sellers in a P2P marketplace. It enables users to purchase Bitcoin using over 100 payment methods and virtually any fiat currency available worldwide.
Lend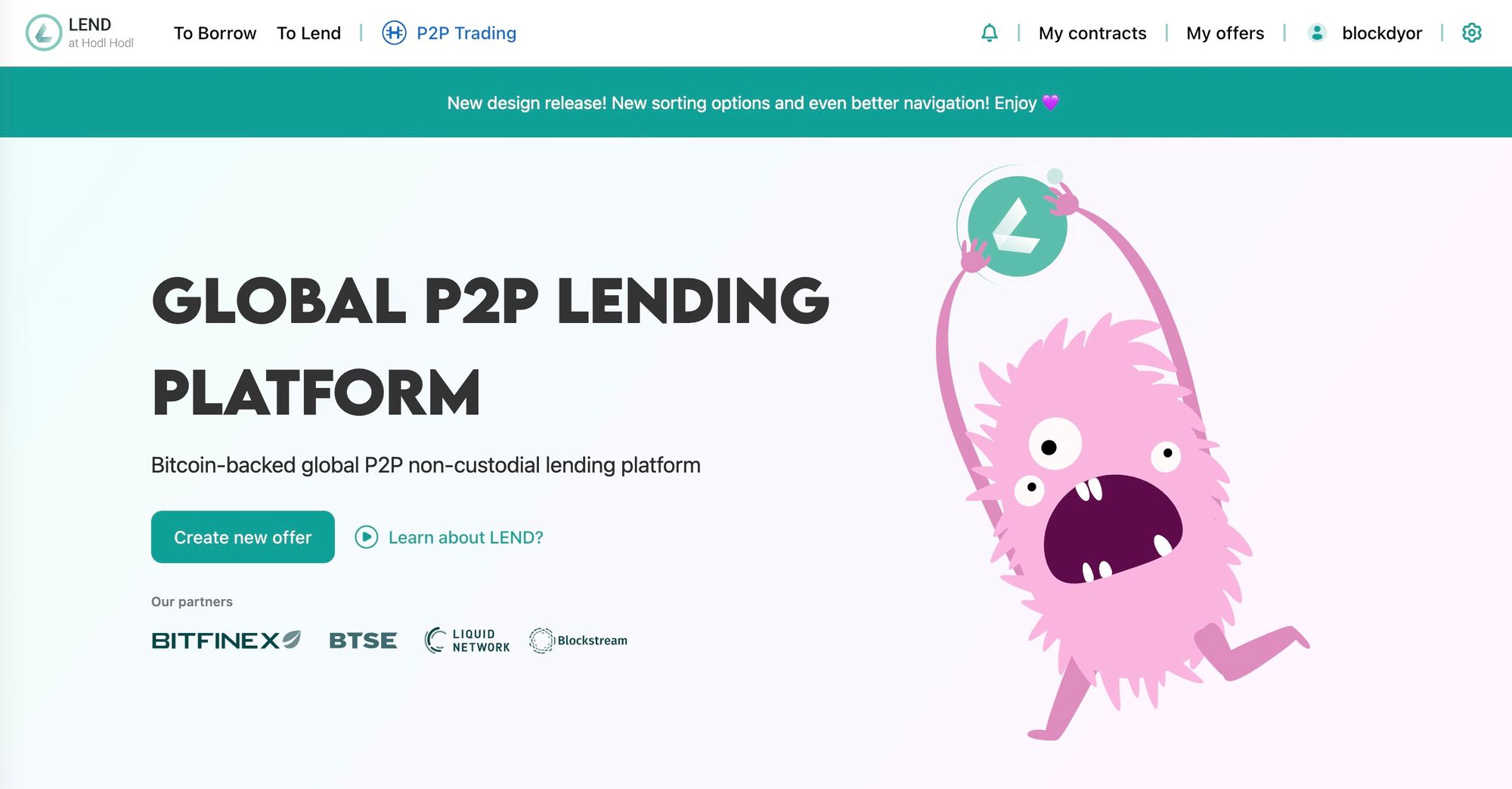 Hodl Hodl's lending feature allows users to anonymously lend or borrow funds on their own terms. When utilizing this service, Hodl Hodl generates a unique multisig escrow address.
The borrower places Bitcoin collateral in escrow directly from their wallet, while the lender transfers the loan amount to the borrower based on the agreed-upon contract.
Upon repayment, the borrower returns the loan amount plus interest to the lender's wallet, and the lender releases the Bitcoin back to the borrower's wallet.
The lend function gives also the possibility to lend out or borrow not just Bitcoin, but also other cryptos or even sidechains such as L-BTC and Liquid USDT on the Liquid Network.
Escrow
The escrow on Hodl Hodl operates through a P2SH Bitcoin multisignature address, which requires a specific number of keys to sign a transaction. For Hodl Hodl, 2-out-of-3 keys are required to sign the release transaction. When two parties create a contract, Hodl Hodl generates a unique multisig escrow Bitcoin address.
The seller then sends Bitcoin from their wallet to this escrow, and while the Bitcoin is locked in escrow, the buyer sends fiat currency to the seller. Upon receipt of the payment password from the seller, the Bitcoin is released from escrow, and the buyer receives it into their wallet.
Security & Anonymity
Hodl Hodl prioritizes both security and anonymity. To ensure user confidence, a testnet is available, allowing users to familiarize themselves with the platform without using real money.
Hodl Hodl's security measures are bolstered by the use of escrow. The platform does not require user verification, ensuring anonymity. Users retain control over the keys to the funds held in escrow, enhancing overall security.
Hodl Hodl's implementation of multisig (P2SH) contracts contributes to the platform's secure environment.
API
Hodl Hodl provides APIs that enable users to fully manage their contracts on the platform via an application programming interface. With the API, users can trade without the need to visit the website directly.
Access to the API is available in the "API Access" tab within the "profile settings" section of the platform.
This API integration has been highlighted in a blog post by Jimmy Song, who emphasized its significance for those seeking alternatives to LocalBitcoins and the potential it holds for creating region-specific Bitcoin liquidity.
How To Sign Up on Hodl Hodl
Signing up for Hodl Hodl is quite easy and hassle-free. There are no KYC (Know Your Customer) requirements, and the platform doesn't ask for your name or any other sensitive information.
To begin your journey with Hodl Hodl, simply click on the link below. By using this link, you will automatically receive a discounted trading fee of 0.55% for life.
👉 Click here to sign up on Hodl Hodl and get a discounted trading fee of 0.55% for life.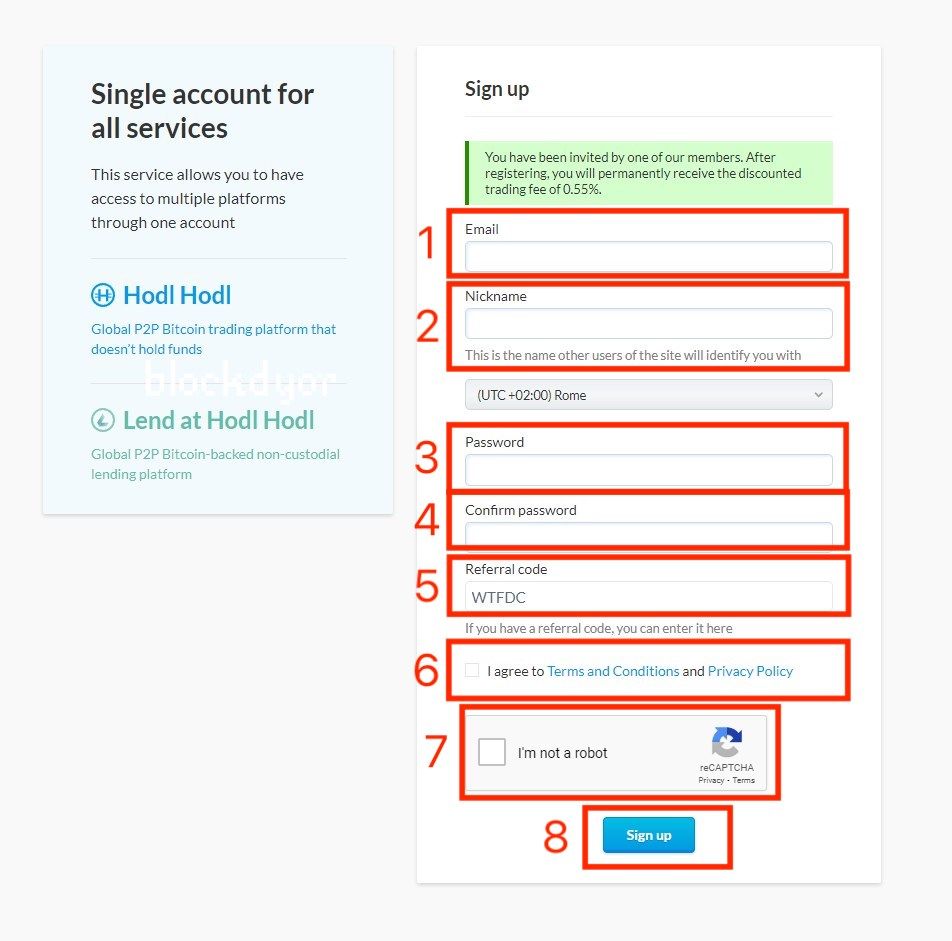 Once you click on the link, you will be directed to a page similar to the one we just shared. Please follow these steps to complete the sign-up process.
Enter your valid email address, as you will need to confirm it later (1). Choose a nickname (2). Select a strong password, ideally using a password manager like Bitwarden or a similar program (3). Re-enter the chosen password for confirmation (4). If it's not already there, make sure to enter the referral code WTFDC to obtain  a lifetime discounted trading fee. Tick the box to indicate your agreement with the terms and conditions (5). Agree to the t&c (6). Complete the reCAPTCHA form to verify that you are not a robot (7). Finally, click on the Sign Up button to complete the registration process (8).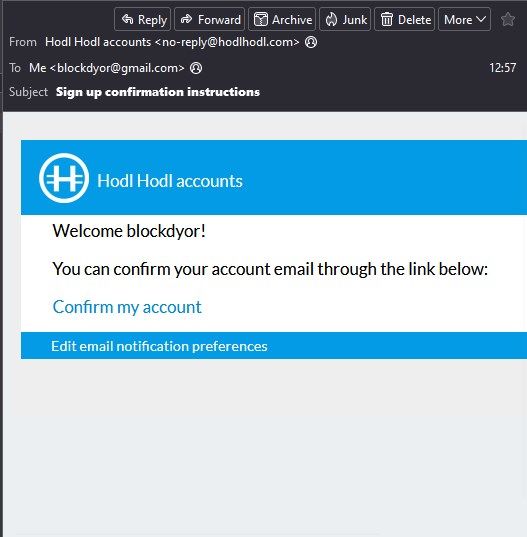 Now go in your inbox and find the Hodl Hodl mail you just received. If you cannot find it in the inbox, search also in the Junk folder. To confirm your email adress, click on Confirm my account.
After clicking on the link in the email confirmation, you will be able to access Hodl Hodl.
How to buy Bitcoin on Hodl Hodl
Buying p2p Bitcoin on Hodl Hodl is a quite simple process, thanks to the variety of existing offers. Additionally, you have the option to create your own offer.
In this brief guide, we will explore how to view the available offers, apply filters, and successfully purchase Bitcoin without undergoing KYC verification.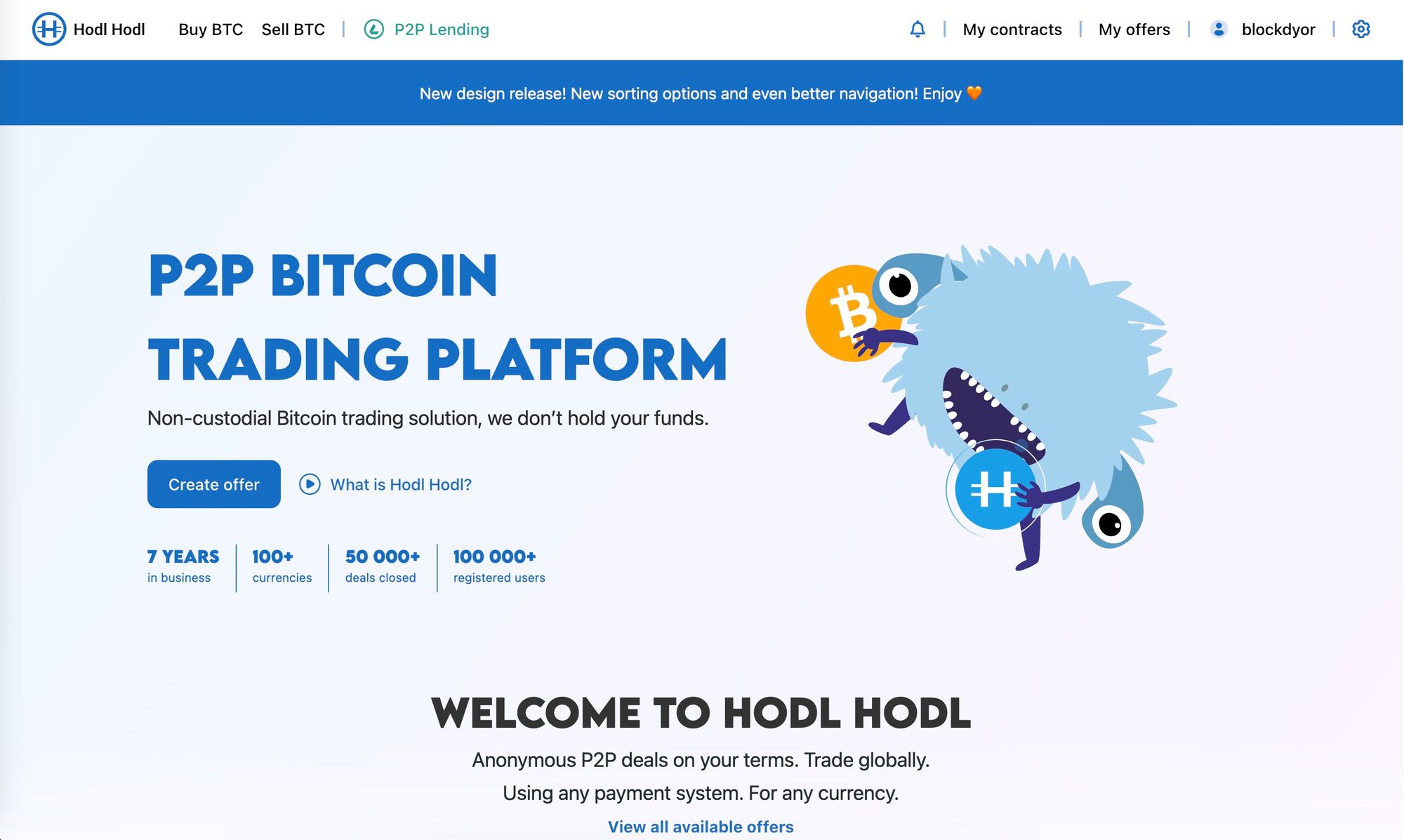 Once you have successfully created an account, confirmed it via email, and logged in, you will be directed to a page that bears a resemblance to the one I just posted.
First of all, you should setup your BTC receiving address and payment password. To do so, click on your username on the top right. Then go to Dashboard > Settings.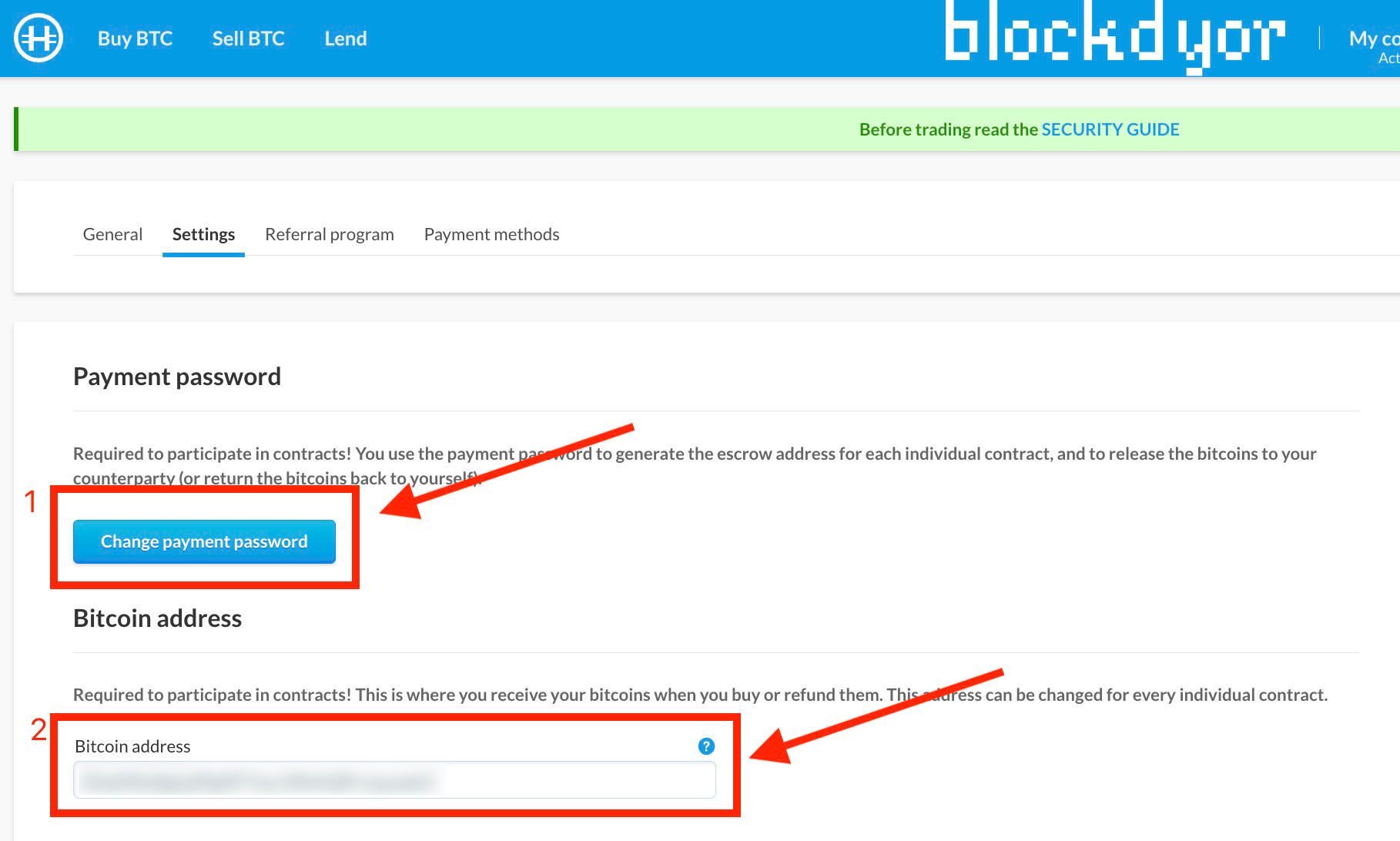 Now you can add or change your payment password and insert your Bitcoin address where you want to receive your funds. When you are done click on the blue Save changes button at the end of the page.
💡
To enhance anonymity, utilize a new and unused address from your wallet.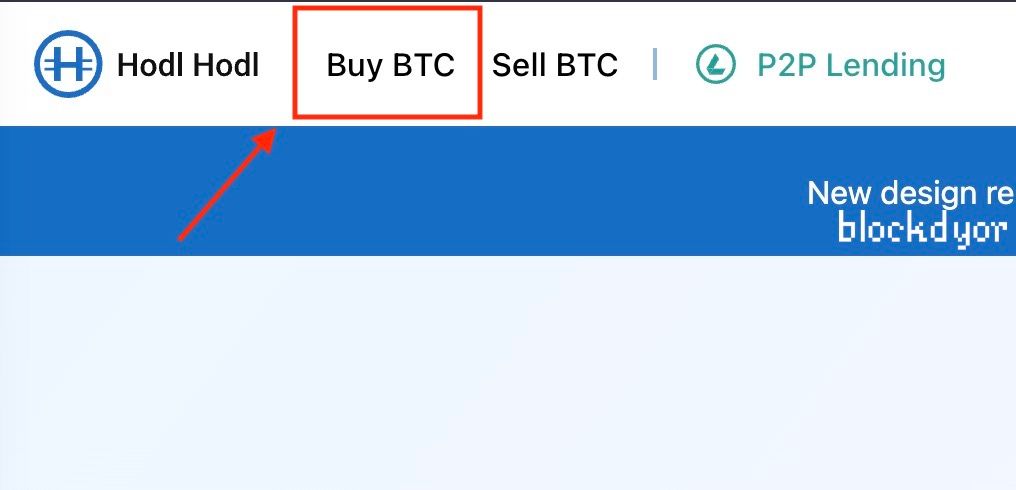 Now you can go back in the Hodl Hodl home page. On the top left, you will see a Buy BTC button. Click on it to go over the page of the available peer-to-peer offers.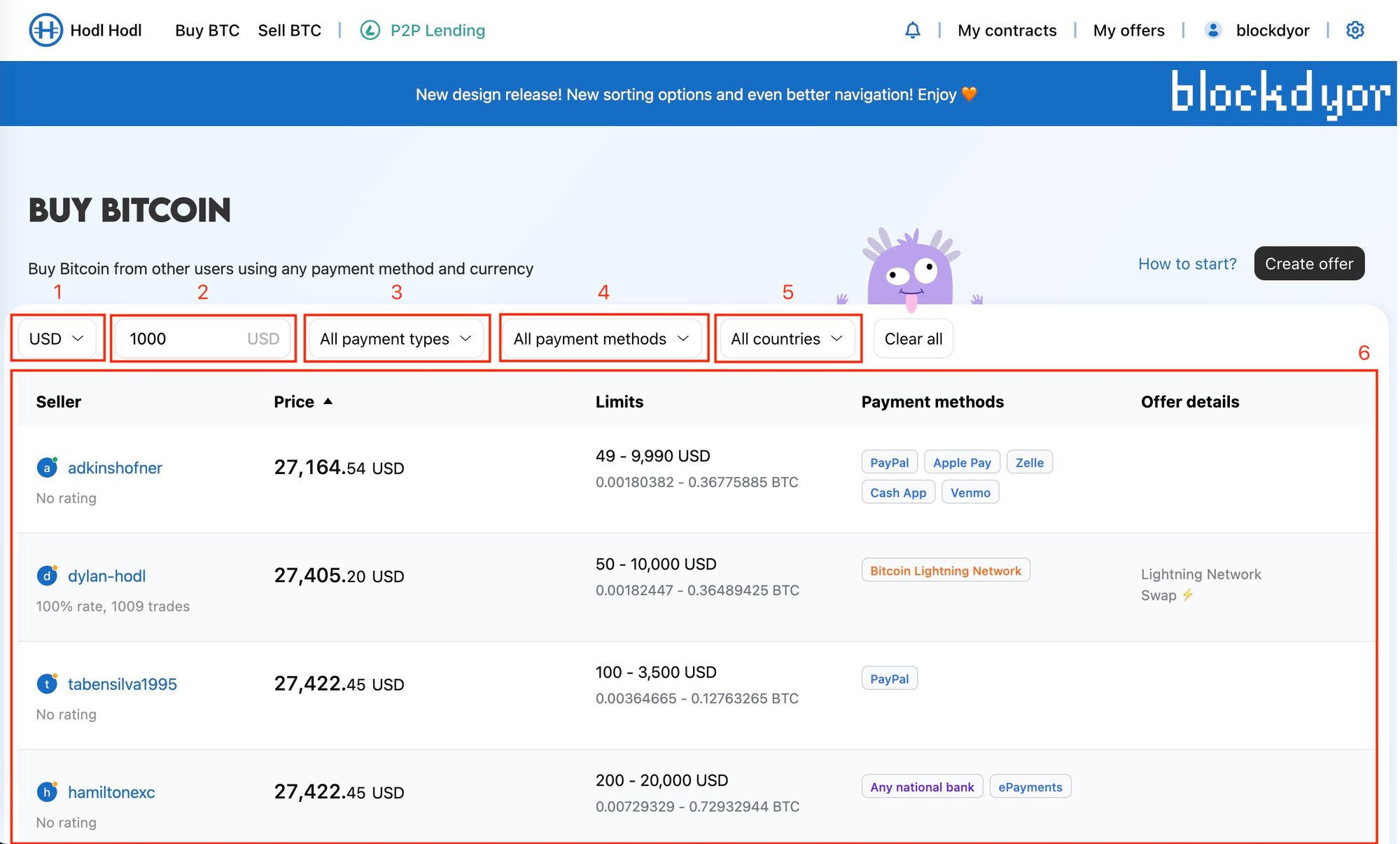 On the Hodl Hodl platform, you will find the page displaying the available Bitcoin offers. To customize your search, follow these steps: Choose the fiat value you want to purchase BTC with (1). Specify the desired quantity of Bitcoin you wish to buy (2). Select the applicable payment types (3). Indicate the preferred payment methods (4). If you prefer buying Bitcoin with cash or local payment methods, specify the countries (5). As you fine-tune your search, you will observe the listings updating accordingly (6).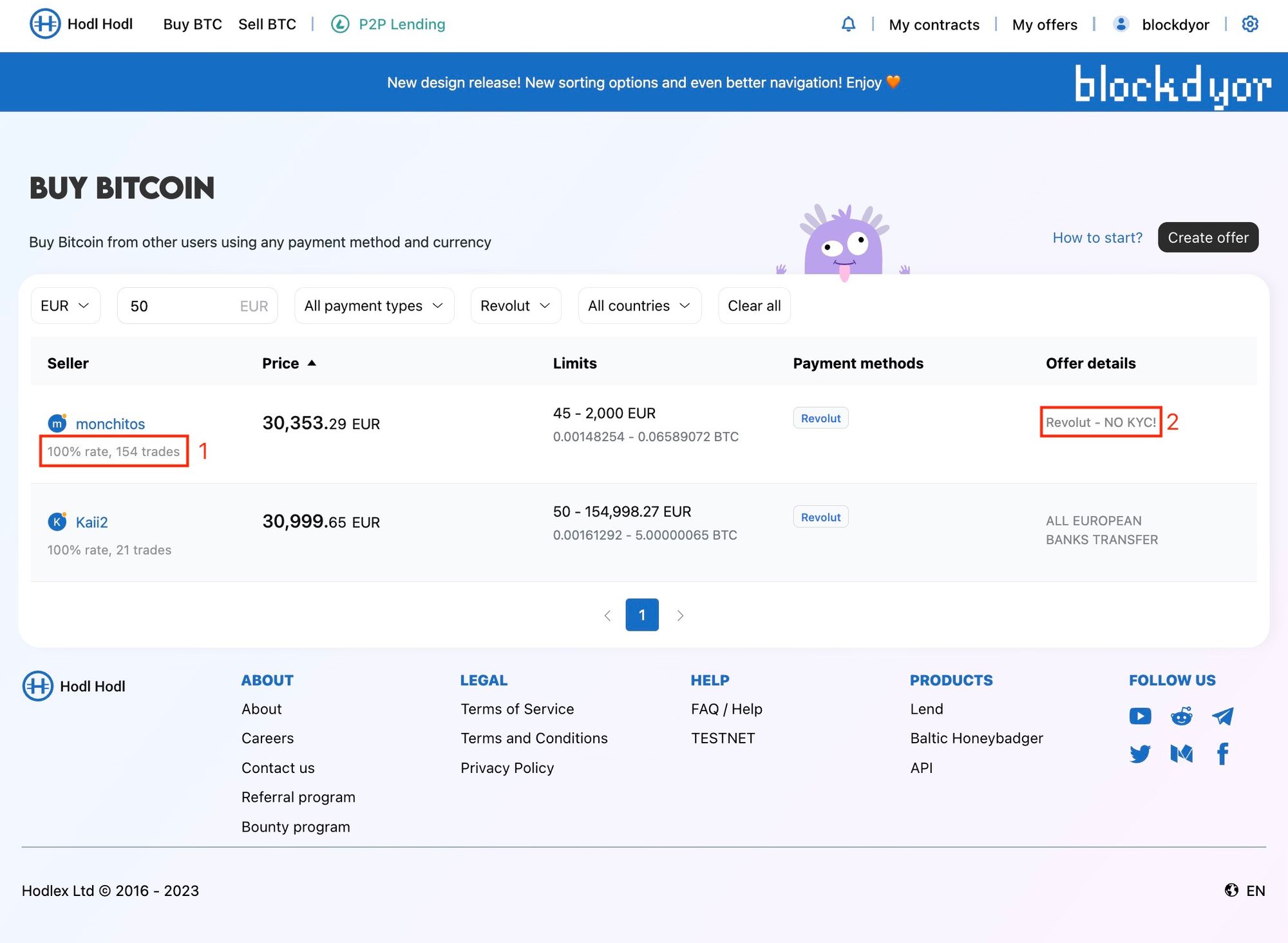 After filtering the search parameters, you can dig deeper into the seller's rating and trade history. Prefer a seller with a 100% rating and a substantial number of trades (1). This indicates that they have had no issues in the past.
In this particular instance, we have selected a seller who meets these criteria and is offering 50 EUR with Revolut. Notably, this seller does not require any Know Your Customer (KYC) verification (2).
Click on the listing's row to proceed forward.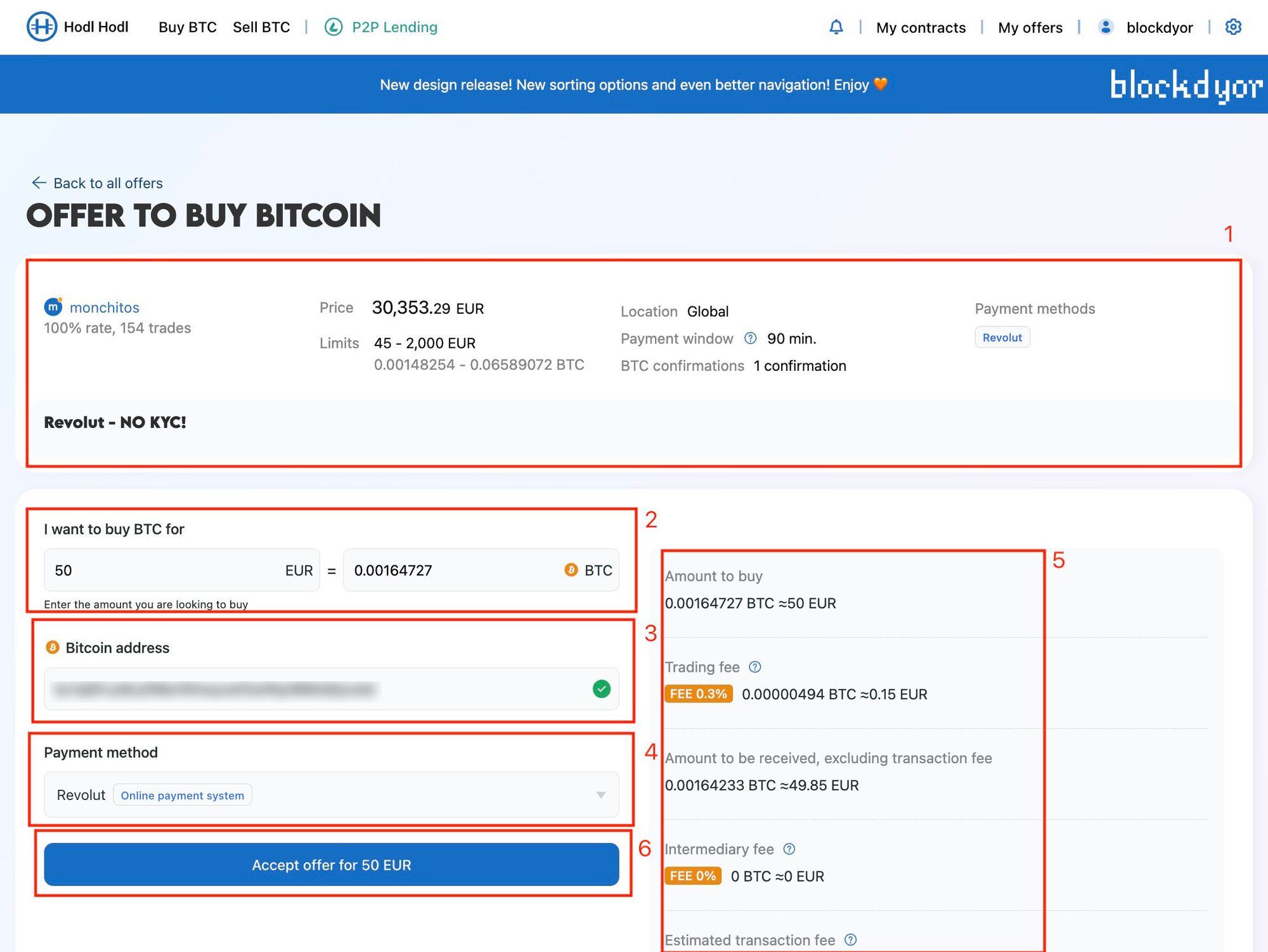 The offer page will now open. In this view you can see an overview for the offer informations (1). The buy quantity (2). The Bitcoin address where you want to receive your funds (3). The payment method (4). Fees (5).
When you are ready, accept the offer by clicking on the blue button Accept offer (6).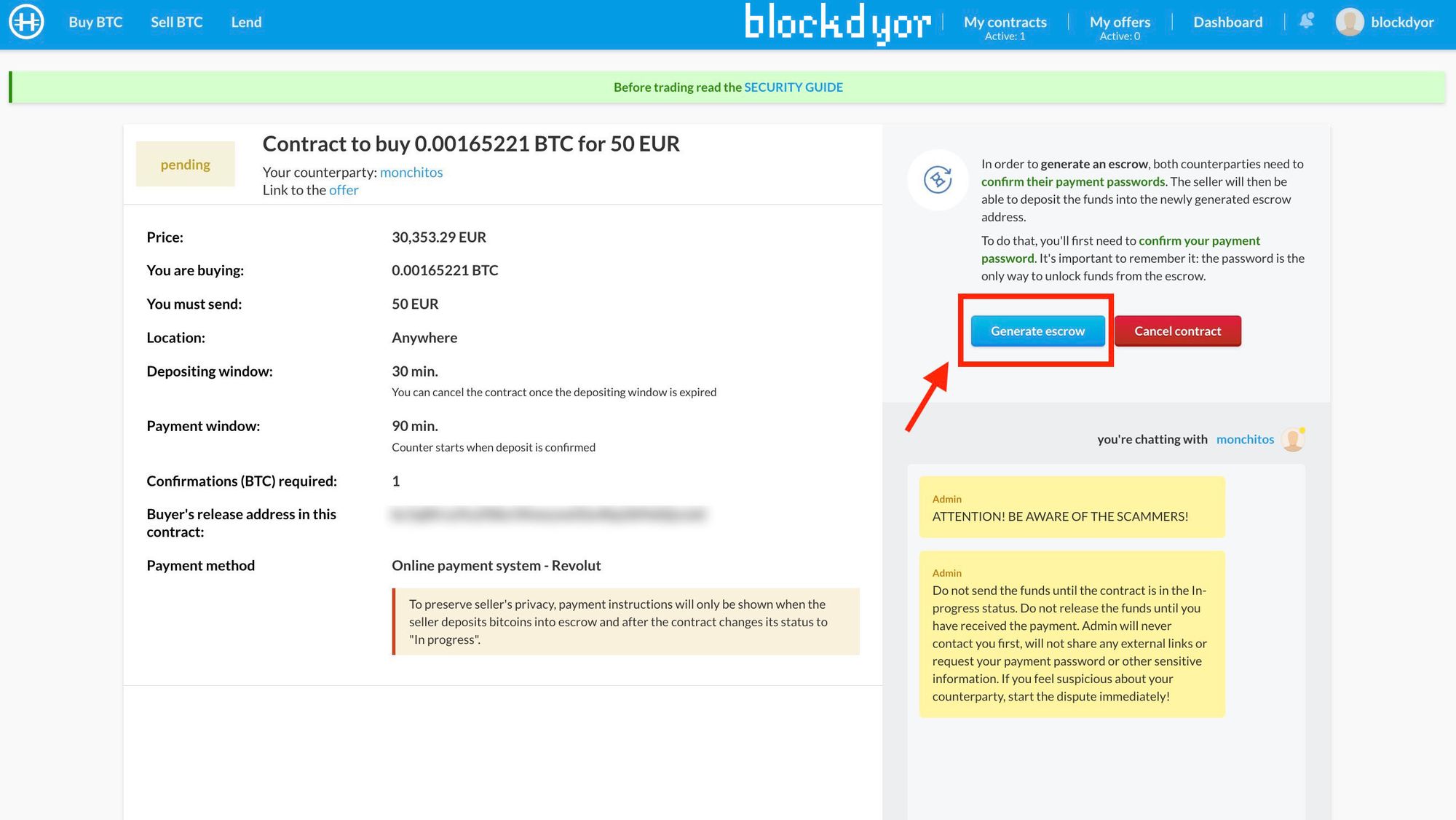 This is the contract page where you can chat with the seller, review all the informations. After you have verified, you can generate the escrow by clicking on the blue Generate escrow button.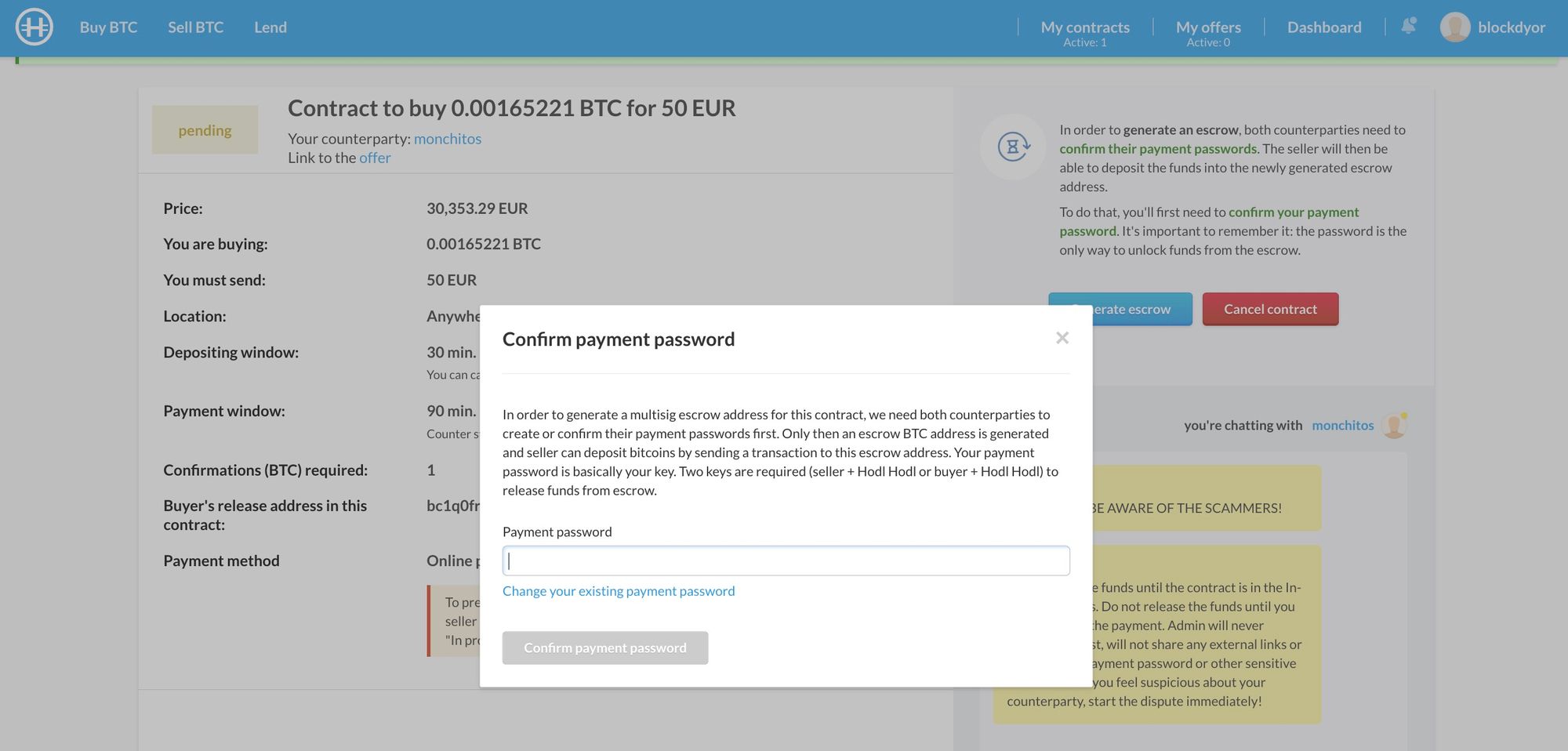 Enter your payment password, then click on Confirm payment password to finalize.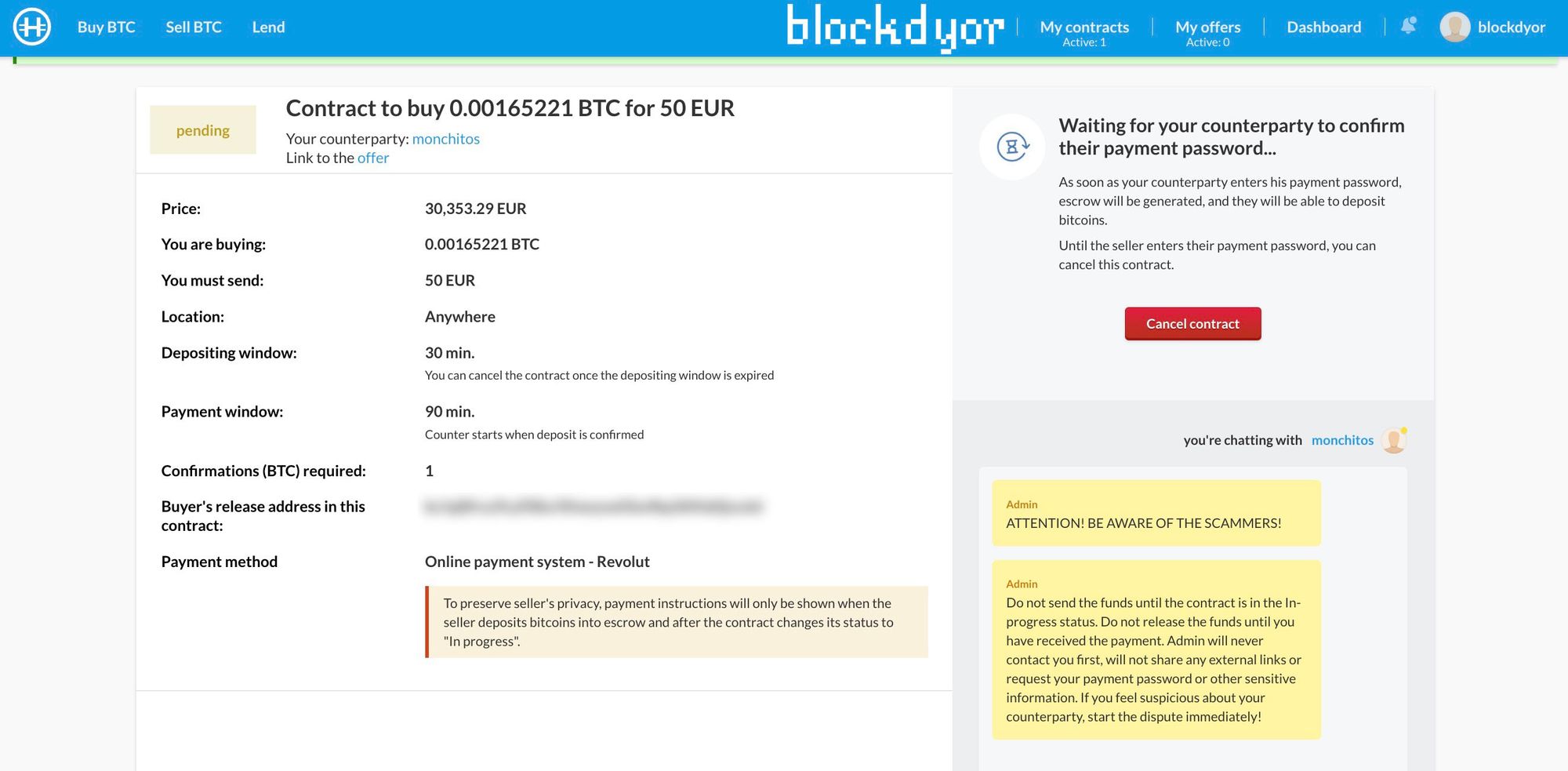 Now, it's time for the seller to deposit Bitcoin in the multisig escrow.
After, the buyer sends the payment to the seller using the payment method specified in the contract.
The contract is completed, the buyer receives the Bitcoin. The funds are released from the multisig escrow and sent to the receiving address of the buyer.
Hodl Hodl Reviews
In the wake of LocalBitcoins' closure, Hodl Hodl has emerged as one of the most enduring peer-to-peer Bitcoin marketplaces, gaining popularity as an advocate of the non-KYC (Know Your Customer) culture within the Bitcoin community.
This platform has garnered significant affection from users and has established itself as a trustworthy ambassador of the decentralized ethos.
One of the key factors contributing to Hodl Hodl's popularity is its robust and secure escrow system, widely regarded as one of the best in the industry.
Users commend the platform for its reliability, emphasizing the peace of mind that comes with knowing their transactions are conducted within a safe environment. Should any disputes arise, the platform's administrators are consistently praised for their impartiality and professionalism throughout the resolution process.
For those considering engaging in trades on Hodl Hodl, it is commonly recommended to thoroughly review the seller's rating before initiating a transaction. This practice ensures a better understanding of the seller's reputation and helps users make informed decisions.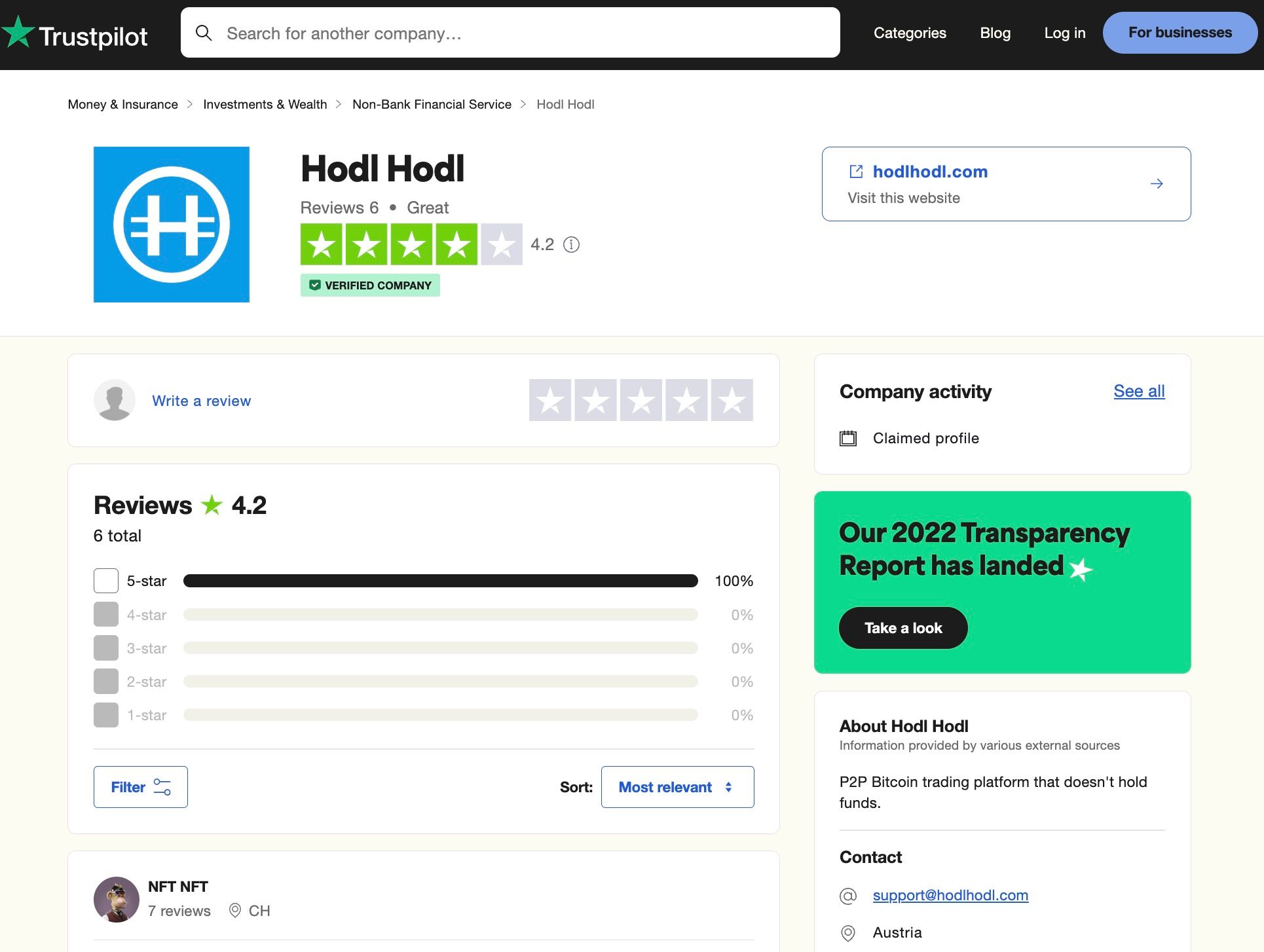 Although reviews on Trustpilot are relatively scarce, they overwhelmingly reflect a positive sentiment towards Hodl Hodl. These reviews further reinforce the platform's credibility and highlight the overall satisfaction of its user base.
Who created Hodl Hodl?
Hodl Hodl is a service provided by Hodlex Ltd. The company was founded in 2016 by Max Keidun and it's based in Taunton, UK.
Hodl Hodl has successfully secured funding during the years through two rounds, consisting of one seed round and one early-stage round.
In total, the company has attracted investment from seven investors, including six institutional investors and one angel investor.
Hodl Hodl Alternatives
Competitors in the P2P Bitcoin exchange landscape are locked in fierce competition, and we have thoroughly tested several platforms that closely resemble Hodl Hodl. Here are two notable alternatives:
Peach Bitcoin: Considered a direct competitor to Hodl Hodl, Peach Bitcoin is a user-friendly app available for both iOS and Android platforms. It offers the convenience of purchasing Bitcoin without the need for KYC verification. During our testing, we found that Peach Bitcoin had fewer listings requiring KYC compared to Hodl Hodl, which was a notable advantage. This aspect made the user experience more streamlined and less cumbersome.
AgoraDesk: Another well-established player in the P2P Bitcoin exchange arena is AgoraDesk. It shares similarities with Hodl Hodl, offering a comparable app experience. However, it should be noted that AgoraDesk tends to have slightly higher fees for sellers. Despite this, it remains a popular alternative for users seeking P2P Bitcoin trading solutions. It's worth mentioning that AgoraDesk supports more than just Bitcoin, which may be a drawback for purists who prefer a Bitcoin-only platform.
These platforms serve as strong contenders in the p2p Bitcoin exchange market, providing users with viable alternatives to Hodl Hodl. Each has its unique strengths and considerations, providing different preferences and priorities among Bitcoin traders.
Hodl Hodl Customer Service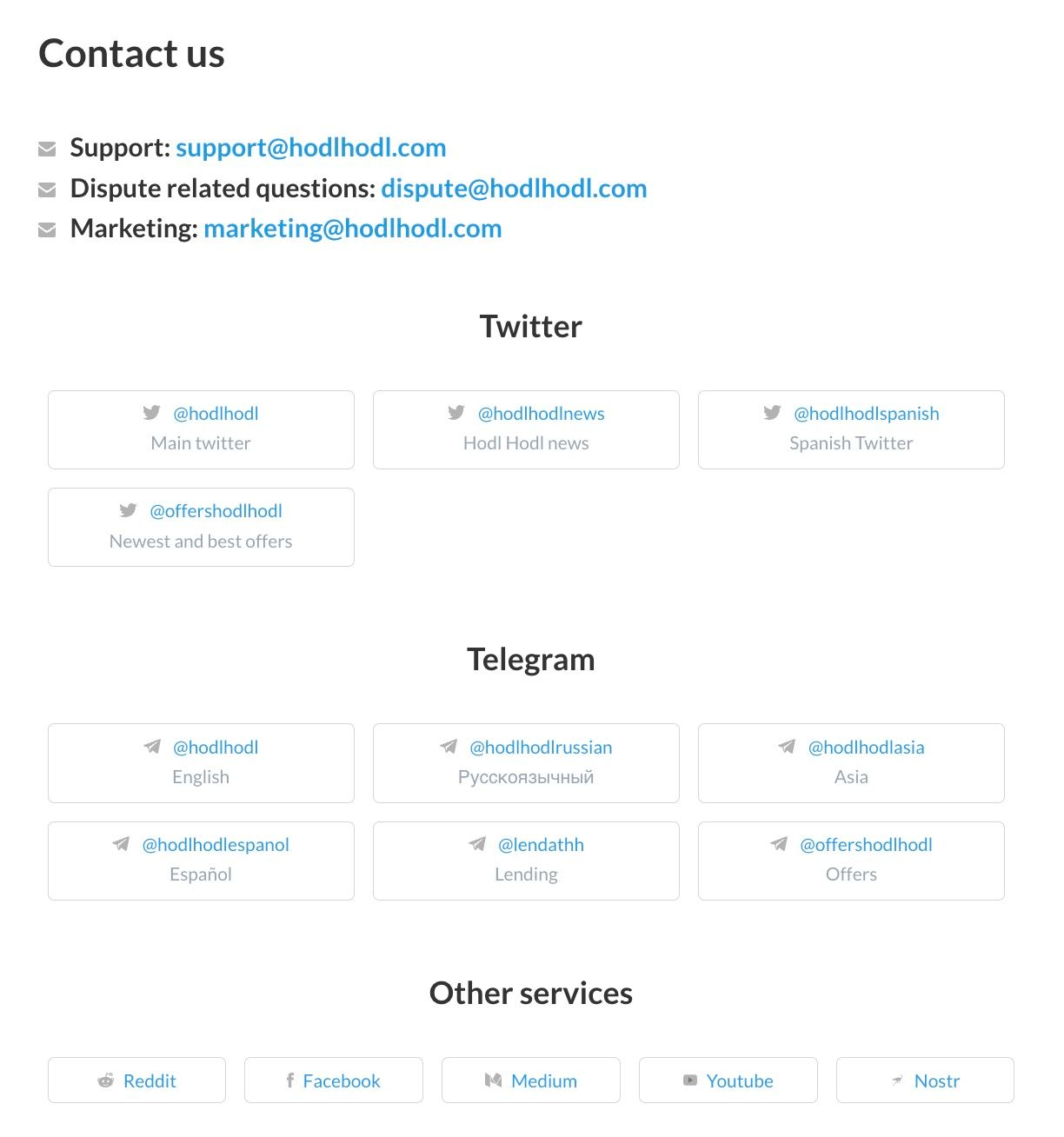 Customer service at Hodl Hodl follows a quite simple approach, relying only on email and Telegram for communication. While live chat and ticket services are not available, it is crucial for a P2P marketplace like Hodl Hodl to prioritize efficient dispute resolution.
In the event of a disagreement between the buyer and seller regarding a trade, either party can initiate a dispute, subject to the Terms of Service. Disputes are handled by the hodlhodl.com support staff.
Hodlex Ltd support diligently resolves disputes by carefully examining and taking into account various factors. These include the Terms of Trade, evidence of payment, users' chat messages, users' reputation, and other data submitted by users, as well as data collected by the platform itself.
While Hodl Hodl's customer service may lack certain communication channels, the platform's commitment to resolving disputes with due diligence and comprehensive consideration ensures a fair and reliable trading experience for users.
Hodl Hodl Pros & Cons
During our exploration of Hodl Hodl, we observed that a significant number of sellers on the platform require KYC verification. While this is indeed a drawback, it is a prevalent issue among many P2P no-KYC exchanges.
Another notable concern we encountered is the absence of dedicated iPhone and Android apps. We believe it is crucial for the Hodl Hodl team to address this limitation and provide mobile applications for enhanced accessibility.
Despite these drawbacks, we were impressed by the platform's low fees, robust escrow system, and the overall reliability it offers. The emphasis on security is commendable, and the escrow system provides an added layer of protection for users' transactions.
| Pros | Cons |
| --- | --- |
| ✅ One of the oldest p2p Bitcoin-only no-KYC exchanges in activity | ❌ Several sellers are requiring KYC |
| ✅ Lend feature also available | ❌ Small number of Trustpilot reviews |
| ✅ Allows anonymous buying of Bitcoin | ❌ No iOS or Android apps |
| ✅ Probably the lowest trading fees in the p2p industry | ❌ Presence of sellers with additional verification requirements |
| ✅ Reliable escrow | |
| ✅ Easy to navigate in the offers | |
| ✅ Viable alternative to centralized exchange interfaces | |
Bottom Line
Hodl Hodl is a peer-to-peer Bitcoin exchange that offers a unique approach to trading, emphasizing anonymity, low fees, and robust security.
While it faces challenges such as a significant number of sellers requiring KYC verification and the absence of dedicated mobile apps, Hodl Hodl stands out for its commitment to user control and the use of a multisig escrow system.
The platform provides a direct trading environment, facilitating transactions between users' Bitcoin wallets without the need for intermediaries. Despite its areas for improvement, Hodl Hodl remains a compelling option for privacy-conscious traders seeking secure and affordable P2P Bitcoin trading.

Hodl Hodl Evaluation
Reputation: Hodl Hodl has established itself as a highly reputable platform among Bitcoiners for P2P Bitcoin transactions. Its popularity is attributed to the industry's lowest fees, making it a well-regarded choice. Rating: 5/5.
Technology: Hodl Hodl sets itself apart by implementing unique security features that are unmatched elsewhere, such as the payment password and the 2/3 multisig escrow. Additionally, the platform's global P2P Bitcoin-backed non-custodial lending offering is a distinctive feature. Rating: 5/5.
Customer Service: Hodl Hodl's customer service falls short in certain aspects, lacking phone support and quick 24/7 chat availability. Relying solely on email and Telegram support can be frustrating for users. Rating: 3/5.
Fees: Despite the generally higher prices compared to exchange listings, Hodl Hodl maintains very minimal fees, making it a cost-effective choice. Rating: 5/5.
Ease of Use: While Hodl Hodl offers a user-friendly experience, the onboarding process could be improved. The requirement to configure the payment password separately from the buying flow can slow down the purchasing process. Additionally, the separation of accounts and the dashboard might cause confusion for novice users. Rating: 3/5.
Frequently Asked Questions (FAQ)
What are the fees on Hodl Hodl?
Compared to other alternatives, the fees on Hodl Hodl are quite low. 0.55% to 0.6% shared equally between trade parties (maximum 0.3% per trade).
Is KYC (Know Your Customer) verification required to use Hodl Hodl?
No, Hodl Hodl does not require KYC verification by default, but some sellers might require it.
What additional services does Hodl Hodl offer apart from P2P trading?
In addition to P2P trading, Hodl Hodl provides other services to enhance the user experience. This includes P2P lending, allowing users to lend or borrow funds anonymously on their own terms. Hodl Hodl also integrates with the Lightning Network, a layer-two scaling solution for Bitcoin transactions, which enables faster and cheaper transfers. For example, you can find a listing where you can pay with BTC via Lightning Network and receive BTC on-chain.