AgoraDesk Review 2023: Buy Bitcoin Anonymously
When it comes to buying or selling Bitcoin peer-to-peer, finding a reliable and user-friendly platform is essential. In this review, I will share my firsthand experience with AgoraDesk, highlighting its features, ease of use, and unique advantages.
What Is AgoraDesk?
AgoraDesk is a peer-to-peer (P2P) platform designed for trading Bitcoin. Created by the team behind LocalMonero, a platform known as Monero's equivalent of the defunct LocalBitcoins.
AgoraDesk offers a secure and anonymous approach to buying and selling Bitcoins without the need for KYC/AML procedures or verification.
With already several years of operation, LocalMonero has established itself as a trusted name within the Monero community, even surviving the last crypto market crashes of 2018 and 2021. Its dedication to providing diligent service and catering to the needs of its users has earned it a strong reputation.
AgoraDesk aims to bring the same level of trust and reliability to the world of Bitcoin trading. By facilitating peer-to-peer transactions, the platform ensures privacy and anonymity, allowing users to engage in secure and confidential exchanges.
The platform offers a user-friendly interface for seamless trading experiences. Whether you want to trade Bitcoin for fiat currency or other cryptocurrencies, AgoraDesk provides a straightforward and intuitive platform to meet your needs.
👉 To sign up for free on AgoraDesk, click here.
| FEATURE | DESCRIPTION |
| --- | --- |
| 🌐 Website | agoradesk.com |
| 🏙️ Location | British Virgin Islands and Hong Kong |
| 📅 Year Founded | 2019 |
| 💰 Primary Token | Bitcoin (BTC) |
| 📈 Listed Crypto | 2 |
| 💱 Trading Pairs | BTC/USD or BTC/EUR, BTC/AUD, BTC/GBP, or any other local currency |
| 💵 Supported FIAT | USD or EUR, AUD, GBP, or any other local currency |
| 🌍 Supported Countries | Worldwide |
| 💰 Minimum Deposit | N/A |
| 💸 Deposit Fees | Free |
| 💰 Daily Buying Limit | N/A |
| 💱 Trading Fees | Maker Fee:$2 for $200 Bitcoin purchase or 1%. Taker Fee: $0 for $200 Bitcoin purchase or 0% |
| 💸 Withdrawal Fees | Transactions to AgoraDesk users' wallets: Free. Transactions to external cryptocurrency wallets: Subject to relevant Bitcoin fees. |
| 📱 Mobile App | iOS, Android, F-Droid |
| 💬 Customer Support | Ticket, Telegram, Email, Matrix |
How AgoraDesk works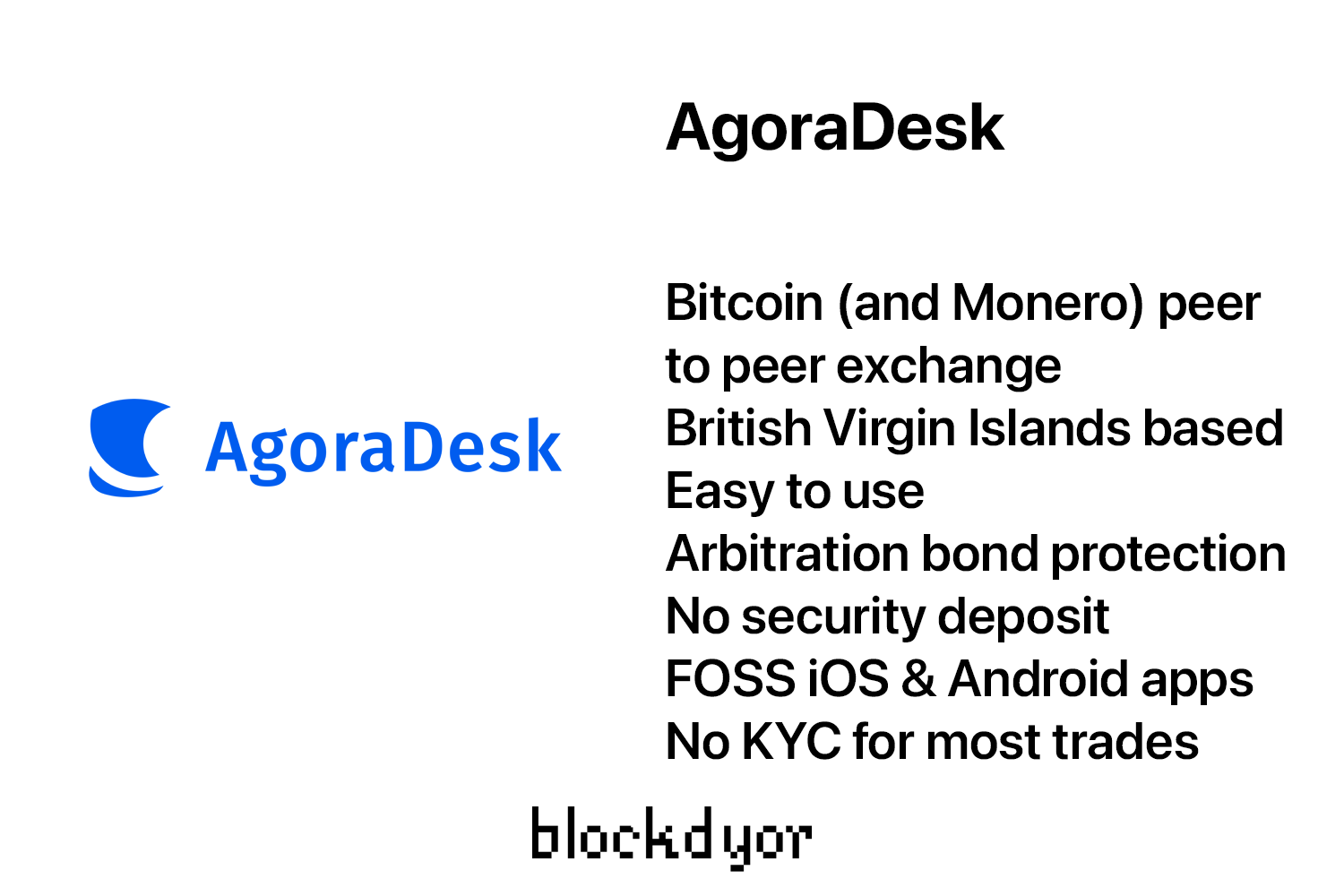 AgoraDesk works as peer-to-peer platform that enables users to trade Bitcoin securely and privately, without any middleman. As we said, the platform was created by the team behind LocalMonero, so already has a longtime trust of the community and offers a range of features for a seamless trading experience.
The platform is quite easy to use, similar to the original LocalBitcoins. AgoraDesk does not enforce Know Your Customer (KYC) or Anti-Money Laundering (AML) procedures, as the team believes these concepts contradict the essence of a peer-to-peer over-the-counter exchange.
They strive to provide a hassle-free experience and will continue to explore legal ways to avoid implementing KYC/AML in the future.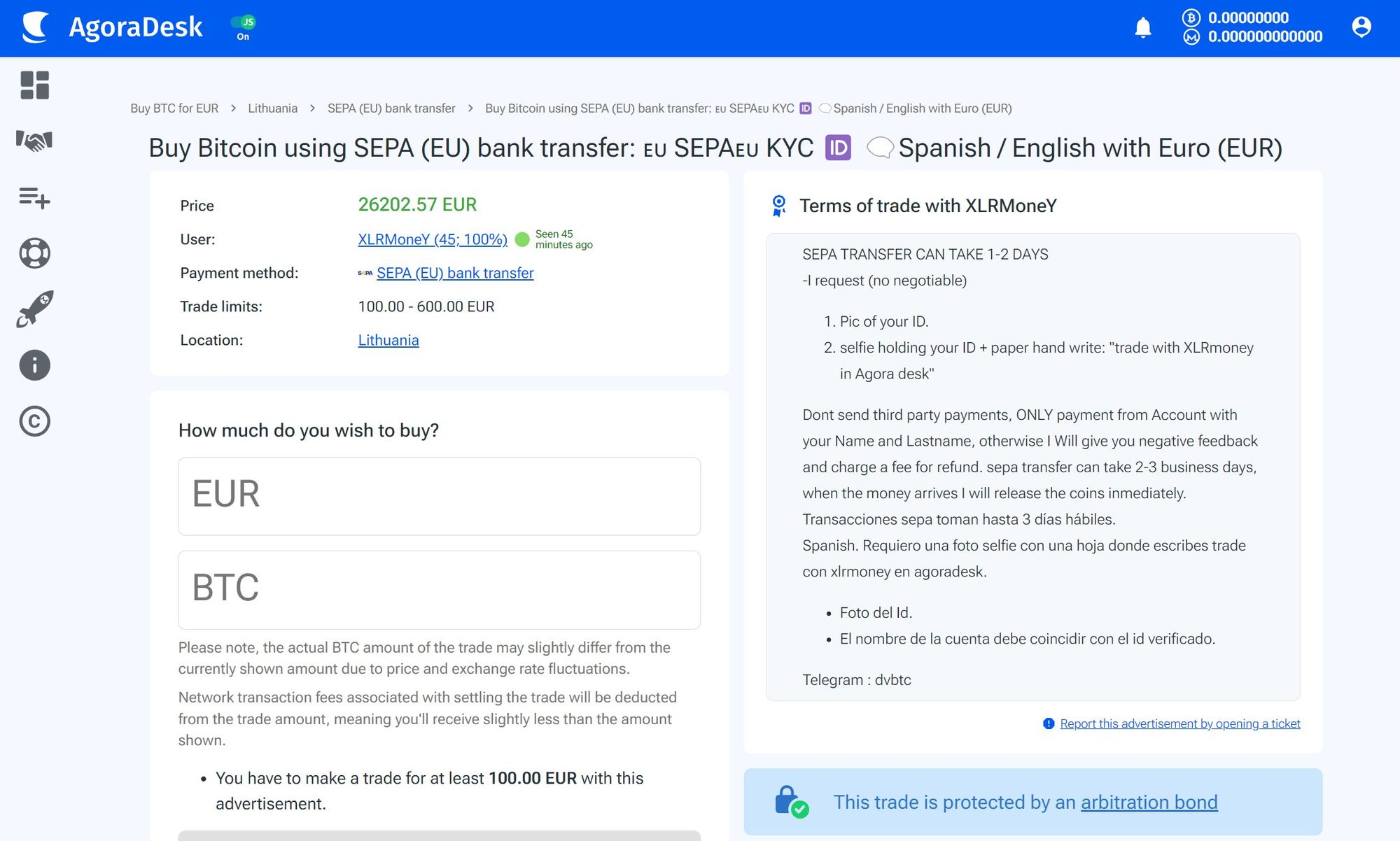 AgoraDesk ensures fair fees for its cryptocurrency trading services. The platform offers free registration, buying, and selling of Bitcoin. However, users who create offers are subject to a 1% arbitration protection fee for each successfully completed trade.
In terms of cryptocurrency transaction fees, transferring funds to wallets of other AgoraDesk users is free of charge. However, transactions to external cryptocurrency wallets are subject to the applicable transaction fees of the respective cryptocurrency network.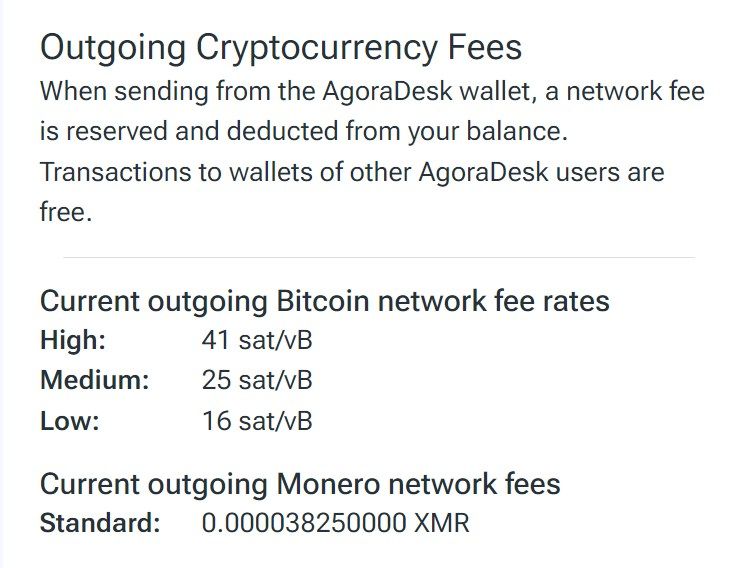 You can find the current fee for outgoing cryptocurrency transactions on the wallet page under the section titled Outgoing Cryptocurrency Fees. When you initiate a transaction, the transaction fee is deducted from your AgoraDesk wallet.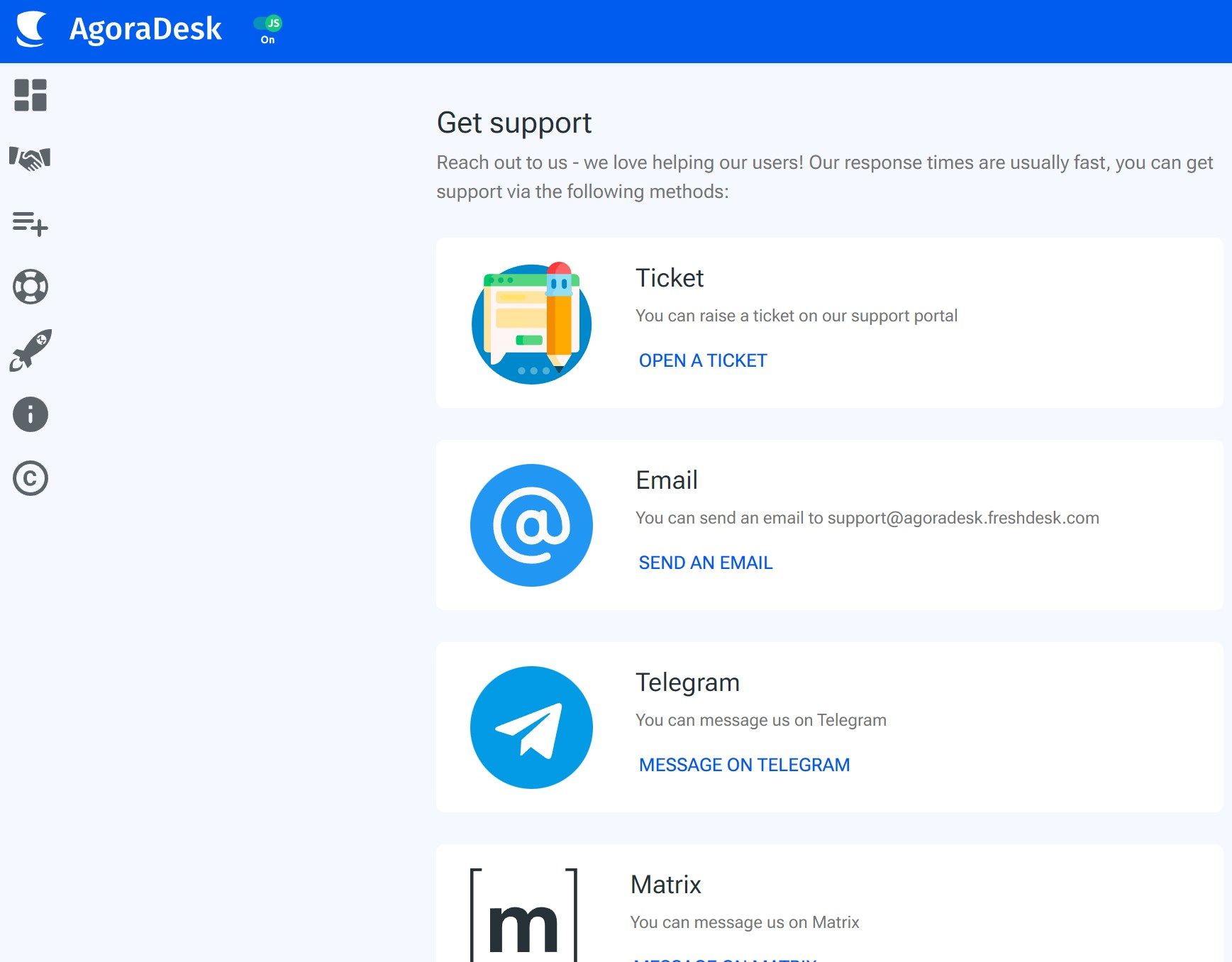 The platform has a support team that aims to address user concerns promptly. With a commitment to customer satisfaction, they strive to respond to all support tickets within 24 hours.
AgoraDesk remains easily reachable through various social media channels and actively listens to user feedback, implementing valuable suggestions in a timely manner.
When it comes to trading, AgoraDesk supports several payment methods, currency, and location. Unlike LocalBitcoins (no more operating), they fully endorse face-to-face cash trades and offer extensive protection through the arbitration bond.
Requiring funds to be held in the arbitration bond prior to initiating a trade ensures a smooth and efficient experience for buyers, contributing to the platform's popularity and fostering repeat customers for sellers.
AgoraDesk has high standards for fraud prevention. They have stringent arbitration standards in place, rejecting easily-falsifiable documents like screenshots as proof in disputes. This approach deters potential scammers and allows for quick response to user reports, including issuing warnings in regions experiencing sudden spikes in scammer activity.
With a background rooted in the privacy-oriented Monero community, AgoraDesk prioritizes user privacy and censorship resistance. The platform is accessible through its Tor and I2P portals, allowing users to conceal their true IP addresses. Additionally, AgoraDesk operates without enforcing an email address during registration, further safeguarding user privacy.
The apps for Android, iOS and F-Droid are FOSS (free and open-source software) with the Apache License 2.0.
How To Setup An Account On AgoraDesk
Setting up an account with AgoraDesk it's quite simple, I will guide you step by step.
To get started, visit the AgoraDesk Official Website by clicking the link down below:
👉 To sign up for free on AgoraDesk, click here.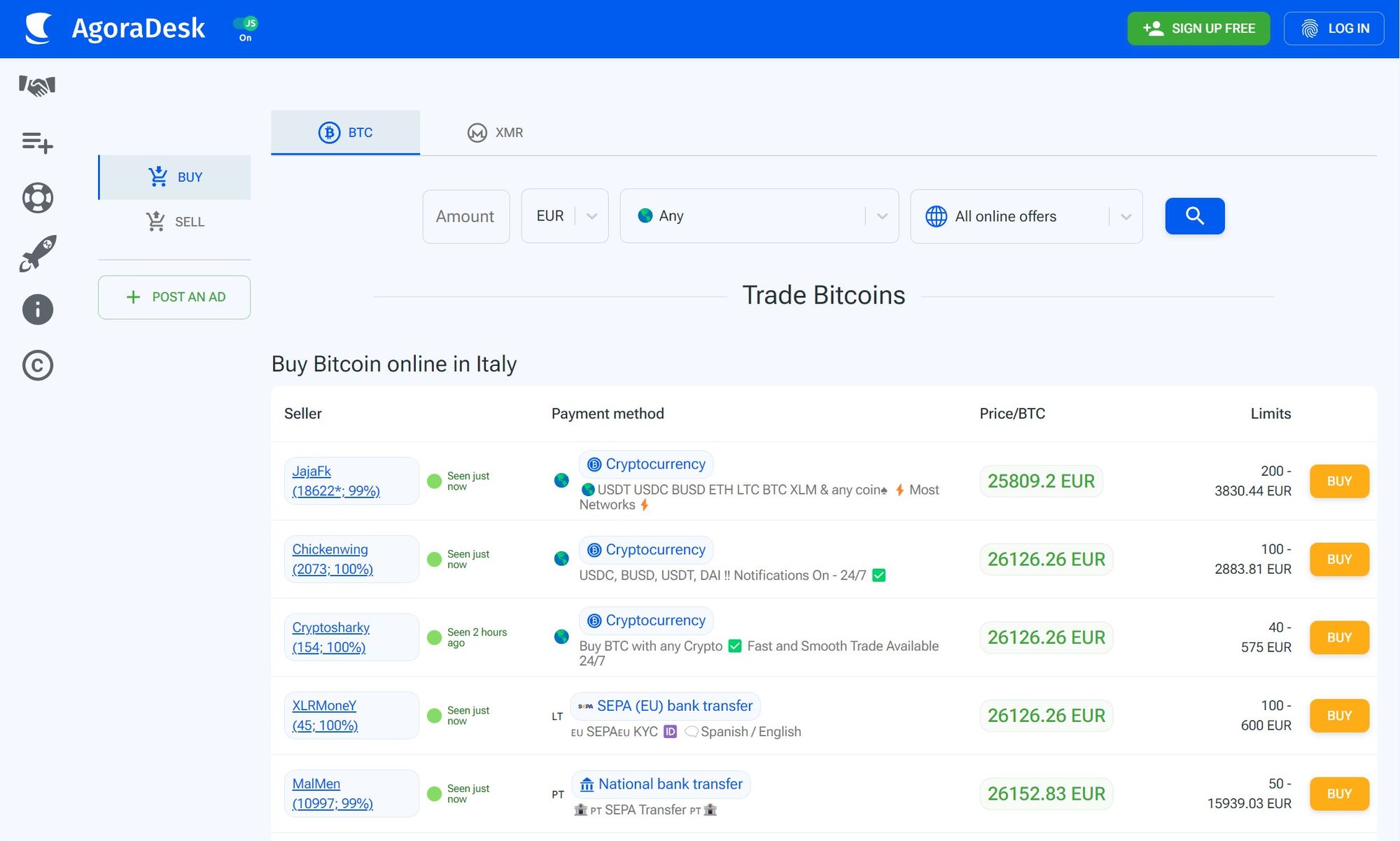 Click on the SIGN UP FREE green button.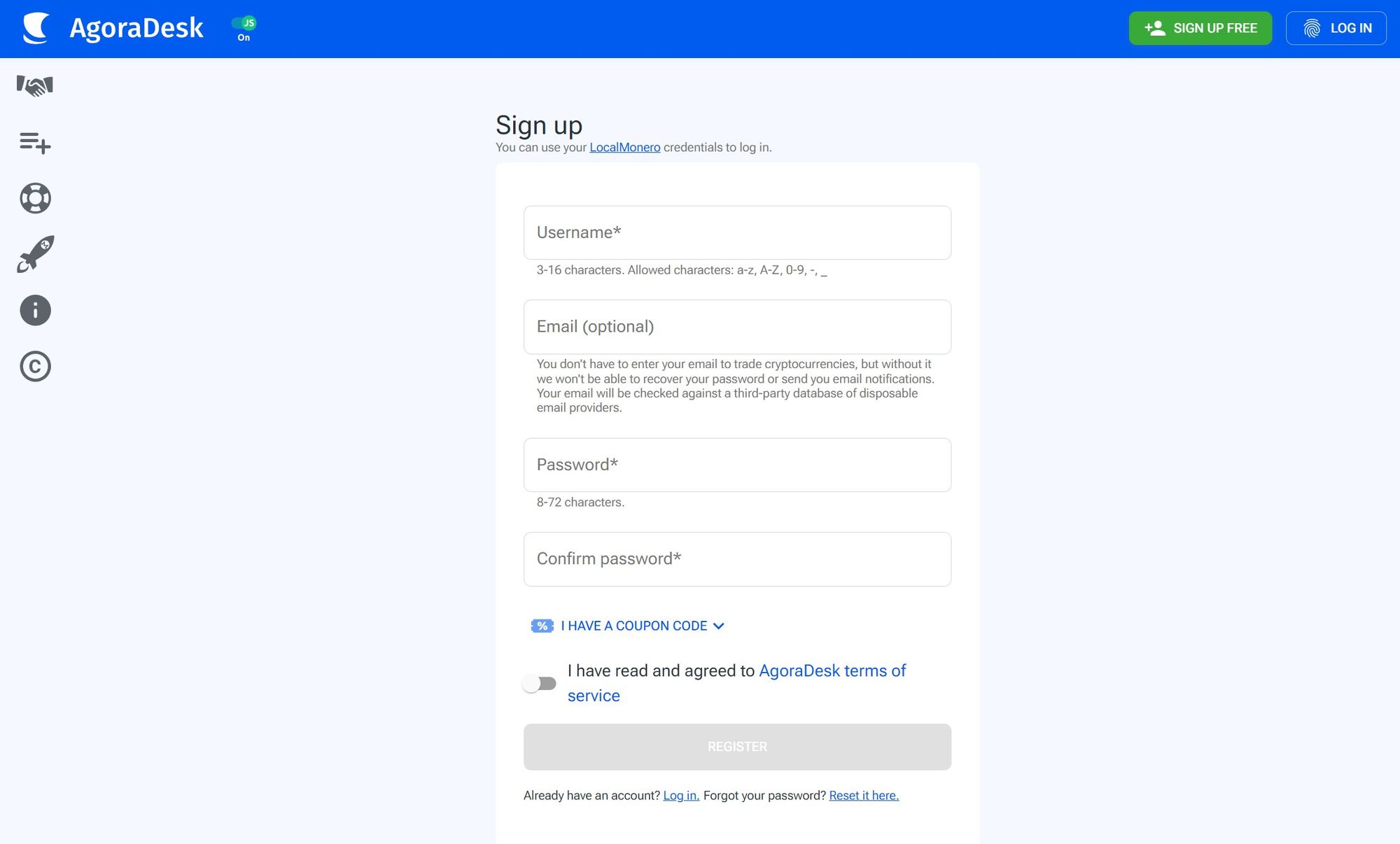 It's time to add some infos. Enter an username, email (not mandatory) and password. Accept the AgoraDesk terms of service and then click on REGISTER.
💡
If you already have an account on AgoraDesk's parent website LocalMonero, you can also login with that one.
If you inserted an email, check your inbox to confirm it by clicking on the confirmation link. You can now start using AgoraDesk.
How to Buy Bitcoin Anonymously on AgoraDesk - Step By Step Guide
When it comes to purchasing Bitcoin on AgoraDesk, the process is straightforward and user-friendly. The platform offers a basic yet intuitive user interface, providing a hassle-free experience. Let's explore the step-by-step guide to buying Bitcoin on AgoraDesk.
Sign in to your AgoraDesk account or create a new one if you're a new user by following our guide up here. The registration process is simple and requires basic information.
After signing in, navigate on the main dashboard of AgoraDesk.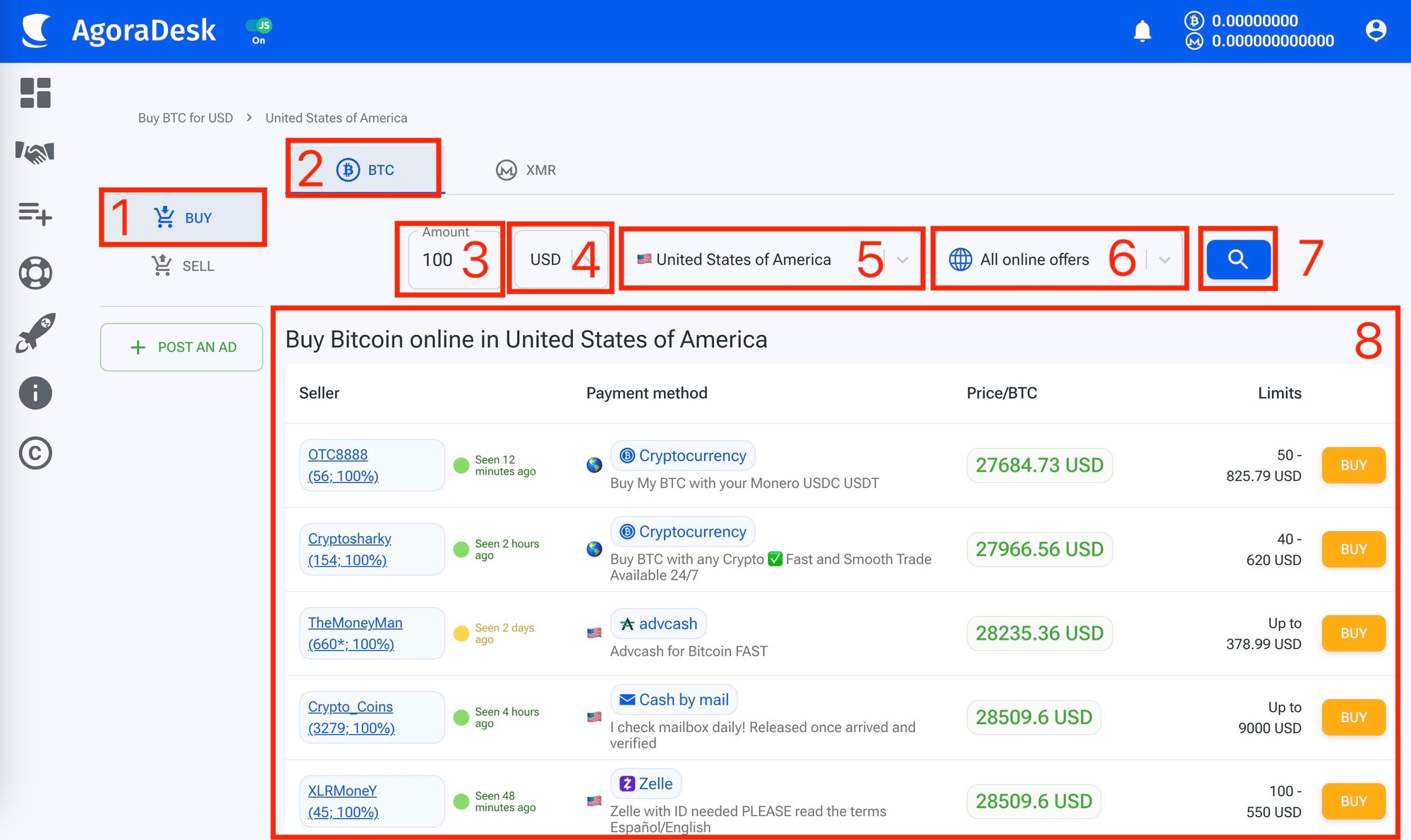 First of all, select the type of action you would like to do: Buy or Sell (1).
Select the token: BTC (2).
Insert the amount (3) and the fiat currency (4).
Select the country where you would buy the BTC from (5).
Filter the payment type (6) and then hit the search button (7) to filter the offers.
You can then visualize all the available offers with your filter settings in the list (8).

Choose an offer that is suitable for your. Then proceed to verify the seller trust profile by clicking on their link.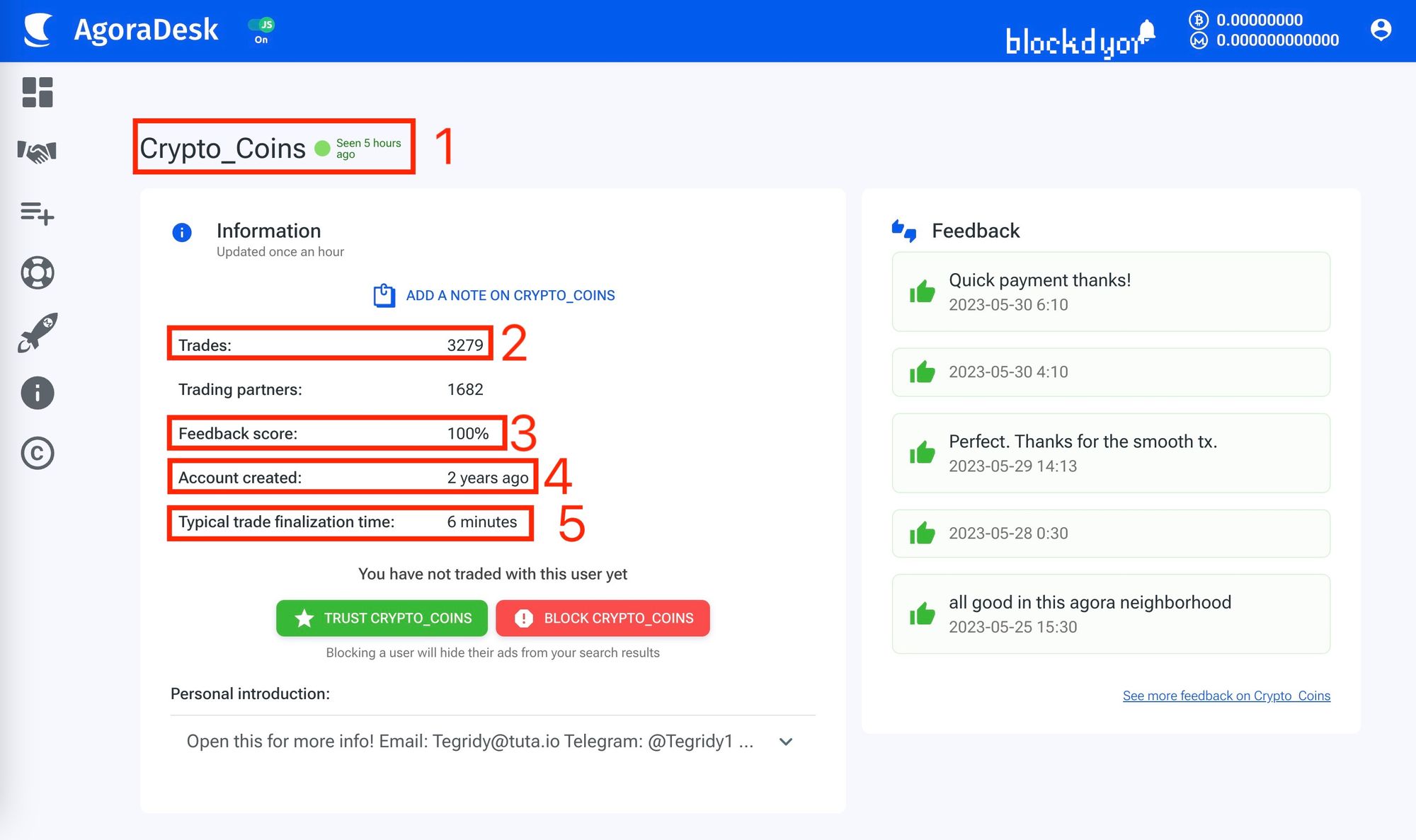 In order to prevent scams, verify that the seller has been recently connected to AgoraDesk (1), that it has a high number of trades done on the platform (2) and that the feedback score is 100% (3). Also check that the account was created a long time ago (4) and that the typical trade finalization time is fast (5).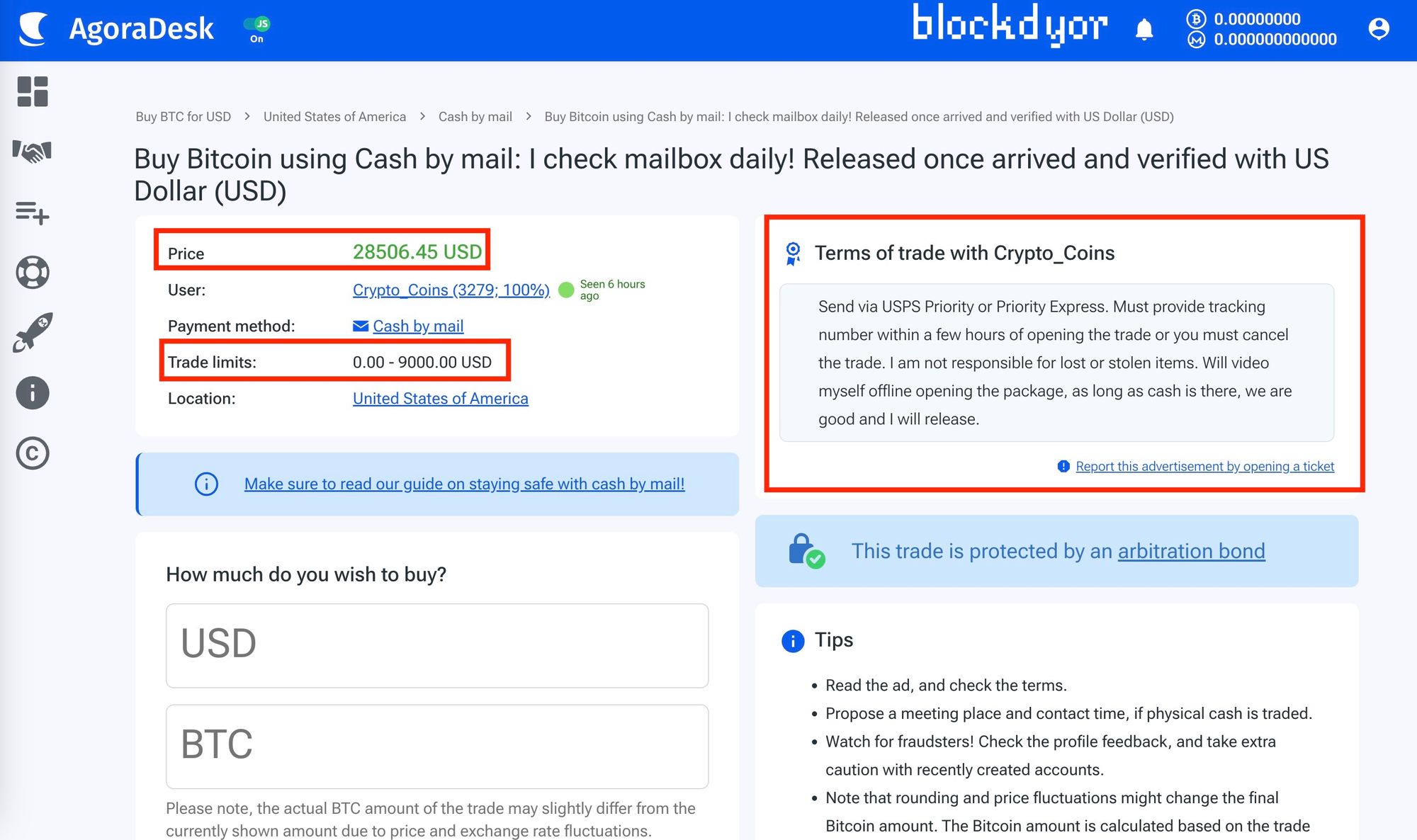 After verifying the seller's profile, return to the listing and locate the prominent orange BUY button. Clicking on this button will redirect you to the listing page, where you can access vital information about the trade.
This page provides essential information such as the price, trade limits, and terms of trade, which are crucial details to review before proceeding with the transaction.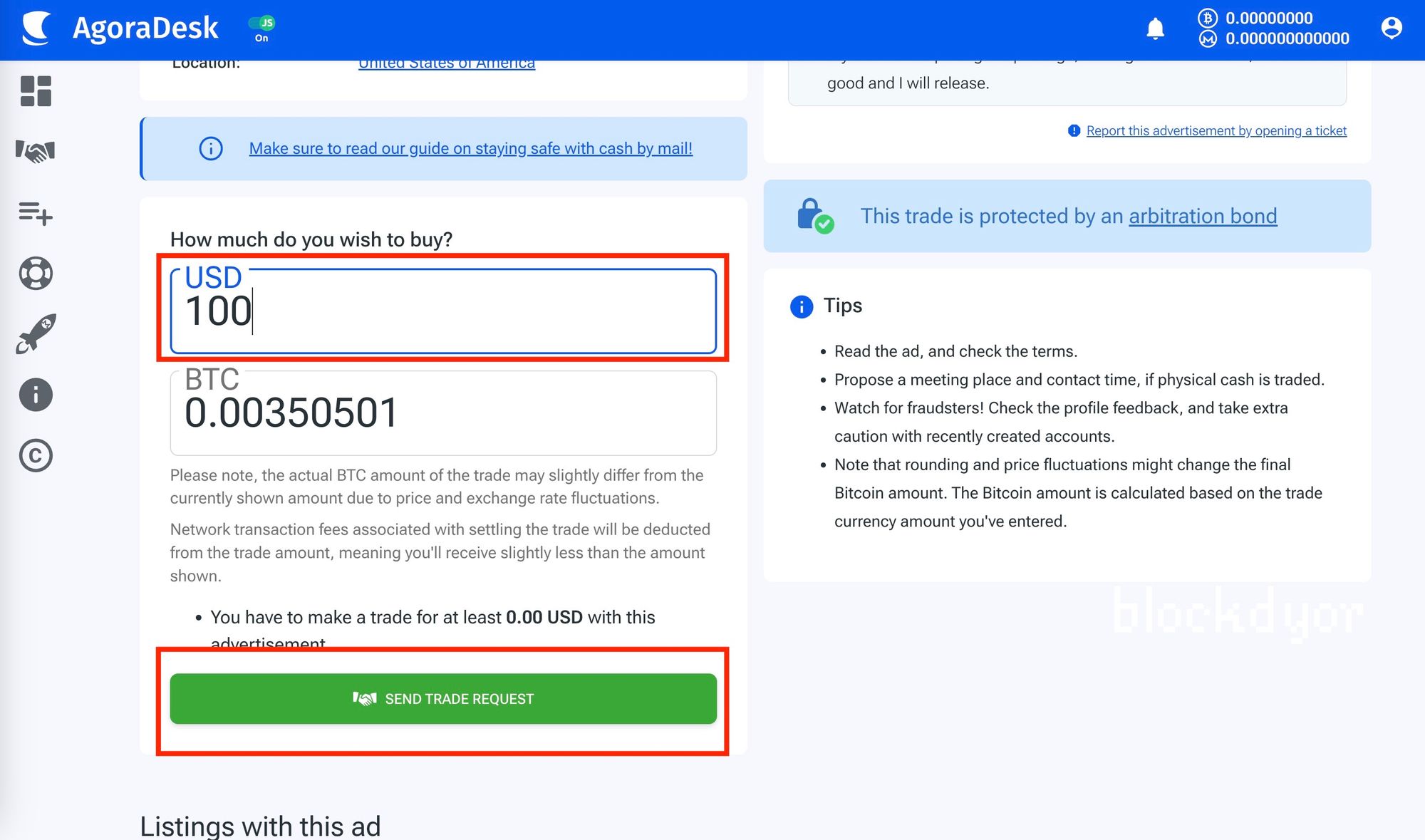 Insert again the amount you wish to buy (in USD or BTC, it will automatically update.
When you are ready, proceed to click on the green button SEND TRADE REQUEST.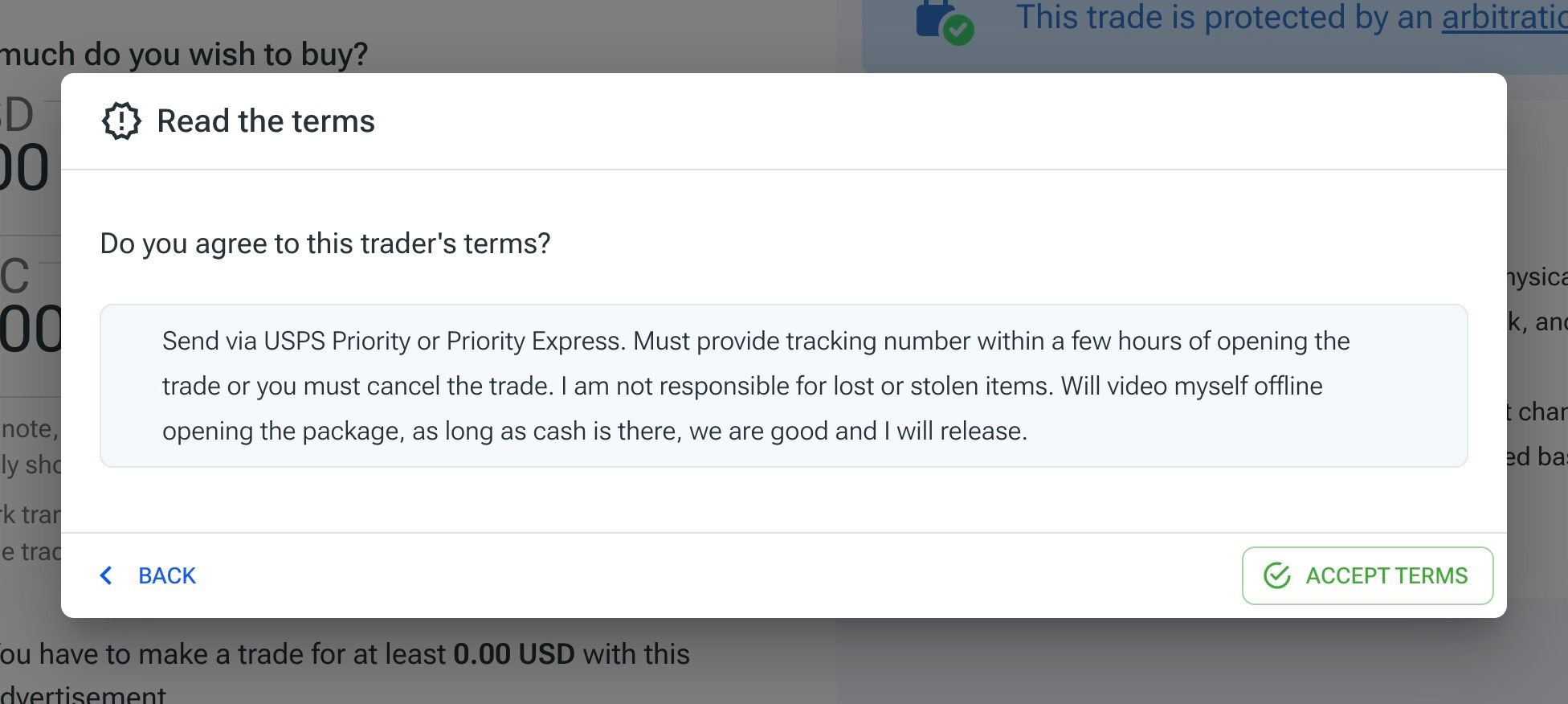 Read the seller's terms. These terms may vary depending on the seller. Click on ACCEPT TERMS to continue.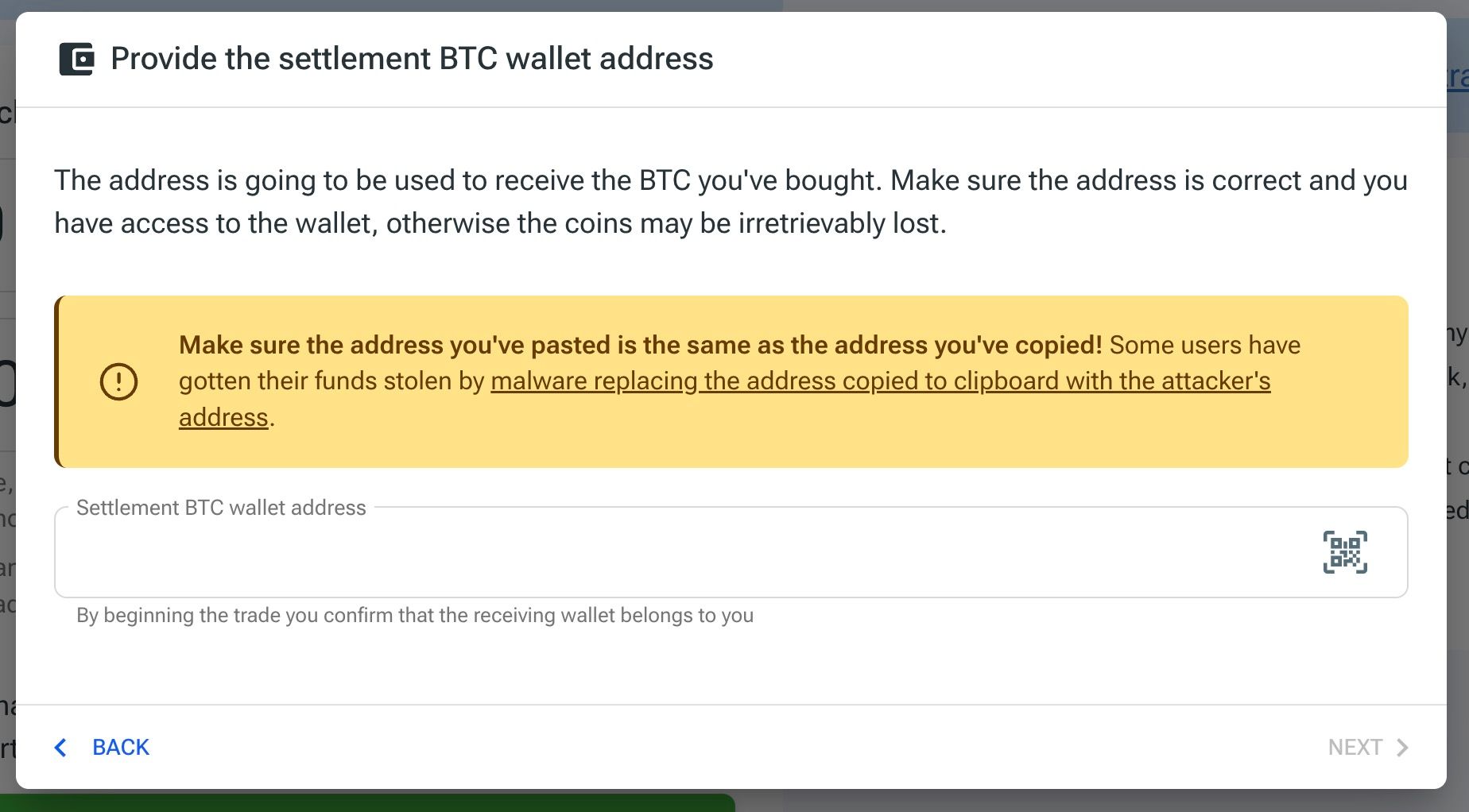 Paste your Bitcoin receiving address. You can get this from your wallet, it doesn't matter if it's a custodial or non-custodial one. Every wallet it's supported. It's advisable to use a non-custodial wallet and generate a new receiving wallet address for each new transaction.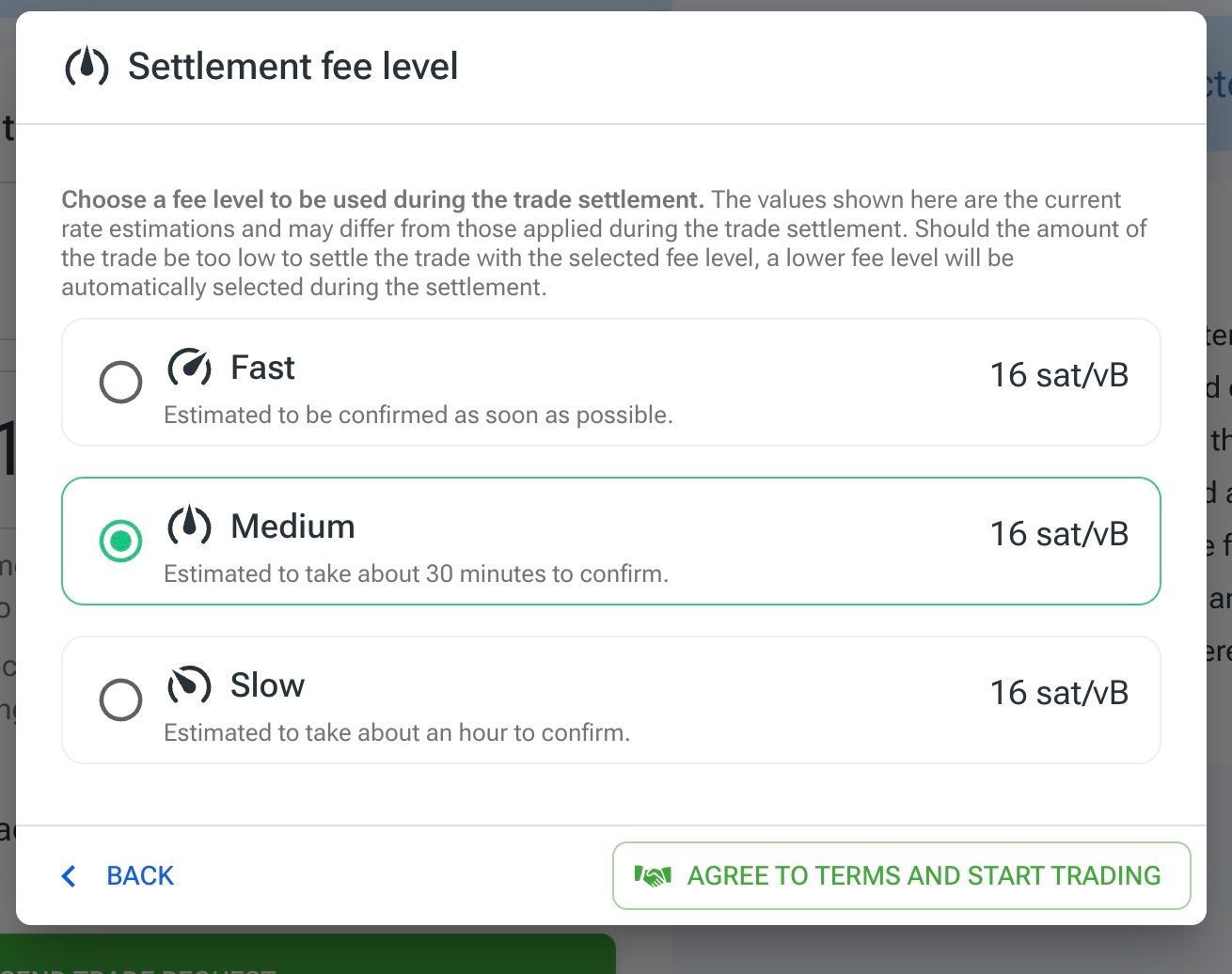 Choose the network fees. The faster, the more expensive. Click on AGREE TO TERMS AND START TRADING to continue.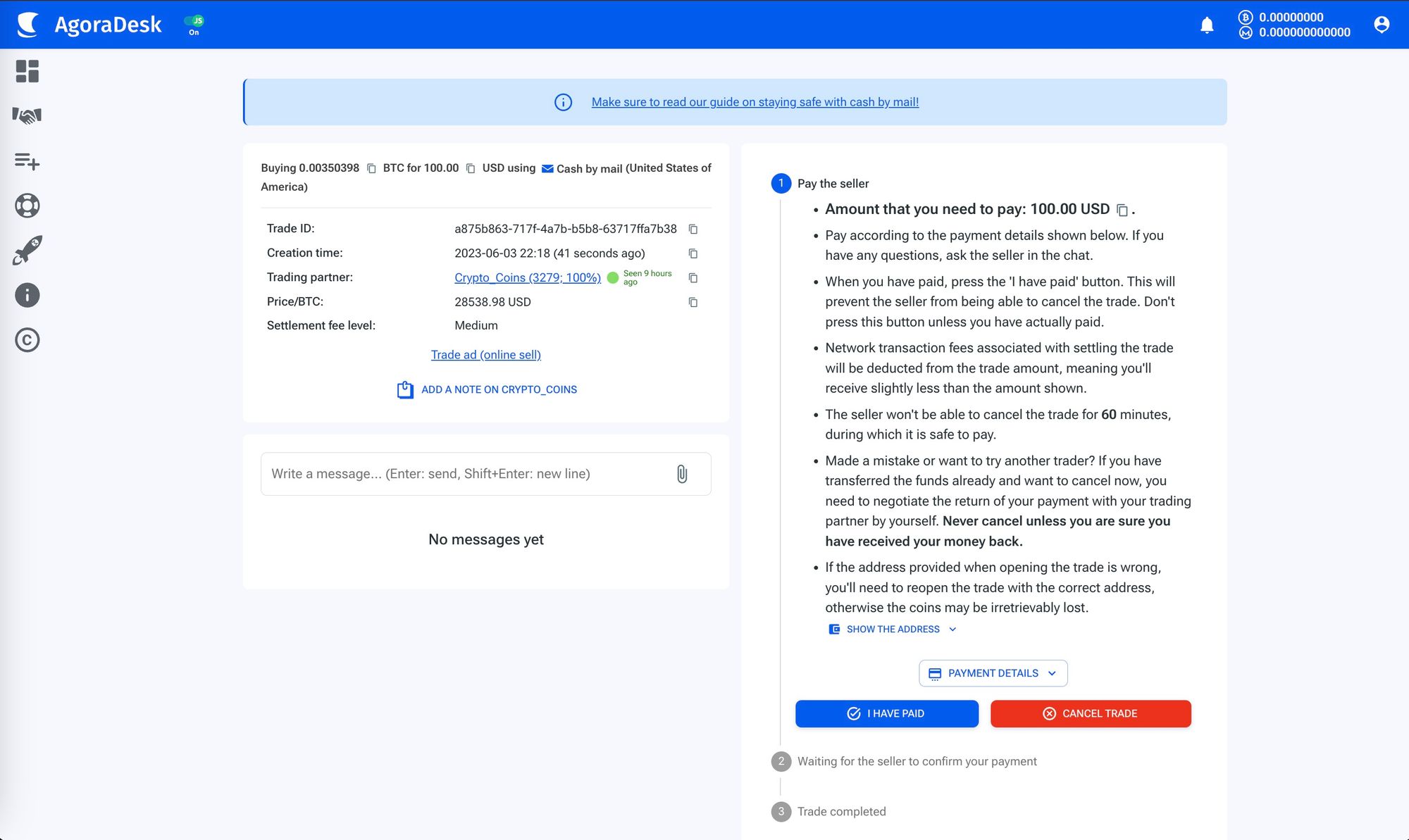 The trade has now been initiated. When you have proceeded with the payment, click on "I HAVE PAID" and your fund will be sent by the seller according to the trade agreement.

You can also click on CANCEL TRADE if you change your mind.
Keep in mind that the buyer is always protected by the arbitration bond, and only the buyer and AgoraDesk team can cancel the transaction.
The seller can cancel the trade when the payment window is expired.
Who created AgoraDesk?
The team behind AgoraDesk prefers to maintain anonymity, with Alex being commonly associated as their co-founder and main representative.
According to their terms of service, AgoraDesk is controlled and operated by Blue Sunday Limited, a company registered in the British Virgin Islands. It's worth noting that they also have a registered office in Hong Kong.
Registering the companies in these jurisdictions is a strategic move, providing benefits such as tax advantages and safeguarding privacy. BVI companies have the option to keep ownership, management, and financial information confidential.
Is AgoraDesk safe?
One might wonder about the safety of using AgoraDesk. Having extensively utilized the platform, I can confidently state that it is indeed secure, supported by various aspects that ensure user protection.
Here are a few key reasons why AgoraDesk is considered safe:
Arbitration Bonds: All online trades on AgoraDesk benefit from the safeguarding of arbitration bonds. Upon initiating a trade, an equivalent amount of Bitcoin is automatically reserved from the seller's AgoraDesk bond wallet. This precautionary measure ensures that if the seller were to abscond with the funds without finalizing the trade, AgoraDesk support can transfer the Monero held in the arbitration bond to you, the buyer. It is essential to note that local trades do not have arbitration bond protection enabled by default.
Experienced Management: AgoraDesk is managed by the same team behind LocalMonero, a reputable entity that has been in business for several years. Their enduring presence in the market, even during challenging bear market conditions, demonstrates their commitment to maintaining a trustworthy platform.
Transparency Through Canary Page: AgoraDesk takes transparency seriously and demonstrates it through their Canary page. This page declares the number of law enforcement requests for user information received by LocalMonero and AgoraDesk. Remarkably, to date, they have received four such requests, but none of them were served through proper legal channels, nor did they result in the disclosure of any users' data.
Security Deposit: AgoraDesk stands out among P2P Bitcoin marketplaces due to its unique approach of not requiring buyers to submit any security deposit.
By considering these factors, it becomes evident that AgoraDesk prioritizes user safety and employs measures to protect its users' interests.
AgoraDesk Review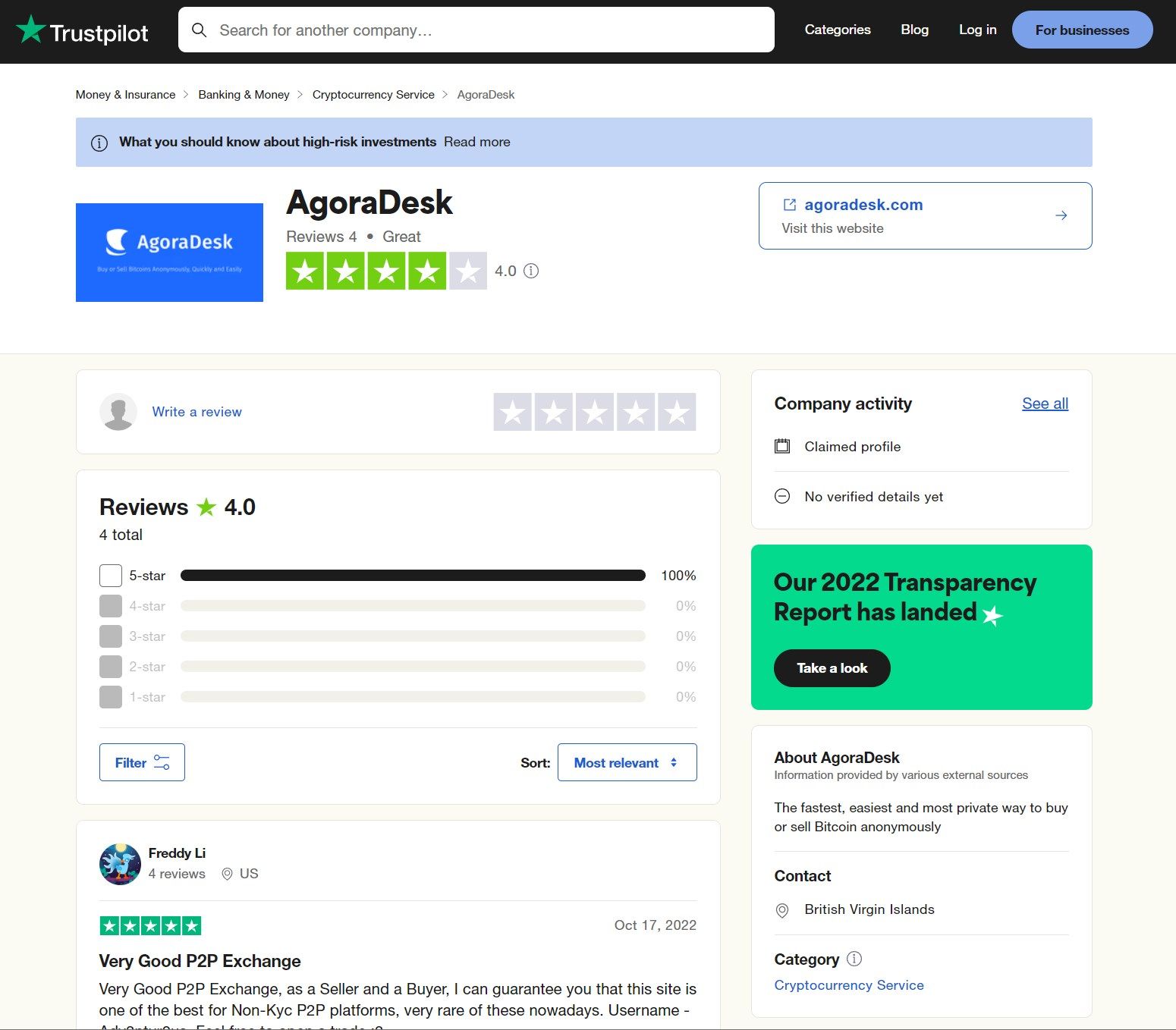 AgoraDesk has garnered a pristine reputation, reflected by the positive reviews on their Trustpilot page. It is worth noting that at present, the number of reviews is relatively low, standing at just four.
While the existing reviews are positive, it would be ideal to have a higher number of positive reviews to provide a more comprehensive understanding of user experiences.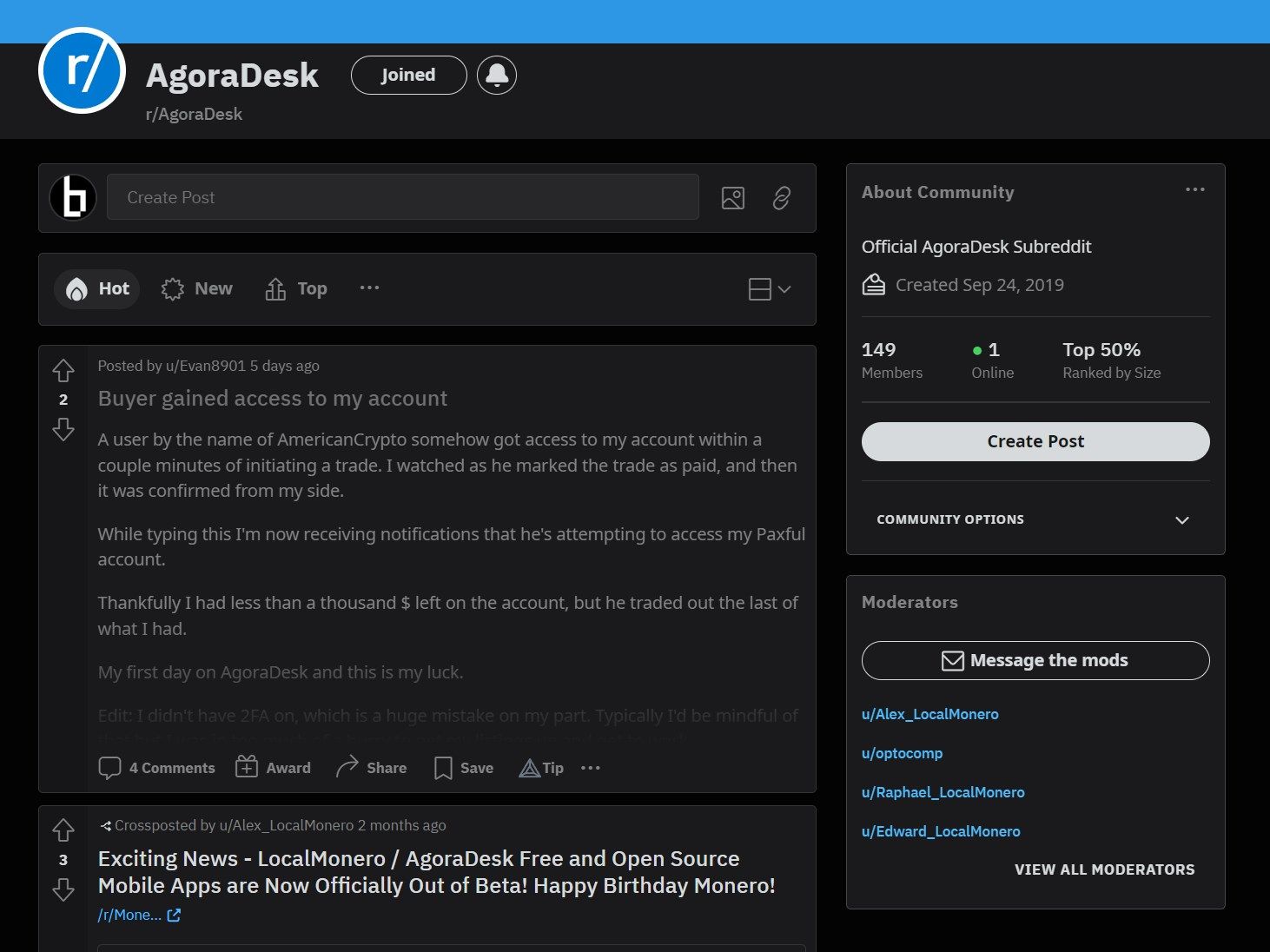 Furthermore, in terms of their Reddit presence, AgoraDesk's community appears to be relatively small with only 149 members. By comparison, competitors such as Bisq boast a significantly larger Reddit community with over 5.8k members. Additionally, Bisq also has a higher count of Trustpilot reviews.
AgoraDesk Pros & Cons
| Pros | Cons |
| --- | --- |
| ✅ Easy to use platform with a user-friendly interface | ❌ Some sellers may require KYC verification |
| ✅ Made by the team at LocalMonero, years of experience | ❌ Limited number of Trustpilot reviews |
| ✅ Allows anonymous buying of Bitcoin | ❌ Relatively small Reddit community size |
| ✅ Low transaction fees and no security deposit requirement | ❌ Presence of sellers with additional verification requirements |
| ✅ Impressive range of choices and security features | |
| ✅ Intuitive sorting options for offers | |
| ✅ Provides an alternative to complex exchange interfaces | |
AgoraDesk, built upon the strong foundation of LocalMonero, offers a user-friendly platform that makes buying Bitcoin anonymous, cost-effective, and hassle-free. With its extensive range of choices and robust security features, AgoraDesk provides an excellent avenue for beginners to enter the world of cryptocurrency trading.
One notable advantage of AgoraDesk is the absence of a security deposit requirement, coupled with low transaction fees. This makes it an attractive option for those seeking to purchase Bitcoin with ease and at a reasonable cost. It's worth noting, however, that some sellers may request Know Your Customer (KYC) verification, so users should be mindful of this aspect.
The platform's intuitive interface allows users to conveniently sort offers based on the type of fiat currency accepted, payment methods, and market prices. Even novices will find it easy to navigate and utilize the features provided. In a market filled with complex exchange interfaces, AgoraDesk's user-friendly solution is a refreshing change.
Bottom line
In summary, AgoraDesk offers an easy-to-use platform for buying and selling Bitcoin. While the platform promotes a KYC-free environment, it's important to note that some sellers may request KYC verification.
However, the platform's unique approach of not requiring buyers to submit a security deposit is a significant advantage. With its user-friendly interface and commitment to privacy, AgoraDesk provides a convenient and secure platform for Bitcoin anonymous trading.
Frequently asked questions (FAQ)
What are the payment methods accepted by AgoraDesk?
The payment methods accepted on AgoraDesk are National bank transfer, Cryptocurrency, Cash by mail, Cash at ATM, Cash on delivery, Cash deposit, Credit card, PayPal, Western Union MoneyGram,Neteller, Skrill, Payoneer, Venmo, Zelle, Apple Pay, Google Wallet, SEPA bank transfer, Perfect Money, Cash App and much more.
Is AgoraDesk a regulated platform?
AgoraDesk operates as a peer-to-peer over-the-counter exchange, which means it facilitates direct transactions between buyers and sellers. As a result, AgoraDesk itself does not hold any regulatory licenses or oversight. Users should exercise caution and conduct their own due diligence when trading on the platform.
How does AgoraDesk ensure the security of transactions?
AgoraDesk implements several security measures to enhance the safety of transactions. Firstly, all trades are protected by an arbitration bond, ensuring that funds are held securely until the trade is successfully completed. Additionally, AgoraDesk maintains high arbitration standards and responds quickly to user reports of fraudulent activity. However, users should still be vigilant and take necessary precautions when engaging in trades to mitigate any potential risk.

AgoraDesk Evalutation
Reputation: AgoraDesk has built a strong reputation in the cryptocurrency community, thanks to its association with LocalMonero and its commitment to privacy and security. With a Trustpilot score of 4/5, AgoraDesk is highly regarded by users.
Technology: AgoraDesk leverages the robust API and technology of LocalMonero, providing users with a versatile platform that supports various payment methods, including cash-in-hand trades. LocalMonero has earned a rating of 4/5 for its exceptional technology and user-friendly interface.
Customer Service: While AgoraDesk lacks phone support, it strives to deliver prompt customer service with a 24-hour ticket resolution time. With a rating of 4/5, AgoraDesk aims to address user queries efficiently.
Fees: Even if higher compared to the competition, LocalMonero maintains medium-low fees, typically charging around 1% for maker transactions. It's important to note that Bitcoin prices may vary based on the chosen payment method. Overall, LocalMonero receives a rating of 3/5 for its reasonable fee structure.
Ease of Use: AgoraDesk stands out for its user-friendly interface, offering a seamless experience for both beginners and experienced traders. With a rating of 5/5, it is considered one of the most intuitive peer-to-peer marketplaces to use.