TAPSIGNER Review 2023: Easiest Bitcoin Cold Storage?
As your Bitcoin stack continues to grow, the significance of high security measures becomes paramount. Recognizing this growing need, Coinkite, a company renowned for its rapid and innovative product releases, has unveiled Tapsigner.
What is the Tapsigner?
Tapsigner is an innovative Bitcoin hardware wallet in the form of a card, housing a private key.
To understand better what is the Tapsigner, you need to imagine having a Bitcoin private key inside a card. By just tapping the card on your phone (or a desktop PC with a supported NFC reader) and entering a PIN, you can authorize transactions from your wallet.
With the Tapsigner, your mobile/desktop wallet handles the majority of wallet functions, while Tapsigner securely holds the private key. Essentially, it acts as a super-compact hardware wallet that seamlessly slips into your regular wallet.
The Tapsigner is also very versatile, as it can also function in multi-signature wallet setups, providing an added layer of security.
💡
Multi-signature wallets are cryptocurrency wallets that require multiple private keys to authorize transactions, enhancing security by involving multiple parties in the approval process.
👉 Click here to buy the Tapsigner for a special price.
| DESCRIPTION | DETAILS |
| --- | --- |
| 💻 Name | TAPSIGNER |
| 🌐 Website | tapsigner.com |
| 🗓 Release year | 2022 |
| 💰 Coins Supported | Bitcoin |
| 💸 Price | From $39.99 |
| 🔒 Security Features | Multisig, NFC, 6-digit PIN, Entropy for seed generation |
| 💻 Compatibility | Nunchuck Sparrow Wallet |
| 🖥 Display | N/A |
| 🔄 Connectivity | NFC via ISO-7816, QR Code |
| 📏 Dimensions | 85.6 × 53.98mm (3.37 x 2.12 inches) |
| ⚖️ Weight | N/A |
| 🔋 Battery Life | N/A |
| 📜 Warranty | N/A |
How The Tapsigner Work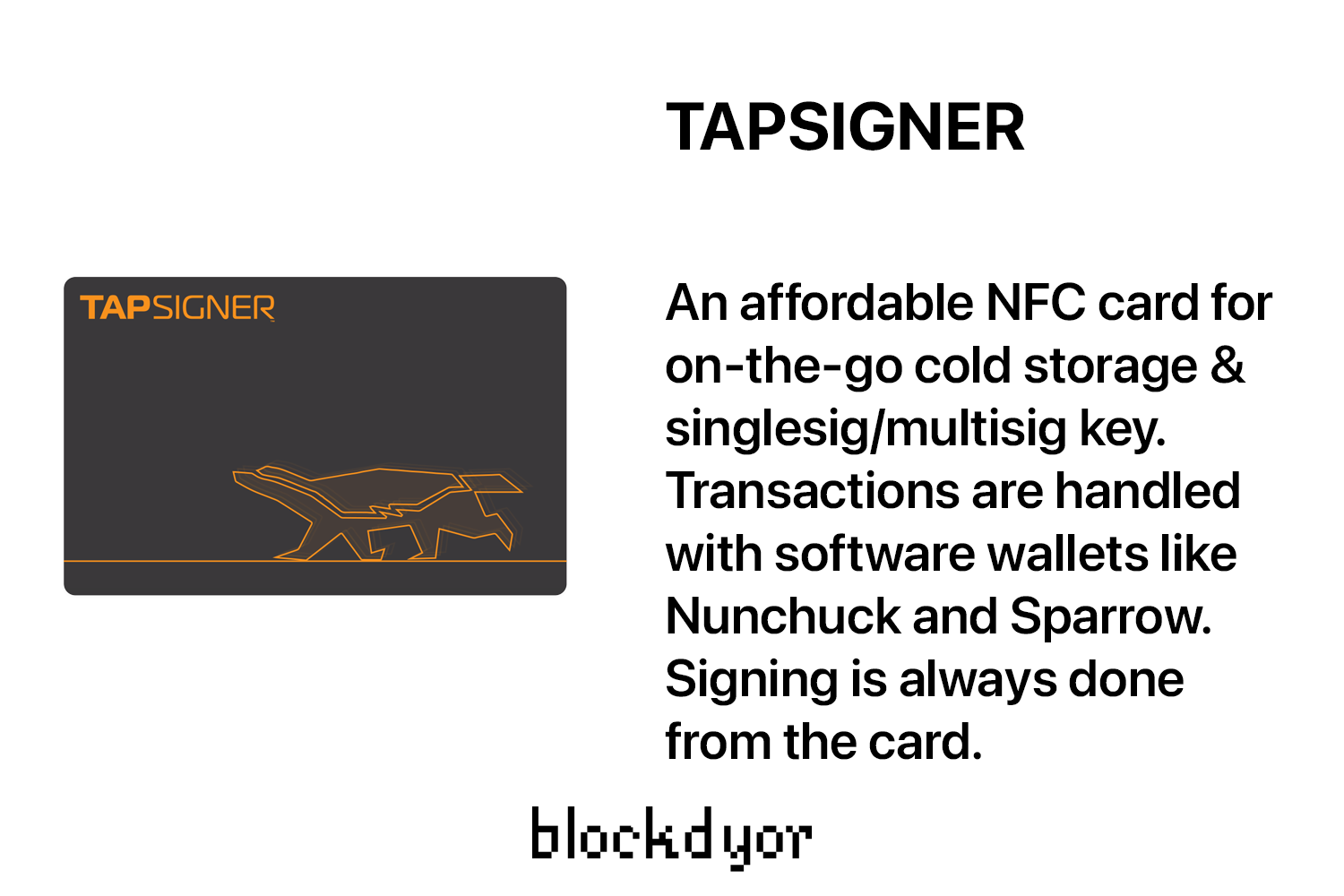 The Tapsigner operates thanks to an NFC chip concealed within its card-like appearance. NFC, or Near-field communication, encompasses a collection of communication protocols that facilitate the exchange of information between two electronic devices within a range of 4 cm (1.57 in) or less.
By using NFC technology, Tapsigner embodies a lightweight, uncomplicated, and cost-effective solution. Most of the complex operations involved in Bitcoin transactions are handled by the software wallet to which the card will be connected.
NFC tags possess the capability to store an average of 200 B (bytes) of text, allowing ample space for encryption purposes. Within the confines of this NFC chip, an encrypted private key is stored, which essentially represents your Bitcoin wallet or a segment thereof (including Multisig), among other possibilities.
The Tapsigner, despite lacking a screen and only having an NFC chip, can sign transactions with a simple tap on the phone's NFC sweet spot (and by entering the secret PIN).
The software wallet (Nunchuck or Sparrow) handles the transaction, while the card performs the signing process. Similar to a Coldcard signing transactions via NFC, trust is required as the software ensures the card signs the correct transaction.
In the the next section will delve into the diverse array of features offered by Tapsigner.
Tapsigner Features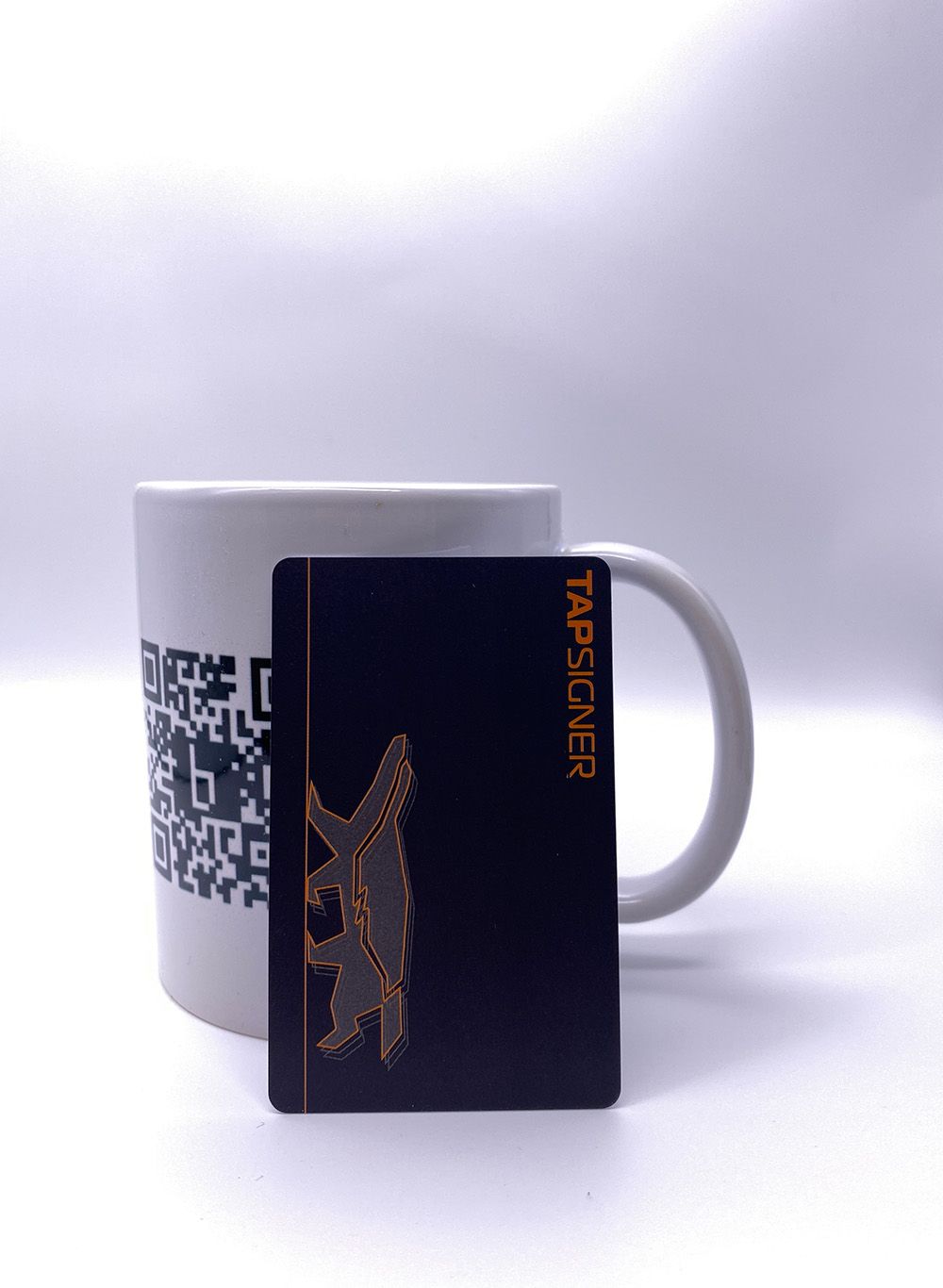 Tapsigner is far more than just a private key stored on an NFC chip. It offers a wide range of functionalities that can transform your digital experiences. In this section, we will explore the key features.
Phone Wallet Cosigning: With Tapsigner, you can effortlessly cosign transactions from your phone wallet. It streamlines the process, making it convenient and secure.
Lightning Network Channel Management: Tapsigner simplifies the opening and closing of Lightning Network channels, enabling efficient management of your transactions within this decentralized payment protocol.
NFC Module Integration with Lightning Network Nodes: By utilizing an NFC module in conjunction with a Lightning Network node, Tapsigner facilitates seamless communication and enhances your Lightning Network experience.
Message Signing: Tapsigner provides the ability to securely sign messages, ensuring the authenticity and integrity of your digital communications.
Collaborative Multisig Service Applications: Unlocking new possibilities for collaboration, Tapsigner supports applications that require collaborative multi-signature services. This feature enhances security and expands the potential use cases for this innovative technology.
Raw Transactions: Tapsigner empowers users to create and process raw transactions, granting greater flexibility and control over their digital assets.
Partially Signed Bitcoin Transactions (PSBTs) via HWI: Through integration with the Hardware Wallet Interface (HWI), Tapsigner enables the handling of partially signed Bitcoin transactions (PSBTs). This functionality enhances the security and convenience of Bitcoin transactions.
App Authentication: Tapsigner serves as a trusted authentication mechanism for applications, safeguarding your digital identity and ensuring secure access to various services.
With its vast range of features, Tapsigner is a versatile private key stored on NFC, useful for managing transactions, securing communications, or exploring new collaborative applications.
What's In The Box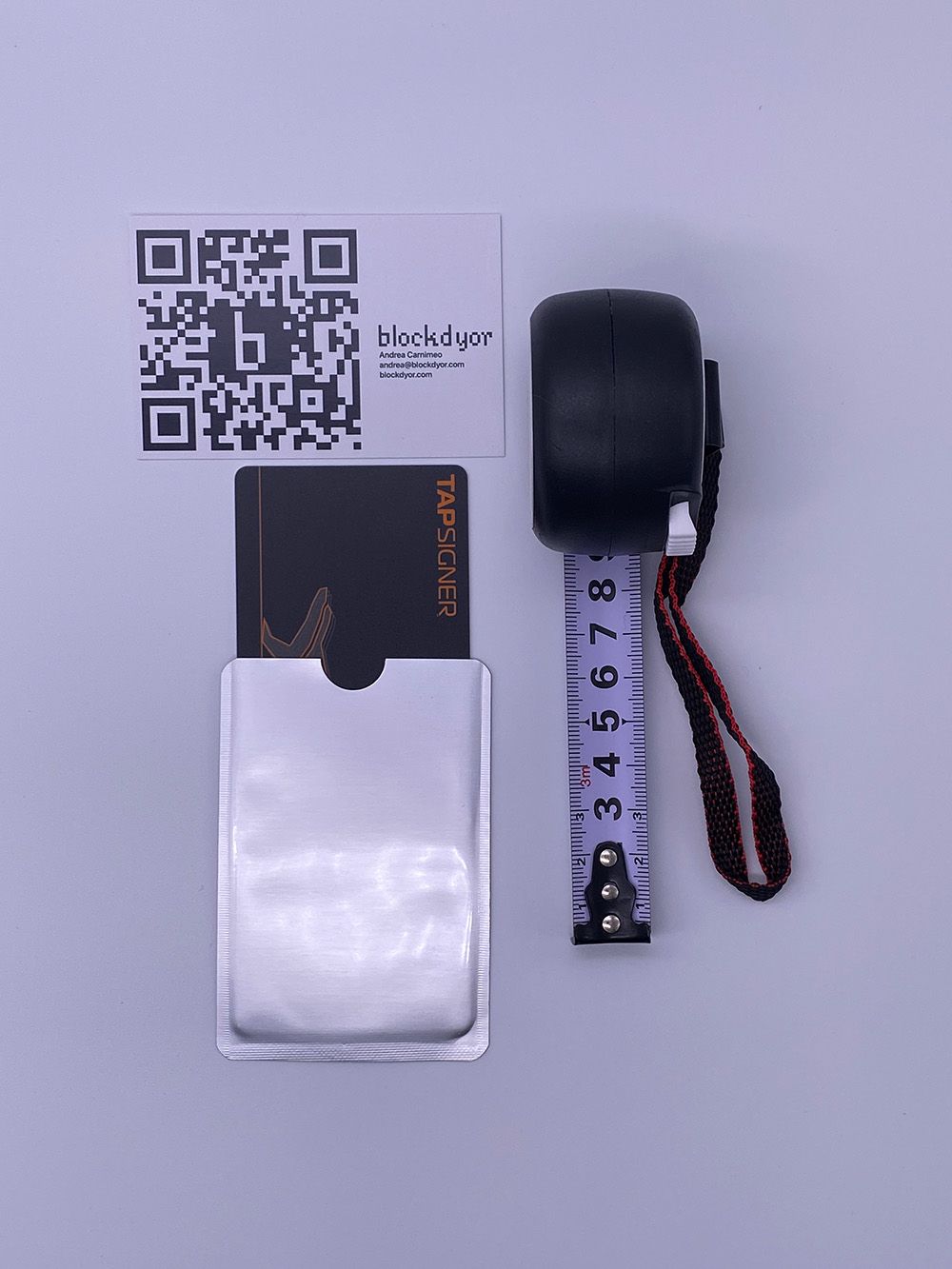 Tapsigner, is a budget-friendly card, so it offers a minimalist yet effective packaging.  Let's take a look at what you'll find inside:
1x Tapsigner: The heart of the package, Tapsigner itself, comes as the main component.
1x RF-blocking Sleeve: Always accompanying the Tapsigner card, you'll discover a protective RF-blocking sleeve. This sleeve serves a dual purpose: providing physical protection and ensuring enhanced security.
💡
The Importance of the RF-blocking Sleeve: The RF-blocking sleeve included with Tapsigner plays a crucial role in maintaining the security of your card. It not only offers physical protection but also serves as a shield against unwanted access by RF readers with malicious intent. When not in use, fully insert the Tapsigner card into the sleeve.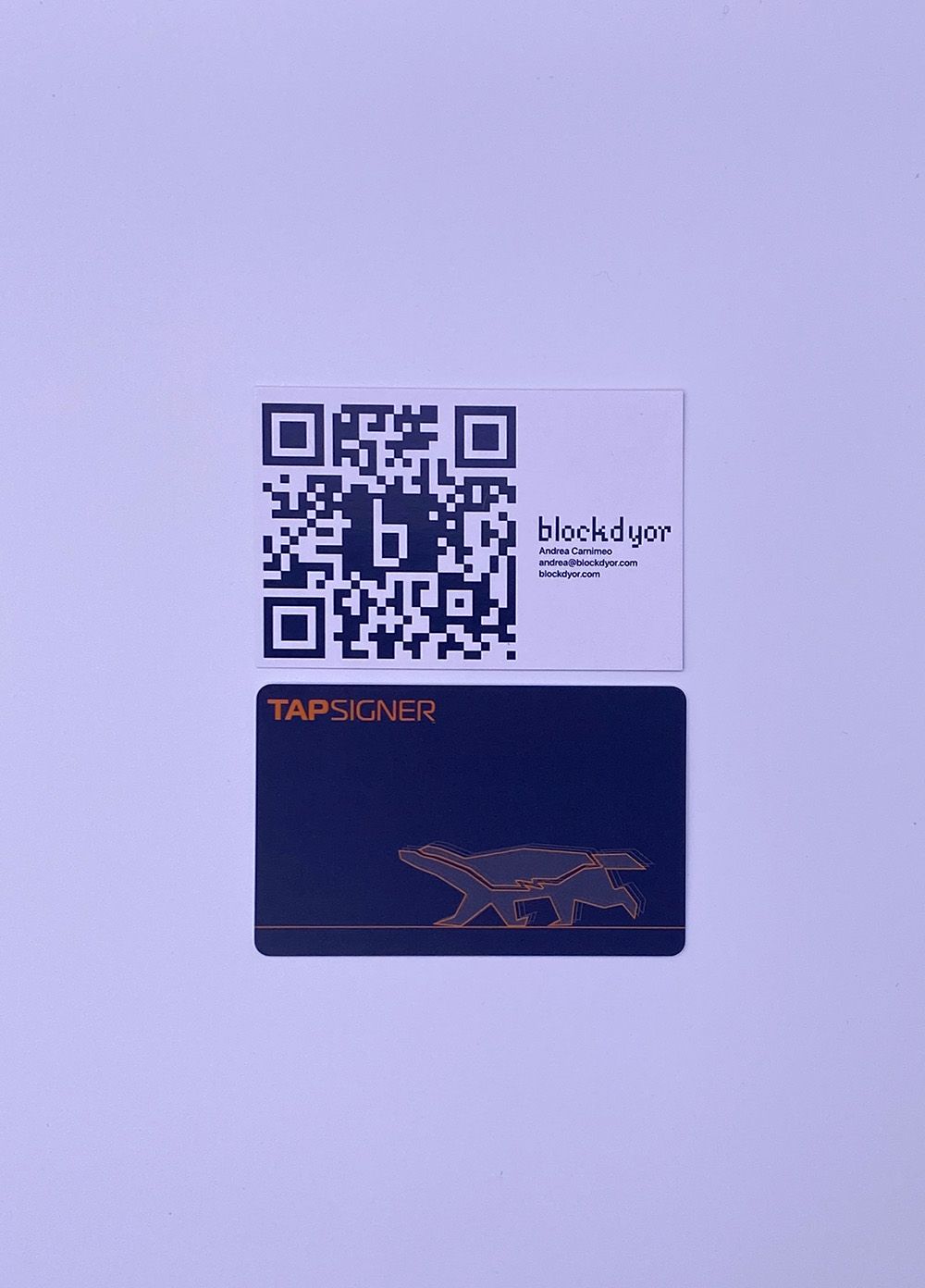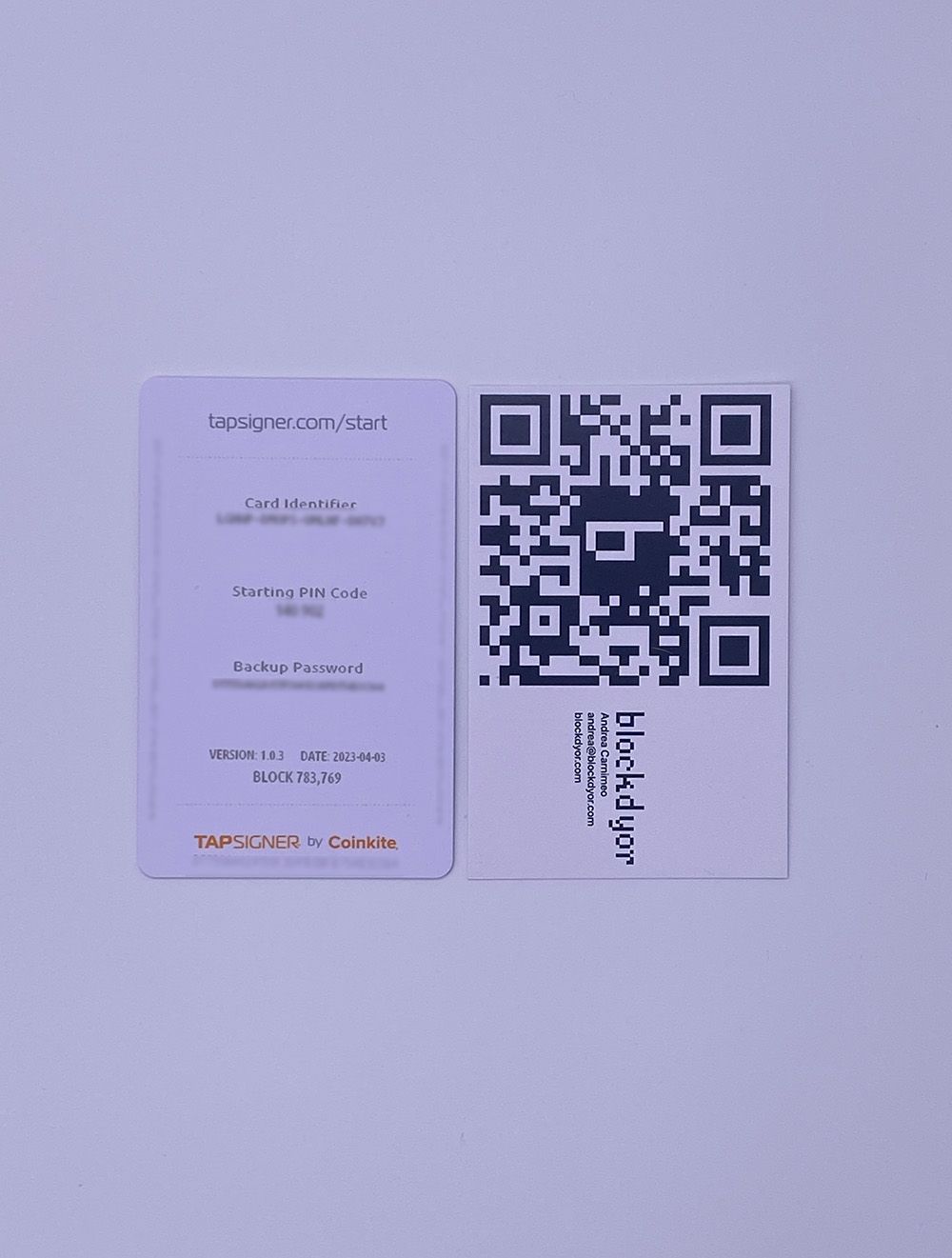 How To Setup The Tapsigner
As part of our Tapsigner review, we will proceed to explain how to use it in practice. Before proceeding with the Tapsigner setup, it's important to note the compatibility requirements and the necessary tools.
Prerequisites
To move forward, you must have one of the following:
Bitcoin (optional, you don't need during the setup): Tapsigner exclusively supports Bitcoin (BTC) as Coinkite is a Bitcoin-only company. Other cryptocurrencies, including Bitcoin Cash, Bitcoin SV, and other hard forks, are not compatible with Tapsigner.
NFC-Enabled Phone (mandatory): You'll need a phone with NFC (Near Field Communication) capabilities. Fortunately, most modern smartphones come equipped with NFC technology, making it accessible for many users.
OR
Desktop Computer with Sparrow Wallet and USB NFC Card Reader: If you don't have an NFC-enabled phone, an alternative option is to have a desktop computer with Sparrow Wallet installed. Additionally, you'll need a USB NFC card reader to facilitate the connection between Tapsigner and your computer.
Ensuring the compatibility of your device or having Sparrow Wallet installed with a USB NFC card reader is essential to proceed with the Tapsigner setup process.
By meeting these requirements, you can proceed confidently and make the most of Tapsigner's functionalities in conjunction with Nunchuck or Sparrow Wallet.
Add Tapsigner as a Key
To use the Tapsigner in single-sig and multisig setups, it is necessary to first add the Tapsigner to your wallet as a key.
Please follow the steps below to set up Tapsigner as a key and create a wallet using the newly established key. Additionally, I will provide instructions for configuring multisig settings.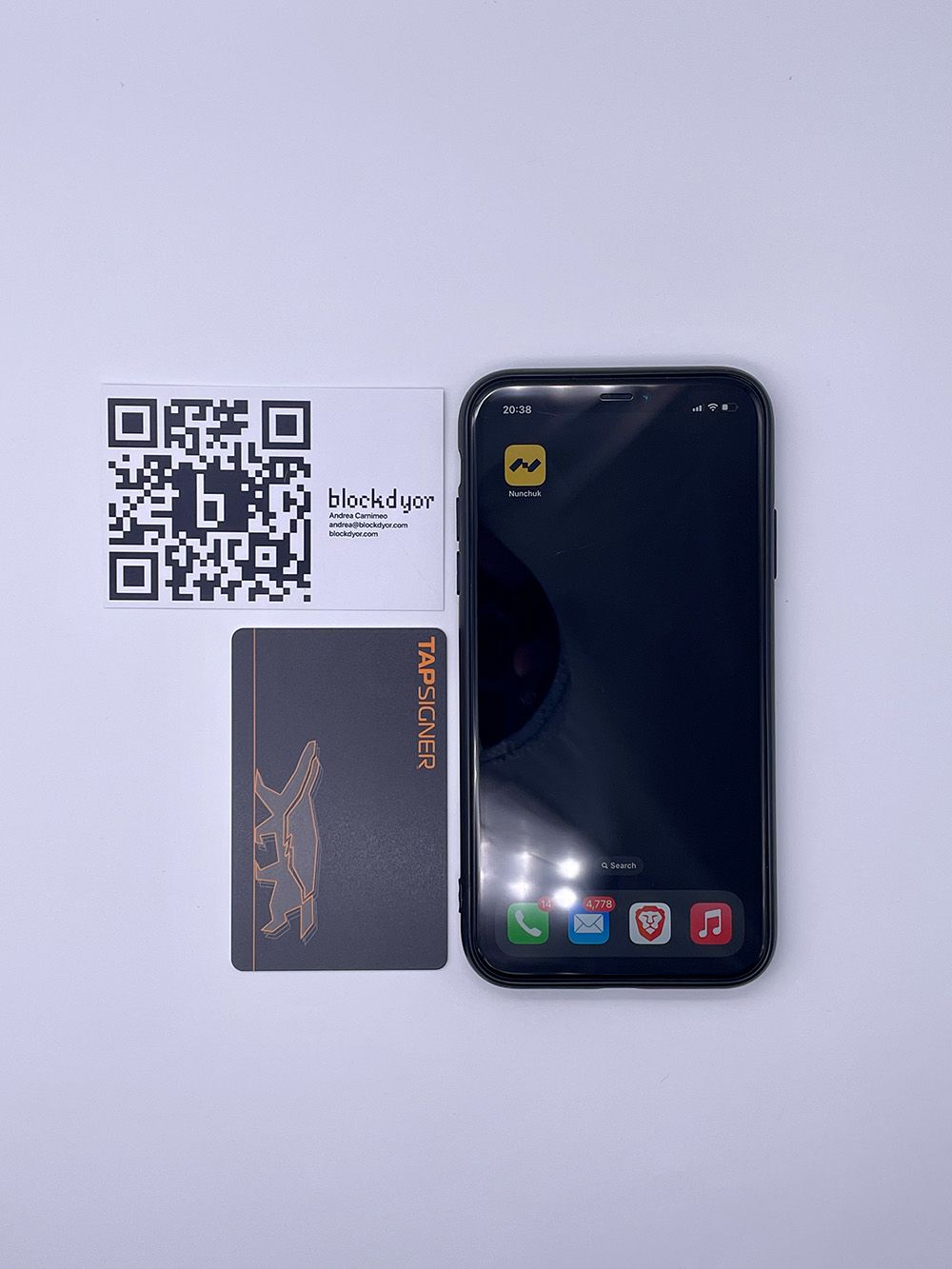 Begin by removing the Tapsigner from its sleeve. Visit the App Store and download one of the supported apps, such as Nunchuck. Ensure that there are no obstructions, such as covers or other objects, hindering the NFC sweet spot of your phone. Typically, this spot is located near the cameras.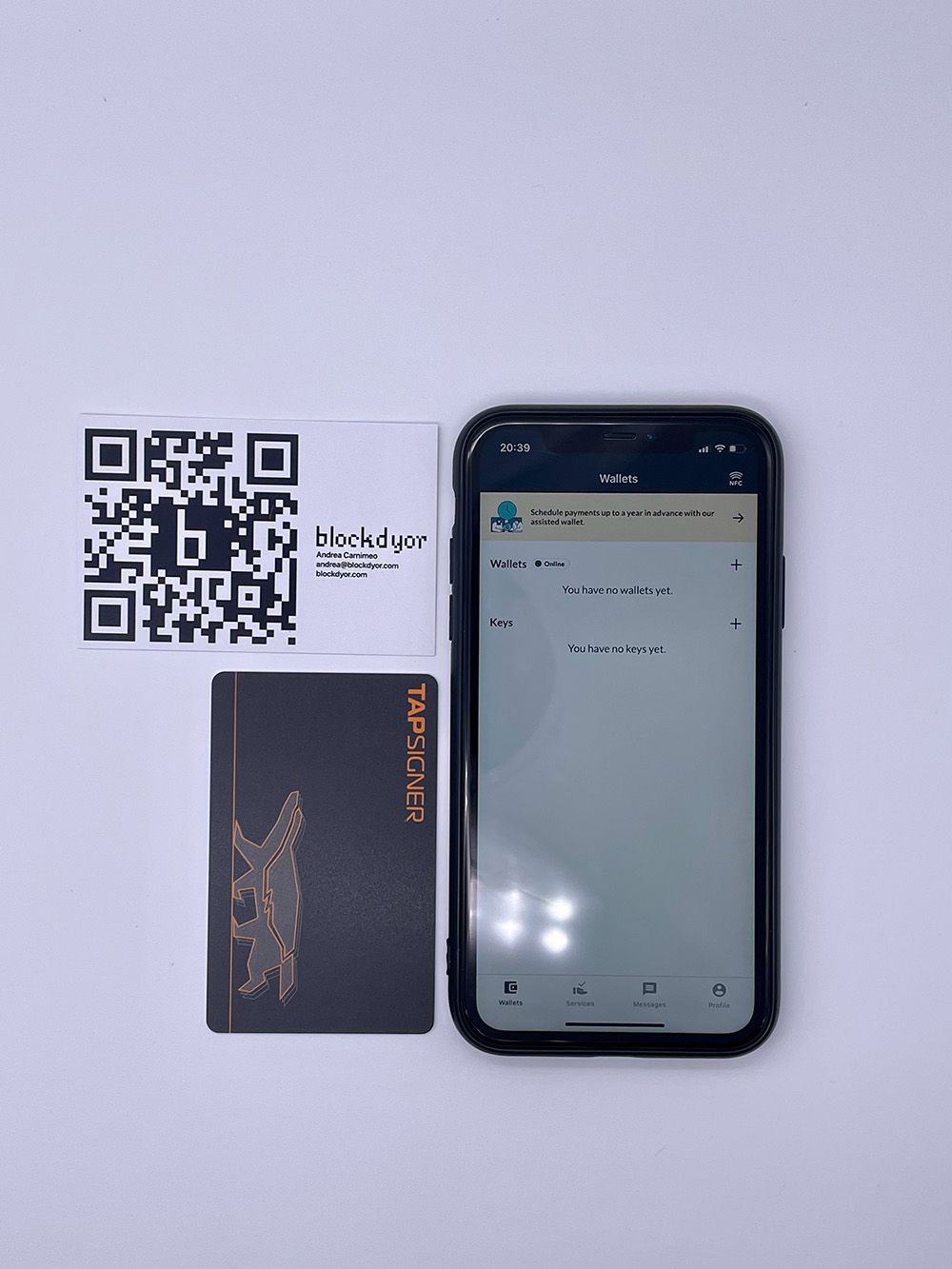 Tap the Nunchuck icon to launch the application. The main dashboard of the app will appear. Rest assured, you can use the app seamlessly without the need for KYC, ensuring your identity remains uncompromised.
Click on the + near Keys to start the process that will add the Tapsigner as a key.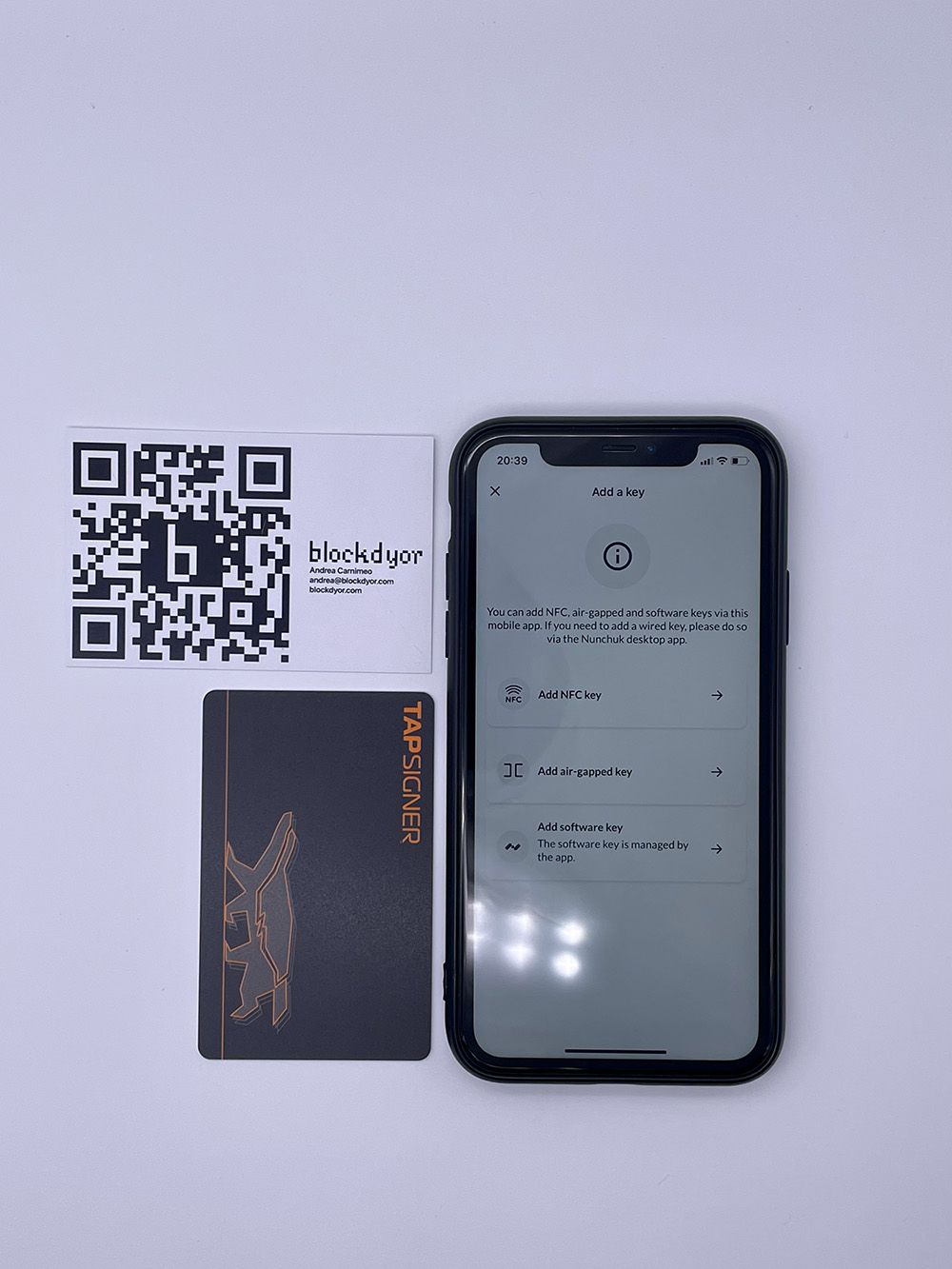 Tapsigner is an NFC key, so tap on Add NFC Key to go forward.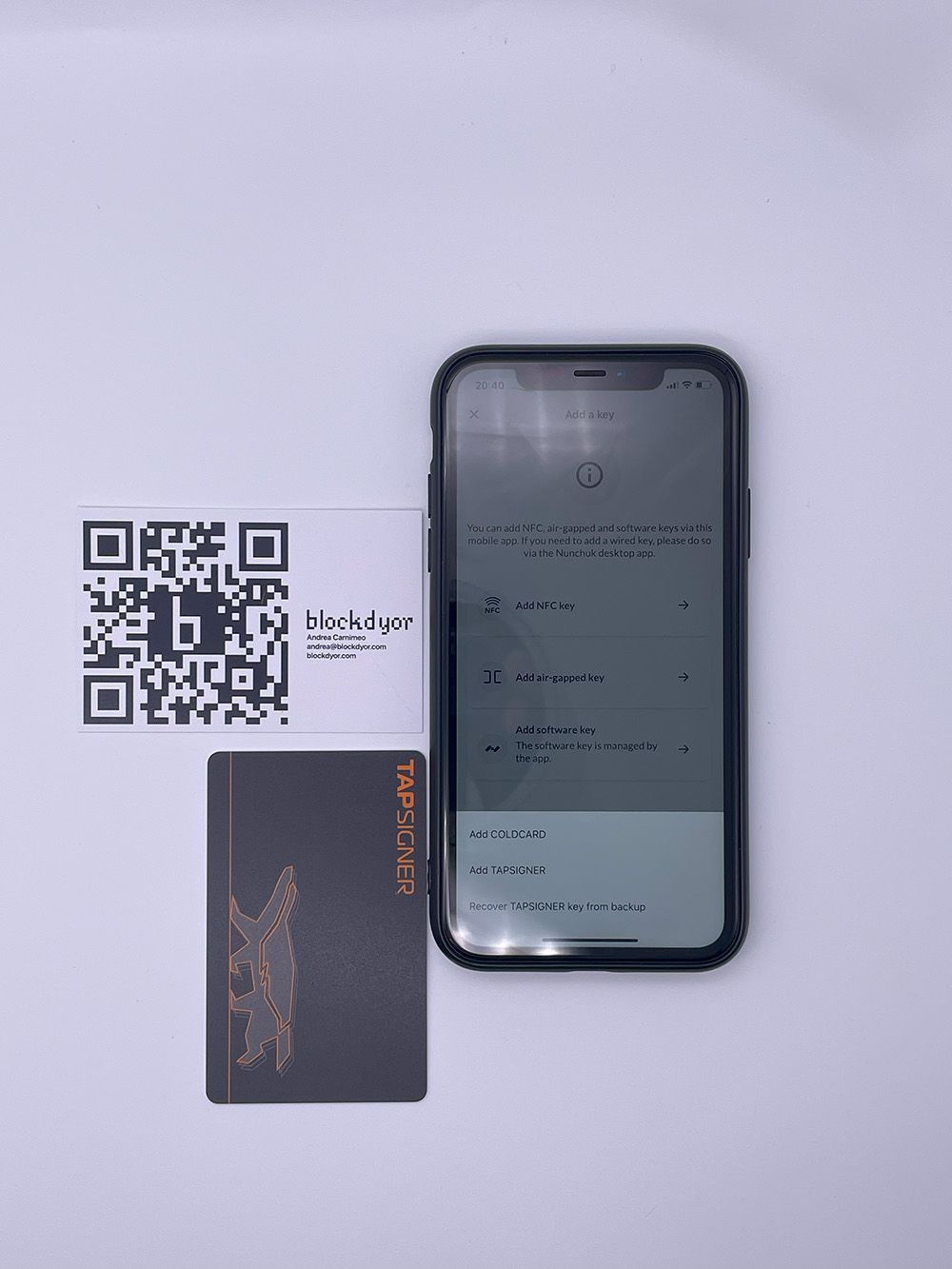 Nunchuck supports several NFC devices, one of them is the Tapsigner. Tap on it to go to the next step.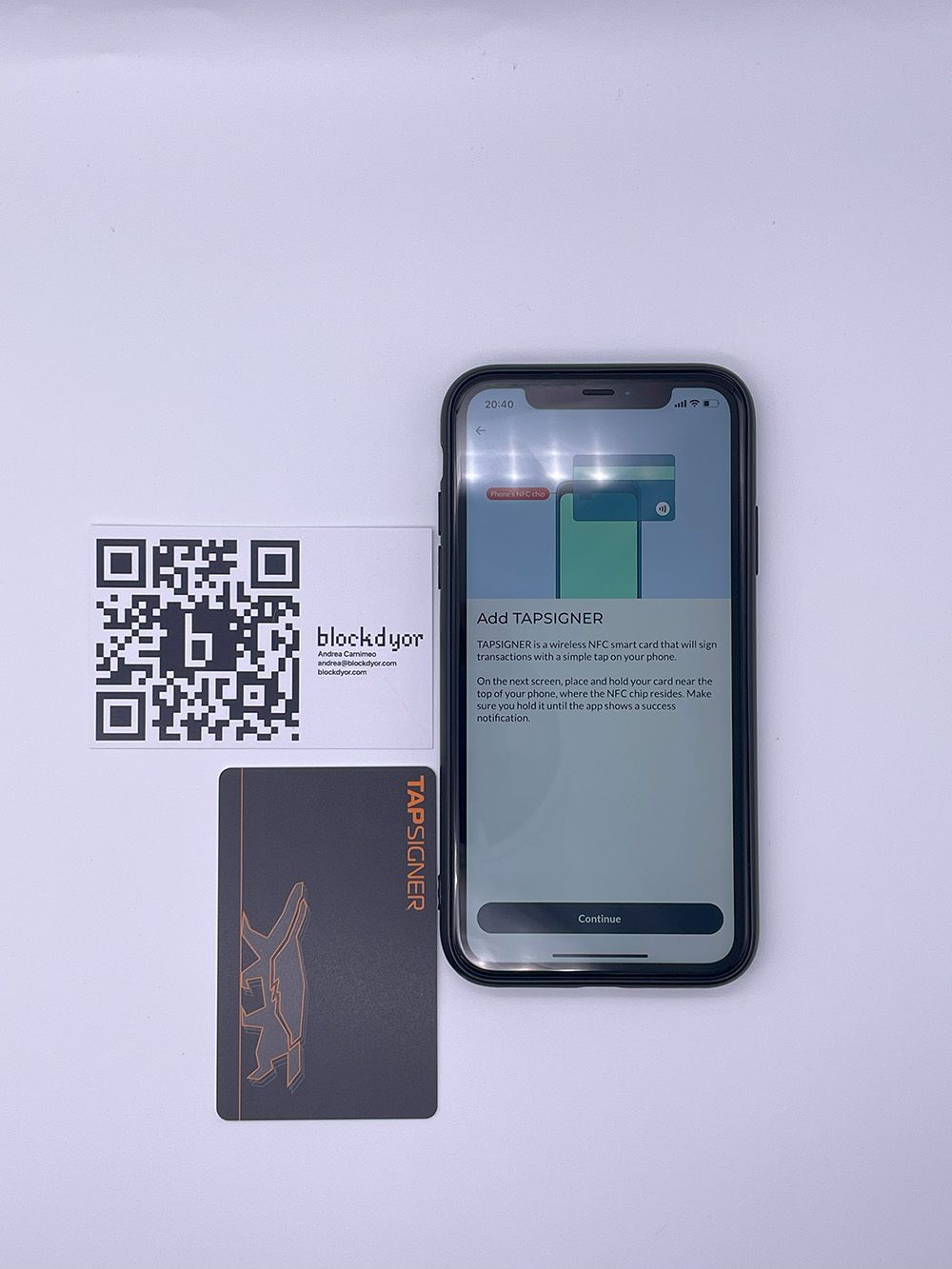 Now, position the Tapsigner on the back of your phone, specifically in the NFC Sweet Spot located near the camera. If done correctly, you will receive a notification from your phone's browser indicating a successful NFC connection. Please refrain from tapping on the notification; instead, proceed by pressing the Continue button on the Nunchuck app.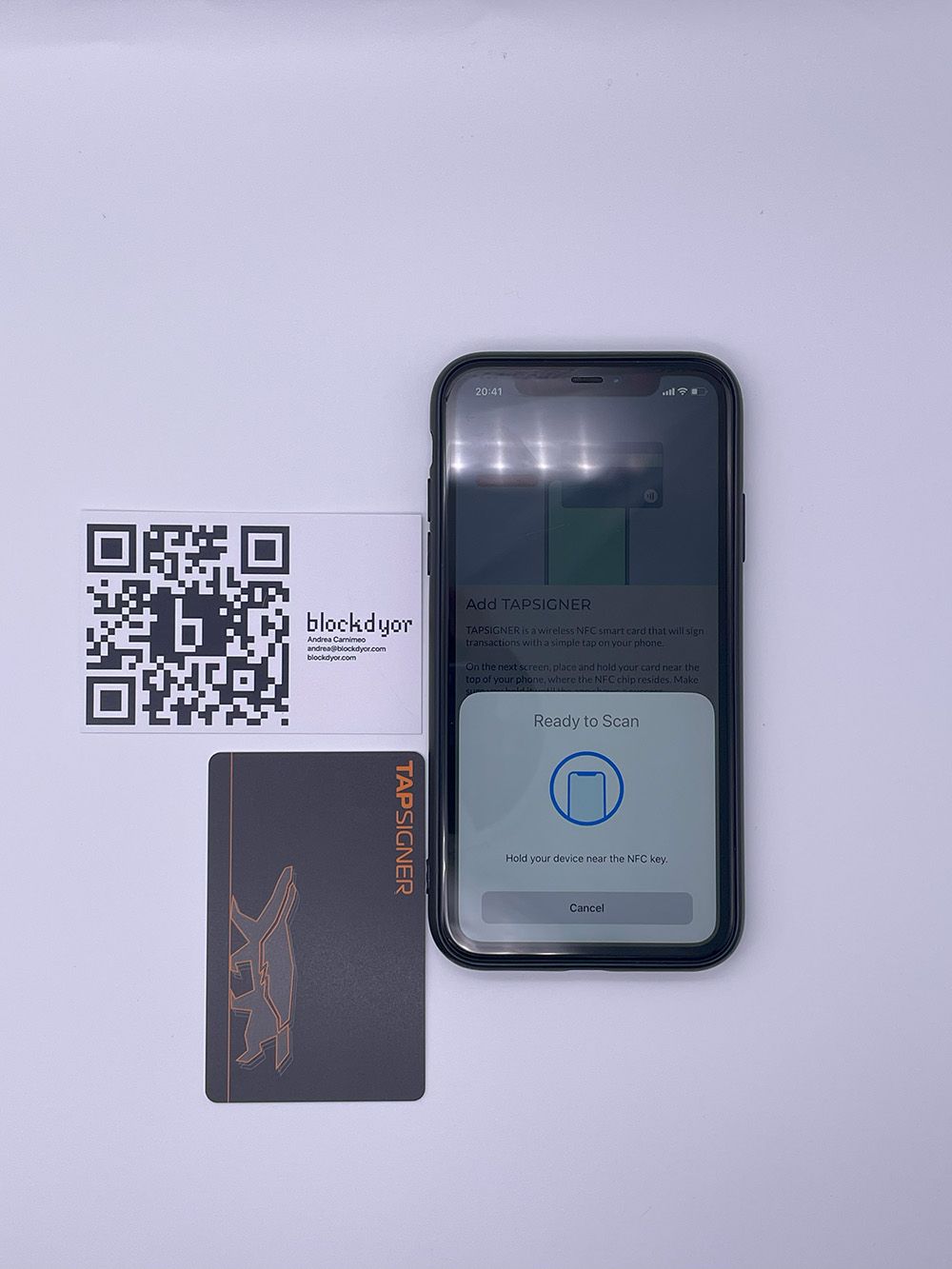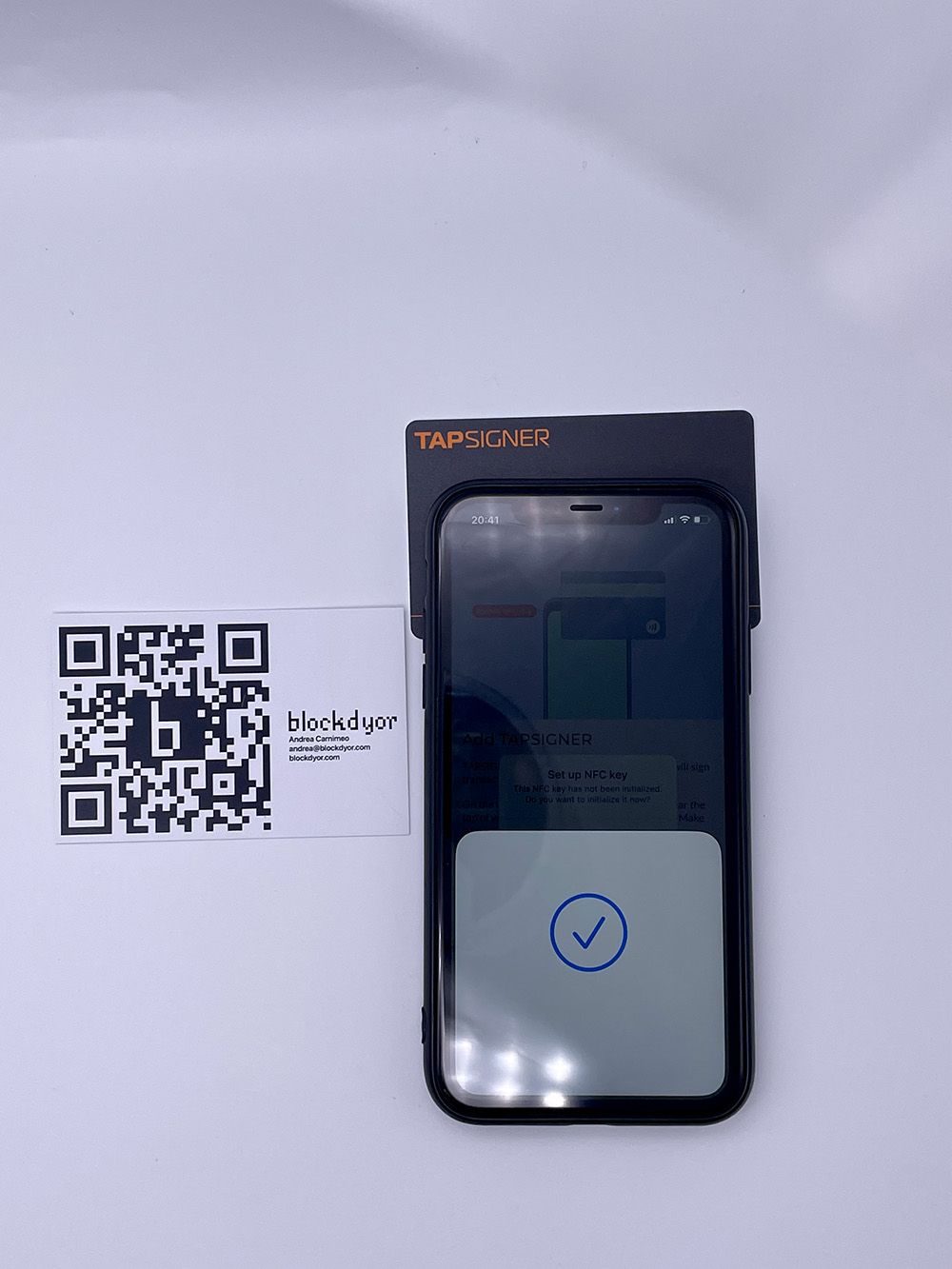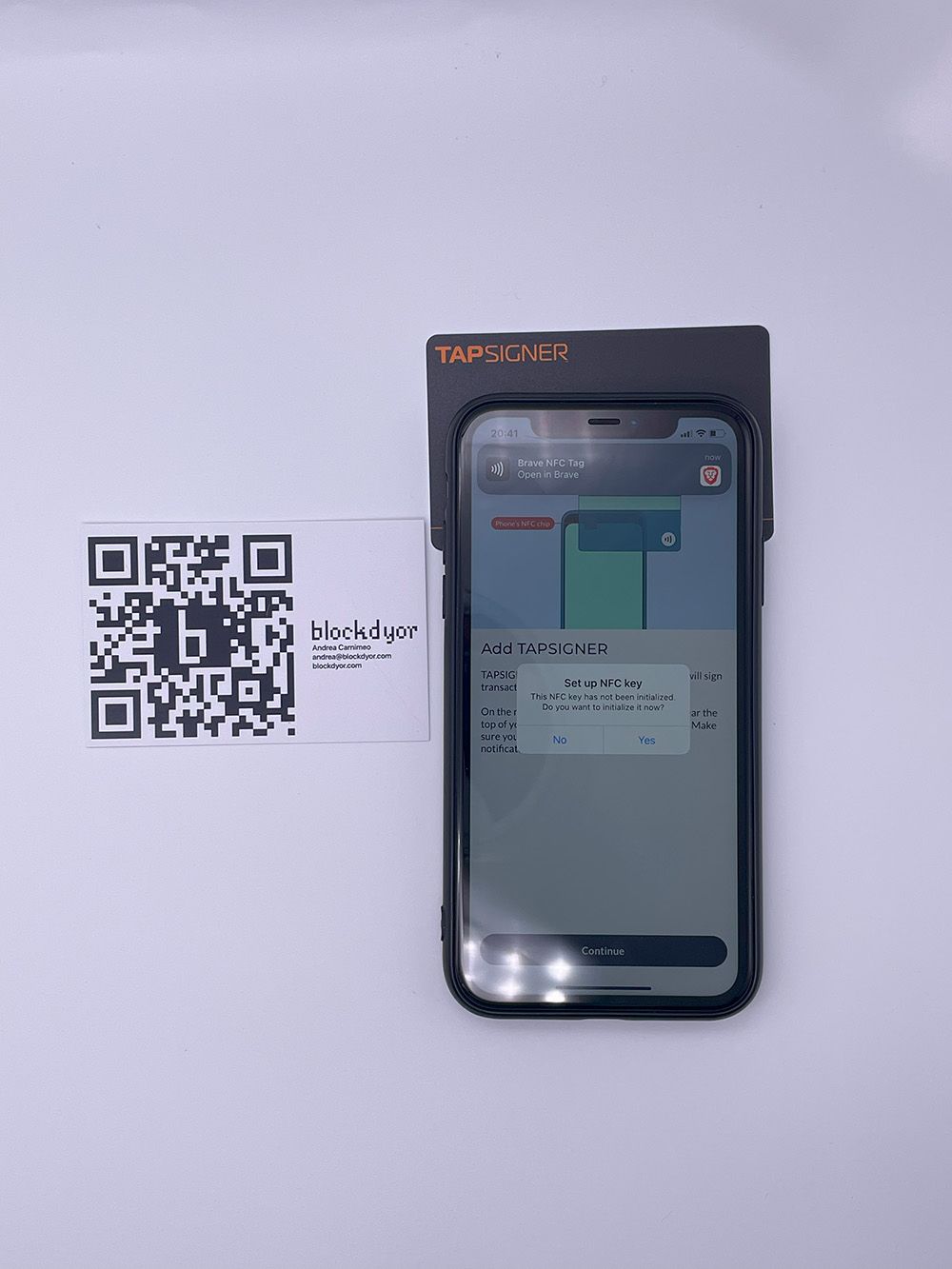 Start the initiatization of the NFC by clicking on Yes.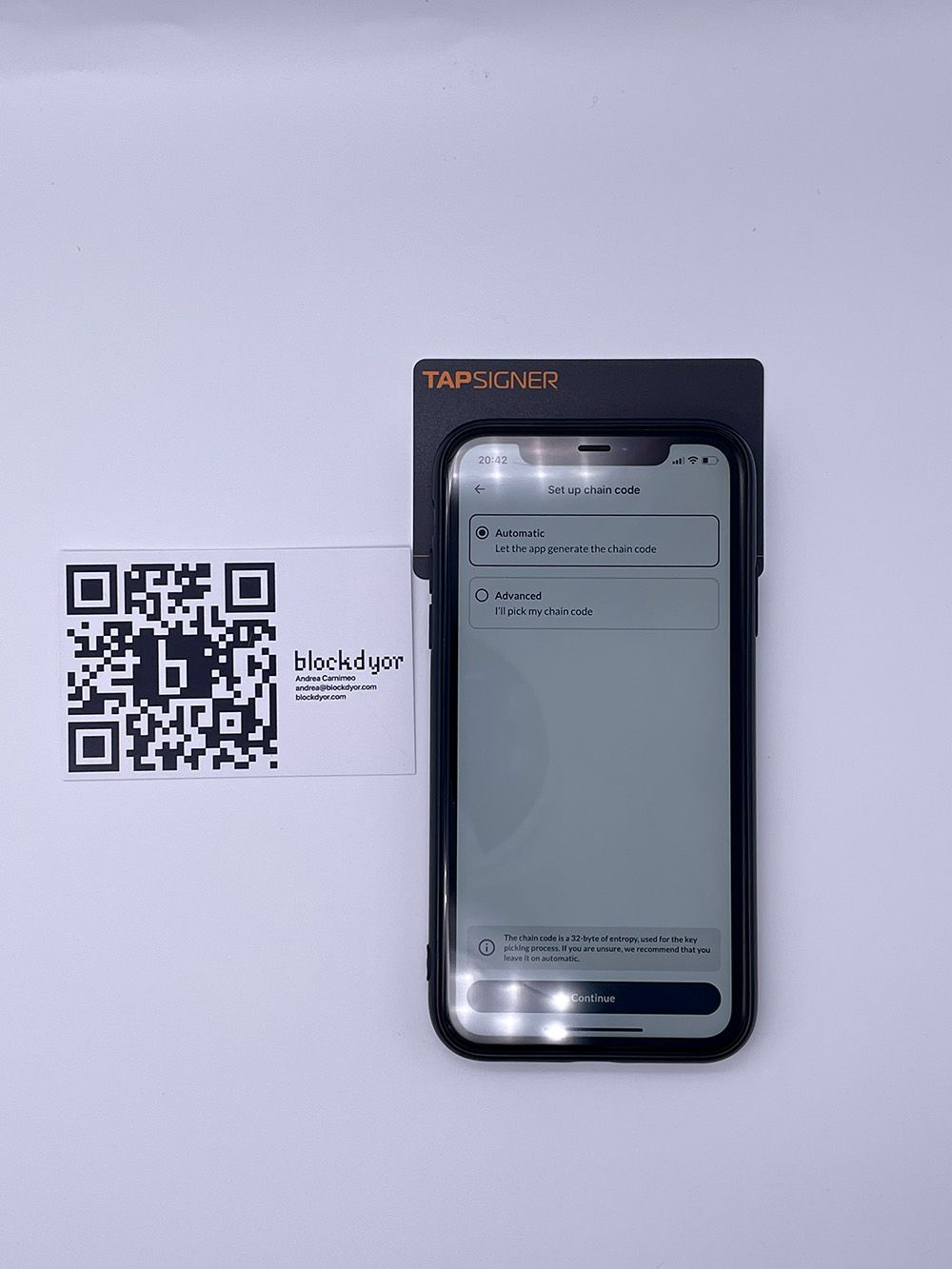 You will now be presented with a prompt to set up a chain code, which is an entropy value used for generating the key picking code. In this case, we will select the Automatic mode.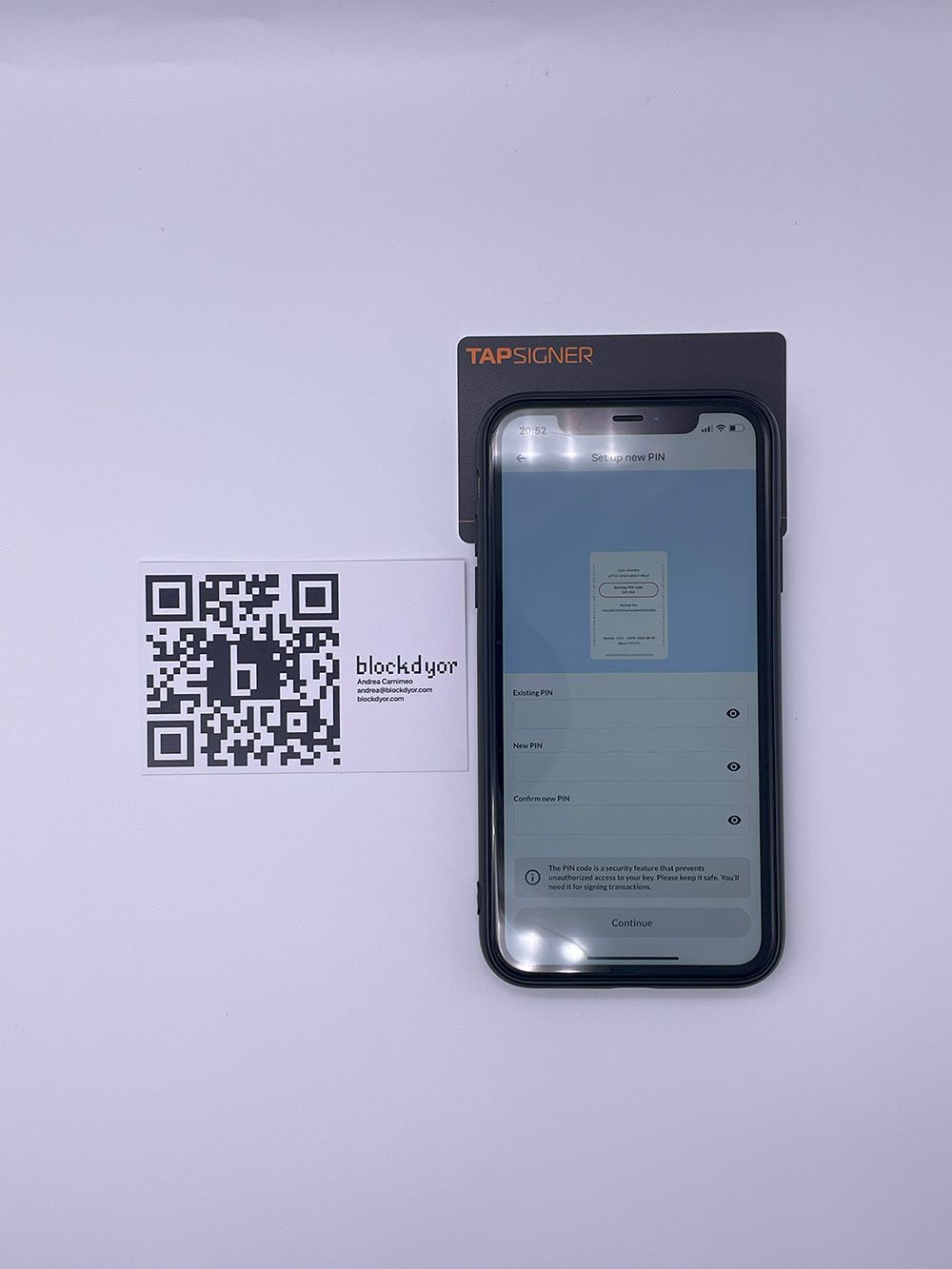 It's time to create a new PIN. The existing pin is on the back of the Tapsigner. Locate it and write in the first field. In the other two type a new PIN and write day in a piece of paper. You'll need this pin to sign transactions.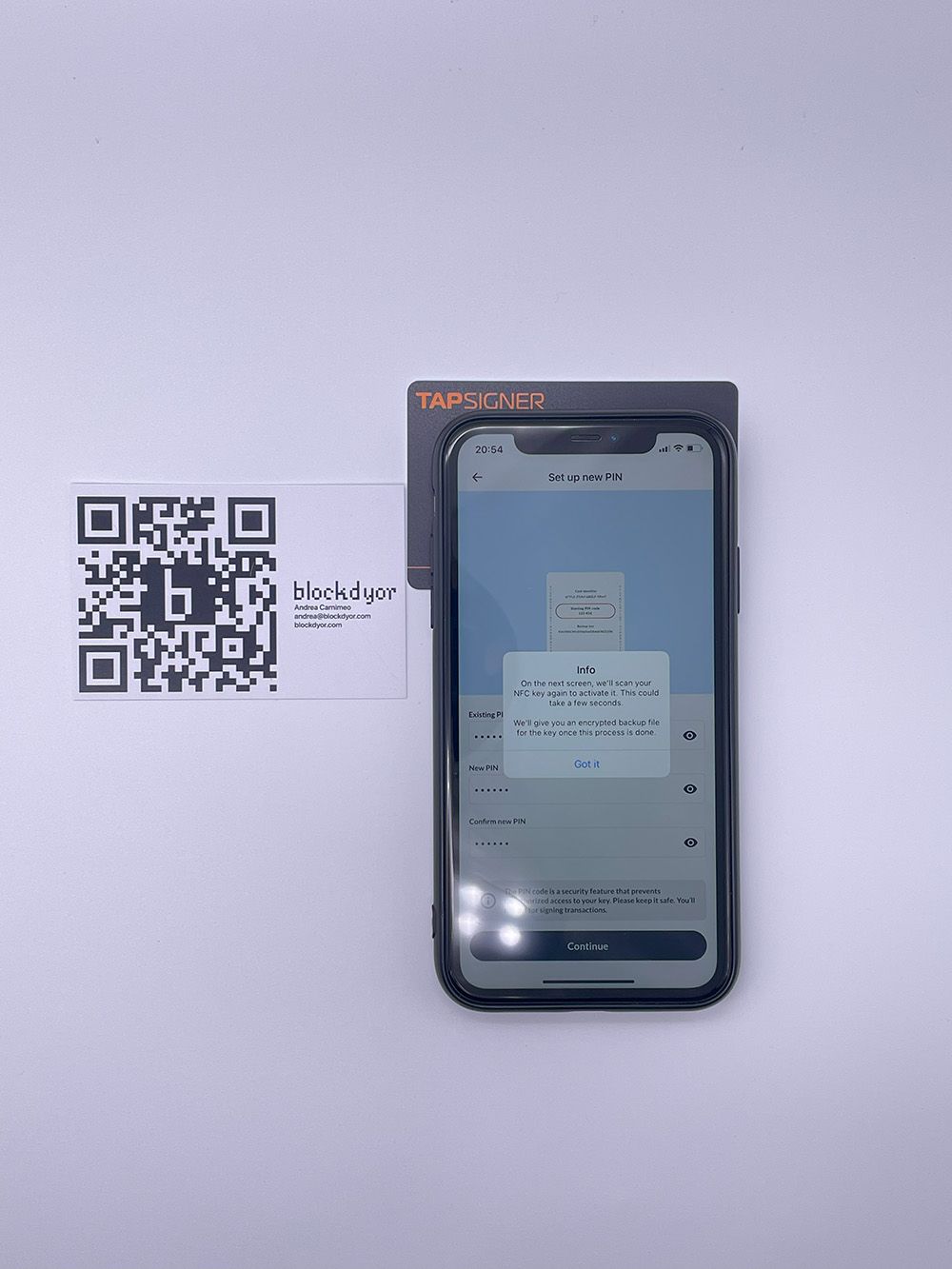 Double check if the Tapsigner is near the NFC sweet spot, then tap on Got It.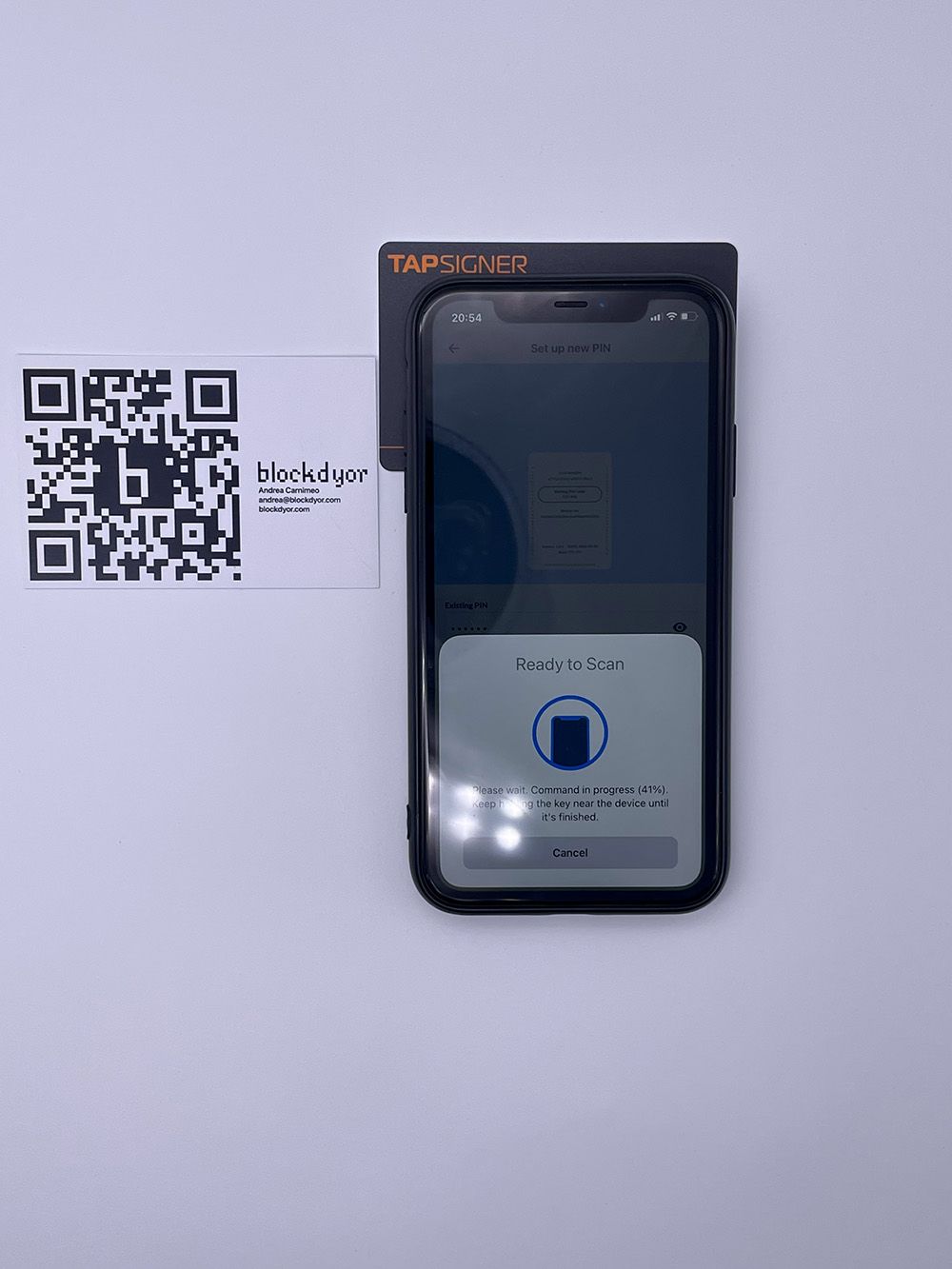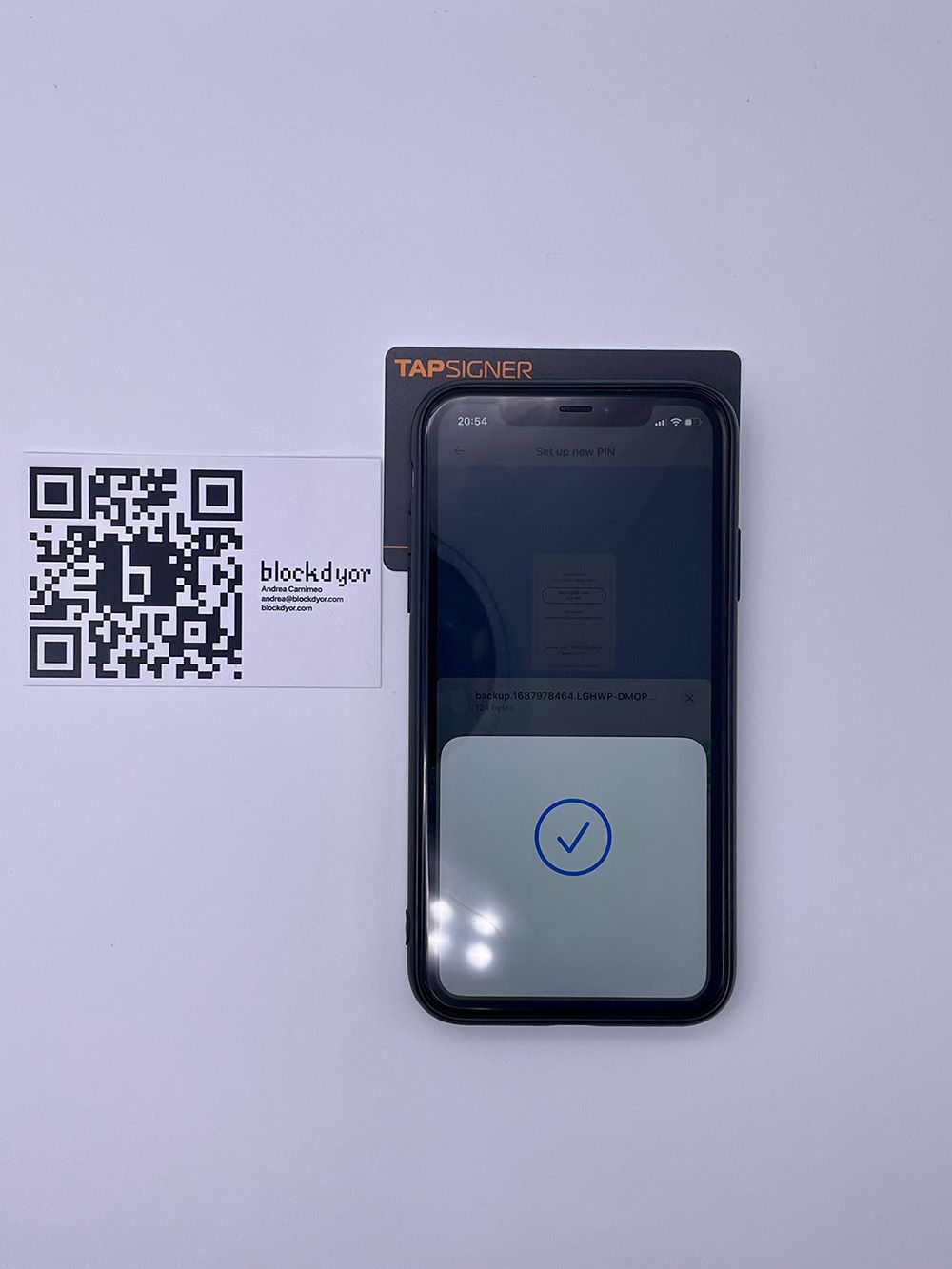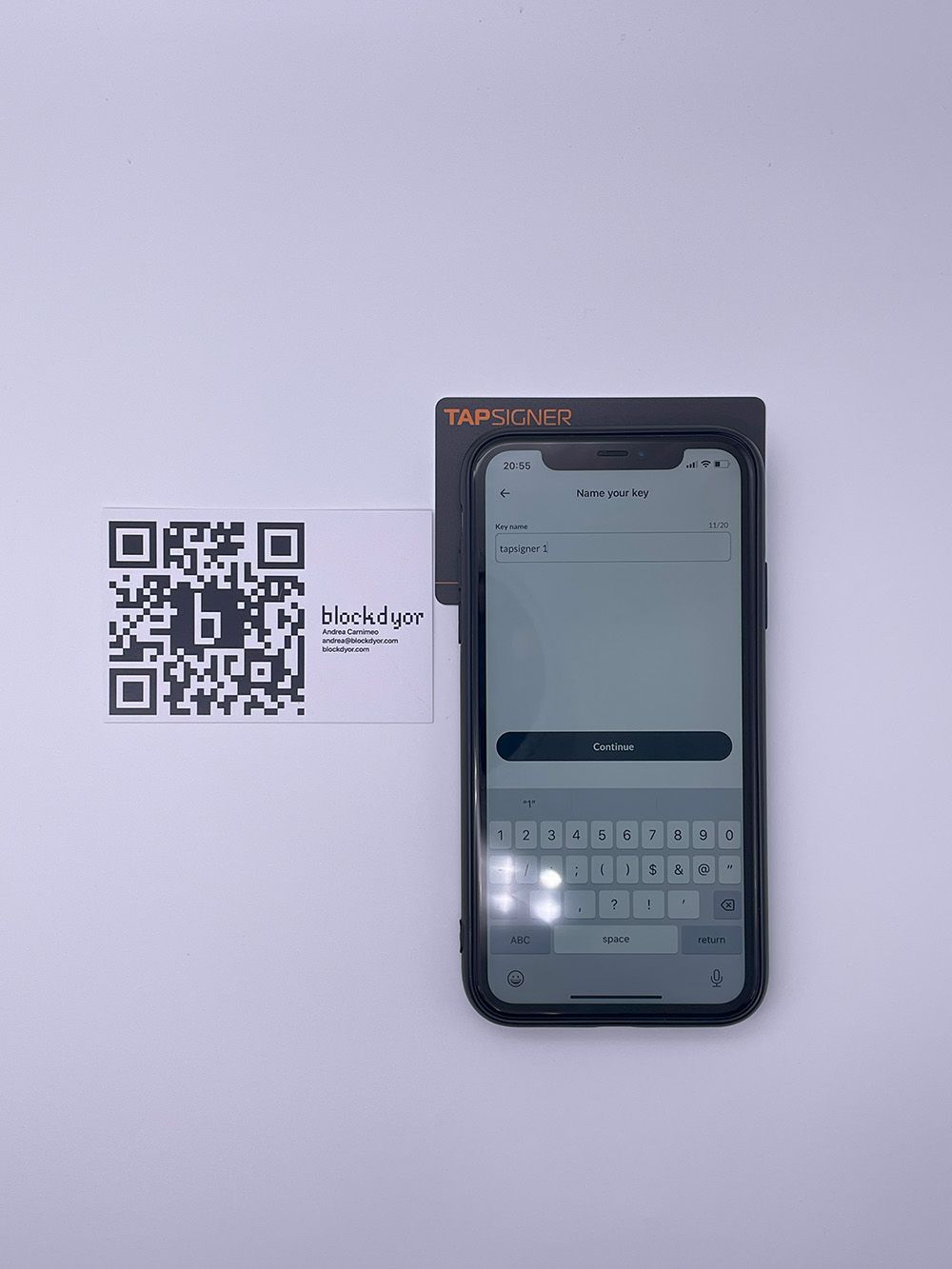 It's time to name the key. Give it a name easy to remember and distinguish like tapsigner 1 if you would like to do multisig.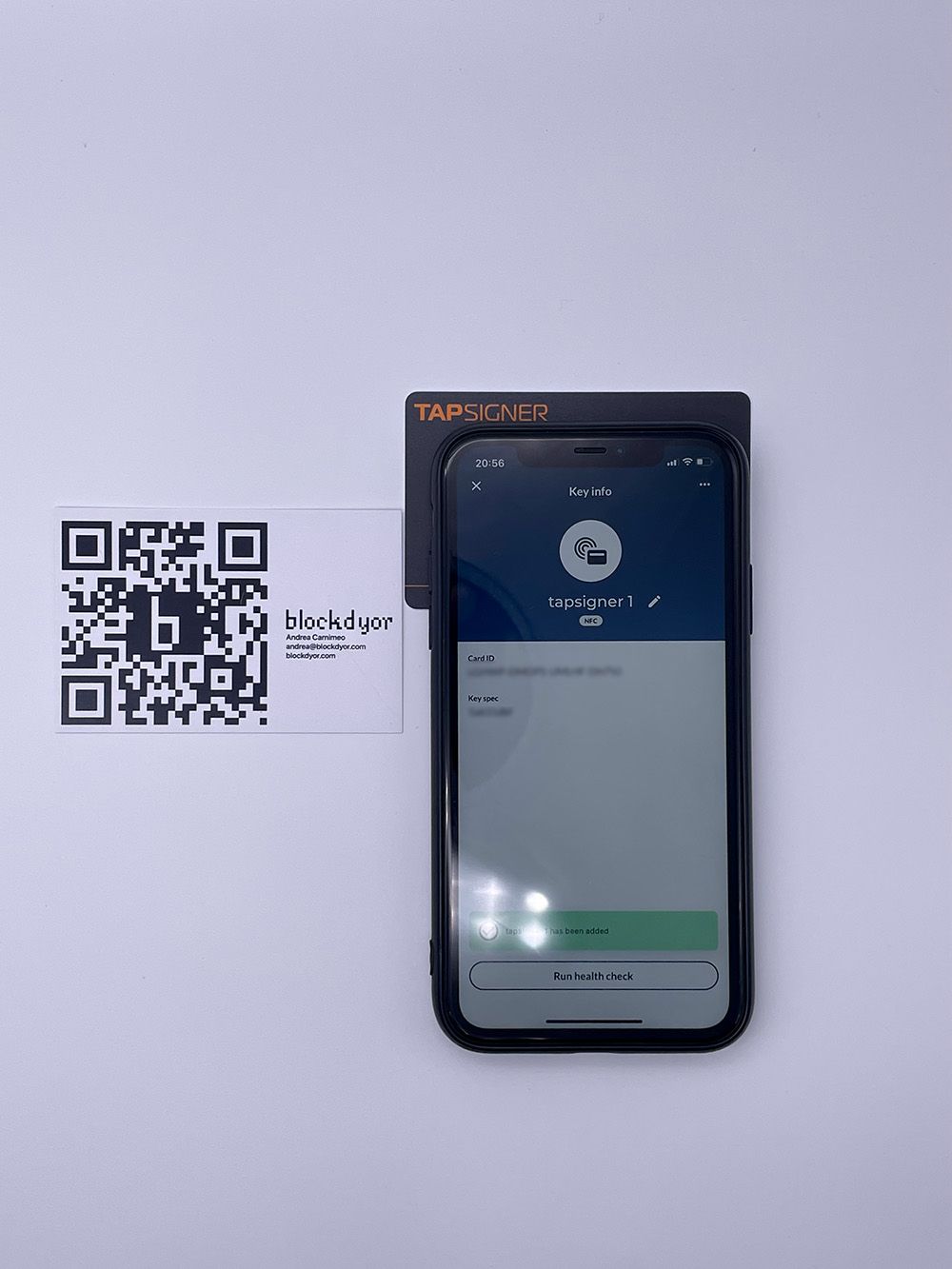 In the Key Info view you can verify the Card ID and Run and health check to see if the pin works.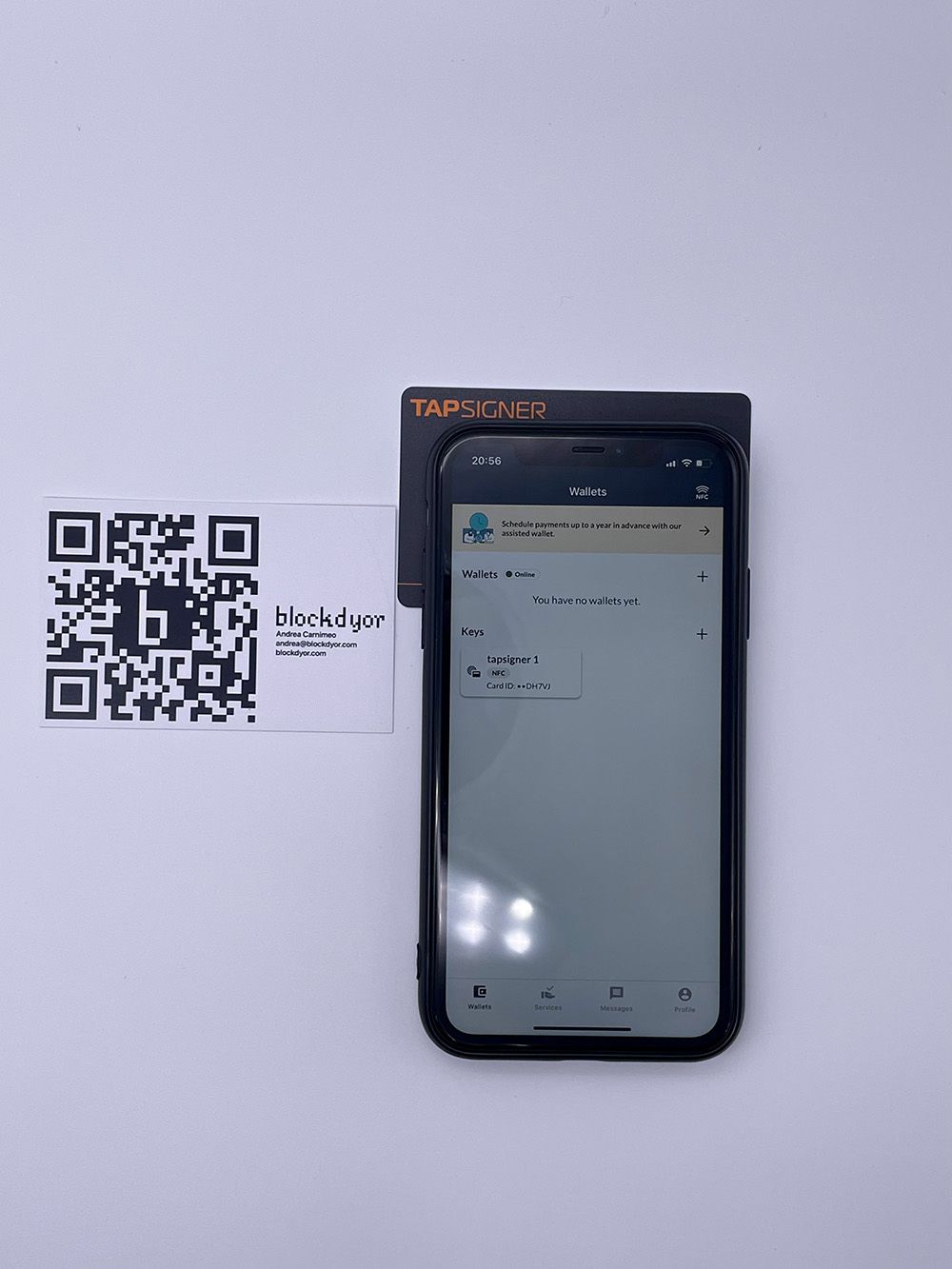 In the Nunchuck app, you will now find Tapsigner listed in the "Keys" section.
Create Wallet With Tapsigner As The Key

After you added the Tapsigner as the key in Nunchuck, it's possible to create a wallet based on this key, and start receiving/sending Bitcoins. Tap on the Plus near Wallets on Nunchuck in order to get started.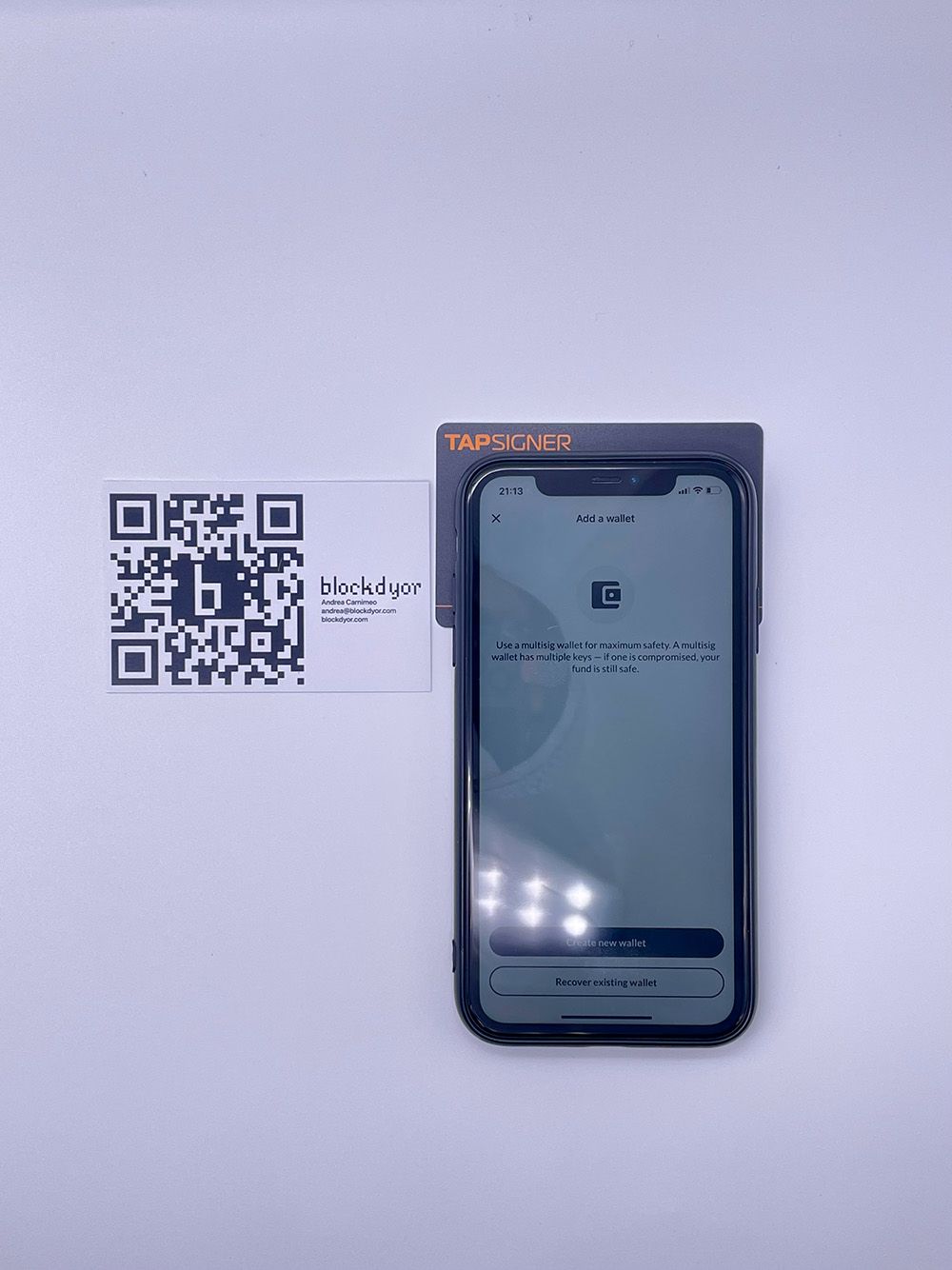 Tap on Create new wallet to start the procedure.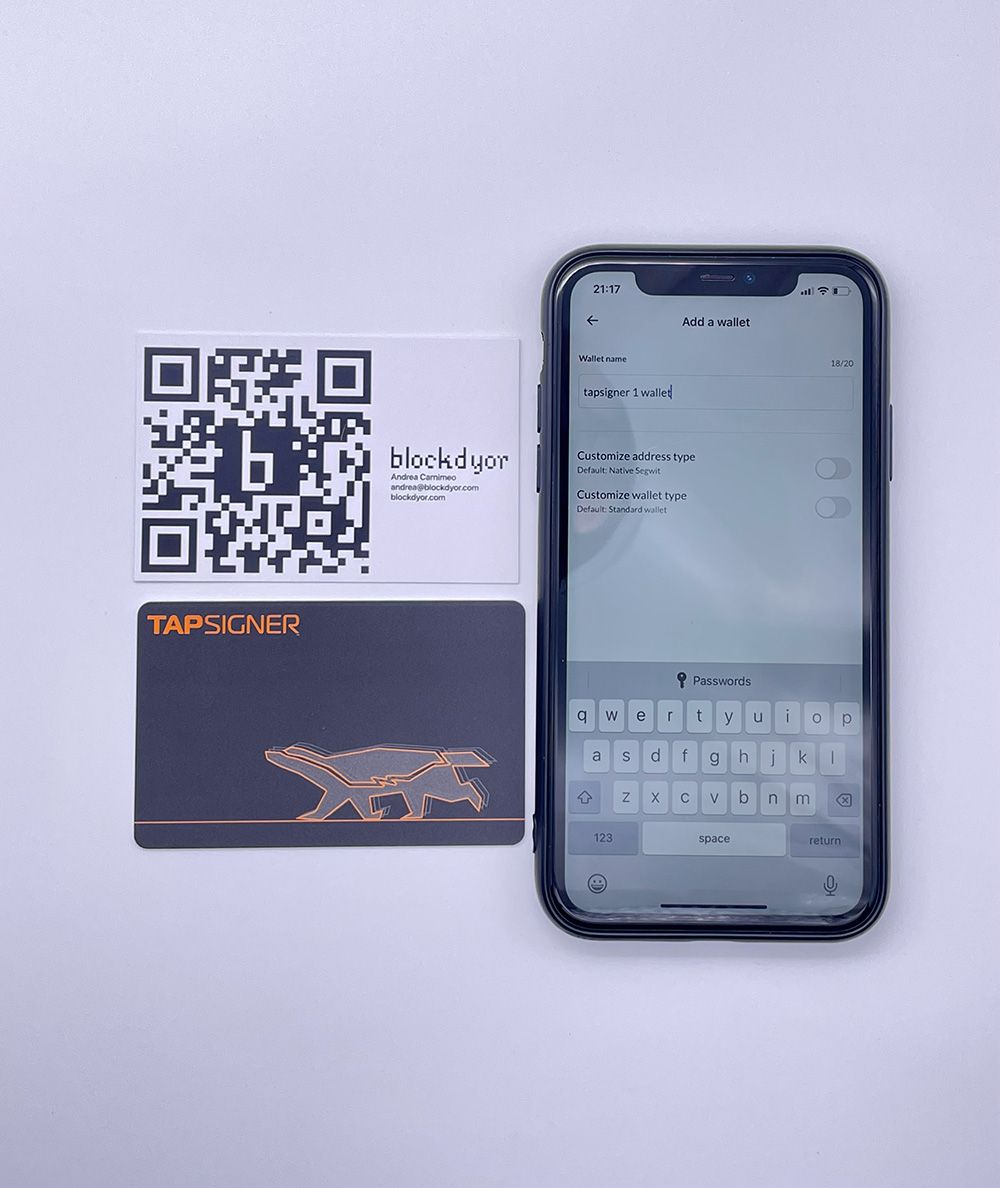 Give a name to the new wallet. In this case, I will use tapsigner 1 wallet.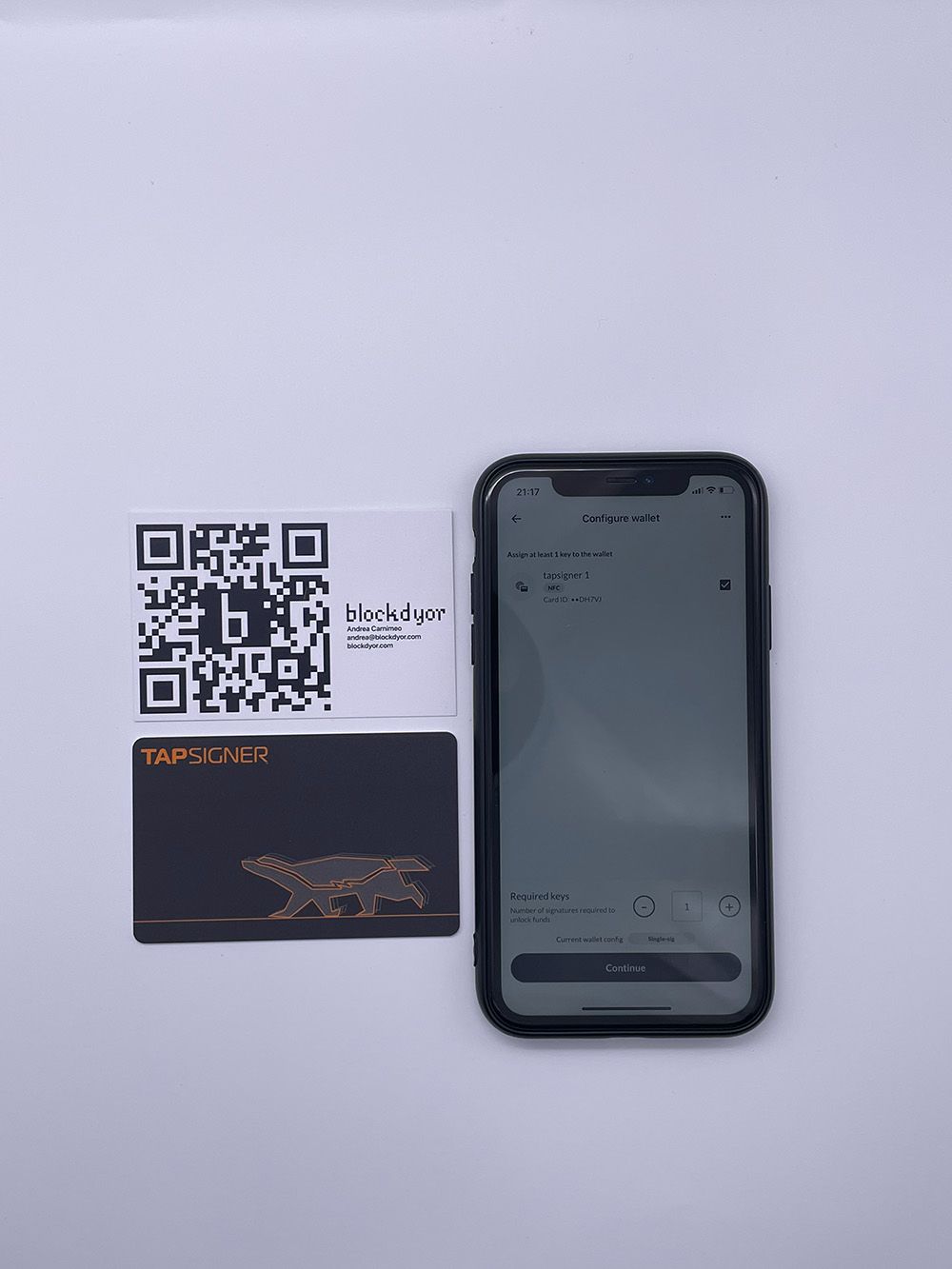 Now it's time to configure your wallet. Choose the key we just selected, Tapsigner 1, and proceed by pressing the Continue button.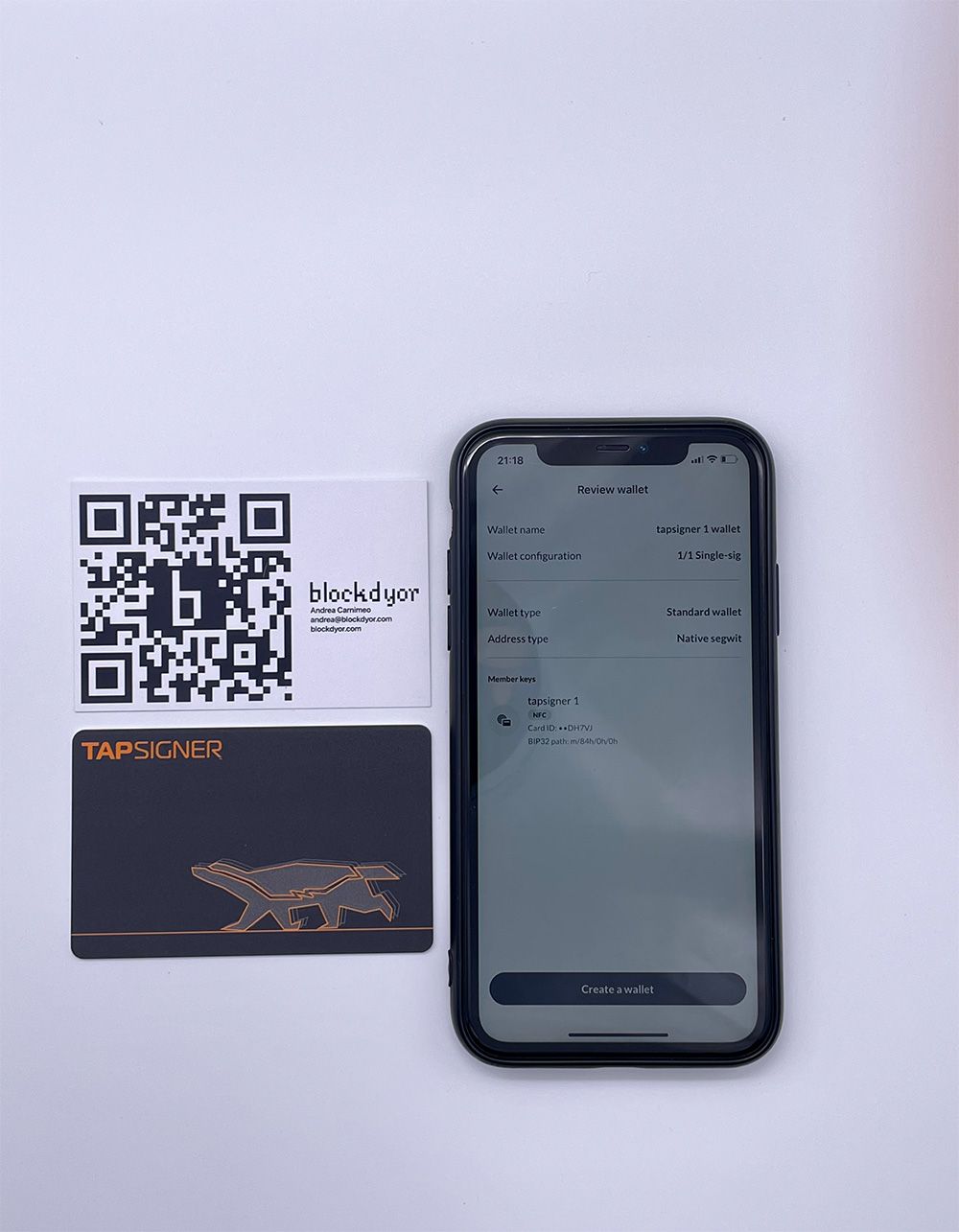 Verify all the informations about the wallet, then tap on Create a Wallet.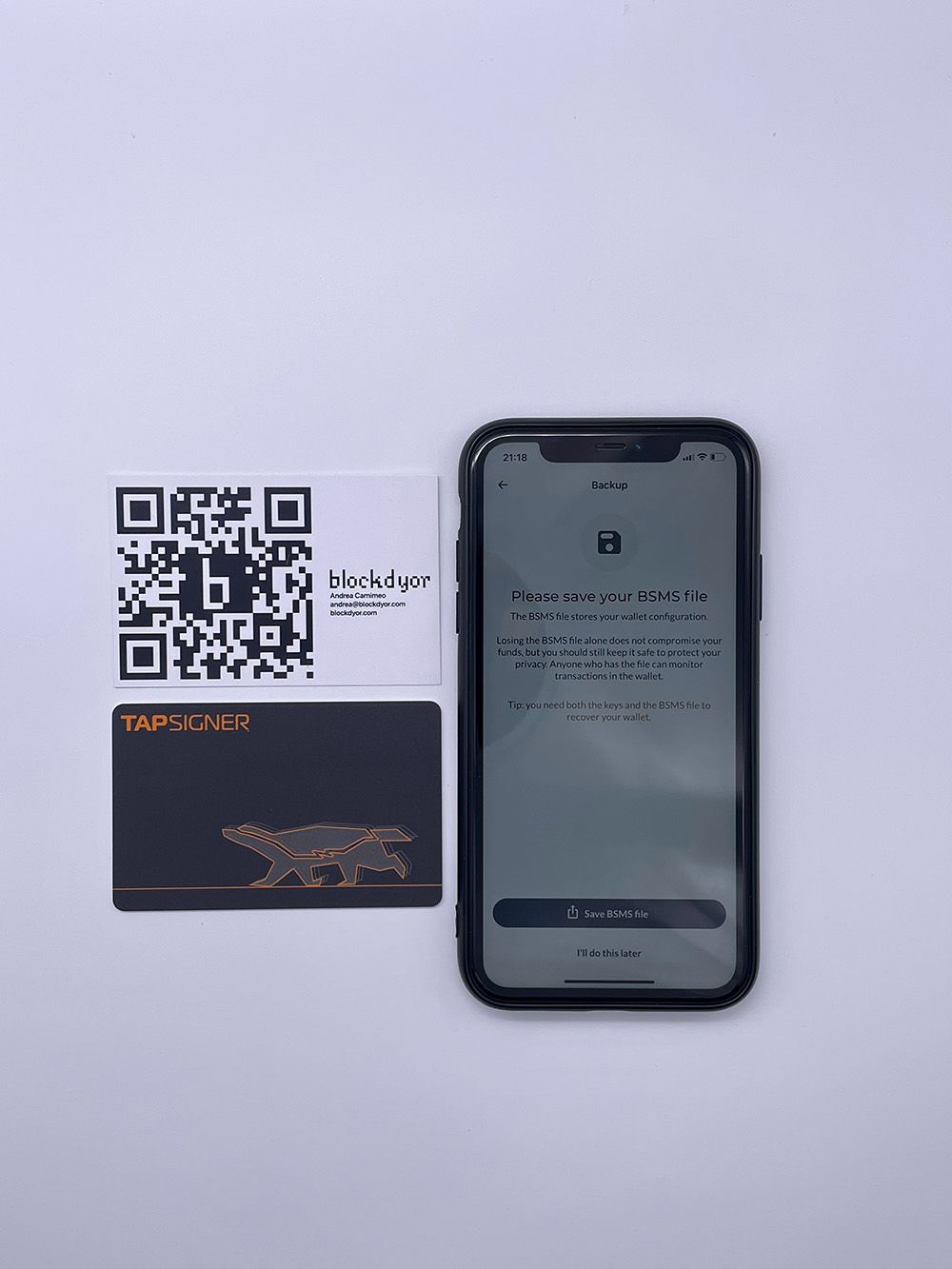 Save the BMMS file, which stores the wallet configuration.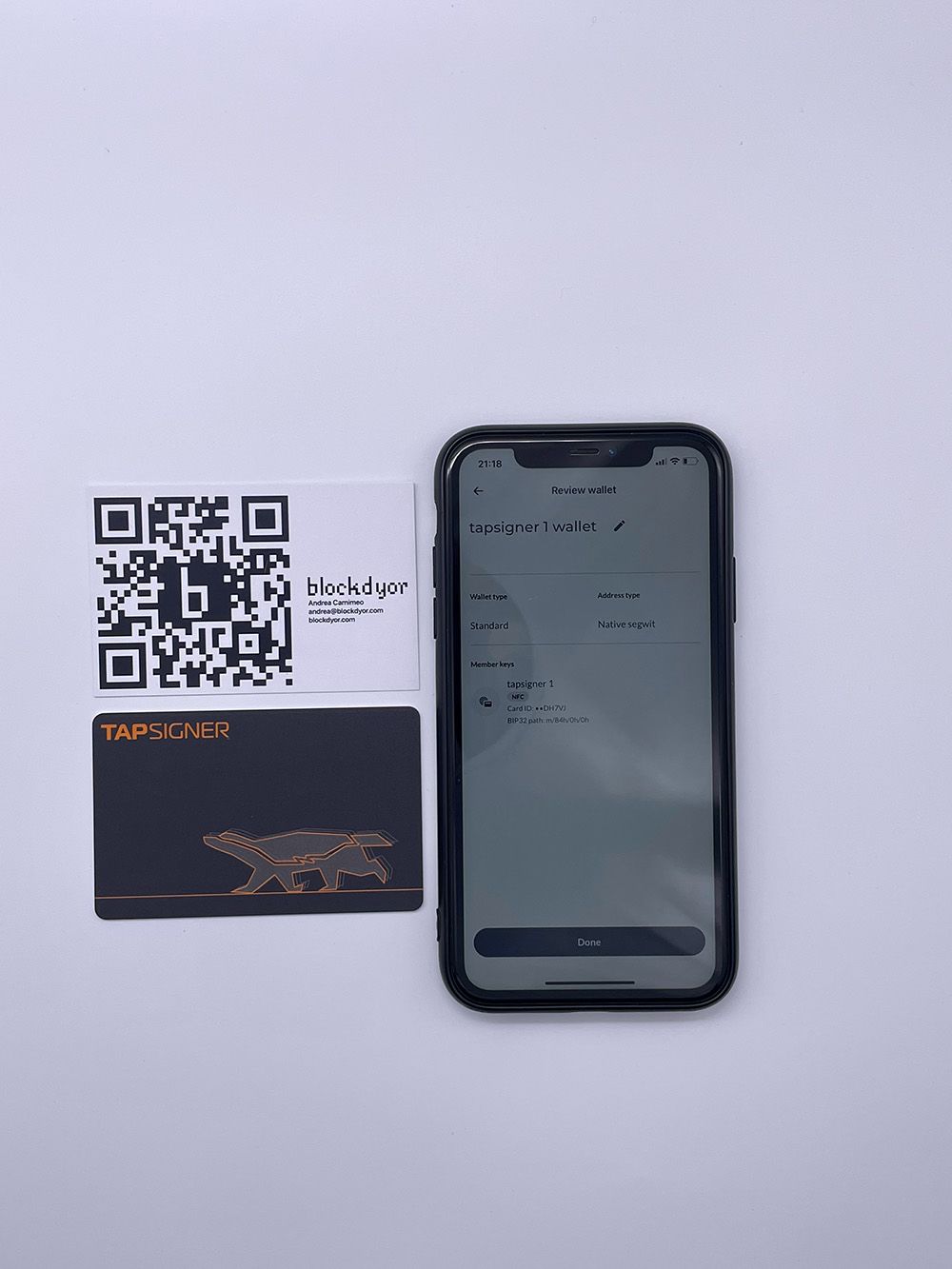 Review the wallet and then click on Done to finish the wallet creation process.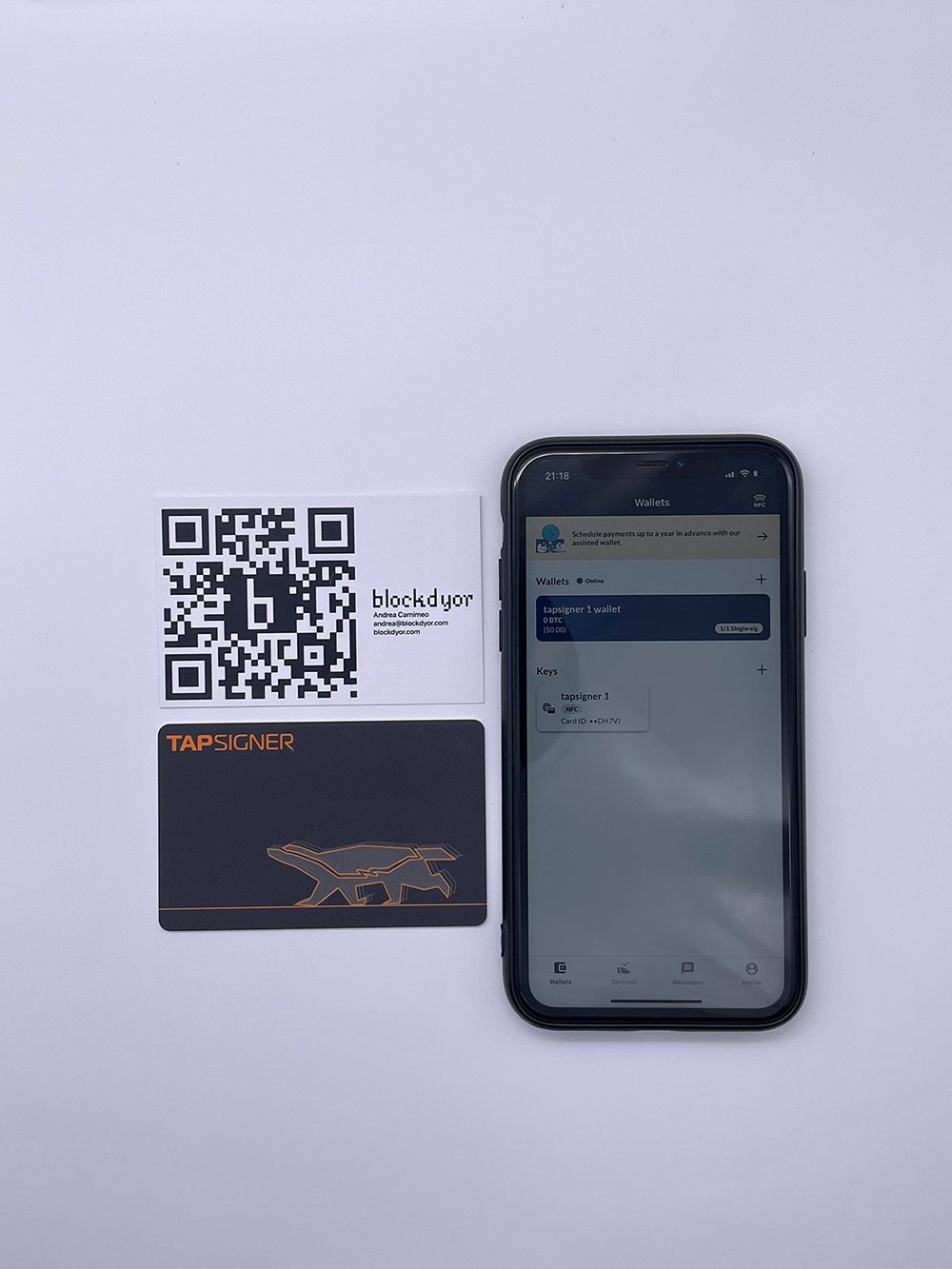 In the main view you will now find the tapsigner 1 wallet.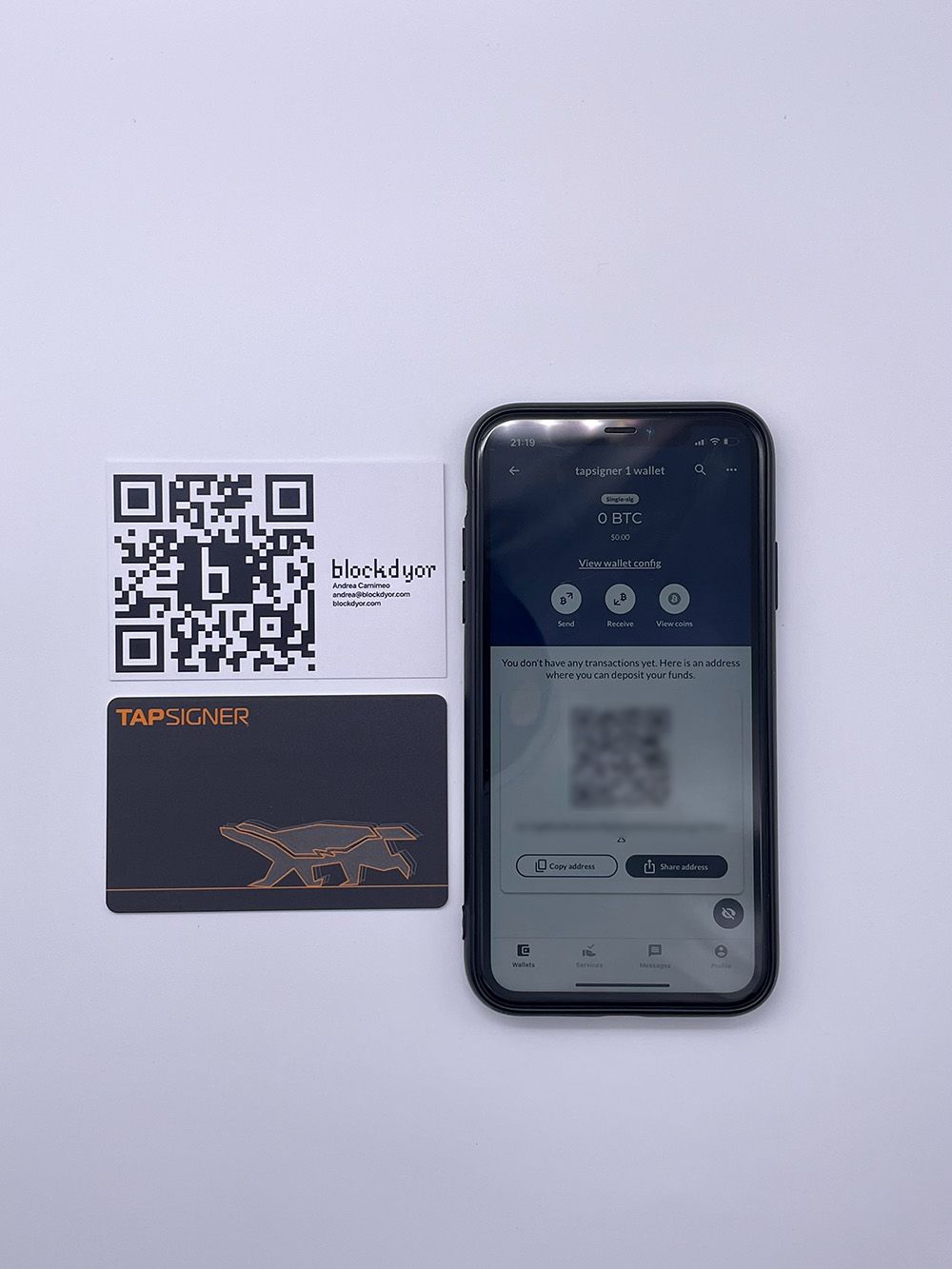 Tap on the key to access the wallet view, where you can perform actions such as sending, receiving, and viewing transactions.
Creating a wallet with a 1/1 key using Tapsigner is indeed secure. However, to create a true multisig wallet, you will need at least two Tapsigner devices. In the following section, we will guide you through the process of setting up a multisig wallet.
Create A Multisig Wallet With Two Tapsigner As The Keys
To begin setting up a multisig configuration, you will need the same requirements as before for the single sig setup, which include one phone and one Tapsigner device. In addition to these, you will now require an additional Tapsigner device. It is recommended to number the Tapsigners to avoid any confusion during the setup process.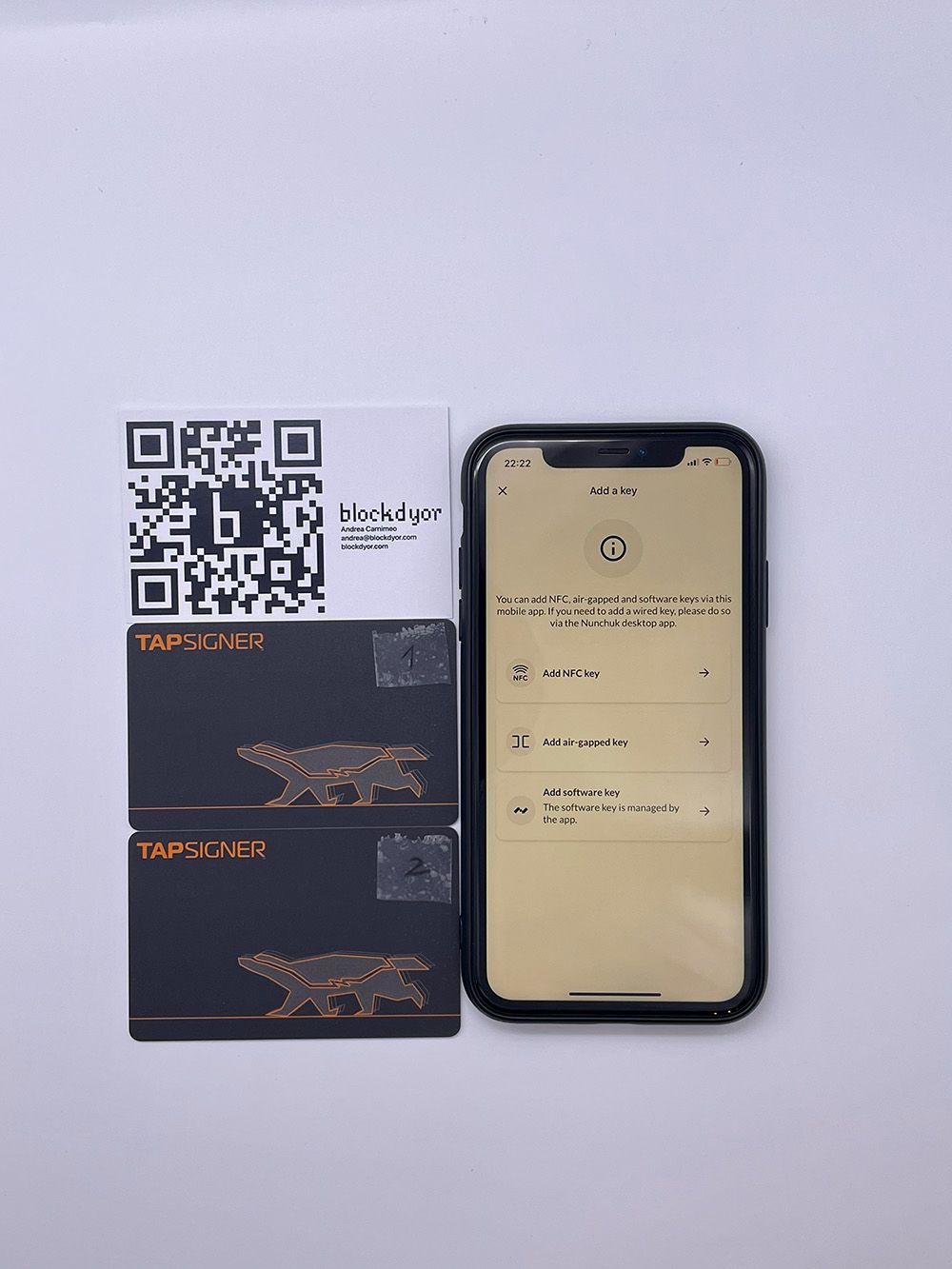 To incorporate the second Tapsigner device into the setup, follow the same steps as explained earlier for the first Tapsigner. Add the second Tapsigner as the second NFC key by placing it in the NFC Sweet Spot of your phone. Proceed with the setup process, referring to this device as tapsigner 2 to differentiate it from the first tapsigner 1.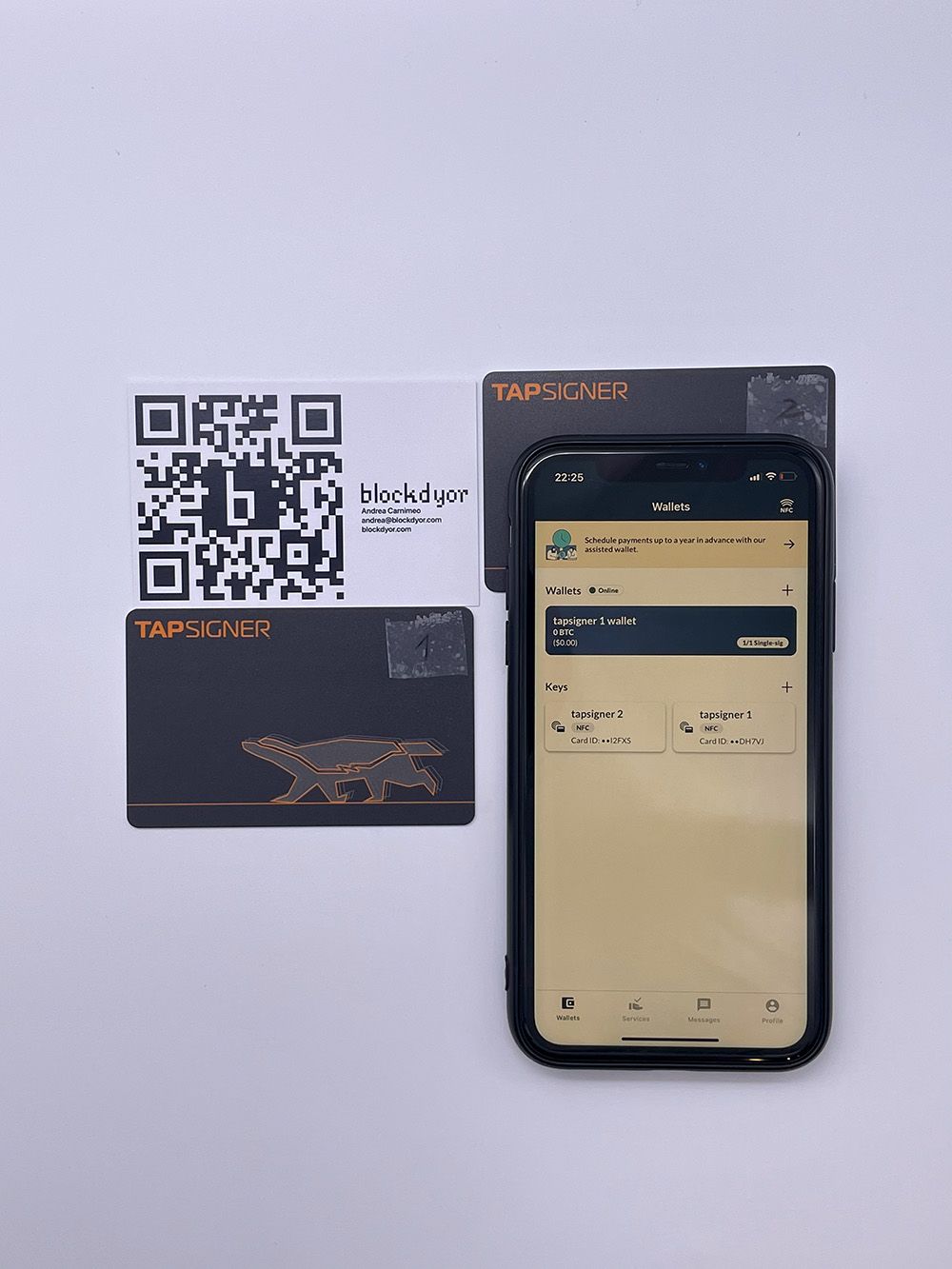 Upon successfully creating the second Tapsigner, your Nunchuck dashboard will resemble the photos that have been posted. This indicates that your setup is now ready to create the multisig wallet. Tap on + on Wallets to start.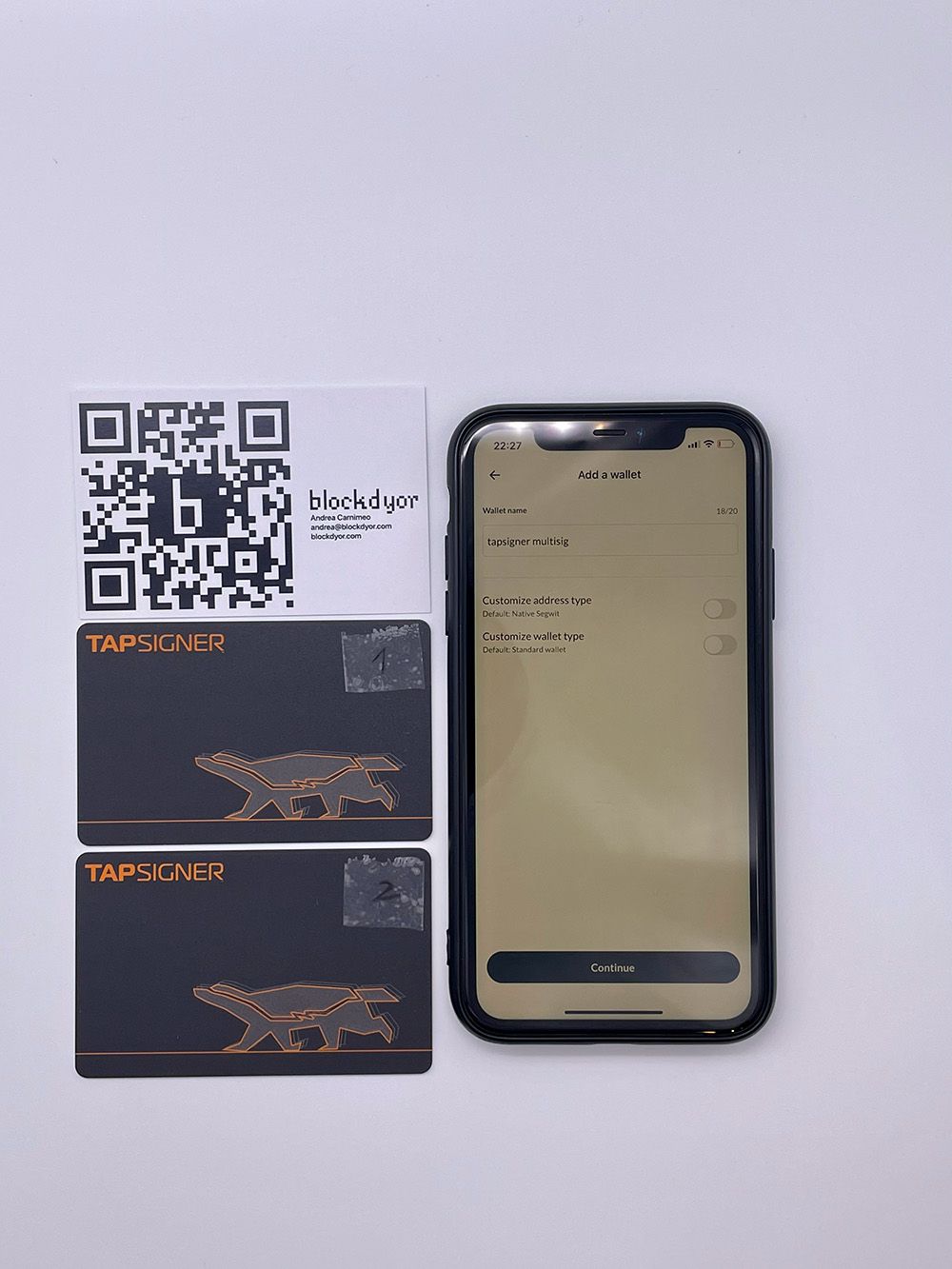 Name the wallet tapsigner multisig and then press Continue.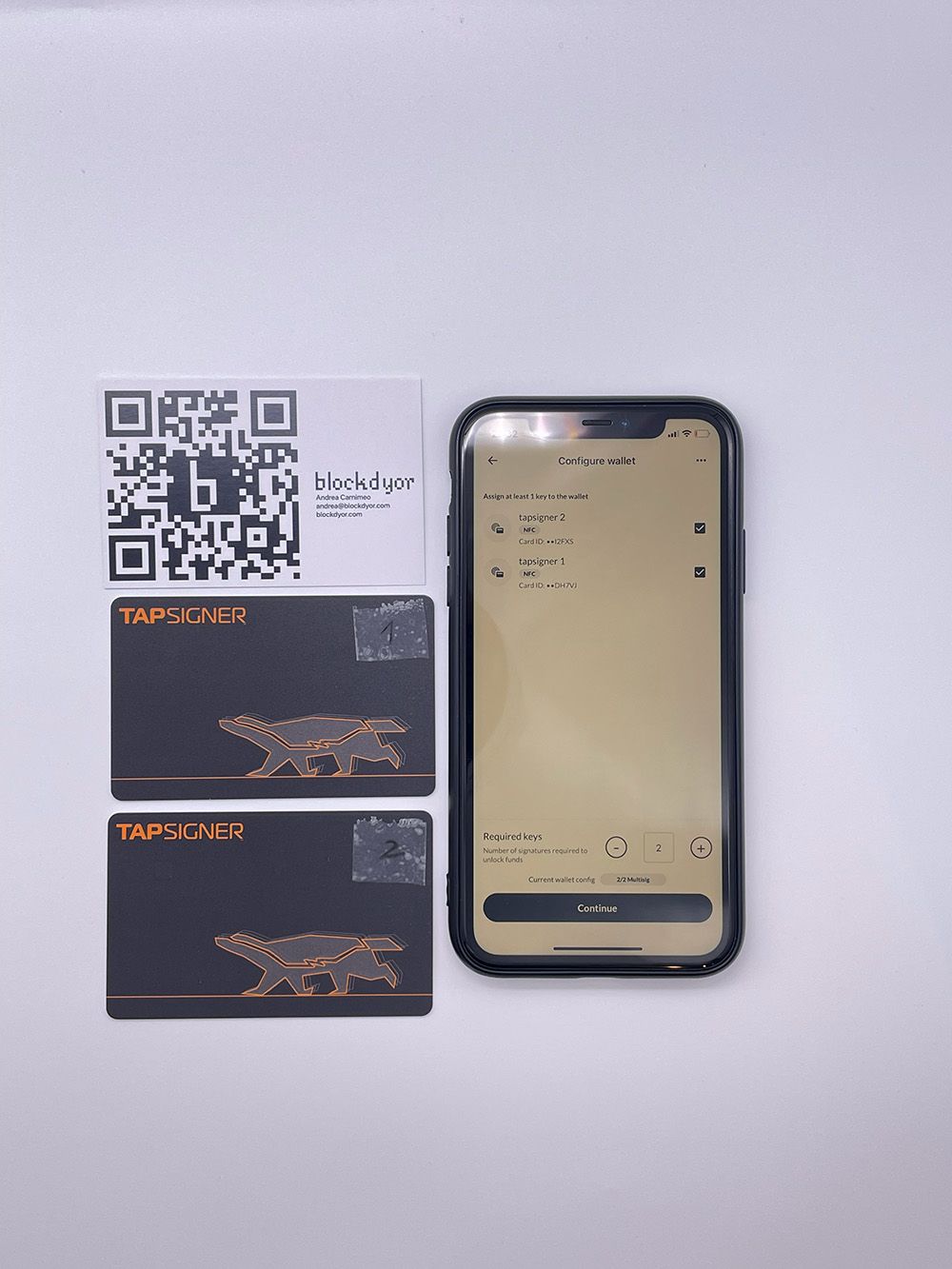 In the Configure Wallet view, choose both Tapsigners as the selected keys. In the Required Keys section, set the value to 2. This configuration ensures that both Tapsigners will be required to authorize and send funds, creating a true 2 of 2 multisig wallet setup.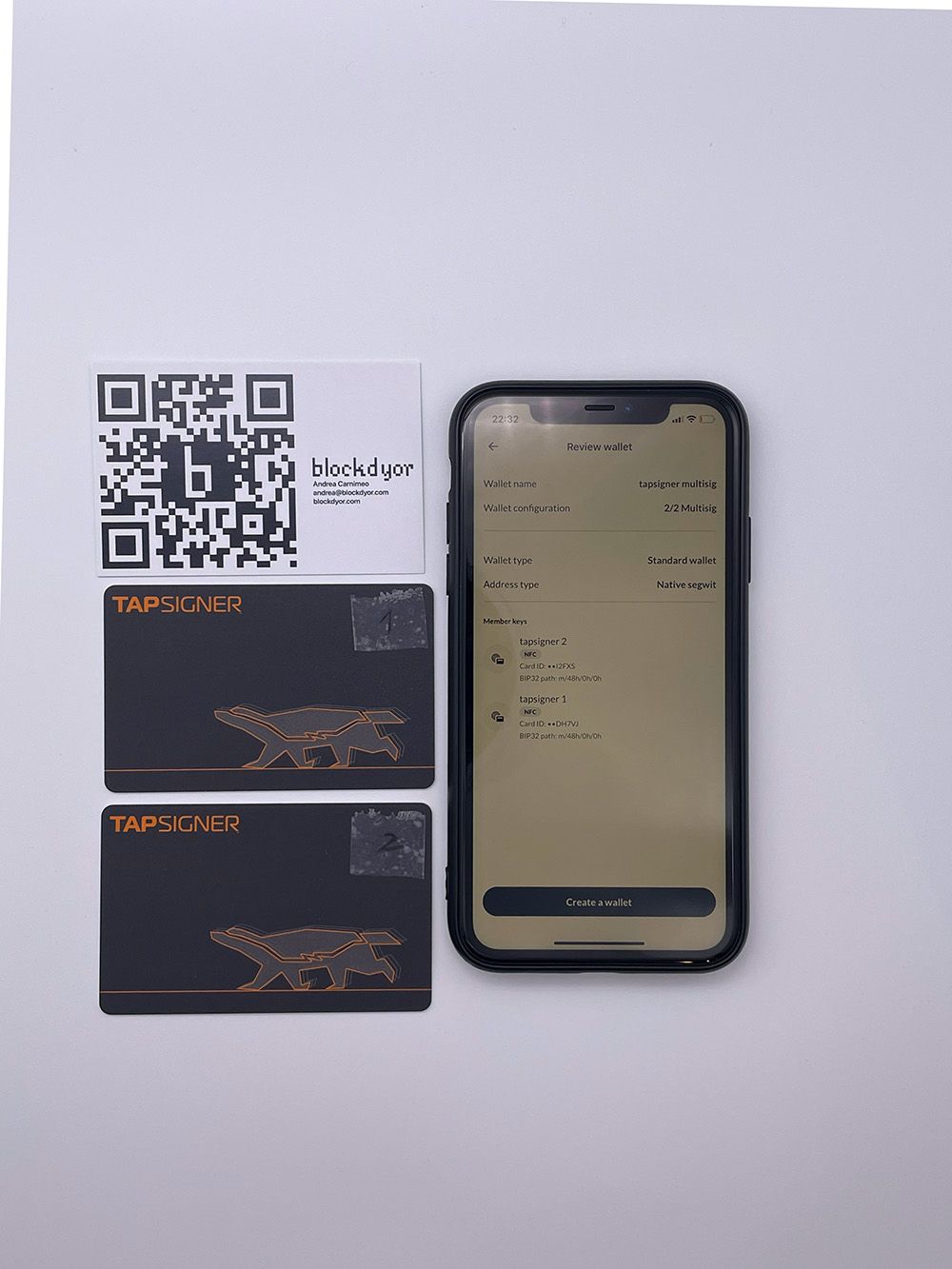 Review the wallet and proceed to Create a wallet by tapping on the button.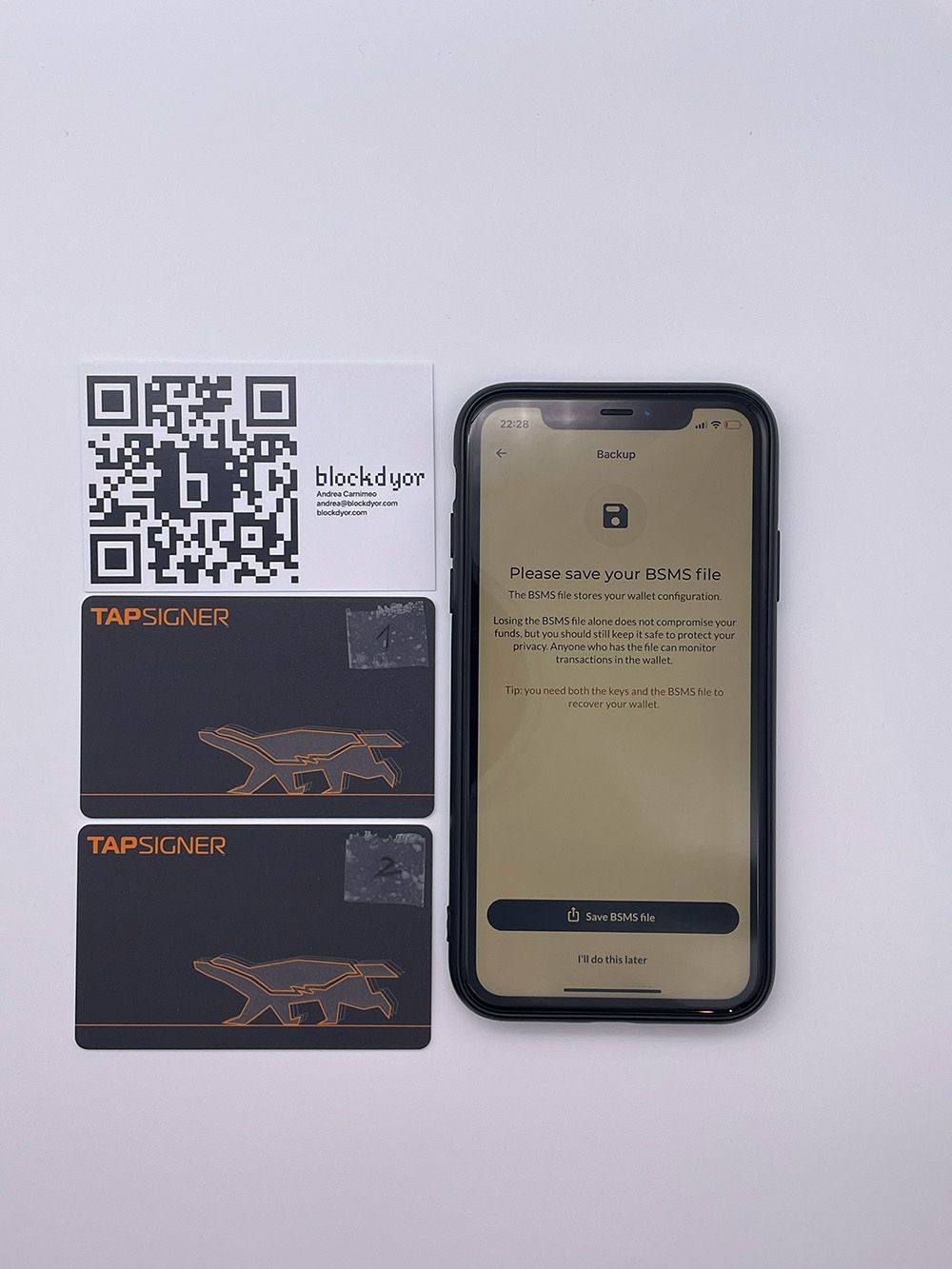 Save the BSMS file in a secure place.
💡
BSMS, which stands for Bitcoin Secure Multisig Setup (BSMS), was introduced in Bitcoin through BIP-129.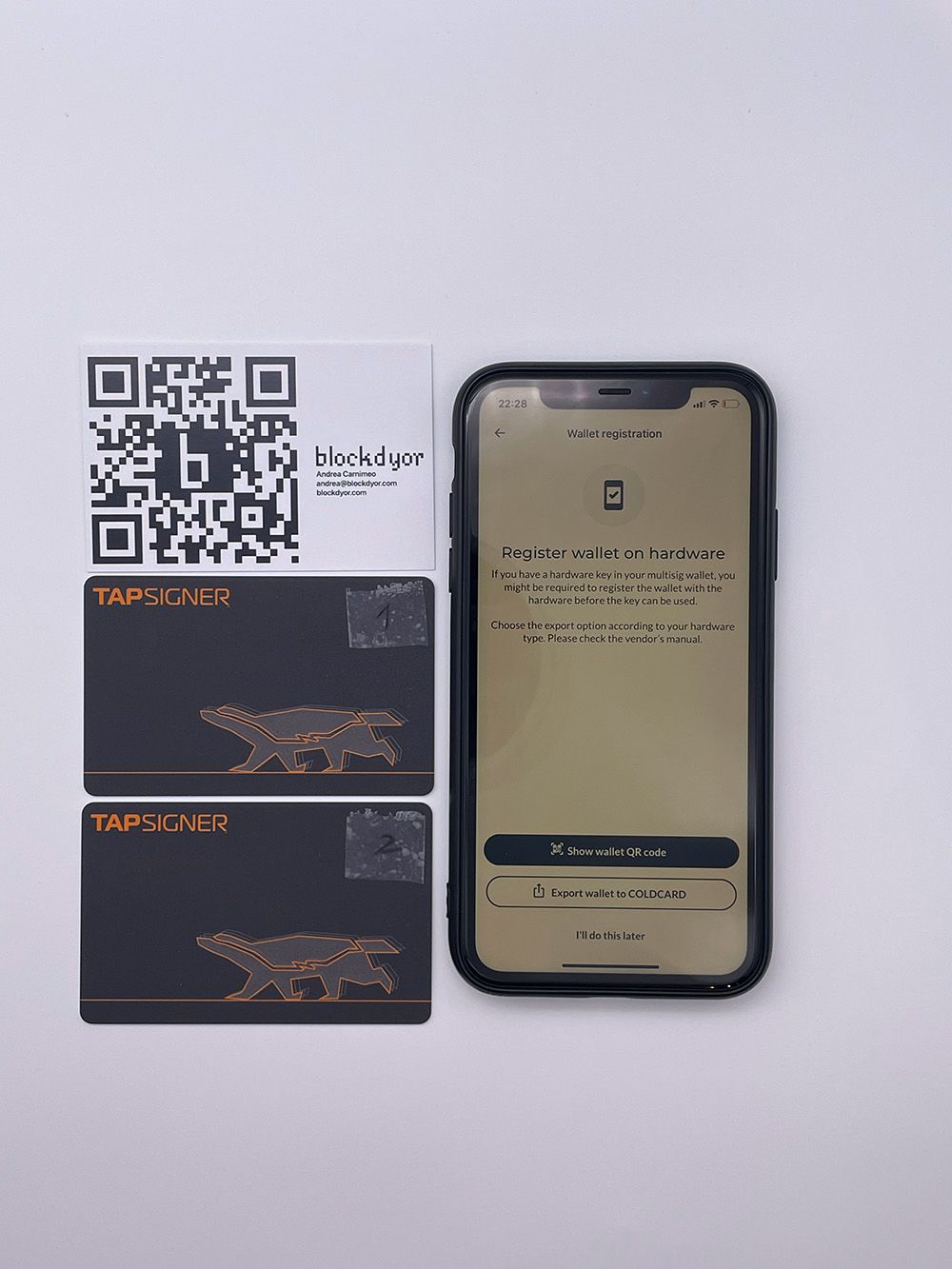 Export or show wallet in your favorite hardware wallet. The Coldcard MK4 is a solid choice, as it also support NFC.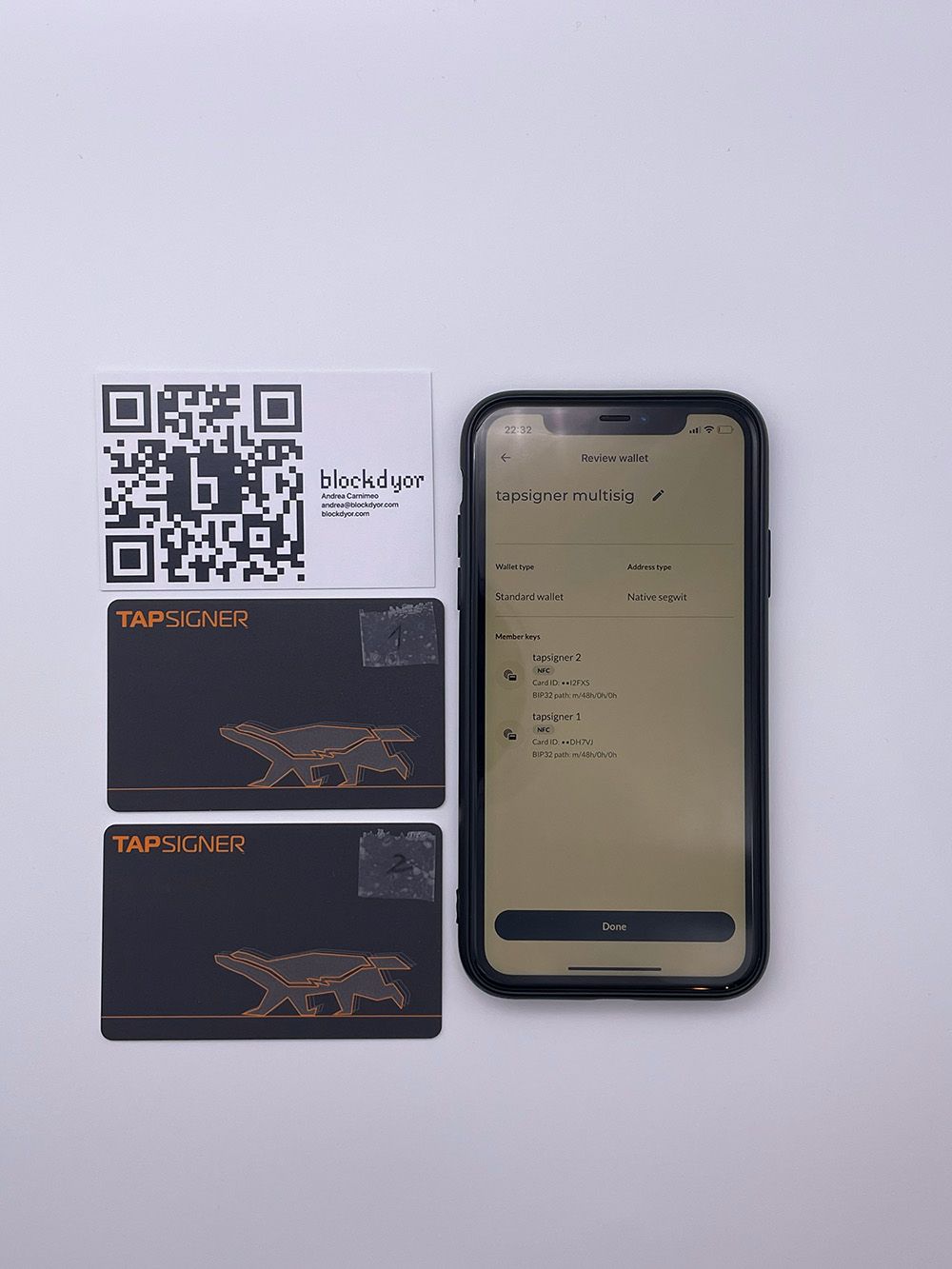 Review all the infos, and tap on Done to finalize the process.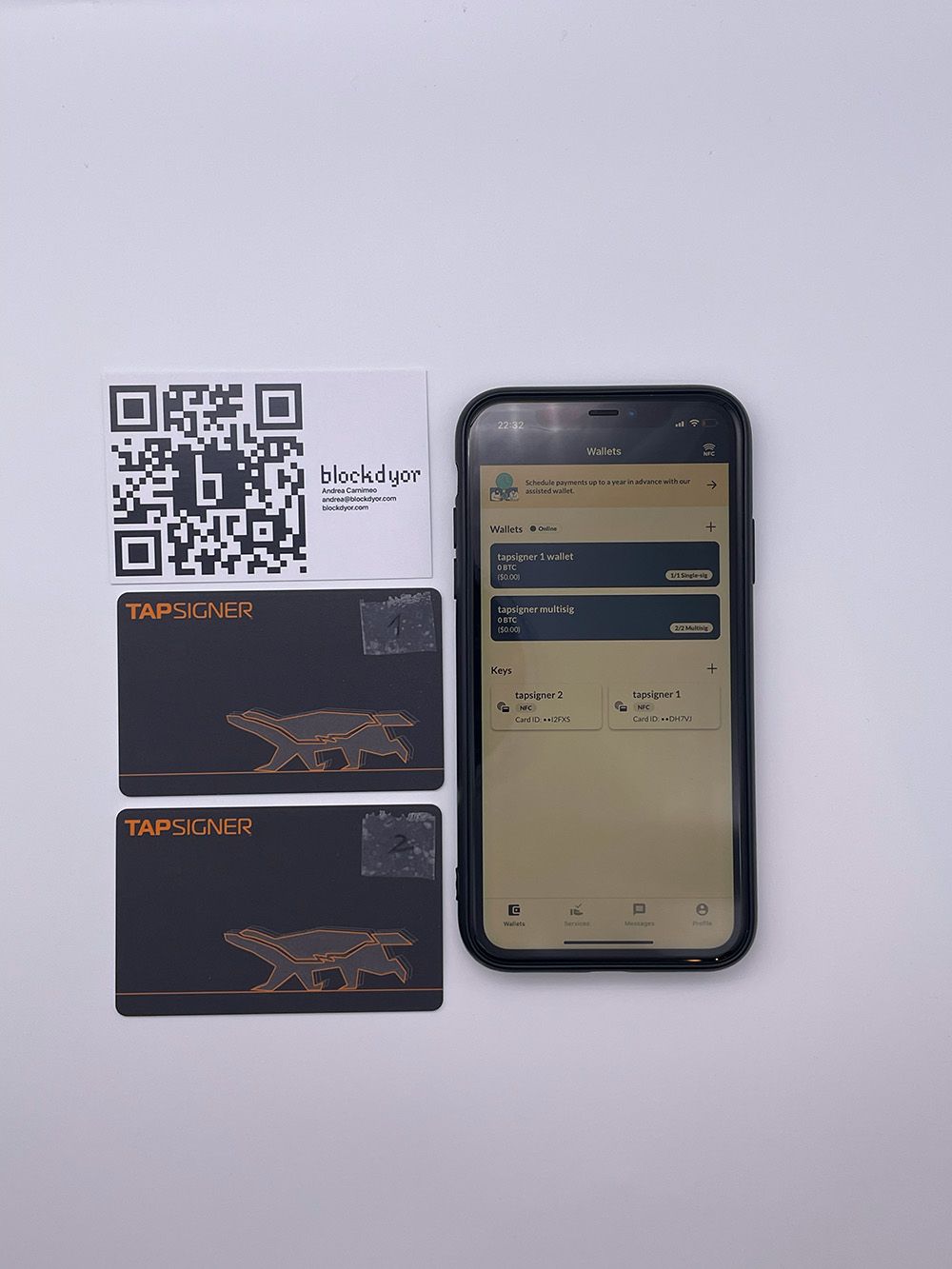 The newly configured multi-signature wallet, tapsigner multisig, will now appear in your Nunchuck dashboard.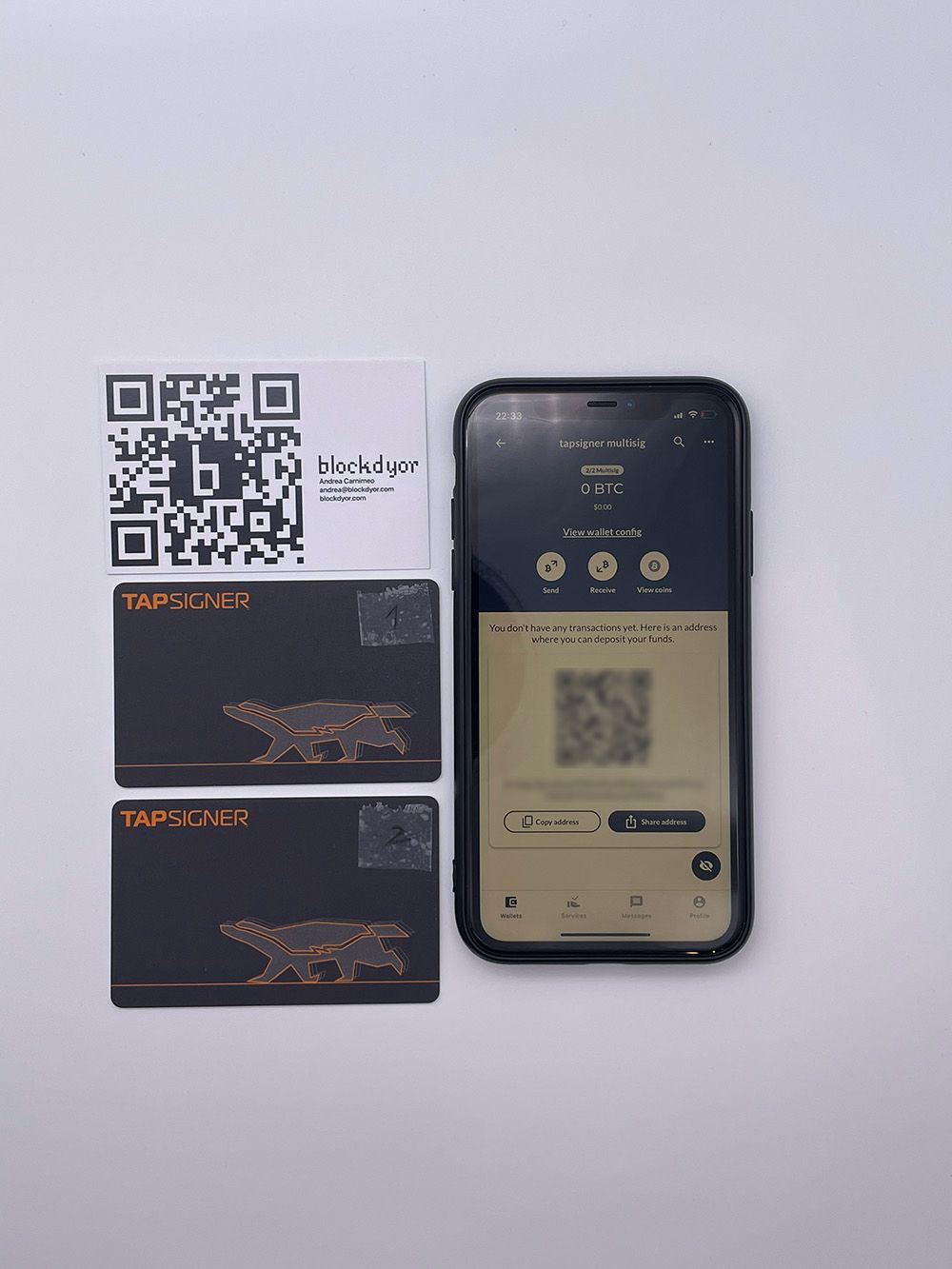 By tapping on the multisignature wallet, you will gain access to its functionality. It's important to remember that in order to spend funds from the multisig (2 of 2) wallet, you will need to scan both Tapsigners on the NFC sensor. This scanning process ensures the necessary authorization for transactions from the multisig wallet.
💡
Multisig offers flexibility and creativity in configuring your wallet. You can add more Tapsigners to create various multisig setups, such as 2 of 3 or 3 of 5. This allows you to customize the total number of keys and the required number of keys for transactions.
Tapsigner Price
The price of Tapsigner currently varies, as there are many graphics and configurations. It starts at a discounted rate of $29.99 and reaching a maximum of $64.99 for the non-discounted special version.
For example, the TAPSIGNER Blank Front, priced at just $29.99, offers an affordable option for users. Additionally, when ordering the TAPSIGNER Blank front alone, up to 6 units can be shipped at a special flat-rate, providing further cost savings. This allows users to easily scale their setup or share TAPSIGNER devices with others while enjoying the convenience and security it offers.
Additionally, Tapsigner can be purchased in a bundle with the Coldcard hardware wallet, offering a unique opportunity to acquire both at a particularly advantageous price.
These bundle offers provide users with a comprehensive and cost-effective solution for their cold storage needs. Whether opting for the standalone Tapsigner or the bundle with Coldcard, users can enjoy the benefits of enhanced security and convenience in managing their cryptocurrency assets.
Tapsigner How To Buy
Purchasing the Tapsigner card is quite easy, thanks to its availability on the official Coinkite website. To secure your very own Tapsigner, simply click the link below to take advantage of a special price offer.
👉 Click here to buy the Tapsigner for a special price on the official Coinkite website.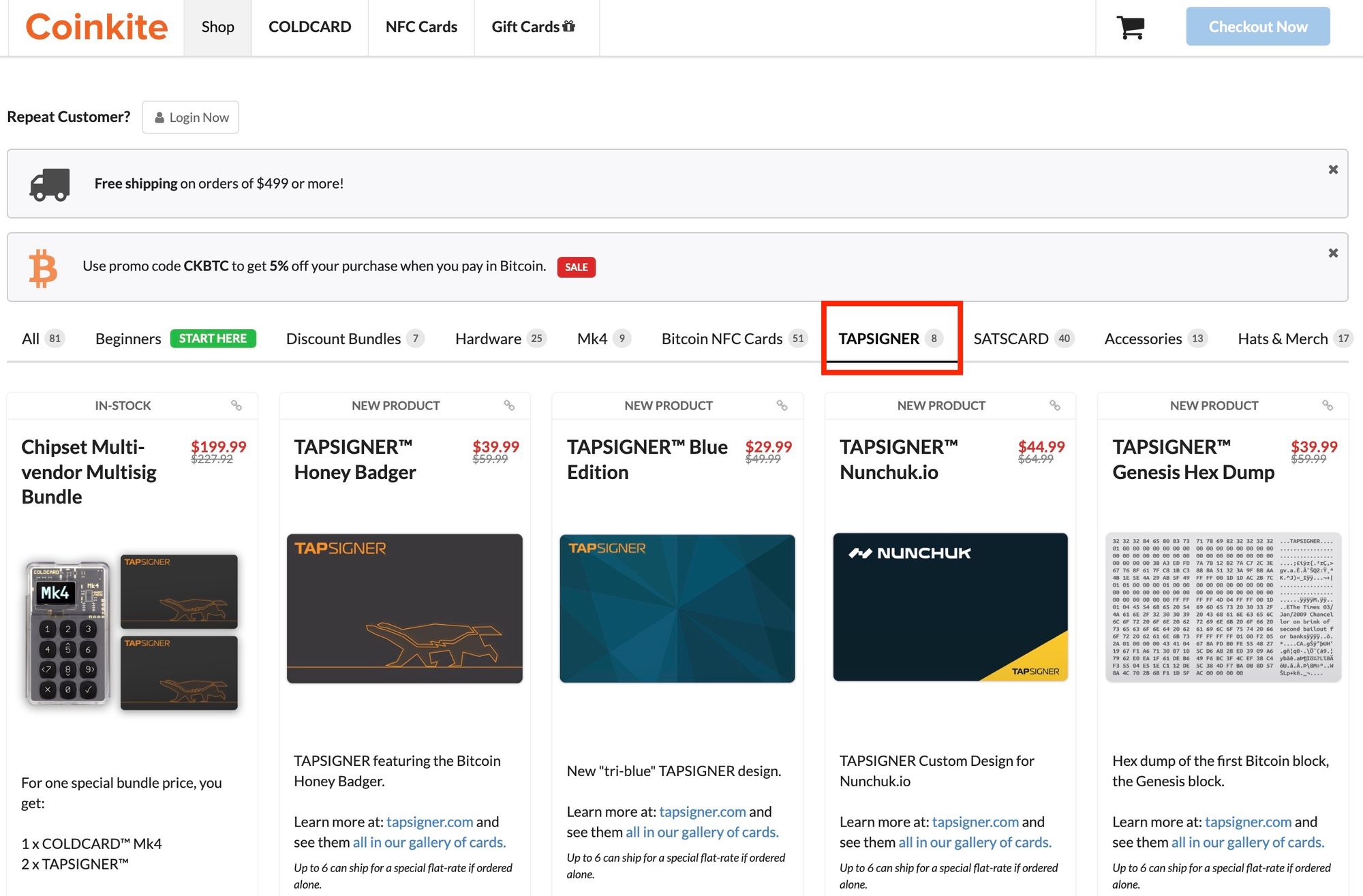 There is a wide selection of graphics available, including bundles that come with the Coldcard, a hardware wallet developed by Coinkite.
If you prefer to use single-signature functionality, simply select one item. For multisignature capability, choose more than one. After making your selection, add the items to your cart and proceed to checkout.
Coinkite offers worldwide shipping through DHL, FedEx, or untracked mail, ensuring that your goods will arrive within a few days.
Tapsigner Pros & Cons
| Pros | Cons |
| --- | --- |
| ✅ Great for cold storage on the go | ❌ No Lightning Network support |
| ✅ Not just an hardware wallet, but can act as a key in multisig setups | ❌ NFC passive tags can last for decades, but still don't know exactly how long |
| ✅ Plenty of entropy options with Nunchuck | ❌ Must be always stored with the sleeve |
| ✅ They recently added support with Sparrow Wallet | ❌ Stickers for easy tagging/identification not provided |
| ✅ Convenient, safe, and simple | |
Bottom Line
Introduced in 2022 together with the Satscard, Tapsigner offers a compact and versatile solution for secure Bitcoin cold storage.
With its functionality as a portable hardware wallet and the ability to be incorporated into multisig setups, Tapsigner provides users with convenience and enhanced security.
Its seamless integration with software applications and simple tap-to-sign process makes it a valuable asset in the realm of cold storage solutions.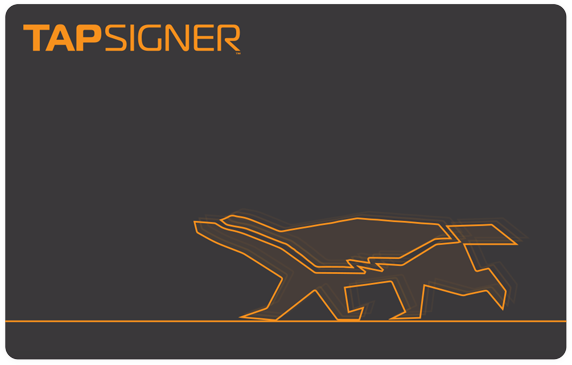 TAPSIGNER Evaluation
Security: Tapsigner ensures high security with its PIN and NFC technology, along with an RF-blocking sleeve for secure storage. It utilizes a 32-byte chain code for entropy, while the PIN can be changed. However, the ability to use the same PIN in software wallets affects the overall score. (4/5)
User-friendliness: Tapsigner stands out as one of the simplest cold storage solutions available. The well-designed Nunchuck interface enhances the user experience. (5/5)
Compatibility: Tapsigner supports companion apps like Nunchuck and Sparrow Wallet, but expanding compatibility with more apps would be beneficial. (3/5)
Reputation: Coinkite, a respected Bitcoin-focused company, follows Open Source practices and has established a strong reputation in the industry. (5/5)
Cost: The current discounted price of Tapsigner is affordable. However, if discounts are removed or prices increase, it may become comparable to other hardware wallets offering additional features like screens and QR code cameras. (4/5)
Frequently Asked Questions (FAQ)
What if the private key inside the Tapsigner is compromised? How can I 100% trust Coinkite?
During the initial setup of TAPSIGNER, you provide a 32-byte chain code for entropy. By combining this chain code with a private key generated by TAPSIGNER using the BIP-32 standard, the payment address is derived. Since you provided the chain code and TAPSIGNER shares the public part of its key, you can verify that the derived payment address matches the address provided by the card. This allows you to establish a correspondence between the XPUB (public key) you know and the XPRV (private key) stored in the card, providing a simple and effective means of confirmation.
What if the manufacturer (Coinkite) pretends the TAPSIGNER is generating private keys but actually it's not?
Every customer has the opportunity to provide their own chain code for entropy during the setup process. This allows customers to verify that TAPSIGNER has indeed incorporated their specific chain code entropy when generating the keys. By ensuring the chain code is utilized, customers can have confidence in the security and integrity of their TAPSIGNER-generated keys before making any deposits.
What if I lose my TAPSIGNER?
To recover the XPRV, you can use the backup file and a copy of the decryption code located on the back of the card. Having these two components eliminates the need for the original card. By utilizing the backup file and the decryption code, you can successfully retrieve the XPRV associated with your TAPSIGNER without relying on the physical card itself.