Satodime Review: Crypto Cold Storage In A Card
In my Satodime Review, I'll assess this unique hardware wallet – a compact card for Bitcoin, altcoins, and NFTs. Offline storage, private key concealed until needed. Perfect for gifting, P2P trades, and more.
What's Satodime?
Satodime it's a bearer token, a concept somewhat similar to a hardware wallet but deserving of its distinct category. Bearer tokens are designed to be transferred between users, much like cash or a banking check, setting them apart as a unique entity.
In simple words, it's an original way to gift Bitcoin, Cryptos, NFT and also engage in secure P2P trades without the hassle of KYC.
It was created by the Belgian startup Satochip. It has the shape of a credit card-sized smart card, and brings a tangible dimension to digital currency by allowing users to physically hold and gift crypto.
👉 Click here to get the Satodime for a special price on the official Satochip website.
| DESCRIPTION | DETAILS |
| --- | --- |
| 💻 Name | Satodime |
| 🌐 Website | satodime.io |
| 🗓 Release year | 2022 |
| 💰 Coins Supported | Bitcoin, Cryptos, NFTs |
| 💸 Price | From €25 |
| 🔒 Security Features | NFC, Unseal Command, Secure Element |
| 💻 Compatibility | iOS, Android, Desktop |
| 🖥 Display | N/A |
| 🔄 Connectivity | NFC via ISO-7816, QR Code |
| | |
| 🖥 Display | N/A |
| 🔄 Connectivity | NFC via ISO-7816, QR Code |
| 📏 Dimensions | 85.6 × 53.98mm (3.37 x 2.12 inches) |
| ⚖️ Weight | N/A |
| 🔋 Battery Life | N/A |
| 📜 Warranty | N/A |
| 📖 Open Source | Yes, Free Software (AGPLv3) |
| 🔄 Reproducible | N/A |
Satodime Features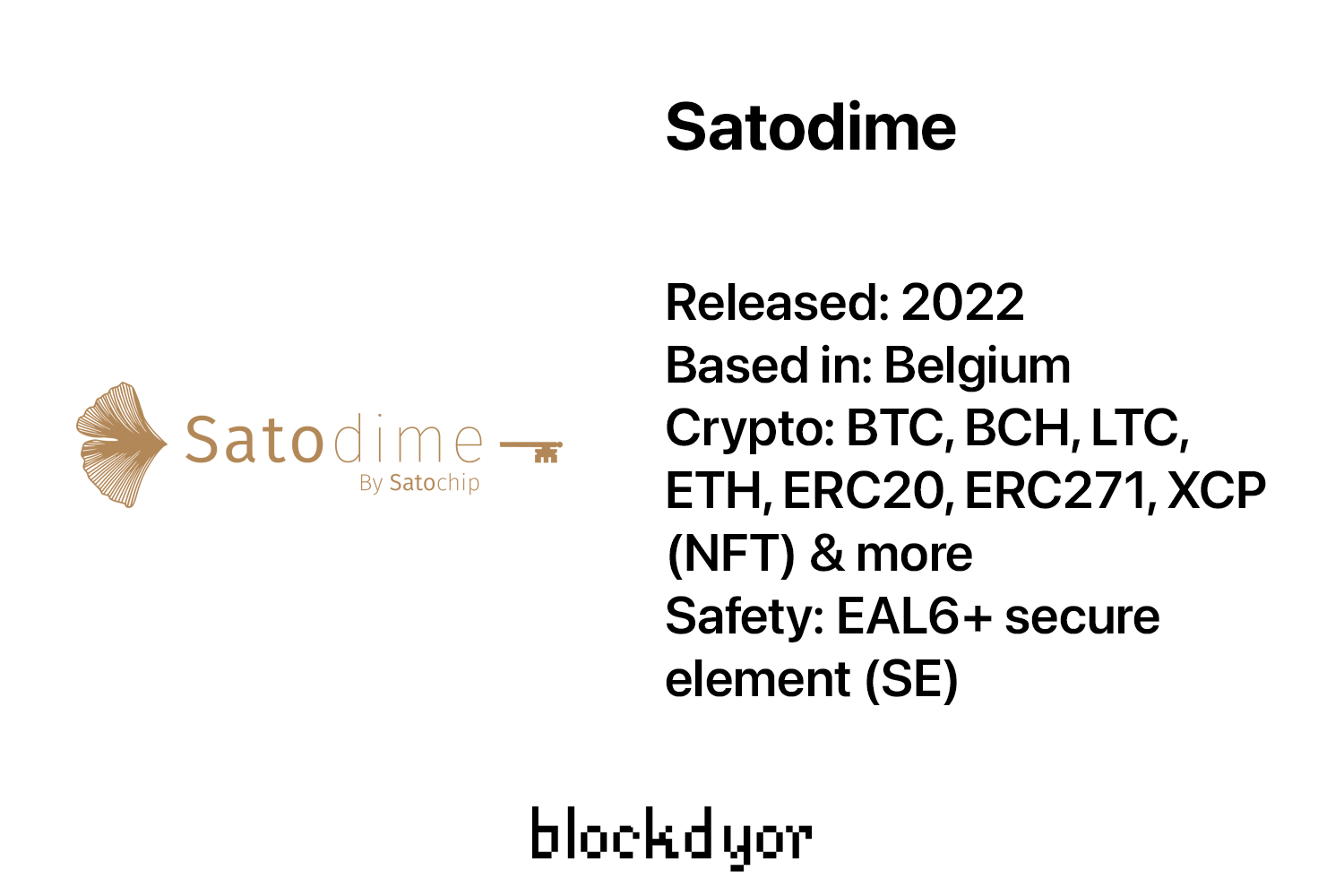 Satodime is a bearer instrument, allowing for easy transfer from one person to another. The cardholder can effortlessly check the card's balance and status - locked or unlocked. Unlocking the vault to retrieve stored Bitcoin is a simple action, enhancing accessibility and security.
This smart card offers the ability to create virtual safes associated with Bitcoin wallets. While the public information is visible and allows users to load the gift card with BTC, sensitive data such as private keys remains hidden and protected within the card.
Satodime applications
Satodime's applications are as diverse as its users' needs. It serves as a physical means of exchanging Bitcoin, bridging the gap in situations without internet access.
Notably, Satodime enables KYC-free transfers during trades, preserving user privacy. This makes it an invaluable tool for those wary of sharing personal information online.
Moreover, Satodime simplifies Bitcoin ownership, making it an excellent entry point for beginners. As a gift, it educates recipients about Bitcoin's potential and serves as a unique and thoughtful present for birthdays, weddings, or corporate events.
Satodime Customization
Satodime offers a range of branded cards and special editions, allowing users to personalize their Bitcoin gifts. From NFT designs to honoring pioneers like Ben Arc, Satodime lets users unleash their creativity.
Satodime Safety
One of Satodime's standout features is its commitment to free software (AGPLv3 license).
This not only enhances security but also promotes constant innovation through community involvement. Users can verify the code's execution and facilitate peer reviews, preventing potential vulnerabilities.
The Satodime card features also a secure element chip, strenghtening further the security.
How Satodime Works
Satodime is basically an hardware wallet: this means that you can send Bitcoin, but also many other cryptos and also NFTs directly to it. In this way, your funds will always be offline. The main difference from the other hardware wallets, is that the private key is unknown.
Connecting via NFC or a standard card reader, Satodime lets users seal new security vaults, load Bitcoin into these vaults, and verify balances and vault statuses. Vaults can be sealed or unsealed, signifying whether the private key remains confidential or has been revealed.
What's In The Box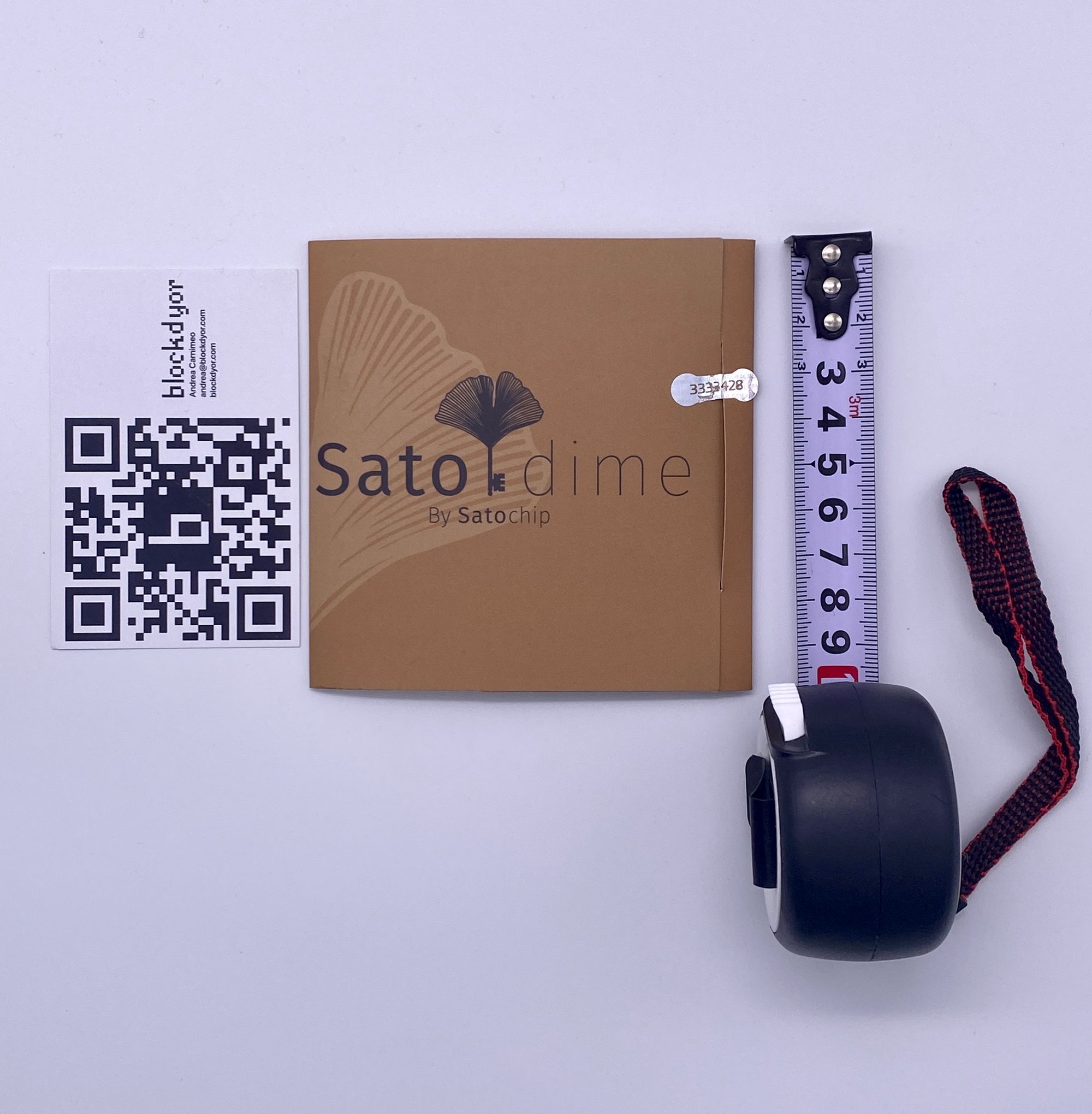 The Satodime box exhibits a straightforward design, taking the form of a basic paper sleeve housing the card. The version showcased in the review represents a distinctive edition crafted exclusively for BTC Prague.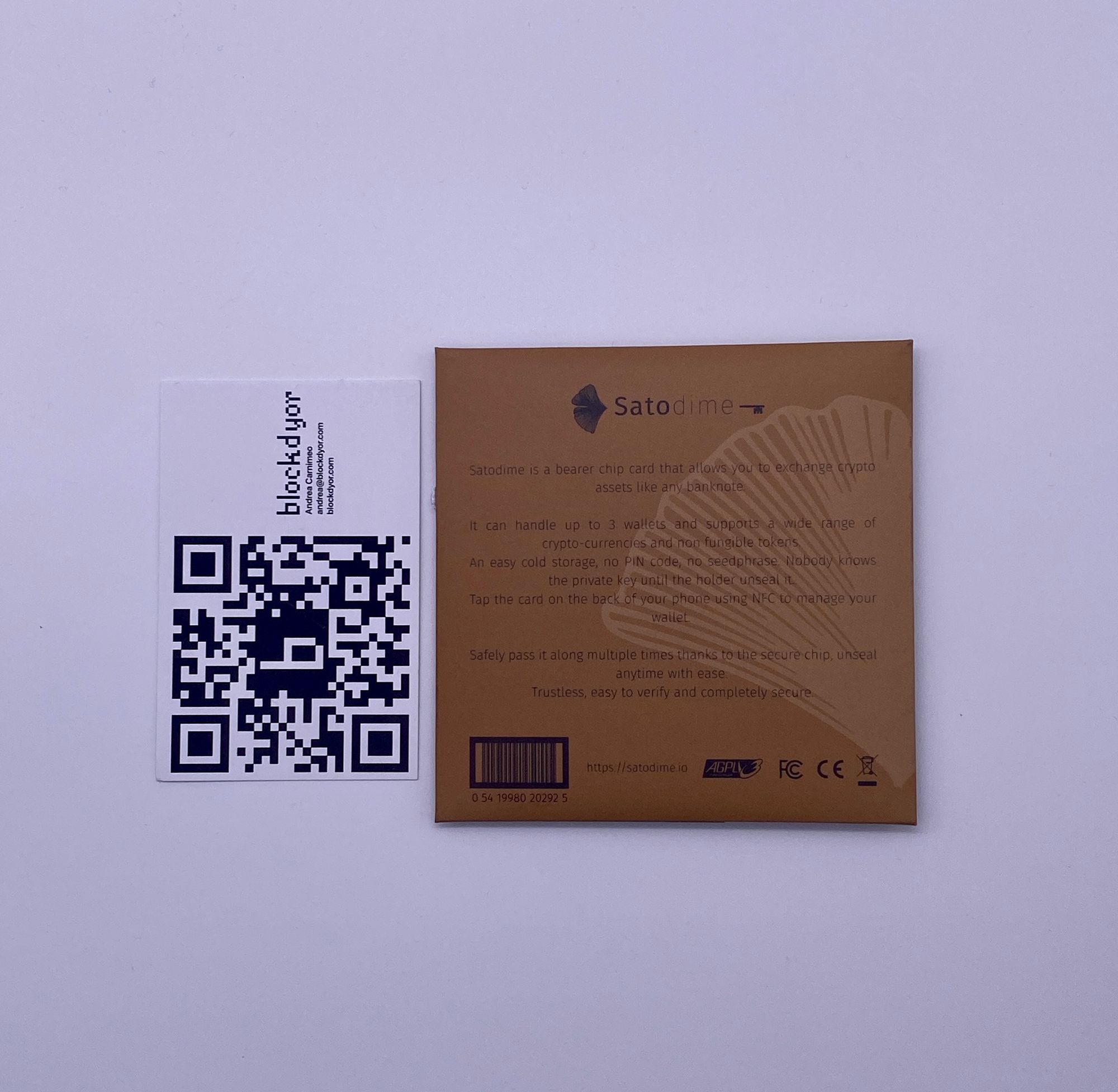 The rear side of the card presents key information and essential details, including the card's capacity to accommodate up to 3 wallets, its support for numerous cryptocurrencies and even NFTs. Notably, there are no PINs or seed phrases required, and it seamlessly operates with NFC on your mobile device.
The presence of the Free Software Foundation's AGPLv3 license is noteworthy. This signifies that Satodime transcends mere open-source status, aligning with the vision of Free Software advocate Richard Stallman.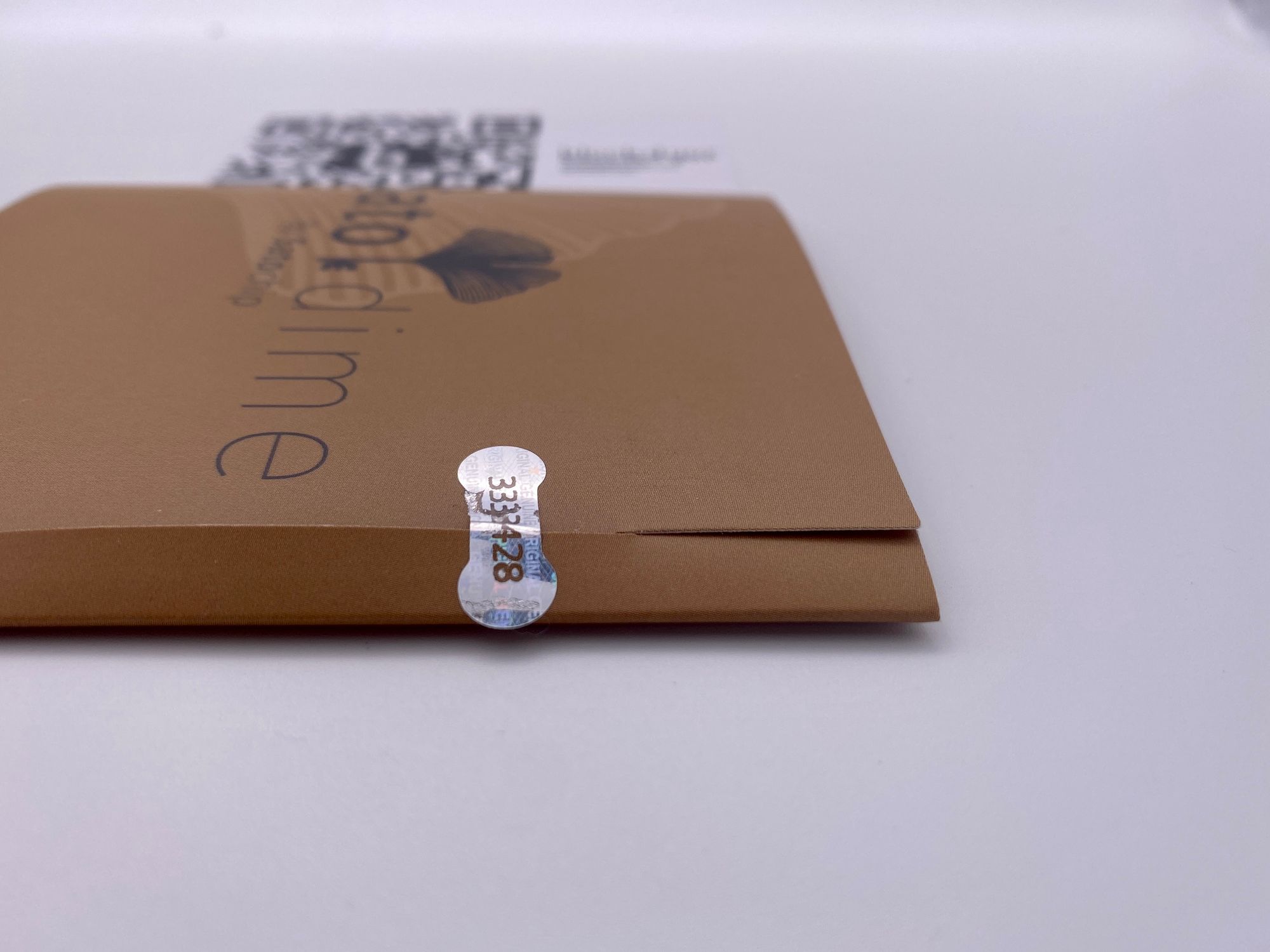 It's crucial to emphasize that the box comes with an anti-tampering sticker. Please ensure that this sticker remains intact, as any removal would be clearly visible.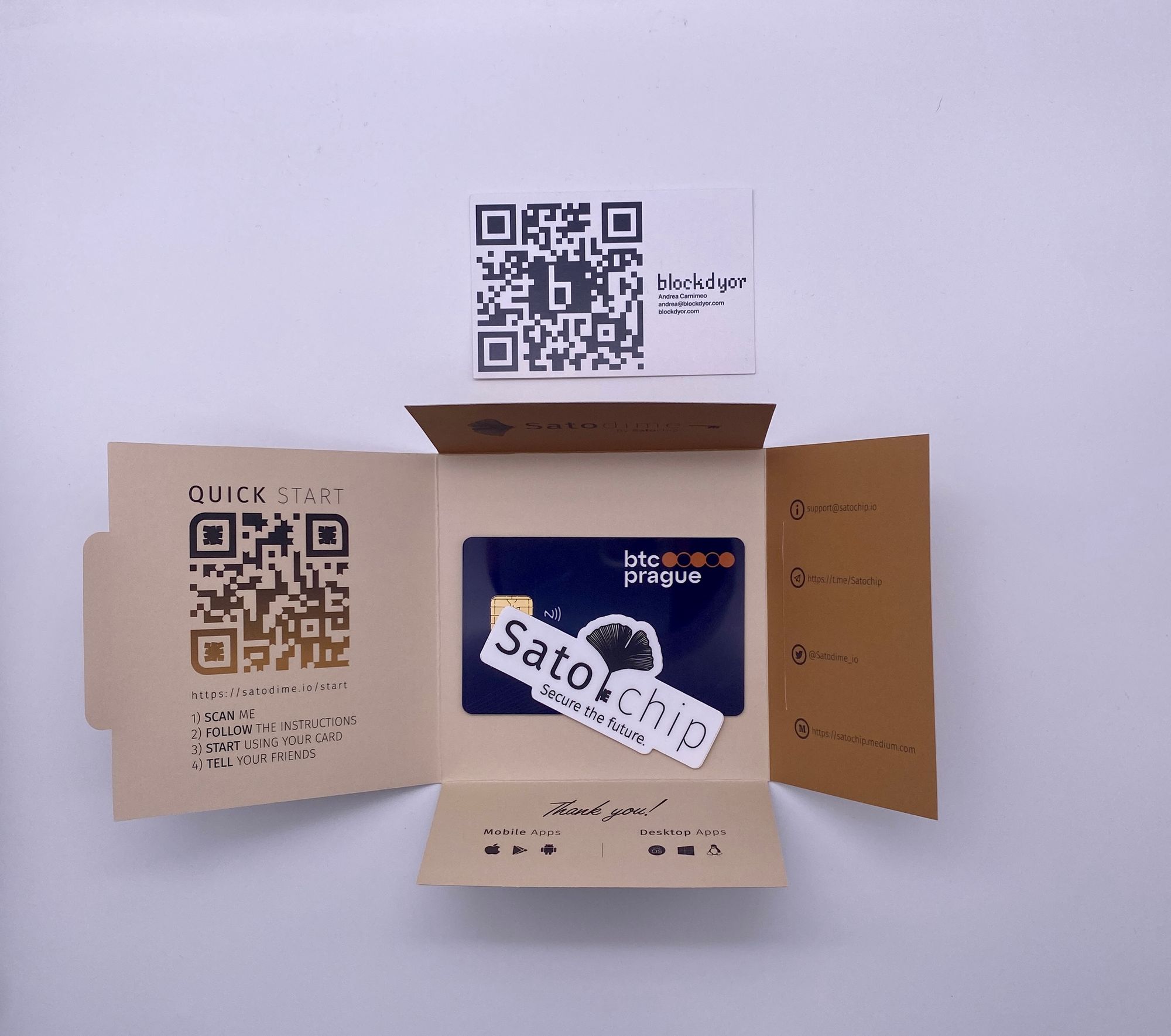 When the envelope will be opened you will be presented with a Satochip Card, a Sticker and a Quick Start step by step guide.
How To Get Started With Satodime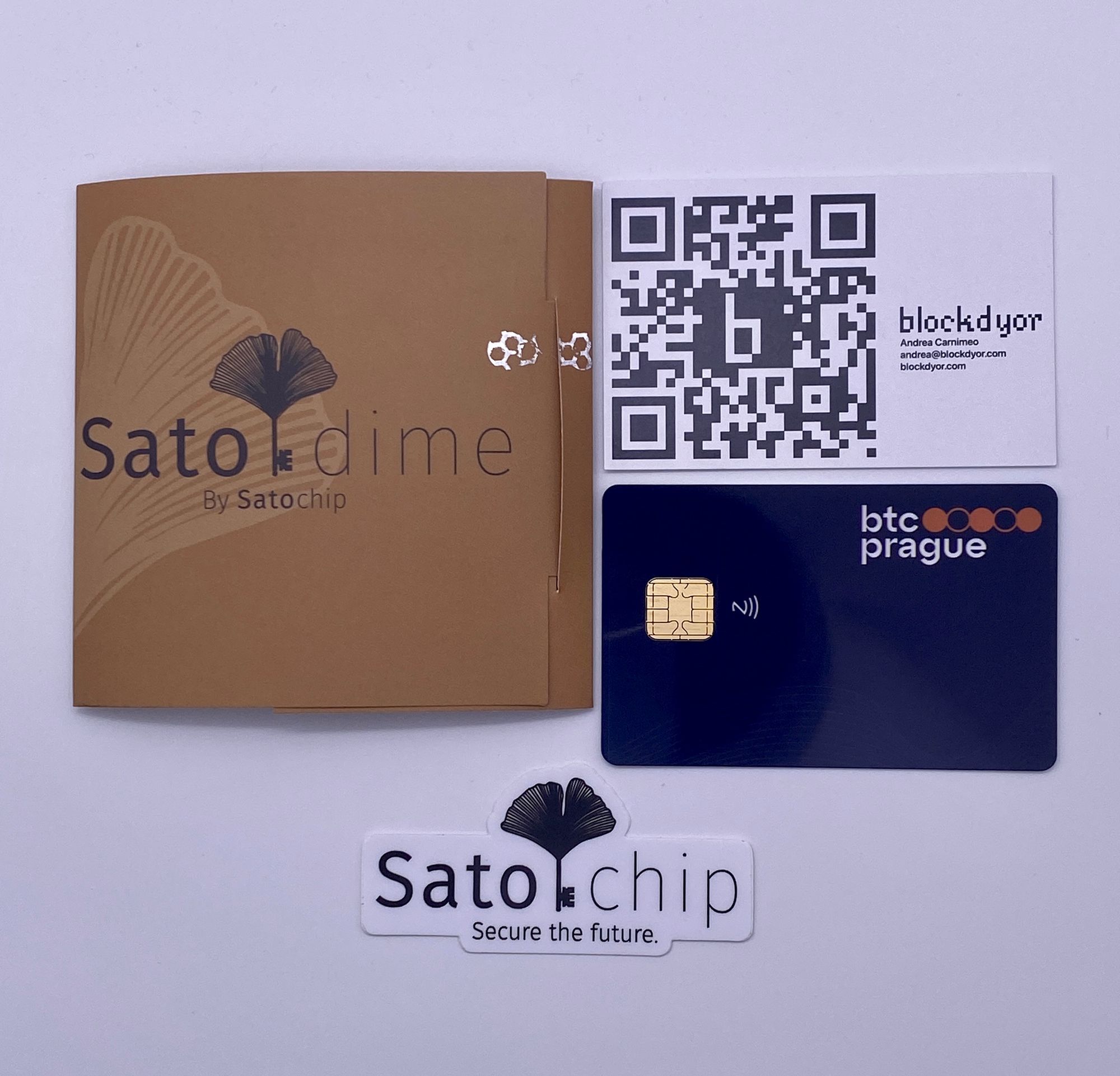 Getting started with the Satodime it's quite straightforward, as you just need to first get the Satodime, you can buy the card in the link down here below for a discounted price!
👉 Click here to get the Satodime for a special price on the official Satochip website.
Using the Satodime is a simple process that anyone can accomplish. This is attributed to the card's compatibility with Android, iOS, macOS, and Windows platforms. However, it's worth highlighting that when using a desktop, you might require an NFC USB device to establish a connection with the card via NFC.
Naturally, opting for a device such as an Android smartphone or an iPhone is a more straightforward choice, considering that Apple has supported NFC since 2019 and Android has supported it even prior to that.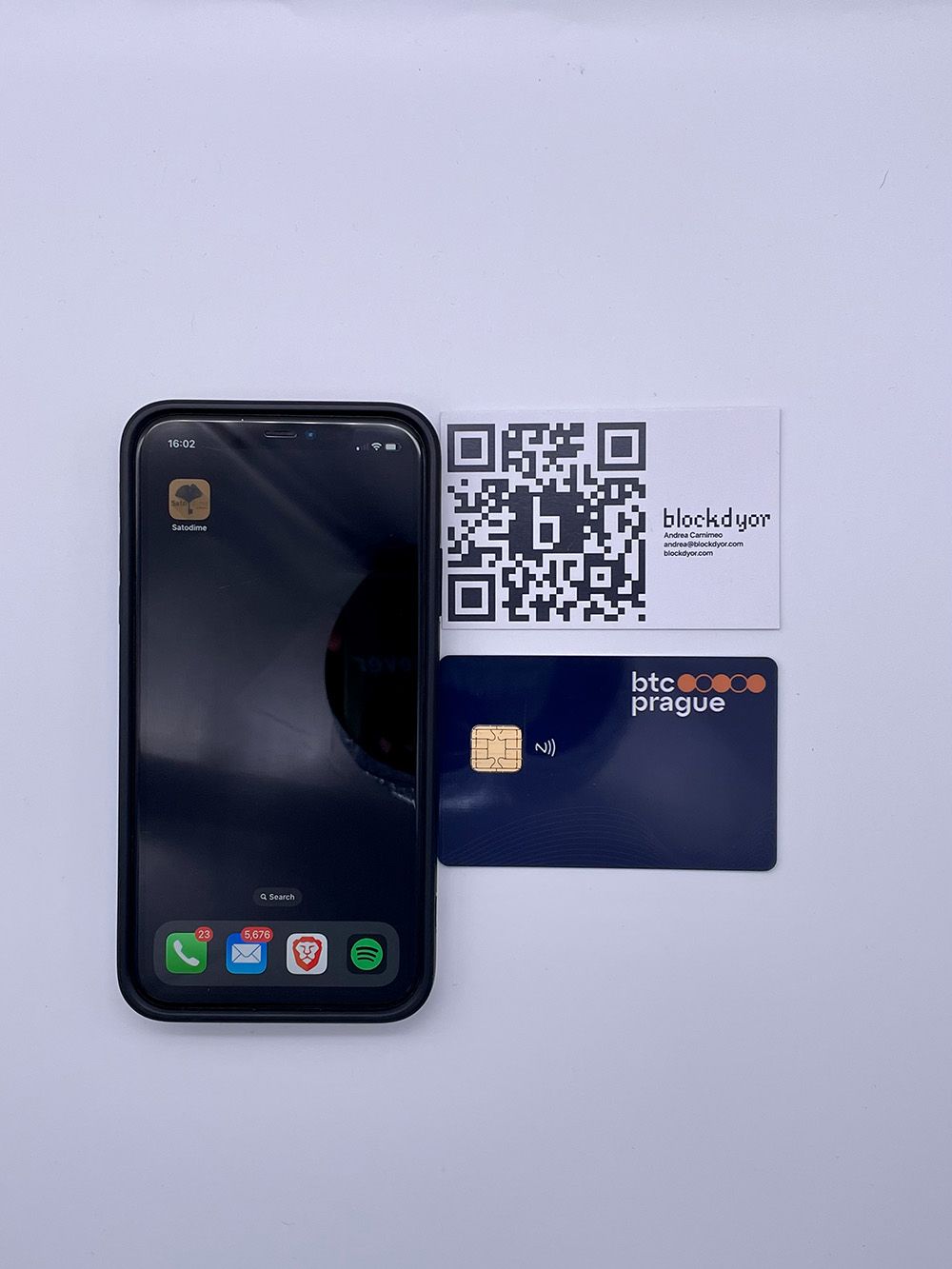 To get started, go on the app store of your device and download the Satodime app. For this test, I will use an iPhone.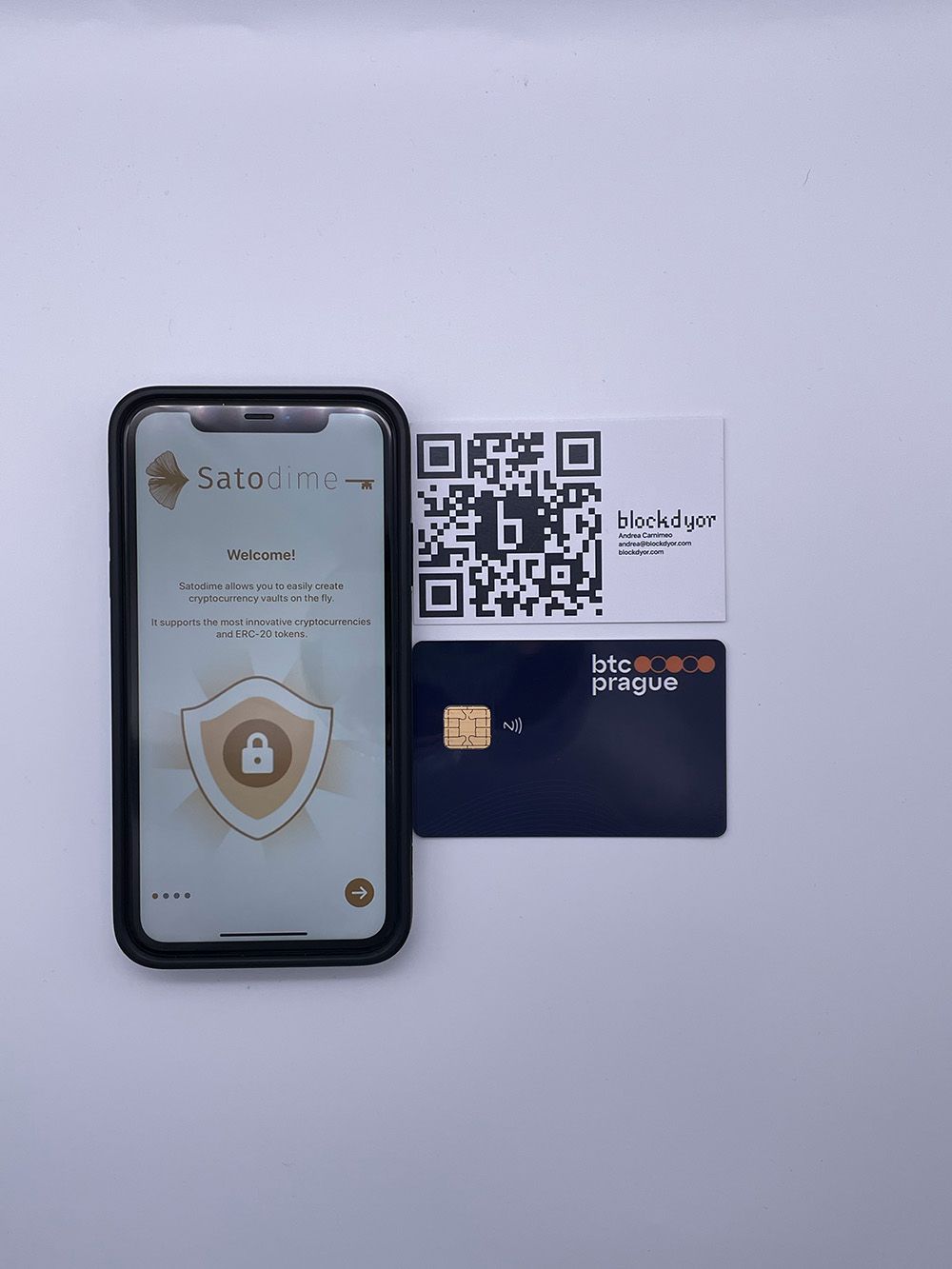 You can either read or skip the Satodime welcome slides.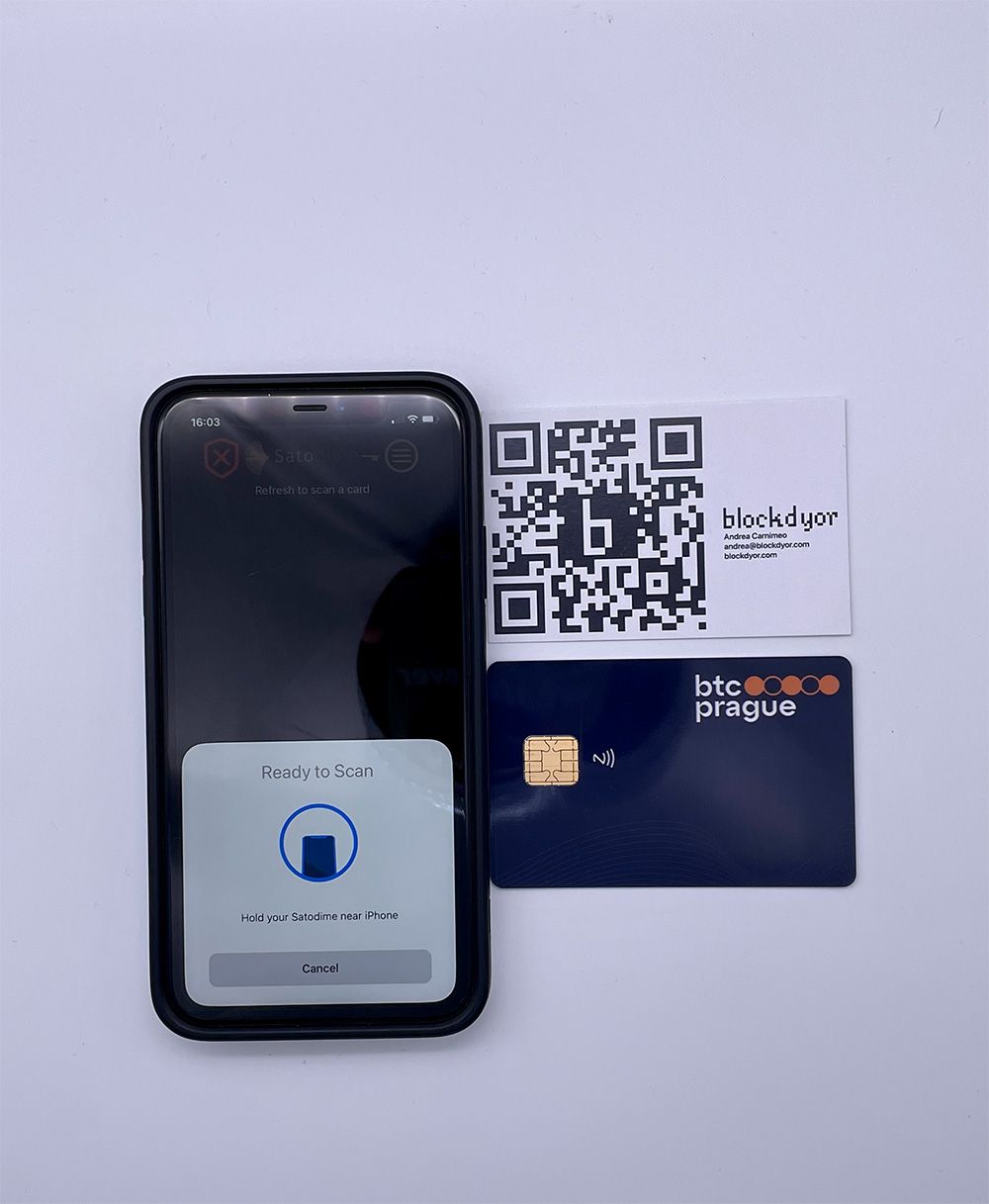 Tap the Satodime on the back of your phone, where the sweet spot is located to start the activation process of the Satodime.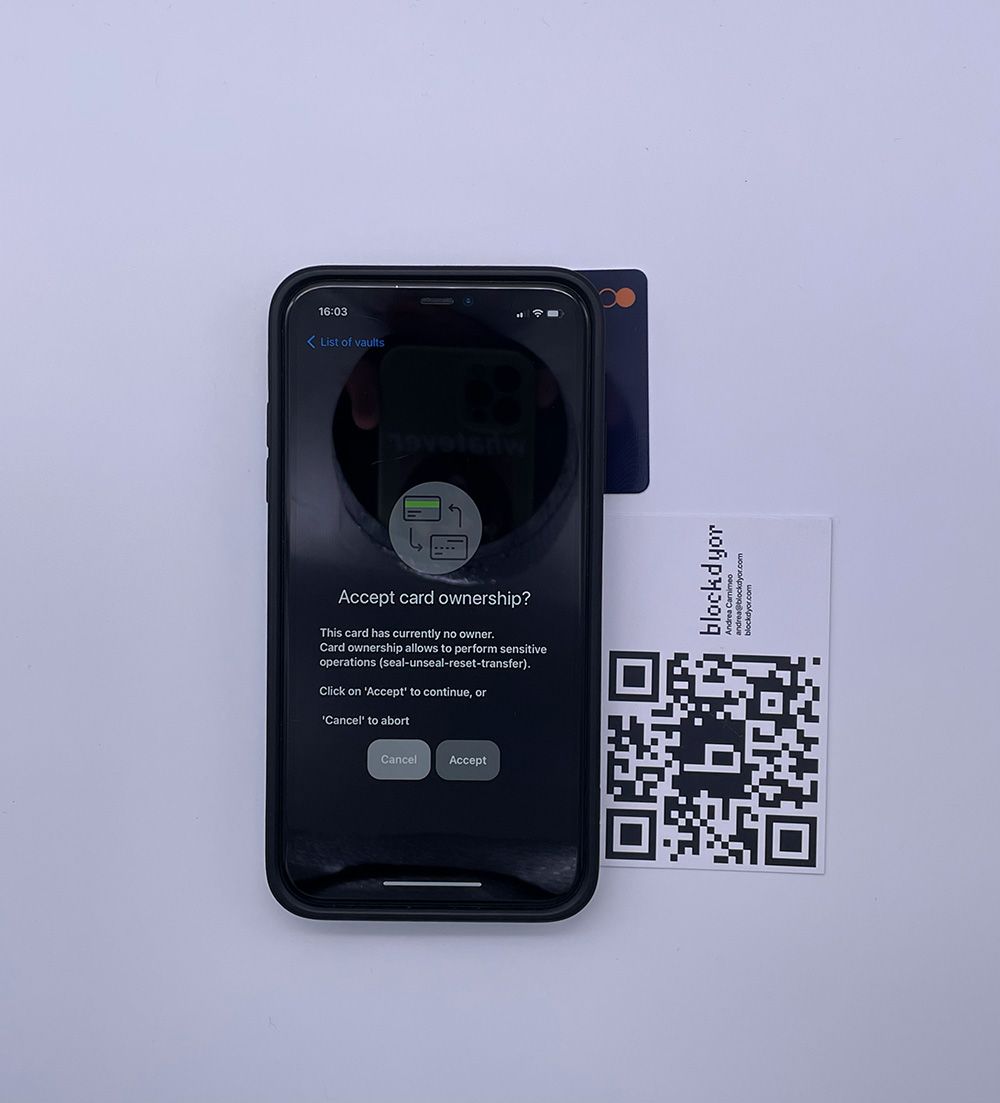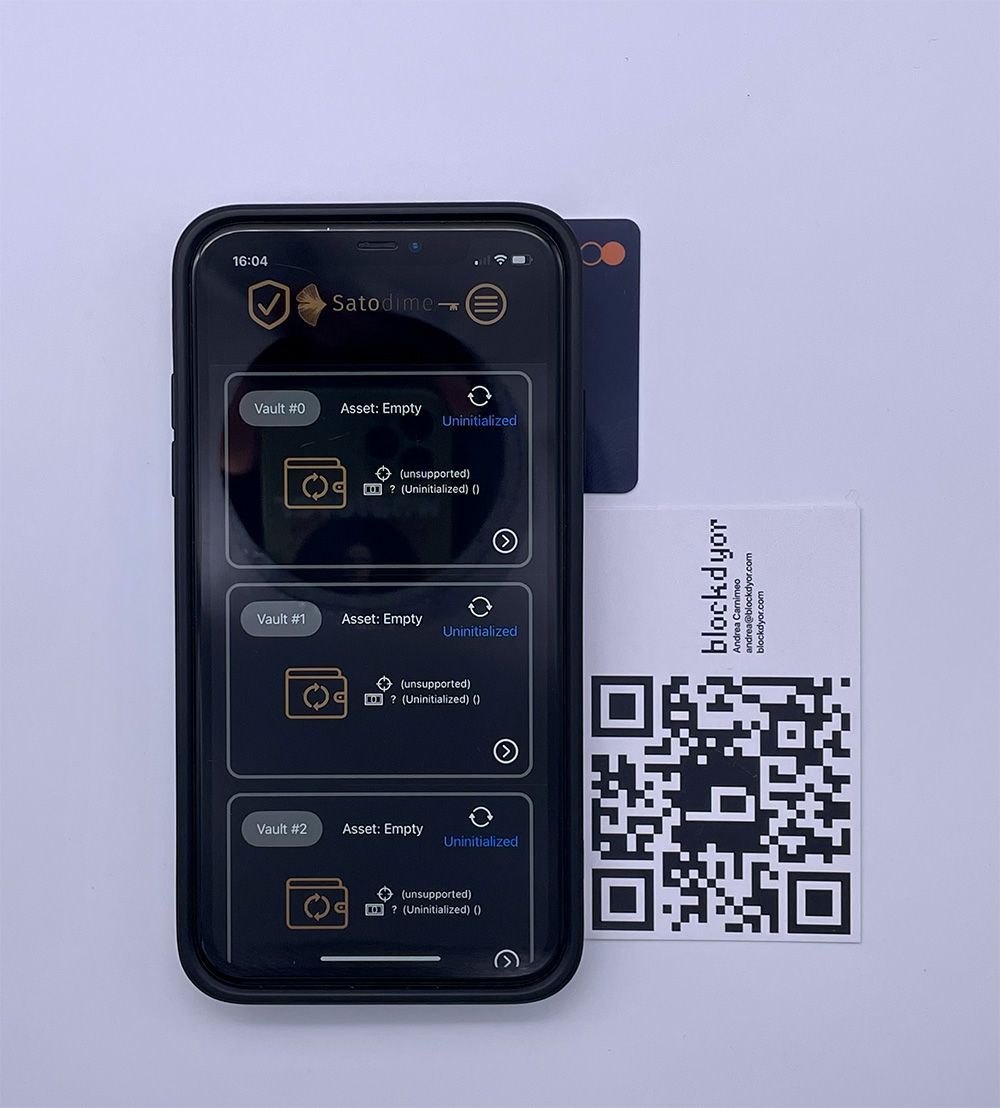 Subsequently, you will encounter the primary dashboard within the Satodime application. The Satodime features three distinct vaults, each capable of being utilized and refreshed with new private keys on multiple occasions. It boasts compatibility with Bitcoin, various other cryptocurrencies, and even NFTs. To effectively employ these vaults, you have to tap on "Uninitialized".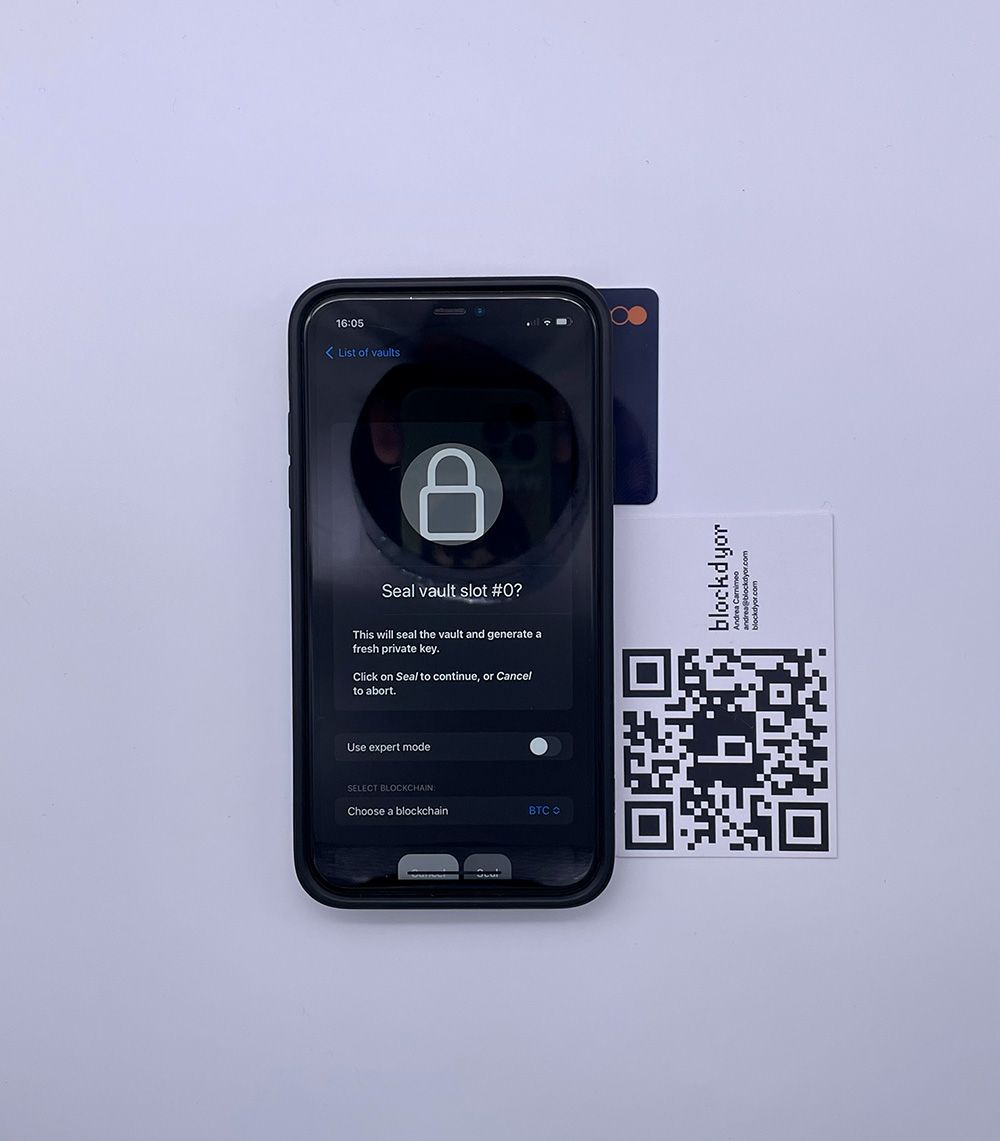 Tap on "Seal" to complete the process.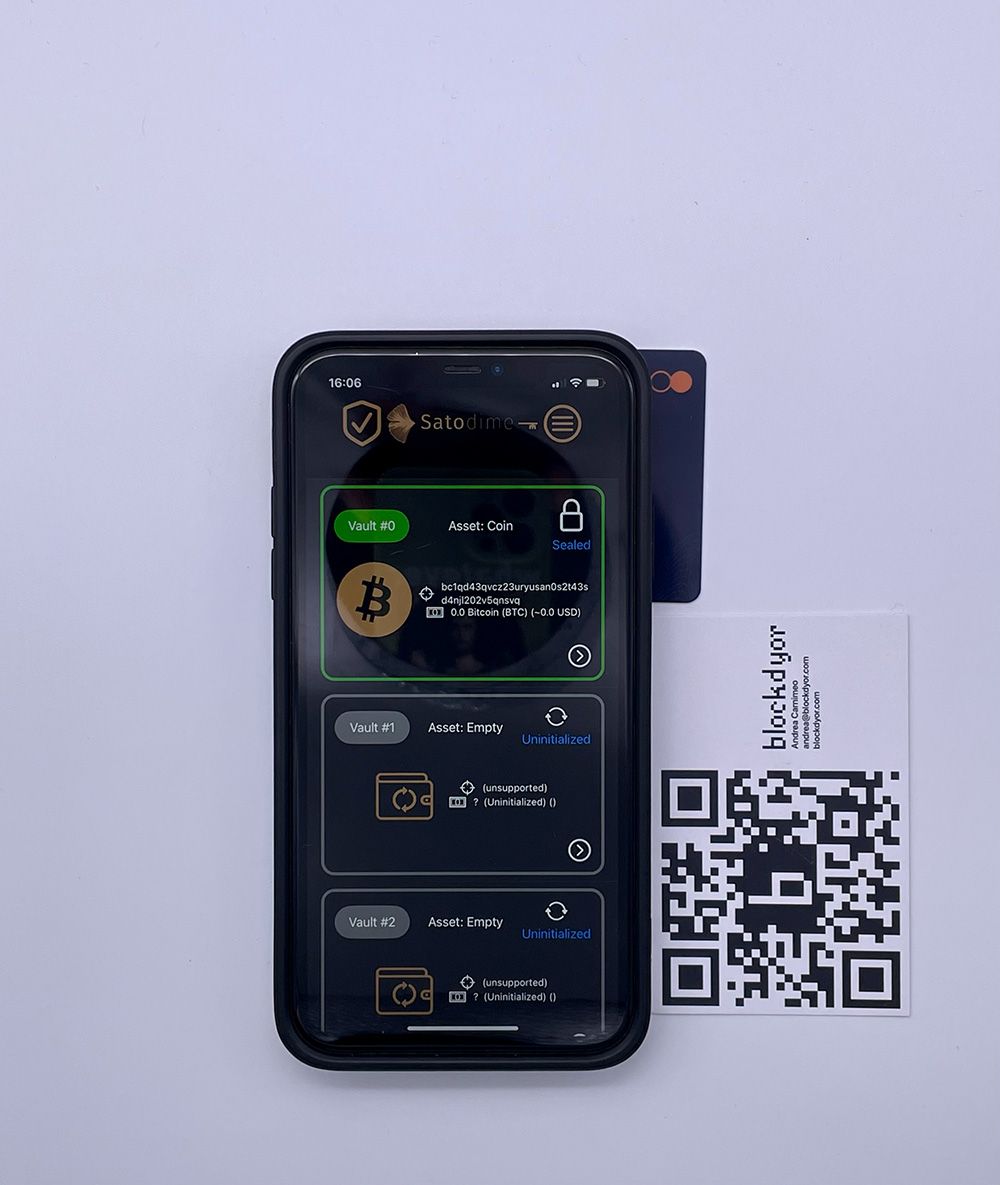 You will now be directed to a display featuring specific information about the vault you've generated, including the address and balance. In this instance, it pertains to a Bitcoin vault.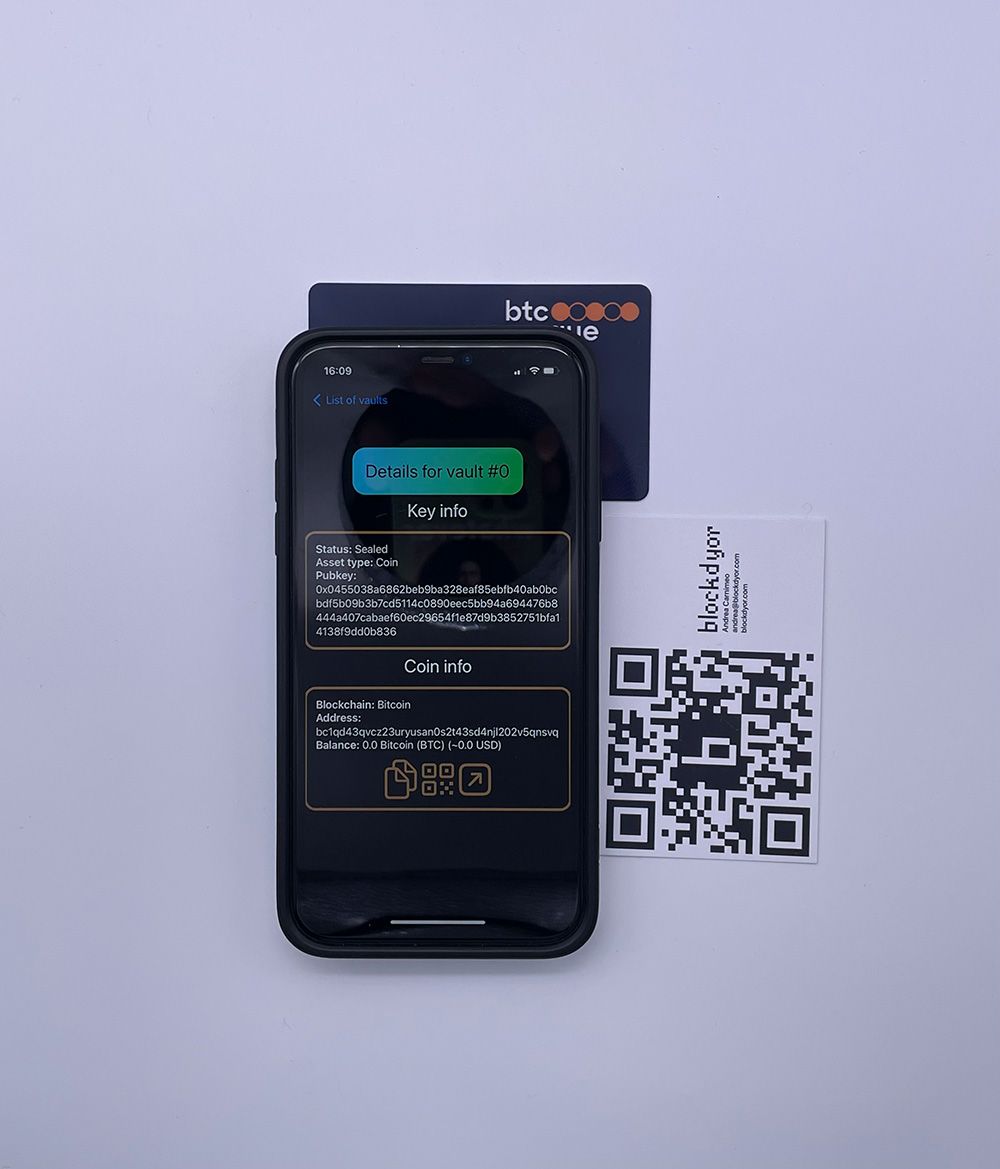 By tapping the ">" symbol, you can see more infos of the vault generated.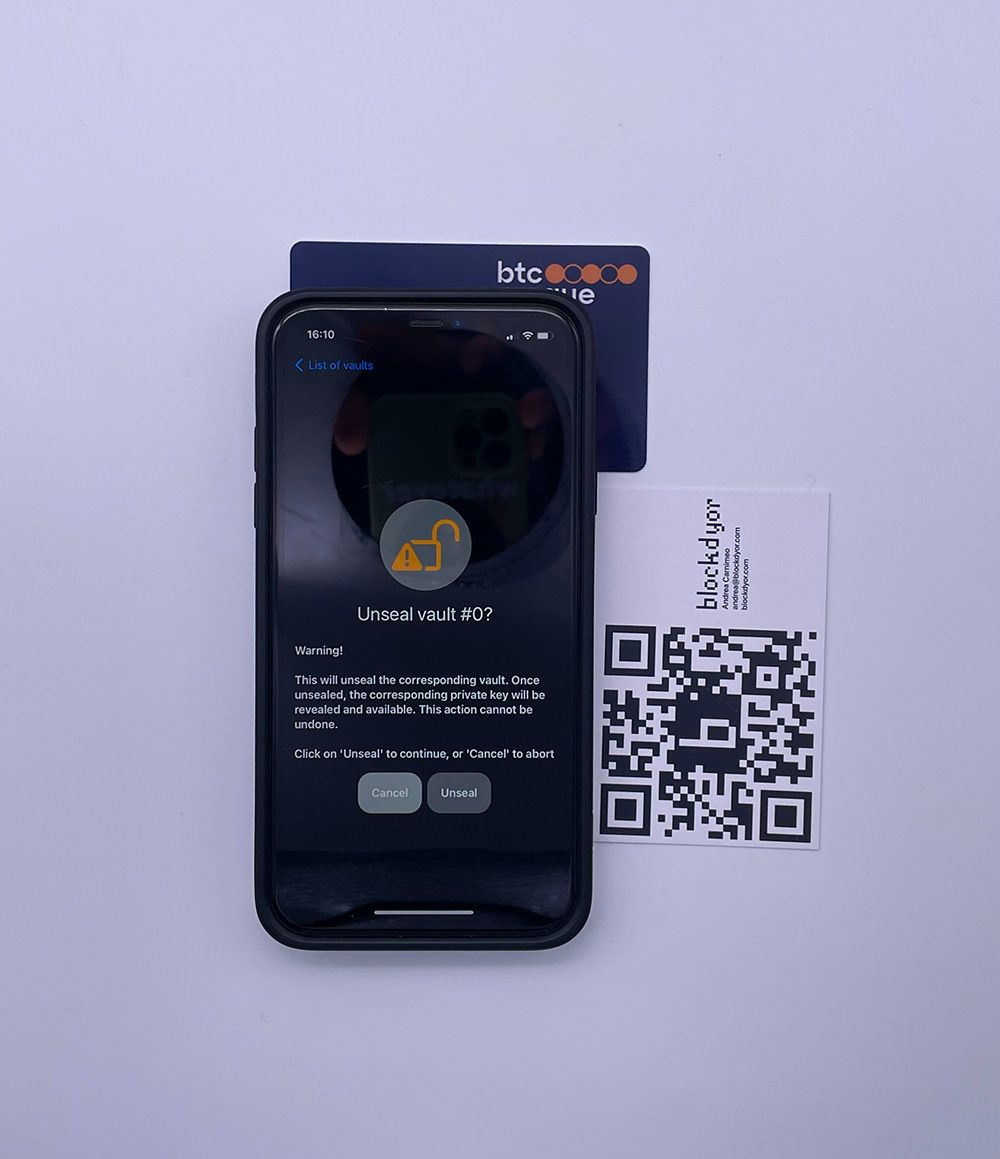 Also, upon clicking the lock icon situated on the primary dashboard of the newly established vault, you can unlock the vault. This action will unveil the private key, enabling you to export it to an alternative wallet and subsequently utilize the funds for transactions.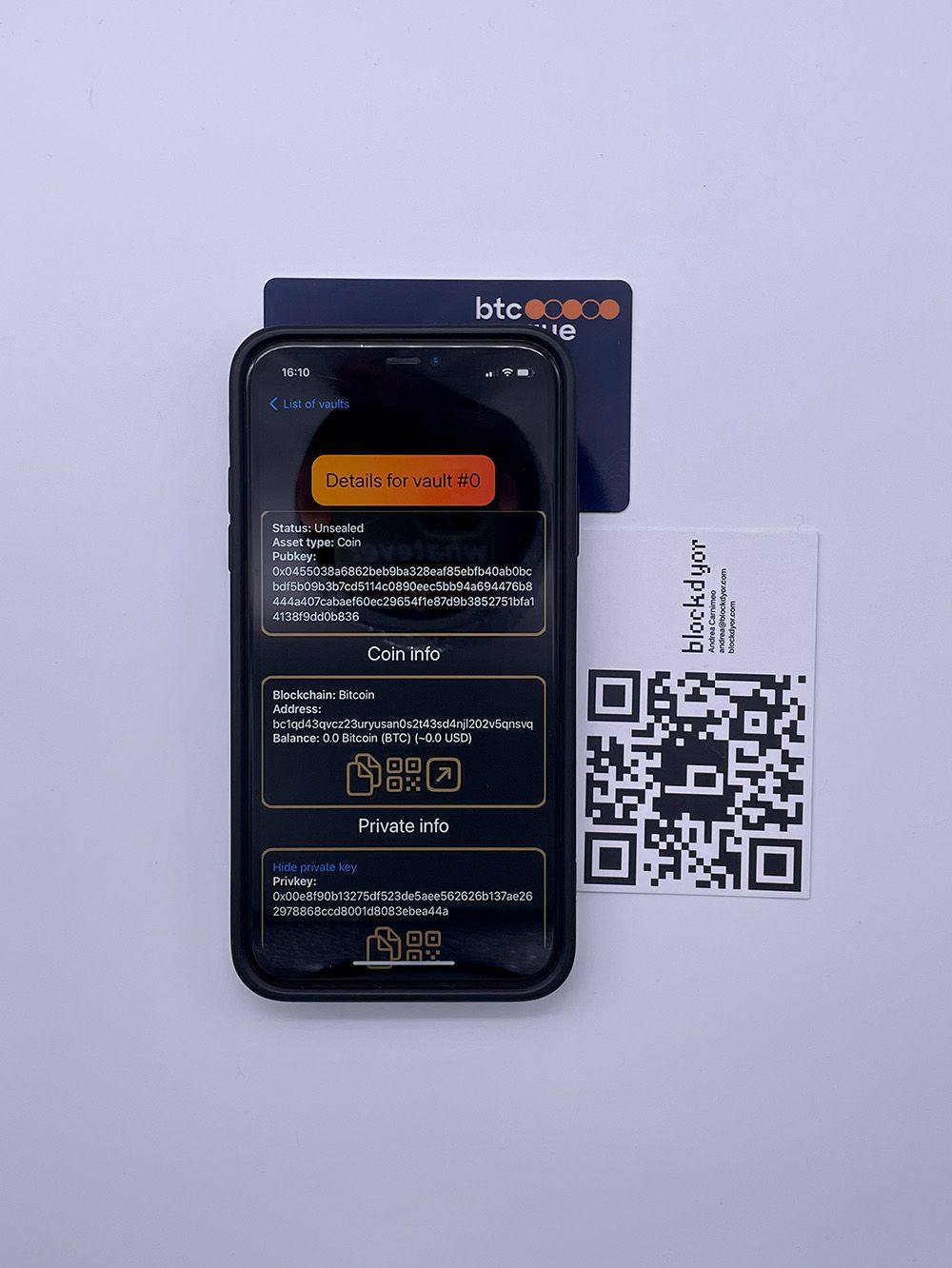 Following the act of unsealing the vault, you will gain visibility of the private key. This signifies that you possess access to the funds and can transfer the private key to an alternative software wallet, such as Sparrow, for instance. Regrettably, the Satodime app does not function as a signing device.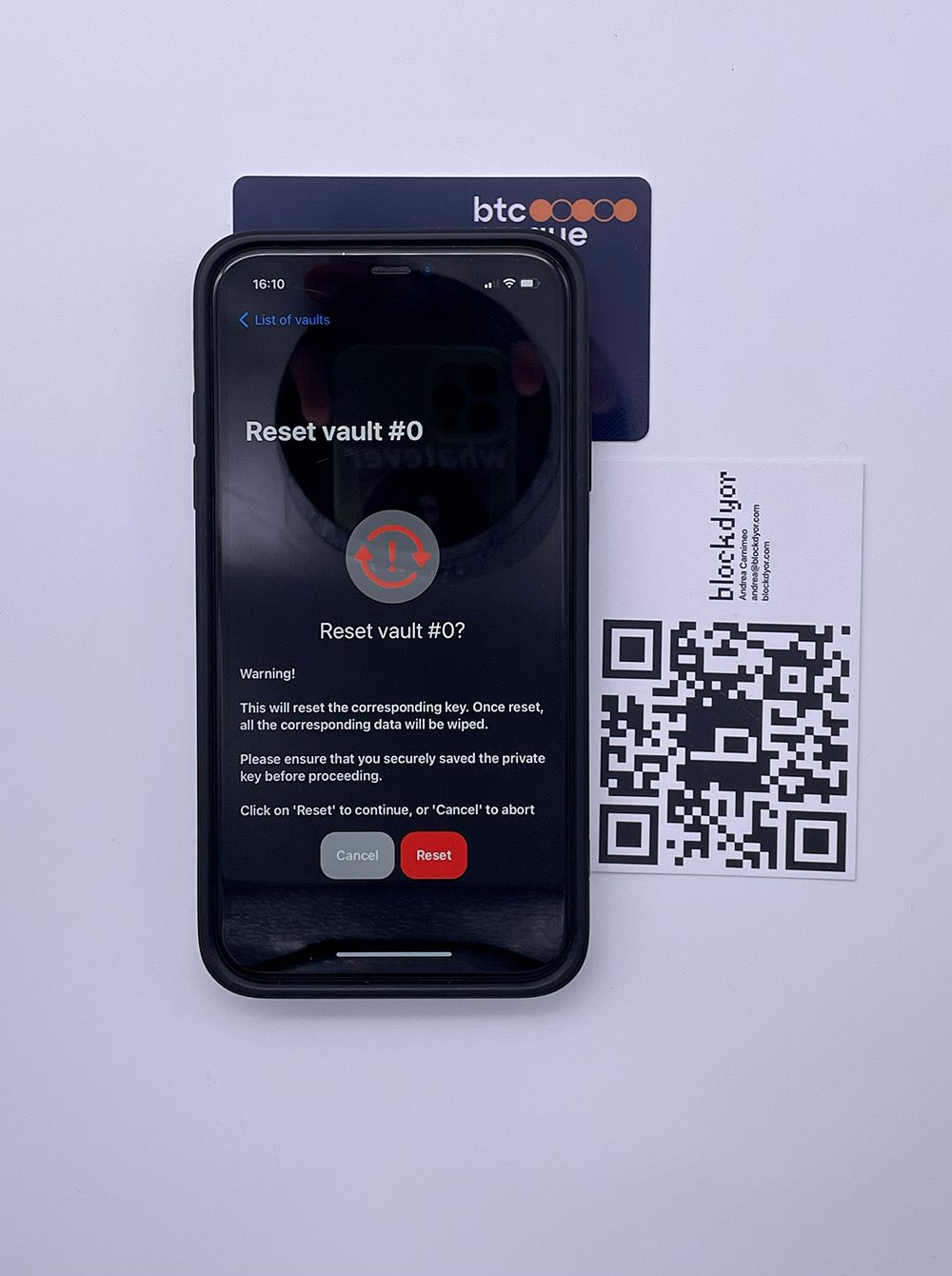 Ultimately, you have the option to erase and subsequently establish a fresh vault, complete with a new and random private key, for any category of assets you desire—whether it's BTC, other cryptos, NFTs, and more. This capability extends indefinitely.
Satodime Pros & Cons
| Pros | Cons |
| --- | --- |
| ✅ Free software | ❌ Need third party wallet to sweep the funds |
| ✅ Economical | ❌ No PIN |
| ✅ Reusable | |
| ✅ Supports many crypto and NFTs | |
Satodime is an excellent choice for individuals seeking a secure means to gift and pass along Bitcoin, various cryptocurrencies, and NFTs within a physical device.
It functions similar to a cryptographic bearer instrument, well-suited for prolonged, as well as medium and short-term, cold storage self-custody solutions.
One of the noteworthy strengths lies in its versatility, as it accommodates not only Bitcoin but also a diverse array of other cryptocurrencies and NFTs.
However, my testing of this device uncovered a primary challenge: the absence of a direct mechanism to send the funds present in the card. To do this, the private key must be exported and subsequently utilized within a third-party wallet, facilitating the spending of the funds.
Bottom line
Satodime isn't just a smart card; it's a revolutionary gateway to simplified Bitcoin ownership and gifting. With its tangible nature, privacy-centric design, and community-driven approach, Satodime bridges the gap between digital and physical, making it an essential tool for both seasoned Bitcoin enthusiasts and newcomers looking to explore the world of cryptocurrencies without the complexities of traditional processes.
Nevertheless, there are also certain drawbacks, such as the absence of a PIN and the incapability to directly consolidate funds from the card's app. These limitations somewhat restrict Satodime's functionality, despite its considerable versatility stemming from its comprehensive support for various altcoins and NFTs.

Satodime Evaluation
Security: Thanks to it's secure element, the Satodime it's quite secure. However, this is not so effective considering that there is no pin, so basically a robber could easily unseal the card without any PIN once it got the card. This make the card more useful for gifting or passing by funds than for a long term funds storage. (2/5)
User-friendliness: Thanks to the NFC tap function, it's quite easy to use the Satodime. However, to spend the funds you need a different wallet. Making the user experience clumsy and unnecessarily difficult. (3/5)
Compatibility: You must use the Satodime app in order to use the Satodime card. Luckily, there is an app for virtually every device. (4/5)
Reputation: I personally didn't know the company before visiting the booth at BTC Prague. It's an up and coming Belgian company, very promising and with interesting products, not just the satodime (5/5)
Cost: The Satodime offers excellent value for money, with a price that is extremely affordable, just a few bucks. This makes it an exceptional choice in terms of cost. (5/5)
Frequently Asked Questions (FAQ)
What is Satodime and how does it work?
Satodime is a physical bearer token designed for secure storage and transfer of cryptocurrencies, including Bitcoin and NFTs. It provides a secure element for protection. Users can create multiple vaults with private keys and NFC tap functionality. However, to spend funds, you would need to export the private key to a separate wallet.
Is Satodime suitable for long-term cryptocurrency storage?
While Satodime offers security through its secure element, its lack of a PIN requirement could make it less ideal for long-term storage. The card's design makes it convenient for gifting and transferring funds, but exporting private keys for spending might not be optimal for extended holding.
What are the strengths and weaknesses of Satodime?
Satodime offers user-friendliness with NFC tap functionality and affordability, making it suitable for various users. Its compatibility across devices and promising reputation are also notable strengths. However, the lack of direct fund sweeping and the need for separate wallets for spending could be considered weaknesses.