SATSCARD Review 2023: Spend or Gift Bitcoin Like Cash In Hand
The SATSCARD offers a fantastic alternative to hardware wallets, providing an uncomplicated and user-friendly experience for receiving, storing, and spending Bitcoin.
What is the SATSCARD?
The SATSCARD is an NFC-based Bitcoin storage card that allows for gifting, trading, and spending with high anonymity and security. It functions as digital cash, offering the convenience of NFC technology without the need for USB, unlike Coinkite's previous product, the OPENDIME.
It's an excellent option for gifting or making payments with "physical Bitcoin," as the funds cannot be retrieved later since the private key is securely stored within the card itself.
Transferring Bitcoin to and from the card is simple. The card comes with a companion app called Nunchuck, which, with a quick NFC tap, reveals the stored Bitcoin. To authorize transactions, a 6-digit card verification code (CVC), known as the spending code, must be entered by tapping the card.
In this comprehensive review, we will test the SATSCARD alongside its companion app, Nunchuk, to send, receive and store Bitcoin.
👉 To get the SATSCARD for a special price on Coinkite's official website, click here.
| DESCRIPTION | DETAILS |
| --- | --- |
| 💻 Name | SATSCARD |
| 🌐 Website | satscard.com |
| 🗓 Release year | 2022 |
| 💰 Coins Supported | Bitcoin |
| 💸 Price | From $6.99 |
| 🔒 Security Features | NFC, 6-digit PIN, Unseal Command, Disposable slots, Entropy (random numbers) for seed generation |
| 💻 Compatibility | SATSCARD companion app (Nunchuck) |
| 🖥 Display | N/A |
| 🔄 Connectivity | NFC via ISO-7816, QR Code |
| 📏 Dimensions | 85.6 × 53.98mm (3.37 x 2.12 inches) |
| ⚖️ Weight | N/A |
| 🔋 Battery Life | N/A |
| 📜 Warranty | N/A |
Understanding SATSCARD and Its Features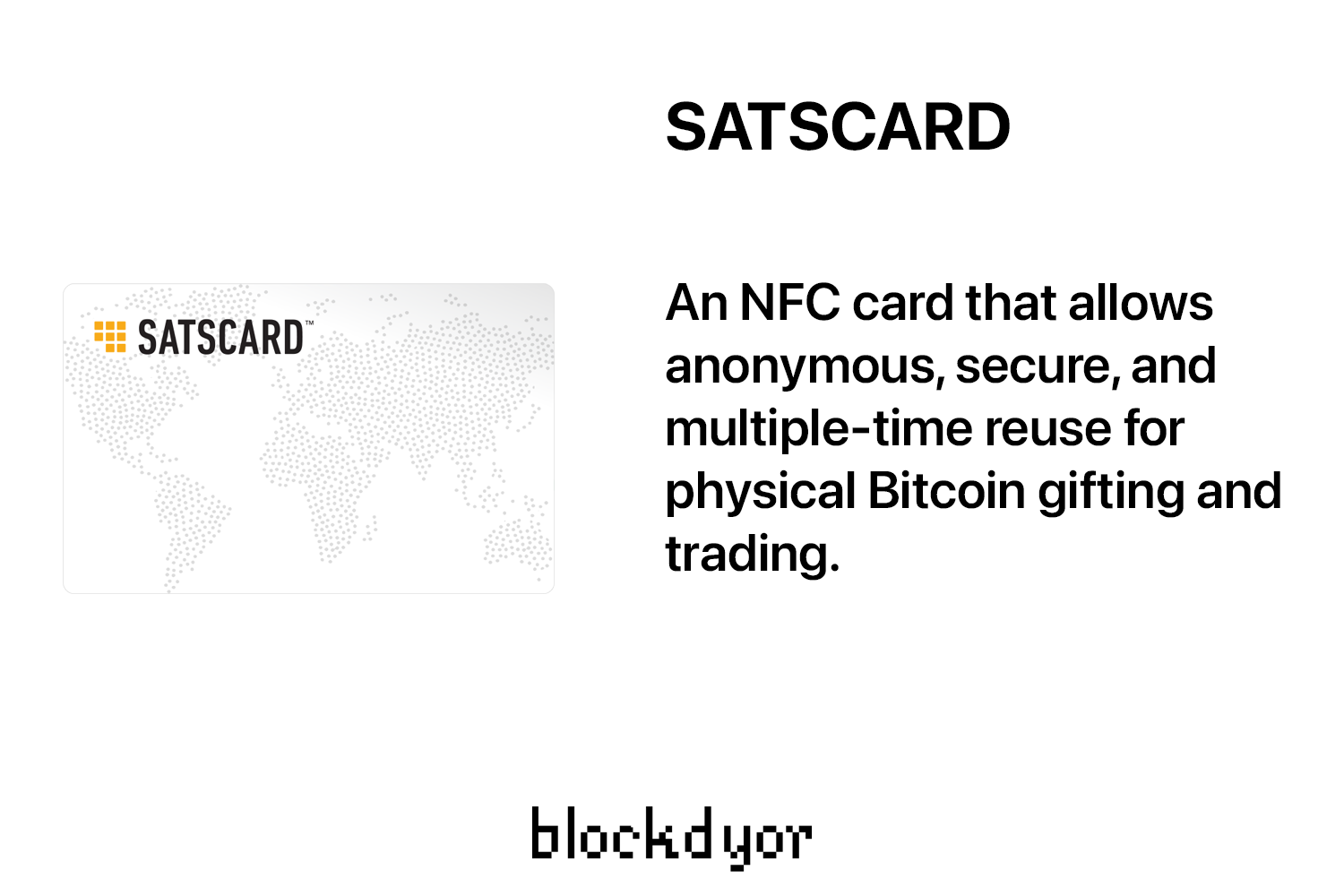 For individuals without much knowledge in this technology, comprehending the purpose of a SATSCARD might be challenging since many people typically store their Bitcoin in exchanges or hot wallets.
SATSCARD is an innovative NFC card that allows for the physical transfer and trading of Bitcoin in a secure and anonymous manner. It builds upon the success of another product made by Coinkite, the OPENDIME, by offering a compact card form factor with enhanced reuse capacity.
With SATSCARD, you can gift or trade Bitcoin in person, minimizing the need for trust between parties. To reveal the Bitcoin stored on the card, you'll need a companion app on a mobile phone to run the unseal command, requiring a 6-digit card verification code (CVC) for authorization.
The card comes with multiple slots, allowing for several use (spending the BTC), and its private key remains unique and secret, only stored inside the physical card. To ensure security, the SATSCARD comes with a special RF-blocking sleeve to prevent unauthorized access.
While the card has a companion app available on Android and iOS (Nunchuck), it is not a replacement for your existing Bitcoin wallet. Instead, you would still need a third-party wallet or Bitcoin Core to manage your funds.
💡
If you are in the market for an advanced Bitcoin hardware wallet, check out the
COLDCARD Mk4
, built by the same company that built the SATSCARD, Coinkite.
SATSCARD is versatile and can be used for many purposes, such as gifting Bitcoin to your loved ones or friends, making secure payments, or trading for precious metals. The card's balance can be easily checked on a smartphone, and its expected lifetime is comparable to other electronic devices if stored properly.
💡
Probably, the greatest breakthrought innovation of the SATSCARD, it's the possibility to pay somebody in Bitcoin, without even having to use the blockchain! You can just pass along the SATSCARD and its bitcoins in it, because it's a physical object.
SATSCARD offers a safe method for private key generation and can be also used for multisig co-signing. Thanks to its design, it can also be used on untrusted computers.
During our testing, we understood how the SATSCARD combines the convenience of physical Bitcoin transactions with enhanced security, making it an excellent choice for those seeking a tangible and private way to engage with cryptocurrencies.
What's included with a SATSCARD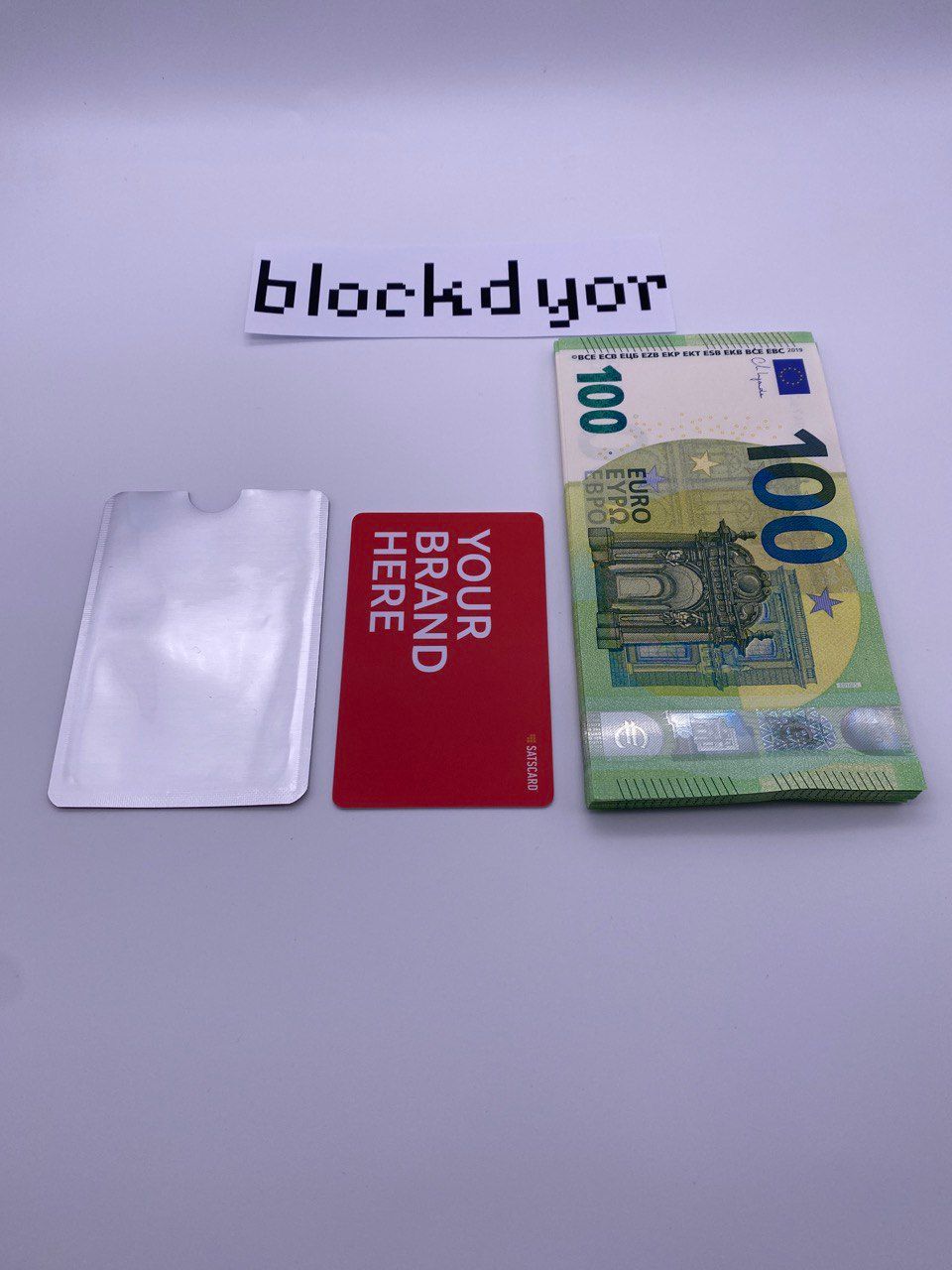 The SATSCARD package from Coinkite is simple and includes the following items:
One SATSCARD featuring your chosen graphic design.
One RF-blocking sleeve to ensure security.
There isn't much else to mention, but we believe the SATSCARD offers excellent value for money. It functions similarly to a hardware wallet, with the private key changing as funds are swept and slots are modified, all at an affordable price.
Setting Up SATSCARD: A Step-by-Step Guide
Setting up SATSCARD is a straightforward process. Follow these step-by-step instructions to get started: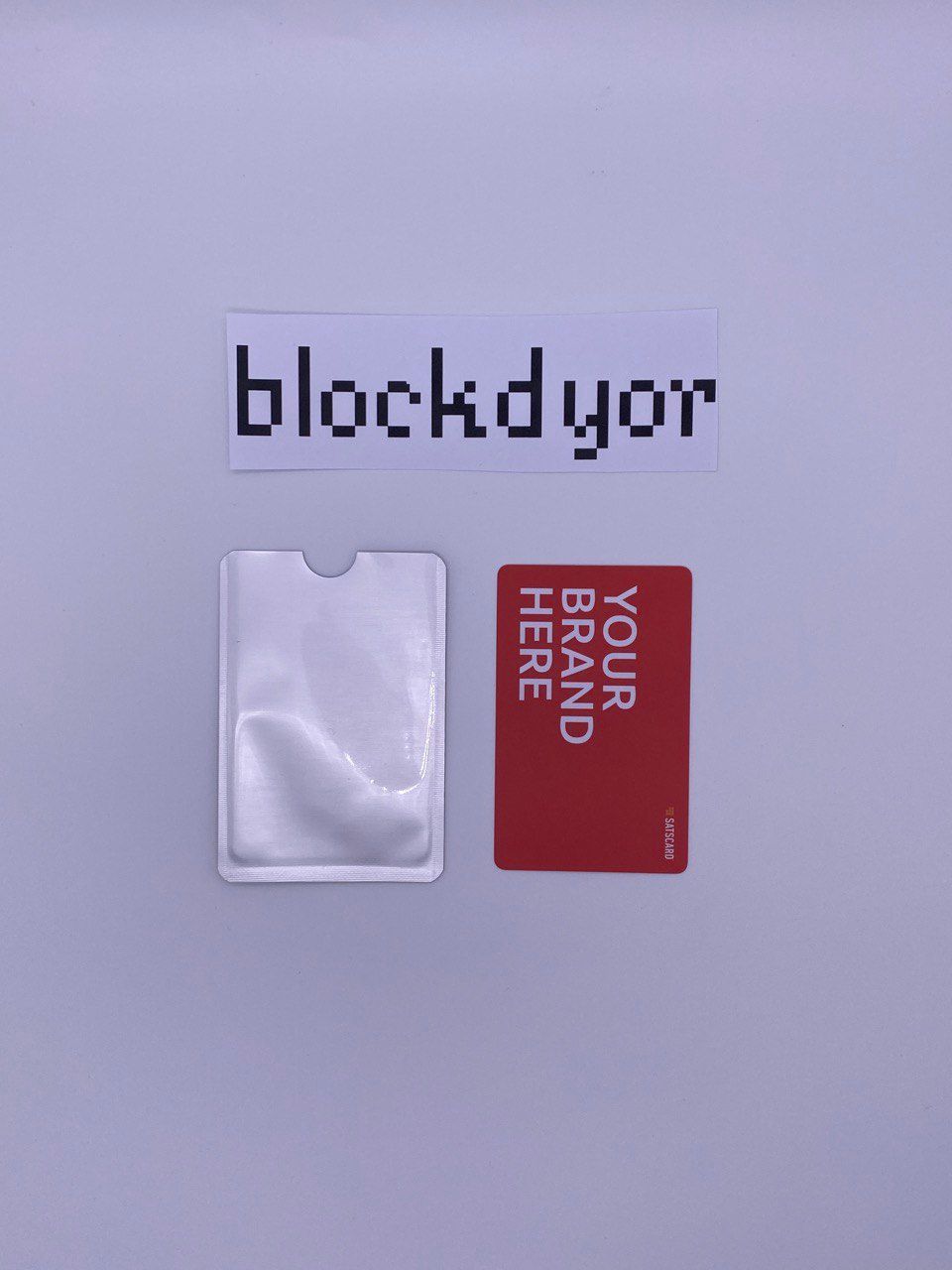 Hardware Requirements
The SATSCARD works together with an NFC device. Get ready these devices in order to start:
Obtain a SATSCARD: purchase a SATSCARD from an authorized seller or directly from the manufacturer. Ensure you receive the SATSCARD in its protective RF-blocking sleeve.
👉 To get the SATSCARD for a special price on Coinkite's official website, click here.
Get a NFC device. This can be a phone like the most recent iPhones or Androids. But also an USB NFC card reader should work. During this guide we used an iPhone, which has a NFC sensor on the upper back of the device.
Get some bitcoin. In order to send money to the SATSCARD, you will need to have some bitcoin to send to it. It doesn't matter if they are coming from an exchange, p2p marketplace, hot or cold wallet. Every sats count.
Verify the receiving address
All SATSCARDs are initially shipped with a default receiving address. However, once the card is unsealed (spent), the receiving address will be changed to a second one, located in a new slot.
When using the SATSCARD for the first time, it is important to verify that the address printed on the back of the card matches the one displayed during the NFC connection.
💡
For privacy reasons, in this guide, we have blurred the amounts and address details.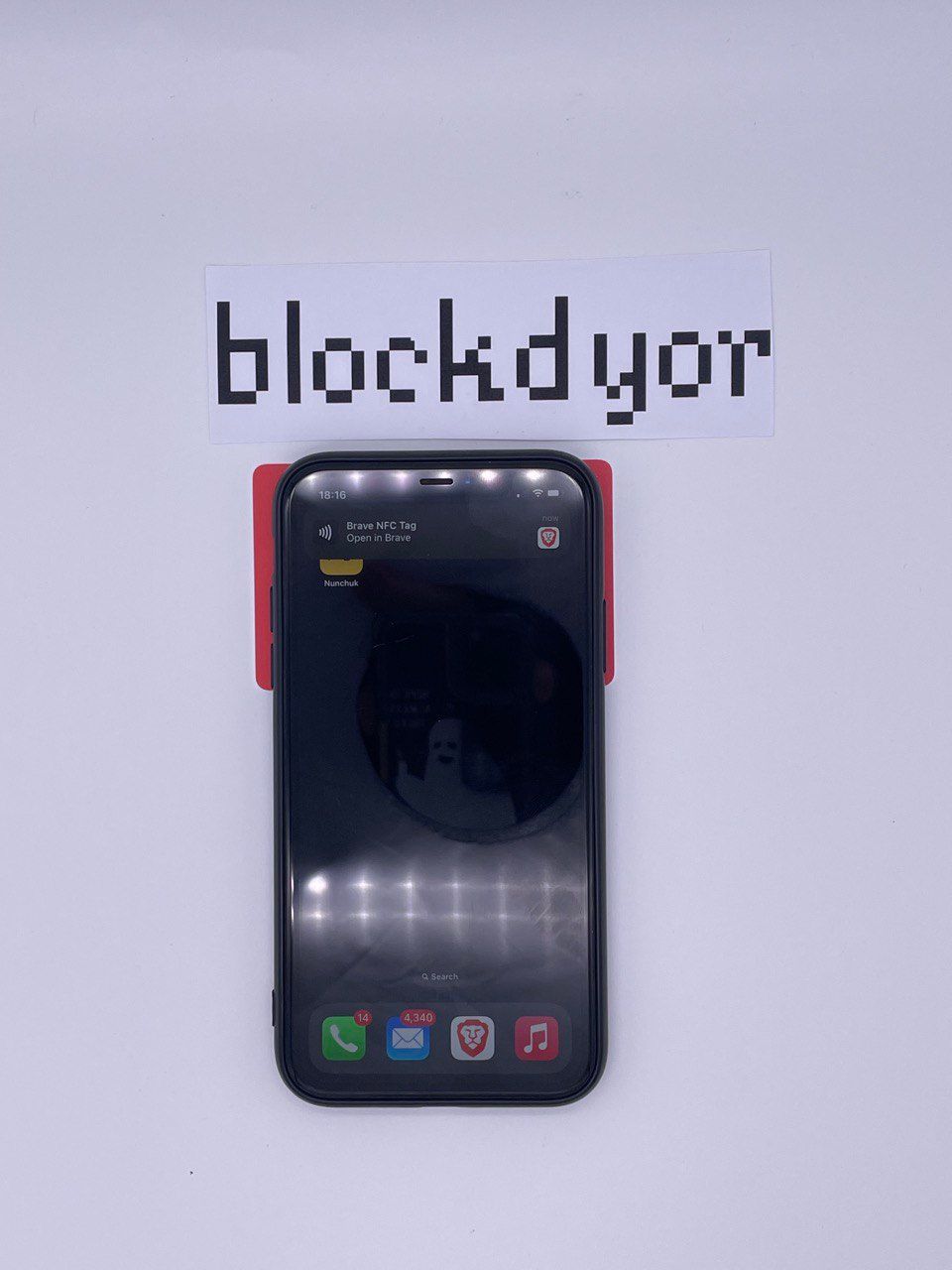 Simply hold the SATSCARD near the NFC sweet spot of your phone to trigger a pop-up redirecting to satscard.com. Tap on the popup.
💡
Finding the NFC sweet spot on the iPhone is quite easy. From the iPhone 7 onwards, the NFC sweet spot is on the upper back, in the center (near the cameras). It's more difficult for Androids, since usually the NFC is in different positions. Try until you don't see the popup "NFC Tag".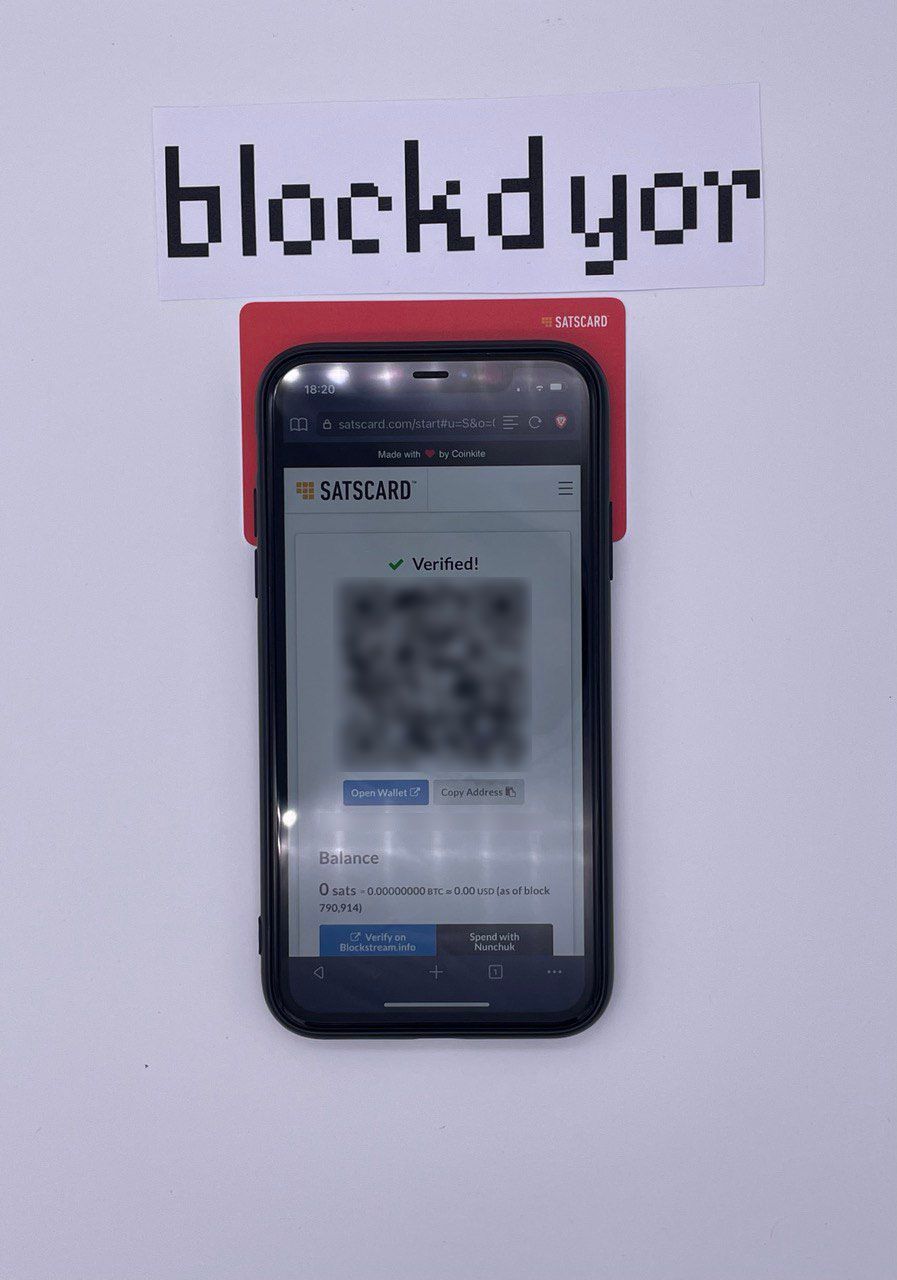 By tapping on the popup, you will be redirected to the the pre-generated address and balance (initially zero) page that should start with the domain satscard.com. If you want, you can also verify the address on blockstream.info. Verify also that the address is the same on the back of the card.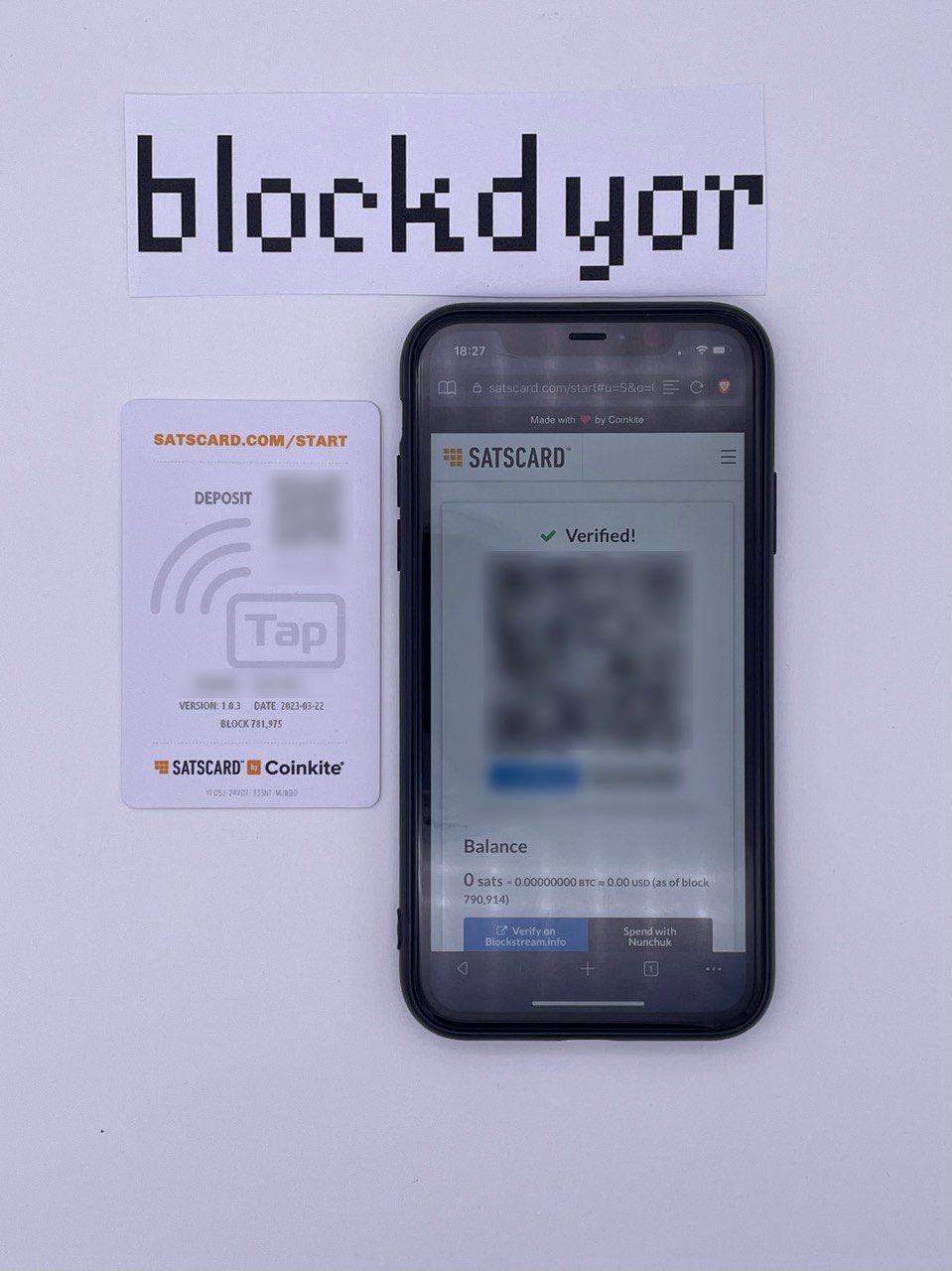 Sending Bitcoin to the first receving address
Having completed the address verification process thoroughly, you are now ready to send BTC to your SATSCARD.
Copy or type the address into your preferred method of sending BTC, and proceed to initiate the transaction. It is suggested to start with a little amount for the first transaction as a precautionary measure.
To start your first transaction with the SATSCARD for testing purposes, we utilized the services of Curve, a comprehensive financial tool. Once you are onboarded with Curve, you receive a smart card capable of linking to multiple cards, converting cashback into crypto rewards, utilizing the "Go Back in Time" feature, creating Smart Rules, and offering various other functionalities.
With Curve, you can easily withdraw your crypto cashback as Bitcoin or other altcoins to your non-custodial wallet (in this case: the SATSCARD) with just a few simple taps.
Copy the just generated address, and send some BTC to it with your favorite hardware/software wallet.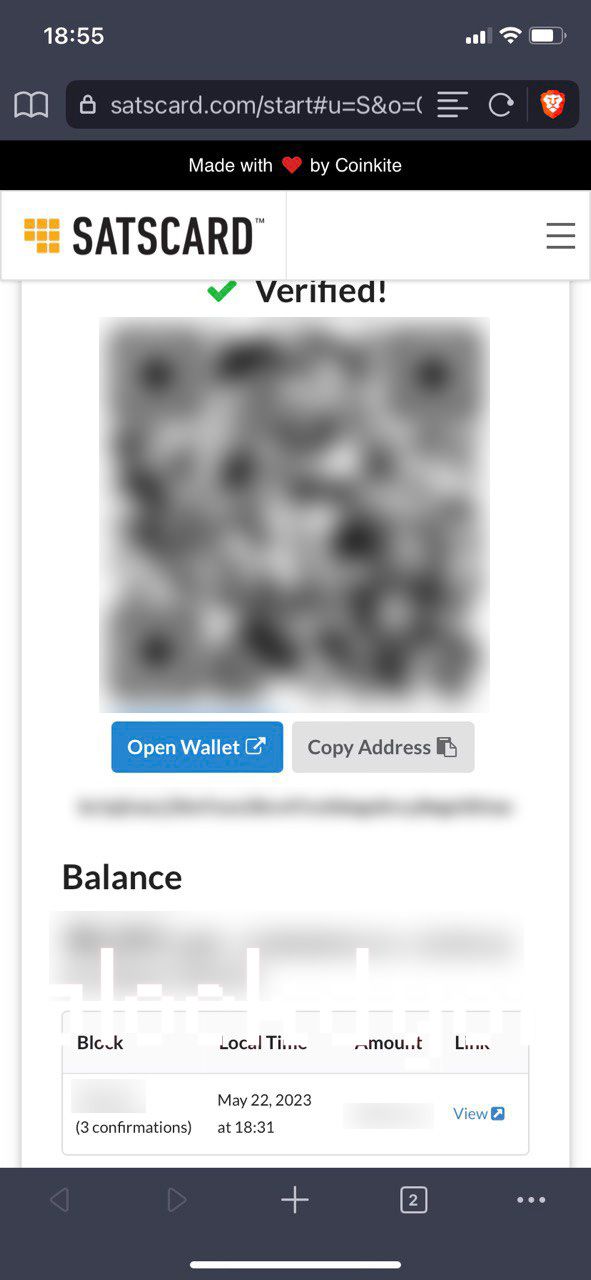 After sending the BTC from your favorite wallet, you will have to wait a few minutes for the block confirmations. After that, you will start seeing the funds arriving into your Satscard. You can verify by clicking on the "View" link, which will lead to a blockchain explorer.
You have now successfully received your first sats on your SATSCARD. You can now continue sending funds to it with new transactions, or testing it more by trying also to send funds from the SATSCARD to another wallet.
Sending Bitcoin from the SATSCARD
When sending Bitcoin from the SATSCARD to another destination, an additional element is introduced to the card and the phone with NFC. This element is referred to as the NFC-enabled "companion app," known as Nunchuck.
Nunchuck is basically an open-source, non custodial software wallet that provides additional functionalities and features for the SATSCARD. It offers a free plan and does not require any KYC (Know Your Customer) verification or any registration to be utilized.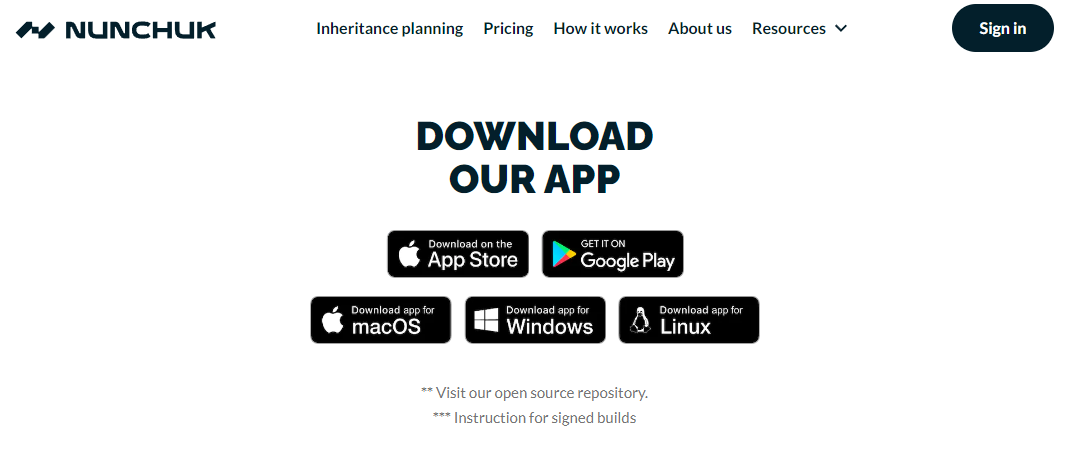 To begin, visit the official Nunchuck website at Nunchuck.io to initiate the process. Nunchuck is downloadable for both mobile phones and computers, so we recommend downloading the version that corresponds to a device you own that includes NFC functionality.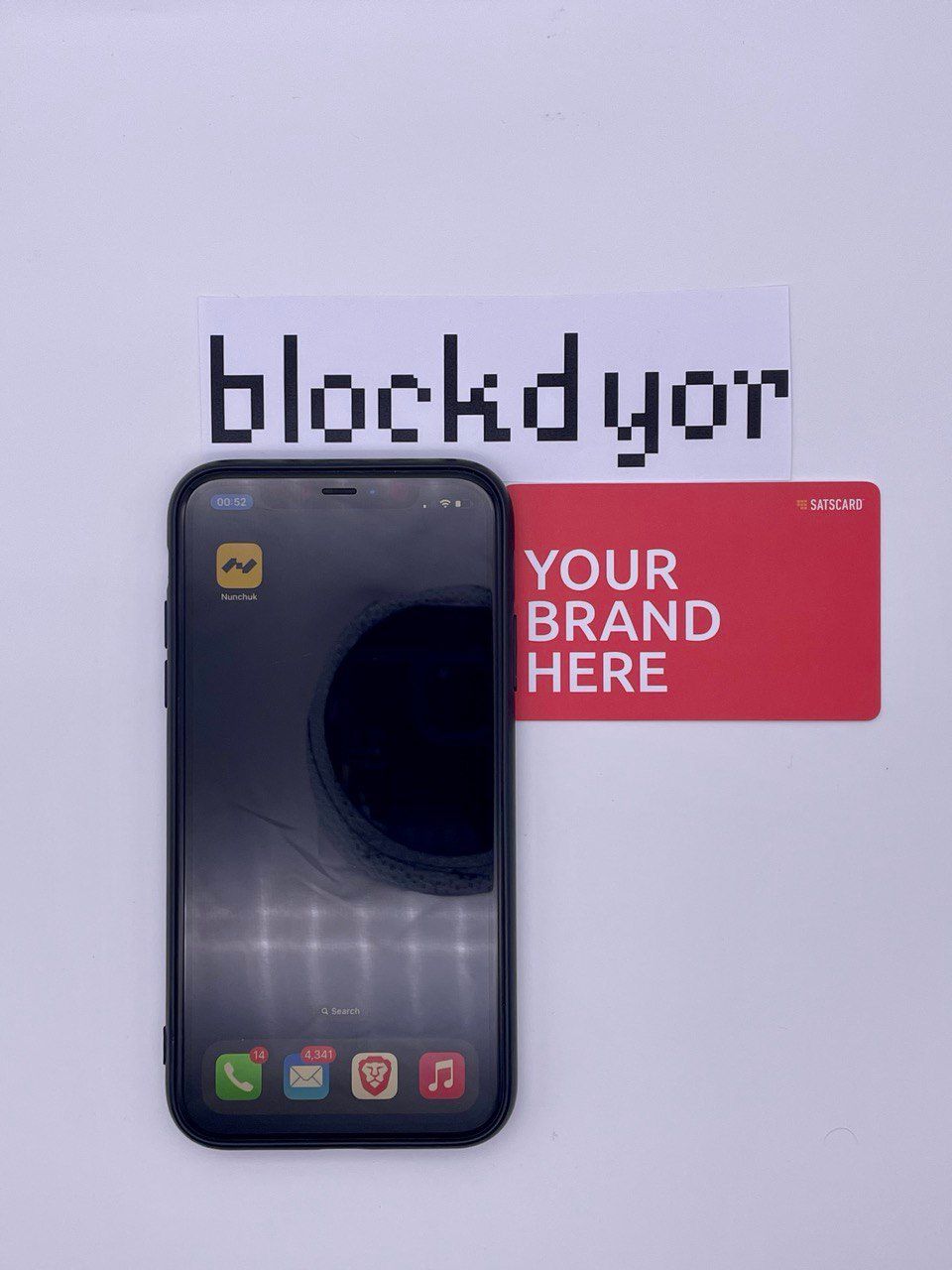 To spend your Bitcoin, you need to connect the SATSCARD to Nunchuck. Open the Nunchuck app.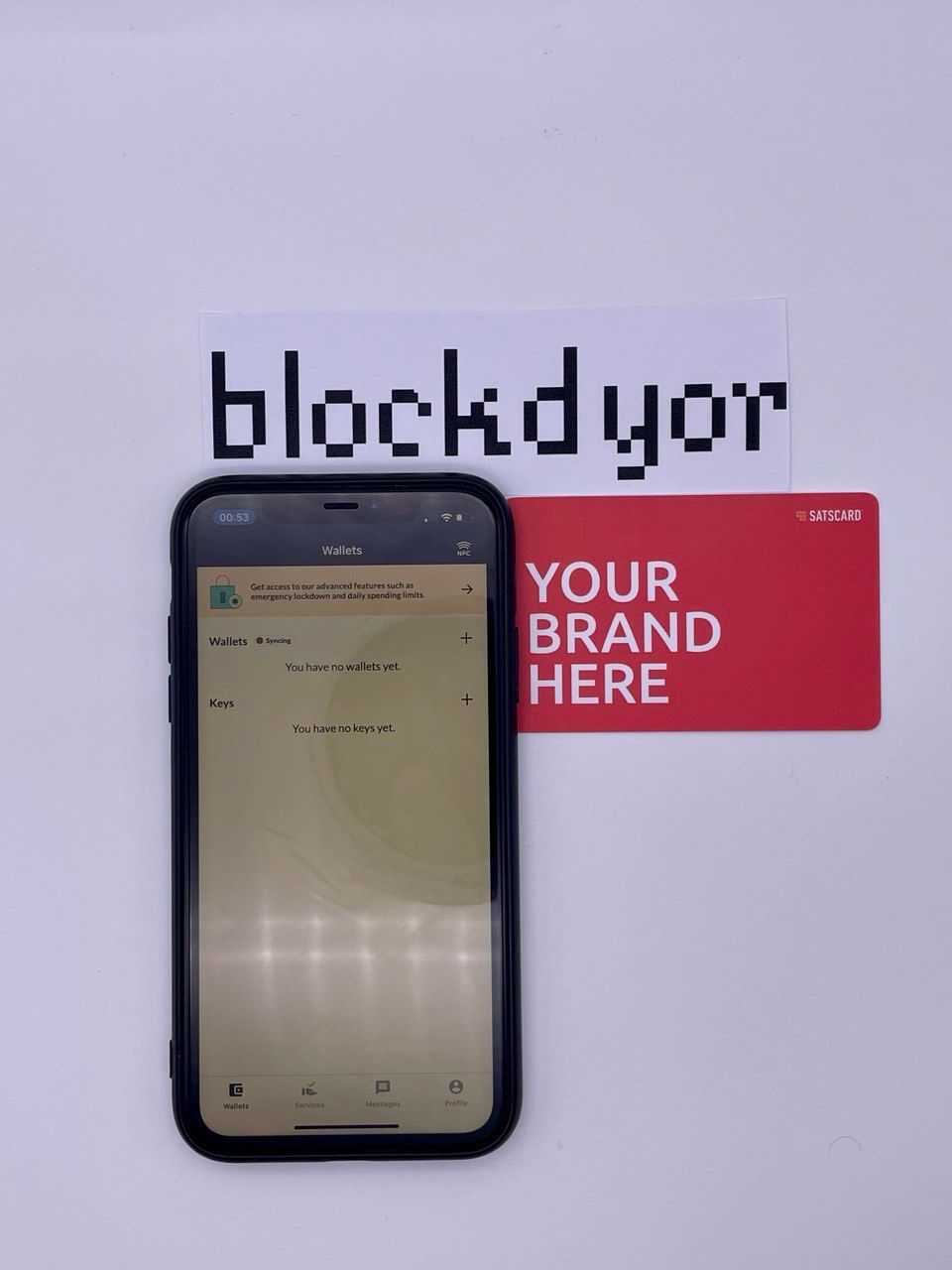 Tap on the NFC icon located in the upper right corner.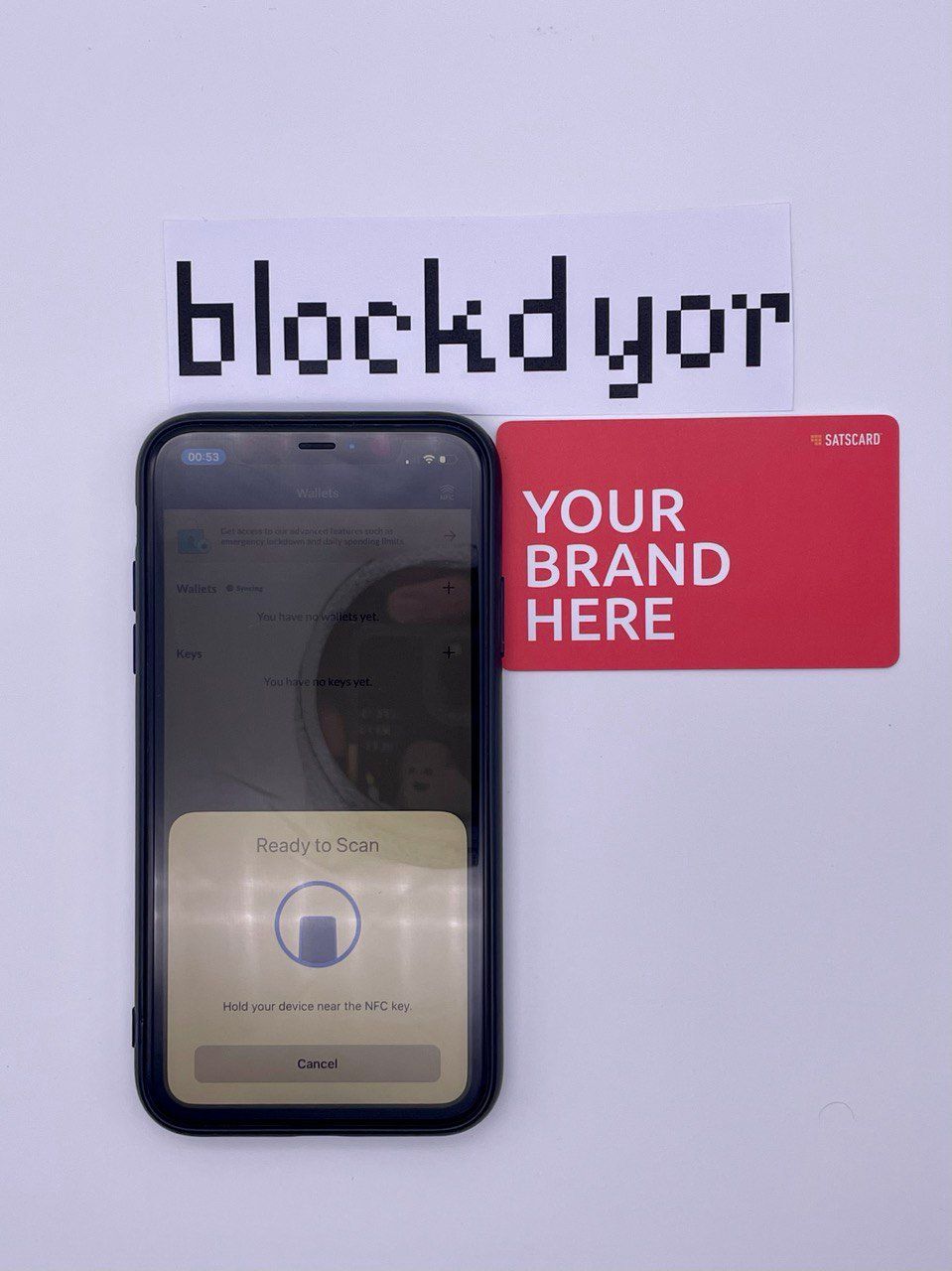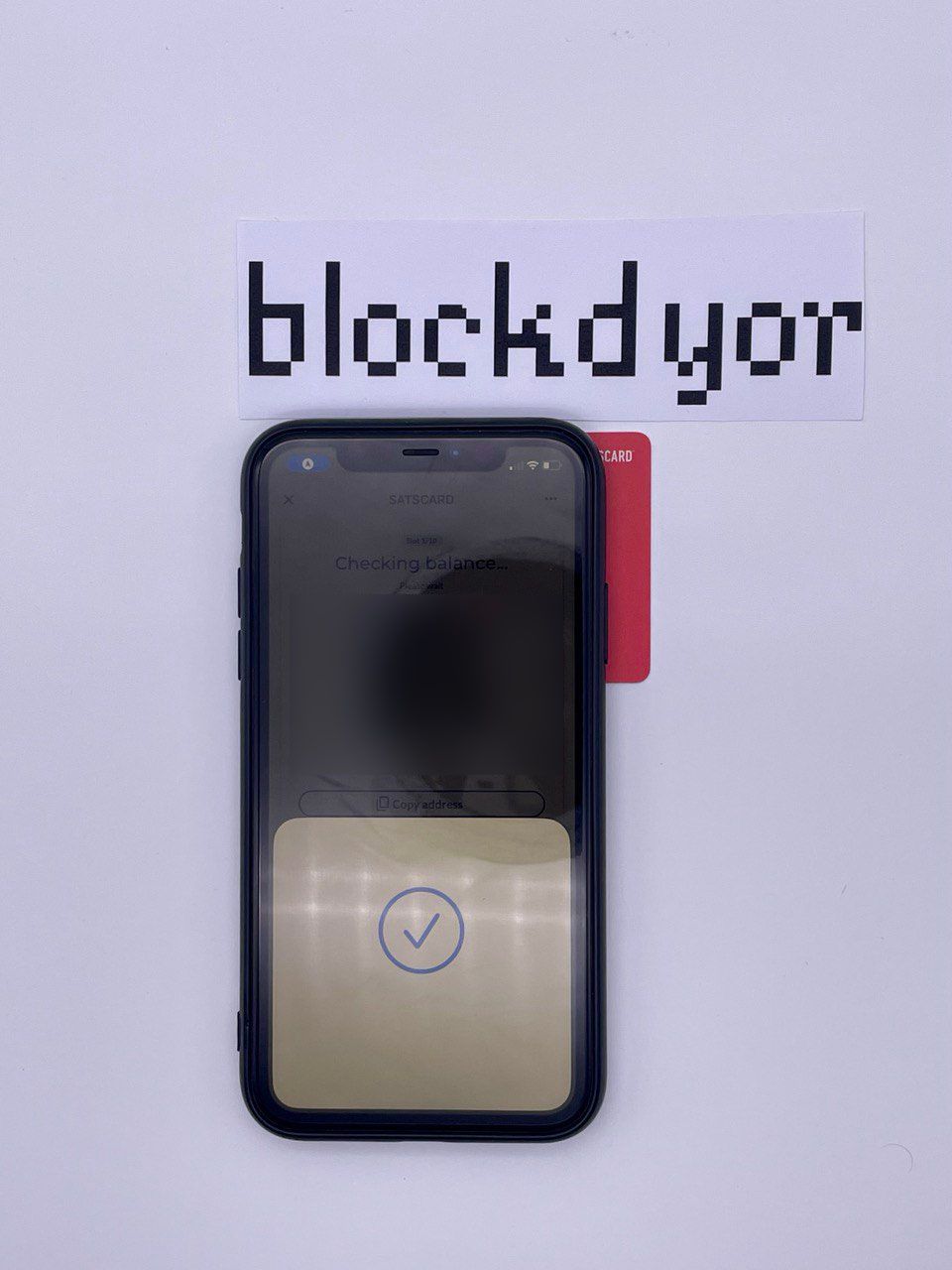 Place the SATSCARD near the NFC area to allow the app to detect the card.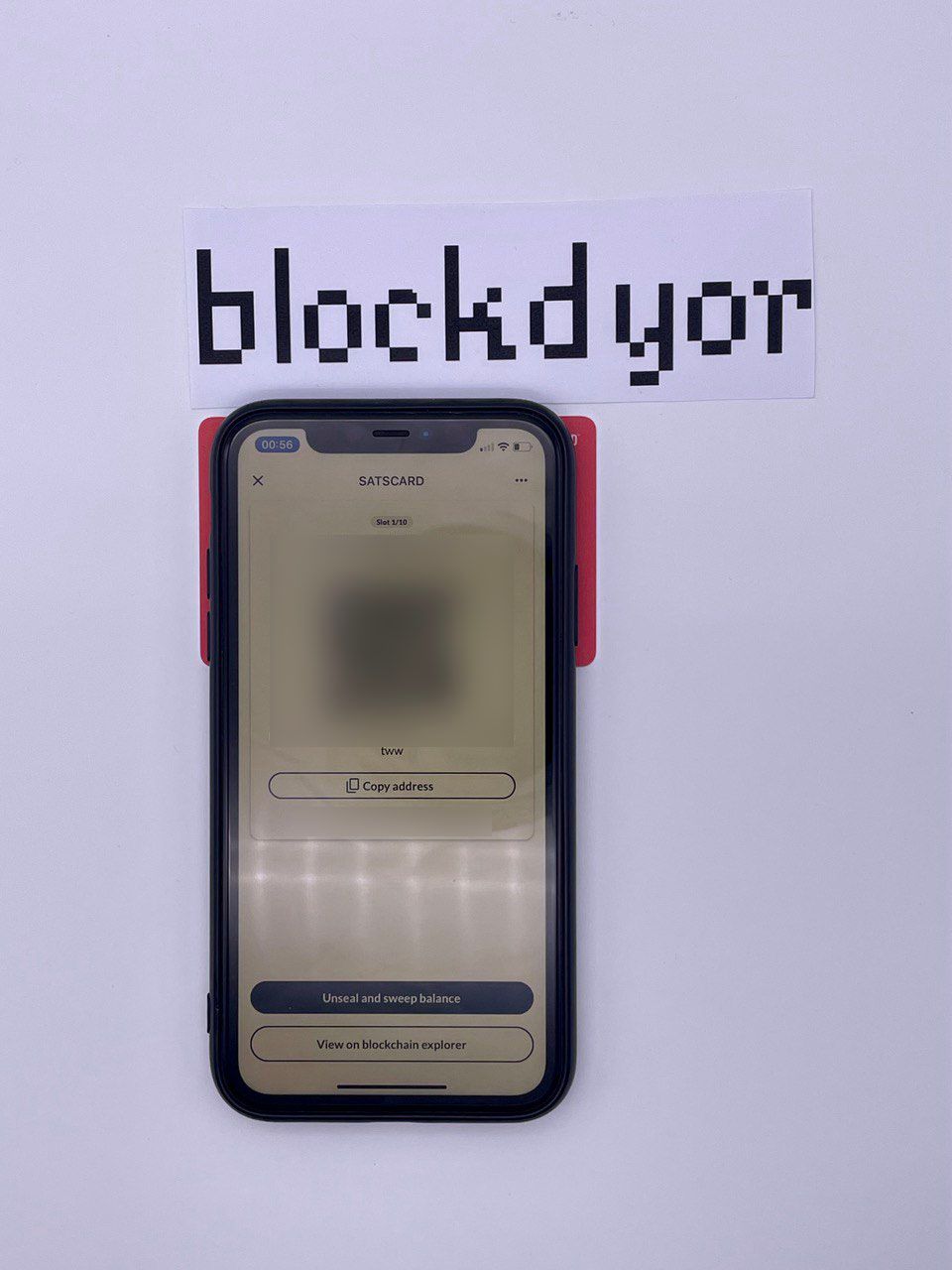 If your SATSCARD contains an unsealed balance, you will see the Bitcoin address associated with that balance. Additionally, there will be a button labeled "Unseal and Sweep Balance." This option allows you to spend the Bitcoin by sending it to a wallet within Nunchuck or any other desired address.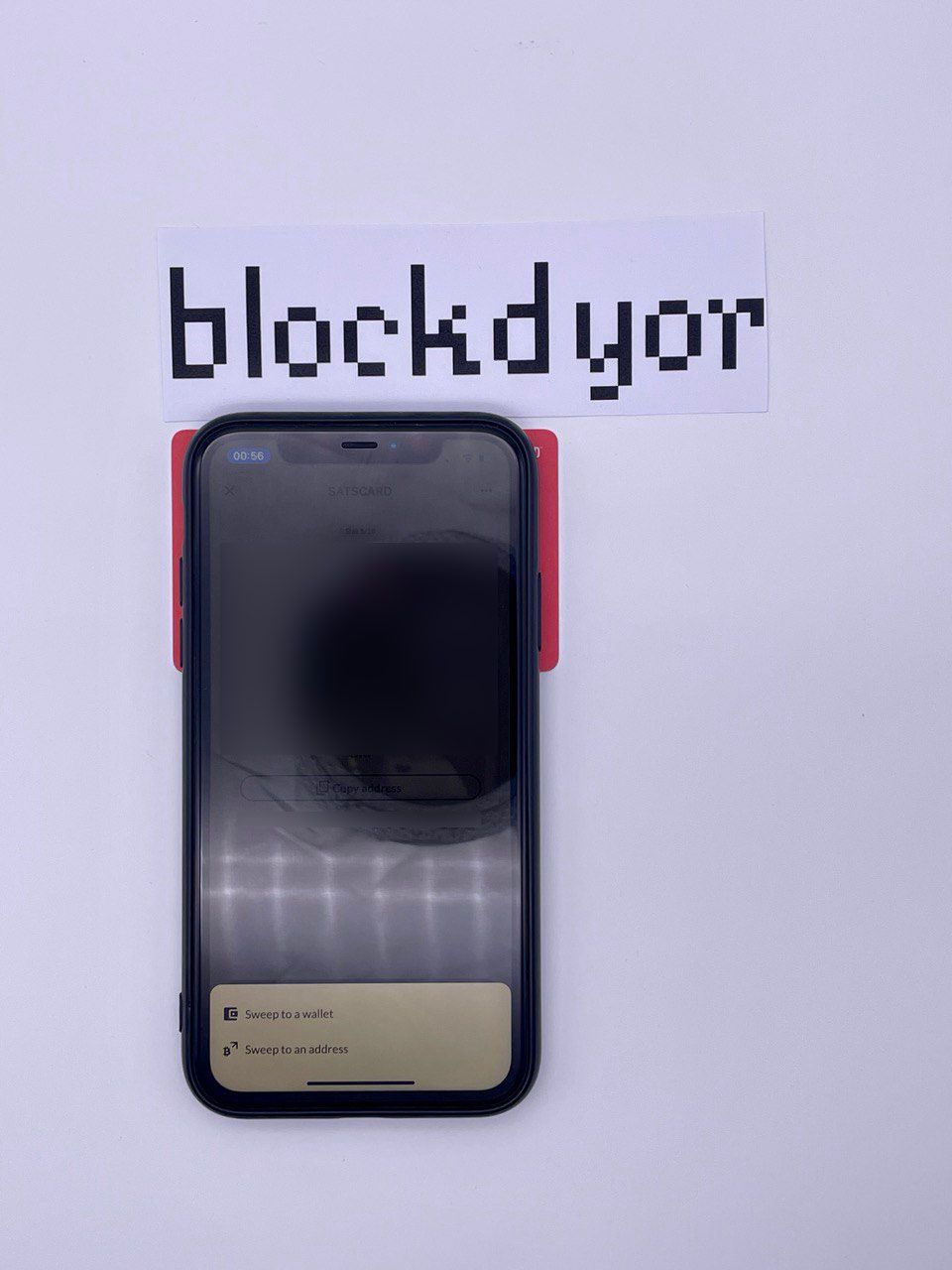 The remaining procedure follows the standard bitcoin transaction process. Select the desired wallet or address, adjust the transaction fees if desired, double-check the details of the transaction, and then click "Confirm and Create Transaction."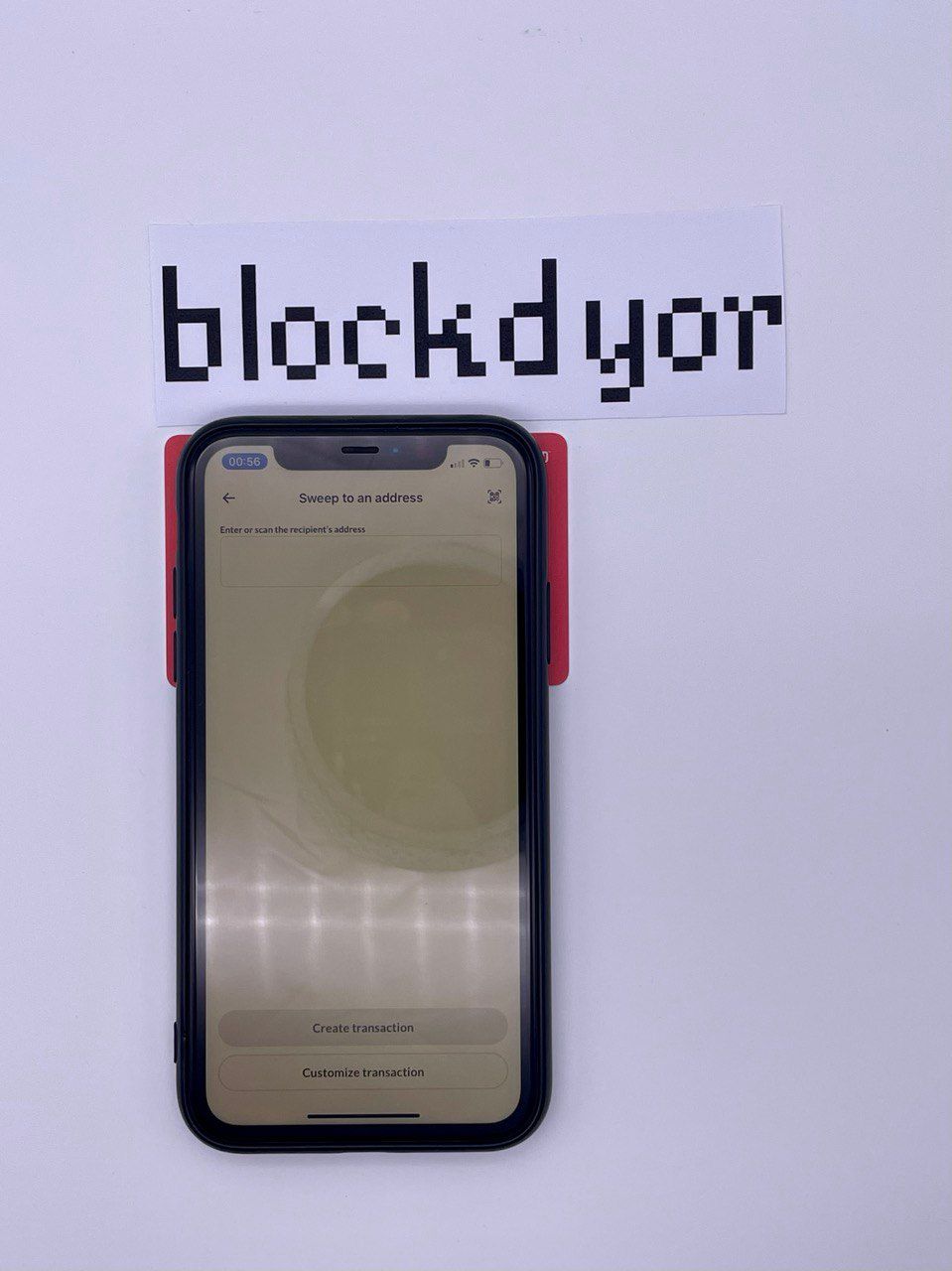 You will be prompted to enter the CVC (Card Verification Code) of your SATSCARD. Enter the 6-digit PIN located on the back of the SATSCARD. Please note that this PIN remains the same for every slot and does not change. Click "Confirm" to proceed.
Hold the SATSCARD to the back of your phone to sign the transaction.
You will receive a prompt confirming that the SATSCARD has been successfully swept.
Secure the SATSCARD: after depositing Bitcoin, securely store the SATSCARD in its RF-blocking sleeve to protect it from unwanted access. Remember to keep the SATSCARD and its sleeve together always in a safe place.
Whenever you want to access or spend the Bitcoin stored on the SATSCARD, open the companion app and select the appropriate options. You will need to provide the CVC each time you authorize a transaction.
💡
The manufacturer of the SATSCARD uses the terms "unsealing and sweeping" to describe the process of spending Bitcoin. These unique terms are necessary because the SATSCARD operates differently from traditional wallets. With its 10 slots, the SATSCARD provides 10 separate receiving addresses that unlock gradually as each previous address is unsealed and swept. It's important to note that during the unsealing and sweeping process, the entire amount of BTC contained in that slot must be spent. Partial transactions are not possible; it must be the complete amount. Once this process is completed, the address (slot) will be automatically destroyed, and the next slot will become available during the next NFC scan.
By following these simple steps, you can set up and start using your SATSCARD for secure and convenient Bitcoin transactions. Enjoy the benefits of physical ownership and the flexibility to gift, trade, or spend Bitcoin with ease.
SATSCARD Price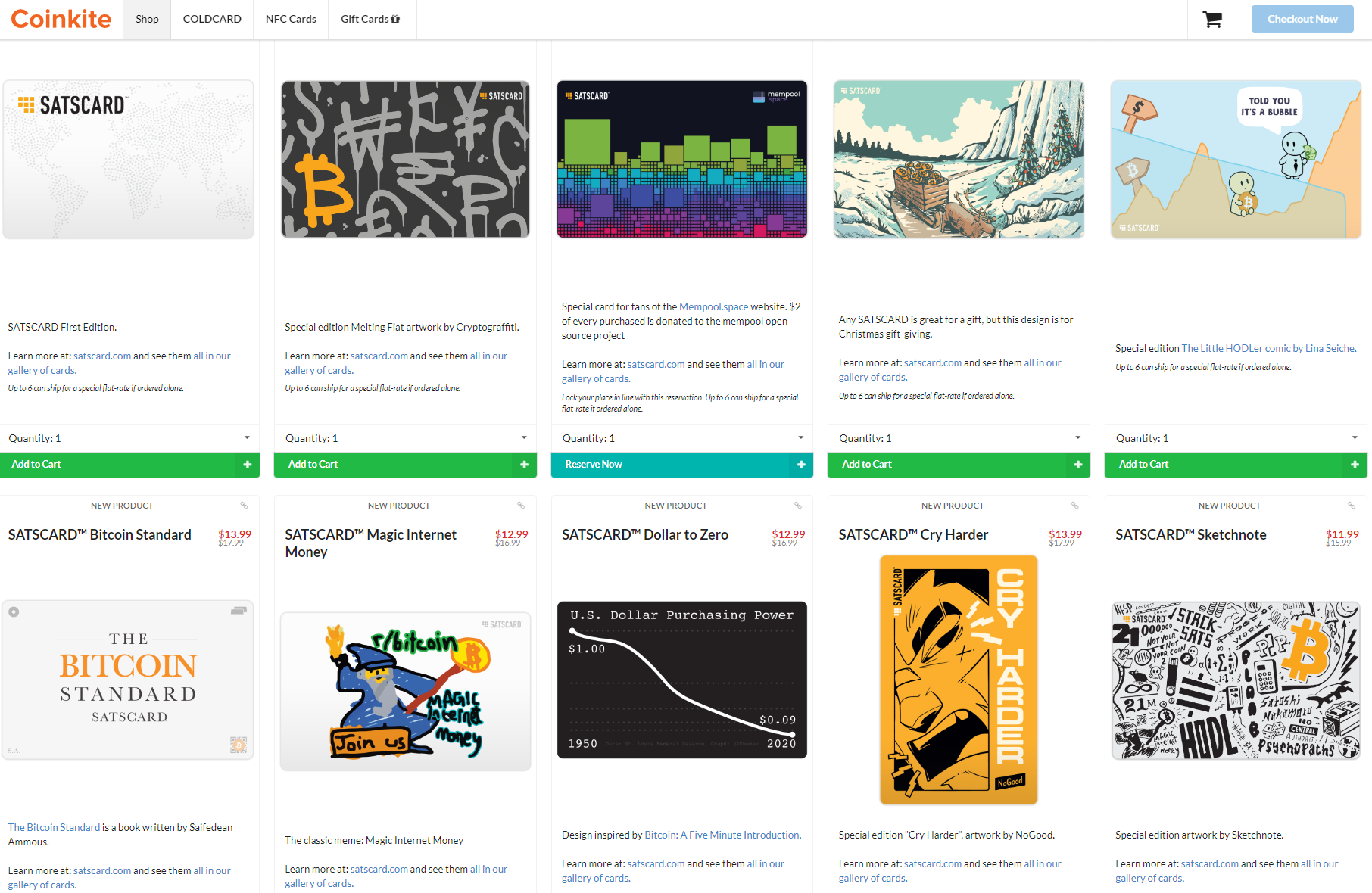 The pricing structure of SATSCARDs on the Coinkite website may seem perplexing at first glance, as there are numerous variations with differing graphics, yet varying prices. As of now, the store offers an impressive selection of approx. 39 distinct SATSCARD designs. While these cards may appear visually distinct, they essentially serve the same purpose.
Interestingly, the price range for these SATSCARDs spans from just $6.99 to $12.99. Additionally, there are premium versions with very particular graphics available at a slightly higher cost, incorporating an additional $2 fee. It is noteworthy that this premium amount is directed towards supporting third-party initiatives—an admirable gesture indeed.
When considering the broader context of hardware wallets, which generally command prices exceeding $50-100, the affordability of SATSCARDs becomes truly compelling. Starting at a fraction of the cost of traditional hardware wallets, SATSCARDs present an interesting option for individuals seeking a secure and cost-effective solution for their cryptocurrency needs.
For the maximum convenience and security, we highly recommend purchasing the SATSCARD directly from the manufacturer, Coinkite. While the SATSCARD may be available at various online shops, acquiring it from the official Coinkite website ensures the most reliable and trustworthy transaction.
To access the official Coinkite website and make your purchase, we have provided a secure link below. Simply click on the link, and it will seamlessly redirect you to the official website, where you can explore the SATSCARD options and proceed with a hassle-free buying experience.
👉 To get the SATSCARD for a special price on the Coinkite's official website, click here.
How the SATSCARD Enables Bitcoin Spending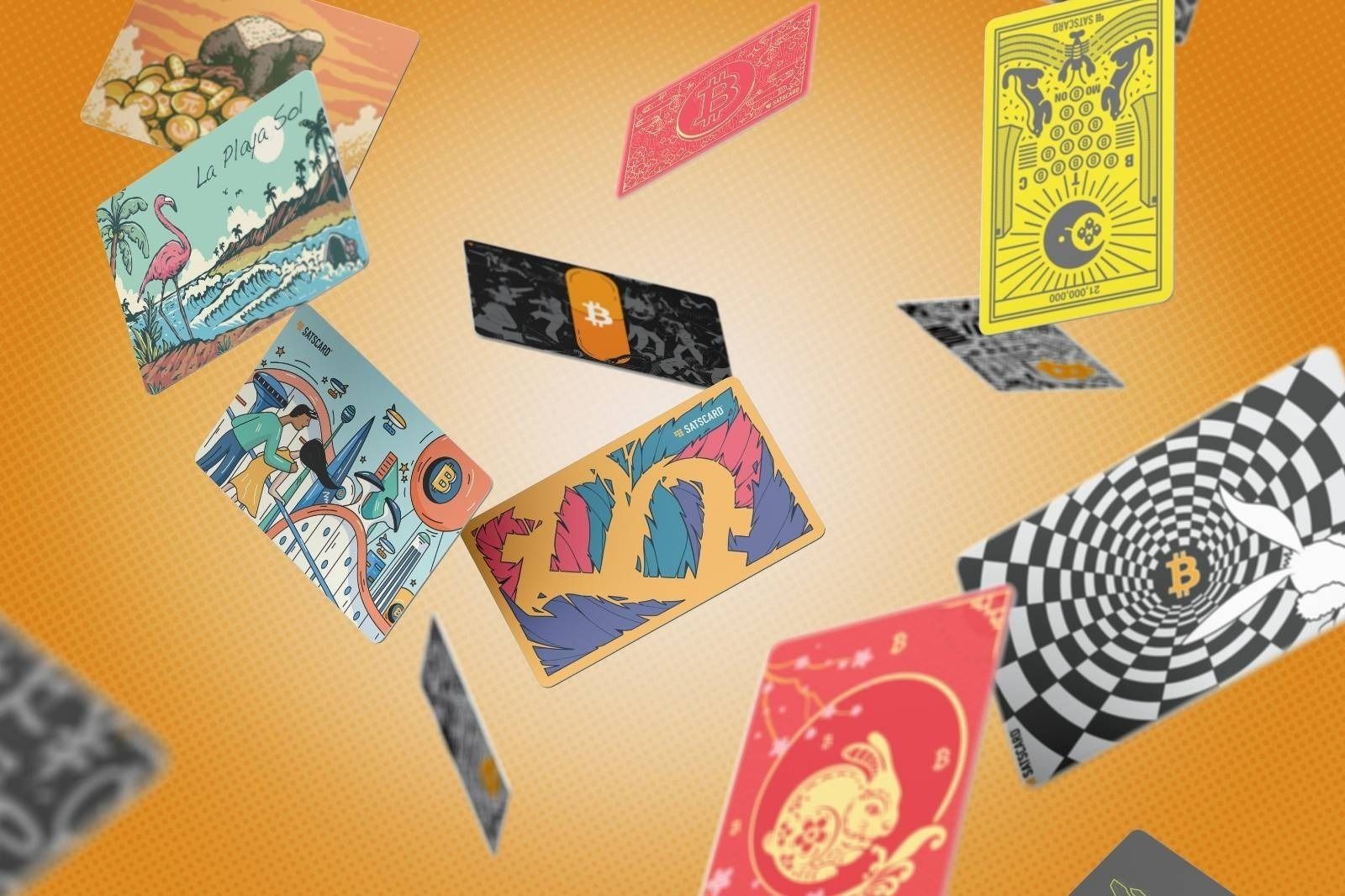 The main function of the SATSCARD is quite unique in the industry, as it allows Bitcoin spending also without any blockchain transaction, but still by providing a tangible and secure means to transfer and use digital currency.
Unlike  traditional Bitcoin wallets and exchanges, SATSCARD allows individuals to physically pass along their Bitcoin, just like cash, maximizing privacy and minimizing the need to trust third parties.
If users wants to send traditionally the bitcoin using the blockchain, are also free to do so, thanks to the 10 slots integrated in the card.
At its core, SATSCARD is an NFC card that stores Bitcoin in multiple slots, offering increased reuse capacity compared to its predecessor, OPENDIME.
The physical nature of SATSCARD makes it an handy tool for gifting or trading Bitcoin in person, allowing for direct and private transactions. It eliminates the reliance on online platforms and hot wallets, giving users complete control over their funds.
To actually use the Bitcoin stored on the SATSCARD, a companion app is required on a mobile phone. The app enables the unsealing process, which reveals the funds and requires the input of a 6-digit card verification code (CVC) for authorization. This two-step process ensures that only the rightful owner can access and spend the Bitcoin, enhancing security.
SATSCARD's versatility extends beyond mobile devices. It can also be used with desktop wallets that support the card's open protocol or a USB NFC card reader with the cktap command-line software. This flexibility enables seamless integration with various platforms, catering to different user preferences and needs.
To protect the SATSCARD from unauthorized access, it comes with a specially designed RF-blocking sleeve. This sleeve blocks radio frequency (RF) readers that might attempt to intercept signals from the card. Ensuring the SATSCARD is fully inserted into the sleeve is crucial to prevent any potential breaches.
Advantages of Using SATSCARD for Bitcoin Transactions
Using SATSCARD for Bitcoin transactions offers several advantages. Firstly, it provides a physical and tangible form of Bitcoin, similar to cash in hand. This makes it easier to understand and use, especially for those who are not familiar with digital currencies.
Secondly, SATSCARD offers a high level of anonymity. Transactions made with SATSCARD are private and don't leave a trace on the blockchain. This can be beneficial for individuals who value their privacy and want to minimize their digital footprint.
Another advantage is the ability to gift and trade Bitcoin physically. SATSCARD allows you to load Bitcoin onto the card and pass it along to someone as a gift or in exchange for goods and services. This adds a personal touch to Bitcoin transactions and can make it easier to introduce others to the world of cryptocurrencies.
SATSCARD also enhances security. The private key, which is needed to access the funds, is strictly stored within the card itself. This means that even if the card is lost or stolen, the funds remain secure, as long as the private key is not compromised.
Furthermore, SATSCARD offers convenience through its companion app, which enables easy access to the Bitcoin stored in the card. With a simple tap and the input of a verification code, transactions can be authorized quickly and efficiently.
SATSCARD Security Features
SATSCARD incorporates several security measures to ensure the safety of your Bitcoin. Here are some key security features:
Physical Security: SATSCARD is designed as a physical card that you can hold in your hand. It comes with a special RF-blocking sleeve to prevent unauthorized access by malicious RFID readers. Always keep the SATSCARD fully inserted in the sleeve to block any possible attack.
Unsealing Process: To access the Bitcoin stored on the SATSCARD, you need to go through the unsealing process using the companion app. This process requires entering the 6-digit card verification code (CVC) located on the back of the card. This adds an additional layer of authorization and ensures that only the rightful owner can make changes to the card.
Private Key Generation: SATSCARD uses a secure process to generate private keys. The private key for the initial slot is included with the card, while additional slots can be generated using entropy (random numbers) provided by the user. The private keys are securely stored on the SATSCARD and never leave the card, minimizing the risk of exposure.
Secure Transactions: When making transactions with SATSCARD, the companion app encrypts sensitive information using Elliptic-curve Diffie-Hellman (ECDH). This encryption ensures that key values, such as the card verification code (CVC), are protected during transmission and storage.
Chain Code Entropy: SATSCARD allows users to provide their own chain code, which adds an extra layer of entropy during the private key generation process. This ensures that the private keys are not predictable or controlled solely by the manufacturer, enhancing the security of the card.
Open Protocol: SATSCARD's protocol is fully open, allowing independent verification and audit of its security measures. The open nature of the protocol ensures transparency and allows the community to identify and address any potential vulnerabilities.
By having these security measures, SATSCARD provides a robust and trustworthy platform for storing and transacting with Bitcoin. Whether you're gifting, trading, or spending Bitcoin, you can have confidence in the security and integrity of your transactions.
Comparing SATSCARD with Other Bitcoin Spending Options
SATSCARD offers several advantages compared to other Bitcoin spending options. Let's compare it with two popular alternatives: traditional wallets and paper wallets.
Convenience and Mobility: SATSCARD provides a compact and portable solution for Bitcoin transactions. Unlike traditional wallets that require carrying multiple devices or paper wallets that can be easily damaged or lost, SATSCARD is a single NFC card that you can easily carry in your wallet or pocket.
Enhanced Security: SATSCARD incorporates multiple security measures to protect your Bitcoin. While traditional wallets are susceptible to online hacks and malware, and paper wallets can be compromised if not generated securely or protected properly, SATSCARD's physical design, unsealing process, and encryption mechanisms offer robust security against unauthorized access.
Reusability and Flexibility: SATSCARD is designed for multiple uses. It provides ten slots to store Bitcoin, allowing you to reuse the card without compromising security. This flexibility is not possible with paper wallets, which are typically single-use and require generating a new wallet for each transaction.
User-Friendly Interface: SATSCARD comes with a companion app that simplifies the unsealing process and enables easy access to your Bitcoin. Traditional wallets can have complex interfaces, requiring users to navigate through various settings and security options. SATSCARD's app streamlines the process, making it user-friendly for both beginners and experienced users.
Trust Minimization: SATSCARD emphasizes trust minimization by allowing anonymous and peer-to-peer Bitcoin transactions. Unlike traditional wallets that often require intermediaries or rely on centralized services, SATSCARD enables direct in-person trading, reducing the need to trust third parties and enhancing privacy.
While traditional wallets and paper wallets have their advantages, SATSCARD's combination of convenience, security, reusability, user-friendliness, and trust minimization makes it a compelling option for Bitcoin spending.
Whether you're gifting Bitcoin, conducting in-person transactions, or seeking a secure and portable solution, SATSCARD offers unique benefits that set it apart from other options in the market.
Limitations and Potential Drawbacks of SATSCARD
While SATSCARD offers numerous advantages for Bitcoin transactions, it's important to consider its limitations and potential drawbacks:
NFC Compatibility: SATSCARD relies on Near Field Communication (NFC) technology for communication with the companion app. While most modern smartphones support NFC, there may still be some devices that lack NFC capabilities. Therefore, it's essential to ensure that your device is NFC-enabled before using SATSCARD.
Dependency on Companion App: To unseal and access the Bitcoin stored on SATSCARD, you need to use the companion app provided (Nunchuck). This dependency on the app means that if the app becomes unavailable or unsupported in the future, it may limit your ability to manage your Bitcoin stored on SATSCARD effectively.
Limited Storage Capacity: SATSCARD provides ten slots to store Bitcoin, offering reusability to each one of them. This might be limitating, but it's also true that the cost of one SATSCARD it's so low that you can just always buy more.
Physical Loss or Damage: As SATSCARD is a physical card, there is a risk of loss or damage. If the card is misplaced, stolen, or damaged, it could result in the permanent loss of the Bitcoin stored on it. It's crucial to take appropriate measures to safeguard and protect SATSCARD, such as using the provided RF-blocking sleeve and storing it securely.
Limited Functionality: SATSCARD's primary purpose is to enable Bitcoin spending and in-person trading. While it offers security and anonymity for these specific use cases, it may not provide the same level of functionality as comprehensive multi-currency wallets or platforms. If you require additional features like managing multiple cryptocurrencies or accessing advanced trading options, SATSCARD's limited functionality may not be enough.
So, it's important to consider these limitations and evaluate whether SATSCARD aligns with your specific needs and requirements.
SATSCARD Pros & Cons
We have summarized the main pros and cons of the SATSCARD down here.
| Pros | Cons |
| --- | --- |
| ✅ Enables easy spending of Bitcoin | ❌ If lost, all BTC inside the slots are lost (there isn't a backup solution) |
| ✅ Provides a convenient alternative to traditional payment methods | ❌ To spend it, requires a companion app |
| ✅ Offers enhanced security features for Bitcoin transactions | ❌ ATM, there is only one companion app (Nunchuck) |
| ✅ Great gift idea | ❌ May not be suitable for extreme-long HODL, as the lifespan of the physical card is of around 10 years |
| ✅ Physical Bitcoin Storage | |
Tips for Maximizing the Benefits of SATSCARD
To make the most of the benefits offered by SATSCARD, consider the following tips:
Familiarize Yourself with the Features: Take the time to understand how SATSCARD works and its key features. Read the documentation provided by the manufacturer and explore any available tutorial videos. This will help you utilize SATSCARD more effectively and avoid potential mistakes.
Safeguard the RF-Blocking Sleeve: The RF-blocking sleeve that comes with every SATSCARD is essential for protecting your card from unauthorized access. Ensure that you insert the SATSCARD fully into the sleeve to prevent any potential signal interception. If you lose the sleeve, promptly acquire a replacement to maintain the security of your card.
Learn how to use Nunchuck: Install and use the official companion app provided by the SATSCARD manufacturer: Nunchuck. Ensure that the app is regularly updated to benefit from any security enhancements or bug fixes. Be cautious of third-party apps claiming compatibility with SATSCARD, as they may pose security risks.
Keep the SATSCARD in a Safe Location: Treat your SATSCARD like physical cash or a valuable possession. Store it in a secure location, such as a safe or a locked drawer, to protect it from theft or damage.
Verify Transactions and Addresses: When conducting Bitcoin transactions using SATSCARD, always double-check the recipient's address and transaction details. Verify the information using the companion app or an NFC-enabled wallet to ensure accuracy and prevent sending funds to the wrong address.
By following these tips, you can maximize the benefits of SATSCARD and ensure a secure and convenient experience when using it for Bitcoin transactions. Remember to prioritize the protection of your SATSCARD and stay vigilant to maintain the security of your Bitcoin holdings.
Bottom line
The SATSCARD is an evolution of the OPENDIME, and represents a quite revolutionary breakthrough in the realm of Bitcoin spending. Its ability to effortlessly move physical Bitcoin without the complexities and expenses associated with hardware wallets is truly remarkable.
The convenience it offers is unparalleled. However, one concern that stands out is its dependency on a single companion app. To ensure a broader adoption and enhanced versatility, it would be highly desirable to see the SATSCARD extend its compatibility to multiple apps or even directly integrate with renowned hardware wallets like the COLDCARD.
By diversifying its ecosystem, SATSCARD has the potential to become an even more compelling solution for Bitcoin enthusiasts seeking convenience and security in their digital currency transactions.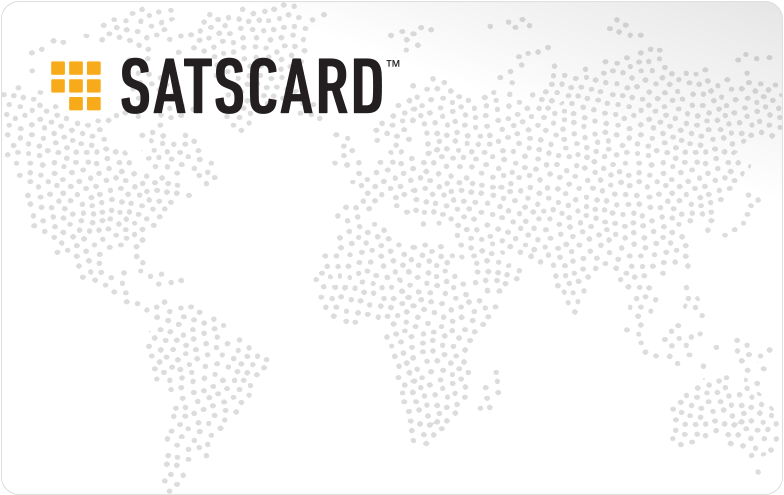 SATSCARD Evaluation
Security: The SATSCARD is highly secure, thanks to its PIN and NFC technology, as well as the increased entropy for each new slot. It comes with an RF-blocking sleeve to ensure secure storage. The private key is unknown and changes with each new slot, and the user can contribute entropy (random numbers) to generate keys for the remaining slots as they are used. However, there is a drawback in terms of security because the PIN is written directly on the card, which could enable easy unauthorized use in case of theft. Therefore, a full score cannot be given. (4/5)
User-friendliness: The SATSCARD is one of the simplest products offered by Coinkite. There is no need to write down any seedphrase, and everything operates with a simple tap and a 6-digit PIN. This user-friendly approach has contributed to the mass adoption of Bitcoin, thanks to this card. (5/5)
Compatibility: Unfortunately, the SATSCARD's compatibility is currently limited to a single app, Nunchuck. While Nunchuck is an exceptional app, it would be beneficial for Coinkite to expand the number of supported apps in the future. Therefore, in terms of compatibility, a lower score must be given, although there is hope for improvement. (2/5)
Reputation: Coinkite is a reputable company focused on Bitcoin and embraces Open Source practices. It is highly respected within the industry and has been one of the pioneers. (5/5)
Cost: The SATSCARD offers excellent value for money, with a price that is extremely affordable, just a few bucks. This makes it an exceptional choice in terms of cost. (5/5)
Frequently asked questions (FAQ)
What makes SATSCARD unique compared to other Bitcoin spending options?
SATSCARD offers a revolutionary way to spend Bitcoin like money, providing convenience and ease of use. Unlike traditional hardware wallets, SATSCARD eliminates the need for complex setups and offers a physical card that can be used at various merchants globally. It allows users to move physical Bitcoin without the hassle and cost associated with hardware wallets, making it a unique and convenient solution.
Is SATSCARD secure for Bitcoin transactions?
Yes, SATSCARD prioritizes security for Bitcoin transactions. It incorporates secure encryption, two-factor authentication, and fraud protection measures to ensure the safety of your Bitcoin holdings. The companion app associated with SATSCARD adds an extra layer of security, enabling users to manage and monitor their transactions securely.
Can SATSCARD be used with multiple companion apps or other hardware wallets?
Currently, SATSCARD primarily relies on its dedicated companion app for usage (Nunchuck). However, it is worth noting that SATSCARD aims to expand its compatibility in the future.