Sparrow Wallet Review 2023: A Versatile Bitcoin Wallet
This review analyzes the various functions of Sparrow Wallet, one of the most popular Bitcoin-only software wallets. It also explains, step-by-step, how to create a new wallet and discover the compatibility with other devices.
What is Sparrow Wallet?
Sparrow Wallet is a software wallet designed specifically for Bitcoin, providing users the ability to send, receive, and securely store their BTC.
This versatile wallet offers compatibility with various hardware wallets, supports both single signature and multisignature transactions, and can be used in air-gapped or connected configurations.
With Sparrow Wallet, you have the flexibility to seamlessly manage your funds across various operating systems. The app is available for Windows, Mac (including both Apple Silicon and Intel-based devices), or Linux.
| DESCRIPTION | DETAILS |
| --- | --- |
| 💻 Name | Sparrow Wallet |
| 🌐 Website | sparrowwallet.com |
| 🗓 Release year | 2020 |
| 💰 Coins Supported | Bitcoin |
| 💸 Price | Free |
| 🔒 Security Features | Private key encryption, BIP 39 seedphrase, Multisig, Singlesig, Airgapped, hardware wallet integration, transaction signing |
| 💻 Compatibility | Windows, Mac (Apple Silicon and Intel), Linux |
| 🔄 Connectivity | USB, Airgapped (SD Card), BIP39, BIP32 |
| 📜 Software License | Apache License 2.0 |
| 📜 Warranty | No Warranty |
Sparrow Wallet Features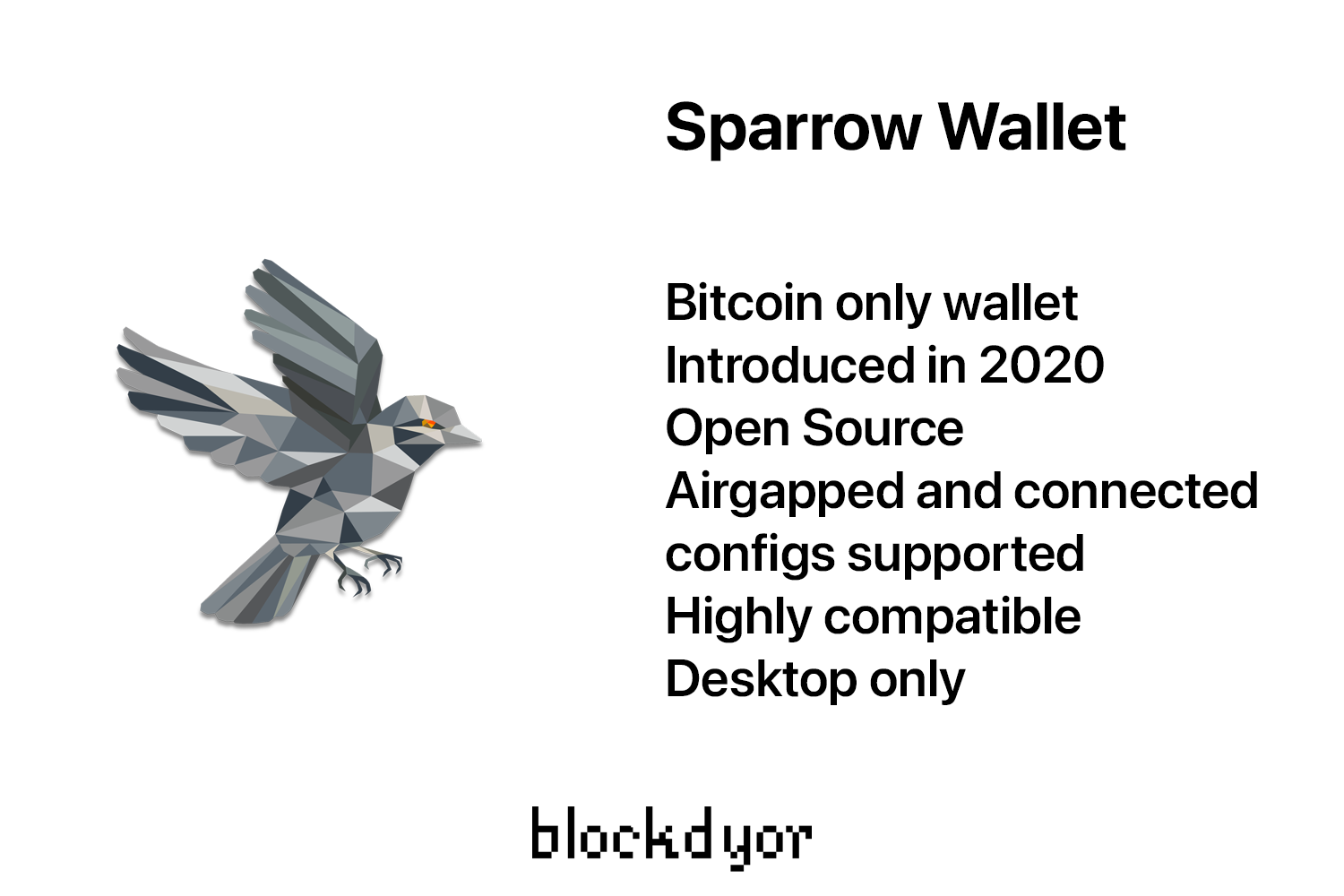 Sparrow Wallet, is probably one of the software wallets with the highest number of features, so it's ideal for the most sophisticated bitcoin users.
Full support for single sig and multisig wallets
Sparrow Wallet offers robust support for both single signature (single sig) and multisignature (multisig) wallets.
Whether you prefer a standard wallet or want to enhance security through multisig configurations, Sparrow Wallet is able to provide both. It supports various script types commonly used in Bitcoin transactions, providing flexibility and compatibility.
Multiple connection options: Public servers, Bitcoin Core, and private Electrum servers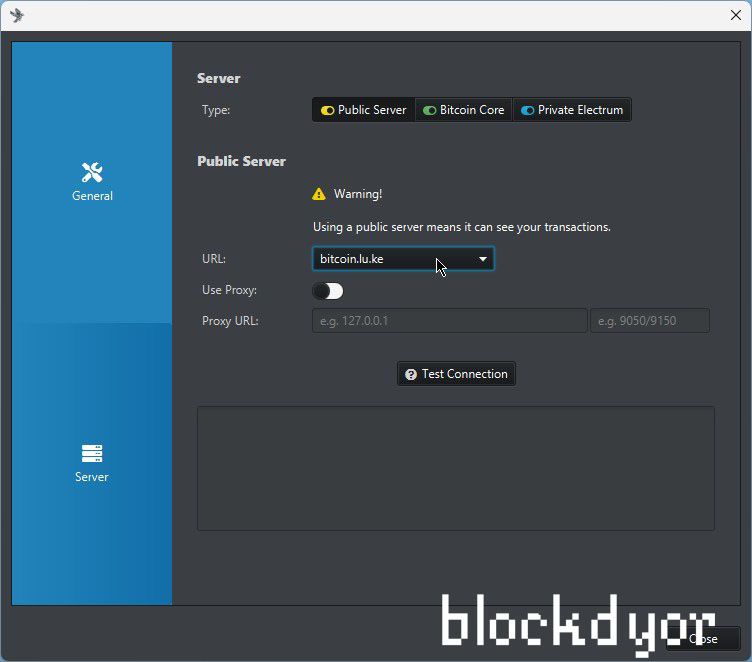 On Sparrow Wallet you can connect to public servers for convenient and reliable access to the Bitcoin network.
Alternatively, you have the option to connect directly to a Bitcoin Core node for enhanced control and security.
Additionally, Sparrow Wallet supports private Electrum servers (for example: your personal node), allowing you to customize your connection settings according to your specific privacy requirements.
Standards-based approach with complete PSBT support
Sparrow Wallet adheres to widely accepted standards in the Bitcoin ecosystem, ensuring compatibility and interoperability.
It has been built from the ground up to support Partially Signed Bitcoin Transactions (PSBTs). This comprehensive PSBT support influences various aspects of the wallet, from the design of the keystore to the transaction editor.
By leveraging PSBTs, Sparrow Wallet provides a flexible and standardized framework for creating and managing Bitcoin transactions.
Wide compatibility with common hardware wallets in both USB and airgapped modes
Sparrow Wallet offers extensive compatibility with popular hardware wallets, providing an additional layer of security for managing your Bitcoin.
You can easily connect and use hardware wallets via USB connections, leveraging their advanced security features. Moreover, Sparrow Wallet supports airgapped modes, allowing you to interact securely with hardware wallets that are physically isolated from internet-connected devices.
Mixing with Whirlpool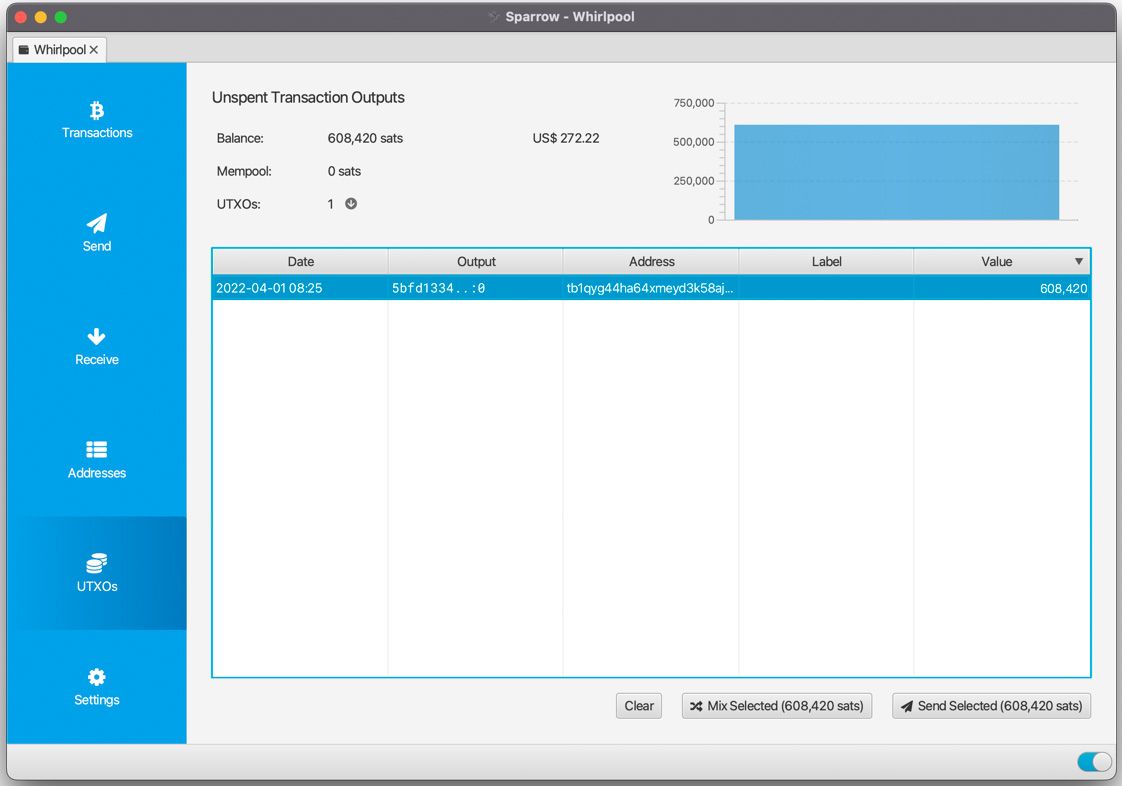 Sparrow Wallet incorporates a fully-featured Whirlpool client. Whirlpool is a renowned implementation of the coinjoin technique, which offers forward-looking privacy for your transactions.
With Sparrow Wallet's Whirlpool integration, you gain the ability to mix your Bitcoin with other users, obscuring the transaction history and enhancing your privacy.
Who Created Sparrow Wallet?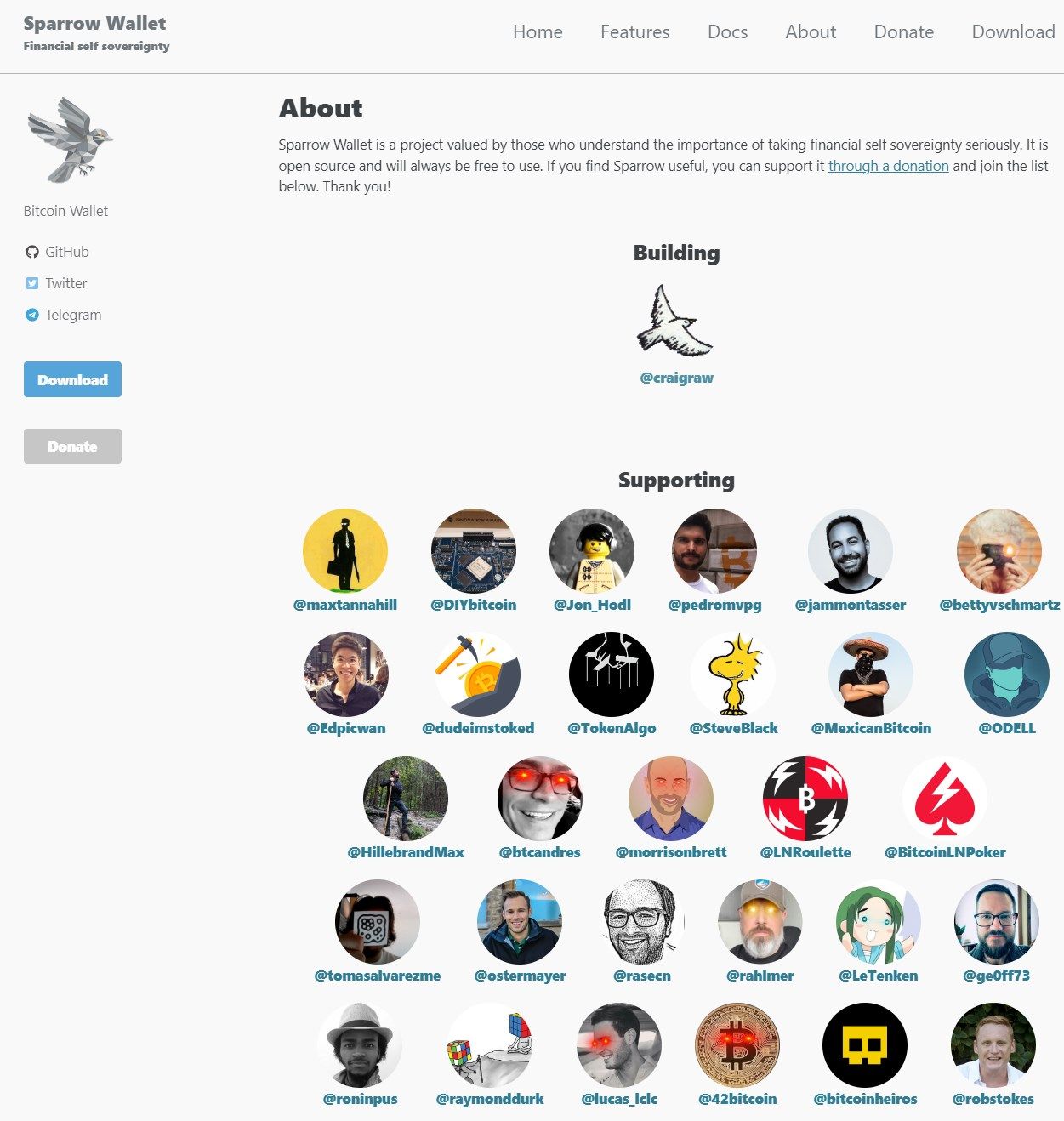 When choosing a wallet to manage your funds, whether it's connected or airgapped, it's crucial to consider not only the code's integrity but also the trustworthiness of the individuals behind the software.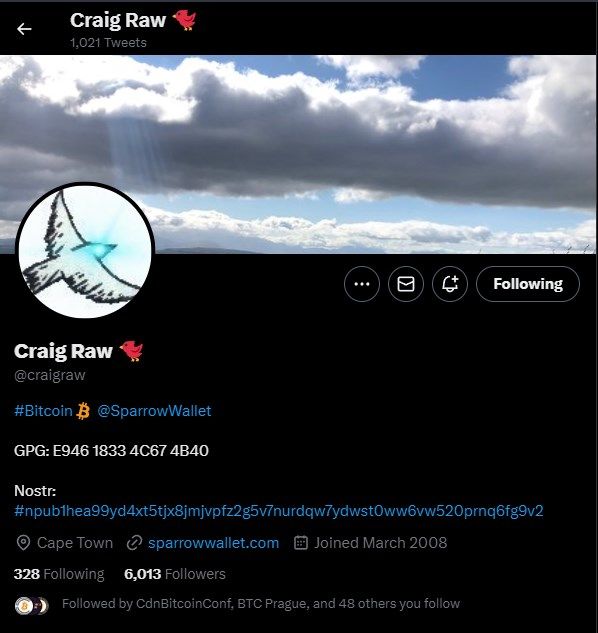 With Sparrow Wallet, you can rest assured knowing that it was developed by Craig Raw, an esteemed programmer, dedicated Bitcoin enthusiast, and strong advocate for multisig technology. The whole development of Sparrow Wallet is supported throught donations.
Sparrow Wallet Community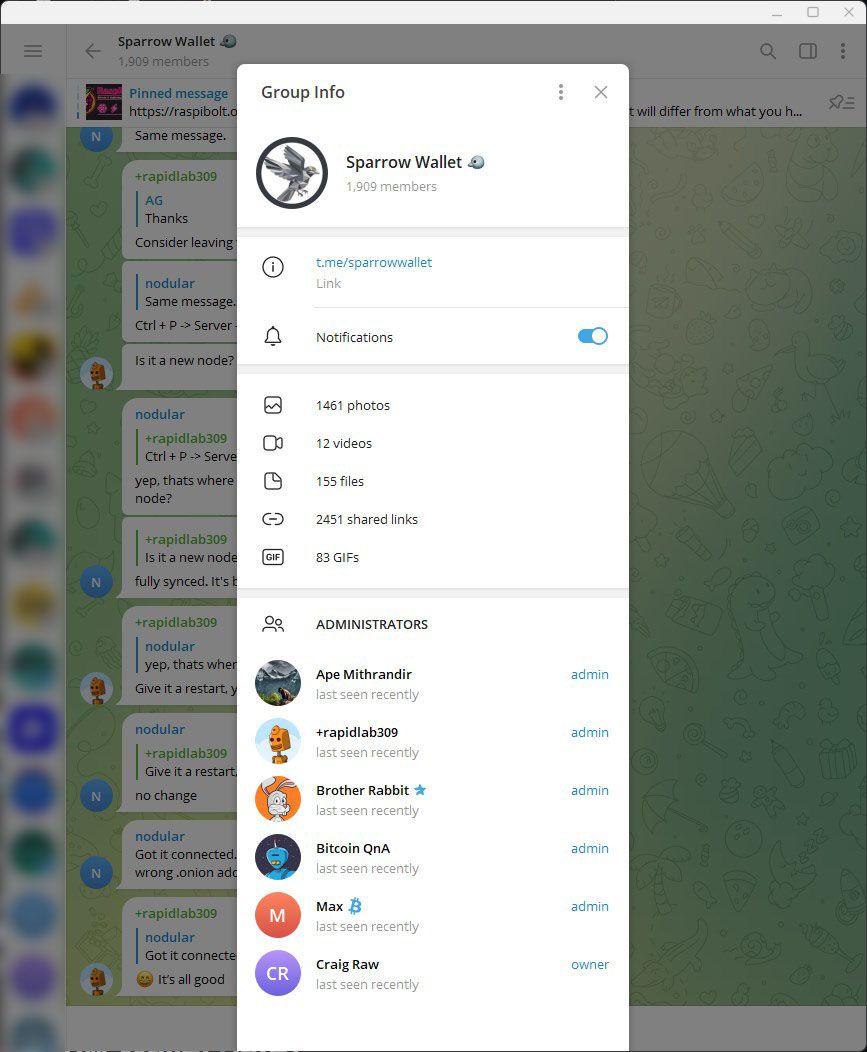 Sparrow Wallet operates on a donation-based model and lacks traditional customer service or a forum. However, a vibrant Telegram community with thousands of users offers valuable support and assistance, free of charge.
Is Sparrow Wallet Safe?
Sparrow Wallet is an open-source Bitcoin software wallet and is freely available to users and is licensed under the Apache 2 software license. This ensures that you have complete access to the code and can verify its security and integrity. The wallet is maintained by a dedicated collective of professionals and enthusiasts who prioritize safety and privacy.
To further enhance privacy protection, Sparrow Wallet offers built-in Tor integration. By leveraging the power of Tor, your transactions and connection details are shielded from prying eyes, providing an extra layer of anonymity.
Moreover, Sparrow Wallet empowers users with the option to connect your wallet to your own node, using Private Electrum. This feature amplifies privacy by allowing you to maintain complete control over your transactional data and reducing reliance on external servers. If you want, you can also connect your wallet to Bitcoin Core, or a Public Server.
With Sparrow Wallet, safety and privacy are fundamental principles that drive its development, giving you peace of mind while managing your Bitcoin assets.
Sparrow Wallet Compatibility
Sparrow Wallet is highly compatible with a wide range of hardware wallets. Importing your hardware wallet is a simple process. Just press a button to automatically start the import process of the hardware wallet's data.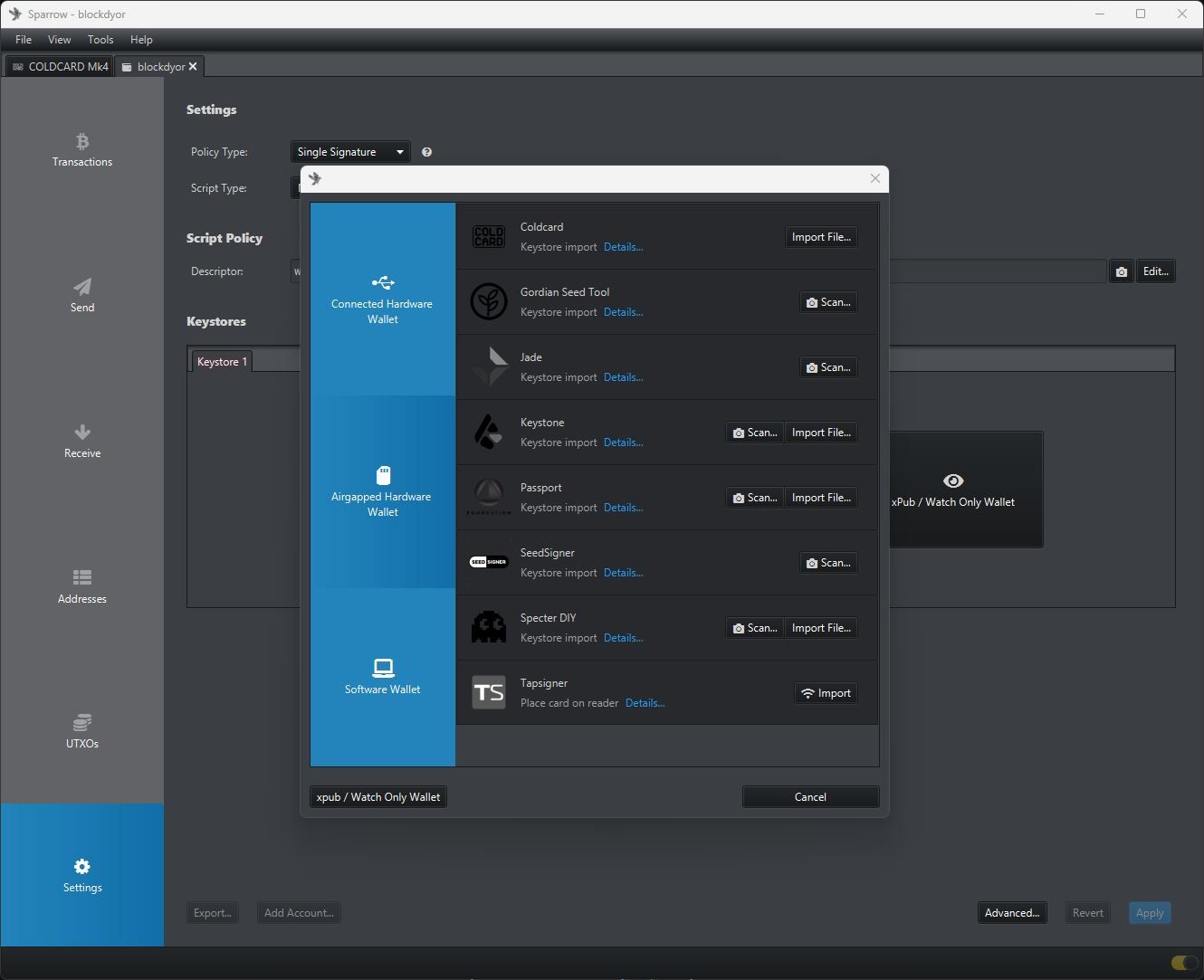 Hardware wallet natively compatible:
Coldcard
Gordian Seed Tool
Jade
Keystone
Passport
SeedSigner
Specter DIY
Tapsigner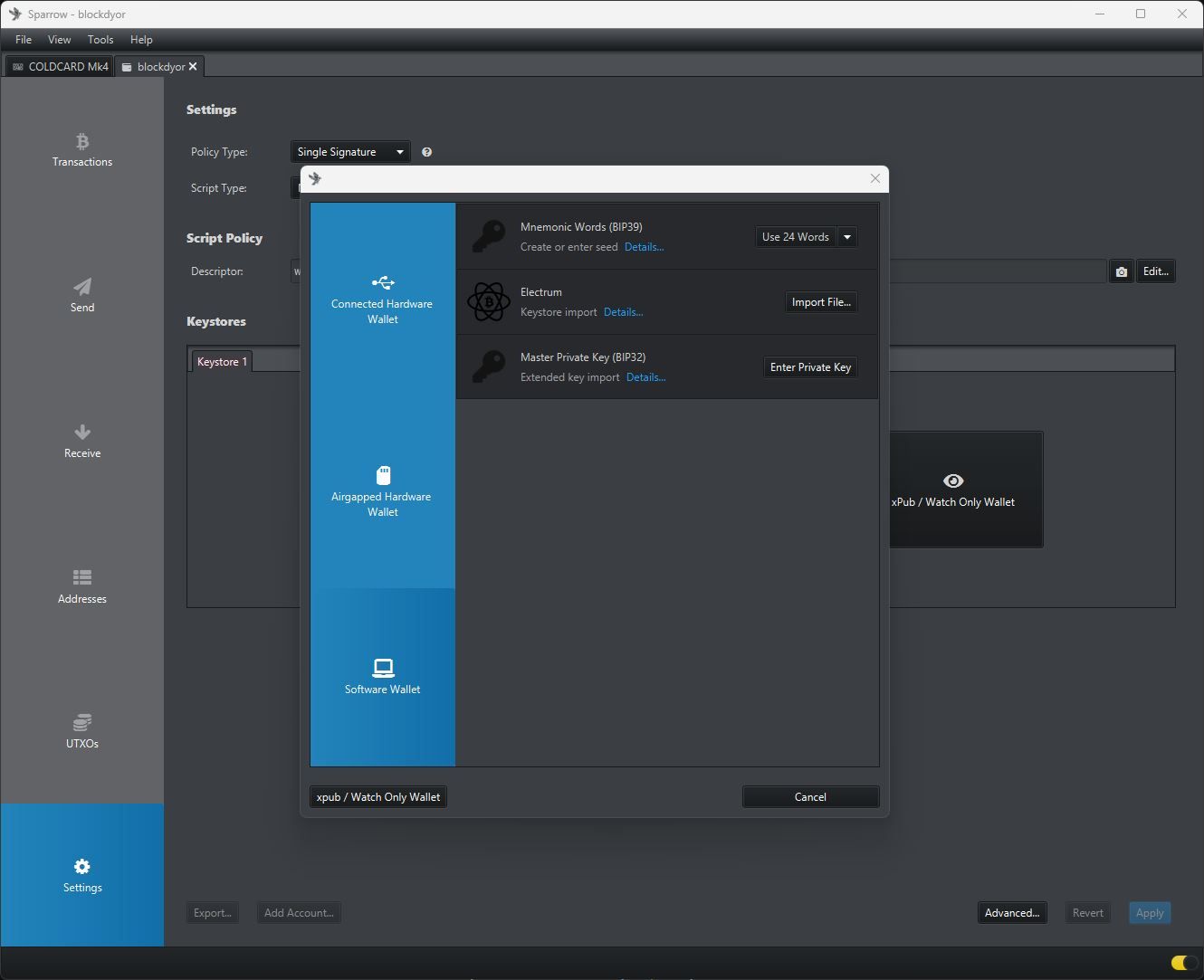 Software wallets natively compatible:
Mnemonic words (BIP39)
Electrum
Master Private Key (BIP32)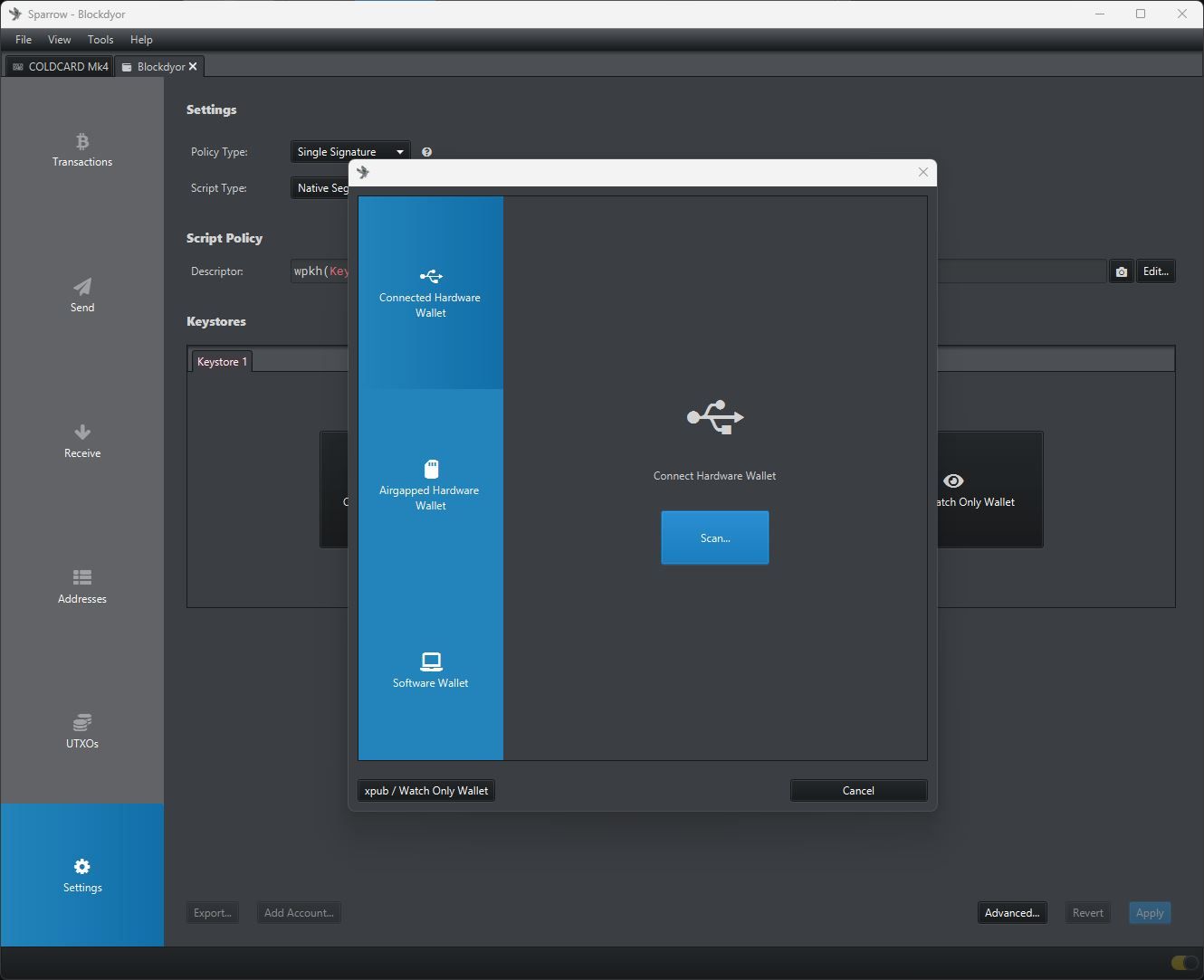 Even if your hardware wallet is not natively supported, you can easily connect it by using the USB connection from the wallet to your computer and then click on "Scan". Sparrow Wallet will detect the wallet and give you the possibility to import it.
In alternative, if your hardware wallet is not supported, you can easily import it by using the private key or mnemonic phrase.
Sparrow Wallet's broad compatibility ensures that you can effortlessly access and manage your Bitcoin holdings from various hardware wallets.
How To Create a New Wallet with Sparrow Wallet: Step-by-Step Guide
Creating a wallet with Sparrow Wallet is simple and hassle-free. In this step-by-step guide, I'll walk you through the process of creating a software wallet from scratch.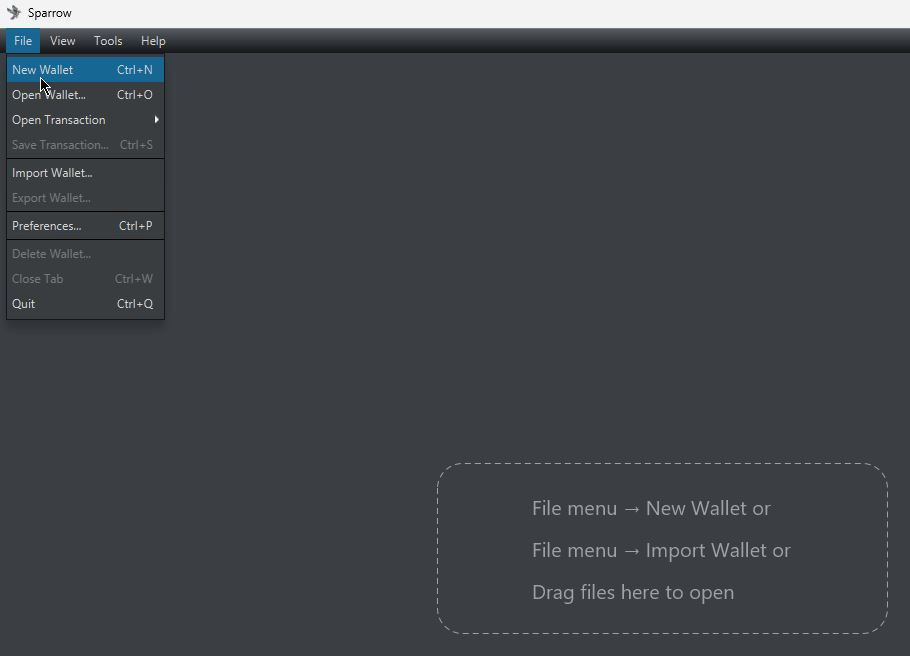 Open Sparrow Wallet. Then click on File > New Wallet.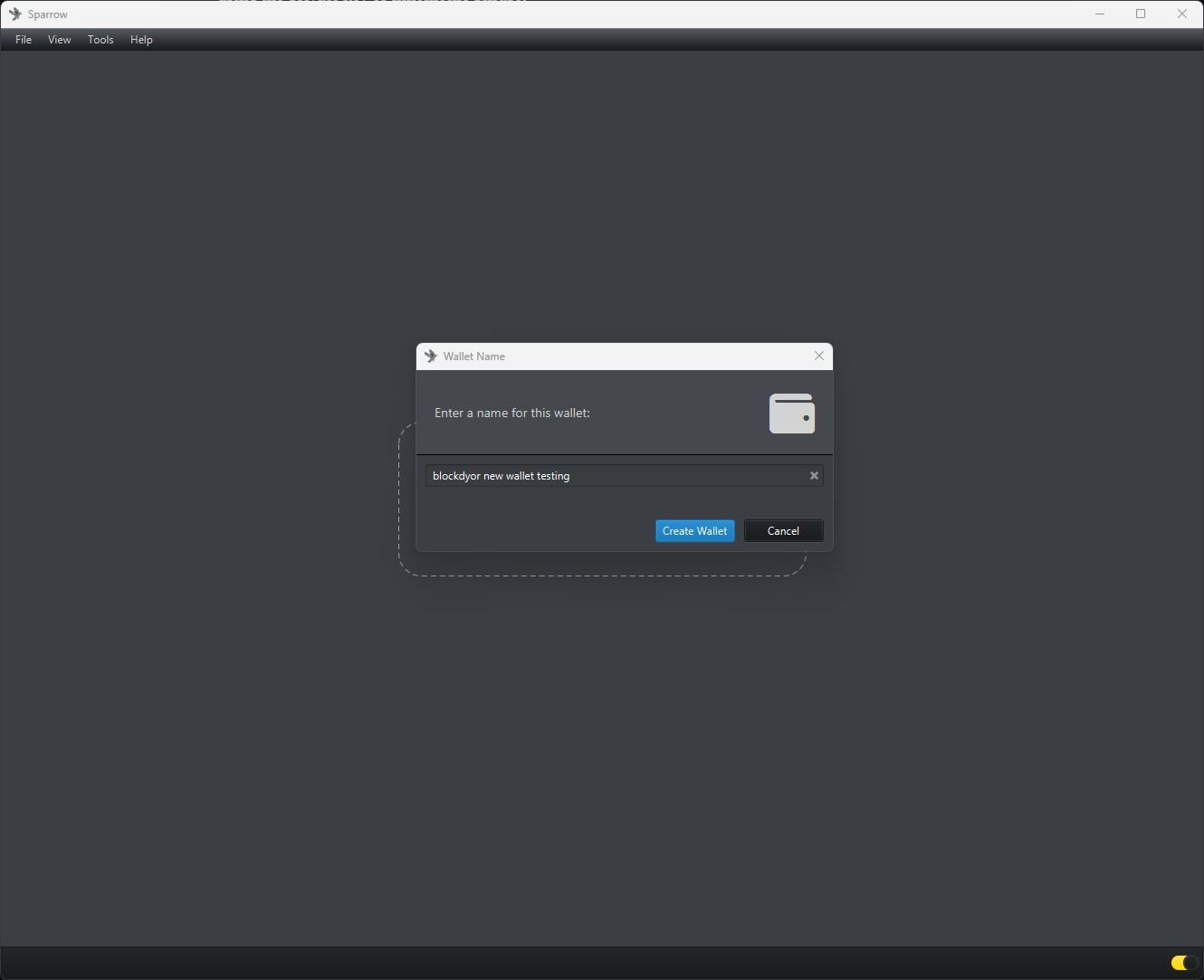 Give a new name for your new wallet. For this example, we will use blockdyor new wallet testing.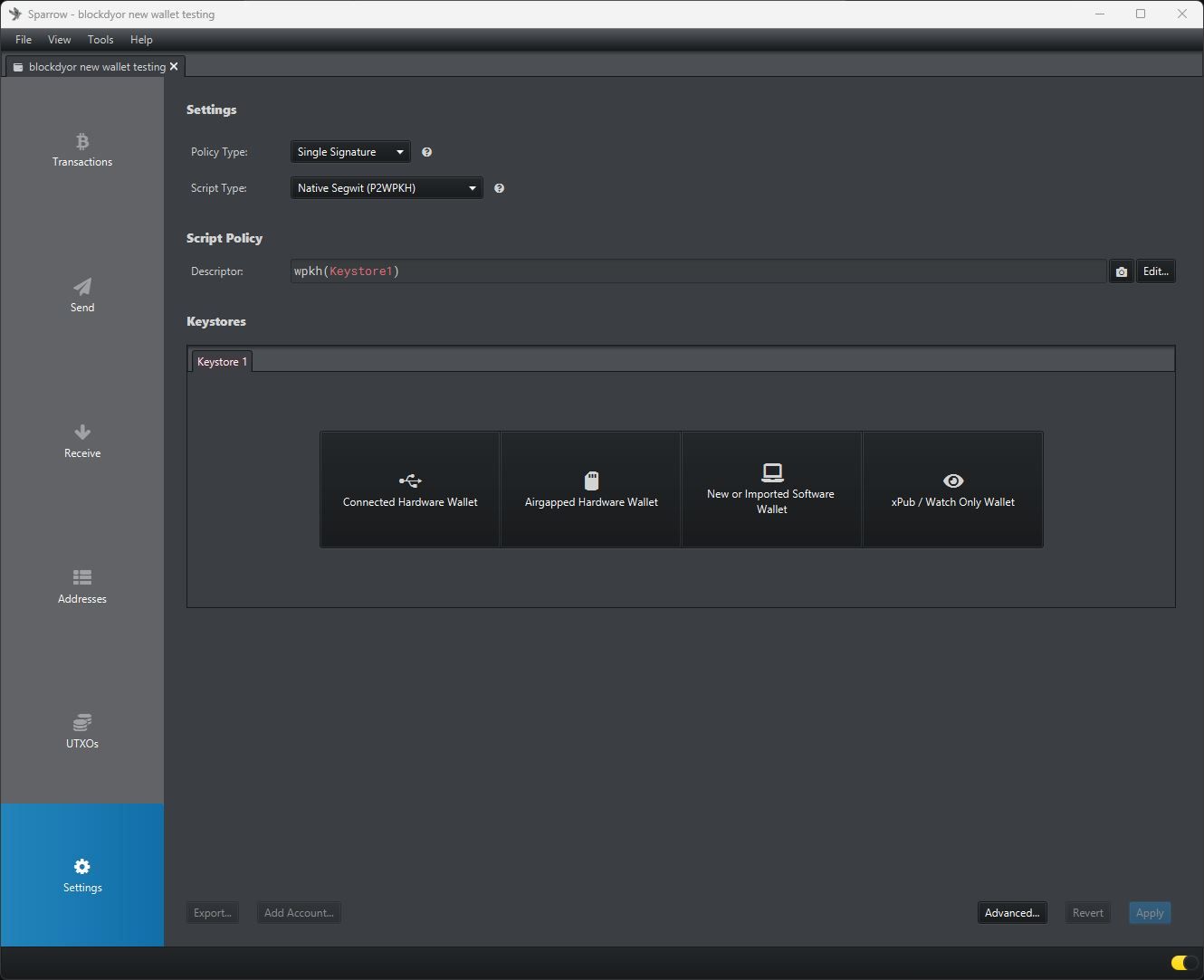 It's now the time to choose what type of wallet you would like to create. Sparrow Wallet, as we said, has many different options: Connected Hardware Wallet (for example: Trezor Model T, Trezor One), Airgapped Hardware Wallet (for example: Coldcard), Watch Only Wallet (xpub) or a new or Imported Software Wallet. For this example, we will choose the latter.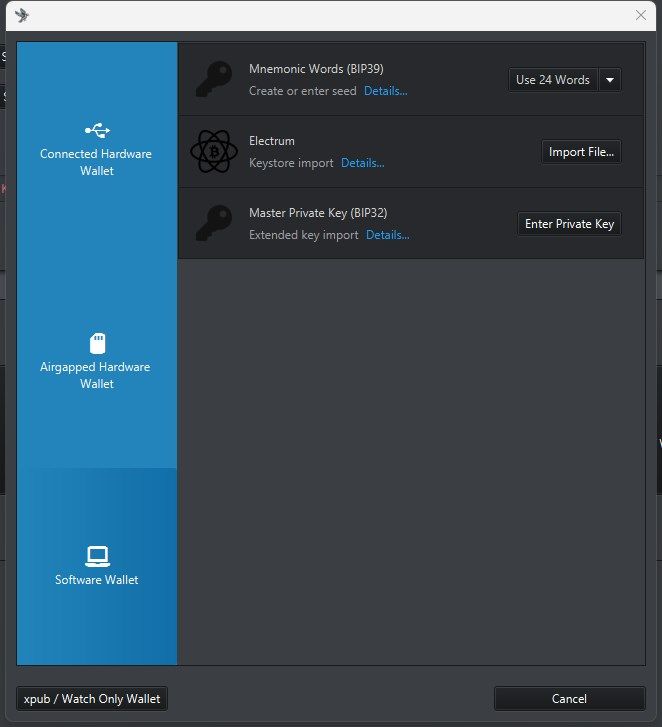 In this section there are other possibilities, such as choosing to create (or enter) the mnemonic words, import the private key or keystore import. Since we want to create a new wallet from zero, we will choose to create a 12 mnemonic words wallet.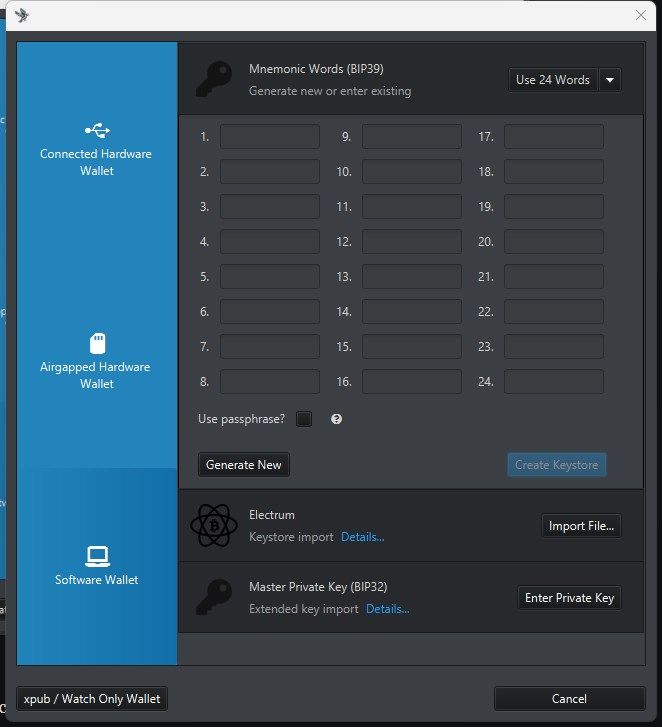 Now it's time to randomly generate a new BIP39 passphrase, click on Generate New to create a new seedphrase. You can also choose individually each BIP39 words to create your seedphrase. You can also increase entropy by using dices.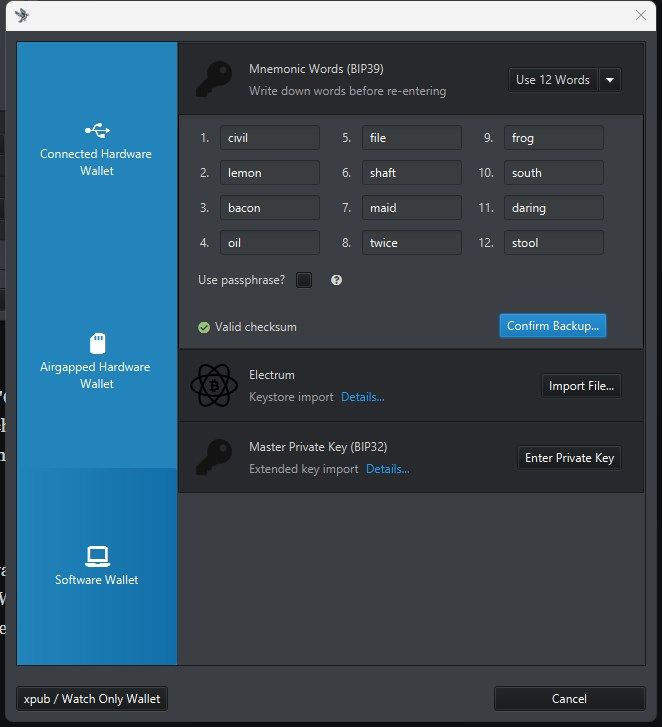 After you have generate the seedphrase, choose Use passphrase if you want to add a passphrase (13th or 25th word) to your seedphrase and increase even more the entropy. Write down the words and click on Confirm Backup to finalize the wallet creation.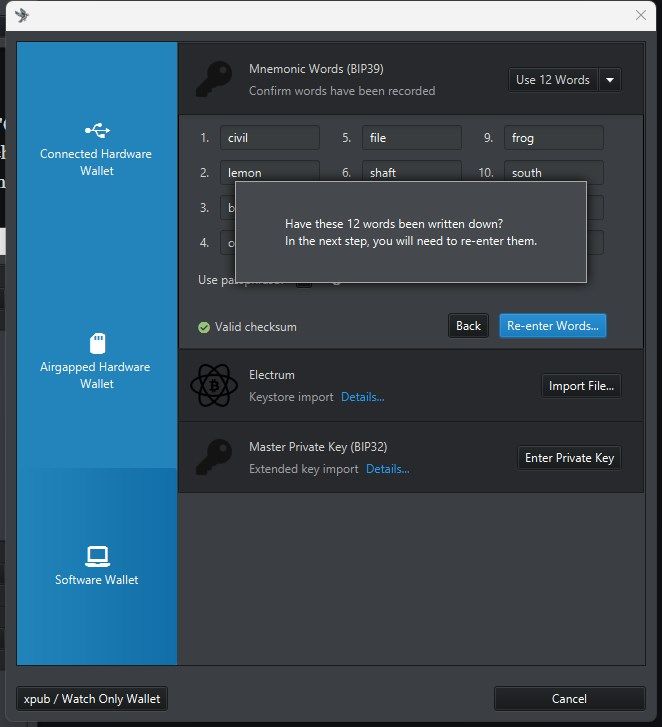 It's now time to re-enter the seedphrase again, in order to confirm that it was written down correctly. Click on Re-enter Words.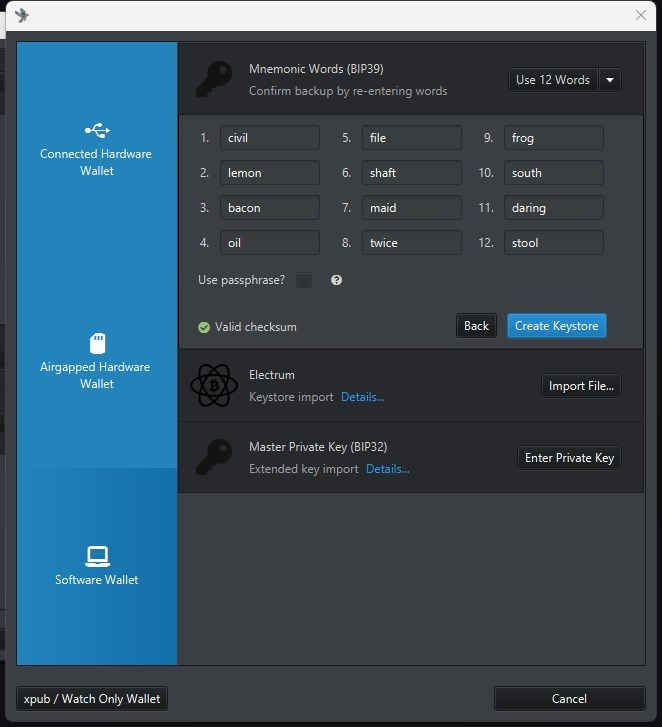 Proceed to type each one of the words of the seedphrase (plus the passphrase, if you chose to use it). Then click on Create Keystore.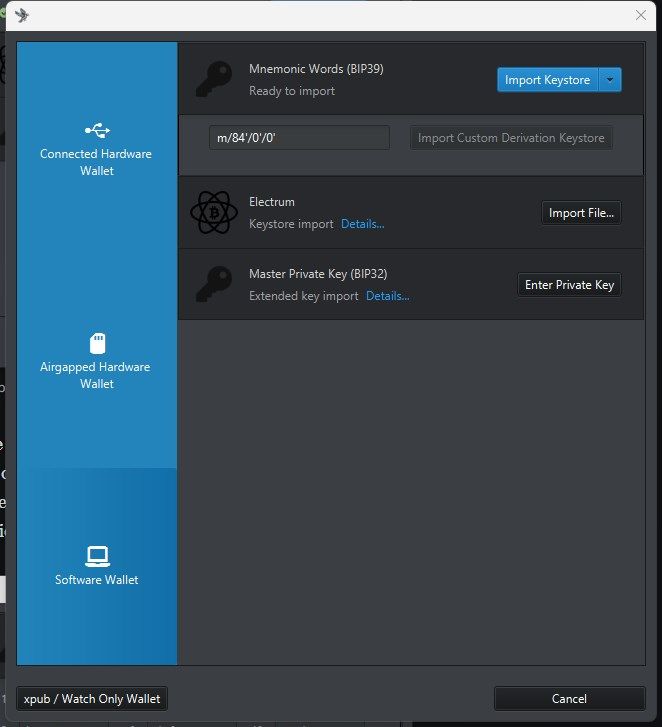 The keystore has been create, now proceed to import it by clicking on Import Keystore.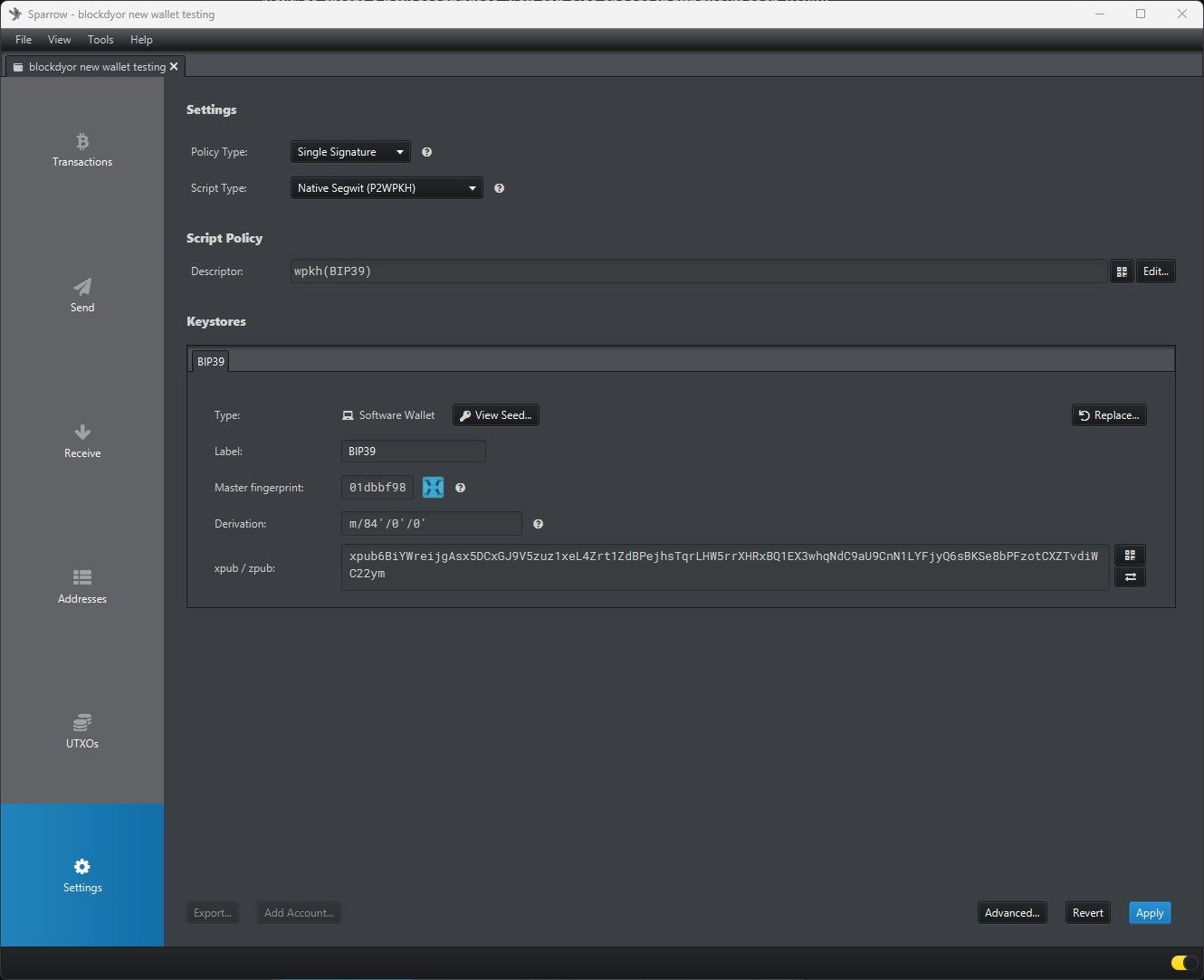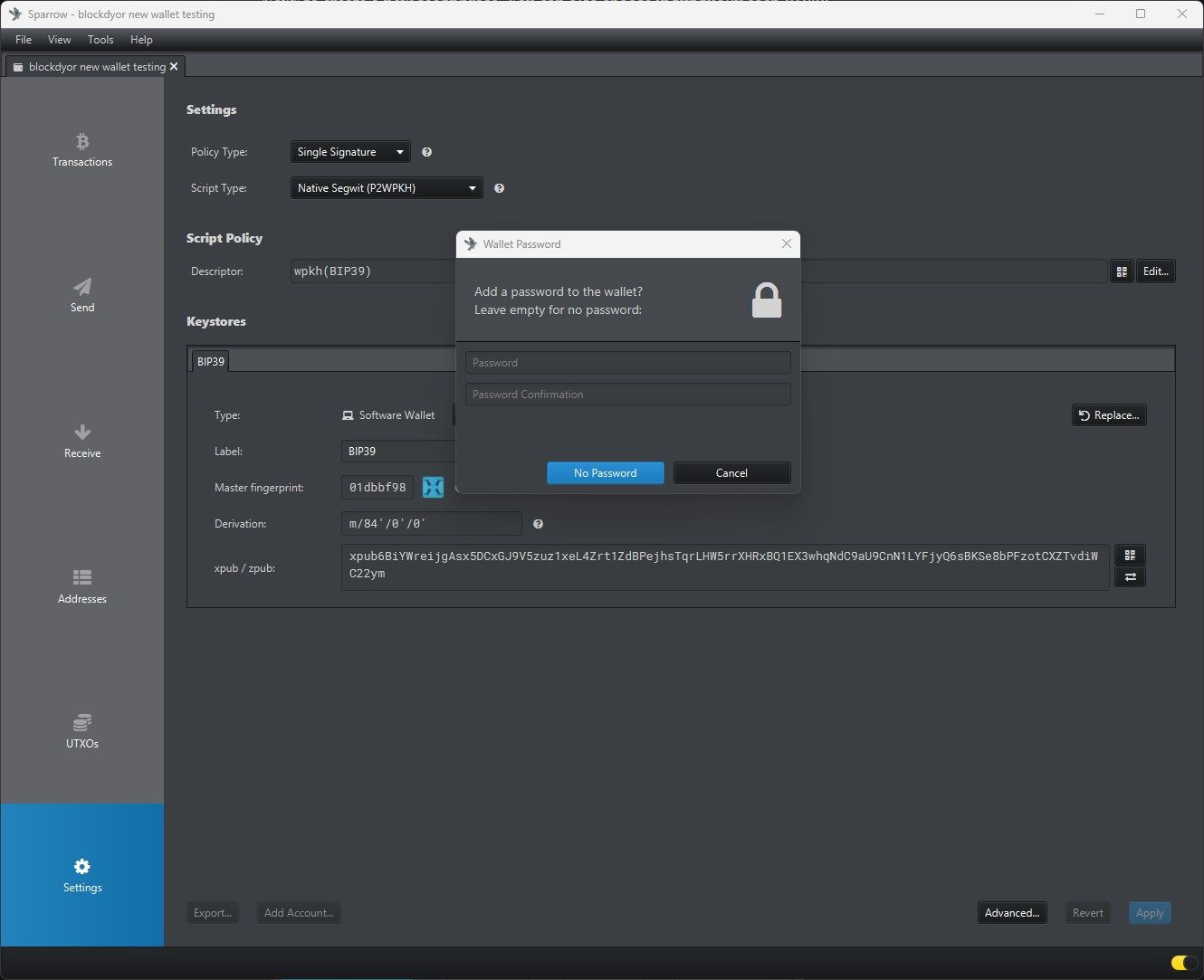 You can also add a password to your wallet. Keep in mind that this is different from the passphrase. After this, your wallet will be created.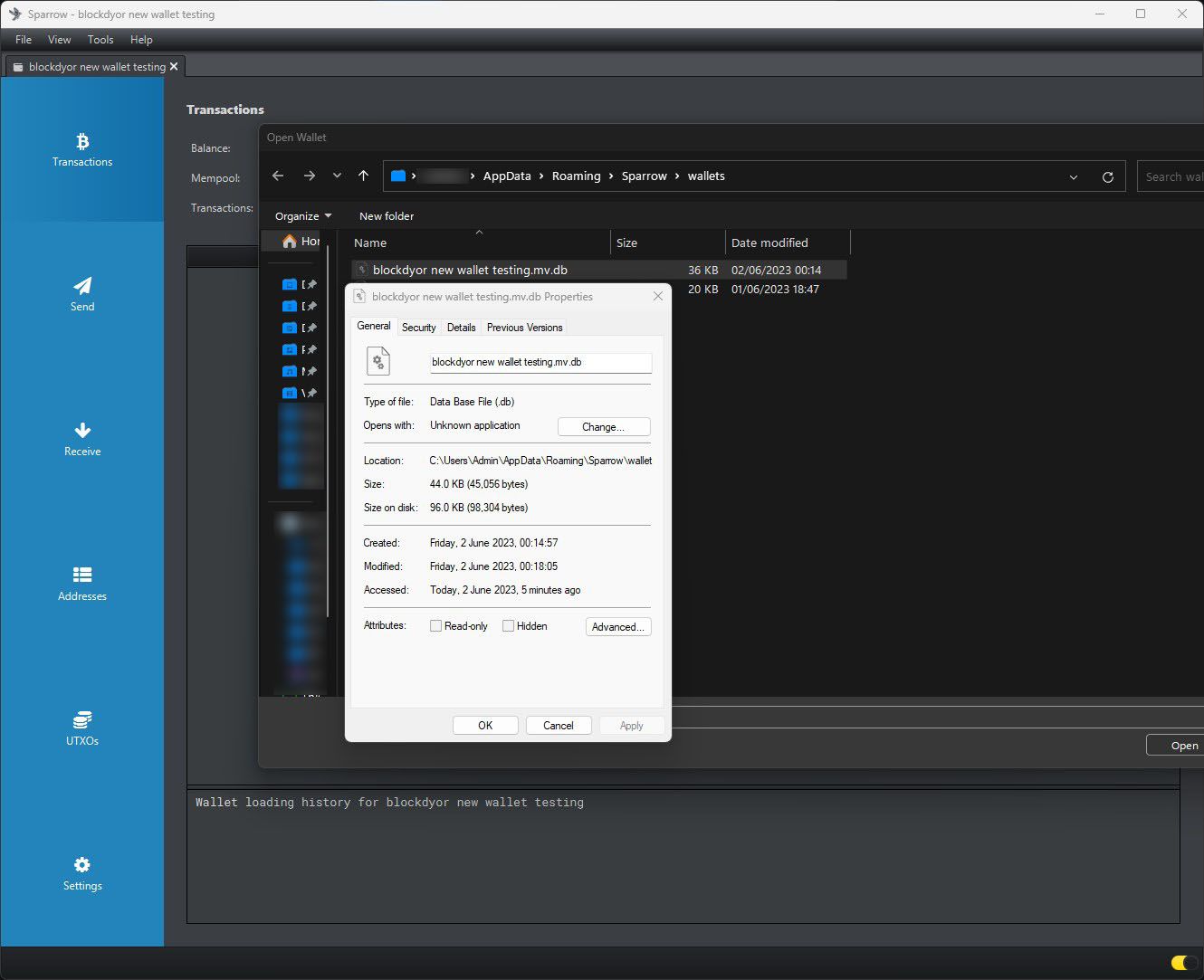 The newly created wallet will have a mv.db extension, will be located in: C:\Users\Admin\AppData\Roaming\Sparrow\wallets on Windows.
Sparrow Wallet: Pros & Cons
| Pros | Cons |
| --- | --- |
| ✅ Open source and free | ❌ Occasional software hanging issues on Mac and Windows |
| ✅ Wide wallets compatibility | ❌ Limited availability on desktop operating systems only |
| ✅ Extensive features, including transaction editing | ❌ Not suitable for mobile-centric users |
| ✅ Strong emphasis on privacy | |
| ✅ User-friendly interface and intuitive design | |
| ✅ Built-in Whirlpool mixing functionality | |
Finding drawbacks to Sparrow Wallet has proven to be a challenging task. This open-source and completely free application is a significant advantage for the project as a whole.
The level of compatibility is truly impressive, supporting various types of private keys, BIP39 seed phrases, Coinkite's devices, tethered connections to Trezor, Ledger, and many others.
However, during our usage of the software on both Mac and Windows, we encountered occasional instances where the software would hang and require closing and reopening to resume functionality. While the cause of this issue is uncertain, it's important to note that it can be subjective and may vary based on individual experiences.
Additionally, it's worth mentioning that Sparrow Wallet is currently limited to desktop operating systems, which can be a drawback for individuals who primarily rely on smartphones or tablets for their Bitcoin transactions.
Bottom Line
In conclusion, Sparrow Wallet offers a powerful and versatile solution for managing your Bitcoin. With its open-source nature and free availability, it represents the spirit of decentralization and community-driven development. The extensive compatibility with various hardware, seed phrases and private key types ensures seamless integration with your preferred wallets.
Sparrow Wallet stands out with its impressive range of features, including transaction editing and Whirlpool mixing functionality. The user-friendly interface and intuitive design make it accessible to both beginners and advanced users, enabling a smooth and safe experience.
While occasional bugs have been experiences during our review, they do not overshadow the overall benefits of Sparrow Wallet. However, it's worth noting that the software is currently limited to desktop operating systems, which may pose a challenge for users primarily relying on mobile devices.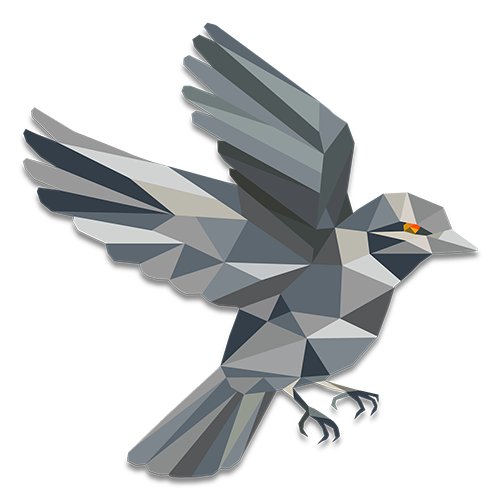 Sparrow Wallet Evaluation
Security: While Sparrow Wallet provides a secure environment, it's important to enhance the safety of your seed phrase by utilizing it alongside a hardware wallet. For long-term storage of significant funds, it's recommended to refrain from storing the private key or entering the seed phrase directly into Sparrow Wallet. (5/5)
User-friendliness: Despite its rich array of features and configurations, Sparrow Wallet maintains an intuitive user experience, making it easy to navigate and utilize. (5/5)
Compatibility: Sparrow Wallet boasts extensive compatibility, supporting a wide range of private keys and seed phrases, ensuring seamless integration with various wallets. (5/5)
Reputation: Although limited information is available about the creator of Sparrow Wallet, it is known that he is a passionate Bitcoin enthusiast based in South Africa. The open-source nature of the software allows for transparency and scrutiny, contributing to its solid reputation. (5/5)
Cost: Sparrow Wallet is completely free to use. (5/5)
Frequently asked questions (FAQ)
Is Sparrow Wallet compatible with hardware wallets?
Yes, Sparrow Wallet offers extensive compatibility with various hardware wallets, allowing you to import and manage your funds securely.
Can Sparrow Wallet be used on mobile devices?
Currently, Sparrow Wallet is primarily available for desktop operating systems, such as Windows, Mac, and Linux. It does not have dedicated mobile apps.
Is Sparrow Wallet open source?
Yes, Sparrow Wallet is open source, which means the code is publicly available for review and verification. This enhances transparency and security for users.