Vexl Review 2023: An Innovative P2P Bitcoin Trading App
In this review I will analyze Vexl, a quite revolutionary Bitcoin p2p trading app with zero fees and completely free of charge.
In this Vexl review, I will focus on this new Bitcoin p2p trading app that has truly caught my attention. My first encounter with Vexl took place during the BTC Prague event, where it was promoted. Intrigued, I promptly registered and began exploring its features.
When it comes to Bitcoin peer-to-peer (p2p) trading applications, there is a wide range of options available. As part of our review process, we thoroughly assess these applications, taking into account their strengths and weaknesses. The increasing number of such platforms is generally seen as a positive development, offering users more choices.
Throughout this review, I will delve into the depths of Vexl: its purpose, functionality, unique differentiators from other p2p applications for purchasing Bitcoin, and ultimately, determine if it lives up to the promises.
| FEATURE | DESCRIPTION |
| --- | --- |
| 🌐 Website | vexl.it |
| 🏙️ Location | Prague, Czech Republic |
| 📅 Year Founded | 2021 |
| 💰 Primary Token | Bitcoin (BTC) |
| 📈 Listed Crypto | 1 |
| 💱 Trading Pairs | BTC/USD or BTC/EUR, BTC/AUD, BTC/GBP, or any other local currency |
| 💵 Supported FIAT | USD or EUR, AUD, GBP, or any other local currency |
| 🌍 Supported Countries | Worldwide |
| 💰 Minimum Deposit | N/A |
| 💸 Deposit Fees | Free |
| 💰 Daily Buying Limit | N/A |
| 💱 Trading Fees | Free of charge |
| 💸 Withdrawal Fees | Free of charge |
| 📱 Mobile App | iOS, Android |
| 💬 Customer Support | Email |
What Is Vexl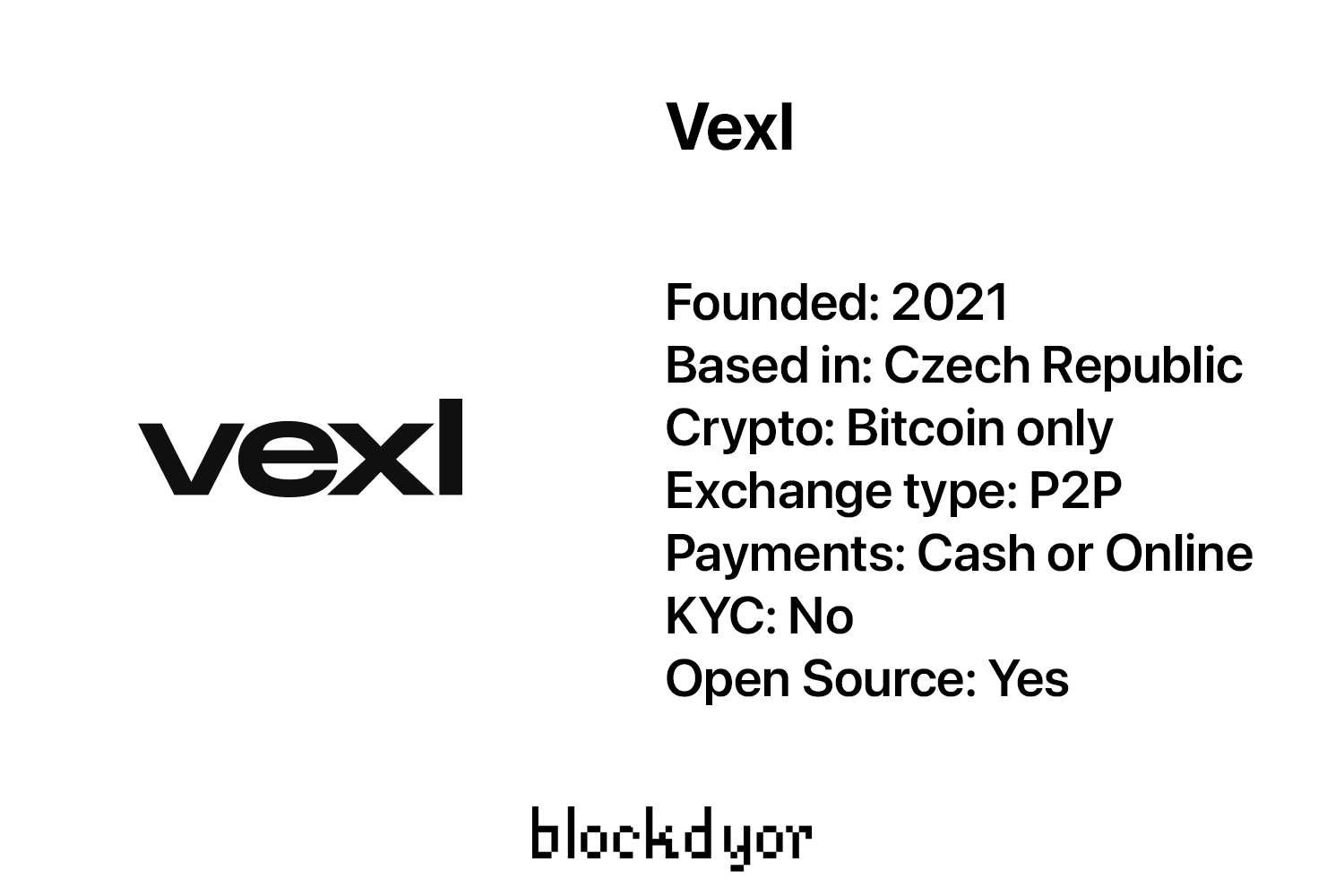 Vexl is an app that offers a distinctive approach to buying and selling Bitcoin without the need for Know Your Customer (KYC) verification. However, Vexl offers much more than just a platform for anonymous transactions. It incorporates elements reminiscent of popular social networks, such as Facebook or Tinder, resulting in a truly innovative experience where you can connect with potential trading partners within your own network.
Unlike most peer-to-peer Bitcoin trading applications that enable connections with individuals worldwide, Vexl takes a different approach. It exclusively connects you with acquaintances of your acquaintances, ensuring that there is always some level of connection between parties involved. Consequently, Vexl avoids linking you with complete strangers located on the other side of the globe.
Vexl's unique blend of privacy and social connectivity sets it apart from traditional Bitcoin marketplaces. By leveraging your existing connections, the platform enhances trust and security while enabling seamless peer-to-peer transactions. Whether you are looking to buy or sell Bitcoin, Vexl empowers you to discover suitable trading partners within your circle, making the process both efficient and engaging.
Vexl Features
During the testing of the platform, we discovered that Vexl adopts a minimalist approach, streamlining the user interface to display only essential information.
Notably, market prices for buying or selling Bitcoin are not prominently showcased on the screen. Instead, it is left to the discretion of the seller to include more infos in the description of their offers. While this may initially appear unconventional, it does contribute to a clean and uncluttered interface.
Friends
The friends section on Vexl serves as your comprehensive list of contacts, allowing you to seamlessly connect with your real-world social network: your friends and friends of friends. Importing your contact list ensures that you can easily establish connections within the platform.
Rest assured, your contact list remains encrypted, meaning that no one, not even Vexl, has access to view your contacts. Your privacy is of utmost importance.
Groups
Should you prefer not to trade solely within your contact list, Vexl offers the option to join groups and engage in local trading within your community.
This feature broadens your network and provides opportunities to connect with like-minded individuals in your vicinity.
Marketplace
The marketplace is at the core of Vexl, where you can explore a wide range of anonymized offers within your real-world social bubble.
Utilizing intuitive filters, you can easily narrow down the options according to your specific requirements. Select the offers that appeal to you and initiate a trade.
Remember, your identity remains concealed until you choose to disclose it. However, you can always observe the number of friends you have in common with potential trading partners, adding an extra layer of trust and familiarity to the process.
Chat
Vexl's chat feature enables you to engage in end-to-end encrypted conversations with your trading partners. Rest assured that only you and the recipient can view the messages exchanged.
For added peace of mind, you can verify the authenticity of the person you are trading with by examining your shared connections or by requesting identity confirmation.
Open Source
Vexl takes pride in its open source nature, aligning with its sister company Trezor. The entire codebase of Vexl is accessible and transparent, allowing users to review and verify its integrity.
By embracing open source principles, Vexl ensures that any potential backdoors or malicious intent can be identified. Additionally, an independent Security Audit report is available for your perusal.
To delve deeper into the codebase, feel free to explore Vexl's GitHub repository, where the platform's code is readily accessible for scrutiny.
How to open an account on Vexl?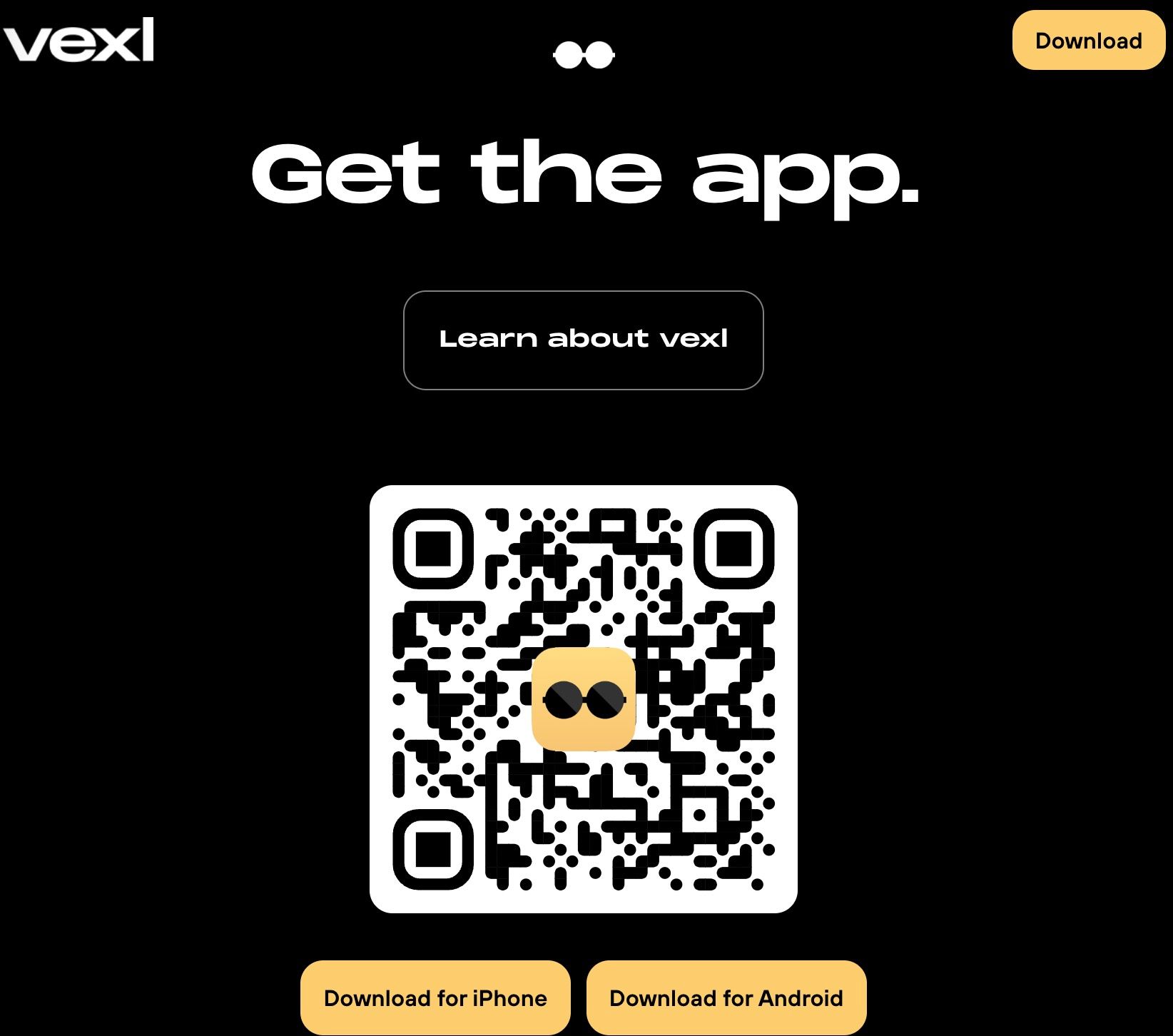 To start using Vexl, you can conveniently access the platform on either Android or iOS devices. Here's a step-by-step guide to opening an account on Vexl based on the respective platforms.
Google Play Store (Android):
Visit the Google Play Store on your Android device.
Using the search bar, enter "Vexl" as the keyword.
Locate the Vexl app from the search results.
Tap on the app to access its dedicated page.
Select the "Install" or "Get" button to initiate the download and installation process.
Once the installation is complete, launch the Vexl app from your device's app drawer.
Follow the on-screen prompts to set up your Vexl account and begin using the platform.
iOS (TestFlight):
On your iOS device, open the App Store.
Search for and download the "TestFlight" app, which is used for beta app testing.
Once TestFlight is successfully installed, return to the invitation or QR code provided to you.
Scan the QR code provided at the beginning of this section using the TestFlight app.
This will initiate the download and installation of Vexl via TestFlight.
Once the installation is finished, locate the Vexl app on your home screen and launch it.
Follow the in-app instructions to create your Vexl account and start utilizing the platform.
By following these simple steps, you can easily access Vexl on your preferred mobile platform, enabling you to explore its features and embark on your Bitcoin trading journey.
How To Buy Bitcoin on Vexl
So how to buy some Bitcoin on Vexl? Here's how it works: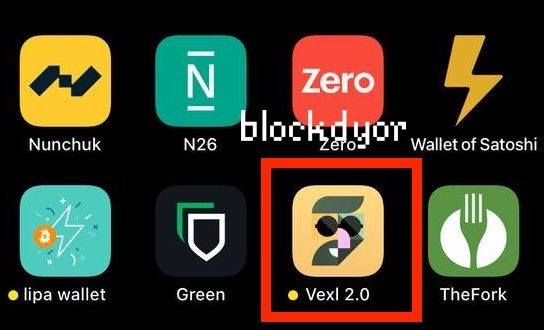 Open the app you just downloaded. Insert your name and phone number;
Verify your phone number with the SMS code;
Vexl will ask permission to scan your contact list to identify if any of your friends or friends of friends are actively trading Bitcoin using the app.
💡
If you don't have any existing connections on Vexl, don't worry! You can simply add me. Reach out to
[email protected]
via email, and I'll be more than happy to send you a personalized QR Code invitation link. For privacy purposes, I'm unable to share the link openly at the moment, as it would reveal my personal phone number.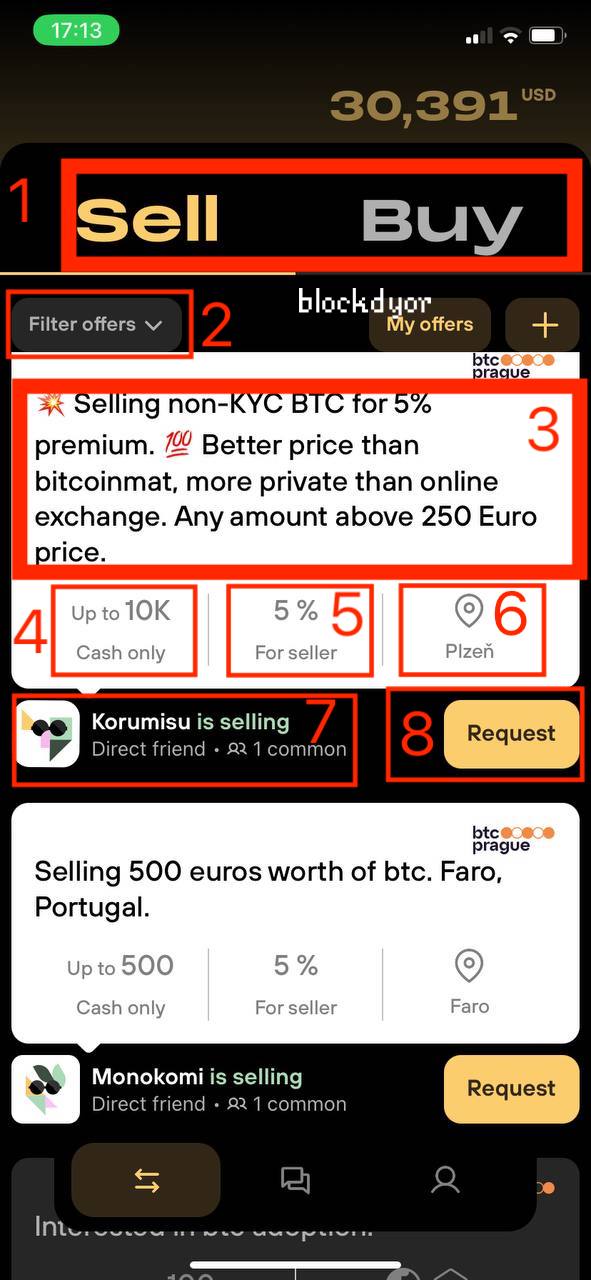 Once you have successfully imported your contacts, you will be presented with a visual representation of the marketplace.
Within the Offers view, you can examine the Sell (individuals selling BTC) and Buy (individuals buying BTC) listings (1).
The offers can be filtered according to your preferences (2).
You can view additional information about the listings (3).
Know the max purchasing amount available (4).
Find details regarding the commissions (5).
Identify the location, particularly for cash transactions conducted in person (6).
The seller's infos is consistently anonymous (with the possibility of revealing their identity upon mutual agreement between both parties) (7).
You can press the request button to initiate the trade request (8).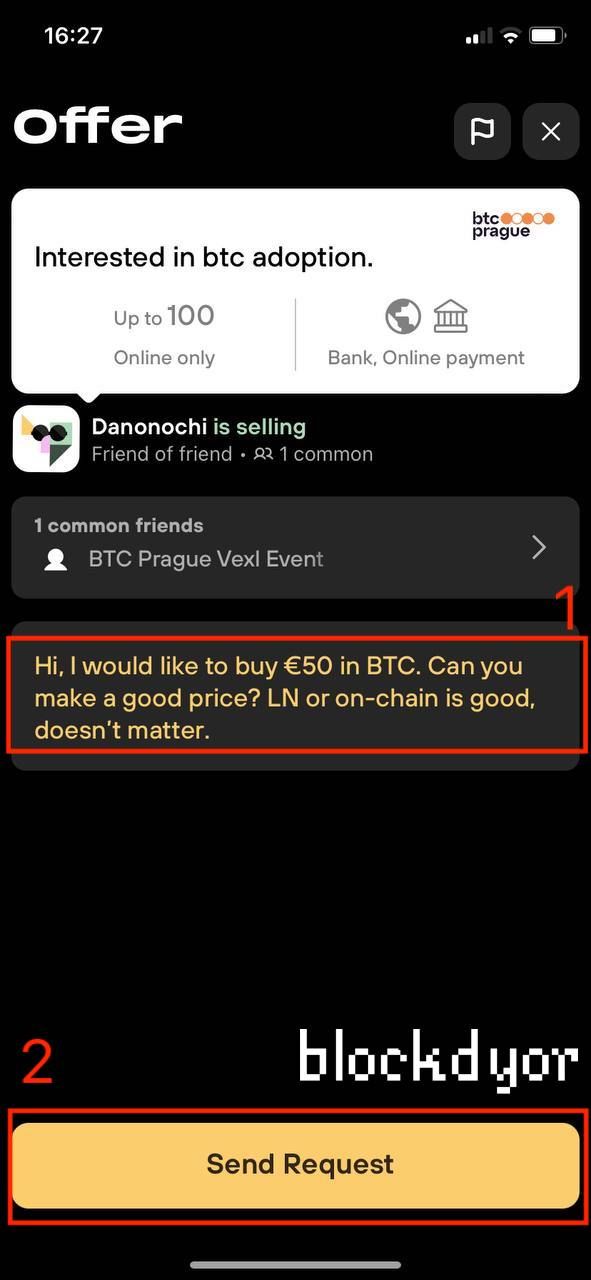 Once you have identified a listing that you like and give you confidence, you can proceed by clicking on it. This action will direct you to the offer page where you will be prompted to compose a message and send the corresponding request.

When the seller accepts the request, you will receive a notification.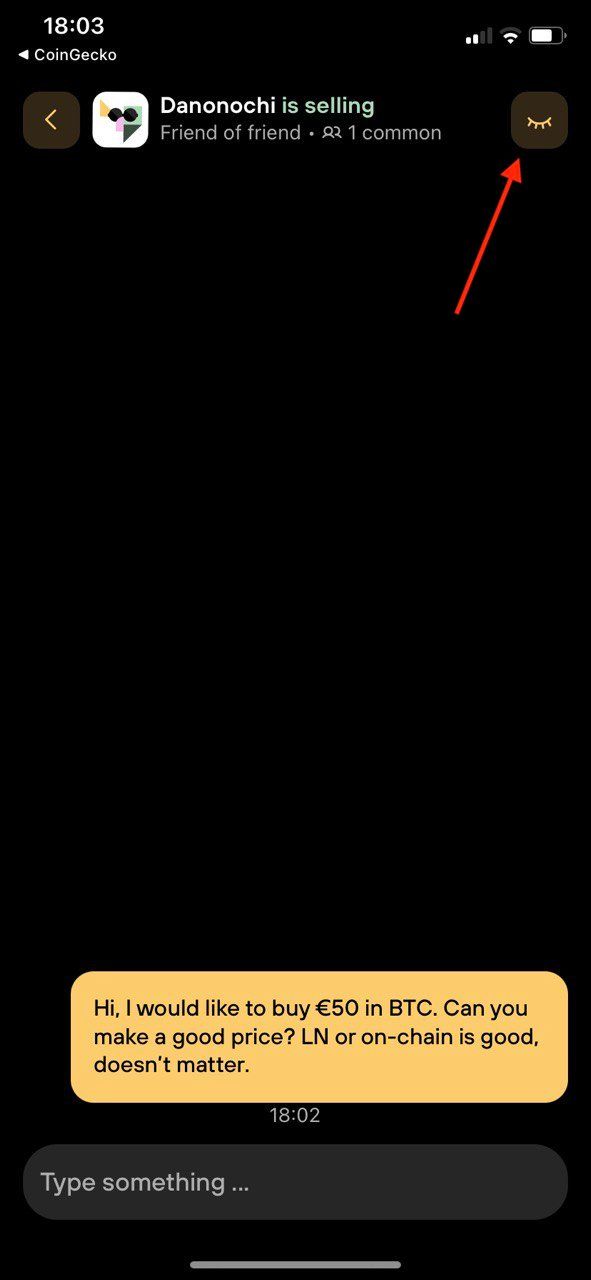 Now, you have the option to initiate a chat with the seller on Vexl. Engaging in a conversation allows you to discuss the trade details and further establish a connection.
In case you are interested in requesting the seller's identity, you can click on the closed eye icon.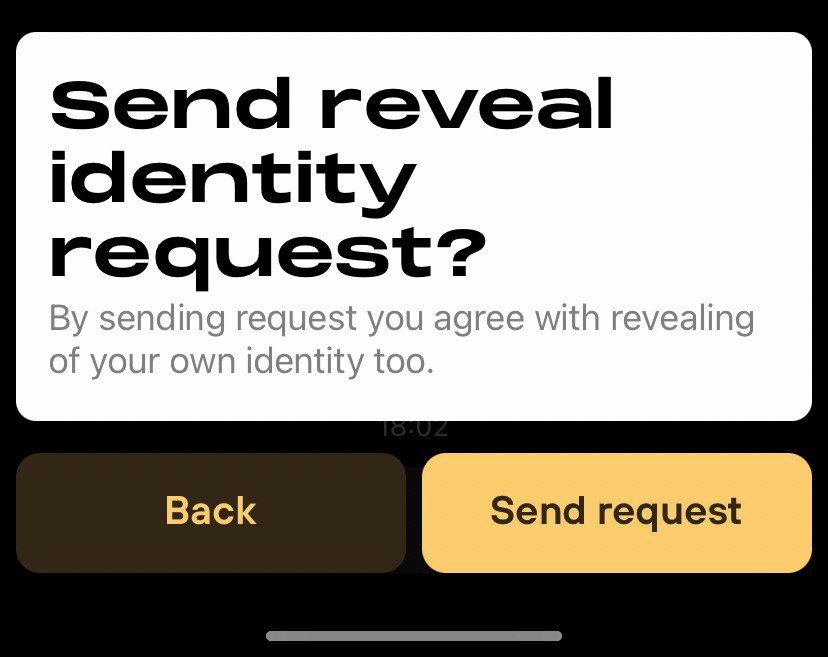 By making such a request, you will only gain access to the seller's name and the registered phone number prefix on Vexl. This information exchange follows a reciprocal arrangement, ensuring that both parties consent to the disclosure.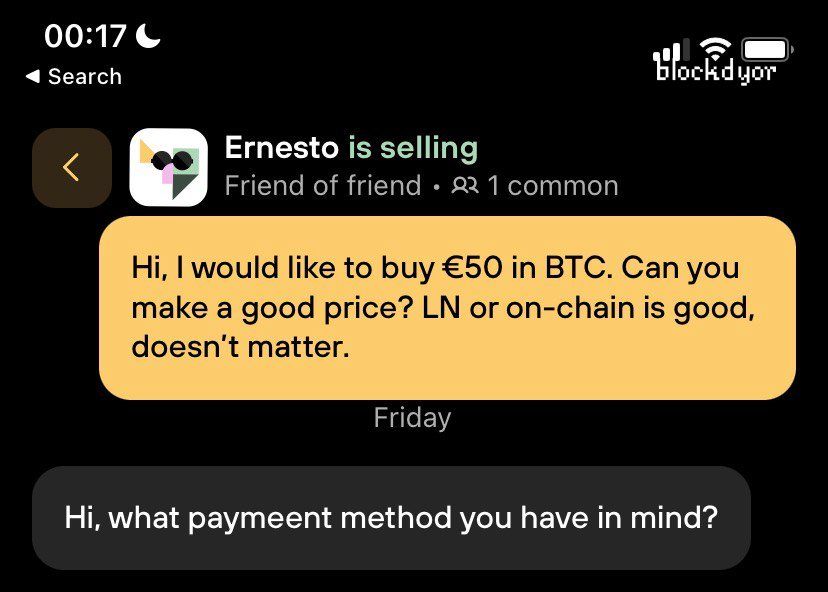 In this particular case, Ernesto, the seller, accepted my request and willingly disclosed his name and phone number prefix (not shown in the screenshot). This allows me to proceed with further discussions to finalize the Bitcoin purchase.
During the ongoing conversation, we will negotiate and agree upon essential aspects such as the payment method, market price, seller's commissions, network fees, and any other relevant details.
In the end, we finalized the trade by sending the payment in fiat and receiving the Bitcoin.
It's important to note that Vexl functions more as a peer-to-peer Bitcoin social marketplace rather than a traditional p2p exchange.
As such, it does not provide an escrow service or offer specific guidance throughout the trade process.
Users on Vexl take a more independent approach to their transactions, utilizing the platform as a means to connect and facilitate trade between themselves.
Vexl Reviews
Vexl, launched in 2021 from the Czech Republic, is operating under the SatoshiLabs group—a renowned name in the industry. Under the SatoshiLabs Group there are several companies, such as Trezor: the maker of the first hardware waller Trezor One and the wildly successful Trezor Model T.
The recent release of Vexl 2.0 marked a significant app update, signaling the platform's ambitions to expand its reach across Europe and worldwide.
During the BTC Prague event, Vexl gained substantial exposure through extensive advertising efforts. The company showcased its offerings alongside Tropic Square, Invity, and Trezor at the sprawling SatoshiLabs booth, leaving a lasting impression on attendees.
While Vexl is still in its launching phase, it is important to note that there may be limited reviews or a lack of a Trustpilot page. However, as the app gains traction among the general public in the next months, more users are beginning to embrace its capabilities, contributing to its growth and development.
Who created Vexl
Lea Petrášová, the mastermind behind Vexl, is an ardent Bitcoin enthusiast and cypherpunk. Lea's dedication to promoting peer-to-peer Bitcoin transactions shines through in the platform's design and philosophy.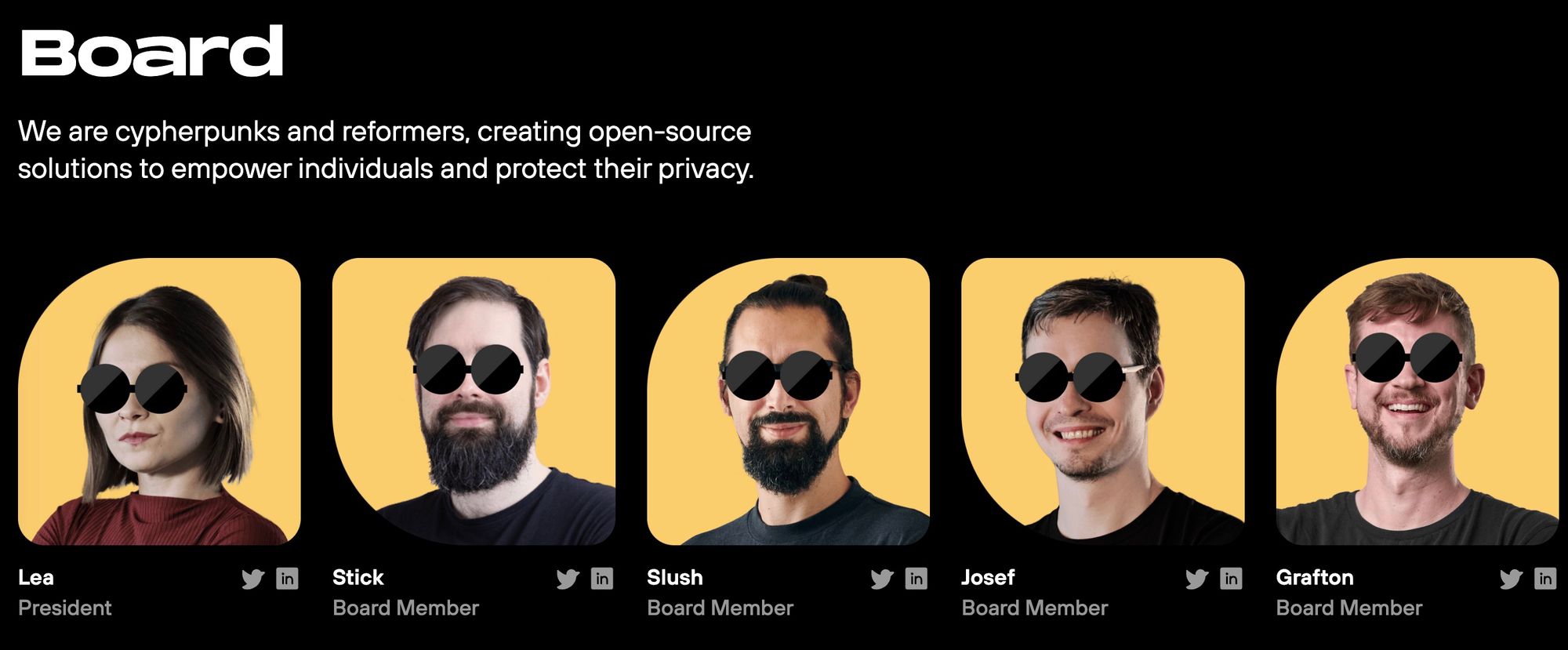 Among superstars like Pavol Rusnak and Slush, Lea is also the president of the Vexl Foundation, which champions personal and financial freedoms, asserting that without the freedom to transact, all other rights lose their meaning, reflecting bitcoin's original purpose as a decentralized peer-to-peer currency.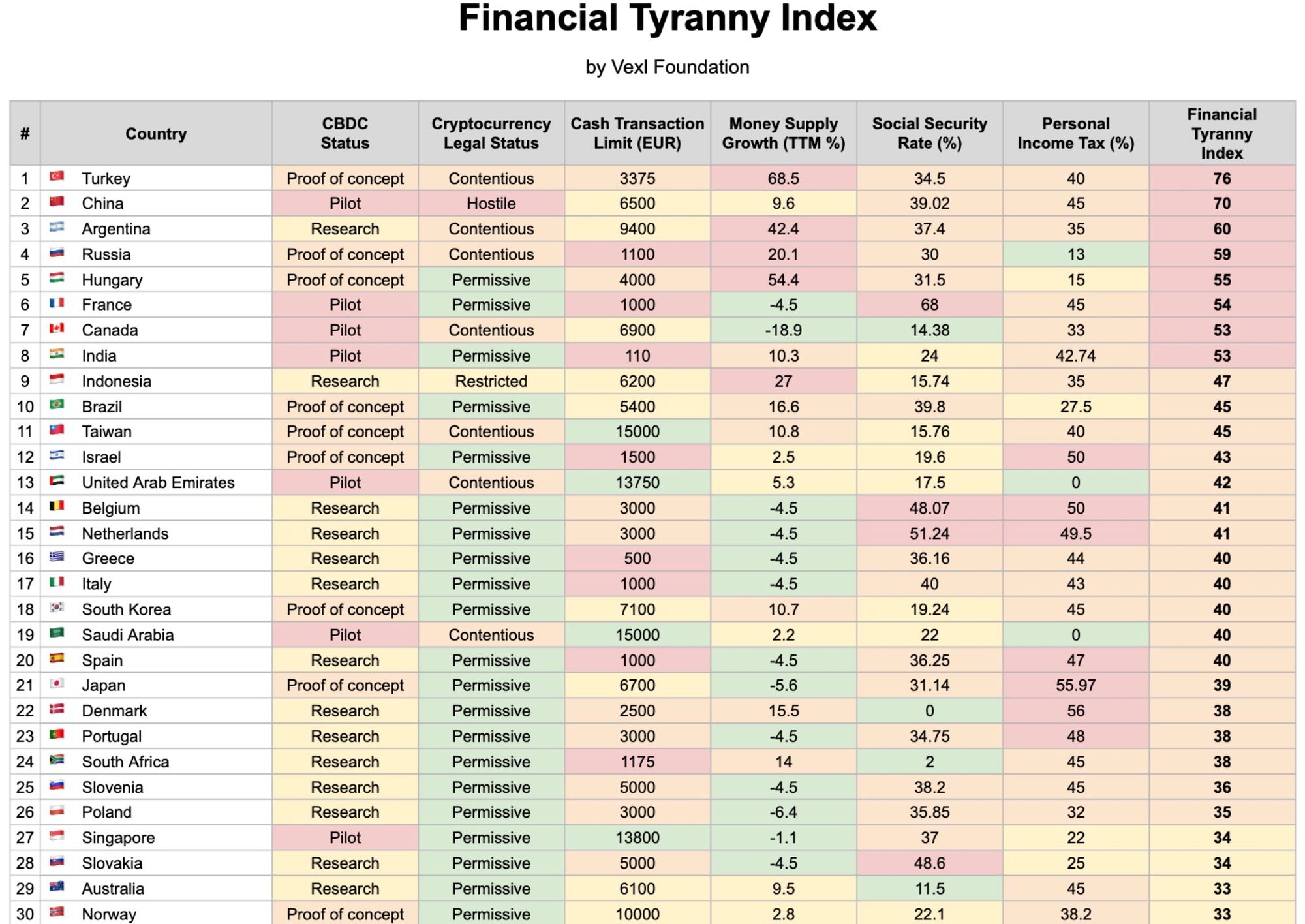 The Vexl Foundation recently released the Financial Tyranny Index, tool that measures the extent of statist interventions in the financial space, showing committment to the financial sovereignty.
Is Vexl Safe?
Despite Vexl's role solely as a facilitator connecting sellers and buyers, with no involvement in payment processing or storage of personal information or messages, the platform emphasizes complete transparency.
This commitment is evident through the decision to make the code fully open source, allowing users to verify its integrity and security on GitHub.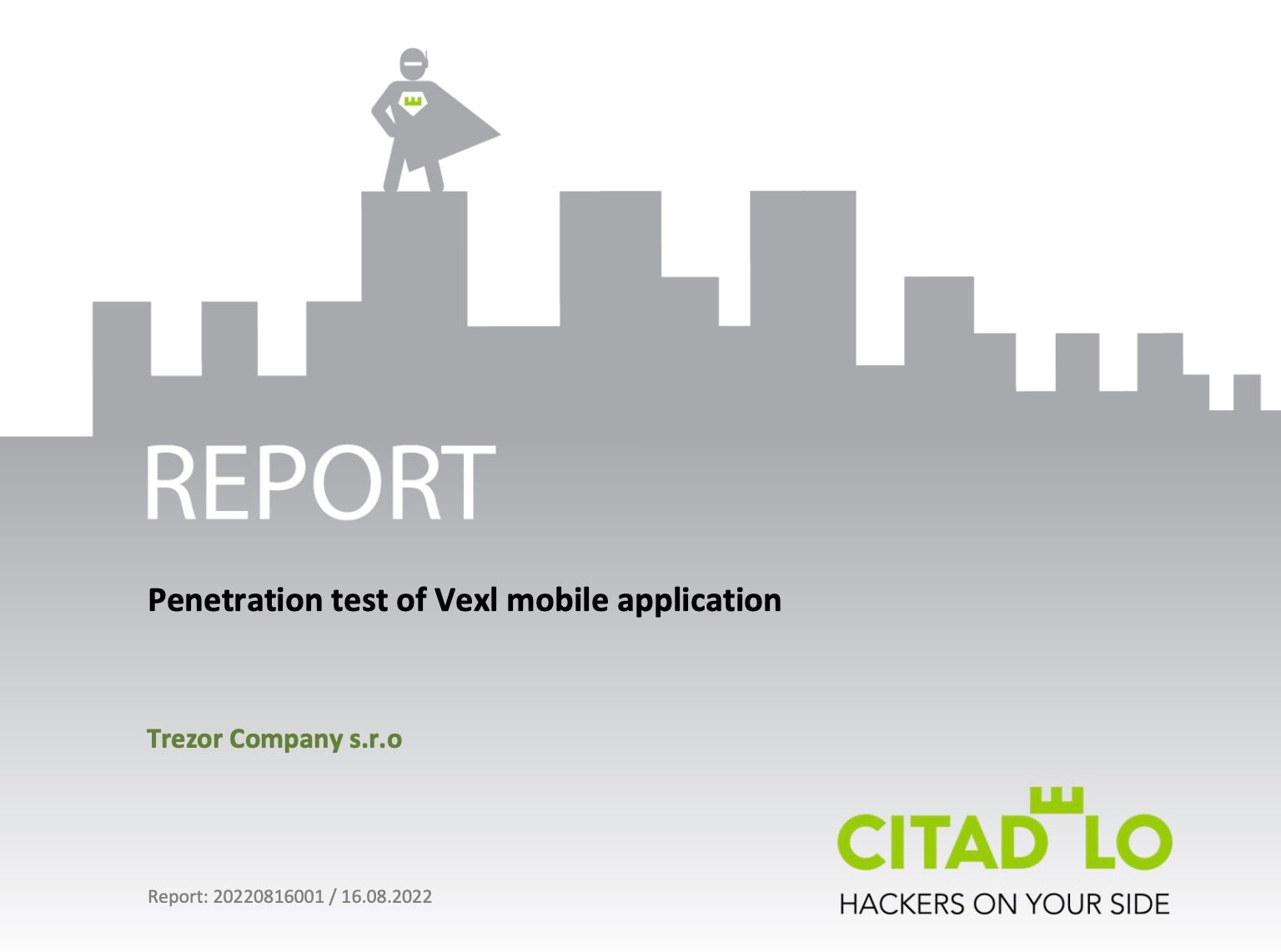 Furthermore, Vexl undergoes regular security audits conducted by a reputable firm. This includes comprehensive penetration testing of the Vexl mobile application to identify potential vulnerabilities and ensure a robust security framework.
The results of these tests are made available on the audit firm's website, providing users with additional reassurance regarding the platform's commitment to maintaining a secure environment.
Vexl Pros & Cons
Exploring the pros and cons of a platform that combines elements of a social network and a Bitcoin peer-to-peer marketplace can be challenging, as it largely depends on the reviewer's expectations and perspective.
In the case of Vexl, it introduces a refreshing approach to the world of P2P marketplaces. It stands out by creating a network where connections are based on your existing contacts, including friends and friends of friends.
This unique feature acts as a shield against scammers, offering a greater level of trust and security in trades. With this approach, the likelihood of falling victim to fraudulent activities is significantly reduced.
It's important to note, however, that Vexl does not provide an escrow service for online payments. Therefore, it may not be the most suitable option for transactions involving digital payments.
On the other hand, the platform proves to be an excellent choice for in-person trades involving cash. By leveraging your network of contacts, which typically consists of familiar individuals, the risk of scams is further mitigated.
Ultimately, the greatest revolution offered by Vexl lies in its ability to protect users from potential scammers and foster connections with individuals in close proximity. By utilizing your contact list, the platform enhances security and establishes a stronger sense of trust, making it a compelling option for those seeking safer peer-to-peer trading experiences.
| Pros | Cons |
| --- | --- |
| ✅ Original and different | ❌ No escrow |
| ✅ Open source | ❌ No specific Online Payments methods in the filtering tool |
| ✅ No KYC | ❌ iOS app needs Testflight to be downloaded |
| ✅ Externally audited | ❌ No Trustpilot page or Reddit/Discord communities |
| ✅ No fees, completely free of charge | |
Bottom line
In conclusion, Vexl brings a unique perspective to the world of peer-to-peer marketplaces by combining elements of a social network with Bitcoin trading.
While it may not offer an escrow service for online payments, it excels in creating a secure environment for in-person cash trades through connections with friends and friends of friends.
The platform's innovative approach shields users from scammers and instills a higher level of trust in transactions. With its emphasis on privacy, transparency through open-source code, and periodic security audits, Vexl stands as a promising option for those seeking a safer and more personal peer-to-peer trading experience.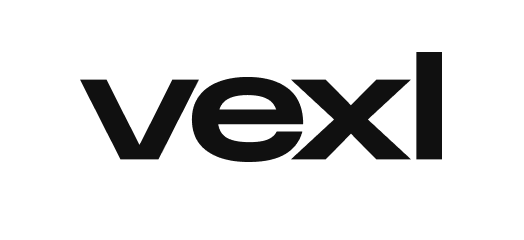 Vexl Evaluation
Reputation: Vexl benefits from the strong reputation of its parent company, SatoshiLabs, a prominent player in the hardware wallet industry. However, since there is no Trustpilot page available yet, it might be wise to wait for user feedback and opinions to gain a clearer picture. (4/5)
Technology: Vexl is open source, so this means the code can be verified by everyone. The security in the app is quite reassuring, while the requirement of providing a phone number can be inconvenient, users have the option to purchase an anonymous eSIM and use a chosen name, even if it's a pseudonym. (4/5)
Customer Service: Vexl's customer service could be improved. The absence of a chat feature and limited email support are areas where enhancements can be made. However, this is on par with other major social media platforms like Twitter or Facebook. (3/5)
Fees: Vexl offers a completely fee-free experience, making it an attractive choice for users. The pricing set by sellers on the platform is generally reasonable, although it's important to note that this aspect is not directly controlled by Vexl itself. (5/5)
Ease of Use: The user interface of Vexl could benefit from some refinements. For instance, the main marketplace view presents two prominent options, "SELL" with offers and "BUY" with bids which can be a bit confusing as users that want to buy BTC may expect a dedicated "BUY" button, not having to click on SELL to see the offers. However, these minor issues do not significantly hinder the overall usability. (4/5)
Frequently Asked Questions (FAQ)
How does Vexl ensure the security of peer-to-peer transactions?
Vexl prioritizes security by implementing several measures. Firstly, it utilizes connections through your existing contact list, which enhances trust and reduces the risk of scams. Additionally, Vexl is open source undergoes regular security audits conducted by reputable firms. While the platform does not offer an escrow service, users can request the reveal of the seller's identity to establish further trust before proceeding with a transaction.
Are there any fees associated with using Vexl?
No, Vexl is completely free to use. The platform does not charge any fees for its services. However, it's important to note that individual sellers on Vexl may set their own prices and commissions for Bitcoin transactions. The fees associated with trades are determined by the sellers themselves and shown in the app, but are not controlled by Vexl.
Can I use Vexl for both online and in-person Bitcoin trades?
Yes, Vexl accommodates both online and in-person Bitcoin trades. While the platform does not provide an escrow service, it is particularly well-suited for in-person trades involving cash. By leveraging your existing network of contacts, which includes friends and friends of friends, Vexl enhances security and reduces the likelihood of scams. However, it's important to exercise caution and ensure you follow best practices when conducting any type of Bitcoin transaction, whether online or in-person.
How Vexl works?
Vexl uses your contact list to connect you with friends and friends of friends for Bitcoin trading. It offers anonymity, secure communication, and a peer-to-peer social marketplace experience, with transactions negotiated directly between buyers and sellers.