Trezor Model T Review 2023: The Best Wallet Ever?
Is it possible to perfect something that's already flawless? SatoshiLabs has risen to the challenge with their latest hardware wallet. Storing Bitcoin (and altcoins) securely is no easy feat, but the Trezor Model T has exceeded the expectations.
SatoshiLabs' premier crypto hardware wallet, the Trezor Model T, represents a significant step up from its predecessor. Engineered to facilitate the secure storage and protection of Bitcoin, tokens (over 1400), and keys, the Model T offers an array of intuitive functions and features.
This comprehensive guide will scrutinize every aspect of the Model T, ultimately assessing whether the added cost justifies the upgrade over the earlier model.
👉 To get the Trezor Model T on the Trezor official website, click here. Get a 10% off at checkout with the coupon code BLOCKDYOR.
| DESCRIPTION | DETAILS |
| --- | --- |
| 💻 Name | Trezor Model T |
| 🌐 Website | Trezor.io |
| 🗓 Release year | 2018 |
| 💰 Coins Supported | Over 1400 |
| 💸 Price | $219 / €203 (As of 23th March 2023) |
| 🔒 Security Features | Touchscreen, PIN, Passphrase, Offline seed, MicroSD, Shamir Backup |
| 💻 Compatibility | Desktop, Web, Android (via USB-C adapter) |
| 🖥 Display | Touchscreen Color LCD - 240x240 pixels |
| 🔄 Connectivity | USB-C cable (included) |
| 📏 Dimensions | Size: 64x39x10 mm (2.5x1.5x0.4 in) |
| ⚖️ Weight | Weight: 16 g (0.56 oz) |
| 🔋 Battery Life | N/A |
| 📜 Warranty | Two years for individual customers |
Trezor Model T Overview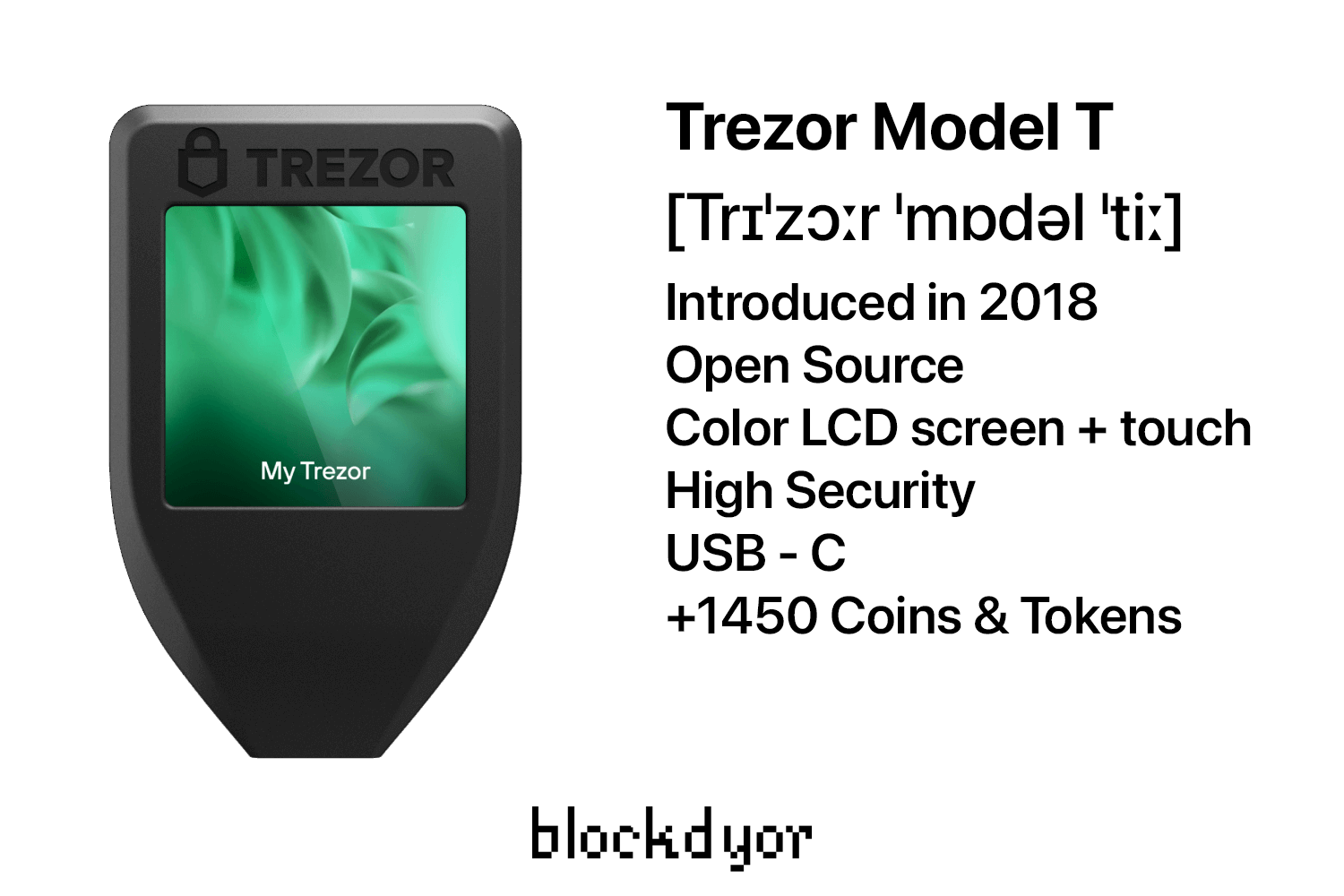 The Trezor Model T is a cold storage, non-custodial hardware wallet that safeguards your cryptocurrency assets. It seamlessly interfaces with your computer or mobile device (Android only) via USB cable, allowing you to send, receive, buy, sell and trade crypto via the Trezor Suite app (desktop version only).
Unlike other wallets that are always connected and might expose your crypto to online threats, the Model T stores your assets always offline, ensuring that your private keys remain safe to hackers and other malicious individuals. Each transaction is meticulously validated and confirmed on the physical hardware wallet itself.
Your wallet's seed phrase always stays on the device and it's shown during the initial setup of the wallet.
One notable improvement over its predecessor is the Model T's large and colorful touchscreen display, which enhances user-friendliness. Additionally, the Model T's larger size is immediately noticeable when compared to the Model One. With the display usesrs are able to enter seed phrase and passphrases via the device itself, thereby providing greater security as you don't have to type anything using your computer's keyboard / display.
Both the hardware and software are open-source, facilitating easy repairs. Users can view and verify the source code themselves, so they do not have to rely on SatoshiLabs making public statements about the safety and security of device. It follows the "Don't trust, verify" principle.
Security is paramount for the Model T, with features such as Shamir Backup for enhanced recovery security, passphrase-protected hidden wallets for enhanced crypto security or Coinjoin integration.
The Model T wallet is a comprehensive open-source solution encompassing both hardware and software, providing easy maintenance and enduring support. Even if SatoshiLabs were to discontinue its support, the code remains accessible to others, ensuring its continued operation.
While the absence of a secure element in Trezor renders it susceptible to a seed exfiltration, its open-source design facilitates auditing. However, physical access to the device, such as RAM cloning or PCB freezing, increases the likelihood of such a breach. Nonetheless, such efforts are unlikely to be expended on a randomly selected Trezor.
👉 To get the Trezor Model T on the Trezor official website, click here. Get a 10% off at checkout with the coupon code BLOCKDYOR.
SatoshiLabs Overview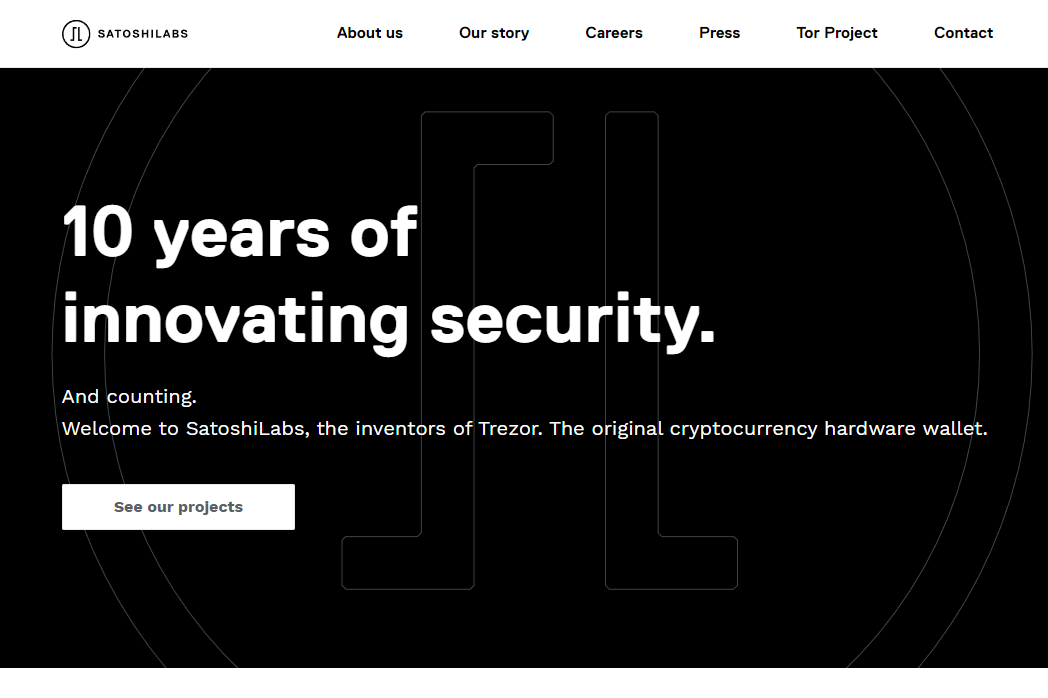 SatoshiLabs, based in Prague, Czech Republic, is the brainchild behind the revolutionary Trezor Model T, and a renowned figure in the crypto universe. They created the world's first hardware crypto wallet, the Trezor Model One, through years of development.
The company was formed by a team of like-minded enthusiasts who went on to achieve global recognition. SatoshiLabs' holding also includes Invity, Tropic Square, and Vexl, all of which share a common goal of bringing the benefits of bitcoin and crypto to the masses and empowering them while prioritizing security.
They strive to create cutting-edge tools that will shape a nascent industry still in its infancy, by exploring new horizons and discovering new possibilities. SatoshiLabs' commitment to open-source principles and transparency is geared towards hastening the adoption of crypto for all.
Marek "Slush" Palatinus, the visionary architect and CEO behind SatoshiLabs, the parent company of Trezor, disclosed that he founded the bitcoin industry's oldest mining pool, Slush Pool (now Braiins Pool), as a personal endeavor.
Starting with a modest virtual machine costing a mere $45 per month, he transformed it into a thriving business generating stable revenue streams and high-profit margins. Today, Braiins Pool and SatoshiLabs with Trezor are all multi-million dollar entities, a testament to Slush's entrepreneurial prowess.
As he remarked, "I started Slush Pool on a $45/month virtual machine a few years ago and built a multi-million startup on top of it. Such a feat would be unfeasible today."
Trezor Model T Supported Coins
The Trezor Model T is more than just a secure repository for your bitcoins - it can safeguard over a thousand other cryptocurrencies as well.
Model T can be integrated with popular web3 wallets like Metamask, enabling hassle-free transactions of various types of crypto, smart contracts, and NFTs.
Unlike the Model One, the Model T can also support Binance Coin (BNB), Ripple (XRP), Cardano (ADA), Monero (XMR), EOS (EOS), Tezos (TZS).
Notable natively supported coins are:
Bitcoin (BTC);
Ethereum (ETH);
Tether Dollar (USDT);
USD Coin (USDC);
OKB (OKB);
Dogecoin (DOGE);
Binance USD (BUSD);
Shiba Inu (SHIB);
Litecoin (LTC);
Avalanche (AVAX);
It is important to note that some other crypto are not natively supported. Some of these cryptocurrencies can still be supported through the use of third-party wallets linked to the Trezor Model T.
Trezor Model T: Items Included in The Box
The Trezor Model T packaging features a compact design, crafted from premium paper with a luxurious feel and secured by magnetic closures.
It can also serve as a convenient storage solution for the device after use. Its sleek surface displays the Trezor Model T on one side and the accompanying accessories on the other, complete with a user-friendly 3-steps guide for fast and easy setup on the back of the opening side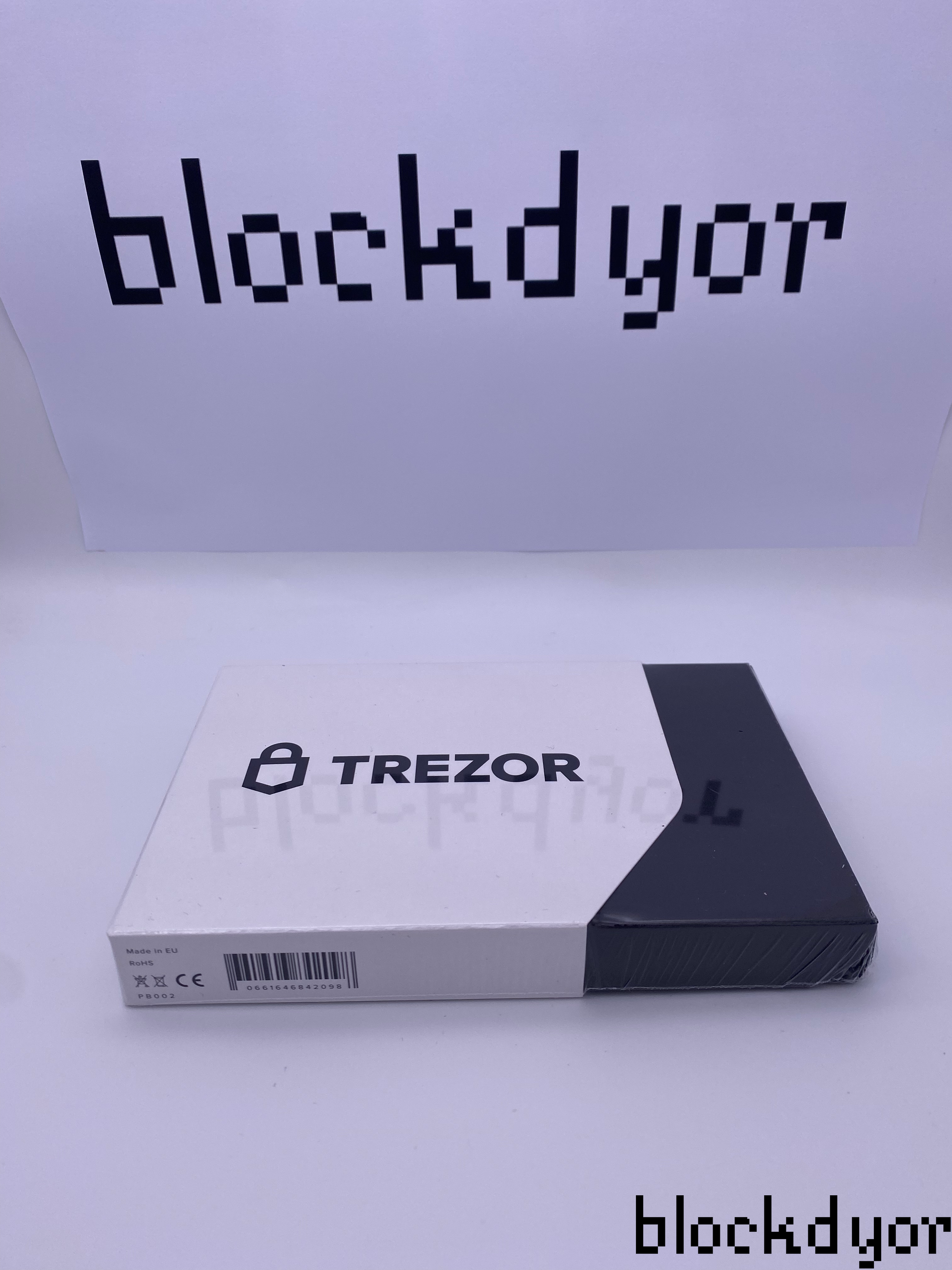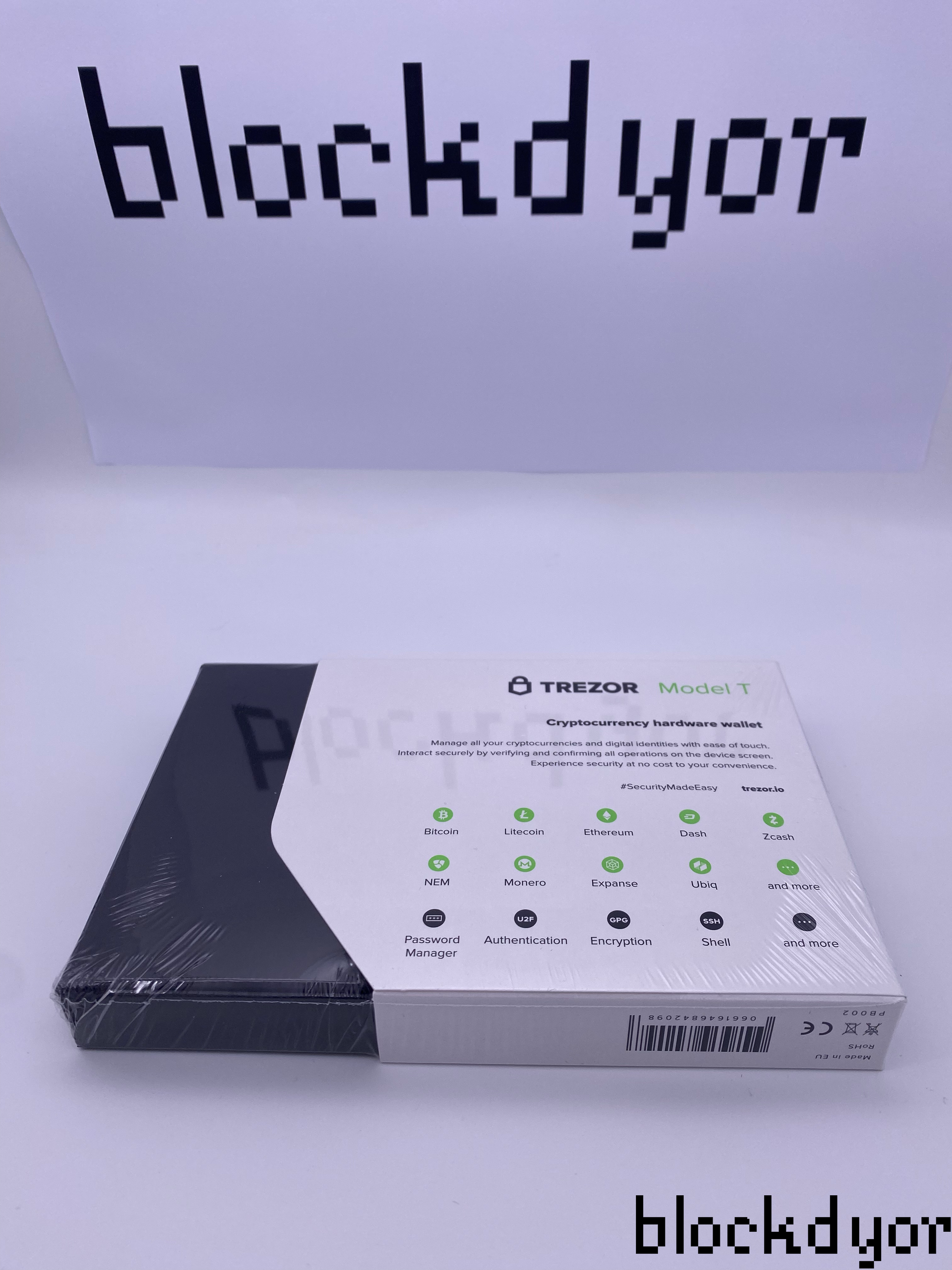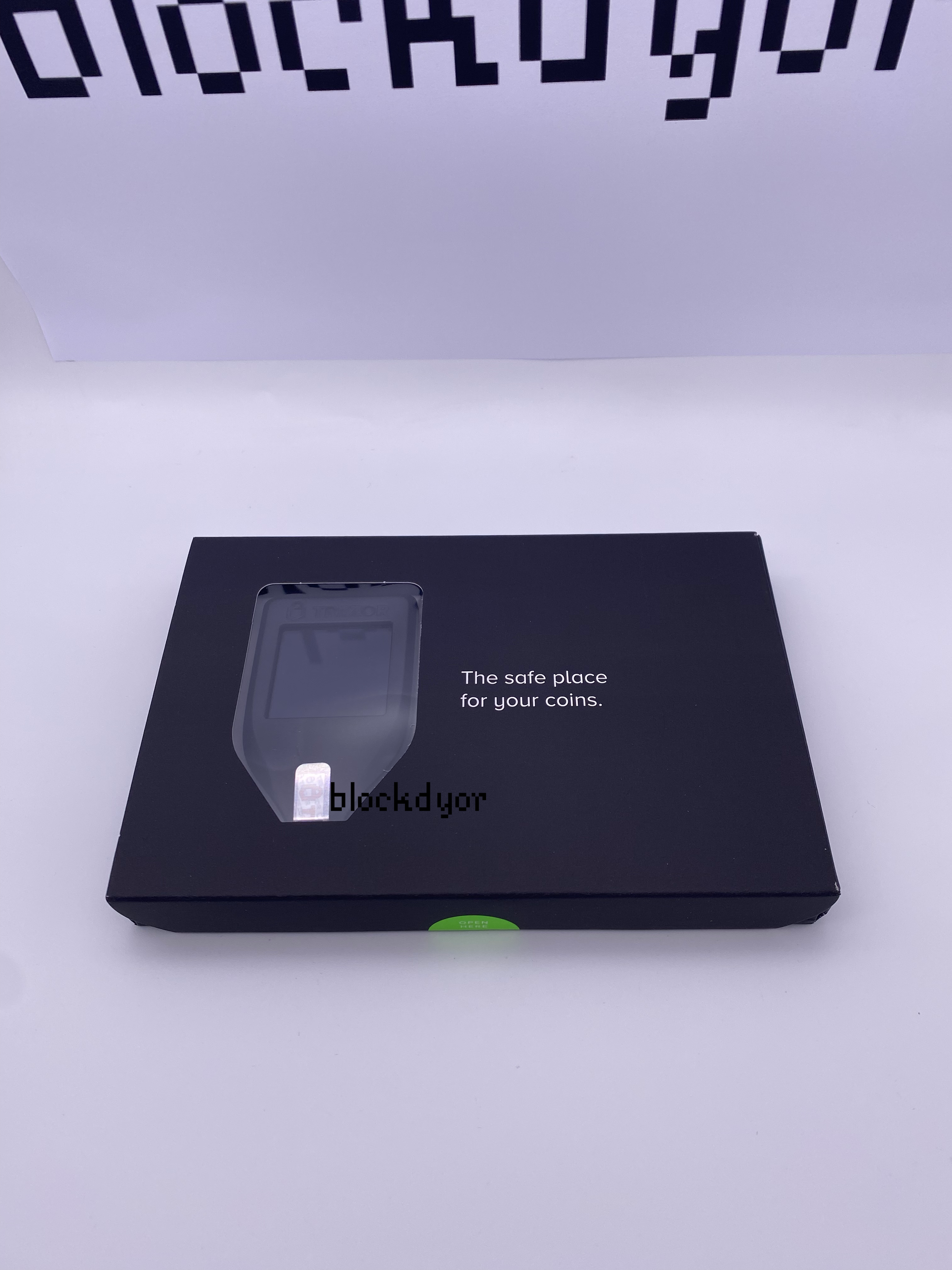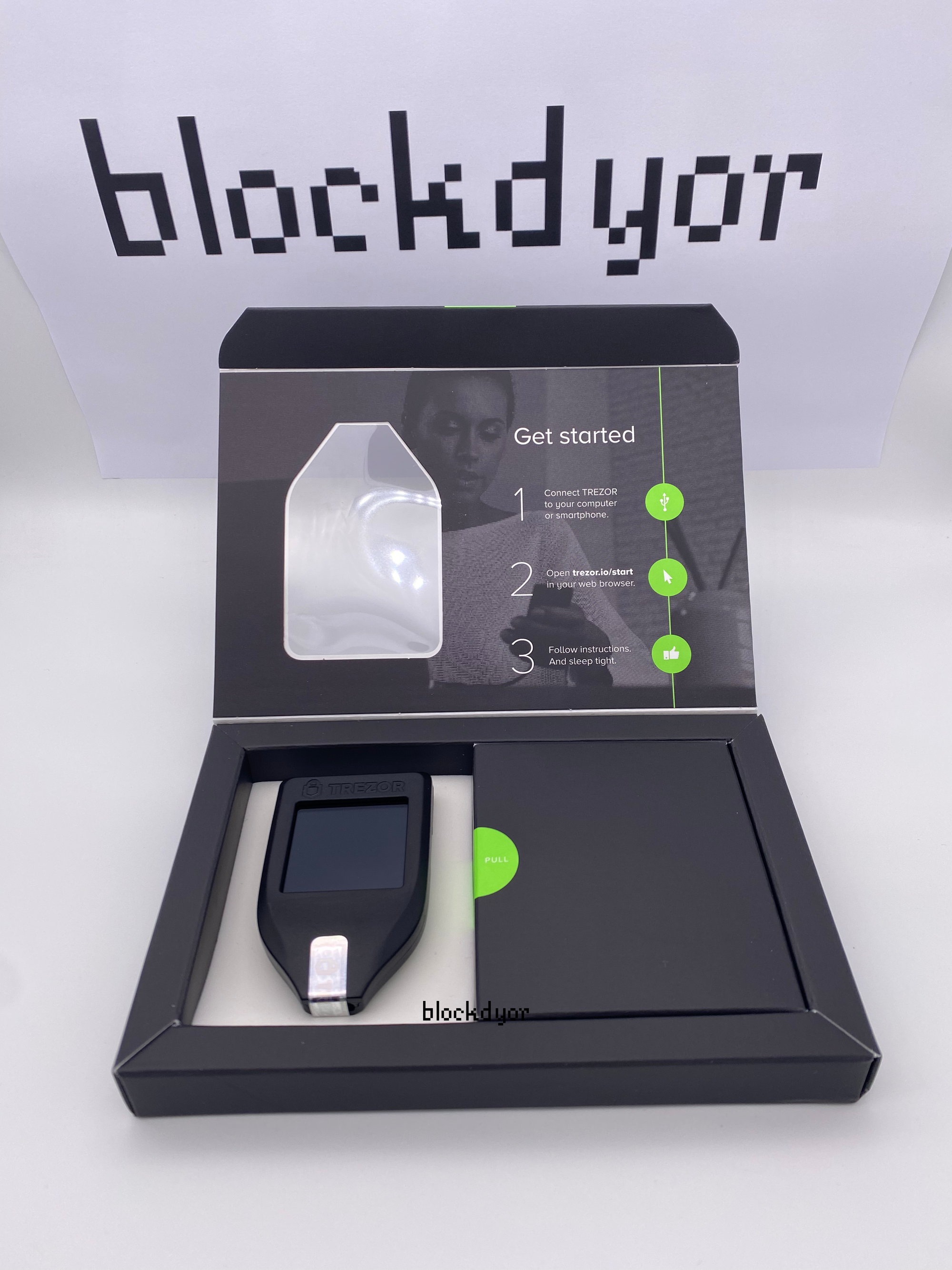 The Trezor Model T is designed with anti-tampering special packaging to ensure maximum security during delivery. Inside the package, you will find:
Model T hardware wallet;
A magnetic dock;
USB-A to USB-C cable;
Two recovery seed cards;
Trezor stickers.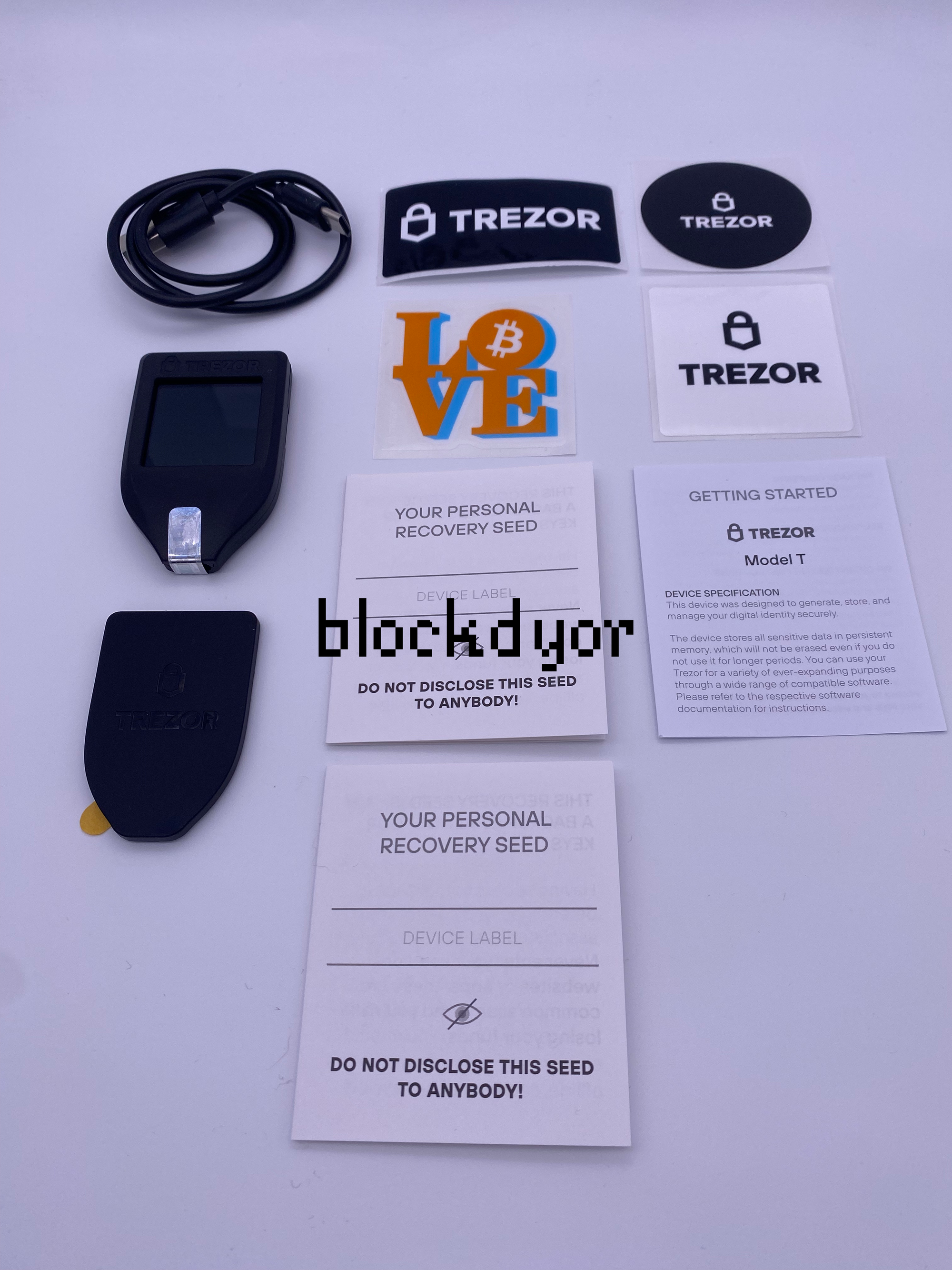 Trezor Model T Technical Specifications
| 🔧 Technical specs | | |
| --- | --- | --- |
| | Size | 64x39x10 mm (2.52x1.54x0.39 in) |
| | Weight | 22 g (0.77 oz) |
| 📏 Device size & weight | Package size | 152x102x20 mm (5.98x4.02x0.79 in) |
| | Weight | 92 g (3.25 oz) |
| 💻 CPU | | 168 MHz embedded ARM processor (Cortex-M4) running Trezor Core |
| 🔌 Connectivity | | USB-A to USB-C cable to connect to computer and mobile |
| 🌡️ Operating temperature | | -20°C to +60°C (-4°F to +140°F) |
| 🖥️ Touchscreen | | 1.54'' Color LCD 240x240 pixels |
| 🛡️ Safety & certifications | | All Trezor devices are CE and RoHS certified meeting all quality, reliability, and environmental standards. Trezors are not affected by X-ray machines and can be safely taken on airplanes. |
How to set up a Trezor Model T
Here is a step-by-step guide on how to set up your Trezor Model T:
Unboxing your Trezor Model T
Slide off the white sleeve to reveal the black case.
Flip away the fold on the lower part of the case, and lift up the cover.
Take out the Trezor Model T device from its dock.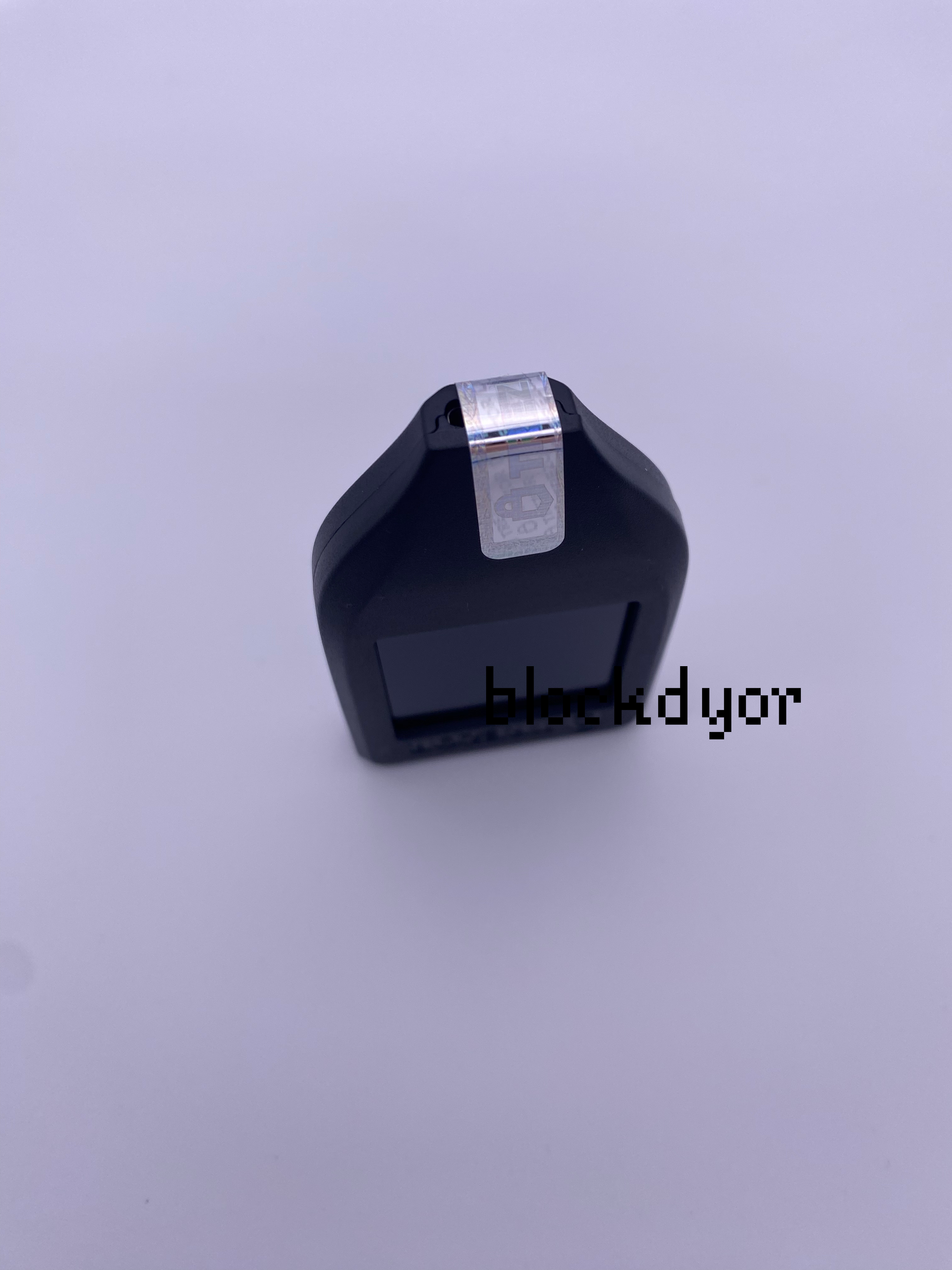 Verify the device's seal; it should be intact. The hologram should sit tightly over the USB-C port of the Trezor. If it has been removed, it will leave marks on the device. In such a case, please contact the Support Team.
Find the USB-C cable, Getting started guide, recovery seed cards, and stickers in the black box next to the device.
Initialize your Trezor Model T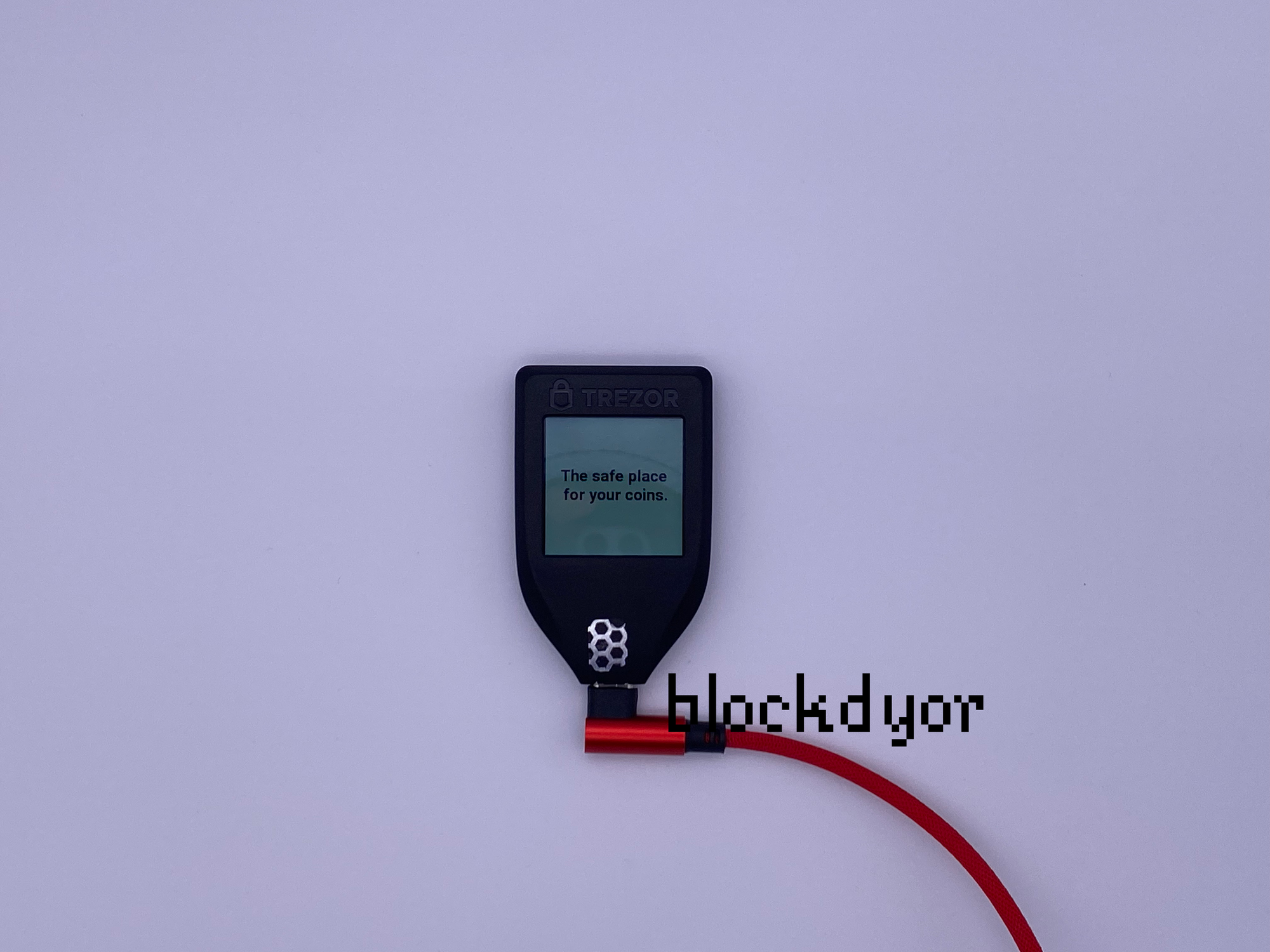 Remove the holographic seal and connect your Trezor Model T to your computer (or Android device). Install the Trezor Suite app or just use the web app. Please be sure you are on the official Trezor website. You can begin from this website: trezor.io/start
A welcome screen will appear.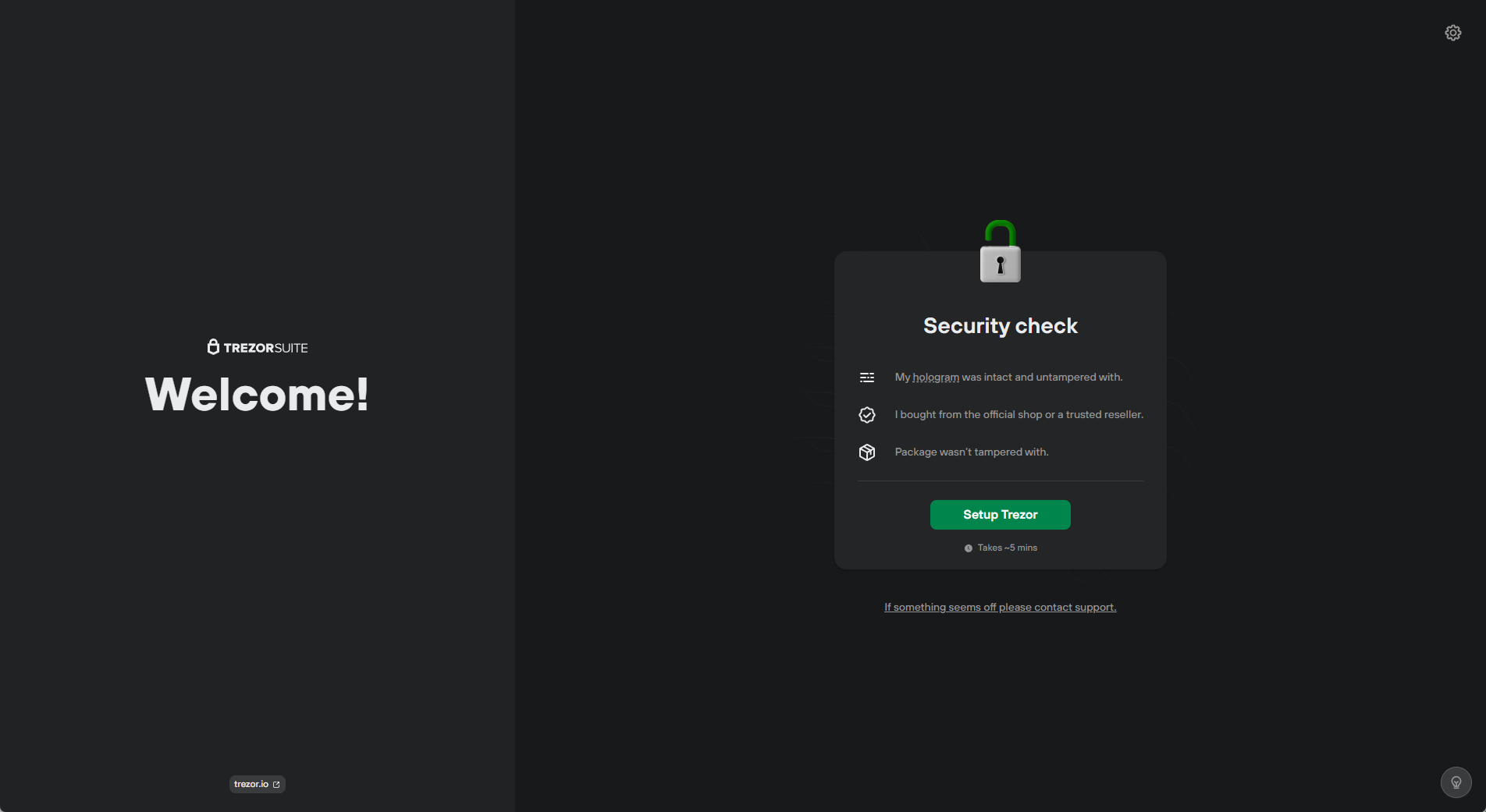 Start the setup by clicking on the "Setup Trezor" button.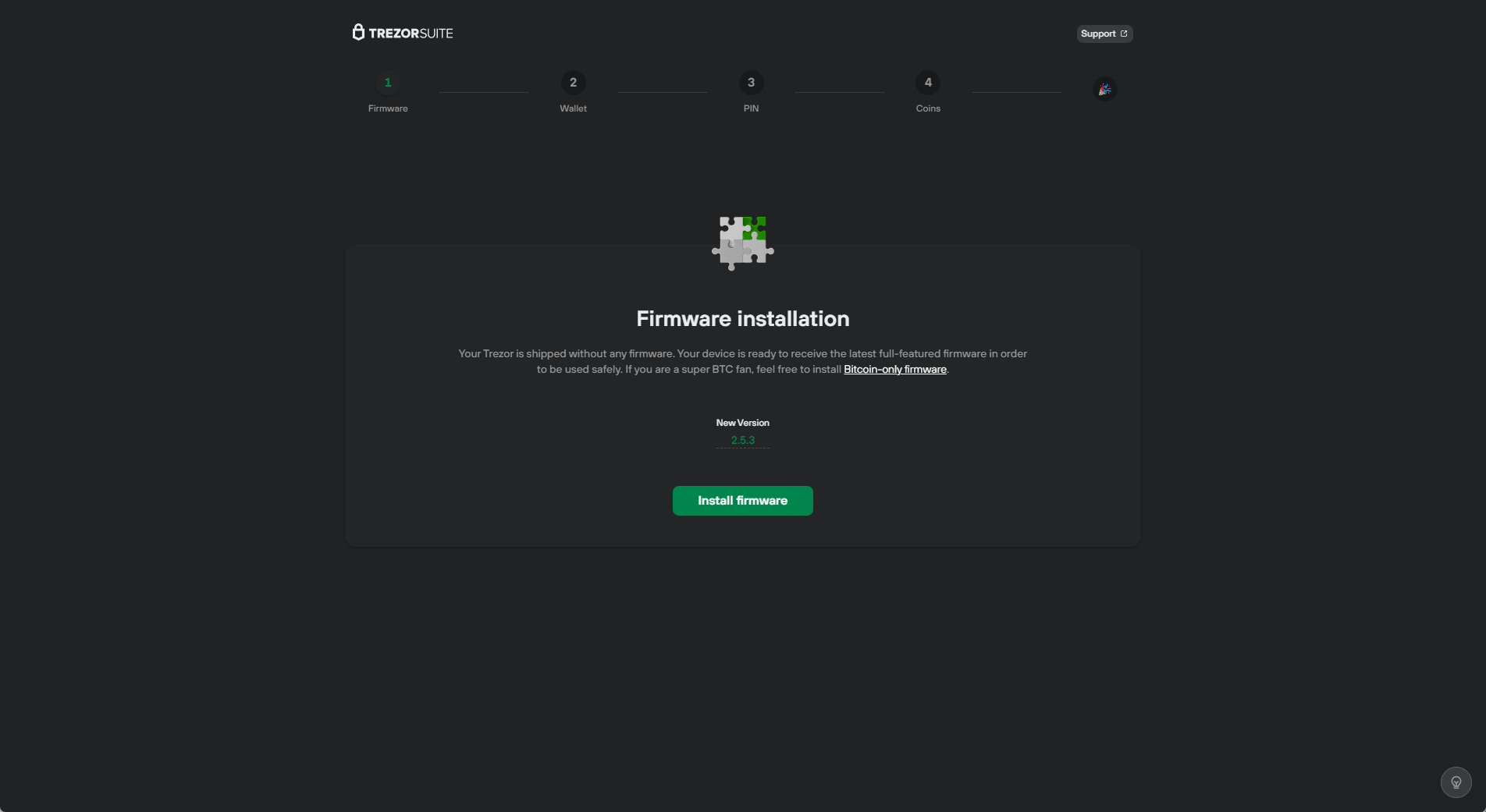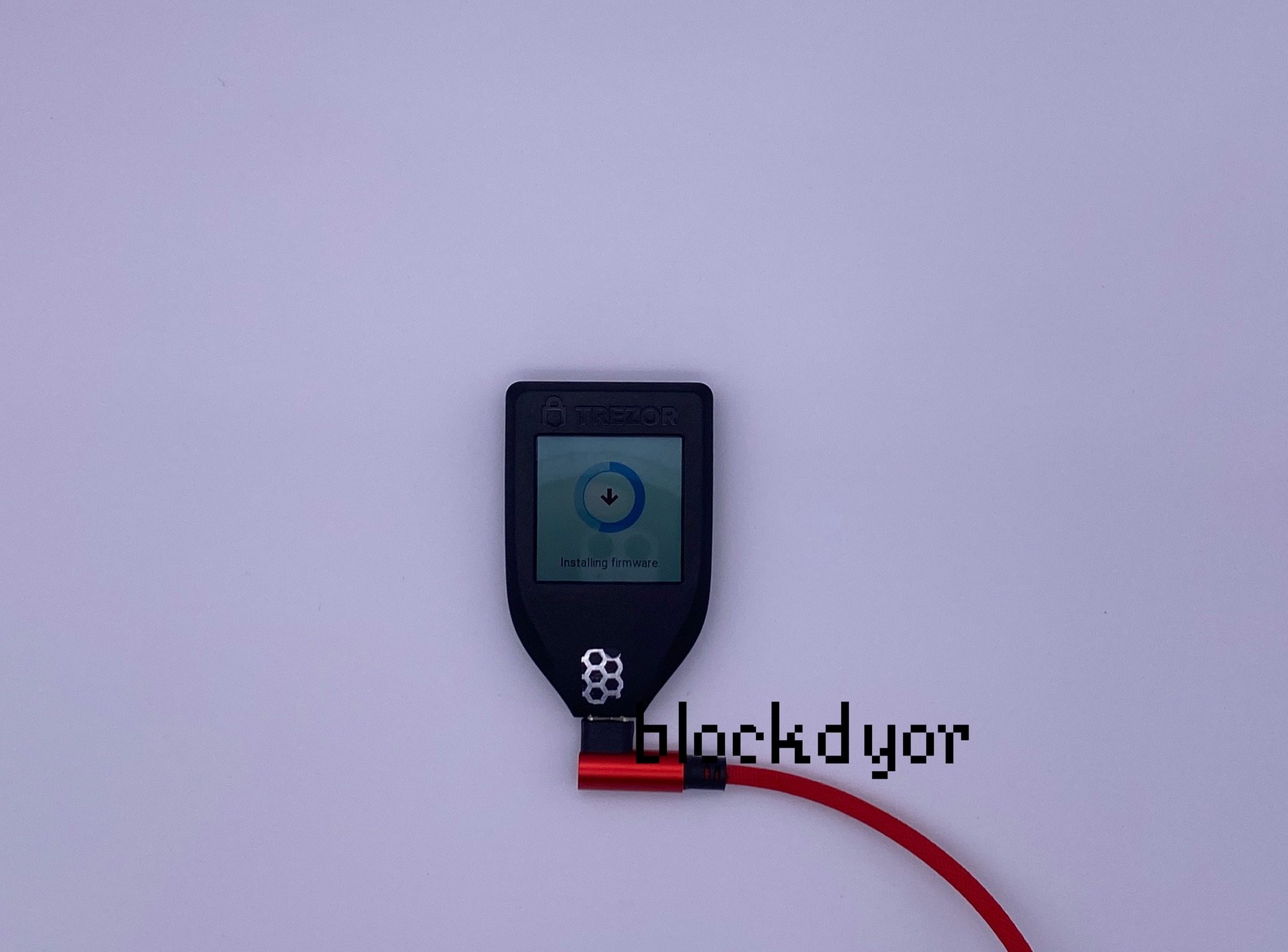 If available, update the firmware for your Model T when prompted.
Wait for your device to reboot and load the new firmware.
Start the wallet initialization process.
Generate a new wallet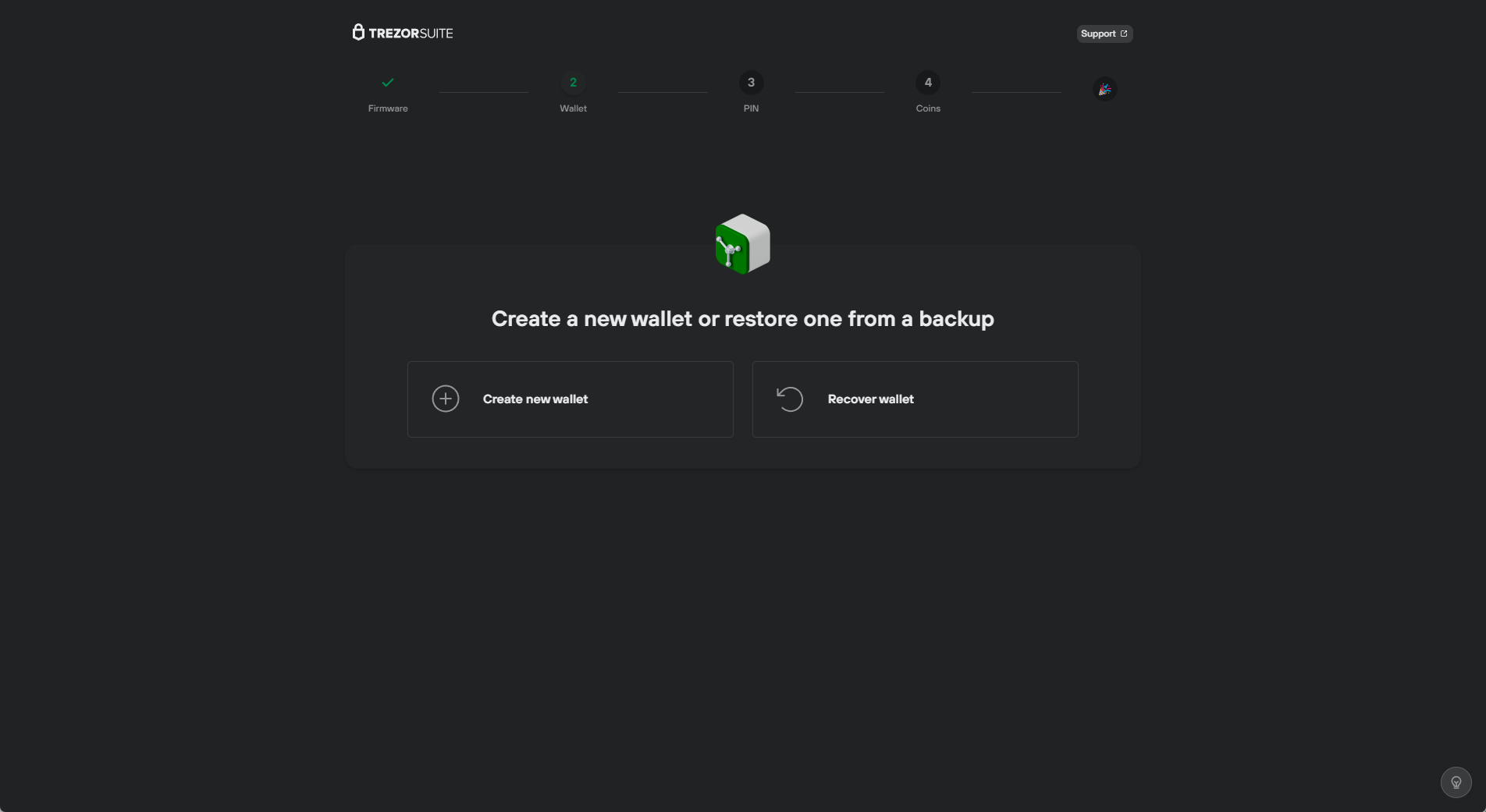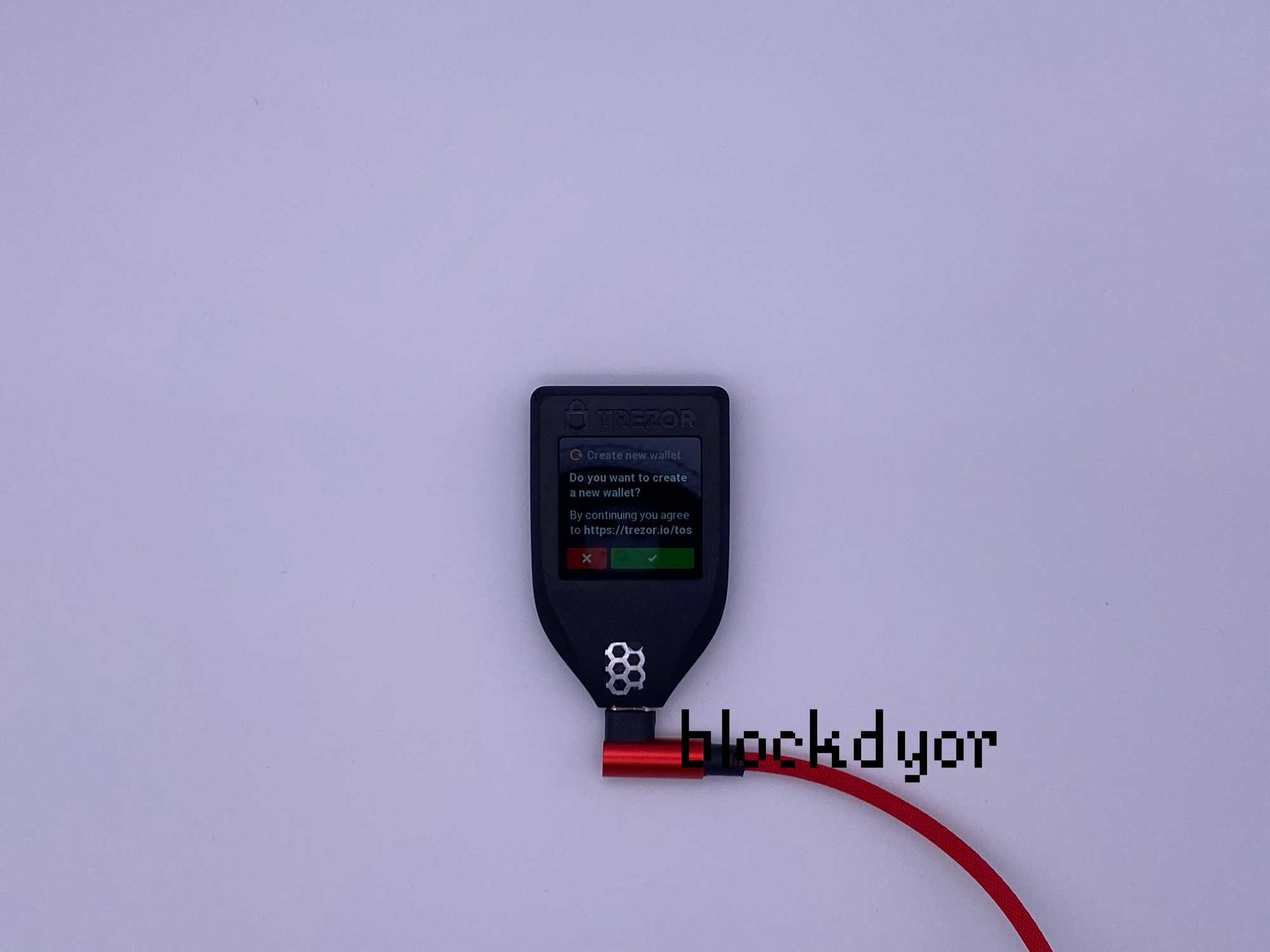 Choose to generate a new wallet. You can also recover a wallet if you already have one.
The device will process your request, and soon you will be brought into the interface.
Finish the onboarding process before sending any coins to the Trezor Model T.
Create and Backup your recovery seed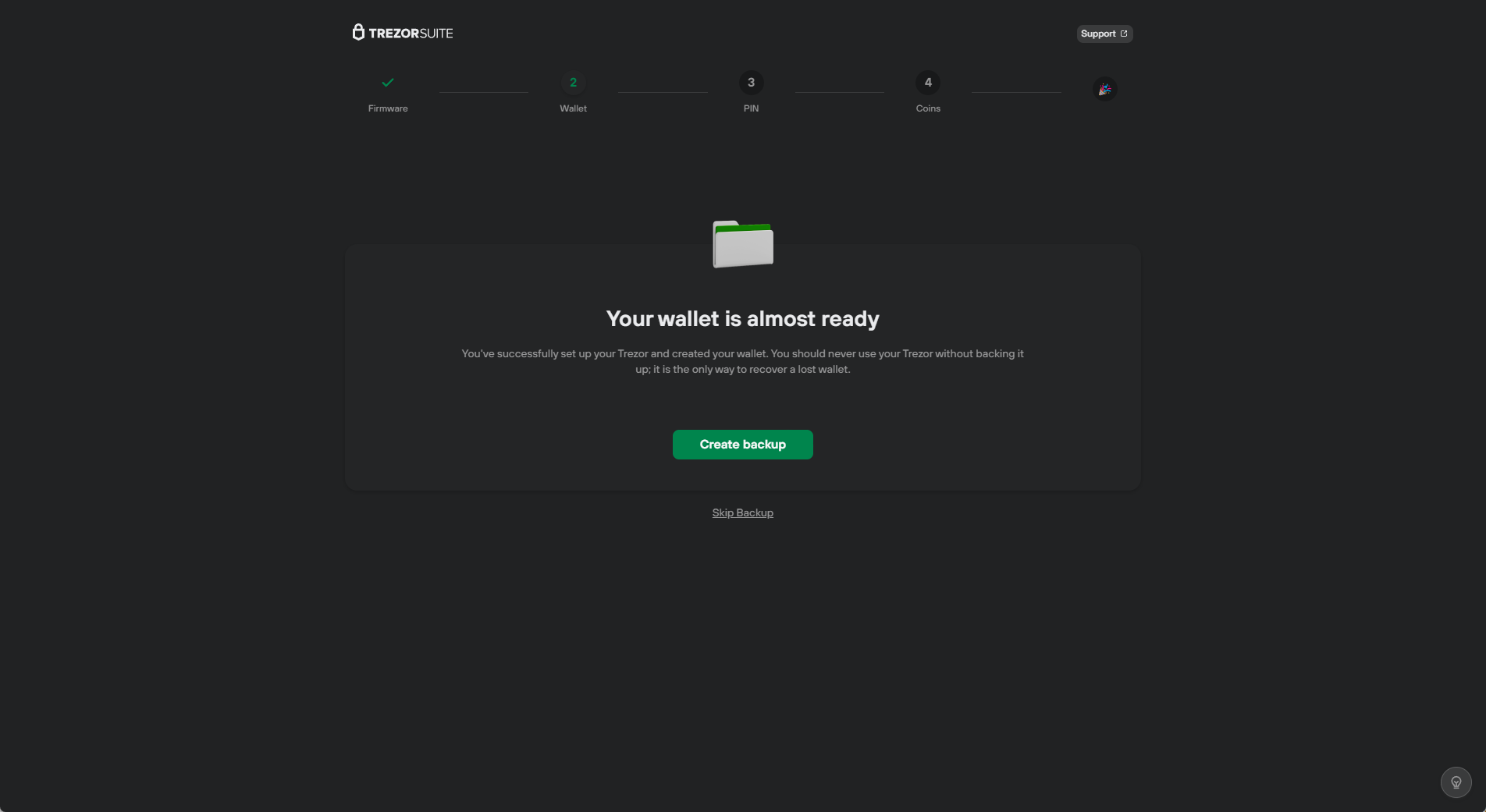 Create the backup of your wallet in the form of your personal recovery seed.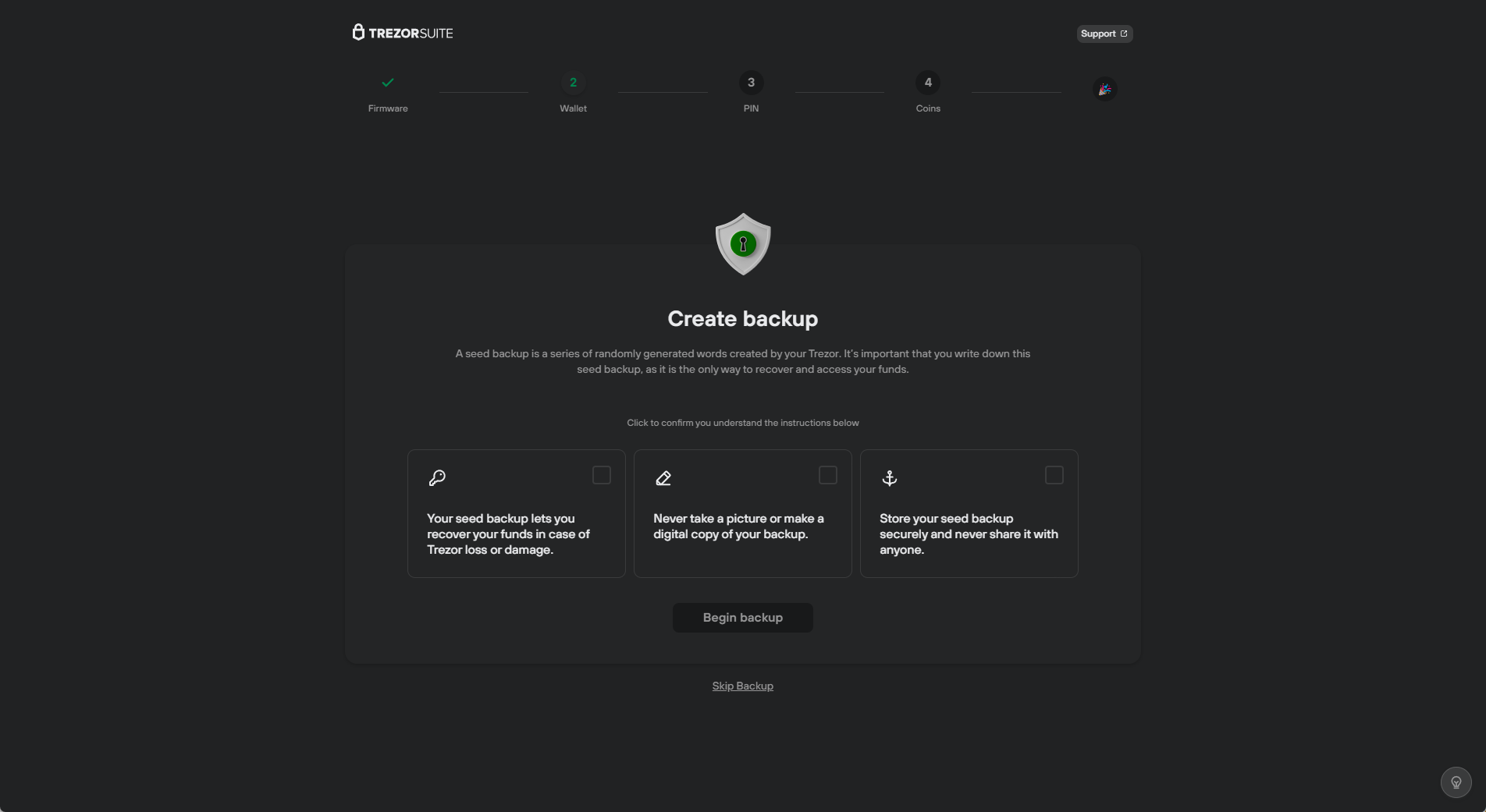 The Trezor Model T generates a unique, 12-word long recovery (BIP 39) seed for you, which will be displayed on the device screen. You can also create hidden wallets by using an additional passphrase, that functions like an additional word added to the 12 words seed phrase.
Swipe to scroll through the words.
After you confirm you finished writing down the words, Trezor will randomly select two words and ask you to retype them on the screen for verification.
Only use permanent pens, or even better markers if using the provided recovery seed cards.
Keep your card with the seed words in a safe location and never store it as a digital copy.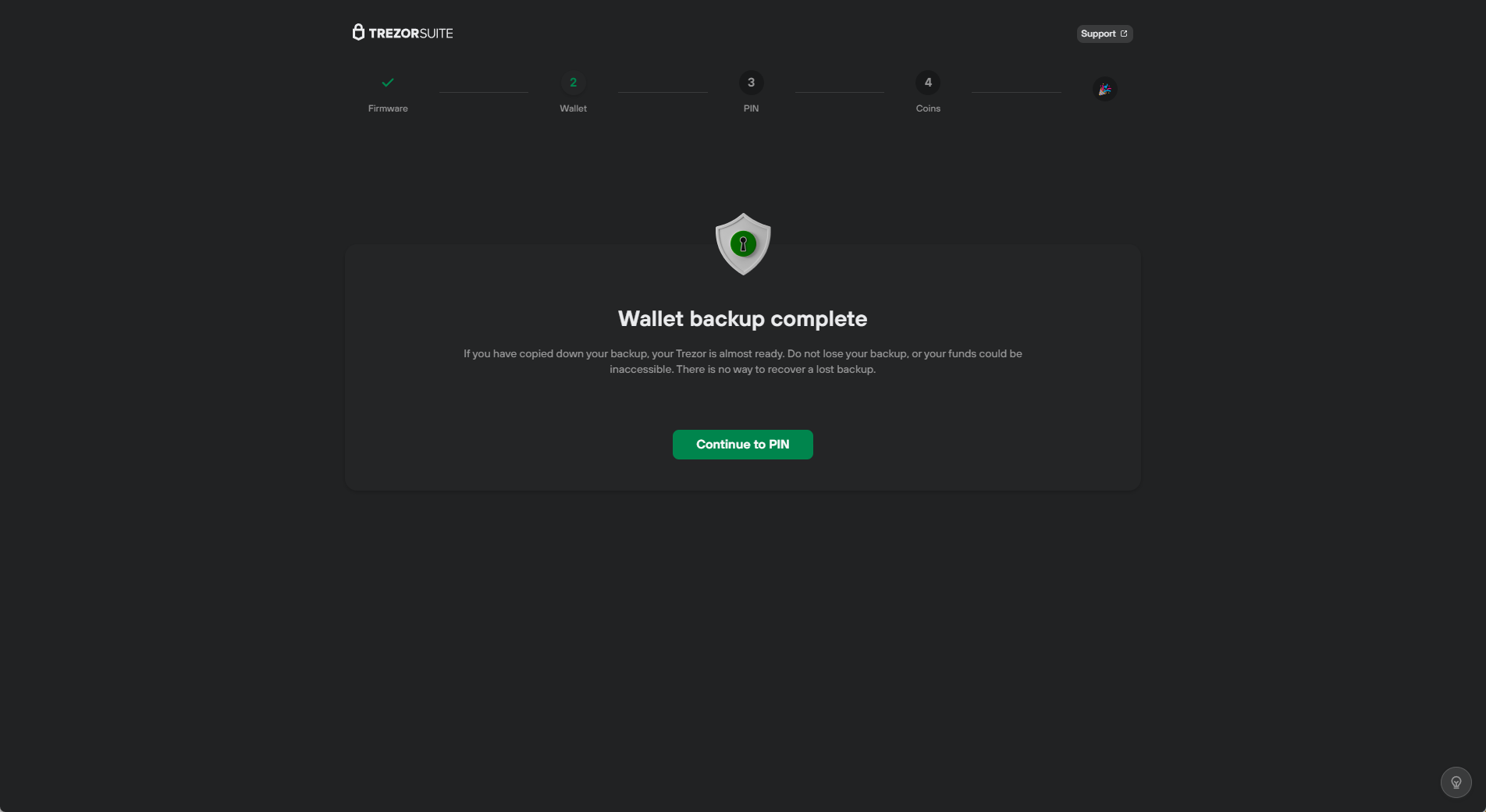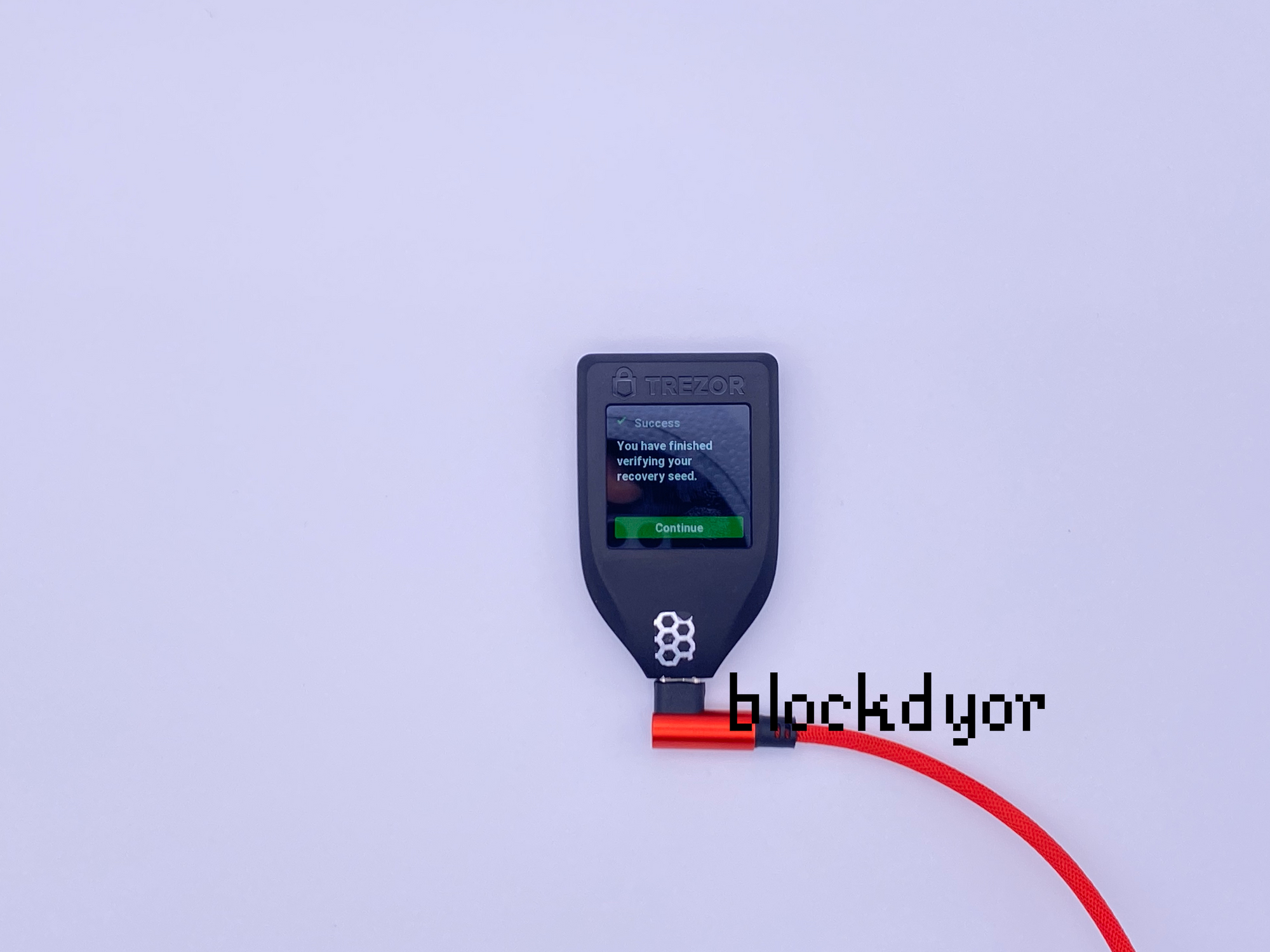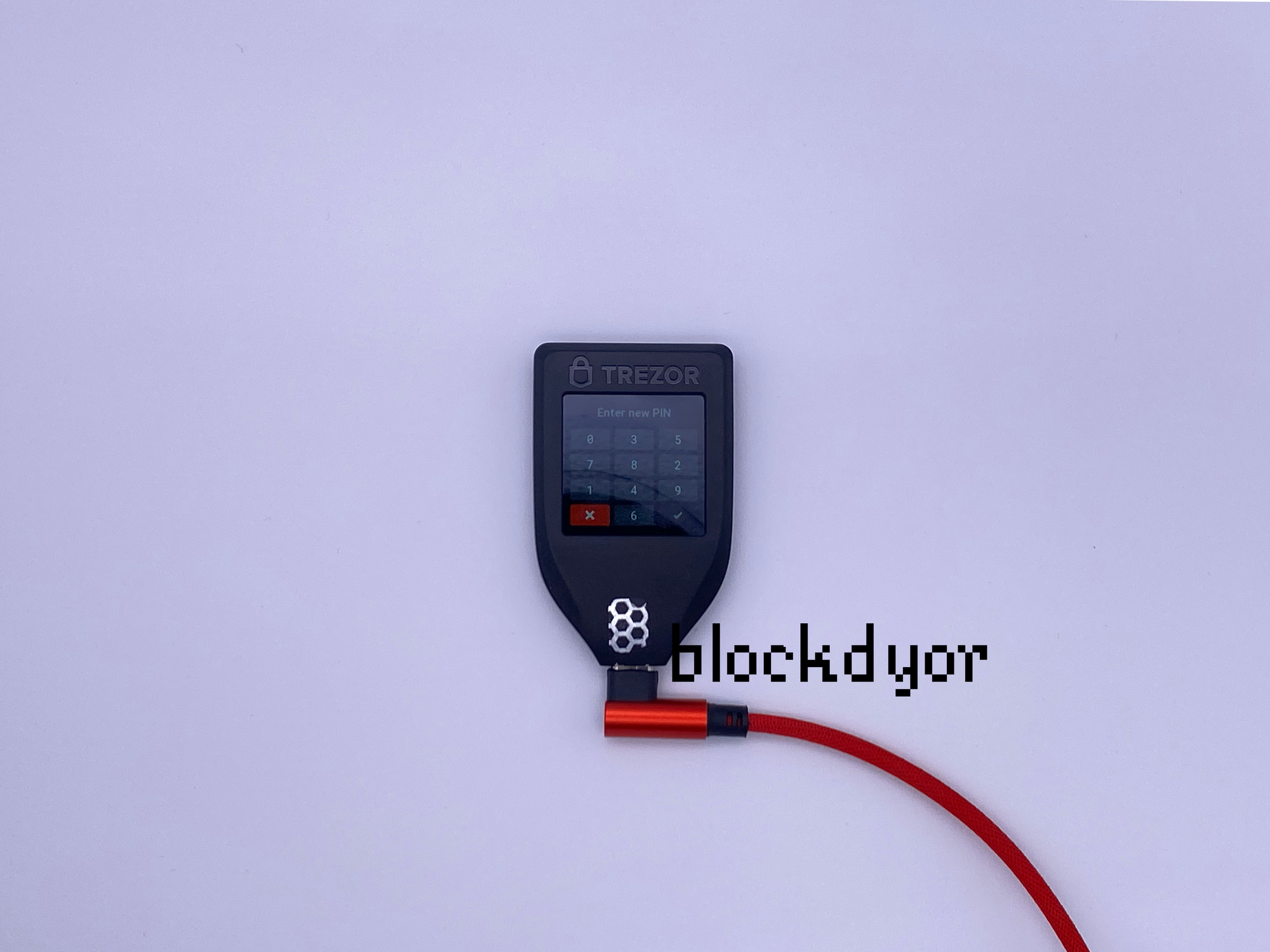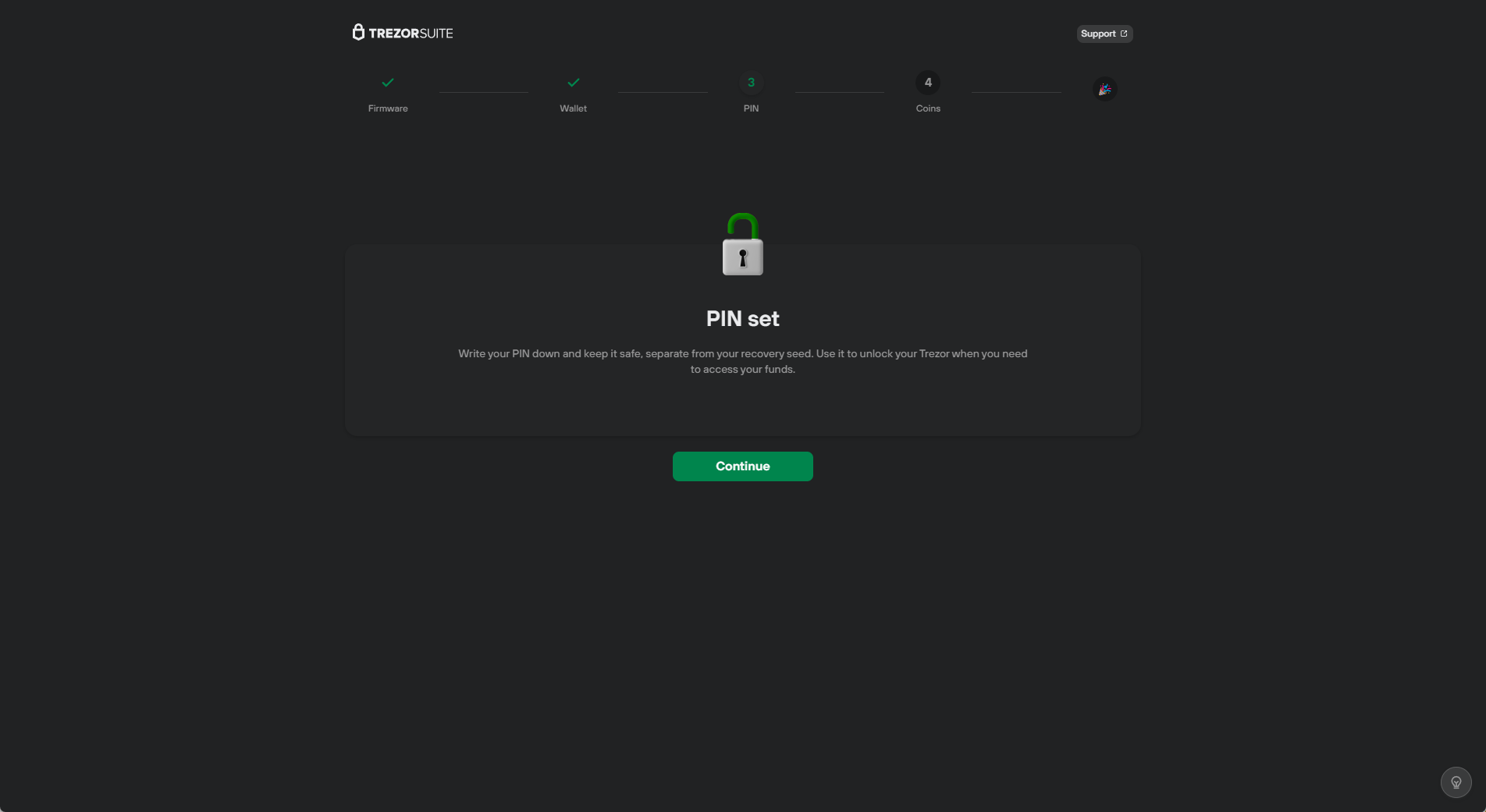 Set up a PIN. Trezor provides the option to set up a PIN for added security. The PIN serves as a security code for the hardware wallet (device), preventing unauthorized access to its contents.
For hidden wallets, Trezor offers also passphrases, which are security codes for hidden wallets, adding an extra layer of protection.
With a standard wallet, just entering the device PIN would grant access to its contents. However, with a hidden wallet, both the device PIN and a passphrase are required for access. This provides additional security, ensuring that your funds remain safe even if your device is lost or stolen. We strongly recommend enabling PIN protection for all Trezor users and selecting a unique and memorable word or phrase for the passphrase.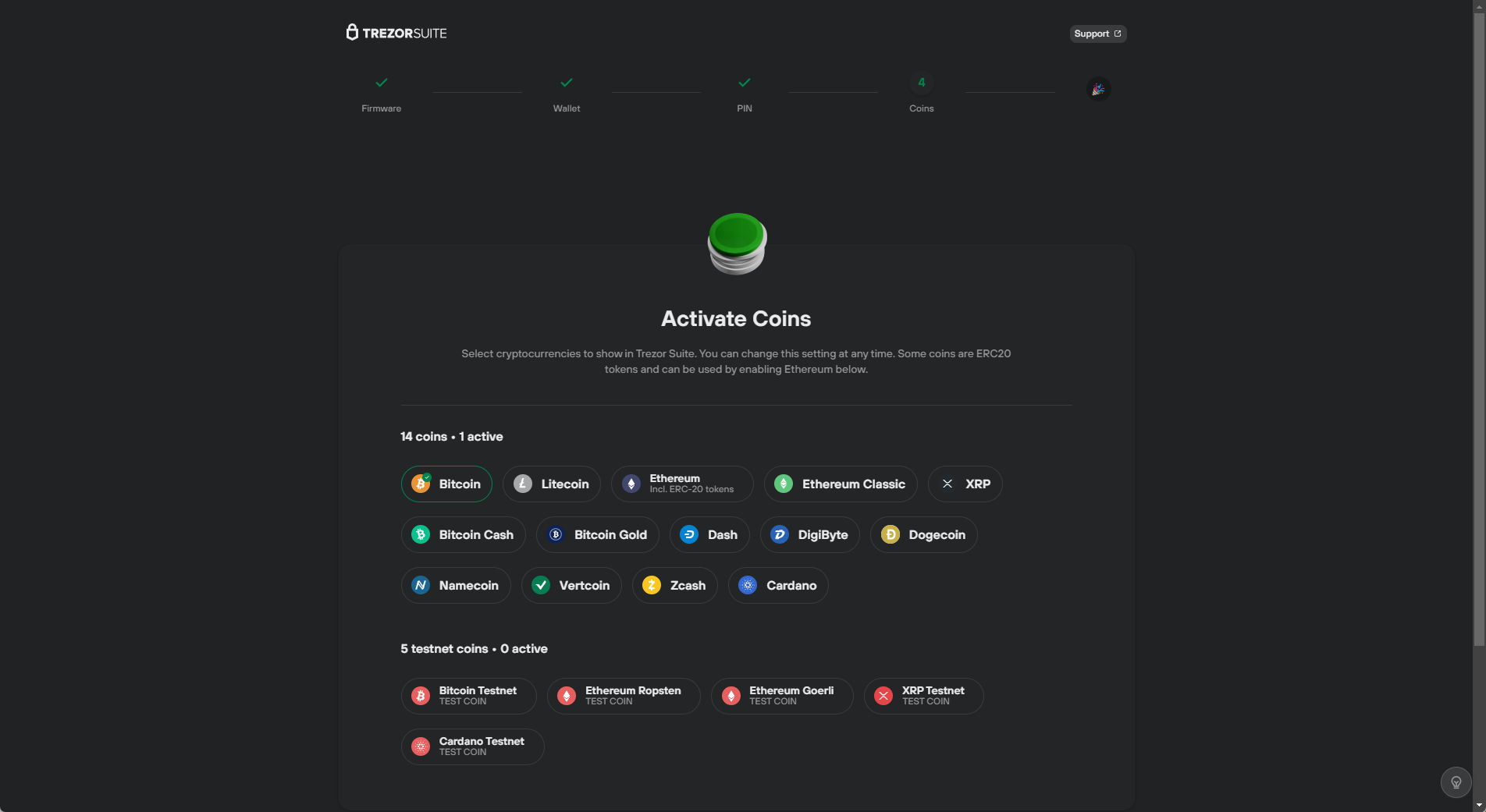 Activate the coins you wish to use. You can change this selection in the future. You can also install custom firmware made by Trezor, made for using Bitcoin only.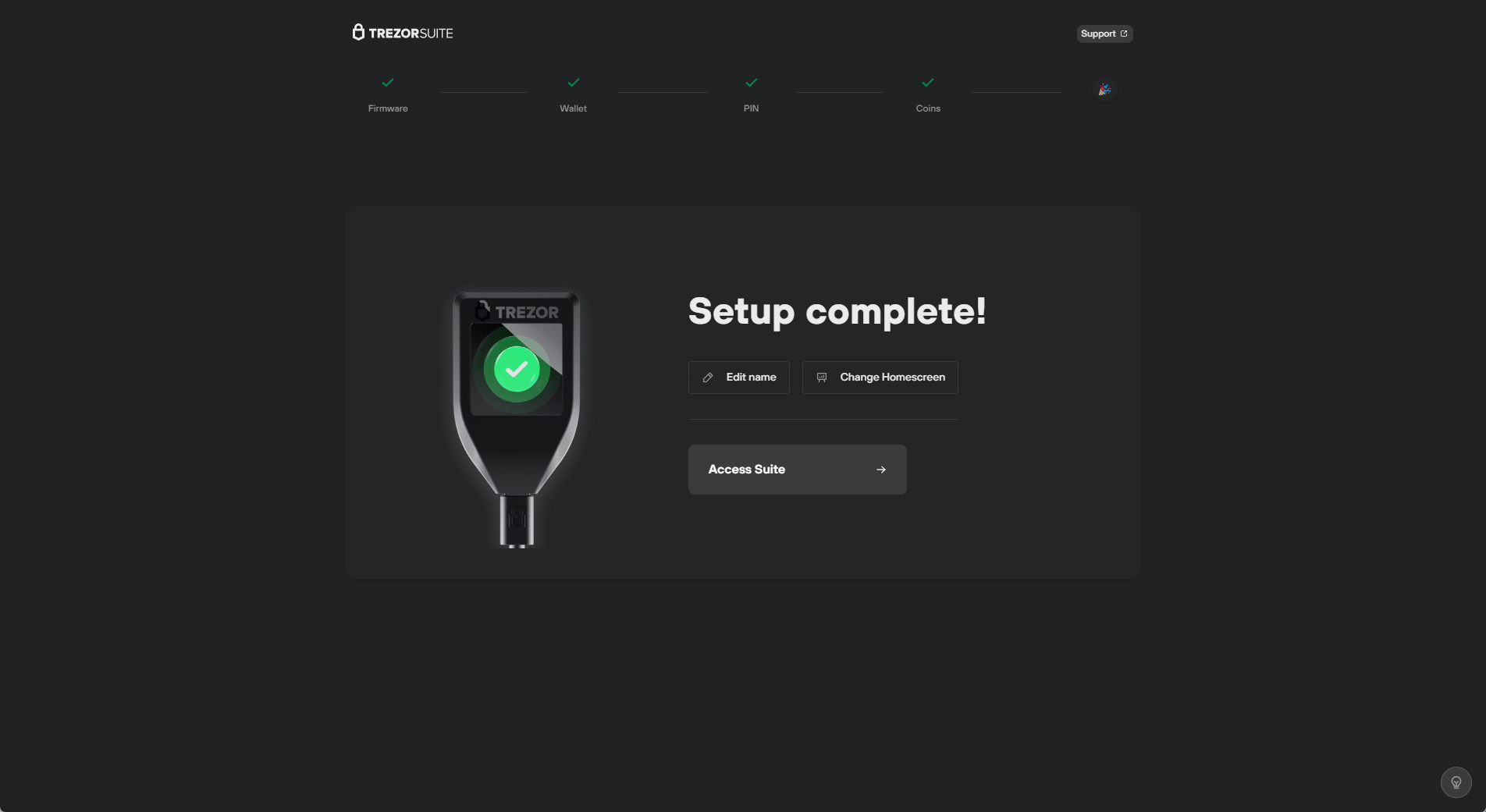 Name your device
Choose a name for your Trezor Model T.
You can also choose a wallpaper.
Congrats! You have now set up your Trezor Model T. Remember to keep your recovery seed and device safe at all times.
How Much does the Trezor Model T Cost?
When it comes to securing your cryptocurrencies, investing in a high-quality hardware wallet is crucial.
While it is true that the price of the Trezor Model T may be considered steep by some, it is important to note that the cost of this wallet is reflective of the advanced features that it offers.
At present, the cost of the Trezor Model T stands at $219 / €203. While this price point may be slightly higher than the Trezor Model One, it is important to note that the Trezor Model T offers a range of additional features that justify its higher cost. Some of these features include a color touchscreen, FIDO2 authentication, encryption via GPG, and Shamir backup, among others.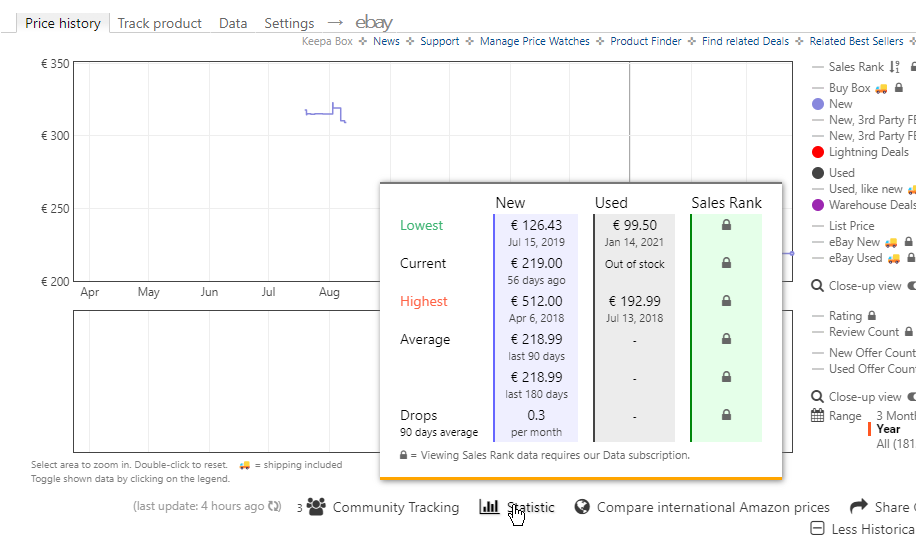 It is worth noting that the price of the Trezor Model T has recently gone down, making it a more accessible option for those looking to invest in a high-quality hardware wallet.
However, even with the reduced price, it may still be sensibly higher compared to other hardware wallets on the market. Nevertheless, investing in the Trezor Model T is well worth the cost, especially when you consider that the majority of people who use hardware wallets are storing cryptocurrencies that are valued much higher than the price of the wallet.
One thing to keep in mind when purchasing the Trezor Model T is that buying it directly from the manufacturer, SatoshiLabs, can be significantly cheaper than purchasing it from other marketplaces such as eBay or Amazon.
So if you are considering investing in the Trezor Model T, it is worth checking out the manufacturer's website first to see if you can get a better deal. All in all, while the Trezor Model T may be slightly more expensive than some of its competitors, its advanced features and robust security measures make it a worthwhile investment for anyone serious about safeguarding their cryptocurrencies.
👉 To get the Trezor Model T on the Trezor official website, click here. Get a 10% off at checkout with the coupon code BLOCKDYOR.
Can the Trezor Model T be Hacked?
When it comes to the security of the Trezor Model T, it's worth noting that it has never been hacked, either remotely or physically. This is not surprising, as hardware wallets in general are very difficult, if not impossible, to hack without physical access to the device.
It's important to understand that the security of hardware wallets comes from their isolation and the use of secure elements that are resistant to physical and electromagnetic attacks. Additionally, Trezor Model T has FIDO2 authentication, encryption via GPG, and Shamir backup, which provides an added layer of security.
While the security of hardware wallets is robust, the rise of quantum computing poses a potential threat to the security of blockchain networks. It's estimated that by 2030, quantum computing could facilitate storage attacks or attacks on in-transit transactions, which could potentially expose users across the blockchain space, including those in the crypto world and the growing user base in Web3 and the metaverse.
However, it's worth noting that the evolution of cryptographic encryption may outpace that of quantum computing, which could help maintain the security of hardware wallets and blockchain networks. Ultimately, while the rise of quantum computing is a concern, it's essential to keep in mind that the security of hardware wallets such as Trezor Model T remains strong, and they continue to be an excellent choice for storing cryptocurrency.
Trezor Model T Features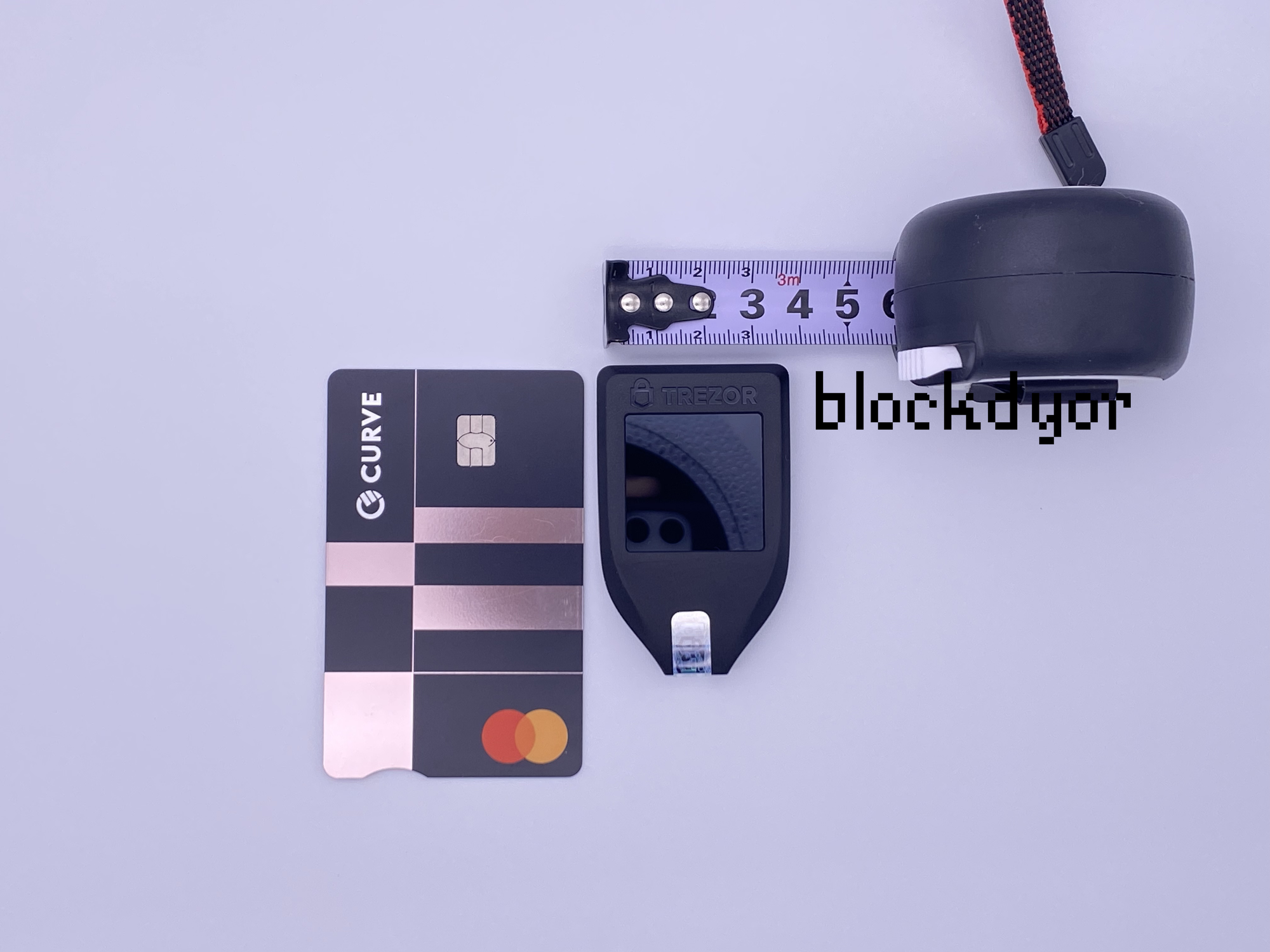 The Trezor Model T is packed with advanced features that make it an essential tool for managing your crypto assets. The 1.54'' color LCD touchscreen ensures a seamless user experience with exceptional device responsiveness. In addition, the Model T comes equipped with a USB-C connection, and supports over 1456 coins and tokens, including Bitcoin, Litecoin, Ethereum (and all ERC-20 tokens), and more.
It also offers unlimited hidden wallets, offline seed generation and backup, Shamir Backup, PIN and passphrase protection, and coin management through the Trezor Suite app (also available as a web app). The sleek and secure design of the Trezor Model T ensures that your assets are always protected, with keys never leaving the device, isolating them from online vulnerabilities.
Furthermore, the Trezor Model T offers digital independence, allowing you to basically be your own bank and take ownership of your data and protect cryptocurrencies, passwords, and other digital keys from hacks and theft. It is a cold storage wallet, authenticator, and digital ID inside an advanced and secure hardware device.
Trezor Suite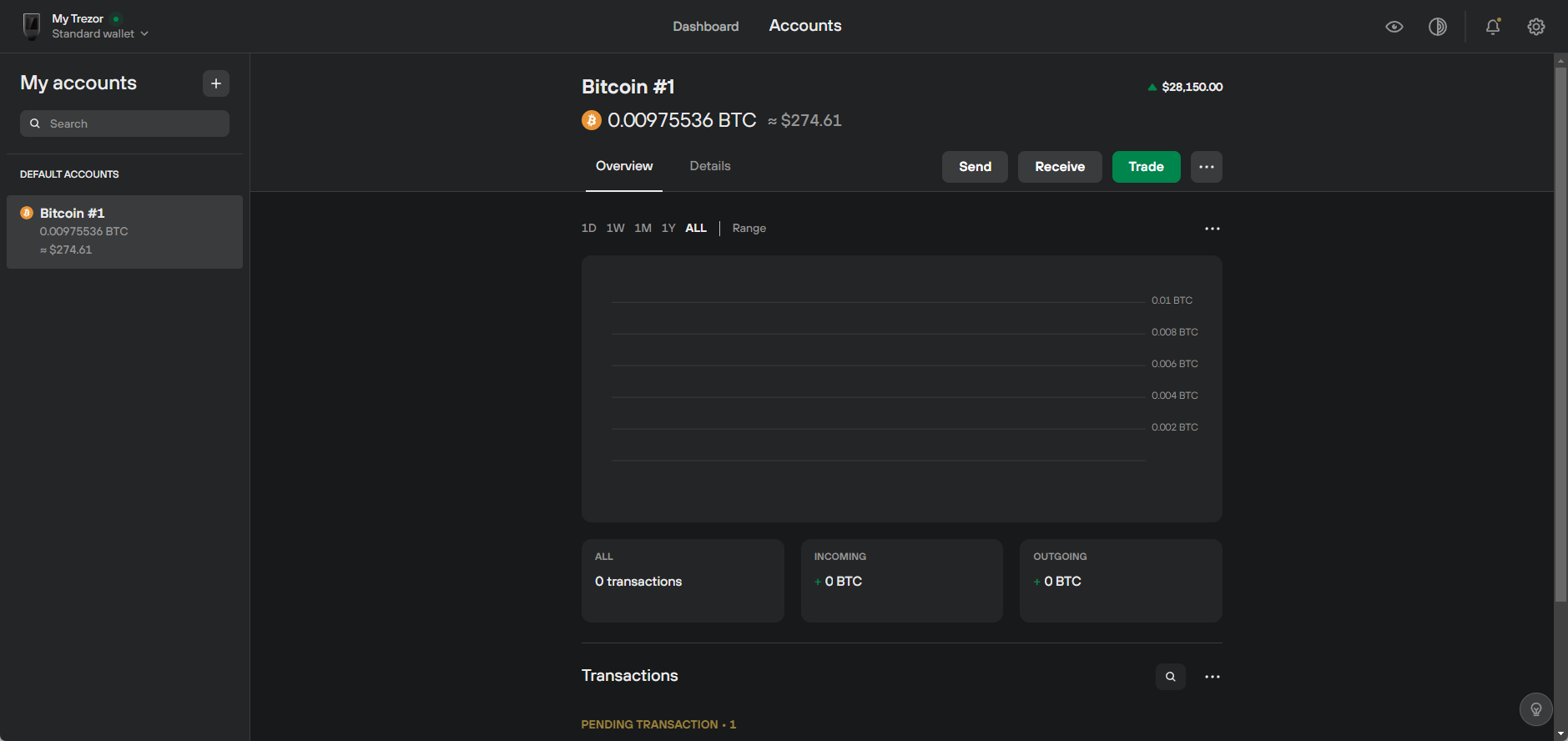 The Trezor Suite desktop app is available for Windows, MacOS and Linux, and also as a web app for supported browsers, which has replaced the old Trezor Wallet browser interface for Trezor hardware wallet users. It gives users the possibility to setup their Trezor hardware wallet and send, receive, and manage their crypto. It's also possible to sign messages (for example: when you need to prove your are the owner of a certain wallet/address) and much more.
Suite is an improved and more powerful interface available for both desktop and web, with advanced privacy features available out of the box.
Trezor Suite has an integrated crypto exchange comparison tool and supports Taproot accounts, which allow for saving on fees on transactions with multiple inputs and improving privacy over time.
The app can be used on Android mobile devices via browser and has privacy features, such as the Tor switch.
Third Party Wallets Compatibility
In addition to the Trezor Suite, there are several independent cryptocurrency wallets and online services that you can use with your Trezor device. These third-party applications let you manage your assets, without compromising the safety of your private keys, as they are always stored on your Trezor device.
How does it work? When you connect your Trezor device to a third-party wallet, it functions in the same way as it does with Trezor Suite. The transaction data is sent to your Trezor device, signed offline, and then passed back out. The Trezor screen ensures that the transaction being signed is correct, protecting you from malicious attacks.
Why use third-party applications?
Coin support: While Trezor Suite and firmware support a vast range of cryptocurrencies, some are however only supported via third-party applications. For instance, Solana is only supported via a third-party app such as Metamask. I am afraid Solana is not supported even with Metamask, right?
Recovering funds without a Trezor device: In case you lose or damage your Trezor device, you can recover your funds using your recovery seed and a third-party wallet. However, this should only be used in emergencies. It's preferable getting a new Trezor device to keep your funds safe at all times.
Extra Features: Third-party applications also provide access to more advanced features such as multisignature (Multisig) and dApps. Additionally, in emergency situations, you can recover your Trezor accounts with a third-party wallet.
Third-Party Wallets: Below are some third-party wallet interfaces that allow you to connect your Trezor device and manage your assets. These wallets do not hold any private keys but display your account balances and help you manage transactions.
Electrum
Exodus
MetaMask
MyEtherWallet
MyCrypto
Third-Party Online Services: These websites allow you to use your Trezor device to access their services without a password, providing an extra layer of security. Some of these services include real-time bitcoin exchange, portfolio managers, and payment processor services.
Bitstamp
Coinmate
Coinmap
Coinpayments
Faa.st
Trezor Model T Accessories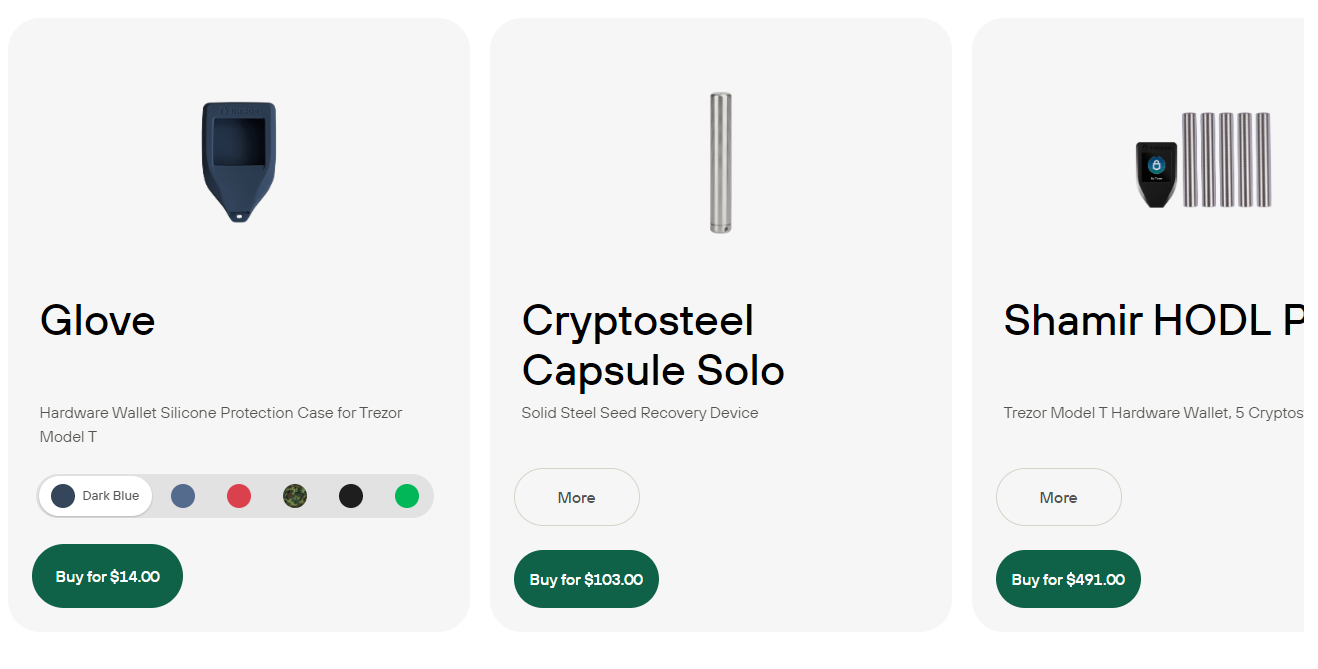 The Trezor Model T comes already equipped with a magnetic holder, cable, seed papers, instructions and several stickers right out of the box, but for the more advanced users, a variety of accessories are also available on the Trezor Shop.
A protective silicone case;
Cryptosteel Capsule Solo for ultimate data security;
Shamir HODL Pack to securely distribute recovery seeds;
A Trezor Lanyard is perfect for those on the move, for attaching to the Model One or the Glove silicone case with the Model T.
Trezor Model T Pros & Cons
| Pros | Cons |
| --- | --- |
| ✅ Evolution of the first-ever hardware wallet | ❌ Some tokens are not supported, others need 3rd party wallets |
| ✅ Open Source | ❌ Doesn't have a Secure Element chip |
| ✅ Great design, touchscreen | ❌ No battery nor wireless connectivity, only tethering |
| ✅ More than a thousand coins natively supported | |
| ✅ Bitcoin-only firmware also available | |
| ✅ Supports the Shamir backup | |
| ✅ PIN and Passphrase (13th, or 25th word of the seed) available | |
| ✅ Never remotely or physically hacked | |
The Model T is a natural evolution of its predecessor, the Model One. It offers top-notch features, including paramount security, ease of use, great design, compatibility with a wide range of coins, and portability. Although the price rose too much in the past, it has since stabilized.
SatoshiLabs plan to launch new models in next years. The company still continues to support and update the Model T like the Model One, and long-term manufacturer support is a significant advantage. The Model T will likely be supported for many years to come.
Shamir Backup, Passphrase and PIN are some of the most significant advantages of this hardware wallet, increasing security and making it a must-have for those seeking maximum coin safety. While the Model T does not natively support all coins, the Bitcoin-only firmware is a nice addition that might interest Bitcoin enthusiasts.
The fact that the Model T is open source provides excellent repairability and long-term support, but it still lacks the secure element chips. Even if Trezor it's working on it with Tropic Square, right now it's not available with this current model.
However, the Model T has never been breached in the past, and also: why trust closed-source hardware with your open-source internet money?
Bottom line
SatoshiLabs places Bitcoin at the forefront of their products, as is evident in their Trezor Model T, which embodies the true Bitcoin vision. If Bitcoin stands for transparency, then the Model T represents self-sovereignty.
This is further supported by an open-source platform, exceptional reparability, long-term support, and a steadfast embrace of the Satoshi Vision. While some may view the lack of battery or wireless connectivity as a disadvantage, it is, in fact, an advantage since these devices are designed to last for decades, and batteries tend to fail, while wireless connectivity poses a risk of hacking.
Additionally, the Model T does not natively support some coins, but third-party wallets are available to bridge that gap. Is the upgrade from the Model One justified by the price? Yes, considering the improved security and ease of use.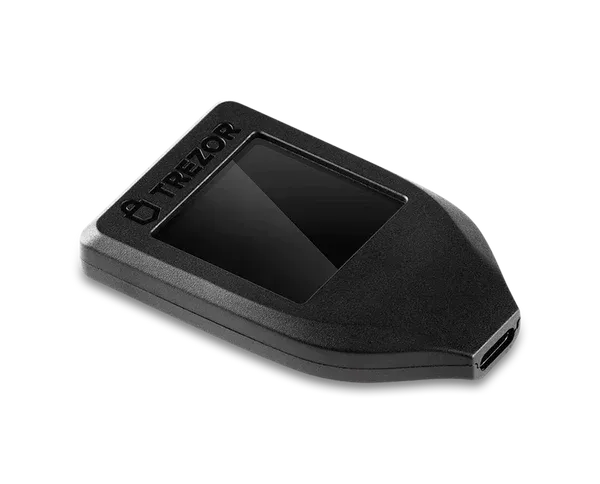 Trezor Model T: Evaluation
Security: When it comes to hardware wallets, the Trezor Model T offers exceptional security features to protect against unauthorized access and theft. Despite lacking a secure element, it has never been hacked and employs the highest level of security available, including Shamir backup, Coinjoin integration, FIDO2 authentication, and GPG encryption. (5/5)

User-friendliness: The Trezor Suite app is user-friendly, with a modern and intuitive design, and the Model T's touchscreen is a great addition while maintaining high security. However, the provided USB Type C cable could be longer, making it challenging to use the wallet on a desktop PC that sits on the floor. (4/5)

Compatibility: With support for over 1400 coins and some newer coins through third-party wallets, the Trezor Model T is compatible with most of the coins natively. However, it lacks dedicated iOS and Android apps and can only be used on desktop computers or with an adapter on Android. (4/5)

Reputation: SatoshiLabs, the company behind Trezor, has a solid reputation for making significant contributions to the open-source community. As the first to develop a hardware wallet before cryptocurrency became mainstream. (5/5)

Cost: While the Trezor Model T comes with a medium-high price point, its unique and additional security features make it well worth the investment, earning a perfect 5/5 rating.. (5/5)
Frequently asked questions (FAQ)
What is the Trezor Model T?
The Trezor Model T is a hardware wallet designed for secure cryptocurrency storage. It is the second generation of Trezor wallets and offers a number of improvements over the original Trezor One, including a larger touchscreen display, faster processing speeds, and support for a wider range of cryptocurrencies.
How do I use the Trezor Model T?
To use the Trezor Model T, you'll first need to set it up by following the instructions that come with the device. Once it's set up, you can connect it to your computer or mobile device using a USB cable or Bluetooth. From there, you can use the device to store your cryptocurrency securely, make transactions, and manage your funds.
Is the Trezor Model T secure?
Yes, the Trezor Model T is designed to be highly secure. It uses a range of security features, including a PIN code, passphrase protection, and two-factor authentication, to protect your cryptocurrency from theft or hacking. Additionally, the device's open-source firmware is regularly audited by independent security researchers to ensure that it is free from vulnerabilities.