Young Platform Review 2023: What It Is And How It Works
Young Platform is a reputable and user-friendly cryptocurrency exchange. With innovative technology and a diverse selection of cryptocurrencies, it caters to both beginners and experienced traders. In this Young Platform Review, I will delve into the various functions of the platform.
What Is Young Platform?
Young Platform is an Italian cryptocurrency exchange focused on English, French, and Italian-speaking users primarily in Europe. This platform provides a user-friendly experience for buying, selling, and trading cryptocurrencies, with traditional currencies such as Euros.
Young Platform goes beyond being a typical exchange; it offers a range of supportive products designed to ease newcomers into the world of cryptocurrencies. For beginners, there are helpful tips and guides to navigate the intricacies of the crypto market. Additionally, they have an innovative app that rewards users with cryptocurrencies simply for walking or participating in quizzes.
For more seasoned traders, Young Platform offers an advanced exchange where they can monitor, buy, and sell various cryptocurrencies and DeFi tokens. This exchange is bolstered by a suite of advanced tools to aid traders in making informed decisions.
In this comprehensive guide, we will explore the core functionalities of Young Platform and assess whether it is a viable solution for investing in cryptocurrencies.
👉 Click here to join Young Platform.
| FEATURE | DESCRIPTION |
| --- | --- |
| 🌐 Website | youngplatform.com |
| 🏙️ Location | Young Platform S.p.a. Via Francesco Cigna 96/17, 10155 Turin (TO), Italy VAT 11931440017 |
| 📅 Year Founded | 2018 |
| 💰 Primary Token | YNG |
| 📈 Listed Crypto | Over 250 cryptocurrencies |
| 💱 Trading Pairs | Over 250 trading pairs |
| 💵 Supported FIAT | EUR |
| 🌍 Supported Countries | EU and Switzerland |
| 💰 Minimum Deposit | N/A |
| 💸 Deposit Fees | 2.2% + 0.25€ with Credit/Debit Card |
| 💰 Daily Buying Limit | N/A |
| 💱 Trading Fees | 0.2% maker/taker model |
| 💸 Withdrawal Fees | 1.99€ for fiat withdrawal to bank transfer. Crypto withdrawal fees are variable based on the coin |
| 📱 Mobile App | Available for iOS and Android |
| 💬 Customer Support | Customer support available through live chat, email and ticket system |
How Young Platform Works
Young Platform is a centralized and custodial exchange that adheres to Know Your Customer (KYC) regulations. Similar to industry giants like Binance and Coinbase, it allows users to purchase Bitcoin and various alternative cryptocurrencies such as Ethereum, Ripple, and Dogecoin.
However, there are certain concerns surrounding the platform. For instance, its native utility token, YNG, has experienced a significant decline of 50% between 2022 and 2023. Despite being an utility token with perks like improved commission rates and other advantages, this decline may raise some eyebrows among investors.
Young Platform caters to different trading needs by offering specialized platforms. For experienced traders, there's Young Platform Pro, while beginners can use the separate app called Young Platform Earn.
In the past, Young Platform provided an Earn solution for generating profits through staking altcoins like Ethereum. However, due to the turbulence witnessed during the 2022 bear markets, this service was suspended.
Young Platform Features
Young Platform offers a range of interesting features and functionalities. Let's explore the main offerings provided by Young Platform:
Crypto Exchange: Young Platform allows you to easily buy or sell Bitcoin and other cryptocurrencies. It offers various fiat offramps/onramps, including bank accounts, credit cards, Apple Pay, and more.
Moneybox: This feature enables you to make recurring crypto purchases and set aside cryptocurrencies that you do not wish to use for trading. These reserved funds are kept separate from your Spot Wallet for convenience and organization.
Young Platform Pro: Young Platform Pro provides a different experience compared to the standard Young Platform. It caters to more experienced users who are familiar with advanced trading tools and functionalities. Both the functionality and interface are optimized for professional trading.
Young Platform Step: Young Platform Step is a separate and free app offered by Young Platform. It serves as a Trading School, allowing users to learn, play, and even win prizes. The app includes an academy where you can follow lessons on blockchain and crypto topics, take quizzes, and earn XP for each lesson completed. By transferring YNG tokens to Young Platform, users can enjoy benefits and fee discounts.
YNG Token: YNG Token serves as the utility token for Young Platform, providing users with several benefits categorized into clubs. These benefits include Fee Discounts, Airdropx participation, Free Deposits, VIP support, and more.
How To Get Started On Young Platform
Getting started on Young Platform is a straightforward process, but it's essential to note that the platform strictly adheres to KYC practices. This means that during the registration, you will need to undergo identification procedures, including a video verification, document scans, and answering personal questions regarding your income.
To begin the registration process, simply click on the provided link to access the Young Platform sign-up page.
👉 Click here to join Young Platform.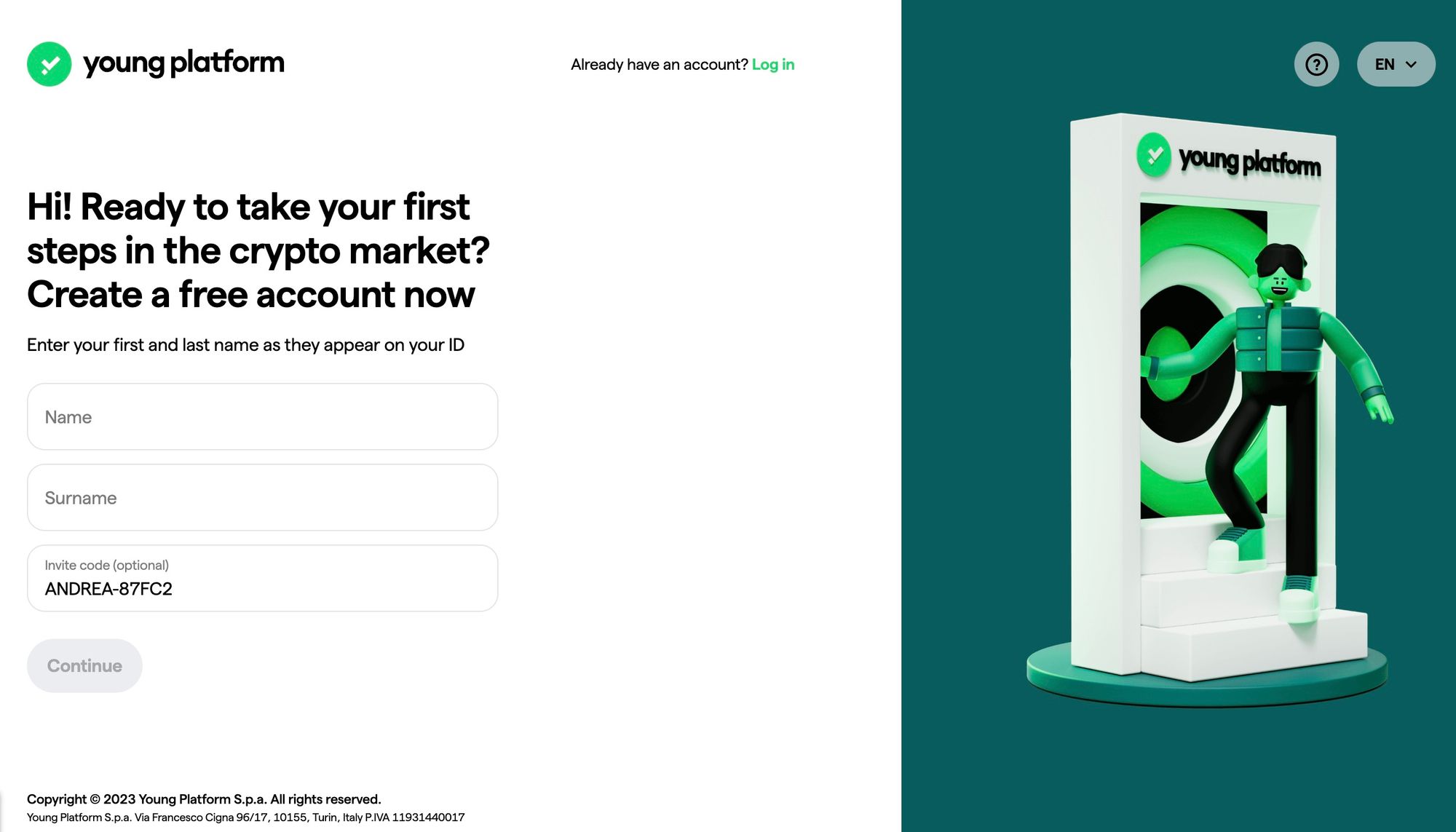 Make sure to check if the ANDREA-87FC2 code is present. Once on the sign-up page, enter your name and surname. Next, you will be required to add and verify your phone number.
As part of the KYC verification phase, you'll need to provide a video recording of your face and submit an identity document for verification. These steps are crucial to ensure compliance with regulatory requirements and security measures.
After completing all the necessary verifications, you will gain full access to the platform and be able to use its features and services.
How To Buy Bitcoin With Young Platform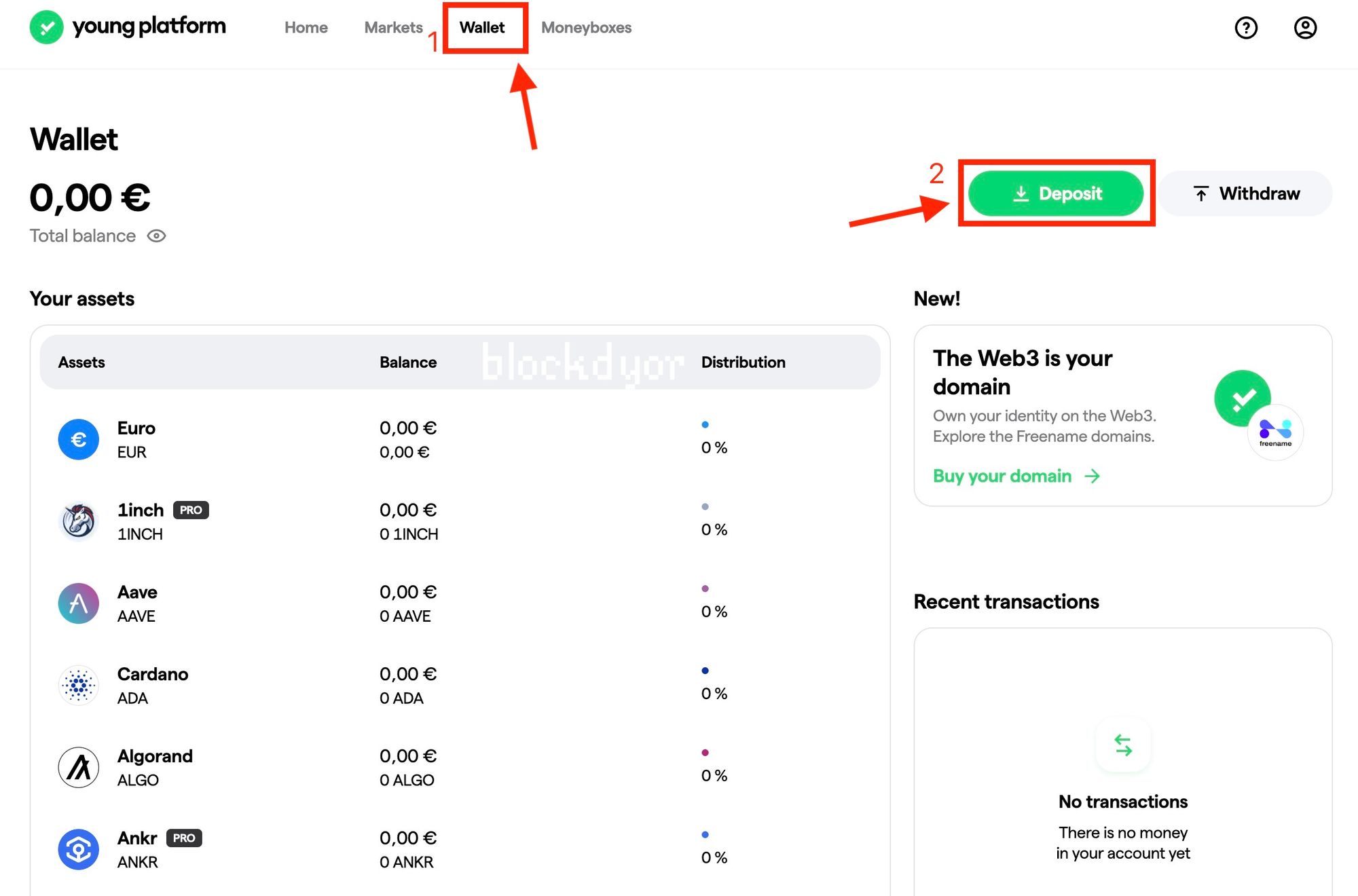 To initiate the process of buying Bitcoin on Young Platform, the first step is to deposit fiat currency into your account. Follow these simple steps to accomplish this:
Log in to your Young Platform account using your credentials.
Once logged in, navigate to the "Wallet" section of the platform (1).
In the wallet section, you will find the option labeled "Deposit" (2). Click on it to proceed.
Select the fiat currency you wish to deposit into your account. Young Platform supports only one fiat options: EUR. But it can also support deposits in cryptos like ETH, XRP etc.
Follow the provided instructions to complete the deposit process. Depending on your preferred payment method, you may need to link your bank account, credit card, or use other available payment options.
After successfully depositing fiat into your Young Platform account, you will have funds available to buy Bitcoin and other cryptocurrencies.
Is Young Platform safe?
Prior to registering on any service, it is crucial to ascertain its safety and reliability. Italian exchanges have faced challenges in the past, with instances like The Rock Trading going bankrupt recently. However, it's essential to note that Young Platform is a separate entity and has no connection to failed exchanges.
Regarding regulatory information, the cryptocurrency industry in Italy remains somewhat "unregulated." While searching for Young Platform's authorization and regulation details, I found limited information. However, on their official blog, it was mentioned that they have obtained the Autorité des Marchés Financiers (AMF) license, allowing them to operate in France.
During my practical test of Young Platform, I did not encounter any irregularities. The platform is well-structured, and all its functions are easily accessible and user-friendly.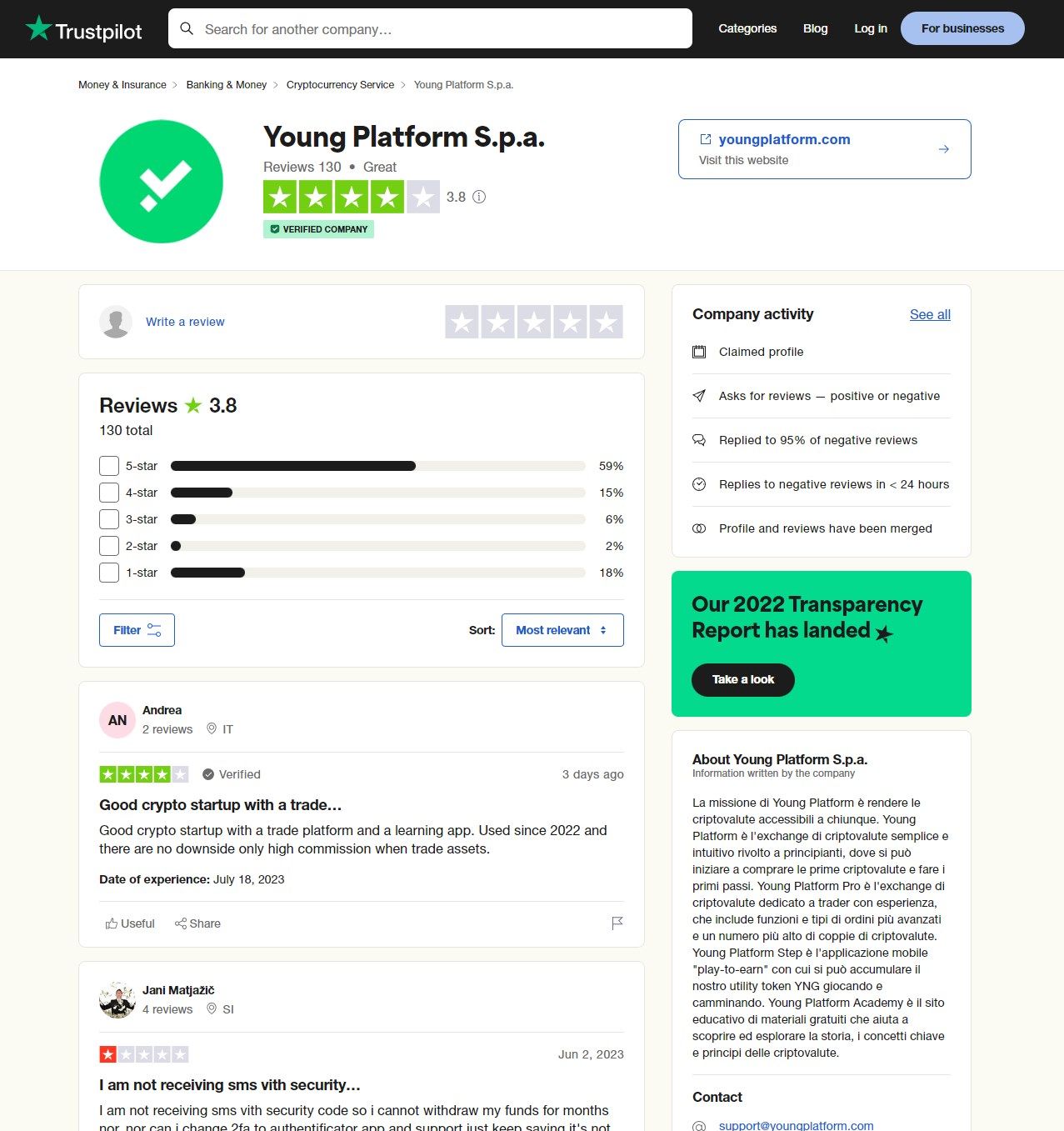 Additionally, looking at reviews on Trustpilot, Young Platform demonstrates considerable commitment, with over 130 reviews and an average rating of 4 out of 5 stars. This positive feedback is commendable, particularly for an Italian broker that primarily serves the European market.
Young Platform Fees
With centralized and KYC exchanges, low fees are one of the main advantage compared to P2P and no KYC exchanges. So it's quite important to check out that fees are low.
Trading Fees
Regarding the trading on Young Platform there are two main fees structure, the ones connected with the standard platform, and the other associated with Young Platform Pro, the service more tailored for trading with a pro platform. You can access to the Pro version just by a click and without the need to register a new account, as it's all connected.
| Transaction Type | Commission Rate (Young Platform Standard) | Commission Rate (Young Platform Pro) |
| --- | --- | --- |
| Euro to Cryptocurrency | 2.5% | 0.2% |
| Cryptocurrency to Euro | 2.5% | 0.2% |
| Cryptocurrency to Cryptocurrency | 1.35% | 0.2% |
| Euro to Young (Yng) | 1% | 0.2% |
| Young (Yng) to Euro | 1% | 0.2% |
Withdrawal/Deposit Fees
Withdrawal Fees:
| Transaction Type | Withdrawal Fees |
| --- | --- |
| Withdrawal with bank transfer | 1.99€ |
| Withdrawal with Bitcoin | 0.0002 BTC + network fees |
| Withdrawal with Ethereum | 0.0025 ETH + network fees |
| Withdrawal with Tether | 5 USDT + network fees |
Deposit Fees:
| Transaction Type | Deposit Fees |
| --- | --- |
| Deposit with Crypto | 0 fees |
| Deposit with Payment Card | 2.2% + 0.25€ |
| Deposit Italian bank transfer | 0 fees |
| Deposit Non-Italian bank transfer | 0 fees |
Young Platform Alternatives
There are numerous alternatives to Young Platform in the crowded crypto exchange landscape, as many platforms enforce Know Your Customer (KYC) procedures. Let's explore two standout platforms that excel in various aspects:
Binance stands out as a prominent crypto exchange, accommodating a wide range of users due to its robust features and services.
The platform offers a user-friendly interface suitable for both novices and experienced traders.
Binance provides not only a Simple View for beginners but also an advanced view with sophisticated trading tools for seasoned traders.
With its extensive liquidity, Binance is recognized as one of the largest and most active exchanges worldwide.
The exchange supports an extensive selection of cryptocurrencies, facilitating diverse trading options for users.
Kraken is another top-tier exchange that has earned its reputation in the market.
It offers both a standard and a Pro platform to cater to different user preferences and trading needs.
With its recurring buying solution, Kraken provides users with a convenient option for regular cryptocurrency purchases.
Kraken is known for prioritizing security, which has contributed to its strong user trust and confidence.
The platform offers a diverse range of cryptocurrencies and trading pairs, enhancing trading opportunities for its users.
Both Binance and Kraken are interesting choices, each offering unique strengths and advantages for a diverse user base.
Young Platform Pros & Cons
| Pros | Cons |
| --- | --- |
| ✅ Wide selection of cryptocurrencies | ❌ Mandatory KYC |
| ✅ Easy to use interface | ❌ Limited availability in certain regions |
| ✅ Recurring crypto purchase feature | ❌ Limited regulatory information |
| ✅ Separate app for advanced traders (Young Platform Pro) | |
Bottom Line
In conclusion, Young Platform presents itself as a competitive option in the cryptocurrency exchange market. With its user-friendly interface, diverse selection of cryptocurrencies, and unique features like the Moneybox and Young Platform Pro, it caters to both beginners and experienced traders.
However, potential users should be aware of the platform's limited regulatory information, the stability of their utility token, and certain fees associated with specific transactions.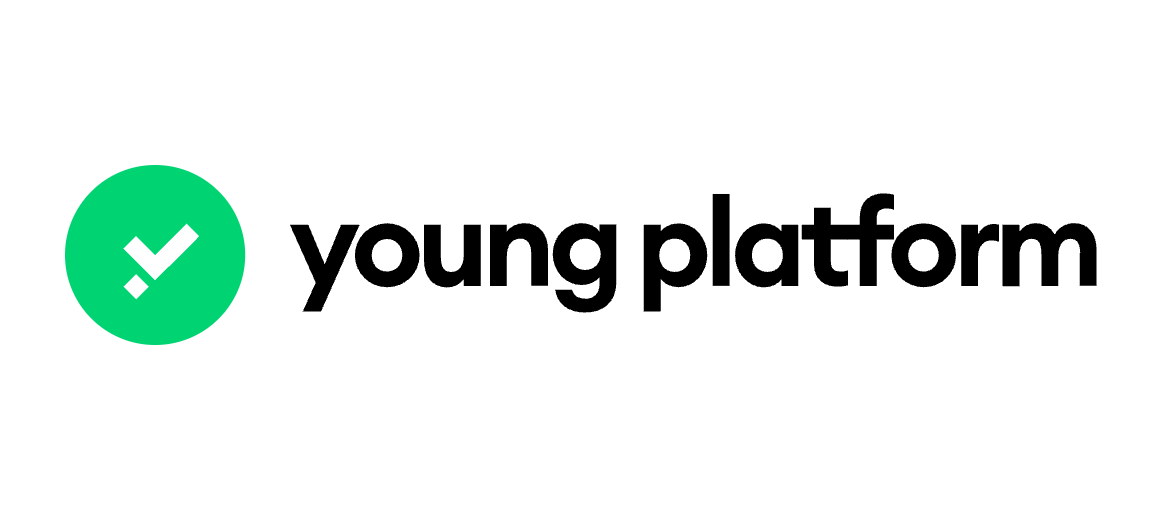 Young Platform Evaluation
Reputation: Young Platform has gained a positive reputation as a European solution. Being probably the only onewell-established italian crypto brokers, it has earned the trust of users. However, it's important to stay updated on any potential developments in their security practices. Considering this, we award Young Platform 4/5 stars.
Technology: Young Platform's platform stands out with its innovative and user-friendly approach. Embracing a "less is more" philosophy, and with a complete academy service, it appeals to beginners and simplifies the trading process. We believe Young Platform's technology deserves a top score of 5/5.
Customer Service: Young Platform provides comprehensive documentation, email support, a ticket system, and a chat system on their website. While these options cover most support needs, the unavailability of phone support for urgent matters may be a drawback. Taking this into consideration, we rate their customer service 4/5.
Fees: Young Platform boasts competitive fee structures, offering some services with no fees. However, it's important to consider that certain transactions may have floating spreads based on market conditions. As such, the actual cost may vary. We assign Young Platform a rating of 3/5 for fees.
Ease of Use: Initially, the trading platform on Young Platform may present some challenges, but with familiarity, its simplicity becomes a notable strength. We give Young Platform a score of 4/5 for ease of use.
Frequently Asked Questions (FAQ)
What is Young Platform?
Young Platform is a cryptocurrency exchange that allows users to buy, sell, and trade a wide range of cryptocurrencies. It offers features like the Moneybox for recurring purchases and Young Platform Pro for advanced trading tools.
Does Young Platform require KYC verification?
Yes, Young Platform enforces Know Your Customer (KYC) practices, requiring users to undergo identification procedures. This includes video verification, document scans, and answering personal questions about income for compliance and security purposes.
Are there any fees associated with deposits and withdrawals on Young Platform?
Yes, Young Platform charges certain fees for deposits and withdrawals. For example, depositing with a payment card incurs a fee of 2.2% + 0.25€, while withdrawals with bank transfers are subject to a fee of 1.99€. However, depositing with cryptocurrencies has no fees, and withdrawal fees for cryptocurrencies depend on the specific coin and network fees.