Uphold Review 2023: Features, Fees, Pros & Cons
In this review we analyze Uphold, an exchange with an extensive selection of cryptocurrencies but also includes precious metals, national currencies, and U.S. equities within its portfolio.
What is Uphold?
Uphold it's not a traditional crypto exchange, as you can easily buy, sell, and trade a variety of assets like cryptocurrencies but also precious metals, traditional currencies, and U.S. stocks.
But what sets Uphold apart from the other exchanges it's not just the presence of commodities, but also the cross-asset trading functionality. Users have the flexibility to trade between any of the assets available, enabling the exchange of a cryptocurrency for a stock or a precious metal for a foreign currency.
Alongside its wide markets portfolio, Uphold extends a range of additional financial services, which include the Uphold Card, Staking, Fee-free Payments and much more.
Uphold's comprehensive suite of services is able to appeal to the diverse needs of individuals and businesses, affording them a refined and 360 degrees platform for managing their financial assets with high ease and efficiency.
👉 Click here to open an account on Uphold and start trading with zero fees .
| FEATURE | DESCRIPTION |
| --- | --- |
| 🌐 Website | Uphold.com |
| 🏙️ Location | Uphold Lithuania UAB, registry code 305967101, Registered Office: Upės g. 23-1, Vilnius, Lithuania |
| 📅 Year Founded | 2013 |
| 💰 Primary Token | Not specified |
| 📈 Listed Crypto | Over 250 cryptocurrencies |
| 💱 Trading Pairs | Over 250 trading pairs |
| 💵 Supported FIAT | 25+ |
| 🌍 Supported Countries | 184+ countries |
| 💰 Minimum Deposit | $10 |
| 💸 Deposit Fees | No deposit fees |
| 💰 Daily Buying Limit | Varies based on verification level |
| 💱 Trading Fees | No trading fees (spread-based model) |
| 💸 Withdrawal Fees | No withdrawal fees (standard network fees for crypto) |
| 📱 Mobile App | Available for iOS and Android |
| 💬 Customer Support | 24/7 customer support available through live chat, email |
Uphold Disclaimer: Asset availability on the Uphold platform is subject to region. All investments and trading are risky, and may result in the loss of capital. Cryptoassets are largely unregulated and are not subject to protection.
Getting Started with Uphold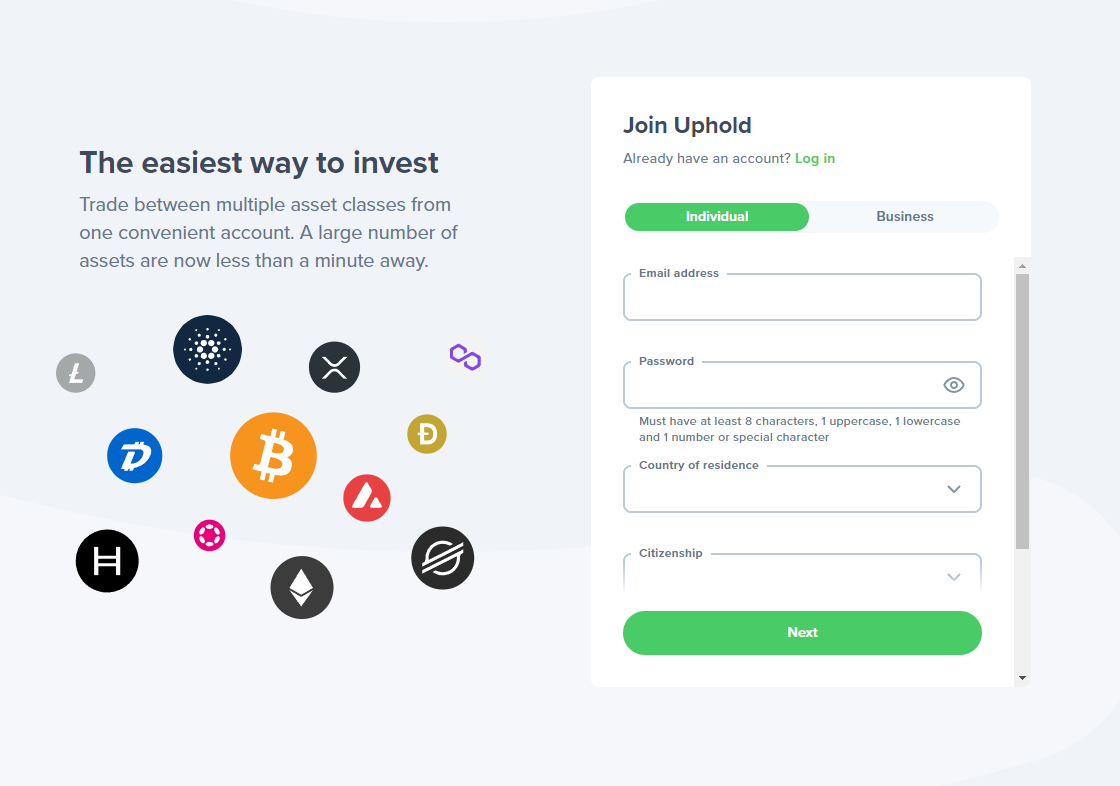 To begin using Uphold, the first step is to open an account. There are two types of accounts available: Individual and Business. If you're not a business owner or prefer not to register as one, simply choose the Individual account option.
Registration
Register using the following link:
👉 Click here to open an account on Uphold and start trading with zero fees .
Uphold Disclaimer: Asset availability on the Uphold platform is subject to region. All investments and trading are risky, and may result in the loss of capital. Cryptoassets are largely unregulated and are not subject to protection.
During the account setup, you'll need to provide your email address, create a password, indicate your country of residence and citizenship, and agree to Uphold's terms and conditions.
These steps ensure a smooth registration process and allow you to access Uphold's features for buying, selling, and trading various assets with ease.
Email verification
Once you have entered all the required information accurately and clicked the "Next" button, the next step is to verify your email address.
A verification email will be sent to the email address provided during the account setup. It is essential to check both your inbox and spam folder for this email and click on the Uphold email verification button to complete the process.
Verifying your email is important for account security and communication purposes.
KYC
After the email verification, you will have to start the KYC (Know Your Customer) verification process. This verification is mandatory if you wish to engage in buying or selling assets on the Uphold exchange.
KYC verification involves providing additional personal information and supporting documents to verify your identity and comply with regulatory requirements. This step ensures a secure and compliant trading environment, protecting both Uphold and its users from fraudulent activities.
By successfully completing the KYC verification, you will gain access to the full ecosystem features and functionalities Uphold offers, including the ability to buy and sell assets within the platform.
Uphold Features and Services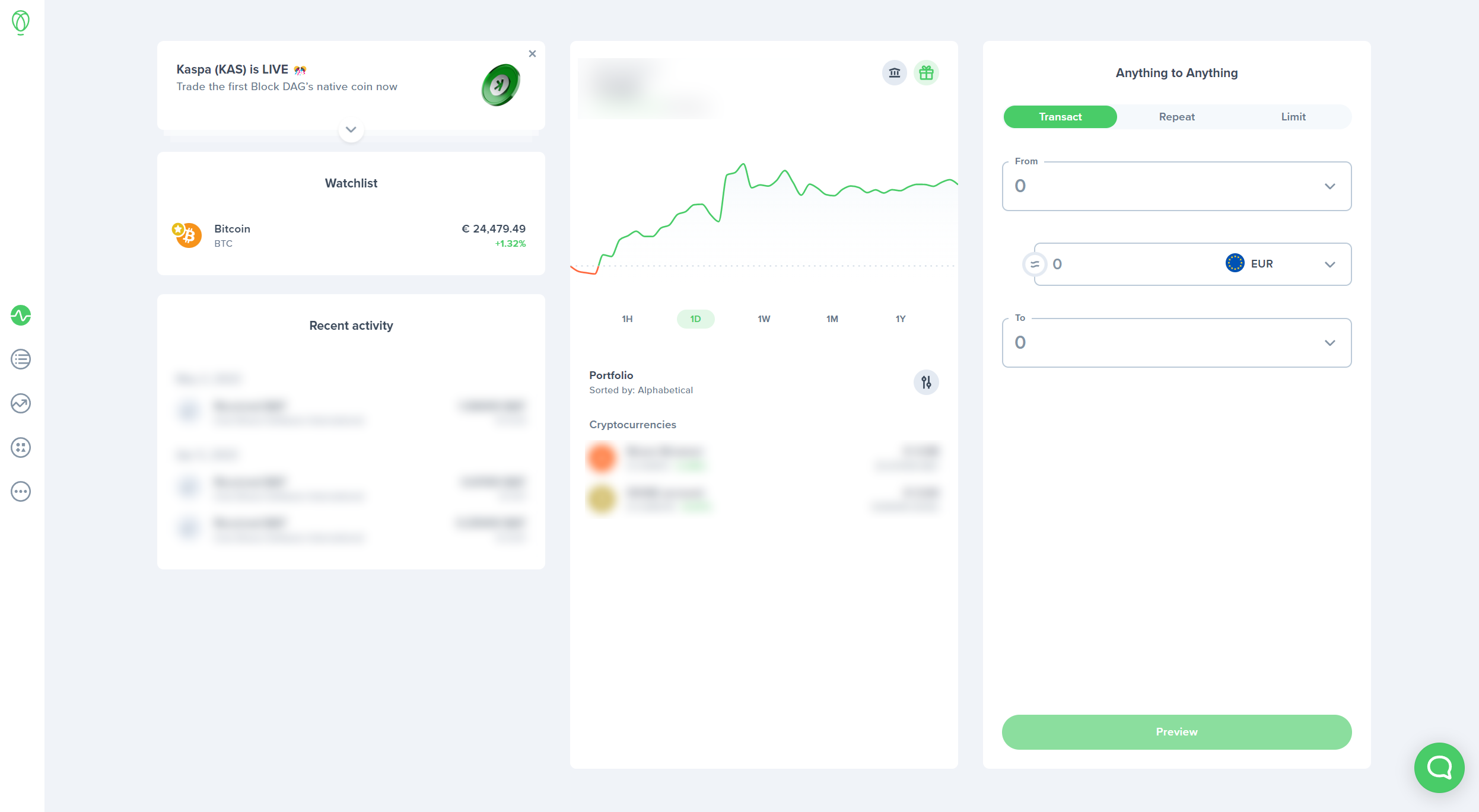 Once you have successfully completed the registration process and KYC verification, you are ready to start on your Uphold journey. Let's have a look at the most important Uphold functions and features.
Portfolio
The homepage of the Uphold interface is quite simple and offering various features. In the default view (called "Portfolio"), you will find:
Watchlist: This convenient feature allows you to keep a close eye on your selected assets, enabling you to monitor their performance and stay updated on market trends;
Recent Activity: Uphold keeps you informed by displaying your recent transactions and activities, ensuring you have a clear overview of your account's history;
Portfolio: Here, you can effortlessly track the performance of your holdings. Uphold presents a comprehensive snapshot of your assets, giving you valuable insights into their value and composition;
Fast Trading Interface: Uphold simplifies the buying and selling process with a user-friendly trading interface. You can swiftly transact, repeat transactions, and set limits to execute trades at your desired target price. This feature empowers you to take advantage of market opportunities and make informed decisions with ease.
With these essential features, Uphold offers a streamlined and intuitive user experience, providing you with the tools and functionality to navigate the platform effectively and engage in easy asset transactions.
Activity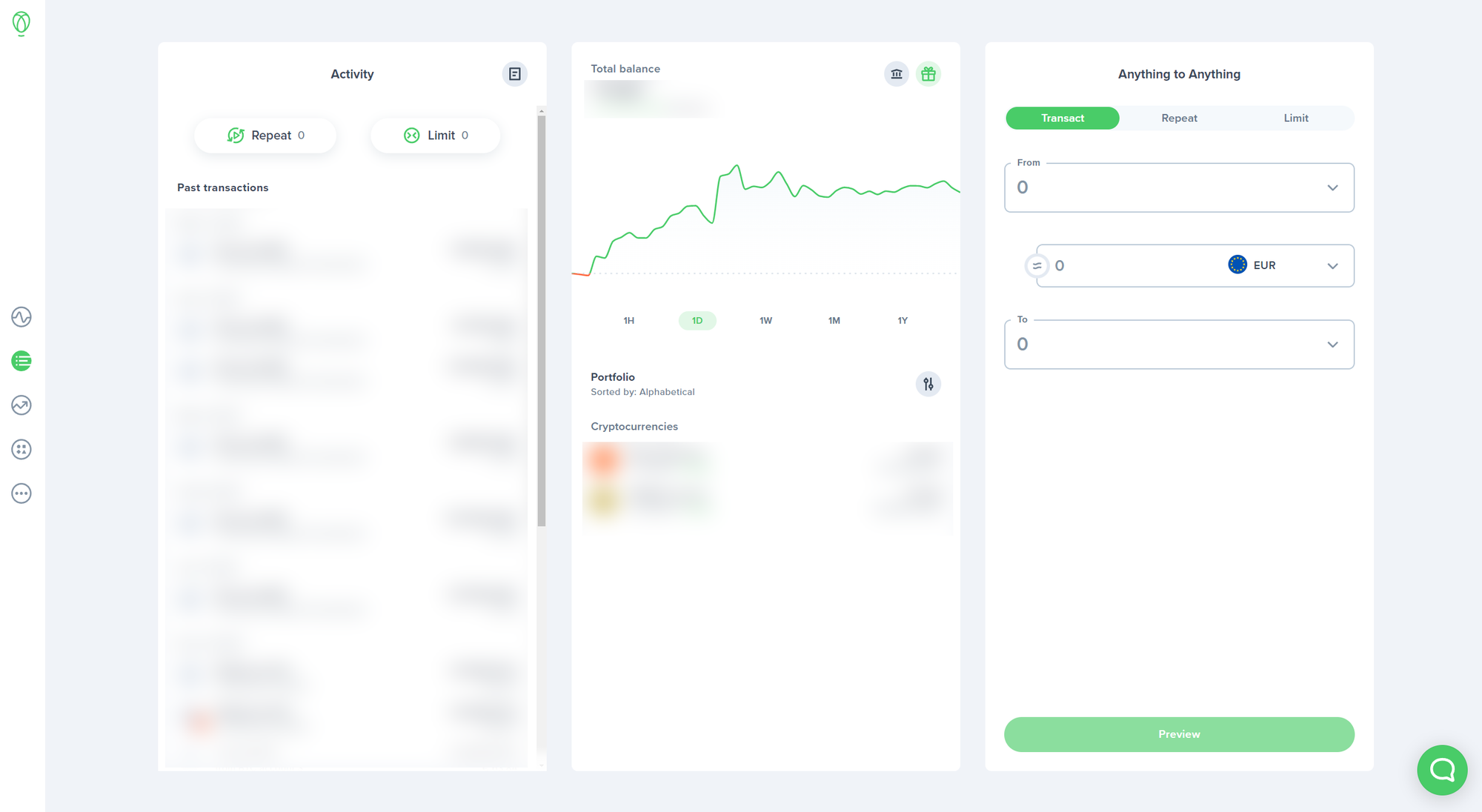 Uphold provides users with a sidebar located on the left side of the platform, for an easy navigation through its most important functions. By utilizing the sidebar, users can easily access and explore the most important features of the platform.
One of the notable features accessible through the sidebar is the "Activity" tab. By clicking on this tab, users are presented with a comprehensive overview of the latest movements and transactions within their Uphold account. This section allows users to stay updated on the recent activity within their account, providing them with valuable insights and information.
Within the "Activity" tab, users can delve deeper into their account history by clicking on any of the past transactions. This action opens a detailed view of each transaction, offering users a more comprehensive breakdown of the specific transaction details. This includes information such as transaction type, asset involved, dates, amounts, fees, and any additional notes or memos associated with the transaction.
In addition to the Activity tab, users will find a "Limit" button located on top of the Past Transactions list. This button allows users to set specific limits on their transactions, providing an extra layer of control and customization to their trading activities.
Uphold offers also a convenient feature called "Repeat", where users can set up automated transactions to make their investment strategy automated. This function is ideal for users who might want to DCA (dollar-cost averaging) their investments, or make recurring payments to friends and family.
Markets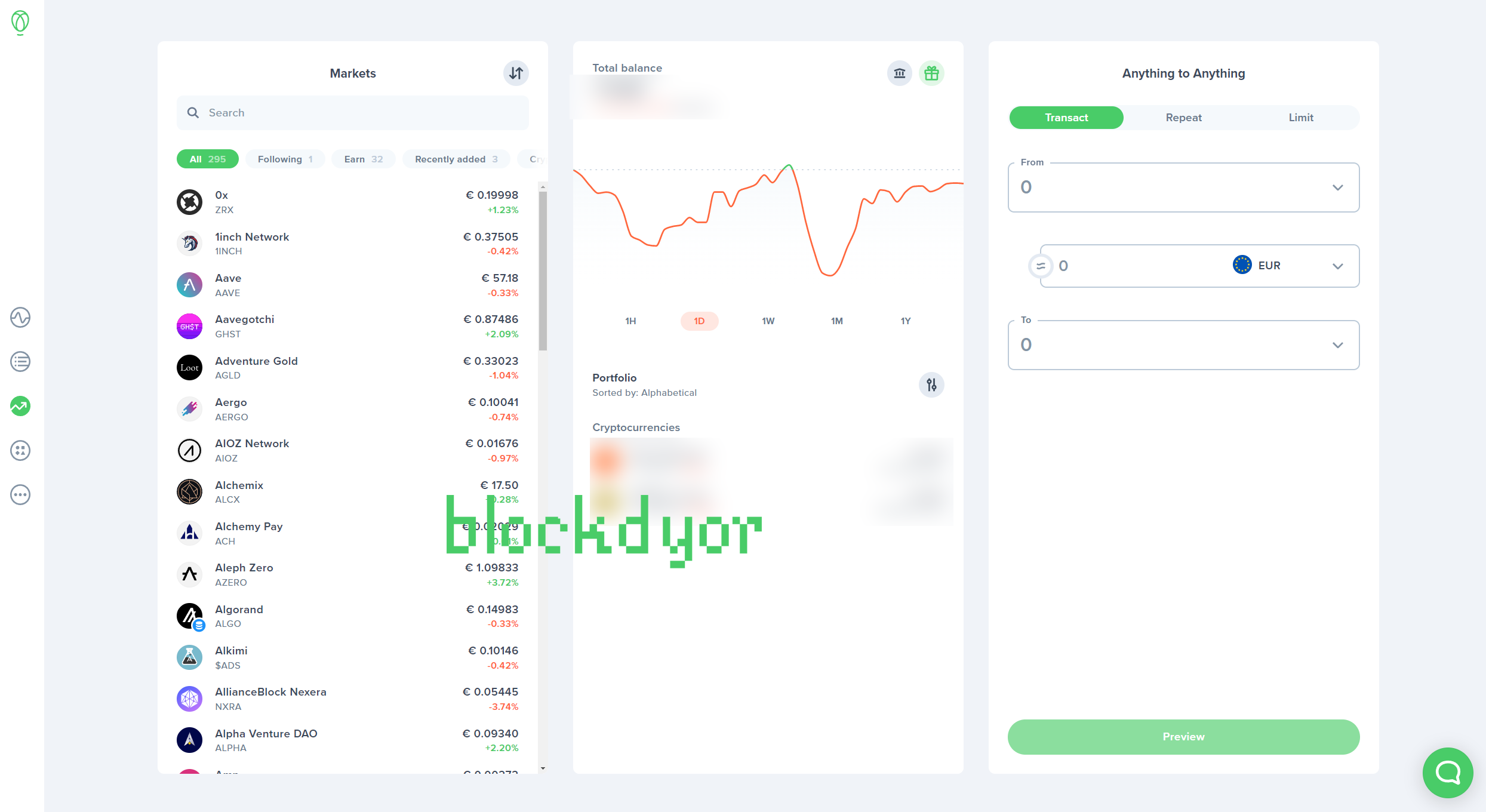 In the markets section, Uphold showcases a vast array of available assets. As of the current moment, Uphold offers a diverse asset selection, with 242 cryptocurrencies, 6 utility tokens, 15 stablecoins, 27 national fiat currencies, and an interesting assortment of five precious metals.
Uphold's coins offering includes well-established coins such as Bitcoin, Ethereum, Ripple & more, but also emerging tokens. With a multitude of choices, users can diversify their portfolios and capitalize on the ever-evolving cryptocurrency market.
In addition to cryptocurrencies, Uphold also presents utility tokens, which hold specific functions within their respective ecosystems. BAT, for example, it's the utility token of the Brave Browser, which rewards publishers for their content and users for their attention, providing advertisers with enhanced benefits for their ads. These utility tokens unlock unique features and benefits, further enriching users' investment possibilities.
Stablecoins, like USD Coin or Tether Dollar with their pegged value to established currencies like the US Dollar or Euro, provide stability and serve as a valuable tool for hedging and mitigating risks. Uphold offers a selection of stablecoins, enabling users to navigate the cryptocurrency market with greater peace of mind.
Uphold recognizes the importance of national fiat currencies, providing users with access to 27 different currencies from various countries. This inclusion allows individuals to seamlessly convert and transact with traditional currencies, bridging the gap between digital assets and the global financial system.
One of the most surprising assets to find in Uphold are the precious metals, allowing users to diversify their investment portfolios with tangible assets. The inclusion of metals like gold, silver, and others adds a layer of stability and long-term value to users' investment strategies. However, these commodities are not available in EEA (European Economic Area).
In Europe and United States, two notable asset classes that are currently unavailable are the U.S. equities and ETFs (Exchange-Traded Funds). These investment instruments allow individuals to buy, hold, trade, and send fractional amounts of baskets containing stocks and bonds.
Integrations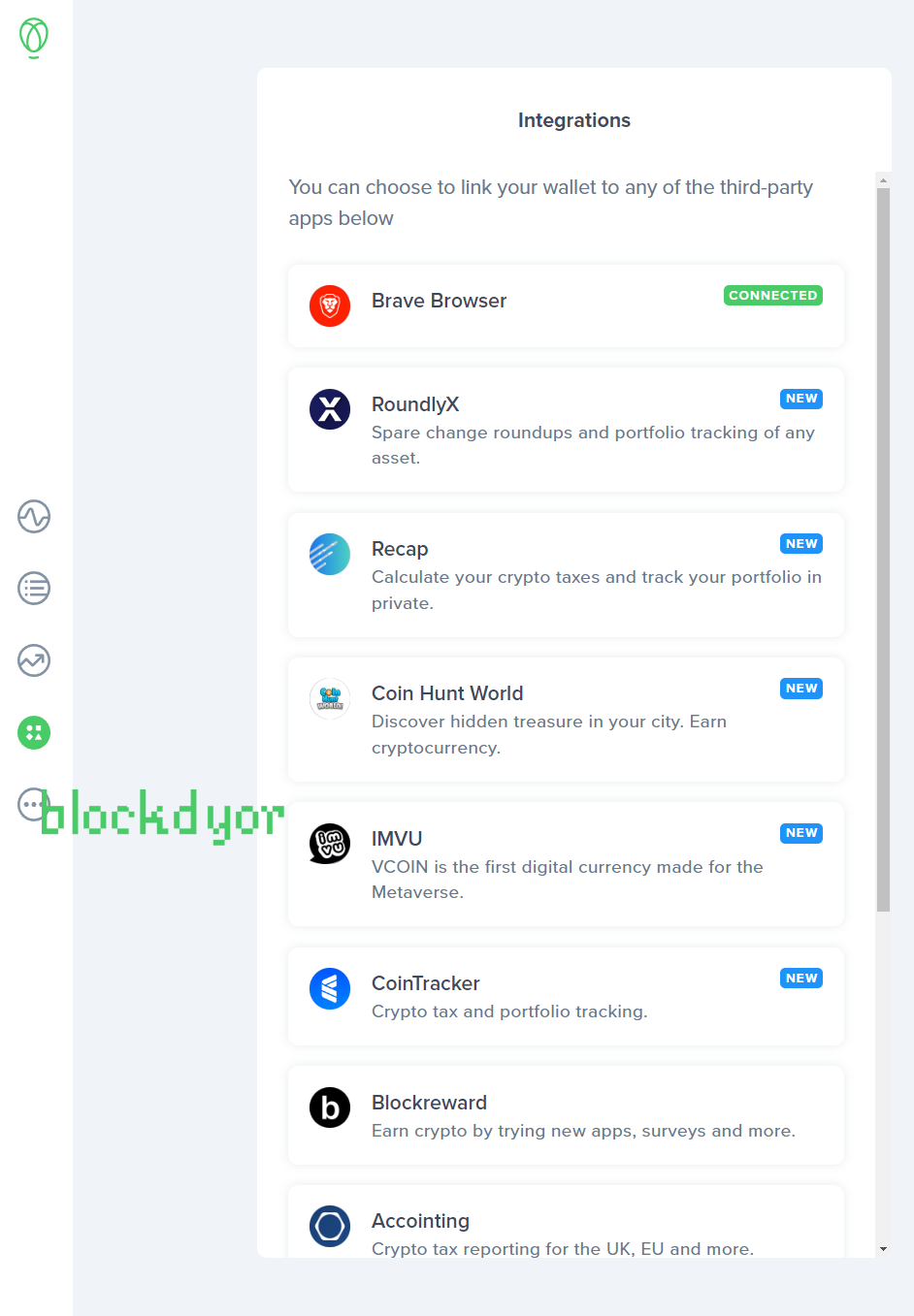 Uphold offers a feature that sets it apart from other platforms—the integration with a multitude of third-party apps. In the "Integrations" section, users can discover and connect with a diverse range of third-party apps, unlocking a world of enhanced functionalities and opportunities. Let's explore some of the notable integrations available on Uphold:
Brave Browser: Uphold supports the integration with the Brave Browser, a privacy-focused web browser that rewards users with its native token, BAT, for engaging with ads.
RoundlyX: this integration introduces spare change roundups and portfolio tracking capabilities for any asset. Users can effortlessly accumulate spare change from everyday transactions and track their portfolio's performance.
Recap: with Recap, users can calculate their cryptocurrency taxes and conveniently track their portfolio in a private and secure manner, ensuring compliance with tax regulations.
Coin Hunt World: discover hidden treasure in your city and earn cryptocurrency with Coin Hunt World. This integration adds a fun and rewarding element to exploring your surroundings.
IMVU: Uphold's integration with IMVU introduces VCOIN, the first digital currency specifically designed for the Metaverse. Users can seamlessly transact and engage within the immersive virtual world.
CoinTracker: this integration simplifies crypto tax reporting and portfolio tracking, providing users with comprehensive tools to manage their cryptocurrency holdings with ease.
Blockreward: earn cryptocurrency by trying out new apps, participating in surveys, and engaging in various activities. Blockreward adds an extra avenue for users to accumulate digital assets.
Accointing: with Accointing, users can streamline crypto tax reporting for the UK, EU, and other regions. The integration offers a reliable solution for tax compliance and reporting requirements.
TAP Rewards: this 3rd party app allows users to redeem gift cards and participate in sweepstakes using any currency held on the Uphold platform. It enhances the versatility and utility of Uphold's supported currencies.
BitMari: Uphold's integration with BitMari enables users to support commercial women farmers in Africa. This integration promotes financial inclusion and empowerment through digital currency adoption.
These integrations exemplify Uphold's commitment to expanding its ecosystem and providing users with a diverse set of features and opportunities. By connecting with third-party apps, Uphold enhances the overall user experience and unlocks additional functionalities that complement its core offerings.
Earn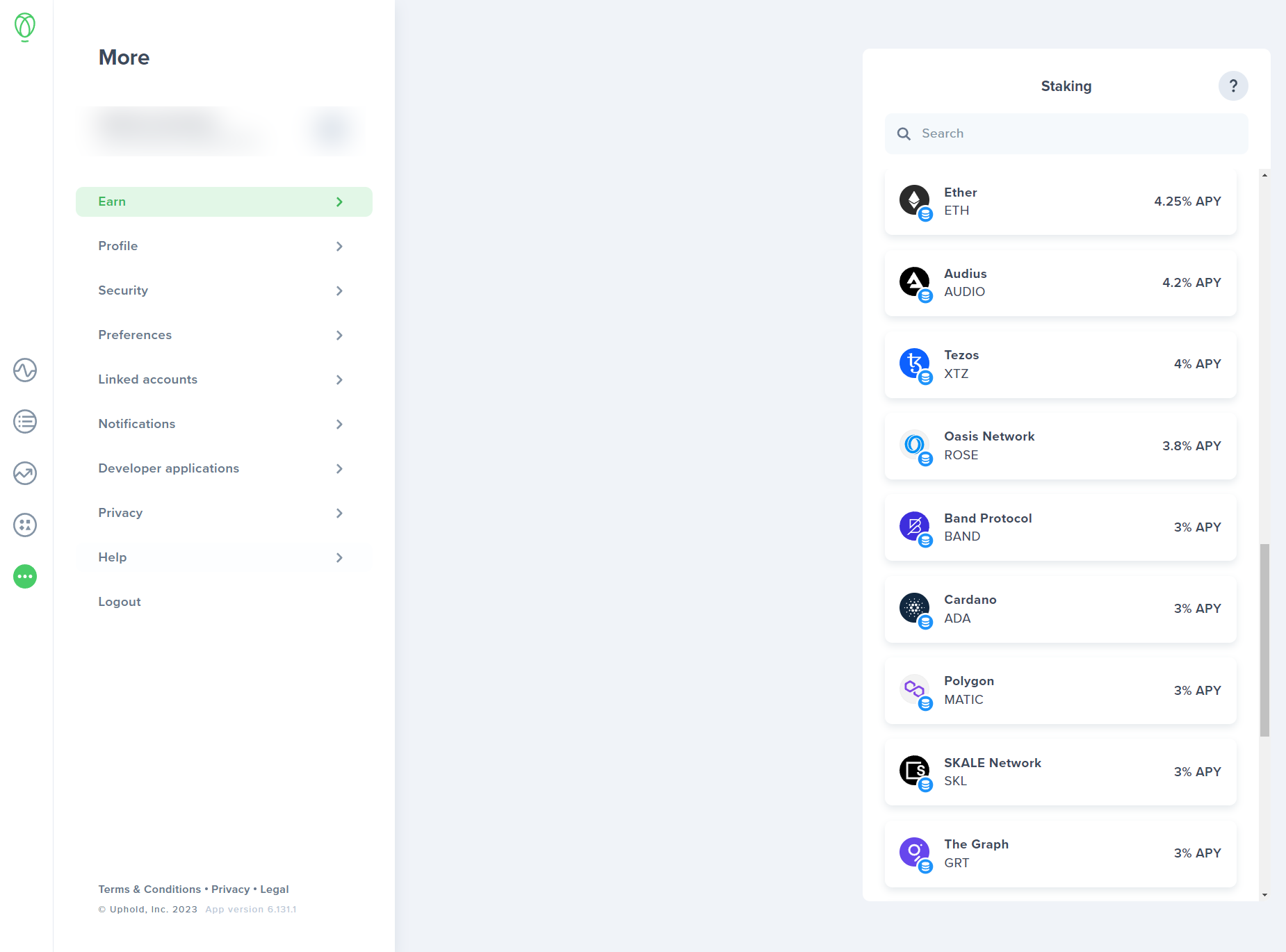 In the "Other" tab on Uphold, users can find various secondary functions that the broker offers. One of the key features prominently displayed in this are is "Earn". But what exactly is Earn, and how does it relate to the concept of staking?
Earn is a service provided by Uphold that allows users to earn rewards on their cryptocurrency holdings. It provides an opportunity to passively generate additional income by participating in specific activities related to staking and lending.
Staking is a process in which users hold and lock their cryptocurrency assets in a compatible wallet or platform to support the operations and security of a blockchain network. By doing so, they contribute to the network's consensus mechanism and help validate transactions. In return for their participation, users are rewarded with additional cryptocurrency tokens.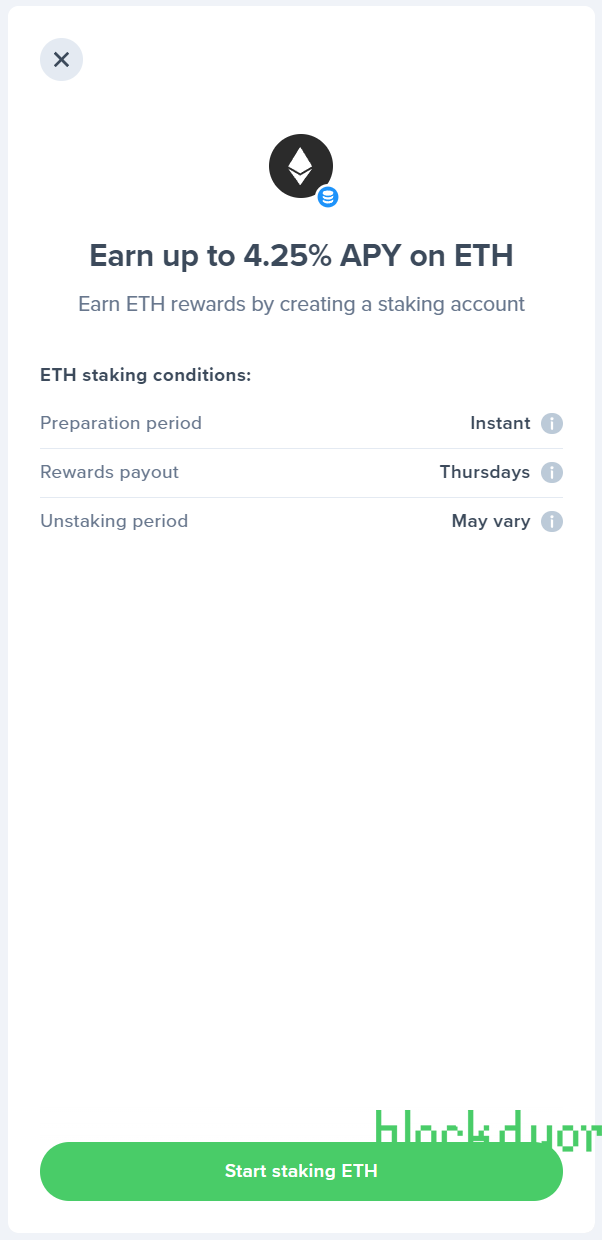 When it comes to staking on Uphold, users have the chance to stake certain cryptocurrencies (such as Ether) in their portfolio and earn rewards for their contributions to the respective blockchain networks. These rewards can vary depending on factors such as the staking duration, the amount of cryptocurrency staked, and the specific rules and incentives set by the blockchain network.
💡
The APY, or Annualised Percentage Yield, is the expected annual return on investment for staked assets. It provides users with an estimate of the potential rewards they can earn over time.
Uphold Trading Platform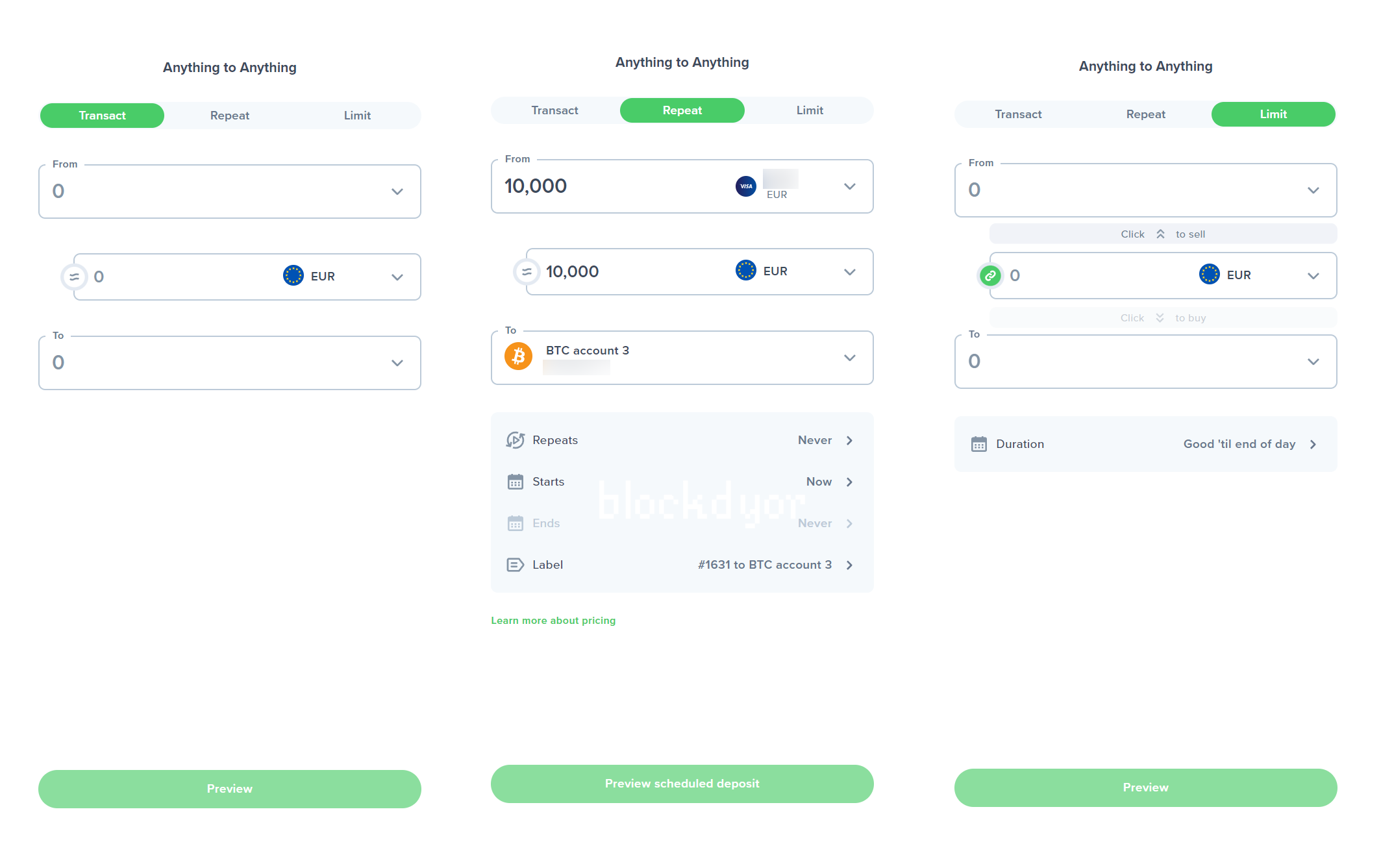 Uphold distinguishes itself from traditional trading platforms by offering a user-friendly interface that prioritizes simplicity and ease of use. Unlike platforms with complex charts, trading indicators, and volume analytics, Uphold takes a straightforward approach that appeals to both novice and experienced users.
The Uphold interface is designed to be clean and intuitive, focusing on three primary actions: Transact, Repeat, and Limit.
Transact: the Transact feature functions as a versatile converter, allowing users to seamlessly convert between various asset types. Whether it's cryptocurrencies, fiat currencies, precious metals, or other supported assets, users can conveniently exchange one asset for another within Uphold. This straightforward conversion process simplifies the overall trading experience for users.
Repeat: Uphold's Repeat feature enables users to automate their trading actions. By setting up predefined rules, users can program automated actions to buy or sell assets at specified intervals or under specific conditions. This feature is particularly useful for those who wish to implement a systematic investment strategy or regularly contribute to their portfolio without the need for manual intervention.
Limit: the Limit feature allows users to place orders at their desired market prices. By setting a specific price threshold, users can open orders that are executed only when the market reaches their preferred price level. This feature empowers users to take advantage of potential market fluctuations and execute trades at their desired entry or exit points.
The combination of these three main actions—Transact, Repeat, and Limit—provides users with a straight-to-the-point and efficient trading experience.
Whether users are looking to convert between different asset types, automate their trading activities, or place orders at specific market prices, Uphold offers a user-friendly interface that it's useful and easy to comprehend.
Uphold Fees and Limits
Uphold has a user-friendly fee structure that sets it apart from traditional platforms. It ensures a frictionless experience for investors by imposing zero deposit fees, zero withdrawal fees, and eliminating trading fees altogether.
Instead of traditional trading fees, Uphold employs a spread model that varies depending on the asset being traded. Here is an overview of the typical spreads Uphold applies for retail investors across its diverse range of available assets:
| TYPE OF ASSET | SPREAD |
| --- | --- |
| Cryptocurrencies | ~ 1.5% on BTC and ETH (can be higher for low-liquidity assets) |
| Precious metals | ~ 2% on top of the bid-ask prices at our supplier |
| Major fiat currencies | 0.2% |
| U.S. equities | 1.0% |
Uphold Security Measures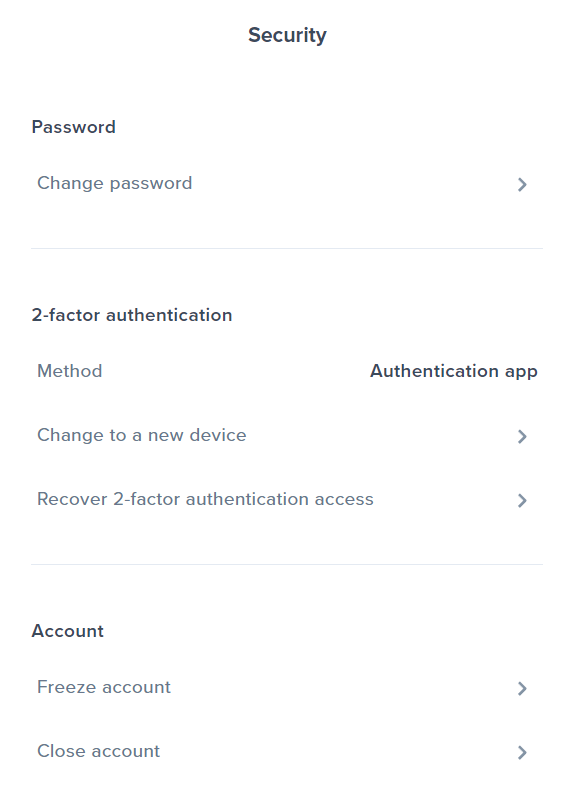 Upon registering with Uphold, users are immediately guided through important Anti-Money Laundering (AML) measures. This includes completing a Know Your Customer (KYC) questionnaire and undergoing document verification.
Uphold ensures a high level of security for its users by requiring every account to enable two-factor authentication (2FA) for login. These industry standard measures are in place to enhance user safety, protect against unauthorized access, and promote a secure environment for conducting transactions on the platform.
Regulation
Uphold's regulatory compliance in the US, EU, and UK demonstrates its commitment to operating within the legal frameworks of each jurisdiction. By adhering to these regulations, Uphold aims to provide a secure and trustworthy platform for its users while complying with AML controls and protecting consumer data. Let's have a look at their regulation in the three major markets: USA, EU and UK.
United States
Uphold works with licensed banking partners in the US and is regulated by the United States Treasury Department regulator, FinCEN.
Uphold operates as a FinCEN Registered Money Services Business (MSB) in the United States, demonstrating its commitment to compliance with regulatory requirements.
European Union
Uphold is a provider of cryptoasset services in Lithuania, operating within the EU.
Uphold Europe Limited (Uphold) is registered in the UK with the registration number 09281410 and has its registered office at Suite A, 6 Honduras Street, London, England EC1Y 0TH.
Uphold adheres to applicable local, state, federal, and international laws concerning consumer data protection, including the EU data protection requirements.
Uphold complies with the Money Laundering, Terrorist Financing and Transfer of Funds regulations in the EU, ensuring compliance with AML controls.
United Kingdom
Uphold is an EMD (Electronic Money Directive) agent of Optimus Cards UK Limited (FRN: 902034), which is authorized and regulated by the Financial Conduct Authority (FCA) in the UK.
Uphold (FRN: 938277) is registered with the Financial Conduct Authority (FCA) for Anti-Money Laundering (AML) purposes and complies with the FCA's regulatory framework.
Uphold follows the Money Laundering, Terrorist Financing and Transfer of Funds regulations set by the FCA to ensure the protection of funds and prevent financial crime.
Proof of Reserves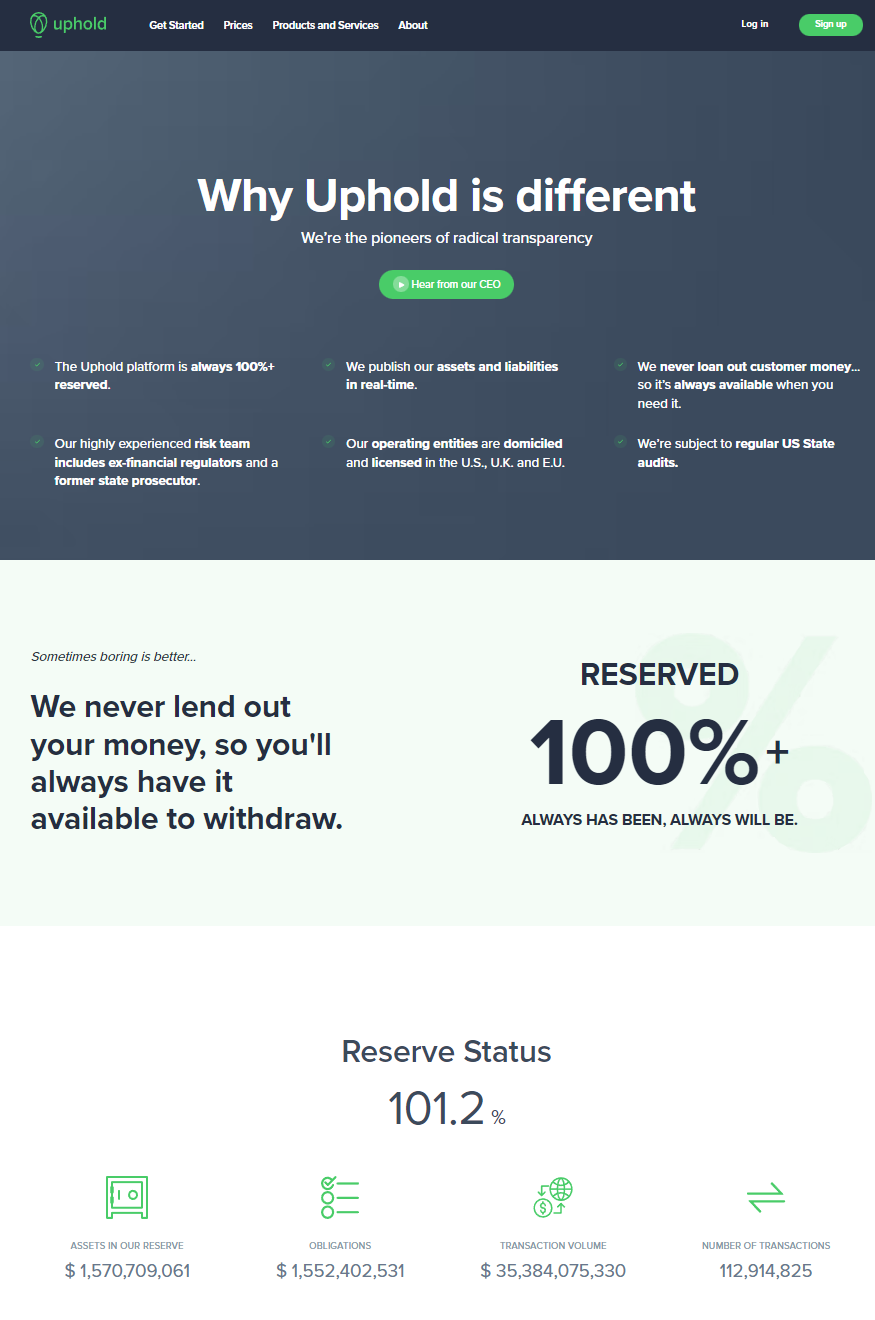 Proof of Reserves (PoR) is a type of auditing for crypto companies that verifies if customer funds are backed by sufficient reserves, promoting transparency and preventing liquidity crises.
By regularly updating and verifying their proof of reserves, Uphold ensures that clients can withdraw their funds at any moment.
100%+ Reserve: Uphold maintains a reserve exceeding 100%, a level of security rarely seen in the industry. Their real-time publication of assets and liabilities ensures complete transparency, giving users confidence in the security and availability of their funds.
No Loaning of Customer Money: Unlike traditional institutions, Uphold never loans out customer funds. This guarantees that your money is always yours, providing you with the freedom to withdraw it whenever you need it. Uphold prioritizes the safety and accessibility of your funds.
Experienced Risk Team: Uphold is supported by a highly experienced risk team comprising former financial regulators and a former state prosecutor. Their expertise ensures that Uphold maintains the highest standards of security and compliance, instilling trust in users.
Domiciled and Licensed Entities: Uphold operates under the jurisdiction of the United States, United Kingdom, and European Union. Their operating entities are domiciled and licensed in these regions, adhering to the regulatory frameworks of each jurisdiction.
Regular Audits: Uphold is subject to regular audits by US State authorities, validating their commitment to regulatory compliance. These audits further reinforce the trust that users place in Uphold, knowing that their funds are handled with utmost care.
Security, Transparency, and Accessibility: Uphold prioritizes the security, transparency, and accessibility of your funds. By maintaining radical transparency and unwavering compliance, Uphold ensures that you have full control and peace of mind when using their platform.
Thanks to Uphold's innovative approach to radical transparency, combined with their strict adherence to security, compliance, and user empowerment, sets them apart in the financial platform industry.
With Uphold, you can trust that your funds are secure, accessible, and under the watchful eye of a platform committed to transparency and regulatory compliance.
Uphold Card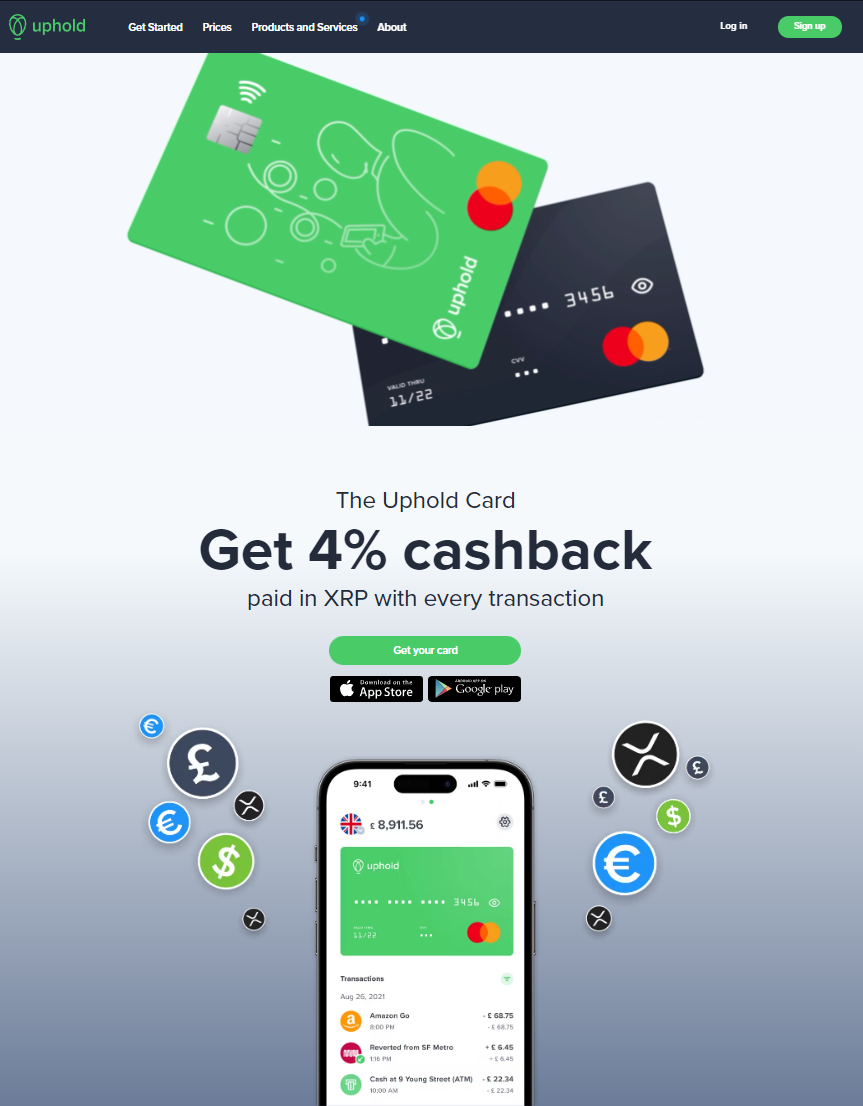 The Uphold Card is a debit card that offers a generous 4% cashback with every transacti0n, paid in XRP, on every transaction.
The card is automatically connected to your Uphold account, it allows you to spend both fiat and crypto from your Uphold wallet. Enjoy the convenience of earning 4% cashback in XRP, regardless of your location.
With no annual fees and regulated by the FCA, this card ensures peace of mind.
Keep in mind that it's currently available only in the UK. There are also some limits since, you can spend up to £10,000 GBP per day, with a maximum of 50 transactions. Rewards are also capped at £50 worth of XRP per month, depending on your location.
Uphold Alternatives
When searching for alternatives to Uphold, it can be challenging to find platforms that offer a comparable combination of unique features and user-friendly experience. However, two notable exchanges that come to mind are Bitfinex and Kraken, both of which we have thoroughly reviewed.
Bitfinex is renowned for its diverse asset offering, providing users with a wide range of cryptocurrencies and trading pairs to choose from. The platform also boasts advanced trading features and tools, catering to experienced traders. Additionally, Bitfinex has a transparent fee structure, ensuring that users can easily understand and manage their trading costs.
Kraken, on the other hand, is known for its robust security measures and regulatory compliance. The exchange offers a comprehensive selection of cryptocurrencies, including major coins and lesser-known tokens. With a focus on user safety, Kraken has implemented rigorous security protocols to safeguard user funds and personal information.
Both Bitfinex and Kraken offer competitive fee structures, providing cost-effective trading options for their users. While they may not replicate Uphold's exact offerings, these exchanges present viable alternatives with their diverse asset portfolios and commitment to user satisfaction.
Uphold Pros and Cons
| Pros | Cons |
| --- | --- |
| ✅ Not just crypto, but also commodities and stocks | ❌ Variable spread |
| ✅ Cross-asset trading | ❌ Lack Pro functions |
| ✅ Earn rewards with crypto staking | ❌ Equity trading is not available for U.S. and European customers |
| ✅ No deposit, withdrawal, or trading fees | ❌ Metals trading is not available for European customers |
| ✅ Educational content | |
| ✅ Debit card with generous crypto cashback (Only UK) | |
Bottom line
As we've seen during this review, Uphold stands out as a versatile platform that allows users to trade not only cryptocurrencies but also precious metals and stocks.
With features like cross-asset trading, rewards through crypto staking, and educational resources, Uphold offers a comprehensive experience.
While it excels in various aspects, there are some areas for improvement, such as the variable spread.
In addition, Uphold's commitment to no deposit, withdrawal, or trading fees, along with the availability of a debit card (in the UK), makes it a noteworthy choice for individuals seeking a diverse, regulated and user-friendly exchange.

Uphold Evaluation
Reputation: Uphold is a globally available broker with a strong reputation, being one of the oldest crypto brokers in existence. However, it's important to note that Uphold is currently facing a proposed class action regarding inadequate security practices leading to fund theft. Taking this into consideration, we award Uphold 4/5 stars.
Technology: Uphold's platform stands out with its unique and original approach. Its strength lies in its "less is more" philosophy, making it appealing to beginners. We believe Uphold's technology deserves a perfect score of 5/5.
Customer Service: Uphold provides comprehensive documentation, email support, a ticket system, and a chat system on their website. However, we were unable to reach them by phone, which could be problematic for urgent matters. Considering this, we rate their customer service 4/5.
Fees: While Uphold technically has no fees, it's important to note that there are floating spreads based on what you're trading and market conditions. This means that the actual cost may vary. We assign Uphold a rating of 3/5 for fees.
Ease of Use: Initially, the trading platform may pose some challenges, but once familiarized, Uphold's simplicity becomes its greatest strength. We give Uphold a score of 4/5 for ease of use.
Frequently asked questions (FAQ)
What are the supported countries for Uphold?
Uphold has a global presence, offering its services to more than 184 countries and supporting over 200 currencies, both traditional and crypto. It caters to customers worldwide, including the United States, Europe, and the United Kingdom.
Does Uphold have a mobile app?
Yes, Uphold has an official mobile app available for both iOS and Android devices. Users can access their Uphold accounts, track their transactions, trade, and manage their funds on the go through the mobile app.
What are the fees and spreads with Uphold?
Uphold distinguishes itself with its fee structure that provides zero deposit and trading fees and also zero withdrawal fees. While there are no explicit trading fees (except for network fees on withdrawals), there are spreads to consider. The spreads can vary depending on the trading pairs and assets involved.