The Bitcoin Company Review 2023: BTC Cashback Made Easy
Many crypto firms err by providing cashback in obscure "s**tcoins" instead of Bitcoin. Unlike them, The Bitcoin Company rectifies this flaw by offering genuine cashback in Bitcoin, the original cryptocurrency. This review delves into the workings of The Bitcoin Company.
What Is The Bitcoin Company
The Bitcoin Company is a mobile app designed to provide users a valuable solution to get discounts and cashbacks in Bitcoin.
By downloading the app on your phone, you gain access to a range of features that aim to enhance your financial interactions and rewards in Bitcoin, such as cashback and special deals.
👉 Click here to download The Bitcoin Company app.
| Description | Details |
| --- | --- |
| 💳 Service Name | The Bitcoin Company |
| 💼 Company | Two Twenty Two, Inc. |
| 💳 Type | Bitcoin Cashback Rewards |
| 💰 Cashback Token | Bitcoin (BTC) |
| 📈 Staking | N/A |
| 🌍 Issuing Country | Global (Accepted in most countries) |
| 💱 Currency | Multiple (supported by the merchant) |
| 💸 Fees | No annual or monthly fees, transaction fees may apply |
| 🔗 Linking | Linked to The Bitcoin Company account |
| 💰 Reward Programs | Yes (Earn cashback in BTC on eligible purchases) |
| 📲 Signup | Through Satsback website |
| 🔒 Security | BTC Payout in the app |
The Bitcoin Company Features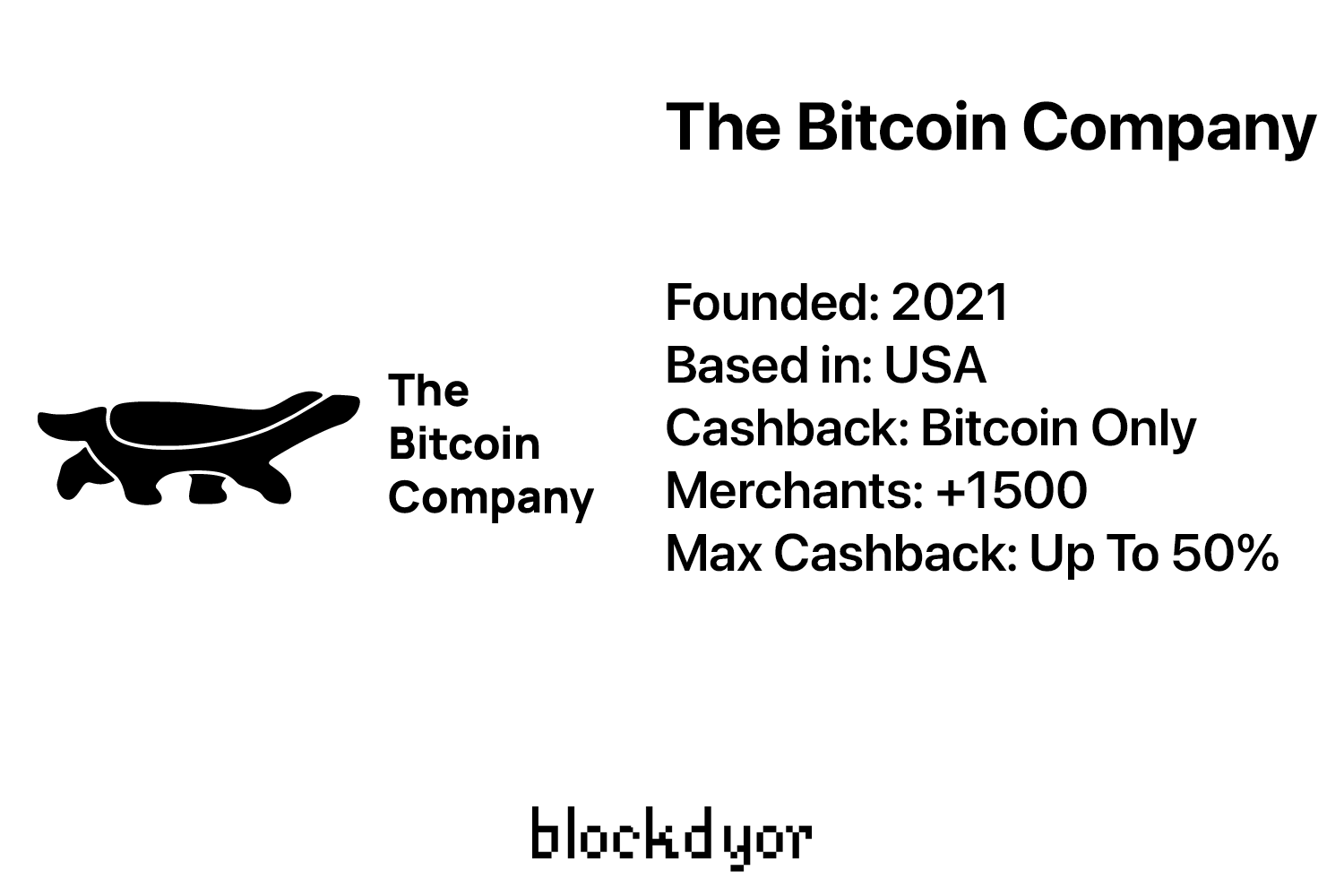 The Bitcoin Company is continuously evolving its offerings to provide users with an expanding range of financial services and features. Over the years, the company has made notable advancements in its platform. In this section we summarize the most important features of the platform.
Gift Card Purchases with Bitcoin and Cashback
First of all, with The Bitcoin Company app, you can purchase gift cards using Bitcoin. This means you can use your Bitcoin holdings to buy gift cards from a variety of merchants, completely KYC free.
What sets this apart is that for every gift card purchase you make through the app, you receive a significant amount of cashback in Bitcoin. This cashback is a percentage of your purchase amount, and it can be a substantial portion of what you spend.
Connecting Credit Cards and Earning Bitcoin
The app allows you to link your existing credit cards to the platform. This feature enables you to earn Bitcoin every time you make purchases using those linked credit cards. Essentially, you're rewarded in Bitcoin for your regular spending, which can add up over time.
High Bitcoin Rewards for Gift Card Purchases
When you buy gift cards through The Bitcoin Company's store within the app, you have the opportunity to earn a substantial amount of Bitcoin. In fact, you can earn up to 50% of the total purchase amount in Bitcoin rewards. This means that by purchasing gift cards through the app, you're effectively getting a significant discount on your spending in the form of Bitcoin rewards.
Bitcoin Rewards for Travel Deals
The app extends its rewards program to travel-related activities as well. When you book hotels or take advantage of travel deals through the platform, you also earn Bitcoin rewards. This incentivizes you to use the app for your travel arrangements, providing additional value beyond just traditional travel benefits.
Prepaid Visa Cards with Bitcoin
The app goes even further by offering the option to buy prepaid Visa cards using Bitcoin. These prepaid cards can be used anywhere Visa is accepted, giving you the flexibility to spend your Bitcoin rewards in various locations and on various products and services.
In essence, The Bitcoin Company app combines the power of Bitcoin with everyday financial transactions. It allows you to leverage your Bitcoin holdings for various purchases, earn substantial Bitcoin rewards on your spending, and even use your Bitcoin to obtain prepaid Visa cards for wider spending options. This innovative approach transforms the way you engage with your finances, introducing a new level of value and reward to your regular transactions.
How To Open An Account With The Bitcoin Company
To begin with, it's worth highlighting that The Bitcoin Company has recently introduced its web app, allowing users to access their services through a web browser.
This expansion means you can join the platform from your desktop or laptop without exclusively relying on iOS or Android mobile devices. However, for the purpose of this guide, we will utilize the mobile app as our primary example, given its greater abundance of functions and features.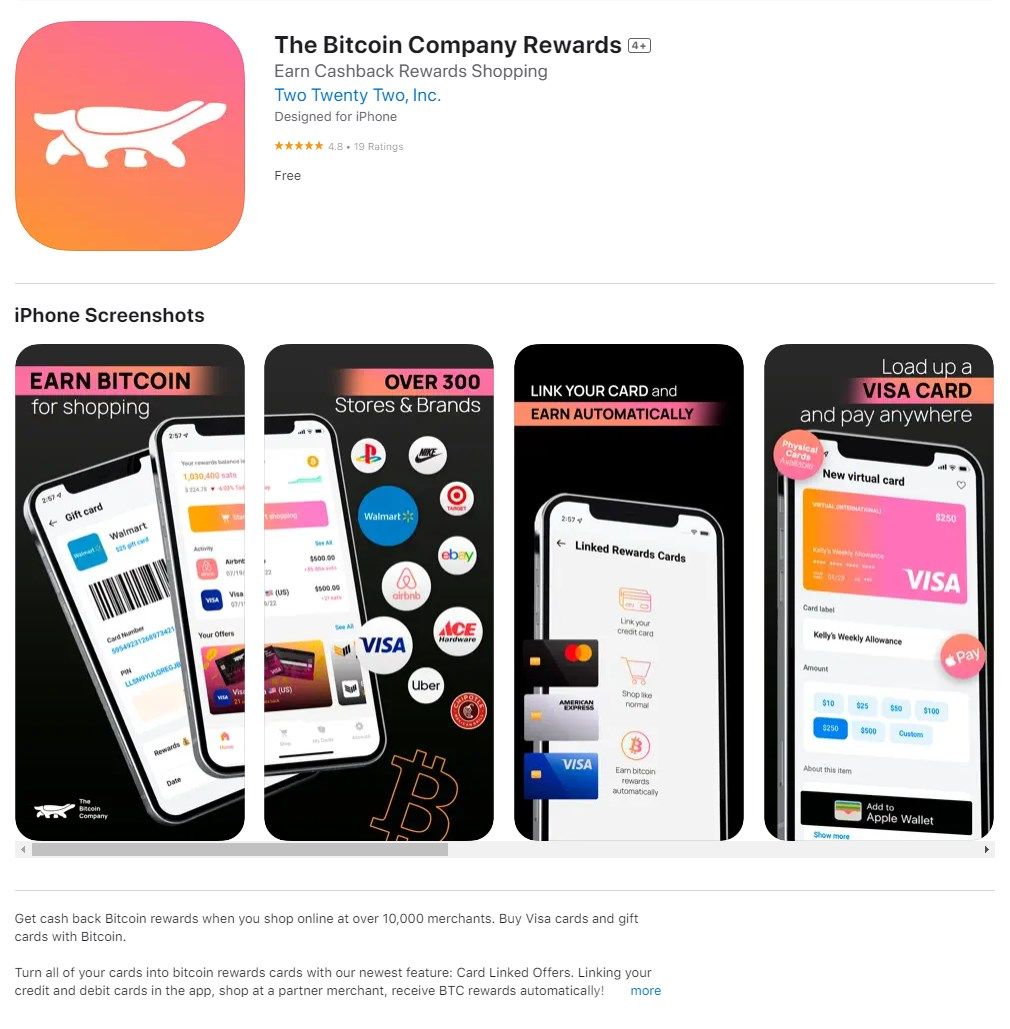 First of all, download the the app. You can do so by clicking on the link down below.
👉 Click here to download The Bitcoin Company app.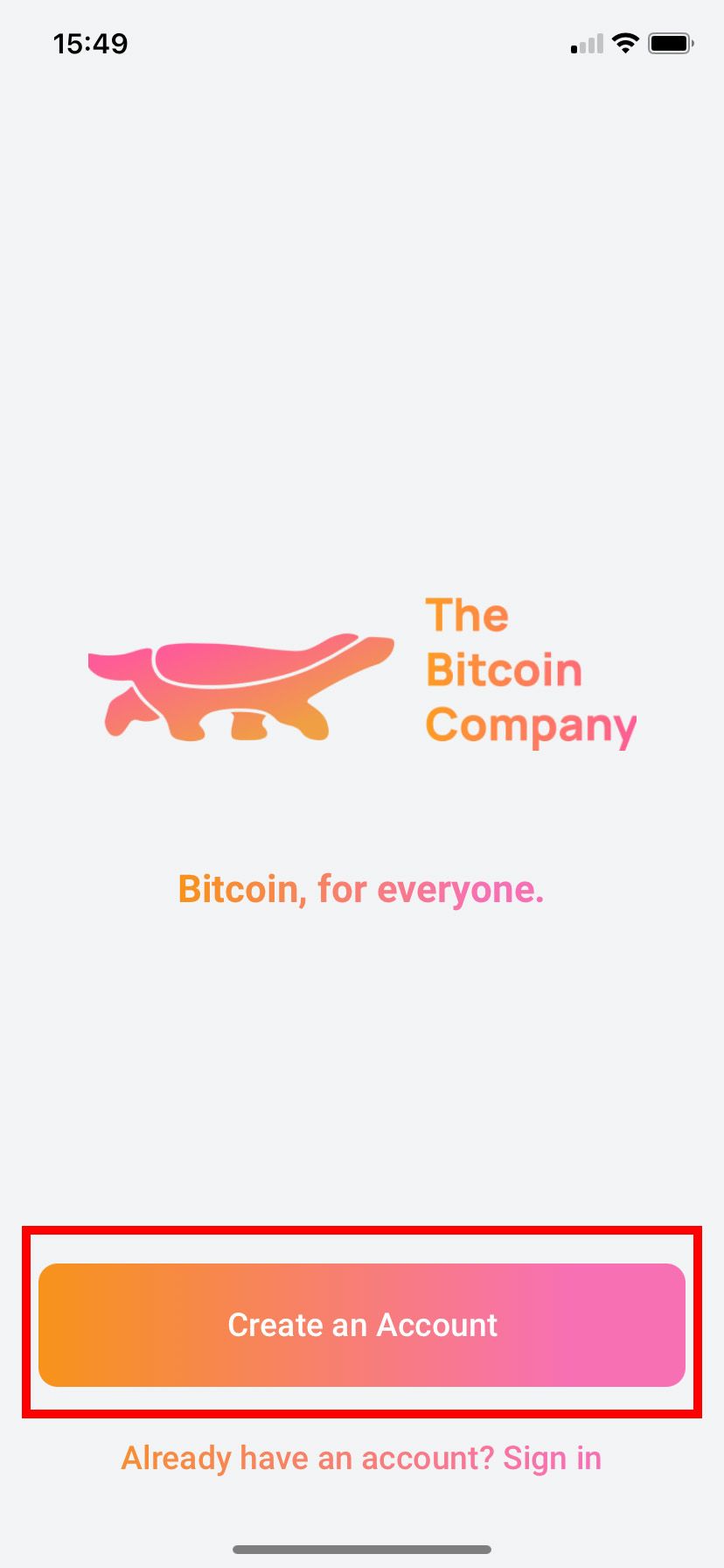 Tap on "Create an Account" to continue.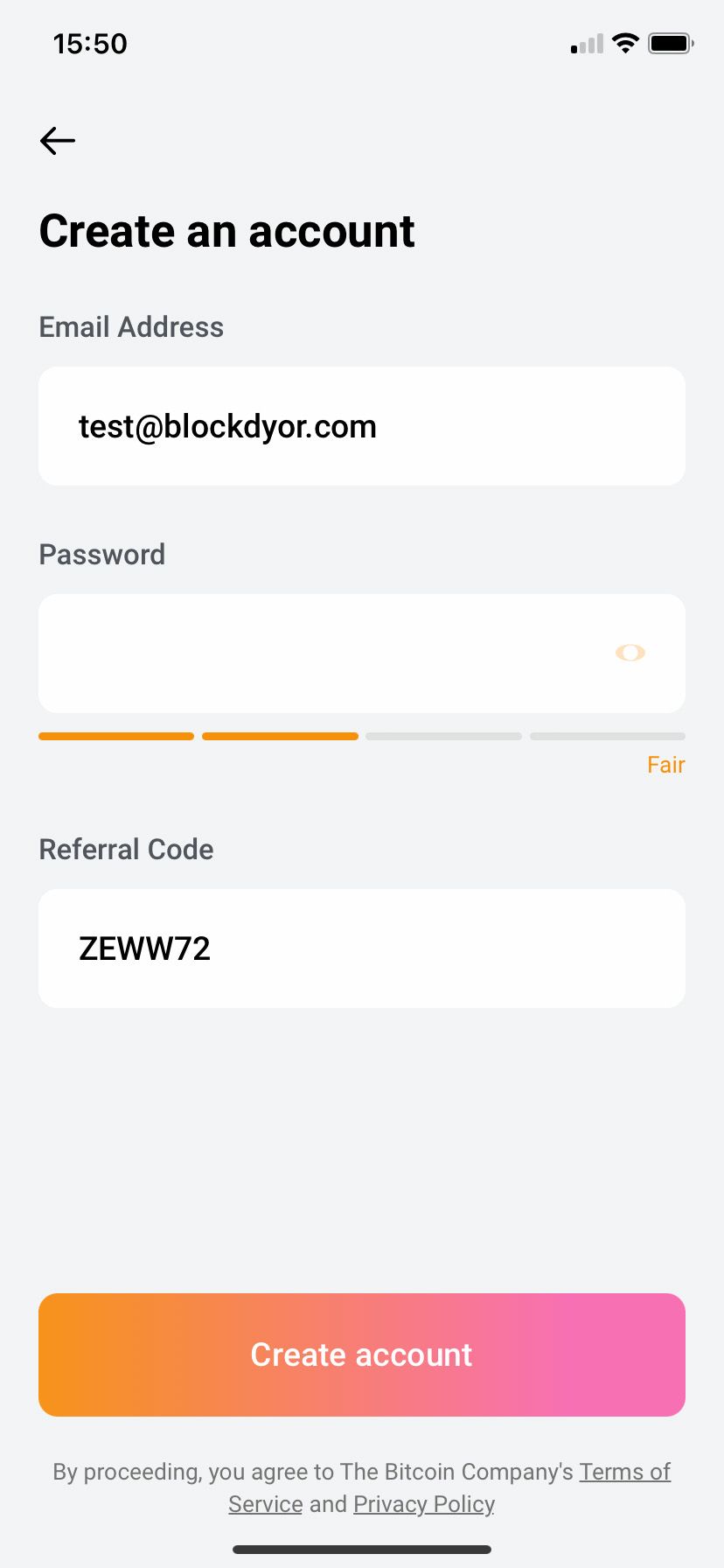 Add email, password (choose a strong one) and then the referral code, in this case "ZEWW72" (it should already be there).
If asked, confirm your email by clicking in the confirmation link in the email The Bitcoin Company sent you. You have now created an account on The Bitcoin Company.
How To Use The Bitcoin Company
Let's illustrate how to make the most of The Bitcoin Company's primary feature – acquiring gift cards and enjoying cashback benefits. To demonstrate, let's consider the scenario of purchasing a gift card from Coinkite, a well-known manufacturer of hardware wallets.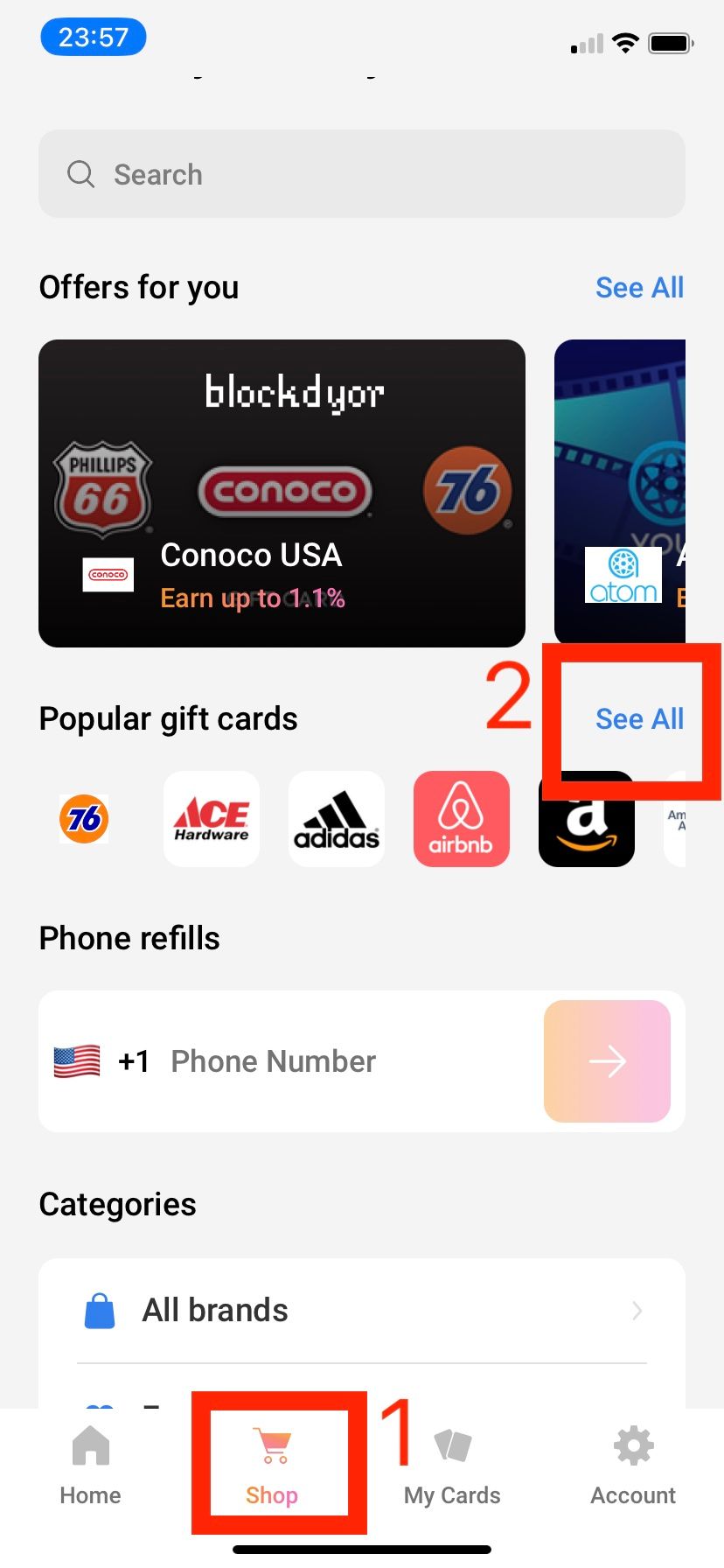 To get started, open the app, login, select the "Shop" (1) section of the app and then tap on "See all" (2).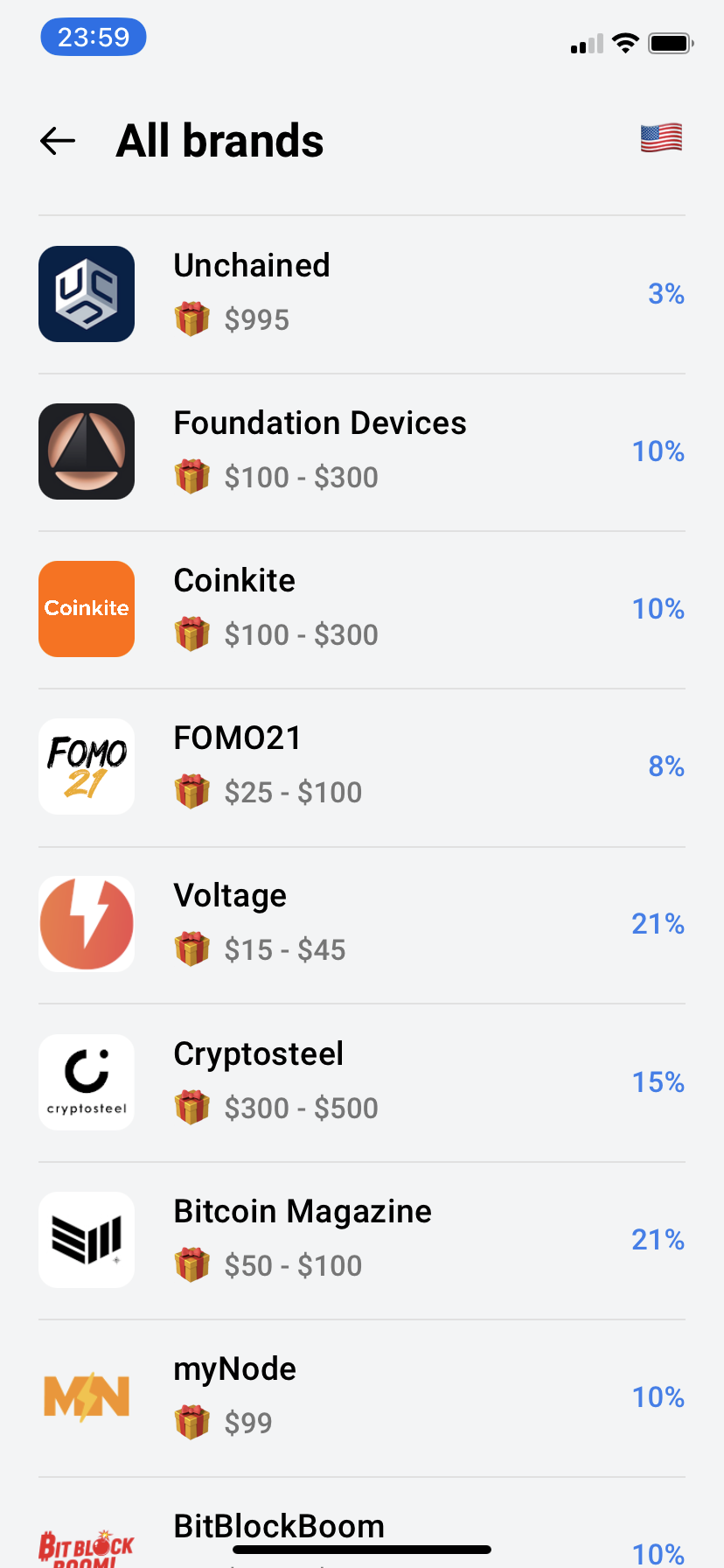 Select the merchant where you want to buy the gift card from. In this case, Coinkite.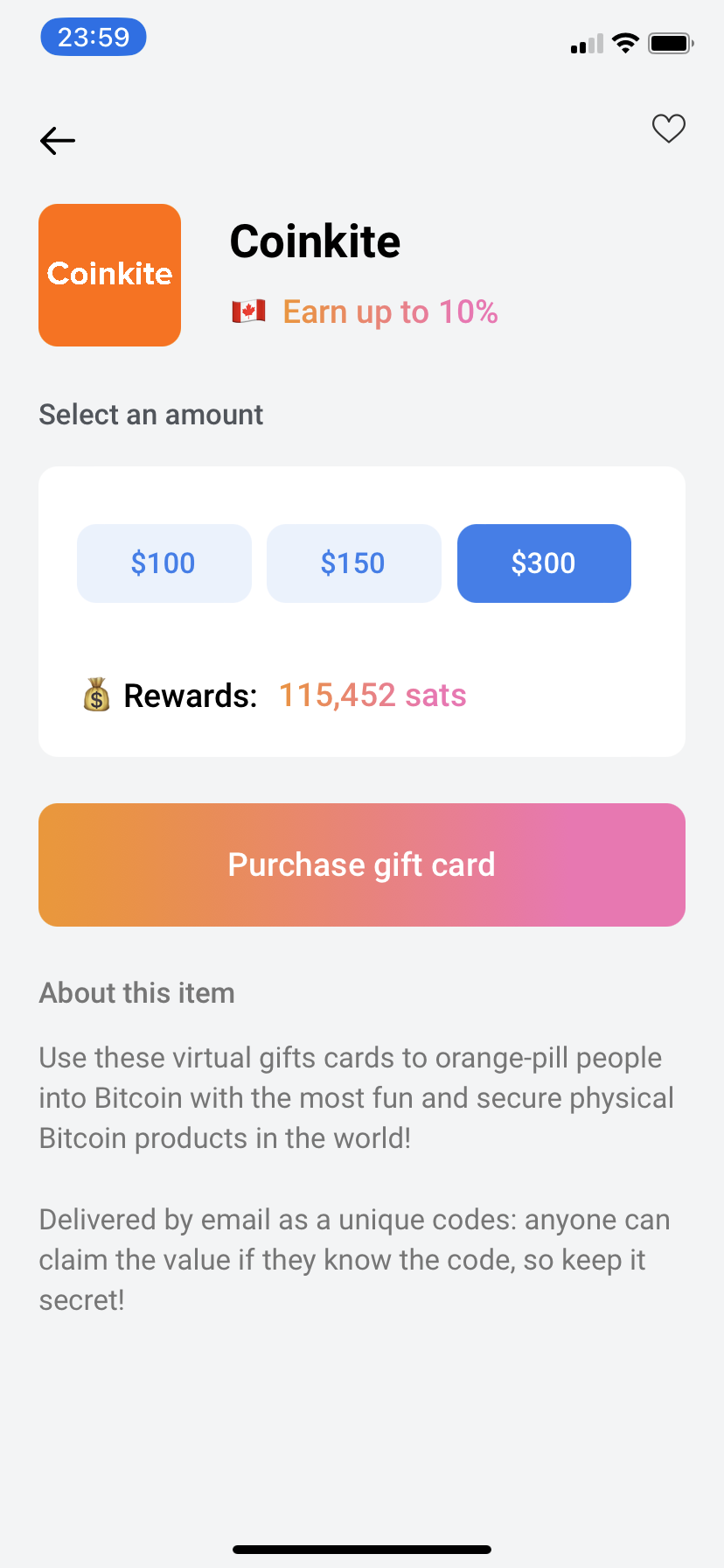 Select the amount and the tap on "Purchase Gift Card".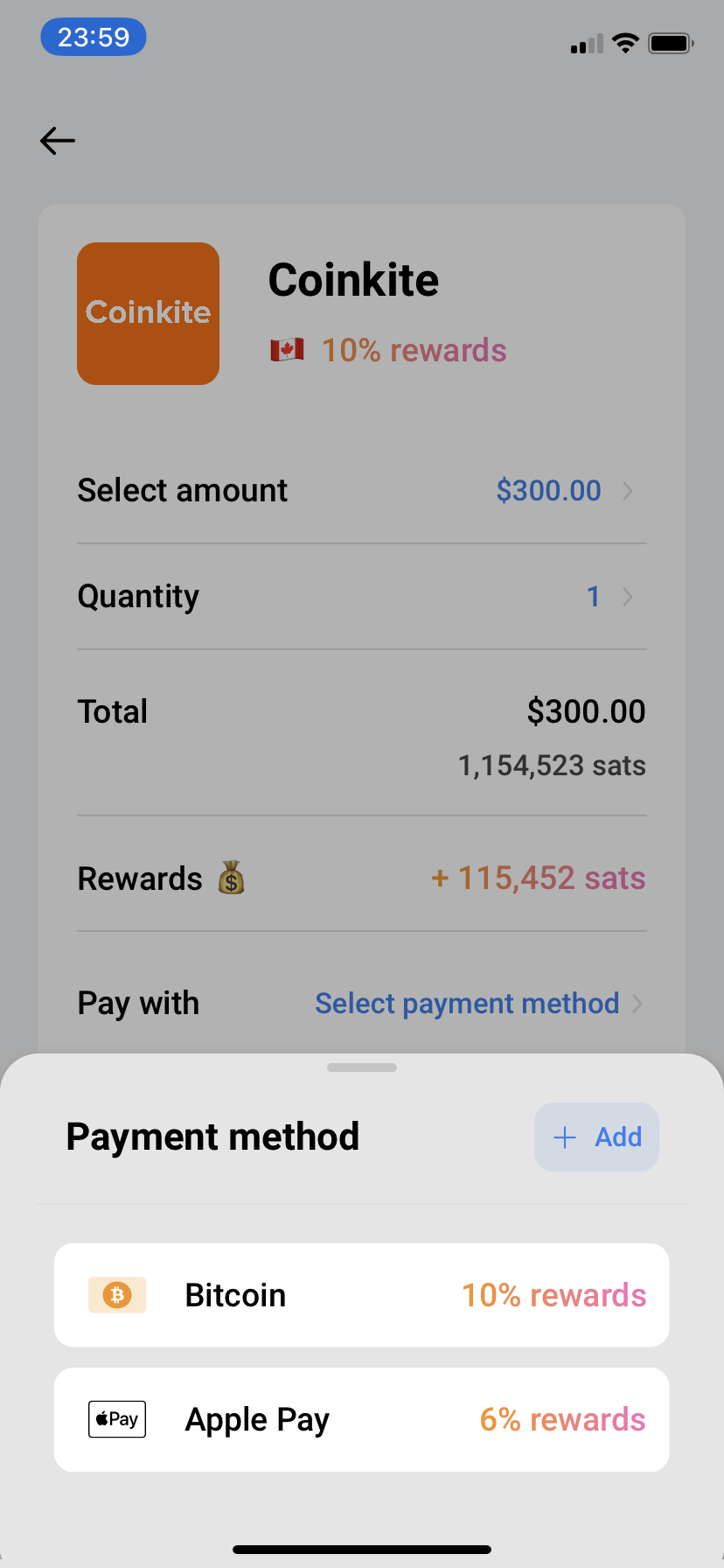 You should now select the payment method. Usually paying with Bitcoin gives higher rewards. But you can also pay with other support methods.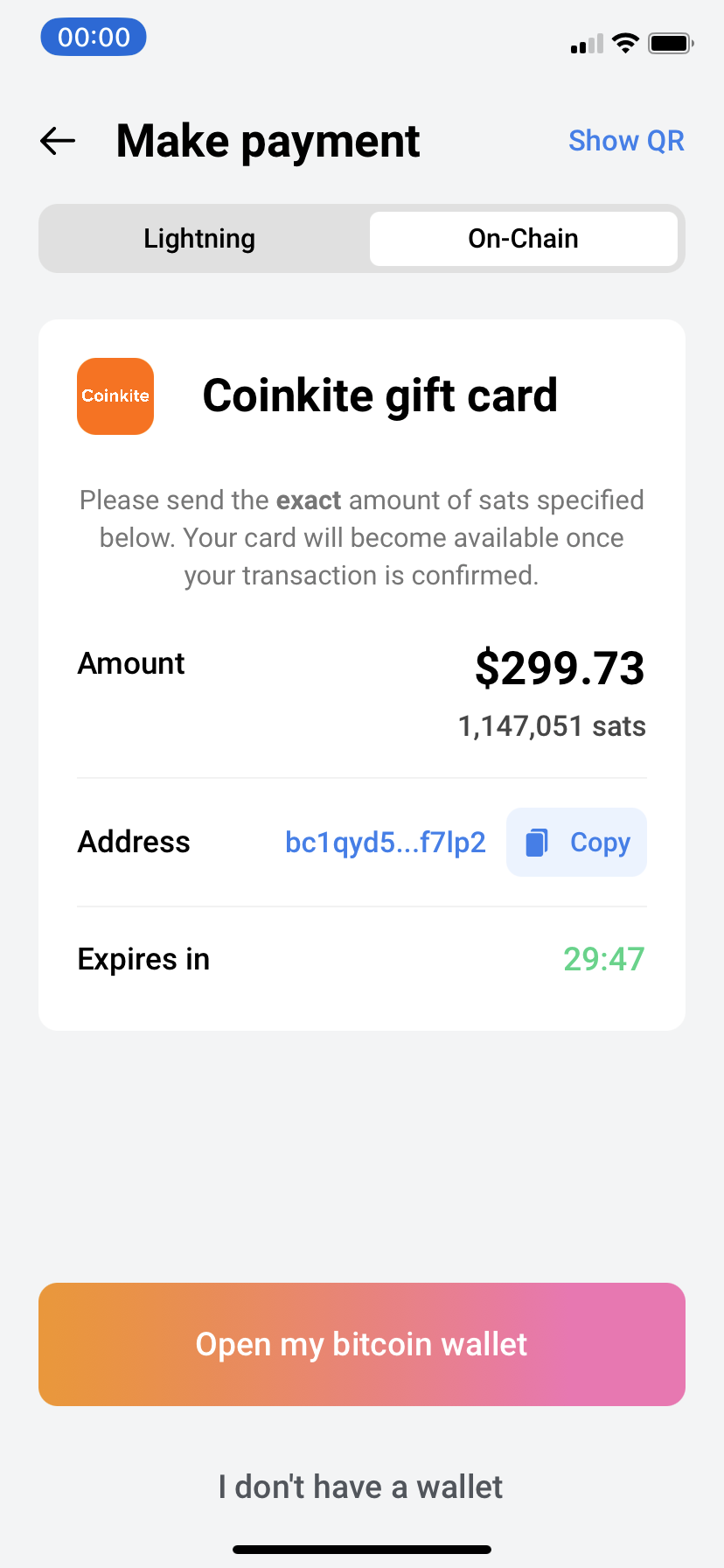 Proceed to send the funds and you will receive the gift card.
Who created The Bitcoin Company?
The founders of The Bitcoin Company are ardent Bitcoin enthusiasts, indicating that they hold the belief that Bitcoin stands as the paramount cryptocurrency, with other alternatives often referred to as "shi*coins."
While this perspective may not be universally shared, it's crucial to acknowledge that developing an app centered around Bitcoin inherently diminishes potential vulnerabilities and the risk of rugpulling.
At the helm of The Bitcoin Company is CEO Ben (@abitcoinperson), and among their advisory team, prominent Bitcoin advocates such as @Dergigi hold positions.
Is The Bitcoin Company Safe?

My experience with The Bitcoin Company was seamless; both the issuance of gift cards and cashback rewards functioned flawlessly. Notably, the app operates as non-custodial, meaning it lacks an internal wallet.
Curiously, I couldn't find a Trustpilot page for the app. Establishing one could serve to bolster user trust and confidence in the platform's reliability.

The Bitcoin Company Customer Service
For inquiries, The Bitcoin Company's address is at Ben White Blvd #240, Mailbox 6969, Austin, TX 78741, United States. Contact can be made through [email protected].
Behind The Bitcoin Company is Two Twenty Two, Inc., which has secured investments from angel investors like Fulgur Ventures, among others.
The Bitcoin Company Alternatives
On blockdyor, we conducted a review of a service that offers cashback in either lightning or on-chain Bitcoin. Let's delve into some of the notable options.
Satsback
The most significant distinction between The Bitcoin Company and Satsback lies in the absence of an app for the latter. With Satsback, earning Bitcoin requires spending fiat currency.
However, Satsback boasts a considerably larger array of supported merchants compared to The Bitcoin Company. For further insights, you can explore our comprehensive review of Satsback.

The Bitcoin Company Pros & Cons
The Bitcoin Company has a great utility for the Bitcoin community, as it it gives utility as an offramp for Bitcoin holders. In this way, everybody can spend Bitcoin by buying goods and services in the real world, and at the same time earn a cashback.
| Pros | Cons |
| --- | --- |
| ✅ More utility for Bitcoin | ❌ Limited amount of merchants supported |
| ✅ Great Bitcoin off-ramp | |
| ✅ High Bitcoin Cashback | |
| ✅ More financial services coming in the future | |
Bottom Line
In conclusion, The Bitcoin Company presents a user-friendly platform that allows users to earn Bitcoin through cashback rewards and gift card purchases.
With its emphasis on Bitcoin-centric services and its expanding range of offerings, such as prepaid Visa cards and broader financial tools, the company is carving a unique niche in the financial technology landscape.
The app's non-custodial approach and commitment to user trust contribute to its appeal. While its non-apparel approach may not align with all perspectives, The Bitcoin Company continues to evolve, aiming to provide a comprehensive and innovative financial experience centered around Bitcoin and beyond.

The Bitcoin Company Evaluation
Ease of use: The Bitcoin Company (TBC) excels in delivering a seamless user experience through its app, allowing users to effortlessly withdraw sats with just a few taps. The platform's simplicity warrants a flawless 5/5 rating for ease of use.
Security: The Bitcoin Company's security approach stands out with its absence of a Know Your Customer (KYC) process or investment requirements. By shopping at preferred stores as usual, users receive sats without compromising security. This approach garners a top-tier 5/5 rating.
Fees and Limits: Notably, The Bitcoin Company distinguishes itself by imposing zero fees, ensuring a transparent and cost-free experience. The absence of hidden charges or restrictions merits The Bitcoin Company an impressive 5/5 rating for fees and limits.
Cashback Rewards: Despite its free nature and absence of paid plans, The Bitcoin Company remains remarkably generous in its cashback offerings. Users can expect substantial cashback rates, with the potential to enjoy rewards as high as 20% for Foundation and even more. This extraordinary value earns The Bitcoin Company a perfect 5/5 score for its cashback rewards.
Global Availability: The Bitcoin Company's decentralized structure enables its availability across all countries. While certain merchants might not be accessible in every country, this limitation is unrelated to The Bitcoin Company itself. Given its extensive accessibility, The Bitcoin Company earns a stellar 5/5 rating for its supported country coverage.
Frequently Asked Questions (FAQ)
What is The Bitcoin Company?
The Bitcoin Company is a financial technology company that offers a platform allowing users to earn Bitcoin through various means, such as cashback rewards and gift card purchases. It aims to provide an alternative banking experience built on Bitcoin technology.
How does The Bitcoin Company work?
The Bitcoin Company provides an app that users can download to their phones. Through this app, users can buy gift cards using Bitcoin and receive significant cashback on their purchases. They can also link their credit cards to the app and earn Bitcoin with each transaction. The platform's super-app integrates traditional financial tools and Bitcoin-based services.
Is The Bitcoin Company available on the web?
Yes, The Bitcoin Company has recently launched its web app, allowing users to access their services through a web browser on their desktop or laptop. This expanded availability provides more options for users to engage with the platform.