Satsback Review 2023: The Best Bitcoin Cashback Program?
In this comprehensive review, we examined Satsback, a Bitcoin-exclusive cashback program that offers rewards for shopping at over 10,000 online stores. With its web-based software and convenient browser extension, users are alerted when visiting supported merchants, enhancing the overall experience.
What is Satsback?
Satsback is a service that offers you the opportunity to earn Bitcoin rewards effortlessly.
With Satsback, you can get a percentage of your purchases in Bitcoin, directly deposited into your Lightning wallet.
It's a way to accumulate Bitcoin at no cost to you. By simply shopping from a curated list of merchants partnered with Satsback, you can effortlessly earn free Bitcoin.
👉 Click here to open an account on Satsback and start earning Bitcoin rewards.
| Description | Details |
| --- | --- |
| 💳 Service Name | Satsback |
| 💼 Company | Timechain sp. z o.o |
| 💳 Type | Bitcoin Cashback Rewards |
| 💰 Cashback Token | Bitcoin (BTC) |
| 📈 Staking | N/A |
| 🌍 Issuing Country | Global (Accepted in most countries) |
| 💱 Currency | Multiple (supported by the merchant) |
| 💸 Fees | No annual or monthly fees, transaction fees may apply |
| 🔗 Linking | Linked to Satsback account |
| 💰 Reward Programs | Yes (Earn cashback in BTC on eligible purchases) |
| 📲 Signup | Through Satsback website |
| 🔒 Security | Automatic Lightning payout and privacy oriented |
How Satsback Works?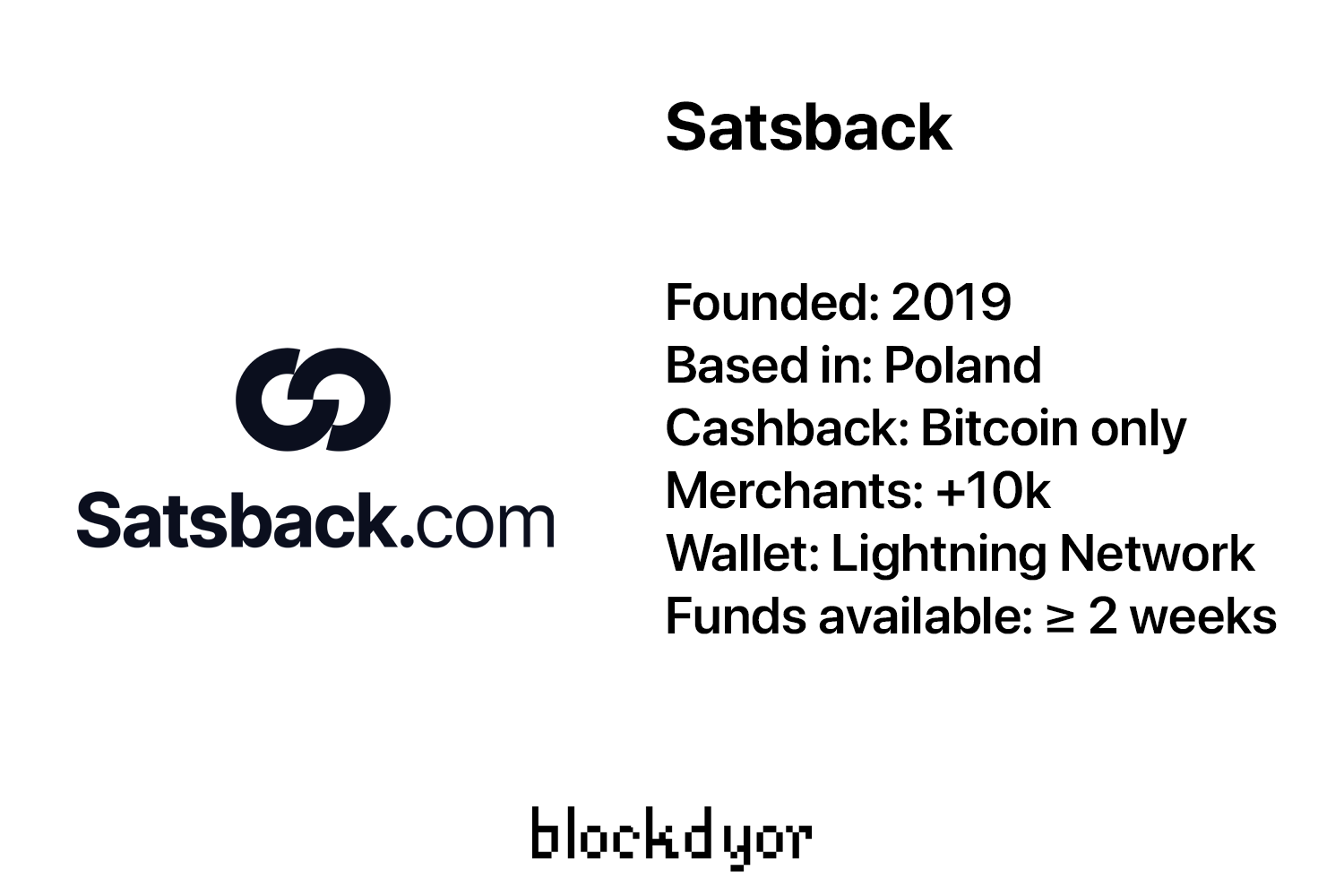 Satsback is a service that operates in a simple way, all without the need for a card. Here's how it works:
Choose from a Wide Range of Merchants: With thousands of available merchants, finding what you need is a breeze. Utilize the convenient search box to filter your options and select the desired merchant.
Shop as Usual: Click on the provided link and proceed with your shopping just as you normally would.
Receive Bitcoin Cashback Automatically: Your cashback in Bitcoin will be directly and automatically deposited into your lightning network wallet, ensuring a swift and hassle-free experience.
Now, you might be wondering, how is this service free?
The answer is rather straightforward. As Satsback attracts new users and generates sales for partner stores, these stores compensate them with a commission. They convert this commission into the most reliable form of currency, Bitcoin, and generously share the majority of it with you.
By making a small profit every time you shop, Satsback is able to maintain a free service that respects your privacy. This sustainable approach ensures that you can enjoy the benefits of Satsback without any cost or compromise.
Who created Satsback?
Satsback, the brainchild of Tom Chojnacki, is powered by Timechain Sp. z o.o., a company based in Poland with its headquarters located in Krakow.
Timechain operates within the Internet Publishing and Broadcasting and Web Search Portals sector, showcasing its expertise in the digital realm.
The company was officially incorporated on August 23, 2019.
Satsback Browser Extension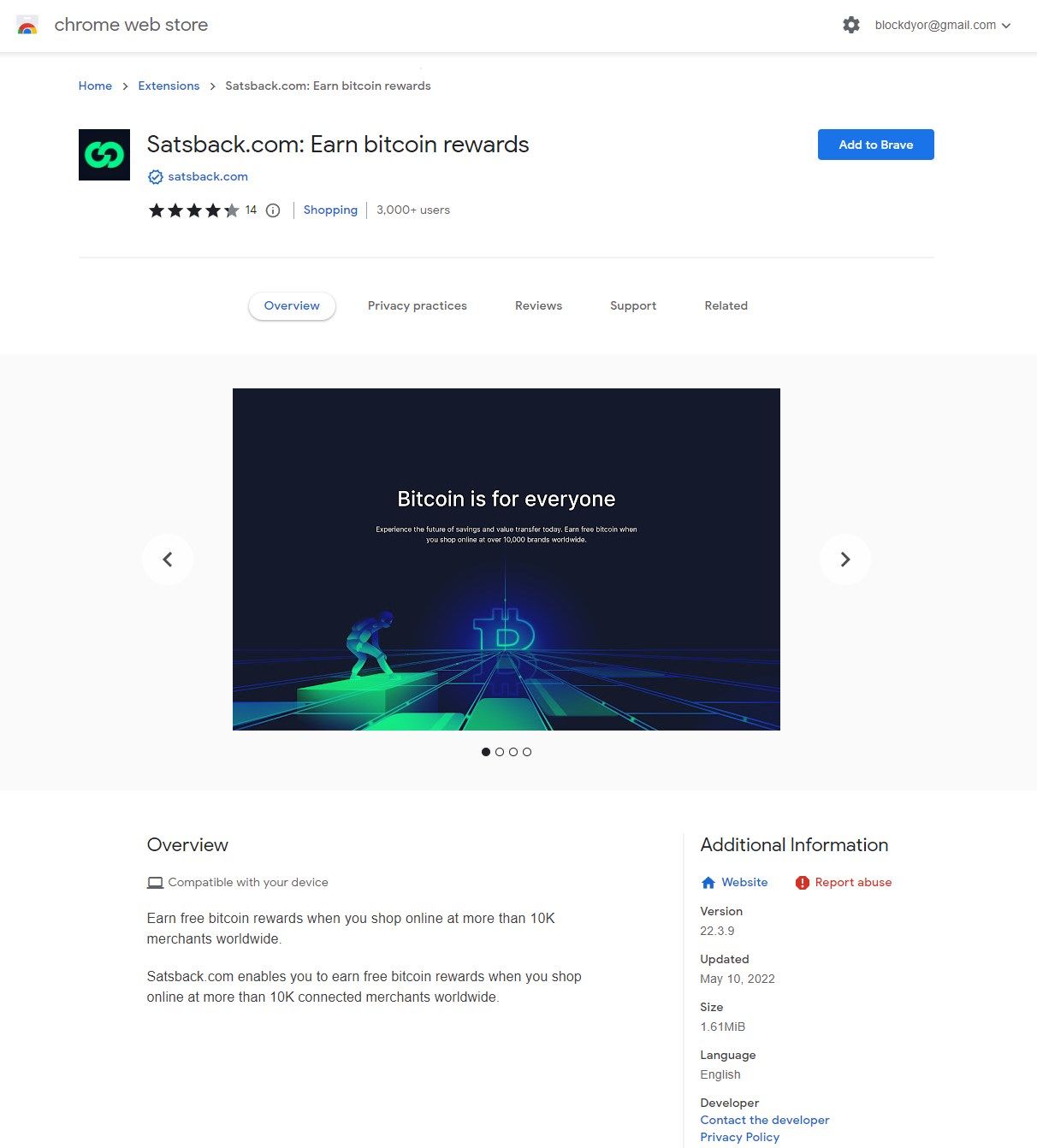 Satsback provides also a browser extension that ensures you never miss out on valuable satoshis when shopping at partnering stores.
As Satsback supports over 10 thousand merchants, using the free browser extensions might be a good idea to understand if a website provides cashback or not.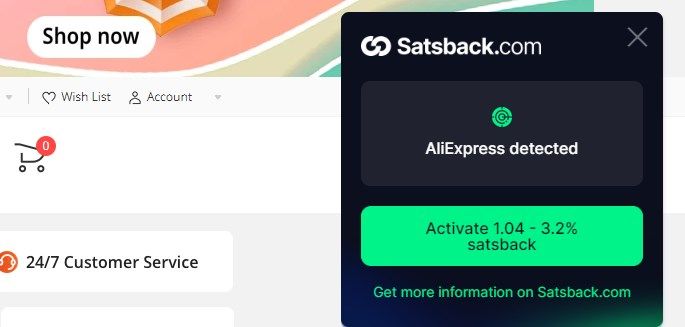 With a simple click, you can activate Satsback rewards and let the extension do the rest, seamlessly reminding you whenever you visit a participating store. Say goodbye to missed opportunities and hello to effortless satoshi accumulation.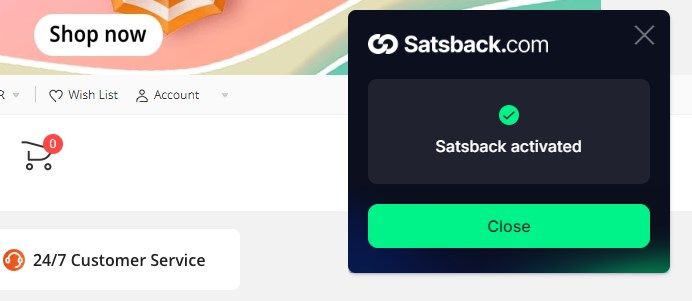 You can download the extension for Chromium-based browsers like Chrome and Brave, but also for Firefox and Safari.
How To Use Satsback
Using Satsback it's quite straightforward. It can be done both using the browser extension, app or directly by connecting to the Satsback website.
Log In or Sign Up to Satsback.
👉 Click here to open an account on Satsback and start earning Bitcoin rewards.

Once you've successfully logged into Satsback, you will be able to select the merchants to start getting your rewards. Locate in the upper right corner the button Stores.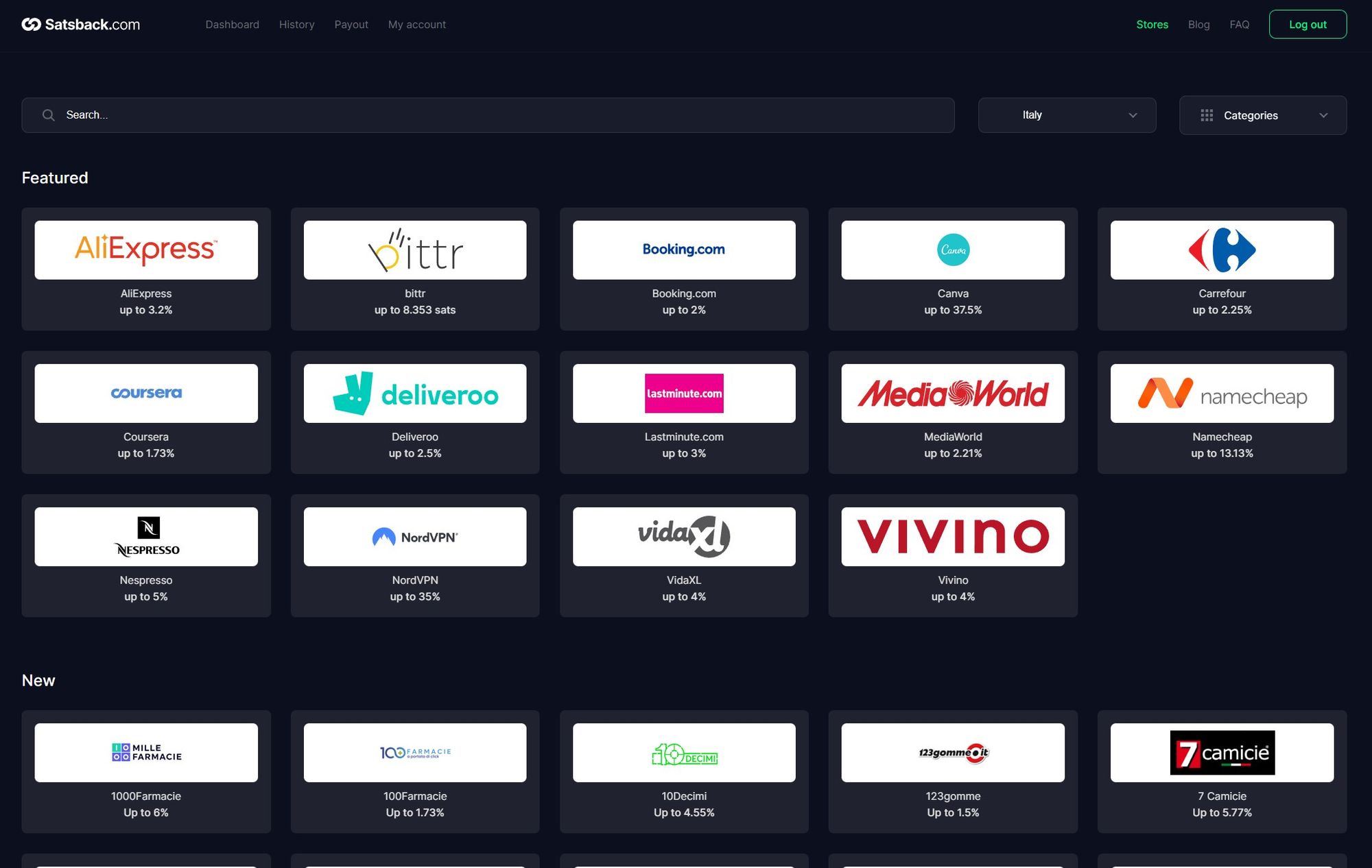 Choose a merchant. For this test I will select Aliexpress.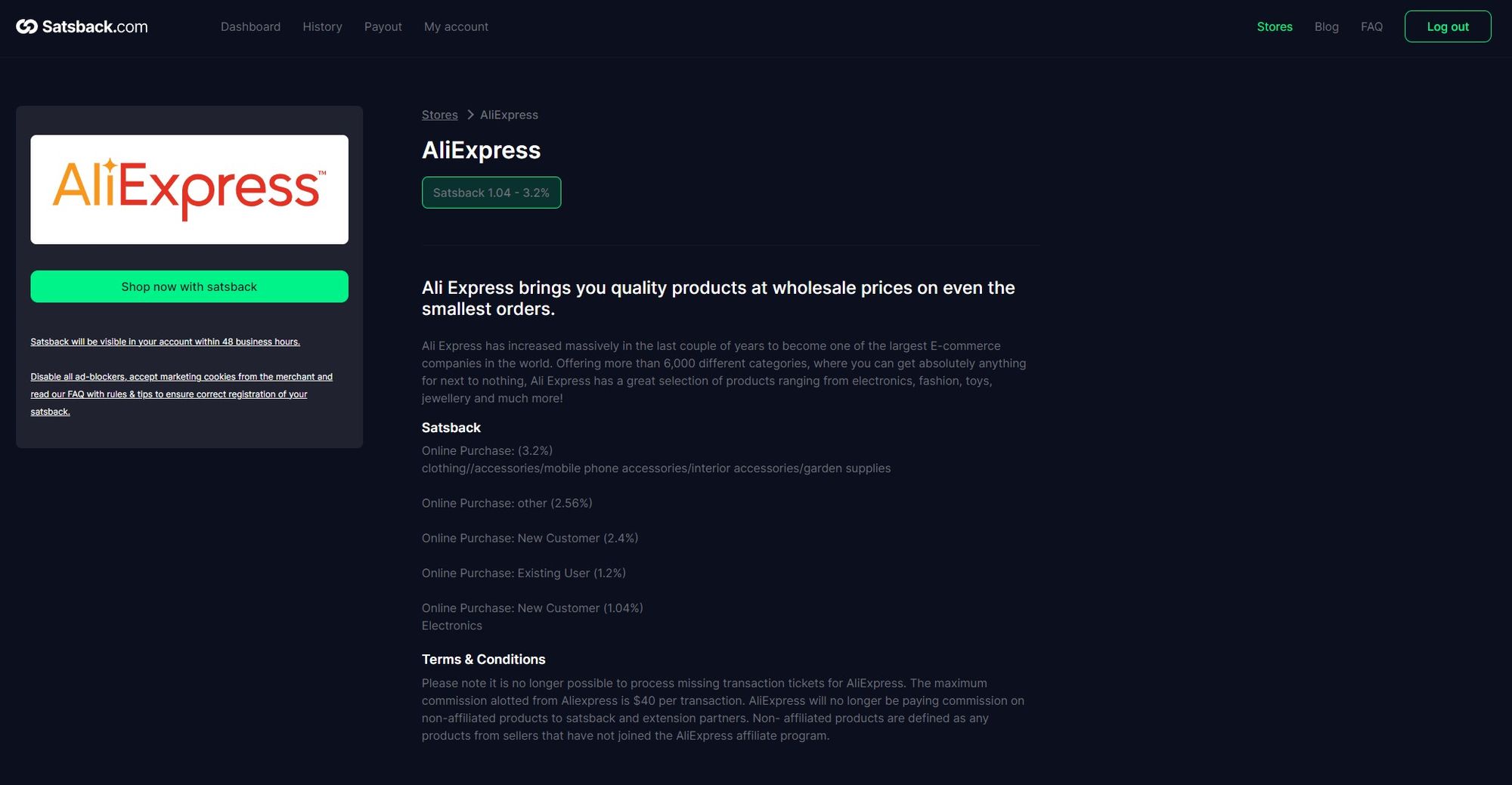 Read carefully all the infos and conditions about this merchants.
💡
Before continuing, I suggest you to disable any adblocker that you might have turned on. If you use Brave, turn off Brave Shields. If you use Pi-Hole, please temporarily turn it off. Otherwise, Satsback will probably not work.
After you have disabled all the adblockers on your computer and network, click on the green button Shop now with Satsback to continue.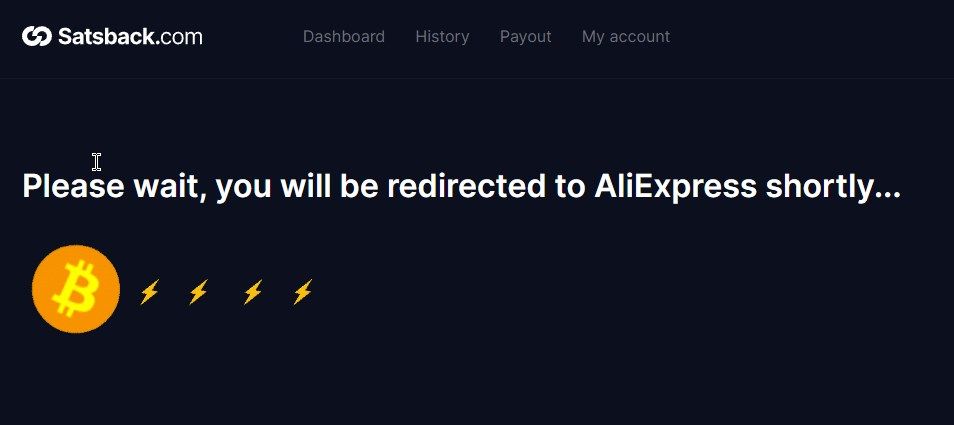 You will see a redirection page by Satsback, informing the user that you will be shortly access to the merchant's page.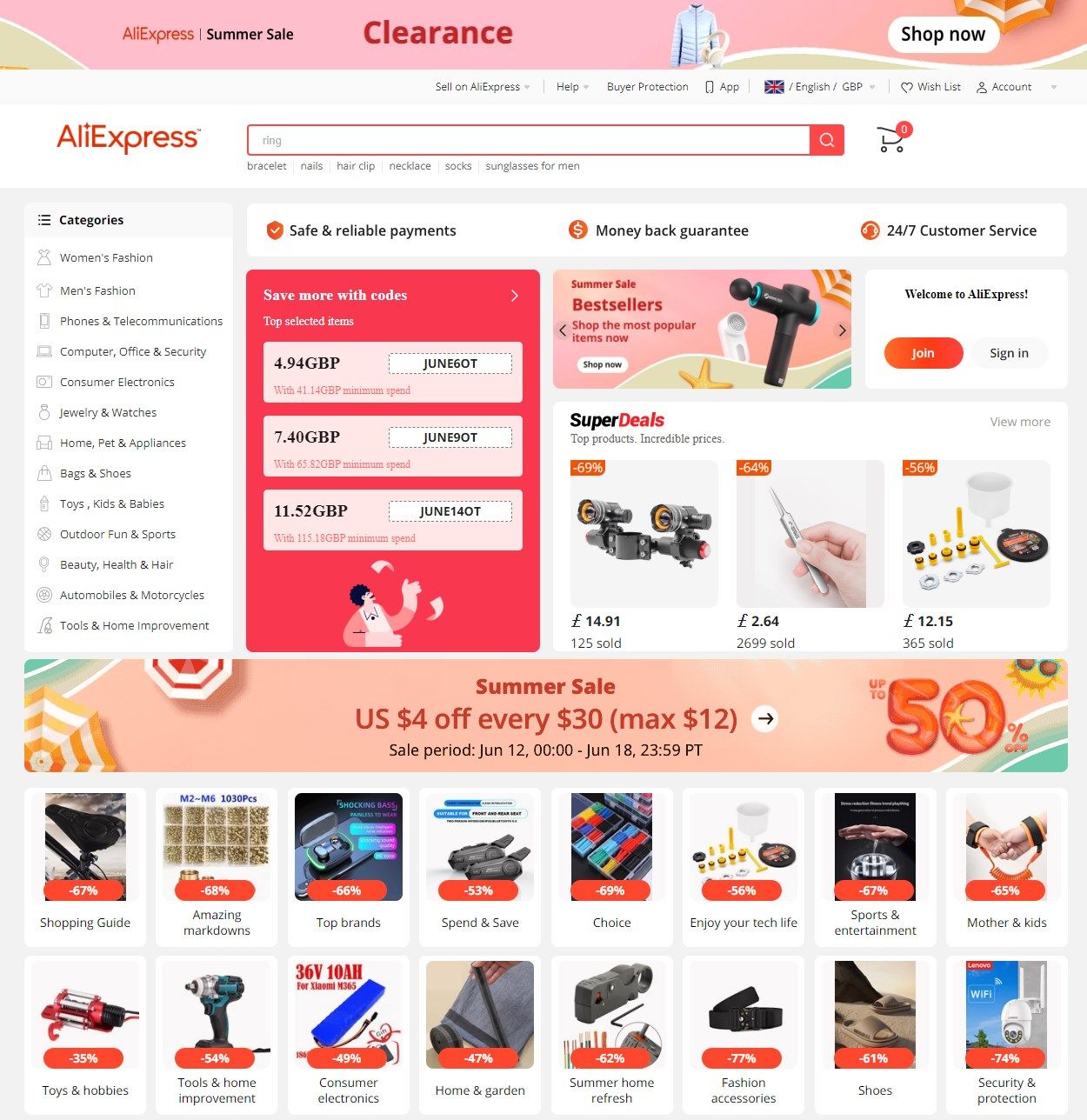 If everything worked successfully, you will be redirected to the merchant's page. You can now log in your merchant account (if you have one) and start shopping.

After having completed the checkout and paid successfully, your Satsback will be erogated in your account. You will have to wait around 48 hours for the cashback to appear in your account in the Pending balance section.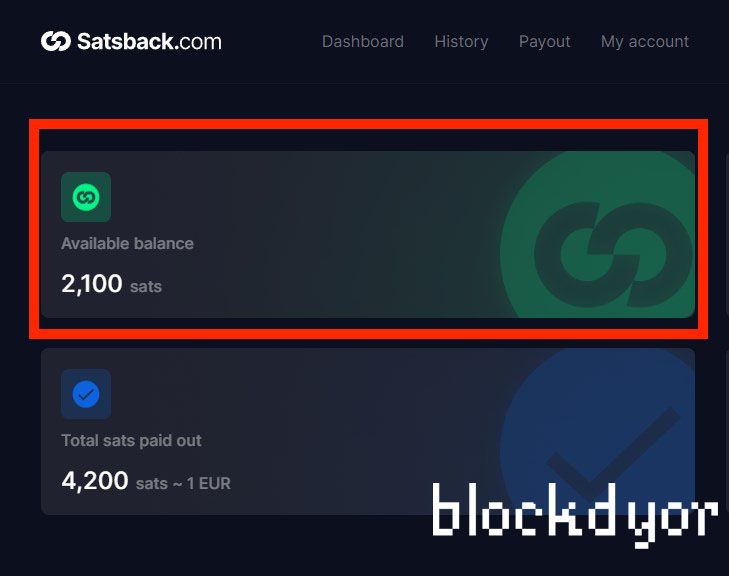 If everything worked correctly, your pending cashback will be visible in the "Available balance" section of the Satsback dashboard no earlier than two weeks. This waiting period is implemented to prevent any potential returns or chargebacks.
How To Withdraw From Satsback
When it comes to withdrawing funds from from Satsback, there are two main options. You have the freedom to withdraw your funds at any given time, and the process can be done either manually or automatically.
In the following paragraphs, we will delve into both methods, providing you with a comprehensive understanding.
How to Withdraw Manually From Satsback
Withdrawing funds manually from Satsback is a straightforward process, requiring the use of a functional Lightning wallet such as The Wallet Of Satoshi (or any other Lightning Wallet). Follow these simple steps to successfully complete your manual withdrawal:
Begin by logging into your Satsback account. Access the platform using your login credentials to proceed.

Once inside the dashboard, locate the Payout option. This can typically be found within the interface, and clicking on it will direct you to a new page.
On the newly opened page, you will notice a prominent green Payout button. Click on it to reveal a QR code, which is essential for starting the payment process.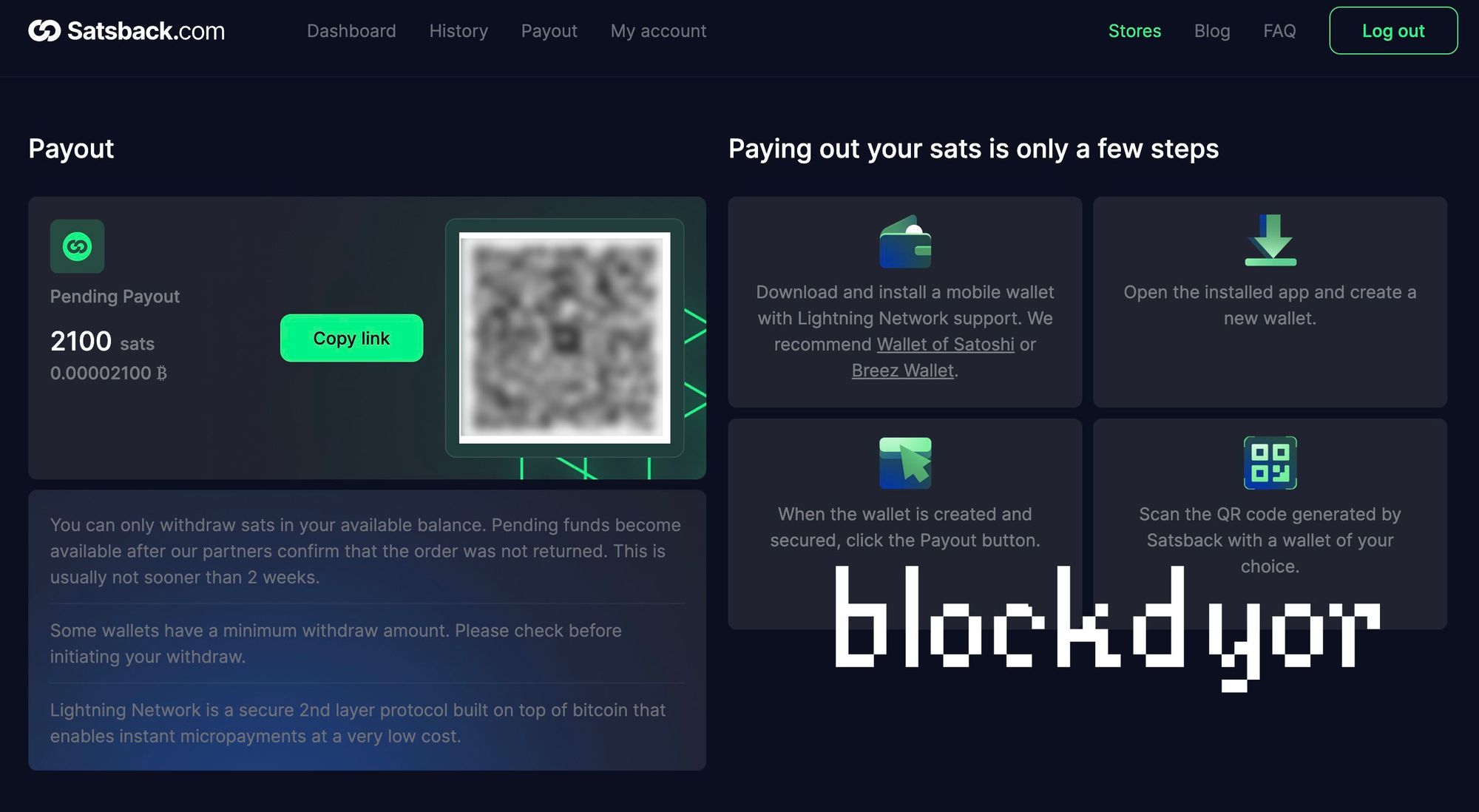 To receive your payment, you need to scan the QR code using your Lightning wallet.
Open your Lightning Wallet. For this example, I will use Wallet Of Satoshi on iOS.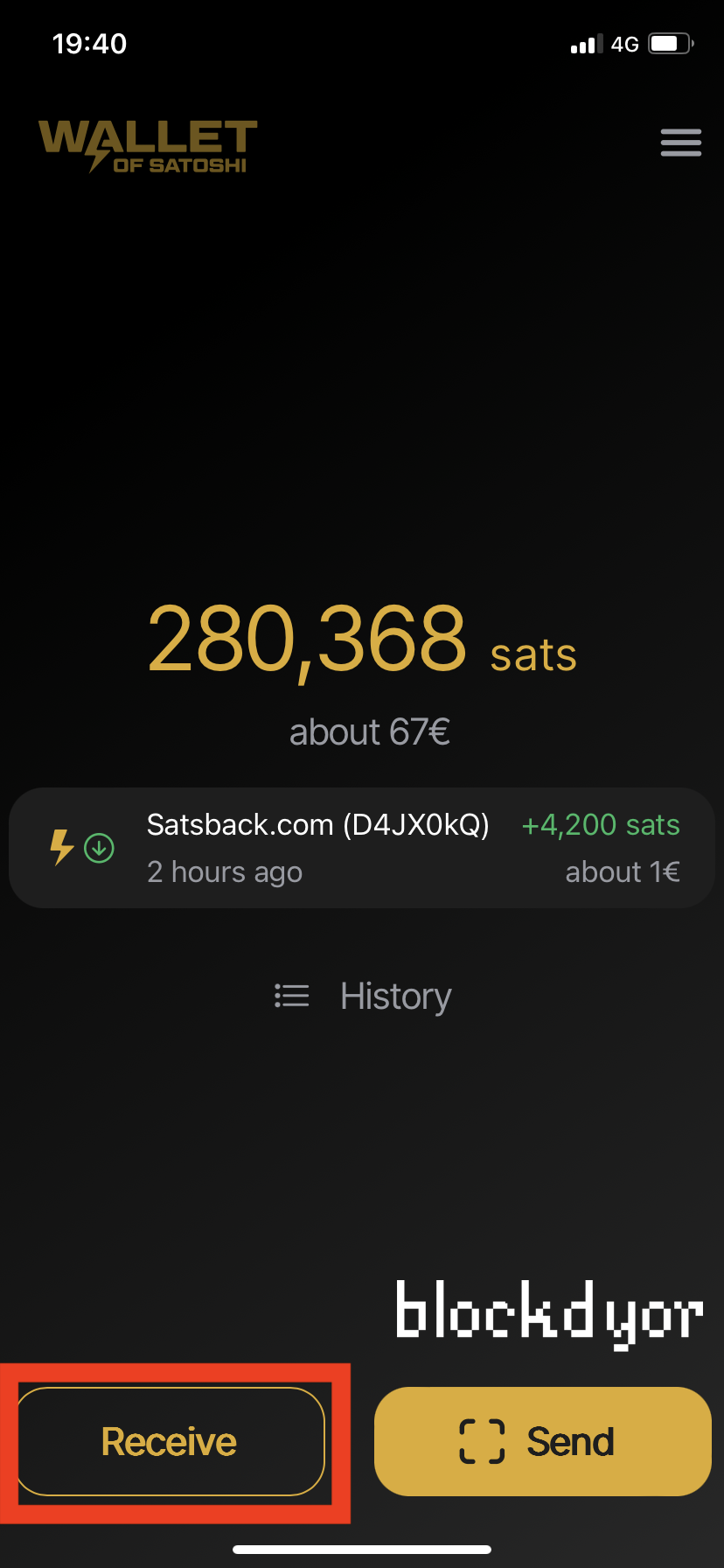 Tap on the Receive button on the bottom left.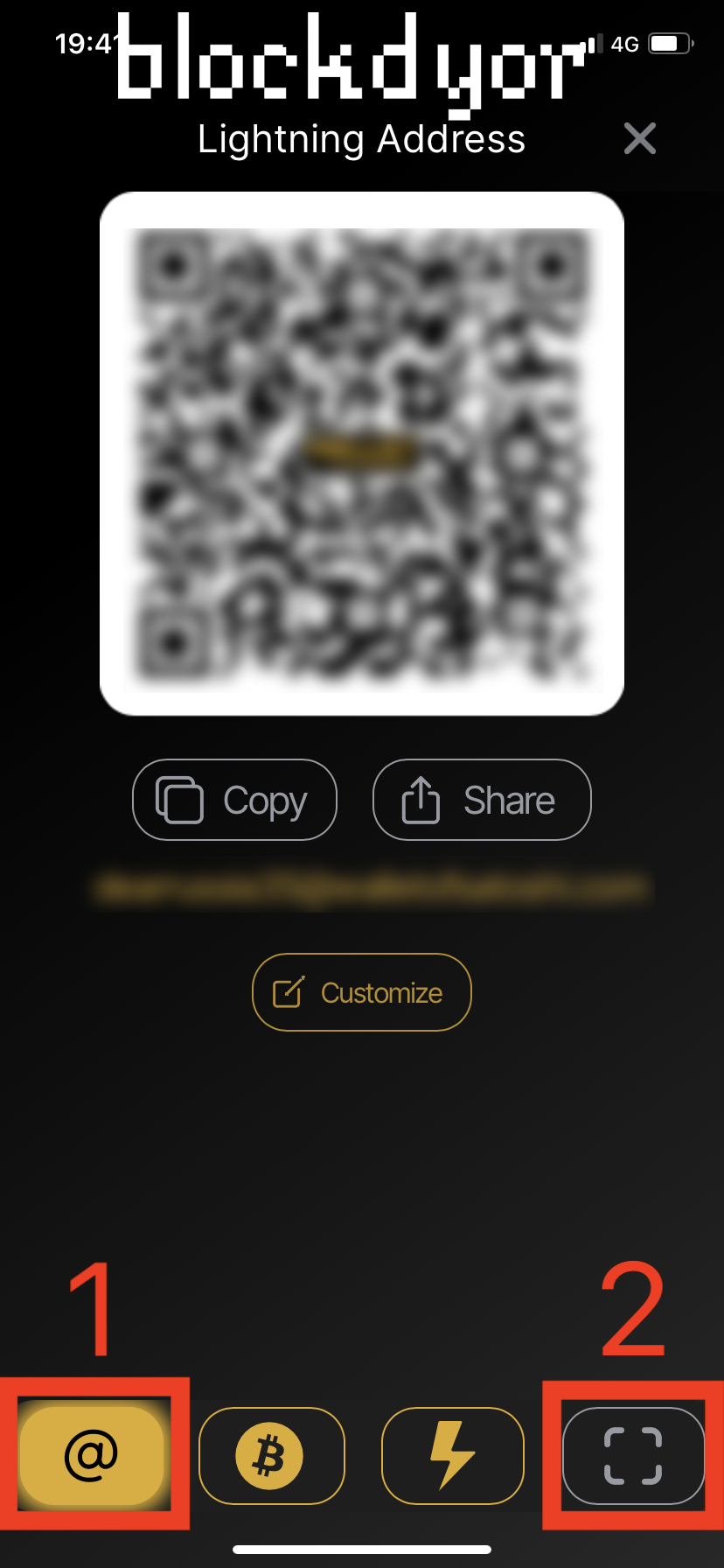 Make sure you select your Lightning Address (1) and then click on the Scan icon (2) to open up the camera scanner within the app.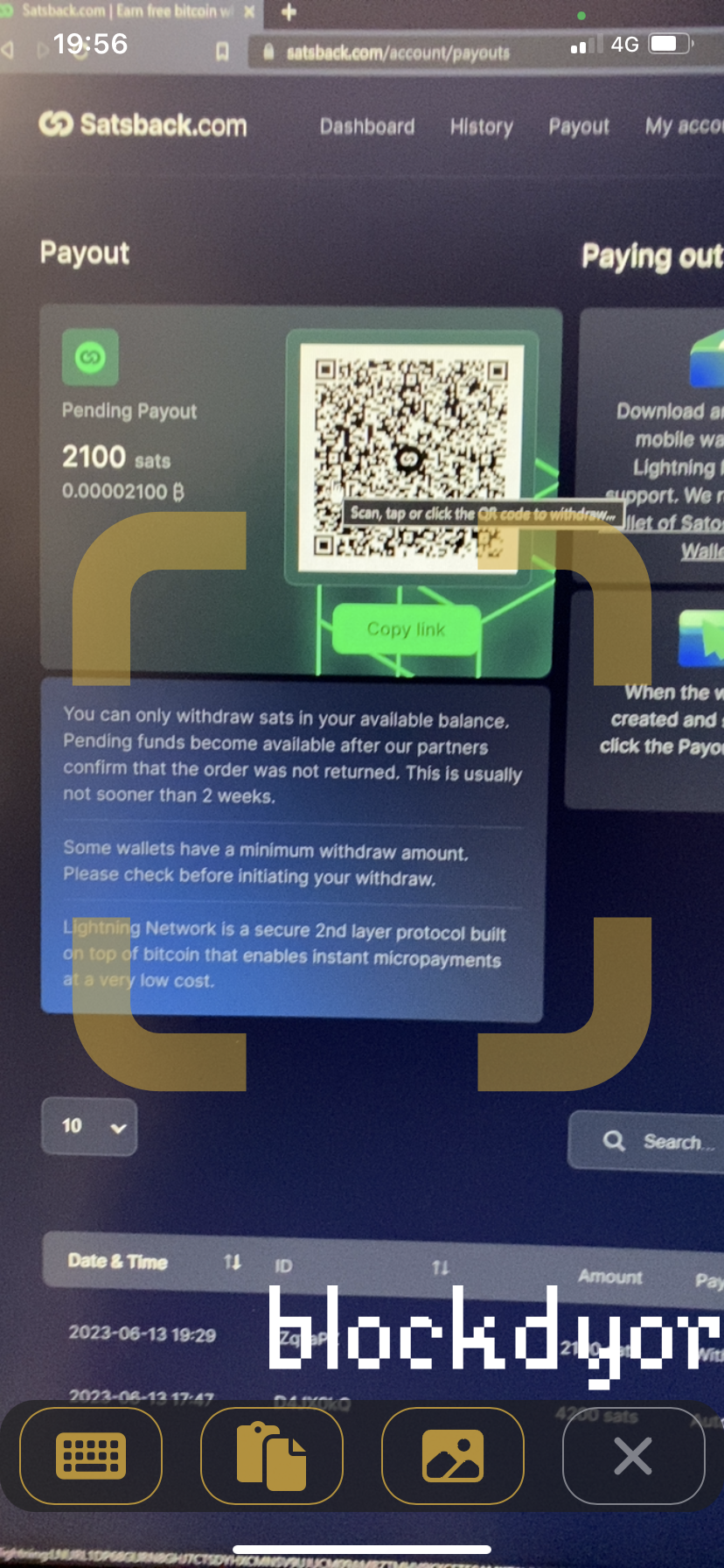 Using the wallet's scanning functionality, capture the QR code displayed on the screen.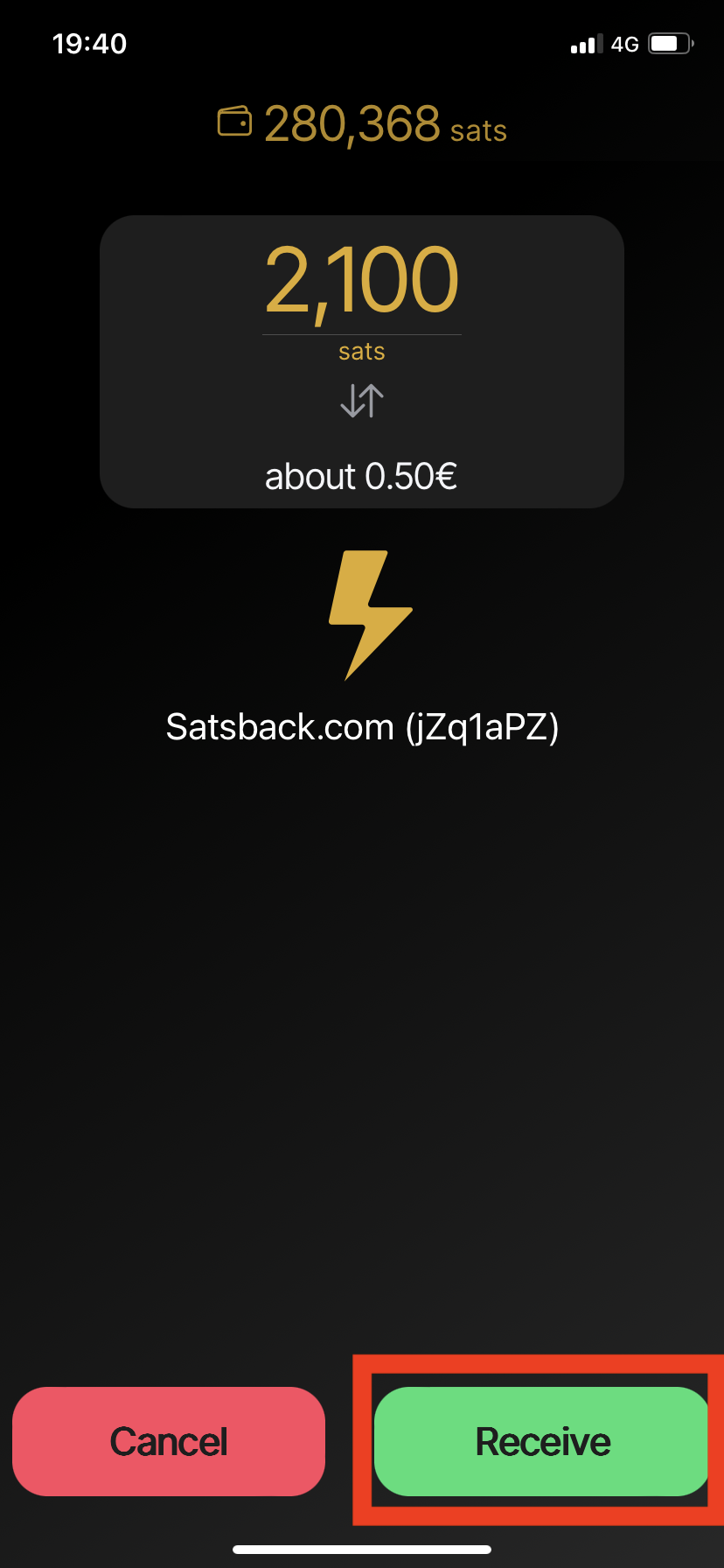 Tap on the green Receive button to receive your Satsback cashback.
You will receive the funds on your wallet in a matter of seconds.
How to Withdraw Automatically From Satsback
One of the most practical features offered by Satsback is the Automatic Payout function.
This functionality operates by linking your lightning wallet address and activating a toggle. By doing so, whenever you have an available balance, the funds will be automatically transferred to your wallet.
For configuring the automatic payment to your Lightning Wallet, go to the Satsback dashboard and click on My account.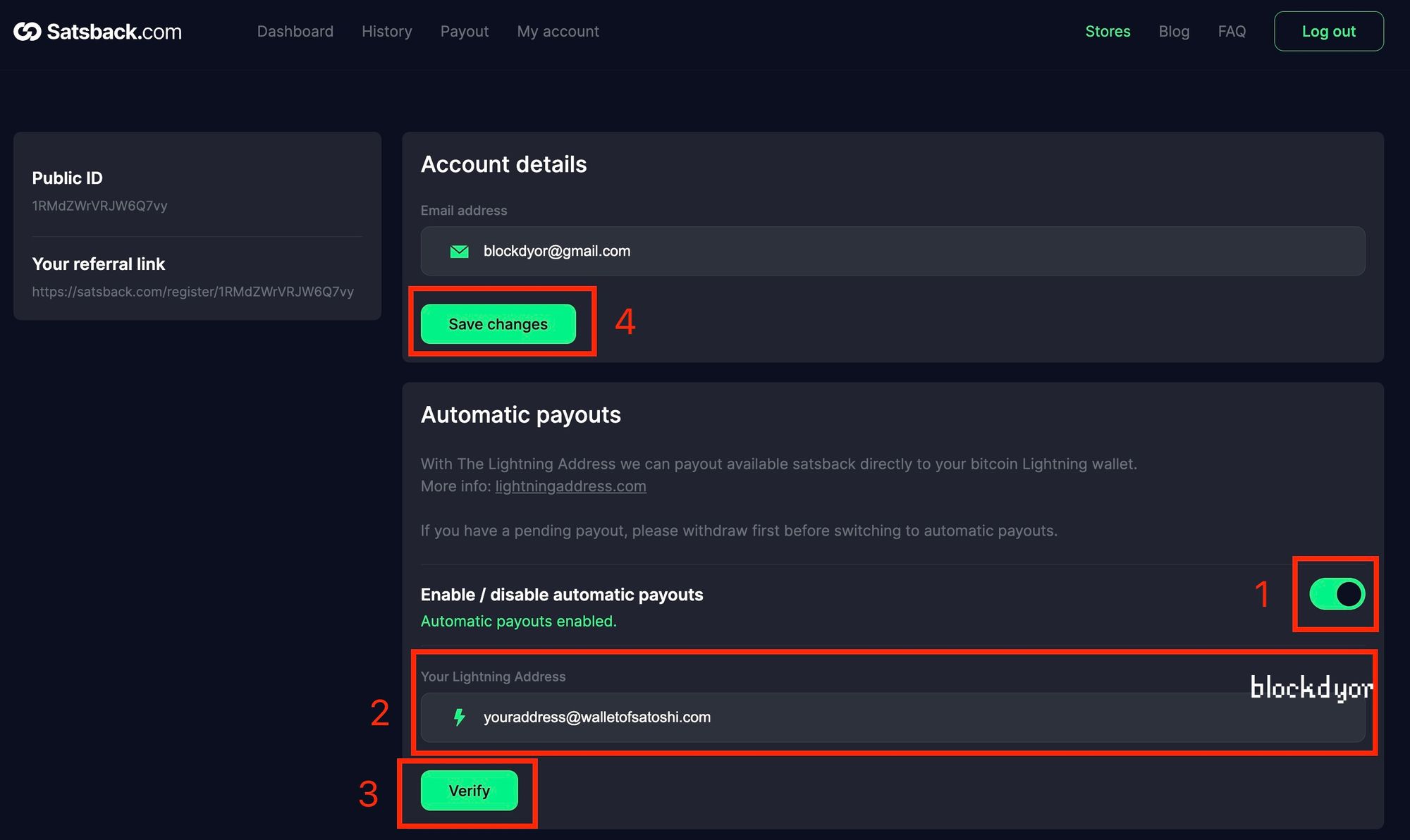 Toggle on the automatic payouts (1), type in your lightning address (2), verify it (3) and click on Save changes.
Now, whenever you will have an available payout, your funds will be automatically sent to your wallet.
The Automatic Payout function stands out as an attractive aspect of Satsback, streamlining the process of receiving your rewards. By integrating your lightning wallet address and enabling this feature, you ensure a seamless experience where your earnings are effortlessly sent to your wallet.
This system not only promotes efficiency but also takes advantage of the Lightning Network's cost-effective nature. With the Automatic Payout function, you no longer need to manually request the payout or wait for a significant accumulation of funds.
Each time you earn Satsback, whether it be from a single purchase or multiple transactions, the funds are automatically directed to your lightning wallet. This feature enhances the overall convenience and accessibility of Satsback, making it an appealing option for users seeking a hassle-free way to receive their rewards.
Satsback Opinions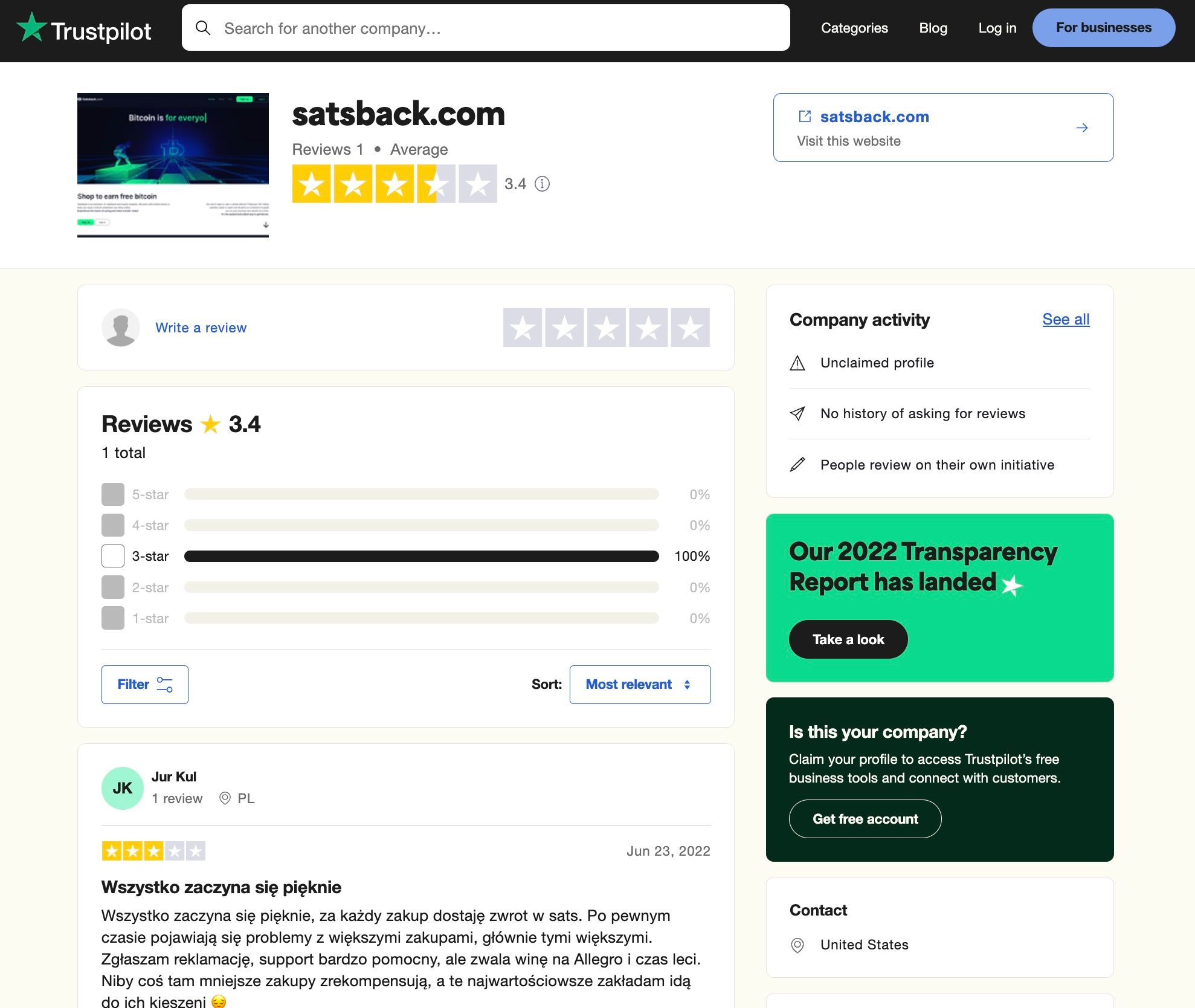 During the analysis of user opinions and reviews about Satsback on various platforms, I came across their Trustpilot page and noticed that the score is quite low (3.4 out of 5) and the number of reviews is quite limited. As of the time of writing, there is only one review available.
According to the sole review, Satsback seems to work well for smaller amounts, but there might be limitations when dealing with larger sums. It's important to note that we cannot verify the accuracy of this particular review, as it represents only one user's experience.
To gain a more comprehensive understanding of the situation, it would be beneficial to have a greater number of reviews on the Satsback page. A larger pool of reviews would provide a more balanced overview, allowing users to gauge the platform's performance from multiple perspectives.
Satsback Customer Service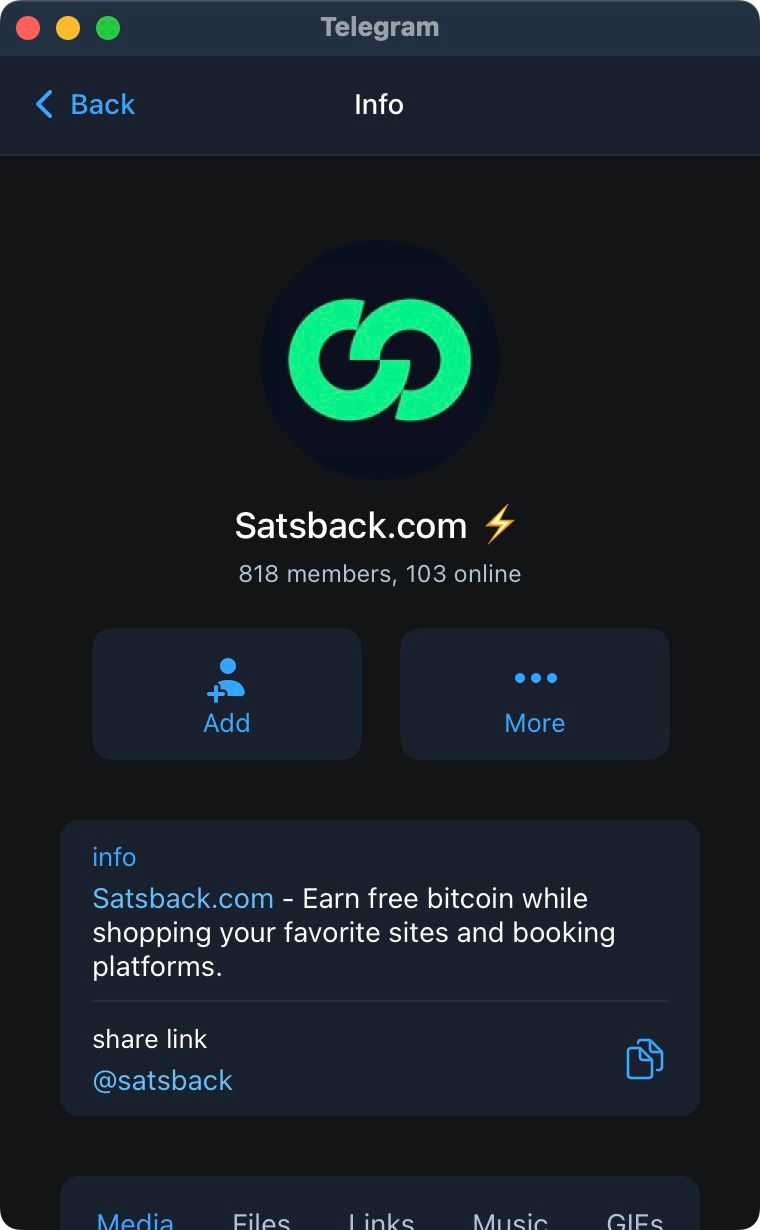 While using the website, I was unable to locate any mention of customer service or a ticket system to address potential issues. This discovery left me somewhat surprised, as it appeared there was no direct means of contacting the website owner or a dedicated customer service team.
However, after conducting thorough research, I managed to find a support email: [email protected]. It's important to note that this email is not prominently displayed on the website and can be somewhat challenging to find.
Additionally, I discovered that the customer service aspect is managed through Telegram, a messaging platform. There are two accounts to give support: @SatsbackBot and @Satsback. The former is designated for resolving issues related to missing Satsback, while the latter handles more general inquiries and questions.
Although the absence of readily accessible customer service information can initially be surprising, the availability of support through email and Telegram offers a means of seeking assistance. It is advisable to reach out to the appropriate channels for any concerns or queries you may have regarding Satsback.
Satsback Pros & Cons
In the ever-evolving landscape of Bitcoin cashback systems, Satsback stands as a notable player among its competitors. While it may not be the first of its kind, nor will it be the last, the competition in this sector is undoubtedly fierce. However, Satsback has managed to carve out its place by offering a web app that excels in functionality and user experience.
One of the key strengths of Satsback lies in its seamless web app. Users have reported a smooth and efficient interface, allowing for easy navigation and accessibility. The app's well-designed framework contributes to a positive user experience, ensuring that cashback rewards are effortlessly tracked and managed.
Another noteworthy aspect of Satsback is its extensive merchant network. With support for over 10,000 merchants, users have a wide range of options when it comes to earning cashback in Bitcoin. This expansive network offers a diverse selection of products and services, catering to various consumer preferences.
Moreover, Satsback's automation feature adds further convenience to the user experience. By automating payments, users can enjoy a hassle-free process where their cashback rewards are seamlessly transferred to their designated accounts. This automation not only saves time and effort but also enhances the overall satisfaction of users.
| Pros | Cons |
| --- | --- |
| ✅ Free to use, no subscription plans, no KYC | ❌ Limited to Lightning Network, doesn't support on-chain payments (Bitcoin) |
| ✅ Wide range of over 10,000 merchants | ❌ Complex understanding of support processes |
| ✅ User-friendly interface | |
| ✅ Option for automatic payments | |
Bottom Line
Satsback proves to be an invaluable tool for Bitcoin enthusiasts looking to accumulate satoshis effortlessly.
With its user-friendly interface and extensive network of partnering merchants, users can enjoy the benefits of earning BTC while shopping online.
However, it's important to note that Satsback is currently limited to the Lightning Network wallets, and users may need to familiarize themselves with how the support works for a smoother experience.
👉 Click here to open an account on Satsback and start earning Bitcoin rewards.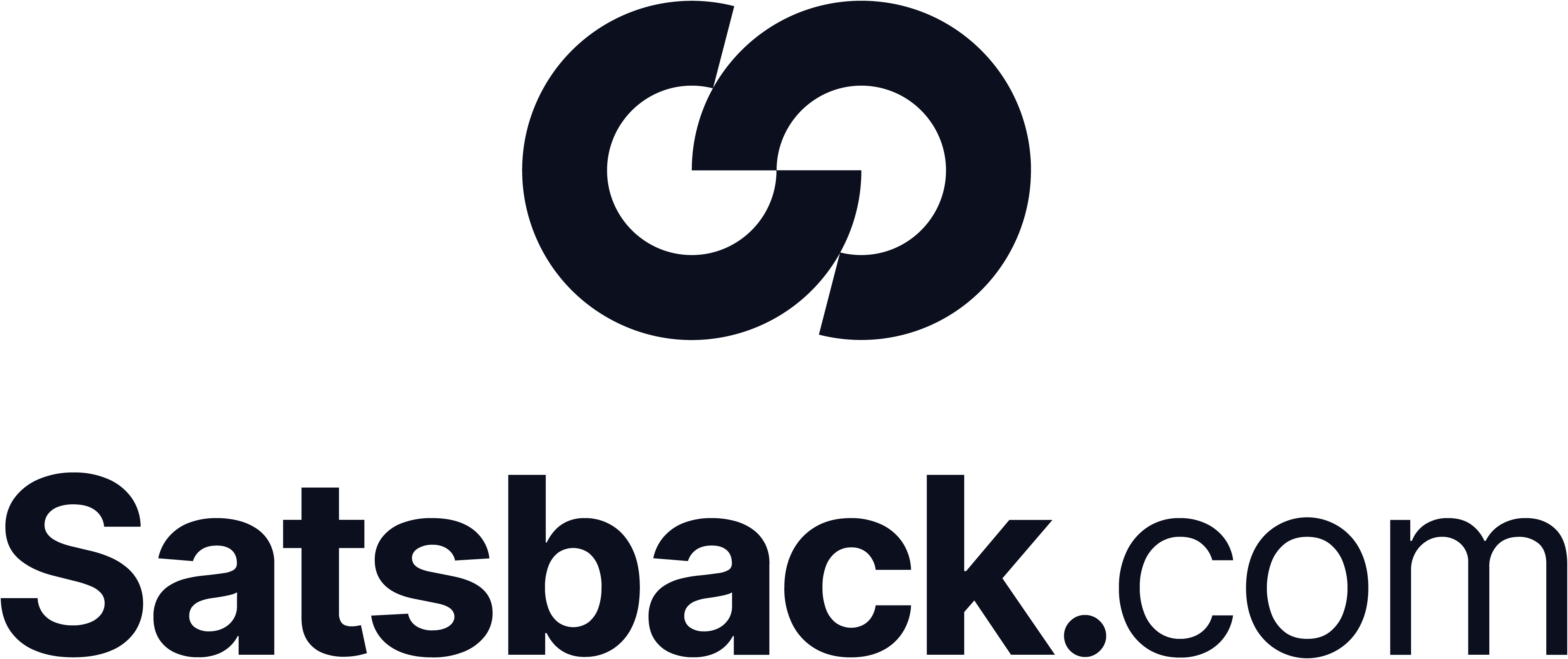 Satsback Evaluation
Ease of use: Satsback offers a seamless experience, thanks to its browser extension and automatic wallet payout feature. Using the platform is effortless, earning it a perfect rating of 5/5 in terms of ease of use.
Security: With Satsback, there's no need to go through a Know Your Customer (KYC) process or make any investments. Simply shop at your favorite stores as you normally would, and receive sats in return. This approach eliminates security concerns. However, Satsback still supports only Lightning, earning Satsback a score of 4/5 in terms of security.
Fees and limits: Satsback stands out by not charging any fees whatsoever. There are no hidden costs or limitations, leading to a commendable rating of 5/5 for fees and limits.
Cashback: Despite being completely free and without any paid plans, Satsback offers remarkably generous cashback rewards. It's not uncommon to enjoy cashback rates as high as 13% for Namecheap and 35% for NordVPN, among others. This exceptional value earns Satsback a perfect score of 5/5 for cashback rewards.
Supported countries: Satsback operates in a decentralized manner and is available in any country. While not all merchants may be supported in every country, this limitation is not attributed to Satsback itself. Considering its wide accessibility, Satsback receives a rating of 5/5 for supported countries.
Frequently Asked Questions (FAQ)
What is Satsback?
Satsback is a platform that offers cashback rewards in the form of Bitcoin (sats) for online purchases made through its partnered merchants.
How does Satsback work?
Satsback works by connecting users with various online merchants through their platform. Users simply need to sign up, browse through the available offers, click on a desired offer, and complete their purchase on the merchant's website. Once the purchase is verified, users receive a percentage of their spending back in the form of Bitcoin.
Are there any fees to use Satsback?
No, there are no fees associated with using Satsback. It is completely free for users to sign up, browse offers, and earn cashback rewards. Satsback does not charge any fees or require any paid plans for its services.