SideShift.ai Review 2023: A No Sign Up Cross-Bridge Swap
In this review we analyze SideShift.ai: a No-signup crypto exchange facilitating seamless swaps between various cryptocurrencies. It is a privacy-focused with no KYC requirements. If offers seamless cross-chain support for secure and anonymous transactions.
What Is SideShift.ai?
SideShift.ai is a crypto exchange that offers a unique feature of a no sign-up process, meaning users are not required to provide any personal information or go through a KYC (Know Your Customer) verification.
SideShift enables both humans and AI to seamlessly shift between various cryptocurrencies such as BTC, ETH, BCH, XMR, XAI, and many more.
👉 Click here to visit SideShift.ai.
| FEATURE | DESCRIPTION |
| --- | --- |
| 🌐 Website | sideshift.ai |
| 🏙️ Location | St. Kitts & Nevis and Hong Kong |
| 📅 Year Founded | 2019 |
| 💰 Primary Token | SideShift Token (XAI) |
| 📈 Listed Crypto | +100 |
| 💱 Trading Pairs | BTC/L-BTC or BTC/ETH, BTC/XRP, BTC Lightning/BTC and many more |
| 💵 Supported FIAT | N/A |
| 🌍 Supported Countries | Worldwide |
| 💰 Minimum Deposit | N/A |
| 💸 Deposit Fees | Free |
| 💰 Daily Buying Limit | N/A |
| 💱 Trading Fees | Variable, BTC/L-BTC ~ 2% |
| 💸 Withdrawal Fees | Network fees are included in the Live Exchange Rate |
| 📱 Mobile App | Web Based |
| 💬 Customer Support | Live Chat, Email |
How SideShift.ai Works?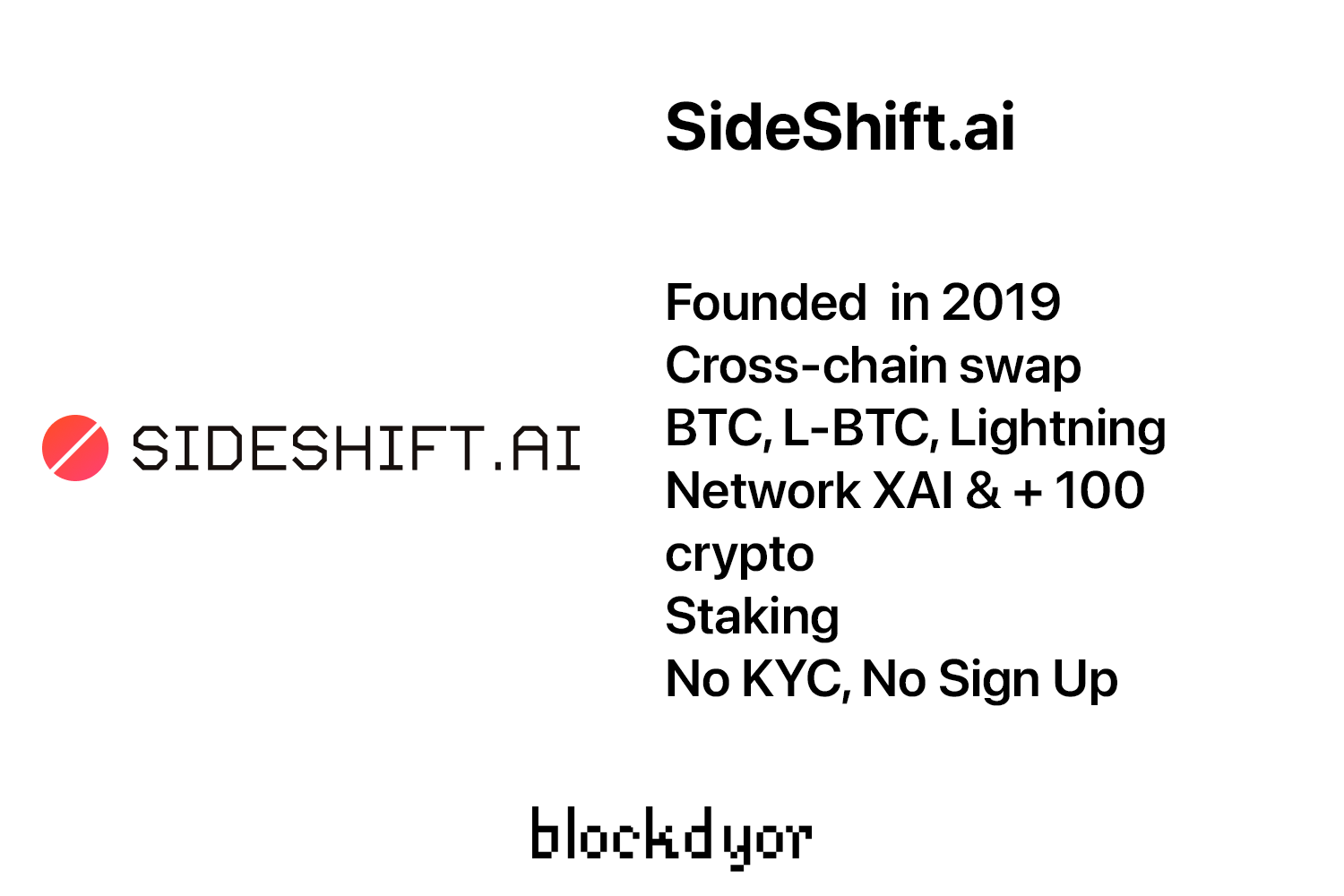 SideShift operates on a swap-based technology, which enables seamless crypto-to-crypto exchanges without the involvement of intermediaries.
Unlike the traditional method of converting native currencies to fiat and then purchasing the desired cryptocurrency, SideShift eliminates the need for such conversions, saving time and reducing user effort.
The process on SideShift.ai is automatic. Once a user's deposit receives one confirmation on the blockchain, SideShift.ai initiates the shift and transfers the funds to the address provided by the user.
XAI serves as the native ERC20 token of SideShift.ai. It has evolved from the previous SideShift token, SAI.
SideShift.ai Features
SideShift.ai offers a comprehensive range of features that make it a versatile crypto exchange. Here are the key features.
Swap
Users can seamlessly swap or "shift" between more than 100 cryptocurrencies, including BTC, ETH, BCH, XAI, and others.
SideShift.ai provides competitive exchange rates and does not require users to create an account, ensuring a hassle-free experience. The platform also supports Bitcoin on the Lightning Network and Liquid Network.
Stake
Users can stake SideShift Tokens (XAI) on-chain and receive svXAI in return. By participating in staking, users can earn a share of 25% of SideShift.ai's revenue, which is distributed daily. Staking takes place on the Ethereum Network, utilizing ERC-4626 staking, an innovative tokenized vault standard.
Integration
SideShift.ai offers integration options for businesses. With rapid trading and round-the-clock customer support, businesses can integrate SideShift.ai into their platforms or applications. Users of these integrated services do not need to sign up separately.
SideShift.ai provides a comprehensive set of features, catering to both individual users and businesses seeking efficient and user-friendly cryptocurrency exchange solutions.
How to Get Started On SideShift.ai
Getting started on Sideshift.ai is incredibly simple. No registration is required, and upon visiting the website, a private key will be generated for you.
This private key serves as the secret to accessing your Sideshift identity.
If you're solely engaging in swapping cryptocurrencies, saving the private key is not essential since your funds will always remain in your MetaMask or other supported wallets.
However, if you decide to participate in staking, it's advisable to back up your private key, as your XAI balance in the staking vault will increase over time.
To begin, follow these steps:
Visit the SideShift.ai website by clicking the link provided below:
👉 Click here to sign up for SideShift.ai.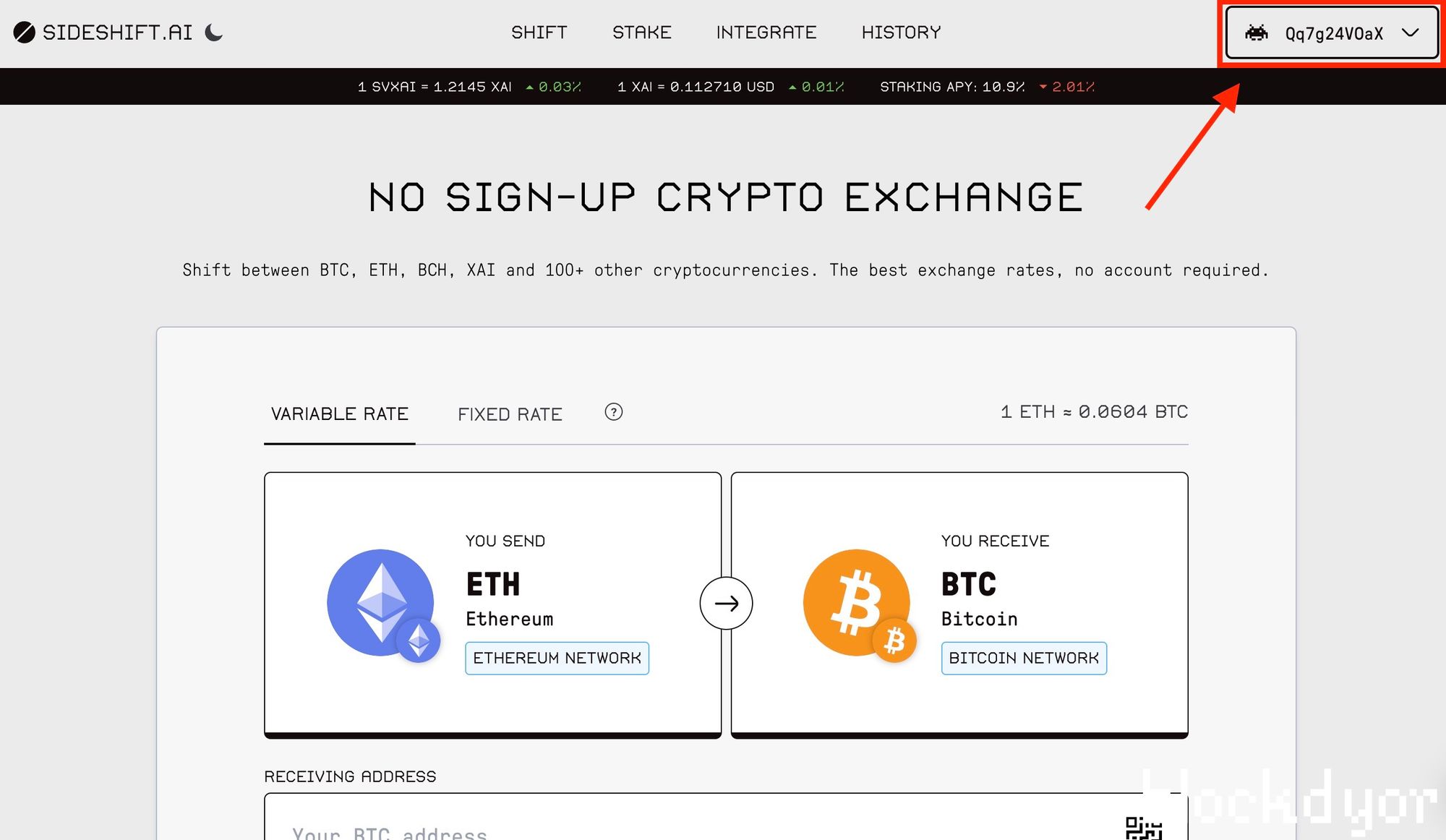 You will go on the SideShift homepage. Locate your username on the top right corner and click on it.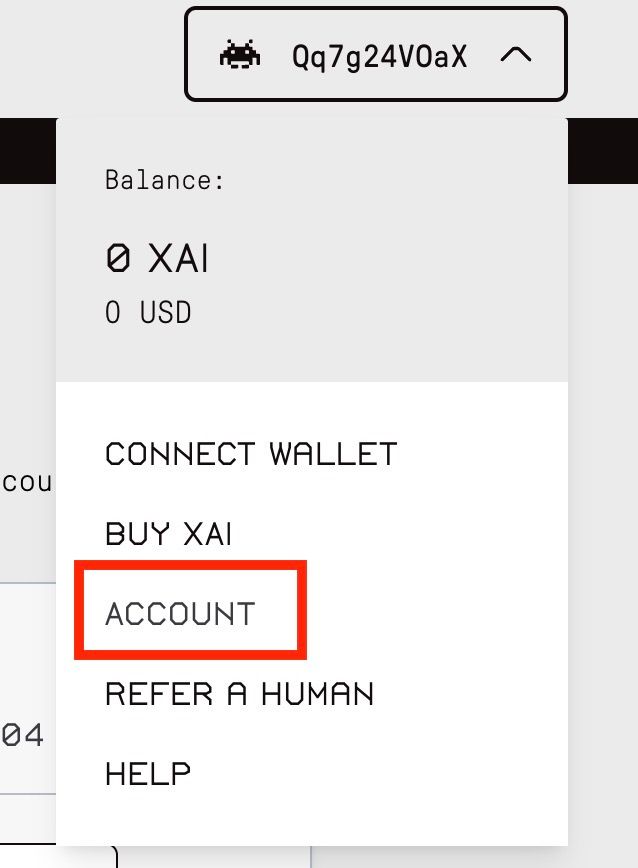 When the menu opens, click on "Account".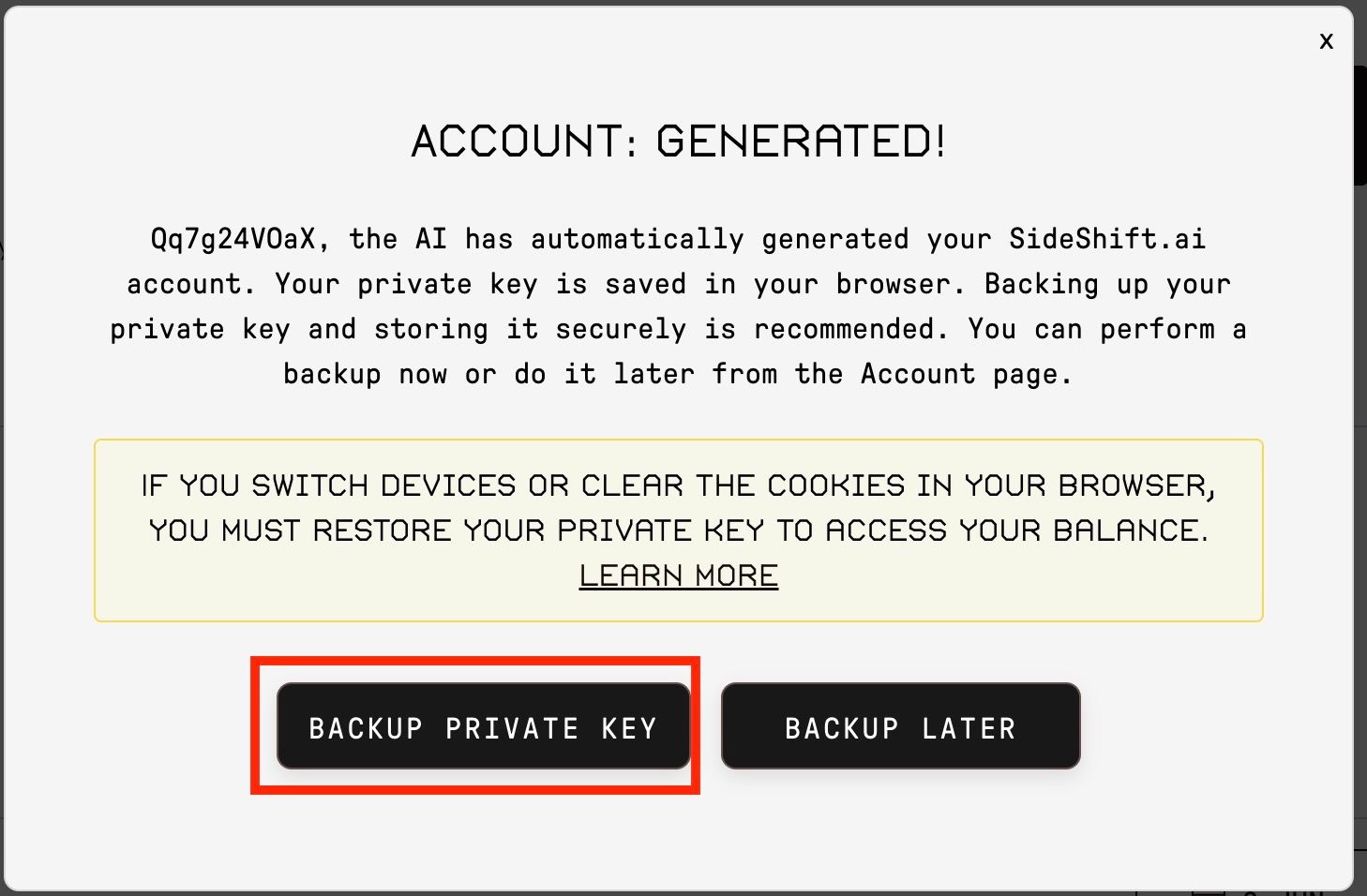 The account has been generated. Click on "Backup Private Key" to continue.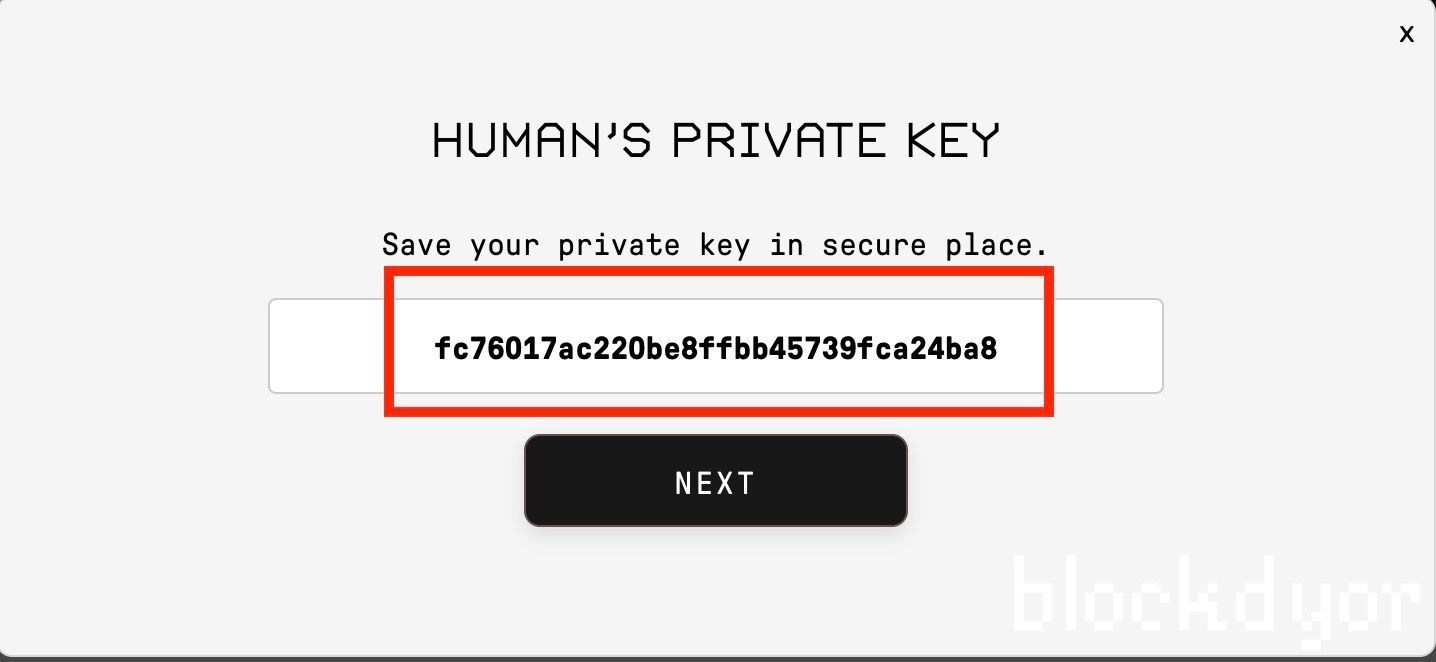 Copy the private key in a password manager, or even better in a piece of paper and never share it with anybody. You can verify the private key by clicking on "Next".
Now your SideShift.ai account has been created and you will always be able to retrieve your infos whenever you want. It is important to complete these steps to ensure that you retain all your information and tokens on the platform.
Failure to do so may result in the loss of your data and tokens stored on Sideshift.ai.
How To Swap On SideShift.ai
In the next step, we will explore the process and cost involved in performing a swap from Bitcoin to Bitcoin Liquid, transitioning from the main chain to the sidechain of the Liquid Network.
We will examine the procedure in detail to understand the actual expenses incurred. Conducting this test with L-BTC is ideal, as it maintains a 1:1 parity with BTC, enabling us to accurately assess the costs associated with using Sideshift.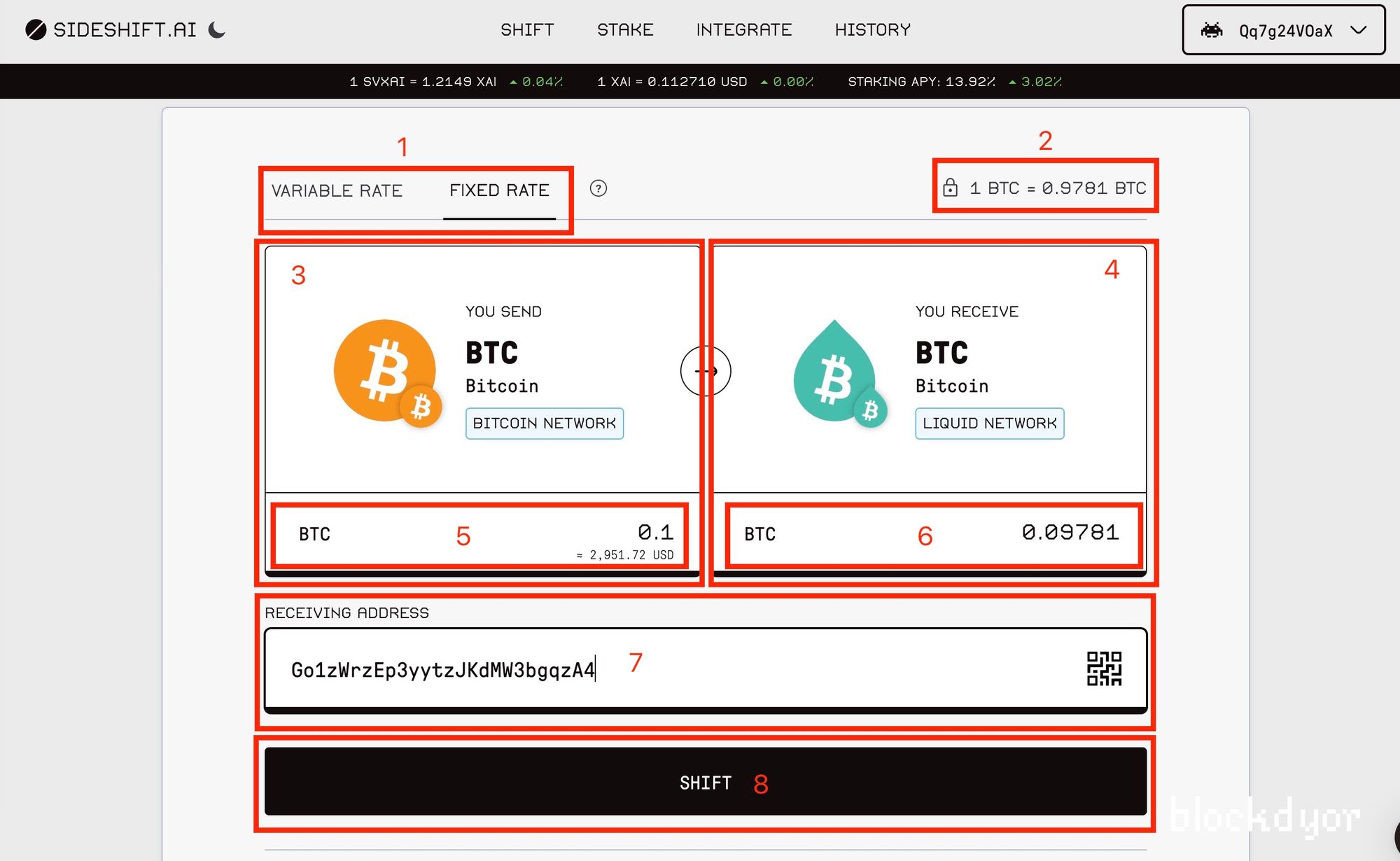 To initiate a swap on Sideshift.ai, start by visiting the homepage, as it serves as the central hub for all swap transactions.
👉 Click here to visit SideShift.ai.
Once there, you'll need to decide whether you prefer a variable rate or a fixed rate (1) for your swap.
To start the swap, follow these steps:
Select the cryptocurrency you want to send from the available options (3).
Choose the cryptocurrency you wish to receive in exchange (4).
Enter the amount of the cryptocurrency you want to send (5).
The platform will automatically update and display the corresponding amount of the cryptocurrency you will receive in return (6).
At any point during the process, you can check the exchange rate to stay informed about the conversion rates being applied.
Type (or scan) the receiving address where you want the cryptocurrency to be sent (7). It's important to note that the address must be under your control and compatible with the network of the cryptocurrency you are receiving.
When you are ready, click on the "Shift" button (8).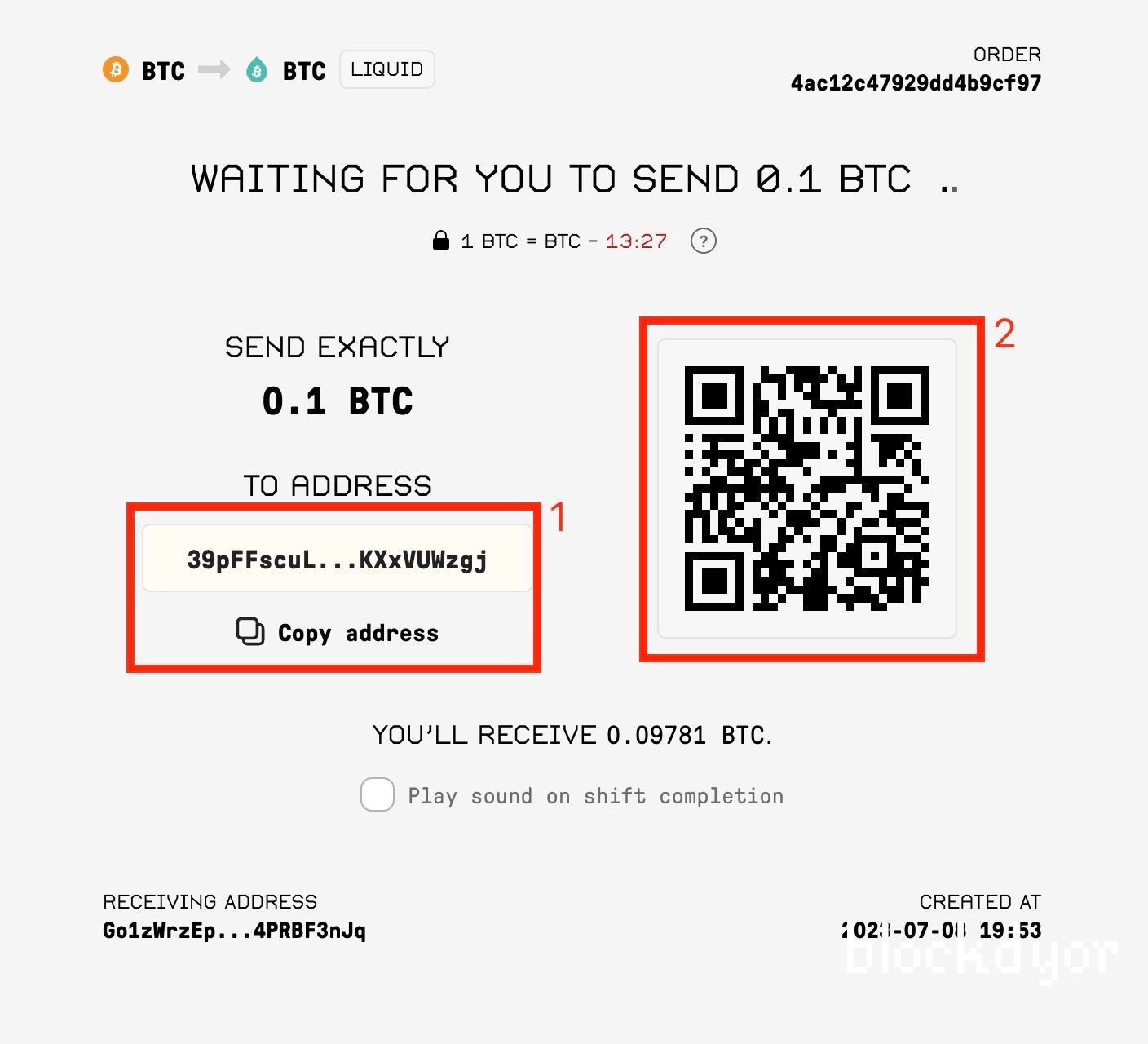 Upon proceeding, you will be directed to a new screen displaying the necessary information to continue with the swap process. At this stage, you will need to send funds to the provided address. You have two options to obtain the address:
Copy: You can manually copy the address provided (1).
QR Code: Alternatively, you can use a QR code scanner to conveniently retrieve the address (2).
It is very important to make sure that you send the exact amount specified for a successful transaction.
Once the sent funds are received, the swap will be executed, and you will receive the corresponding funds in the cryptocurrency you selected.
Additionally, there is an option to enable a sound notification upon completion of the swap.
Sideshift Fees
At SideShift.ai, there are no commissions charged for transactions. Instead, exchange rates are utilized to determine the ratio at which you can swap one cryptocurrency for another. When placing an order on SideShift.ai, you will have two options for your shift rates: Fixed or Variable.
Variable Rate: The exchange rate for your selected coins will continuously update until you send the funds to SideShift.ai for your shift. Once the funds are deposited, the exchange rate becomes locked-in. Please note that network fees are displayed separately on the Shift Order page and are not included in the Live Exchange Rate displayed.
Fixed Rate: The exchange rate for the selected coins is locked-in for a duration of 15 minutes after pressing "Shift." Users must enter the exact amount of coins they wish to send before creating their order. If a different amount is sent than what is displayed on the Order Page, the deposit will be rejected and refunded.
Network fees are included in the Live Exchange Rate and will update based on the fixed deposit/settle amount entered by the user before creating the order.
💡
It is recommended to deposit the funds as soon as possible to avoid losing the locked-in rate, as the rate expires within 15 minutes.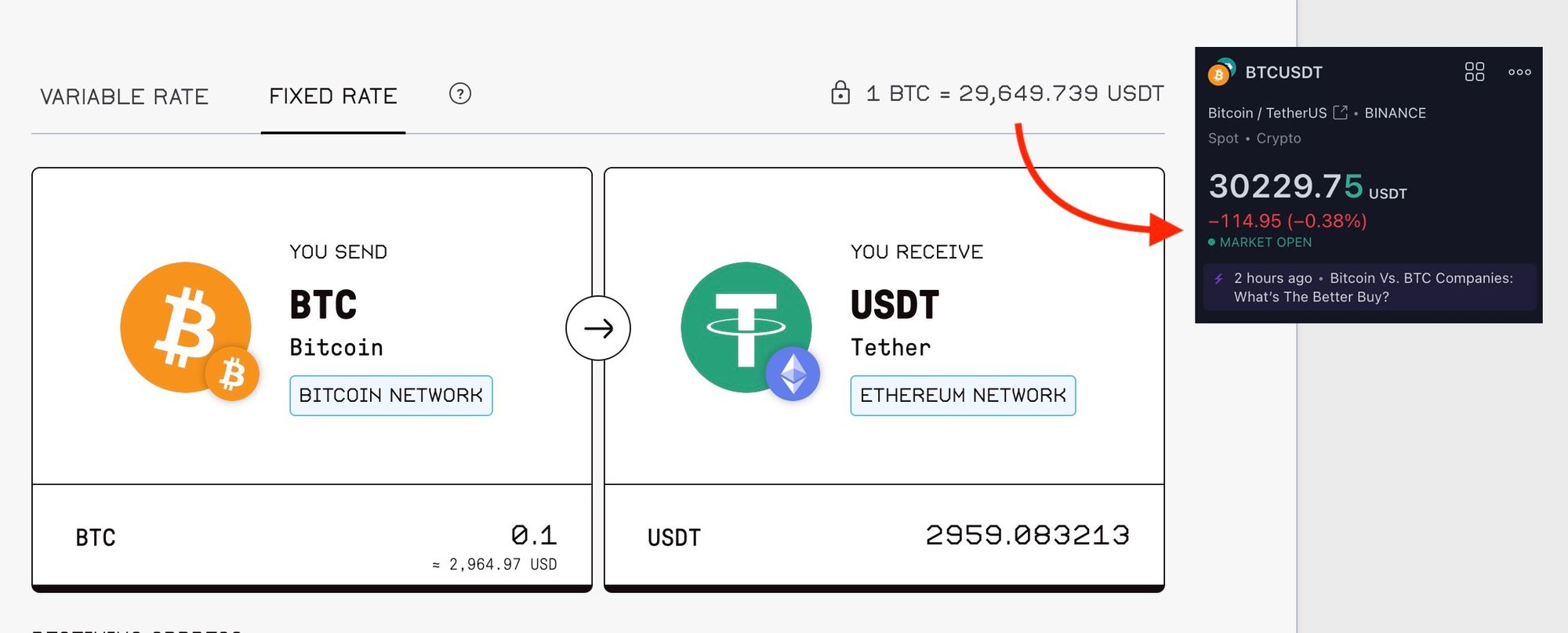 When comparing rates on SideShift, such as for BTC/USDT, one can observe the spread difference between the SideShift Market Price and that of prominent exchanges like Binance.
In our test, the price on SideShift was $29,649, while on Binance it was $30,229. This indicates that SideShift is approximately 1.95% more expensive than a conventional exchange.
It's worth noting that part of this difference contributes to SideShift's profit. However, considering the added benefit of guaranteed privacy through the absence of KYC requirements and registration, the slightly higher cost may be deemed acceptable.
SideShift.ai Reviews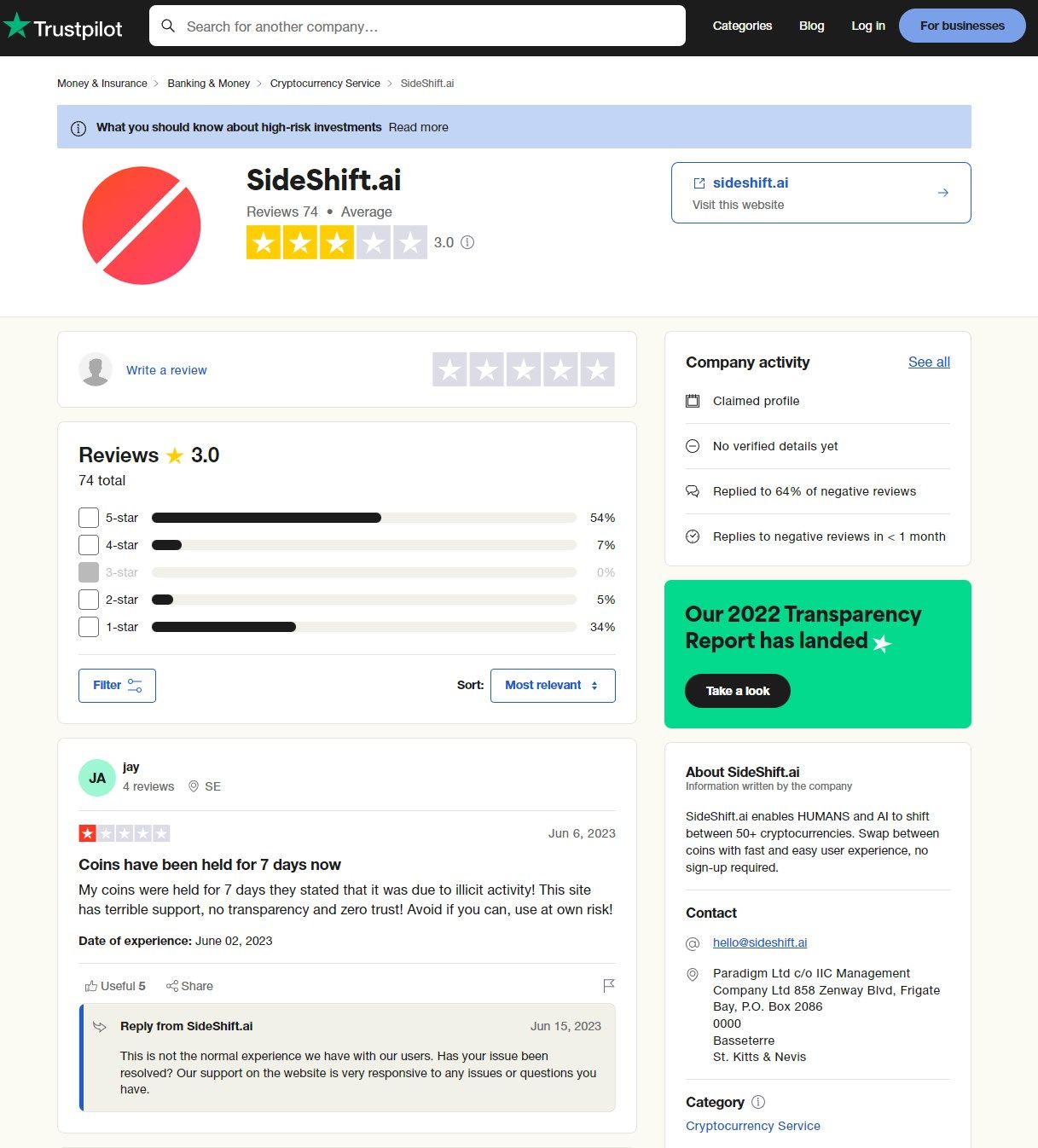 Upon analyzing the reviews of SideShift.ai on Trustpilot, we noticed a lower rating of only 3 stars, which is considered average.
Several users have expressed concerns about the delay in fund transfers, indicating that it can take several hours or even days for transactions to be processed.
The prevalence of 1-star reviews for SideShift.ai, accounting for over 30% of the total reviews, is undoubtedly concerning. However, it is worth noting that 5-star reviews comprise more than 50% of the overall reviews, which provides a more positive perspective on the platform.
💡
Upon reviewing the Terms & Conditions of SideShift.Ai, we discovered a possible explanation for the reported delays in swaps that have been a source of user complaints. In section 3.11, titled "Eligibility & Service Rules," it is stated that "SideShift.ai employs an automated risk management system to scrutinize all user transactions. As part of this process, the platform reserves the right to temporarily freeze exchange transactions to conduct investigations related to Anti-Money Laundering (AML) or other illicit activities. Additionally, SideShift.ai retains the right to refuse the execution of certain transactions."
Is SideShift.ai Safe?
SideShift.ai was established by Andreas Brekken, an investor and programmer hailing from Oslo. He served as the CTO & Co-Founder of Justcoin Exchange.
Sideshift operates as an Automated Coin Swap and is registered in Basseterre, Saint George Basseterre, Saint Kitts and Nevis.
St. Kitts & Nevis is renowned as one of the prominent Tax Havens and is recognized for offering a high level of confidentiality to companies based there.
However, it's important to note that their headquarters are located in Hong Kong, which is currently considered one of the leading cryptocurrency hubs worldwide.
While there have been reports of delayed swaps from other users, our own test revealed a relatively fast swapping process. It is noteworthy that SideShift supports not only swaps within the same chain (such as between ERC-20 tokens) but also facilitates cross-chain swaps for a wide range of major tokens. This feature provides users with flexibility and access to various cryptocurrencies across different blockchain networks.
SideShift.ai Support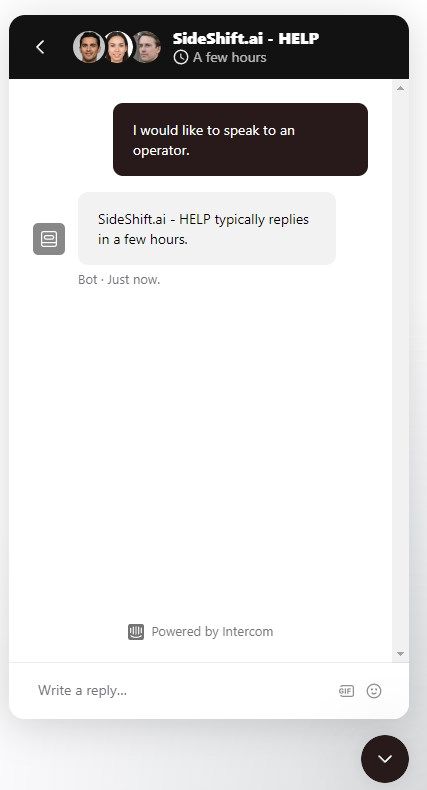 Contacting a customer service operator on SideShift.ai can be quite challenging as there appears to be limited availability. Instead of a live human operator, there is only a bot that promises to provide answers. Unfortunately, there is no phone support available.
The primary means of contacting SideShift.ai is through email at hello[at]sideshift.ai.
SideShift.ai Pros & Cons
SideShift.ai is a highly capable cross-bridge swap exchange that facilitates fund exchanges across a wide range of Bitcoin sidechains (drivechains).
While the platform has garnered a significant number of negative reviews, it is important to experience it firsthand to truly comprehend its functionality.
Despite the negative feedback, SideShift.ai has proven to be an effective and reliable solution for many users.
| Pros | Cons |
| --- | --- |
| ✅ Easy Cross-Bridge Swap | ❌ Limited Customer Support |
| ✅ Relatively Low Spread Rates | ❌ Mixed User Reviews |
| ✅ No KYC | ❌ Delayed Transaction Processing |
| ✅ No Sign Up | |
| ✅ High Privacy Standards | |
Bottom Line
SideShift.ai is a cryptocurrency exchange platform that offers a unique no sign-up process and enables seamless crypto-to-crypto swaps across a wide range of cryptocurrencies, including Bitcoin sidechains.
While it provides convenient privacy features and cross-chain compatibility, there have been reported delays in transaction processing and limited customer support.
The platform's mixed user reviews highlight the need for individual evaluation and consideration of personal preferences before engaging with SideShift.ai.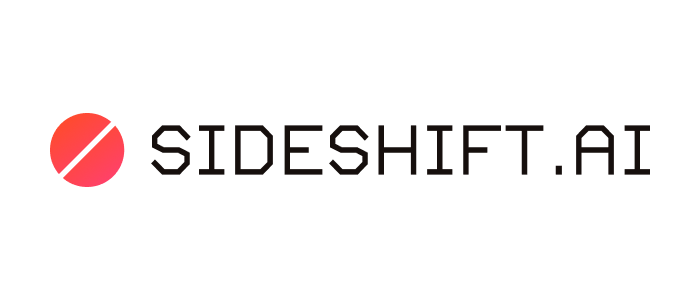 SideShift.ai Evaluation
Reputation: SideShift.ai's reputation is a mixed bag, with both positive and negative reviews. While some users have reported successful experiences with the platform, others have expressed concerns about delays in transaction processing. The overall reputation can be considered average. 3/5.
Technology: SideShift.ai employs advanced technology for its automated coin swap services. The platform supports a wide range of cryptocurrencies, including Bitcoin sidechains, facilitating seamless cross-chain swaps. The technology aspect of SideShift.ai can be regarded as commendable. 4/5.
Customer Service: Customer service appears to be an area of improvement for SideShift.ai. Reports suggest challenges in contacting live human operators, limited availability, and delayed responses. The customer service aspect of SideShift.ai receives a lower rating. 2/5.
Fees: SideShift.ai employs a fee structure that requires evaluation on a pair-by-pair basis, as it operates on a spread-based revenue model. During our review, we compared the market price of BTC/USDT and found that SideShift.ai's rate was approximately 2% higher compared to larger exchanges like Binance. While this difference may be considered slightly more expensive, it is important to note that SideShift.ai offers the convenience of no sign-up requirements or KYC for token swaps. Considering these factors, the fee structure can be deemed satisfactory for users seeking privacy and simplicity in their swapping experience. 3/5.
Ease of Use: SideShift.ai offers a user-friendly interface that does not require registration, ensuring a straightforward process for crypto-to-crypto swaps. This characteristic indicates a high level of ease of use. 4/5.
Frequently Asked Questions (FAQ)
Does SideShift.ai require users to go through a sign-up process or provide personal information?
No, SideShift.ai does not require users to sign up or provide personal information. It offers a no sign-up process, ensuring privacy and convenience.
What cryptocurrencies can be swapped on SideShift.ai?
SideShift.ai supports the swapping of a wide range of cryptocurrencies, including BTC, ETH, BCH, XMR, XAI, and many others. It enables seamless swaps between various tokens, including cross-chain swaps.
How does SideShift.ai handle user privacy and KYC requirements?
SideShift.ai prioritizes user privacy by not imposing KYC (Know Your Customer) requirements. Users can enjoy anonymous swapping without the need to disclose personal information, ensuring a secure and private experience.