BitcoinVN Review 2023: Buy BTC With Vietnamese Dong (VND) Easily
BitcoinVN Review: Discover Vietnam's leading crypto exchange. Explore its features, fees, reputation, and user experience in our comprehensive analysis.
What Is BitcoinVN?
BitcoinVN is a centralized crypto exchange based in Vietnam that enables users to trade a wide array of digital assets, including Bitcoin (BTC), Ether (ETH), Tether (USDT), and more. It also offers a fiat onramp through bank transfers using the Vietnamese Dong (VND).
Vietnam has earned the third position in the Chainalysis Global Crypto Adoption Index. This success is attributed to various factors such as limited access to traditional banking services, the demand for efficient remittance solutions, supportive regulatory conditions, and a commitment to financial inclusion. Together, these elements make cryptocurrencies promising tools for enhancing financial access and inclusivity in the Southeast Asian region.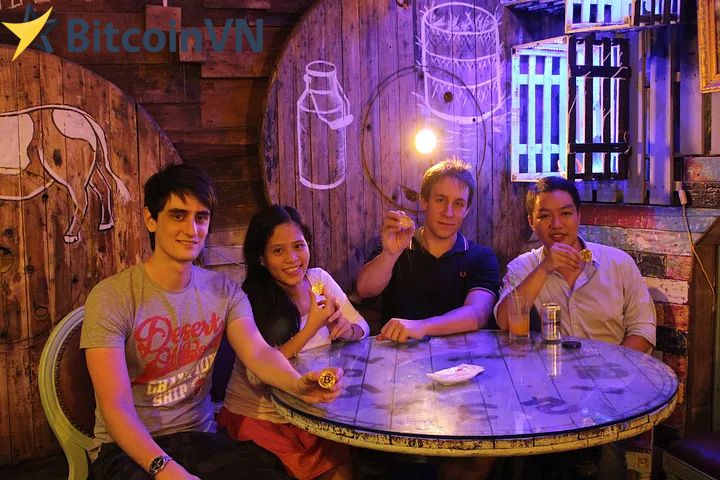 BitcoinVN holds a significant presence in the Vietnamese cryptocurrency sector, boasting a compelling history tracing back to its establishment in late 2013. Founded by a team of Vietnamese-German pioneers, including Nguyen Tran Bao Phuong, Dominik Weil, Alex Winter, and Phil Trinh, the company embarked on a mission to facilitate and foster the widespread adoption of Bitcoin within Vietnam.
👉 Click here to visit BitcoinVN and start buying BTC and other cryptos with no KYC. Sign up now.
| FEATURE | DESCRIPTION |
| --- | --- |
| 🌐 Website | bitcoinvn.io |
| 🏙️ Location | Ho Chi Minh City |
| 📅 Year Founded | 2013 |
| 💰 Primary Token | Bitcoin (XMR) |
| 📈 Listed Crypto | Over 40 |
| 💱 Trading Pairs | BTC/VND, VND/USDT, VND/ETH and many more |
| 💵 Supported FIAT | VND (Vietnamese Dong), USD (United States Dollar) |
| 🌍 Supported Countries | Worldwide |
| 💰 Minimum Deposit | 95847 VND (Around $3.95 USD) |
| 💸 Deposit Fees | Depends on the currency |
| 💰 Daily Buying Limit | Depends on the verification level |
| 💱 Trading Fees | From 0,5% |
| 💸 Withdrawal Fees | N/A |
| 📱 Mobile App | N/A |
| 💬 Customer Support | Ticket, Email |
How BitcoinVN works?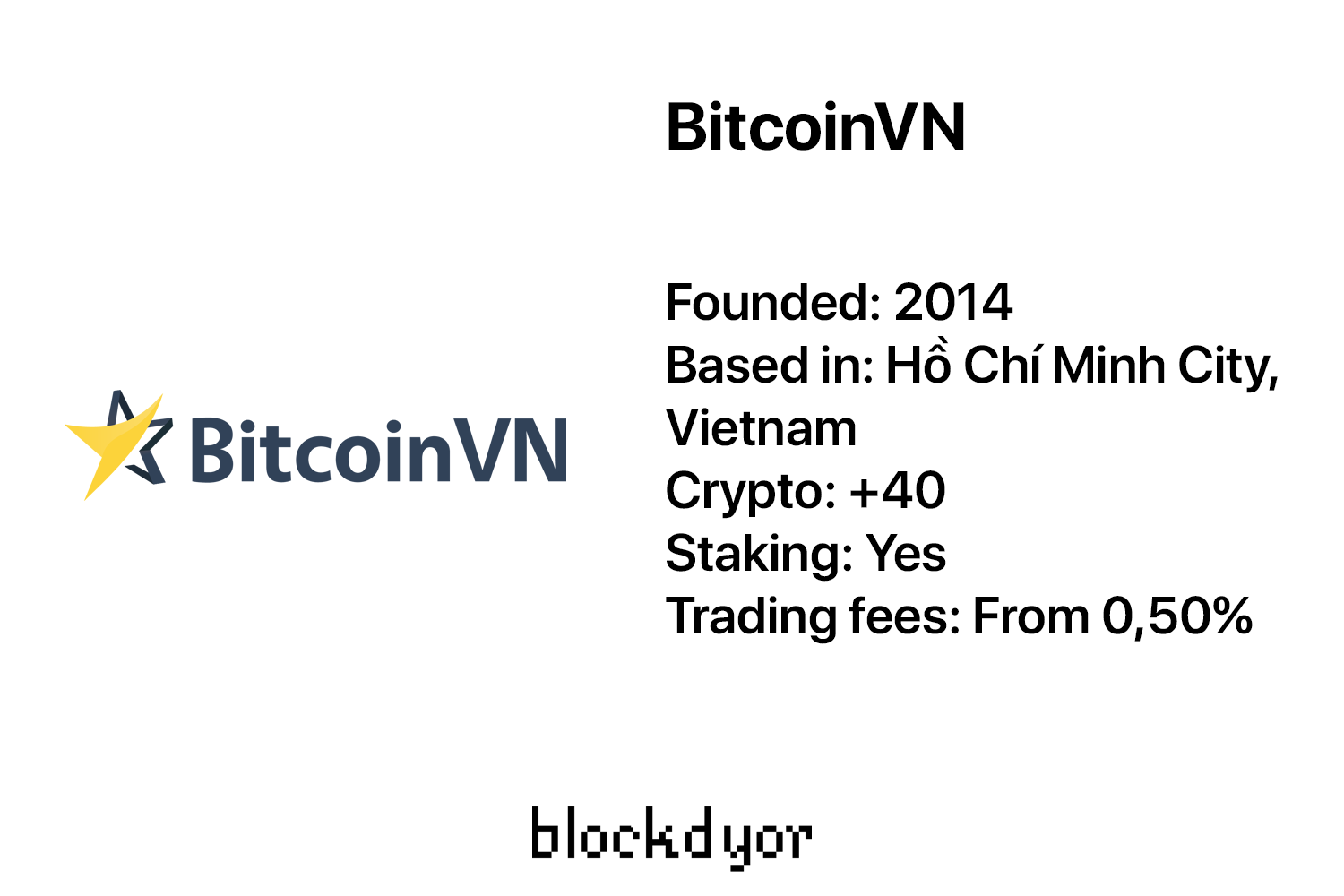 BitcoinVN operates as an Instant Cryptocurrency Exchange, offering a convenient platform for users to swap between a wide variety of cryptocurrencies, including fiat currencies such as the VND (Vietnamese Dong). The platform stands out for its versatility and user-friendly approach, making it accessible to both beginners and experienced cryptocurrency enthusiasts. Here's how BitcoinVN works:
Asset Selection: BitcoinVN supports trading among 85 different cryptocurrencies, providing users with a wide range of options for their trading and investment needs. This diverse selection allows users to access various cryptocurrencies and diversify their portfolios.
Fiat On-Ramp and Off-Ramp: BitcoinVN serves as a bridge between traditional fiat currencies (like VND) and cryptocurrencies. Users can easily deposit and withdraw funds in cash or via bank wire, making it a trusted entry and exit point for the cryptocurrency market. This fiat on-ramp and off-ramp functionality is crucial for users who want to convert their local currency into cryptocurrencies or vice versa. Banks supported are VietinBank, Vietcombank MBBank & more.
Funding Methods:
Bank Deposit: Users can deposit funds into their VBTC (Vietnamese Bitcoin) account directly from any domestic bank, either through online transactions or by visiting a physical bank branch. This method is suitable for users who prefer the convenience of online banking or want to make deposits in person.
Cash Deposit via Cash Office Partner: BitcoinVN offers the option of cash deposits through its Cash Office Partners, which are currently available in HCMC, Hanoi, and Hoi An. This option is especially useful for users who prefer to deal with physical cash when funding their accounts.
Fee Structure:
VND Deposits via Bank Wire/Deposit: These deposits are free of charge, meaning users do not incur any fees when transferring VND funds to their BitcoinVN account via bank wire or deposit.
VND Deposits via Cash Office Partners: Users should check the platform for the specific fee associated with VND deposits made through Cash Office Partners. Fees may vary depending on the location.
Additional Services: BitcoinVN provides users with several additional services and options:
For large transactions exceeding the usual order book liquidity, BitcoinVN encourages users to explore its OTC Trade Desk solution, offered by its sister firm. This service is tailored for users with substantial trading volumes.
Users based in HCMC have the option to directly deposit funds with some of BitcoinVN's team members, who are often present at the local Bitcoin Meetup. It's advisable to contact BitcoinVN beforehand to confirm the availability of this service.
BitcoinVN's platform simplifies the process of buying, selling, and exchanging cryptocurrencies, with a strong emphasis on accessibility for Vietnamese users. Its support for both online and offline funding methods, along with a diverse range of supported assets, positions it as a versatile and user-friendly cryptocurrency exchange in the Vietnamese market.
BitcoinVN Features
BitcoinVN offers a diverse range of features to cater to the needs of cryptocurrency enthusiasts and investors in Vietnam. Here are some of its key features:
Swap: BitcoinVN allows users to engage in instant cryptocurrency exchanges, providing access to a broad spectrum of assets. Users can buy, sell, or swap between 85 different cryptocurrencies, including popular options like VND, BTC, USDT, USDC, ETH, BCH, and XMR.
Balance: While not mandatory, users have the option to maintain a balance in their BitcoinVN account in both crypto and fiat, particularly in Vietnamese Dong (VND). This feature simplifies trading and ensures that users are ready to seize opportunities in the market.
Prices Chart: BitcoinVN provides up-to-date price charts denominated in Vietnamese Dong (VND). These charts offer insights into the current exchange rates on the platform, enabling users to make informed trading decisions. It's important to note that these prices do not include any potential transfer method-related fees, such as network fees.
Staking: BitcoinVN offers a staking feature where users can lock in some of their liquidity and earn a share of the exchange's trading volume. Staked assets are represented by special tokens on the platform, marked with "Staking." Users have the flexibility to withdraw their staked liquidity at any time.
BitcoinVN BTM (Bitcoin Teller Machine): This is a standout feature that provides a censorship-resistant way to buy and sell cryptocurrencies, especially in an environment where some banks may restrict cryptocurrency-related transactions. With BitcoinVN BTMs, users can exchange cryptocurrency directly for cash without the risk of having their bank accounts frozen. Notably, BitcoinVN BTMs do not require Know Your Customer (KYC) verification, and there are no transaction limits, allowing users to purchase cryptocurrency anonymously, even in larger amounts.
BitcoinVN OTC (Over-The-Counter): BitcoinVN offers an OTC trading service, making it convenient for investors, particularly those in Ho Chi Minh City (HCMC) and around the world, to execute large trades starting from 200 million Vietnamese Dong (₫). This service has been in operation since 2014, establishing itself as a trusted and long-standing option for investors seeking to trade cryptocurrency in substantial volumes.
These features collectively make BitcoinVN a versatile and user-friendly platform that addresses the unique requirements of the Vietnamese cryptocurrency market. Whether users are looking for ease of use, censorship resistance, or opportunities to earn through staking, BitcoinVN offers a comprehensive set of tools and services to cater to a wide range of crypto-related needs.
How to Get Started On BitcoinVN
BitcoinVN isn't available for iPhone or Android as an app, so this means that you have to use the web app that is available for desktop and to every mobile device, without have anything to install.
How To Sign Up On BitcoinVN
To get started, first of all, click on the link down here to visit the official page of Bitcoin VN.
👉 Click here to visit BitcoinVN and start buying BTC and other cryptos with no KYC. Sign up now.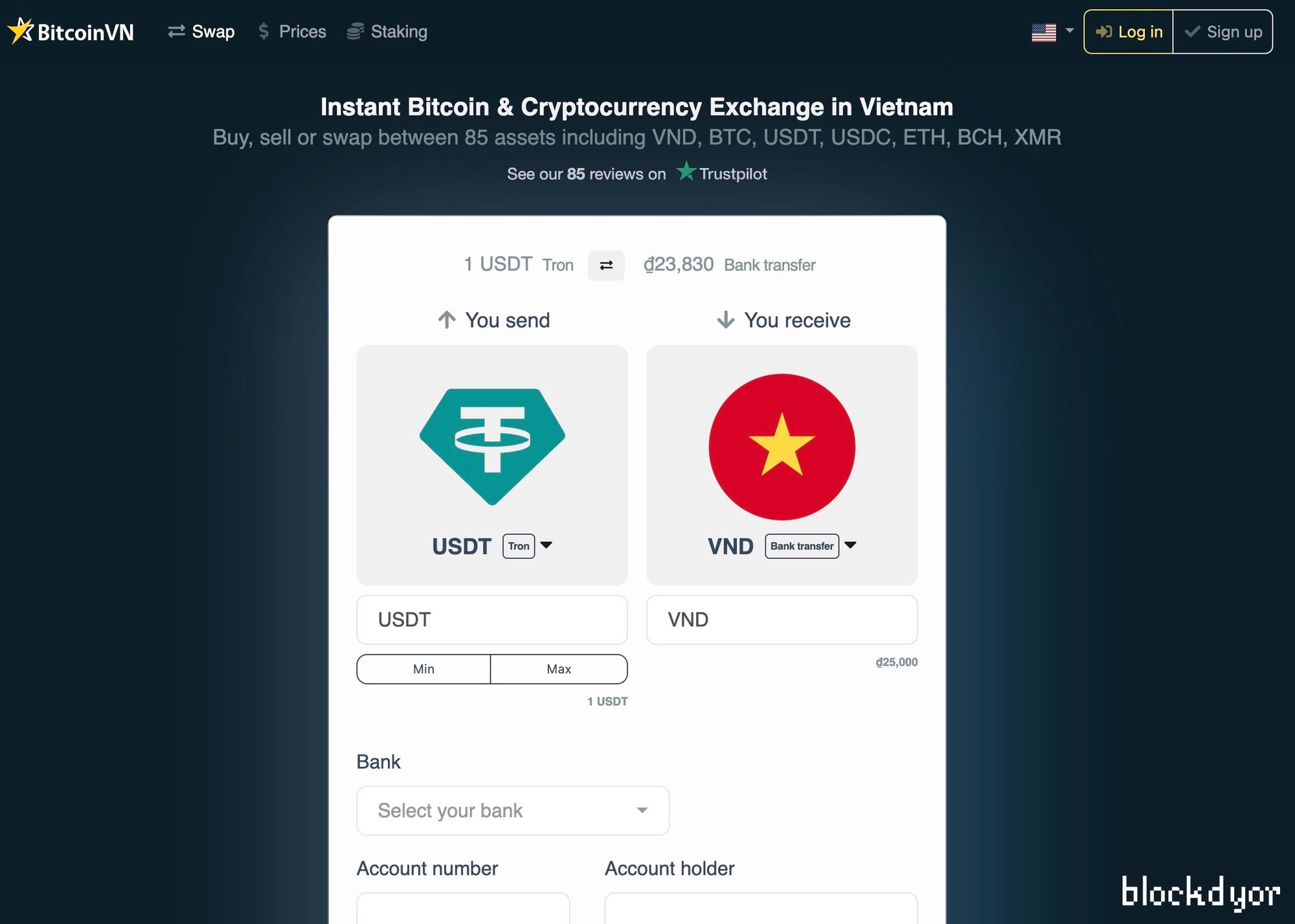 Now you can do two things: start transacting/swapping by choosing whatever crytpo or fiat you want, or register an account. I strongly suggest to make an account, since it doesn't ask any personal info (just the email and a password) and it let's you save your balance and history of trades.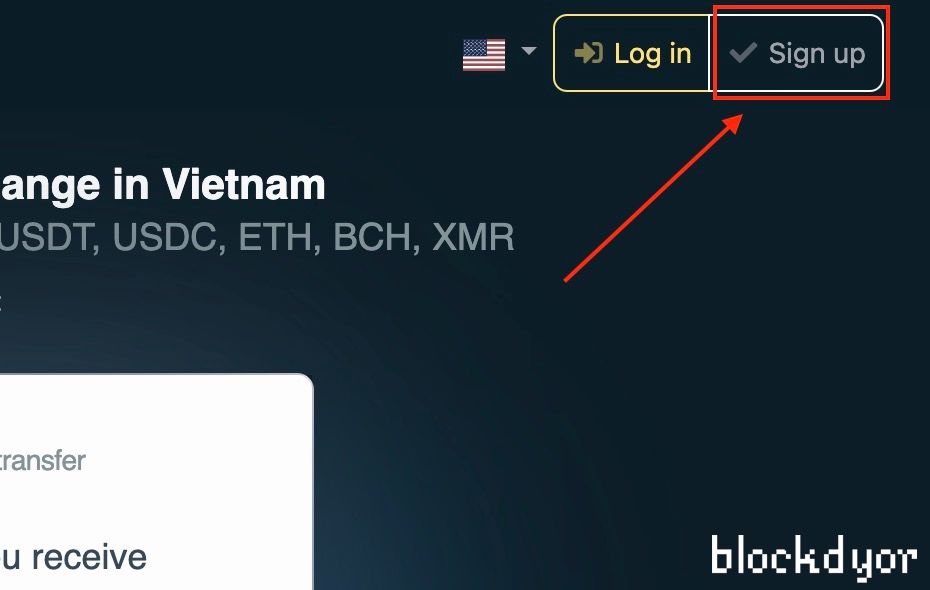 To Sign Up, just click on the top right icon.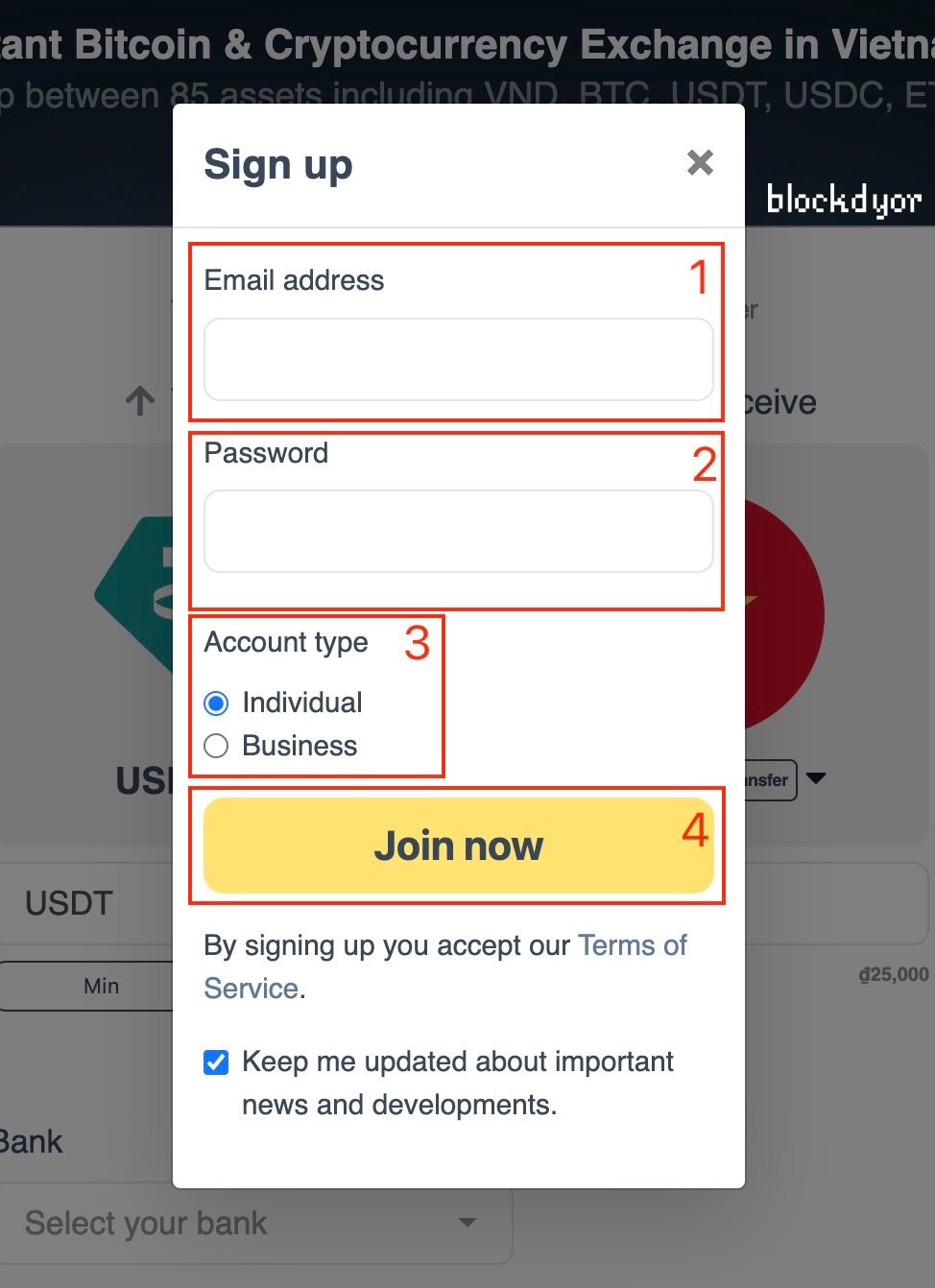 After clicking on Sign Up you will be presented a form where you will have to insert just an email address (1) and a password (2). Select also if you are an individual or a business (3) and then click on "Join now".
You will receive in a few seconds a confirmation email, click on the link to confirm your account.
How To Swap On BitcoinVN
BitcoinVN is renowned for its cryptocurrency trading services, particularly for facilitating exchanges between Bitcoin and VND, the Vietnamese Dong. You have the flexibility to transfer funds from your bank account to your BitcoinVN balance, enabling you to engage in cryptocurrency trading.
Let's explore the process of trading on BitcoinVN. If you wish to purchase Bitcoin using your VND from your bank account, you can do so without the need for an account or Know Your Customer (KYC) verification. In this case, the maximum amount you can buy at one time is 250,000 VND, equivalent to approximately $10 USD.
However, if you choose to create an account on BitcoinVN, you'll enjoy increased trading limits. With an account, you can buy a maximum of 500,000 VND worth of Bitcoin in a single transaction, and you also benefit from a monthly limit of 20,000,000 VND. What's intriguing is that setting up an account is hassle-free, requiring only an email address and a password.
Should you desire even greater trading limits, you have the option to undergo KYC verification. This additional step allows you to unlock higher transaction limits, enhancing your trading flexibility on the platform.
Now, let's outline the steps necessary to conduct a transaction on BitcoinVN. In this hypothetical scenario, we will walk through the process of purchasing Bitcoin using Vietnamese Dong.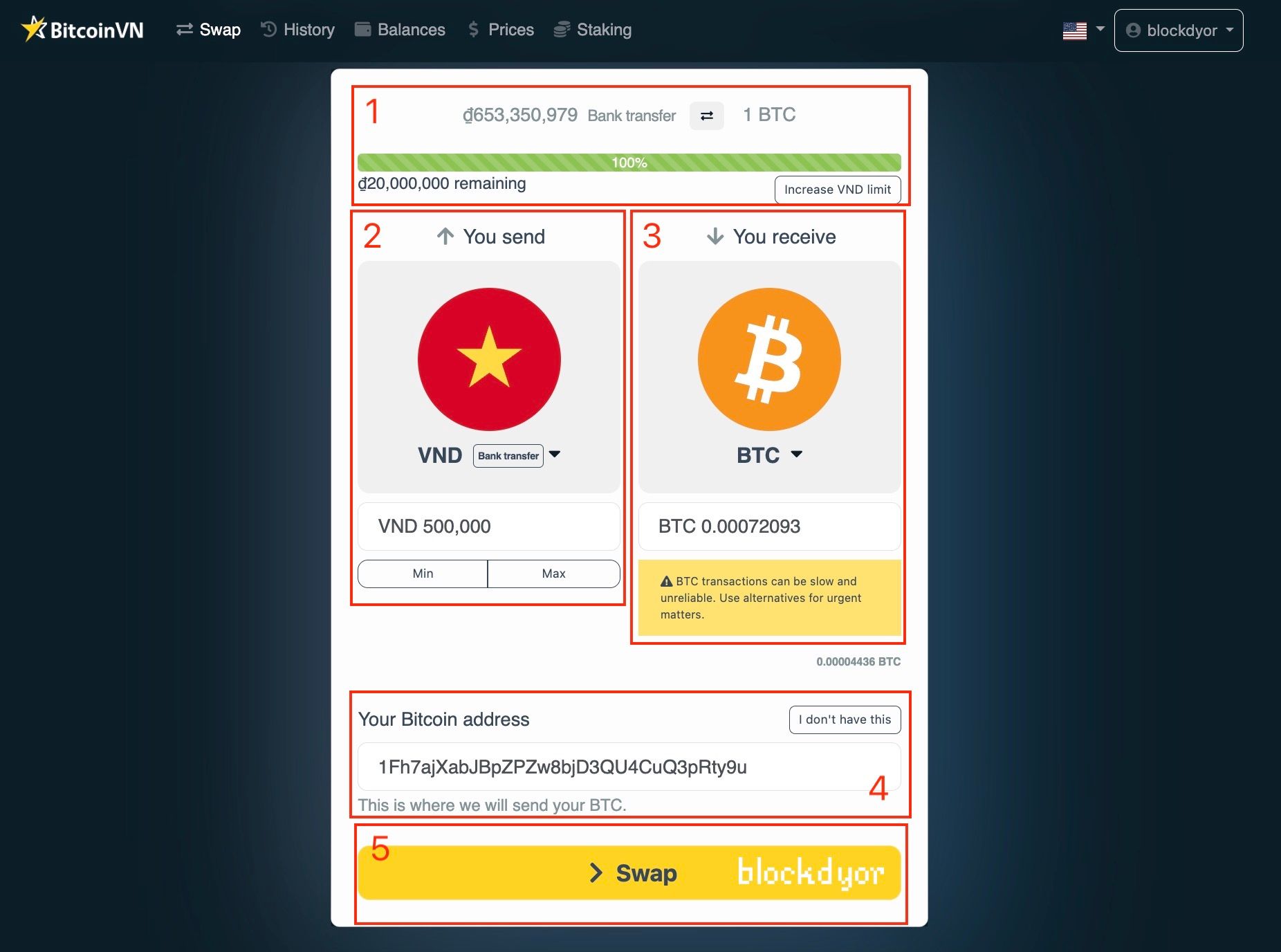 The user interface of BitcoinVN bears resemblance to other swap platforms such as Sideshift.ai. At the top, you'll notice the limits bar (1), which indicates the maximum amount of currency you can utilize for your transaction. To the left, you can specify the currency you intend to sell and input the desired amount (2). On the right, you select the currency you wish to purchase (3). At the bottom, there's an input field where you can enter the address for the cryptocurrency (4) or, in the case of BitcoinVN, fiat (limited to VND) that you wish to receive.
When you're ready to proceed, simply click on the prominent yellow "swap" button (5), which will take you to the confirmation page.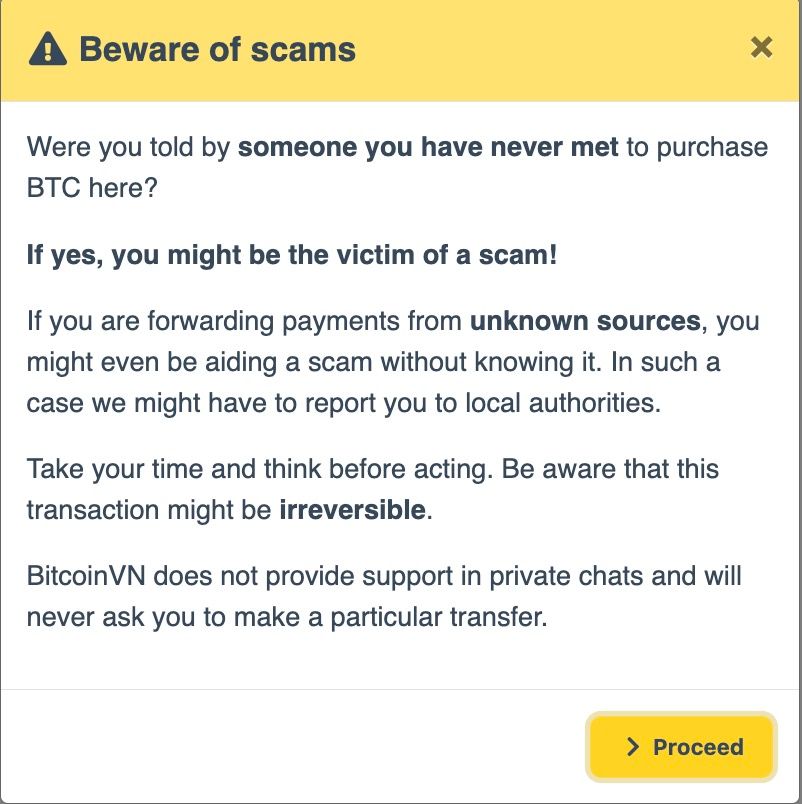 Read the warning disclaimer and then click on the "Proceed" button.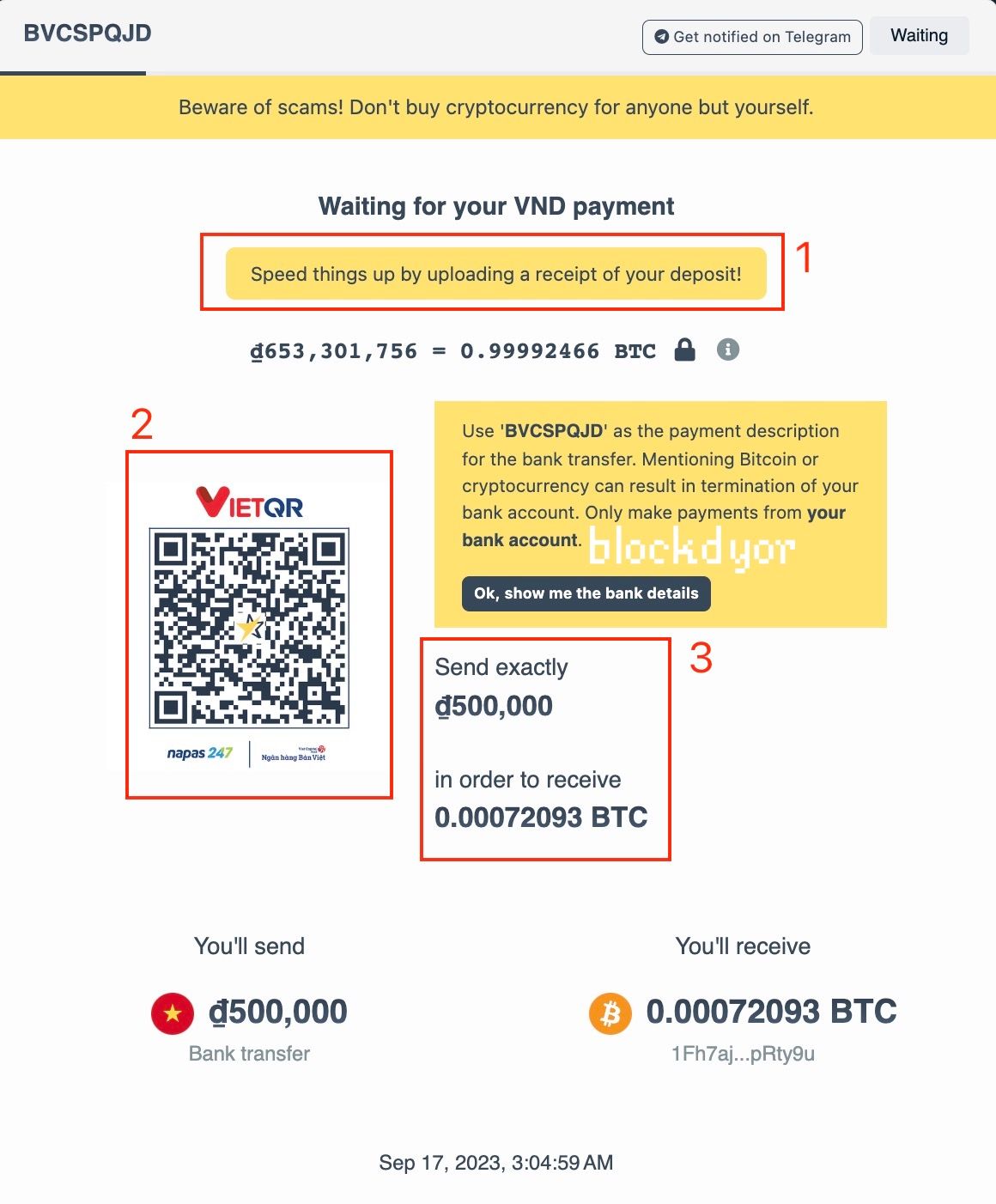 This is the order page that provides you with the necessary banking details for initiating the payment from your bank. You can conveniently scan the QR code (2) and transfer the precise amount you wish to convert into Bitcoin (3). The payment process is swift, thanks to the seamless integration with Napas 247. To expedite the verification process, you can use the integrated button to send a payment receipt (1).
Once BitcoinVN receives your payment, they will promptly send the BTC to the address you've specified on the blockchain.
BitcoinVN Fees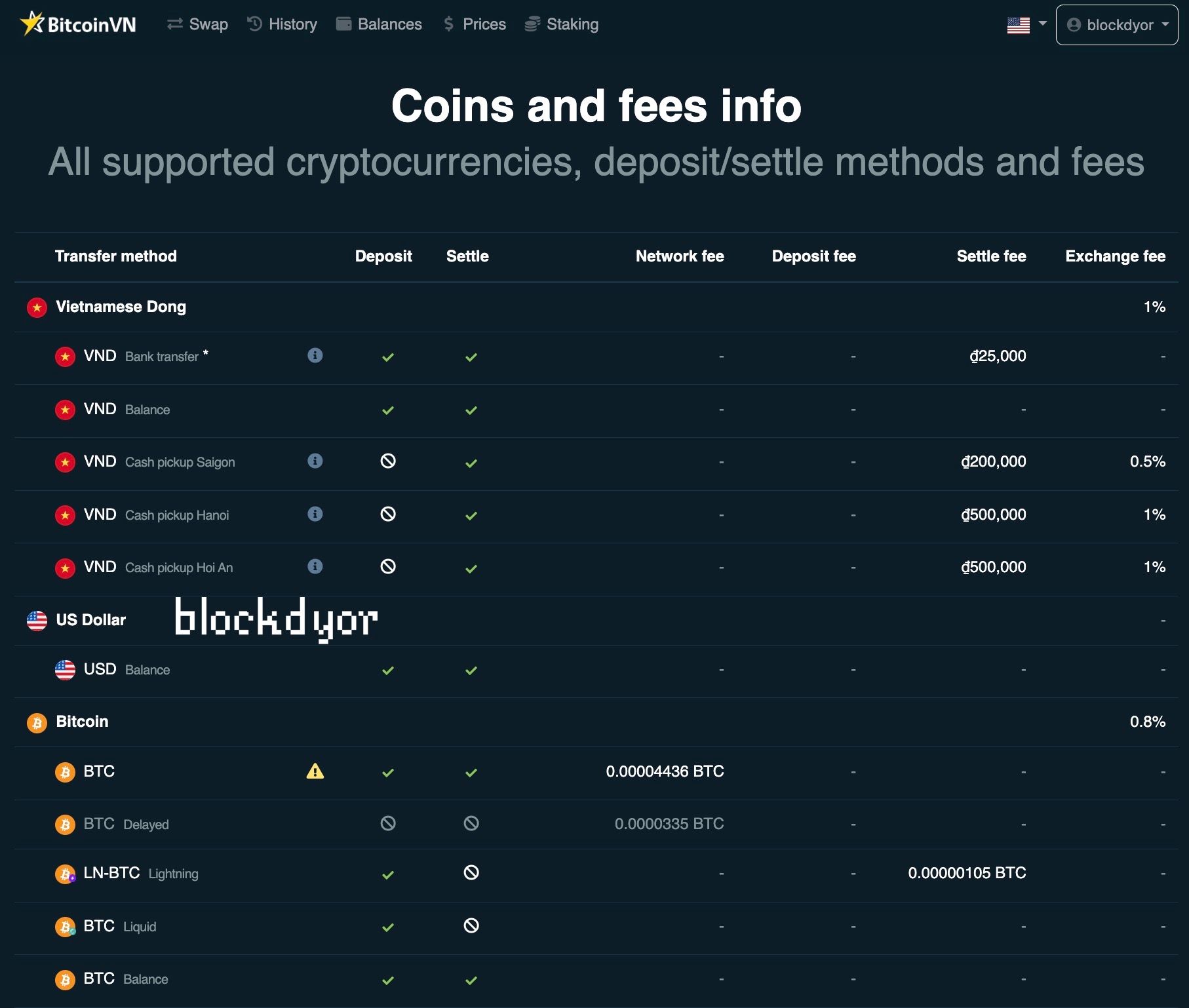 BitcoinVN imposes various fees for different transfer methods and cryptocurrencies. Here's an overview of the fees associated with BitcoinVN:
VND Vietnamese Dong:
Deposit: 1%
Bank Transfer (VND): ₫25,000 network fee
Cash Pickup Saigon: ₫200,000 network fee and 0.5% settle fee
Cash Pickup Hanoi: ₫500,000 network fee and 1% settle fee
Cash Pickup Hoi An: ₫500,000 network fee and 1% settle fee
BTC Bitcoin:
0.8% exchange fee
Network fees vary depending on transaction type (BTC, BTC Delayed, LN-BTC Lightning, BTC Liquid).
USDT Tether USD:
0.5% exchange fee
Network fees vary depending on the blockchain (Tron, Ethereum, Binance Smart Chain, Avalanche C-Chain, Optimism, Solana, Polygon, Simpleledger, Kusama, Hermez Network, Algorand, Omise Go, Omni, Liquid, Tezos, Polkadot, NEAR).
USDC USD Coin:
0.75% exchange fee
Network fees vary depending on the blockchain (Ethereum, Tron, Binance Smart Chain, Avalanche C-Chain, Solana, Polygon, Algorand, Arbitrum).
ETH Ether:
1.2% exchange fee
Network fees vary depending on transaction type (ETH, zkSync Era, Optimism, Arbitrum, Arbitrum Nova, Binance Smart Chain).
BCH Bitcoin Cash:
LTC Litecoin:
2.25% exchange fee
Network fees vary depending on the blockchain (LTC, Binance Smart Chain).
XMR Monero:
2.1% exchange fee
Network fees apply to XMR transactions.
DASH Dash:
2.25% exchange fee
Network fees apply to DASH transactions.
DOGE Dogecoin:
BNB Binance Coin:
2.5% exchange fee
Network fees apply to BNB transactions (Binance Smart Chain).
And many more.
Please note that the fees mentioned here are subject to change, and it's advisable to check BitcoinVN's official website or platform for the most up-to-date fee information before making any transactions. Additionally, fees may vary based on the specific cryptocurrency and blockchain used for the transaction.
BitcoinVN Reviews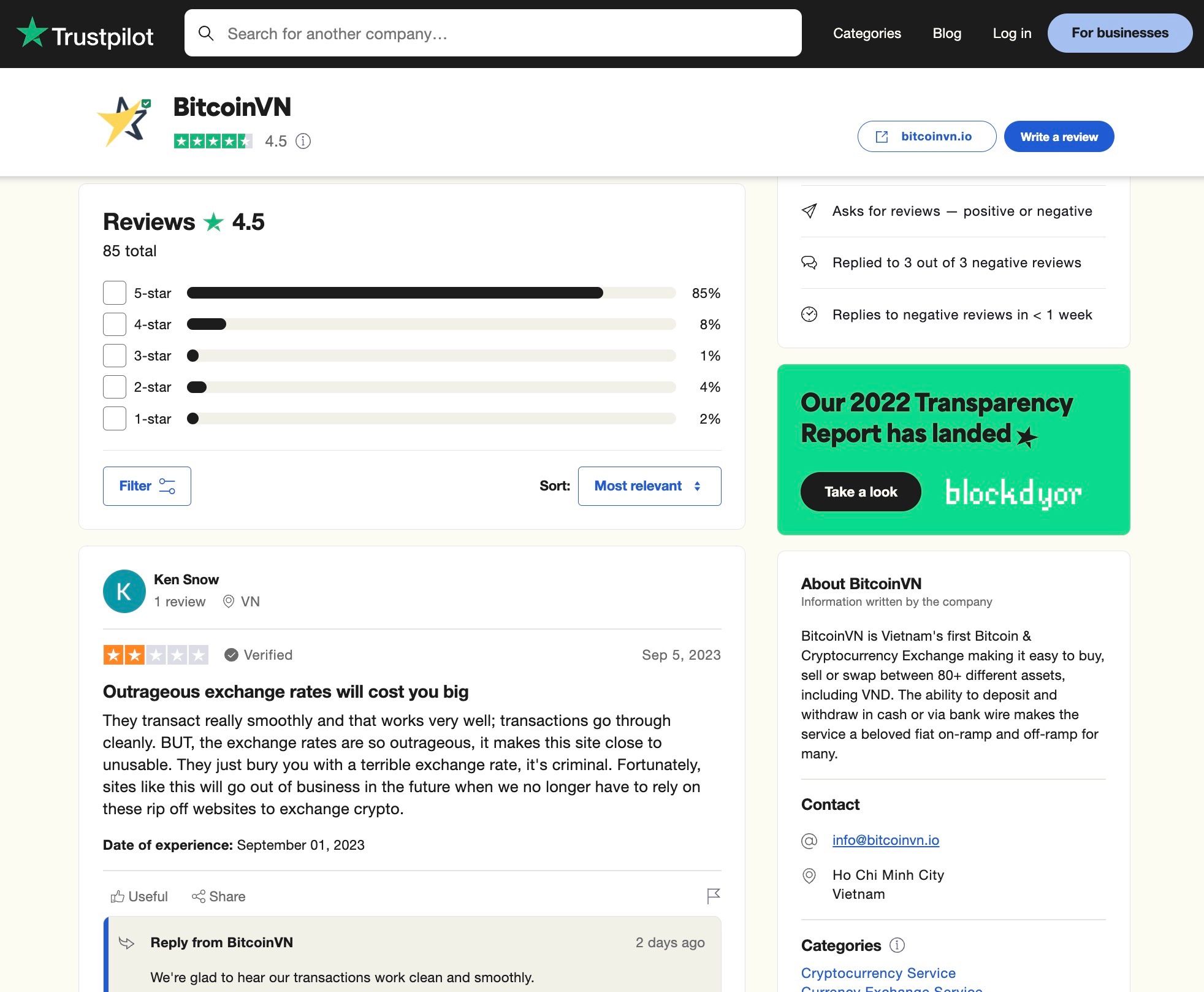 In Vietnam, BitcoinVN has garnered significant popularity. However, what do people generally think about this platform? Based on Trustpilot reviews, the overall sentiment appears to be highly positive.
Many users regard it as the top choice for VND-BTC transactions. Nevertheless, it's worth noting that some individuals have raised concerns about the relatively high exchange rates on the platform.
Is BitcoinVN Safe?
The entity behind BitcoinVN is CTY TNHH BVN STAR, a company registered in the Socialist Republic of Vietnam, with its postal address located at 384 Đ. Hoàng Diệu, Phường 6, Quận 4, Ho Chi Minh City.
Since its inception in 2014, BitcoinVN has played a prominent role in introducing newcomers to the Bitcoin ecosystem within the local community. Our mission revolves around simplifying the processes of conversion, receipt, storage, and keeping individuals informed about cryptocurrencies, as well as matters related to financial sovereignty and independence.
With nearly a decade of experience in the industry, BitcoinVN stands as one of the pioneering figures in the South East Asian Bitcoin landscape. They have consistently contributed to the growth of the cryptocurrency sector in the region.
However, some users have pointed out the absence of live chat support and have commented on the relatively plain customer service, which can be frustrating in case of issues.
It's important to emphasize that while there might be room for enhancement in customer service, BitcoinVN prioritizes security and safety. We believe that our platform ranks among the most secure solutions in Asia, ensuring that users' assets are protected and transactions are conducted with the utmost reliability and trustworthiness.
BitcoinVN Support
As previously mentioned, the customer service options on this platform are somewhat limited. There is a small icon located at the bottom right, which when clicked, opens a knowledge base and a contact form that allows you to get in touch with the company. Additionally, there is a help desk where you can open a support ticket, although some users may find this insufficient.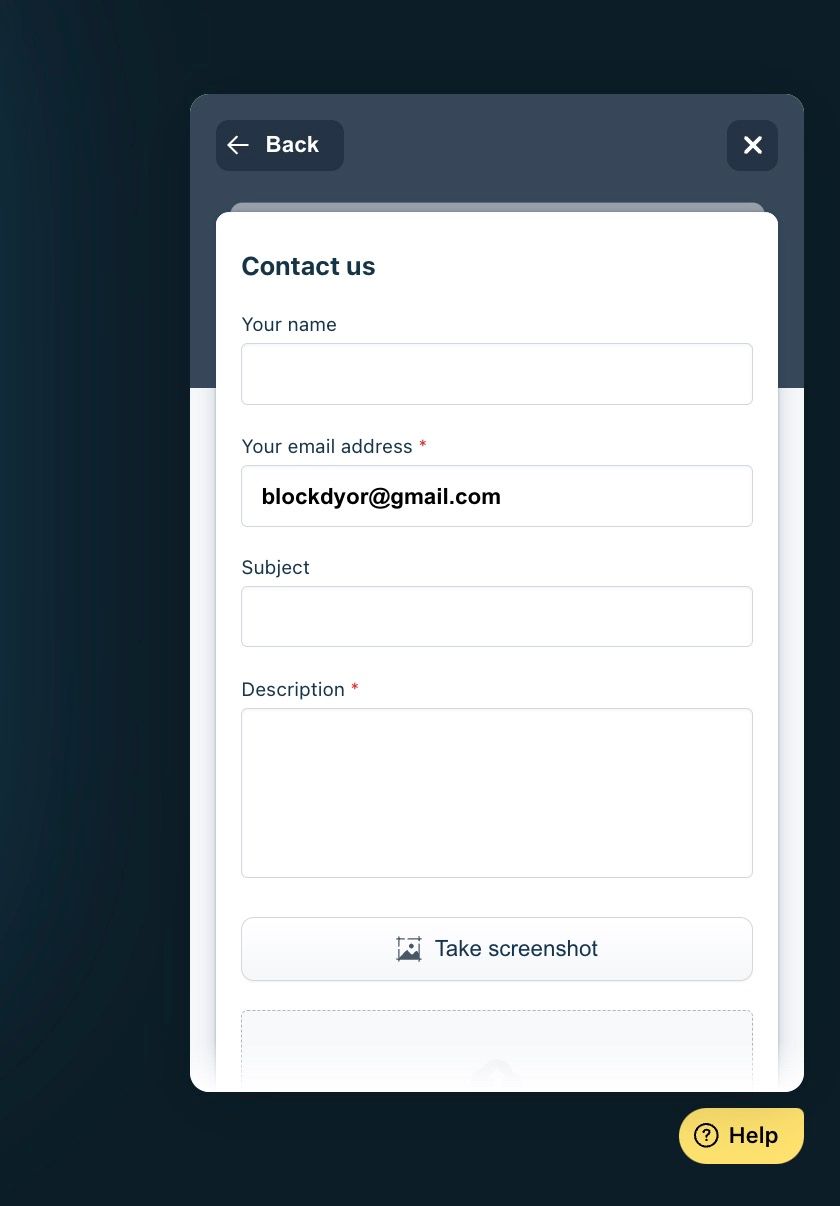 When it comes to financial matters, many users believe that having a live chat feature available is essential. A live chat can provide real-time assistance and help resolve issues promptly, offering a more responsive and reassuring support system for users dealing with monetary transactions.
BitcoinVN Pros & Cons
| Pros | Cons |
| --- | --- |
| ✅ User-Friendly Interface | ❌ Limited Customer Service Options |
| ✅ Wide Range of Supported Cryptocurrencies | ❌ Relatively High Exchange Rates |
| ✅ Fiat On-Ramp and Off-Ramp with VND | ❌ Lack of Live Chat Support |
| ✅ Accessible to Newcomers in the Bitcoin Ecosystem | ❌ Limited Deposit Amount Without Account |
| ✅ Established Reputation in the Local Bitcoin Community | ❌ Some Geographic Limitations for Cash Deposits |
| ✅ Strong Emphasis on Security | ❌ OTC Trading Only Available to Investors in Specific Locations |
Bottom Line
In conclusion, BitcoinVN stands as a long-standing player in the Vietnamese cryptocurrency landscape with a reputation for accessibility and a wide range of supported cryptocurrencies.
While it offers a user-friendly interface and emphasizes security, there are some notable drawbacks, including limited customer service options, relatively high exchange rates, and the absence of live chat support.

BitcoinVN Evaluation
Reputation: BitcoinVN holds a solid reputation as Vietnam's largest Bitcoin and crypto exchange, bolstered by the installation of physical Bitcoin ATMs in strategic locations. (5/5)
Technology: The platform provides efficient on-ramp and off-ramp services with supported banks, offers a fast website, and seamlessly integrates with various cryptocurrencies. The availability of dedicated iOS and Android apps could further enhance the user experience. (4/5)
Customer Service: BitcoinVN's customer service is limited and not readily available, which may pose challenges for users seeking support. Additionally, the documentation provided is not comprehensive, resulting in a lower customer service rating. (2/5)
Fees: While BitcoinVN offers a range of services, its exchange rates are not particularly advantageous. Users should note that the platform charges a minimum fee of 0.5% for each transaction, impacting the overall fee rating. (3/5)
Ease of Use: BitcoinVN's swap interface is user-friendly, making it accessible to a wide range of users. The integration with napas 247 enables quick fiat deposits, contributing to a positive ease of use rating. (4/5)
Frequently Asked Questions (FAQ)
How can I buy Bitcoin on BitcoinVN?
To buy Bitcoin on BitcoinVN, you can follow these steps: 1. Sign up for an account on the BitcoinVN platform. 2. Deposit Vietnamese Dong (VND) into your account using one of the supported methods. 3. Navigate to the trading interface and select Bitcoin (BTC) as the cryptocurrency you want to buy. 4. Enter the amount of BTC you wish to purchase. 5. Review the exchange rate and fees, then confirm your order. 6. Bitcoin will be credited to your account once the order is processed.
What are the supported funding methods on BitcoinVN?
BitcoinVN supports various funding methods, including: - Bank deposits (online or at bank branches) from any domestic bank. - Cash deposits via Cash Office Partners in select locations. - Deposit and withdrawal in VND (Vietnamese Dong) are available with no fees for bank wire/deposit. - Cash pickups in specific locations may incur additional fees.
Are there any transaction limits on BitcoinVN?
Yes, BitcoinVN has transaction limits based on user account status: - Without an account and KYC, you can buy a maximum of 250,000 VND worth of Bitcoin at a time (around $10 USD). - With a registered account, you can buy up to 500,000 VND worth of Bitcoin at a time, with a monthly limit of 20,000,000 VND. - Higher limits are available with KYC verification.