3Commas HODL DCA Bot: How To Set Up & Best Settings
Discover the power of 3Commas' HODL DCA Bot. Invest wisely in cryptocurrencies with automated Dollar-Cost Averaging. Maximize gains during market fluctuations. Learn more about this essential strategy.
What Is DCA
During bear markets, both hodlers and investors are constantly on the lookout for sophisticated and intelligent ways to engage in cryptocurrency investments. Dollar-Cost Averaging (DCA) emerges as one of the simplest alternatives to traditional buying, offering the potential for a long-term investment strategy.
With DCA, an investor divides their planned total investment amount into periodic purchases, thereby spreading their exposure to short-term price volatility and steadily progressing towards their investment objectives.
Dollar-cost averaging is typically executed automatically on a daily, weekly, bi-weekly, or monthly basis. For instance, if an investor intends to allocate $2,500 to Bitcoin, they could opt to purchase $50 worth of Bitcoin per week for 50 weeks, rather than making a single lump-sum investment. This schedule is flexible, allowing investors to modify or extend it according to their preferences.
Interestingly, many individuals in the United States are already employing a DCA strategy without necessarily recognizing it. This strategy is commonly utilized in 401(k) retirement plans, where investments are made at regular intervals based on paychecks.
While numerous centralized cryptocurrency exchanges offer recurring buy options, which are a form of DCA, not all of them provide a comprehensive DCA bot like the one offered by 3Commas. The 3Commas HODL DCA bot stands out as one of the most comprehensive solutions, allowing integration with the majority of centralized exchanges such as Kraken, Binance, Coinbase, and more (although peer-to-peer exchanges are typically not supported).
But what exactly does 3Commas offer in terms of DCA, and which options are best suited for stacking Bitcoin, for example?
👉 Click here to sign up for 3Commas and get a 10% discount for the first purchase of the monthly subscription.
| DCA Strategy | Description |
| --- | --- |
| 💰 Recurring Buy DCA Hodl | A strategy for regular, fixed-interval purchases. |
| 📉 Ladder Down DCA | A strategy that buys when the asset's price decreases by a set percentage. |
What's the best DCA Strategy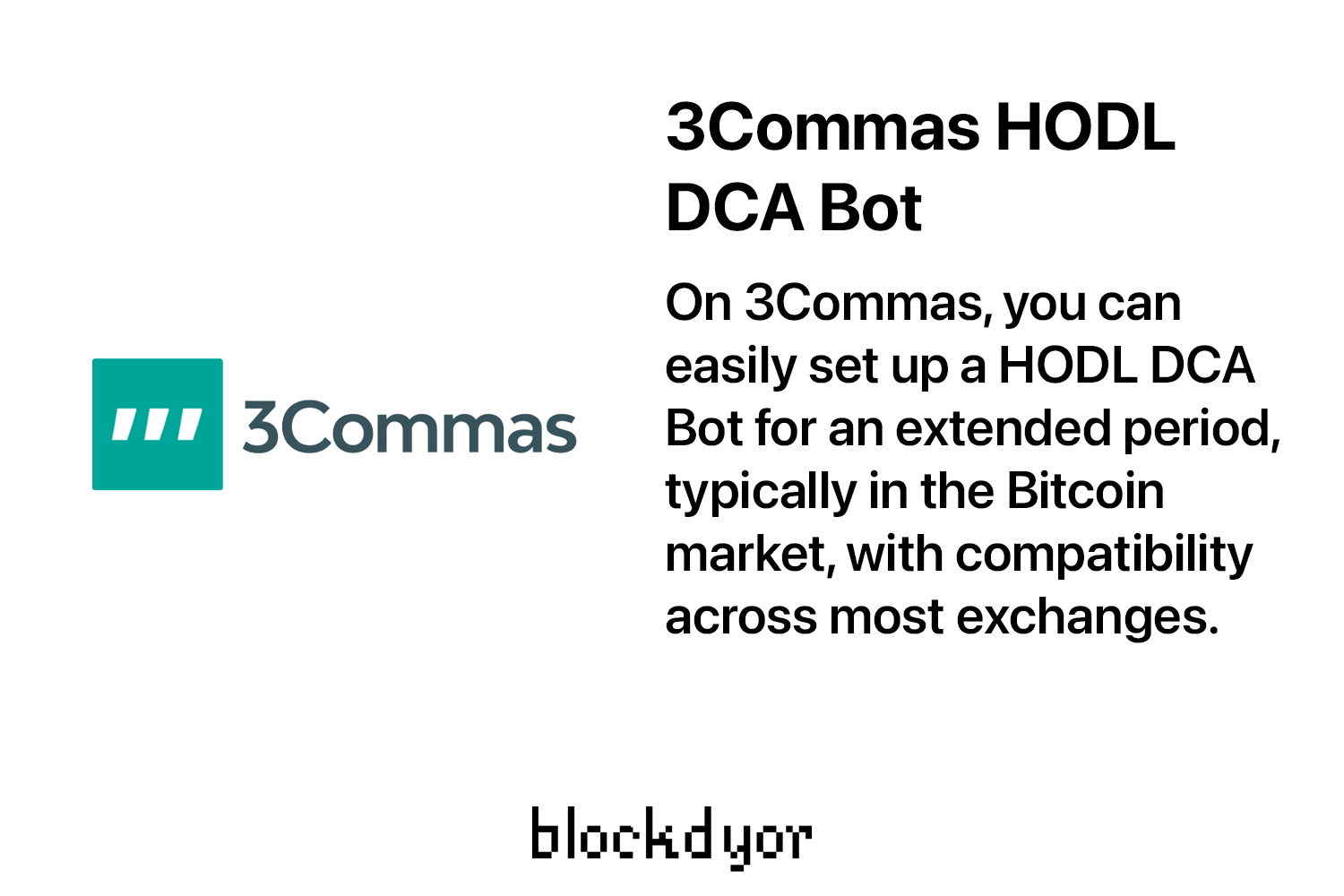 For Bitcoin, over a 3-year period from 2020 to 2023 for example, the most effective Dollar-Cost Averaging (DCA) strategy was to purchase a fixed amount of Bitcoin every day. This approach yields higher overall profits and exhibits more significant profit spikes throughout the investment period.
| DCA Strategy | 📅 Start Date | 📅 End Date | ⏳ Time Period (3 years) | 💰 Amount Invested (USD) | 🪙 Total BTC Accumulated | 💲 Total USD Value of Investment | 💹 Total Profit (USD) |
| --- | --- | --- | --- | --- | --- | --- | --- |
| 1 Month DCA | 🗓️ 2020-09-29 | 🗓️ 2023-09-29 | 37 months | 💵 $5,624 | ₿ 0.24158 BTC | 💲 $6,553 | 💰 $930 |
| 1 Week DCA | 🗓️ 2020-09-29 | 🗓️ 2023-09-29 | 161 weeks | 💵 $5,635 | ₿ 0.2512352 BTC | 💲 $6,816 | 💰 $1,181 |
| 1 Day DCA | 🗓️ 2020-09-29 | 🗓️ 2023-09-29 | 1126 days | 💵 $5,630 | ₿ 0.25494257 BTC | 💲 $6,917 | 💰 $1,287 |
In simpler terms, according to this study it's statistically better to invest $10 in Bitcoin every day than to invest $300 all at once every month. To optimize our 3Commas bot, we suggest to configure the bot with a 1 Day DCA setting to achieve the best possible outcomes across various DCA strategies.
If you have limited capital, consider choosing an exchange that allows for small position openings to facilitate daily DCA. Alternatively, you can opt for weekly DCA as an intermediate choice. However, the study suggests that monthly DCA is the least profitable approach, so it's not recommended if you aim for maximum results.
3Commas DCA Bots
Regrettably, in 2023, 3Commas discontinued the "HODL BOT," which previously facilitated recurring buys and reflected the conventional approach to Dollar-Cost Averaging (DCA).
While they still offer DCA bots, these bots no longer operate based on fixed intervals (such as daily, weekly, or monthly) regardless of the asset's current price or its price fluctuations. Instead, they function by triggering purchases when the asset's price decreases by a predetermined percentage. This approach resembles a "ladder down" strategy rather than the traditional DCA strategy typically employed by long-term hodlers.
However, following discussions with a 3Commas representative, it has been clarified that even though the HODL bot has been removed, the functionality of DCA with customized intervals irrespective of price movements can still be achieved using 3Commas.
To do so, users need to take an additional step by integrating 3Commas with a free tool called Trading View and leveraging its Custom Signal Function.
So, to get started you need three things:
An account with one of the exchanges supported by 3Commas, such as Coinbase, Kraken etc. You can use whatever exchange you like, but please keep in mind to choose an exchange with low trading fees and fair withdrawal fees, since I guess that during the DCA you might prefer to move your funds to cold storage. After having tried many exchanges, the most suitable is Kraken, has it has low fees overall and is considered one of the most reliable exchanges ever. Also, is available more or less all over the world, something kind of rare nowadays:
👉 Click here to open an account on Kraken and start trading crypto with just $10.
Secondly, you may have already done so, but you'll need to create a 3Commas account:
👉 Click here to sign up for 3Commas and get a 10% discount for the first purchase of the monthly subscription.
Thirdly, you need a Trading View account. It has a free plan like 3Commas, but if you want there are also some plans with more functions:
👉 Click here to sign up for Trading View and get $15 when you purchase your first subscription.
After having connected the exchange to 3Commas thanks the the API (you can find several guides about this on 3Commas) it's time to set up the bot.
How To Set Up The DCA Bot on 3Commas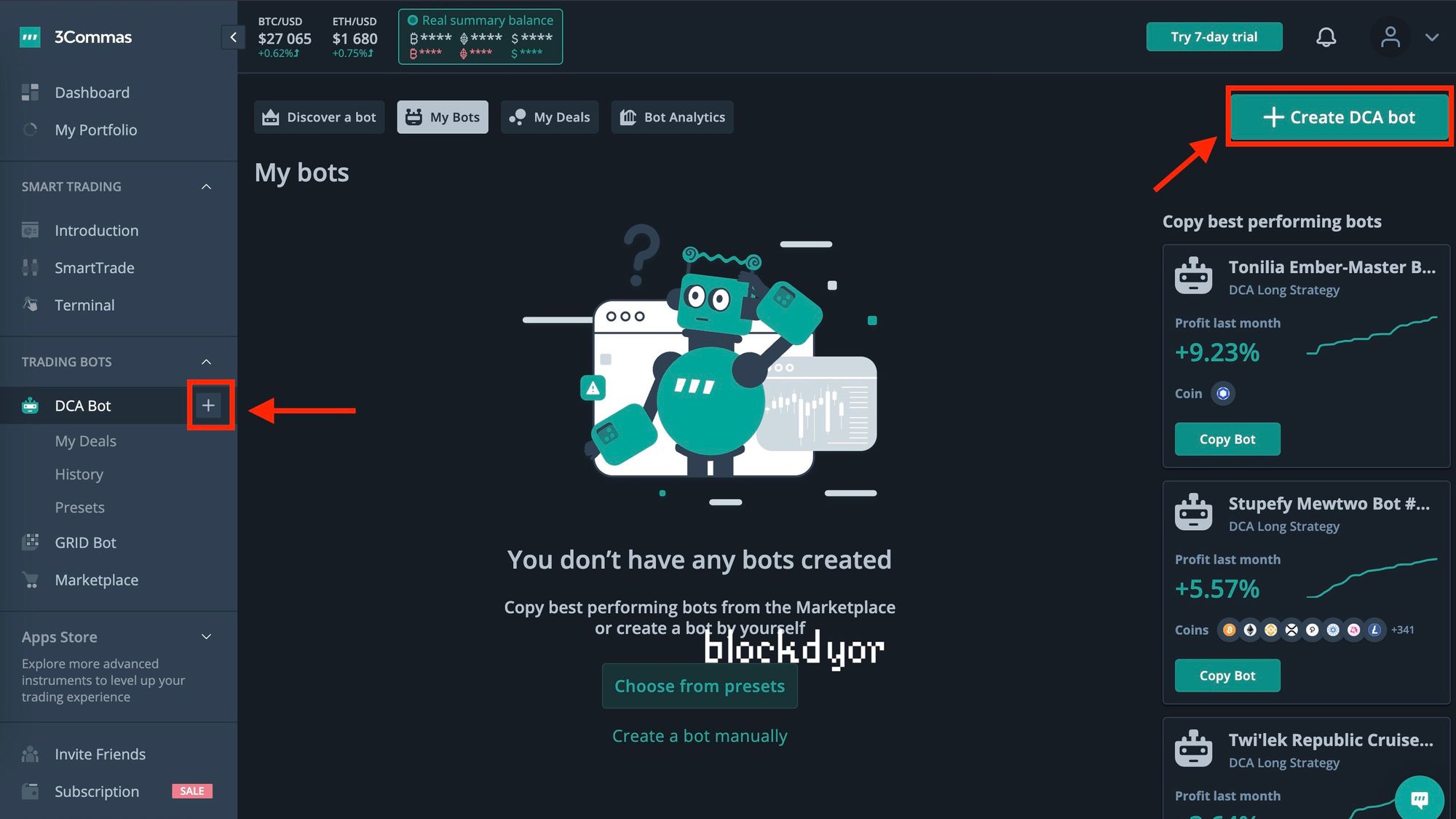 Let's first configure 3Commas. Log into your account and click on the left column the voice "DCA Bot" and then "+" or just on the big green button on the top right "Create DCA bot".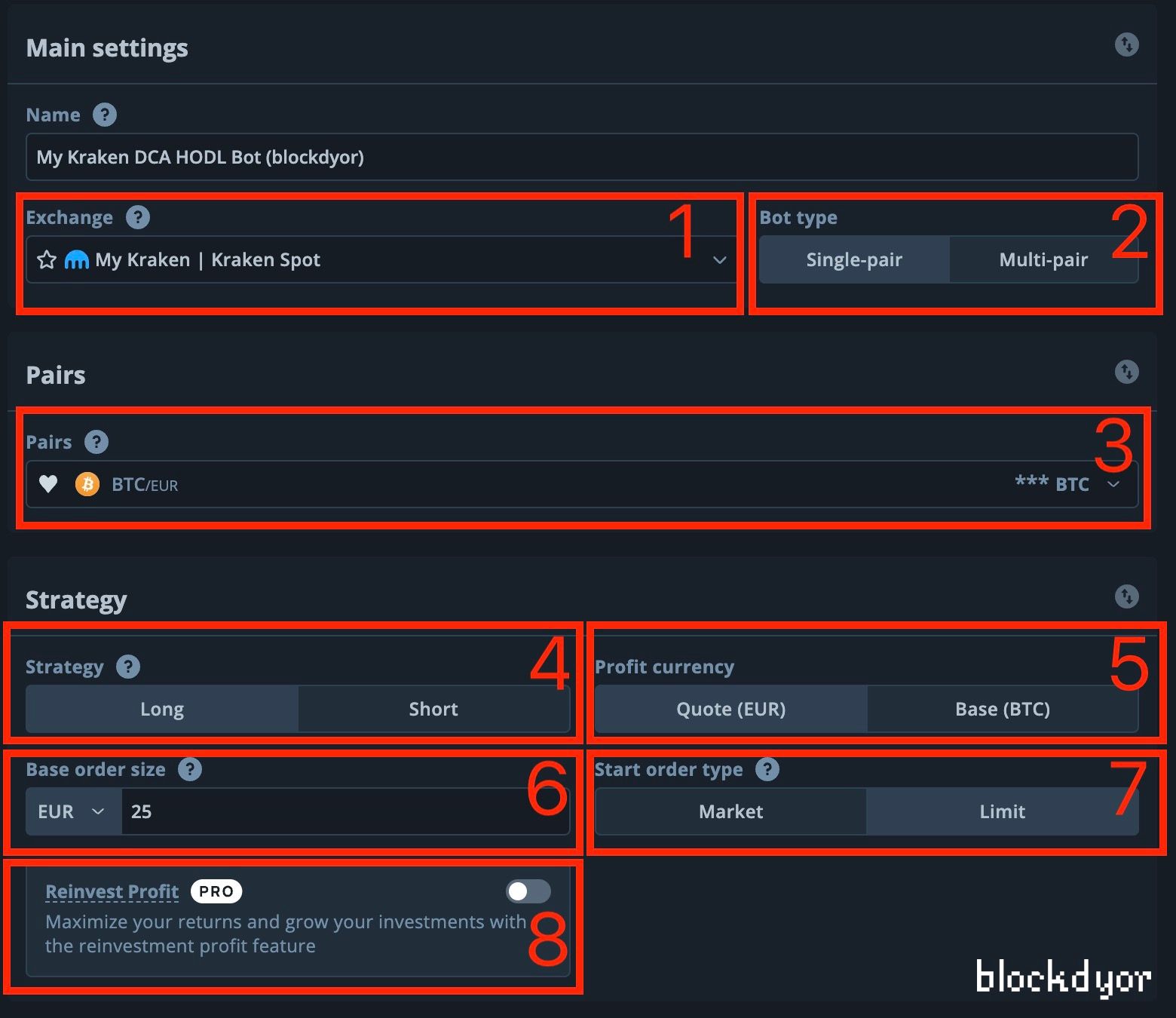 Choose the exchange that you've previously linked to 3Commas, for example, Kraken (1). This setup will involve a single pair bot (2) focused on the BTC/EUR pair (3) (although you can opt for a different pair if you prefer, but ensure you possess the quoted currency if you're going long). The chosen strategy is "long" because it involves buying (4), and the profit currency is of lesser importance since the take profit level will be set at a considerable distance (5). As for the base order, the specific amount is up to your discretion, but it should exceed the exchange's minimum trade requirement (6). The order type should be set as a limit order (7), and reinvesting profits should be turned off (8).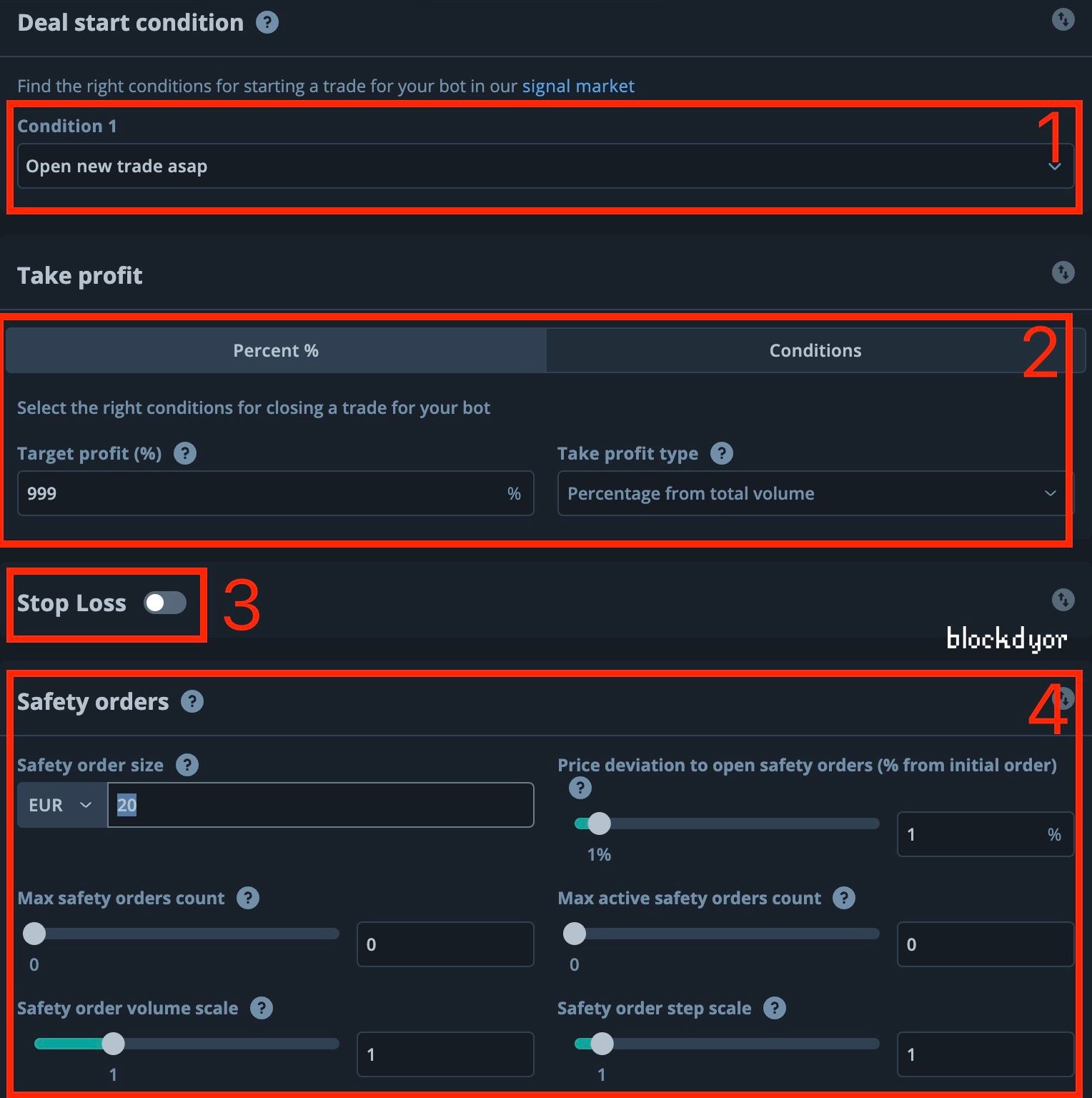 Configure the trade to be initiated promptly with "Open new trade asap" (1), with a profit target set at 999% (2) to allow the bot to operate without constraints. Disable the stop loss feature (3), and leave the remaining settings unaltered, as they are of lesser significance for this setup (4).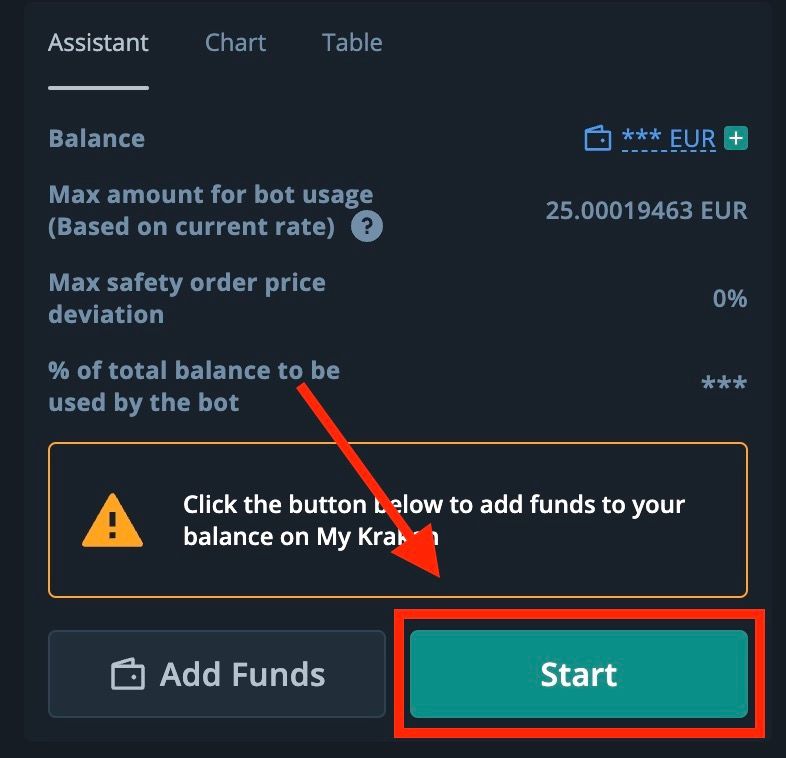 Click the green button "Start".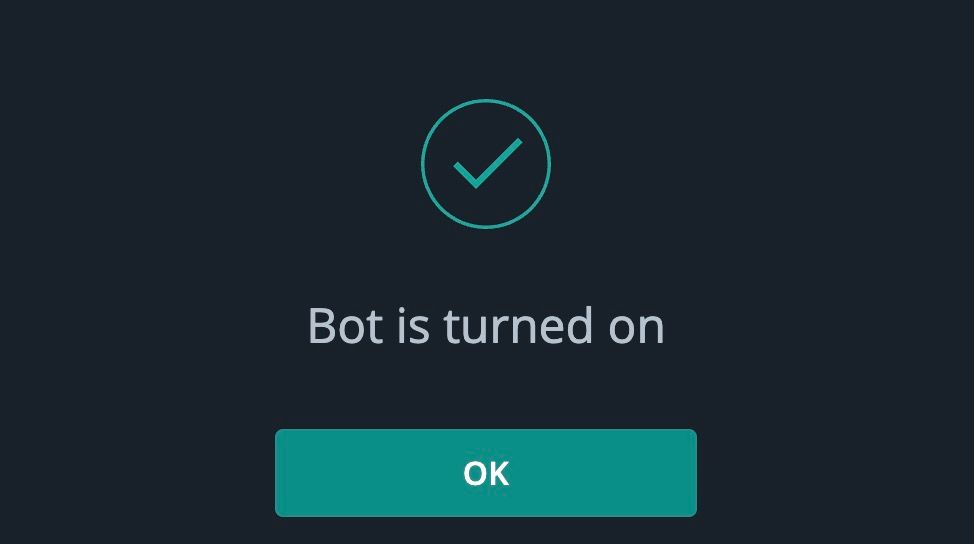 Integrate the 3Commas bot with Trading View
At this point, we have a bot that essentially won't function unless we integrate it with Trading View.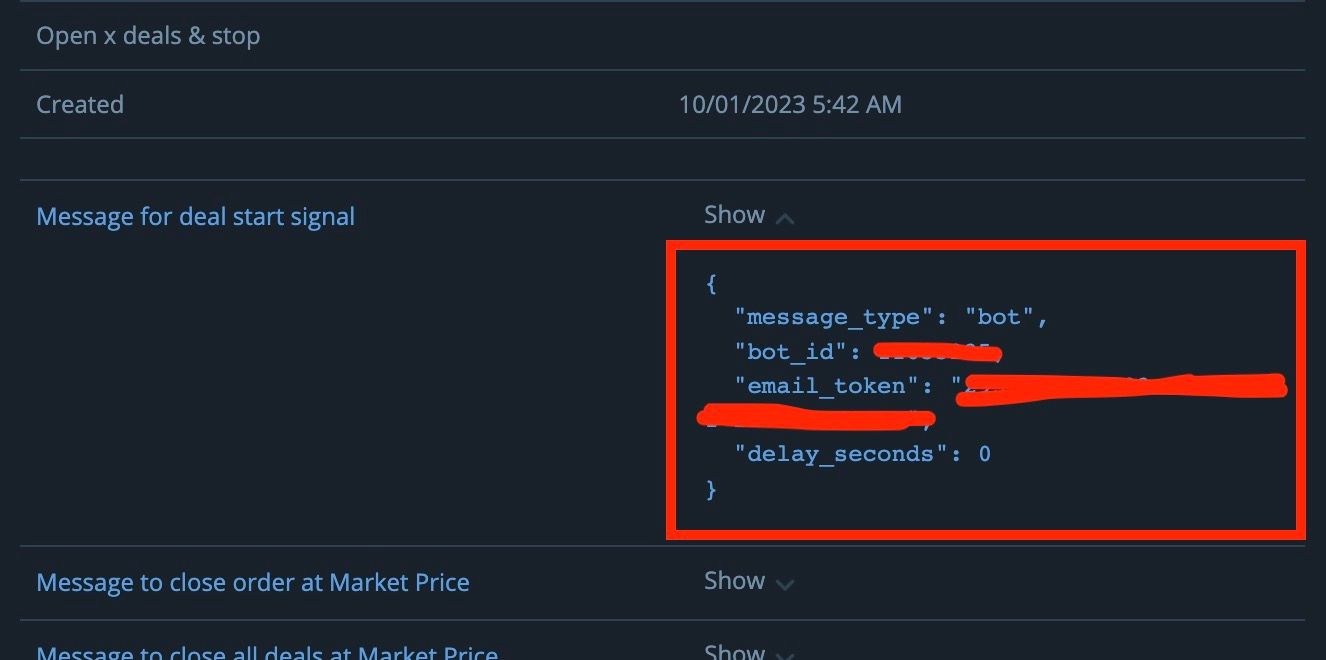 From your bot's page, copy the message for the deal start signal. We will now utilize this signal within Trading View.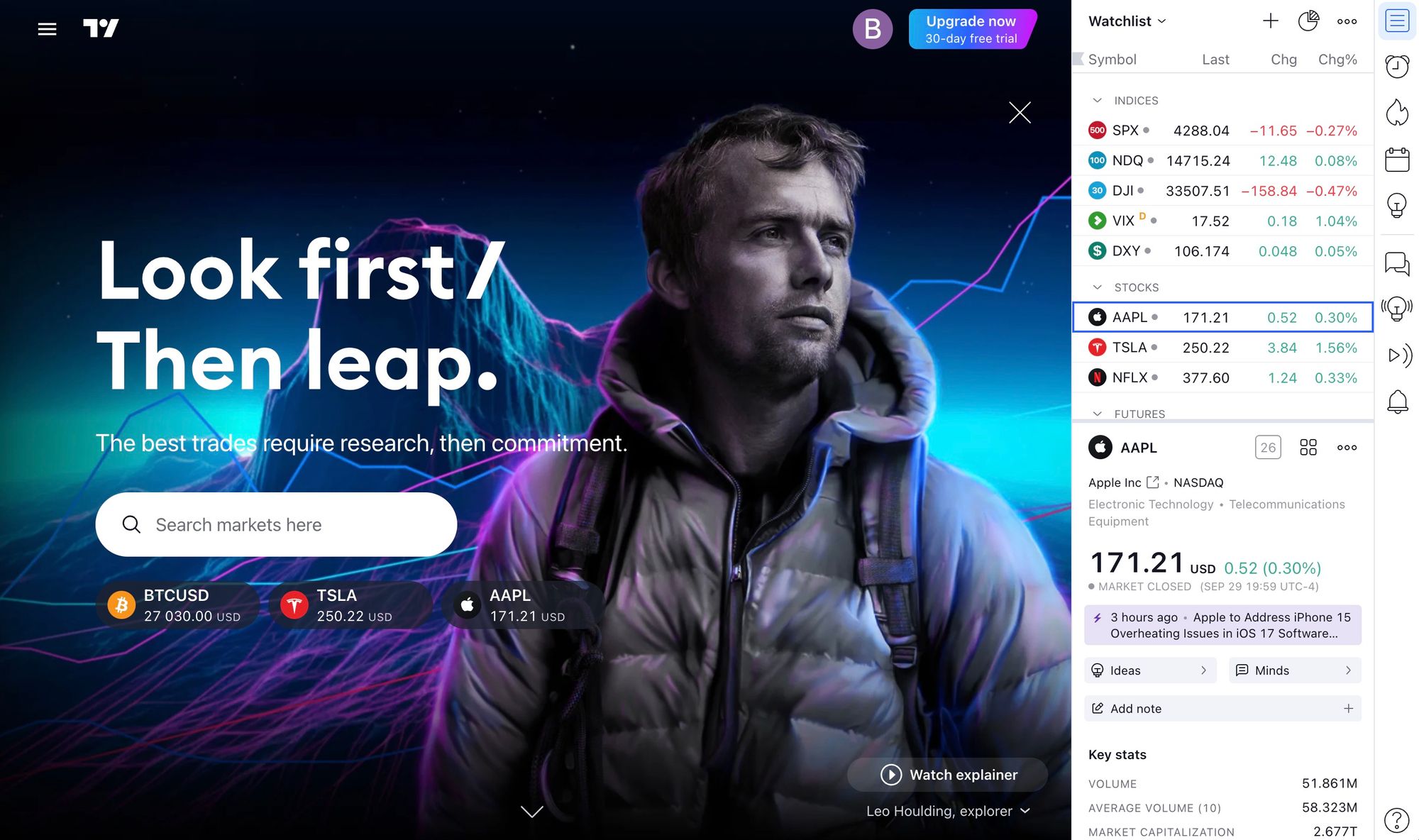 Go on Trading View's page by clicking on the link down below.
👉 Click here to sign up for Trading View and get $15 when you purchase your first subscription.
Copy paste the following url in your browser address bar. It's a private strategy by the guys at 3Commas: https://www.tradingview.com/script/NDNNTmd0-3Commas-HODL-DCA-Strategy/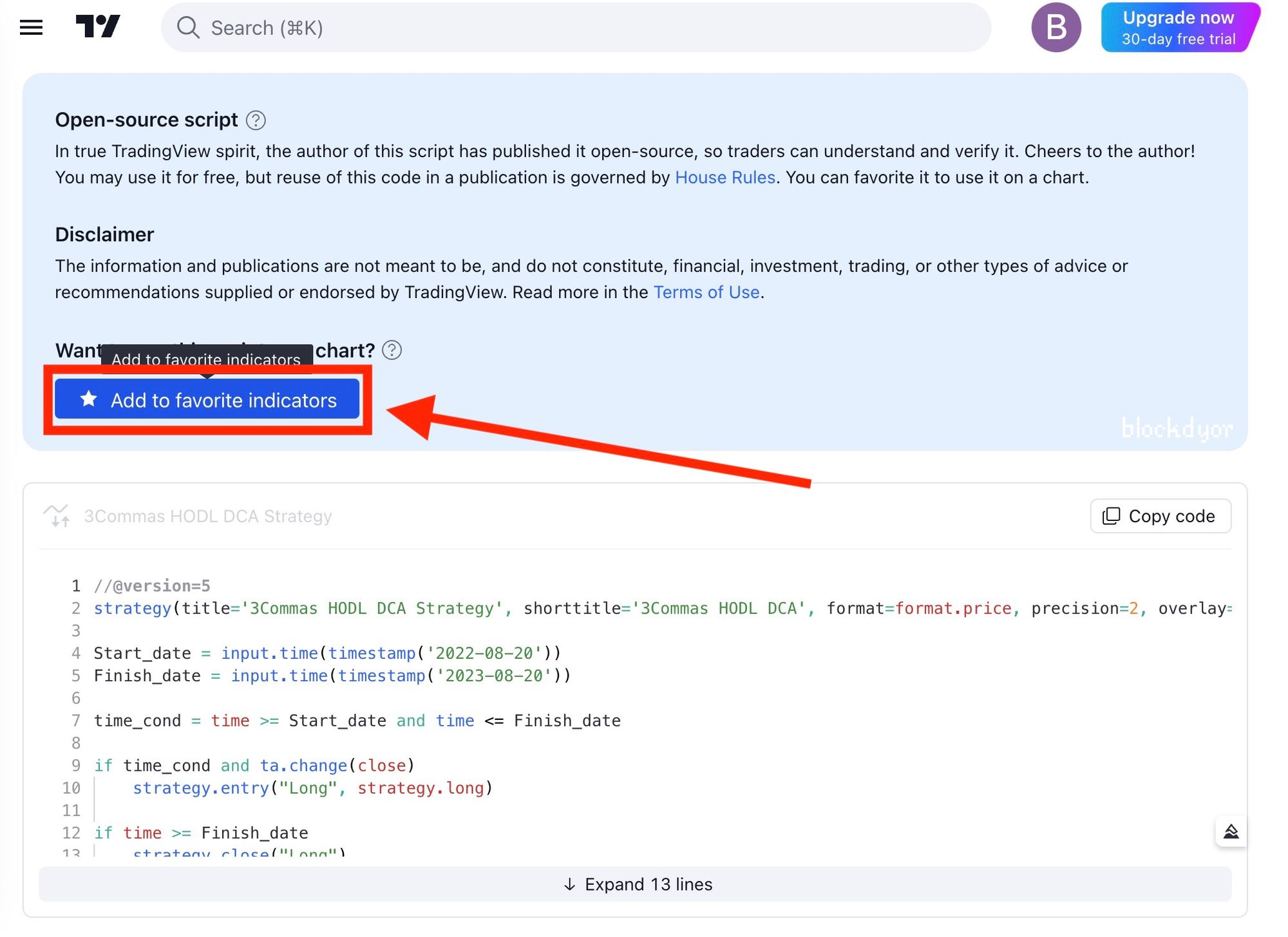 Scroll the page and around the bottom you will find a button "Add to favorite indicators". Click on it.

Proceed to the top of the Trading View page and input the pair associated with your 3Commas bot. Ensure you select the appropriate chart corresponding to the exchange (although the latter detail is relatively less critical). In my instance, I selected the BTC/EUR chart on Kraken. Click "Launch Chart" to navigate to the chart page.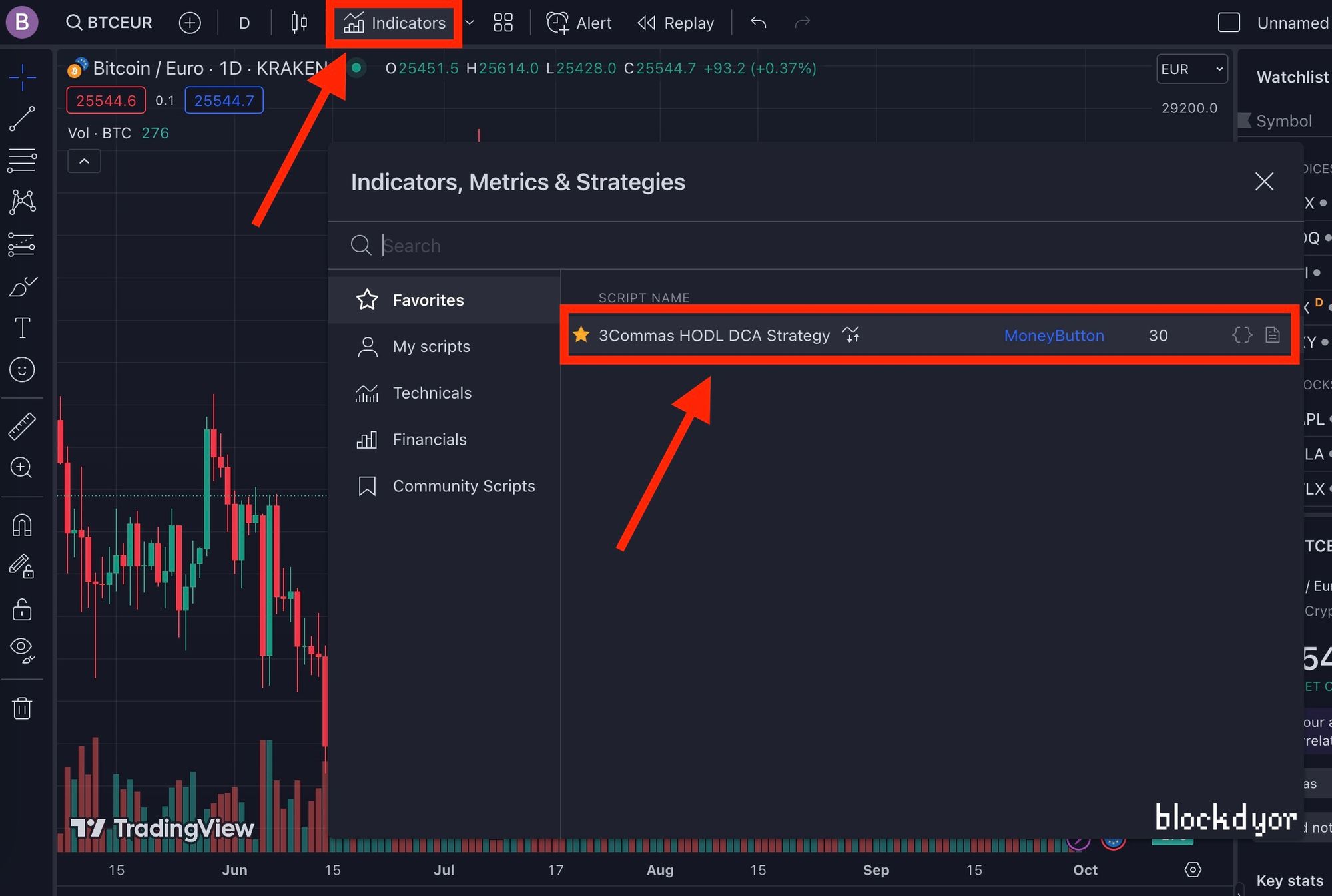 Click on "Indicators" and then select "3Commas HODL DCA Strategy" we just put before in the favorites. A new area will appear on the bottom of the main chart.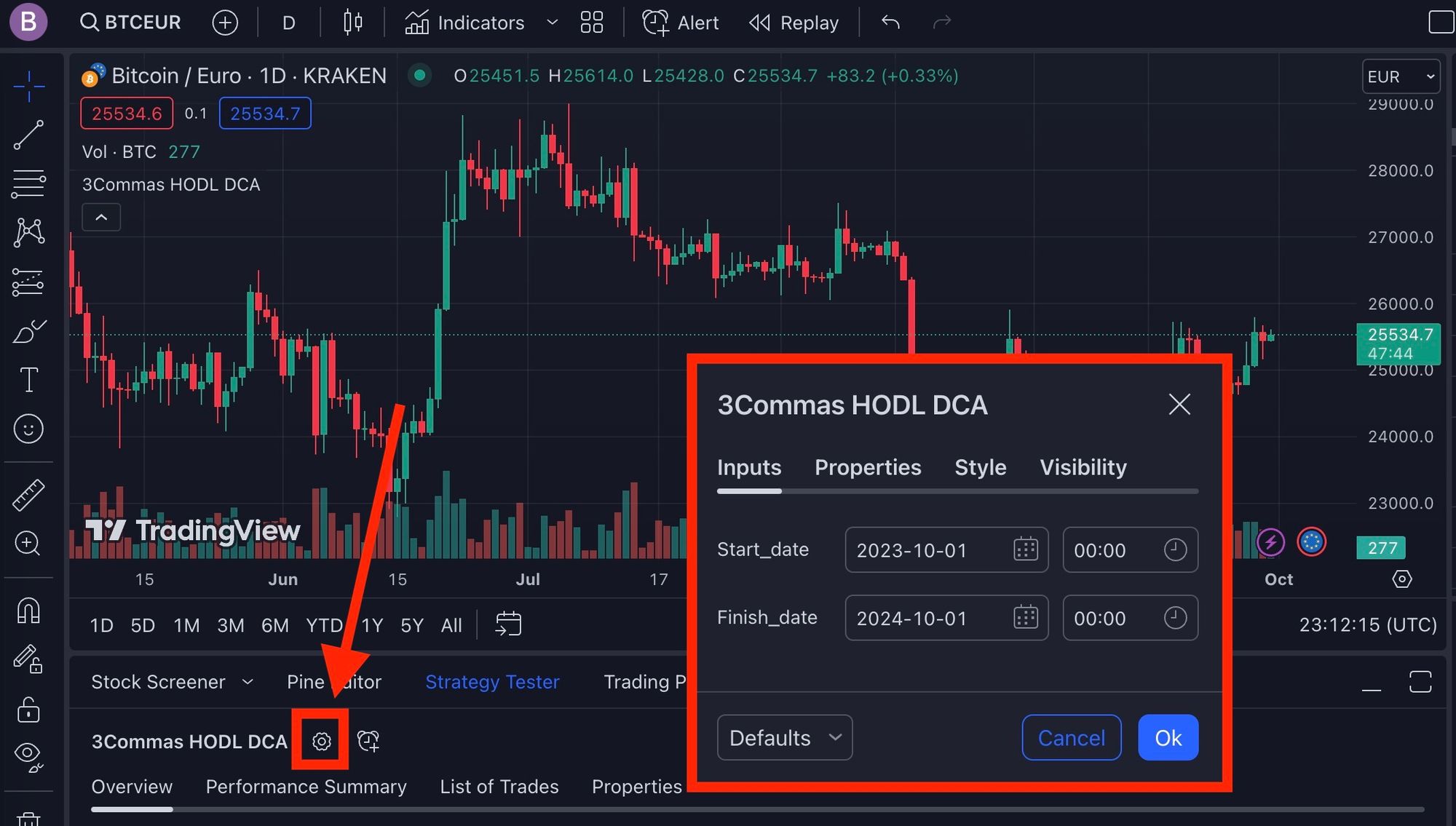 Click on the gear icon and configure the timeframe. You can select a range from today to one year, or simply choose your preferred duration.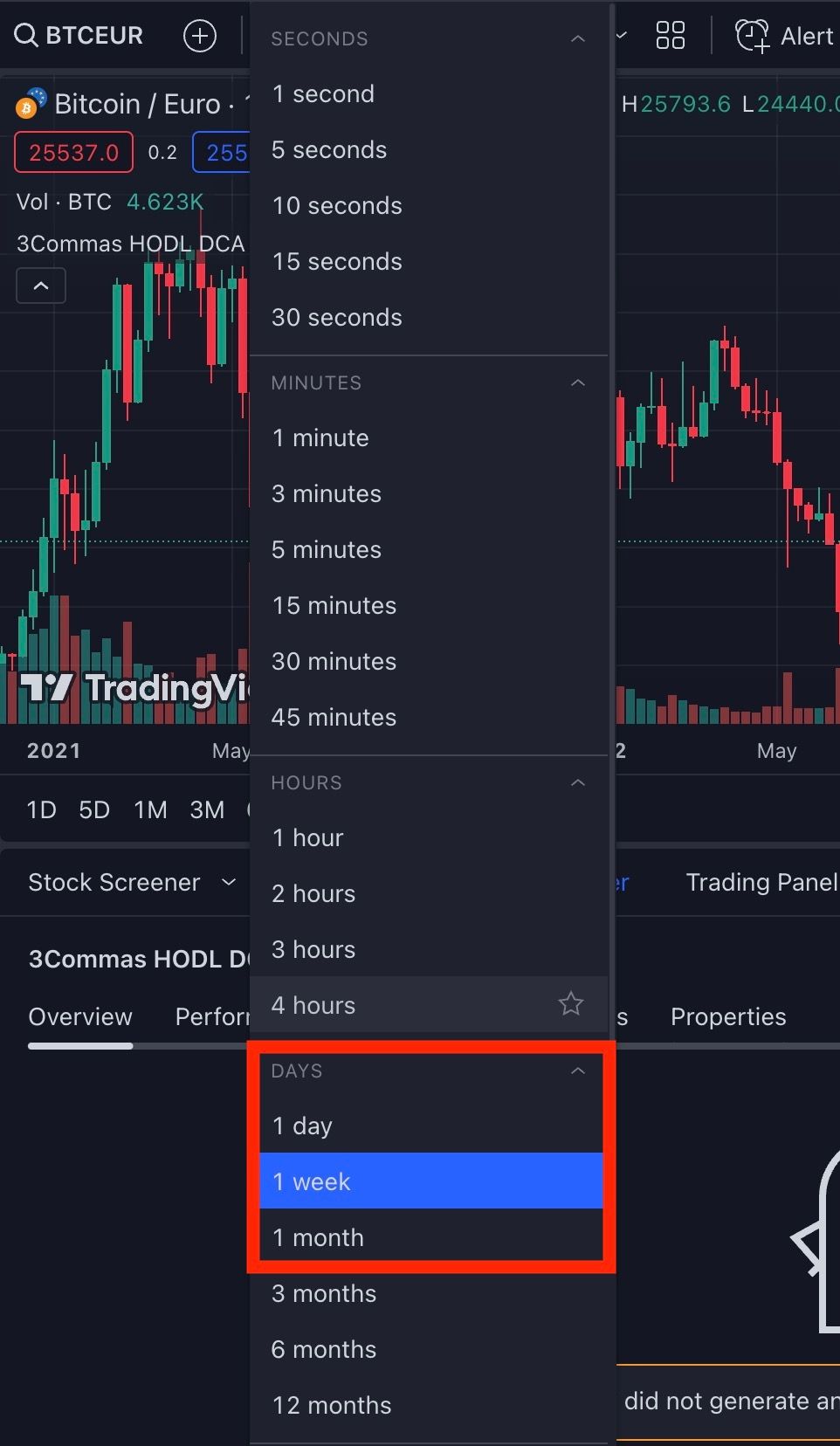 Now, it's crucial to establish the timeframe since this bot will execute purchases at the close of each candle. Therefore, if you opt for a weekly timeframe, the bot will make purchases at the conclusion of each week. Likewise, with a daily timeframe, it will buy every day, and with a monthly setup, it will buy once a month. Hence, make your choice wisely. For this example, I will select the weekly timeframe.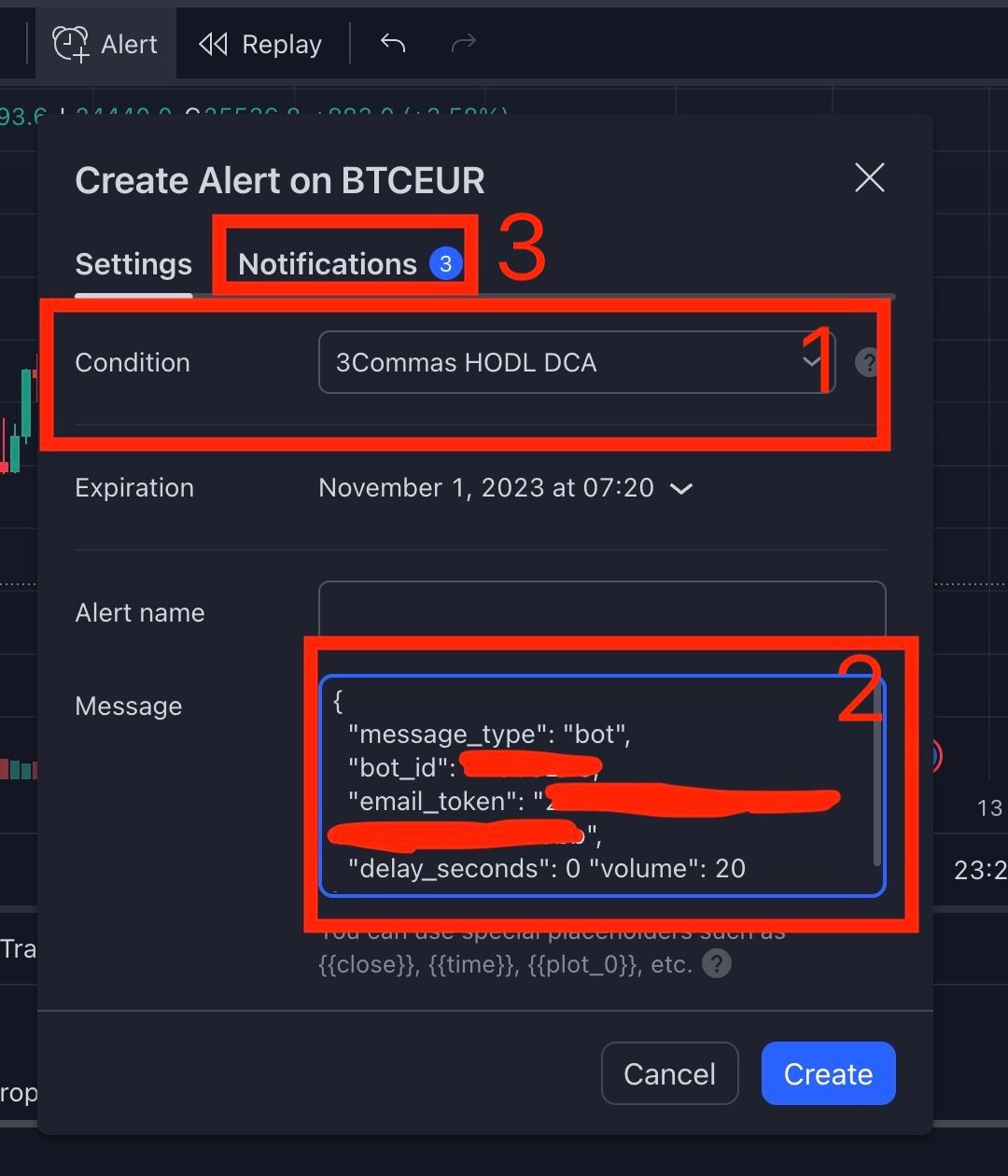 Click on "Alert," and within the "Settings" tab, choose "3Commas HODL Dca" (1) in the "Condition" field. Paste the "Message for deal start signal" obtained from the 3Commas DCA Bot page into the message section (2). Additionally, include "volume": 20 (or your preferred trade volume) in this message; in my case, "20" signifies a €20 Bitcoin purchase for each new trade. Finally, select the "Notifications" tab (3).
From "Notifications", select the Webhook URL and them paste this website: https://3commas.io/trade_signal/trading_view . Then click on the blue botton "Create".
Congratulations, you just created your DCA Hodl Bot!
Pros & Cons of 3Commas DCA
| Pros | Cons |
| --- | --- |
| ✅ Automates regular purchases, promoting disciplined investing. | ❌ Requires a subscription or payment to access advanced features. |
| ✅ Offers flexibility with different DCA strategies (e.g., ladder down). | ❌ May not be suitable for short-term traders looking for quick gains. |
| ✅ Integrates with Trading View for enhanced trading signals. | ❌ Limited to the features and capabilities provided by 3Commas. |
| ✅ Provides a user-friendly interface for setting up and managing bots. | ❌ Reliance on third-party signal providers for custom strategies. |
| ✅ Can help diversify a cryptocurrency portfolio over time. | ❌ Only works with Trading View Integration |
| ✅ Allows users to fine-tune bot settings for their specific goals. | |
Bottom line
Although the process now involves transitioning from Trading View to setting up an HODL Bot on 3Commas, the strategy remains effective and highly practical. The combination of 3Commas and Trading View streamlines the entire process, operating seamlessly in the cloud. This approach is far more convenient and hassle-free compared to the complexities of running a bot from a Docker container. Moreover, it offers extensive exchange support and the option to integrate Telegram notifications, allowing for comprehensive customization.
A DCA bot designed for holding, such as an HODL DCA bot, proves invaluable for many users, particularly during bear markets when it facilitates accumulating funds at more affordable prices. However, it's crucial to set it up correctly; otherwise, it can potentially reduce profits, as demonstrated through real-life examples when using extended intervals like monthly DCA.
Frequently Asked Questions (FAQ)
What is the HODL DCA BOT on 3Commas?
The HODL DCA BOT on 3Commas is a bot designed for Dollar-Cost Averaging (DCA) strategies. It allows users to accumulate cryptocurrency over time by making regular purchases at fixed intervals.
How does the HODL DCA BOT work?
The HODL DCA BOT works by executing buy orders for a specified cryptocurrency at predefined intervals (e.g., daily, weekly, monthly). It aims to reduce the impact of price volatility by spreading purchases over time.
What are the benefits of using the HODL DCA BOT?
The HODL DCA BOT helps users build a cryptocurrency portfolio gradually, minimizes the risk associated with timing the market, and provides a disciplined investment approach. It is particularly useful during bear markets.