3Commas Review 2023: The Best Crypto Bot Platform?
3Commas is a comprehensive cryptocurrency trading platform that offers a wide range of features to assist traders in automating and optimizing their trading strategies. In this guide we will analyze its many features.
What is 3Commas?
3Commas is a popular crypto trading bot platform. It offers a user-friendly interface and advanced automation tools for traders.
The platform integrates with multiple exchanges and provides smart trading bots that analyze market conditions and execute trades based on user-defined strategies.
Users can customize their own bots or choose from pre-configured options. 3Commas also provides portfolio management features, advanced trading options, and integration with external signal providers.
It is widely used by both beginner and experienced traders to enhance their trading strategies in the cryptocurrency market.
👉 Click here to sign up for 3Commas and get a 10% discount for the first purchase of the monthly subscription.
| FEATURE | DESCRIPTION |
| --- | --- |
| 🌐 Website | 3Commas.io |
| 🏙️ Location | Tallinn, Estonia |
| 📅 Year Founded | 2017 |
| 🤖 Primary Bots | DCA, HODL, Grid |
| 🔒 IP Whitelist | Supported |
| 💱 Trading Pairs | Varies with the connected exchange |
| 💵 Price | From €22 per month (free plan also available) |
| 🌍 Supported Countries | Worldwide |
| 📱 Mobile App | Available for iOS and Android |
| 💬 Customer Support | Ticket, Email, Live Chat |
How Does 3Commas Work?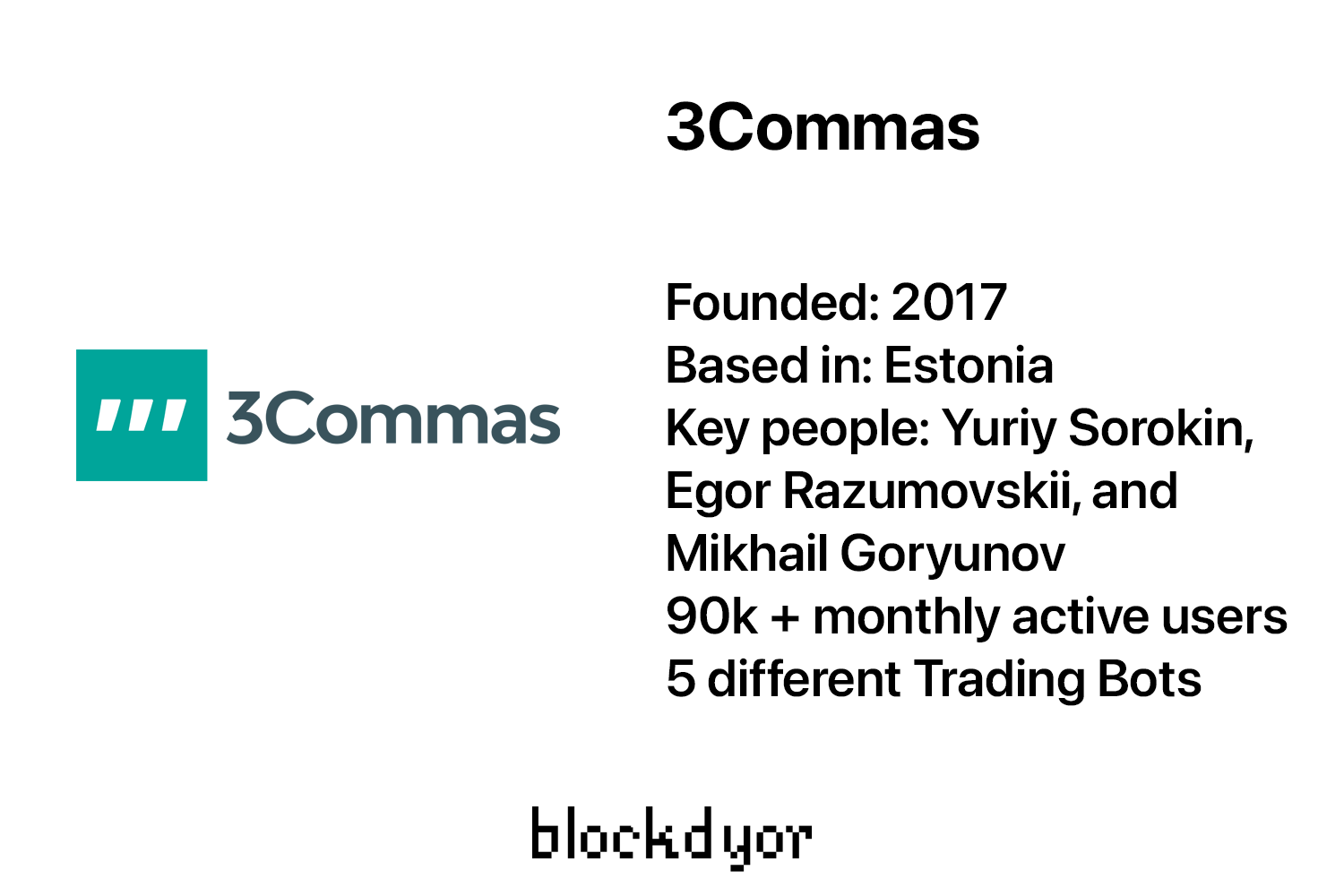 3Commas works as a cloud trading terminal designed to give the possibility to its traders to automate their strategy even when they are not connected.
3Commas doesn't actually provide liquidity as an exchange, but is basically an intermediary platform between the user and several cryptocurrency exchanges, allowing users to access advanced trading features and tools that go beyond what traditional exchanges offer.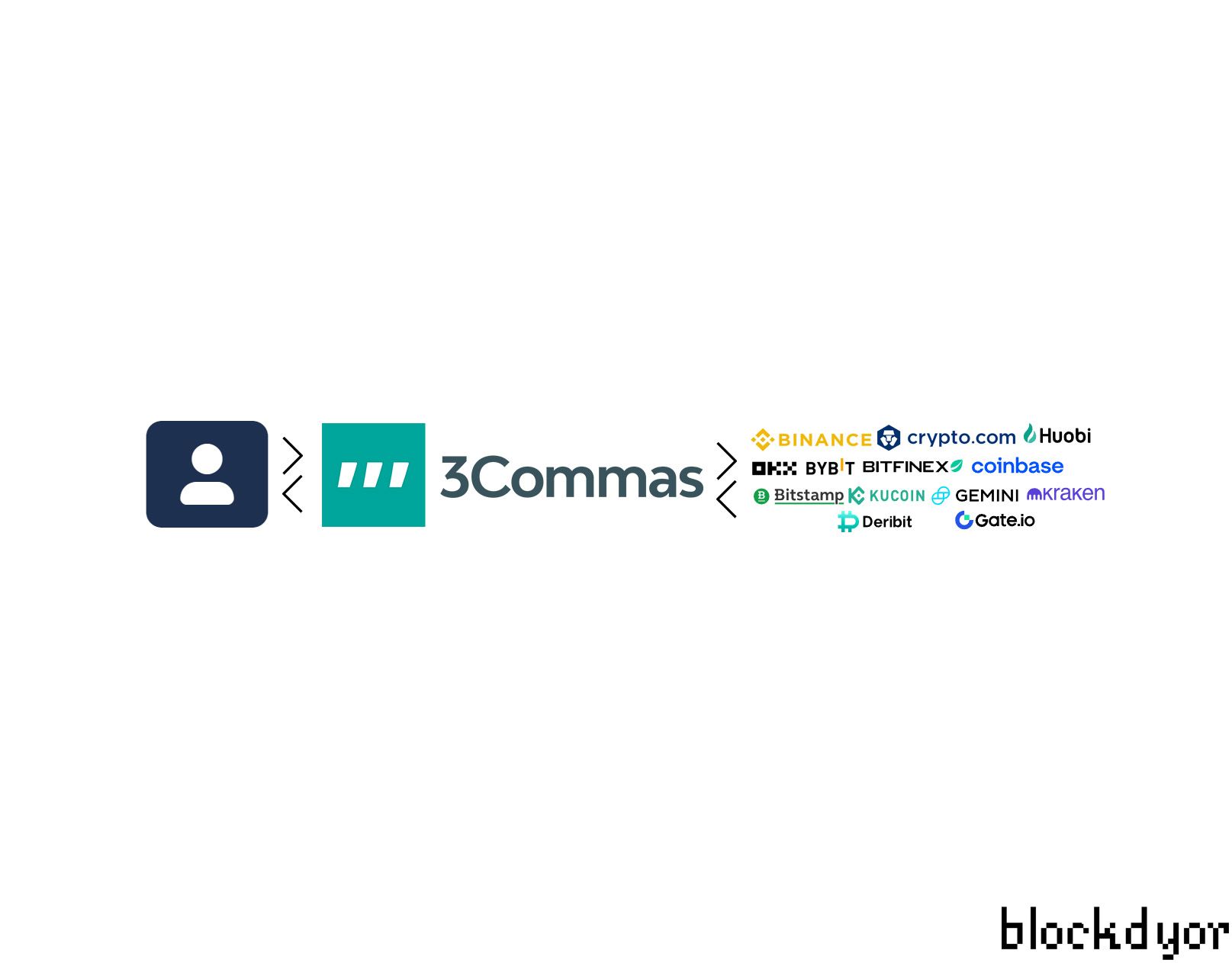 To get started with 3Commas, traders sign up for an account on the platform and establish a connection to their exchange of choice, through API integration. This connection enables real-time communication between 3Commas and the exchanges, enabling traders to execute trades and access crucial market data within the platform.
At its core, 3Commas provides traders with a comprehensive suite of powerful trading tools and settings. These tools include smart trading tools, automated trading bots, and the ability to customize trading strategies.
Thanks to these features, traders can automate their trading activities, set specific parameters for buying and selling, and implement effective risk management techniques to safeguard their investments.
Also, 3Commas offers an extended portfolio management capabilities. Traders can create and link portfolios, track their performance, and analyze the portfolios of successful traders. This holistic portfolio management approach empowers traders to make data-driven decisions, gain insights from successful traders, and continually improve their trading strategies.
The platform also supports manual trading through smart trading tools. Traders can set multiple sell targets, utilize stop loss and take profit orders, and leverage a variety of indicators and charts for technical analysis. This flexibility allows traders to execute trades based on their own analysis and preferences while benefitting from the enhanced functionality provided by 3Commas.
In addition to these features, 3Commas offers specialized trading bots such as grid bots and DCA (Dollar Cost Averaging) bots. Grid bots facilitate buying and selling at predetermined price levels, while DCA bots help users expand their investment portfolios strategically. Moreover, 3Commas provides options trading by offering options bots, which simplify the process and enable traders to leverage sophisticated algorithms for improved trading outcomes.
To prioritize the security of user accounts, 3Commas emphasizes the importance of enabling two-factor authentication during the registration process. This additional layer of security helps protect users' trading accounts from unauthorized access and ensures a safe trading environment.
3Commas Key Features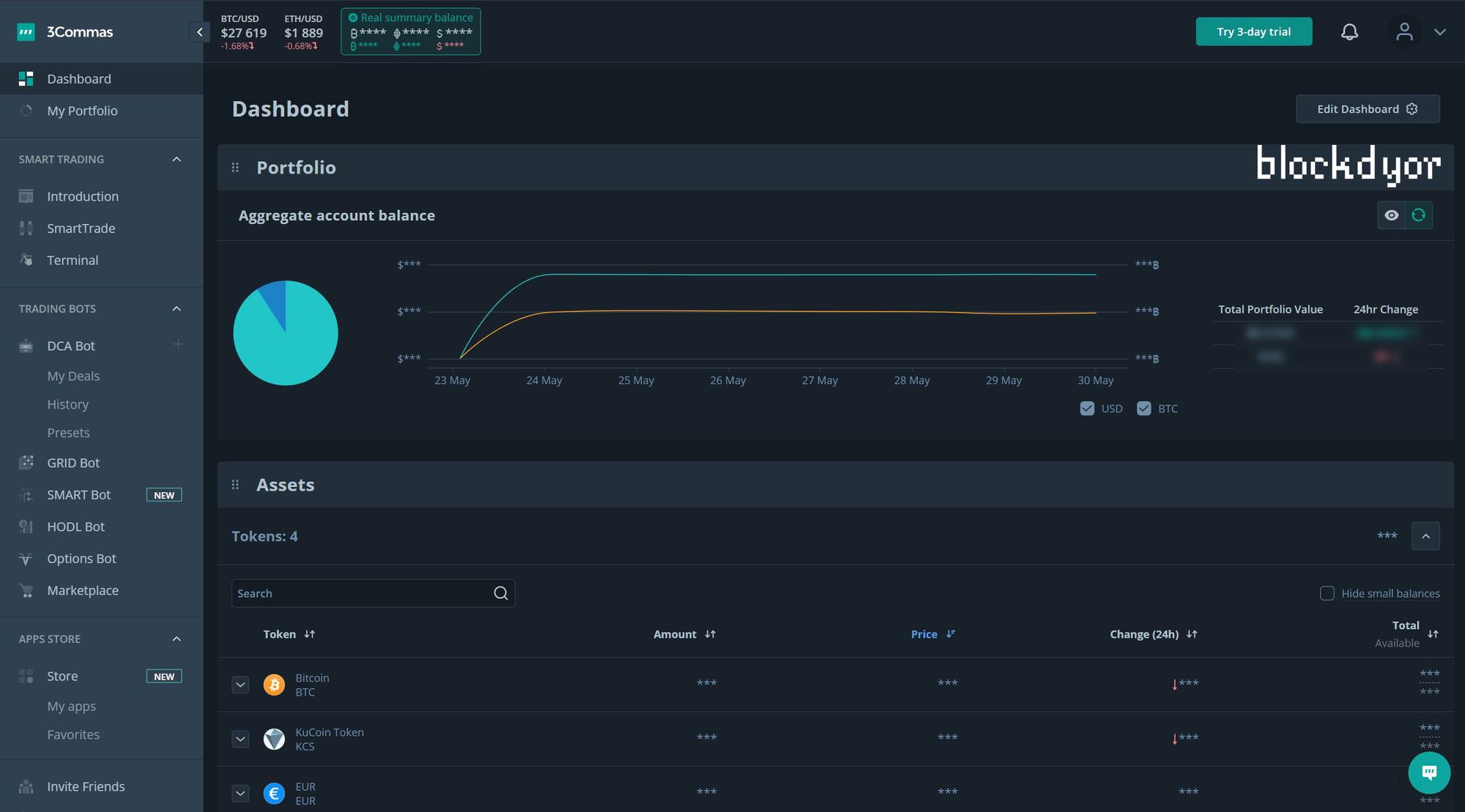 Let's explore the core features that make 3Commas one of the most interesting crypto auto-trading platform.
Paper Trading Accounts (Demo)
3Commas offers paper trading or demo accounts where traders can test out strategies and practice trading bots without risking real funds. This feature helps inexperienced traders gain experience and avoid potential losses.
Connect Exchange APIs
Traders can link their exchange accounts to the 3Commas platform by providing API access. This allows them to execute trades across multiple exchanges from a single interface, even if they don't use automated bots.
Automated Trading and Trading Bots
3Commas provides highly customizable trading bots that allow users to automate their trading strategies. Traders can create their own bots, select pre-configured bots, or copy the bots created by other traders. The platform offers various types of bots, including Grid bots, DCA bots, SMART bot, Options bot, and HODL bot.
SmartTrade/Manual Trading
3Commas offers a SmartTrade section with advanced trading settings and parameters. Traders can set detailed parameters, such as units to trade, price, market or limit orders, trailing stop losses, profit targets, and more. The platform also features a trading journal to track and analyze trading performance.
Tradingview Cryptocurrency Signal Finder
Traders can utilize the Tradingview signal finder integrated into 3Commas to scan the crypto markets for potential trade setups. The platform can issue four types of orders (Buy, Strong Buy, Sell, Strong Sell) based on the signals identified by Tradingview.
Trading Signals Marketplace
3Commas has a marketplace where traders can access trading signals created by other users. Traders can review the historical performance of each signal and choose signals that align with their desired strategy and risk profile.
Portfolio Management
3Commas allows traders to manage their own portfolios and compare their performance with other traders. Users can create portfolios, rebalance their holdings, analyze performance, and even copy portfolios of successful traders.
Available Crypto Trading Bots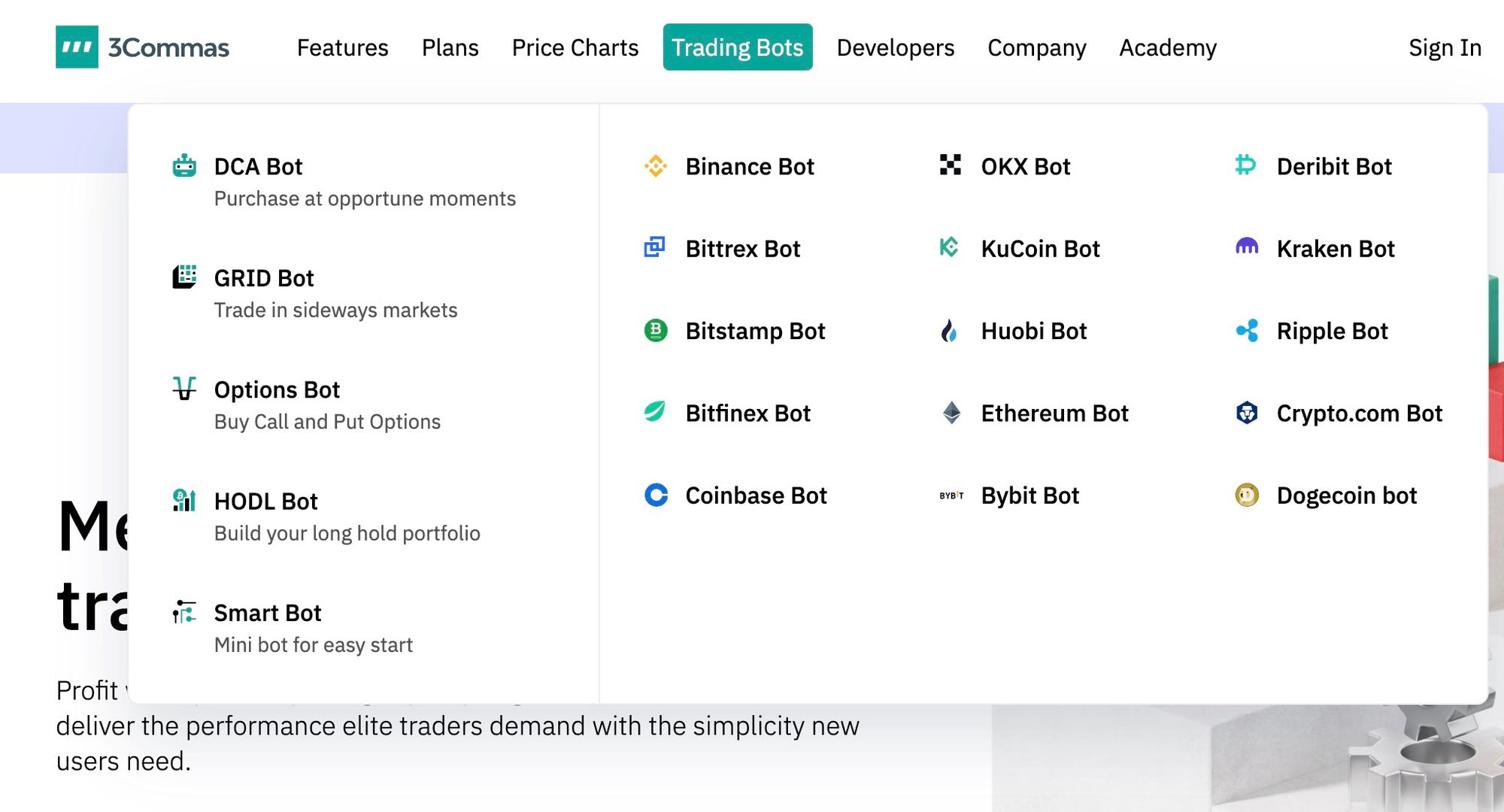 3commas stands out as a leading platform that offers a wide range of highly customizable Trading Bots, making it a sought-after feature for traders.
When comparing it to other services, it becomes evident that finding a similar level of automated trading is quite challenging.
With its exceptional offering, 3Commas is widely regarded as one of the top choices for trading bots. Now, let's explore all the trading bots provided by 3commas.
DCA Bot
One of the most used bots offered by 3commas it is the DCA (Dollar Cost Averaging) Bots.
How does the DCA strategy works? The DCA strategy involves by systematically investing in a currency at regular intervals to gradually lower the entry price of a position over time and mitigate the risks associated with market volatility.
To illustrate the effectiveness of DCA, let's consider an example where you have $10,000 available for investment in a token that has a price of $120 per coin.
Instead of making a single large investment, you decide to allocate $2,000 every 30 days for a period of five months. Assuming the asset's prices at each interval were $120, $110, $100, $90, and $105, implementing DCA would result in an average asset price of $105.50.
In contrast, if you invested the entire $10,000 at the beginning, you would have purchased the asset at a higher price of $120 per coin.

Let's take a closer look at how the configuration of a DCA (Dollar Cost Averaging) bot on 3Commas looks like: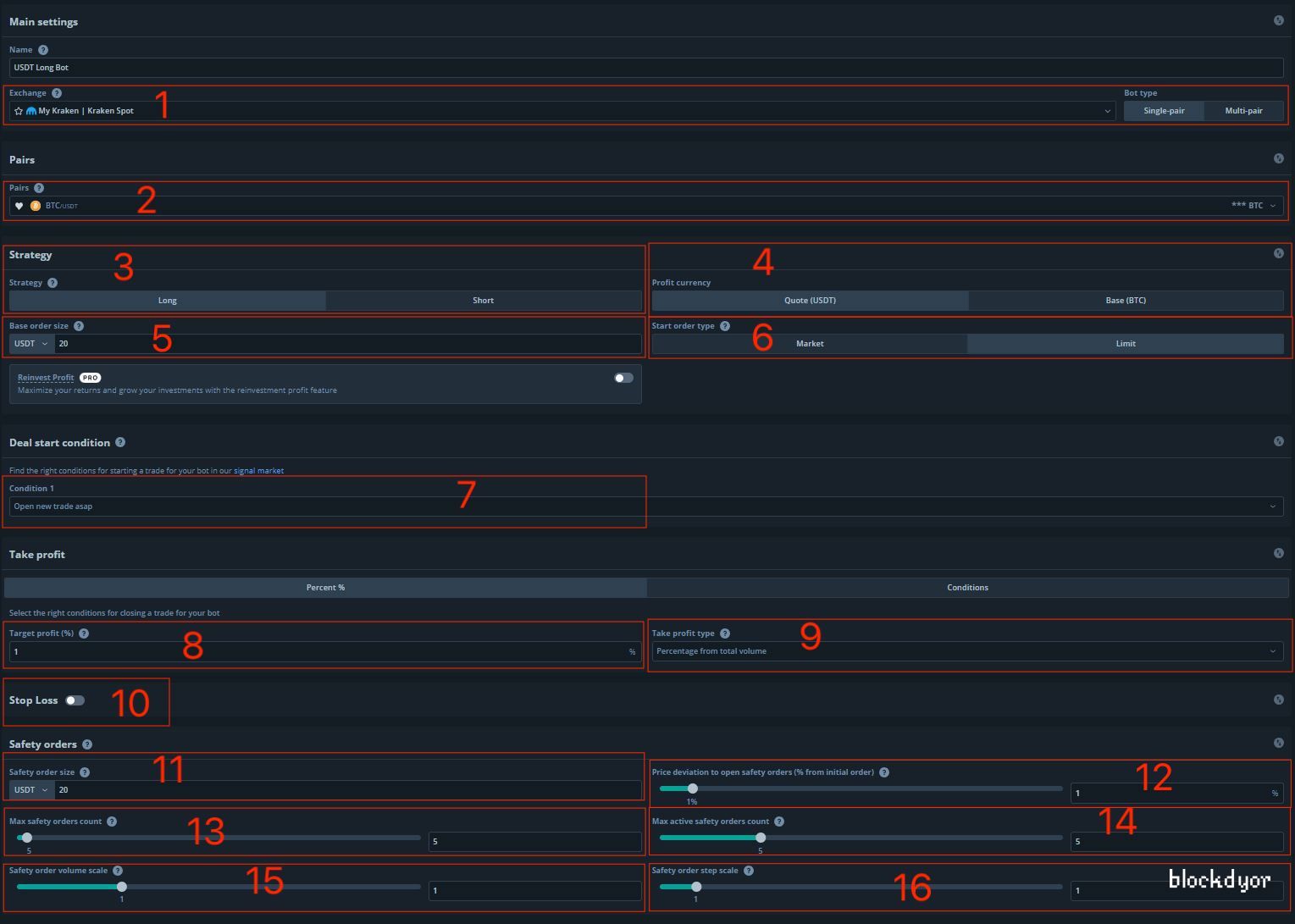 Exchange: This is the connected exchange where you'll be trading.
Pairs: Select the specific trading pair in which you wish to perform DCA.
Strategy: Choose between a long or short strategy. "Long" means buying the base currency and selling the quoted currency, while "Short" involves the opposite.
Profit currency: Personal preference to determine the currency in which you want to maintain your account balance when taking profits. Options include the Quoted currency or the Base currency.
Base Order Size: Set the size of the initial order you'll place in the market.
Start order type: Specify the type of order to be opened in the market as the first order. Choose between a limit order or a market order.
Deal start condition: Determine the conditions for initiating trades. You can opt to open a new trade as soon as possible or when specific trading conditions are met.
Target Profit (%): Define the desired percentage level at which you want to take profits.
Take profit type: Choose whether to calculate profits based on a percentage of the total volume or from the base order.
Stop loss: Optionally set a stop loss level for risk management.
Safety order size: Specify the size of subsequent trades that will be opened after the initial order.
Price deviation to open safety orders (% from initial order): Set the price movement threshold at which the next orders will be triggered.
Max Safety Orders Count: Determine the maximum number of orders that will be opened after the first trade.
Max active safety orders count: Select the maximum number of orders allowed to be open simultaneously. Keeping this number low helps avoid excessive open orders.
Safety order volume scale: Decide if the volume of each following order should be larger or smaller compared to the previous one. Set it to one to maintain the same volume.
Safety order step scale: The Safety Order Step Scale multiplies the percentage of Price Deviation used by the last Safety Order placed on the exchange account.
The benefits of the DCA strategy extend to traders of all experience levels. By dividing your investment into smaller increments and making purchases at different price points over time, you achieve a more favorable average price for your position.
This approach helps you navigate market fluctuations and reduce the potential impact of unfavorable market conditions.
With the DCA Bots available on 3Commas, you can use the DCA strategy by configuring and executing your desired settings on supported exchanges. The process is quite easy:
Choose a DCA bot that aligns with your investment strategy.
Connect your exchange account to the bot.
Customize the bot's configuration to suit your preferences.
Monitor the bot's performance and track relevant statistics.
For those seeking guidance, 3commas offers a range of bot presets, allowing you to create your first bot with pre-configured settings and ensuring a solid starting point.
Basically, by using the 3commas' DCA Bots, you take advantage of the DCA strategy without the need for complex manual calculations or constant monitoring.
Grid Bot

The 3Commas Grid Bot is a tool for cryptocurrency traders looking for maximize profits in a volatile market. By using a grid trading strategy, the bot takes advantage of price fluctuations to generate consistent returns. It sets buy and sell orders at predefined intervals above and below the market price, executing trades as the price moves within the grid.
One notable feature of the Grid Bot is its adaptability to changing market conditions. It dynamically adjusts the grid lines to align with the main trend, optimizing trading effectiveness and potential gains. Customizable settings allow traders to tailor the strategy to their risk tolerance and market outlook by adjusting parameters such as grid size and distance between levels.
Advanced features like trailing take profit and stop loss enhance risk management, while real-time monitoring provides performance tracking. The platform offers bot presets created by experienced traders, enabling beginners to access proven strategies and trade with confidence.
Setting up the Grid Bot on 3Commas is a straightforward process, allowing traders to automate their trading and potentially increase profits. With just a few clicks, users can choose a strategy, fund their bot, and start or stop it as desired. Let's have a closer at how to do this: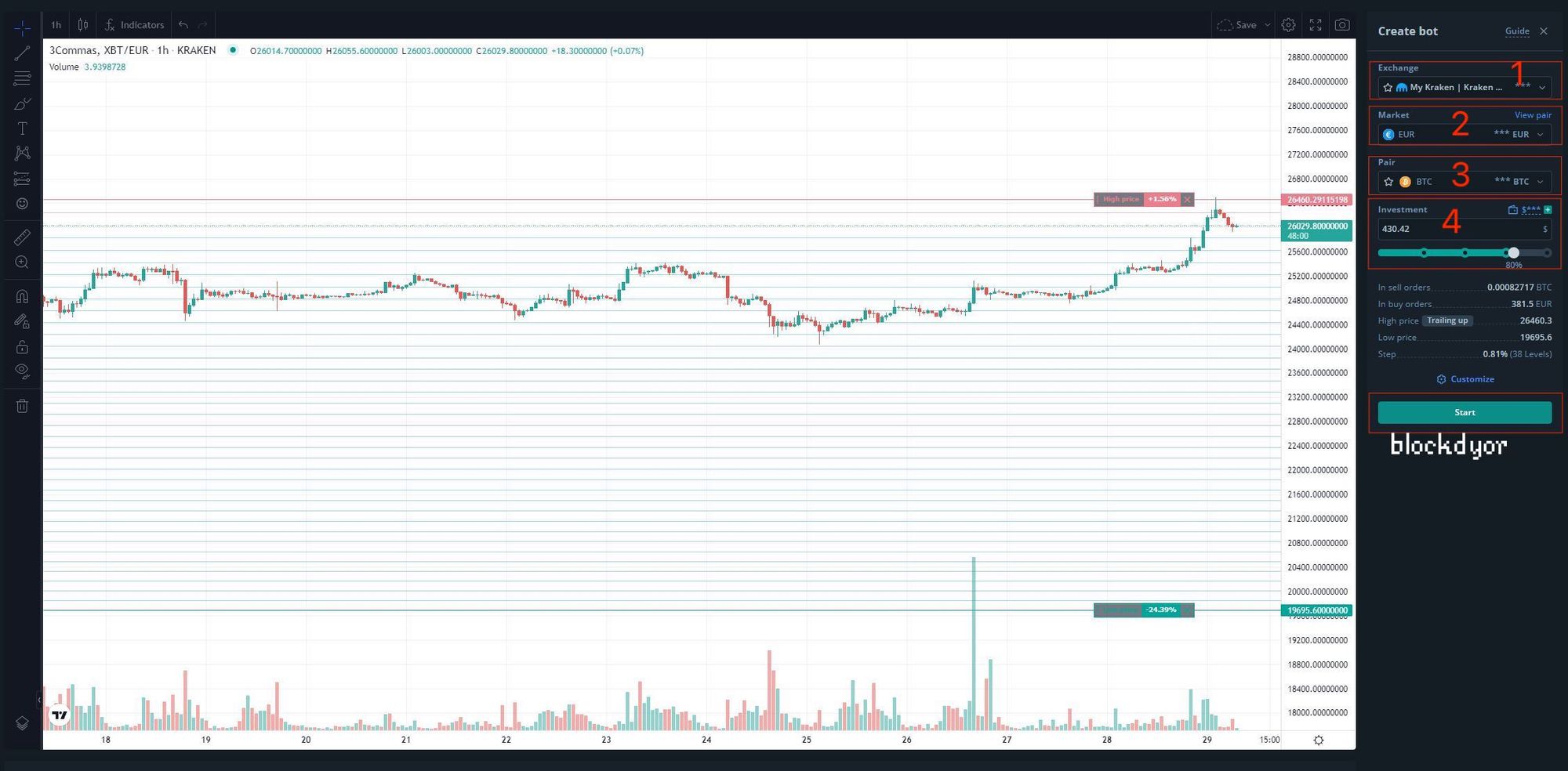 Exchange: This refers to the exchange you have connected to your account.
Market: Choose the specific market you want to trade in.
Pairs: Select the trading pair you intend to use for the Grid Bot.
Investment: Specify the amount you wish to invest in this particular bot.
Options Bot
The 3Commas Options Bot is a comprehensive tool that enables traders to effectively navigate options trading and capitalize on its potential for profitability.
It offers a range of strategies, including buying call options for bullish market sentiment, buying put options for bearish market sentiment, selling a straddle for decreased market volatility, and buying a straddle for high volatility scenarios.
The user-friendly interface simplifies the execution of these strategies, and traders have access to a variety of trading tools to enhance their decision-making process.
The Options Bot can offer to specific scenarios, such as Bitcoin miners needing to cover operating expenses. By selling call options, miners can generate fiat income to meet financial obligations, providing flexibility in positive and negative market scenarios.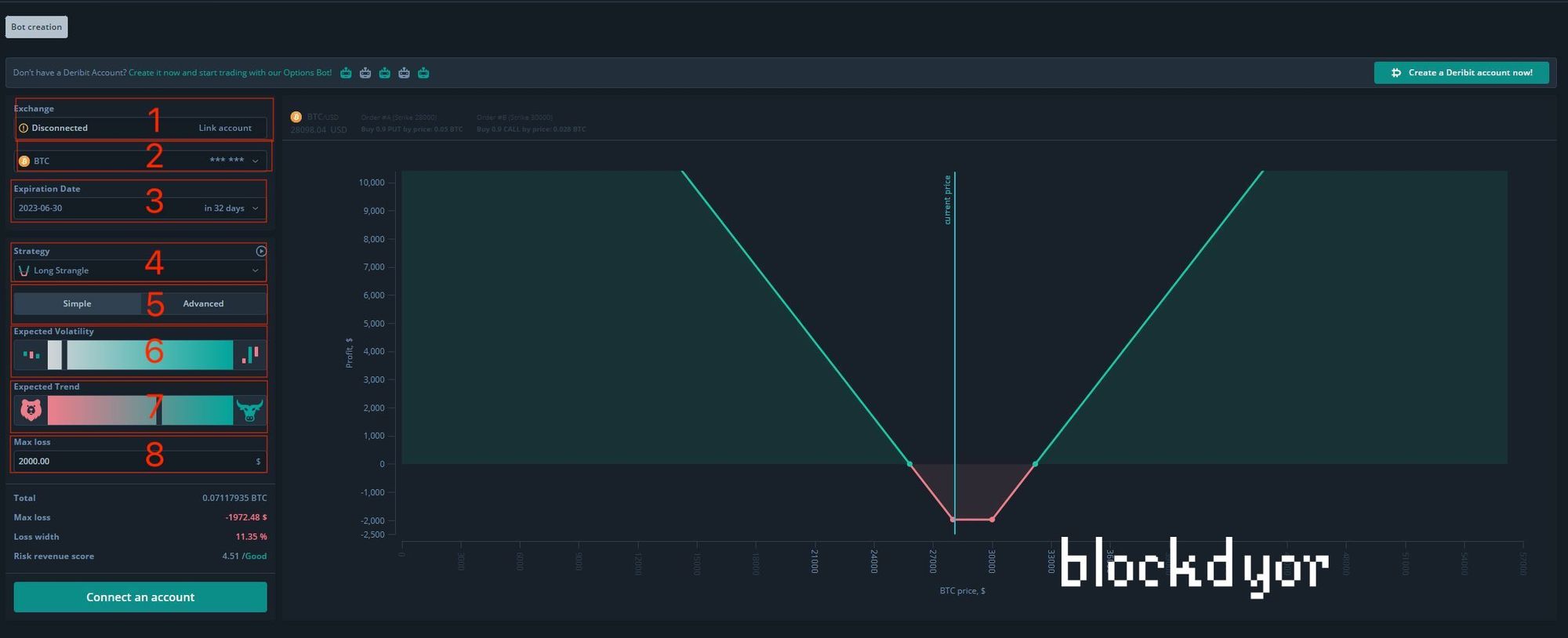 Let's explore the key settings for customizing your option bot on 3Commas:
Exchange: Choose the exchange connection from the available options.
Cryptocurrency: Select the specific cryptocurrency to initiate the option bot.
Expiration Date: Determine the date on which the option bot will expire.
Strategy: Define the type of strategy for the option bot.
Simple/Advanced: Activate the advanced functions by using the selector.
Expected Volatility: Set the expected level of volatility for the market.
Expected Trend: Specify the anticipated trend in the market.
Max Loss: Determine the maximum acceptable loss for the option bot.
By adjusting these settings, you can customize your option bot according to your preferred exchange, cryptocurrency, strategy type, expected market conditions, and risk tolerance.
Overall, the 3Commas Options Bot empowers traders to explore and leverage the potential of options trading through its comprehensive features and user-friendly interface.
HODL Bot
The 3Commas HODL Bot is a automated tool that simplifies and enhances your HODL strategy. With the HODL Bot, you can build your portfolio at lower acquisition costs and go long with ease. Here's why the HODL Bot is a valuable addition to your trading toolbox:
Convenience: Set up the HODL Bot once and enjoy a hands-off approach. No need to constantly monitor the market or make manual trades.
Flexibility: Customize your buying intervals, from 1 to 30 days, and adapt your strategy to align with your investment goals and risk tolerance.
Profitability: Benefit from a long-term Dollar Cost Averaging (DCA) strategy, lowering your average acquisition cost and reducing the impact of short-term price fluctuations.
The HODL Bot follows a DCA strategy but offers enhanced flexibility. You have full control over the specific asset you want to accumulate and the timing of your purchases. Simply connect your preferred exchange to the 3Commas platform, create your HODL Bot, and launch it to start earning and accumulating your chosen asset automatically.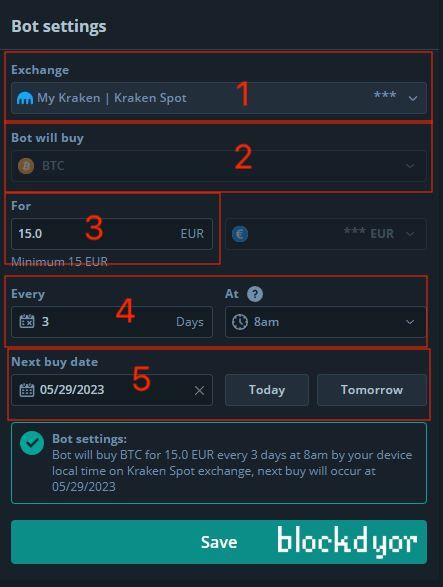 Here are the key settings for customizing your HODL bot on 3Commas:
Exchange: Choose the desired exchange connection from the available options.
Bot will buy: Select the specific cryptocurrency that you want the bot to hodl (hold).
For: Set the minimum amount you want the bot to buy in each interval.
Every: Choose the interval date when you want the bot to execute the buy order, and specify the time as well.
Next buy date: Select the starting date for the HODL bot to begin its operations.
By adjusting these settings, you can personalize your HODL bot's behavior according to your preferences and investment strategy.
With the 3Commas HODL Bot. You can build your portfolio with lower acquisition costs and benefit of the long-term benefits of a well-executed HODL strategy.
Smart Bot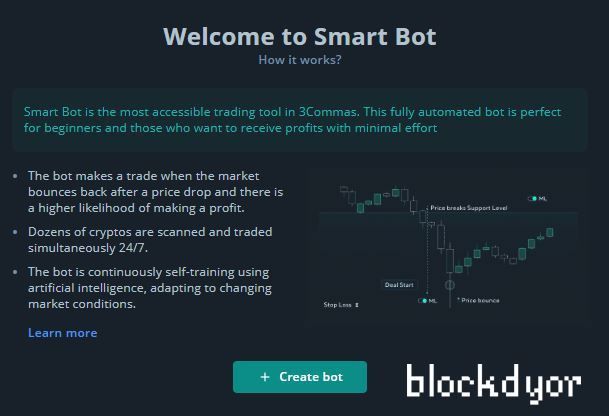 The 3Commas Smart Bot is a fast and easy trading bot designed to simplify crypto portfolio trading for traders of all levels, particularly beginners. Here's why the Smart Bot is an excellent choice for crypto traders:
Advantages of Smart Bot:
Incorporates decades of trading experience: The Smart Bot leverages over 20 years of trading wisdom and technical analysis from data scientists, allowing you to benefit from their expertise even without trading experience.
Simple but highly capable: With zero trading knowledge required, the Smart Bot operates autonomously and is pre-optimized for best results. It eliminates the need for complex setups or technical expertise.
Supports several exchanges: The Smart Bot seamlessly works on popular exchanges like Binance, Coinbase, Huobi, Kraken, Kucoin, and OKX, giving you flexibility in choosing your preferred platform.
Why choose Smart Bot for crypto trading? The Smart Bot excels in identifying trading opportunities when the market rebounds after a price drop. It continuously scans various coin pairs, analyzing market conditions to select the best trade opportunities 24/7.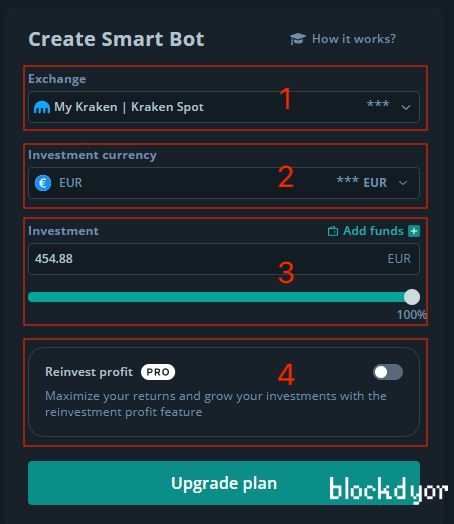 The Smart Bot is quite simple to setup:
Exchange: This setting allows you to choose the exchange connection you want to use with the 3Commas Smart Bot.
Investment currency: Here, you can choose the fiat currency you want to invest in the crypto bot. This currency will be used as the base currency for your trading activities. It could be USD, EUR, or any other fiat currency supported.
Investment: This setting allows you to fine-tune the amount you would like to invest. You can specify the exact amount of your base currency that you want to allocate for trading.
Reinvest profit: With this setting, you can decide whether you want to reinvest the profits generated by the bot.
Please note that the Smart Bot is available only with paid plans and on the desktop version of 3Commas, with the potential for availability on the mobile app in the future.
Start your crypto trading journey confidently with the 3Commas Smart Bot and enjoy the benefits of automated trading with just a few clicks.
Tools for Market Analysis
3commas offers several tools for market analysis, giving traders the possibility to make informed decisions and optimize their trading strategies. These tools provide useful insights into market trends, price movements, and trading indicators. Here are some of the features that enhance market analysis on the 3commas platform:
Smart Trade Terminal: The Smart Trade Terminal provides a comprehensive overview of market data, including real-time prices, order books, trading volumes, and recent trades. Traders can monitor multiple exchanges simultaneously, allowing for quick and efficient decision-making.
TradingView Integration: 3commas integrates with TradingView, a popular charting and technical analysis platform. This integration enables users to access advanced charting tools, drawing tools, indicators, and overlays. Traders can conduct in-depth technical analysis and implement their preferred trading strategies using TradingView on the 3commas platform.
Trading Bots with Custom Strategies: 3commas offers customizable trading bots that can be tailored to specific market conditions and individual trading preferences. Traders can create their own trading strategies based on technical indicators, candlestick patterns, or other market signals. This flexibility allows for the implementation of advanced trading strategies and the automation of complex trading decisions.
Signals: 3commas provides access to trading signals generated by experienced traders and analysts. These signals offer insights and recommendations on potential market opportunities, helping traders identify favorable entry and exit points. Traders can subscribe to various signal providers and choose the signals that align with their trading goals and risk tolerance.
Backtesting and Paper Trading: The platform offers backtesting and paper trading features, allowing traders to simulate their strategies using historical market data. This enables traders to assess the performance of their strategies before implementing them with real funds. Backtesting and paper trading help refine trading strategies, identify potential flaws, and improve overall trading outcomes.
By utilizing these powerful tools for market analysis, traders on 3commas gain can get a deeper understanding of market conditions, identify trends, and make data-driven trading decisions.
Smart Trade: 3Commas Manual Trading
The Smart Trade feature on 3commas is a robust tool created to make manual trading easier by offering traders a wide array of advanced options and functionalities. This powerful feature is seamlessly integrated with TradingView indicators, catering to both seasoned traders and beginners venturing into the trading world.
Thanks to Smart Trade, you can streamline your trades, fine-tune your profit targets, implement stop loss measures, and capitalize on market movements with greater efficiency. It serves as a reliable companion, guiding you through the intricacies of the trading landscape.
One of the standout advantages of Smart Trade is its ability to execute both buy and sell orders within a single window, simplifying the trading process. By setting concurrent take profit and stop loss levels, you gain the power to automatically close a position when the desired price is reached or when the market drops to a predetermined value. This ensures that you can seize opportunities and protect your investments without constant monitoring.
The Trailing Take Profit and Stop Loss feature further amplifies the potential of Smart Trade. It allows for automatic adjustments of profit and stop loss points as the price of a coin rises. This strategic approach enables you to secure profits as the price climbs while still maintaining the possibility of reaping additional gains in a thriving market.
With the option to sell coins at multiple targets, you can craft a selling strategy tailored to your preferences. For instance, you can sell a portion of your coins at a specific price, then gradually sell more as the price escalates. This adaptive approach empowers you to maximize your profits in a dynamic market where opportunities abound.
The Smart Cover feature is an invaluable tool designed to help you navigate unexpected market fluctuations. By intelligently selling and buying back coins, you can leverage price fluctuations to your advantage, potentially accumulating additional profits. It's like riding the waves of the market, capitalizing on its unpredictable nature.
But that's not all! Smart Trade on 3commas goes the extra mile by allowing you to access TradingView charts and signals within the platform. This integration grants you the power to analyze concurrent currency rate charts and receive valuable insights and signals from TradingView's comprehensive charting and analysis tools. It's like having a trusted advisor by your side, providing you with the information you need to make informed decisions.
Smart Trade on 3commas is extremely useful, as it equips traders with a wide range of advanced features and options to optimize their manual trading activities.
How To Get Started on 3Commas
We will now proceed to explain how to open an account on 3Commas, and then setup a simple DCA bot with one of the supported brokers. For this guide we choose KuCoin.
Sign Up
First of all, register with your favorite exchange. If you aren't already registered. In this guide we choose KuCoin: an exchange that is highly supported on 3Commas for most of the tools offered.
Now, let's start by opening up an account on 3Commas. To get started, click on the link down here to visit the official 3Commas page.
👉 Click here to sign up on 3Commas and get a 10% discount for the first purchase of monthly subscription.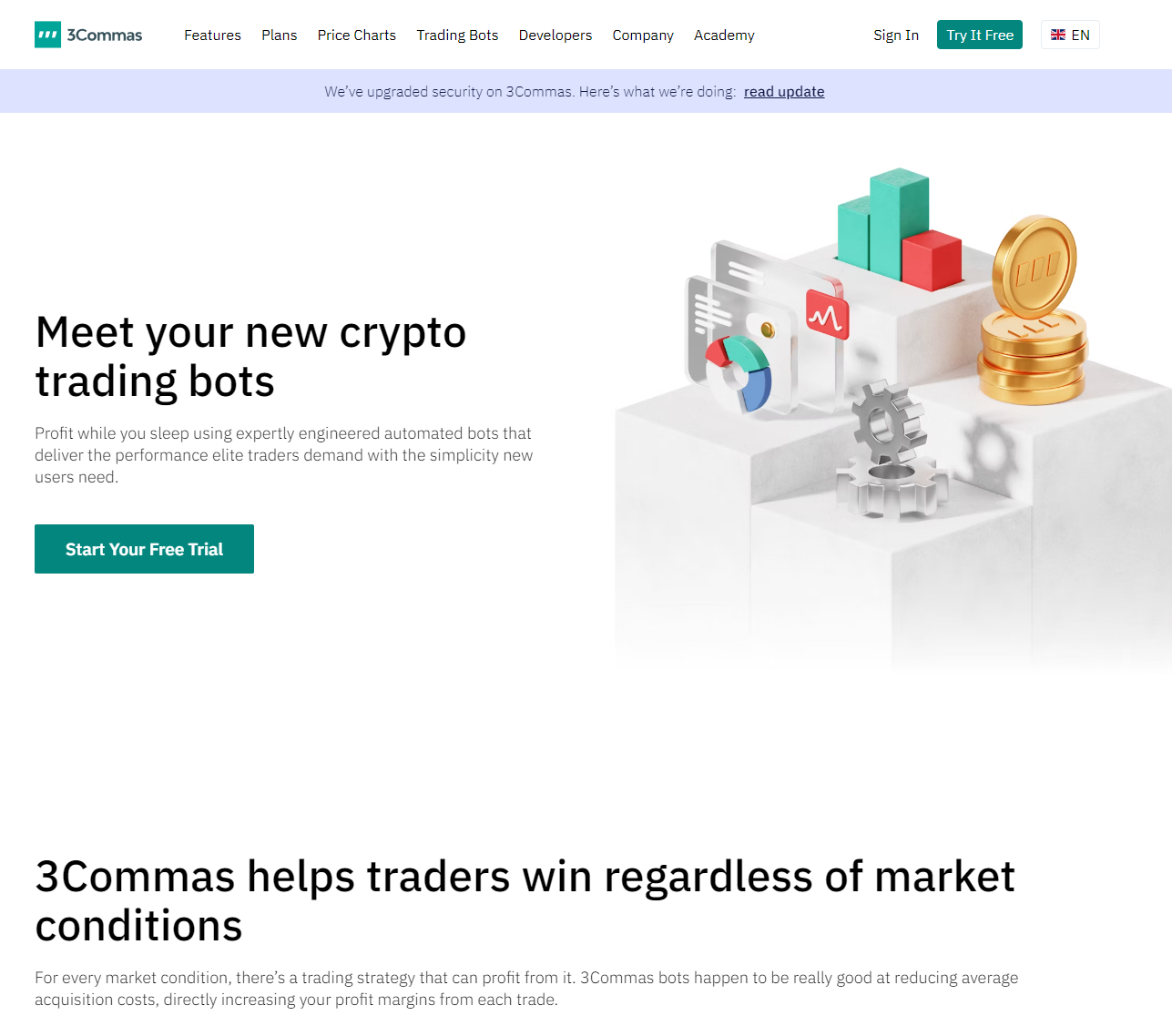 You are now on the 3Commas home page. To get started, click on "Start Your Free Trial" or "Try It Free". Both buttons will redirect you to the registration form.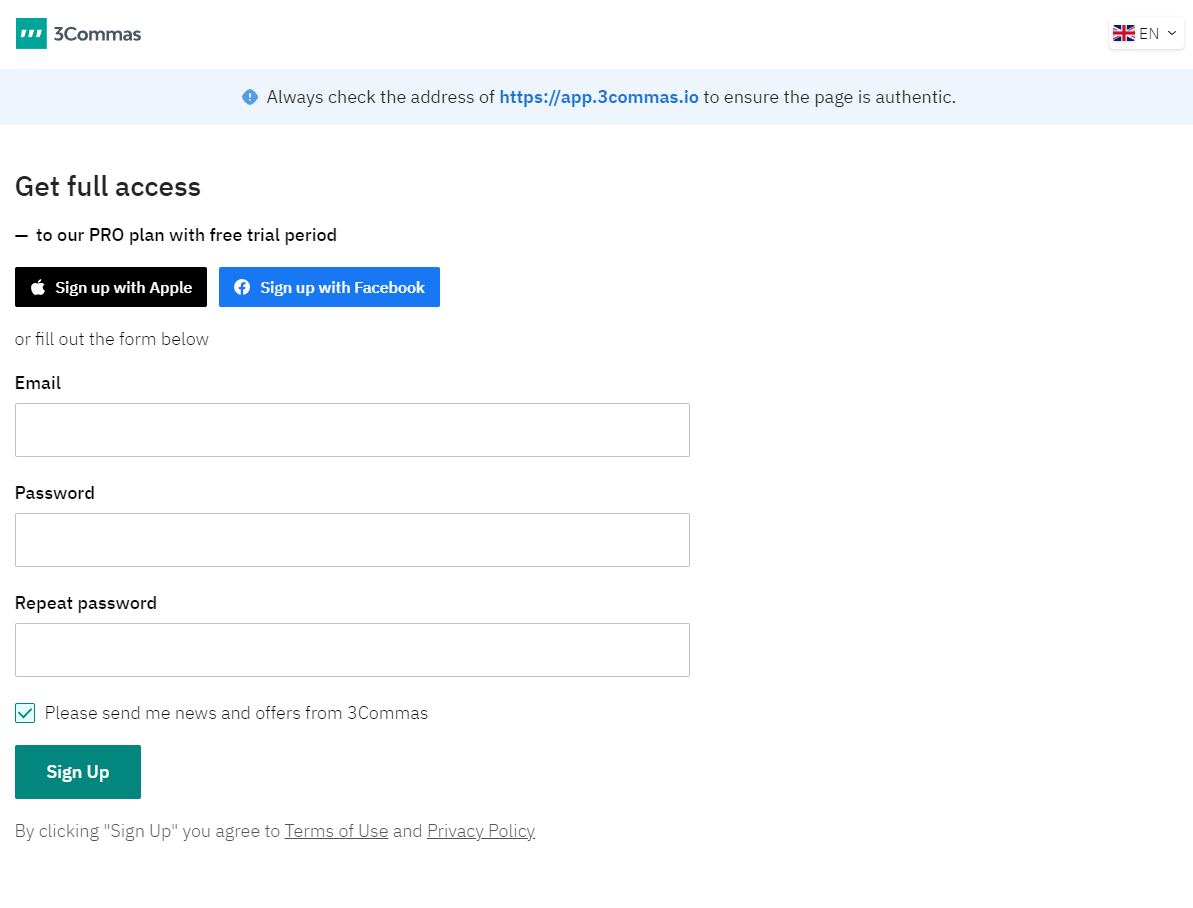 Insert your email and password. Please keep in mind to enter your real infos. Then click on "Sign Up".
You will receive a confirmation email, click on it to confirm that it's your real email address.
Connect 3Commas to an exchange
💡
For those who prefer not to engage with real assets using 3Commas, the paid plans offer the option of a paper trading account as well.
To actually work, 3Commas requires a connection to an exchange. As mentioned earlier, in this guide, we will utilize 3Commas connected with KuCoin. It's also worth noting that you can simultaneously connect KuCoin with multiple exchanges.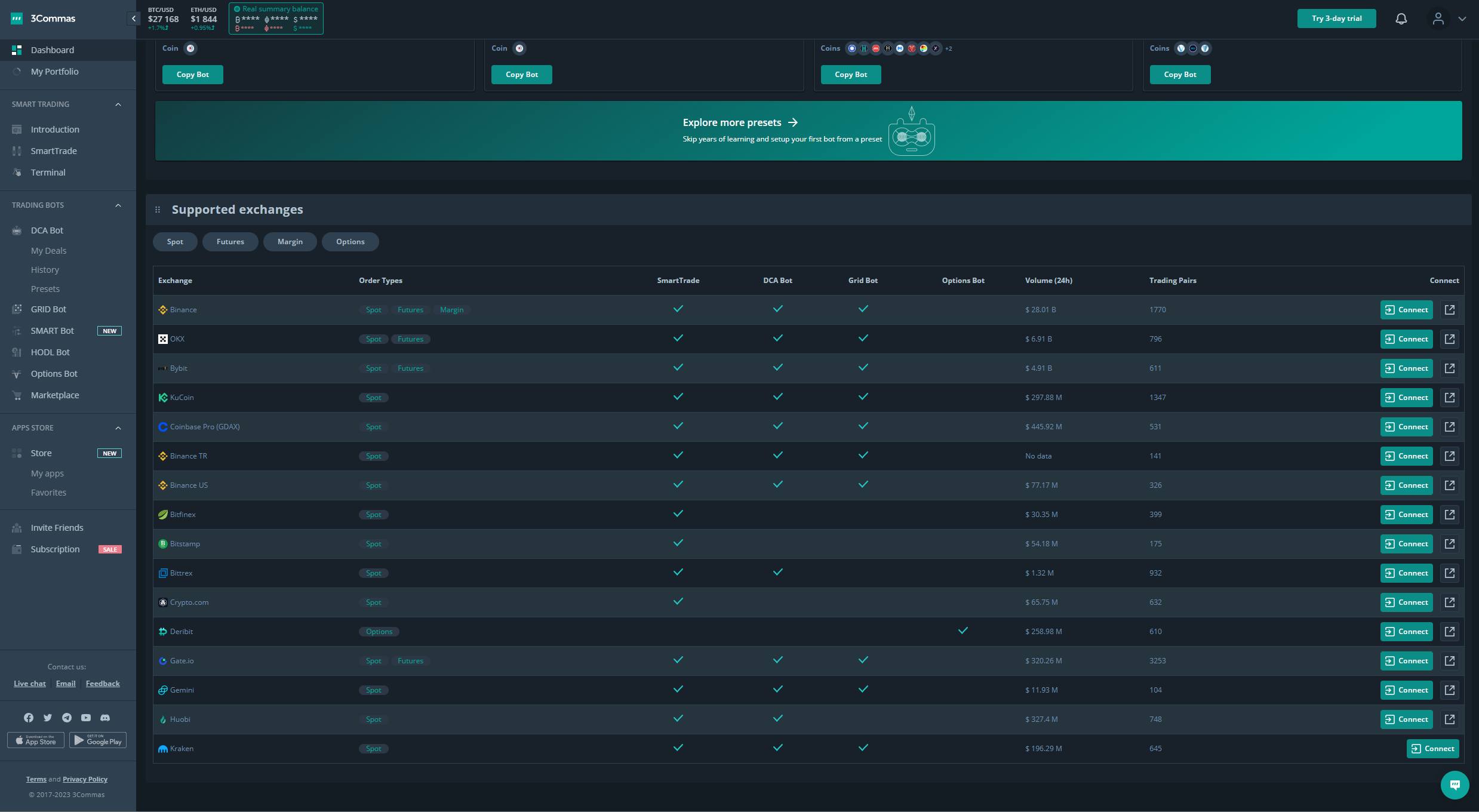 After logging in to the 3Commas Dashboard, the initial page you encounter, you need to choose your preferred broker. You can either select a broker where you already have an existing account or one that you wish to open. The list displays all the connections available for each broker, including Order Types, SmartTrade, DCA Bot, Grid Bot, and Options Bot, denoted by a checkmark (✔️). For this guide, we will demonstrate the process using KuCoin. However, you have the freedom to select any broker you desire by simply clicking on the "Connect" button located on the right-hand side to initiate the connection process.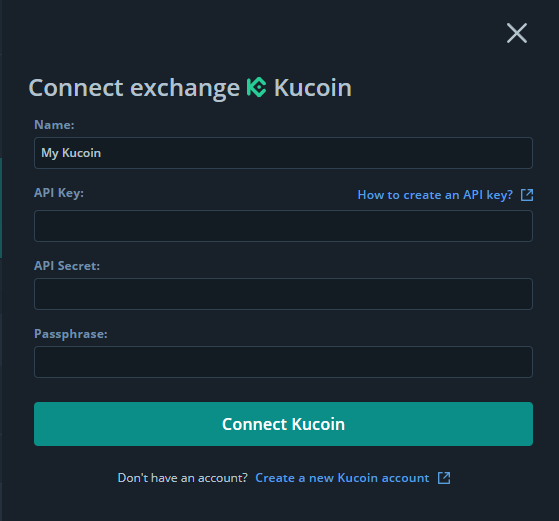 A sidebar will open with some informations to fill in. We will fill these infos later from your exchange (in this case we used KuCoin). Open another tab and go on kucoin.com.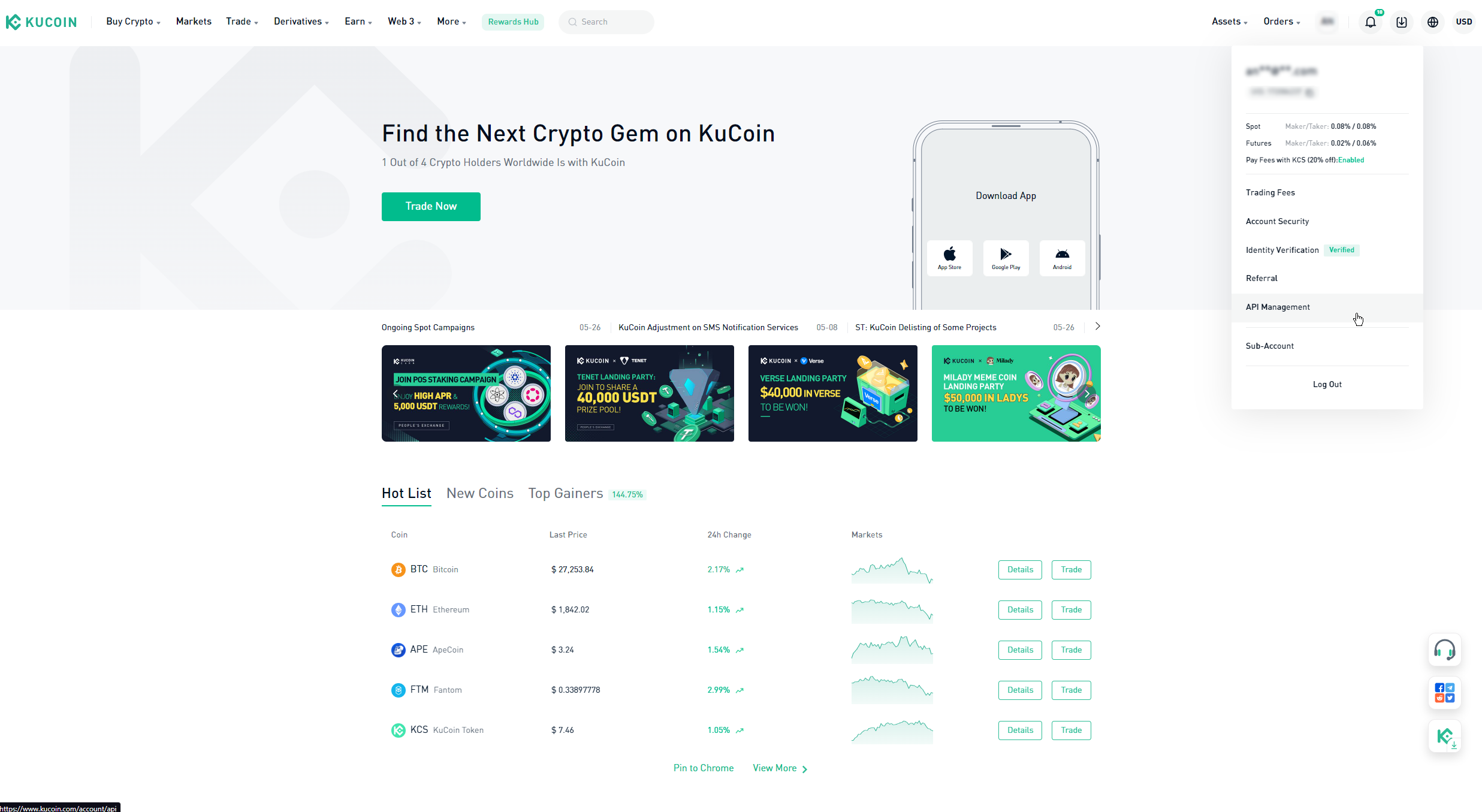 💡
On the majority of exchanges, trading is done using the funds held in the trading wallet. Prior to starting your trading activities, it is important to ensure that you have properly funded your account and transferred the funds you intend to trade into the trading wallet.
Once you are logged into KuCoin, locate the API Management button from the menu situated at the top right corner. API (Application Programming Interface) serves as the underlying technology utilized by 3Commas to establish communication with the exchange and enable the automation of various functions.

Click on the Create API button to start the API creation.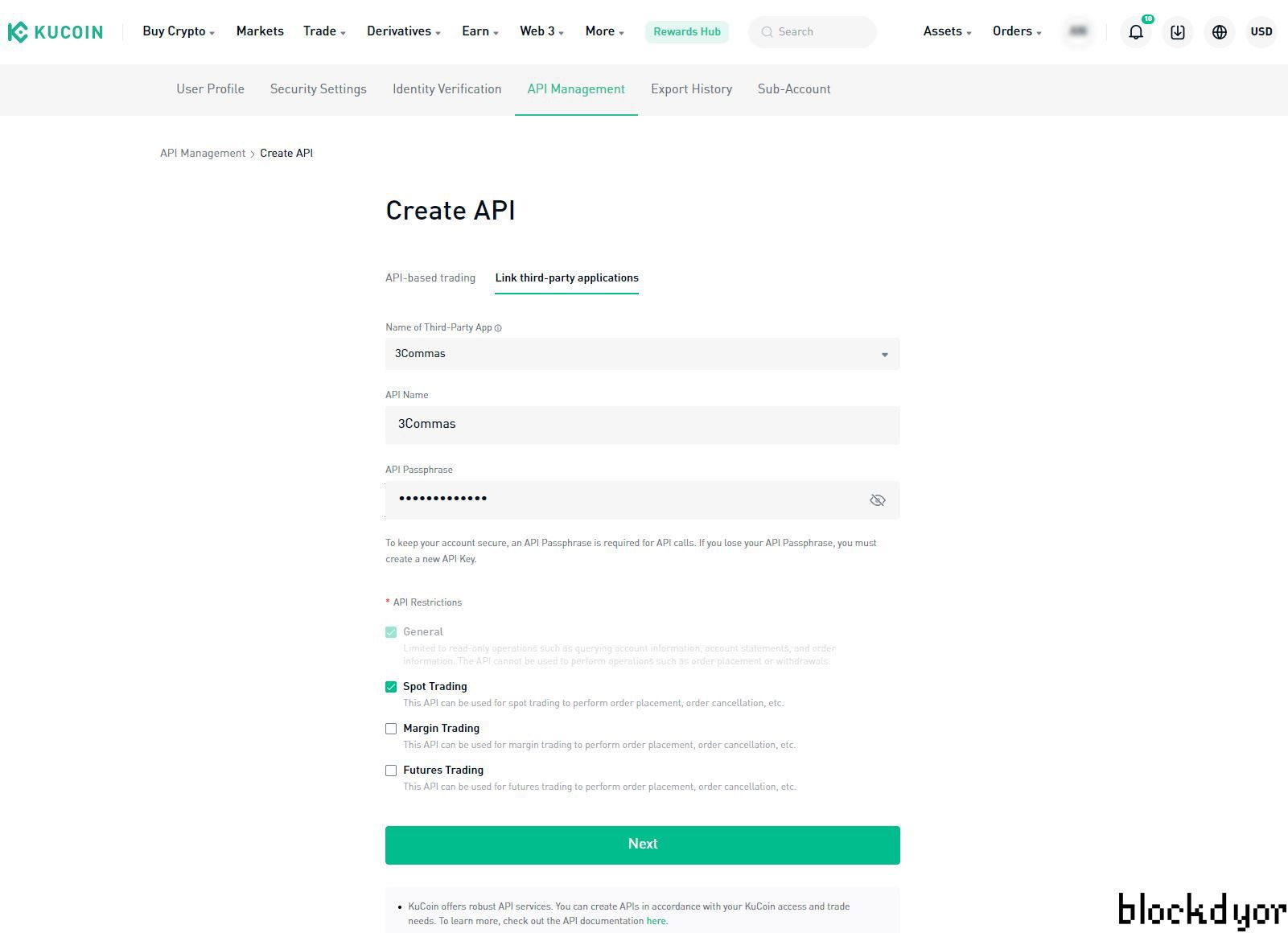 From the initial drop-down menu, choose "Link third-party application" for 3Commas. Provide a name of your choice (it can be any name) and create a secure passphrase. Additionally, you will need to select the specific API restriction you wish to apply to the connection. It is recommended to select only the type of trading you intend to engage in (typically, Spot Trading is advised for most cases).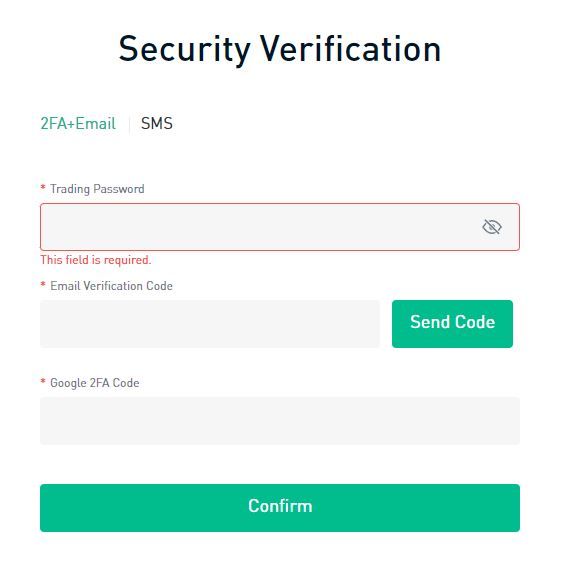 KuCoin will now ask you some Security Verification codes. Add all of them.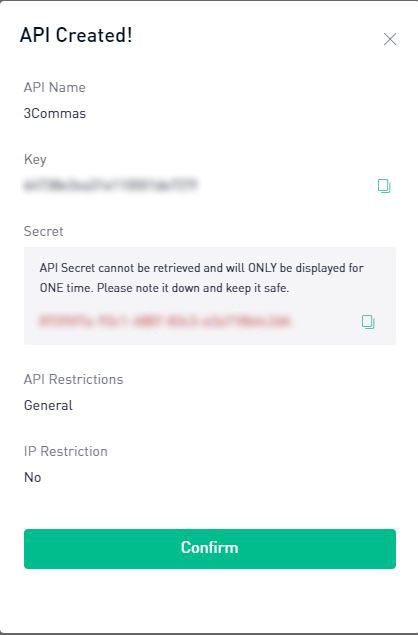 The API has been created. Save all the infos (or just take a screenshot of it) because now you will have to insert them inside 3Commas.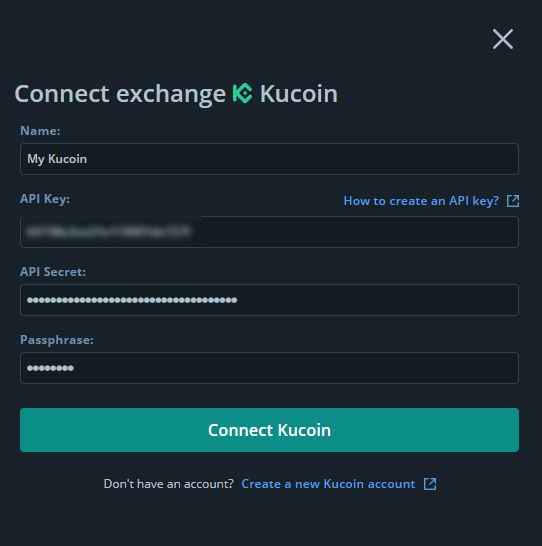 Go back on 3Commas and add all the infos just generated. Click on "Connect KuCoin" button to finalize the process. You have now connected your exchange to 3Commas.
Choosing and starting one of the 3Commas bots
Now that you have successfully connected your exchange to 3Commas and ensured that your trading account is funded (please ensure you have sufficient funds in the quoted currency, such as USD for BTC/USDT), you are ready to start utilizing the Trading Bots.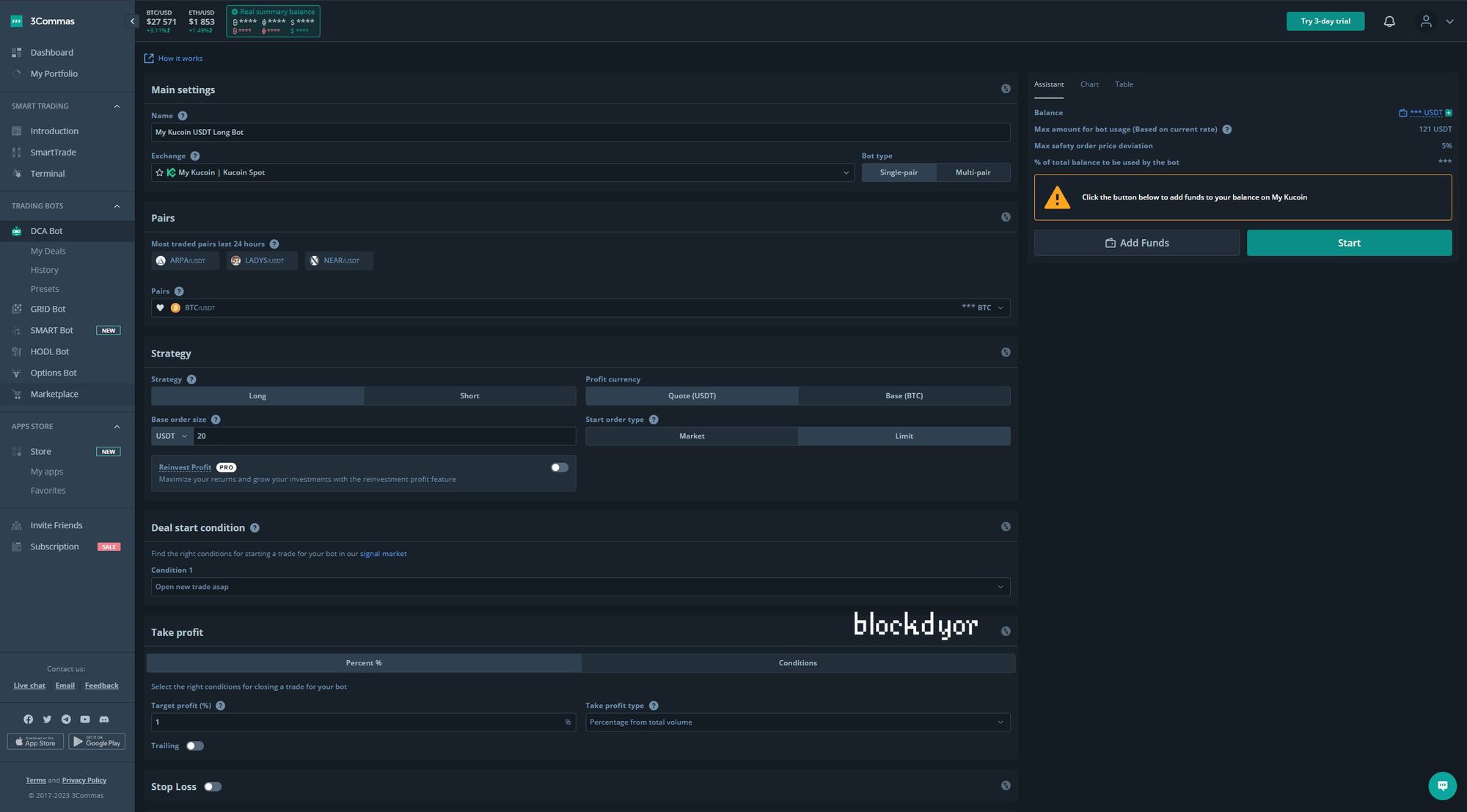 3Commas offers a wide range of options, but in the accompanying image, we have exemplified the usage of a BTC/USDT DCA (Dollar-Cost Averaging) trading bot, which automatically purchases BTC whenever its price decreases, making it suitable for mitigating volatility.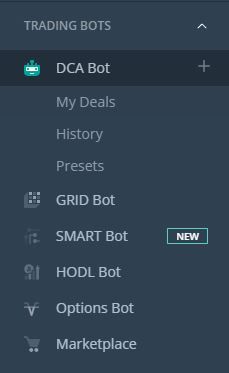 We configured the bot manually in this case, but if you prefer, you can also opt for one of the preset configurations or explore other types of bots such as GRID, SMART, Options, or the straightforward HODL Bot. The possibilities are truly limitless.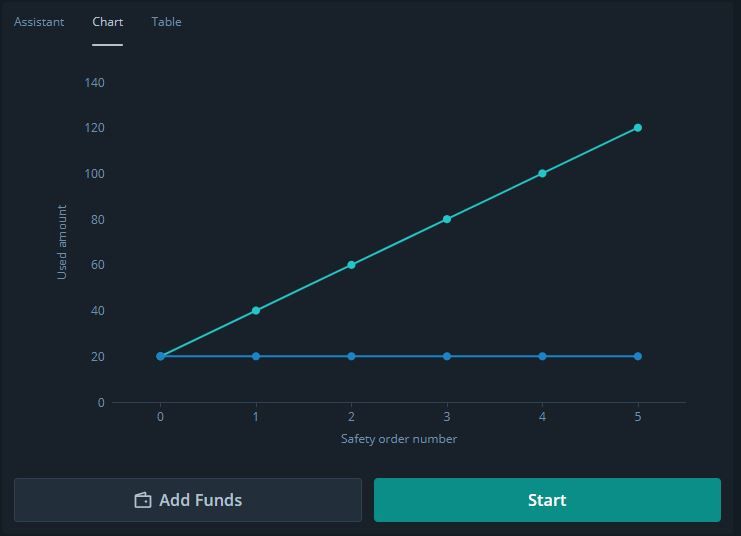 Upon clicking the "Start" button, the bot will initiate its operations and continue running indefinitely. It will only cease functioning under two circumstances: either when the funds allocated to the bot are exhausted, or when you manually choose to stop it.
3Commas Pricing Plans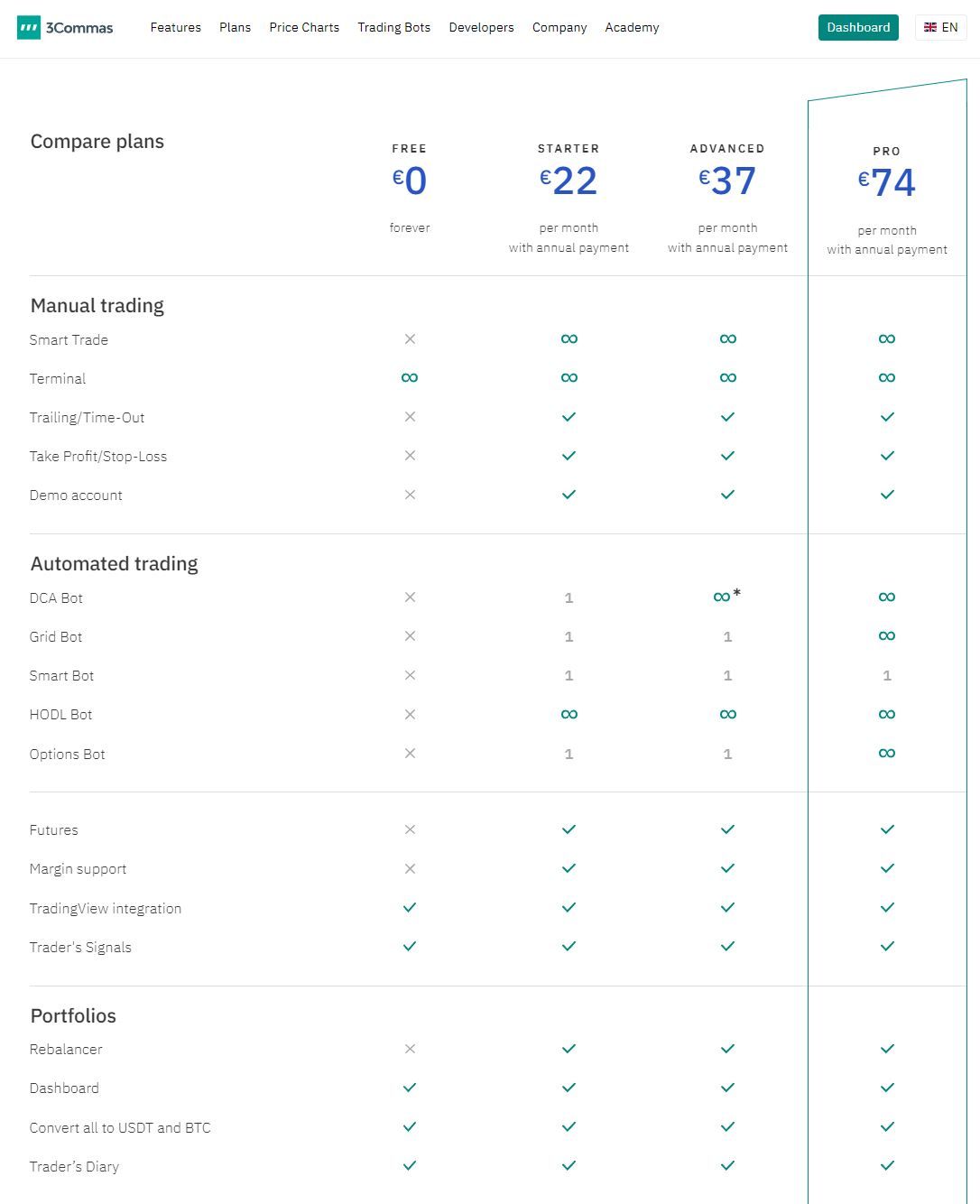 It's important to note that 3Commas recently made changes to its free plan, which previously offered the use of one free bot from a specific section. However, they have now removed most of the functions and essentially made all the bot plans paid. Here are the details of the revised plans:
Free Plan: The free plan provides limited features, including portfolio tracking and unlimited scalper terminal, for €0.
Starter Plan: For €29 per month (or €22 per month if you pay upfront for 12 months), you can access the following features: 1 GRID Bot, 1 DCA Bot (One Multi/Single pair for Spot or One for Futures), 1 Smart Bot, Unlimited HODL Bot, 1 Options Bot, Unlimited Active SmartTrades, Unlimited Scalper Terminal, Demo account.
Advanced Plan: Priced at €49 per month (or €37 per month if you pay upfront for 12 months), the Advanced plan offers: 1 GRID Bot, Unlimited DCA Bots (Unlimited Single pair for Spot, One Multi pair for Spot, or One for Futures), 1 Smart Bot, Unlimited HODL Bot, 1 Options Bot, Unlimited Active SmartTrades, Unlimited Scalper Terminal, Demo account.
Pro Plan: The Pro plan costs €99 per month (or €74 per month if you pay upfront for 12 months), and it includes the following features: Unlimited GRID Bots, Unlimited DCA Bots (Unlimited Multi/Single pair for Spot & Unlimited for Futures), 1 Smart Bot, Unlimited HODL Bot, Unlimited Options Bots. Unlimited Active SmartTrades, Unlimited Scalper Terminal, Demo account.
Considering these modifications, it is evident that the free plan has been significantly reduced in terms of its useful functionalities. Consequently, the paid plans now offer the only meaningful opportunity to leverage the full potential of 3Commas. My suggestion is to begin with the Starter plan and subsequently upgrade if you require a greater number of bots and advanced features.
Customer Support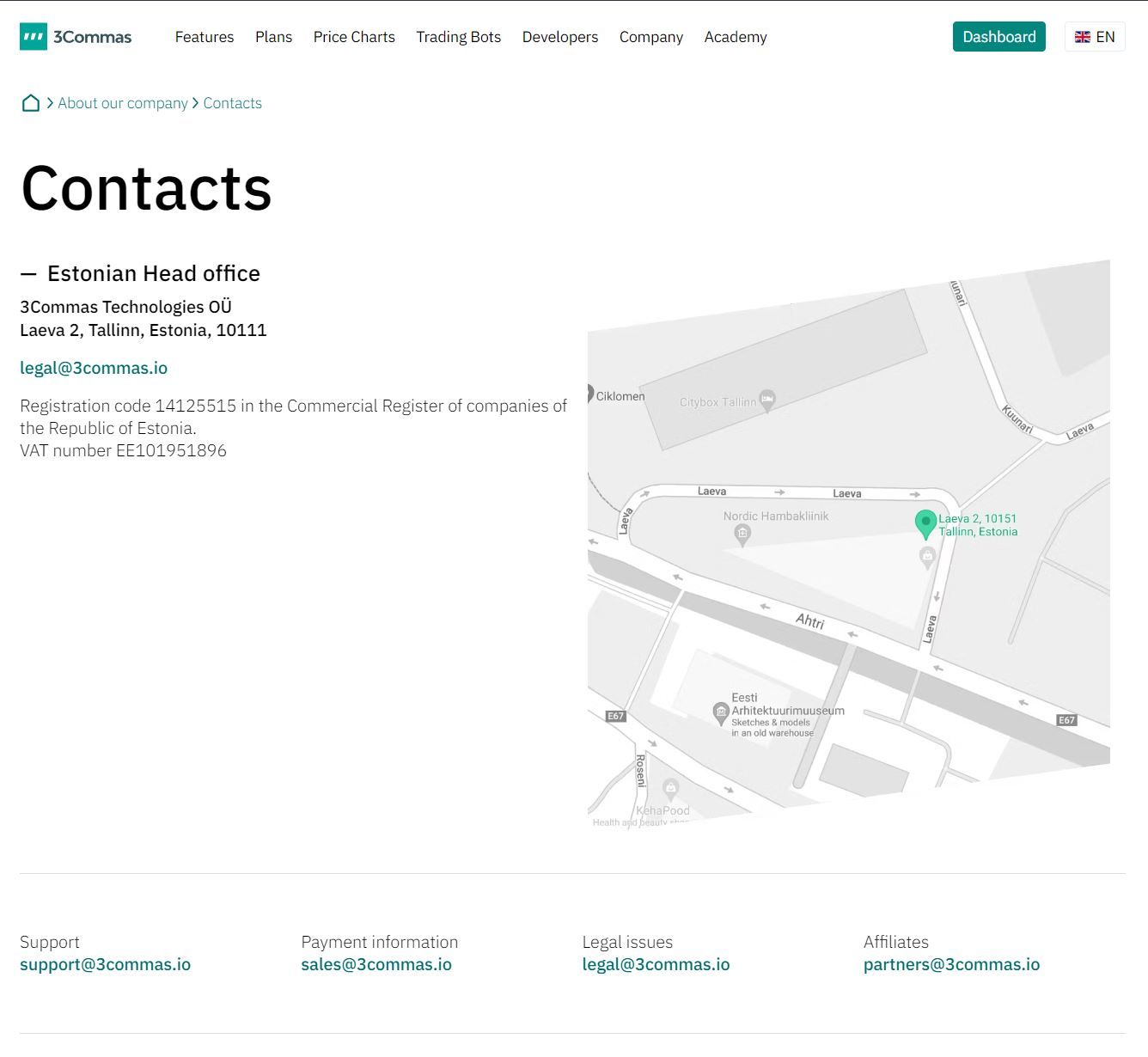 3Commas has a physical office in Europe, which indicates the company's commitment and credibility.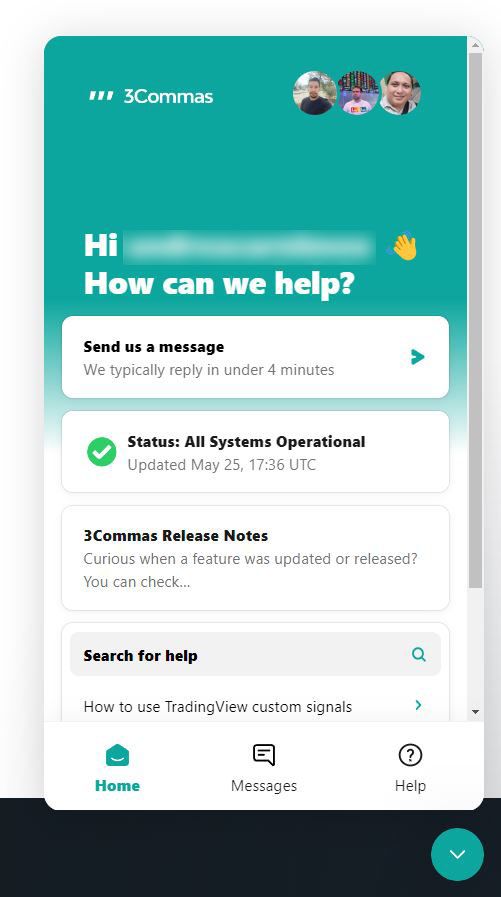 They provide convenient options to contact their customer service through a small button located at the bottom right of their platform.
Additionally, 3Commas offers dedicated email addresses for each department, making it easy to get in touch with the appropriate team.
3Commas Opinions and Reviews
Recently, 3Commas experienced a significant blow to its credibility due to a series of incidents.
In December 2022, users reported unauthorized transactions on their exchange accounts, leading to unauthorized trading and allegations of fund theft. Initially, 3Commas attributed the issue to a large-scale phishing attack that customers may have fallen victim to.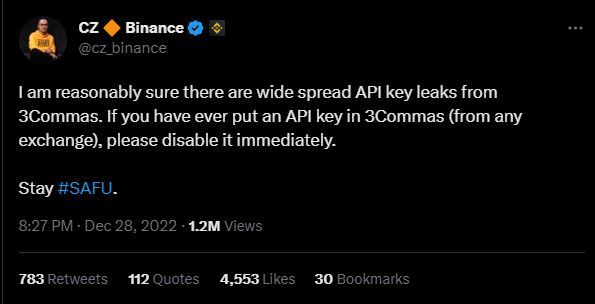 However, further investigations revealed a hack where users' API keys were compromised. As a precautionary measure, 3Commas advised all existing users to review and update their API keys.
In response to the incident, 3Commas has since enhanced its security measures. Nevertheless, users were left dissatisfied and demanding apologies as the 3Commas team handled the situation poorly.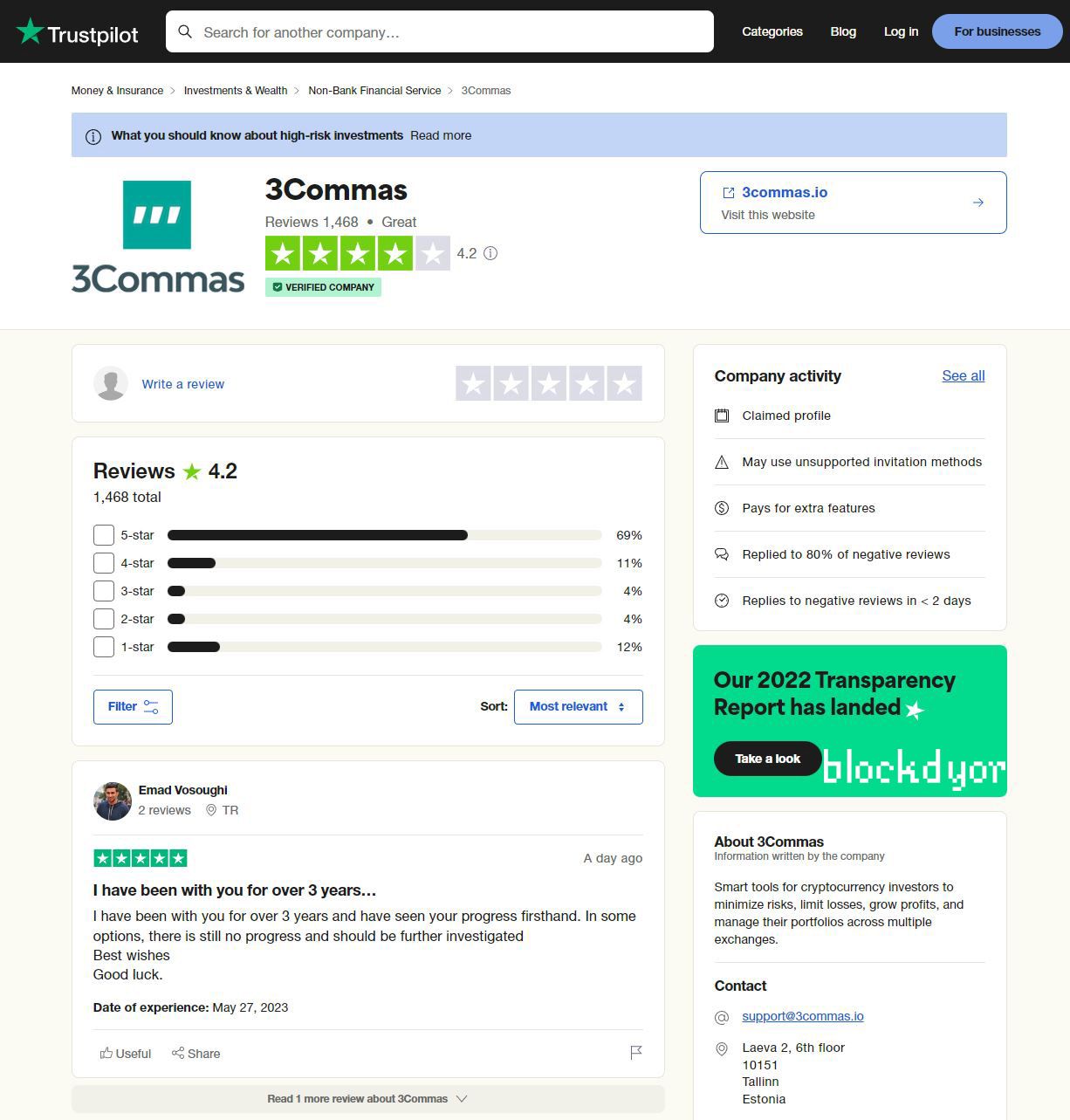 It is important to acknowledge that 3Commas has garnered a satisfactory score on Trustpilot, with over 1400 reviews and an average rating of "Great" (4 stars).
This indicates that many individuals are happy with the service provided by 3Commas.
3Commas Pros and Cons
3Commas is a platform that stands out for its uniqueness within its genre. It offers a range of impressive features and functionalities that set it apart from other cryptocurrency trading platforms.
One of its key strengths is its extensive support for a wide variety of crypto exchanges. This allows users to seamlessly connect their accounts from multiple exchanges to the platform, providing them with a comprehensive trading experience.
However, it's worth mentioning that the free plan of 3Commas currently offers fewer functions compared to its previous iterations.
| Pros | Cons |
| --- | --- |
| ✅ Advanced trading bots | ❌ Free Plan has less functions than in the past |
| ✅ Smart Trading with customizable strategies | ❌ API leaks happened in the past are concerning |
| ✅ Paper Trading for risk-free practice | |
| ✅ Diverse range of trading indicators | |
| ✅ Portfolio tracking and management | |
Bottom Line
In conclusion, 3Commas is a standout platform in the cryptocurrency trading industry, offering a wide range of features and functionalities that cater to both beginner and experienced traders.
With its advanced trading bots, extensive exchange support, customizable indicators, and portfolio management tools, 3Commas empowers users to automate and optimize their trading strategies.
While the free plan may have fewer functions compared to the past, the platform's overall value and effectiveness make it a popular choice among traders.
Whether you're looking to enhance your trading skills or streamline your investment portfolio, 3Commas provides a modern and user-friendly solution for navigating the cryptocurrency market.

3Commas Evaluation
Reputation: 3Commas was once considered one of the top cryptocurrency trading bots, but recent hacking incidents have significantly impacted their reputation, leading to a rating of 2 out of 5.
Technology: The technology behind 3Commas is commendable, earning a rating of 4 out of 5 for its advanced features and functionality.
Customer Service: Although 3Commas provides customer service, the lack of phone support is a drawback, resulting in a rating of 3 out of 5.
Fees: The pricing plans offered by 3Commas are quite high (but worth it), which merits a rating of 3 out of 5 in terms of affordability.
Ease of Use: The platform is not user-friendly, and due to the abundance of options, it may take weeks for beginners to grasp everything, leading to a rating of 3 out of 5 for ease of use.
Frequently asked questions (FAQ)
What is 3Commas?
3Commas is a comprehensive cryptocurrency trading platform that offers a range of features to help traders automate and optimize their trading strategies. It provides tools such as smart trading bots, portfolio management, and trading signal integration.
Does 3Commas have a free plan?
Yes, but is severely limited. It offers instead a trial period of a few days, in order to try most of the paid features for free.
How much 3Commas cost?
The cheapest paid plan of 3Commas is the Starter Plan. It costs €29 per month.