Wallet Of Satoshi Review 2023: Is It Safe?
When it comes to Lightning wallets, Wallet of Satoshi stands out as a prominent and influential player within the Bitcoin community. In this comprehensive review, we will explain what it is and how it works.
What Is Wallet of Satoshi?
Wallet of Satoshi is a hot wallet app that supports transactions on both the Lightning Network and the main chain of the Bitcoin network. The app operates on a custodial basis, which implies that you do not have control over the private keys of your funds.
Despite the associated risk, many individuals are willing to embrace the simplicity offered by this wallet. This is due to the remarkable track record of the app, having processed over 10 million Lightning Payments since its inception in 2019.
In this detailed review, we will explore the various features of Wallet of Satoshi, examining why it has become one of the most widely used Lightning wallet apps, and the pros and cons while using it.
| DESCRIPTION | DETAILS |
| --- | --- |
| 💻 Name | Wallet of Satoshi |
| 🌐 Website | walletofsatoshi.com |
| 🗓 Release year | 2019 |
| 💰 Coins Supported | Bitcoin (Bitcoin Network, Lightning Network) |
| 💸 Price | Free |
| 🔒 Security Features | Hide Account Balance, Biometric/Pin check (when paying) |
| 💻 Compatibility | Android, iOS |
| 🔄 Connectivity | NFC |
| 📜 Software License | N/A |
| 📜 Warranty | No Warranty |
How Wallet Of Satoshi Works?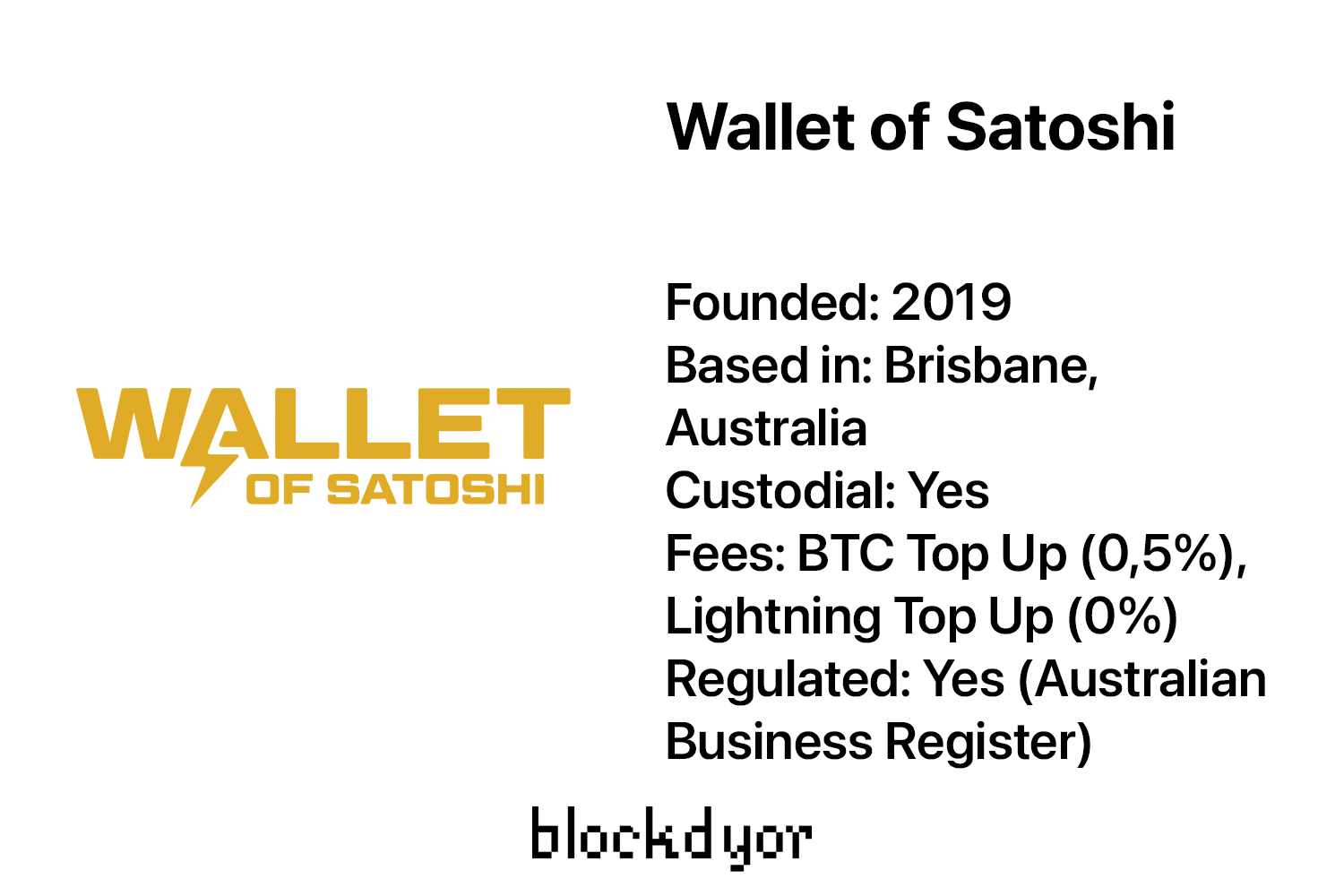 With its zero-configuration approach, this custodial wallet prioritizes simplicity and aims to deliver the best possible user experience. To access the app, simply visit walletofsatoshi(dot)com and follow the download instructions provided.
Once installed, you can swiftly connect to the Lightning Network and start leveraging its benefits.
It is essential to note that Wallet of Satoshi operates as a custodial wallet, meaning that you do not possess direct control over the private keys associated with your funds.
However, for added security and peace of mind, it is recommended to sign into the app using your email address. This ensures that, in the event of a lost or damaged phone/tablet, you can recover your balance and payment history effortlessly on a new device.
With Wallet of Satoshi, you have the convenience of paying Lightning invoices or sending funds directly to an on-chain Bitcoin address. When scanning a QR code or manually entering payment details, the app intuitively identifies the transaction type and promptly generates the appropriate transaction for you.
Who Created Wallet Of Satoshi?
Wallet of Satoshi is proudly based in Australia and was founded by Daniel Alexiuc, who serves as the company's Founder and CEO.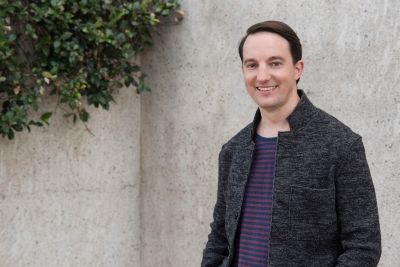 Notably, Daniel Alexiuc is also the creator of Living Room of Satoshi, a web-based software platform that enables users to conveniently pay their Australian bills using Bitcoin and other cryptocurrencies.
When exploring the official records, specifically the Australian Business Register (ABR), we discover that Wallet of Satoshi Pty Ltd, an Australian Private Company, was established in 2018.
With the registration number ABN 13 630 329 690, the company is registered in Queensland. It is worth noting that Wallet of Satoshi Pty Ltd is registered for Goods and Services Tax (GST), reflecting its commitment to complying with relevant regulatory requirements.
How To Get Started With Wallet Of Satoshi
To begin your journey with Wallet of Satoshi, the first step is to download the app onto your device. Please note that Wallet of Satoshi is not available as a PWA (Progressive Web App). Instead, you must download the app from either the App Store (for iOS devices) or the Google Play Store (for Android devices).
Once you have successfully downloaded the app, you will need to create a new account using a valid email address. It is crucial to use an email that you regularly access and is genuine since it serves as the primary method of backup for your funds. Unlike traditional wallets, Wallet of Satoshi does not provide a private key or BIP 39 seedphrase for backup purposes.
After successfully creating your account, you will be greeted by the initial dashboard. This dashboard will offer an overview of your Wallet of Satoshi account, providing key information and functionality.
How the Wallet Of Satoshi App Looks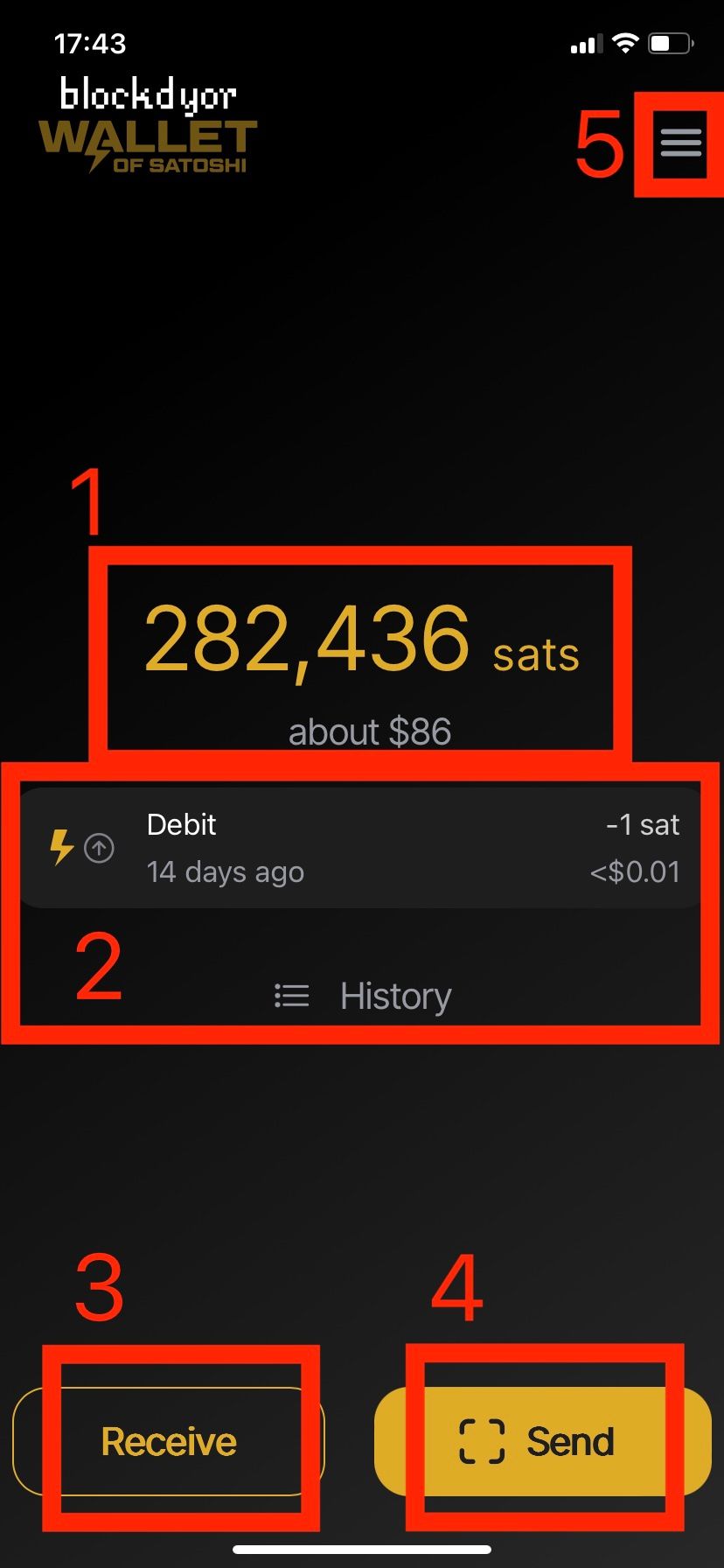 The Wallet of Satoshi main dashboard presents users with five fundamental tools, each designed to enhance your experience and streamline your Bitcoin transactions. Let's take a closer look at these key components:
Balance: The balance tool allows you to monitor your funds, displayed in either satoshi or Bitcoin. You have the flexibility to choose your preferred currency format by adjusting the settings according to your preference.
Movement List: Stay up to date with your transaction history through the movement list. This feature provides a comprehensive overview of your latest sent and received funds, ensuring transparency and easy tracking of your financial activities.
Receive Button: With the receive button, you can effortlessly receive funds to your Lightning address. Additionally, Wallet of Satoshi enables you to receive funds on-chain or create invoices as per your specific requirements.
Send Button: Seamlessly send funds by utilizing the send button. Whether you need to scan QR codes or manually input addresses, this tool facilitates quick and secure transfers to your intended recipients.
Settings Button: Customize your Wallet of Satoshi experience by accessing the settings button. Here, you can fine-tune various aspects of the app to align with your preferences and optimize your user experience.
With these five essential tools readily available on the Wallet of Satoshi main dashboard, you can easily manage your balance, track transactions, receive funds, send payments, and personalize the app to suit your needs.
How To Receive/Send Bitcoin With Wallet Of Satoshi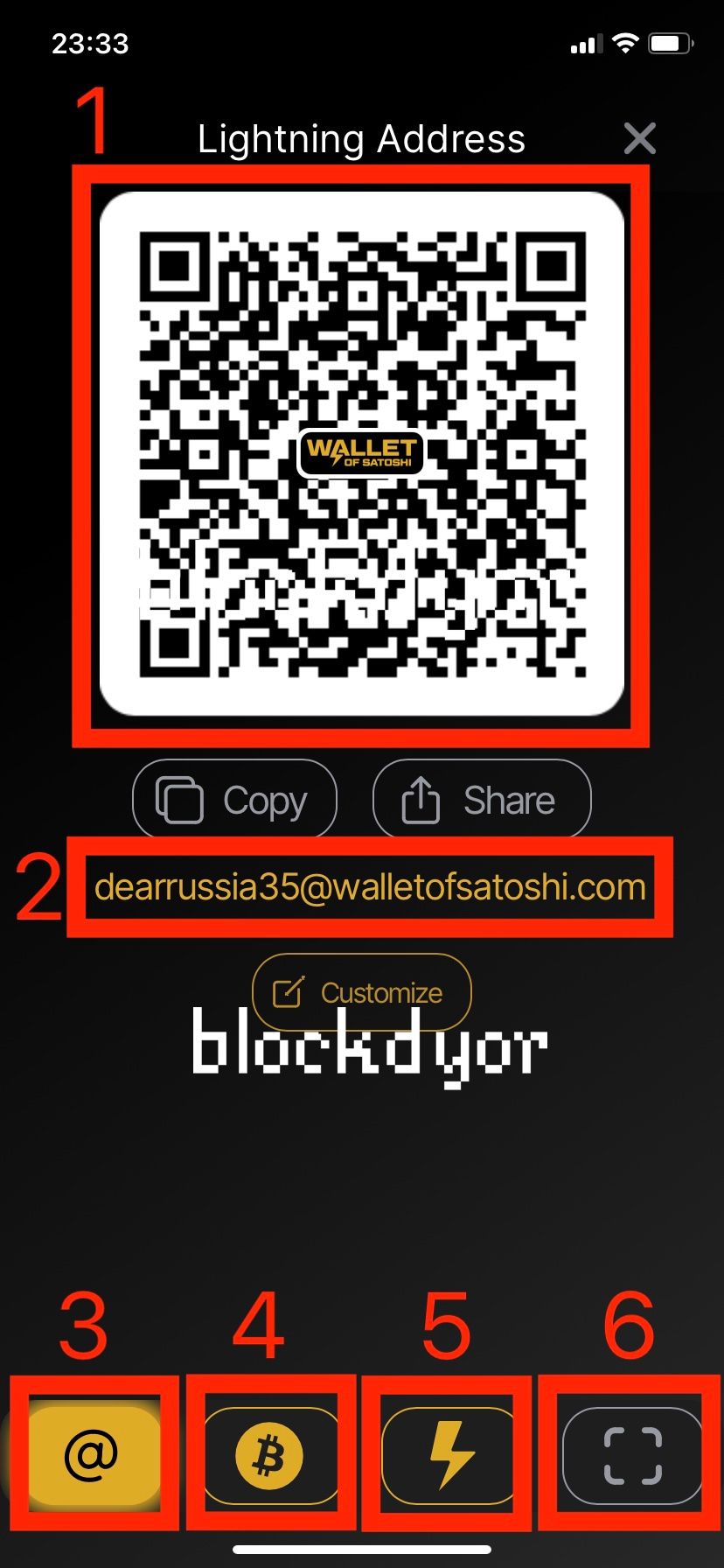 Receiving funds through Wallet of Satoshi is a straightforward process, offering various options to cater to your specific needs.
Click on the @ logo to show the Lightning wallet (3), scan the QR code (1) to proceed. Or send the funds to the provided email address (2) (lightning only, LNURL). Send the desired amount of BTC to the displayed address.
If you prefer to receive on-chain Bitcoin, press the ₿ Bitcoin logo (4) to display the QR code and receiving address (Taproot). Scan the QR code with your Bitcoin wallet app or manually copy the receiving address. Send the desired amount of BTC to the displayed address from your wallet.
Another way to receive funds is by generating an invoice (3), which allows you to receive payments.
Additionally, you can transfer funds from your Wallet Of Satoshi Wallet to another wallet (6).
Buy Bitcoin on Wallet of Satoshi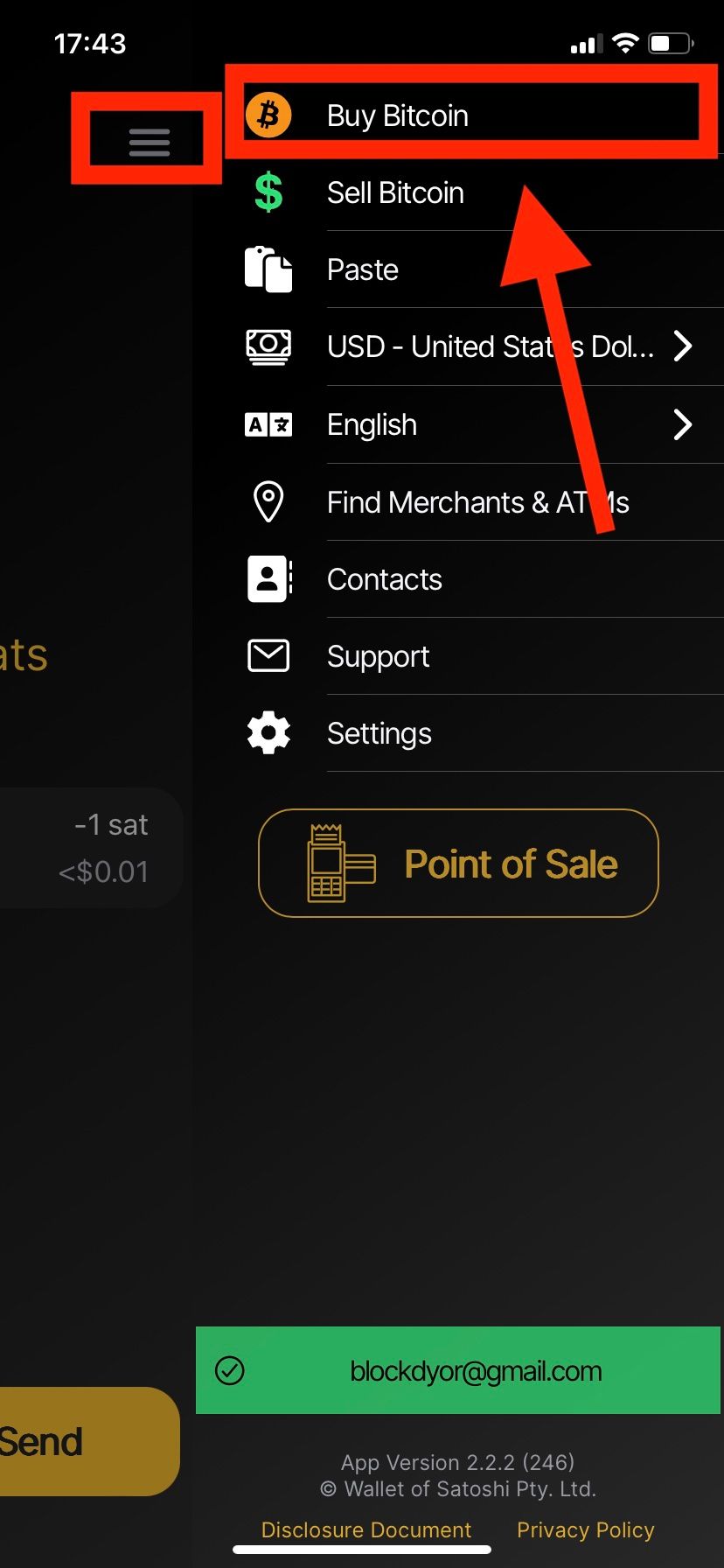 For users who don't have available funds to send to their Wallet Of Satoshi, there is a convenient feature that enables them to purchase Bitcoin directly from the app.
To access this functionality, navigate to the main page of the Wallet Of Satoshi App.
Locate the options button at the top right corner
Select "Buy Bitcoin" from the menu.
A browser window will open, allowing you to connect with the Wallet of Satoshi's merchant partner.
💡
Wallet Of Satoshi app does not currently offer a no-KYC (Know Your Customer) option for in-app Bitcoin purchases. Therefore, it is highly likely that you will be required to provide personal information such as your name, address, and other details when buying BTC through the app. Additionally, please be aware that there might be a considerable fee associated with the checkout process when using a third-party merchant.
Wallet Of Satoshi Fees & Limits
The following table presents an overview of the fees and limits associated with Wallet of Satoshi.
| Fees and Limits | Description |
| --- | --- |
| AUD Top Up Fee | 4.9% + GST |
| BTC Top Up Fee | 0.5% |
| Lightning Payment (Receiving) | No fee |
| Lightning Payment (Sending) | Variable routing fee passed on to Lightning nodes |
| BTC Payment (Sending on-chain) | 0.5% + Variable fixed fee (quoted before payment confirmation) |
| Maximum Top Up | 5 BTC (includes Bitcoin and Lightning balances) |
| Single Transaction Limit | 5 BTC |
Wallet Of Satoshi Pros & Cons
Wallet Of Satoshi has been a divisive wallet among Bitcoin enthusiasts. The more purist members of the community disapprove of it due to its custodial nature.
However, there are others who recommend it for its simplicity, recognizing that delivering a user-friendly product is crucial for onboarding billions of individuals into the Bitcoin ecosystem.
Unlike non-custodial solutions that require configuration and the opening of channels, Wallet of Satoshi eliminates these complexities. With this custodial wallet, you can seamlessly send and receive funds without the need for any additional node setup.
As time has progressed, the ease of use offered by Wallet Of Satoshi has proven to be a significant advantage. They recently achieved a milestone by surpassing 10 million lightning payments.
While this figure may seem insignificant compared to the vast number of fiat transactions (considering VISA alone handles 597 million transactions per day), in the realm of Bitcoin, where we are still in the early stages, it represents a significant accomplishment.
| Pros | Cons |
| --- | --- |
| ✅ Really Easy To Use | ❌ Custodial |
| ✅ A Lot Of Customization Options | ❌ 0.5% Fee For On-Chain Deposits |
| ✅ No need to setup Lightning Channels | ❌ Custom Address Only After Many Transactions |
| | ❌ Lacks PWA (Progressive Web App) |
Bottom Line
Wallet Of Satoshi provides a user-friendly Lightning experience, making it appear deceptively easy to use, which could potentially facilitate the onboarding of numerous individuals into the world of Bitcoin. It can be considered as a "gateway" wallet, but caution must be exercised when using it.
The simplicity of Wallet Of Satoshi can make it challenging to transition and explore other wallets.
Nonetheless, we still recommend it to beginners or those who only require occasional transactions, with the understanding that it is crucial not to store significant amounts of funds within it.
It is important to be aware that you do not possess the private keys to this wallet, which means there is a risk associated with the company going out of business or experiencing a security breach, potentially resulting in financial loss.

Wallet of Satoshi Evaluation
Security: Although no funds were lost during our testing, the custodial nature of this wallet poses a significant long-term security concern. If you choose to use this wallet for its simplicity, it is recommended to keep a small amount of funds and always be aware of the associated risks. (2/5)
User-friendliness: Wallet of Satoshi is the easiest Bitcoin wallet ever. Its simple interface, large buttons, and intuitive design place it in a league of its own. The inclusion of NFC options and various customizable settings further enhance the user experience. (5/5)
Compatibility: Wallet of Satoshi supports both Bitcoin and Bitcoin Lightning. When receiving funds from either network, they are consolidated into a single balance, making it convenient to move funds in and out of the wallet. It is compatible with Android and iOS, and even features an integrated NFC function. It also has the ability to create invoices. However, it lacks a Progressive Web App (PWA) and a desktop application, leaving room for improvement. (4/5)
Reputation: While Wallet of Satoshi may not be favored by purists due to its custodial nature, it remains the most widely used wallet globally and continues to set new records. It is highly regarded by the average user. (4/5)
Cost: The 0.5% fee for on-chain transactions can be a drawback. However, this fee likely serves as the revenue stream for the company maintaining this user-friendly wallet. (3/5)
Frequently Asked Questions (FAQ)
Is Wallet of Satoshi a non-custodial wallet?
No, Wallet of Satoshi is a custodial wallet, which means that the private keys to your funds are managed by the company. This approach simplifies the user experience and eliminates the need for users to handle complex key management themselves.
Can I use Wallet of Satoshi to make Lightning Network payments?
Yes, Wallet of Satoshi fully supports Lightning Network payments. You can easily send and receive Bitcoin payments over the Lightning Network using this wallet, providing faster and more cost-effective transactions.
What fees are associated with Wallet of Satoshi?
Wallet of Satoshi charges fees for different types of transactions. For example, there is a fee of 4.9% + GST on AUD top-ups and a fee of 0.5% on BTC top-ups. Sending BTC payments on-chain incurs a fee of 0.5% plus a variable fixed fee.