Nexo Review 2023: A Complete Crypto Exchange
An extended Nexo Review: more than an exchange, offering borrowing, crypto rewards, and innovative features. Operating since 2018, Nexo has amassed 5M+ users across 200 countries, delivering security, fee-free trades, and borrowing against 60+ cryptos.
What Is Nexo?
Nexo is a crypto exchange; but it's also comprehensive financial platform with unique features including borrowing capabilities, an innovative crypto rewards card, and other distinct offerings that distinctly set it apart from the competition.
Spanning back to its inception in 2018, Nexo has successfully navigated both prosperous bull markets and challenging bear markets, establishing a resilient history.
In a few years, Nexo grew to a global community exceeding 5 million users across over 200 countries. While their extensive product lineup enjoys accessibility in numerous jurisdictions it serves, certain products and services remain restricted in certain regions such as the US and other countries, due to varying local legal and regulatory landscapes.
Notably, Nexo has ceased offering its Earn product in the US, as a result of resolving matters with the SEC. Comparable limitations also influence the availability of select Nexo offerings in regions like Canada, Australia, and other specific areas.
Nevertheless, Nexo perseveres with an unparalleled value proposition, underpinned by stringent security measures, zero-fee trading, and the unique ability to leverage more than 60 cryptocurrencies for borrowing purposes.
It's important to note that Nexo is a KYC-compliant exchange, this means that you will be requested a document and other personal informations to verify your identity.
👉 Click here to join Nexo and get up to 0.5% in crypto rewards on your purchase. Sign up now.
| FEATURE | DESCRIPTION |
| --- | --- |
| 🌐 Website | Nexo.com |
| 🏙️ Location | Sofia, Bulgaria |
| 📅 Year Founded | 2018 |
| 💰 Primary Token | NEXO |
| 📈 Listed Crypto | Over 30 crypto |
| 💱 Trading Pairs | Over 500 trading pairs |
| 💵 Supported FIAT | Multiple currencies including USD, EUR, GBP, and more |
| 🌍 Supported Countries | Available in all countries except USA, Bulgaria, The Central African Republic, Cuba, Estonia and few others |
| 💰 Minimum Deposit | Varies based on the asset |
| 💸 Deposit Fees | No deposit fees |
| 💰 Daily Buying Limit | Varies based on verification level |
| 💱 Trading Fees | Taker fee of 0.40%, Maker fee of 0.30% (Nexo Pro) |
| 💸 Withdrawal Fees | Standard network fees for crypto withdrawals |
| 📱 Mobile App | Available for iOS and Android |
| 💬 Customer Support | 24/7 customer support available through live chat, email |
Who Created Nexo?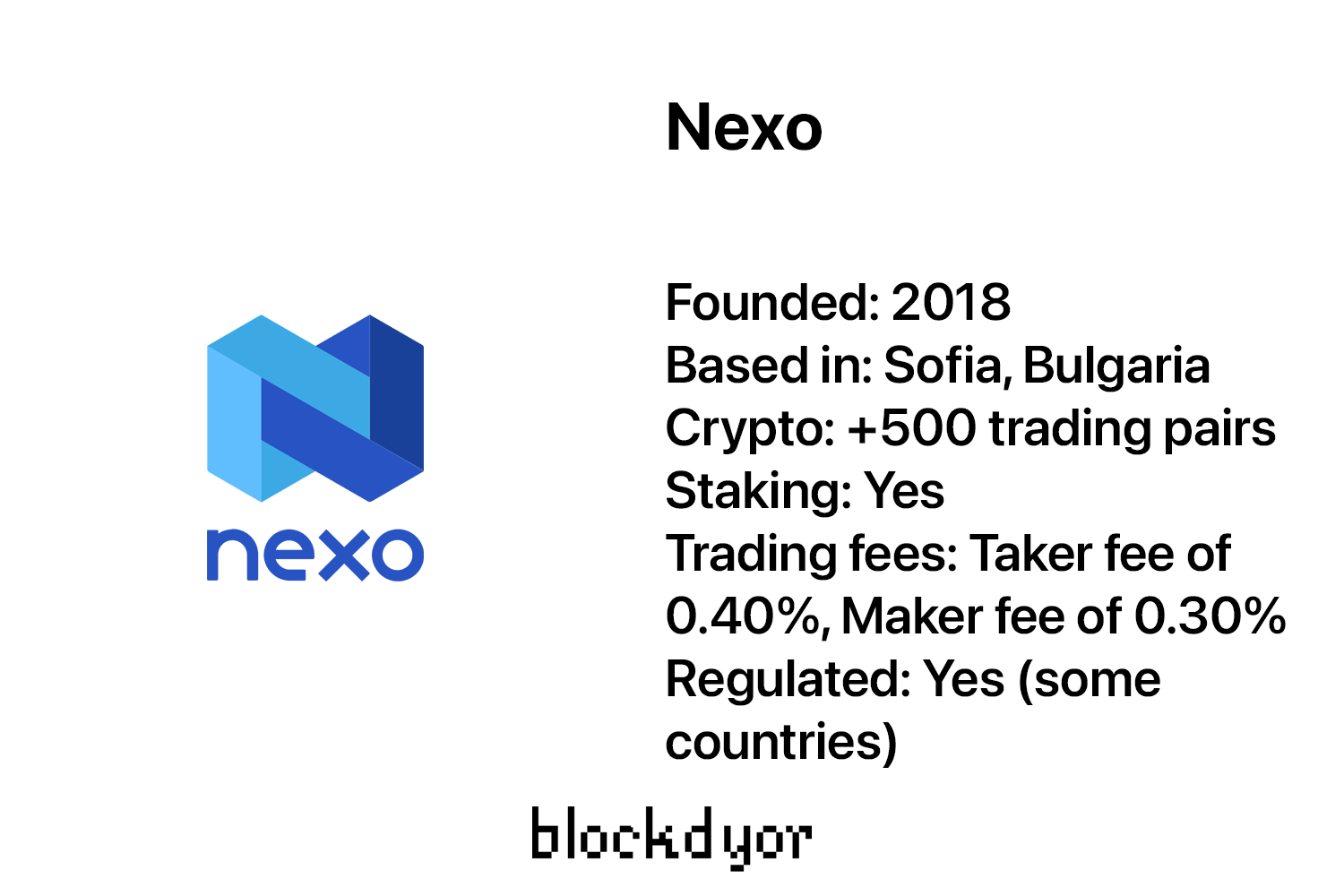 The genesis of Nexo can be traced back to the enterprising minds of Antoni Trenchev and Kosta Kantchev, who joined forces in 2017 to revolutionize the cryptocurrency landscape.
Fueled by a shared vision, they embarked on a journey to create a platform that would transcend the boundaries of a conventional exchange, offering not only crypto trading but also pioneering features like borrowing options and crypto rewards.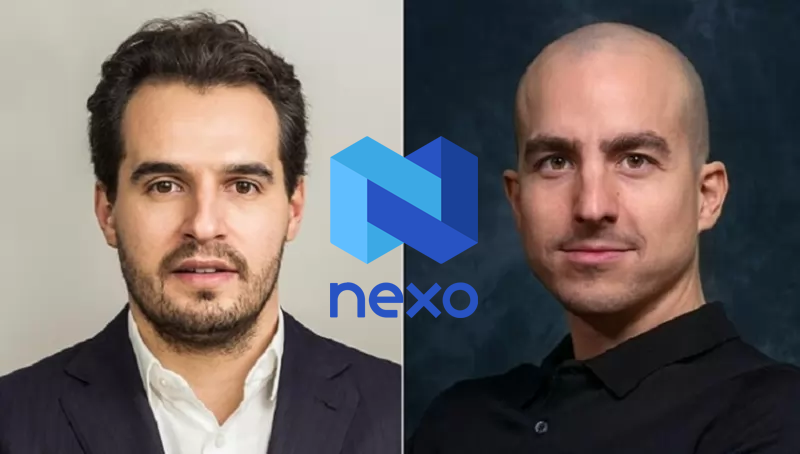 Antoni Trenchev, a co-founder and the managing partner of Nexo, has played a pivotal role in shaping the company's trajectory. His background in both finance and technology positioned him perfectly to navigate the complexities of the crypto world. Kosta Kantchev, another co-founder, brought his own unique skill set to the table, helping to sculpt Nexo's innovative offerings and positioning it as a disruptor in the financial technology sector.
Together, they attracted a significant funding, raising over $52.5 million to support their operations.
Nexo Features
Nexo has gained attention in the cryptocurrency realm by offering an array of features that cater to various user needs. These features provide a well-rounded experience, allowing users to engage with their crypto holdings in diverse ways.
1. Easy Crypto Purchase: Nexo enables users to swiftly purchase cryptocurrency using credit or debit cards. This streamlined process offers an accessible entry point for newcomers looking to invest in digital assets.
2. Earn: Nexo's interest-earning feature lets users benefit from daily compounding interest on their crypto holdings. This option provides an opportunity for users to passively grow their assets over time.
3. Flexible Crypto Exchange: The platform offers an extensive selection of over 500 market pairs for crypto swapping. This exchange feature provides users with options to diversify their portfolios and explore different investment opportunities.
4. Borrowing Solutions: Nexo's borrowing service allows users to access funds using their crypto holdings as collateral. This flexible borrowing option can be appealing to those seeking liquidity without selling their assets.
5. Crypto Card: Nexo's crypto card offers a unique way to spend cryptocurrencies without converting them to traditional currencies, and at the same time earning a crypto cashback. This feature bridges the gap between the digital and traditional financial worlds.
6. Nexo Booster: Nexo's Booster feature lets users borrow funds to increase their crypto holdings by up to 3 times. While it can offer potential for portfolio growth, users should carefully consider the associated risks.
7. Nexo Pro: For experienced traders, Nexo Pro provides aggregated liquidity, which can potentially enhance trading experiences. This feature caters to those who actively navigate the crypto markets.
8. Nexo Wallet: this function offers a non-custodial storage solution, aligning with the growing demand for secure self-custody. This option allows users to maintain control over their assets and explore decentralized technologies.
Getting Started With Nexo
Creating an account on Nexo is a straightforward process. However, it's important to note that this platform follows a Know Your Customer (KYC) protocol. This entails submitting necessary documents and undergoing a verification procedure before engaging in crypto transactions and other activities.
To begin, access the Nexo website by clicking on the provided link. From there, you can initiate the account setup process.
👉 Click here to join Nexo and get up to 0.5% in crypto rewards on your purchase. Sign up now.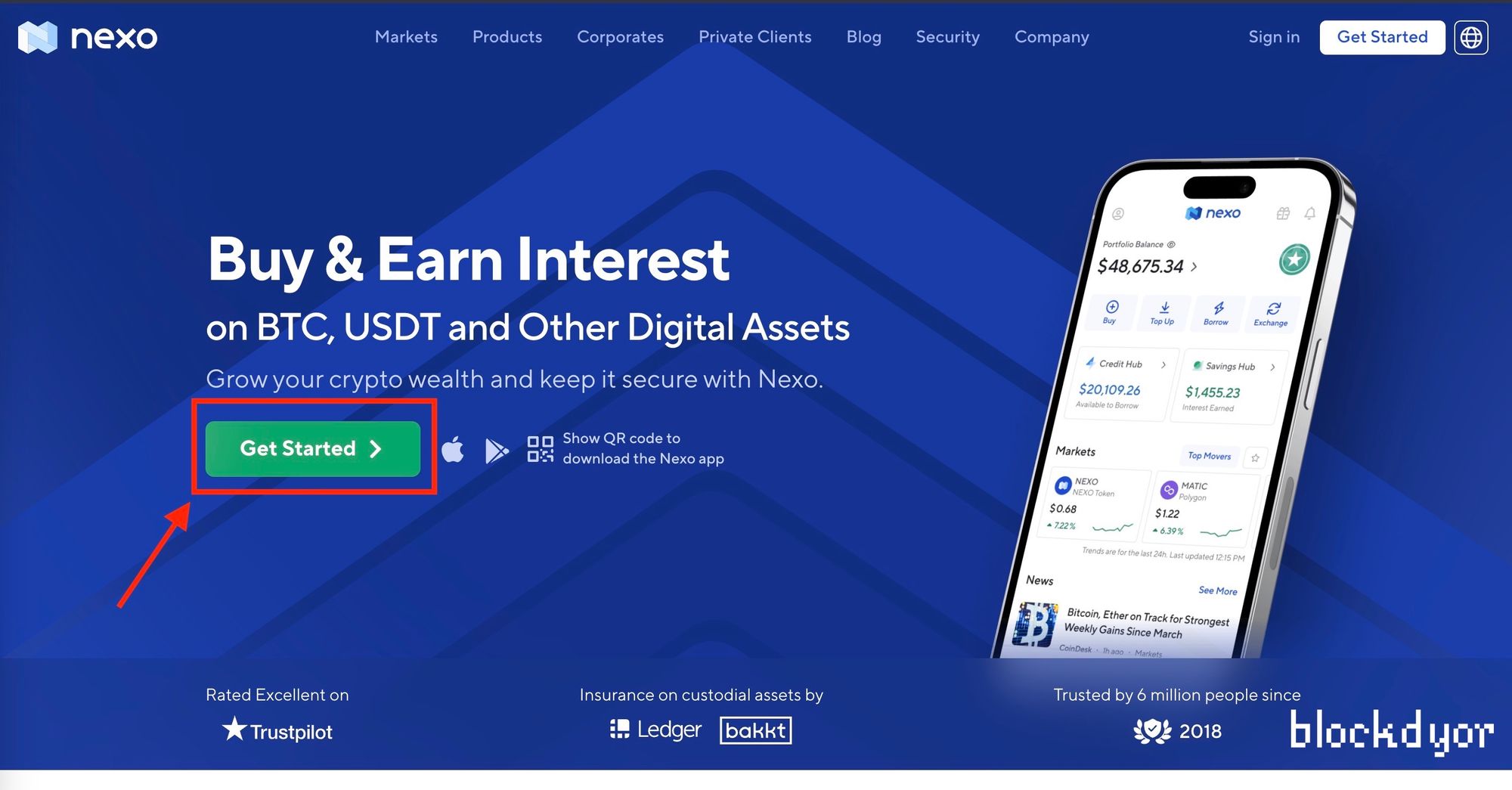 To initiate the Sign Up process, simply click on the "Get Started" button. This will guide you through the steps of creating your account on Nexo.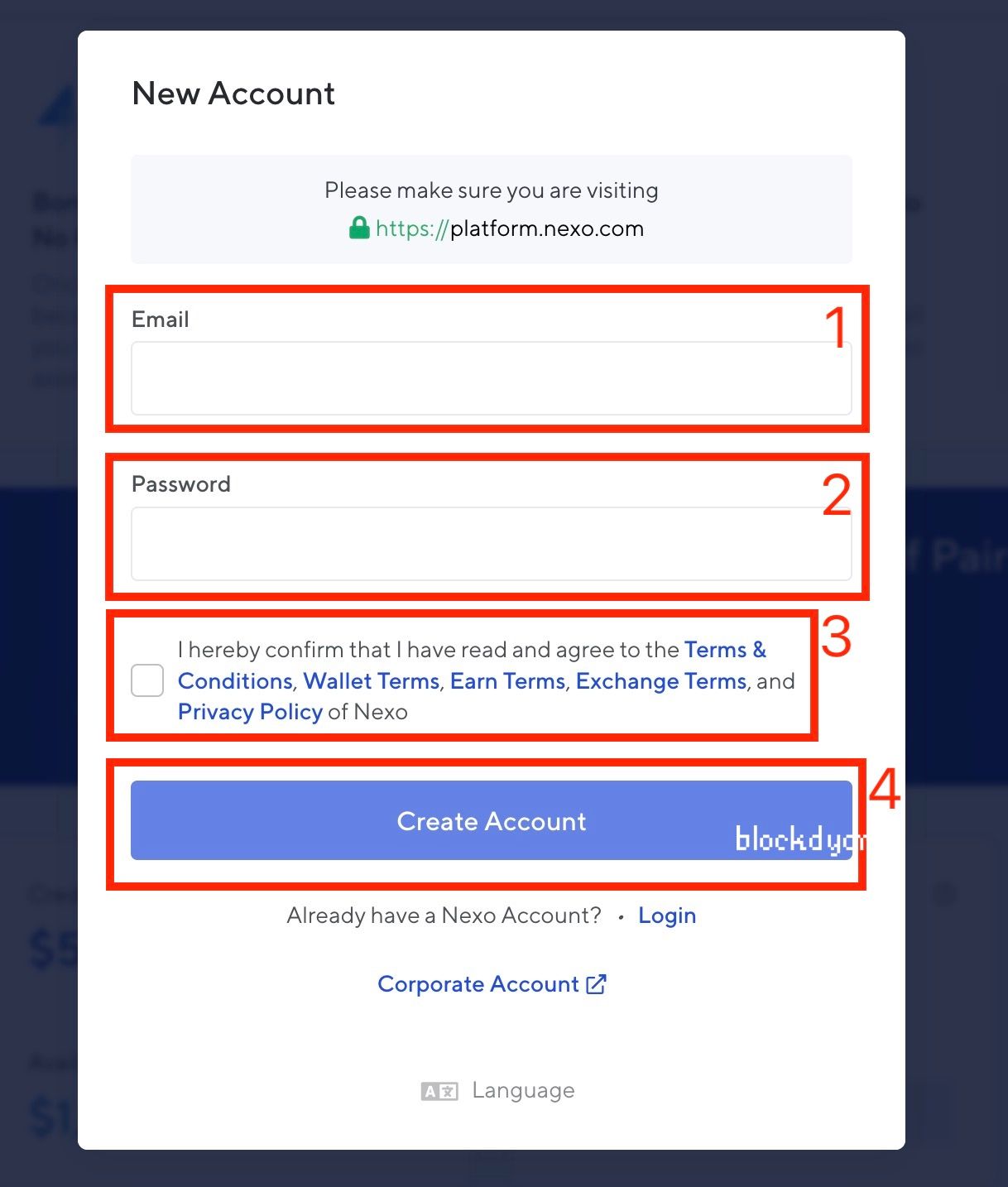 Now, you can proceed by entering your email (1), selecting a strong password (2), reading and agreeing to the terms and conditions (3). Once you're prepared, click on the prominent blue button labeled "Create Account" to finalize the process (4).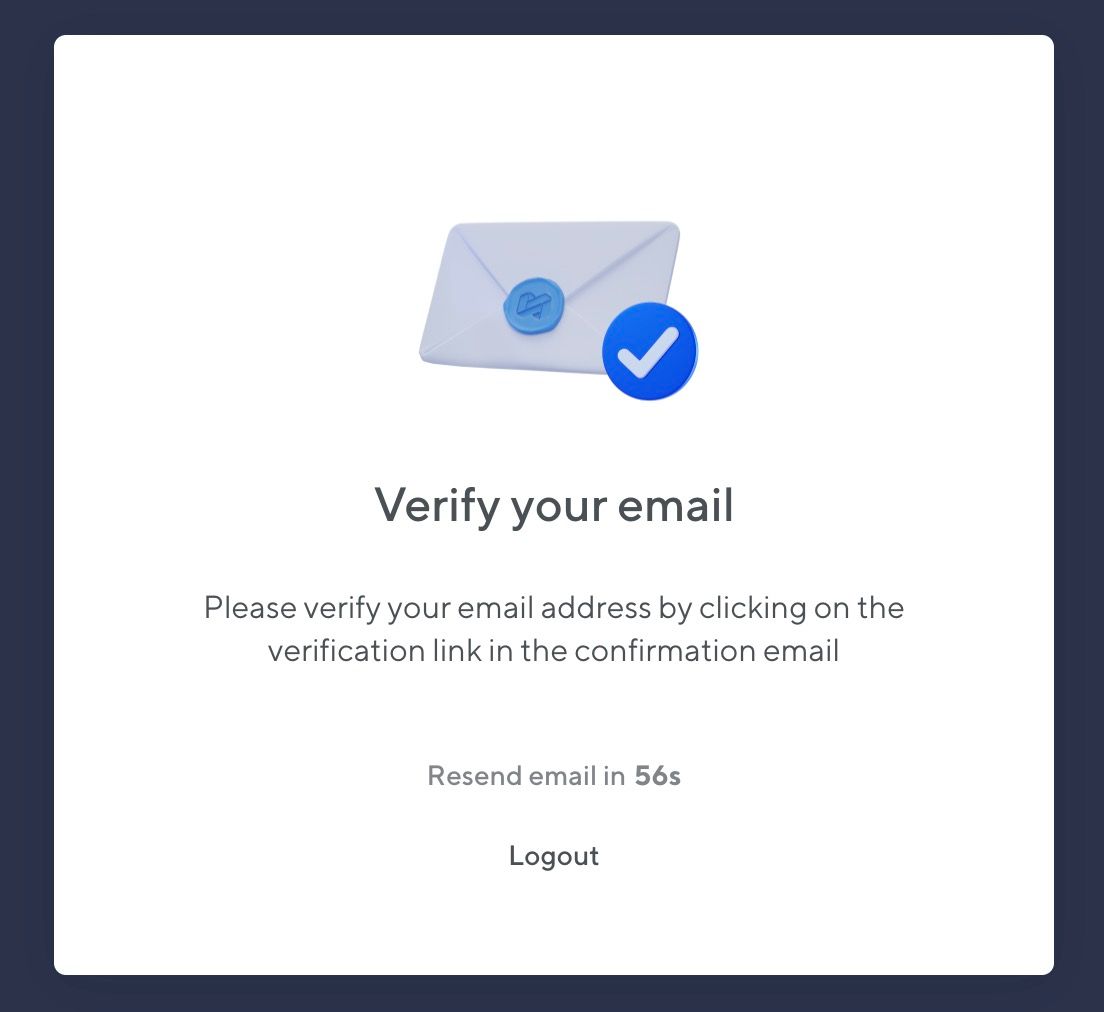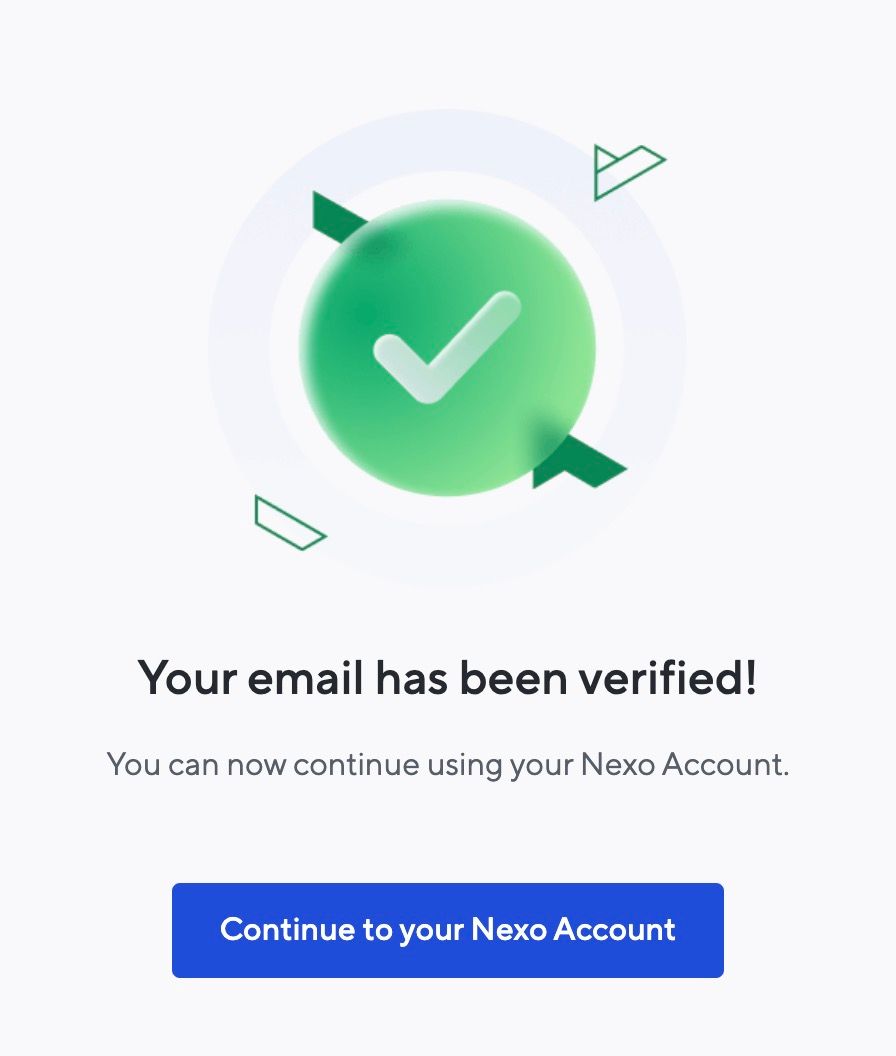 After completing the steps above, it's essential to verify your email. This step ensures the security and authenticity of your account. Once the email verification is done, you can log in using the credentials you've set up during the registration process. This grants you access to your Nexo account and its array of features.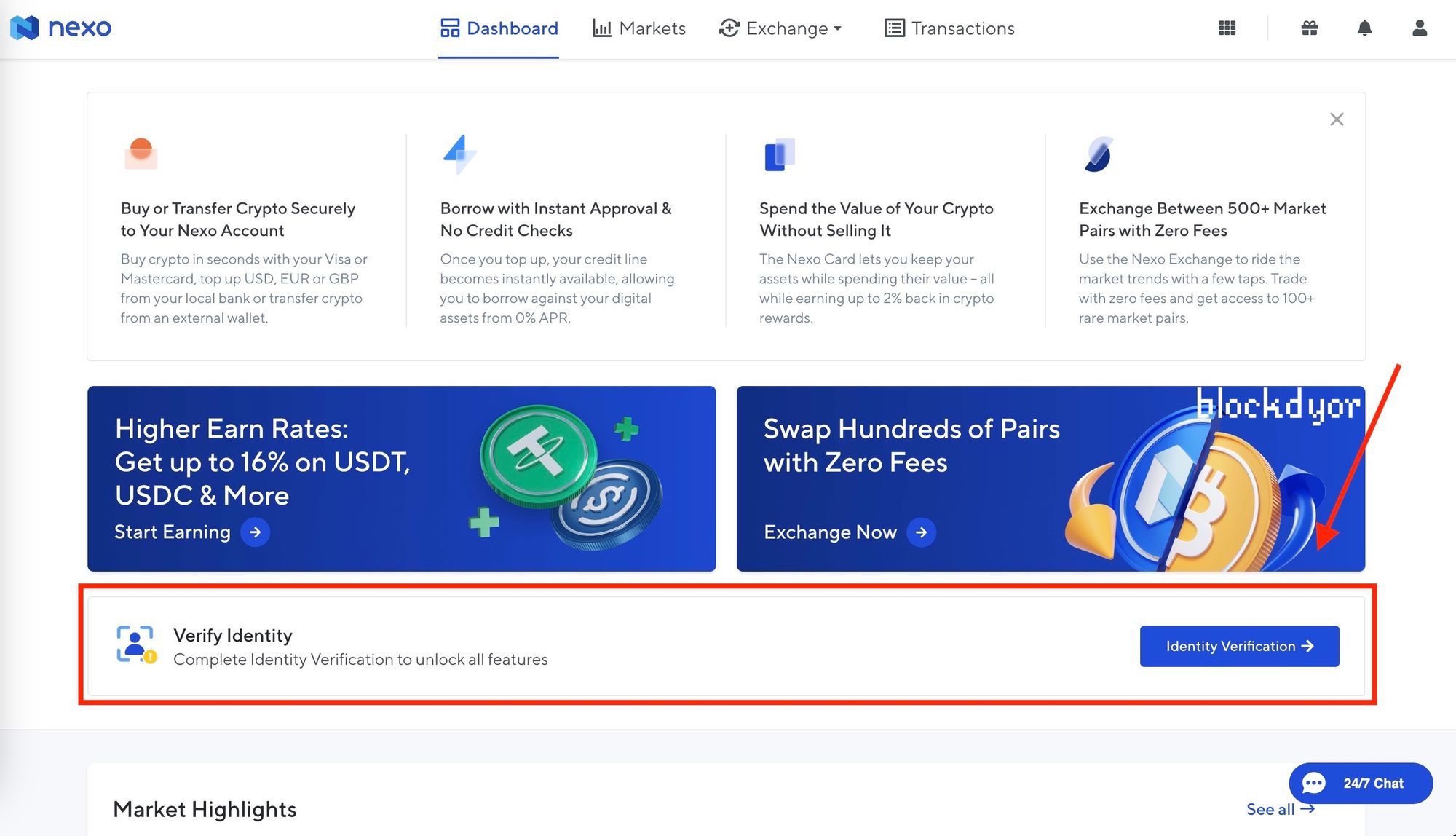 Upon logging in, you'll be directed to the Nexo Dashboard. To fully utilize the platform's functionalities, it's necessary to complete the KYC process. Begin by clicking on "Identity Verification" to initiate this procedure.
Nexo Trading Platform
When it comes to purchasing or swapping crypto, Nexo offers two main ways to accomplish this task, with the first two being Nexo Exchange and Nexo Pro. Let's have a look at these two solutions.
Nexo Exchange
This is where fee-free trades take place. Whether you're looking to convert BTC to ETH or vice versa, Nexo Exchange allows you to carry out these transactions without incurring any trading fees.
Wondering how Nexo manages to offer this service? The answer lies in utilizing a spread. Think of a spread as a slight adjustment to the price, common across cryptocurrency exchanges like Coinbase and Uphold. While technically devoid of direct fees, it's important to note that a cost is still involved.
Nexo Pro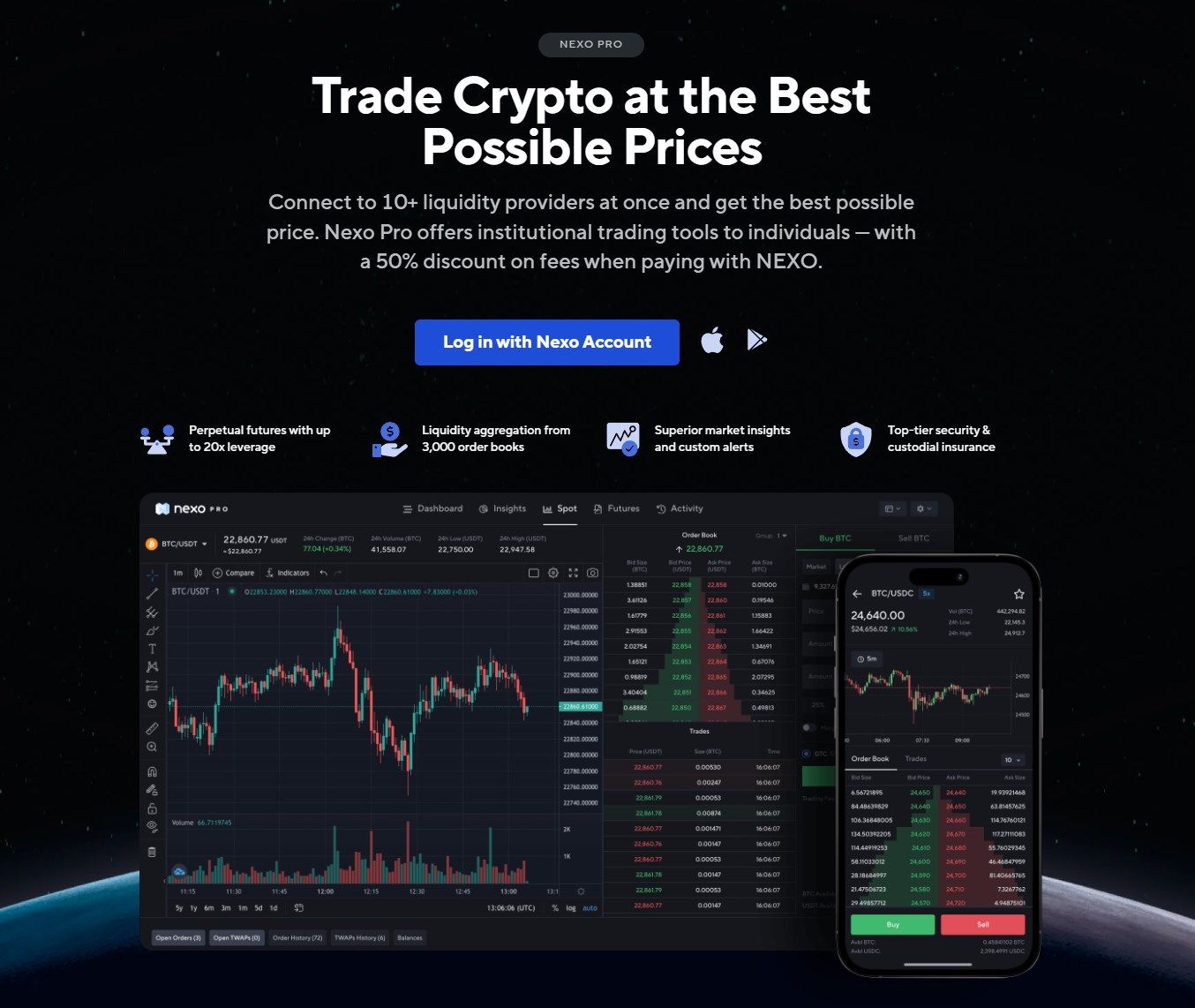 In the ever-evolving landscape of crypto trading, Nexo Pro emerges as a platform of interest, promising a diverse range of features tailored to traders seeking advanced tools, insightful analytics, and cost-effective execution. In the base tier, you'll encounter a 0.4% taker fee for market orders and a 0.3% maker fee for limit orders. Notably, these fees are slightly lower than what you'd find on the Coinbase Advanced platform.
Let's take an look at the features Nexo Pro brings to the table.
Optimal Trade Execution: Nexo Pro distinguishes itself by aggregating liquidity from over 10 liquidity providers. This approach aims to secure the best possible prices for traders. Additionally, NEXO token holders can benefit from a 50% reduction in fees, a strategy designed to add value to the trading experience.
Seamless Integration: The integration of Nexo Pro with a Nexo account facilitates perpetual futures trading with leverage of up to 20x. This integration streamlines the user experience, offering a single point of access for both accounts.
Extensive Liquidity Aggregation: Nexo Pro's impressive access to liquidity from more than 3,000 order books creates a rich trading environment. Deep liquidity on all trading pairs contributes to potential trading opportunities.
Market Insights for Informed Decisions: Incorporating tools typically employed by institutional traders, Nexo Pro allows users to monitor on-chain data, track social sentiment, assess sector performance, and access advanced data analysis.
Customized Alerts: Traders can set personalized alerts based on indicators of their choice. This feature empowers users to stay informed and respond promptly to market shifts.
Security and Insurance Measures: Nexo's commitment to security is echoed in Nexo Pro. The collaboration with industry-leading custodians and comprehensive insurance coverage aims to reassure users about the safety of their assets.
Efficient Order Execution: Nexo Pro promises instant execution, enabling users to trade at their preferred price points on both the web platform and mobile app.
Robust Trading Tools: Nexo Pro offers a suite of trading tools, including market, limit, stop loss, take profit, trailing, and OCO orders. The platform supports short and long-margin trades with leverage of up to 5x, utilizing crypto holdings as collateral.
Perpetual Futures with Leverage: Perpetual Futures contracts settled in USDT enable exposure to various cryptocurrencies without the need for direct ownership. The option to leverage up to 20x enhances trading potential.
Nexo Pro presents an array of features that cater to traders of varying levels of expertise. From advanced tools and insights to competitive fees and leveraged trading, Nexo Pro aims to offer a comprehensive trading experience. As with any trading platform, users are encouraged to weigh the pros and cons based on their individual preferences and risk tolerance.
Nexo Fees and Limits
| Fee Type | Nexo Fees |
| --- | --- |
| Trading Fees (swaps) | None. Nexo swaps utilize a spread without any additional trading fee. |
| Trading Fees Nexo Pro | For up to $10K 30-day trading volume: Taker fee of 0.40%, Maker fee of 0.30%. Fees can be as low as 0% for higher trading volumes. |
| Network Fees (withdrawals) | No fees for free trade allowance (up to 5 per month depending on loyalty level). Free withdrawals on Polygon, Binance Smart Chain (BEP-20), Arbitrum, and EOS. |
Nexo Loyalty Levels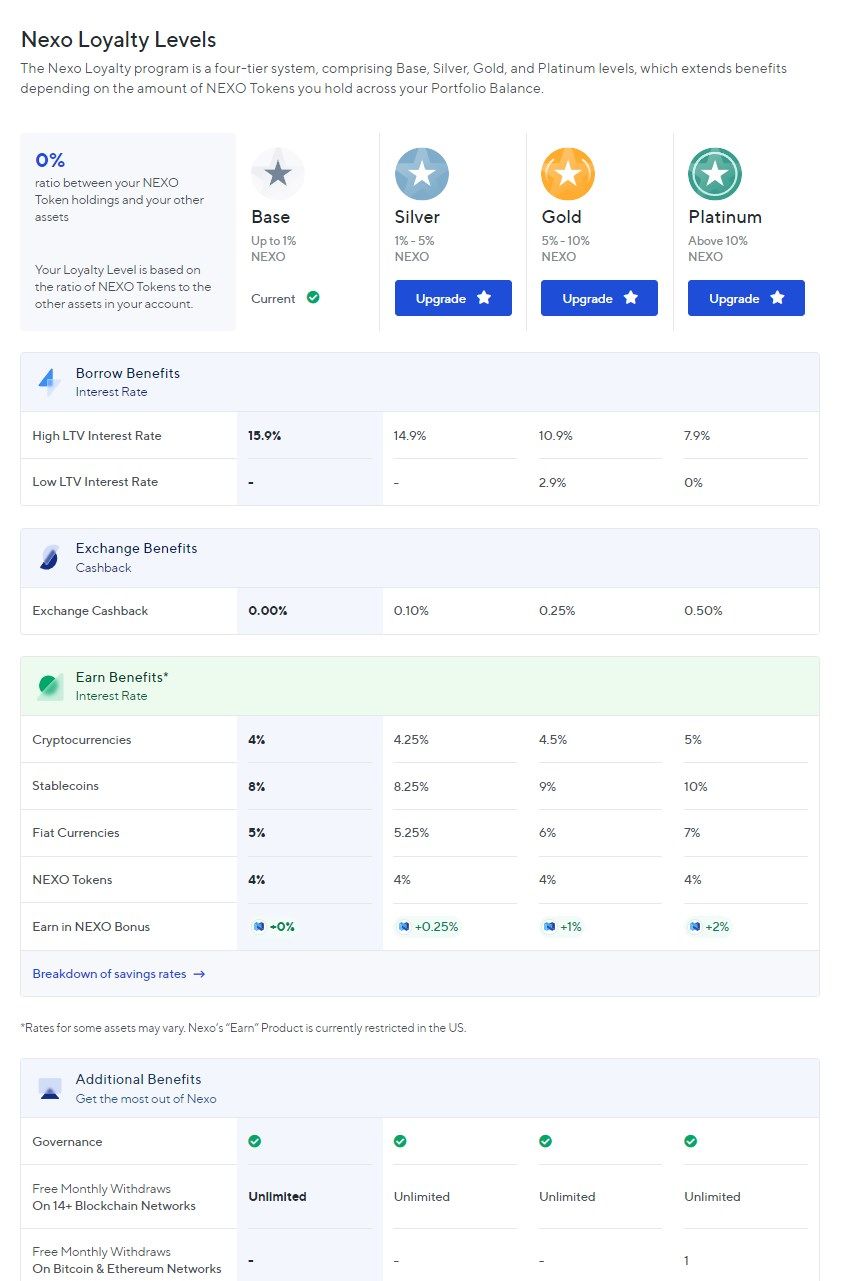 Nexo offers an interesting concept known as Loyalty Levels. Designed to reward its users for their commitment and engagement, Nexo's Loyalty Levels offer a range of benefits, creating a symbiotic relationship between the platform and its users.
At the core of Nexo's Loyalty Levels is the idea that ownership of NEXO tokens can unlock a realm of advantages. This unique approach aligns the interests of users with the growth of the platform itself, fostering a sense of shared success.
The Loyalty Levels structure comprises four tiers: Base, Silver, Gold, and Platinum. The journey through these tiers begins with a user's ownership of NEXO tokens relative to their overall Nexo portfolio. Each tier has specific requirements, creating an incentive for users to hold a larger share of NEXO tokens.
The journey begins with the Base tier, requiring 0% up to 1% of the user's portfolio in NEXO tokens. As users increase their NEXO holdings, they ascend to higher tiers, unlocking an array of benefits along the way.
The Platinum tier represents the pinnacle of the Loyalty Levels. To qualify for this elite tier, users need to own 10% or more of their portfolio in NEXO tokens. The rewards for reaching this zenith are impressive:
Lower Borrowing Rates: Platinum users enjoy borrowing rates as low as 6.9% for Loan to Value (LTV) of 20% or higher. Furthermore, they enjoy a 0% Nexo interest rate for lower LTV loans, enhancing their borrowing power.
Exchange Rebates: A 0.50% exchange cashback on trades further sweetens the deal for Platinum tier users, allowing them to optimize their trading strategies.
Additional Free Withdrawals: Unlike the base tier, where only one free withdrawal is permitted, Platinum users can enjoy up to five free withdrawals per month, enhancing their flexibility and control over their assets.
Higher Interest on Deposits: Platinum users also benefit from higher interest rates on deposits. While the base Nexo interest rate is set at 4% for cryptocurrencies, Platinum Nexo users earn an impressive 5%, making their crypto holdings even more lucrative.
The Nexo Loyalty Levels concept transforms users into stakeholders, aligning their interests with the platform's growth and stability. By accumulating and holding NEXO tokens, users not only unlock a world of benefits but also contribute to the strength and success of the Nexo ecosystem.
Nexo Card
Unlike conventional credit cards, the Nexo Card gives users the possibility to spend with crypto, but also introduces a distinctive model that transforms the borrowing landscape and empowers users to maximize the utility of their digital assets.
The Nexo Card stands out for its innovative features:
Collateralized Crypto Spending: In a departure from traditional credit cards, the Nexo Card empowers users to borrow against their existing crypto holdings on the Nexo platform. This means that users can leverage their assets without selling them, ensuring that spending remains tied to their crypto wealth.
Seamless Borrowing Process: Acquiring a Nexo Card is refreshingly straightforward. Users don't need to undergo intricate credit checks or submit extensive applications. Instead, they qualify for the card by utilizing their crypto assets as collateral.
Flexible Repayment Options: Unlike the fixed repayment schedules associated with traditional credit cards, the Nexo Card offers flexibility in how users choose to repay their borrowed amounts. This adaptability caters to varying financial circumstances and strategies.
No Fees: Nexo's commitment to user-centricity is evident in the absence of monthly, annual, or inactivity fees for the Nexo Card. This aligns with Nexo's aim to provide a cost-effective and convenient solution for its users.
Rewards for Spending: The Nexo Card enhances its appeal by offering up to 2% cashback on purchases, distributed in NEXO tokens. This incentive encourages active card usage and provides tangible rewards for users.
Integration with Digital Wallets: The Nexo Card effortlessly integrates with established digital wallets like Google Pay and Apple Pay, ensuring that users can seamlessly transition between traditional payment methods and the innovative world of cryptocurrencies.
Transparent APR Structure: The Annual Percentage Rate (APR) for utilizing the Nexo Card is determined by the user's loyalty tier and Loan-to-Value (LTV) ratio. This transparent approach ensures that users are well-informed about the costs associated with borrowing against their crypto holdings.
Nexo Security Measures
One of the cornerstone security features of Nexo is the implementation of two-factor authentication (2FA). This additional layer of verification adds a critical barrier against unauthorized access by requiring users to enter a unique code sent to their registered devices. This ensures that even if someone gains access to your login credentials, they cannot access your account without the secondary authentication step.
Furthermore, Nexo employs real-time reserves attestation to verify that the platform holds the crypto assets it claims to possess. This transparent approach offers users confidence that Nexo maintains the necessary funds to meet customer liabilities.
The platform's lending practices also contribute to security, as Nexo employs overcollateralization for its borrowing services. By requiring borrowers to provide assets that exceed the loan amount, Nexo minimizes the risk associated with defaults. This cautious approach helps protect both lenders and borrowers on the platform.
Nexo's partnership with Ledger Vault, a reputable digital asset security provider, reinforces the safety of users' crypto holdings. This collaboration ensures that your funds are stored using industry-leading security protocols, reducing the risk of breaches.
To provide further assurance, Nexo got several licenses to operate in various jurisdictions globally, adhering to local regulations and maintaining a commitment to legal compliance.
Nexo Reviews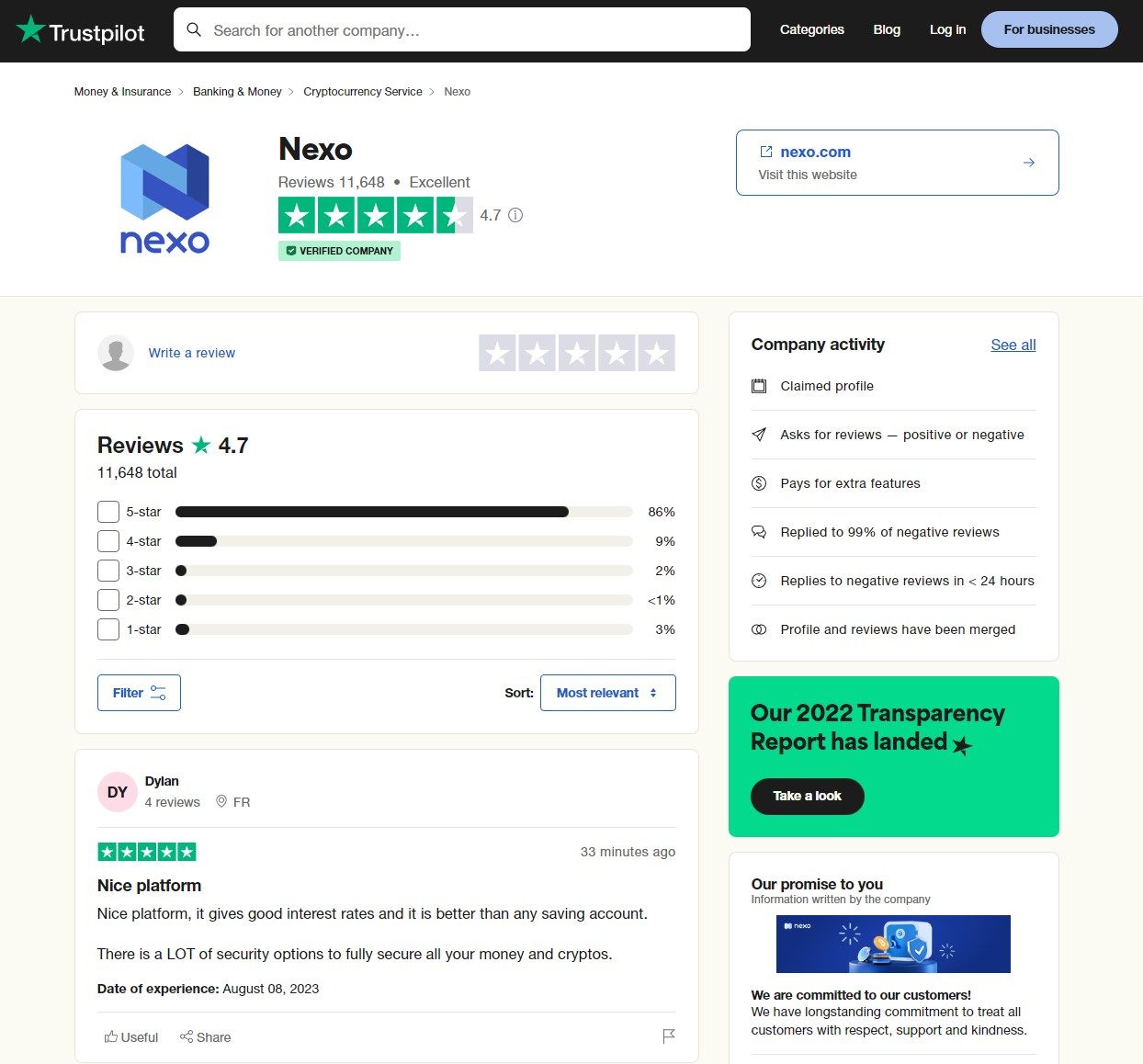 Opinions about Nexo are a blend of diverse perspectives, reflecting the varied experiences of users who have engaged with the platform. As with any financial service, the feedback ranges from highly positive endorsements to more critical viewpoints.
One notable platform where users share their experiences is Trustpilot, which features a significant volume of reviews for Nexo. The majority of these reviews lean toward the positive side, with users highlighting various aspects of Nexo's offerings that have contributed to their satisfaction. These positive sentiments often encompass the ease of use, quick access to credit lines, attractive interest rates, and the platform's overall user-friendly interface.
However, it's important to acknowledge that not all reviews are glowing endorsements. Some users have expressed concerns and frustrations, particularly regarding two key areas: Know Your Customer (KYC) processes and fund freezes. Negative reviews often revolve around difficulties in completing the KYC verification process, which is a standard practice in the financial industry to prevent fraud and ensure compliance. These issues can lead to frustration, as users may experience delays or complications in accessing the full range of Nexo's services.
Nexo Pros & Cons
| Pros | Cons |
| --- | --- |
| ✅ Earn Interest | ❌ Limited Geographic Availability |
| ✅ Instant Crypto Credit Line | ❌ Risk of Volatility With Leveraged Products |
| ✅ Nexo Card and Cashback | ❌ Negative User Experiences |
Nexo Alternatives
Nexo vs Uphold
Both Nexo and Uphold play the role of user-friendly gateways into the realm of cryptocurrency. While distinct in their strengths, they both offer enticing advantages, including the inclusion of a cryptocurrency cashback card (available only in the UK for Uphold).
| Exchange | Trading Fees | Notable Features |
| --- | --- | --- |
| Nexo | No-fee trades for dashboard swaps, 0.3% maker fees, 0.4% taker fees on Nexo Pro | Pro platform, Crypto loans, Leverage trading |
| Uphold | No trading fees (spread-based model) | Innovative Platform, Several Integrations, Card with 4% cashback in XRP |
Bottom Line
In conclusion, Nexo offers a comprehensive suite of financial services within the cryptocurrency landscape, that suits both newcomers and experienced users. The platform's unique features, including the Nexo Card, interest-earning opportunities, and borrowing capabilities, provide a user-friendly bridge between traditional finance and the crypto world. Nexo's commitment to security and its adherence to industry best practices help instill confidence in users seeking a safe environment for their digital assets.
While Nexo's positive reviews highlight its intuitive interface and array of offerings, mixed opinions indicate potential challenges in areas like KYC processes and fund freezes. It's important to note that Nexo is not available in all regions, and its success largely depends on the user's specific needs and risk tolerance.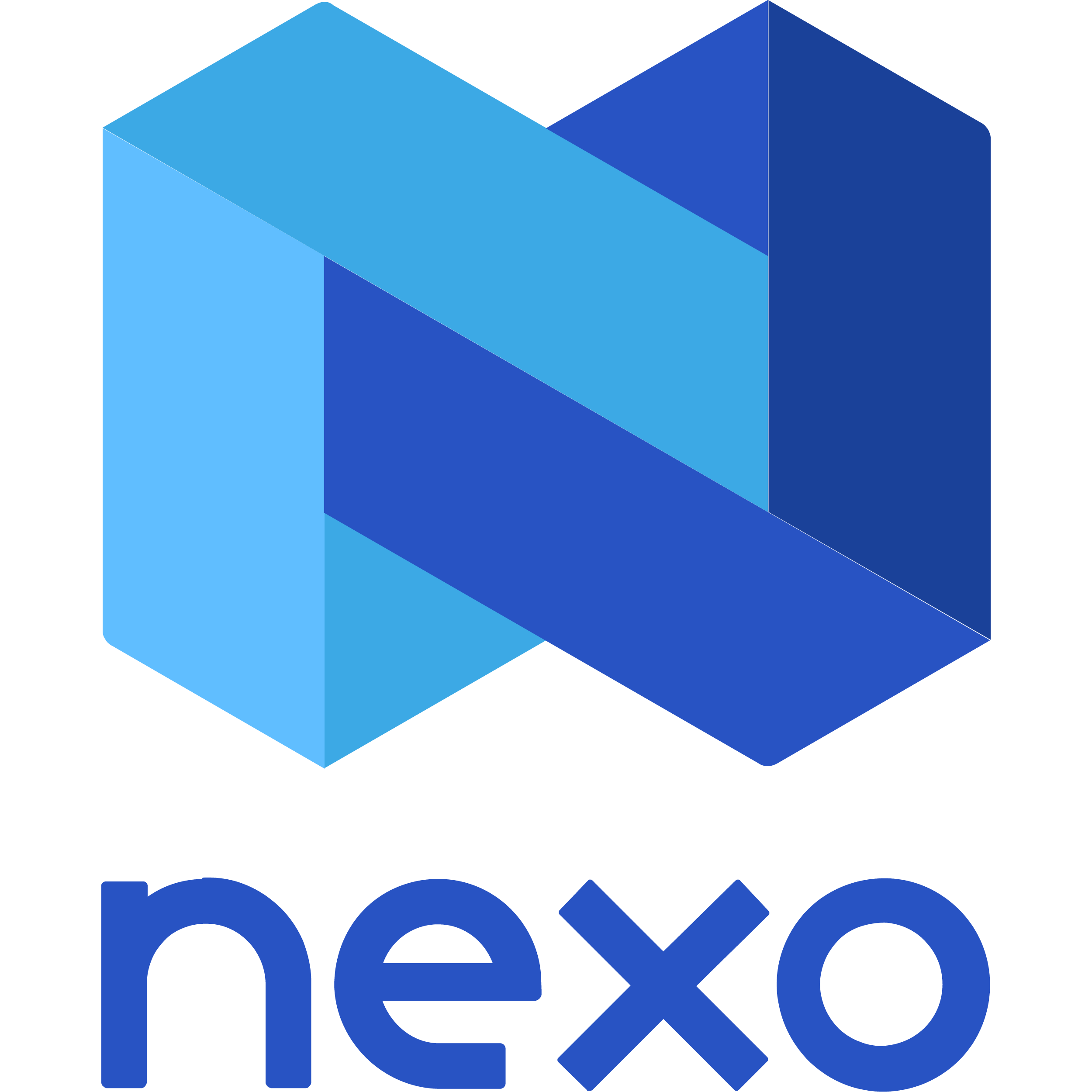 Nexo Evaluation
Reputation: Nexo is a well-established crypto platform known for its user-friendly services. However, it's worth mentioning that there have been occasional complaints about failed KYC processes and fund freezes. Taking these factors into account, we rate Nexo with 4/5 stars for reputation.
Technology: Nexo's platform is designed to be accessible and straightforward, particularly appealing to those new to the crypto space. The platform's user-friendly approach and features contribute to its technology score of 4/5.
Customer Service: Nexo offers customer support through various channels, including live chat and email. However, some users have reported challenges in reaching support for urgent matters. Considering this, we assess Nexo's customer service with a score of 3/5.
Fees: Nexo's fee structure is transparent, with no trading fees for dashboard swaps and competitive fees on its Pro platform. However, users should be aware of potential fees associated with lending, borrowing, and certain transactions. Taking these factors into consideration, we give Nexo a fee rating of 4/5.
Ease of Use: Nexo's platform is designed for ease of use, making it accessible to both beginners and experienced users. While there might be a learning curve initially, the overall simplicity of the platform contributes to an ease of use score of 4/5.
Frequently Asked Questions (FAQ)
What is Nexo's primary token?
Nexo's primary token is called NEXO. It is used within the Nexo ecosystem for benefits such as reduced fees, higher interest rates, and more.
Does Nexo offer a mobile app?
Yes, Nexo offers a mobile app for both iOS and Android devices. The app allows users to manage their crypto assets, access lending and borrowing services, and more.
What are the supported countries for Nexo?
Nexo is available in a wide range of countries globally. It supports users from 184+ countries, allowing them to access its services and features.