Gemini Review 2023: Pros & Cons, Fees and Features
Gemini stands as one of the largest cryptocurrency exchanges globally, founded by the Bitcoin pioneers, the Winklevoss twins. In this comprehensive review, we delve into the platform's features, as well as its strengths and weaknesses.
What Is Gemini?
Gemini is a reputable cryptocurrency exchange founded in 2014. It has quickly established itself as a trusted platform for crypto trading, staking and investment.
With a strong emphasis on adhering to regulatory standards and collaborating with authorities, Gemini has built a reputation for reliability and safety in the cryptocurrency industry. The exchange offers a variety of funding methods, a wide selection of supported cryptocurrencies, staking services, and a user-friendly experience.
While it enforces strict user verification processes (KYC), its dedication to security and regulatory compliance makes it one of the safest cryptocurrency exchanges.
👉 Click here to sign up for Gemini and trade at least $100 to get free crypto. Sign up now.
| FEATURE | DESCRIPTION |
| --- | --- |
| 🌐 Website | Gemini.com |
| 🏙️ Location | New York, USA |
| 📅 Year Founded | 2014 |
| 💰 Primary Token | Bitcoin (BTC) |
| 📈 Listed Crypto | Over 30 cryptocurrencies |
| 💱 Trading Pairs | Over 500 trading pairs |
| 💵 Supported FIAT | Multiple currencies including USD, EUR, GBP, and more |
| 🌍 Supported Countries | 60+ countries, including all 50 U.S. states |
| 💰 Minimum Deposit | Varies based on the asset |
| 💸 Deposit Fees | No deposit fees |
| 💰 Daily Buying Limit | Varies based on verification level |
| 💱 Trading Fees | Taker fee of 0.40%, Maker fee of 0.20% |
| 💸 Withdrawal Fees | Standard network fees for crypto withdrawals |
| 📱 Mobile App | Available for iOS and Android |
| 💬 Customer Support | 24/7 customer support available through live chat, email |
Who Created Gemini?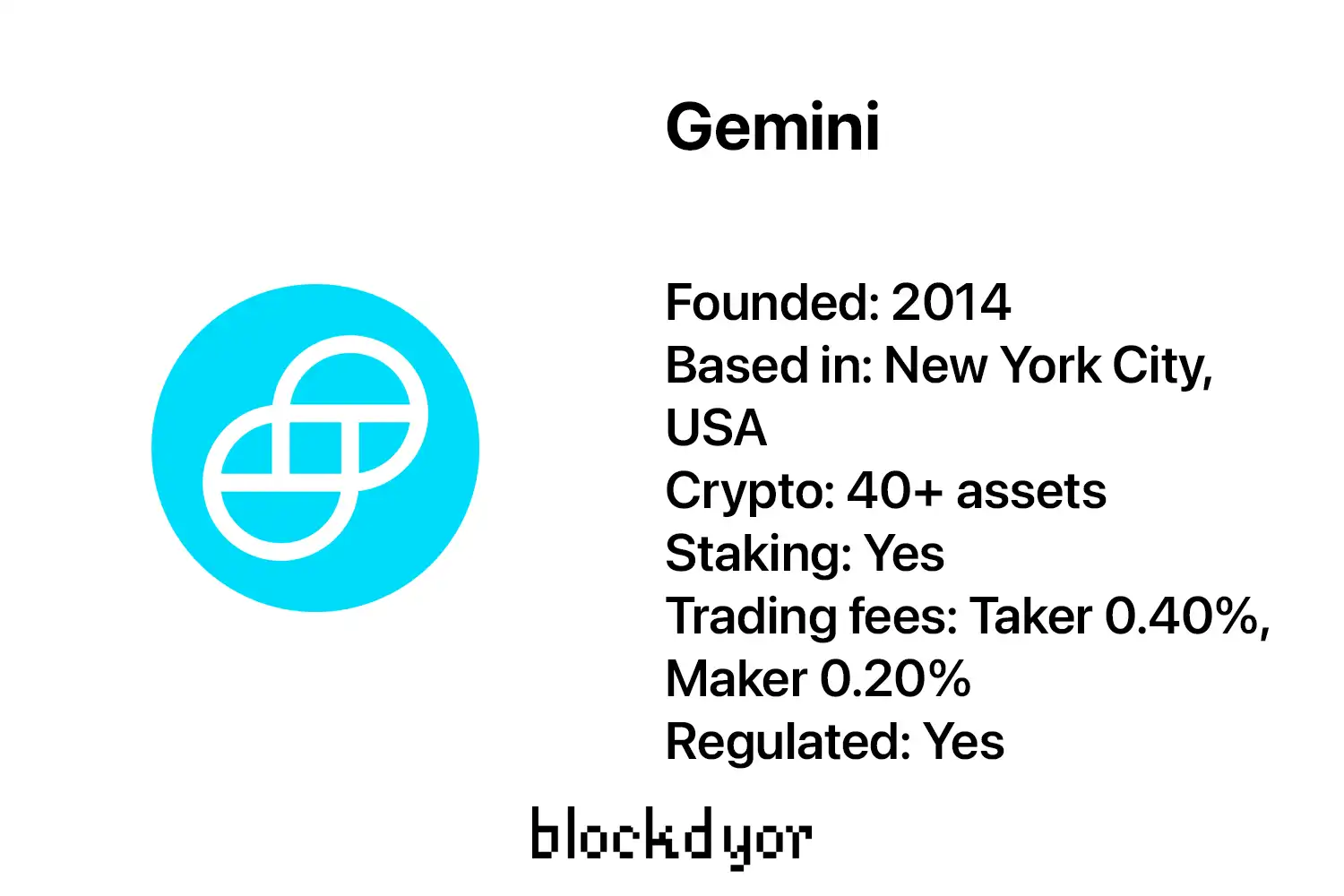 Gemini was created by Tyler Winklevoss and Cameron Winklevoss, who are commonly referred to as the Winklevoss Twins. They are well-known figures in the cryptocurrency industry and gained fame for their involvement in the early development of Facebook, as depicted in the movie "The Social Network."
The twins are the co-founders and operators of the Gemini cryptocurrency exchange, which they launched in 2014. They have played a significant role in promoting cryptocurrency adoption and regulation, particularly in the United States.
Gemini Features
Trading Platform: Gemini serves as a cryptocurrency exchange, primarily focused on Bitcoin and various other cryptocurrencies like Ethereum and Ripple. The platform offers two distinct interfaces: just "Gemini," designed for beginners, allows users to easily buy, sell, and convert a wide range of cryptocurrencies with a few clicks. In contrast, "Active Trader" caters to more experienced users, granting access to advanced trading options and in-depth charts. Gemini's platform also allows users to purchase even small amounts of cryptocurrency, with transactions as low as $1.
Derivatives Trading: Gemini offers a derivatives trading feature, which allows users to engage in financial contracts whose value is derived from the performance of underlying assets, such as cryptocurrencies. While this feature provides additional trading opportunities, it's worth mentioning that derivatives trading is not available to users in the United States, the United Kingdom, or the European Union.
Staking: Gemini's staking service offers individuals and institutions a hassle-free gateway to participate in the blockchain ecosystem and reap staking rewards. This platform caters to both crypto novices and seasoned professionals, ensuring a smooth and secure staking experience. Users can stake any amount of supported crypto assets, enjoying the flexibility of entry with no minimum requirements. Gemini's fee structure is transparent, with fees deducted directly from the rewards, eliminating hidden charges.
Credit Card: Gemini offers the Gemini Credit Card, a unique offering that allows users to earn cryptocurrency rewards on their everyday purchases. Notably, this credit card does not impose annual fees or foreign transaction fees. Users can earn up to 3% back in the cryptocurrency of their choice and have the flexibility to switch to a different cryptocurrency at any time. It's important to note that the Gemini Credit Card is exclusively available to customers in the United States.
Mobile App: Gemini provides a mobile application that extends the functionality of the desktop platform to smartphones. Available on both the Apple App Store and Google Play, the mobile app has received high ratings from users for its convenience and user-friendly design.
Getting Started With Gemini
To create an account on Gemini, simply click on the link provided below, and you'll receive free cryptocurrency when you trade a minimum of $100.
👉 Click here to sign up for Gemini and trade at least $100 to get free crypto. Sign up now!.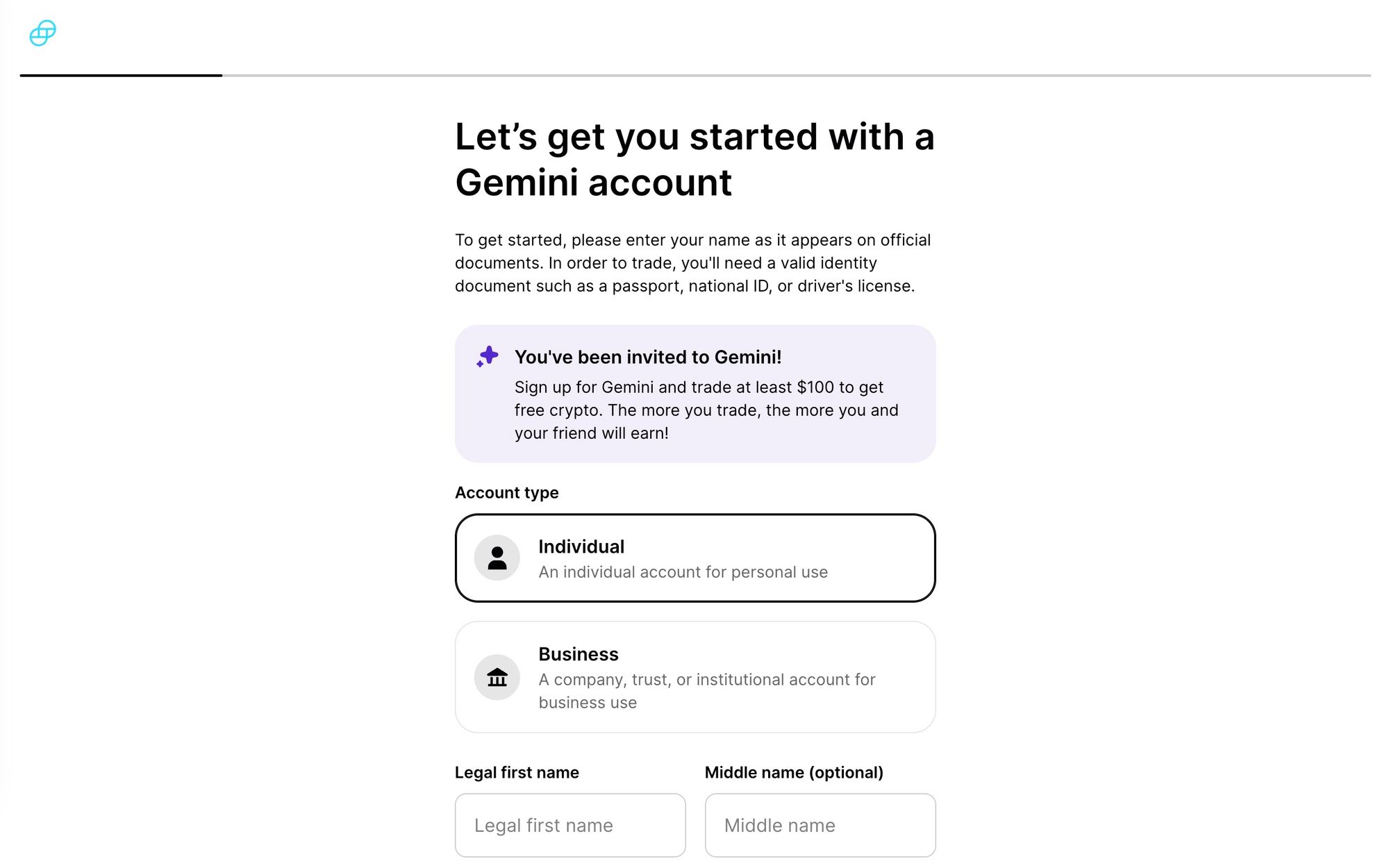 Upon visiting the registration page, you will notice that Gemini offers support for both individuals and businesses. Please select the appropriate option and complete all the required documentation accordingly.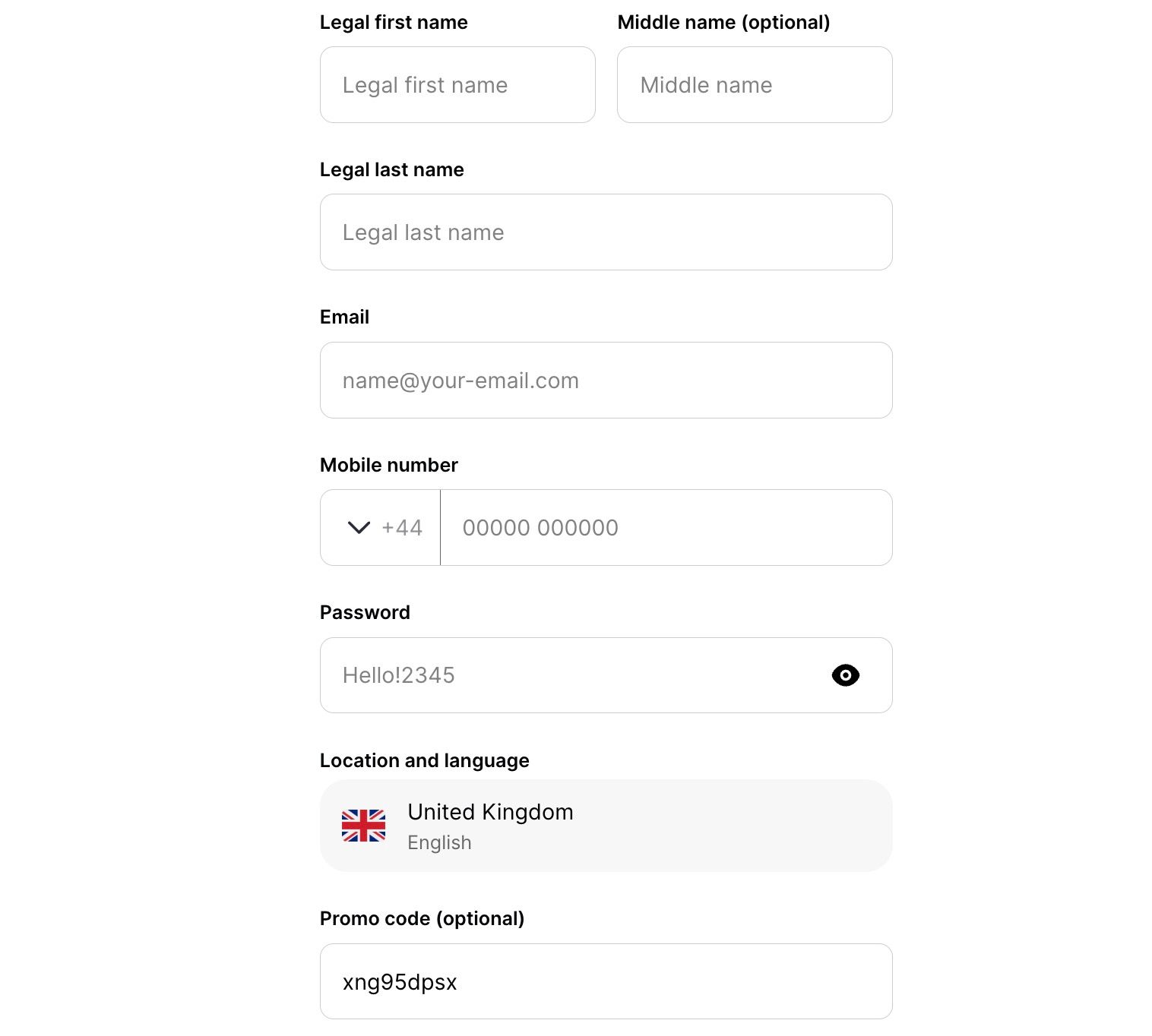 Please ensure that you have added all the remaining information required for your account setup. Also, double-check that the promotional code is correctly entered to qualify for the complimentary prize. Once you have completed this step, kindly review and accept the terms and conditions, and then click on the "Create Account" button to finalize the process.
Gemini Trading Platform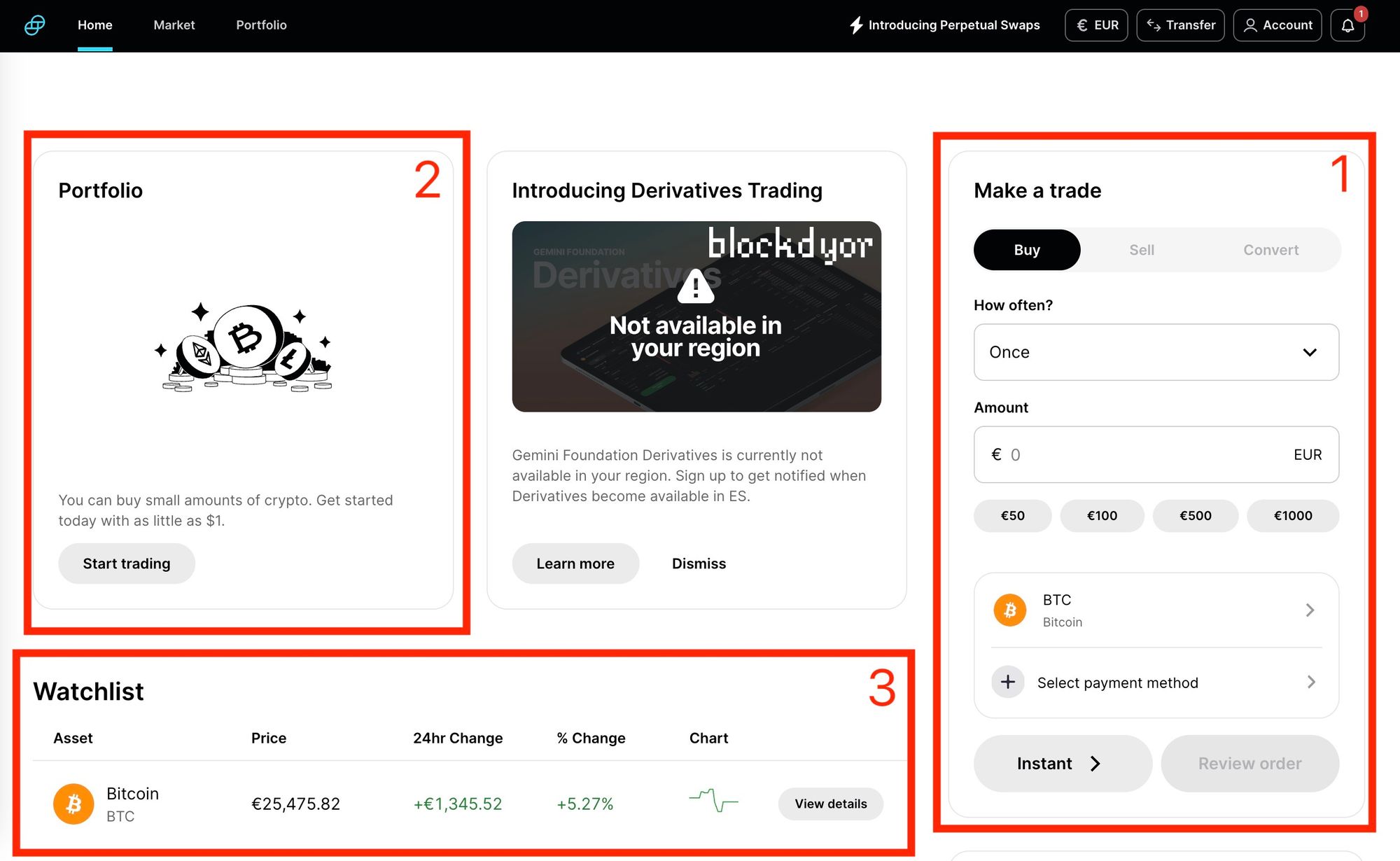 Gemini offers two primary platforms: the first is a user-friendly basic platform, while the second, known as ActiveTrader, is tailored for experienced traders seeking advanced features like professional charts and technical indicators.
The basic platform provides all the essential tools you need for cryptocurrency trading. It allows you to execute buy and sell orders, as well as convert between different cryptocurrencies (1).
Additionally, you can set up recurring purchases and build your crypto portfolio through integrated Dollar-Cost Averaging (DCA) functions. The platform also offers a portfolio section (2) where you can monitor all your holdings and a watchlist (3) for quickly checking recent price movements.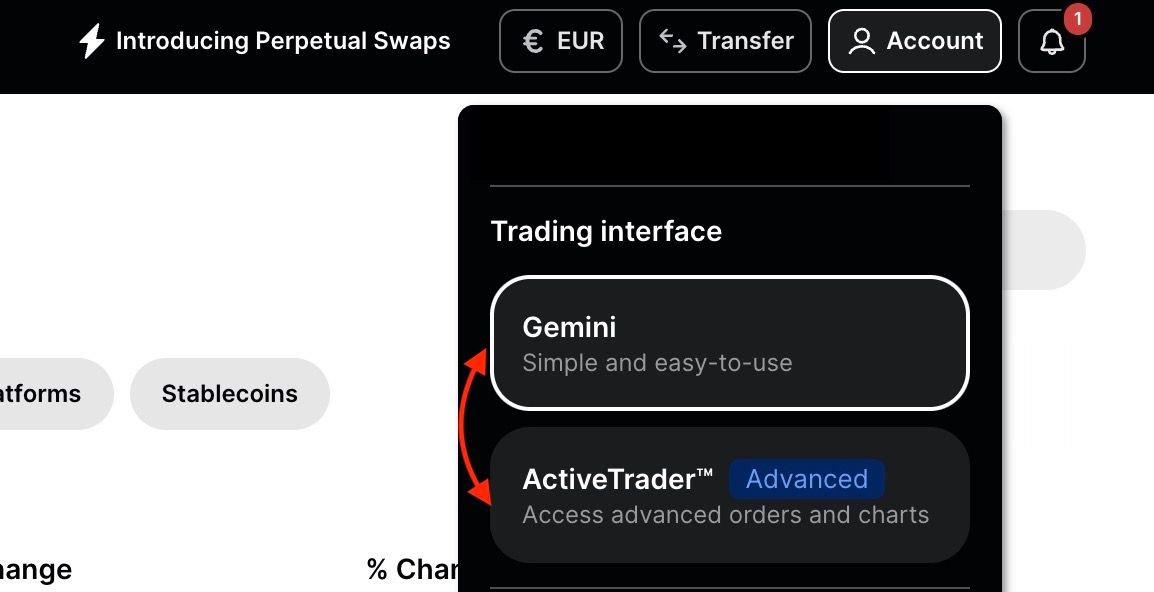 To access the more advanced trading interface, known as "ActiveTrader," simply click on "Account" located in the top right corner. This will allow you to switch to the advanced trading mode.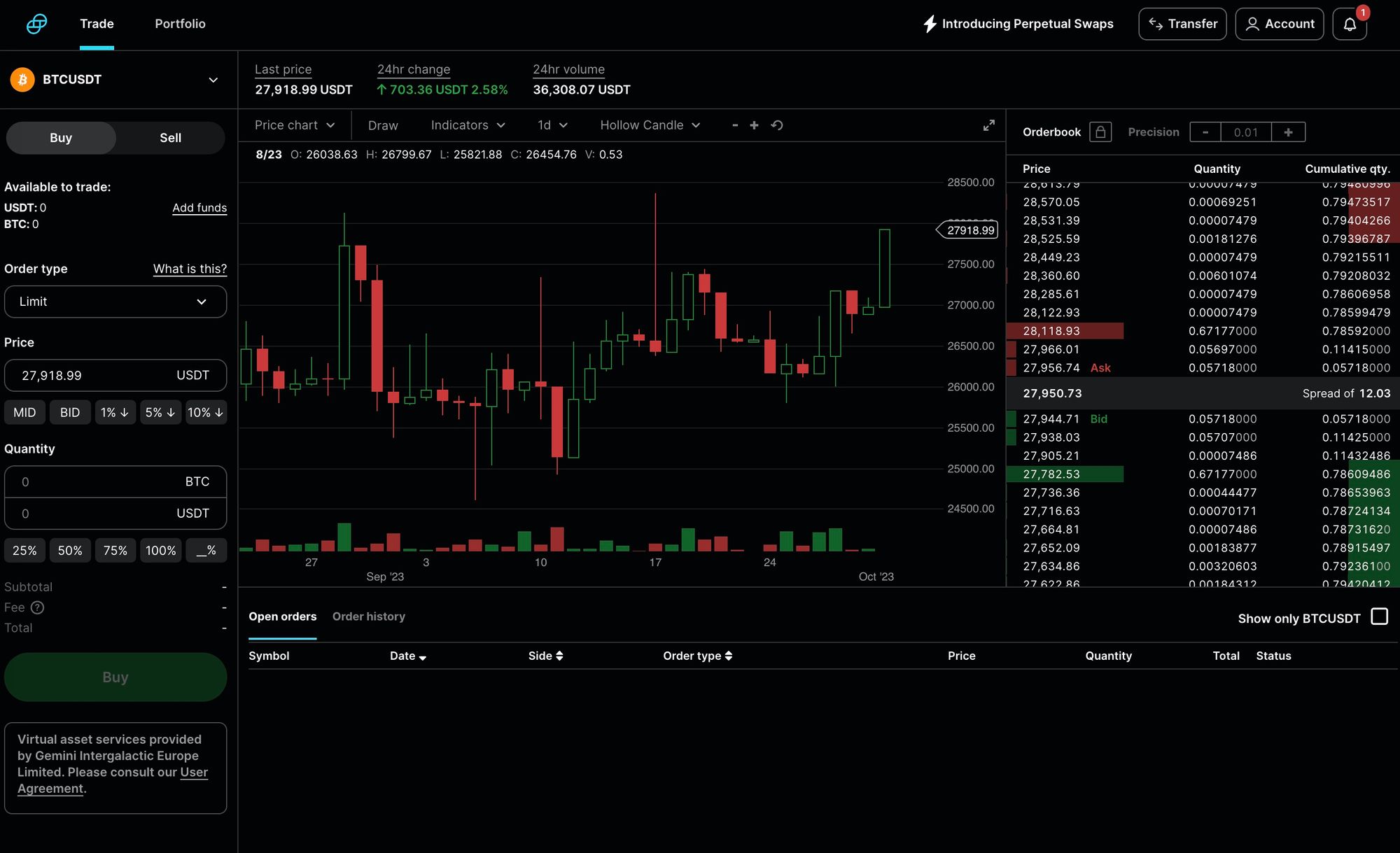 Gemini ActiveTrader is a high-performance cryptocurrency trading platform offered by the Gemini cryptocurrency exchange. It is designed to cater to professional and institutional traders, providing them with advanced tools and features to execute trades and manage their cryptocurrency portfolios effectively. Here are some key features and aspects of Gemini ActiveTrader:
Advanced Charting: The platform offers advanced charting tools, allowing traders to analyze price movements and technical indicators to make informed trading decisions.
Crypto Derivatives Trading: Gemini ActiveTrader provides access to cryptocurrency derivatives trading. This allows traders to engage in derivatives contracts, such as futures and options, to manage risk, speculate on price movements, and enhance their trading strategies.
Multiple Order Types: The platform supports various order types beyond simple market and limit orders. Traders can use advanced order types like stop-limit orders and take-profit orders to manage their positions effectively.
Institutional Focus: Gemini ActiveTrader is designed to meet the needs of institutional clients, offering features and tools that cater to larger trading volumes and more complex trading strategies.
Derivatives in Select Jurisdictions: While Gemini ActiveTrader offers derivatives trading, it's worth noting that this service may only be available in specific jurisdictions due to regulatory considerations.
High Speed and Stability: The platform emphasizes high-speed execution of trades in microseconds, ensuring that traders can react quickly to market movements. Importantly, it maintains a strong focus on reliability and security to protect user assets.
Order Book Visibility: ActiveTrader provides deep order book visibility, allowing traders to see real-time order book data and liquidity information. This can be crucial for making informed trading decisions, especially for large trades.
Trading Pair Selection: Traders can select from a wide range of trading pairs, including major cryptocurrencies like Bitcoin and Ethereum, as well as various altcoins and cryptocurrency pairs.
User-Friendly Interface: Despite its advanced features, Gemini ActiveTrader is designed with an intuitive user interface to ensure that professional traders can easily navigate the platform and execute trades efficiently.
Overall, Gemini ActiveTrader is a platform designed to meet the demands of experienced cryptocurrency traders and institutions. It combines advanced trading features with high-speed execution, security, and reliable performance to offer a professional-grade trading experience within the Gemini cryptocurrency exchange ecosystem.
Gemini Fees and Limits
Like many other exchanges, Gemini also distinguishes between fees and commissions for its simple platform and its advanced platform. Typically, the fees for the advanced platform are lower compared to the basic one.
This practice can be somewhat frustrating because you're essentially purchasing the same product on both platforms, but the simple platform, designed for beginners, charges higher fees under the premise of providing user-friendliness.
This differentiation in fees is a common occurrence among exchanges, similar to Kraken, where Kraken Pro offers lower fees compared to Kraken Standard.
However, it's worth noting that the simple Gemini platform offers some features that are not available on the pro platform. For instance, it allows users to set up recurring buys, which can be a valuable feature for those looking to automate their investment strategies.
Gemini Classic Fees
| Web Order Amount (USD) | Transaction Fee (USD) |
| --- | --- |
| ≤ $10.00 | $0.99 |
| > $10.00 but ≤ $25.00 | $1.49 |
| > $25.00 but ≤ $50.00 | $1.99 |
| > $50.00 but ≤ $200.00 | $2.99 |
| > $200.00 | 1.49% of Web Order Value |
Gemini ActiveTrade Fees (30-Day Trading Volume in USD Notional)
| Trading Volume (USD) | Taker Fee | Maker Fee |
| --- | --- | --- |
| 0 | 0.40% | 0.20% |
| ≥ $10,000 | 0.30% | 0.10% |
| ≥ $50,000 | 0.25% | 0.10% |
| ≥ $100,000 | 0.20% | 0.08% |
| ≥ $1,000,000 | 0.15% | 0.05% |
| ≥ $5,000,000 | 0.10% | 0.03% |
| ≥ $10,000,000 | 0.08% | 0.02% |
| ≥ $50,000,000 | 0.05% | 0.00% |
| ≥ $100,000,000 | 0.04% | 0.00% |
| ≥ $500,000,000 | 0.03% | 0.00% |
Gemini Limits
| Transfer Method | Transfer Limits |
| --- | --- |
| Ach Bank Transfer | ACH deposit limits reset every 24 business hours, excluding weekends and U.S. holidays. $100,000 per day ACH withdrawal limit for US customers. |
| Debit Card | Daily limit of $1,000 on debit card purchases. Debit cards are for completing trades only, not for fiat deposits or withdrawals. The limit resets after 24 hours from the previous purchase. |
| Paypal (US customers) | Daily limit of $1,000 on PayPal purchases or deposits. PayPal cannot be used for withdrawals. The limit resets after 24 hours from the previous purchase and cannot be raised. |
| Wire Transfers | No deposit limits for individual or institutional accounts. Refer to our Fiat Withdrawal Fee Schedule for associated fees. Minimum withdrawal amounts listed below: USD - $25.01 (includes wire withdrawal fee) AUD - $75 CAD - $135 EUR - €2 GBP - £2 HKD - $400 |
| Fast Transfers (SGD) | Maximum $200,000 SGD per transfer with no daily limit on SGD deposits or withdrawals. Minimum withdrawal limit of $2.00 SGD per transfer. |
| Crypto | No limits on crypto withdrawals to external addresses. No limits on crypto asset deposits into your Gemini account from external addresses. (Excludes Gemini Custody accounts.) |
Gemini Card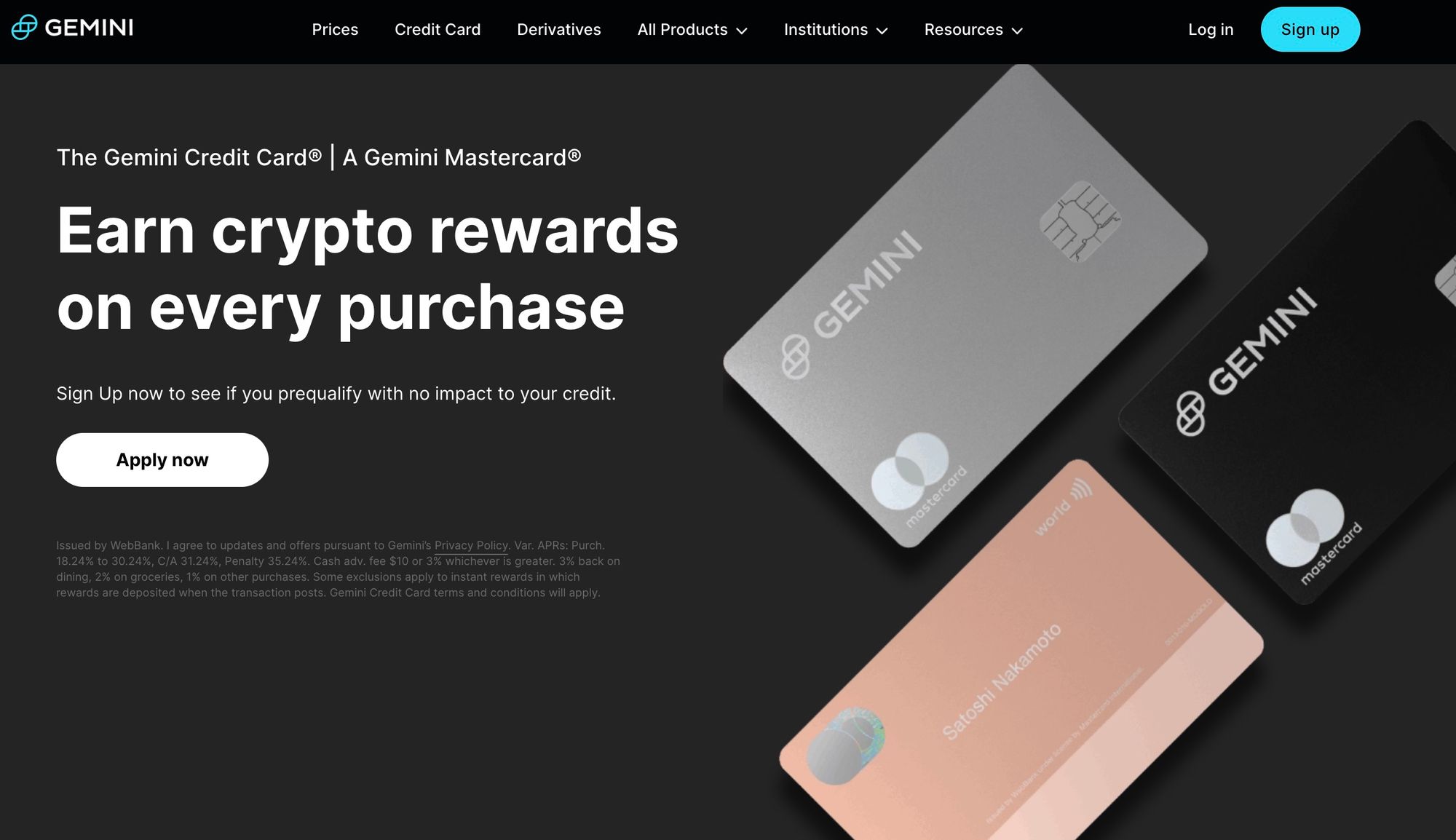 The Gemini Credit Card offers users the opportunity to earn cryptocurrency rewards with ease. It allows you to earn rewards in Bitcoin, Ethereum, or choose from over 40 other cryptocurrencies available on the Gemini platform.
What makes it unique is its immediate reward deposit feature, ensuring that you receive crypto rewards as soon as you make a purchase, without having to wait for a month or even 45 days, as it happens with the Plutus Card.
This means you can potentially benefit from cryptocurrency price fluctuations without the need to time the market or pay trading fees.
Key Features:
Crypto Reward Variety: Earn rewards in Bitcoin, Ethereum, or any of the 40+ other cryptocurrencies supported.
No Annual Fee: The Gemini Credit Card™ does not charge an annual fee, making it a cost-effective option for cardholders.
Reward Tiers: Get 3% back on dining, 2% back on groceries, and 1% back on all other purchases.
Instant Rewards: Your crypto rewards are deposited immediately upon transaction, allowing you to take advantage of cryptocurrency price changes right away.
Flexible Crypto Options: You have the flexibility to change your crypto reward type at any time, enabling you to diversify your cryptocurrency holdings.
No Foreign Transaction Fees: Use your card for international transactions without incurring foreign transaction fees.
Security: Benefit from Gemini's security measures, including two-factor authentication and encryption.
Mastercard Benefits: Enjoy Mastercard's protection against unauthorized purchases and identity theft.
Customizable Design: Choose from black, silver, or rose gold metal cards, with the card number excluded for added security.
Access and Control: Manage your card through the Gemini mobile or web app, including real-time alerts and the ability to lock your card.
The Gemini Credit Card offers a convenient way to accumulate cryptocurrency rewards while going about your regular spending. Whether you're interested in Bitcoin, Ethereum, or other cryptocurrencies, this card provides a straightforward means to build up your crypto assets. However, it's important to note that it's only available in the USA (for now).
👉 Click here to order the Gemini Credit Card.
Gemini Security Measures
Gemini is dedicated to providing a secure platform for cryptocurrency trading and investment. Their commitment to security is evident in various measures and practices designed to safeguard user accounts, assets, and data.
Gemini operates as a New York trust company, subject to regulation by the New York State Department of Financial Services (NYDFS). As such, the company adheres to routine capital reserve obligations, cybersecurity protocols, and banking compliance criteria outlined by the NYDFS and New York Banking Law. These measures align Gemini with conventional financial institutions.
Security at Gemini extends to:
Authentication: Gemini emphasizes the importance of robust authentication. Two-Factor Authentication (2FA) is a default requirement for accessing accounts and initiating withdrawals. Users can also enhance security by employing hardware security keys like Yubikey.
Internal Controls: To mitigate the risk of insider threats, Gemini has implemented stringent internal controls. This includes requiring multiple signatories for sensitive operations and storing private keys offsite in high-security data centers.
Asset Security: Protecting sensitive key material is a top priority. Gemini employs Hardware Security Modules (HSMs) with high-level ratings, a multisignature (multisig) approach, and geographic distribution to secure key material.
Compliance and Certifications: Gemini's commitment to compliance is evident through certifications like ISO 27001, compliance with PCI DSS to protect debit and credit card data, and adherence to the security requirements of global regulators.
Regular Testing: Gemini proactively identifies and addresses security vulnerabilities through regular third-party penetration testing. This ongoing effort ensures a continually improving security posture.
These security practices collectively create a safe and secure environment for users to trade and invest in cryptocurrencies on the Gemini platform.
Gemini Customer Service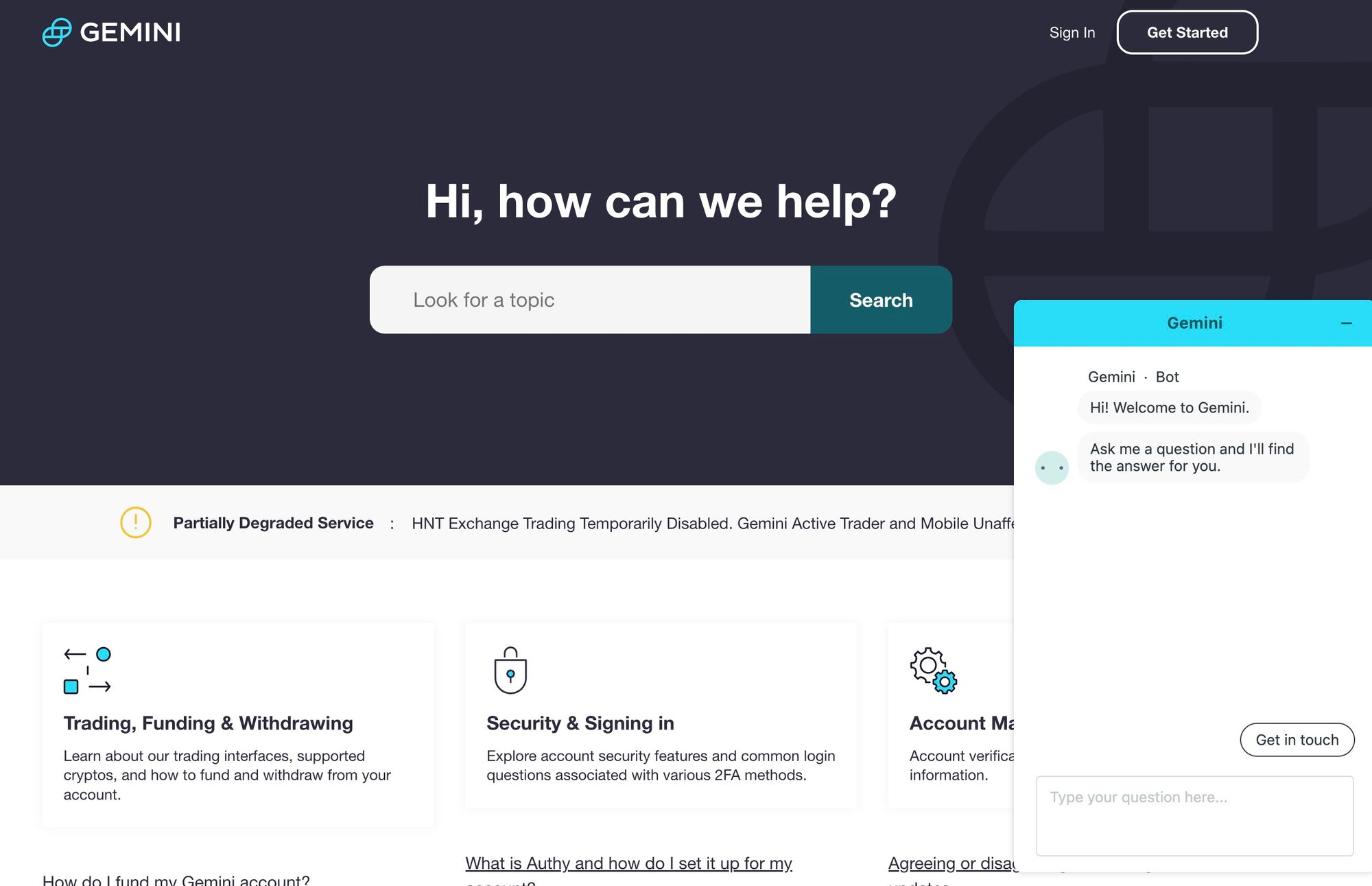 It's worth noting that Gemini, despite being a major exchange, does not provide phone support, a trend seen among larger exchanges.
Instead, all support is conducted through email. Genuine Gemini emails always use the .gemini.com domain, like support[at]gemini.com or hello[at]news.gemini.com.
Additionally, Gemini offers a thorough documentation resource and a chatbot for general inquiries and ticket submissions.
Gemini Reviews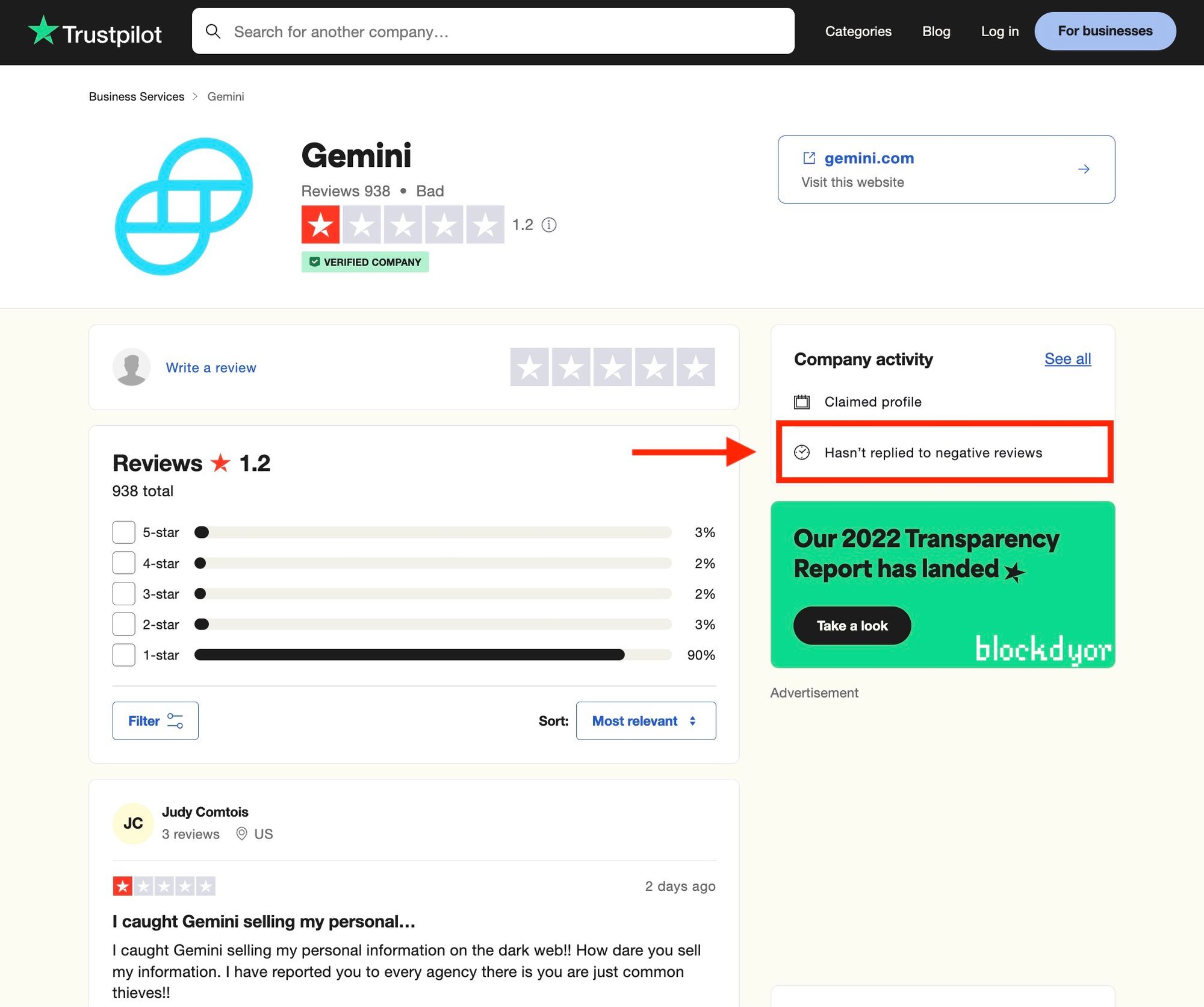 Upon examining Gemini reviews on Trustpilot, an unusual anomaly emerges: a substantial number of one-star reviews, nearing a thousand. Many users express concerns about frozen funds and various issues. In addition, Gemini never answered to any of the complaints.
While this raises alarm, it's essential to remain cautious as not all these reviews may be genuinely submitted. We opt to give Gemini the benefit of the doubt in this regard.
Gemini Pros & Cons
| Pros | Cons |
| --- | --- |
| ✅ Security | ❌ Limited Altcoins |
| ✅ User-Friendly Interface | ❌ No Phone Support |
| ✅ Regulatory Compliance | ❌ Mixed Customer Reviews |
| ✅ Mobile App Availability | ❌ Limited Customer Support |
| ✅ Insurance Coverage | |
| ✅ Industry Reputation | |

Gemini Alternatives
To discover alternatives to Gemini, consider exploring other centralized exchanges that comply with KYC regulations and cater to both individuals and businesses.
Kraken
Kraken shares some similarities with Gemini. They provide both a basic and a pro account, offer user-friendly features, and generally have slightly lower fees. However, it's worth noting that Kraken does not currently offer a credit card option.
Binance
Binance stands as the largest cryptocurrency exchange globally. While it offers more complex services compared to Gemini, catering to both private and VIP & Institutional clients, its fees are likely lower.
Bottom Line
Gemini impresses as a reliable and user-friendly cryptocurrency exchange that caters to both individual enthusiasts and institutional investors. With its strong commitment to security and regulation, Gemini ensures a safe and transparent trading environment.
While it may have room for improvement in terms of customer support, its competitive fees, diverse range of supported assets, and innovative services like staking make it a compelling choice for anyone looking to navigate the world of cryptocurrencies.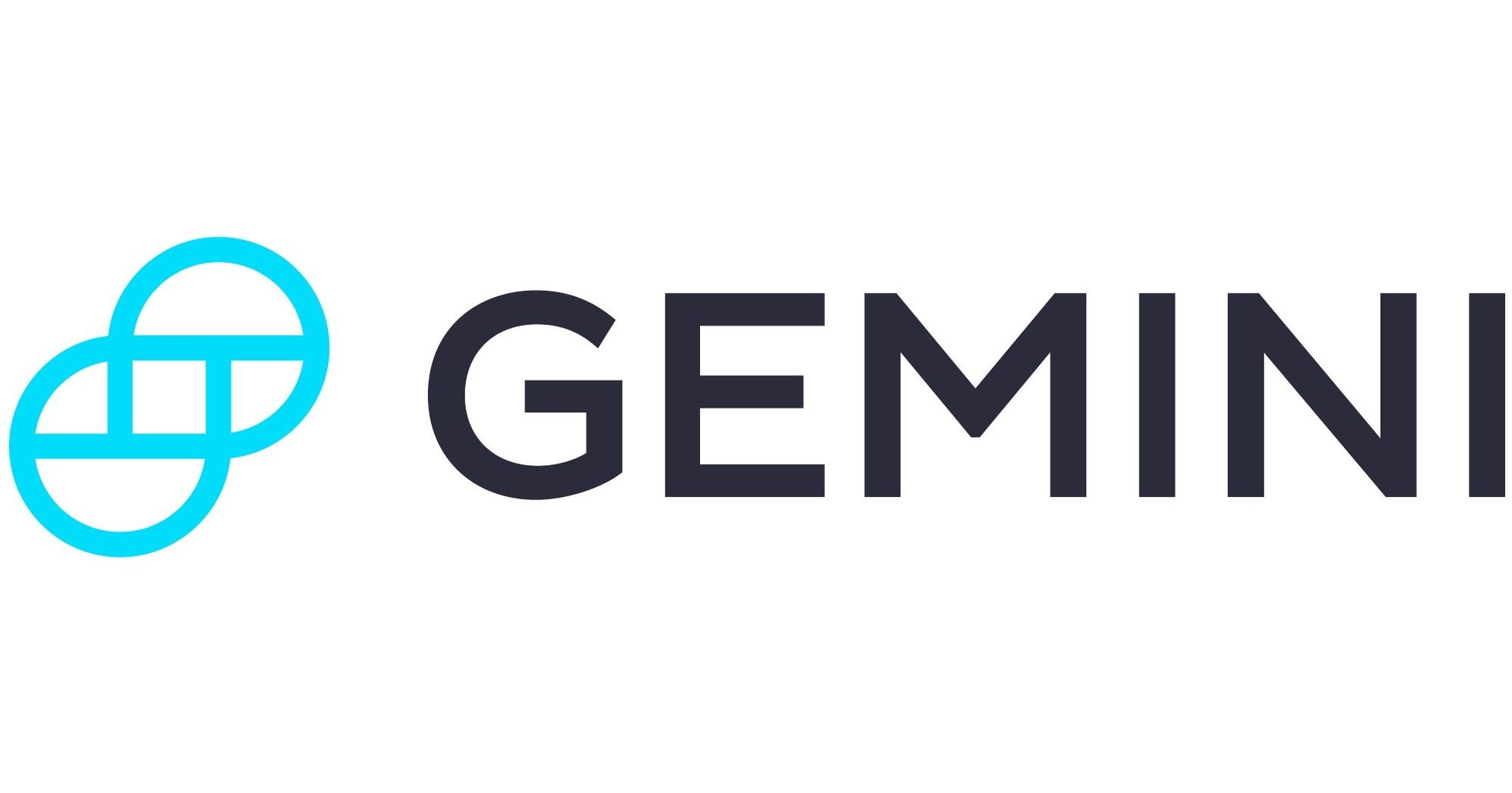 Reputation: Gemini is a reputable cryptocurrency exchange known for its commitment to security and compliance. It has a solid track record of regulatory compliance and has not been involved in major security breaches. However, there have been occasional user complaints about customer support responsiveness. Taking these factors into account, we rate Gemini with 4/5 stars for reputation.
Technology: Gemini's platform is built with a focus on security and reliability, which is crucial in the crypto space. The exchange provides a user-friendly interface, making it suitable for both beginners and experienced traders. These technological strengths contribute to a technology score of 4/5.
Customer Service: Gemini offers customer support primarily through email. While they strive to provide timely responses, some users have reported delays in getting assistance. For urgent matters, improved customer support accessibility could be beneficial. Considering this, we assess Gemini's customer service with a score of 3/5.
Fees: Gemini maintains a transparent fee structure with competitive trading fees. However, users should be aware of potential fees associated with cryptocurrency withdrawals and certain transactions. Taking these factors into consideration, we give Gemini a fee rating of 4/5.
Ease of Use: Gemini's platform is designed for ease of use, making it accessible to a wide range of users. The straightforward interface and educational resources help users navigate the exchange efficiently. While there might be a slight learning curve for newcomers, the overall simplicity contributes to an ease of use score of 4/5.
Frequently Asked Questions (FAQ)
How do I create a Gemini account?
To create a Gemini account, visit the Gemini website and click on the "Sign Up" button. Follow the on-screen instructions to provide your personal information, complete identity verification (KYC), and set up your account. Once verified, you can start trading and using Gemini's services.
What cryptocurrencies are supported on Gemini?
Gemini supports a wide range of cryptocurrencies, including Bitcoin (BTC), Ethereum (ETH), Litecoin (LTC), and many others. The platform regularly adds support for new cryptocurrencies, so it's best to check their website for the most up-to-date list.
How can I contact Gemini's customer support?
Gemini primarily offers customer support through email. You can contact their support team by sending an email to
[email protected]
. They aim to provide timely responses to user inquiries. Additionally, Gemini provides a comprehensive FAQ section and chatbot for general information and assistance.