Bybit Review 2023: Is It Safe To Use?
In this review we analyze Bybit: a leading cryptocurrency exchange that offers advanced trading features: including spot, margin trading and derivatives trading.
Bybit distinguishes itself from other cryptocurrency exchanges through its commitment to derivatives trading. It also offers also a range of advanced trading tools. It prioritizes security and strives for no downtime in its operations.
However, please note that Bybit's services are not currently available in the United States and that this exchange is only regulated in the British Virgin Islands.
If you're considering using Bybit, you may find our comprehensive review helpful in making your decision.
👉 To register on Bybit and get up to 5,030 USDT in bonuses, click here.
| Feature | Description |
| --- | --- |
| 🌐 Website | Bybit.com |
| 🏙️ Location | Dubai, United Arab Emirates |
| 📅 Year Founded | 2018 |
| 💰 Primary Token | Not specified |
| 📈 Listed Crypto | Over 50 cryptocurrencies |
| 💱 Trading Pairs | Over 100 trading pairs |
| 💵 Supported FIAT | Not specified |
| 🌍 Supported Countries | Worldwide, excluding the United States and its territories |
| 💰 Minimum Deposit | No minimum deposit |
| 💸 Deposit Fees | No deposit fees |
| 💰 Daily Buying Limit | Varies based on verification level |
| 💱 Trading Fees | Low trading fees |
| 💸 Withdrawal Fees | Low withdrawal fees |
| 📱 Mobile App | Available for iOS and Android |
| 💬 Customer Support | 24/7 customer support available through live chat, email, and Telegram. |
Bybit Overview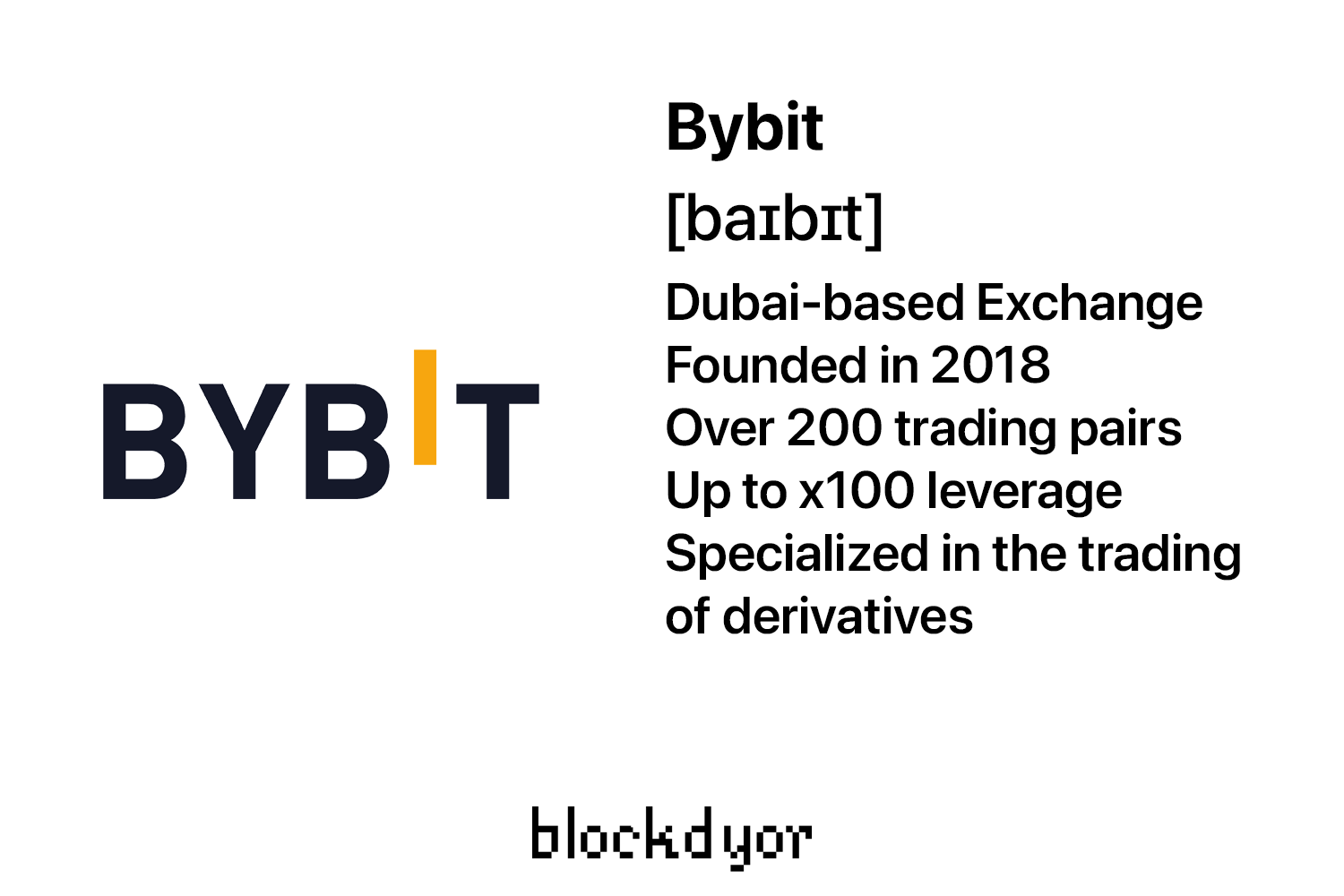 Founded in 2018, Bybit is a leading cryptocurrency futures exchange with headquarters in Dubai (where they recently relocated from Singapore), offering a cutting-edge trading experience to its 10 million users from all over the world.
Bybit operates under Bybit Fintech Limited, a company registered in the British Virgin Islands. Its executive team is comprised of industry experts from top forex and banking institutions, such as Morgan Stanley and Tencent.
Bybit offers a comprehensive suite of trading products, including Spot, Derivatives, and Options. With leverage levels of up to 100:1, traders can access a diverse range of crypto products and capitalize on market trends with ease.
Bybit Brief History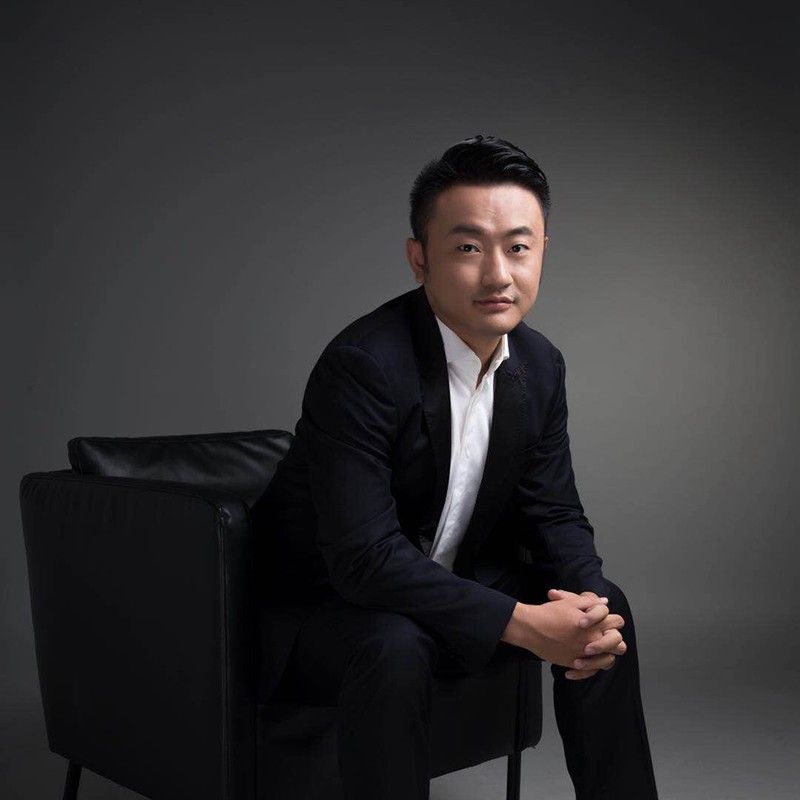 Ben Zhou, a seasoned forex broker, developed a fascination with tokenomics and the cryptocurrency realm in 2016. Recognizing the vast potential and existing voids within the industry, he pursued his passion by blending traditional finance with decentralized finance to construct a cutting-edge exchange.
In 2018, Bybit made its debut, introducing the world to its innovative BTC perpetual contracts.
The following year, Bybit garnered a 10% share of the global BTC volume and was recognized as the fourth-best crypto exchange in the world. With over 8,000 participants, its global trading competition was a resounding success.
By 2020, the daily trading volume on Bybit exceeded 4 billion, and the platform announced a partnership with the famous German football club Borussia Dortmund.
In 2021, Bybit further expanded its offerings with the launch of its Spot trading platform. The company also organized the WSOT 2021 event, with proceeds going towards supporting girls' education through UNICEF. This year saw Bybit reach an all-time high trading volume of 35 billion.
Bybit continued to solidify its position as a top crypto exchange in 2022, becoming the principal partner of Oracle Red Bull Racing and launching first-of-its-kind USDC margined ETH and SOL options.
Setting Up a Bybit Account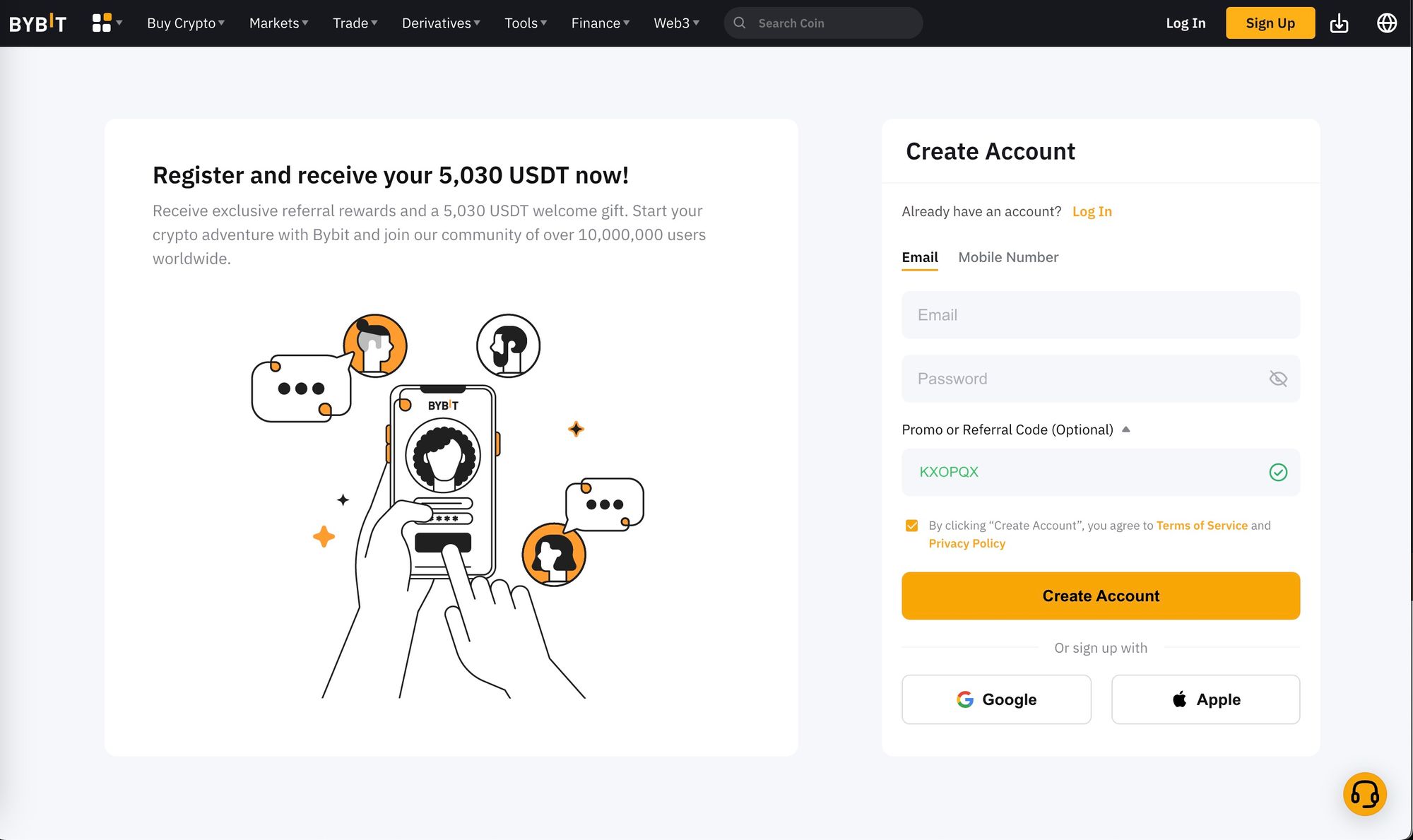 Opening an account on Bybit is a quick and easy process that can be accomplished in just a few simple steps.
Go to the Bybit website and click the "Sign Up" button located in the upper right corner.
👉 Click here to register on Bybit and receive your 5,030 USDT now!
Enter your personal information in the registration form, including your name, email, and a strong password with a combination of letters, numbers, and capitalization.
Upon submission, you'll receive an email from Bybit. Click the activation link in the email to activate your account.
For enhanced security, activate two-factor authentication using either Google Authenticator or Authy.
To deposit funds, keep in mind that you must first complete the KYC verification process, which requires providing personal information and documentation.
After successful verification, you can deposit funds and have access to more features on the platform.
By following these steps, you'll have a fully functional Bybit account and can start trading crypto. Make sure to keep your account information and login details secure.
Bybit Funding Methods
On Bybit, users have access to several convenient options for topping up their accounts.
These include: depositing funds through a fiat deposit using a bank transfer or bank card, as well as depositing cryptocurrencies for an instant addition to their spot account. Let's have a more in-dept look at the various deposit methods available:
Fiat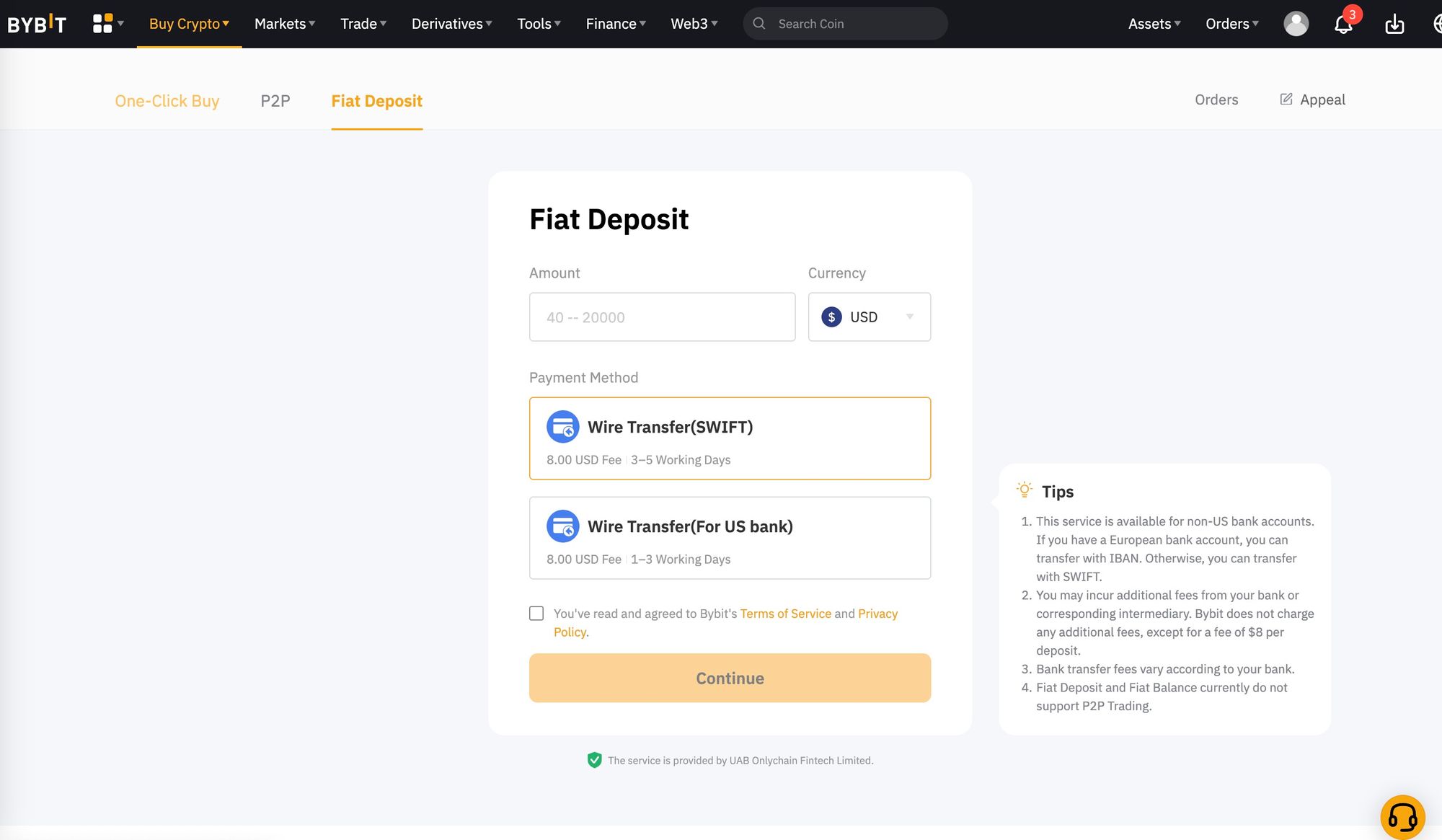 For fiat deposits, a variety of currencies are supported including RUB, TRY, USD, BRL, ARS, MXN, EUR, GBP. There are two options for wire transfer:
Wire Transfer (SWIFT) - This option comes with a fee of 8.00 USD and takes 3 to 5 working days to process.
Wire Transfer (For US banks) - This option also comes with a fee of 8.00 USD and takes 1 to 3 working days to process.
This provides users with a range of flexible and efficient options to top up their accounts.
Crypto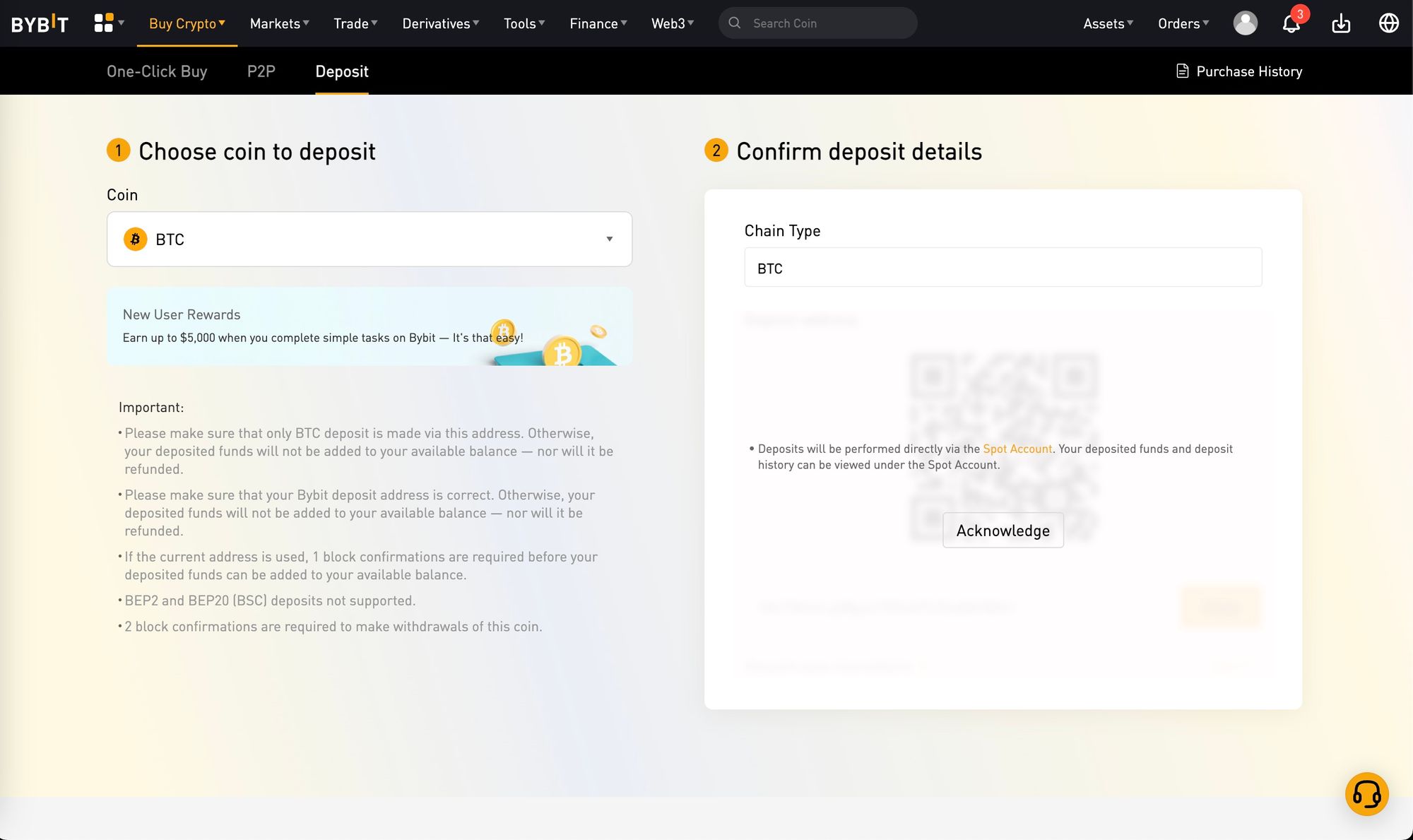 Bybit readily accepts token deposits, including well-known cryptocurrencies such as Bitcoin (BTC), Ethereum (ETH), Tether (USDT), USD Coin (USDC), Ripple (XRP), TRON (TRX), and many more.
This offers users a diverse range of options for funding their accounts and participating in the platform.
P2P
On Bybit, users have another convenient option for purchasing cryptocurrencies or fiat - through the P2P function.
This allows individuals to purchase crypto or fiat directly from independent vendors using their preferred payment methods such as Revolut, Monzo, Neteller, Skrill, and many others.
This feature provides users with greater flexibility and ease of access when using the platform.
Is Bybit Safe?
Bybit is an exchange with headquarters in Dubai, United Arab Emirates and registered in the British Virgin Islands (BVI) and is not subject to any specific country's regulations.
They follow BVI laws and regulations and claim to maintain high standards of security and compliance. However, the lack of regulatory oversight may be a concern for some people.
However, Bybit takes the protection of its users' assets very seriously and implements a number of security measures to ensure the safety of their funds.
All client funds are stored offline in cold storage, and each withdrawal request is reviewed manually to prevent unauthorized access.
Additionally, Bybit participates in a bug bounty program, inviting ethical hackers to report any potential vulnerabilities in their system. Furthermore, background checks are conducted on all employees to ensure their reliability and security expertise.
For added security, Bybit also offers two-factor authentication for withdrawals and changes to account security settings at the user level.
It is also worth mentioning that Bybit has a proud history of never having suffered a successful hack, making it a trusted and secure choice for users.
Bybit Fees
One of the most noteworthy aspects of Bybit is its fairly low fees and commissions, which are certainly worth taking a closer look at. Let us delve into the details.
Trading Fees
| | Spot Trading | | Perpetual & Futures Trading | |
| --- | --- | --- | --- | --- |
| VIP Level | Taker Fee Rate | Maker Fee Rate | Taker Fee Rate | Maker Fee Rate |
| Non-VIP | 0.10% | 0.10% | 0.06% | 0.01% |
| VIP 1 | 0.06% | 0.04% | 0.05% | 0.006% |
| VIP 2 | 0.05% | 0.02% | 0.045% | 0.004% |
| VIP 3 | 0.04% | 0.01% | 0.0425% | 0.002% |
| Pro 1 | 0.03% | 0% | 0.04% | 0% |
| Pro 2 | 0.025% | 0% | 0.035% | 0% |
| Pro 3 | 0.02% | 0% | 0.03% | 0% |
The trading fees at Bybit, like many other exchanges, follow a maker-taker fee structure. The more elevated your tier, the more favorable the trading fee rates you are eligible for.
Derivatives Trading Fees
| Non-VIP | Maker Fee | Taker Fee |
| --- | --- | --- |
| Inverse Perpetual | 0.01% | 0.06% |
| Inverse Futures | 0.01% | 0.06% |
Deposit and Withdrawal Fees
There are no fees or minimum amounts for deposits on Bybit, however fees apply for withdrawal requests.
| Coin | Withdrawal Fee |
| --- | --- |
| BTC | 0.0005 |
| ETH | 0.005 |
| XRP | 0.25 |
| EOS | 0.1 |
| USDT (ERC20) | 10 |
| USDT (TRC20) | 1 |
| DOGE | 5 |
| DOT | 0.1 |
| LTC | 0.001 |
| XLM | 0.02 |
Cryptocurrency Available on Bybit
On Bybit, you can effortlessly purchase numerous coins using fiat money via the convenient one-click buy option.
Additionally, there are 270 assets available, including spot options and over 200 perpetual and quarterly futures contracts.
Some of the coins available on Bybit:
USDT: Tether USDT
BTC: Bitcoin
ETH: Ethereum
USDC: USD Coin
XRP: Ripple
EOS: Electro-Optical System
ADA: Cardano
DOGE: Dogecoin
DOT: Polkadot
DAI: Dai Stablecoin
TRX: TRON
AVAX: Avalanche
MATIC: Polygon
LINK: Chainlink
ATOM: Cosmos
ETC: Ethereum Classic
BIT: BitDAO
LUNA: Terra
USTC: Terra Classic USD
KCAL: KCAL
Bybit Trading
Over the years, Bybit has undergone a metamorphosis, manifesting in a more expansive array of trading features. Let us examine some of the most noteworthy among them.
Spot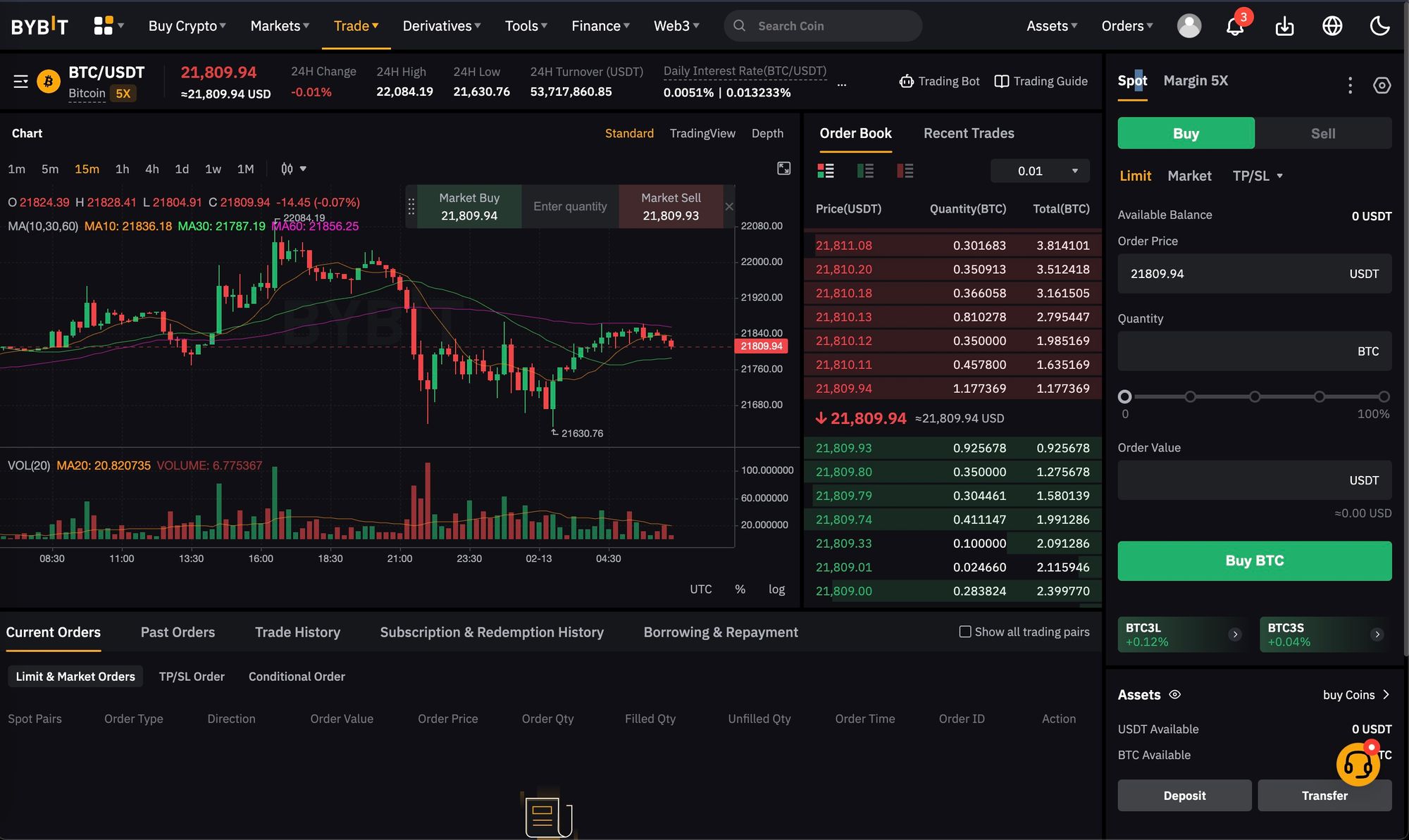 Bybit Spot is one of the most used trading solution, that enables users to effortlessly buy and sell cryptocurrencies, offering them the flexibility to do so at any time and from any location.
With a user-friendly UI and seamless trading experience, Bybit Spot has emerged as a leading player in the crypto trading arena.
Whether you're an experienced trader or just starting out, Bybit Spot provides you with the tools and resources you need to participate in the exciting world of cryptocurrency trading.
With access to a wide range of digital assets, real-time market data, and advanced trading features, Bybit Spot empowers you to make informed trading decisions and capitalize on market opportunities.
Margin
Bybit Margin, also known as Bybit's Spot Margin trade, is a derivative trading product that allows traders to enhance their potential profits through the use of borrowed funds.
The concept is simple - traders can collateralize their existing cryptocurrency assets to secure a loan, which they can then use to trade with greater leverage. This means that they can potentially earn larger profits (but also bigger losses) on their trades, even during low-volatility market conditions.
The beauty of Bybit Margin lies in its flexibility - traders can choose the amount of leverage they want to use, and the borrowed funds are automatically adjusted to match the collateral they've put up. This means that traders can manage their risk more effectively and make trades with confidence, even in highly volatile market conditions.
In summary, Bybit Margin provides traders with a powerful tool to amplify their profits, giving them the ability to trade with greater flexibility and control. Whether you're a professional trader looking to maximize your returns or just starting out and looking to build your portfolio, Bybit Margin is a must-have tool for any crypto trader.
Leveraged Tokens
Bybit Leveraged Tokens are a type of derivative product that provides leveraged exposure to the underlying asset without the need for margin requirements. These tokens allow traders to potentially amplify their profits, and eliminate the risk of liquidation associated with traditional margin trading.
Each Bybit Leveraged Token represents a basket of Perpetual Contract positions, which are a type of derivative contract that allow traders to take a long or short position on the price movements of an underlying asset. The price of the Leveraged Token is tied to the net asset value (NAV) of these positions, which moves in line with the fluctuations in the Perpetual Contracts market.
In other words, Bybit Leveraged Tokens enable traders to access the benefits of margin trading without the need for collateral or the risk of liquidation. The tokens are easy to use and trade, making them an attractive option for both experienced traders and those new to the world of leveraged trading. Whether you're looking to amplify your profits in a bullish market, or hedge against potential losses in a bearish market, Bybit Leveraged Tokens are a versatile and powerful tool that can help you reach your trading goals.
Trading Bot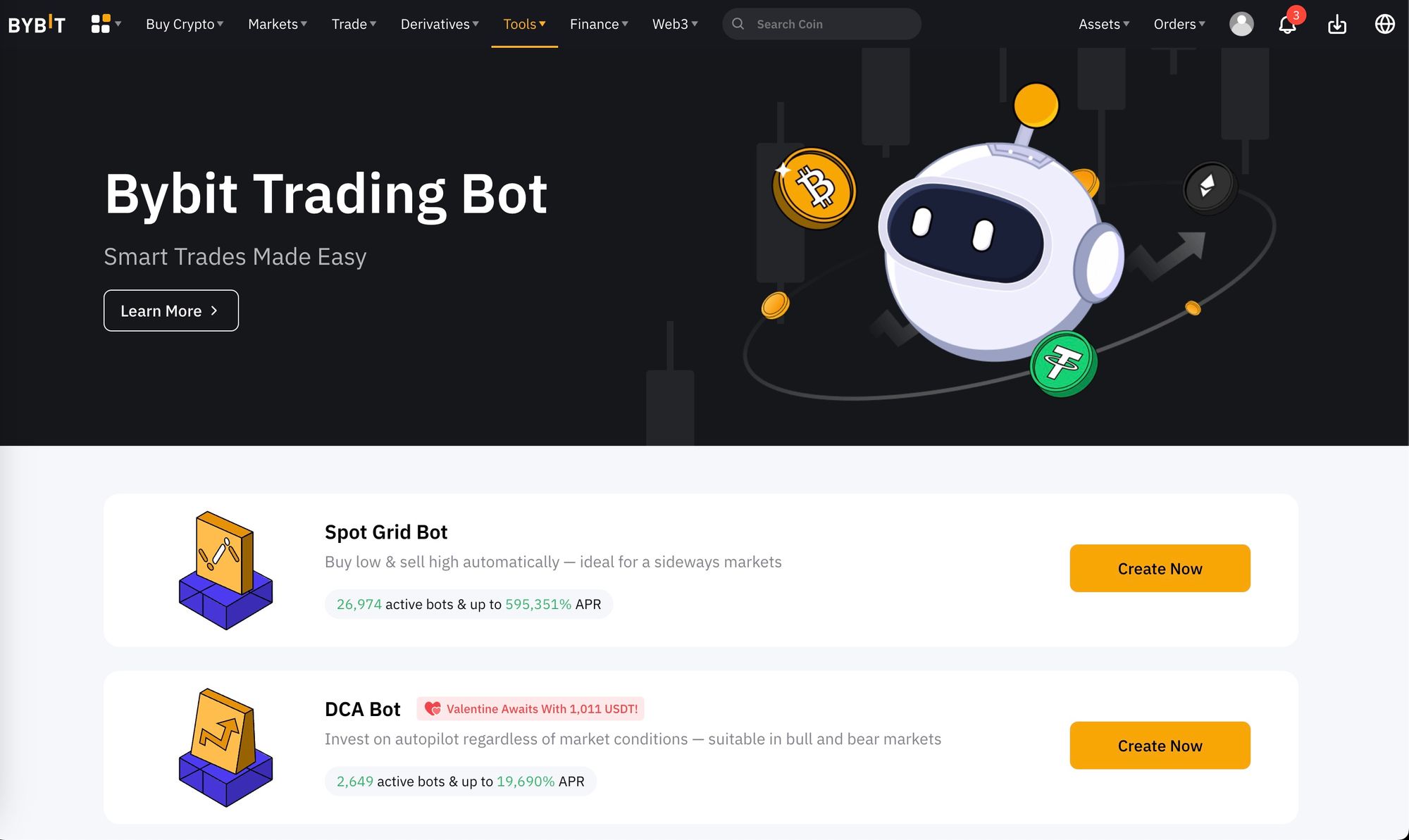 Bybit Trading Bot is a sophisticated and streamlined platform that contains many automated cryptocurrency trading robots. It offers a wide array of pre-configured trading robots, each designed to accommodate different trading strategies and styles. With its user-friendly interface and code-free setup, Bybit Trading Bot makes it easy for users to take advantage of advanced trading techniques and improve their investment returns.
By utilizing Bybit Trading Bot, users can save valuable time and effort, while still benefiting from the latest in trading technology. The platform's pre-configured trading robots are designed to help users achieve optimal results, regardless of their experience level or preferred trading strategy. With no additional costs or hidden fees, Bybit Trading Bot provides users with a cost-effective solution for maximizing their returns on investment.
In conclusion, Bybit Trading Bot is a one-stop platform for all your automated crypto trading needs. Whether you're an experienced trader or just starting out, the platform's advanced features, pre-configured robots, and user-friendly interface make it the ideal choice for anyone looking to streamline their trading process and improve their investment returns.
Launchpad
Bybit Launchpad is a platform that provides users with early access to tokens from emerging projects, directly on the Bybit exchange. This new platform offers a significant opportunity for users to invest in up-and-coming projects and be a part of their growth journey from the very beginning.
By participating in the Launchpad, users can take advantage of exclusive access to new tokens before they hit the wider market. This allows them to potentially reap the benefits of investing in high-potential projects at an early stage and enjoy the rewards of their growth over time.
With a streamlined process for investing and a user-friendly interface, Bybit Launchpad makes it easy for users to stay on top of the latest investment opportunities and make informed decisions. Whether you're an experienced investor or just starting out, Bybit Launchpad offers a convenient and accessible way to access the benefits of token investments.
In summary, Bybit Launchpad provides users with a valuable gateway to the world of token investments, allowing them to take advantage of early access to high-potential projects and reap the rewards of their growth.
Byvotes
Bybit Byvotes is a program that rewards users for holding certain stablecoins on the Bybit platform. By holding USDT, USDC, USDD, DAI, CUSD, or BUSD, users are able to vote for their favorite tokens and have the chance to win airdrops. This program provides a unique opportunity for users to not only benefit from the stability of holding stablecoins, but also to actively participate in the growth of the projects they believe in.
By participating in Byvotes, users have the power to shape the future of the projects they support by casting their vote. This not only provides a sense of community and investment in the future, but it also offers the chance to receive valuable airdrops as a reward for their involvement.
Bybit Byvotes is an innovative program that combines the stability and security of holding stablecoins with the excitement and potential rewards of participating in token investments. Whether you're a seasoned investor or just starting out, Bybit Byvotes provides a valuable and engaging opportunity to take an active role in the growth of your favorite projects.
Bybit Derivatives
One of the hallmarks of the Bybit platform is its extensive offerings in the area of derivatives, which provide users with multiple options for leveraged trading.
USD Perpetual Contracts: the USDT Perpetual Contract is a popular choice for users who prefer to use USDT as collateral. This contract provides traders with the ability to trade with leverage while still retaining the stability and security of USDT.
Copy Trading: for those who prefer to let top traders do the work for them, Bybit offers Copy Trading. This innovative feature allows users to follow the trades of experienced and successful traders, potentially increasing their own returns.
USDC Perpetual Contracts: Bybit also offers a USDC Perpetual Contract, which provides the same benefits as the USDT Perpetual Contract but uses USDC as collateral instead. Additionally, the platform provides a USDC Options Contract, giving users the flexibility to trade options using USDC as collateral.
Inverse Contracts: For traders who prefer a unique twist on traditional derivatives trading, Bybit offers Inverse Contracts. These contracts, which come in both perpetual and futures form, use the coin itself as collateral, allowing for a different type of leverage and risk management.
In summary, Bybit's derivatives offerings are extensive, diverse, and provide users with multiple options for leveraged trading. Whether you prefer to use USDT, USDC, or the coin itself as collateral, Bybit has you covered with its suite of cutting-edge derivatives products.
Bybit Earn
Bybit Earn is a seamless and secure way to enhance your crypto holdings.
Bybit Savings: With minimal entry requirements and top-notch security, Bybit Savings offers guaranteed returns to help you grow your wealth. You can easily withdraw your tokens at any time, ensuring full control over your investments. Bybit Savings offers low-risk investment options with guaranteed annual percentage yields.
Liquidity Mining: with this program, you can add liquidity to your portfolio and earn high yields with leverage. The reinvestment process is effortless, with just one click required to capitalize on new opportunities.
Dual asset: this product offers floating returns with no principal protection, making it an attractive option for those seeking high yields in the short-term.
Launchpool: the launchpool program provides an opportunity to stake and harvest new tokens, completely free of charge.
In conclusion, Bybit Earn offers a hassle-free investment experience with high yields, low risk, and unmatched security. Start growing your crypto holdings today!
Bybit Web3
At the forefront of the thriving crypto industry stands Bybit, embracing the innovative Web3 trend. With its extensive features, Bybit sets the bar for seamless crypto experiences.
Bybit Wallet: Unwind and delve into popular DApps with ease through Bybit's Wallet.
DEX: Elevate your derivatives trading to new heights on Bybit's non-custodial, multi-chain DEX.
NFT: Immerse yourself in a world of captivating NFTs from creators across the globe, available on Bybit.
Bybit Opinions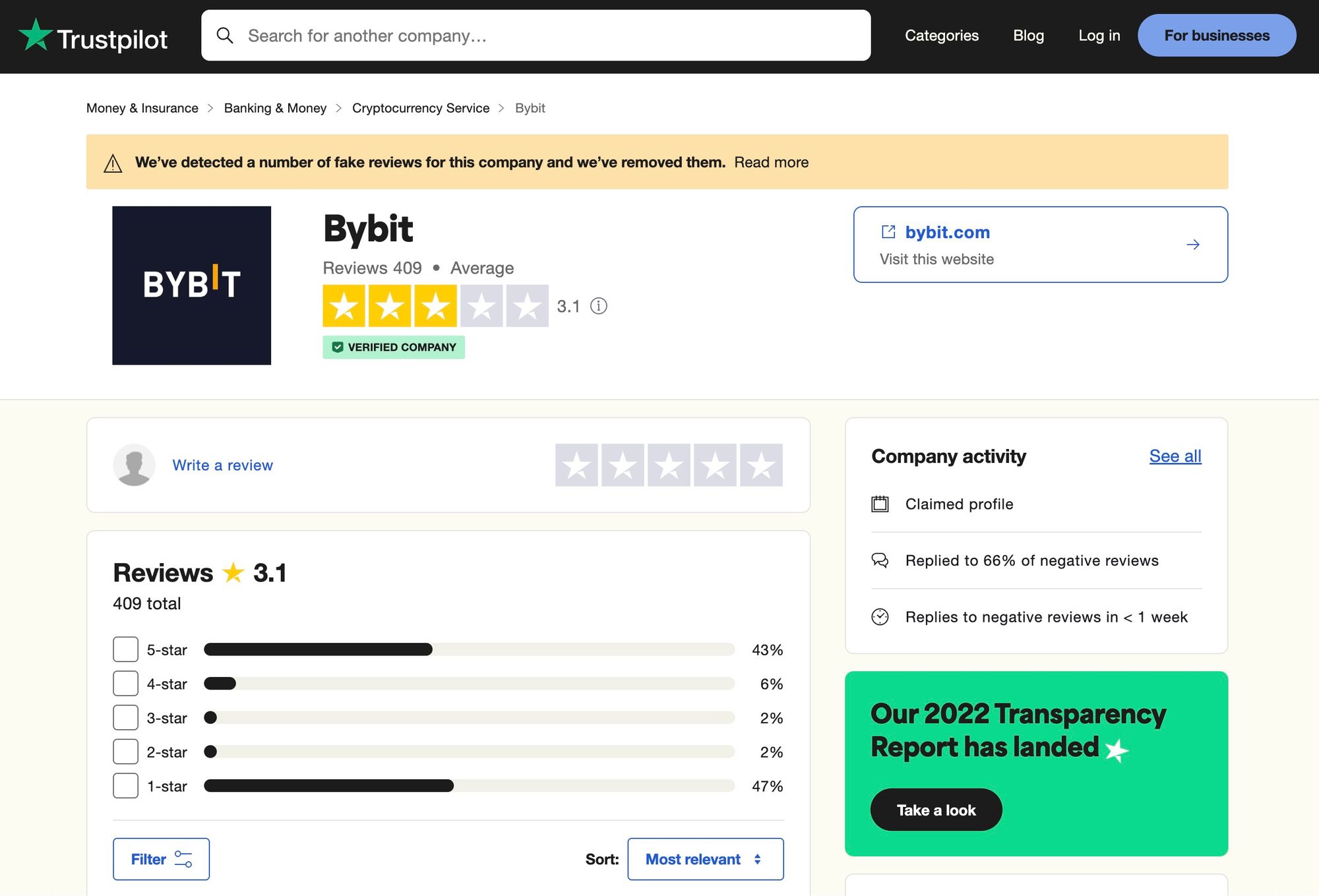 Scouring a broker's Trustpilot page is a reliable method for gauging the public's opinion. However, our recent examination of Bybit's page has left us disappointed by the abundance of negative reviews.
Many users have reported difficulties with withdrawals and order prices, while others have raised concerns regarding the legality of Bybit's derivatives in certain countries like the United Kingdom.
It's crucial to keep in mind that not all reviews may be accurate. With over 400 reviews and a score of 3.1 out of 5 stars on Trustpilot, Bybit has obtained mixed reviews from its users.
Bybit Customer Service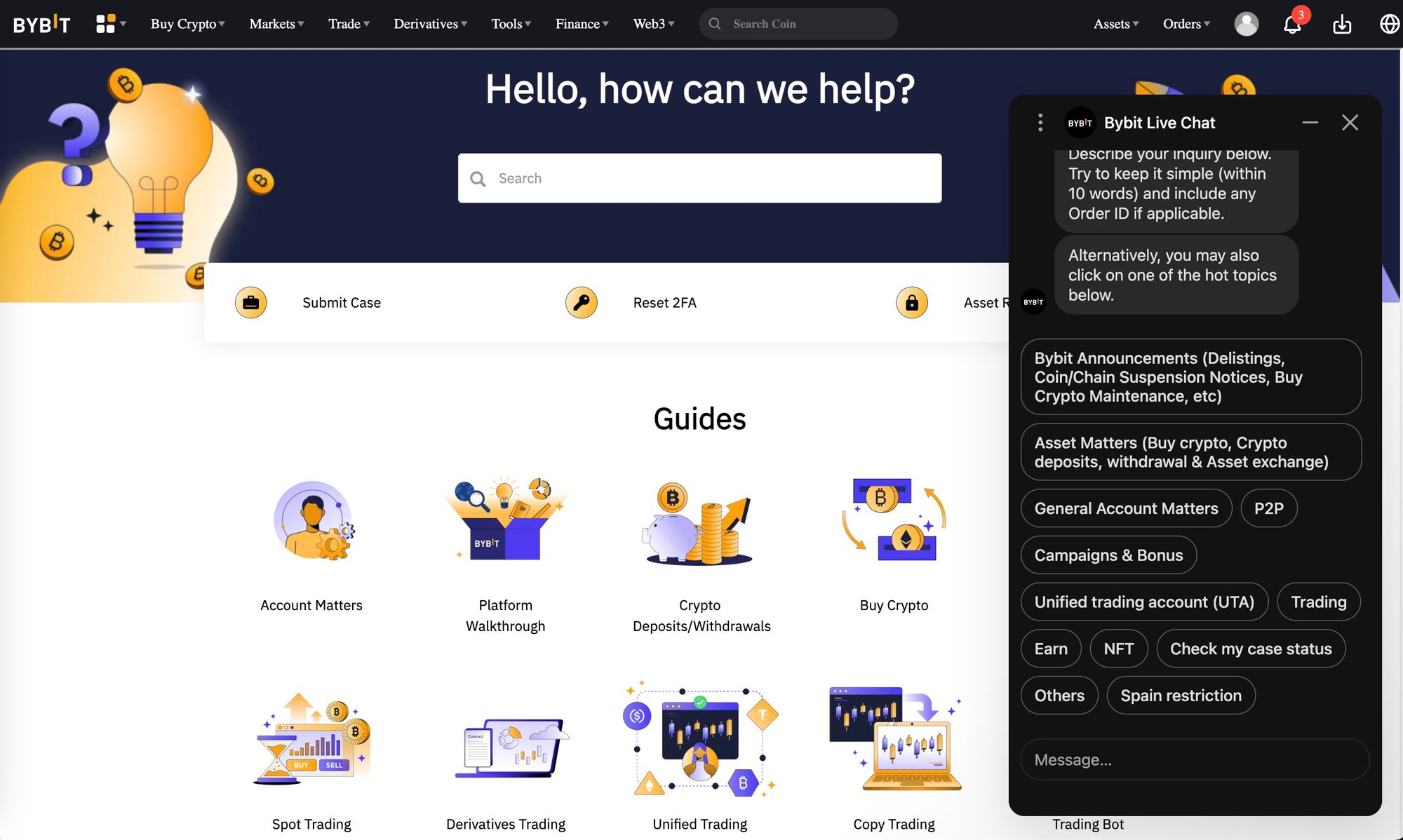 Bybit provides comprehensive support through its Help Center, offering guides for all its services.
Additionally, its customer service team is available 24/7 and can be reached through live chat. For less pressing concerns, a ticket system is also available.
Unfortunately, the platform does not offer phone support, but its active communities on Discord, Telegram, Reddit, and Twitter (@bybithelpdesk) are ideal for quick problem resolution on-the-go.
Bybit Trading Platforms
Bybit offers a complete trading experience through its availability on three main platforms:.
The Web Trader platform, accessible through a web browser, provides an intuitive interface and powerful trading tools.
The Smartphone app, available on both iOS and Android, allows traders to monitor the markets and execute trades on-the-go.
Lastly, the integration with MetaTrader 4, a widely popular trading platform, provides advanced charting capabilities and algorithmic trading options.
These multiple platforms cater to the varying needs of traders and provide a comprehensive solution for all types of trading styles.
Bybit Pros & Cons
| Pros | Cons |
| --- | --- |
| ✅ Up to 100x leverage on crypto | ❌ Not available in the U.S. |
| ✅ Advanced tools supported by great technology | ❌ Crypto derivatives can be risky |
| ✅ Risk-free test environment to learn and experiment | ❌ Unregulated |
| ✅ Educational resources | ❌ Only 3 stars on Trustpilot |
| ✅ Professional Trading Platforms (MT4) | |
Bottom Line
In conclusion, upon a comprehensive examination of Bybit's offerings, it can be stated that this platform is unparalleled in terms of completeness in the industry.
Its impeccable security record, with zero instances of hacking, sets it apart from many others.
The low fees and varied trading options cater to even the most sophisticated traders.
However, the lack of regulation outside of the British Virgin Islands may prove to be a hindrance for some.
👉 To register on Bybit and get up to 5,030 USDT in bonuses, click here.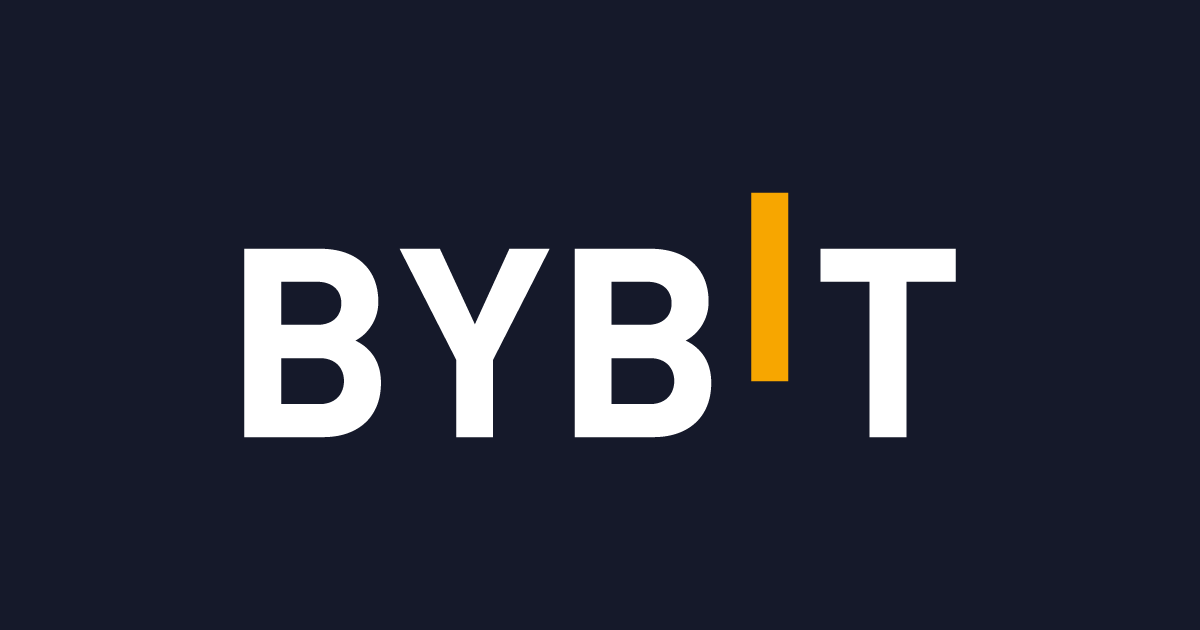 Bybit Evaluation
Reputation: Bybit has a positive reputation, being one of the few crypto exchanges that has never been breached. However, its lack of regulation in Europe and the USA may raise some concerns for users. Overall, Bybit receives a rating of 3/5.
Technology: With its derivatives, margin trading, and other leveraged solutions, Bybit is certainly at the forefront of technology. It is worth mentioning that Bybit is one of the few brokers that also offers the MetaTrader platform, a feature that was previously only seen in Forex trading. Bybit receives a rating of 5/5 in this aspect.
Customer Service: Bybit has a dedicated customer support team that is available 24/7 to assist users with any inquiries or issues they may have. Response times and the quality of support may vary depending on the specific request, but Bybit is generally known for its strong customer service. The only downside is that it does not offer phone support. Bybit receives a rating of 3/5 in this category.
Fees: Bybit charges competitive trading fees and also has a tiered fee structure that rewards high-volume traders with lower fees. Bybit receives a rating of 5/5 for its fees.
Ease of Use: Bybit's platform may have a steeper learning curve compared to other exchanges, as it offers a wide range of advanced trading features. However, the platform is well-designed and customizable, making it easier to navigate once you become familiar with its features. Bybit receives a rating of 3/5 in terms of ease of use.
Frequently asked questions (FAQ)
What is Bybit?
Bybit is a cryptocurrency exchange that offers spot/margin trading and derivatives trading services to its users. It was founded in 2018 and is headquartered in Dubai, after relocating from Singapore.
What services does Bybit offer?
Bybit offers a wide range of trading services, including margin trading, perpetual contracts, futures contracts, and options trading. The platform also supports multiple cryptocurrencies, including Bitcoin, Ethereum, EOS, and others.
Is Bybit regulated?
At the moment, Bybit is not regulated by any government, including those in Europe and the USA. Only by the one in the British Virgin Islands. However, the company has taken steps to ensure the security of its users' funds and to comply with anti-money laundering and know-your-customer regulations.