Bitrefill Review 2023: Buy Gift Cards With Crypto Without KYC
Bitrefill is a website to buy gift cards, prepaid mobile refills, and more with Bitcoin and other cryptos. It is secure and KYC-free. Over 5,000 gift cards available. Top-up mobile plans in 160+ countries.
What is Bitrefill?
Bitrefill is a quite popular service to buy gift cards with cryptocurrencies. On Bitrefill you can buy with Bitcoin and other cryptos several types of gift cards, prepaid mobile refills and much more.
By using Bitcoin and Lightning Network technology they provide a safe and private user experience with fast digital delivery to anywhere in the world.
An interesting feature of Bitrefill is its KYC-free functionality, allowing users to purchase gift cards and other services while maintaining complete anonymity.
👉 To join Bitrefill, click here.
| DESCRIPTION | DETAILS |
| --- | --- |
| 💳 Name | Bitrefill |
| 💼 Headquarters | Stockholm, Sweden |
| 💳 Type | Gift cards |
| 💰 Cashback Token | Bitcoin |
| 🧾 Refunds | No, only in some cases |
| 🌍 Issuing Country | Global (accepted in most countries) |
| ⚡ Crypto | Bitcoin, Lightning, Ethereum, USDC, USDT, Binance Pay, Litecoin, Dogecoin or Dash |
| 💸 Fees | Fees may apply |
| 🔗 Linking | Bitrefill Custom Lightning Address, Bitcoin Balance, Ethereum Wallet, Lighting Network Wallet |
| 💰 Reward Programs | Bitrefill Rewards (up to 10% cashback) |
| 📲 Signup | Through the Bitrefill app or website |
| 🔒 Security | N/A |
How Bitrefill Works?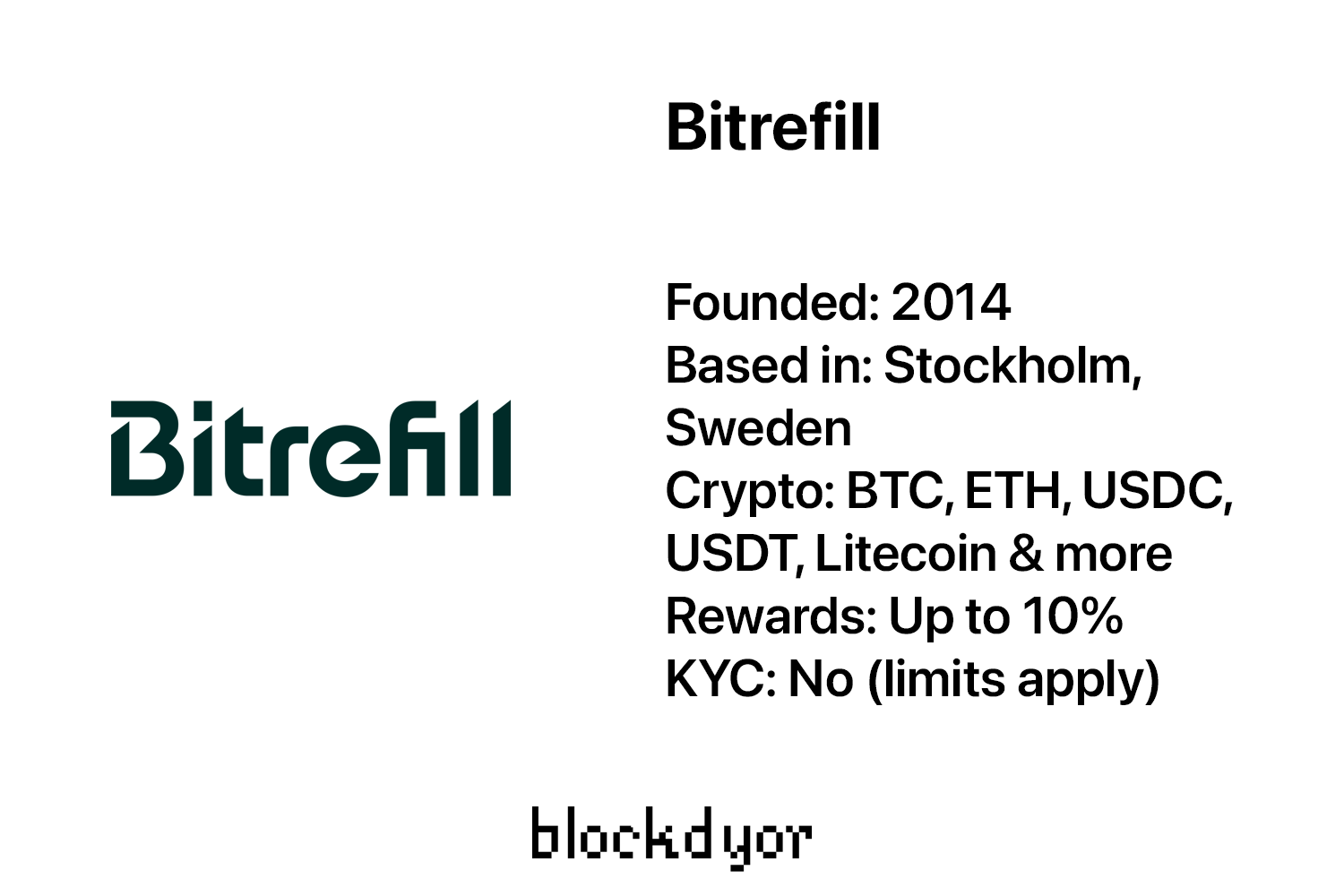 Bitrefill is mainly used to spend Bitcoin or other types of cryptocurrency to make online purchases.
To start using it, head over to the Bitrefill website. Once you're there, you'll find a diverse range of products to choose from.
Once you've identified the desired product, simply add it to your cart. At this stage, you can customize the denomination and quantity according to your preferences.
When you're ready to check out, select the payment method that suits you best. Bitrefill offers a variety of options, as it accept not just Bitcoin, but also the BTC on the Lightning Network, Ethereum, USDC, USDT (Tether Dollar), Binance Pay, Litecoin, Dogecoin or Dash.
At the checkout page, you'll be presented with the payment details, including the payment address and network. It's essential to double-check these details to ensure that your payment is being sent correctly.
For smooth and fast transactions, make sure to set an appropriate transaction fee, particularly if you're paying with crypto. This will help ensure that your payment is confirmed promptly.
After you've confirmed the payment, your order will be processed, and the product will be on its way to your email inbox.
Who created Bitrefill?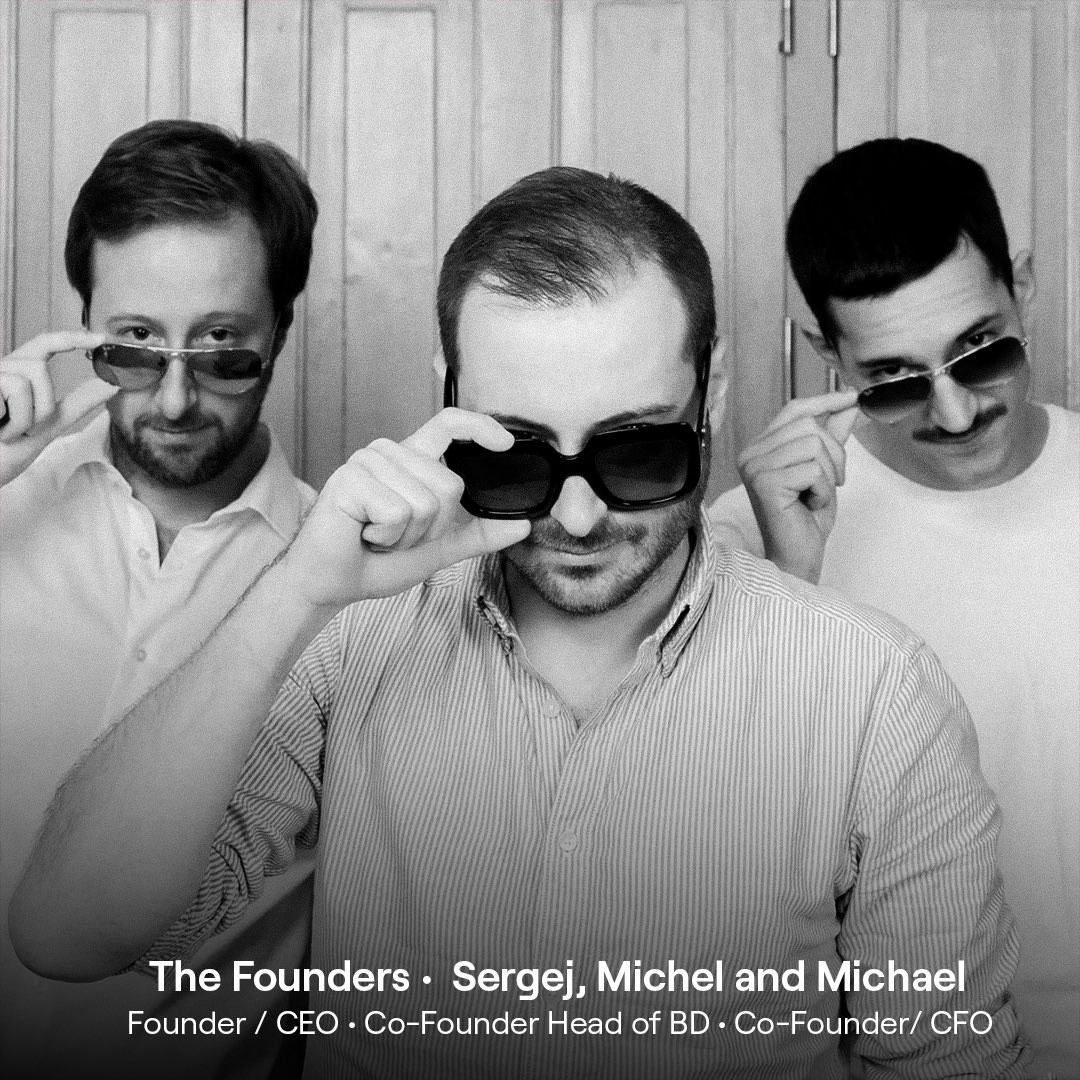 Bitrefill was founded in 2014. The company was established by Sergej Kotliar, Patric Stiller, Michel Gustavsson, and Michael Grünberger.
BitRefill operates under AIRFILL PREPAID AB, a limited company incorporated under the laws of Sweden with registration number 559001-6035.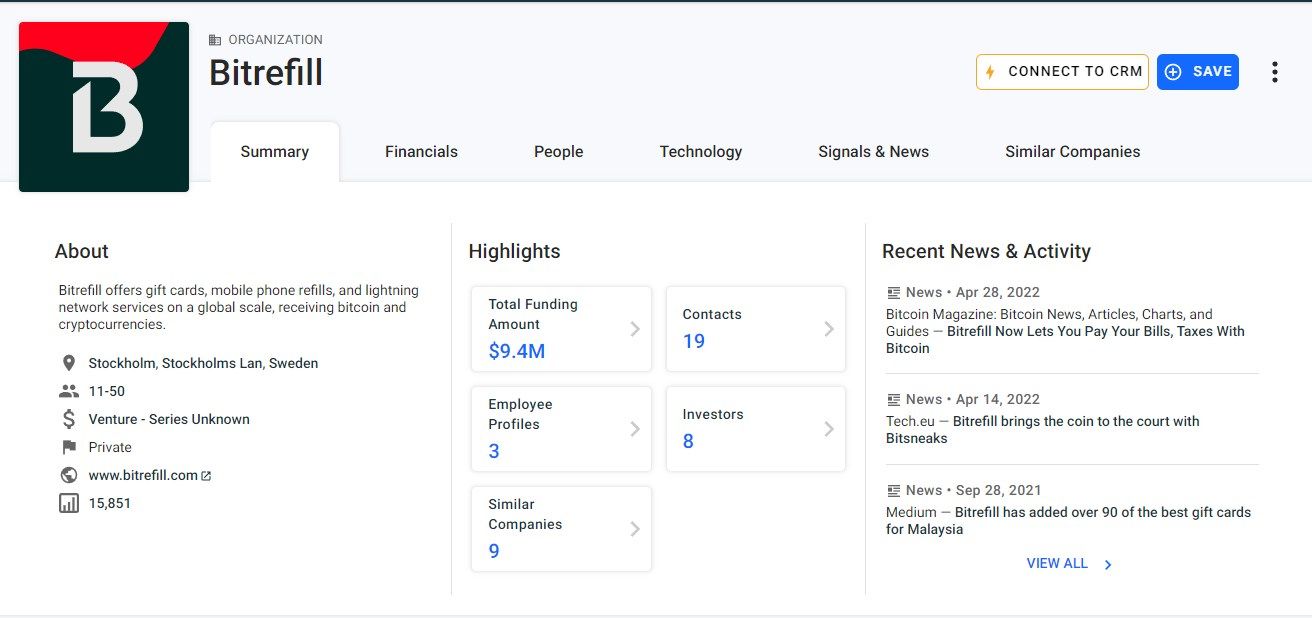 Bitrefill has attracted notable investments from several entities. Among its investors are Tether, a widely used stablecoin in the cryptocurrency ecosystem, and Fulgur Ventures, a prominent venture capital firm. These investments have contributed to the growth and development of Bitrefill's services.
To date, Bitrefill has raised approximately $9.4 million in funding (source: Crunchbase). This funding has enabled the company to expand its operations, enhance its platform, and reach a larger user base.
The financial support has played a crucial role in positioning Bitrefill as a trusted and reliable platform for cryptocurrency users seeking to convert their digital assets into tangible goods and services.
Bitrefill Products
Bitrefill offers a diverse array of product categories. Let's take a closer look at each of them.
Gift Cards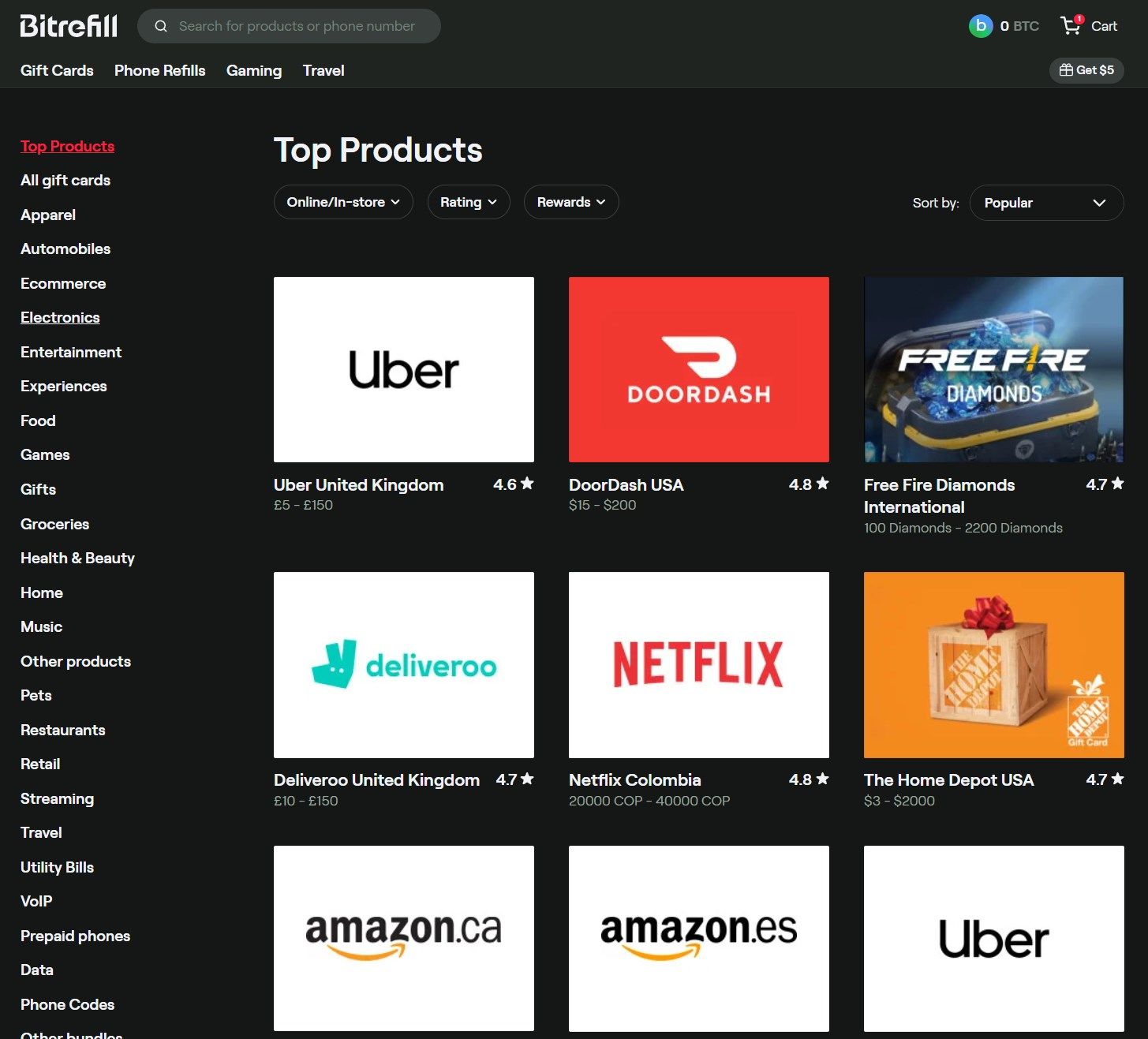 The main product of Bitrefill is gift cards of popular services and products, which can be paid using Bitcoin or other cryptocurrencies. Choose from a collection of over 5,000+ gift cards, available from various retailers like Amazon, Apple, Walmart, Steam, and Google Play, among others.
The extensive range of brands includes popular names such as Starbucks, Netflix, Airbnb, Uber, and many more. When you order a gift card through the website, you can expect almost instant delivery via email, ensuring a seamless shopping experience.
Phone Refills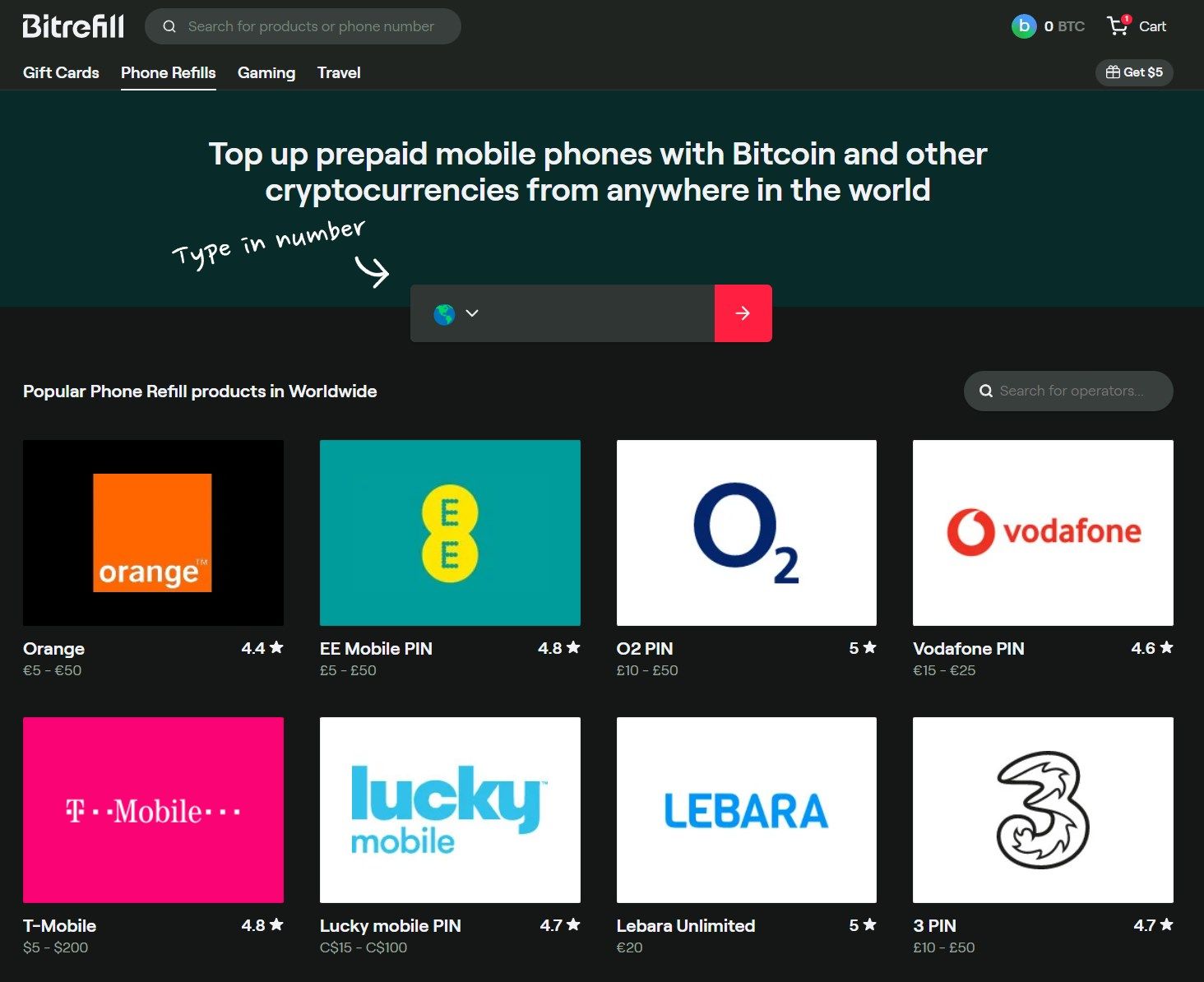 Bitrefill enables you to conveniently top up prepaid mobile phones using Bitcoin and other cryptocurrencies, regardless of your location. Simply enter the phone number and the desired amount for the refill.
Once you proceed with payment using your preferred cryptocurrency, confirmation is typically received within minutes. As a result, you can expect a swift and hassle-free refill for your mobile phone.
Games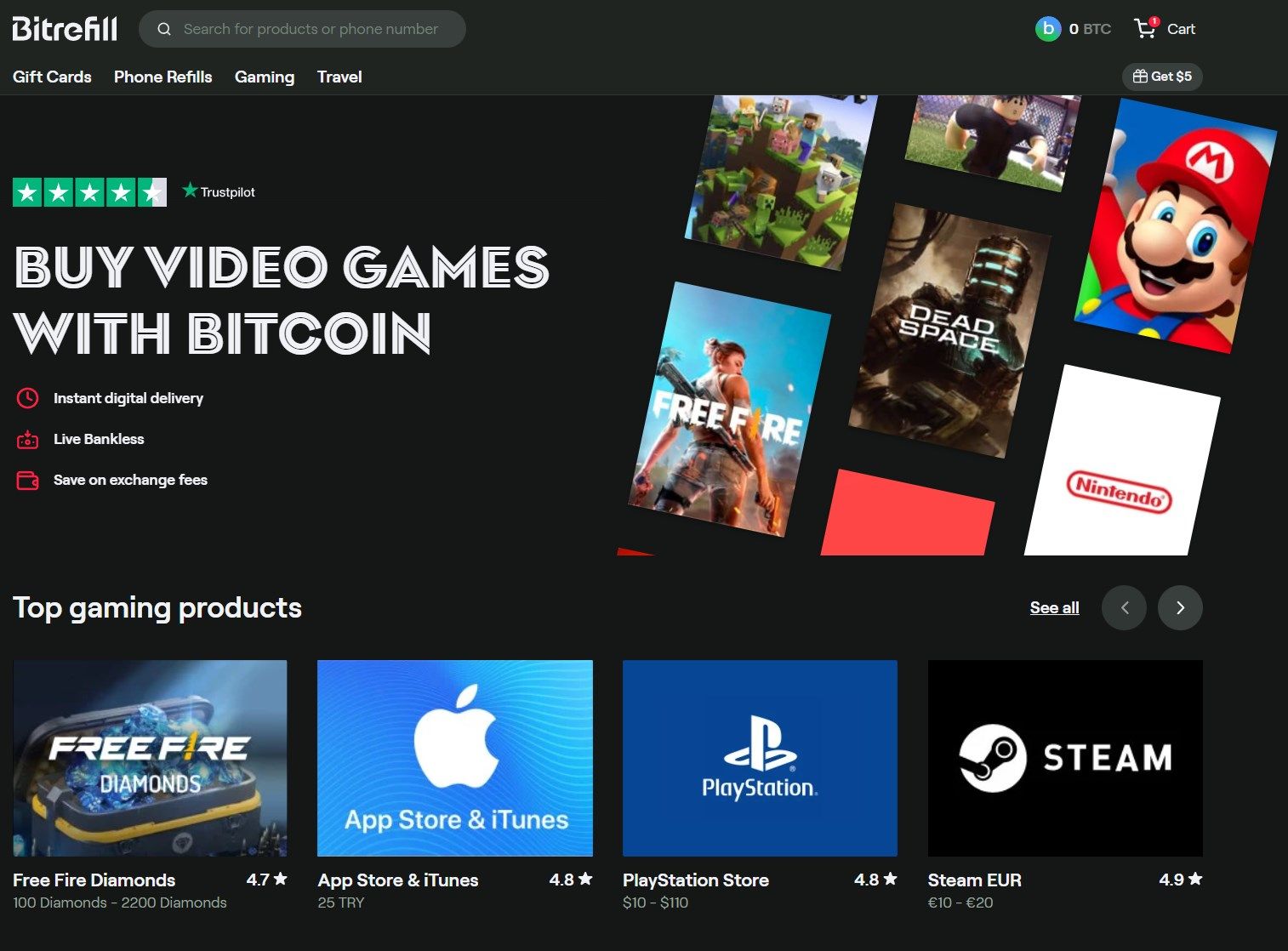 For gaming enthusiasts, Bitrefill offers the opportunity to purchase video games using Bitcoin. With a wide selection of games available, you can indulge in your favorite gaming experiences while utilizing your digital currency.
Travel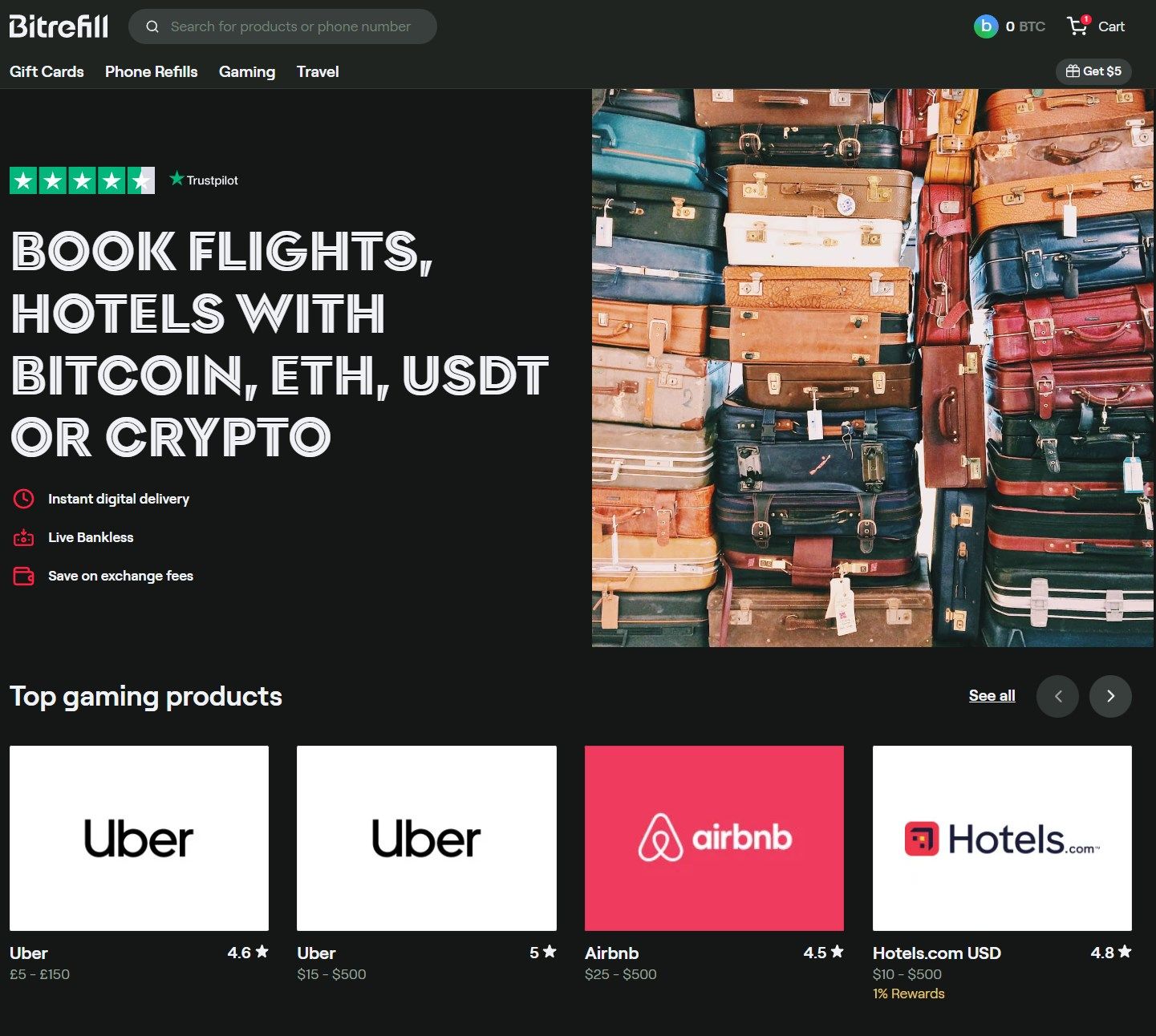 Bitrefill provides the convenience of booking flights and hotels using Bitcoin, Ethereum, USDT, or other cryptocurrencies.
Whether you're planning a vacation or a business trip, you can make your travel arrangements through Bitrefill, ensuring a seamless and secure payment experience. Instant digital delivery ensures that you receive your booking confirmation promptly.
How To Sign Up On Bitrefill
Signing Up for Bitrefill is quite simple and there is no KYC involved, so your anonymity is always guaranteed (as long as you don't want to increase the limits).
First of all, sign up on Bitrefill. By clicking the link down here you can get a special $5 in Bitcoin when you spend a minimum of $50.
👉 Click here to join Bitrefill.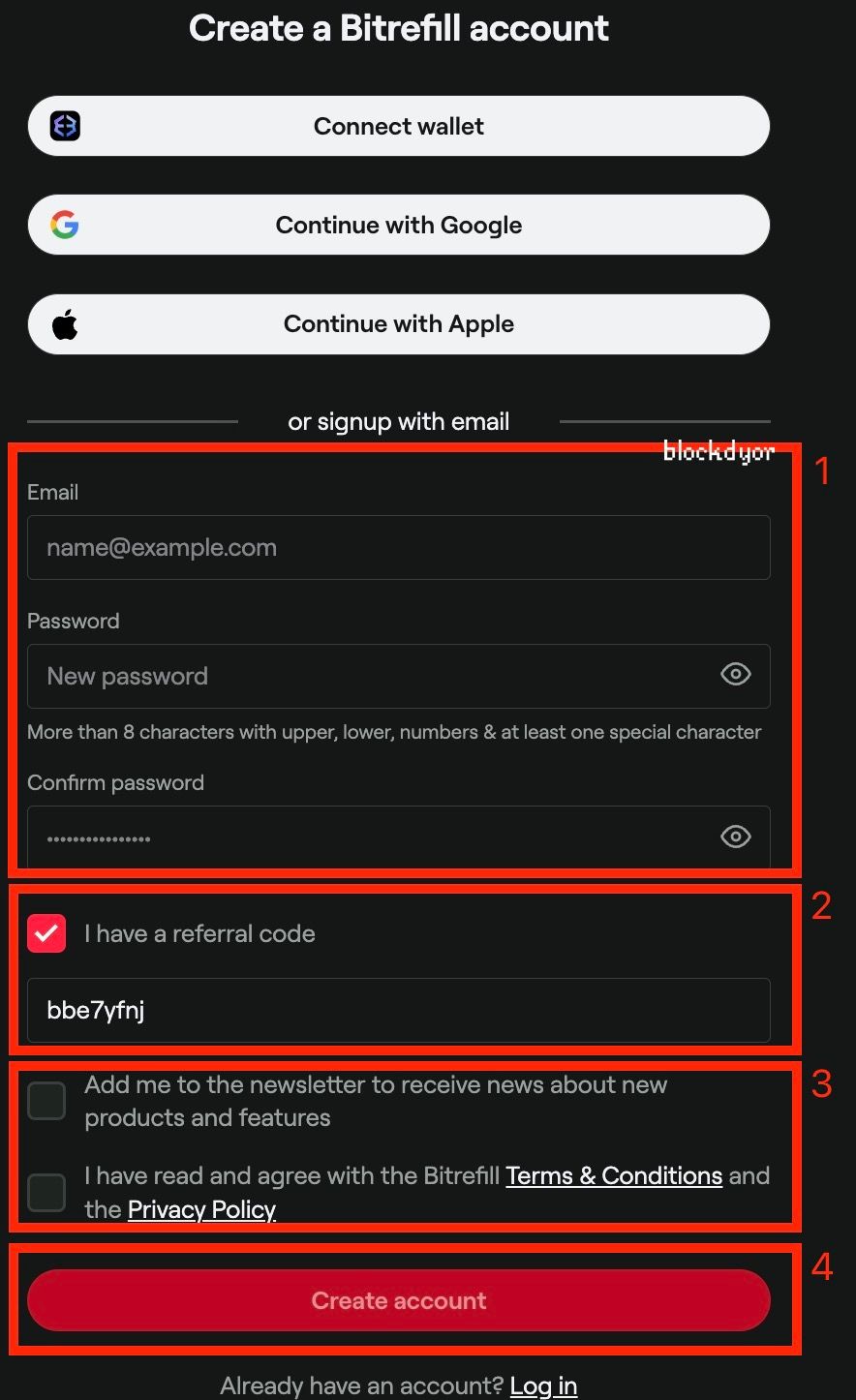 Fill all your email (use a real one) and password (1). In order to receive the bonus, double check that the referral code bbe7yfnj is there (2). Agree to the privacy policy and t&c (3). Click on Create account to finalize the registration (4).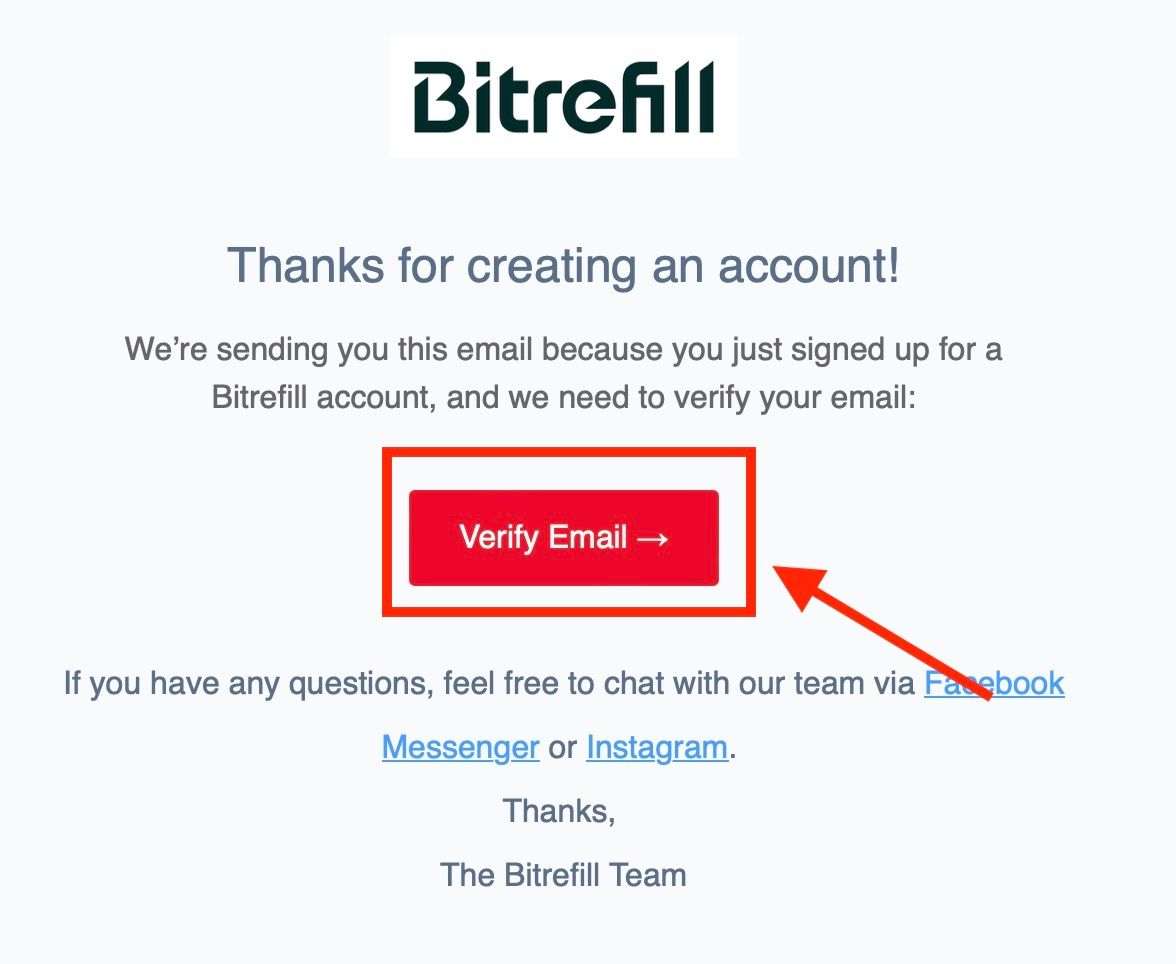 You will receive an email to confirm your address. Click on Verify Email to complete the registration on Bitrefill.
Now that the registration is done, you can start using Bitrefill.
How to use Bitrefill
Once you've signed up on Bitrefill, getting started is extremely easy. Follow these simple steps:
Log in to your Bitrefill account.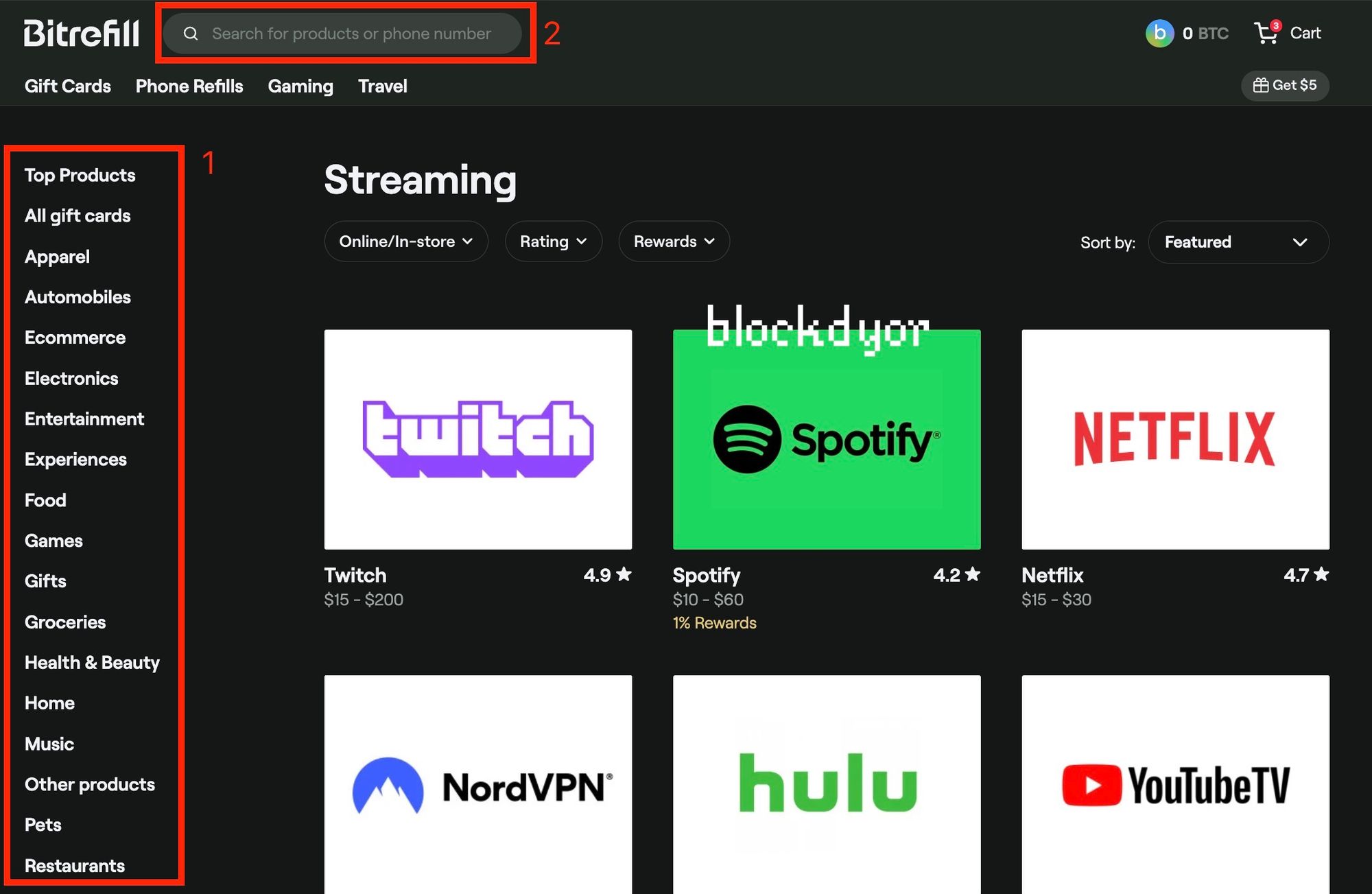 Browse through the categories and select the gift card you want to purchase (1). You can also search with the search bar your favorite service/product (2).
Let's use Netflix as an example, which also offers a 1% cashback.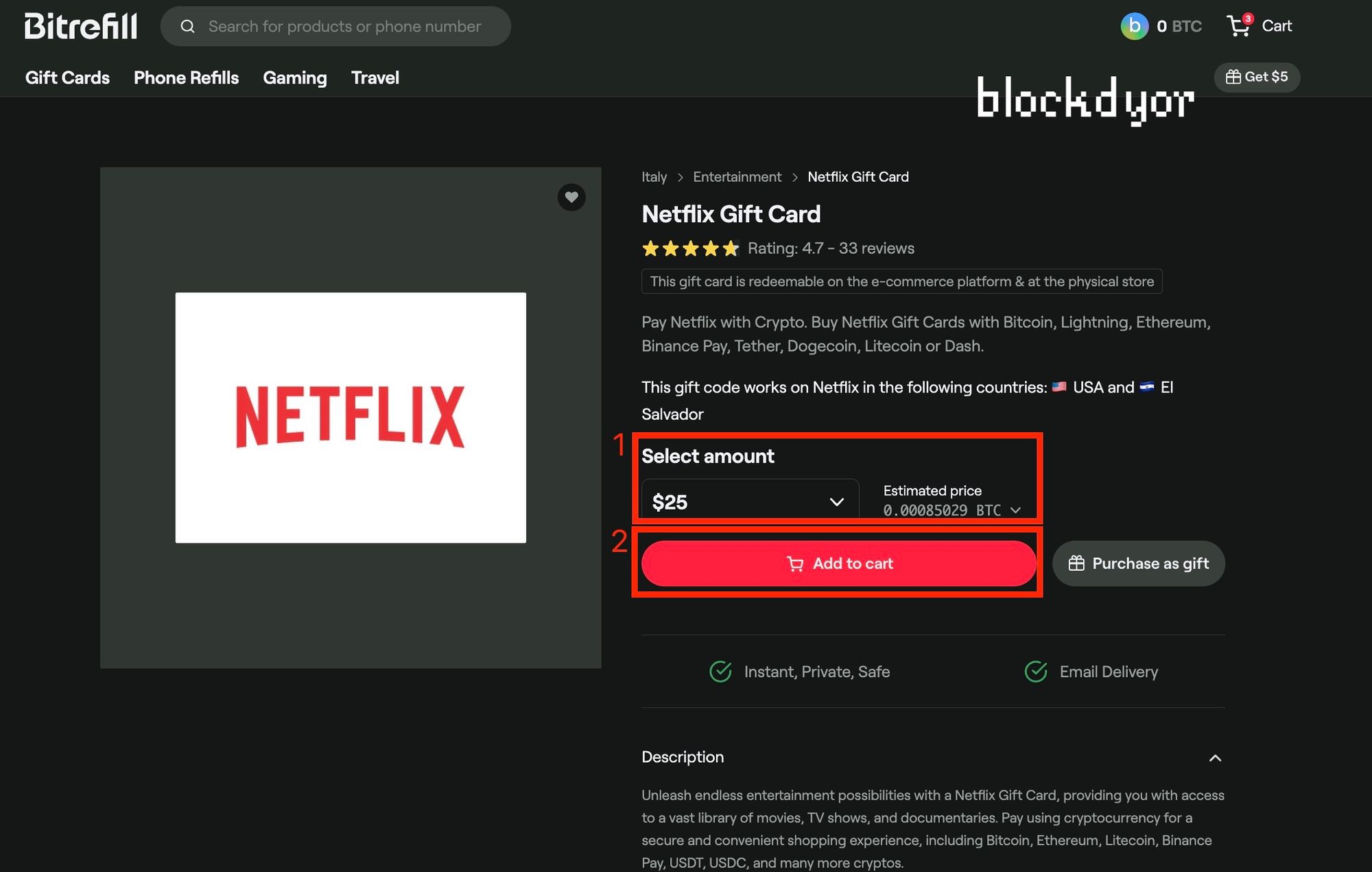 Enter the desired amount for your gift card (1).
Verify if the gift card is available in your country.
Click Add to cart (2).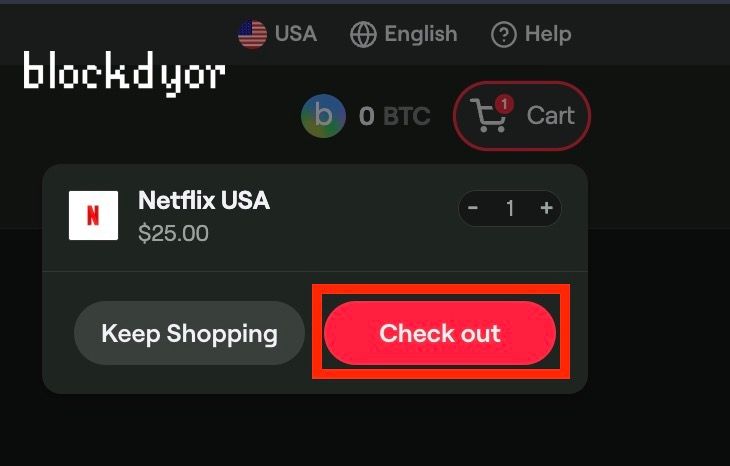 Proceed to the cart and click Check Out.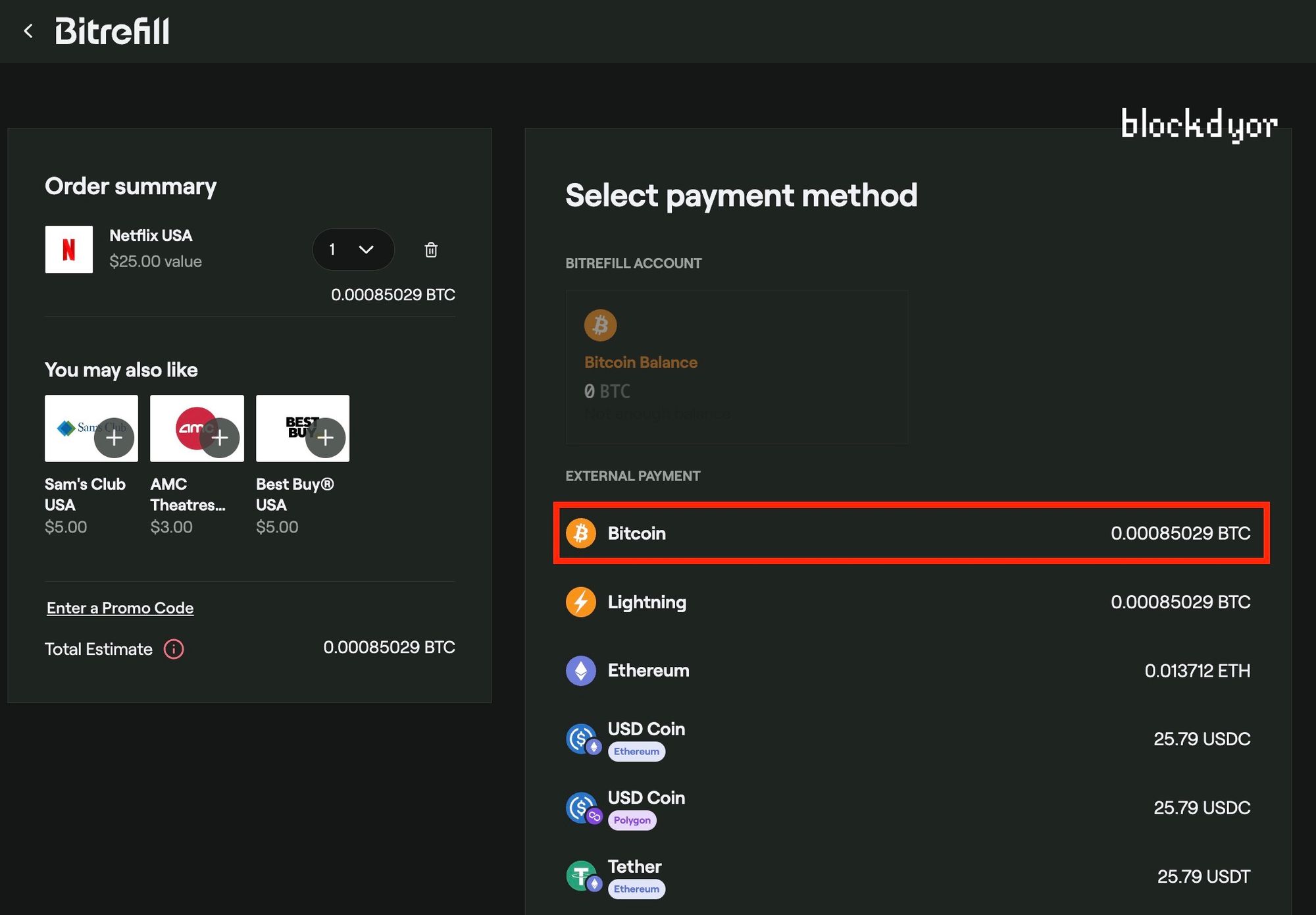 Choose your preferred payment method: Bitcoin or other cryptocurrencies. You can also use your existing Bitcoin balance in Bitrefill.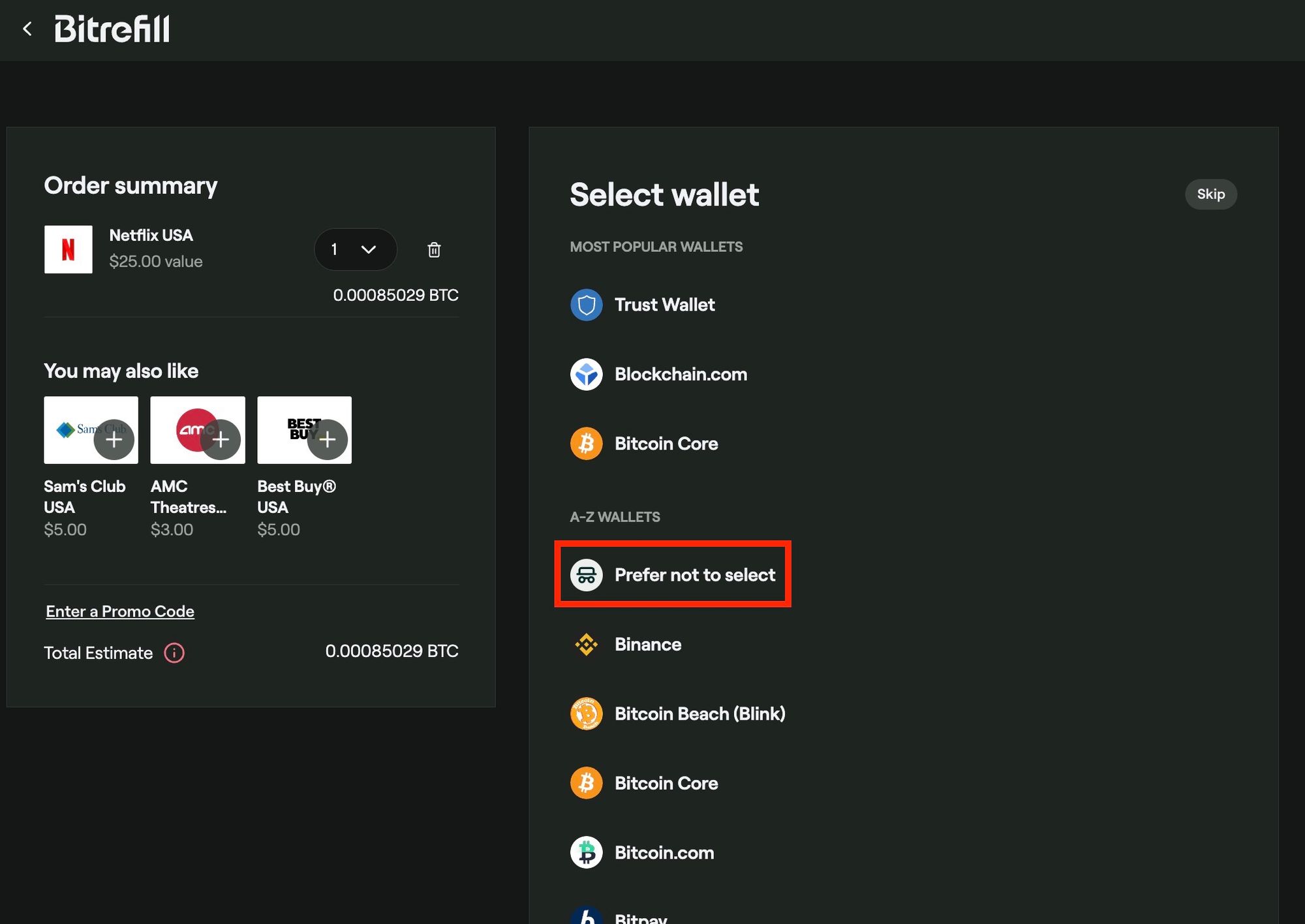 Select your wallet. I personally recommend leaving it as Prefer not select.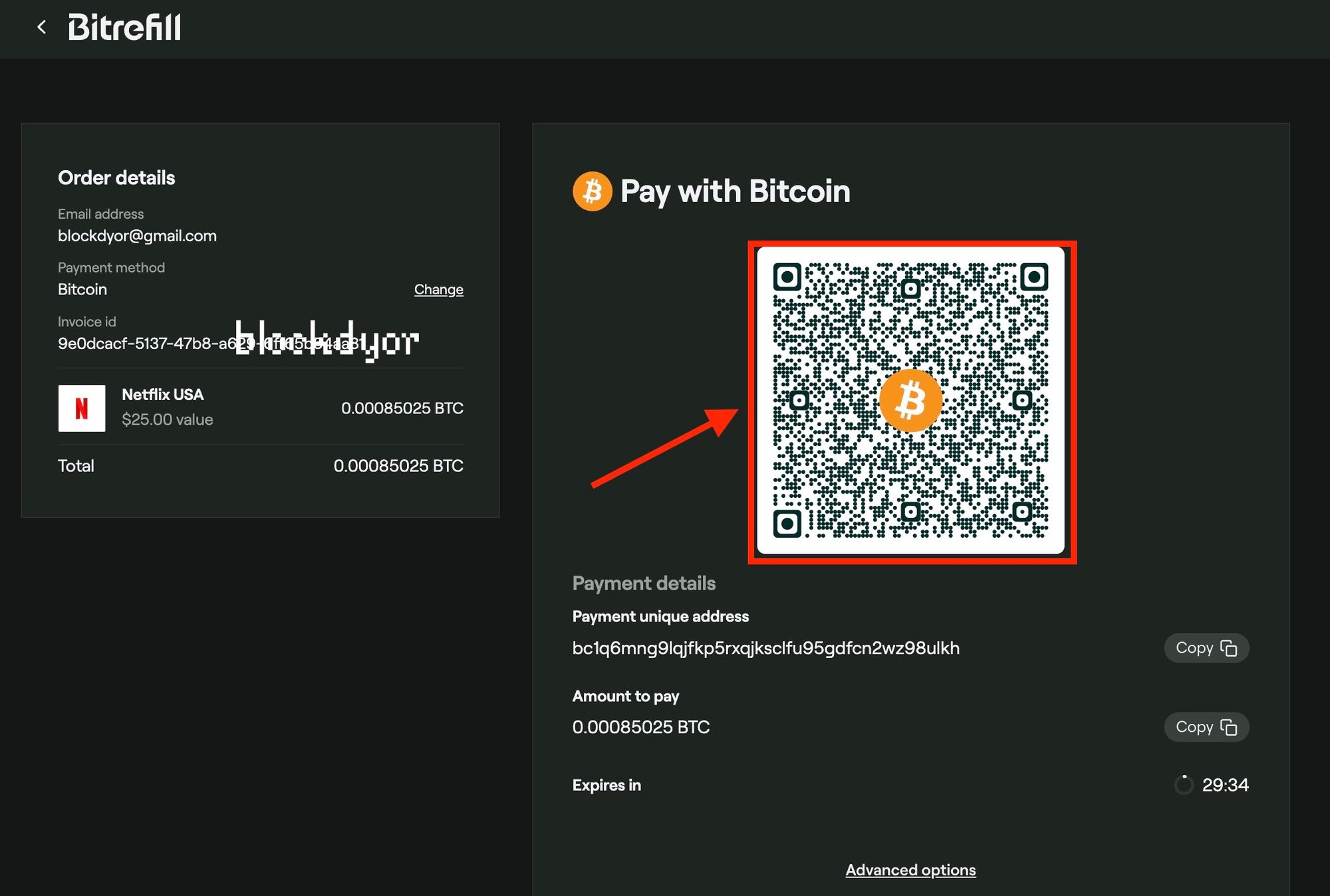 Send the funds from your wallet to Bitrefill (scan the QR or copy-paste the payment unique address) by initiating the transaction using your software or hardware wallet.
After sending the funds, it usually takes around 10 minutes for the transaction to be confirmed. Bitrefill will then send you the gift card, which you can start using right away.
That's it! You're all set to enjoy the convenience of purchasing gift cards and other items with your Bitcoin and cryptocurrencies on Bitrefill.
Bitrefill Rewards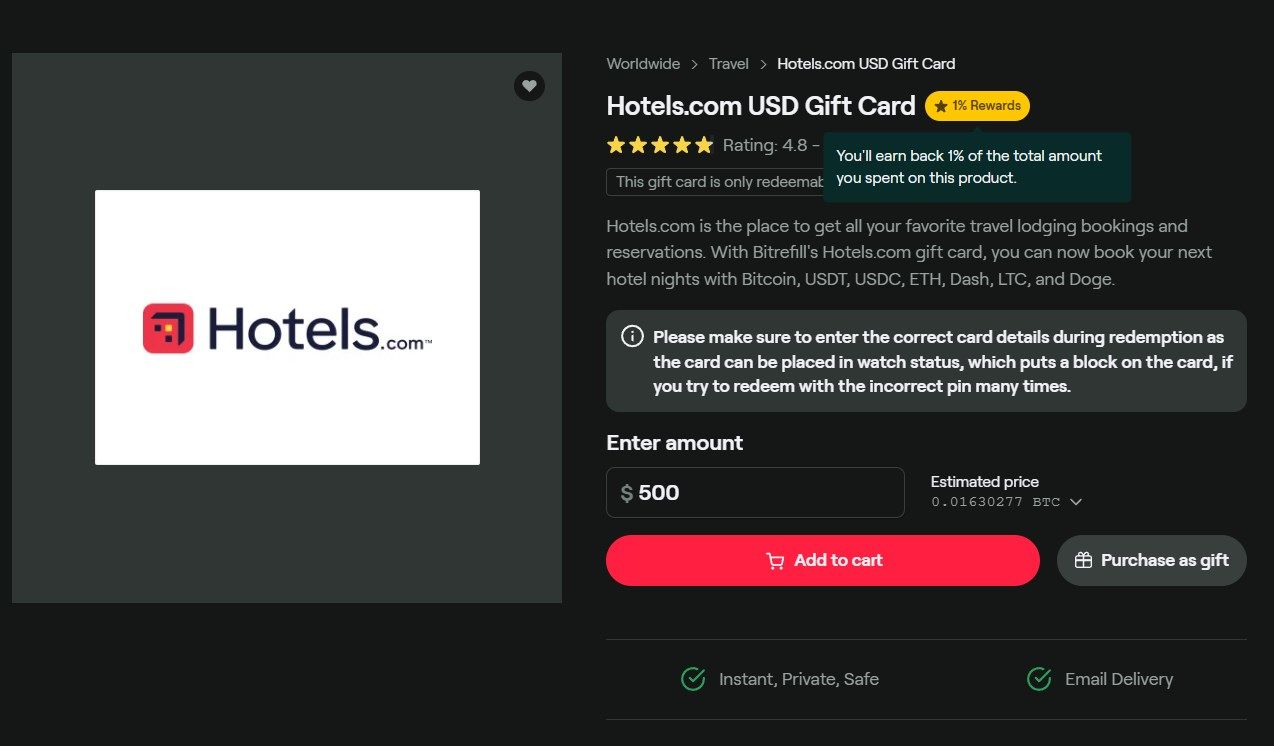 Bitrefill Rewards is a program that allows users to earn back a percentage of their payment as a reward in satoshis, the smallest fraction of Bitcoin. After making a purchase, users can receive rewards ranging from 1% to 10% of the payment amount. To redeem the rewards, users need to create an account on Bitrefill.
To use the rewards for payments, follow these steps:
Log into your Bitrefill account to access the rewards.
Browse the product page and select an item you want to purchase, adding it to your cart.
During the checkout process, change the payment method to "Rewards Balance."
Confirm the payment method on the payment page.
If the rewards amount is not sufficient to cover the entire purchase, it is possible to combine them with another payment method.
Complete the payment process and enjoy the benefits of using your rewards.
It's important to note that users will need an email address and password to sign up for an account in order to utilize the rewards.
Bitrefill Limits
Bitrefill has certain limits in place to ensure security and compliance with regulatory requirements. These limits vary based on the type of account and can be increased by verifying your identity through the KYC (Know Your Customer) process.
For a basic account, the limits are as follows:
Orders: You can place up to 15 orders per day, with 15 orders remaining.
Purchase amount: The daily limit for purchase amounts is $5000, with $5000 remaining. The monthly limit is $10000, with $10000 remaining.
Phone top-ups: Phone top-ups are included in the purchase amount limits mentioned above. The daily limit for phone top-ups is $500, with $500 remaining. The monthly limit is $2000, with $2000 remaining.
It's important to note that certain products may have different exceptional thresholds that apply. Balances in your account cannot exceed $10,000, and top-ups cannot exceed $2,000 (or the equivalent in the balance currency). Bitrefill reserves the right to reduce these limits at any time.
If you attempt to exceed these thresholds by topping up or using the balance, your account may be frozen until you complete the KYC verification process. Any excessive amounts will be returned to verified customers.
These limits are in place to maintain security, prevent misuse, and comply with regulations. Verifying your identity through the KYC process can help increase these limits and provide a smoother experience on Bitrefill.
Bitrefill Refunds
Bitrefill has a refund policy in place to address situations where an order hasn't been delivered or there are issues with the refill or voucher code. Here are the key points of their refund policy:
If an order has not been delivered, Bitrefill will refund the payment as soon as possible after receiving a refund address from the customer. To initiate the refund process, customers should contact Bitrefill or respond to their receipt email and provide relevant order information such as the order ID, payment address, email address, or phone number being topped up.
It's important to note that once an order has been successfully delivered, it cannot be canceled, and refunds cannot be issued for delivered voucher codes. Therefore, customers should ensure they are sending the order to the correct recipient's number or email and double-check the product details before making a purchase.
Refund requests must be made within 30 days from the date of the transaction. It's recommended to contact Bitrefill promptly if any issues arise to initiate the refund process within the specified timeframe.
To request a refund or obtain further information, customers should reach out to Bitrefill through the appropriate channels as mentioned in their refund policy.
Bitrefill Customer Support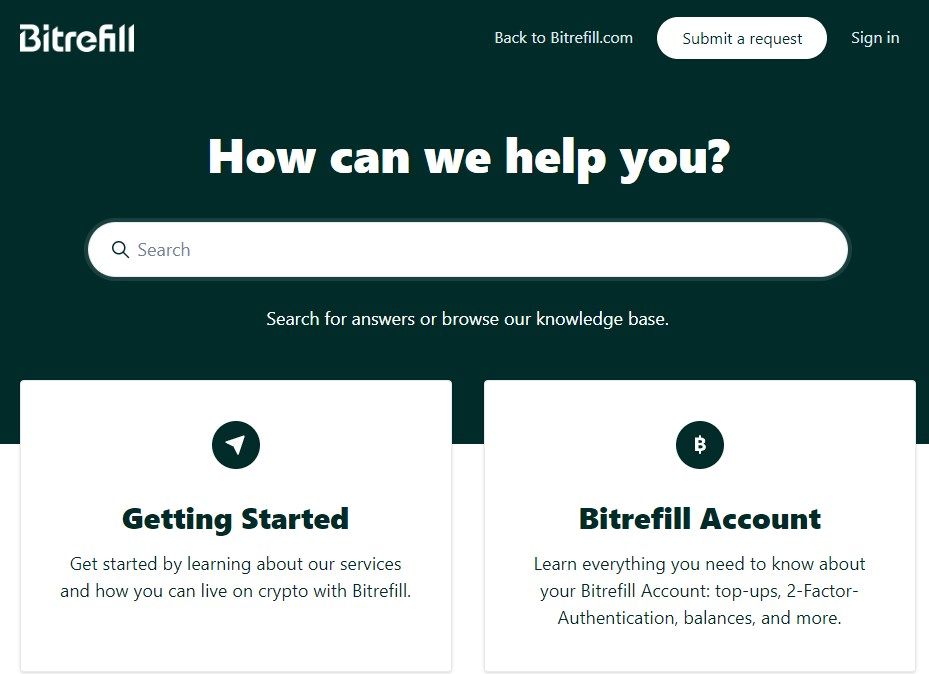 Bitrefill offers a wide-ranging knowledge base and a customer support system through a Ticket system. However, it lacks a Live Chat feature, which can be frustrating, especially when dealing with financial matters that require prompt assistance.
Bitrefill Reviews
Bitrefill has established a global presence and enjoys recognition among Bitcoiners and cryptocurrency enthusiasts worldwide.
Many individuals who rely on Bitcoin as their primary means of transaction turn to Bitrefill for their spending needs, making it a crucial service provider for them. In fact, Bitrefill has been described as a lifesaver by a significant portion of its user base.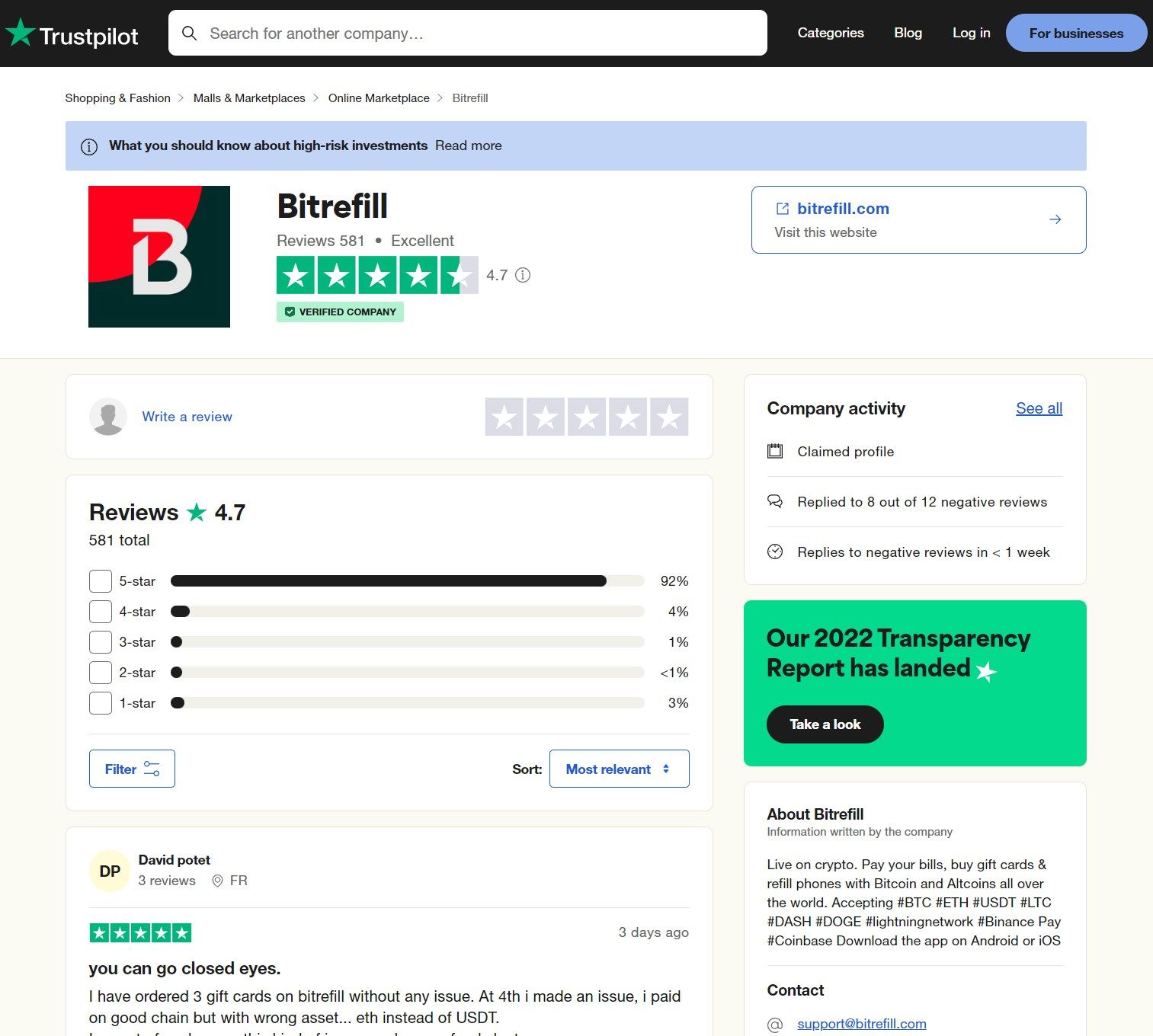 When it comes to reputation, Bitrefill has garnered positive feedback on Trustpilot, a prominent reviews website. With over 500 reviews, Bitrefill maintains an excellent rating, reflecting the satisfaction and positive experiences of its users.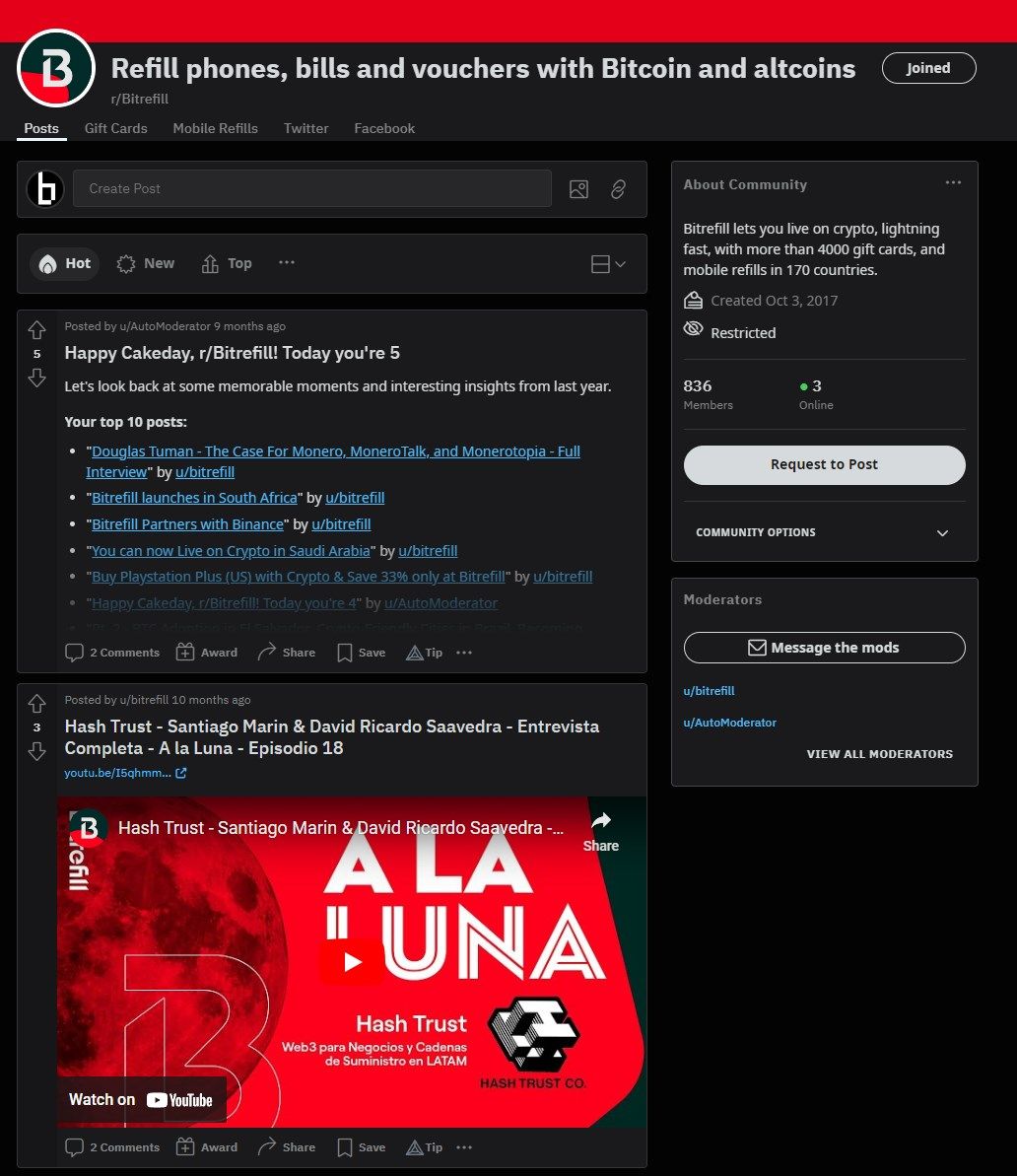 The Reddit community of Bitrefill, /r/bitrefill, has a significant presence, with a membership exceeding 800 users.
Nevertheless, it has come to our attention that the community is currently restricted, allowing only approved accounts to make posts. I believe it would be beneficial for Bitrefill to consider granting unrestricted posting privileges to its users.
Bitrefill Fees
As I tested purchasing gift cards with Bitrefill, I was pleasantly surprised to discover that there were no fees involved. The price of the Bitcoin gift card almost perfectly aligned with the corresponding fiat value of the gift card I purchased. It seemed like a seamless and cost-effective transaction at first glance.
However, upon closer examination, it turns out that the exchange rate for cryptocurrency gift cards can vary, typically falling within the range of 2% to 3%, depending on the specific cryptocurrency and the amount of the purchase. This variation introduces a slight discrepancy in the final cost of the gift card compared to the fiat value.
It's important to note that the mentioned rates do not encompass network fees, as these fees are not factored into the transaction when you send payment from an external wallet. These additional charges, if applicable, need to be considered separately.
Bitrefill Pros & Cons
| Pros | Cons |
| --- | --- |
| ✅ Convenience | ❌ Lack of Live Chat Support |
| ✅ Variety of Products | ❌ Variable Exchange Rates |
| ✅ Global Availability | ❌ Not clear Fees Structure |
| ✅ Fast Digital Delivery | |
| ✅ No KYC Requirements | |
| ✅ Positive Reputation | |
Bottom line
Bitrefill is a convenient platform that allows users to easily purchase a wide range of products and services using cryptocurrencies.
With its global availability, fast digital delivery, and no KYC requirements, Bitrefill offers a user-friendly experience for those seeking to live on cryptocurrency.
While improvements could be made, such as granting unrestricted posting privileges and enhancing customer support options, Bitrefill maintains a positive reputation among Bitcoiners and cryptocurrency enthusiasts, making it a valuable resource for those looking to spend their electronic currencies.

Bitrefill Evaluation
Ease of Use: Bitrefill is very easy to use. The website's geolocation feature ensures a seamless experience by automatically displaying relevant gift cards based on the user's country. This feature prevents users from accidentally purchasing the wrong gift cards. 5/5.
Security: The platform supports multiple wallets and offers a balance feature, it is reassuring to know that two-factor authentication (2FA) is available. However, it is worth noting that 2FA is not mandatory, which slightly affects the rating. 4/5.
Fees & Limits: Bitrefill's fee structure is somewhat unclear, making it difficult for users to understand the exact charges during the checkout process. Despite this, it is mentioned that fees are generally minimal or close to zero. Considering this, the rating for fees and limits stands at 4/5.
Cashback: Bitrefill provides a noteworthy feature of offering cashback on select products, ranging from 1% to 10%. This benefit earns a perfect rating of 5/5, as it provides users with additional value for their transactions.
Supported Countries: Bitrefill has an extensive reach, being available in a significant number of countries. This wide availability contributes to its accessibility and convenience, warranting a rating of 5/5 in this category.
Frequently Asked Questions (FAQ)
What types of cryptocurrencies can be used for purchases on Bitrefill?
Bitrefill accepts Bitcoin, BTC Lightning Network, Ethereum, USDC, USDT, Binance Pay, Litecoin, Dogecoin, and Dash as payment options for making purchases on their platform.
Does Bitrefill require users to undergo KYC verification?
No, Bitrefill does not require Know Your Customer (KYC) verification. Users can sign up and make purchases on the platform without having to go through a KYC process, ensuring privacy and minimizing the sharing of personal information.
What kind of products and services can be bought on Bitrefill?
Bitrefill offers a diverse range of products and services. Users can purchase gift cards from popular retailers like Amazon, Apple, Walmart, Steam, and Google Play. They can also top up prepaid mobile phones, buy video games, and make travel bookings for flights and hotels using cryptocurrencies.