Binance Card Review 2023: Fees, Cashback and Limits
In this review we analyze the Binance Card, which is a highly secure and user-friendly debit card that is backed by one of the world's largest crypto platforms.
The Binance Card is a crypto cashback debit card, which makes easy converting your cryptocurrency holdings into fiat currency through its partnership with Visa, which also grants it acceptance at any location that accepts Visa cards.
With its debit card-like functionality, the Binance Card enables purchases online or in physical shops and ATM cash withdrawals, as well as the potential for up to 8% BNB Cashback on every purchase.
The cashback is conveniently deposited directly into your Funding Wallet, eliminating the need for additional management.
This review will delve into the features, fees, and usage of the Binance Card, offering a thorough examination to aid in your decision-making process.
👉 Click here to order a Binance Card for free and get a 100 USDT cashback voucher.
| Description | Details |
| --- | --- |
| 💳 Card Name | Binance Card |
| 💼 Company | Binance |
| 💳 Type | Visa Debit |
| 💰 Cashback Token | BNB |
| 📈 Staking | Yes |
| 🌍 Issuing Country | Global (Accepted in most countries) |
| 💱 Currency | Multiple (supported by Binance exchange) |
| 💸 Fees | No annual or monthly fees, transaction fees may apply |
| 🔗 Linking | Linked to Binance account |
| 💰 Reward Programs | Yes (Earn cashback in BNB on eligible purchases) |
| 💳 ATM Withdrawal Limit | Depends on issuing country and account status |
| 📲 Signup | Through Binance App or website |
| 🔒 Security | Chip and PIN protected, secure encrypted transactions. |
Binance Card: What It Is?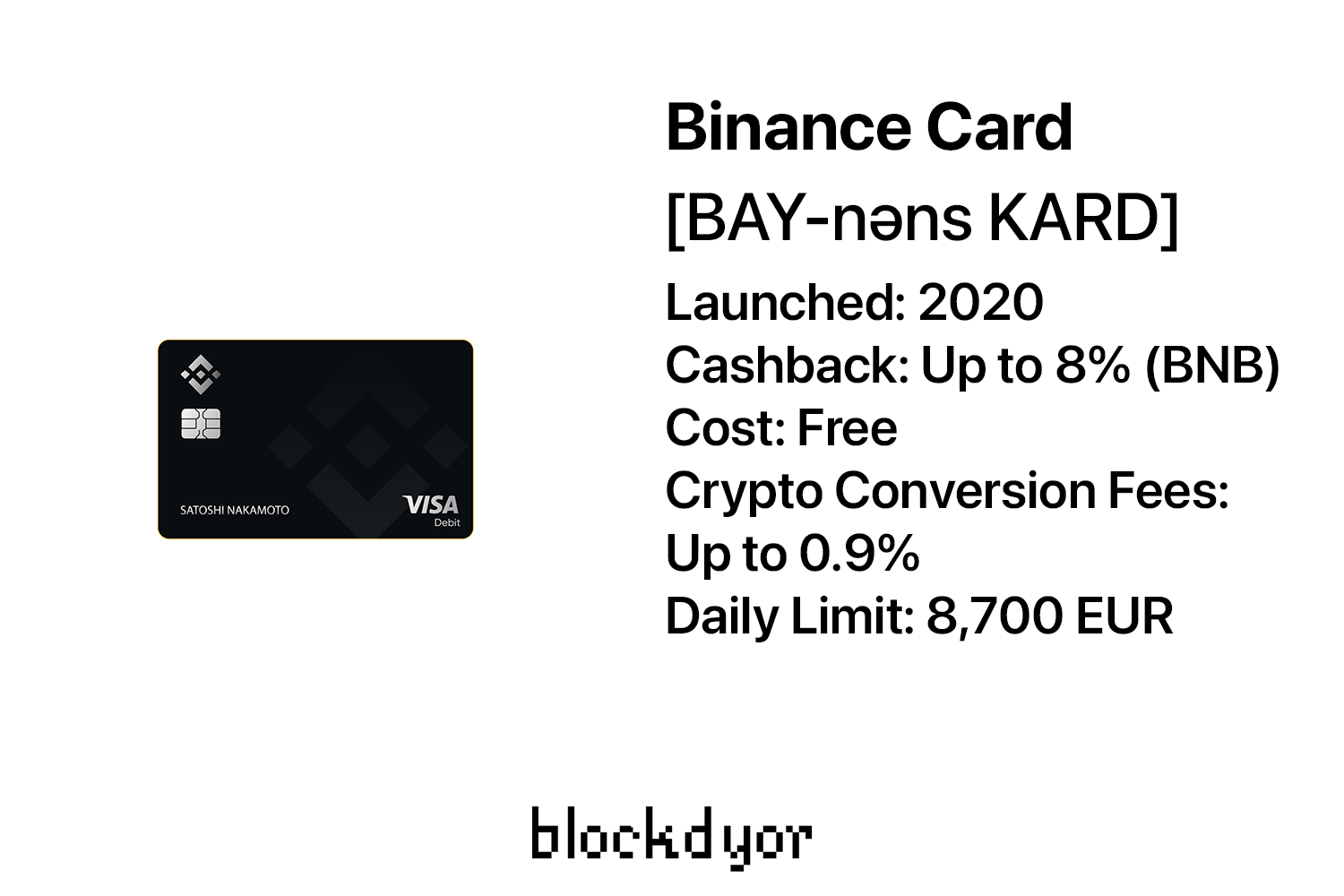 The Binance Card is a payment solution brought to you by one of the leading crypto exchange, Binance.
Thanks to the seamless integration to the Binance account, you can effortlessly make purchases at over 60 million merchants worldwide.
Whether you are shopping in-store or online, the Binance Card, thanks to in ts collaboration with Visa, offers a smooth and secure payment experience.
The card allows you to pay in your preferred fiat currency, and in case you lack sufficient funds, Binance provides real-time conversion of cryptocurrency to your preferred currency, ensuring a hassle-free transaction.
Binance Card: Overview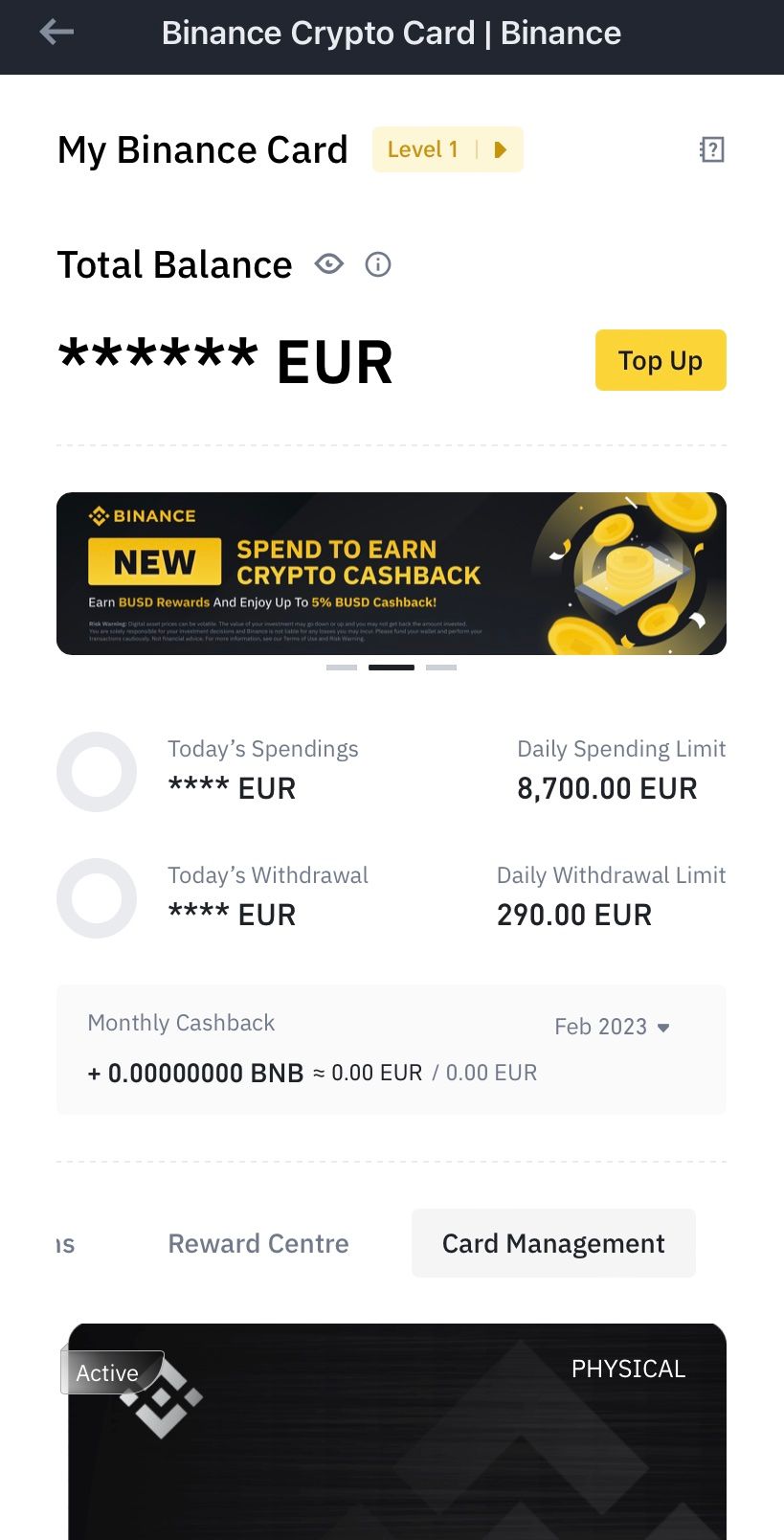 In the past years we've seen a significant increase in the offer of crypto cards, and the Binance Card is one such offering from one of the largest cryptocurrency platforms in the world, Binance.
As a market leader, Binance is known for delivering innovative and useful features, so it is natural to expect nothing less from its own debit card.
Launched in late 2020, the Binance Card has quickly become a popular payment solution among the cryptocurrency community. With its wide acceptance at 60 million merchants in over 200 countries, it offers an interesting level of convenience for users.
Binance Card: How Does it Work?

Many are asking: how's possible to pay with Fiat like € or £, while I have only crypto on my Binance Card?
For those who are curious about how to use their Binance Card for payments when their account only holds cryptocurrency, it's essential to understand the simplicity of the process.

First and foremost, Binance provides the option to deposit fiat currency into your account, so you can make purchases using EUR, GBP, or any other supported fiat currency.
For those who prefer to spend their cryptocurrency, Binance has made the process seamless. Simply top up your funding wallet with your desired cryptocurrency, then make purchases at any online or physical merchant that accepts the Visa logo.

Additionally, as a bonus, you will receive BNB (Binance Utility Token) cashback on your purchases.
Binance Card Technology
The Binance Card grants an instant conversion of cryptocurrency to fiat currency.
By leveraging the aggregate value of your crypto and fiat holdings in your Funding Wallet, the Binance Card enables real-time purchases based on your preferred cryptocurrency order, as specified in the Card Dashboard.
By default, the order of assets in the Card Dashboard is BUSD, USDT, USDC, BTC, BNB, ETH, ADA, DOT, SOL, MANA, SXP. The system will follow this order during every purchase made with the Binance Card.
In conclusion, Binance has made it easy for users to spend their cryptocurrency or fiat currency, offering a smooth and seamless payment experience.
Binance Card Fees
One of the crucial considerations when evaluating a crypto card like the Binance Card is the associated fees. Hence, let's take a closer look at the fee structure.
| Description | Details |
| --- | --- |
| 💰 Crypto Conversion Fees | Up to 0.9% |
| 💳 The first issuance of the virtual or physical card | 0 |
| 🔜 Reissuance of the physical card | 25 EUR |
| 🕰️ Inactivity (12 months) | 0 |
| 🔒 Account closure | 0 |
Binance Card Limits
Limitations play a crucial role when evaluating the suitability of a crypto card. The Binance Card, much like its competitors, presents a set of limits that are comparable with other available options.
To gain a deeper understanding of the card limits, let us take a closer look via the following table.
| Card Type | Feature | Limit |
| --- | --- | --- |
| EEA Virtual Card | Daily Spending Limit | 870 EUR |
| EEA Physical Card | Daily Spending Limit | 8,700 EUR |
| | Daily Withdrawal Limit | 290 EUR |
Binance Card Cashback Rewards & Benefits
It is important to note that the Binance Card provides cashback rewards for each and every purchase made with the Binance card. The amount of cashback earned is contingent on the card level and the quantity of BNB tokens held in your Binance wallet.
The highest cashback rate of 8% on BNB tokens is available for all eligible purchases made through the Binance card.
The amount of cashback earned is determined by the daily assessment of the Binance tokens in your wallet. The Binance card features 7 levels of cashback rewards, each offering varying levels of benefits. Let's have an in-depth look at the levels:
| 💳 Card Level | 💰 BNB Monthly Average Balance | 💰 BNB Rewards for Your Purchases | 💰 Monthly Cap (EUR) |
| --- | --- | --- | --- |
| 1 | 0 | 0.1% | 5 |
| 2 | 1 | 2% | 100 |
| 3 | 10 | 3% | 150 |
| 4 | 40 | 4% | 200 |
| 5 | 100 | 5% | 275 |
| 6 | 250 | 6% | 350 |
| 7 | 600 | 8% | 500 |
How the BNB Monthly Average is Calculated?
Here's how the amout is calculated by Binance:
Daily Average Spot Wallet Balance;
Daily Average Margin Wallet Balance;
Daily Average Sub-accounts Balance;
Daily Average Binance Savings Wallet Balance
Daily Average Binance Fiat Wallet Balance
Daily Average Futures Wallet Balance
Daily Average Binance Funding Wallet Balance
Daily Launchpool Account Balance
Daily DeFi Staking Account Balance
Daily Locked Staking Account Balance
The Total Daily Average BNB Balance is equal to the sum of all the above components.
Note: The BNB monthly average balance means the average holdings of BNB in your Binance wallets for a period of 29 days before yesterday.
What is The List of Qualified Merchants to Obtain Cashback?
Binance asserts that a vast majority of merchants are accepted for erogating the BNB cashback.
However, it should be noted that there is a list of exclusions and the company has not publicly disclosed this information on their website.
Nevertheless, by exploring the issuer's page (Swipe), it is possible to uncover a table depicting the categories of MCC codes that are excluded from the Swipe Cashback and Rewards programs. It's important to note that it's not 100% guaranteed that this list applies also to the Binance Card.
| MCC Code Examples (but not limited to) | Description |
| --- | --- |
| 4829 | Wire Transfers / Money Orders |
| 6012 | Member Financial Institution-Merchandise And Services |
| 6051 | Cash-Merchant |
| 6211 | Securities-Brokers and Dealers |
| 6532 | Card Top-up / Payment Service |
| 6540 | Payment Transactions |
How to Order the Binance Card
The issuance of the Binance card is free of charge.
However, in the event of a lost or expired card, a fee of 25 EUR will be incurred for reissuance.
Binance users from eligible countries can apply for or express their interest in a Binance Card by following these steps:
Register on Binance with the following link:
👉 Click here to order a Binance Card for free and get a 100 USDT cashback voucher.
Complete the Binance Registration and Verify your account by following the KYC questionnaire.
Navigate to the [Binance Card] section by either hovering over the [Finance] tab in the top navigation bar or by selecting [Card] in the footer of Binance.com.
Log into your account and click [Get Started] on the [Binance Card] page.
Customize the appearance of your name on the card, then click [Next].
Activate the Binance Card
Upon receipt of your Binance Visa card at your shipping address, activation is necessary. This process can be initiated from the card dashboard by simply clicking the "activate" button.
Verification of the last four digits of your card and CVV (found on the back of the card) is required.
Upon successful verification, your card will be officially activated, and you will be prompted to set a secure PIN (4 digits) for ATM transactions. It is important to keep this PIN confidential.
Additionally, funds must be transferred from your Binance crypto wallet to the card for use.
Binance Card Supported Crypto
The Binance Card has garnered attention not only for its cashback offerings, but also for its ability to facilitate payments in cryptocurrency.
This makes it an ideal choice for those seeking to spend their crypto trading gains or a portion of their Bitcoin holdings without the need to first convert their coins.
The Binance Card supports a range of cryptocurrencies, offering a convenient solution for those looking to use their digital assets in daily transactions.
Binance Coin (BNB);
Binance USD (BUSD);
Tether (USDT);
Bitcoin (BTC);
Swipe Protocol (SXP);
Ethereum (ETH);
Cardano (ADA);
Polkadot (DOT);
Solana (SOL);
Decentraland (MANA).
Binance Card Supported Countries
The Binance Card allows for global online and in-person merchant payments, but its availability is limited to select countries.
The Binance EEA Card is accessible to residents of the European Economic Area (EEA) living in:
🇦🇼 Aruba; 🇦🇹 Austria; 🇧🇪 Belgium; 🇧🇬 Bulgaria; 🇭🇷 Croatia; 🇨🇼 Curaçao; 🇨🇾 Republic of Cyprus; 🇨🇿 Czech Republic; 🇩🇰 Denmark; 🇪🇪 Estonia; 🇫🇮 Finland; 🇫🇷 France; 🇬🇫 French Guiana; 🇩🇪 Germany; 🇬🇷 Greece; 🇬🇵 Guadeloupe; 🇭🇺 Hungary; 🇮🇸 Iceland; 🇮🇪 Ireland; 🇮🇹 Italy; 🇱🇻 Latvia; 🇱🇮 Liechtenstein; 🇱🇹 Lithuania; 🇱🇺 Luxembourg; 🇲🇹 Malta; 🇲🇶 Martinique; 🇾🇹 Mayotte; 🇳🇱 Netherlands; 🇳🇴 Norway; 🇵🇱 Poland; 🇵🇹 Portugal; 🇷🇪 Reunion; 🇷🇴 Romania; 🇸🇲 Saint-Martin; 🇸🇽 Saint Maarten; 🇸🇰 Slovakia; 🇸🇮 Slovenia; 🇪🇸 Spain; 🇸🇪 Sweden;
If you reside in these countries but are not a citizen, you may still apply for the Binance Card upon completion of personal verification and submission of proof of address.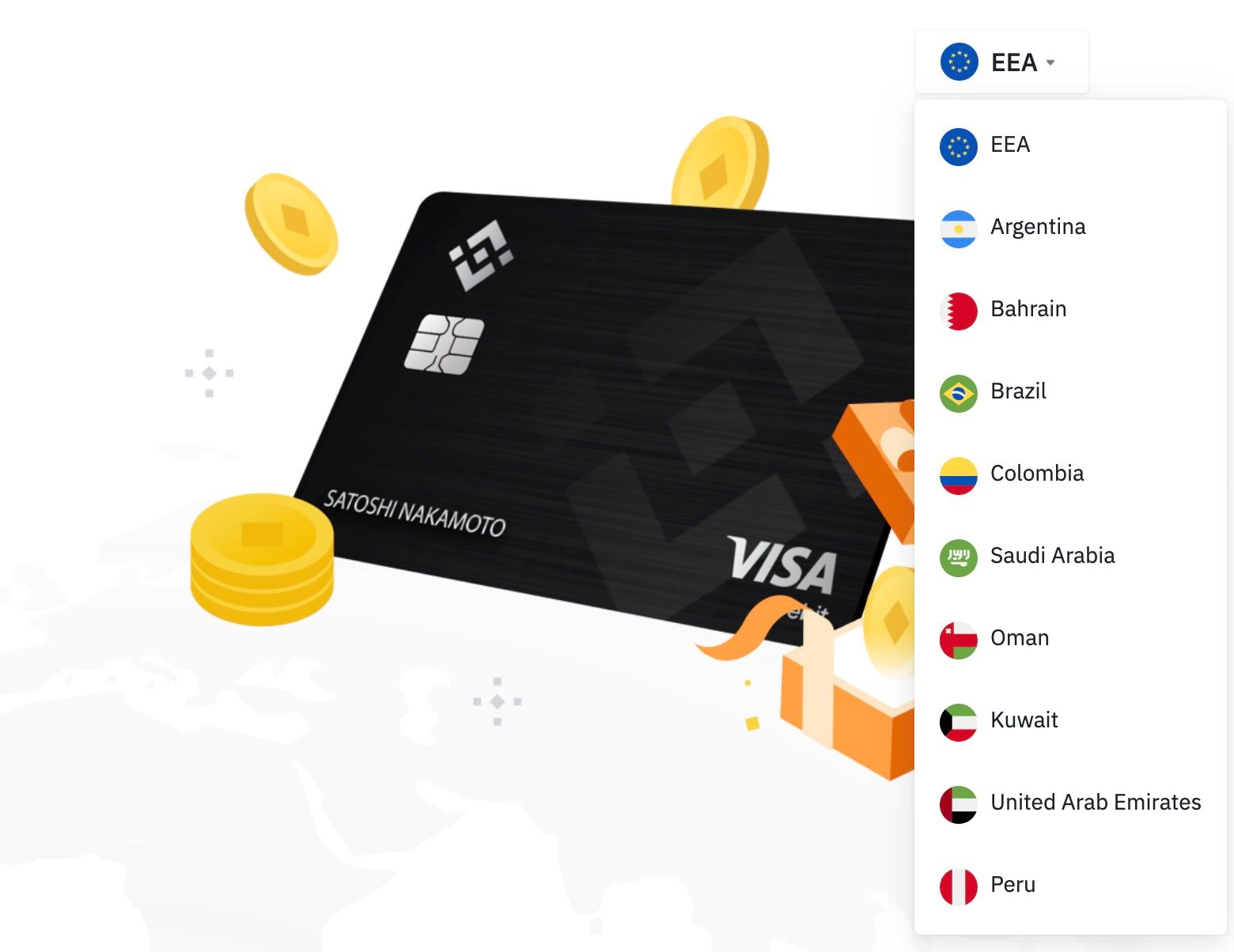 The Binance Card is also available in:
🇦🇷 Argentina; 🇧🇭 Bahrain; 🇧🇷 Brazil; 🇸🇦 Saudi Arabia; 🇴🇲 Oman; 🇰🇼 Kuwait; 🇦🇪 United Arab Emirates; 🇵🇪 Peru.
Binance Card Pros & Cons
The Binance Card has a drawback in its high BNB requirements, for a very limited monthly spend cap.
For instance, at the current BNB price of 300 EUR and a card level 6 (not even the highest), one would need an investment of 250 BNB, equivalent to 75,000 EUR, for just 6% cashback with a spending cap of 350 EUR.
This makes most of the Binance Card tiers unattractive compared to other companies offering better conditions. However, Binance still has the advantage of being highly reputable as the largest crypto exchange in the world.
| PROS | CONS |
| --- | --- |
| Free Card, 0 fees | Very high staking requirements |
| Up to 8% cashback | Very low monthly cap |
| Acceptable limits | Not available in the US |
| Highly reliable | |
| It can be used anywhere in the world | |
Is the Binance Card Safe?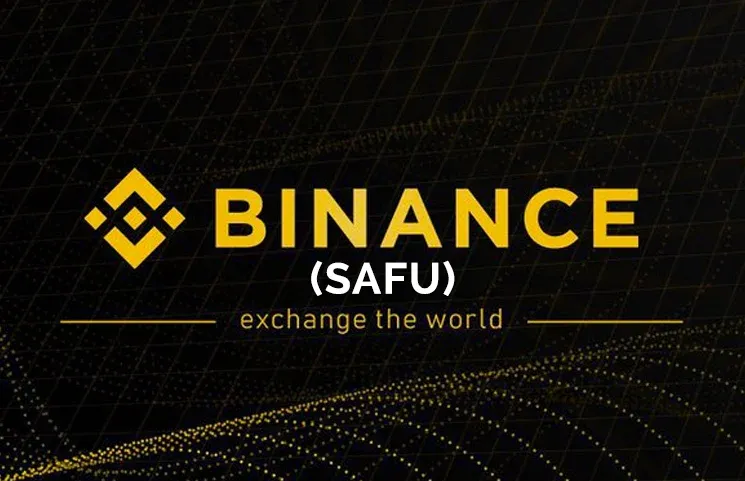 The Binance Card is designed with safety in mind, implementing several systems to ensure secure usage. In fact, Binance implements the following safety measures:
Know Your Customer (KYC)
Anti-Money Laundering (AML)
Law Enforcement Request System
Responsible Trading Program
Binance Tax Reporting Tool
Reduced Leverage For New Users
Additionally, Binance established the SAFU in 2018 as an emergency insurance fund to protect clients in extreme situations. Despite the recent crypto winter which caused the fund's balance to drop to $735 million, Binance has increased it back to $1 billion.
These measures ensure that the Binance Card operates within legal and ethical boundaries, while also protecting users from fraudulent activities.
Bottom Line
The Binance Card offers a seamless payment and cashback experience, backed by the robust security and reliability of the largest crypto platforms.
During usage, the card was consistently accepted by merchants and there were no issues with its service. With cashback being credited the same day, it offers a significant advantage.
Furthermore, the card level is determined by the Total Daily Average BNB Balance in your spot, margin, savings, and other wallets within the account, eliminating the need for staking to achieve the desired level.
However, its less attractive staking tiers and spending caps make it a less desirable option compared to other cards in the market.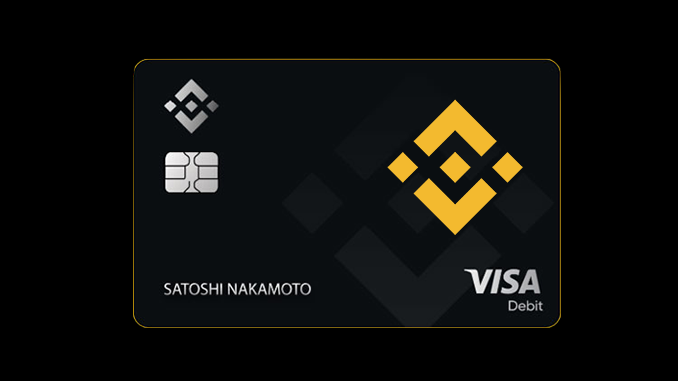 Binance Card Evaluation: 3/5
Ease of Use: The Binance Card is easy to use and can be linked to your Binance account, allowing you to spend your crypto assets with just a few taps. The card can be used anywhere Visa is accepted. 4/5
Security: Binance is a well-established company that has implemented various security measures to protect their clients' funds. This includes Know Your Customer (KYC), Anti-Money Laundering (AML), a Law Enforcement Request System, a Responsible Trading Program, a Binance Tax Reporting Tool, and reduced leverage for new users. Additionally, the Binance Emergency Insurance Fund (SAFU) was established in 2018 as an additional safety measure. It's important to note, however, that Binance was hacked in the past. 4/5
Fees & Limits: The Binance Card charges low fees, and there are no additional costs for activation. The limits depend on the card level, which is determined by the total daily average BNB balance in your Binance account. 4/5
Cashback: The Binance Card offers up to 8% cashback on eligible purchases, and the cashback is credited to your Binance account the same day. The staking tiers and spending caps, however, may make this card less desirable compared to other cashback cards. 2/5
Supported Countries: Currently, the Binance Card is only available in a limited number of countries, and is not available in the US. 3/5
Frequently Asked Questions (FAQ)
How can I get a Binance Card?
To get a Binance Card, you will need to sign up for a Binance account and order the card from the Binance website.
Is the Binance Card free?
Yes, ordering the Binance card is free of charge. Also the shipping is free. However, in the event of a lost or expired card, a fee of 25 EUR will be incurred for reissuance.
Is the Binance Card made of metal?
No, the Binance Card is not made of metal. Currently, there are no premium plans/tiers for the Binance Card, which is simply a black plastic Visa debit card with the yellow Binance logo.