Stamp Seed Review 2023: Titanium Seed Phrase Storage Kit
In this Stamp Seed Review, we will examine this cold storage solution for safeguarding your seed phrase with the highest security. This solution includes the use of aerospace-grade titanium plates and a professional-grade stamping kit, all at a reasonable and honest price.
Self-custody is a fundamental and revolutionary concept within the realm of Bitcoin, granting individuals absolute control and unconfiscatability over their cryptographic keys. By generating a secure seed phrase from a reputable hardware wallet and keeping that seed offline at all times, the risk of fund theft is significantly minimized.
In recent years, a growing awareness of self-custody has led to the emergence of new companies dedicated to facilitating this practice. However, a notable drawback of the conventional approach, which involves purchasing a hardware wallet and generating a seed phrase, is the reliance on paper for seed phrase storage.
Paper, the traditional medium of choice for many, presents numerous disadvantages, including susceptibility to loss, fire damage, water exposure, discoloration, and more. In response to these challenges, several companies have recognized the need to elevate seed phrase preservation by engraving—or, more aptly, "stamping"—the set of 12 or 24 seed phrase words onto metal plates.
Stamp Seed has taken this concept to new heights by introducing seed plates crafted from aerospace-grade titanium, a material renowned for its durability. To complement these plates, Stamp Seed provides a beautifully designed kit that simplifies the process of stamping your seed phrase onto them with ease.
👉 Click here to get the Stamp Seed Kit for a special price. Use the coupon code BLOCKDYOR to get 15% off at checkout.
| DESCRIPTION | DETAILS |
| --- | --- |
| 📦 Product Name | Stamp Seed |
| 🌐 Website | stampseed.com |
| 🗓 Release Year | 2022 |
| 💰 Price Range | Kit starting from $120.00 USD |
| 🔒 Security Features | 2mm thick, Commercial-Grade Titanium, High Melting Point, Heavy Duty |
| 💻 Compatibility | Bitcoin and altcoins, 12/24 words BIP39, PIN, Passphrase |
| 📏 Dimensions | 3" x 3" (7.62 cm x 7.62 cm) |
| ⚖️ Weight | 2.9 oz (82 grams) |
| 🛡️ Melting point | 3000 F° (1650 C°) |
| 🌡️ Corrosion resistant | Yes |
| 📜 Warranty | Covers manufacturing, design, and material defects; report within 1 month. |
Who Created The Stamp Seed?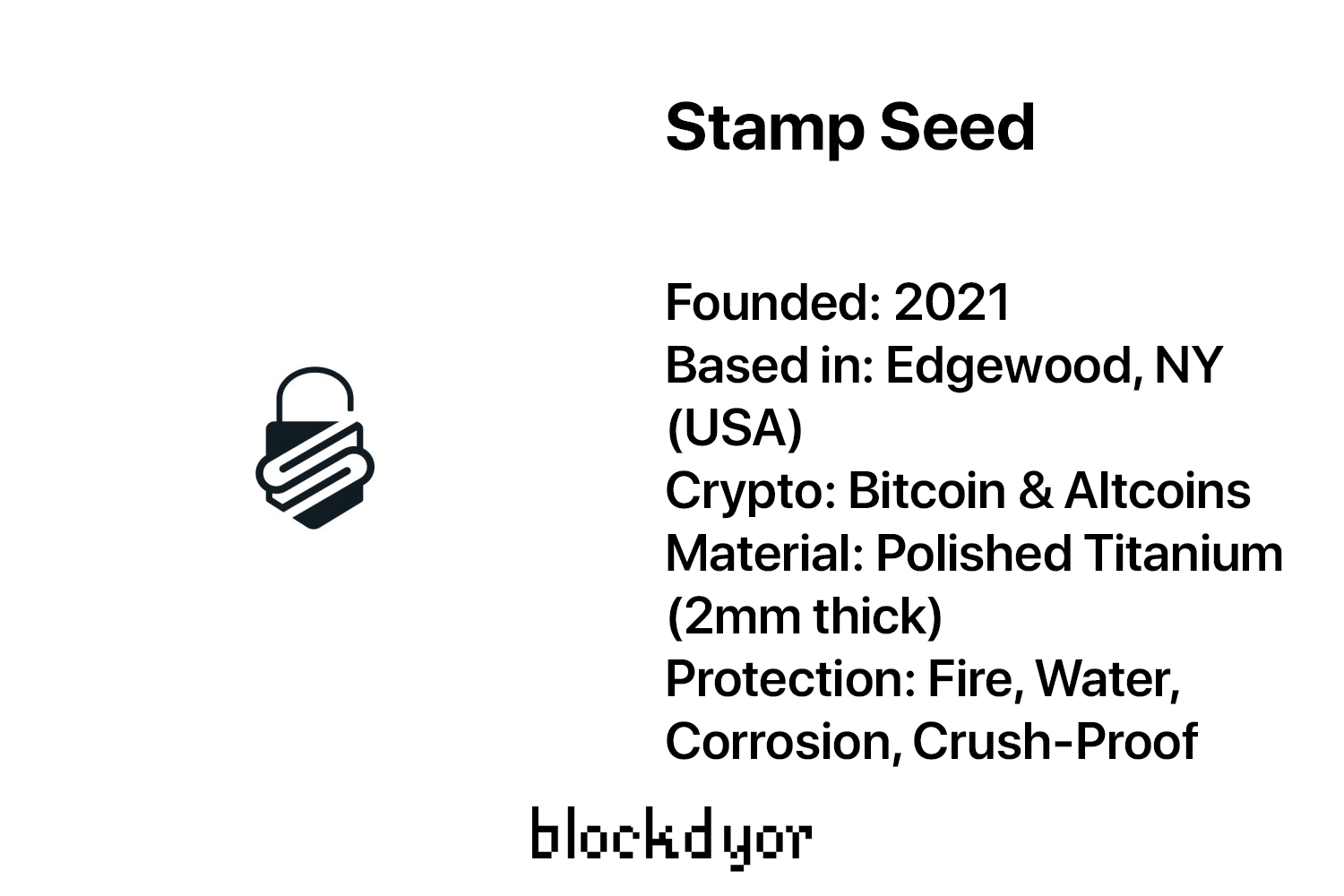 Stamp Seed's genesis traces back to Long Island, New York, where the company is headquartered. James Caruso, a passionate Bitcoin advocate with a deep expertise in metal stamping spanning over a decade, serves as the co-founder. I had the pleasure of personally meeting James at BTC Prague, where his booth attracted a significant crowd of enthusiasts and attendees.
The origin of Stamp Seed can be attributed to its parent company, ImpressArt, a well-established metal stamping firm in the United States. ImpressArt noticed that many individuals were purchasing their seed plates, although these plates were initially intended for purposes other than Bitcoin and crypto storage. Recognizing the need for a specialized solution, James decided to establish Stamp Seed as a distinct entity dedicated exclusively to seed phrase storage.
In 2020, Stamp Seed released its first generation of products (albeit under a different name), which required a high level of focus and attention during the stamping process. However, in 2021, the company changed name in Stamp Seed and unveiled its second-generation products, equipped with tools that addressed some of the most challenging aspects of manual hand stamping, making the process more accessible and user-friendly.
Stamp Seed Unboxing

In this review, I will analyze the full Kit of Stamp Seed, which serves as a comprehensive solution for engraving your seed phrase onto titanium plates. Everything you need is included in the box (also the titanium plate, of course), so it's the best solution for beginners.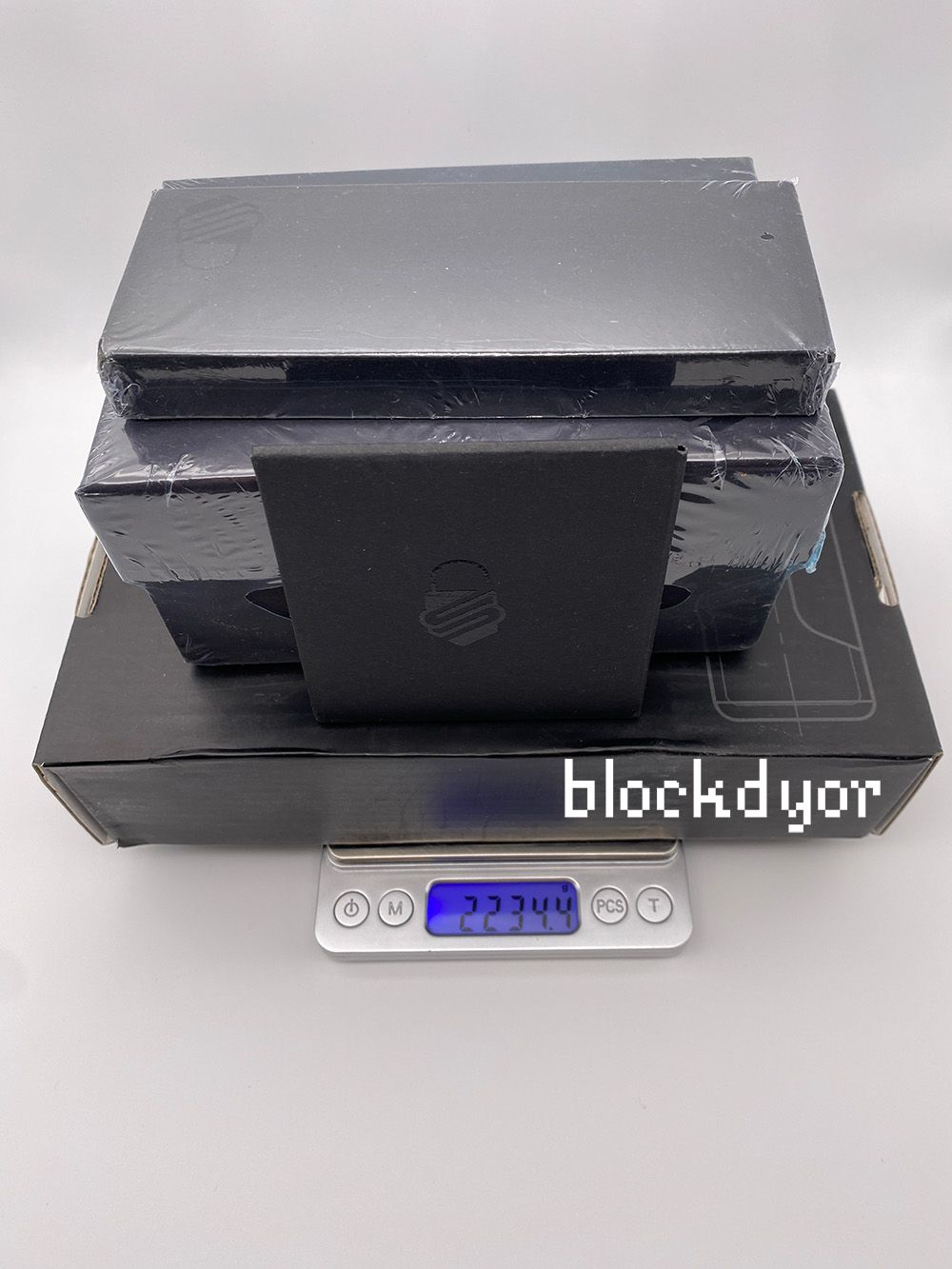 The kit arrived with a double-box packaging, meticulously filled with paper and other materials designed to absorb shocks and protect the contents during shipping. Every item inside the kit was exceptionally well-preserved. Given the unique nature of these seed plates, it's important to discuss each item of the kit individually, as they stand apart from conventional offerings.
💡
The package is shipped from the USA and has a substantial weight, exceeding 4.4 pounds (2 kilograms). Therefore, if you are located outside of the USA, it's important to be mindful of potential customs fees that may apply when importing the package. To avoid unexpected customs charges, it is advisable to explore preventive measures during the shipping process.
The hammer
With crypto metal seed plates, the hammer holds a position of paramount importance. It should possess key qualities such as being substantial in size, weighty, and well-balanced. The hammer included in the Stamp Seed kit stands out as truly exceptional and versatile, capable of not only serving its primary purpose of stamping the seed but also finding utility in various DIY projects around the house.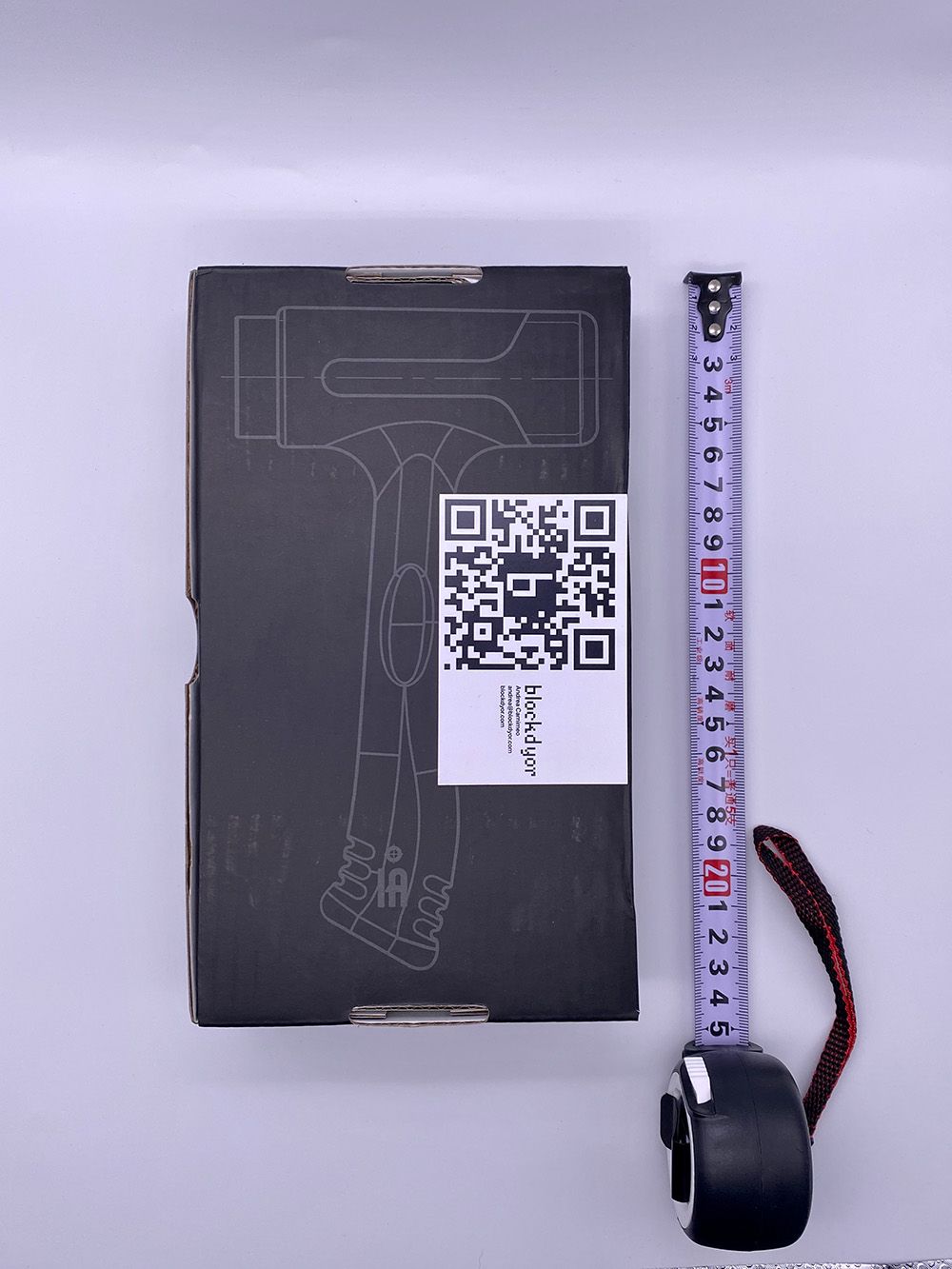 This hammer not only performs admirably but also has an interesting design. This 2lb hammer, custom-crafted for metal stamping, is a product of ImpressArt, a division of Stamp Seed. It is engineered to ensure that the characters are stamped deeply, even with minimal effort.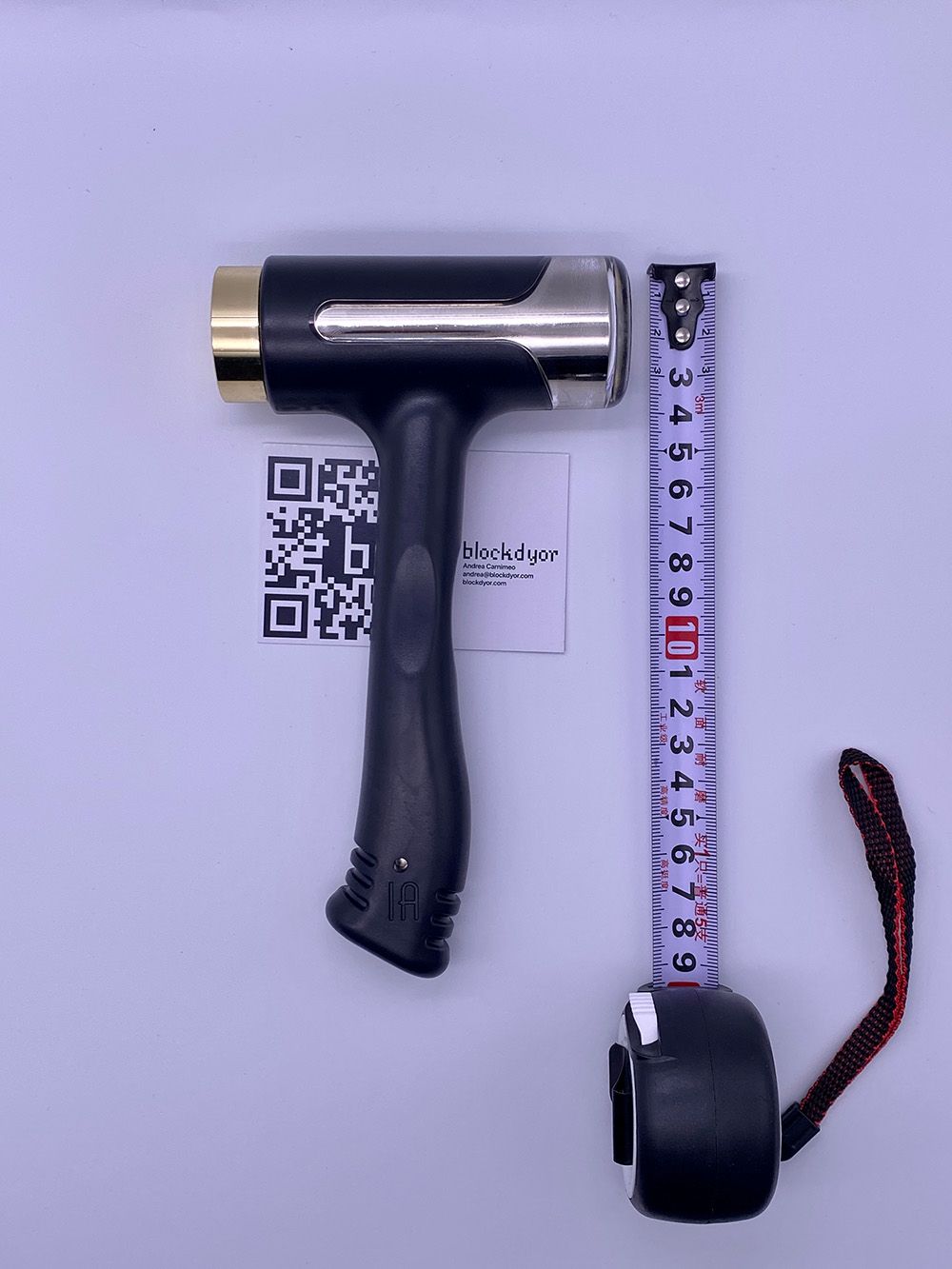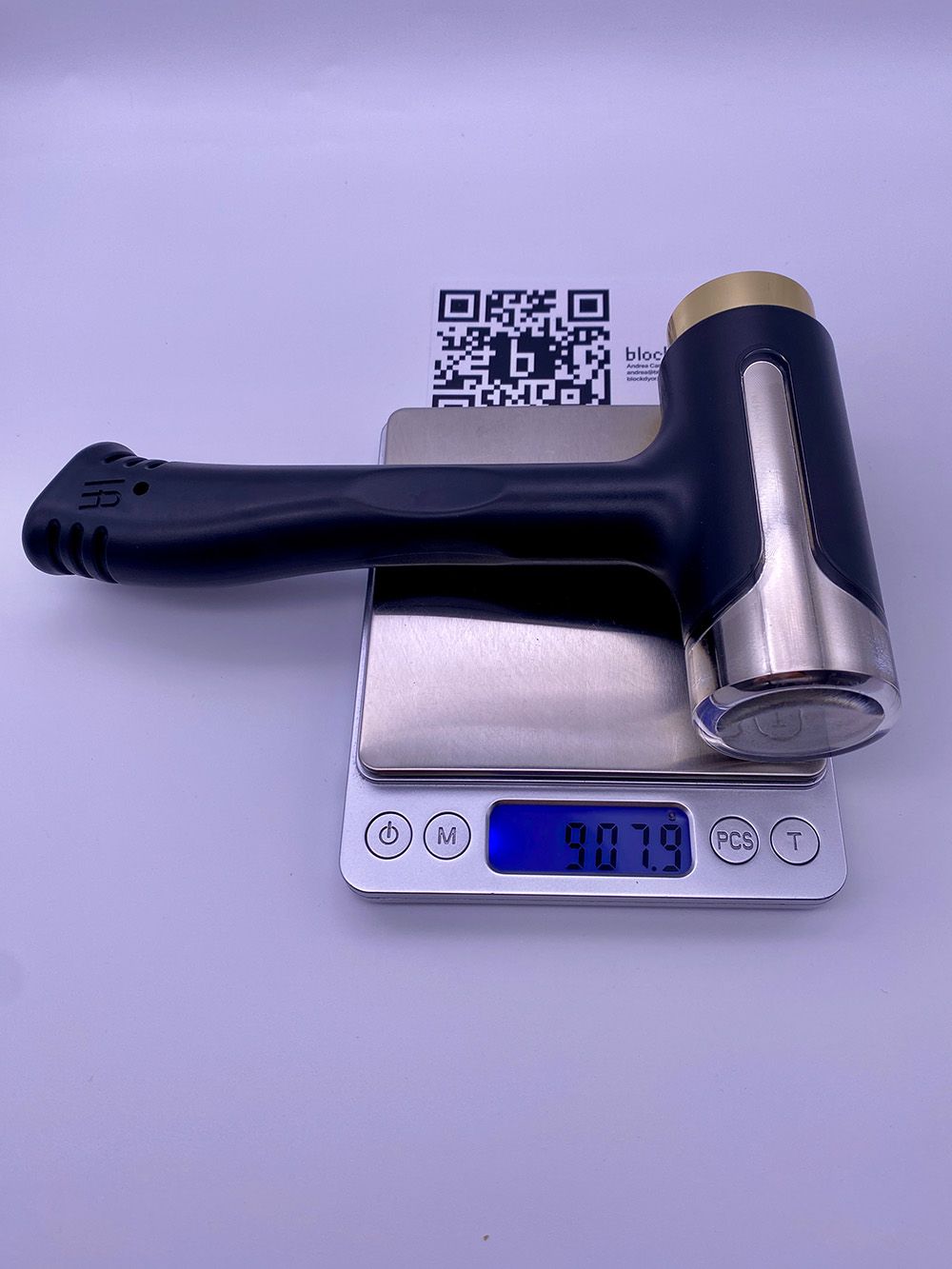 Its ergonomic design provides the optimal striking angle, enhancing precision and ease of use. Furthermore, the brass tip of the hammer absorbs the shock of each strike, reducing bounce back and promoting accuracy.
The added weight of the hammer plays a crucial role in ensuring that the letters are stamped deeply and securely into the titanium surface. This hammer exemplifies both form and function, making it an invaluable tool for seed plate engraving and beyond.
The Stamping Block (with Rubber Pad)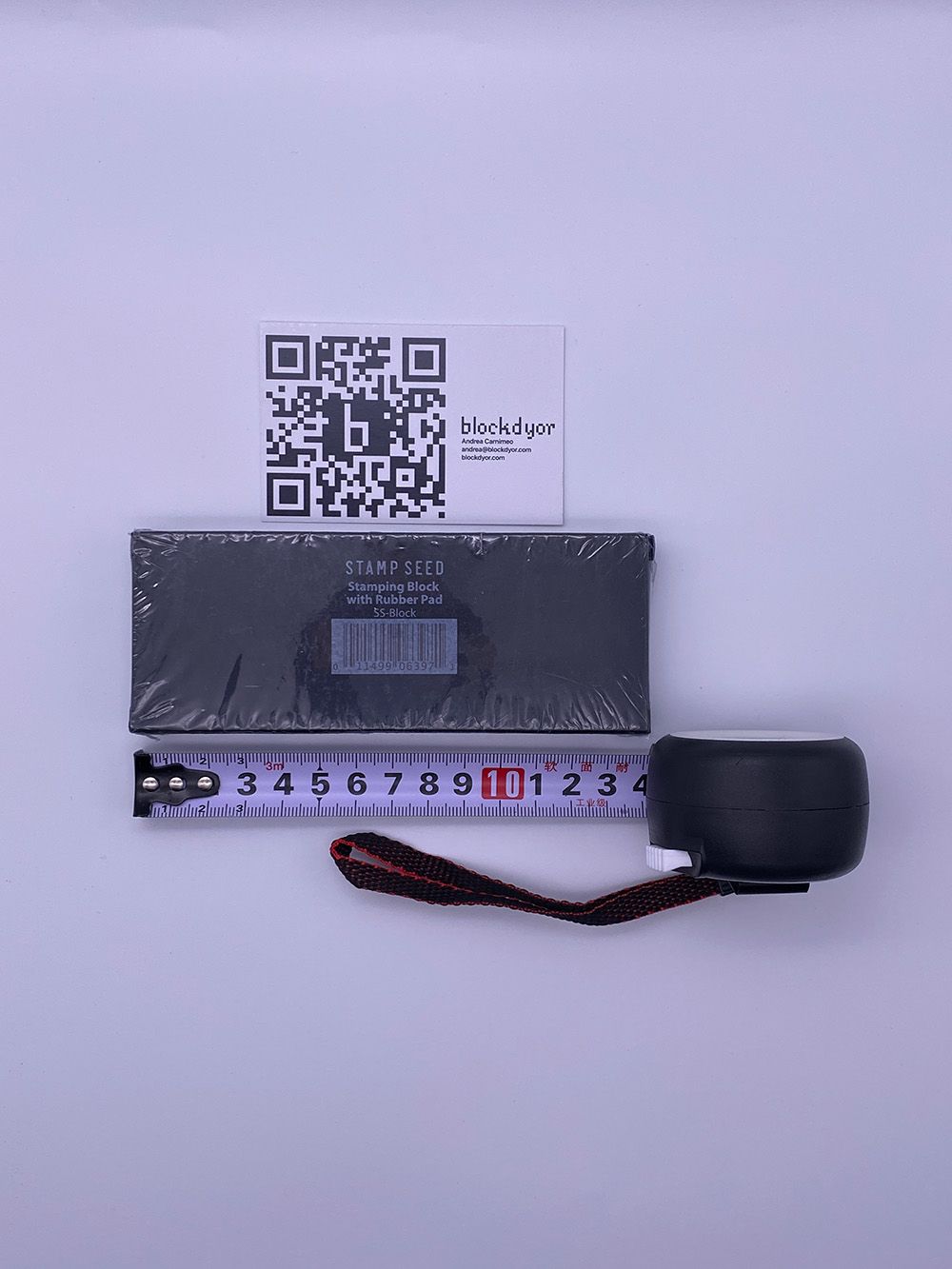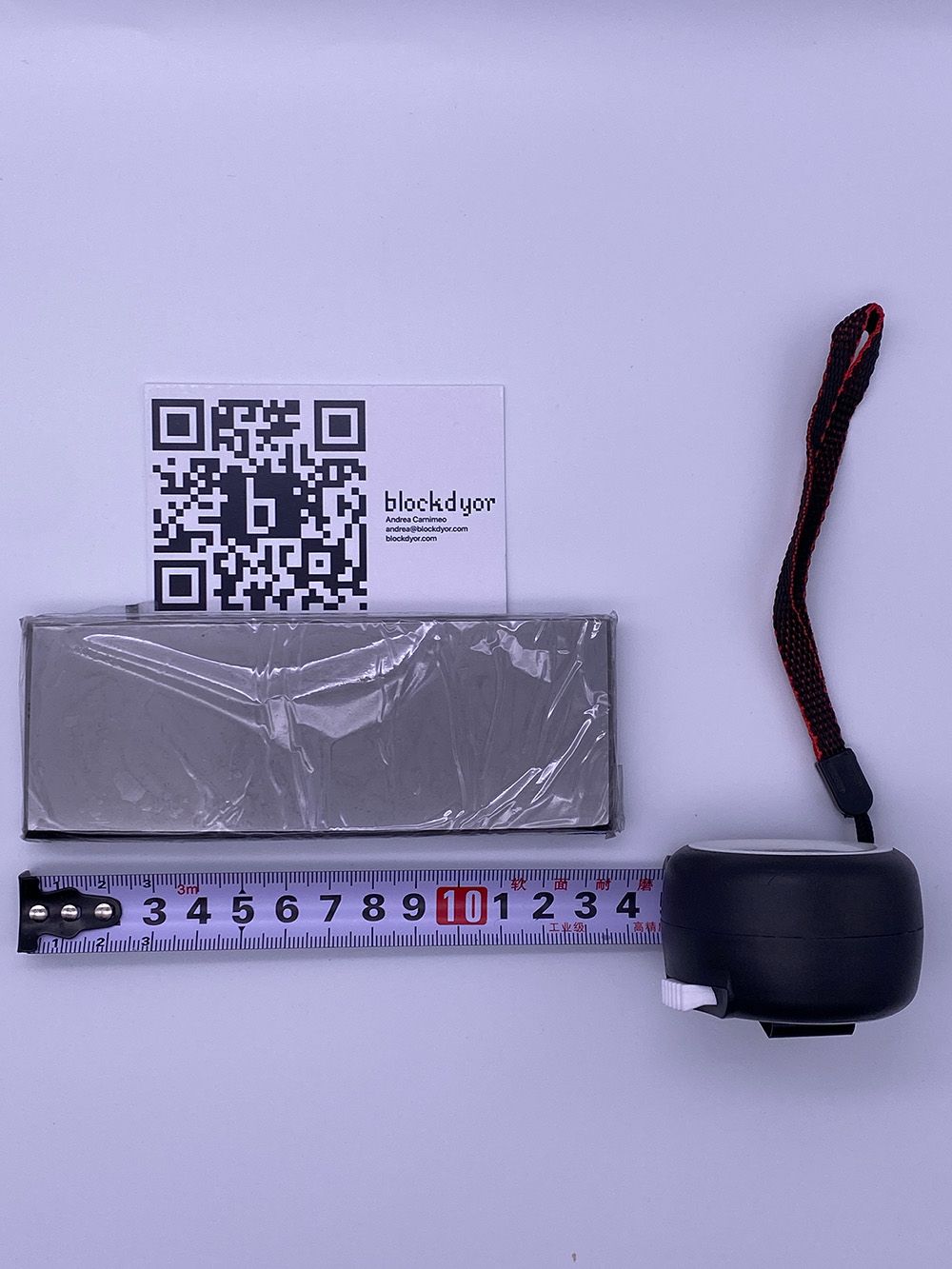 While it may seem like a bit of an extravagance, this tool can prove incredibly valuable, particularly for individuals residing in apartments without access to a garden or a DIY workspace.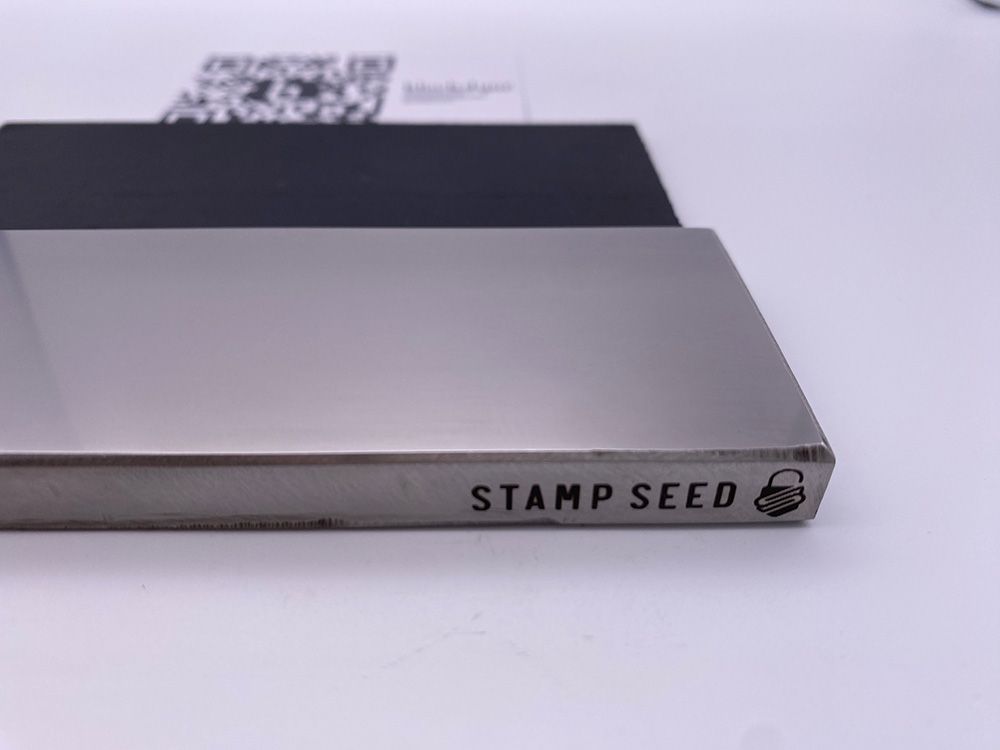 It provides an effective solution for those who wish to avoid damaging their flooring while using the hammer to create deep impressions with the Stamp Seed Kit.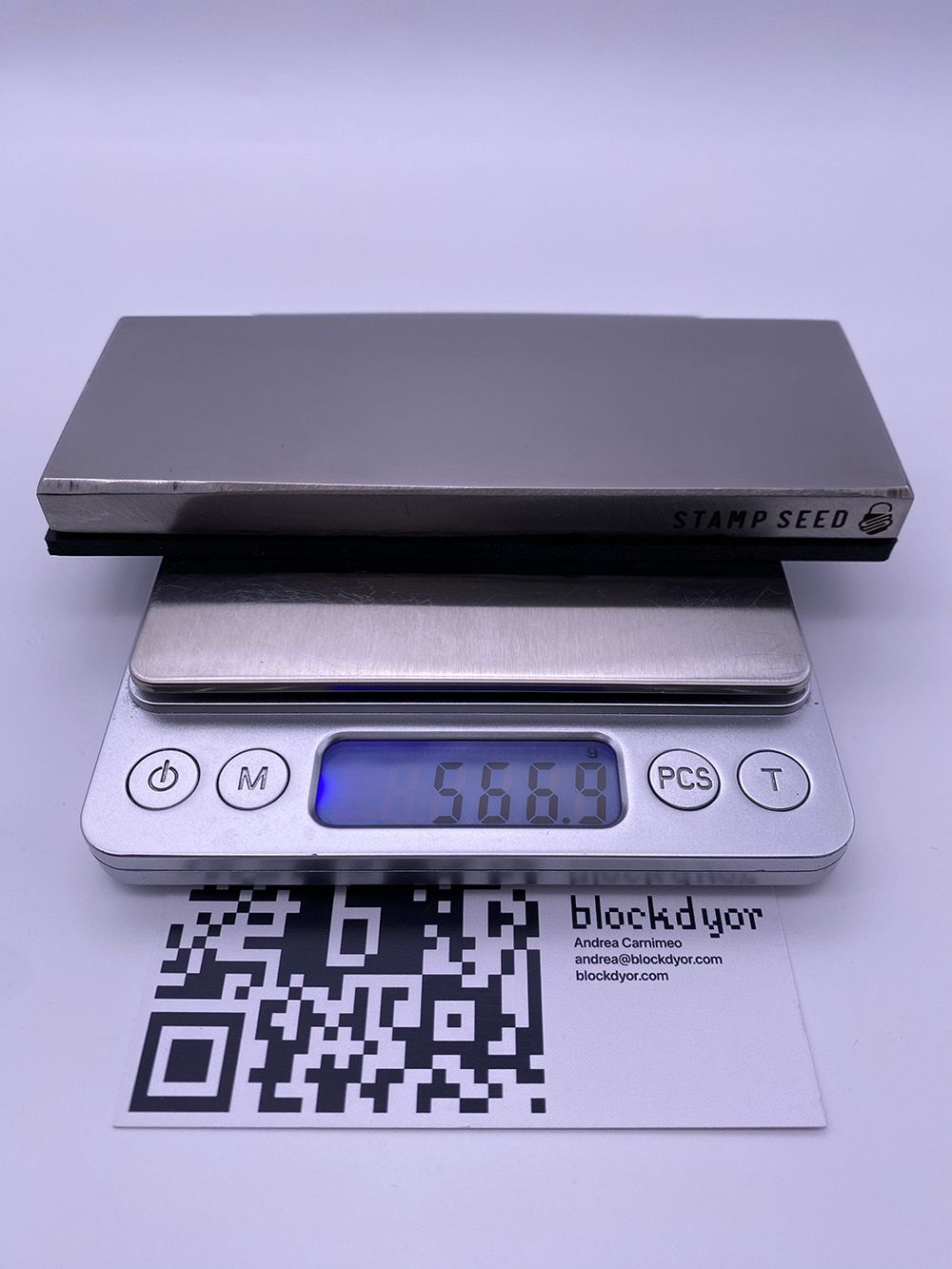 Essentially, this tool consists of a substantial steel block, kind of heavy, accompanied by a rubber pad. The process is straightforward: you position this block with the rubber beneath the stamping jig and it will effectively absorbs the impact when you strike with the hammer.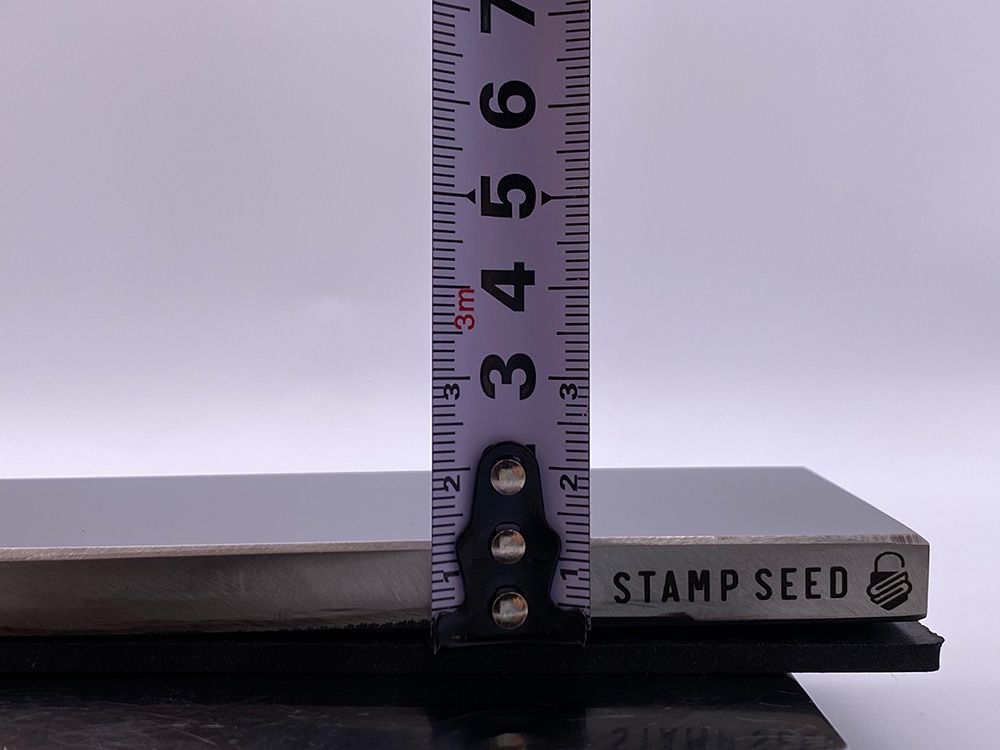 It's an excellent addition if you want to offer your wife/husband peace of mind, assuring her/him that the floor won't be damaged while you are Stamp Seeding!
Seed Word Metal Stamping Kit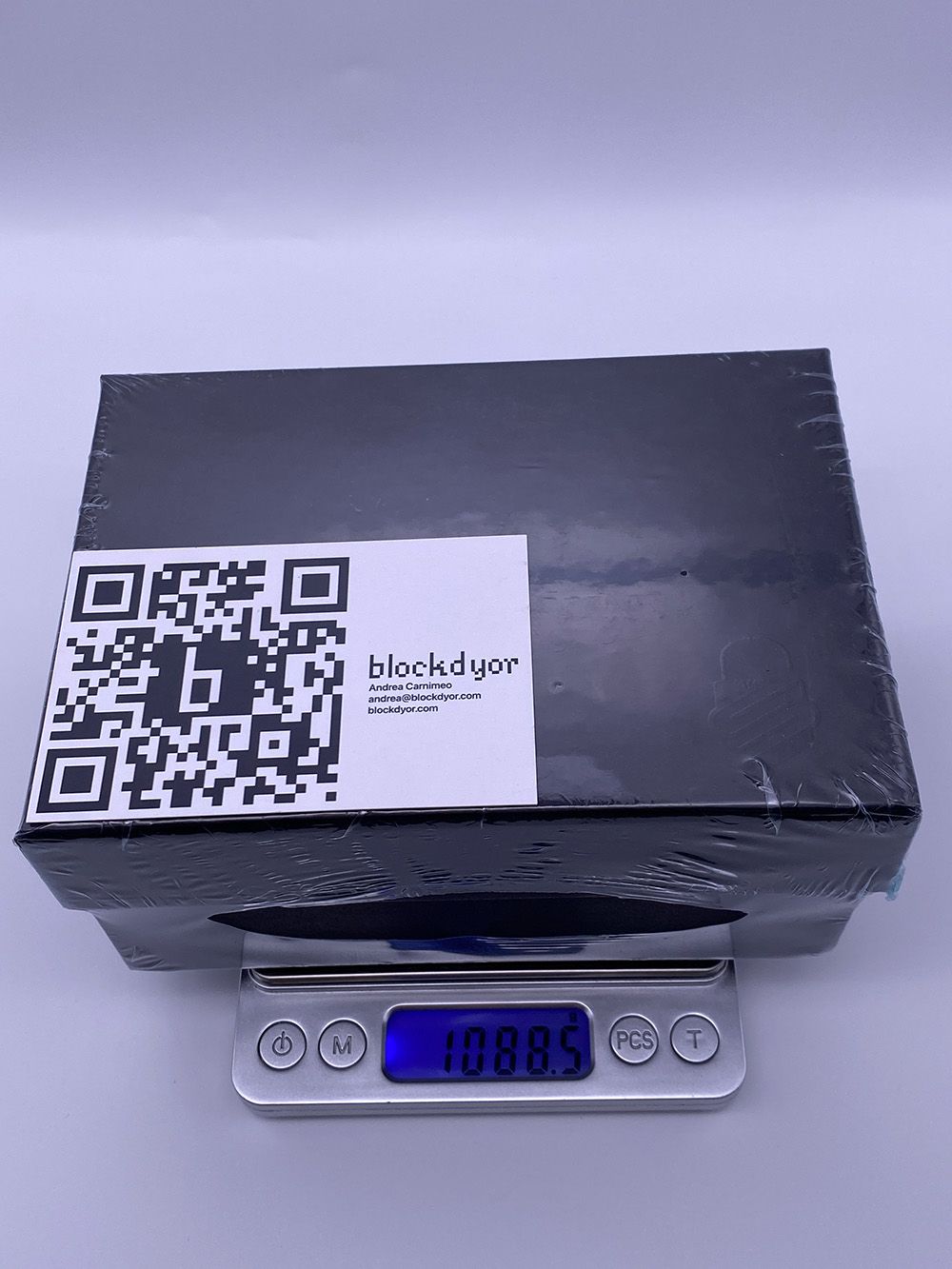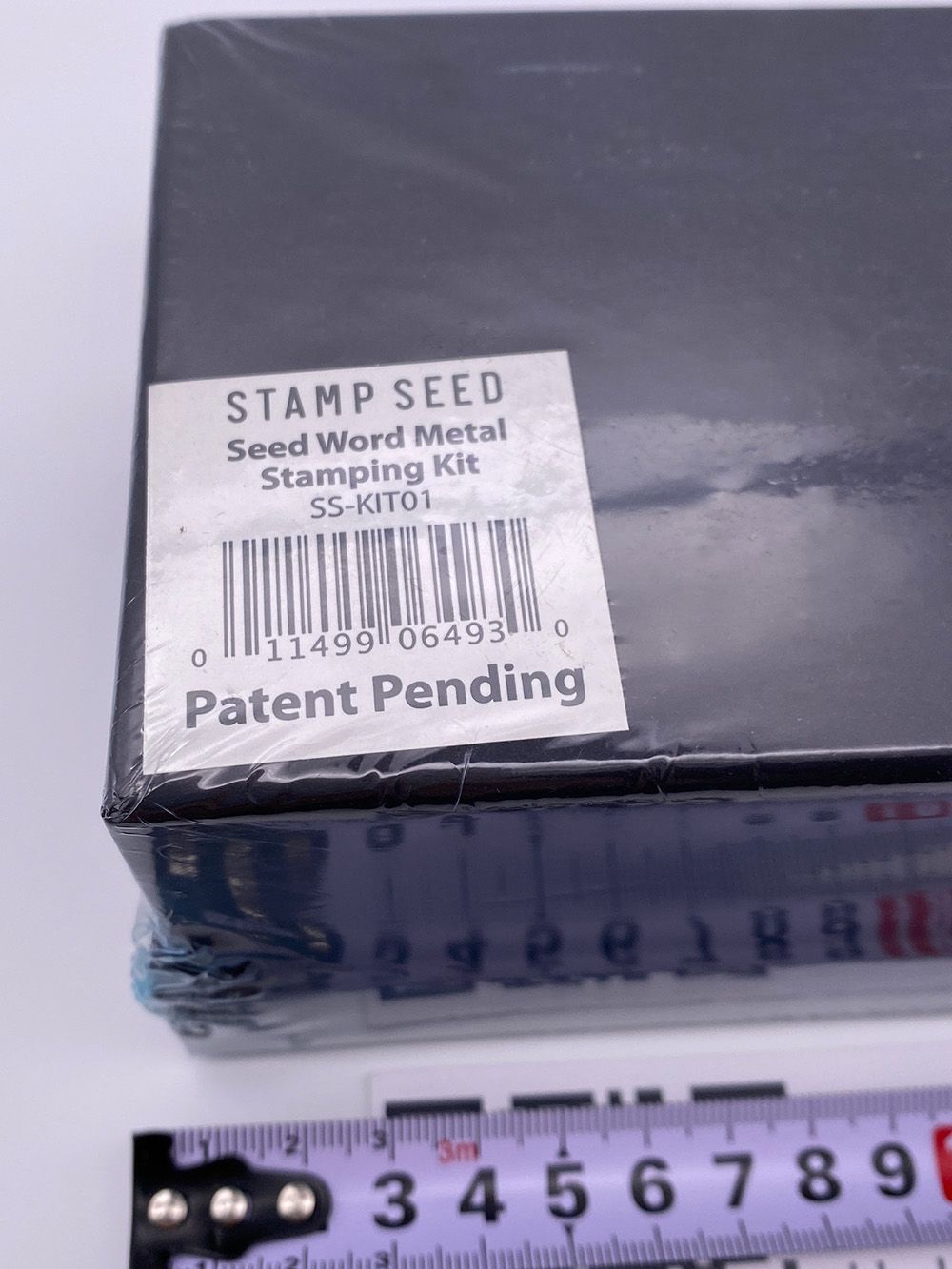 Now, let's delve into the most exciting aspect, the true essence of the kit. Interestingly, the following kit can also be purchased separately, excluding the hammer and stamping block, which are considered add-ons. This kit comprises:
x1 Titanium Seed Plate
x1 Stamping Jig
x1 Metal Stamp Set
Let's examine each of these components in detail.
Stamping Instructions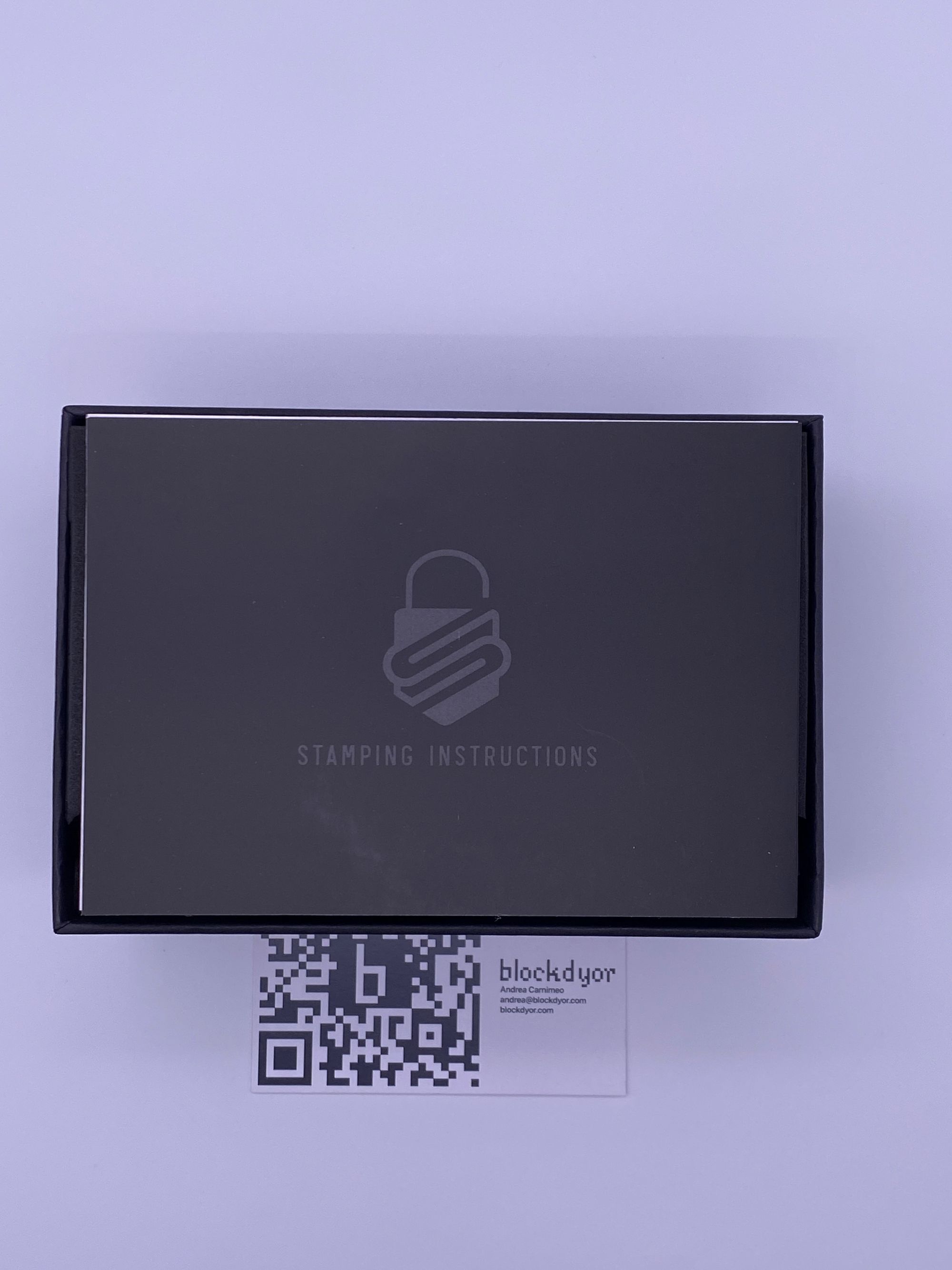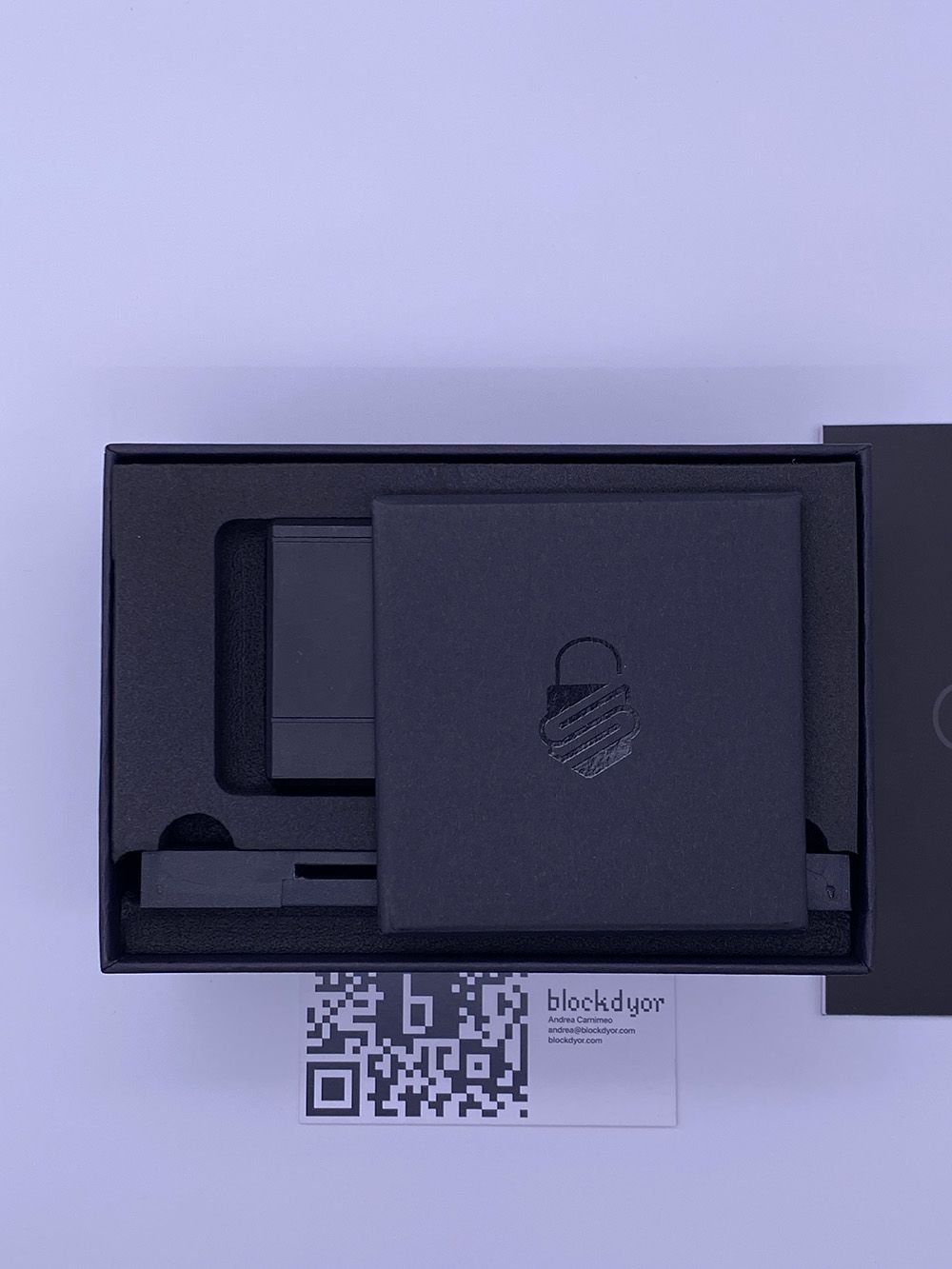 Each kit also includes Stamping Instructions, a crucial part of the kit, most of the times overlooked. It's highly advisable to thoroughly read this booklet before starting the stamping process.
It contains instructions for the stamps and valuable tips and tricks. Failure to follow these instructions meticulously could result in stamps being placed upside down or incorrectly.
Metal Stamp Set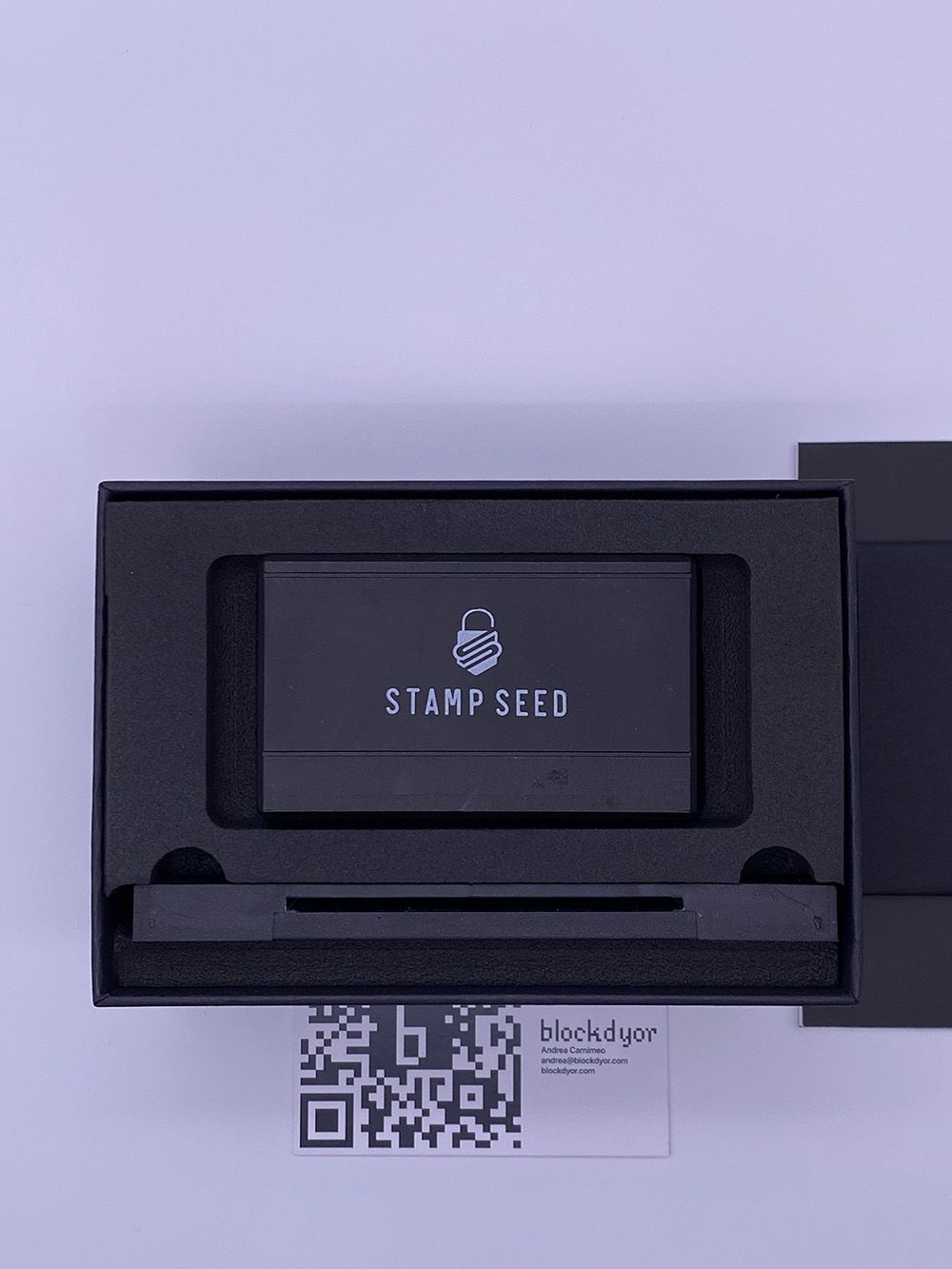 Positioned at the center of the box's lower section, you'll discover the Metal Stamp Set. This comprehensive set includes 36 metal stamps, covering the letters A through Z and numbers 0 through 8 (with 6 doubling as 9). For convenient organization, the set comes with a slotted storage case.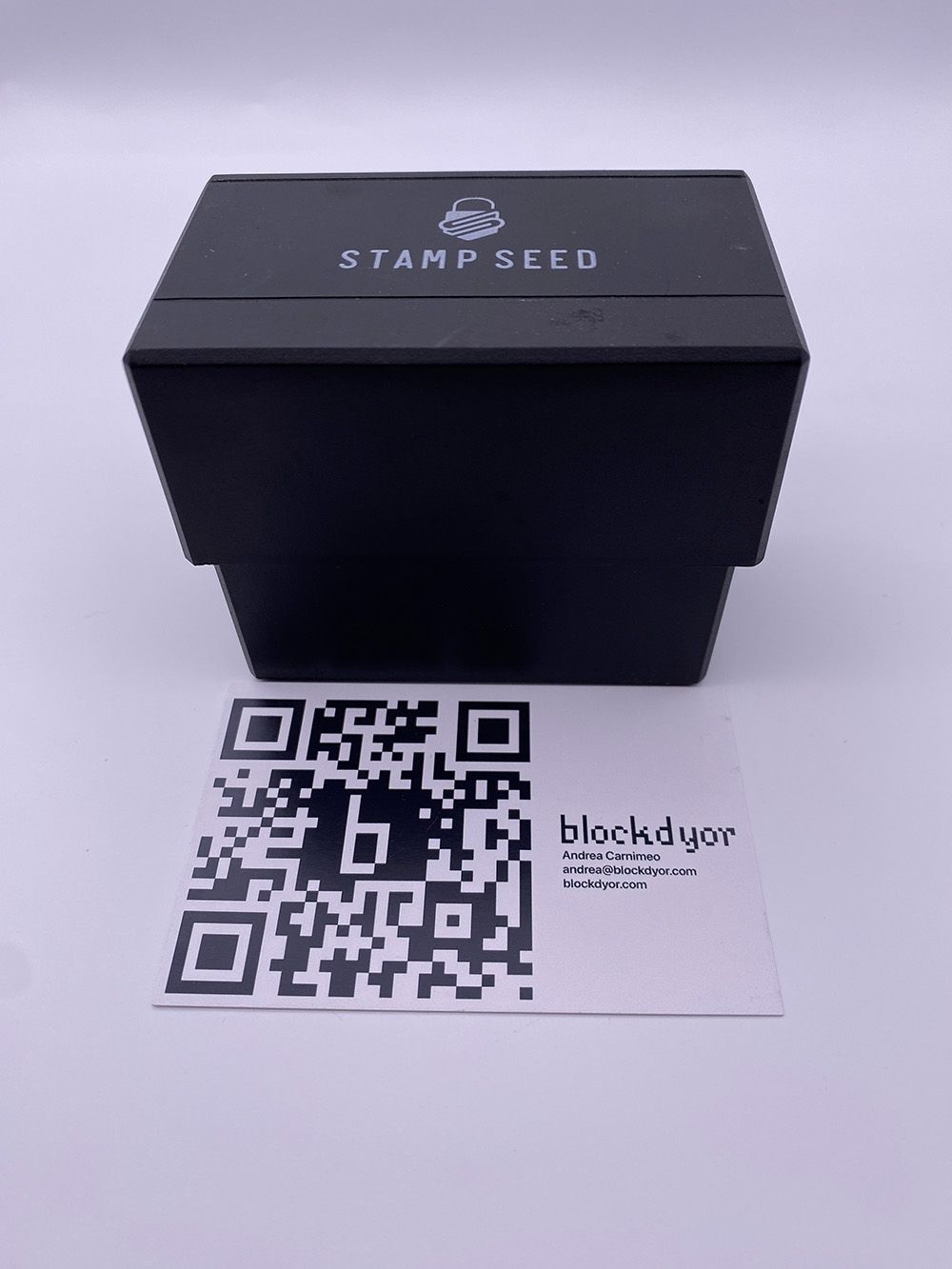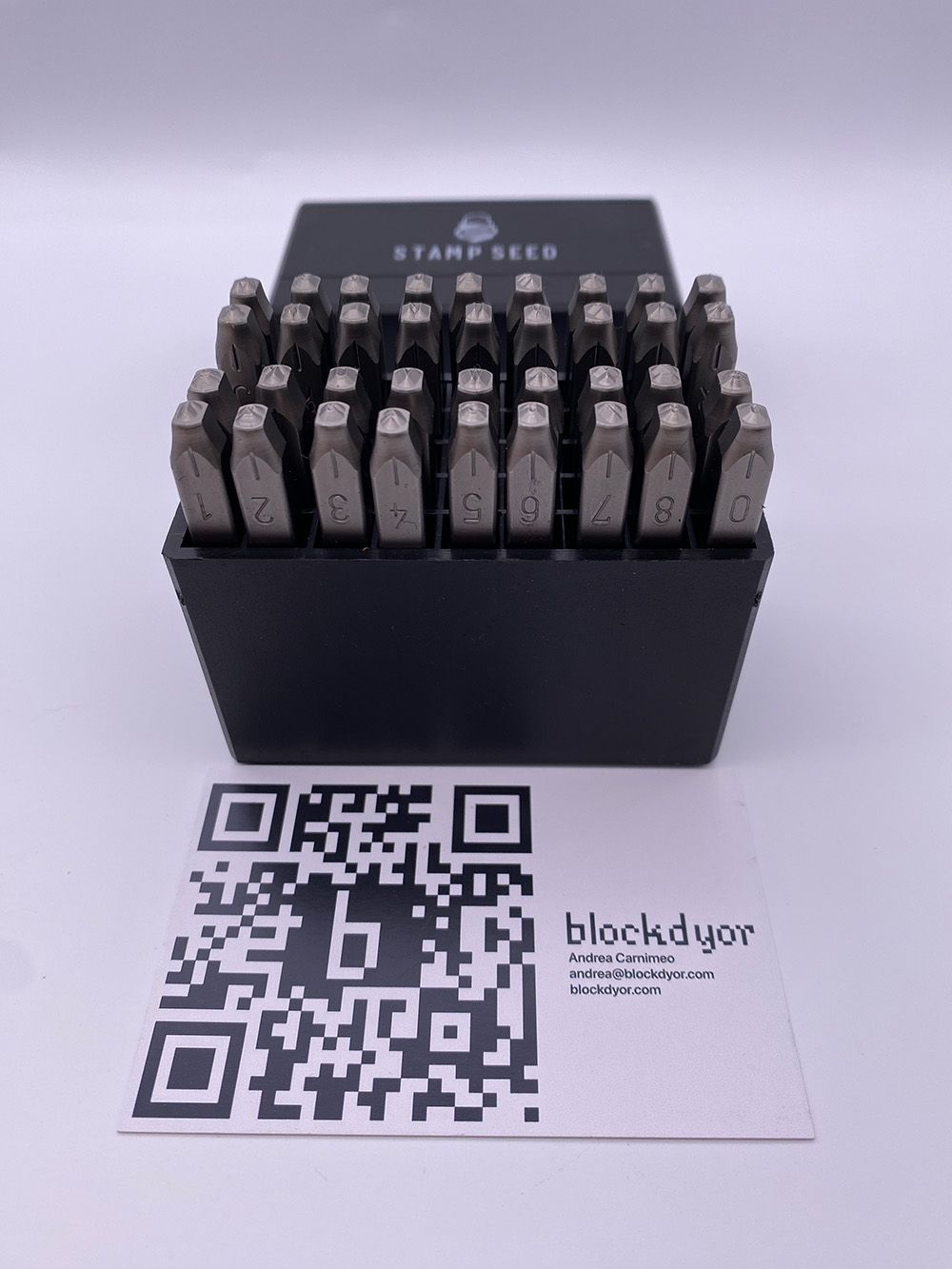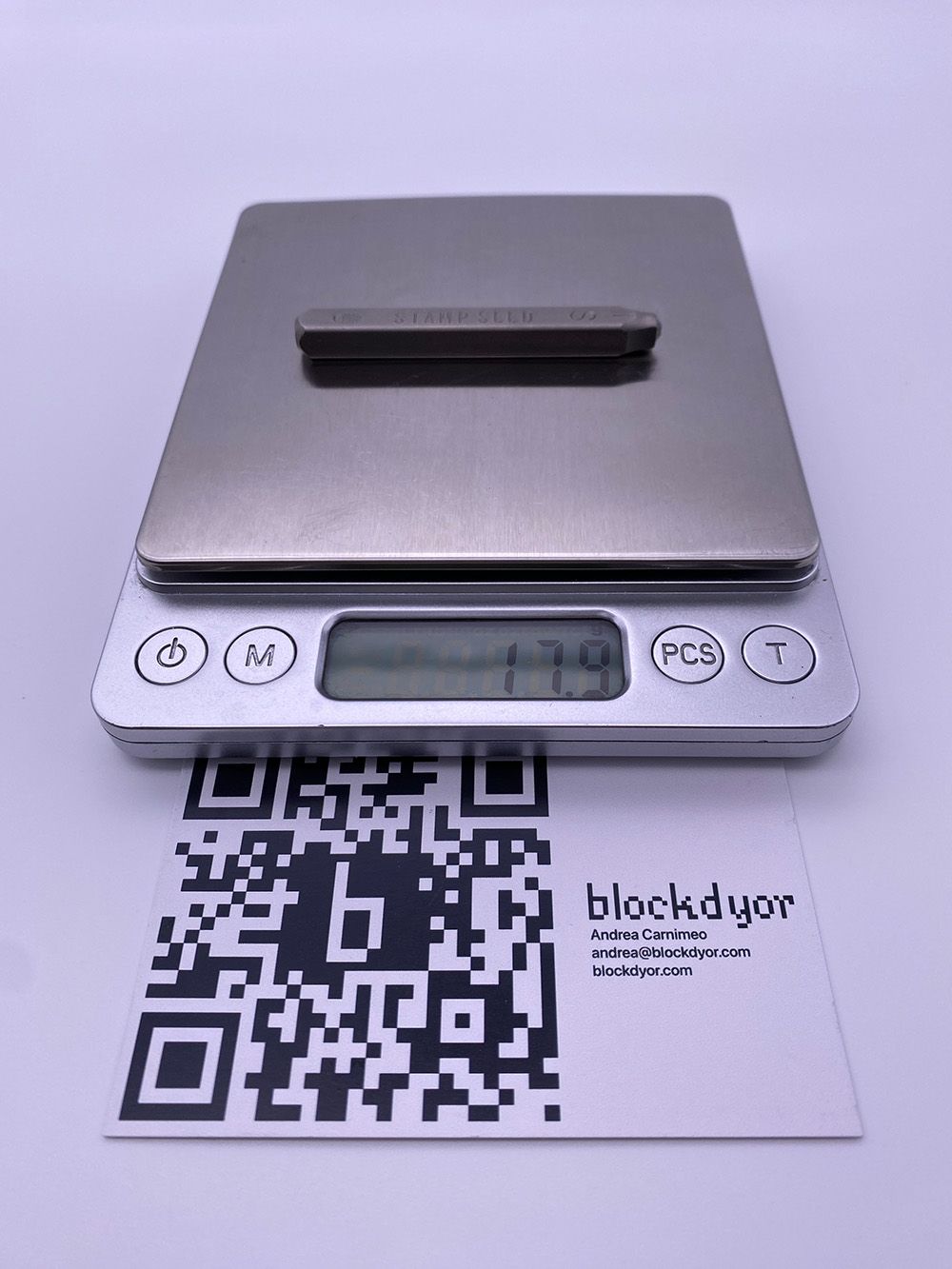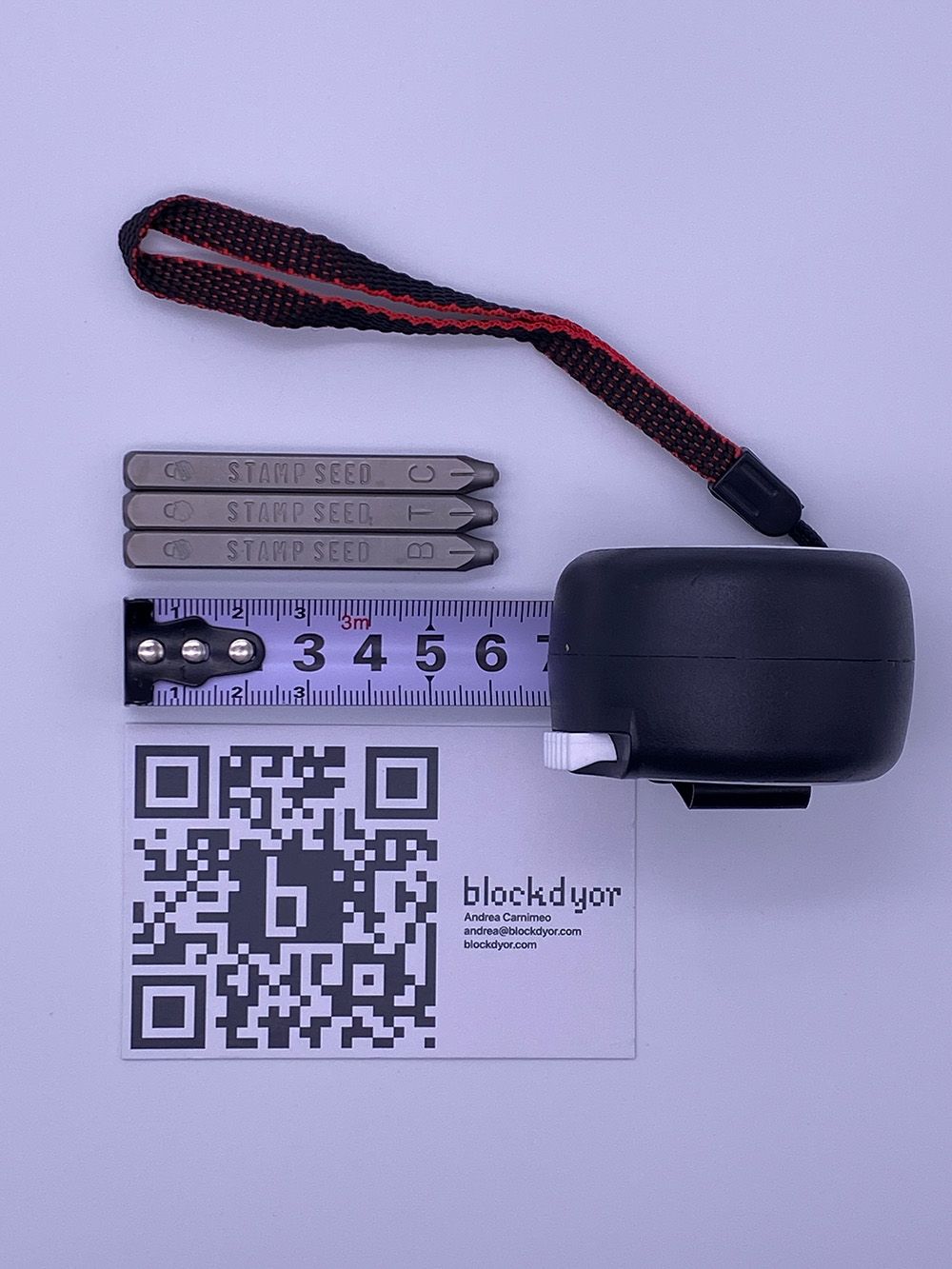 Each stamp is designed with side markings for easy identification and orientation. Additionally, there's an indicator line on each stamp that aligns precisely with our Stamping Jig. To achieve flawless stampings, simply match up the indicator line on the stamp with the corresponding line on the Stamping Jig.
Stamping Jig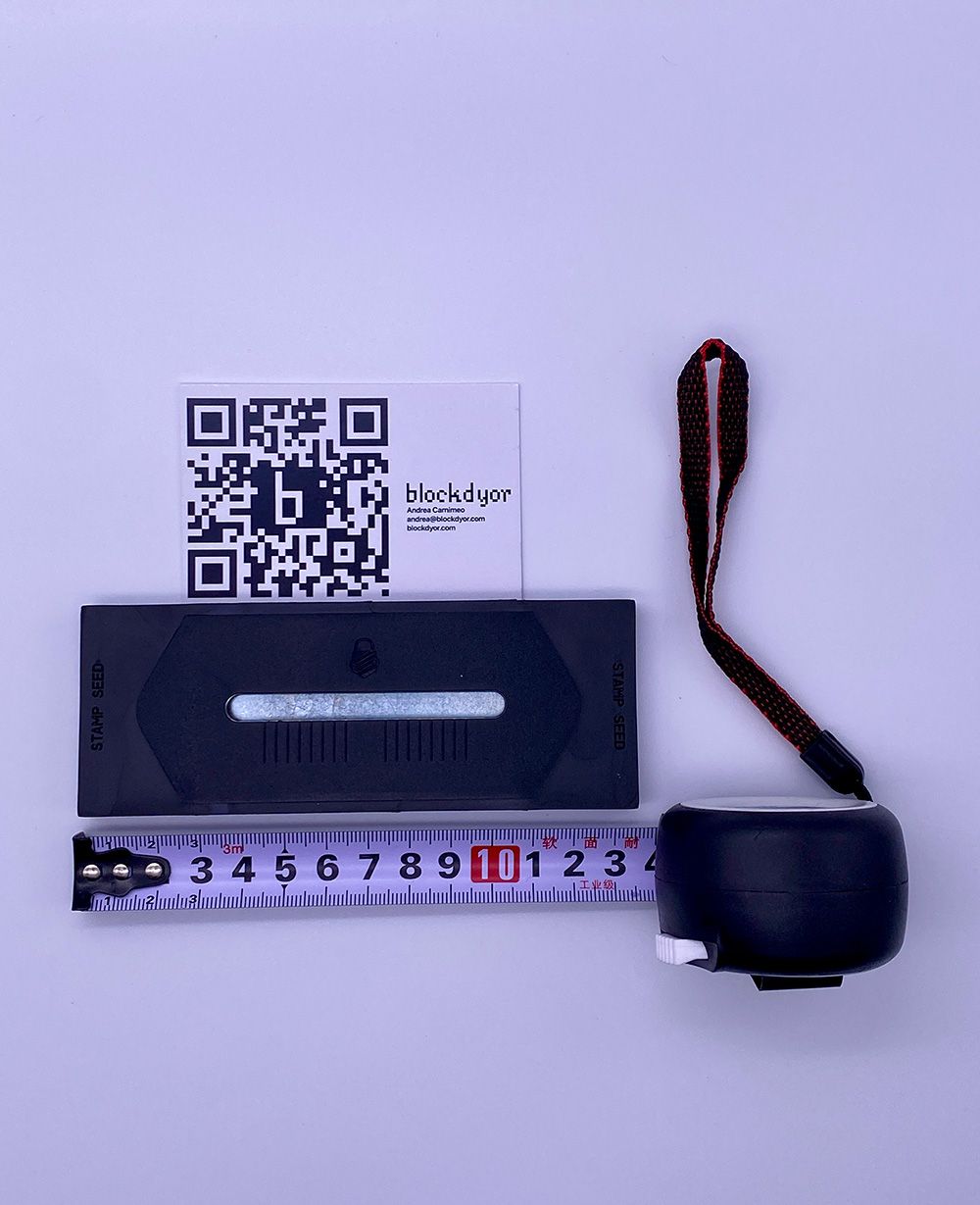 Another essential component included in the base kit is the Stamping Jig. This item plays a pivotal role by securely holding the titanium plate in position and providing precise stamping guidance through multiple indicator lines.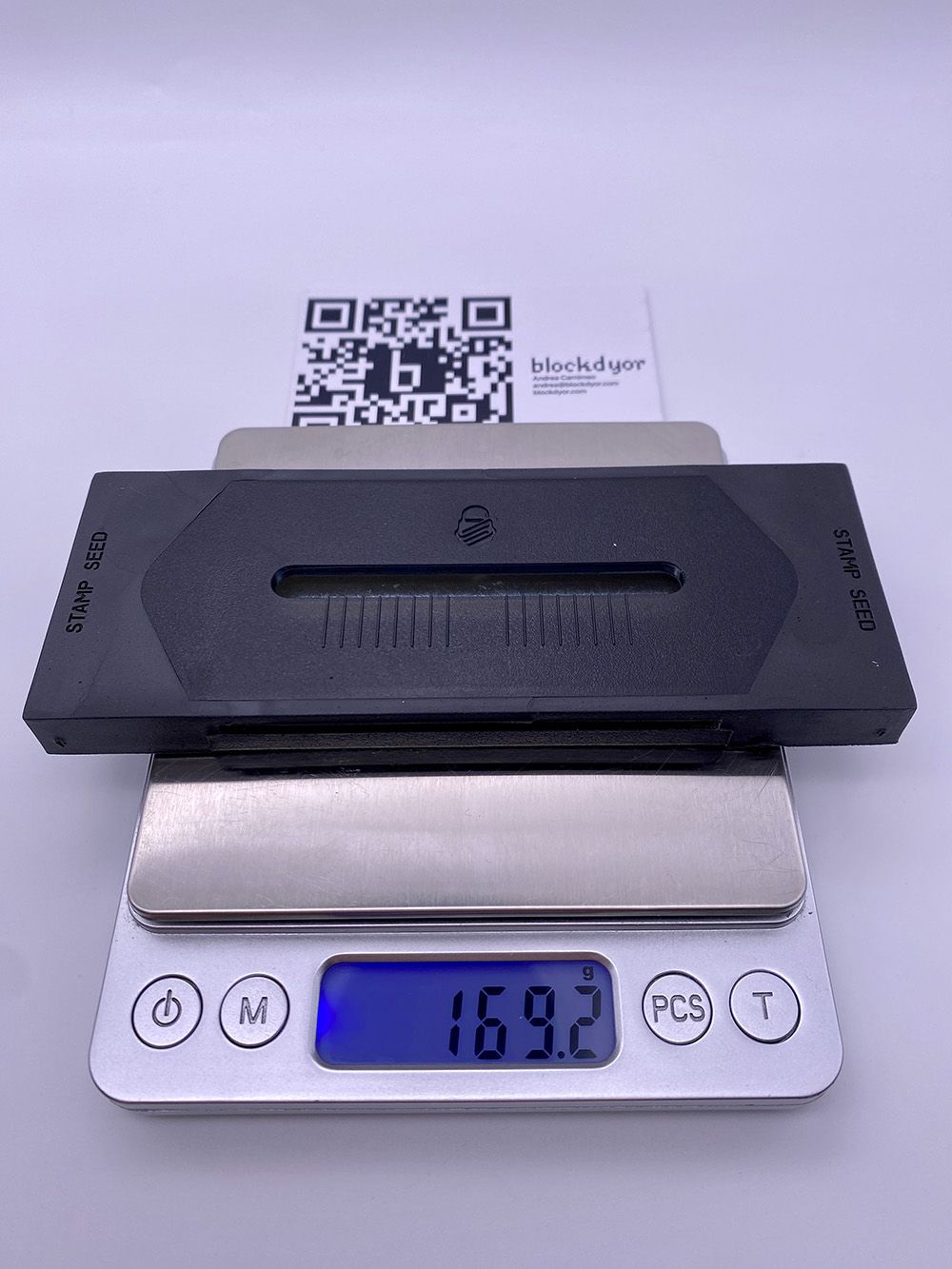 What makes this product even more noteworthy is that it is patent pending from Stamp Seed. It not only firmly secures the titanium plate during the stamping process but also incorporates indicator lines to assist in maintaining proper letter and number spacing and alignment. Furthermore, it features a steel base that offers a robust and stable surface for your stamping endeavors.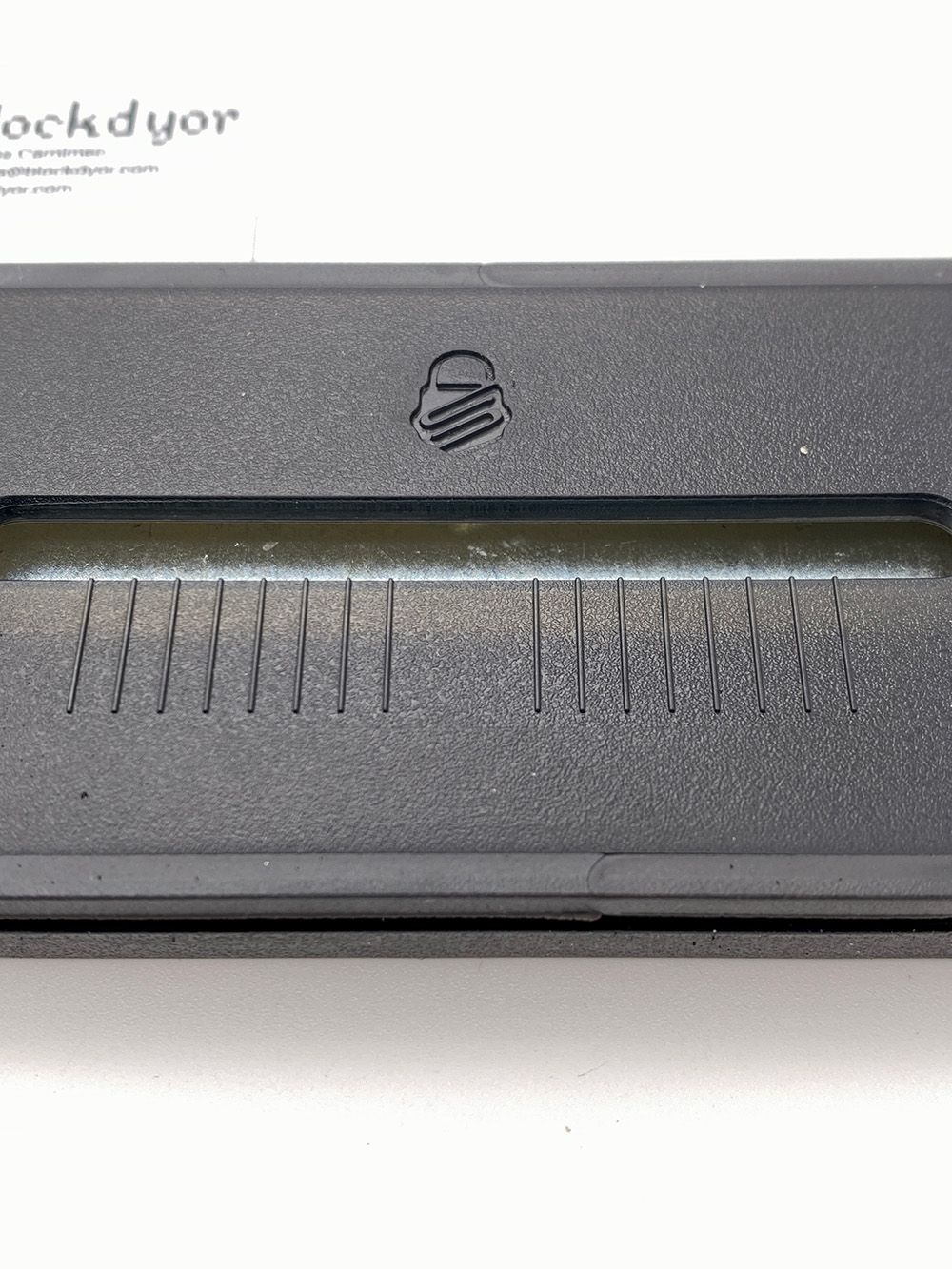 Titanium Seed Plate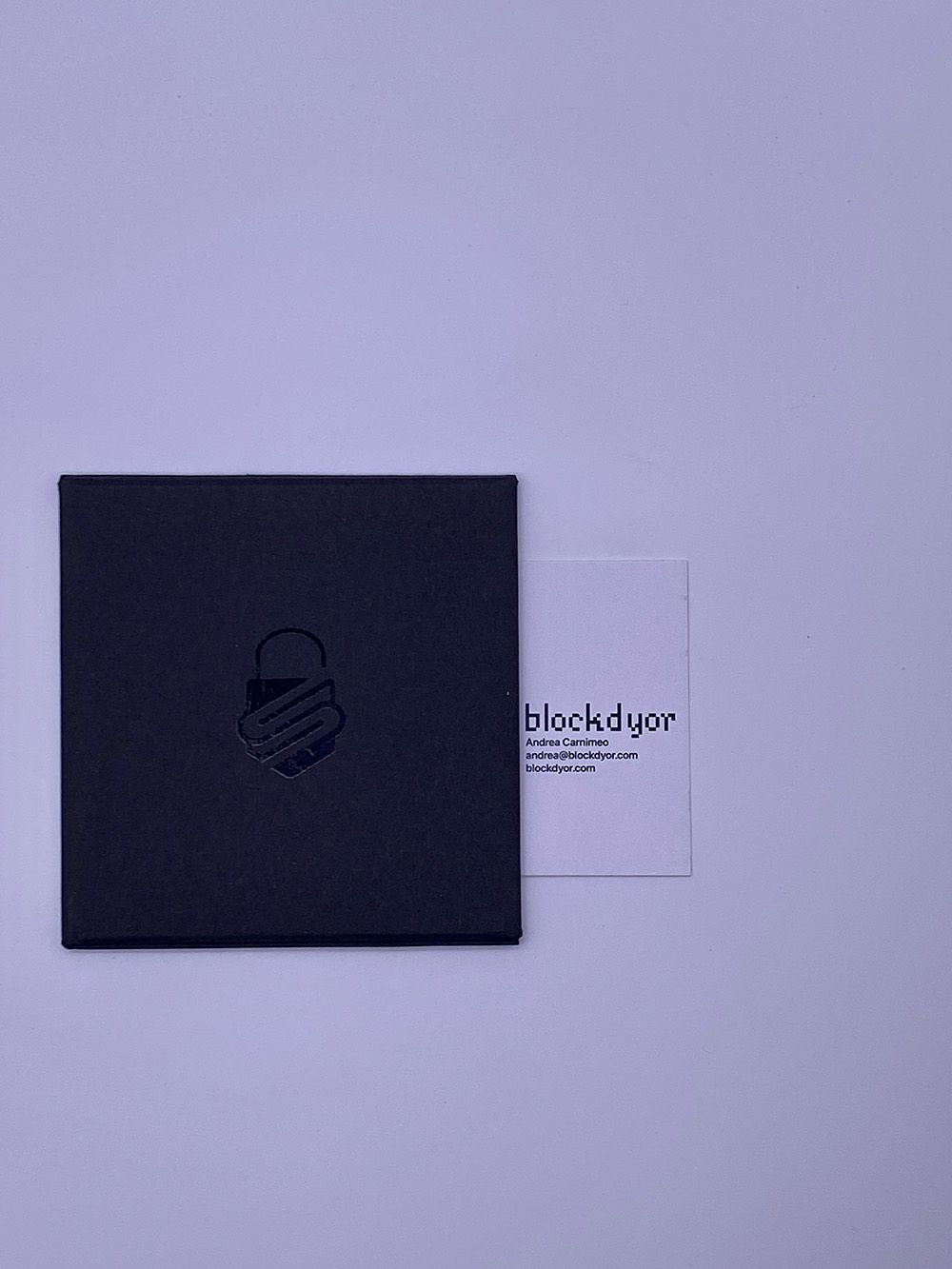 As you continue exploring the contents of the kit box, you'll come across a square envelope. Inside this envelope lies the Titanium Seed Plate, arguably the most critical component of the kit, as it serves as the canvas for engraving your seed phrase.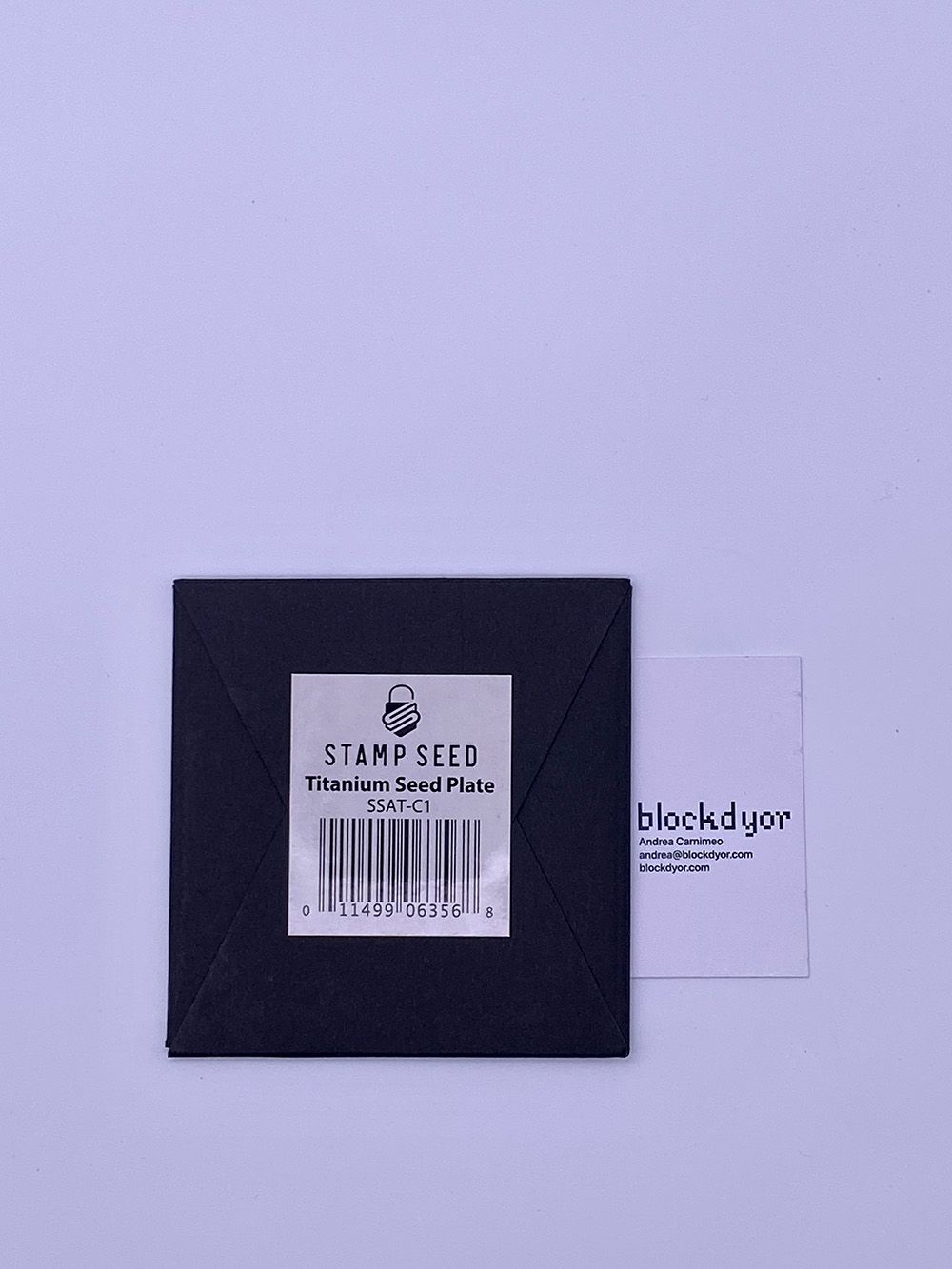 To be honest, it's quite striking in appearance, and its technical specifications are indeed impressive.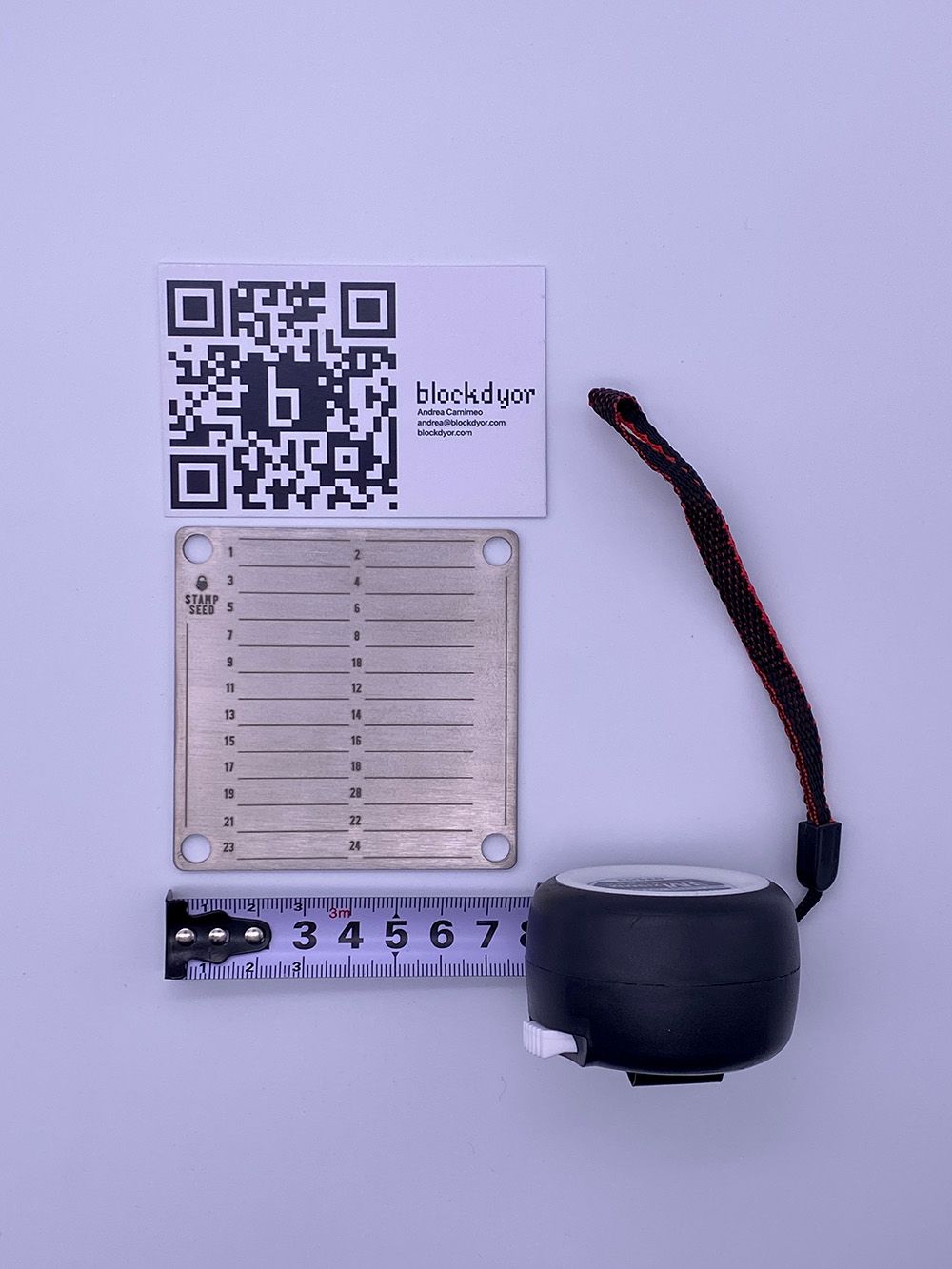 Finding a comparable item on the market might prove to be quite a challenge. The Titanium Seed Plate has the following specs:
Thickness of 2mm
A polished finish
Laser-engraved with 24 numbered cells
2 sideline areas for additional information
4 utility holes, facilitating mounting or stacking of multiple plates using hardware, zip ties, or locks
Remarkable fire resistance, withstanding temperatures up to 3,000ºF (1,650ºC)
Non-corrosive properties
Crushproof construction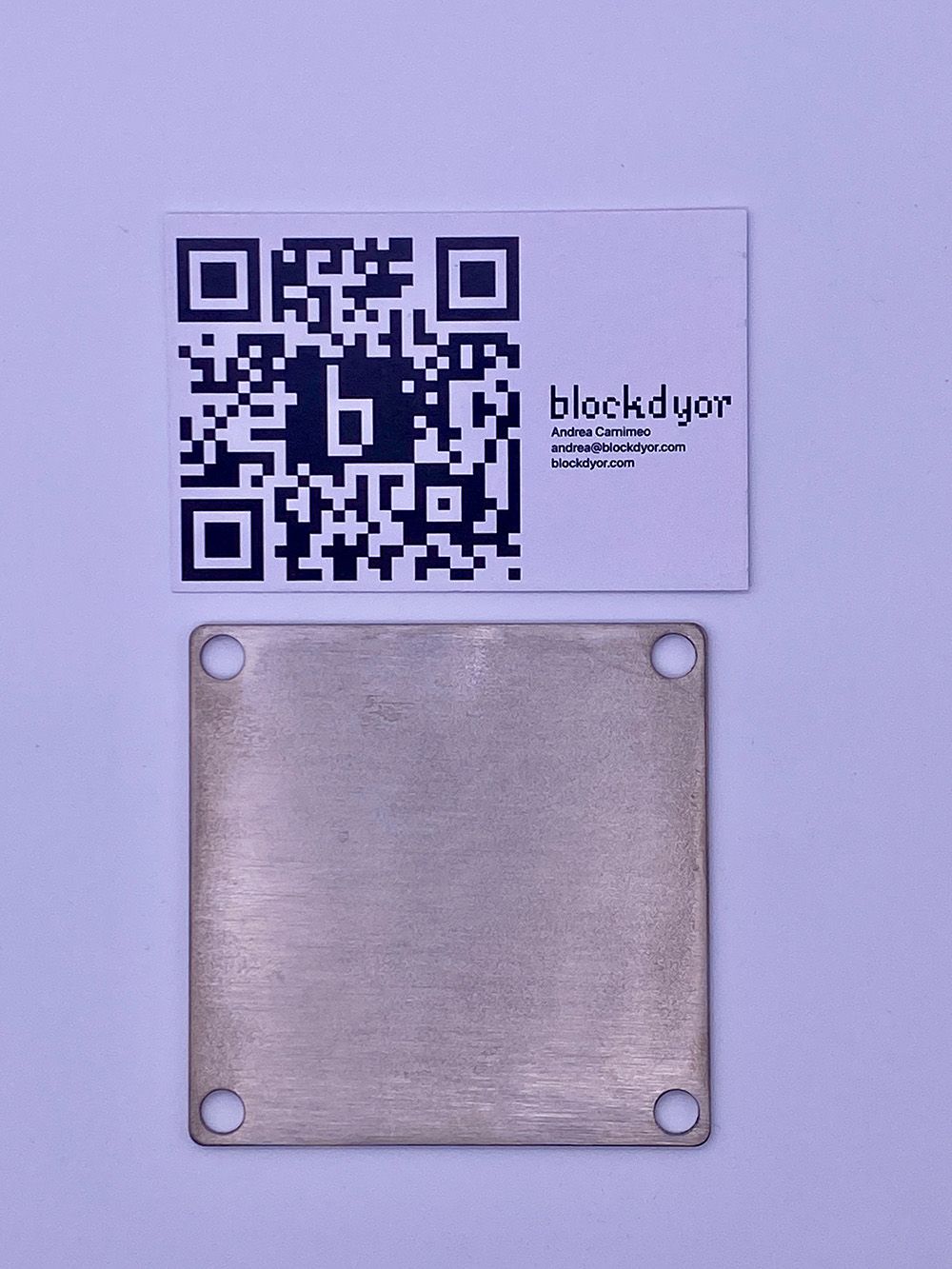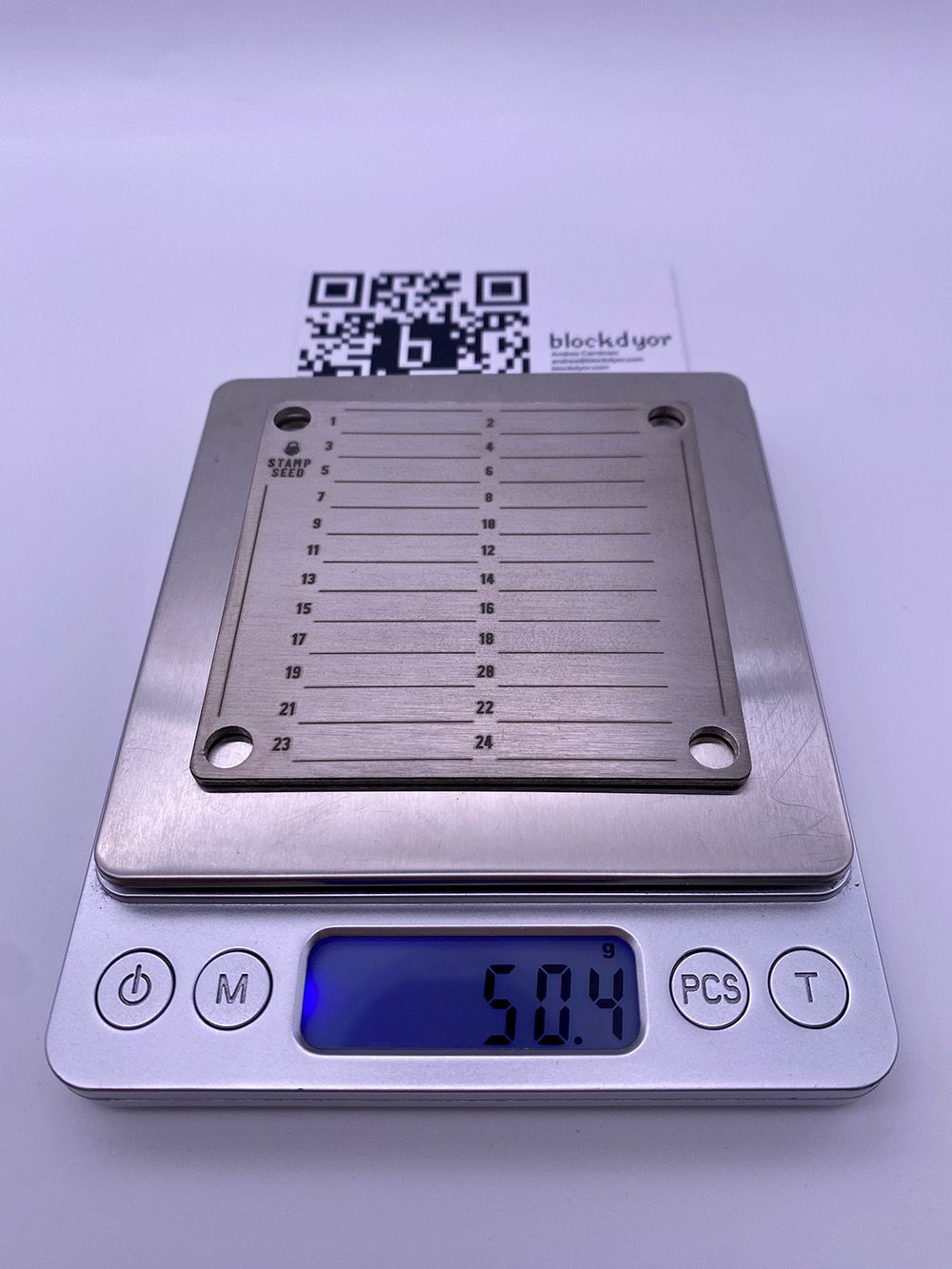 These specifications underscore the exceptional quality and durability of the Titanium Seed Plate, making it a standout choice for secure seed phrase storage.
As specified before, the plate features 24 cells, along with additional sideline areas. This provides ample space for including essential information such as the device name, BIP39 passphrase, PIN, trick PIN, and various other details as needed.
💡
The standard kit includes only one plate, which is why I recommend purchasing at least one additional plate. This way, you can allocate the other plate for additional information or use it for another wallet. When securing them together, make sure that you use hardware or cable ties, ensuring that no passphrases, PINs, or passwords are exposed outward.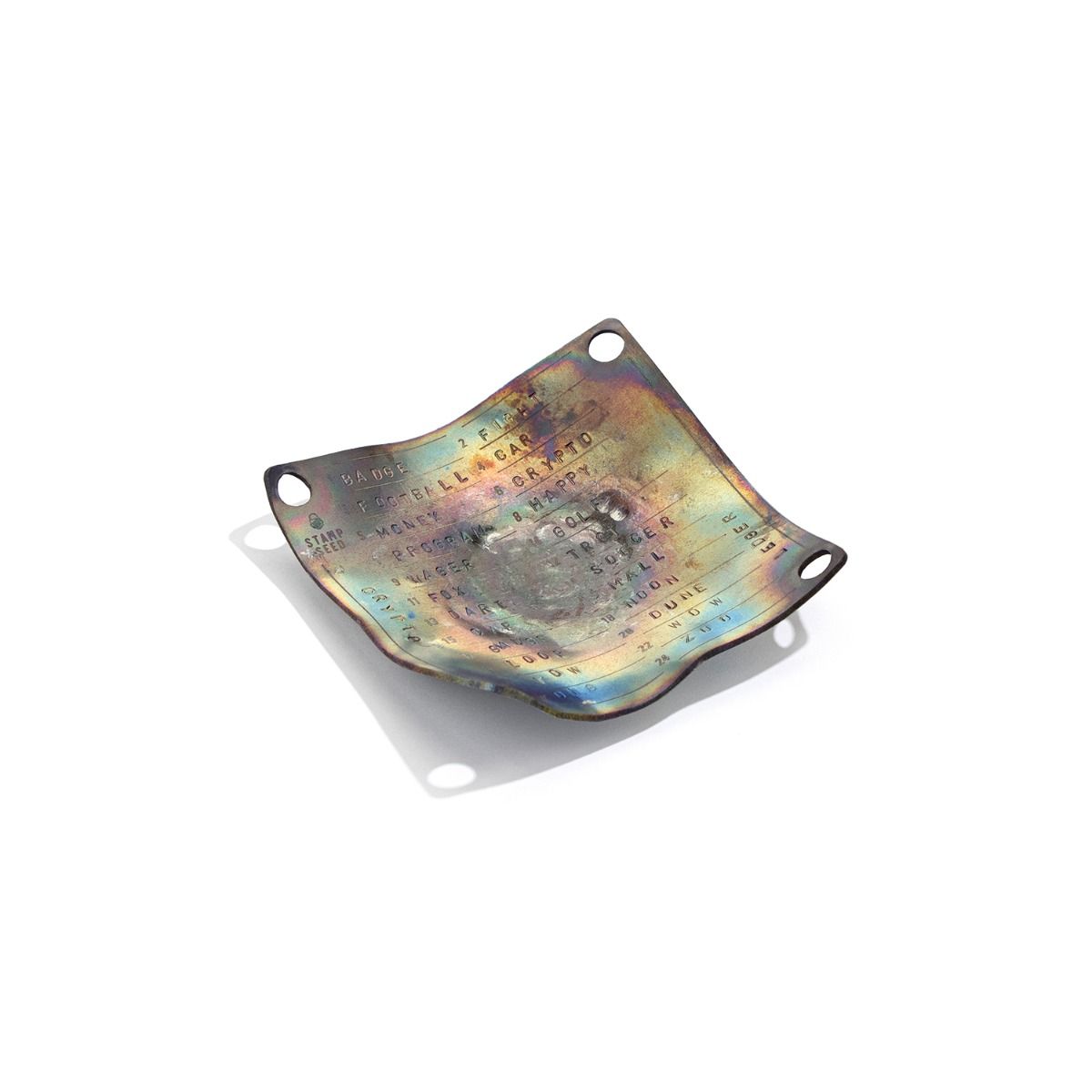 How To "Stamp Seed"
Having analyzed all the tools inside the Stamp Seed Kit, it's now time to embark on the stamping process! Creating a stamped rendition of a 12 or 24-word seed phrase (plus or minus a BIP 39 passphrase) on titanium is a truly beautiful act.
Despite Bitcoin's digital nature, many of its qualities resonate with elements found in the natural world: scarcity and unconfiscability. Therefore, stamping your mnemonic phrase onto metal feels like a fitting homage to the essence of Bitcoin: it's true proof of work!
Nonetheless, the natural process of stamping your mnemonic phrase onto metal isn't all puppy dogs and rainbows. In fact, using a 2-kilogram hammer on a metal stamp to impress the phrase onto a titanium plate generates a significant amount of noise, quite distinct from the sound produced when hammering a nail into a wall to hang a painting.
After personally experiencing this, I can attest that the sound generated by the stamping process is approximately x10 times louder than the typical noise associated with hammering a nail into a wall. Therefore, my initial recommendations are as follows:
Ensure that any pets, such as cats or dogs, are as far away as possible during the stamping process, as the noise can be excessively loud and potentially frightening to them.
Opt for an open environment, such as your garden (if available) or a spacious workshop.
Avoid attempting this task within a confined or small room, as it can result in discomfort due to the amplified sound level.
If you have only a small indoor room, go to the nearest pharmacy and get two earplugs (you'll thank me later).
Consider acquiring the kit that includes the stamping block and hammer from Stamp Seed. These components are of immense value, and the outcomes achieved with these specialized tools far surpass what can be achieved with a standard hammer.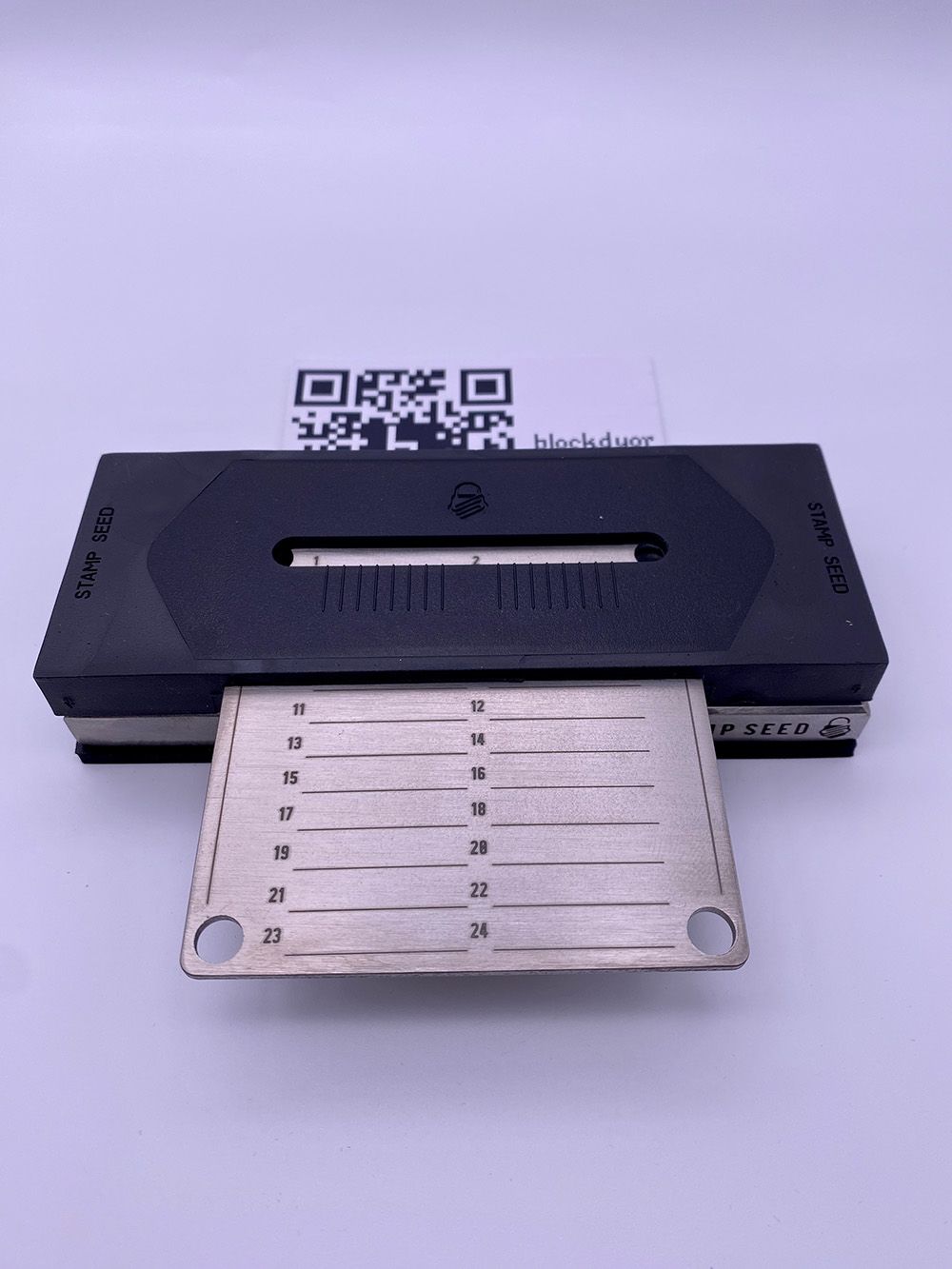 Arrange the rubber pad, stamping block, and stamping jig in a stacked configuration. If you possess solely the stamping jig due to purchasing the base kit, perform this setup on a firm surface like the floor to enhance the stamping force.
Insert the titanium seed plate into the stamping jig and gently slide it upward until the initial "1." and "2." horizontal lines on the plate align precisely with the ten vertical lines present on the stamping jig.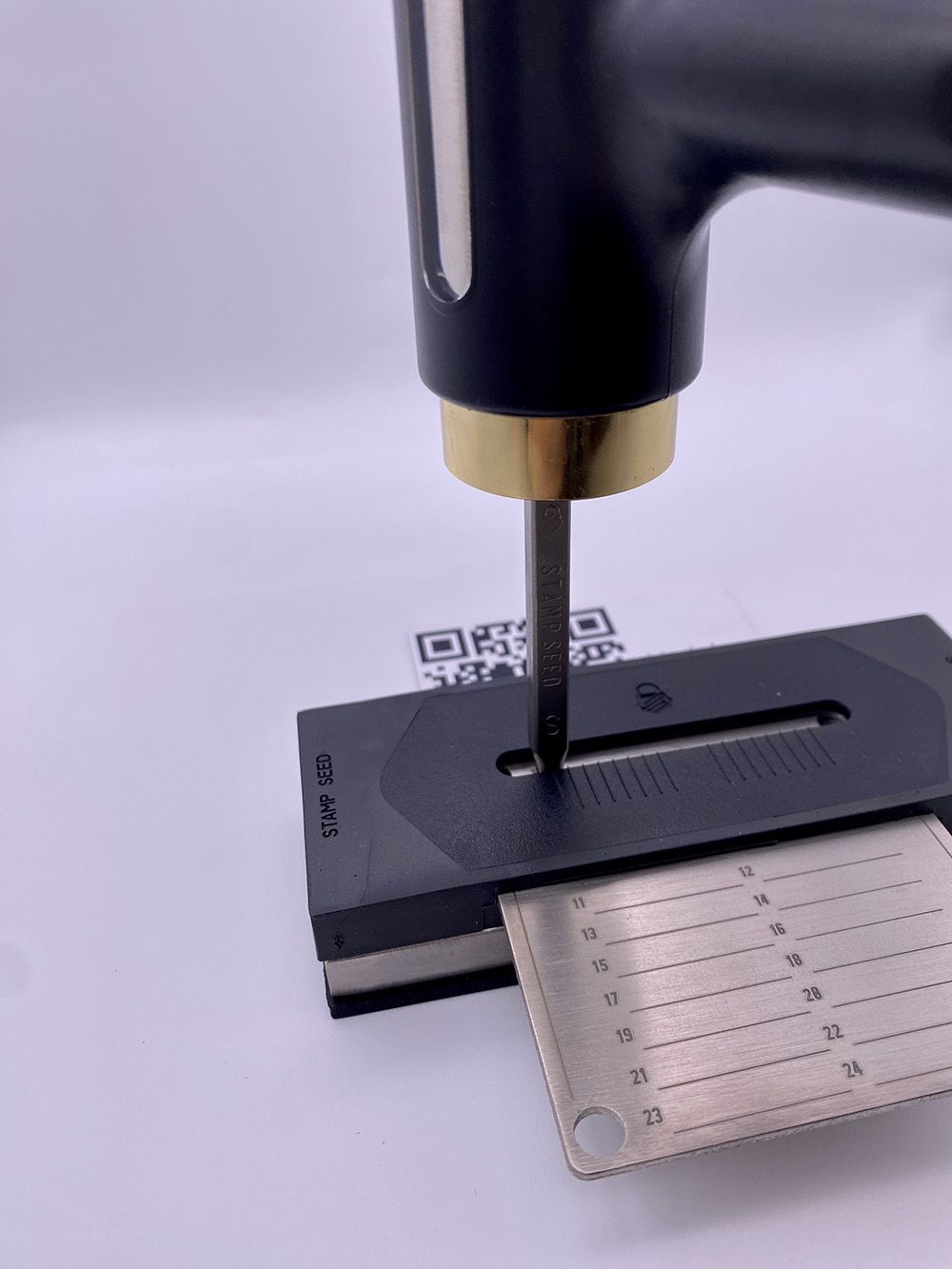 Select the stamp corresponding to the initial letter of the first word in your seed phrase. Ensure that the "Stamp Seed" logo is oriented towards you, and align the vertical line on the stamp so that it precisely intersects with the first line on the stamping jig.
With this alignment in place, and while gripping the stamp with your thumb on the back and your index finger on the front of the stamp, proceed with the stamping process.
Typically, I employ a double hammering technique, but it's perfectly acceptable to begin with a single strike and practice accordingly. If the initial hammer strike is too light, you can repeat the process in the exact same location to achieve the desired result.
Do this for all the letters and repeat this for every word of your seed phrase.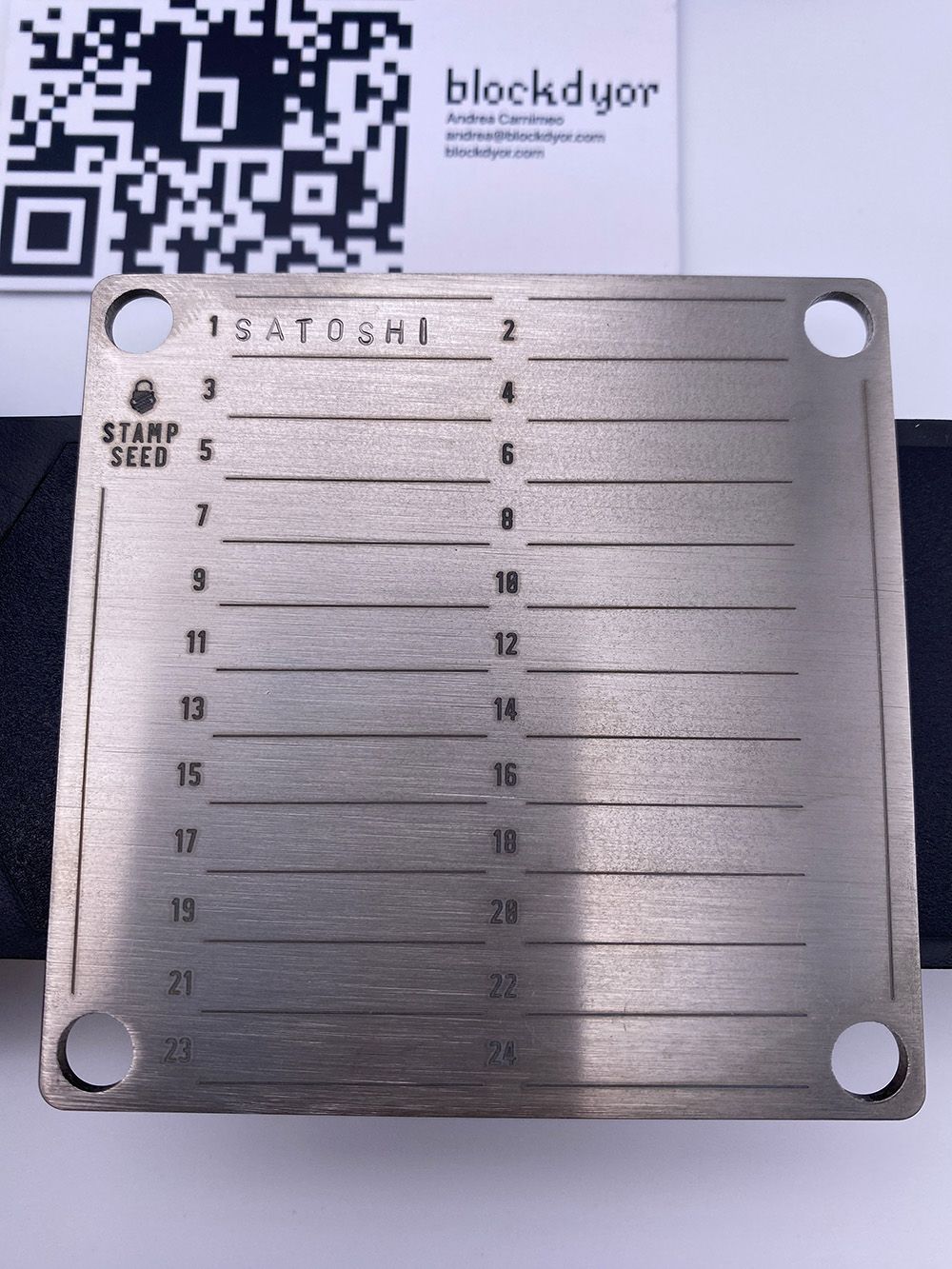 When you are satisfied with the results. Store the Stamp Seed in a safe place.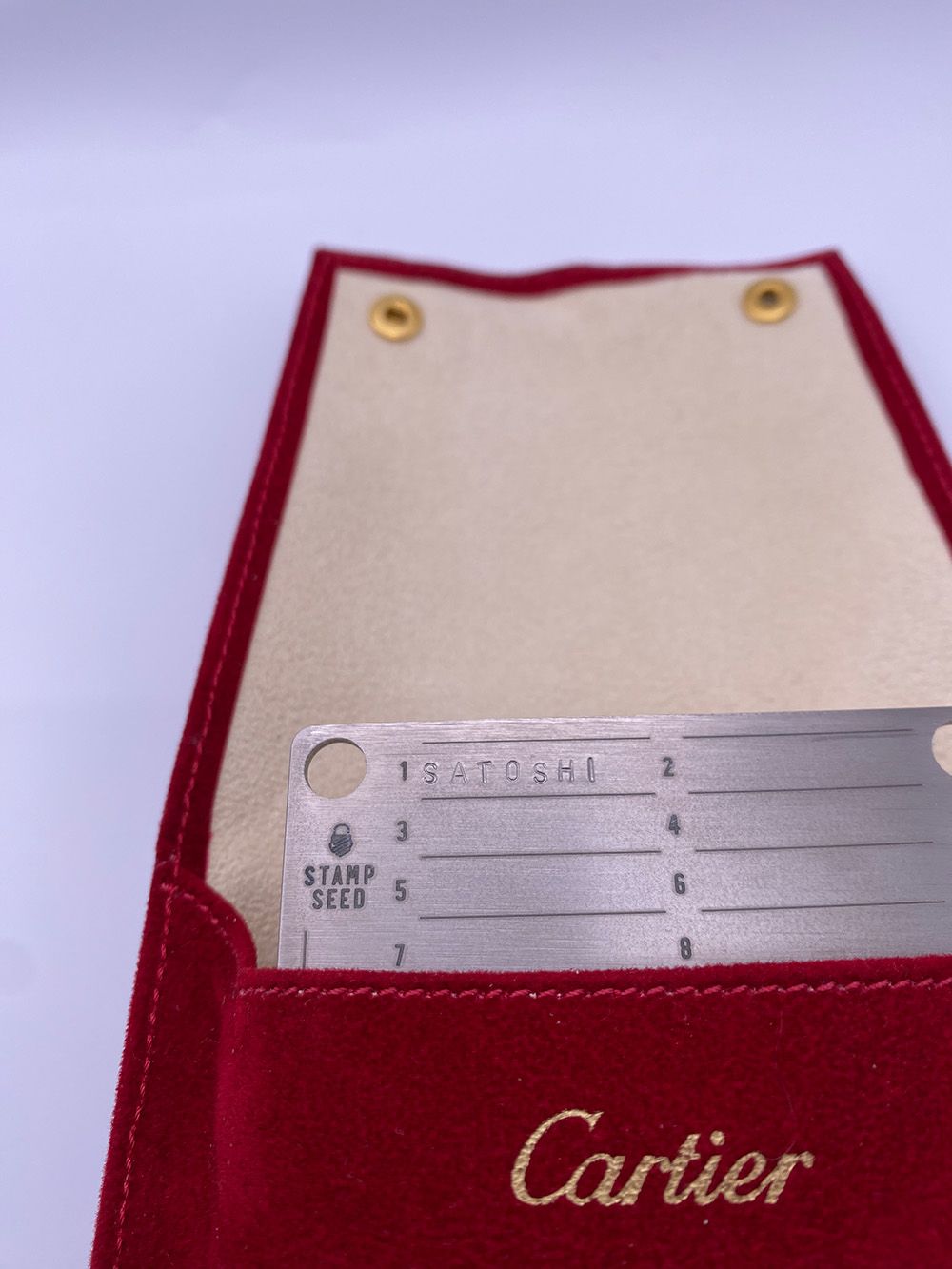 Stamp Seed Reviews: Is It Worth It?
Given that the Stamp Seed kit falls into a higher price range, prospective buyers often seek the opinions of others before making a purchase.
It's important to clarify that this is a product from a U.S.-based company, which is synonymous with top-notch quality, distinguishing them from some items available on Chinese e-commerce platforms.
These plates have undergone rigorous testing, including exposure to a flamethrower, acid, and even a roller press, demonstrating an exceptional level of durability. Titanium, despite its lighter weight compared to steel, offers a remarkable combination of resilience and sturdiness.
While Stamp Seed may not presently have a Trustpilot page, finding reviews can be somewhat challenging at this time. However, it's worth noting that the parent company, ImpressArt, which offers various stamping kits for general use (outside the realm of cryptocurrencies), shares similarities with Stamp Seed, particularly regarding items such as the hammer.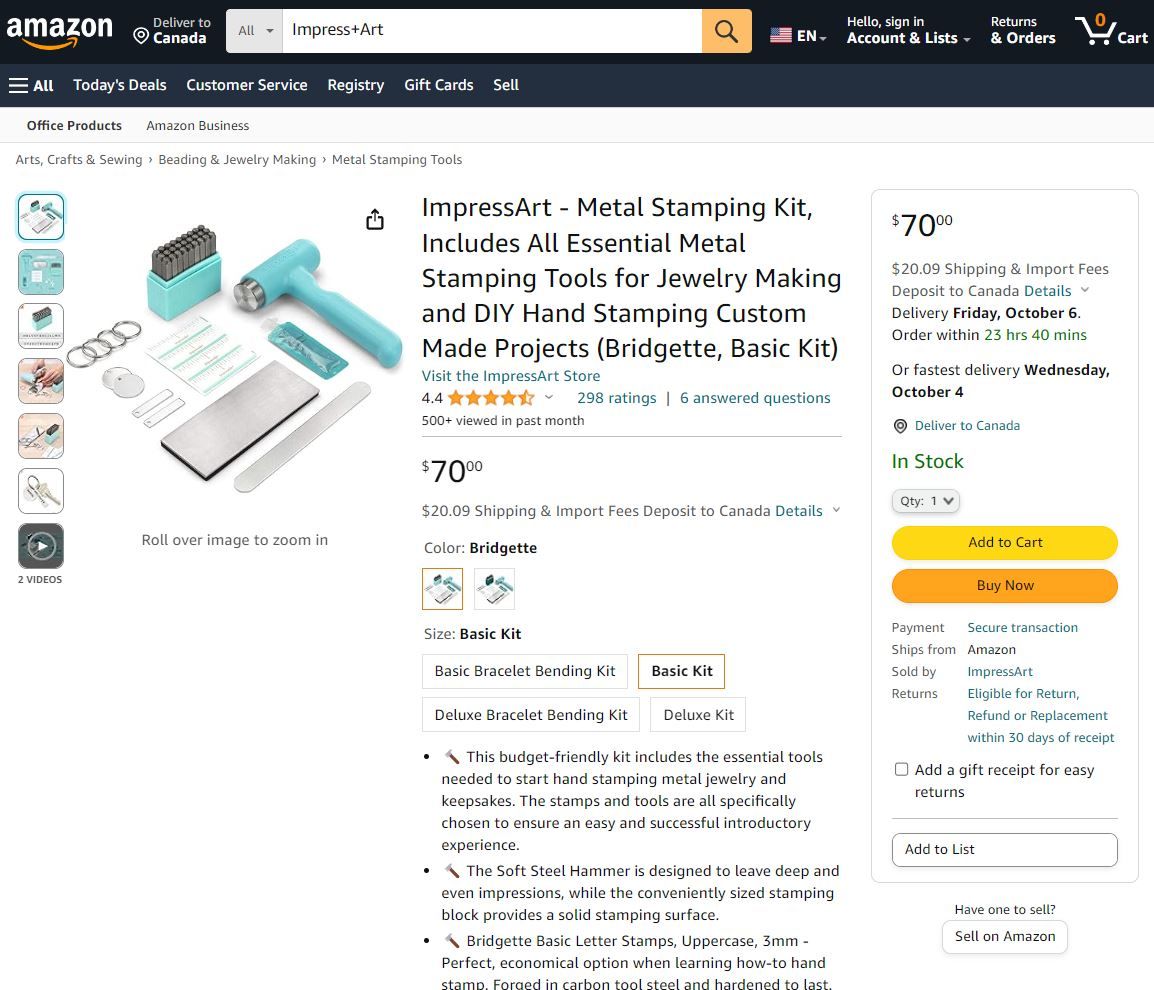 While the color may differ, the shape remains similar, and ImpressArt has garnered hundreds of 4/5-star reviews. This attests to the company's commitment to producing high-quality products and maintaining a high level of trust within its customer base.
Further evidence of this trust can be observed in the substantial interest generated at prominent conferences like Bitcoin 2022 and 2023, where Stamp Seed had a booth and sold out all available items. A similar phenomenon occurred at BTC Prague, providing firsthand confirmation of the product's appeal and reputation within the cryptocurrency community.
How To Buy The Stamp Seed
Getting the Stamp Seed is an easy process, as it is conveniently available through the manufacturer's official website.
As a special offer for all blockdyor readers, you can enjoy a generous 15% discount with the BLOCKDYOR coupon code to insert at checkout.
To begin, simply click on the link provided below:
👉 Click here to get the Stamp Seed Kit for a special price. Use the coupon code BLOCKDYOR to get 15% off at checkout.
Select the kit configuration you like and then click on the red button "Add to Cart".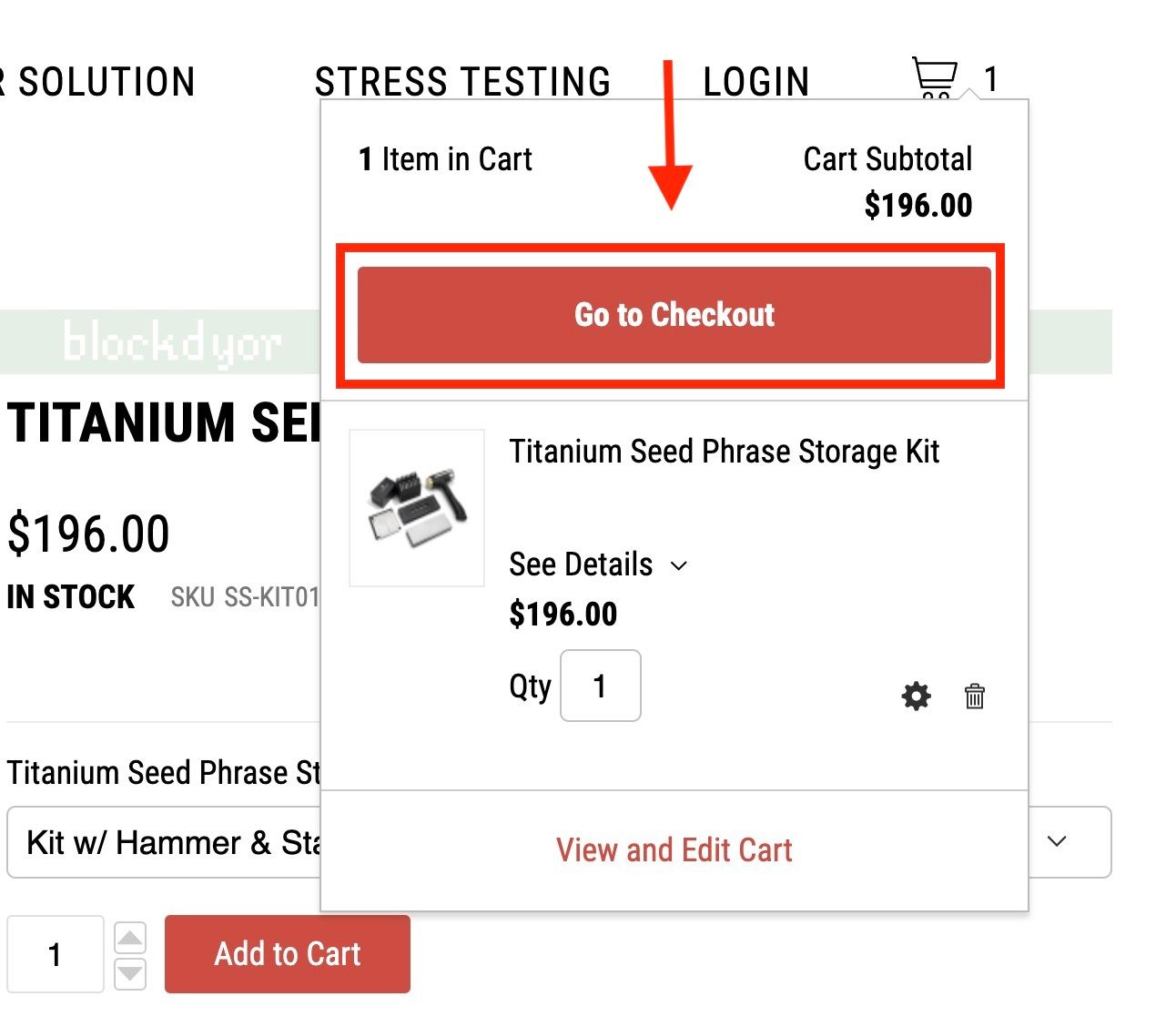 Click on the cart icon on top right, and then on "Go to Checkout".
Add the shipping address and shipping method.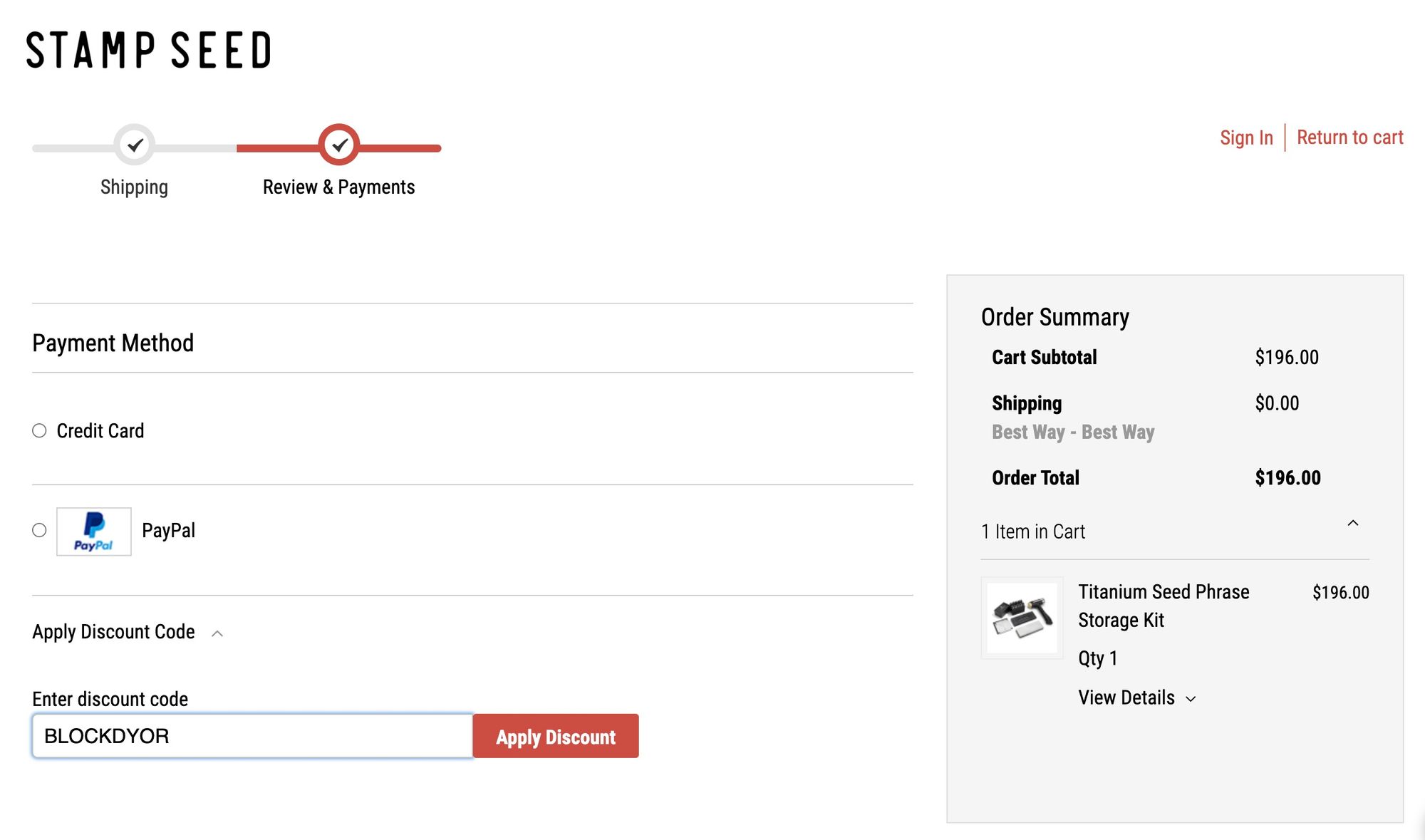 In the "Review & Payments" add the BLOCKDYOR coupon code and click on "Apply Discount" in order to get a 15% discount.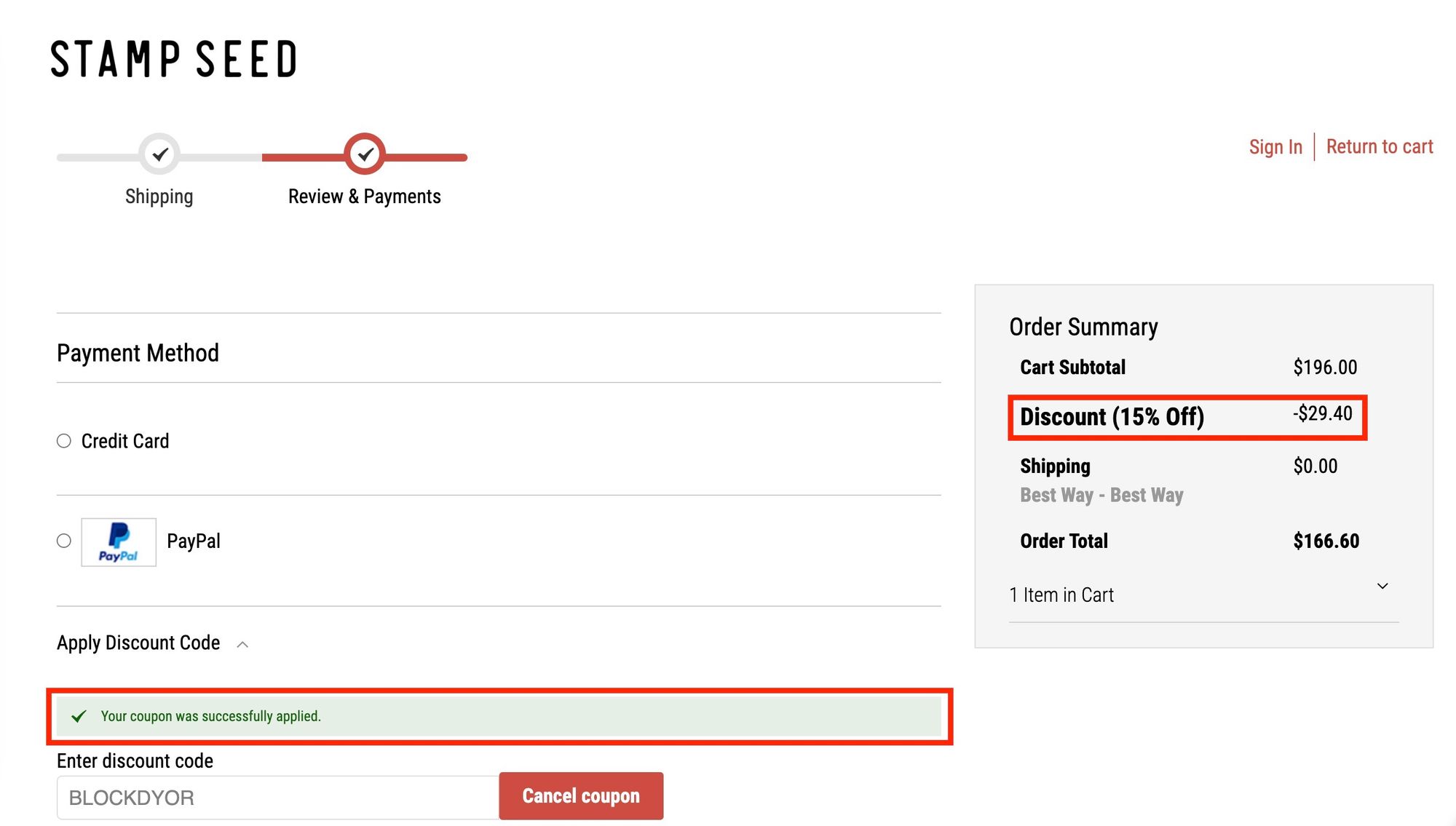 Upon clicking, you'll notice the final price adjustment, showcasing the 15% discount. Proceed by entering the required payment details to complete your purchase.
You'll receive comprehensive information, including a tracking code, via email, and shortly thereafter, the Stamp Seed will be delivered right to your doorstep.
Pros & Cons
While there are numerous metal seed phrase crypto storage plates available in the market, many of them come with loose pieces like washers, tiles, or screws, and some even rely on sliding letters to form the seed phrase. This design flaw means that if they break or burn, the letters can become disordered, and you might lose your seedphrase forever.
Stamp Seed takes a distinctive approach, offering one of the best material available – titanium – at a reasonable price. Their design is refreshingly simple: a plate with four holes at the corners, ample space for your seed phrase, clear lines for alignment with the stamping jig, and high-quality tools to complete the process.
This simplicity, combined with the superior materials and design, ensures precise etching that can literally withstand the harshest conditions on earth.
However, it's worth noting that while professional tools yield professional results, they also require a professional workspace. The sound generated when metal meets metal during stamping with the official ImpressArt 2-kilogram hammer is exceptionally loud, so if you're working in a confined space, it's advisable to use earplugs to protect your hearing.
| Pros | Cons |
| --- | --- |
| ✅ Durable Titanium | ❌ Noise During Stamping |
| ✅ Secure Storage | ❌ Learning Curve |
| ✅ Customization | ❌ Cost Consideration |
| ✅ Quality Tools | |
| ✅ 15% discount with coupon code BLOCKDYOR | |
Bottom Line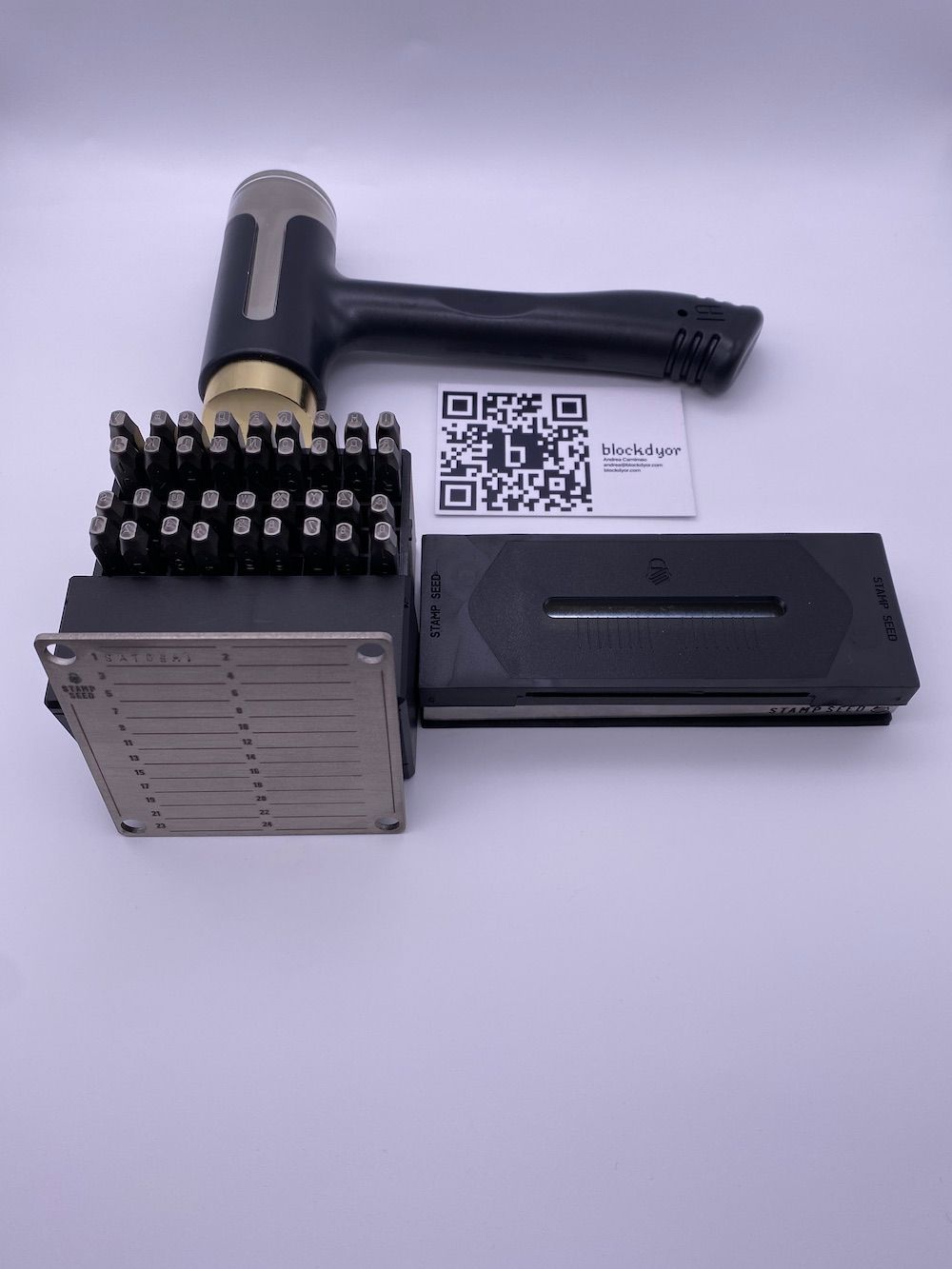 In conclusion, the Stamp Seed kit offers a reliable solution for safeguarding your cryptocurrency seed phrases with its durable titanium plates and quality tools.
While it provides a secure and customizable storage method, it's essential to consider factors like noise during stamping, a potential learning curve, and cost.
Ultimately, Stamp Seed presents a tangible option for those seeking to enhance the security of their digital assets with a physical and resilient approach for cold storage.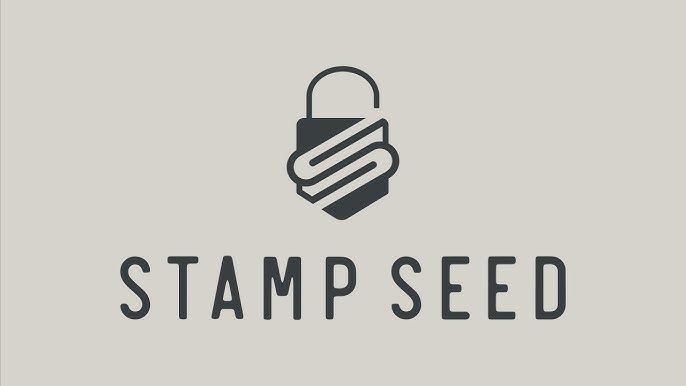 Stamp Seed Evaluation
Security: These plates provide maximum security as they are essentially destruction-proof. However, it's worth noting that the kit includes only one plate. Unless you have two plates and close them facing each other, your seed phrase may be visible to prying eyes if stored improperly. (Rating: 4/5)
User-friendliness: While the concept is straightforward, the actual process of impressing the plate may require some practice and training if you are not familiar with some DIY at home. (Rating: 4/5)
Compatibility: Stamp Seed offers plenty of space in their plate, including not just the full 24 words mnemonic, but also support for BIP39 passphrases, PINs & more, enhancing compatibility. (Rating: 5/5)
Reputation: This reputable US company enjoys a strong reputation, also thanks to the parent company ImpressArt. However, clarity regarding warranty terms could be improved. (Rating: 5/5)
Cost: The kit falls in the high-medium price range, but there are options to purchase kits with fewer items at a lower cost. The quality-to-price ratio is excellent. (Rating: 5/5)
Frequently Asked Questions (FAQ)
How durable are the titanium plates in the Stamp Seed kit?
The titanium plates included in the Stamp Seed kit are exceptionally durable. They are fire-resistant up to 3,000ºF (1,650ºC), non-corrosive, and crushproof. These plates are designed to withstand harsh conditions and provide long-lasting protection for your seed phrase.
Can I use the Stamp Seed kit in a small or confined space?
It's not advisable to use the Stamp Seed kit in a small or confined space, primarily due to the high noise level generated during the stamping process. The sound of the metal-on-metal stamping, especially with the official 2-kilogram hammer, can be quite loud. Earplugs are recommended if you're working in such an environment.
Where can I purchase the Stamp Seed kit?
You can easily purchase the Stamp Seed kit from the official website of the manufacturer. As an exclusive offer for Blockdyor readers, there is a valuable 15% discount available (use coupon code BLOCKDYOR at checkout). Simply click on the provided link to get started with your purchase.