Ripple: what is it and how does it work?
Discover the world of Ripple in this comprehensive guide. Learn about its digital payment network and blockchain protocol that facilitates fast and secure transactions. Get to know the XRP token and find out how it enables seamless exchange and remittance of funds.
Ripple is a digital payment network and protocol based on the blockchain, which facilitates the seamless exchange and remittance of funds through its own token, XRP.
Similar to the SWIFT system utilized by banks and financial intermediaries for cross-currency transactions, Ripple's primary function is to serve as a settlement asset exchange and remittance system.
The token, XRP, which bears the ticker symbol, is pre-mined and acts as an intermediary mechanism of exchange between two currencies or networks, working as a temporary settlement layer denomination. Founded in 2012 by Chris Larsen and Jed McCaleb, Ripple continues to revolutionize the financial industry through its innovative technology.
| PROPERTY | VALUE |
| --- | --- |
| ฿ XRP Symbol | XRP |
| 🪙 Initial Coin Offering (ICO) Price | N/A (XRP was not sold through an ICO) |
| 🚉 Platform | Ripple (XRP) |
| ⚖️ Consensus | Ripple Protocol Consensus Algorithm (RPCA) |
| 📈 Total Supply | 100 Billion XRP |
| 📉 Circulating Supply | 45 Billion XRP |
| ⛽️ Use Case | XRP is used as a form of payment for goods and services in the Ripple ecosystem, and can also be used as a bridge currency between different currencies. |
| 🔥 Token Burn | Ripple periodically destroys XRP in order to decrease the total supply of XRP and increase the value of remaining tokens. |
For those who want to invest or buy in Ripple (XRP) right away, the token of the Ripple network can be purchased on various crypto exchanges. Binance, is one of them. With the link down here,  you can not only purchase Ripple (XRP) but also receive a complimentary 100 USDT voucher upon registration.
👉 Click here to buy Ripple (XRP) on Binance and get a 100 USDT cashback voucher.
What is Ripple?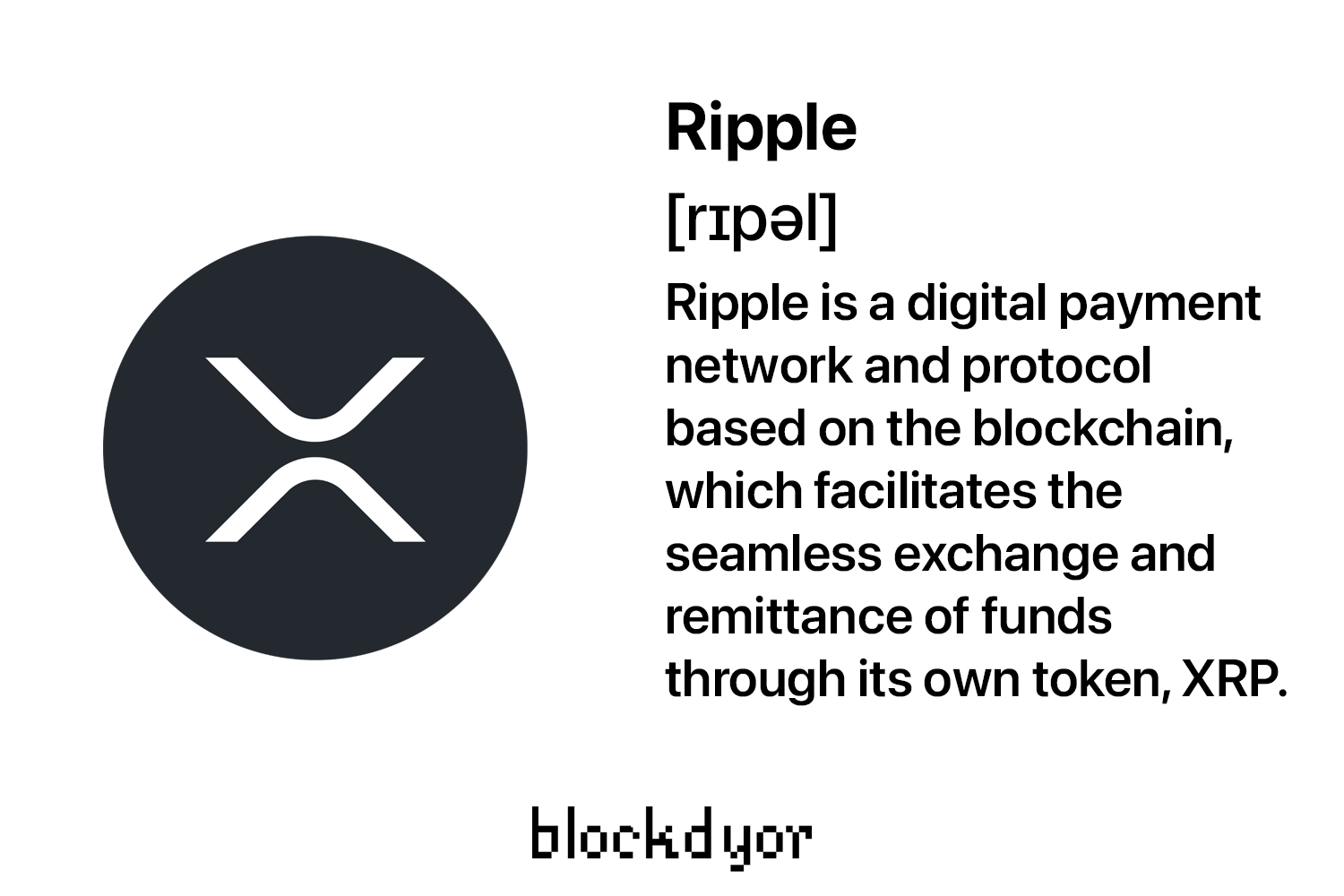 Ripple is a digital payment network and protocol that uses blockchain technology. It has its own digital currency called XRP. XRP is used by Ripple products to facilitate quick currency conversion.
Unlike other blockchain systems, Ripple uses a different way to confirm transactions, which is done through a group of banks' servers.
This means that Ripple transactions are faster, cheaper and use less energy compared to transactions made using other cryptocurrencies like Bitcoin. Ripple is also considered a valuable digital currency by the market. The system is mainly for banks, but individuals can also buy and sell XRP.
Ripple enables the lightning-fast transfer of any currency, whether dollars, yen, euros, or cryptocurrencies such as litecoin or bitcoin.
Ripple is a decentralized global payment network powered by a digital asset called XRP. XRP is used by Ripple products to facilitate quick currency conversion.
Ripple: brief history
In 2004, software developer Ryan Fugger conceptualized and founded RipplePay, a platform enabling individuals to extend credit to members of their community.
As one of the earliest crypto projects, even before the emergence of Bitcoin, Ripple has a noteworthy history in the industry.
Even Bitcoin's anonymous creator, pseudonymously known as Satoshi Nakamoto, mentioned Ripple in an email correspondence.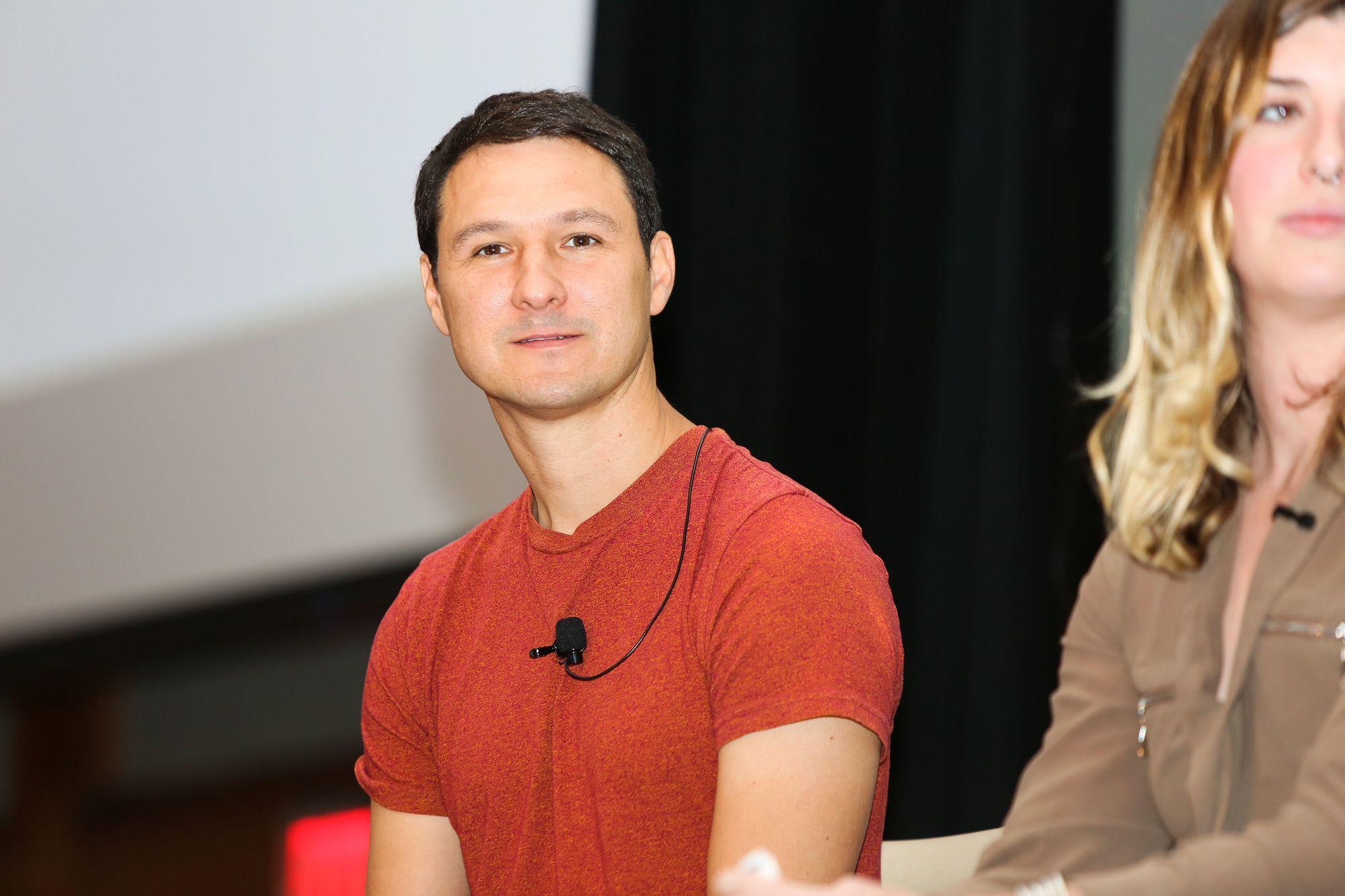 In 2011, programmer Jed McCaleb began developing the XRP cryptocurrency and its underlying blockchain technology.
After, he created a team, procured investors, and approached Fugger with the proposal to utilize the RipplePay network in 2012. Fugger consented to transfer control of RipplePay to McCaleb and his team.
The newly formed company, initially named NewCoin, introduced the XRP cryptocurrency and rebranded as OpenCoin before eventually changing the name in Ripple.
The company has since forged partnerships with a multitude of financial institutions, with over 300 such organizations across 45 countries utilizing RippleNet, the company's payment network, by 2019. Ripple's prior success in the industry can be considered as a positive indicator for potential investors.
However, on December 22, 2020, the Securities and Exchange Commission (SEC) filed a lawsuit against Ripple for alleged violation of securities law, claiming that the company had sold $1.3 billion worth of unregistered securities through the XRP cryptocurrency.
Ripple has denied the allegations, contending that XRP does not qualify as a security.
XRP: the Ripple's token
XRP, also known as Ripple, is a digital asset that operates independently of its parent company, Ripple.
It has a fast, efficient, reliable structure, which makes it an ideal technology for enabling compliance in Ripple's solutions.
XRP is built on a decentralized, open-source blockchain called the XRP ledger and transactions are facilitated by the Ripple transaction protocol.
Unlike many cryptocurrencies, XRP is premined and has a maximum token supply of 100 billion. Of this, 80 billion XRP tokens were allocated to Ripple, with 55 billion locked in an escrow account to maintain a stable supply. The remaining 20 billion XRP were distributed among Ripple's co-founders and core team members.
XRP Current Price and Market Cap
As of January 2023, one XRP has an approximate value of $0.42, and Ripple holds the position of the sixth-largest cryptocurrency with a market capitalization of over $21 billion.
How Ripple  works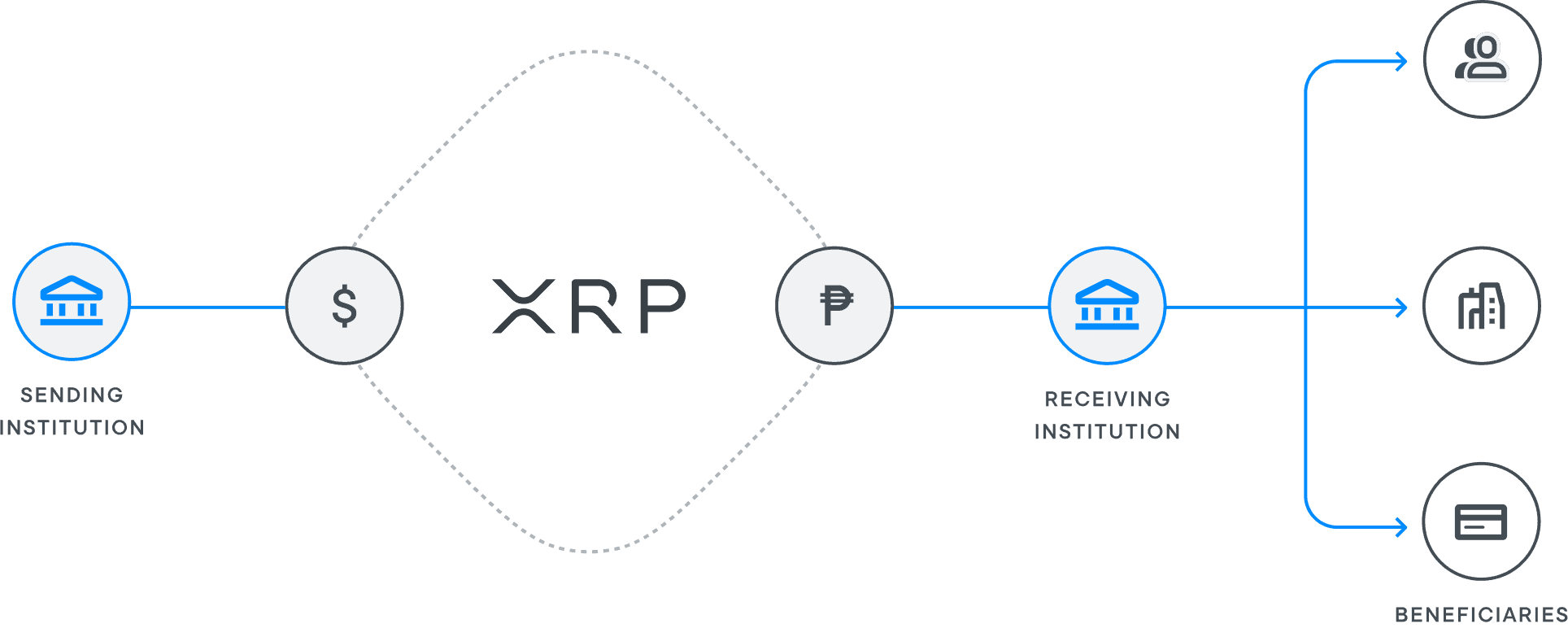 The Ripple network operates on a consensus protocol, rather than utilizing a proof-of-work or proof-of-stake system.
This protocol serves to validate account balances and transactions, and prevents instances of double-spending.
Through consensus among distributed nodes, the network is able to determine the order of the transactions, ensuring that only the initial transaction is processed. Confirmations occur swiftly, taking a few  seconds to complete.
As there is no central authority that controls the establishment of nodes or the confirmation of transactions, the Ripple platform is considered decentralized.
It maintains a public ledger of all IOU credits and transaction flows between Ripple wallets, yet the data is not linked to any specific individual or business.
While the transparency provided by the blockchain records may be advantage, it also make the information vulnerable to de-anonymization techniques.
Pros and Cons of Ripple
Here are the most significant advantages and disadvantages of Ripple and its XRP token:
| Pros | Cons |
| --- | --- |
| Transactions using XRP (Ripple's cryptocurrency) are fast and not expensive. | Some people say that the way Ripple handles transactions is not as safe as other methods. |
| Many big corporations already use Ripple's payment system. | Some of these companies only use the payment system and not the XRP coin. |
| XRP can be used by regular people and small businesses for safe money transfers. | There are concerns about the company that runs Ripple, and there is a lawsuit against it. |
| XRP can be used to transfer money between different countries. | It can be hard to buy XRP in some nations, like the US. |
How to buy Ripple's XRP
To buy XRP, the cryptocurrency of the Ripple network, one must open an account with a platform that allow its trading.
When you are logged in, you can proceed to purchase XRP using the accepted method of payment offered by the exchange.
It is worth noting that due to ongoing legal proceedings involving Ripple and the Securities and Exchange Commission, many popular cryptocurrency exchanges in the United States have temporarily halted trading of XRP.
Outside of the US, there are still a number of platforms where it's possible to buy XRP, such as:
Bottom line
The potential of Ripple cannot be underestimated or ignored. This technology addresses some of the shortcomings associated with traditional banking, and has the ability to revolutionize the current system of international money transfers, and its partnerships with banks are a positive indication of its future growth.
Any positive developments in its legal status could also result in an increase in its value.
Transactions on the Ripple network are completed quickly, even when handling high volumes of transactions. In contrast, traditional banks often take days or even weeks to complete a wire transfer.
Additionally, the fees for transactions on Ripple are very low, with the minimum cost for a standard transaction set at a tiny fraction of XRP, unlike the substantial fees charged by banks for cross-border payments.
The ongoing lawsuit with the Securities and Exchange Commission has resulted in several important exchanges delisting XRP, and it has also been met with criticism within the crypto community due to its association with a private company.
Because of this, the XRP token of Ripple is also considered a high-risk investment, particularly when compared to other cryptocurrencies and crypto-assets.
Frequently asked questions (FAQ)
Is Ripple (XRP) a good investment?
XRP is a type of digital money that is trusted by both banks and regular people. This makes it a safer and more steady choice to invest in compared to other types of digital money. Also, XRP has a limited amount of coins, unlike some other digital money that can be created and found endlessly.
Ripple vs Bitcoin: which one is better?
XRP uses a special system and a group of computer servers to check and confirm payments. Because of this, XRP can make payments much quicker and more easily than the system used by Bitcoin.
What if Ripple loses its battle against the SEC?
The CEO of the company of Ripple, Brad Garlinghouse, said that some countries have contacted them about moving their business. He also said that if they lose the legal case against the SEC, they will move their company to a different country.