Pluton: The Plutus Crypto Reward Token 2023
Pluton (PLU) is the utility token of the Plutus platform, designed to enhance the user experience and reward system. It is built on the Ethereum network as an ERC20 token. this overview, we will examine the Pluton token, its utility, and all that it has to offer.
Pluton (PLU) is the Plutus utility token, built on the Ethereum network, represented as an ERC20 token. It is in the works to bring Pluton also on the Polygon sidechain.
Pluton is a token which is automatically awarded to the Plutus users as a reward for utilizing the Plutus Card by spending online or on physical shops.
In this review, we will delve into the most important aspects of Pluton, examining its defining traits including its purpose, technological design, token economics, level of adoption, price and future prospects, among other crucial aspects.
👉 Click here to buy Pluton on Plutus DEX account and get a $/£/€10 bonus.
| PROPERTY | VALUE |
| --- | --- |
| ฿ Symbol | PLU |
| 💰 Initial Coin Offering (ICO) Price | In 2016, raised $1 million in BTC and ETH |
| 🌐 Platform | Ethereum, with plans to be introduced to the Polygon sidechain |
| ⚖️ Consensus | N/A (Information not specified) |
| 💰 Total Supply | 20,000,000 |
| 💰 Circulating Supply | 3,154,285 (as of February 2023) |
| ⛽️ Use Case | PLU is used as a reward for utilizing the Plutus Card by spending online or in physical stores |
| 🔥 Token Burn | N/A (PLU does not have a token burn mechanism) |
What is Pluton?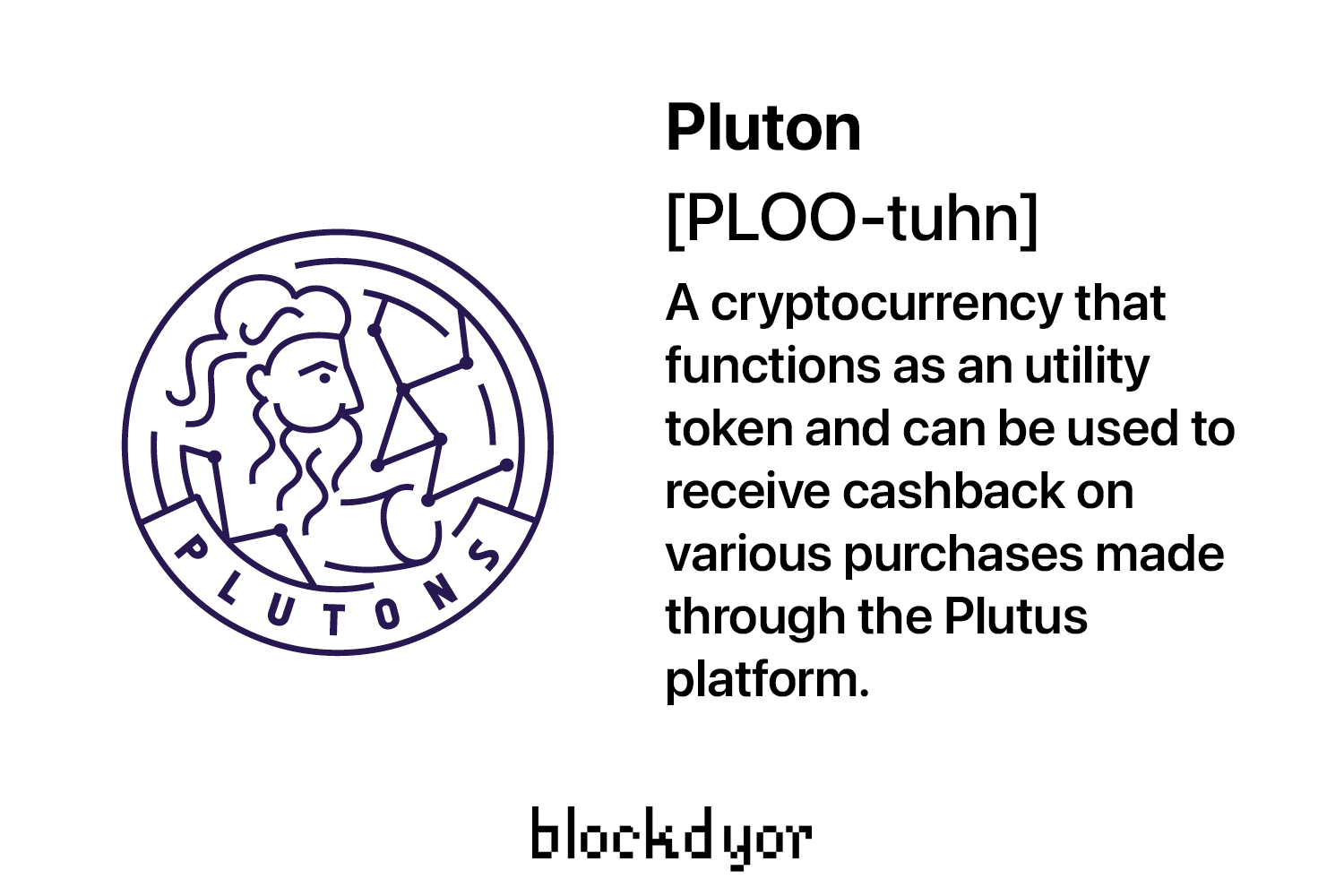 Pluton (PLU) is an utility token that is distributed as a reward to users of the Plutus financial ecosystem.
As a token that operates on the ERC20 platform, Pluton is automatically distributed to customers who use the Plutus Card by spending in physical or online merchants, serving as a tangible symbol of their engagement with the platform.
Through the cashback and perk rewards, Pluton is earned on transactions made with the Plutus Card, with rewards ranging from 3% cashback and 1 perk to a maximum of 8% cashback and 8 perks.
For clarity, transactions with the Plutus Card refer to all types of purchases made at physical and online stores, including groceries and retail shops, with certain exceptions. The exceptions include transactions made at casinos, online trading brokers, and similar services, which are not eligible for rewards.
These rewards are generated from the Pluton Rewards Pool, with the rate of emission being directly tied to the demand for the token.
As more people adopt the Plutus platform, the demand for Pluton also increases, leading to a rising value for the token, since the total supply of Pluton is capped to a maximum 20 million coins.
This in turn reduces the rate at which Pluton is emitted from the Rewards Pool, making the token a deflationary asset that is designed to sustain its rewards program in the long term.
With a current circulating supply of over 3 million Pluton tokens, the token's scarcity only adds to its value. It takes just a small number of dedicated users to fully consume this supply, making Pluton an increasingly valuable asset in the Plutus financial ecosystem.
Pluton: Brief History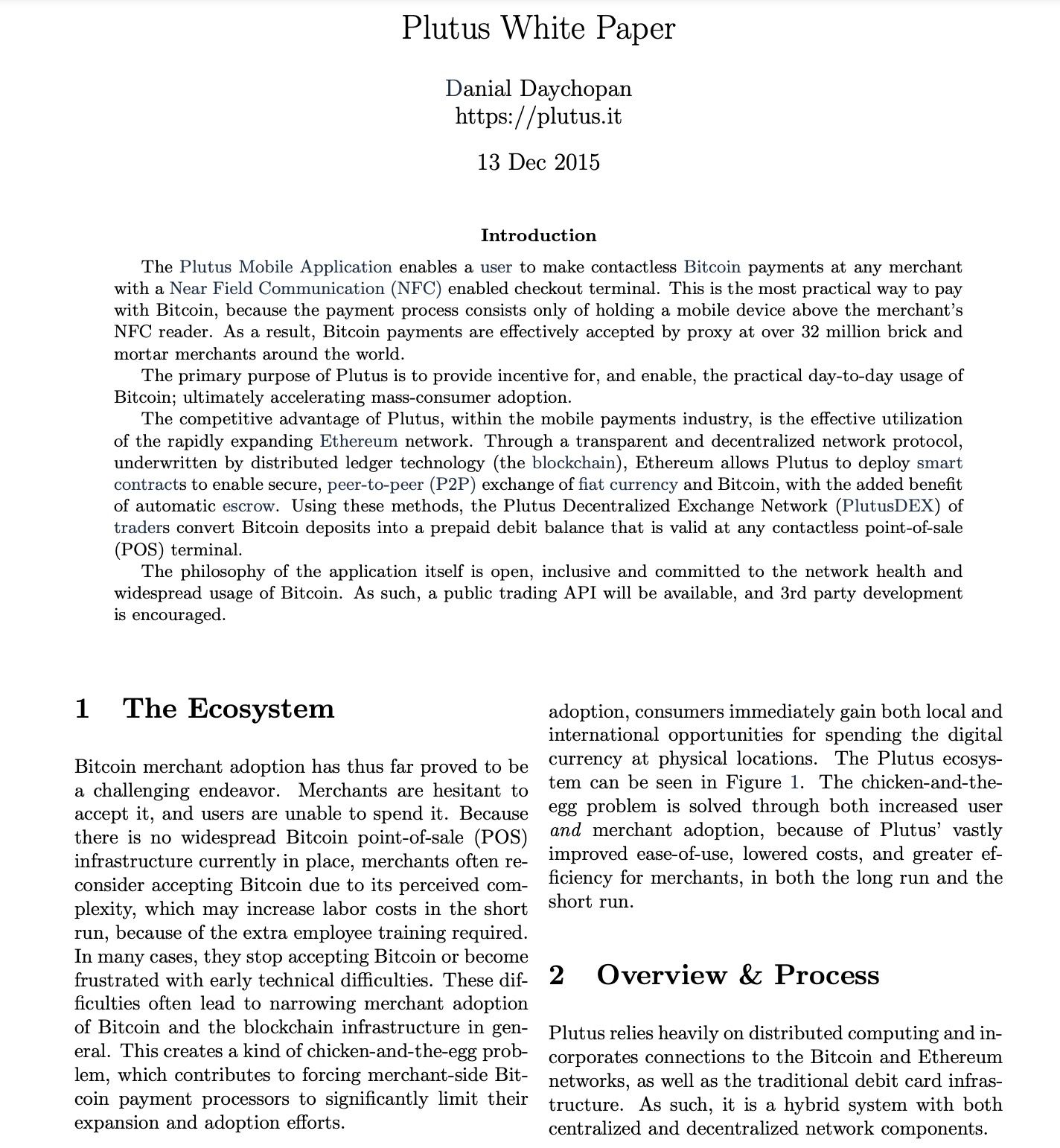 Pluton has undergone a remarkable evolution since its inception, with its roots tracing back to the introduction of the Plutus whitepaper in 2015.
The visionary behind the project, Danial Daychopan, has been the driving force behind Pluton since day one, overseeing its growth and evolution.
In the beginning, Plutus didn't have any debit card and was just a mobile app that enabled users to make contactless Bitcoin payments through NFC technology, utilizing the Ethereum network for secure exchange of Bitcoin and fiat currency.
The role of Pluton back in the day, was the internal digital asset of Plutus, issued on the Ethereum blockchain. They can be sent and received using the Plutus Mobile App, similar to Bitcoin, with zero transaction fees and instant confirmations.
Thanks to the the Pluton Rebate System, users were rewarded with Plutons for every Bitcoin-to-fiat exchange they made.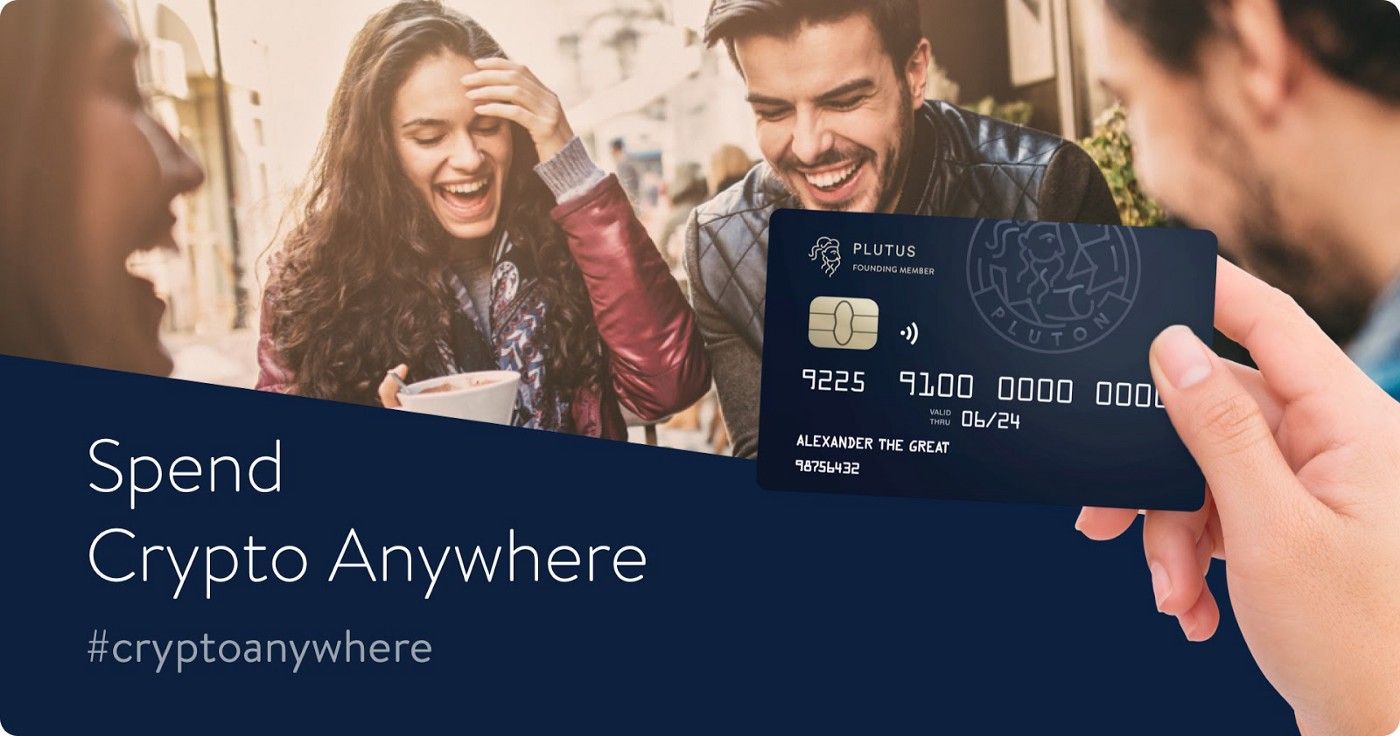 In 2018, Plutus made its first public announcement of the beta version of their App and Card, known as Plutus Tap and Pay.
A few years later, Alphabit, a digital asset fund, acquired a stake in the Pluton (PLU) token, bringing their combined holding to over $5 million.
This gave more room to grow, and the company underwent a major update that transformed it into the Plutus we know today.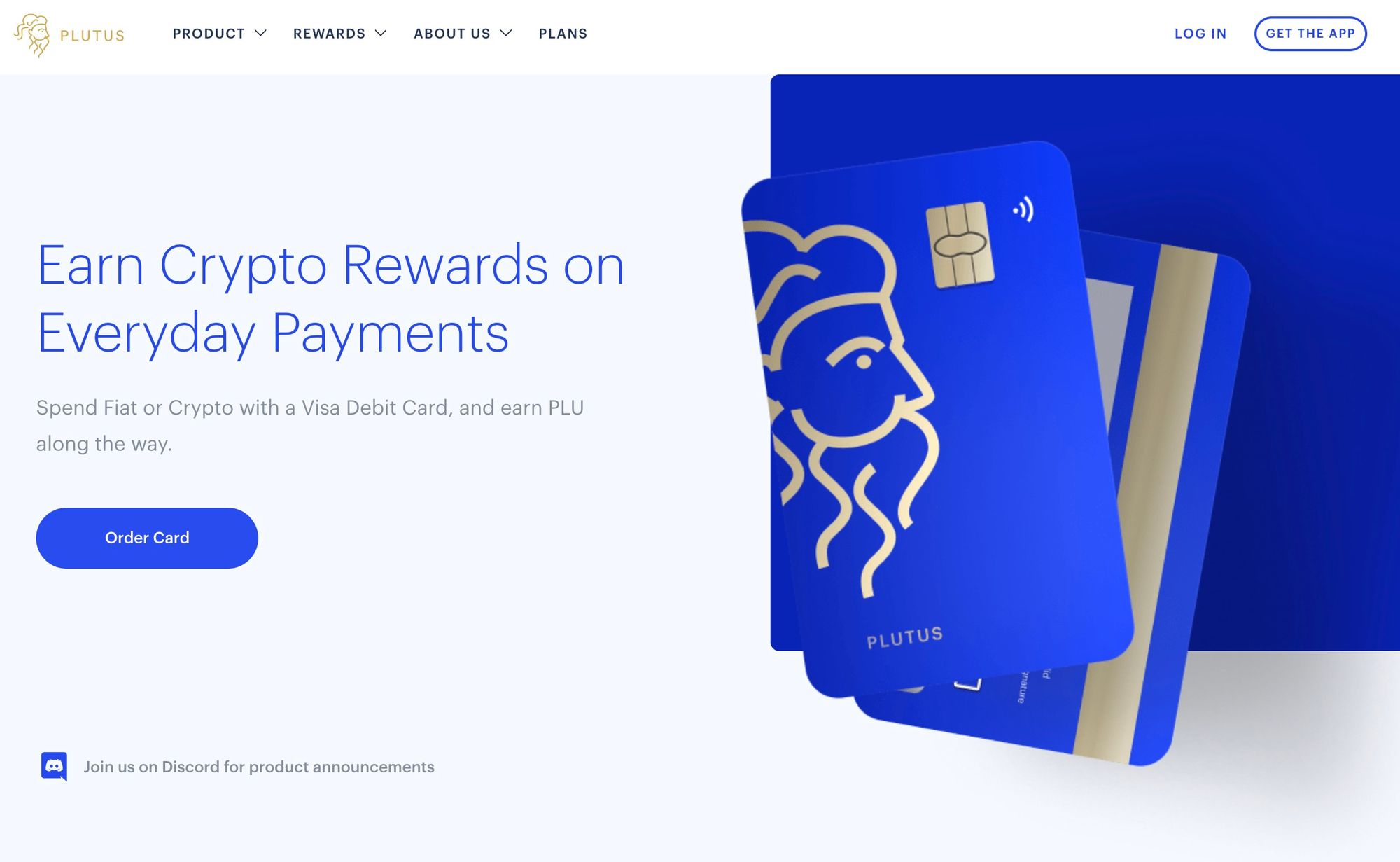 By introducing Subscription Plans and Staking Levels, Plutus shifted its focus from a crypto-to-fiat payment system to a solution that allows for the spending of fiat currency and earning rewards in crypto (Pluton rewards), complete with added perks.
The update was a huge success, leading to Pluton's listing on major exchanges such as Coinbase, Huobi, KuCoin and others. By summer 2022, the surge in user growth was so significant that card shipments faced a waiting list of 19 weeks(!).
In 2022, Plutus entered into a partnership with Polygon with the aim of integrating Pluton onto Polygon's sidechain. The company also announced its plans for Non-Fungible Tokens (NFTs) and disclosed the details of its upcoming launch in the United States.
How Pluton works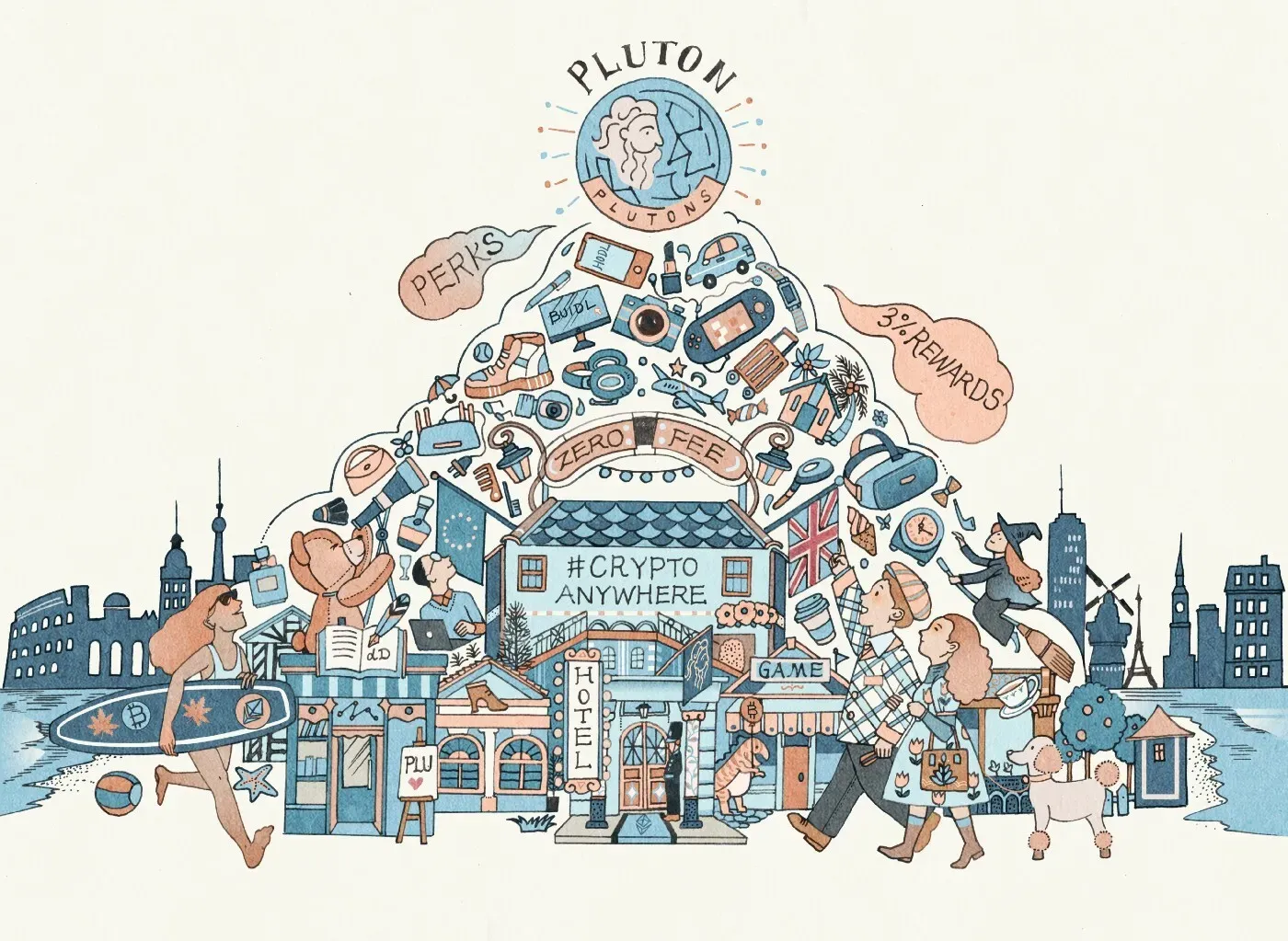 The PLU token presents a multitude of opportunities for its owners. One can take advantage of the various benefits offered by staking PLU, such as accessing more perks and receiving higher rewards rates.
Additionally, one has the option of converting PLU into fiat currency, providing the versatility to spend their rewards as desired. In 2023, the introduction of NFT drops, based on utility, is expected to add another exciting dimension to the utilization of PLU.
With each transaction made utilizing the Plutus Card, the user is gifted with a minimum reward of 3% in PLU.
This reward is drawn from the Pluton Rewards Pool, consisting of 16.69 million PLU, which is exclusively reserved for the benefit of the community and cannot be utilized by Plutus for any other purpose except to distribute rewards to those who shop with the Plutus Card.
Pluton (PLU) Price and Market Cap
The price stability of the Plutus token is undoubtedly a noteworthy feature that has garnered attention and admiration from prominent figures within the cryptocurrency community.
Over the years, the price of Plutus has demonstrated a remarkable stability, which has earned it a reputation as a dependable investment option. This stability has been praised by many experts in the field of cryptocurrency, further solidifying its significance in the crypto-sphere.
Pluton Tokenomics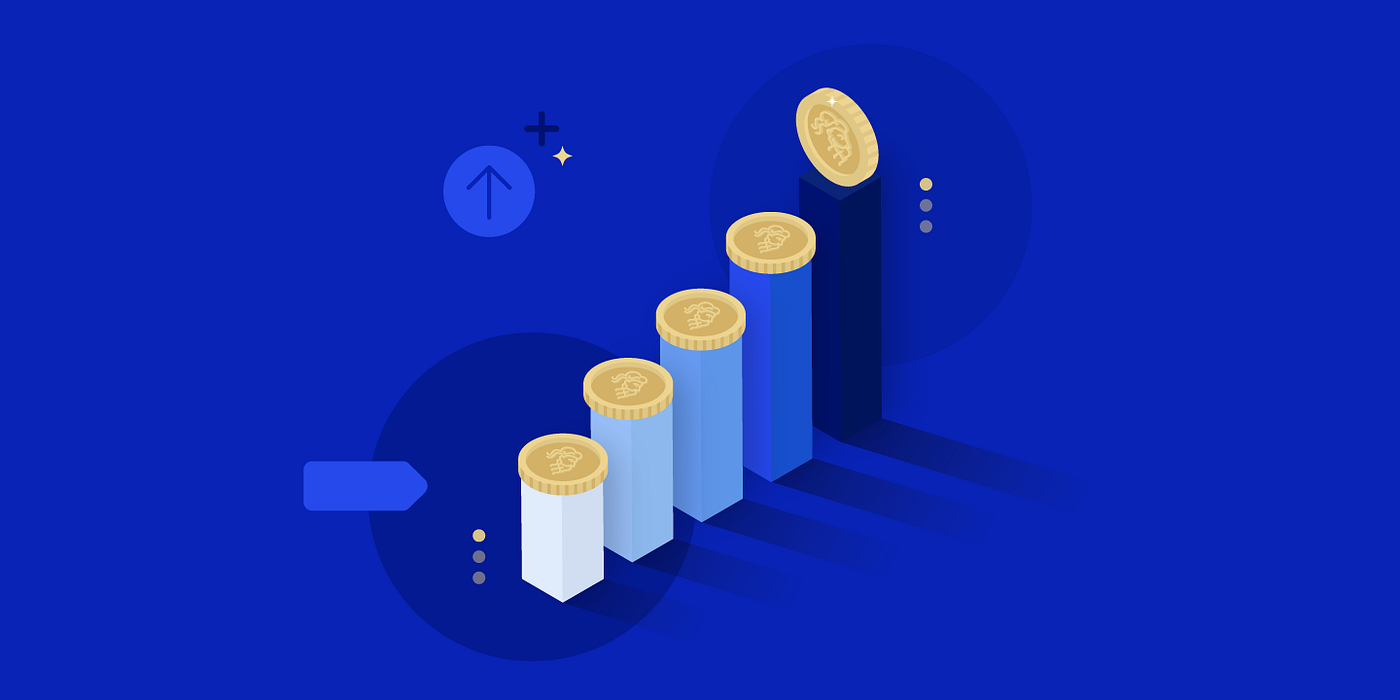 The PLU token distribution comprises of:
Circulating Supply of 3 million PLU;
Pluton Rewards Pool of 16.69 million PLU;
Plutus Development Fund of 750,000 PLU;
The Circulating Supply has been gradually increasing over the years through various means, such as the initial token sale in 2016 that raised $1 million in BTC and ETH for project development, the Pluton Liquidity Injection Program (PLIP) in 2020 that introduced an additional 1 million PLU into circulation, and the release of 250,000 PLU from the Plutus Development Fund for development and marketing purposes in 2022.
Additionally, rewards emission from the Pluton Rewards Program has added a further 0.46 million PLU to the Circulating Supply.
The Pluton Rewards Pool, totaling 16.69 million PLU, is exclusively for rewarding Plutus Card shoppers. Every time a client uses their Plutus Card, they earn a minimum of 3% back in PLU, which comes from the Pluton Rewards Pool.
The Plutus Development Fund, with a total of 750,000 PLU, is reserved for further app development and marketing efforts.
500,000 PLU were unlocked from this fund on September 30, 2021, and another 500,000 PLU become available on September 30, 2022.
However, Plutus has been frugal in its budgeting, and to date, only 250,000 PLU from the Plutus Development Fund have been allocated.
The remaining 750,000 PLU are held in storage alongside the Pluton Rewards Pool and can be viewed on the EtherScan Pluton dedicated page.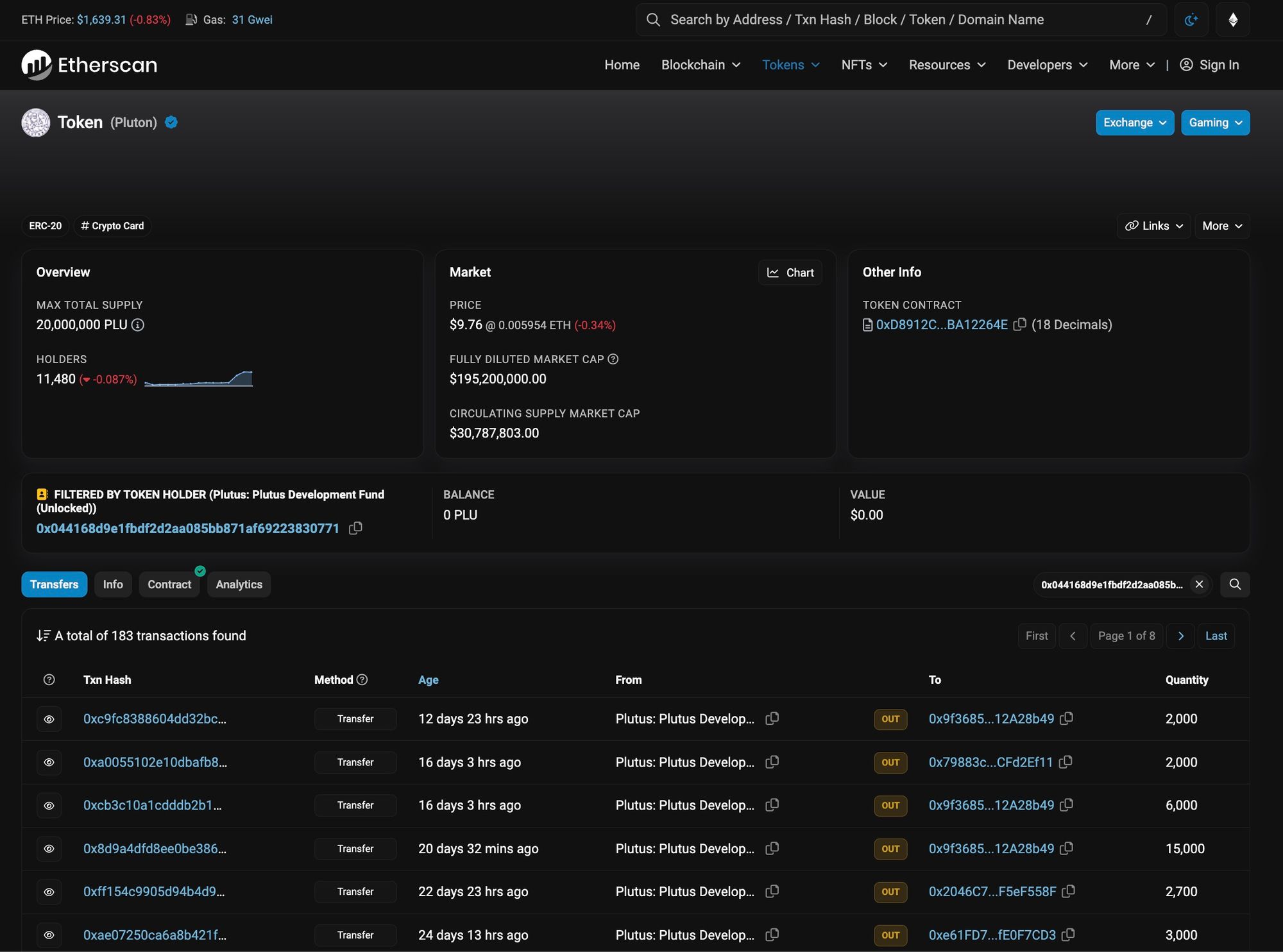 Pros and Cons of Pluton
Pluton is a cryptocurrency that has been making waves in the crypto industry due to its unique features and rewards system.
This digital currency offers users a number of benefits, but it also has some drawbacks that are worth considering.
Let's have a closer look at the pros and cons of Pluton, so you can make an informed decision on whether it's the right investment for you.
Pros:
Finite supply (20 million) - Pluton has a limited number of coins, which means that its value is likely to increase as demand grows.
Generous rewards with Plutus Card - The Plutus Card offers generous rewards in PLU for almost every spending, making it a great option for those who want to earn rewards on their purchases.
Flexibility of staking and subscriptions - Pluton allows users to stake their coins and subscribe to a number of different services, giving them greater control over their investments.
Non-custodial wallet - The Pluton wallet is non-custodial, meaning that users have complete control over their funds and private keys, enhancing the security of their investments.
Cons:
Not meeting the roadmap deadlines from the Plutus Team - The Plutus Team has faced challenges in meeting the deadlines set out in their roadmap, which may impact the confidence of some users.
Low liquidity - Pluton has a low liquidity, which can make it difficult to buy and sell the currency.
45 day pending day period - There is a 45 day pending period for rewards earned on the Plutus Card, which may be seen as a drawback for some users.
Lack of Apple Pay - Pluton does not yet offer integration with Apple Pay, which
| Pros | Cons |
| --- | --- |
| Finite supply (20 million) | Not meeting the roadmap deadlines from the Plutus Team |
| Generous rewards with Plutus Card | Low liquidity |
| Rewards in PLU on almost every spending | 45 day pending day period |
| Flexibility of staking and subscriptions | Lack of Apple Pay |
| Non-custodial wallet | |
Where to buy Pluton (PLU)?
Buying Pluton can be motivated by a variety of reasons and can be accomplished through multiple channels.
Despite its limited utility advancements in recent years, many individuals opt to purchase PLU for the purpose of staking and enhancing their cashback rewards.
Others may view Pluton as a medium-to-long-term investment, while some may see it as a short-term trading opportunity. Let us delve deeper into the most popular ways of buying Pluton.
Buy Pluton on Plutus DEX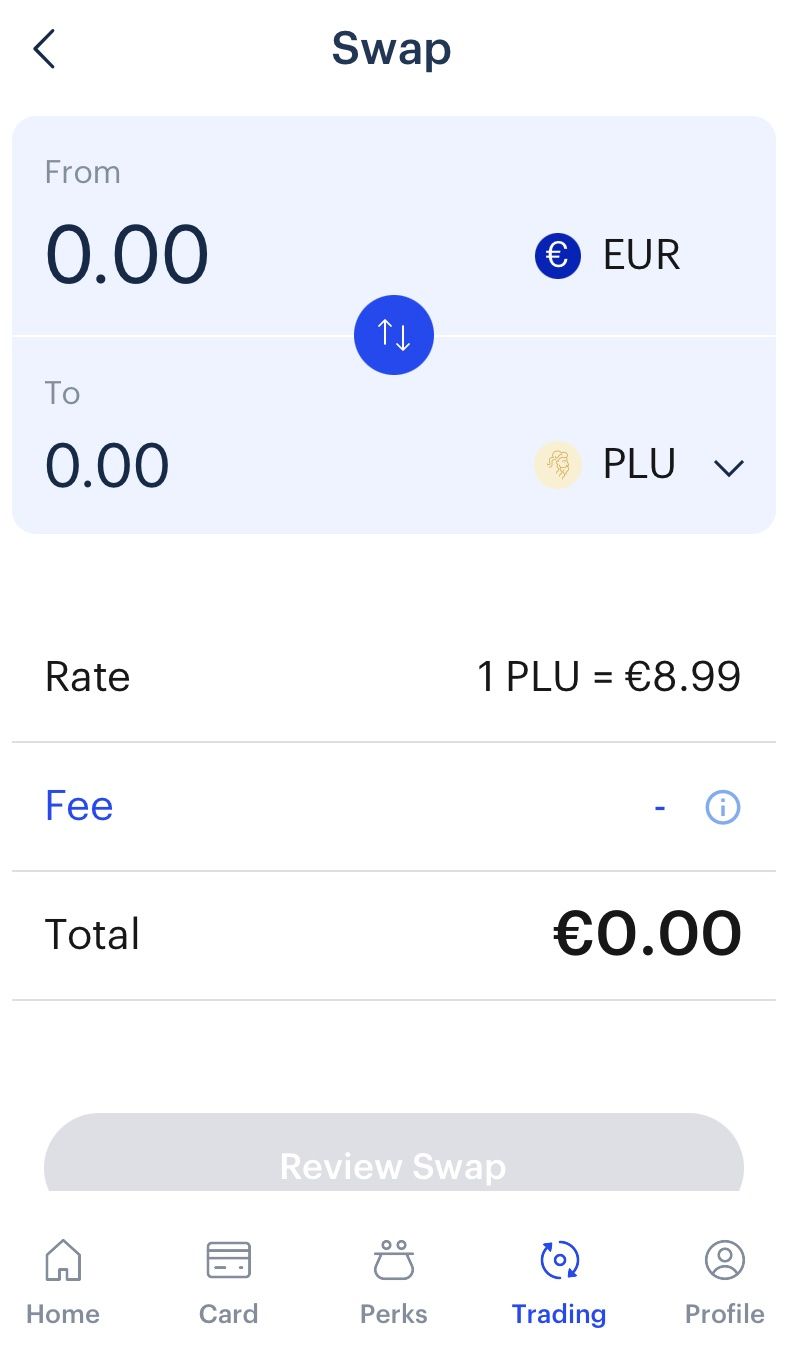 The Plutus DEX is the built-in exchange feature of Plutus, available only for EEA users, that allows you to purchase Pluton directly using EUR. To do so, the EUR must be in your Plutus account. There is a 1.5% dynamic slippage, and no additional fees. This is the most cost-effective method of buying PLU with your fiat currency, as everything is done within the app or desktop web app, and the Plutons are sent directly to your non-custodial wallet connected on the Plutus app.
Upon extensive testing, we have found that the transactions are not instantaneous and the larger the transaction size, the longer the wait for the trade to complete.
This is because the Plutus DEX matches your buy request with a corresponding sell request from another user. To minimize waiting time, Plutus suggests exchanging a maximum of 499 chunks of EUR.
👉 Click here to buy Pluton on Plutus DEX account and get a $/£/€10 bonus.
Buy Pluton on a CEX (Centralized Exchange)
Pluton, with its low market cap, is not available on every centralized exchange. However, over the past few years, it has been listed on several prominent exchanges, including KuCoin, Coinbase, Bitfinex, Huobi, and Ascendex.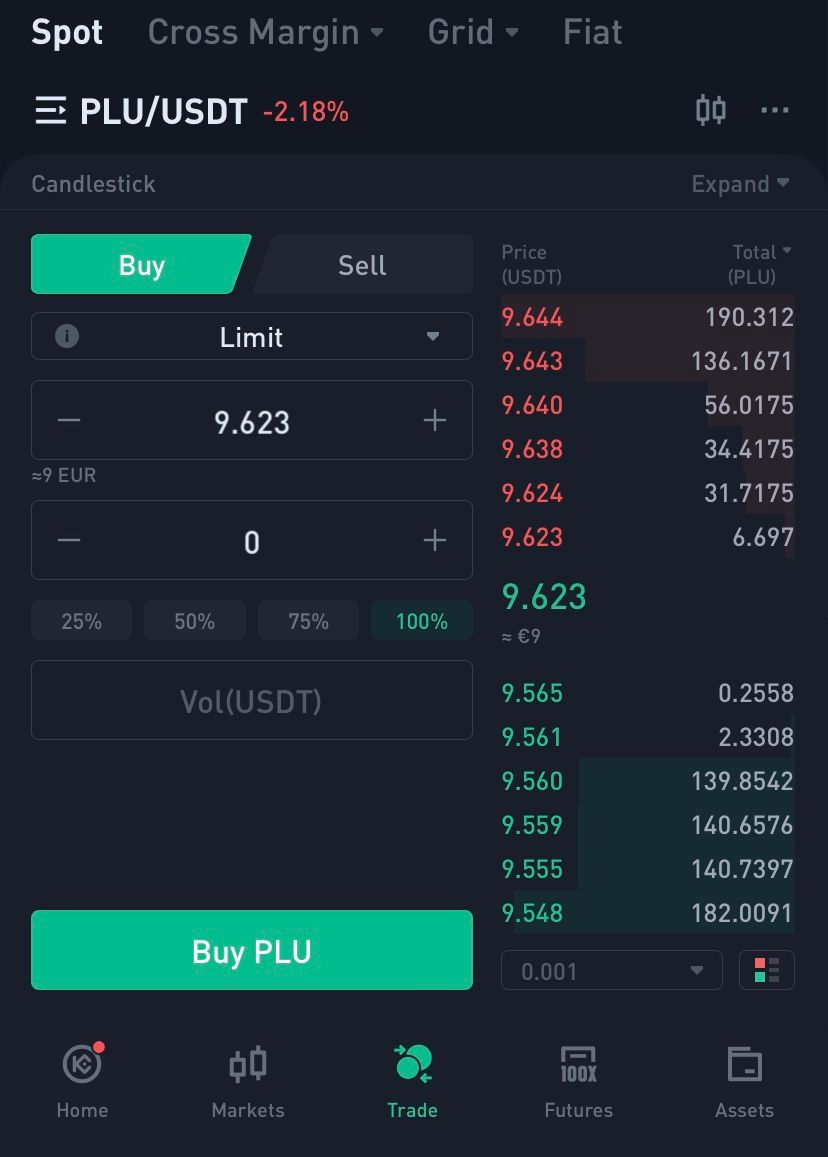 Of all these options, KuCoin is the best solution, offering the highest liquidity and lowest fees.
You can purchase PLU on the PLU/USDT spot trading pair (Pluton/USD Tether) on KuCoin. The commissions are very low: 0.5 PLU to withdraw, and by using a limit buy you wont pay taker fees.
An added advantage of using KuCoin is that it does not require KYC verification unless you are depositing or withdrawing FIAT money.
It is also a suitable platform for short-term Pluton trading, as it offers professional trading tools and a wide range of automated trading BOTs. For more information, you can read our KuCoin review by clicking on the provided link.
👉 Click here to open an account on KuCoin and get a 20% discount on trading fees.
Buy Pluton on a DEX (Decentralized Exchange)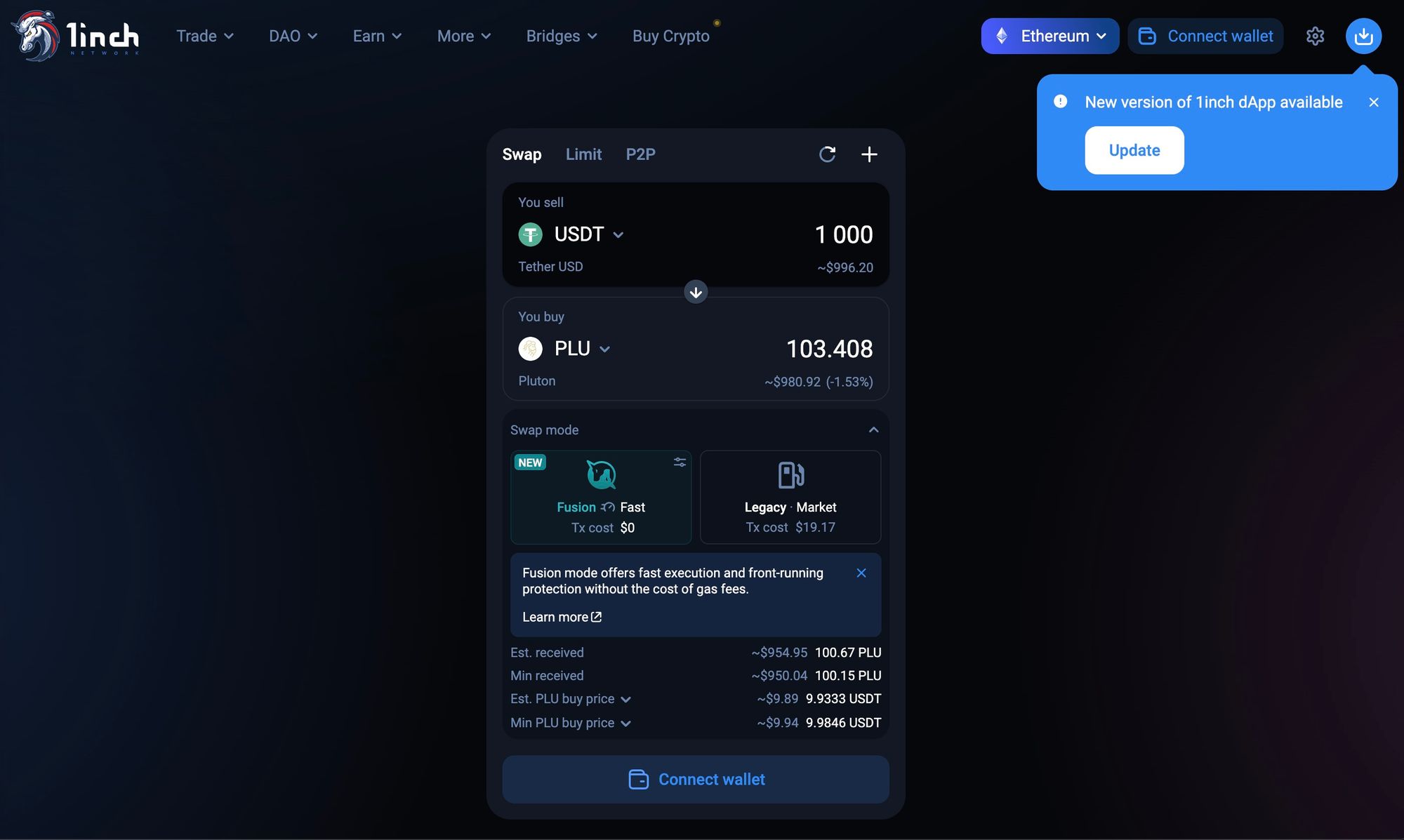 In addition to centralized exchanges, Pluton is also available on web3 Decentralized Exchanges, where you can manage your own self-custodial wallet. Some of the popular options are:
1inch - a DEX aggregator with a new function called Fusion, which currently offers the cheapest prices for swaps, although an approval fee is required;
Thorswap - another dex aggregator which allows you to swap from other chains;
Uniswap - one of the DEXes with the highest liquidity of Pluton;
Defi Llama - a platform that compares all Ethereum DEXs.
The main disadvantage of DEXes is that they require you to already have some form of cryptocurrency in your wallet, as it is not possible to exchange fiat currency directly for Plutons. Additionally, they are generally intended for more advanced users who have a clear understanding of the process.
Differences with Bitcoin
Pluton (PLU) and Bitcoin (BTC) are both digital currencies that use decentralized systems to facilitate transactions. However, there are some differences between the two:
Purpose: Pluton is the utility token of a rewards and loyalty platform (Plutus) that aims to incentivize user engagement and spending in online and offline stores. On the other hand, Bitcoin was created as a peer-to-peer electronic cash system that aims to allow users to send and receive money without the need for intermediaries.
Token supply: Bitcoin has a limited token supply of 21 million, while Pluton has a slightly smaller supply of 20 million tokens.
Consensus mechanism: Bitcoin uses a proof-of-work consensus mechanism to validate transactions and add them to its blockchain, while Pluton uses a proof-of-stake consensus mechanism on the Ethereum network, which is considered more energy-efficient.
Block time: Bitcoin has a block time of 10 minutes, while Pluton has a block time of around 10 seconds seconds on the Ethereum blockchain. This means that transactions are confirmed faster for Pluton transactions.
Features: Pluton offers features such as a rewards program, cashback on purchases, and perks, which are not available on the Bitcoin network.
Community: Bitcoin has a large and established community of developers, users, and businesses that have been working on the network for over a decade, while Pluton is a relatively new player in the digital currency space.
In conclusion, while both Pluton and Bitcoin have similarities as digital currencies, their purposes and features are quite different.
Bottom line
In summary, Pluton is a digital currency and the rewards platform and card (Plutus) aims to incentivize user engagement and spending in online and offline stores.
Pluton's unique tokenomics, price stability, and features have caught the attention of many experts in the cryptocurrency space. Plutus rewards and loyalty platform provides a compelling use case for its token, and its focus on user engagement and spending sets it apart from other cryptocurrencies.
While it is still a relatively new player in the digital currency space, Pluton has the potential to make a significant impact in the world of finance and commerce.
If you want to dig deeper into this ecosystem, read our Plutus Review.
Frequently asked questions (FAQ)
Is Pluton a good investment?
Plutus is more than just an investment; it functions as an utility token. Possessing more of it equates to a higher cashback. The Plutus team has taken all the right steps with the 2023 difficulty adjustment to maintain its scarcity, and its emissions are capped to secure its value. The token has demonstrated remarkable stability in the past, maintaining a narrow range and avoiding a bear market unlike other cryptocurrencies. These features make Plutus a compelling investment opportunity now and potentially in the future.
What is Pluton crypto?
Pluton is a cryptocurrency that functions as an utility token and can be used to receive cashback on various purchases made through the Plutus platform.
How to buy Pluton?
There are three primary methods for acquiring Pluton: through the Plutus App (Plutus DEX), centralized exchanges, or decentralized exchanges. Each option has its own advantages and disadvantages, however, the simplest and most cost-effective approach is through the Plutus DEX, which is integrated into both the Plutus web and smartphone app.
How to stake Pluton?
Plutus does not offer traditional staking. The term "staking" is used to describe the process of linking your wallet to your PLU coins to receive additional rewards. Any wallet that supports walletconnect is acceptable, such as Metamask or Trust Wallet. Simply open your app, navigate to the "Trading" section, and connect your wallet from there.