Binance Coin (BNB): what is it? How to buy? Review [2023]
Is it worth buying Binance Coin? This utility token, issued by the benemoth Binance, functions as a medium of exchange on their platform, allowing for the payment of trading fees and much more.
Binance Coin (BNB) is an utility token that can be used to trade on the Binance crypto exchange and pay discounted fees. Additionally, it powers the Binance Chain ecosystem and is widely used in various applications.
Let's examine this token, including its functions and applications, to determine if investing in it is a wise decision.
| Property | Value |
| --- | --- |
| ฿ Symbol | BNB |
| 🪙 Initial Coin Offering (ICO) Price | $0.11 USD |
| 🚉 Platform | Ethereum (ERC-20) |
| ⚖️ Consensus | Binance Chain (Binance DEX) |
| 📈 Total Supply | 200 Million BNB |
| 📉 Circulating Supply | 150 Million BNB |
| ⛽️ Use Case | Utility token used to pay for trading fees on the Binance exchange, used as a form of payment for goods and services on the Binance ecosystem. |
| 🔥 Token Burn | Binance uses 20% of its profits to buy back and burn BNB, this decreases the total supply of BNB and increases the value of remaining tokens. |
For those looking to immediately invest in Binance Coin (BNB), you should visit Binance, the official issuer of BNB. With the link down here,  you can not only purchase Binance Coin but also receive a complimentary 100 USDT voucher upon registration.
👉 Click here to buy Binance Coin (BNB) on Binance and get a 100 USDT cashback voucher.
What is Binance Coin
Binance Coin (BNB) is the cryptocurrency issued by the Binance exchange and trades under the symbol BNB.
As of 2023, Binance is the largest cryptocurrency exchange in the world, with a trading volume of $7.6 billion. BNB was initially based on the Ethereum network but has since moved to Binance's own blockchain, the Binance Chain. Binance uses 20% of its profits to repurchase and destroy BNB every quarter.
Binance Coin is a crypto that was made to help people pay less when they trade on Binance. But now it can be used for many things like paying for things on Binance Chain, traveling, entertainment, online services, and financial services. Right now, Binance Coin is worth a lot of money, over $50 billion. It's the fourth most valuable digital money after Bitcoin, Ethereum, and USD Tether.
How Binance Coin (BNB) works?
Binance coin, which debuted during a highly-successful initial coin offering in July of 2017, is a digital currency that originally operated on the Ethereum blockchain and adhered to the ERC 20 standard.
However, it has since evolved to become the primary coin of the Binance chain. With a fixed maximum of 200 million BNB tokens, this token was distributed among investors in a highly strategic manner, with angel investors receiving 10%, or 20 million, BNB tokens, the founding team receiving 40%, or 80 million, tokens, and the remaining 50%, or 100 million, tokens being made available to participants through the ICO process.
A significant portion of the funds raised during the ICO were earmarked for Binance branding and marketing efforts, while an approximate one-third were directed towards the development and upgrades of the Binance ecosystem. The Binance Coin has undergone a metamorphosis from its beginnings on the Ethereum network to its current status as the premier currency of the Binance blockchain.
Binance Chain
Binance Coin, or BNB, serves as the fuel that powers the Binance Chain, a decentralized network consisting of two distinct blockchains: the Binance Beacon Chain and the Binance Smart Chain. The former, formerly known as the Binance Chain, manages the governance of the network through processes such as staking and proposal voting. The latter, previously referred to as the Binance Smart Chain, is a platform for executing smart contracts that is compatible with Ethereum.
The Binance Chain utilizes a unique consensus mechanism known as proof of staked authority (PoSA), which combines elements of both the proof-of-stake and proof-of-authority systems. The network is maintained by a total of 41 validators, with 21 selected at a time to confirm blocks of transactions. To become a validator, individuals must stake a minimum of 10,000 BNB tokens.
Other BNB holders can also participate in the network by becoming delegators, which entails staking their tokens behind a chosen validator. These validators, in turn, cast votes on behalf of their delegators during governance decisions. Both validators and their delegators are rewarded with block rewards, paid out from the network's transaction fees.
In February 2022, Binance made a notable announcement, stating that BNB would evolve to represent "Build and Build," and that the company would take steps to decentralize network validation and encourage community participation.
This included the launch of a hackathon offering prizes and seed funding for new applications, as well as the introduction of Binance Application Sidechains (BAS), which allow developers to build large-scale apps integrated with the Binance Chain but running on their own blockchain with their own token.
These changes aim to promote the growth and scalability of the Binance Chain, positioning it to onboard the next billion users who will migrate to blockchain-based applications from traditional Web2 platforms.
Binance Chain projects
The Binance Chain, an ecosystem teeming with over 1,200 projects, has gained immense popularity as a premier destination for decentralized finance (DeFi) platforms, which offer a gamut of alternatives to traditional financial services.
Among the numerous projects built on the Binance Chain, most of them are in decentralized finance (DeFi). The following merit particular mention:
PancakeSwap (CAKE), a decentralized cryptocurrency exchange;
Venus (XVS), a lending protocol;
Alpaca Finance (ALPACA), a yield-farming protocol that promises bountiful returns;
Ren (REN), network of decentralized applications, enabling cross-chain lending, exchanges, collateralization & more.
Binance Coin (BNB) Burning
Since the introduction of Binance and its associated Binance Coin (BNB) in 2017, the organization has remained steadfast in its commitment to removing a substantial portion of the total BNB supply from circulation.
Specifically, a staggering 100 million BNB tokens, comprising half of the total supply, have been subject to a deliberate burning process. This mechanism, known as the Auto-Burn formula, calculates the number of tokens removed in an automated and independently auditable manner. This innovative feature was first implemented during the last quarter of 2021.
In addition to the Auto-Burn formula, Binance has also instituted a real-time burning of a portion of Binance Chain's gas fees. These measures, in combination with the deflationary nature of BNB, ensure that this digital currency maintains a stable value over time through the consistent burning of its tokens. The Binance organization is committed to providing an independent and objective process to this burning process that is separate from the centralized exchange operations.
Binance Coin Benefits
You can use Binance Coin (BNB) as a means of payment for a plethora of goods and services, and to discharge transaction fees on the Binance Smart Chain.
Save 25% On Spot Trading fees;
Save 25% on Margin Trading fees;
Save 10% on Futures trading fees.
Additionally, you can partake in exclusive token sales and other advantageous opportunities.
There are advantages also for the Binance Card owners. As a holder of BNB, using the Binance Card for purchases earns cashback.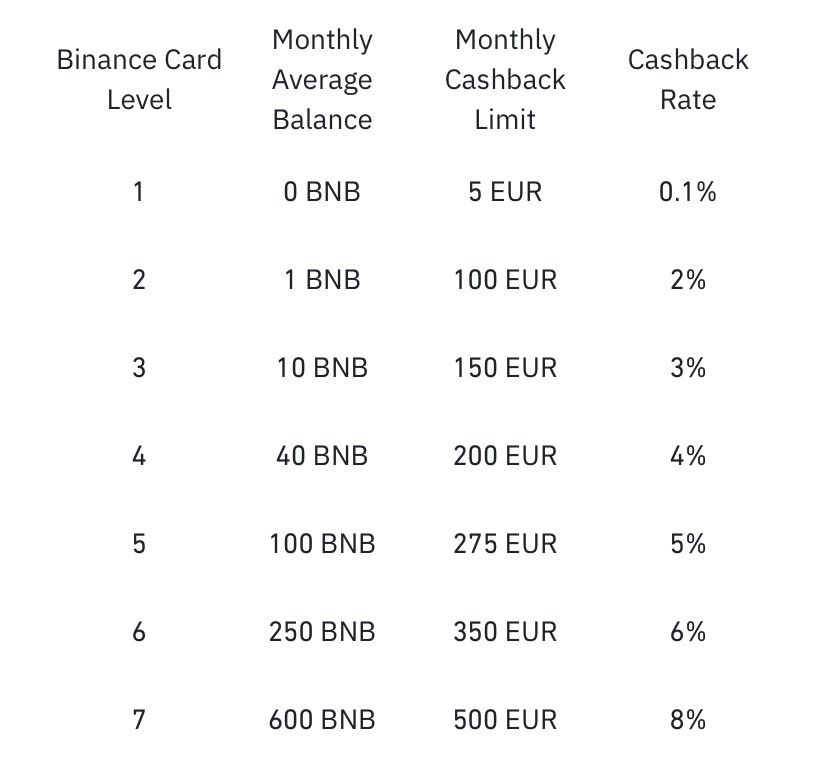 The cashback percentage increases with the amount of BNB in your Binance wallet. Cashback is calculated daily, based on purchases made the previous day. Using the Binance card also grants access to new benefits and perks added to the program.
Binance Coin Utility
You can utilize Binance Coin (BNB) as a mode of payment with a variety of merchants, such as Pundi X, where you can pay through XPOS. Or Monetha, where you can pay in BNB at Monetha merchants. Also the HTC website, where you can purchase a smartphone. Additionally, you can pay in BNB with various payment platforms including Coinpayments, CoinGate, Coinify, and NOWPayments, which also accepts BUSD.
In addition to merchants and payment platforms, Binance Coin (BNB) is also accepted by several travel-related websites. For example, you can use BNB to book airfare and hotels with TravelbyBit, reserve hotels on Trip.io and book accommodation on Travala. This wide acceptance of Binance Coin as a mode of payment highlights its growing utility and adoption as a digital currency.
Indeed, Binance Coin (BNB) has a ever-growing list of ways in which it can be utilized. The acceptance of BNB extends beyond just merchants and travel websites, it is also accepted in the finance, entertainment and service sectors. This diversification of usage case further solidifies Binance Coin as a versatile and valuable digital currency. It's not only a trading tool but also a payment method, a store of value and a token that you can use in many different platforms.
Binance Coin Staking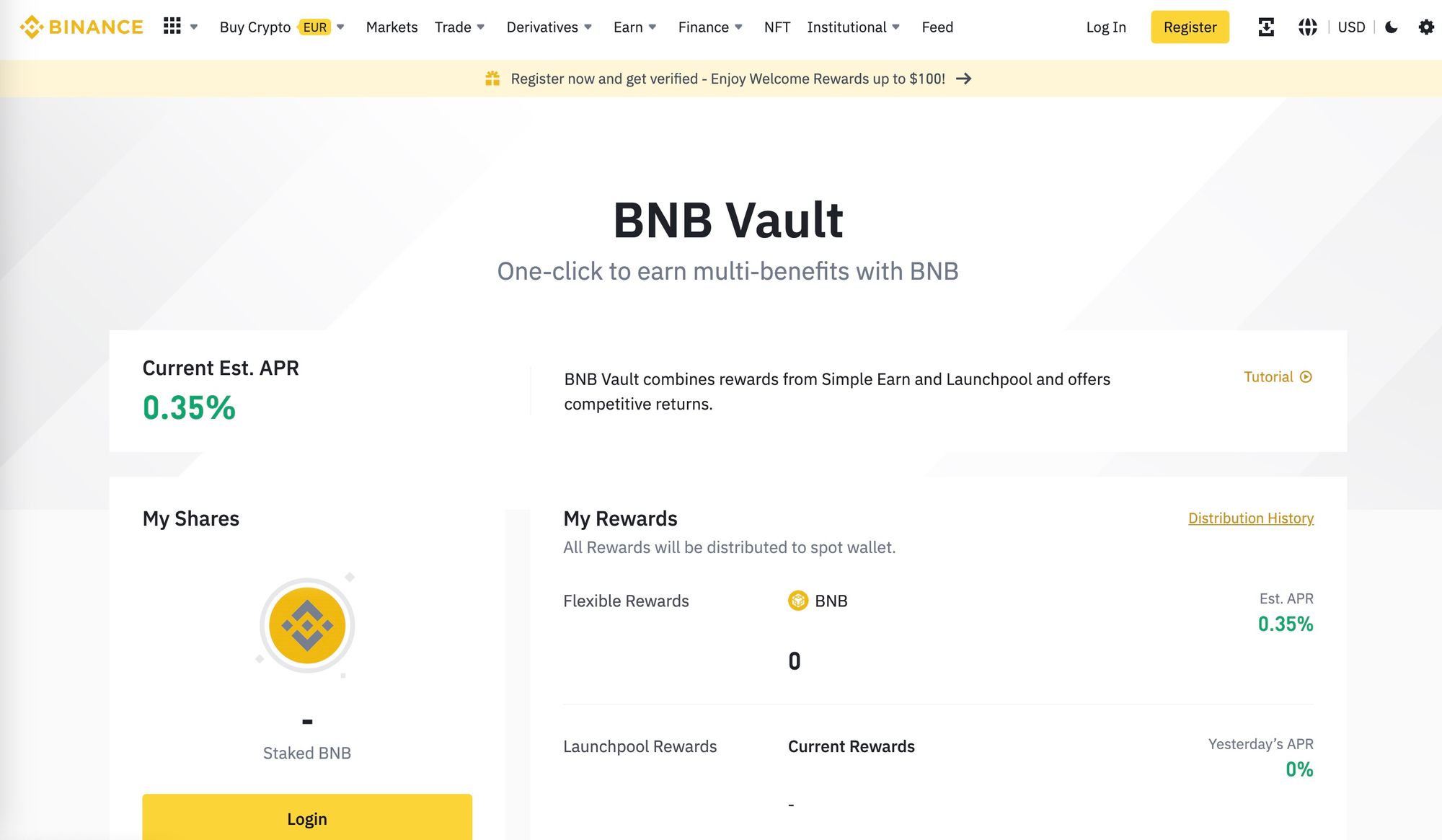 It is possible to earn passive income by staking Binance Coin (BNB) on the Binance Chain. When you stake your BNB tokens, you are essentially holding them in a locked state and using them to validate transactions on the Binance Chain.
In return for this service, you can earn staking rewards in the form of additional BNB. To stake BNB, you can use the BNB Vault directly on Binance. Or, if you prefer self-custody, you will need a crypto wallet that supports BNB staking, such as Trust Wallet, and to make sure that you are in a country where Binance offers staking rewards.
How to buy BNB Binance Coin
As expected, the best way for buying BNB are the two Binance exchanges: the flagship Binance platform and its American counterpart, Binance.US.
While the original Binance exchange serves as the preferred option, it is unfortunately inaccessible within the United States, where Binance.US serves as the exclusive alternative.
Despite its dominance within the industry, most other American exchanges do not offer BNB due to its status as the cryptocurrency of a prominent rival.
Binance Coin BNB Price and Market Cap
In the chart up here, you can find the price of Binance Coin (BNB) as well as other relevant information such as the percentage change in price over a specific time period, the market capitalization, and the trading volume.
Bottom Line
Buying Binance Coin (BNB) can be a risky investment, with an high reward as well. The value of BNB is closely connected to the business of the Binance exchange and the Binance Chain ecosystem, and investors must carefully consider the potential for growth as well as the potential for decline.
On the one hand, Binance is one of the largest and most popular cryptocurrency exchanges in the world, and the Binance Chain ecosystem is home to a vast array of projects and services. These are significant competitive advantages for BNB, and they may help to drive its continued growth.
On the other hand, there is always the risk that Binance and the Binance Chain may lose market share to rivals. The cryptocurrency exchange space is increasingly competitive, and regulatory issues could also impede the growth of Binance. Similarly, the Binance Chain faces competition from other smart contract blockchains, which may also impact the value of BNB.
Overall, if you are a user of Binance and believe in the Binance Chain ecosystem potential, then it may be a wise idea to invest in BNB. This token offers several benefits such as: discounts on trading fees, the ability to earn passive income through staking, crypto cashback with the Binance Card and access to token sales through the Binance Launchpad.
Frequently asked questions (FAQ)
What is a Binance Coin or BNB Coin?
BNB Coin, or Binance Coin, is a digital currency, primarily utilized to cover transaction and trading fees on the Binance exchange platform..
Is Binance banned in the U.S?
No, Binance is actually available on a separate website from the Global one. This website is called Binance.US.
Is Binance coin (BNB) a good investment?
BNB, or Binance Coin, is an high-risk, high-reward investment.The value of BNB is closely tied to the overall usage and popularity of the exchange. This can lead to significant fluctuations in the value of BNB, making it a high-risk investment. However, if the Binance exchange continues to grow in popularity, the demand for BNB may also increase, leading to potentially high returns for investors.